The Association of Former Intelligence Officers (AFIO) presents this website to serve our members and visitors as a portal to the activities of AFIO and to provide word of upcoming educational events by other select intelligence groups.
Heard enough of the political spin by those looking for scapegoats?
Who insist nudity and loud sounds are 'torture,' while terrorists continue to behead, rampage, and murder?
Now get the facts.....
Upcoming AFIO and Intelligence Community Events
Many informative, fascinating programs are occuring in the Washington Metro Area and across the country. Find out which ones to add to your calendar to stay connected and to stay current.

Corporate
Learn how your company can make a difference with AFIO corporate memberships and marketing opportunities. Reach more than 4,800 intelligence professionals.

National Members
Join AFIO or renew your existing membership and enjoy member benefits, such as special invitations to events, unique banking & investment services, scholarships and career assistance.

Publications
Sign up and receive the popular Weekly Intelligence Notes [WINs], and the printed industry journal: Intelligencer - Journal of U.S. Intelligence Studies, 3 issues per year for the intelligence community by intelligence professionals. AFIO also produces Intelligence As A Career - a frequently updated printed and online guide to organizing your life and education to qualify for work in the intelligence community, and a Guide to the Study of Intelligence intended to assist college instructors and secondary school teachers of history, civics, and current events.

About Us
Learn about AFIO - our many events, publications, programs, and legislative alerts. Support AFIO with purchases and donations or meet our members at events throughout the US. Make your views known.

Chapters
Local AFIO Chapters are the heart of AFIO activities for many members, so join AFIO National and then consider adding a local chapter membership to your mix.

Upcoming AFIO and related Organization Educational Events ... Full listings found here

Friday, 16 January 2015, 4:30 pm - Washington, DC - "How to Prepare for a Foreign Intelligence Post: Preventing Mirror-Imaging" by James R. Hughes, President of AFIO National

You are cordially invited to a lecture on the topic of "How to Prepare for a Foreign Intelligence Post: Preventing Mirror-Imaging" with James R. Hughes, incoming AFIO President, (his term begins January 2015)
James R. HUGHES is beginning his service as AFIO's 17th President in January 2015. He had a career of US Government service, spanning 37 years in numerous foreign countries with a particular focus in the Middle East. He started in U.S. Military Intelligence in the late 1960s and then joined the CIA's Clandestine Service. He served overseas as a Chief of Station several times, and at CIA Headquarters in a number of senior management positions, including as Chief of the Near East and South Asia Division, in the Directorate of Operations [today's National Clandestine Service]. He was also named the Associate Deputy Director of Operations (ADDO) at the National Security Agency, 1998-99.
Following his retirement from the government in 2005, he joined EDS in Herndon, Virginia, as the Client Industry Executive for the U.S. Intelligence Community. After the HP acquisition of EDS, he continued to serve in a similar capacity until his retirement in 2012.
His parents were missionaries in Turkey in the 1950s, where Jim spent his formative years. He attended the prep schools of two of the most famous missionary-founded universities in the Middle East: Robert College in Istanbul and the American University-Beirut, in Beirut, Lebanon. He is fluent in Arabic, and has extensive knowledge of, and appreciation for, the arts, geography, culture, and religions of that region.
He has been an AFIO member since 2005 and joined the board in 2009.
RSVP mandatory • Business attire • VIP reception to follow
This event is sponsored by IWP's Office of Professional Affiliations and the Student Government Association.
Event location: The Institute of World Politics, 1521 16th St NW, Washington, DC 20036.
For Parking, consult this map.
RSVP: Contact sdwyer@iwp.edu with any questions.

Friday, 30 January 2015
AFIO National's first luncheon of 2015
features Robert T. Cardillo, the new Director of the National Geospatial-Intelligence Agency (NGA) and Robert L. Grenier, former CIA Station Chief Islamabad and head of CIA's Counterterrorism Center
Tysons Corner, VA
Register HERE
1 p.m. speaker: NGA Director Robert T. Cardillo speaks on the expanded NGA mission from Ebola relief activities to providing tools, advanced tech, sophisticated techniques, and specialized expertise to policymakers, warfighters, intelligence analysts, and first responders.
11 a.m. speaker: Former Station Chief Islamabad, and CIA Counterterrorism Center Director Robert L. Grenier discusses dealing with warlords, Taliban dissidents, and Pakistani Intelligence in front of him while facing equally lethal challenges behind his own lines. Hear more about his 88 Days to Kandahar: A CIA Diary being released the week of this event.
Timing: Check-in for badge pickup at 10:30 a.m.; Robert Grenier begins his presentation at 11 a.m.; Lunch served at noon; NGA Director Cardillo begins his presentation at 1 p.m. Event closes at 2 p.m.
Morning and Afternoon programs are On The Record
The latest intelligence books, and many others, on display and for sale throughout event.
EVENT LOCATION: The Crowne Plaza, 1960 Chain Bridge Rd, Tysons Corner, VA
Driving directions here or use this link: http://tinyurl.com/boey9vf
Register HERE

OTHER IMPORTANT UPCOMING EDUCATIONAL EVENTS....

Saturday, 20 December 2014, 1-4pm - Washington DC - Book signing with Joe Goldberg, former CIA and author of Secret Wars: An Espionage Story.

Joe Goldberg, author of Secret Wars: An Espionage Story spent eight years working for CIA engaged in covert action as well as information collection and analysis. During his tenure he earned a Meritorious Unit Citation and three Performance Awards. A recipient of numerous prestigious awards over his thirty years of working in intelligence, Goldberg is a published author including his newest, Secret Wars: An Espionage Story and frequent speaker on intelligence subjects.
Secret Wars: An Espionage Story provides the long history of the CIA's global fight against terrorism, the weapons have remained the same: the use of force and covert action. When terrorists funded by the Libyan government strike airports in Rome and Vienna in 1985, the CIA enlists top propaganda expert Mike Garnett to help recruit a high-ranking Libyan official, Foreign Minister Abdallah Mukhtar, to work for the CIA. As violence escalates between the US military and terrorists based in Libya, Garnett utilizes CIA assets in Hollywood to produce a propaganda video designed to convince Mukhtar he was betrayed by his own regime. Garnett's plan works—but goes sideways when it motivates the Libyan official to do something Garnett didn't even consider. Insightful, Secret Wars: An Espionage Story is a tale of deception, betrayal, and patriotism—and Garnett soon learns they're not as black and white as they seem when he's forced to reevaluate the true nature of the business of deception.
Tickets: Free! No registration required. Visit www.spymuseum.org

Wednesday, 07 January 2015, 12:00pm-7:00pm - Washington DC. - "Iran-Contra: Reagan's Scandal and the Unchecked Abuse of Presidential Power" claims author Malcolm Byrne at International Spy Museum

Through exhaustive use of declassified documents, previously unavailable investigative materials, and wide-ranging interviews, Malcolm Byrne explores what made the Iran-Contra scandal possible and meticulously relates how it unfolded—including clarifying minor myths about cakes, keys, bibles, diversion memos, and shredding parties. Byrne, the Deputy Director and Research Director at the National Security Archive, demonstrates that the affair could not have occurred without awareness and approval at the top levels of the US government. He reveals an unmistakable pattern of dubious behavior—including potentially illegal conduct by the president, vice president, the secretaries of state and defense, the CIA director and others—that formed the true core of the scandal.

Tickets: Free! No registration required. Visit www.spymuseum.org

---

Wednesday, 11 February 2014, 8:30 A.M. – 4:30 P.M - Washington, DC - The Journal of National Security Law & Policy Annual Symposium

Hold the date! Conference theme: Trials and Terrorism: The Implications of Trying National Security Cases in Article III Courts.
The symposium will feature the following three panels:
Panel 1, "Terror Suspects: Pretrial Considerations in Civilian Terrorism Investigations," will provide an overview of international terrorism cases from investigation to indictment.
Panel 2, "Courtroom Challenges: The Evidentiary and Trial Management Issues that Arise During Terrorism Trials" will focus on the evidentiary and procedural challenges that arise during the trial of defendants charged with terrorism offenses and the implications these potential precedents could set.
Panel 3, "Convicted Terrorists: Sentencing Considerations and Their Implications on Foreign and Domestic Policy," will focus on the factors that impact the sentencing phase of terrorism trials.
Location: Georgetown University Law School, Washington, DC
REGISTRATION: Will be available at http://jnslp.com/symposium/ in early 2015.
NOW AVAILABLE
Getting a Security Clearance: Questions and Answers about what they are, how they are conducted,
how you can qualify, how long they take, and what can put them in jeopardy.

Two valuable booklets are now available
The Security Clearance Process: Answers to Frequently Asked Questions - by the Congressional Research Service, Sept 2013
[PDF]
Security Clearances - FAQs - ClearanceJobs.com / DICE
[PDF]
---
Intelligence as a Career -with listings of colleges teaching intelligence courses.

AFIO's booklet for high school and college students considering careers
in the U.S. Intelligence Community.
Careers Booklet in PDF Format updated January 2013 available here.
Cannot open some or all of these PDFs? It can mean your PDF viewer is out-of-date.
Use this link to update your viewer to the latest version.
---
Intelligence Community - Five Years in a Row - Named 2013
Best Place to Work in the Federal Government
For the fifth consecutive year, the Intelligence Community (IC) was honored as one of the top-ten Best Places to Work in the Federal Government, according to an independent analysis of federal workers' job satisfaction and commitment.
The rankings were compiled by the Partnership for Public Service (PPS) and American University's Institute for the Study of Public Policy Implementation (ISPPI) and announced recently in Washington, D.C. PPS is a nonprofit, nonpartisan organization that aims to attract people to federal careers and improve how the government runs. The institute conducts research and helps federal leaders solve difficult public-policy issues.
The IC ranked third overall among large agencies, which includes over 30 organizations, each of which employs more than two thousand people. Rankings are based on data from the 2013 Federal Employee Viewpoint Survey, which the U.S. Office of Personnel Management administers. The first Federal Government survey was in 2003, but the IC has only participated since 2009. Max Stier, president and CEO of the Partnership for Public Service, noted that the IC does not have to participate but does so voluntarily, "which is a credit to them."
To maintain the security of information about its work force, the IC relies on its own survey instrument to assess each year how its workers feel about issues such as job satisfaction, professional development, and the effectiveness of senior leaders. The IC includes several questions from the federal survey in the IC's annual Employee Climate Survey. That way, the Community's information can be compared with that from other organizations.
Other top-five large organization Best Places to Work are: The National Aeronautics and Space Administration and the U.S. Departments of Commerce, State and Justice.
Visit bestplacestowork.org to see which agencies top the rankings and to access trend analysis, demographic data and all 10 workplace categories, as well as generate custom reports and conduct side-by-side comparisons for up to three agencies.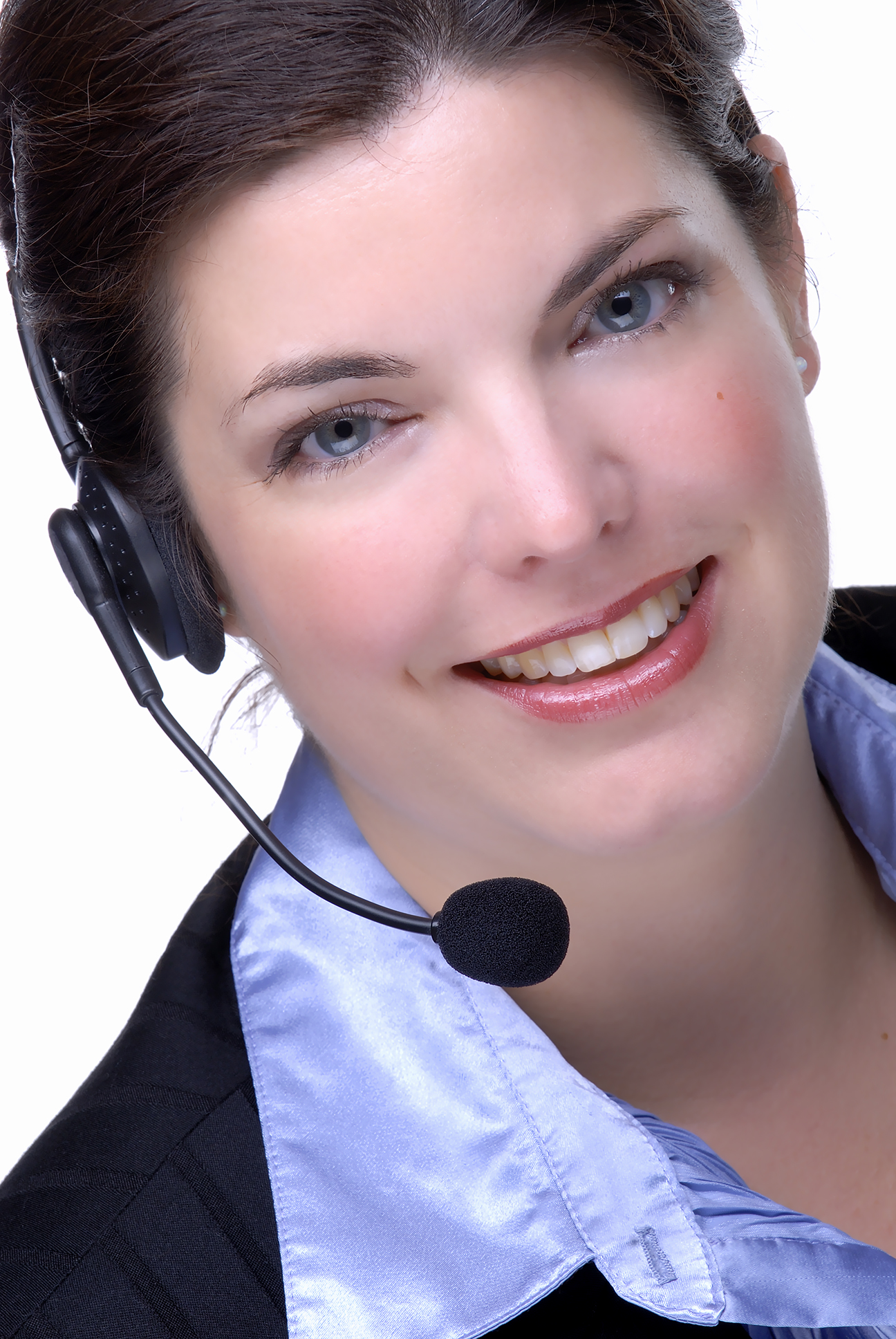 Become a Member
or a Subscriber

Join AFIO or subscribe to our publications and enjoy all our unusual member benefits
JOIN:
As a Member or Subscriber - Use this Online Form
As an Agency, University, Foundation, or Corporate Member -
Use this Online Form
or this pdf document you can print to send in by mail
RENEW:
Renew or Reinstate Your Membership or Subscription here
UPDATE:
Your Email or Mailing Address here.
---
---
AFIO BOARD OF DIRECTORS' Photos and Public Biographies
---

We Thank These Corporate and Foundation Members
Join as a corporate
or foundation member
---
---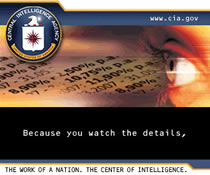 ---
Movies of Interest to AFIO members can be found here.
---

Send your articles and reviews to afio@afio.com for the journal INTELLIGENCER...
This issue mailed to all current members and subscribers on July 21, 2014.

---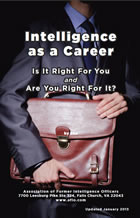 NOW AVAILABLE

Updated for 2013
Intelligence
as a Career

Is It Right For You
AND
Are You Right For It?
Click HERE, or the cover photo above, for the updated version of Careers In Intelligence Booklet.
Released 10 January 2013
---
Donations Needed -
Help AFIO continue our Special Events, Publications, and Speakers Program.
If you are interested in considering a bequest or deferred, income yielding gift such as a charitable annuity (with a lifetime of income to self and/or spouse), please explore our Bequest Booklet below:
Bequest and Deferred Gifts To AFIO
Consider an immediate donation here, of any amount to underwrite the many free talks AFIO Members provide groups across the country.
---

---