AFIO Central Office
7700 Leesburg Pike
Suite 324
Falls Church, VA
22043
Voice: 703 790 0320
Fax: 703 991 1278
Email: afio@afio.com

© 2016 AFIO

Copyright and Privacy Notice


The Association of Former Intelligence Officers (AFIO) presents this website to serve our members and visitors as a portal to our activities and to provide word of upcoming educational events by other select intelligence groups.
Upcoming AFIO and Intelligence Community Events
Many informative, fascinating programs are occuring in the Washington Metro Area and across the country. Find out which ones to add to your calendar to stay connected and to stay current.

Corporate
Learn how your company can make a difference with AFIO corporate memberships and marketing opportunities. Reach more than 4,800 intelligence professionals.

National Members
Join or renew your existing membership and enjoy member benefits, such as special publications, invitations to events, unique banking & investment services, scholarships, and career assistance.

Publications
Sign up and receive the popular Weekly Intelligence Notes [WINs] and the printed industry journal: Intelligencer - Journal of U.S. Intelligence Studies, 3 issues per year for the intelligence community by intelligence professionals. AFIO also produces Intelligence As A Career - a printed and online guide to organizing your life and education to qualify for work in the intelligence community, and a Guide to the Study of Intelligence to assist college instructors, secondary school teachers of history, civics, and current events, and students, on the best readings on a wide variety of current intelligence topics.

About Us
Learn about us - our many events, publications, programs, and legislative alerts. Support AFIO with purchases and donations or meet our members at events throughout the US. Make your views known.

Chapters
Local chapters have appeal to many members, so after you have joined AFIO National, consider adding a local chapter membership to your mix.

Upcoming AFIO and related Organization Educational Events ... Full listings found here

Tuesday, 18 October 2016, 11:30 am - 2 pm - MacDill AFB, FL - The Florida Suncoast AFIO Chapter hosts luncheon as part of their co-sponsored all-day conference on Cybersecurity.

Cyber Ready™ 2016 - The Florida Suncoast AFIO Chapter's October luncheon meeting is the centerpiece of Cyber Ready™ 2016, a conference observing National Cyber Security Awareness Month: The Impact of Cybercrime. The Florida Suncoast AFIO Chapter is proud to join the MITRE Corporation, the Tampa Bay Innovation Center, the Florida Chamber and the National Cyber Partnership in sponsoring this important event. In addition to the luncheon, you're invited to register for the entire Cybersecurity Conference (including lunch and dinner) as well as the Golf Outing and Barbecue Dinner on Monday afternoon, October 17. The luncheon keynote speaker is Dr. Mark Maybury, Vice President and Chief Security Officer, The MITRE Corporation. The dinner keynote speaker is R. "Montana" Williams, COO & cyber evangelist for the Cyber World Institute (CWI), adjunct instructor at California State University-San Bernardino, former Senior Manager - Cyber Practices for ISACA and former Chief - Cybersecurity Education & Awareness Branch at the Department of Homeland Security. Seating is limited. Current program PDF is here.
More information and registration is available here.

RSVP Deadline: 3 October, because of large attendance expected. Time also needed to allow Base Security to clear all applicants.
Luncheon registration procedures have changed: the chapter has implemented an online registration system. Register here. A registration confirmation must be received by you by email. Print the registration confirmation and bring it with you to the meeting to avoid delays. You may register a group of individuals. If paying online (PayPal or credit card), pay for all members of your group. If paying at the door, we suggest you arrive as a group to avoid delays. The members of the group you register may pay individually at the door, but you remain responsible for payment since you are guaranteeing attendance. • We strongly suggest you register and pay in advance. You may face long lines and significant delays at check-in - and we are unable to hold luncheon start. • You will need to present photo ID (and valid student ID if claiming the student discount) at check-in to pick up your event badge. You can facilitate your check-in by also presenting the registration confirmation you received by email. Only those with an event badge will be admitted. • If you cannot register online, send an email to Michael Shapiro or call him at (813) 832-1164. As the event deadline approaches, space might no longer be avaiable, so do not delay. This is a major undertaking and a significant accomplishment for our Chapter. Thank you in advance for your patience and your helping make this go smoothly! We're looking forward to seeing you at the meeting.
Timing: 12:15 PM, with check-in/socializing starting at 11:30 AM.
Location: MacDill AFB Surf's Edge Club, 7315 Bayshore Boulevard, MacDill AFB, FL 33621
RSVP and more conference info is here. All questions to Michael Shapiro or call him at (813) 832-1164.
Chapter newsletter on this issue may be accessed here.

---

AFIO's Intelligence Community Mousepad


Full color seals of all 18 members of the U.S. Intelligence Community on this 8" round, slick surface, nonskid, rubber-backed mouse pad. Price: $20.00 for 2 pads [includes shipping to U.S. based address, only. For foreign shipments, we will contact you with a quote.] Great gift for colleagues and self. Click image above for larger image.

Friday, 28 October 2016, 11am - 2 pm - Tysons Corner, VA - AFIO National Fall Luncheon features CIA's Director of Talent, Glenn A. Gaffney, (confirmed) and author/journalist James Kitfield (invited). "Terrorism and other concerns the country faces, and the special talent and skills it will require."

Glenn Gaffney, Director of Talent at CIA will address the current and future needs and skills the agency is seeking. Gaffney has a broad, career-long exposure to those needs. Prior to his current assignment, Gaffney served as the CIA's Director for Science and Technology; and in 2008 was Deputy Director of National Intelligence for Collection. Mr. Gaffney began his career with CIA in 1986 as a technical analyst in the Directorate of Intelligence working on cross-directorate clandestine technical collection operations to address critical technical intelligence gaps. In 1996, Mr. Gaffney served as part of a team which laid the foundation for creation of the Information Operations Center (has different name today), the Agency's lead organization for cyber operations.

The morning speaker is James Kitfield, (invited), author of the forthcoming book: Twilight Warriors: The Soldiers, Spies, and Special Agents Who Are Revolutionizing the American Way of War. Kitfield was a senior correspondent for National Journal and is a three-time winner of the Gerald R. Ford Prize for Distinguished Reporting on National Defense. He is a a senior fellow at the Center for the Study of the Presidency and Congress.

"A compelling chronological examination of the new intelligence-driven, multiagency
counterterrorism model the U.S. military now uses to meet the 'Age of Superterrorism' … Kitfield gets inside the U.S. military 'brotherhood' to produce an engaging and chilling report." -- Kirkus Reviews
"Twilight Warriors provides a uniquely intimate and timely window into the special
operations, intelligence and law enforcement counterterrorism efforts of the past two decades. Compelling and insightful, it is the most up-to-date account available of the ongoing war on terrorism. James Kitfield's gripping portraits of the key figures leading this struggle makes this book required reading for anyone wishing to understand the threat that terrorism continues to pose - and what we are doing to defeat it." -- Bruce Hoffman, Professor & Director, Center for Security Studies, Georgetown University.

Register now at this link. This will be AFIO's final luncheon in 2016.

---

Thursday, 10 November 2016, 11:30am - San Francisco, CA - The AFIO Andre LeGallo Chapter hosts author and journalist, Peter Robinson on The Cambridge Spies

Journalist/author Peter Robinson discusses the Cambridge Spies at this AFIO San Francisco Chapter event. Robinson explores the impact of Kim Philby, Donald Maclean, Guy Burgess, Anthony Blunt and others on American-British relations.
Where: United Irish Cultural Center, 2700 45th Ave between Sloat and Wawona, San Francisco, CA 94116.
Fee: Members $25; Non-Member guests $35. Non-host cocktails at 11:30AM; meeting starts promptly at noon.
Reservation and pre-payment is required before October 31, 2016. RSVP to Mariko Kawaguchi, Board Secretary, AFIO SF Chapter at afiosf@aol.com

---

5 December 2016, 6 pm - New York, NY - The AFIO Metro New York Chapter hosts former Senior CIA Officer David P. Hunt

Details to follow in coming weeks.


"Intelligence in Flux: From the Cold War to the Present," might be the topic of Mr. Hunt's presentation. Hunt became a CIA officer because of his father, who used to be in Navy and later joined the CIA in 1947. Hunt studied French, and became interested in intelligence operations, which finally led him to work for CIA for more than 30 years. Mr. Hunt will offer anecdotes about cases he has gone through during his tours in Italy, Vietnam, Somalia, Norway, France, and in New York City. He also will share some of his personal experiences regarding how to acquire confidential information. His experiences encompassed a knowledge of Soviet operations, African affairs, and counterintelligence. He advocates the importance of studying human intelligence. Mr. Hunt holds the Donovan Award for Excellence, as well as the Distinguished Intelligence Medal, CIA's highest award.

LOCATION: Society of Illustrators building 128 East 63rd Street Between Park and Lexington Avenues in Manhattan

TIME: Registration Starts 5:30 PM. Meeting Starts 6 PM.

COST: $50/person Cash or check only.

REGISTER: Strongly suggested, not required. Phone Jerry Goodwin 646-717-3776 or Email: afiometro@gmail.com.

---

Teaching -- or Seeking to learn more -- about the world of Intelligence?

AFIO's Guide to the Study of Intelligence
Are You Using It?
The Guide consists of more than 66 articles on all aspects of intelligence. It is intended to help instructors become familiar with intelligence-related subjects. Guide articles, written by both academic experts and seasoned practitioners, are introductions to the subject with recommended readings for further study.
Guide articles appear in AFIO's journal Intelligencer and as PDFs on our website here.
They are free for academic use.

For a complete list of what articles are available at this time, view this pdf.

Other Upcoming Educational Events....

Wednesday, 5 October 2016, 7-10pm - Washington, DC - Dinner with a Spy: An Evening with Naveed Jamali - at the International Spy Museum

For three nerve-wracking years, Naveed Jamali spied on the United States for the Russians - or so the Russians believed. By trading thumb drives of sensitive technical data for envelopes of cash, he pretended to sell out his own country across noisy restaurant tables and in quiet parking lots. Although he had no formal espionage training, with the help of an initially reluctant FBI duo he ended up at the center of a highly successful counterintelligence operation that targeted Russian espionage in New York City. With Putin's latest moves a frequent headline and political hot topic, Jamili, author of How to Catch a Russian Spy, will share how his unbelievable but true post-college adventure became a real-life US counterintelligence coup and the subject of an upcoming film. Over a quiet restaurant table, International Spy Museum historian Vince Houghton will debrief Jamali about his unlikely espionage exploits and how it feels to have your true story named one of the Washington Post's funniest books of 2015. You will be one of only twenty guests at Rosa Mexicano for this festive four-course dinner including "the best guacamole in the world." Tickets for the general public: $225 (includes four-course modern Mexican dinner with margaritas, sangria, wine, and beer). Visit www.spymuseum.org

---

Wednesday, 19 October 2016, 8 am - 3 pm - Laurel, MD - Paul Goldenberg, John Farmer and Distinguished Panelists address "Combating Domestic Terrorism" at this National Cryptologic Museum Foundation's 18th Annual Symposium and Membership Meeting

This year's NCMF's Annual Symposium looks at "Combating Domestic Terrorism" featuring Paul Goldenberg, CEO, Cardinal Point Strategies, Co-Chair of the DHS Foreign Fighter Task Force and Co-Chair of the DHS Faith-Based Security Council. He will be joined by his associate, John Farmer, Professor of Law and Special Counsel to the President of Rutgers University and former Attorney General of New Jersey in providing their unique insights on their work in Belgium and other parts of Europe following the recent terrorism events there.
We also have an exciting lineup of speakers for the afternoon session which will feature a notable panel of local law enforcement officials who will offer their perspective on protecting Maryland's citizens, property and information in the wake of terrorism and domestic unrest.
Panel Members are: Kemp Ensor, NSA Associate Director of Security and Counterintelligence; Kevin Perkins, FBI Special Agent in Charge, Baltimore Field Office; Col. William Pallozzi, Superintendent, Maryland State Police, and panel moderator Richard C. Schaeffer, President, National Cryptologic Museum Foundation.
Also joining the afternoon discussions will be Ronald Lee, Partner, Arnold & Porter LLP and former NSA General Counsel and Associate Deputy Attorney General of the Department of Justice, speaking on protecting the privacy rights of U.S. citizens in the fight against terrorism.
REGISTRATION and NCMF exhibits open at 0800. A continental breakfast will be available from 0800-0900 and lunch will be served from 1200-1300. Speaker presentations run 0900-1500.
LOCATION: Event will be held at Johns Hopkins University/APL Kossiakoff Center, 11100 Johns Hopkins Rd., Laurel, MD 20723. Once you reach the APL at Johns Hopkins Rd, Turn right on Pond Road, just past the service station. Follow the signs to the Kossiakoff Center parking on the lower lot. The lower level parking lot near the Kossiakoff Center is recommended and a shuttle service will operate from 0745-1530 for your convenience.
ALL PRESENTATIONS ARE NON-ATTRIBUTION AND RECORDING DEVICES ARE PROHIBITED.
The fee for NCMF members is $30 and guests $60 (includes a one-year guest membership). Register online at www.cryptologicfoundation.org. Registration closes on Friday, 14 October. Or you may mail-in your registration fee to NCMF, P.O. Box 1682, Fort George G. Meade, MD 20755-9998.

Tuesday, 11 October 2016, 6:30pm - Washington, DC - The Lives of Guy Burgess: An Evening with Andrew Lownie - at the International Spy Museum

Perhaps the most complex of the Cambridge Spies, Guy Burgess was an engaging and charming companion to many and an unappealing, utterly ruthless manipulator to others. Recruited by the Soviets as a young man in the 1930s, he rose through academia, the BBC, the Foreign Office, MI5 and MI6, to gain access to thousands of highly sensitive secret documents which he passed to the USSR. Join Andrew Lownie, the author of Stalin's Englishman, formerly the London representative of the Washington-based National Intelligence Study Centre, as he discusses how even Burgess's chaotic personal life of drunken philandering did not stop him from espionage. Lownie interviewed more than a hundred people who knew Burgess personally, many for the first time, and used hitherto secret files to reveal how even under suspicion, Burgess's fabled charm - which had enabled many close personal relationships with influential figures including Churchill - prevented his exposure for many years. Stalin's Englishman, which in Great Britain was a 2015 Book or Biography of the Year in the Times, Guardian, Daily Mail, Spectator and BBC History Magazine, will be available for sale and signing at the event. Tickets for the general public: $10. Visit www.spymuseum.org

---

Wednesday, 19 October 2016, noon - Washington, DC - Hot Topics Series - Global Terrorism, Espionage and Cybersecurity Monthly Update - at the International Spy Museum

Be the first to learn the latest intelligence news! Join David Major, retired supervisory special agent of the FBI and former director of Counterintelligence and Security Programs at the NSC staff at the White House, for a briefing on the hottest intelligence and security issues, breaches, and penetrations. Presented in partnership with The Centre for Counterintelligence and Security Studies (CI Centre), these updates will cover worldwide events such as breaking espionage cases and arrest reports, cyber espionage incidents, and terrorist activity. Major uses his expertise to analyze trends and highlight emerging issues of interest to both intelligence and national security professionals and the public. Cases are drawn from the CI Centre's SPYPEDIA®, the most comprehensive source of espionage information in the world, containing events and information that may not be reported by mainstream media outlets. Tickets: FREE. Visit www.spymuseum.org

---

28 - 29 October 2016 - The Hague, Netherlands - "Witness to Change: Intelligence Analysis in a Changing Environment" is topic of the NISA 25th Anniversary Conference

The Netherlands Intelligence Studies Association (NISA) celebrates its 25th anniversary with a two-days conference. Main theme is the strongly changed environment of the intelligence analyst during these past 25 years.
In other words: the 25th anniversary as a symbol for the revolutionary changes in the intelligence world with which analysts have to deal; both external developments (the onset of a multipolar world, asymmetric conflicts, the information revolution), and internal changes (in collecting, processing, dissemination, legitimization and supervision).
These developments forced intelligence analysts and organisations to adapt work processes and methods and techniques. Intelligence analysts still mostly operate in secret, but the demands of intelligence consumers and the public have changed over the last 25 years. Social and technological developments have changed the playing field and the rules of the game for the intelligence analyst, leading to an enormous growth in (publicly) available information and means of communication, and demands for more transparency and accountability. Aim of the conference is to touch on the consequences of this changed environment, and to look ahead.

The Conference will be held at the Nationaal Archief (the National Archive), Prins Willem Alexanderhof 20, The Hague, the Netherlands.
The conference program may be viewed here as a PDF.

Conference Fee: Standard Fee: Eur175; Student Fee: Eur80 (proof of status required). Fee covers registration, lunch and drinks.
To join the Conference Dinner on Friday 28 October 2016, an extra fee of Eur30 is applicable.

To Register: For registration: fill this form. After registration you will receive further information as regards payment of the conference fee and the programme. There is a limited number of seats. Registration for the conference will close on 15 October 2016.
For further information please send an e-mail to 25yearsnisa@gmail.com
NOW AVAILABLE
Getting a Security Clearance: Questions and Answers about what they are, how they are conducted,
how you can qualify, how long they take, and what can put them in jeopardy.

Two valuable booklets are now available
The Security Clearance Process: Answers to Frequently Asked Questions - by the Congressional Research Service, Sept 2013
[PDF]
Security Clearances - FAQs - ClearanceJobs.com / DICE
[PDF]
---
Intelligence as a Career - with listings of colleges teaching intelligence courses.

AFIO's booklet for high school and college students considering careers
in the U.S. Intelligence Community.
Careers Booklet in PDF Format available here.
Cannot open some or all of these PDFs? It can mean your PDF viewer is out-of-date.
Use this link to update your viewer to the latest version.
---
Intelligence Community - Seven Years in a Row - Named 2015
One of the Best Places to Work in the Federal Government
For the seventh consecutive year, the Intelligence Community (IC) was honored as #2 in the top-ten Best Places to Work in the Federal Government, according to an independent analysis of federal workers' job satisfaction and commitment.
The rankings were compiled by the Partnership for Public Service (PPS) and American University's Institute for the Study of Public Policy Implementation (ISPPI) and announced recently in Washington, D.C. PPS is a nonprofit, nonpartisan organization that aims to attract people to federal careers and improve how the government runs. The institute conducts research and helps federal leaders solve difficult public-policy issues.
The IC ranked fourth overall among large agencies, which includes over 30 organizations, each of which employs more than two thousand people. Rankings are based on data from the 2015 Federal Employee Viewpoint Survey, which the U.S. Office of Personnel Management administers. The first Federal Government survey was in 2003, but the IC has only participated since 2009. Max Stier, president and CEO of the Partnership for Public Service, noted that the IC does not have to participate but does so voluntarily, "which is a credit to them."
To maintain the security of information about its work force, the IC relies on its own survey instrument to assess each year how its workers feel about issues such as job satisfaction, professional development, and the effectiveness of senior leaders. The IC includes several questions from the federal survey in the IC's annual Employee Climate Survey. That way, the Community's information can be compared with that from other organizations.
Other top-five large organization Best Places to Work are: The National Aeronautics and Space Administration and the U.S. Departments of Commerce, State and Justice.
Visit bestplacestowork.org to see which agencies top the rankings and to access trend analysis, demographic data and all 10 workplace categories, as well as generate custom reports and conduct side-by-side comparisons for up to three agencies.
---
Join or subscribe to our publications and enjoy all our unusual member benefits
---
---
JOIN:
As a Member or Subscriber - use this Online Form
Student Rates: Students, 28 years old or younger, attending a U.S. nonprofit accredited college, may join 1x at special rate. Email us at afio@afio.com with your info for application and rates.
RENEW:
Renew or Reinstate Your Membership or Subscription here
UPDATE MEMBER INFO:
New Email or Mailing Address? Provide here.
---
Review our Member
CODE of ETHICS

---
BOARD OF DIRECTORS' Photos and Public Biographies
---
---
---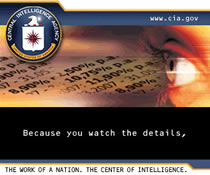 ---
We Thank These Corporate, Academic, and Charitable Foundation Members
Join as a corporate
or foundation member
---
Movies of Interest to members can be found here.
---

Send your articles and reviews to afio@afio.com for the journal INTELLIGENCER

---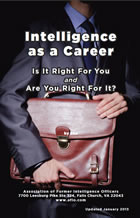 Intelligence
as a Career

Is It Right For You
AND
Are You Right For It?
Click HERE, or the cover photo above, for the updated version Booklet.
---
Donations Needed -
Help AFIO continue our Special Events, Publications, and Speakers Program.
---

---