The Association of Former Intelligence Officers (AFIO) presents this website to serve our members and visitors as a portal to our activities and to provide word of upcoming educational events by other select intelligence groups.
Upcoming AFIO and Intelligence Community Events
Many informative, fascinating programs are occuring in the Washington Metro Area and across the country. Find out which ones to add to your calendar to stay connected and to stay current.

Corporate
Learn how your company can make a difference with AFIO corporate memberships and marketing opportunities. Reach more than 4,800 intelligence professionals.

National Members
Join or renew your existing membership and enjoy member benefits, such as special publications, invitations to events, unique banking & investment services, scholarships, and career assistance.

Publications
Sign up and receive the popular Weekly Intelligence Notes [WINs] and the printed industry journal: Intelligencer - Journal of U.S. Intelligence Studies, 3 issues per year for the intelligence community by intelligence professionals. AFIO also produces Intelligence As A Career - a printed and online guide to organizing your life and education to qualify for work in the intelligence community, and a Guide to the Study of Intelligence intended to assist college instructors and secondary school teachers of history, civics, and current events.

About Us
Learn about us - our many events, publications, programs, and legislative alerts. Support AFIO with purchases and donations or meet our members at events throughout the US. Make your views known.

Chapters
Local chapters have appeal to many members, so after you have joined AFIO National, consider adding a local chapter membership to your mix.

Upcoming AFIO and related Organization Educational Events ... Full listings found here

Saturday, 7 May 2016, 11 am - 3 pm - Orange Park, FL - The North Florida Chapter hosts Don Kabrich, on Operation Iraqi Freedom, Lessons Learned, and Al-Jazeera Desert Intelligence Operations and Collection.

An early reminder that the next North Florida Chapter meeting falls on Saturday, May 7th - the Mother's Day weekend. We are hoping, despite that, you are able to attend and we can get a nice turnout.

Our guest speaker will be retired Army Warrant Officer Don Kabrich, who served from 1991 to 2013 in an Army Special Forces Detachment - Alpha (SFODA) Team Member - from the 5th Special Forces Group, Fort Campbell, Kentucky. He and the group specialized in Middle East Operations, with detachment infiltration and exfiltration as a specialty, plus Amphibious Operations (Special Forces Combat Dive Team).
Topics covered will be: 1) Lessons Learned - Operation Iraqi Freedom (OIF). 2) Special Forces Detachment Combat Tour in Bayji, Iraq. 3) Al-Jazeera Desert Intelligence Collection, Operations, and Psychological Warfare Impact
Event Location: Orange Park Country Club.
RSVP as soon as possible to Ken Meyer at kemeyer123@att.net or call him at (904) 777-2050. Spouses and guests are cordially invited to attend. The cost remains $24 per person for the luncheon. Hope to see you there.

---

Thursday, 19 May 2016, 1130 hours - Colorado Springs, CO - The AFIO Rocky Mountain Chapter hosts Raymond Bernier, DD, CIAC, on the "Identification and Cataloging of Terrorists."

The speaker at this chapter events is Raymond Bernier, currently assigned as the Deputy Director of the Colorado Information Analysis Center (CIAC). He is also the project manager for the Criminal Intelligence Enterprise (CIE) for the south central region of Colorado. The CIE is a national initiative designed to identify, prioritize, and catalog the criminal and terrorist threat groups that present the greatest threat to each major city and county.
The cost of the meal is $15.
For more details, please contact Tom VanWormer at robsmom@pcisys.net

---

Thursday, 2 June 2016 - San Francisco, CA - The AFIO Andre LeGallo Chapter hosts Dr. Matthew Brazil, Research Fellow, Jamestown Foundation

Mr. Brazil will discuss China's Harder Line Against Foreign Influence - Implications for US Business.
Venue: United Irish Cultural Center, 2700 45th Avenue, San Francisco. 11:30am no host cocktail; meeting and luncheon at noon.
Register here.

Reservation and pre-payment is required before May 26, 2016. The venue cannot accommodate walk-ins.
Please contact Mariko Kawaguchi, Board Secretary at afiosf@aol.com or Mariko Kawaguchi, c/o AFIO, P.O. Box 117578, Burlingame, CA 94011 for questions.

---

16 June 2016, 12:30 - 2pm - Los Angeles, CA - The AFIO L.A. Chapter hosts Kenneth Daigler on "Spies, Patriots, and Traitors"

Former CIA officer Kenneth Daigler will discuss key aspects of his book Spies, Patriots, and Traitors. The cost of the meeting will be $15 and will include a copy of the book and refreshments served. Please RSVP: afio_la@yahoo.com
Meeting Location: LAPD-ARTC 5651 W. Manchester Ave Los Angeles, CA 90045

BIO: Ken Daigler is a retired career CIA operations officer, previously holding several key operations positions in the agency, and is a recipient of the William Donovan Award & Distinguished Career Intelligence Medal. In addition, he has consulted for the Department of Defense in the area of counterintelligence. He has a BA in history from Centre College of Kentucky and an MA in history from the Maxwell School at Syracuse University and has served in the US Marine Corps.

---

Wednesday, 22 June 2016, 5:30pm - New York, NY - Len Predtechenskis, former FBI, discusses "Operating Techniques for Recruiting Foreign Nationals" - at this Metro NY Chapter Meeting.

SPEAKER: Len Predtechenskis, Retired FBI Special Agent. He operated undercover, recruited many Soviet/Russian agents for the US Government, debriefed and resettled dozens of defectors, directed/lead agent in many "false flag", "red herring" and "double agent" operations.
TOPIC: "Operating Techniques for Recruiting Foreign Nationals"
LOCATION: Society of Illustrators building, 128 East 63rd Street. Between Park & Lexington Ave.
TIME: Registration starts 5:30 PM Meeting starts 6:00 PM
COST: $50/person. Payment at the door, cash & check only. Full dinner, cash bar.
REGISTER: Strongly suggested, not required. Phone Jerry Goodwin 646-717-3776 or Email: afiometro@gmail.com

---

Teaching -- or Seeking to learn more -- about the world of Intelligence?

AFIO's Guide to the Study of Intelligence
Are You Using It?
The Guide consists of more than 66 articles on all aspects of intelligence. It is intended to help instructors become familiar with intelligence-related subjects. Guide articles, written by both academic experts and seasoned practitioners, are introductions to the subject with recommended readings for further study.
Guide articles appear in AFIO's journal Intelligencer and as PDFs on our website here.
They are free for academic use.

For a complete list of what articles are available at this time, view this pdf.

---

AFIO's Intelligence Community Mousepad

Full color seals of all 18 members of the U.S. Intelligence Community on this 8" round, slick surface, nonskid, rubber-backed mouse pad. Price: $20.00 for 2 pads [includes shipping to U.S. based address, only. For foreign shipments, we will contact you with a quote.] Great gift for colleagues and self. Click image above for larger image.

Saturday, 14 May 2016, 11:30 am - 2:30 pm - Melbourne, FL - Dr. Joseph Finley, Jr. on "Technical Surveillance and Countermeasures" is theme at this Florida Satellite Chapter Meeting.

Dr. Joseph Finley, Jr., a member of the Florida Satellite Chapter, will speak on Technical Surveillance and Countermeasures. Dr. Finley spent 28 years as a Special Agent of the Federal Bureau of Investigation (FBI), and in 1987, was assigned to the Special Operations Group of the FBI (17 years) and while assigned to the New York Division, actively conducted Technical Surveillance Countermeasure Sweeps (TSCM) and surreptitious entries. His talk presents an opportunity for all of us and our guests to meet and hear an expert in this esoteric field.
Location: At East Club, Indian River Colony Club, 1936 Freedom Dr, Melbourne, FL 32940.
Timing: 11:30 AM - 12:15 PM: Social Hour, greet old, new members and guests (cash bar); 12:15 PM: Sit-Down lunch
Menu Choices are: Chef Salad (mixed greens, tomato, cucumber, egg, ham, turkey, American and Swiss cheeses with Ranch and Italian dressings on table (S), or Sliced Pork loin with roasted potatoes and vegetable (P)
Above come with coffee, tea, rolls and butter and Chef's choice of dessert
Cost: $25.00; Student and active duty military: $18.00
TO ATTEND: Prepaid reservations are required and must be received by Thursday, 28 April 2016. To reserve, send check and meal choice to Chapter president John Noble, Melbourne Police Department, 701 South Babcock St, Melbourne, FL 32935. Or contact John Noble or call him at 321-409-2262.

---

Friday, 20 May 2016 - Tysons, VA

Professor John D. Woodward, Jr.,
former CIA Clandestine Service and Directorate of Science and Technology, on "The Hard Problem of Countering the Use of Biological Weapons."

Ambassador Chas W. Freeman, Jr., (USFS, Ret)
discusses "America's Continuing Misadventures in the Middle East."

Ambassador Chas Freeman looks at the skein of bluffs, rivalries, competing interests, promises and betrayals in the Middle East, and the diplomatic cards remaining for the US to play. His new book of the same title as his talk, will be released at event. Unraveling the tangle of wars in which the US is now engaged with or against Arabs, Berbers, Hazaras, Israelis, Kanuris, Kurds, Palestinians, Persians, Pashtuns, Somalis, Syrians, Tajiks, Tuaregs, Turkmen, Turks, and Uzbeks – as well as Alawites, Christians, Druze, secular Muslims, Salafis, Shiites, Sunnis, and Yazidis – will not be easy. In large measure through our involvement, their conflicts have become interwoven. Ending one or another of them might alter the dynamics of the region but would not by itself produce peace.

His presentation begins at 1 pm.

"The Hard Problem of Countering the Use of Biological Weapons" will be the topic of former CIA DO & DS&T officer John D. Woodward, Jr., in his presentation on the biological weapons threat, which he defines as the intentional or deliberate use of a pathogen to cause harm. Woodward will discuss biological weapons risks as terrorists and others leverage advances in the life sciences and information technologies to ramp up the types of attacks they may seek to launch. Woodward will explain in what ways biological weapons pose a human, economic, and societal threat.

A retired CIA officer who served in the Clandestine Service and the Directorate of Science and Technology, Woodward is currently a Professor of the Practice of International Relations at the Boston University's Frederick S. Pardee School of Global Studies where he teaches courses in intelligence, homeland security, and national security. His talk will include possible policy approaches which will focus greater attention on intelligence measures the US and global communities can take to prevent or disrupt biological weapons attacks.

John Woodward's talk begins at 11 am.

Location: Crowne Plaza Hotel Mezzanine, 1960 Chain Bridge Rd, Tysons Corner, VA 22102. Hotel: 703 893-2100. Driving directions here or use this link: http://tinyurl.com/boey9vf No reservations at the hotel.
REGISTER: Early online Registration is here.

OTHER IMPORTANT UPCOMING EDUCATIONAL EVENTS....

Monday, 9 May 2016, 9am- 3pm – Washington, DC – Homeschool Day at SPY at the International Spy Museum

Join the Spy Museum's educators for the first annual Homeschool Day where groups and families are invited to explore the Museum's exciting exhibitions, discover multi and inter disciplinary lesson plans and resources, and participate in hands-on educational workshops with other homeschool families. This event is designed for students in grades 4+. Tickets: $14 and include admission to the Museum. Visit www.spymuseum.org

---

Wednesday, 11 May 2016, 6:30pm– Washington, DC – The Winter Fortress, The Epic Mission to Sabotage Hitler's Atomic Bomb: An Evening with Neal Bascomb at the International Spy Museum

In 1942, the Nazis were racing to build an atomic bomb. They had the physicists. They had the will. What they didn't have was enough "heavy water," an essential ingredient for their nuclear designs. That changed when they occupied Norway and took control of Vemork hydroelectric plant, the world's sole supplier of heavy water. Join best-selling author Neal Bascomb as he shares highlights from his extensively researched new book, The Winter Fortress, about the daring and successful commando raid on Vemork. During the program, Bascomb will show never-before-seen photos, and the Museum will feature an unusual artifact related to the mission for this one night only. Tickets: $10 per person. Visit www.spymuseum.org

---

Tuesday, 17 May 2016, 11:30am - 2pm - McLean, VA - The Defense Intelligence Forum meets to hear Bob Gourley on "Cyber Threats and Cyber Intelligence Sharing."

The DIF hosts Bob Gourley, a former naval intelligence officer, which included operational tours in Europe and Asia. Bob was the first Director of Intelligence (J2) at DOD's cyber defense organization JTF-CND. Following retirement from the Navy, Bob was an executive with TRW and Northrop Grumman, and then returned to government service as the CTO of the Defense Intelligence Agency (DIA). Bob's most recent book, The Cyber Threat, provides business executives with actionable insights into the threat landscape, and is the theme of today's luncheon.
This forum will follow a modified Chatham House rule. You may use the information, but with the exception of speaker's name and subject, you may make no attribution. Everything will be off the record.

Pay at the door with a check for $ 29.00 payable to DIAA, Inc. Location: Pulcinella Restaurant, 6852 Old Dominion Dr, McLean, VA
Make reservations by 17 May 2016 by email to diforum@diaalumni.org. Include names, telephone numbers, and email addresses.
Pay at the door with a check for $ 29.00 per person, payable to DIAA, Inc. Checks are preferred, but will accept cash; however, credit card payments. are discouraged.

---

Thursday, 19 May 2016, 6:30pm– Washington, DC – Anatomy of Malice: The Enigma of the Nazi War Criminals at the International Spy Museum

In 1945, when the Allies convened the Nuremberg trials, a psychiatrist, Douglas Kelley, and a psychologist, Gustave Gilbert, tried to understand the psychology of the Nazi leaders, using extensive psychiatric interviews, IQ tests, and Rorschach tests. Their findings were so disconcerting that portions of the data were hidden and the research was bitterly disputed. Drawing on decades of experience, Joel E. Dimsdale, distinguished professor emeritus and research professor in psychiatry at the University of California, San Diego, takes a fresh look at the findings and will discuss his complex and troubling quest to make sense of the most extreme evil in his new book Anatomy of Malice. Tickets: $10 per person. Visit www.spymuseum.org

Tuesday, 10 May 2016, 11 a.m. - Washington, DC - Amb. Djerdj Matkovic, Republic of Serbia, discusses "The Balkans: Regional Political and Security Issues" at the Daniel Morgan Academy

The Daniel Morgan Academy invites AFIO members and guests to an invitation-only national security lecture on "The Balkans: Regional Political and Security Issues" by His Excellency Djerdj Matkovic, Ambassador of the Republic of Serbia to the United States

A Q & A and reception will follow the Ambassador's comments.
LOCATION: Daniel Morgan Academy, 1620 L St NW, Seventh Floor, Washington, DC 20036; Near Farragut North and West Metro Stations

Event location: Daniel Morgan Academy, 1620 L St NW, 7th Flr, Washington, DC 20036. Near Farragut North and West Metro Stations
RSVP here. Or contact Frank Fletcher, Director of Lectures and Seminars, at events@DanielMorgan.academy or call 202-759-4988


---

12 May 2016, 11:30am - 1pm - Washington, DC - Countering WMDs: The Libyan Experience, Amb. Robert Joseph, at the Daniel Morgan Academy

In his presentation "Countering WMDs: The Libyan Experience," part of Daniel Morgan Academy's National Security Lecture Series, Ambassador Robert Joseph will discuss his experience negotiating with the Libyans to convince them to give up their WMD programs.

The reception begins at 11:30, followed by the Ambassador's talk at noon, and closes with a Q & A.
Event location: Daniel Morgan Academy, 1620 L St NW, 7th Flr, Washington, DC 20036. Near Farragut North and West Metro Stations
RSVP here. Or contact Frank Fletcher, Director of Lectures and Seminars, at events@DanielMorgan.academy or call 202-759-4988


---

Thursday, 12 May 2016, noon - 2 pm - Washington, DC - USAF Flight Test Engineer on "What's it like to fly the SR-71?" at this Returned & Services League of Australia meeting

Guest speaker: Retired USAF flight test engineer and SR-71 Reconnaissance Systems Operator Phil Soucy will be the guest speaker, talking about flying the SR-71. He is co-founder and Chairman of the Board of Directors of MTSl, an aerospace engineering firm he co-founded in Alexandria, VA. MTSI employs a technical staff of over 600 engineers and scientists with operating locations throughout the US. Prior to MTSI, Phil served 20 years with USAF in wide range of operational and high tech systems evaluation positions. During his last assignment he served in the Pentagon where he headed the Air Force's "Low Observable Red Team," and was responsible for independently assessing and testing the survivability and effectiveness of all low observable (stealth) vehicles.

Where –Amenities Room, Embassy of Australia, 1601 Massachusetts Ave NW, Washington, DC 20036. NOTE: Valid photo ID required
Charge - $15.00, including buffet lunch and sodas. Alcoholic beverages- $2.00 each. Attire: Business casual
RSVP by noon on Wednesday May 11, 2016, to David Ward at 202-352-8550 or via e-mail to dmward1973@gmail.com More info at www.rsl-dc.com.

Parking: No parking at Embassy but paid off-street parking available behind and under Airline Pilots Association, 17th & Mass, and at 15th & Mass (1240 15th St). On street two hour metered parking also available.
NOW AVAILABLE
Getting a Security Clearance: Questions and Answers about what they are, how they are conducted,
how you can qualify, how long they take, and what can put them in jeopardy.

Two valuable booklets are now available
The Security Clearance Process: Answers to Frequently Asked Questions - by the Congressional Research Service, Sept 2013
[PDF]
Security Clearances - FAQs - ClearanceJobs.com / DICE
[PDF]
---
Intelligence as a Career -with listings of colleges teaching intelligence courses.

AFIO's booklet for high school and college students considering careers
in the U.S. Intelligence Community.
Careers Booklet in PDF Format available here.
Cannot open some or all of these PDFs? It can mean your PDF viewer is out-of-date.
Use this link to update your viewer to the latest version.
---
Intelligence Community - Seven Years in a Row - Named 2015
One of the Best Places to Work in the Federal Government
For the seventh consecutive year, the Intelligence Community (IC) was honored as #2 in the top-ten Best Places to Work in the Federal Government, according to an independent analysis of federal workers' job satisfaction and commitment.
The rankings were compiled by the Partnership for Public Service (PPS) and American University's Institute for the Study of Public Policy Implementation (ISPPI) and announced recently in Washington, D.C. PPS is a nonprofit, nonpartisan organization that aims to attract people to federal careers and improve how the government runs. The institute conducts research and helps federal leaders solve difficult public-policy issues.
The IC ranked fourth overall among large agencies, which includes over 30 organizations, each of which employs more than two thousand people. Rankings are based on data from the 2015 Federal Employee Viewpoint Survey, which the U.S. Office of Personnel Management administers. The first Federal Government survey was in 2003, but the IC has only participated since 2009. Max Stier, president and CEO of the Partnership for Public Service, noted that the IC does not have to participate but does so voluntarily, "which is a credit to them."
To maintain the security of information about its work force, the IC relies on its own survey instrument to assess each year how its workers feel about issues such as job satisfaction, professional development, and the effectiveness of senior leaders. The IC includes several questions from the federal survey in the IC's annual Employee Climate Survey. That way, the Community's information can be compared with that from other organizations.
Other top-five large organization Best Places to Work are: The National Aeronautics and Space Administration and the U.S. Departments of Commerce, State and Justice.
Visit bestplacestowork.org to see which agencies top the rankings and to access trend analysis, demographic data and all 10 workplace categories, as well as generate custom reports and conduct side-by-side comparisons for up to three agencies.
---
Join or subscribe to our publications and enjoy all our unusual member benefits
JOIN:
As a Member or Subscriber - Use this Online Form
Student Rates: Students, 28 years old or younger, attending a U.S. nonprofit accredited college, may join 1x at special rate. Email us at afio@afio.com with your info for application and rates.
RENEW:
Renew or Reinstate Your Membership or Subscription here
UPDATE MEMBER INFO:
New Email or Mailing Address? Provide it here.
---
---
Review our Member
CODE of ETHICS

---
BOARD OF DIRECTORS' Photos and Public Biographies
---
---
---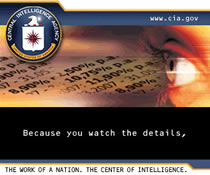 ---
We Thank These Corporate, Academic, and Charitable Foundation Members
Join as a corporate
or foundation member
---
Movies of Interest to members can be found here.
---

Send your articles and reviews to afio@afio.com for the journal INTELLIGENCER

---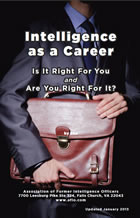 Intelligence
as a Career

Is It Right For You
AND
Are You Right For It?
Click HERE, or the cover photo above, for the updated version Booklet.
---
Donations Needed -
Help AFIO continue our Special Events, Publications, and Speakers Program.
---

---