AFIO Central Office
7700 Leesburg Pike
Suite 324
Falls Church, VA
22043
Voice: 703 790 0320
Fax: 703 991 1278
Email: afio@afio.com

© 2016 AFIO

Copyright and Privacy Notice


The Association of Former Intelligence Officers (AFIO) presents this website to serve our members and visitors as a portal to our activities and to provide word of upcoming educational events by other select intelligence groups.
Upcoming AFIO and Intelligence Community Events
Many informative, fascinating programs are occuring in the Washington Metro Area and across the country. Find out which ones to add to your calendar to stay connected and to stay current.

Corporate
Learn how your company can make a difference with AFIO corporate memberships and marketing opportunities. Reach more than 4,800 intelligence professionals.

National Members
Join or renew your existing membership and enjoy member benefits, such as special publications, invitations to events, unique banking & investment services, scholarships, and career assistance.

Publications
Sign up and receive the popular Weekly Intelligence Notes [WINs] and the printed industry journal: Intelligencer - Journal of U.S. Intelligence Studies, 3 issues per year for the intelligence community by intelligence professionals. AFIO also produces Intelligence As A Career - a printed and online guide to organizing your life and education to qualify for work in the intelligence community, and a Guide to the Study of Intelligence to assist college instructors, secondary school teachers of history, civics, and current events, and students, on the best readings on a wide variety of current intelligence topics.

About Us
Learn about us - our many events, publications, programs, and legislative alerts. Support AFIO with purchases and donations or meet our members at events throughout the US. Make your views known.

Chapters
Local chapters have appeal to many members, so after you have joined AFIO National, consider adding a local chapter membership to your mix.

Upcoming AFIO and related Organization Educational Events ... Full listings found here

Nearly Sold Out - Friday 24 February 2017 - Tysons Corner, VA - AFIO National Kick-off Luncheon for 2017 - Enhanced Interrogation: Inside the Minds and Motives of the Islamic Terrorists Trying To Destroy America, and Spy Sites of Washington, DC.

AFIO National's first luncheon of 2017 features Dr. James E. Mitchell discussing Enhanced Interrogation: Inside the Minds and Motives of the Islamic Terrorists Trying To Destroy America. Mitchell was a civilian contractor who spent years training U.S. military members to resist interrogation should they be captured. Aware of the urgent need to prevent impending catastrophic terrorist attacks, he worked with the CIA to implement "enhanced interrogation techniques"–which included waterboarding. Despite the media hysteria that followed, he tells us why EIT remains valuable. Mitchell's co-author, Bill Harlow, will be present but not a presenter.

"Emotions are high and accusations are being thrown about, but facts matter. Before anyone rushes to judgment, they should read this book and take in what happened through the eyes of a key player in the CIA's interrogation program."–General Michael Hayden, USAF, Ret., Former CIA Director

"The authentic account of head-to-head hardball with fanatical Islamic killers by a professional who not only won big for America, but did it while fending off powerful critics. The lessons learned needed to be told–and well-told they are. The war on us by radical Islamists is far from over–read and learn!"
–Hon. Porter J. Goss, Former Chairman of House Intelligence Committee and CIA Director

In the afternoon, we hear from Robert Wallace and H. Keith Melton, authors of what will be the just-released Spy Sites of Washington, DC: A Guide to the Capital Region's Secret History. A mesmerizing tour of traitors and tradecraft revealing the wheres and whys of Washington's second-oldest profession. Robert Wallace is the former director of CIA's Office of Technical Service. He and Melton have co-authored four books. Keith Melton is an intelligence historian and owns one of the largest collections of spy paraphernalia in the world.

Location: Crowne Plaza Hotel Mezzanine, 1960 Chain Bridge Rd, Tysons Corner, VA 22102. Hotel: 703 893-2100. Driving directions here or use this link: http://tinyurl.com/boey9vf For security reason, reservations on day of event are not allowed.

The hotel is located within easy walking distance from two Silver Line Metro Stops - Greensboro or Tysons Corner - for attendees who prefer to use public transportation.
http://silverlinemetro.com/tysons-corner/
http://silverlinemetro.com/greensboro/

REGISTER NOW while space remains.

---


Recently published. AFIO's 800-page comprehensive Guide to the Study of Intelligence. Peter C. Oleson, Editor. Foreword by Dr. Robert M. Gates, former Director, Central Intelligence.
View authors and table of contents here.

Perfect for professors, students, those considering careers in intelligence, and current/former officers seeking to see what changes are taking place across a wide spectrum of intelligence disciplines.

AFIO's Guide to the Study of Intelligence helps instructors teach about the large variety of subjects that make up the field of intelligence. This includes secondary school teachers of American History, Civics, or current events and undergraduate and graduate professors of History, Political Science, International Relations, Security Studies, and related topics, especially those with no or limited professional experience in the field. Even those who are former practitioners are likely to have only a limited knowledge of the very broad field of intelligence, as most spend their careers in one or two agencies at most and may have focused only on collection or analysis of intelligence or support to those activities.

$95, includes Fedex shipping to a CONUS (U.S.-based) address. AK, HI, and other US or foreign addresses should contact afio@afio.com to inquire about shipping options.

To order for shipment to a U.S.-based CONUS address, use this online form,
To order multiple copies or for purchases going to AK, HI, other US territories, or other countries call our office at 703-790-0320 or send email to afio@afio.com
providing your name, mailing address, quantity, cc number and expire date, and amount authorized to charge, and your phone should we have questions. Foreign shipments fees will be calculated and estimates sent, awaiting your approval.

The Guide is also available directly from Amazon at this link.

Thursday, 30 March 2017 - Los Angeles, CA - AFIO LA Chapter hosts Phil Pressel on "The Hexagon KH-9 Spy Satellite Program."

AFIO LA hosts guest speaker Phil Pressel will be speaking on the subject of the Hexagon KH-9 spy satellite program. Phil worked for 30 years for the Perkin-Elmer Corporation in Connecticut and was responsible for the design of the Hexagon's stereo cameras. It was the last film based spy satellite. The Hexagon satellite was acknowledged to have been an invaluable asset providing intelligence information for security agencies and the military. It was responsible for President Nixon signing the SALT treaty and allowed President Reagan to say, "trust but verify" what the Russians were doing. The program was declassified by the NRO in 2011.
To RSVP and for exact time and location, email Vince at AFIO_LA@yahoo.com.

---

5 April 2017 (Wednesday), 11:30 am - San Francisco, CA - The AFIO San Francisco Chapter hosts Brigadier General Roderick Macdonald on "The Falklands Conflict 35 Years On."

Brig Gen Roderick Macdonald discusses the "The Falklands Conflict 35 years On." at this April meeting of the AFIO "Andre LeGallo" San Francisco Chapter. The Falklands War from 2April to 14 June 1982 was the largest air sea battle since World War II. British forces launched the longest amphibious operation in history, sailing 8,000 miles to retake the Falkland Islands in the South Atlantic, invaded and occupied illegally by over 10,000 Argentine soldiers and Marines. Retired British Army Brigadier General Roderick Macdonald will give a personal overview of the campaign.
WHERE: Basque Cultural Center, 599 Railroad Ave, South San Francisco, CA 94080. 11:30AM no host cocktail; meeting and luncheon at noon.
RSVP: Eventbrite registration link will be posted shortly. Reservation and pre-payment is required before 26 March 2017. The venue cannot accommodate walk-ins. Contact Mariko Kawaguchi, Board Secretary at afiosf@aol.com or Mariko Kawaguchi, c/o AFIO, PO Box 117578, Burlingame, CA 94011 with your questions.

---

AFIO's NEW Intelligence Community Mousepad for 2017

New mousepads arrived. Full color seals of all 18 members of the U.S. Intelligence Community on this 8" round, slick surface, nonskid, rubber-backed mouse pad. Price still only $20.00 for 2 pads [includes shipping to U.S. based address, only. For foreign shipments, we will contact you with a quote.] Great gift for colleagues and self. Click image above for larger image. Now with dark navy background, brighter, updated seals of member agencies. And now MADE IN USA. Order NEW MOUSEPADS here.


---

Teaching–or Seeking to learn more–about the world of Intelligence?

AFIO's Guide to the Study of Intelligence
Are You Using It?
The Guide consists of more than 66 articles on all aspects of intelligence. It is intended to help instructors become familiar with intelligence-related subjects. Guide articles, written by both academic experts and seasoned practitioners, are introductions to the subject with recommended readings for further study.
Guide articles appear in AFIO's journal Intelligencer and as PDFs on our website here.
They are free for academic use.

For a complete list of what articles are available at this time, view this pdf.

Other Upcoming Educational Events....

24 February 2017, 5:30 to 7 p.m. - Washington, DC - The Changing Role of Intelligence in a Changing World - Gene Poteat presentation at The Institute of World Politics

American intelligence services, constrained by law and with oversight from the executive and both branches of Congress, are thus liable for their actions, but are not immune from politics. Rather than going along with our changing culture and politics, the problems facing our intelligence are avoided by strict vigilance and adherence to the highest professional judgements and ethics - without political considerations. This event is the fourth Brian Kelley Memorial Lecture and is sponsored by the IWP Alumni Association. About the speaker S. Eugene (Gene) Poteat is a retired senior CIA Scientific Intelligence Officer, and has served as President of the Association of Former Intelligence Officers (AFIO). He was educated as an electrical engineer and physicist. He holds a Masters in Statecraft and National Security Affairs from IWP. His career in intelligence included work with U-2 and SR-71 class of aircraft and various space and naval reconnaissance systems. He also managed the CIA's worldwide network of monitoring sites. He holds patents on covert communications techniques. His CIA assignments included the Directorate of Science and Technology, the National Reconnaissance Office, Technical Director of the Navy's Special Programs Office and Executive Director of the Intelligence Research and Development Council. He served abroad in London, Scandinavia, the Middle East and Asia. He received the CIA's Medal of Merit and the National Reconnaissance Office's Meritorious Civilian Award for his technological innovations.
Location: The Institute of World Politics 1521 16th St NW, Washington, DC 20036
REGISTER HERE.

---

Wednesday, 29 March 2017, 10am - 1pm - Annapolis Junction, MD - Stephen Budiansky discusses A New Perspective on NSA's Covert Activities at this NCMF spring program. Complex Russian Ciphers, Snowden, Turf Battles, Lies, Coverups, and Secrecy.

Please join National Cryptologic Museum Foundation friends and colleagues welcoming Stephen Budiansky acclaimed author, journalist, and historian of cryptology, speaking on "A New Perspective on NSA's Covert Activities."[To immediately register, click on image above]
A book signing of Mr. Budiansky's book Code Warriors: NSA's Codebreakers and the Secret Intelligence War Against the Soviet Union follows his presentation and lunch follows that at noon.
Mr. Budiansky will speak about his latest book (noted above) that draws on an array of recently declassified documents to explore the NSA's long SIGINT struggle against the Soviets, and traces the historical forces behind the intelligence controversies making headlines today. Mr. Budiansky is the author of numerous books of military and intelligence history, science and biography including Battle of Wits: The Complete Story of Codebreaking in World War II and Blackett's War. He is the former foreign editor and deputy editor of US News & World Report, and former Washington editor of the scientific journal Nature, and a regular contributor to the Wall Street Journal's book review pages. You will not want to miss this program that draws on an array of recently declassified documents to explore the NSA's long SIGINT struggle against the Soviets and to trace the historical forces behind the intelligence controversies making headlines today.
Where: CACI, Inc. located at 2720 Technology Drive, Annapolis Junction, MD 20701, Tel 301-575-3200. Directions and Map here. Click "directions" to get driving guidance.
RSVP NOW: register online here or mail registration fee of $20 (members) or $50 (guests, includes one-year membership) to NCMF, PO Box 1682, Fort George G. Meade, MD 20755-9998. Please register prior to 23 March to ensure space available

Wednesday 22 February 2017, 7:30 - 8:45 PM - McLean, VA - "How the Internet Developed the Global Jihadi Movement" - Yigal Carmon at the Westminster Institute

"How the Internet Developed the Global Jihadi Movement" is the topic of Yigal Carmon's presentation at this Westminster Institute's free evening presentation.
Yigal Carmon is President and founder of MEMRI, the Middle East Media Research Institute. He combines four different areas of expertise - intelligence, counter-terrorism, diplomacy, and research. Carmon is a colonel (ret) in the Israel Defense Force (IDF) intelligence corps. He was counter-terrorism advisor to two Israeli prime ministers heading governments from both Likud and Labor, overseeing the national deployment against terrorism. He participated in the 1991-1992 peace talks in Madrid and Washington as deputy head of the Israeli delegation negotiating with Syria. Founded in 1998, MEMRI bridges the language gap between the West and the Middle East and South Asia, providing timely translations of Arabic, Farsi, Urdu-Pashtu, Dari, and Turkish media, as well as original analysis of political, ideological, intellectual, social, cultural, and religious trends. "As an institute of research," said Carmon, "we want MEMRI to present translations to people who wish to be informed on the ideas circulating in the Middle East. We aim to reflect reality." MEMRI research is particularly sought out by intelligence agencies in Europe and North America. Carmon is frequently relied upon by leading media sources and government officials as an authority on current developments in the Arab and Muslim world. He has briefed governments worldwide on issues ranging from jihad and terrorism to reform in the Arab world. In the United States, Carmon has given testimony on Capitol Hill and conducted briefings before Congress as well as at the State Department, Pentagon, Department of Homeland Security, Justice Department, Library of Congress, FBI, National Security Council, and NYPD counterterrorism division, and is frequently interviewed on a variety of Western channels, as well as on Arab TV.
WHERE: Westminster Institute, 6729 Curran St, McLean, VA 22101
REGISTER here.

---

30 March - 1 April 2017 - Washington, DC - Joint Conference on "Creating and Challenging the Transatlantic Intelligence Community"

The Woodrow Wilson Center, the German Historical Institute, and the Intenational Intelligence History Association are delighted to invite you to the jointly organized conference on "Creating and Challenging the Transatlantic Intelligence Community".

Please register for the conference by email to the IIHA Executive Director at exec_director@intelligence-history.org before 23 March 2017.
The conference fee is 150 EUR / 165 US-Dollar, 110 EUR / 120 US-Dollar for IIHA members and 75 EUR / 80 US-Dollar for students.
This includes dinners on Thursday and Friday as well as coffee breaks during the conference and a snack lunch on Saturday.
NOW AVAILABLE
Getting a Security Clearance: Questions and Answers about what they are, how they are conducted,
how you can qualify, how long they take, and what can put them in jeopardy.

Two valuable booklets are now available
The Security Clearance Process: Answers to Frequently Asked Questions - by the Congressional Research Service, Sept 2013
[PDF]
Security Clearances - FAQs - ClearanceJobs.com / DICE
[PDF]
---
Intelligence as a Career - with listings of colleges teaching intelligence courses.

AFIO's booklet for high school and college students considering careers
in the U.S. Intelligence Community.
Careers Booklet in PDF Format available here.
Cannot open some or all of these PDFs? It can mean your PDF viewer is out-of-date.
Use this link to update your viewer to the latest version.
---
Intelligence Community - Eight Years in a Row - Named 2016
One of the Best Places to Work in the Federal Government
For the eighth consecutive year, the Intelligence Community (IC) was honored as #3 in the top-ten Best Places to Work in the Federal Government, according to an independent analysis of federal workers' job satisfaction and commitment. See more about the ranking here.
The rankings were compiled by the Partnership for Public Service (PPS) and American University's Institute for the Study of Public Policy Implementation (ISPPI) and announced recently in Washington, D.C. PPS is a nonprofit, nonpartisan organization that aims to attract people to federal careers and improve how the government runs. The institute conducts research and helps federal leaders solve difficult public-policy issues.
The IC ranked fourth overall among large agencies, which includes over 30 organizations, each of which employs more than two thousand people. Rankings are based on data from the 2016 Federal Employee Viewpoint Survey, which the U.S. Office of Personnel Management administers. The first Federal Government survey was in 2003, but the IC has only participated since 2009. Max Stier, president and CEO of the Partnership for Public Service, noted that the IC does not have to participate but does so voluntarily, "which is a credit to them."
To maintain the security of information about its work force, the IC relies on its own survey instrument to assess each year how its workers feel about issues such as job satisfaction, professional development, and the effectiveness of senior leaders. The IC includes several questions from the federal survey in the IC's annual Employee Climate Survey. That way, the Community's information can be compared with that from other organizations.
Other top-five large organization Best Places to Work are: The National Aeronautics and Space Administration and the U.S. Departments of Commerce, State and Justice.
Visit bestplacestowork.org to see which agencies top the rankings and to access trend analysis, demographic data and all 10 workplace categories, as well as generate custom reports and conduct side-by-side comparisons for up to three agencies.
---
Join or subscribe to our publications and enjoy all our unusual member benefits
---
---
JOIN:
As a Member or Subscriber - use this Online Form
Student Rates: U.S.-based Students, 28 years old or younger, attending a U.S. nonprofit accredited college, may join 1x at special rate. Email us at afio@afio.com with your info for application and rates. Rate not available to current or former members.
RENEW:
Renew or Reinstate Your Membership or Subscription here
UPDATE MEMBER INFO:
New Email or Mailing Address? Provide here.
---
Join as a corporate
or foundation membe
---
Review our Member
CODE of ETHICS
---
BOARD OF DIRECTORS' Photos and Public Biographies
---
---
---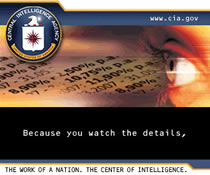 ---
Movies of Interest to members can be found here.
---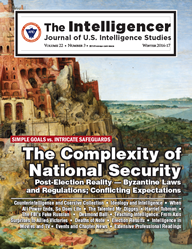 Send your articles and reviews to afio@afio.com for the journal INTELLIGENCER

---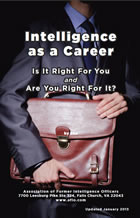 Intelligence
as a Career

Is It Right For You
AND
Are You Right For It?
Click HERE, or the cover photo above, for the updated version Booklet.
---
Donations Needed -
Help AFIO continue our Special Events, Publications, and Speakers Program.
---

---