The Association of Former Intelligence Officers (AFIO) presents this website to serve our members and visitors as a portal to our activities and to provide word of upcoming educational events by other select intelligence groups.
Upcoming AFIO and Intelligence Community Events
Many informative, fascinating programs are occuring in the Washington Metro Area and across the country. Find out which ones to add to your calendar to stay connected and to stay current.

Corporate
Learn how your company can make a difference with AFIO corporate memberships and marketing opportunities. Reach more than 4,800 intelligence professionals.

National Members
Join or renew your existing membership and enjoy member benefits, such as special publications, invitations to events, unique banking & investment services, scholarships, and career assistance.

Publications
Sign up and receive the popular Weekly Intelligence Notes [WINs] and the printed industry journal: Intelligencer - Journal of U.S. Intelligence Studies, 3 issues per year for the intelligence community by intelligence professionals. AFIO also produces Intelligence As A Career - a printed and online guide to organizing your life and education to qualify for work in the intelligence community, and a Guide to the Study of Intelligence intended to assist college instructors and secondary school teachers of history, civics, and current events.

About Us
Learn about us - our many events, publications, programs, and legislative alerts. Support AFIO with purchases and donations or meet our members at events throughout the US. Make your views known.

Chapters
Local chapters have appeal to many members, so after you have joined AFIO National, consider adding a local chapter membership to your mix.

Upcoming AFIO and related Organization Educational Events ... Full listings found here

Thursday, 2 June 2016 - San Francisco, CA - The AFIO Andre LeGallo Chapter hosts Dr. Matthew Brazil, Research Fellow, Jamestown Foundation

Mr. Brazil will discuss China's Harder Line Against Foreign Influence - Implications for US Business.
Venue: United Irish Cultural Center, 2700 45th Avenue, San Francisco. 11:30am no host cocktail; meeting and luncheon at noon.
Register here.

Reservation and pre-payment is required before May 26, 2016. The venue cannot accommodate walk-ins.
Please contact Mariko Kawaguchi, Board Secretary at afiosf@aol.com or Mariko Kawaguchi, c/o AFIO, P.O. Box 117578, Burlingame, CA 94011 for questions.

---

Wednesday, 22 June 2016, 5:30pm - New York, NY - Len Predtechenskis, former FBI, discusses "Operating Techniques for Recruiting Foreign Nationals" - at this Metro NY Chapter Meeting.

SPEAKER: Len Predtechenskis, Retired FBI Special Agent. He operated undercover, recruited many Soviet/Russian agents for the US Government, debriefed and resettled dozens of defectors, directed/lead agent in many "false flag", "red herring" and "double agent" operations.
TOPIC: "Operating Techniques for Recruiting Foreign Nationals"
LOCATION: Society of Illustrators building, 128 East 63rd Street. Between Park & Lexington Ave.
TIME: Registration starts 5:30 PM Meeting starts 6:00 PM
COST: $50/person. Payment at the door, cash & check only. Full dinner, cash bar.
REGISTER: Strongly suggested, not required. Phone Jerry Goodwin 646-717-3776 or Email: afiometro@gmail.com

---

Teaching -- or Seeking to learn more -- about the world of Intelligence?

AFIO's Guide to the Study of Intelligence
Are You Using It?
The Guide consists of more than 66 articles on all aspects of intelligence. It is intended to help instructors become familiar with intelligence-related subjects. Guide articles, written by both academic experts and seasoned practitioners, are introductions to the subject with recommended readings for further study.
Guide articles appear in AFIO's journal Intelligencer and as PDFs on our website here.
They are free for academic use.

For a complete list of what articles are available at this time, view this pdf.

Did you miss our Friday, May 20th program with
Ambassador Chas W. Freeman, Jr., (USFS, Ret)
discussing "America's Continuing Misadventures in the Middle East"?
Here are takeaways from Freeman's gimlet-eyed presentation.

---

16 June 2016, 12:30 - 2pm - Los Angeles, CA - The AFIO L.A. Chapter hosts Kenneth Daigler on "Spies, Patriots, and Traitors"

Former CIA officer Kenneth Daigler will discuss key aspects of his book Spies, Patriots, and Traitors. The cost of the meeting will be $15 and will include a copy of the book and refreshments served. Please RSVP: afio_la@yahoo.com
Meeting Location: LAPD-ARTC 5651 W. Manchester Ave Los Angeles, CA 90045

BIO: Ken Daigler is a retired career CIA operations officer, previously holding several key operations positions in the agency, and is a recipient of the William Donovan Award & Distinguished Career Intelligence Medal. In addition, he has consulted for the Department of Defense in the area of counterintelligence. He has a BA in history from Centre College of Kentucky and an MA in history from the Maxwell School at Syracuse University and has served in the US Marine Corps.

---

AFIO's Intelligence Community Mousepad

Full color seals of all 18 members of the U.S. Intelligence Community on this 8" round, slick surface, nonskid, rubber-backed mouse pad. Price: $20.00 for 2 pads [includes shipping to U.S. based address, only. For foreign shipments, we will contact you with a quote.] Great gift for colleagues and self. Click image above for larger image.

OTHER IMPORTANT UPCOMING EDUCATIONAL EVENTS....

Wednesday, 8 June 2016, 9am - 5pm - Washington, DC - 2016 Western Hemisphere Security Forum by the Daniel Morgan Academy

Event by invitation only.
Organized criminal networks in the Western Hemisphere and their ability to integrate domestic gangs and international terrorist syndicates pose a grave and multi-dimensional threat to regional stability. Many regional governments in the Western Hemisphere have become closely aligned with this crime-terror nexus, as well as with extra-regional state actors, namely China, Russia and Iran—offsetting US influence in the region.
This one-day seminar on security in the Western Hemisphere, sponsored by the Center for a Secure Free Society and co-hosted by the Daniel Morgan Academy, brings together panels of experts who will share insight and perspectives on the threats of these extra-regional actors, the pressing security challenges in the area, and suggest solutions to rethink and improve US standing in the region.
Please note: This DMA seminar is an invitation-only event and not open to the general public. Contact DMA for more information.
Speakers/Panelists include...Amb Joseph R. DeTrani, DMA President; Amb Curt Winsor, former FSO, Costa Rica; Joseph M. Humire, Executive Director, Center for a Secure Free Society (SFS); Douglas Farah, Senior Visiting Fellow, Center for Complex Operations, NDU; Ilan Berman, Vice President, American Foreign Policy Council; Dr. R. Evan Ellis, Research Professor, Strategic Studies Institute, U.S. Army War College; Dr. Michael Sharnoff, Associate Professor of Middle East Studies and Director of the Regional Studies Program at DMA; Roger Pardo-Maurer, former U.S. Deputy Assistant Secretary of Defense for Western Hemisphere Affairs; and Fernando Menéndez, Senior Fellow, Center for a Secure Free Society (SFS).
Event location: Daniel Morgan Academy, 1620 L St NW, #700, Washington, DC 20036, Near Farragut North and West Metro Stations
Inquiries about attending: Frank Fletcher, Director of Lectures and Seminars, Fletcher@DanielMorgan.academy or call 202-759-4988
More information online here.

---

18 July thru 5 August 2016 - Emmitsburg, MD - International Security & Intelligence - attend a Cambridge University Experience at Mt. Saint Mary's University in Maryland

International Security and Intelligence (ISI) is a program offered at Mount St. Mary's University in association with the Cambridge Security initiative (CSi). This 3-week, highly competitive summer course runs from July 18-Aug 5, 2016.Through the lens of professional practitioners of the craft, and academics closely involved in the world of intelligence, students will explore the role of the intelligence and security agencies in a democratic society, applying the enduring principles of intelligence and security to cutting-edge problems. The 2016 program is being offered in the United States for the first time, exclusively at Mount St. Mary's University in Emmitsburg, Md. Attendees range from undergraduate students to seasoned professionals, and everyone experiences the same mix of lectures, seminars and social activities. The aim is to offer an experience of teaching and learning which is very similar to that offered at the University of Cambridge. Applications are being accepted until June. Learn more at http://isi.msmary.edu/

Monday, 13 June 2016, 11:30 am - Washington, DC - "Uphill Battle: Reflections on Vietnam Counterinsurgency" topic of Frank Scotton's presentation at Daniel Morgan Academy

Event by invitation-only.
Frank Scotton will discuss lessons he learned regarding counterinsurgency, based upon his many years of service with the United States Information Service in the Republic of South Vietnam.
Scotton retired in 1998 as the assistant director for East Asia at the US Information Agency of the State Department. He began his overseas career more than 50 years ago in Vietnam. Between 1962 and 1975, he spent part of each year in Vietnam with the US Information Service and then took assignments with the Military Assistance Command, Vietnam (MACV)/Civil Operations and Revolutionary Development Support (CORDS) and with the Joint United States Public Affairs Office (JUSPAO), merged USIA, State Department, and Defense Department public affairs elements in Vietnam

Reception at 11:30 am; Lecture starts at noon followed by Q & A

LOCATION: Daniel Morgan Academy, 1620 L St NW, 7th Floor, Washington, DC 20036; Near Farragut North and West Metro Stations
For more information or to RSVP or contact Frank Fletcher, Director of Lectures and Seminars, DMA at Fletcher@DanielMorgan.academy; call 202-759-4988.

---

Wednesday, 22-24 June 2016 - Breda, The Netherlands - The Twelfth Annual IAFIE Conference and First Annual Conference of its European Chapter.

This year's IAFIE conference theme is "Connecting Intelligence Education Communities: Europe, North America, and Beyond." The conference registration website is now open here. The annual conference promises to be an outstanding event highlighting the very latest and best research in intelligence education. They look forward to seeing you in Breda.

---

Monday, 27 June 2016, 6:30-9 pm - Washington, DC - Lockpicking 101 - International Spy Museum Spy School Workshop

Spying today may seem dominated by the digital realm of hackers, cryptography, and eavesdropping, but the field operative will never go away. In the physical world, where secrets are under lock and key, sometimes the only way in is to pick the lock.
In this workshop, led by Preston Thomas, president of the DC Chapter of The Open Organization Of Lockpickers, you'll learn the art and science of how locks work-and how to open them. From classical picking to field expedient methods, we will survey the tools and techniques necessary to attack many common locks. Try your hand at getting out of handcuffs and zip ties. Discover if you really can escape with just your wits and a bobby pin. Participants will work in small groups getting hands-on practice with lockpicking experts, and once you've got "the touch," you can put your skills to the test against other students.
Location: City Tap House, 901 9th St NW, Washington, DC - Gallery Place/Chinatown Metrorail Station
High-quality lock picking kits will be available to take home after the class for $25 (cash or check). Please email soltmans@spymusem.org if you would like one.
Food and drink will be available for purchase throughout the event.
TICKETS: $35. Space limited to 30 - advance registration required. No tickets available at event. To register contact aabrell@spymuseum.org
NOW AVAILABLE
Getting a Security Clearance: Questions and Answers about what they are, how they are conducted,
how you can qualify, how long they take, and what can put them in jeopardy.

Two valuable booklets are now available
The Security Clearance Process: Answers to Frequently Asked Questions - by the Congressional Research Service, Sept 2013
[PDF]
Security Clearances - FAQs - ClearanceJobs.com / DICE
[PDF]
---
Intelligence as a Career -with listings of colleges teaching intelligence courses.

AFIO's booklet for high school and college students considering careers
in the U.S. Intelligence Community.
Careers Booklet in PDF Format available here.
Cannot open some or all of these PDFs? It can mean your PDF viewer is out-of-date.
Use this link to update your viewer to the latest version.
---
Intelligence Community - Seven Years in a Row - Named 2015
One of the Best Places to Work in the Federal Government
For the seventh consecutive year, the Intelligence Community (IC) was honored as #2 in the top-ten Best Places to Work in the Federal Government, according to an independent analysis of federal workers' job satisfaction and commitment.
The rankings were compiled by the Partnership for Public Service (PPS) and American University's Institute for the Study of Public Policy Implementation (ISPPI) and announced recently in Washington, D.C. PPS is a nonprofit, nonpartisan organization that aims to attract people to federal careers and improve how the government runs. The institute conducts research and helps federal leaders solve difficult public-policy issues.
The IC ranked fourth overall among large agencies, which includes over 30 organizations, each of which employs more than two thousand people. Rankings are based on data from the 2015 Federal Employee Viewpoint Survey, which the U.S. Office of Personnel Management administers. The first Federal Government survey was in 2003, but the IC has only participated since 2009. Max Stier, president and CEO of the Partnership for Public Service, noted that the IC does not have to participate but does so voluntarily, "which is a credit to them."
To maintain the security of information about its work force, the IC relies on its own survey instrument to assess each year how its workers feel about issues such as job satisfaction, professional development, and the effectiveness of senior leaders. The IC includes several questions from the federal survey in the IC's annual Employee Climate Survey. That way, the Community's information can be compared with that from other organizations.
Other top-five large organization Best Places to Work are: The National Aeronautics and Space Administration and the U.S. Departments of Commerce, State and Justice.
Visit bestplacestowork.org to see which agencies top the rankings and to access trend analysis, demographic data and all 10 workplace categories, as well as generate custom reports and conduct side-by-side comparisons for up to three agencies.
---
Join or subscribe to our publications and enjoy all our unusual member benefits
JOIN:
As a Member or Subscriber - Use this Online Form
Student Rates: Students, 28 years old or younger, attending a U.S. nonprofit accredited college, may join 1x at special rate. Email us at afio@afio.com with your info for application and rates.
RENEW:
Renew or Reinstate Your Membership or Subscription here
UPDATE MEMBER INFO:
New Email or Mailing Address? Provide it here.
---
---
Review our Member
CODE of ETHICS

---
BOARD OF DIRECTORS' Photos and Public Biographies
---
---
---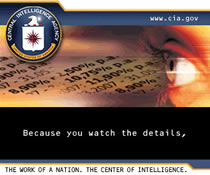 ---
We Thank These Corporate, Academic, and Charitable Foundation Members
Join as a corporate
or foundation member
---
Movies of Interest to members can be found here.
---

Send your articles and reviews to afio@afio.com for the journal INTELLIGENCER

---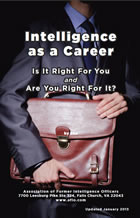 Intelligence
as a Career

Is It Right For You
AND
Are You Right For It?
Click HERE, or the cover photo above, for the updated version Booklet.
---
Donations Needed -
Help AFIO continue our Special Events, Publications, and Speakers Program.
---

---