AFIO Central Office
7700 Leesburg Pike
Suite 324
Falls Church, VA
22043
Voice: 703 790 0320
Fax: 703 991 1278
Email: afio@afio.com

© 2016 AFIO

Copyright and Privacy Notice


The Association of Former Intelligence Officers (AFIO) presents this website to serve our members and visitors as a portal to our activities and to provide word of upcoming educational events by other select intelligence groups.
Upcoming AFIO and Intelligence Community Events
Many informative, fascinating programs are occuring in the Washington Metro Area and across the country. Find out which ones to add to your calendar to stay connected and to stay current.

Corporate
Learn how your company can make a difference with AFIO corporate memberships and marketing opportunities. Reach more than 4,800 intelligence professionals.

National Members
Join or renew your existing membership and enjoy member benefits, such as special publications, invitations to events, unique banking & investment services, scholarships, and career assistance.

Publications
Sign up and receive the popular Weekly Intelligence Notes [WINs] and the printed industry journal: Intelligencer - Journal of U.S. Intelligence Studies, 3 issues per year for the intelligence community by intelligence professionals. AFIO also produces Intelligence As A Career - a printed and online guide to organizing your life and education to qualify for work in the intelligence community, and a Guide to the Study of Intelligence to assist college instructors, secondary school teachers of history, civics, and current events, and students, on the best readings on a wide variety of current intelligence topics.

About Us
Learn about us - our many events, publications, programs, and legislative alerts. Support AFIO with purchases and donations or meet our members at events throughout the US. Make your views known.

Chapters
Local chapters have appeal to many members, so after you have joined AFIO National, consider adding a local chapter membership to your mix.

Upcoming AFIO and related Organization Educational Events ... Full listings found here

Monday, 11 September 2017 - New York, NY - The NY Metro Chapter Meeting features Carol Rollie Flynn, former Senior CIA Officer, with tentative topic "Intelligence and National Security."

A 30-year veteran of CIA, Carol Rollie Flynn held senior executive positions including Director of the CIA's Leadership Academy, Associate Deputy Director of the National Counterterrorism Center (NCTC), Director of the Office of Foreign Intelligence Relationships, Executive Director of the CIA Counterterrorism Center (CTC), and Chief of Station in major posts in Southeast Asia and Latin America. She has extensive experience in overseas intelligence operations, security, and counterintelligence as well as expertise in designing and delivering advanced education and training to adult learners. Ms. Flynn is also an adjunct Professor at Georgetown University's McCourt School of Public Policy and Edmund A. Walsh School of Foreign Service/Security Studies Program and a visiting faculty member at Wellesley College's Madeleine Albright Institute and the Fordham University Graduate School of Business. She serves as Adjunct Staff at Rand Corporation and is a senior affiliate at the Center for Strategic and International Studies (CSIS). A member of the Council on Foreign Relations and the International Coach Federation, Ms. Flynn has a Bachelor of Arts degree from Wellesley College, a Masters of Science in Cyber Security from University of Maryland, University College, and has completed executive leadership programs at Duke University and the Kellogg School of Management at Northwestern University. She is an Associate Certified Coach through the International Coach Federation.
Location: Society of Illustrators, 128 E 63rd St, New York, NY 10065.
RSVP Chapter President Jerry Goodwin at afiometro@gmail.com or call 646-717-3776.

---

HOLD THE DATE

28 - 29 September 2017 - Tysons Corner, VA - AFIO's 2017 National Intelligence Symposium

Tentative Agenda: • Opening Remarks by AFIO President; • NGA Overview and Q&A; • Video Presentation; • NGA Leadership Remarks (D/NGA or DD) - Includes GEOINT Strategy and Functional Management; • Lunch (with museum tours, NGA store, and group photo). Presentations/Panels on: • KH 8 Declassification; • Pathfinder (unclassified research to solve intel problems); • Commercial GEOINT Activity; and • the Small Satellite Revolution.

Arrive Wednesday evening, 27 September to overnight at the hotel to be ready early Thursday, 28 September, for coach service to NGA for all day conference including visit to their new museum. Welcome by NGA Director Robert Cardillo. Friday activities TBA. Friday evening is our "Spies in Black Ties" banquet.
Hotel: DoubleTree-Hilton, Tysons Corner, VA [formerly the Crowne Plaza], at 1960 Chain Bridge Rd, McLean, VA 22102. Details, event registration and hotel room registration links to be sent to all current members in coming weeks. Early phone-only room registrations can be made at 1-877-865-1877 at $119/nite.

---

AFIO's NEW Intelligence Community Mousepad for 2017

New mousepads arrived. Full color seals of all 18 members of the U.S. Intelligence Community on this 8" round, slick surface, nonskid, rubber-backed mouse pad. Price still only $20.00 for 2 pads [includes shipping to U.S. based address, only. For foreign shipments, we will contact you with a quote.] Great gift for colleagues and self. Click image above for larger image. Now with dark navy background, brighter, updated seals of member agencies. And now MADE IN USA. Order NEW MOUSEPADS here.

21 June 2017 (Wednesday), 11:30am - San Francisco, CA - The AFIO San Francisco Chapter hosts CMDR Waldron.

TOPIC: Cmdr. Matthew J. Waldron, a dual career path afloat operations and intelligence officer, will discuss how the Coast Guard Intelligence program coordinates with the national law enforcement and intelligence communities to support and drive Coast Guard operations in the counter drug and homeland security missions.
WHERE: Basque Cultural Center, 599 Railroad Ave, South San Francisco, CA 94080. 11:30AM no host cocktail; meeting and luncheon at noon.
RSVP: At this link. Reservation and pre-payment is required before 13 June 2017. The venue cannot accommodate walk-ins. Contact: Mariko Kawaguchi, Board Secretary at afiosf@aol.com or Mariko Kawaguchi, c/o AFIO, PO Box 117578, Burlingame, CA 94011.

---

Now available. AFIO's 788-page comprehensive Guide to the Study of Intelligence. Peter C. Oleson, Editor. Foreword by Dr. Robert M. Gates, former Director, Central Intelligence.
View authors and table of contents here.

Perfect for professors, students, those considering careers in intelligence, and current/former officers seeking to see what changes are taking place across a wide spectrum of intelligence disciplines.

AFIO's Guide to the Study of Intelligence helps instructors teach about the large variety of subjects that make up the field of intelligence. This includes secondary school teachers of American History, Civics, or current events and undergraduate and graduate professors of History, Political Science, International Relations, Security Studies, and related topics, especially those with no or limited professional experience in the field. Even those who are former practitioners are likely to have only a limited knowledge of the very broad field of intelligence, as most spend their careers in one or two agencies at most and may have focused only on collection or analysis of intelligence or support to those activities.

$95, includes Fedex shipping to a CONUS (U.S.-based) address. AK, HI, and other US or foreign addresses should contact afio@afio.com to inquire about shipping options.

To order use this online form. The Guide is available for purchase directly from Amazon at this link.

NOW ONLINE: As an educational service to professors and students, AFIO provides the full 788-page Guide online here for free. This was made possible through the generosity of our foundation, corporate, and institutional members, coupled with the donations we received from our many individual members.

---

Teaching–or Seeking to learn more–about the world of Intelligence?

AFIO's Guide to the Study of Intelligence
Are You Using It?
The Guide consists of more than 66 articles on all aspects of intelligence. It is intended to help instructors become familiar with intelligence-related subjects. Guide articles, written by both academic experts and seasoned practitioners, are introductions to the subject with recommended readings for further study.
Guide articles appear in AFIO's journal Intelligencer and as PDFs on our website here.
They are free for academic use.

For a complete list of what articles are available at this time, view this pdf.

Other Upcoming Educational Events....

Wednesday, 14 June 2017, noon - Washington, DC - Allies vs. Axis: Roosevelt, Churchill, Hitler, and Atomic Espionage - at the International Spy Museum

Join former FBI special agent Raymond J. Batvinis, author of Hoover's Secret War Against Axis Spies, as he tells a remarkable story of counterintelligence, German atomic espionage efforts, FBI-British wartime relations, and radio deception conducted during the most critical part of the Second World War. Hoover's Secret War Against Axis Spies will be available for sale and signing at the event. Event is free. Visit www.spymuseum.org.

---

20 June 2017, 10 am to 1 pm - Annapolis Junction, MD - NCMF 2017 Summer Cryptologic Program features David Priess on The President's Daily Brief

Program features Dr. David Priess, former CIA Intelligence Officer and author of the bestseller The President's Book of Secrets. This National Cryptologic Museum Foundation event can be signed up for here. Click image at left for bigger view of announcement.
Where: CACI, Inc. located at 2720 Technology Drive, Annapolis Junction, MD 20701, Tel 301-575-3200. Directions and Map here. Click "directions" to get driving guidance.
RSVP NOW: register online here or mail registration fee of $20 (members) or $50 (guests, includes one-year membership) to NCMF, PO Box 1682, Fort George G. Meade, MD 20755-9998. Please register prior to 23 March to ensure space available.

Also on 20 June, following the Priess presentation above, NSA's Center for Cryptologic History joins the Museum to host a WWI Panel Discussion: Decoding The Great War and Presentation of the new World War One Exhibit at the National Cryptologic Museum.

Presentations and speakers are:
Presentation 1: 1305 - World War I as an Intelligence Revolution, Michael Warner, Command Historian, U.S. Cyber Command.
Presentation 2: 1325 - An Ear to the Air and an Ear to the Ground: Radio Intelligence in the American Expeditionary Forces, 1917-1918, Betsy Rohaly Smoot, Historian, Center for Cryptologic History, NSA.
Presentation 3: 1345 - Native American Code Talkers: the Secret Weapon of World War I, Dr. Steve Huffman, Retired Research Analyst, NSA. Q&A: 1345 - 1400 1405 - 1430: Presentation of World War 1 Display - Betsy Rohaly Smoot. For details on each of the presentations and speakers, or to register for one or both of these NSA/NCMF Events, use this link.

---

Monday, 26 June 2017, noon-1:30pm - Washington, DC - A Conversation on North Korea with Michael Morell and Ambassador DeTrani - at the International Spy Museum

Attend a luncheon and receive an insider's perspective on North Korea with former CIA Deputy Director Michael Morell and Ambassador Joseph DeTrani. Few places on earth remain as mysterious and forbidding as North Korea. With the escalation of events in the North Korean relations, hear from two experts who have played integral roles in our nation's security and can provide current insight on the secretive nation. RSVP by June 19. Tickets: $129+. Visit www.spymuseum.org.

---

Tuesday, 20 June 2017, 6:30pm - Washington, DC - Espionage Act of 1917 at 100 - at the International Spy Museum

Come hear a panel of distinguished experts including Johns Hopkins University senior lecturer, Dr. Mark Stout, and national security lawyer, Mark S. Zaid, discuss the past, present and future use of the Espionage Act, including such topics as whether journalists should have reason to fear being prosecuted for disclosing classified information, and what protections whistleblowers might or should have in the 21st century. Tickets for the general public: $12, tickets for Spy Museum Inner Circle Members: $10. Visit www.spymuseum.org.

---

18 October 2017, 9 am - 3 pm - Laurel, MD - NCMF General Meeting & Symposium: "How Cyber has Changed the World Around Us."

SAVE THE DATE. Information coming in July. Details will be at www.cryptologicfoundation.org.
Event location: The Kossiakoff Center, Johns Hopkins University/Applied Physics Laboratory.

19 - 20 October 2017 - Laurel, MD - 16th NSA/CSS Center for Cryptologic History Symposium: "Milestones, Memories, and Momentum."

SAVE THE DATE. Information forthcoming. This symposium will be followed on 21 October 2017 with tours and workshops at the National Cryptologic Museum.
Location: Kossiakoff Conference Center, Johns Hopkins Applied Physics Laboratory, Laurel, Maryland.
For more about the program, visit www.nsa.gov

4 - 7 June 2017 - San Antonio, TX - USGIF GEOINT 2017 Symposium theme is: "Advancing Capabilities to Meet Emerging Threats"

The always impressive US Geospatial-Intelligence Foundation (USGIF) is offering more than 25 training and professional development sessions at their GEOINT 2017 Symposium which features the theme of "Advancing Capabilities to Meet Emerging Threats." Symposium is being held in beautiful San Antonio, TX. Monday, June 5 through Wednesday, June 7 are a variety of training sessions running two hours each. Attendees receive 0.2 Continuing Education Units per qualified session. Expand your knowledge on a familiar topic or learn a new one in one of the hottest, most promising and useful fields in the Intelligence Community. Sessions include: Hacking for Defense: Solving National Security Problems; 3D Terrain Modeling; Analytics for Small Sat Systems; Recent Advances in Deep Learning Cognitive Social Media Analytics Framework; Open Geospatial Machine Learning; Cyber Attack and Defense Wargame with IT, Industrial, and GEOINT Context; And much more.
Location: Henry B. Gonzalez Convention Center, San Antonio, TX.
RSVP ASAP: Agenda and other information here.

---

Friday, 16 June 2017, 5:30 to 7:30pm - Washington, DC - Spy Fiction Writer's Workshop - at the International Spy Museum

The shadow world of spying has captured the imagination of authors for centuries. Join this unique writing workshop for young spies led by Melissa Mahle, former CIA intelligence officer and author of Anatolia Steppe: Lost in Petra and Camp Secret. Learn from her hands-on work in disguise, surveillance, and spy gadgetry and be the one to develop a plot and storyline that grips readers' attention and quickens their pulses. Ages: 9-14. Tickets for the general public: $30, tickets for Spy Museum Inner Circle Members: $25. Dinner included. Visit www.spymuseum.org.

---

20 June 2017, 1130 am - 2 pm - McLean, VA - the Defense Intelligence Forum (DIF/DIAA) hosts John L. Moore on "The Middle East."

Mr. John L. Moore will speak on "The Middle East." From 1968 thru 2000, John Moore was an analyst, senior analyst, manager and senior executive on the Middle East for DIA. From 1984 thru 1992, he was the chief of the Middle East and Africa Division and from 1992 thru December 2000 when he retired, John served as the Defense Intelligence Officer for the Middle East, South Asia and Terrorism. Mr. Moore worked as a Middle East consultant from 2000 thru 2002 where he appeared as the first non-lawyer to brief the international Court of Justice (World Court). From 2003 thru 2012, John was a consultant on the Middle East for DIA; the last five years he served as the Senior Mentor in the Middle East office. John was twice awarded the National Distinguished Service Medal (1991 and 2000) and was twice awarded the DIA Exceptional Civilian Service Medal (1984 and 1997). John was a 1965 graduate of LaSalle University and a 1978 graduate of the US Army Was College. Attribution for this presentation will be provided at the beginning of the presentation to ensure a complete understanding of how the presented information should be handled.
To attend: Make reservations by 20 June 2017 by email to diforum@diaalumni.org. Include names, telephone numbers, and email addresses. For each attendee, choose among chicken parmesan, trout lemone, lasagna, grilled sausage with sweet peppers, fettuccini with portabella, manicotti with spinach and ricotta, or cannelloni alla Bolognese for your luncheon selection. Please provide your luncheon selection with your reservation to reduce the wait time for your food. Pay at the door with a check for $ 30 per person, payable to DIAA, Inc. Check is preferred, but will accept cash; however, credit card payments are discouraged.
Location: Pulcinella Restaurant, 6852 Old Dominion Drive, McLean, VA.

---

27-28 June 2017 - Los Angeles, CA - USC Center for Risk and Economic Analysis of Terrorism Event (CREATE-TSA) Symposium on "Innovations in Transportation Security."

The USC Center for Risk and Economic Analysis of Terrorism Events (CREATE) and the Transportation Security Administration (TSA) will come together for a two-day symposium to examine Innovations in Transportation Security. The agenda for the CREATE-TSA Symposium at the University of Southern California (USC) is available here. The invite-only event will discuss numerous relevant topics including Public Response to Crisis, Deterrence: Demotivating Terrorism, Cyber Security Threats to Transportation and Recent Airport Attacks: Lessons Learned. There will also be several keynote speakers and a panel discussion with former TSA Administrators Admiral James Loy, John W. Magaw, Peter Neffenger and John S. Pistole. Space is limited, if you have not yet registered we encourage you to do so before before the May 30, 2017 deadline.
REGISTRATION: The registration fee for the event is $300 ($150 for government employees), and includes breakfast and lunch on both days and a reception on the evening of June 27th. To register please follow this link. Code: usccreate (lowercase). The deadline to register is May 30, 2017.
HOTEL: We currently have a limited number of hotel rooms available at a discounted rate of $169 at the nearby Radisson Hotel. Reservations can be made either online here or by calling 800.333.3333. Use reservation code 17TSA7. Please note the code is only valid for June 26-28, 2017. The last date to make a reservation at the discounted rate is 25 May 2017. If you would like to stay at the hotel earlier or after these dates, please make reservations through the hotel directly at 213.748.4141.
NOW AVAILABLE
Getting a Security Clearance: Questions and Answers about what they are, how they are conducted,
how you can qualify, how long they take, and what can put them in jeopardy.

Two valuable booklets are now available
The Security Clearance Process: Answers to Frequently Asked Questions - by the Congressional Research Service, Sept 2013
[PDF]
Security Clearances - FAQs - ClearanceJobs.com / DICE
[PDF]
---
Just released - 2017 edition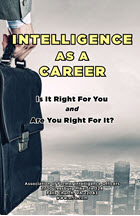 Intelligence as a Career - with updated listings of colleges teaching intelligence courses, and Q&As on needed foreign languages, as well as the courses, grades, extracurricular activities, and behavioral characteristics and life experiences sought by modern U.S. intelligence agencies.

AFIO's popular 56-page booklet reaches high school and college students considering careers in the U.S. Intelligence Community.
This is the fourth edition.
The publication is also popular with University Career Guidance Centers, professors and academic departments specializing in national security, and parents assisting children or grandchildren in choosing meaningful, public service careers.
This booklet is provided at no cost as a public service - online and in print - from the generosity of AFIO board, donors, and members. 20,000 printed copies of each edition are distributed. Many more PDF copies are accessed online.
We thank all members for their support which makes this educational effort possible.
2017 Careers Booklet (fourth edition) in PDF Format available here.
---
Intelligence Community - Eight Years in a Row - Named 2016
One of the Best Places to Work in the Federal Government
For the eighth consecutive year, the Intelligence Community (IC) was honored as #3 in the top-ten Best Places to Work in the Federal Government, according to an independent analysis of federal workers' job satisfaction and commitment. See more about the ranking here.
The rankings were compiled by the Partnership for Public Service (PPS) and American University's Institute for the Study of Public Policy Implementation (ISPPI) and announced recently in Washington, D.C. PPS is a nonprofit, nonpartisan organization that aims to attract people to federal careers and improve how the government runs. The institute conducts research and helps federal leaders solve difficult public-policy issues.
The IC ranked fourth overall among large agencies, which includes over 30 organizations, each of which employs more than two thousand people. Rankings are based on data from the 2016 Federal Employee Viewpoint Survey, which the U.S. Office of Personnel Management administers. The first Federal Government survey was in 2003, but the IC has only participated since 2009. Max Stier, president and CEO of the Partnership for Public Service, noted that the IC does not have to participate but does so voluntarily, "which is a credit to them."
To maintain the security of information about its work force, the IC relies on its own survey instrument to assess each year how its workers feel about issues such as job satisfaction, professional development, and the effectiveness of senior leaders. The IC includes several questions from the federal survey in the IC's annual Employee Climate Survey. That way, the Community's information can be compared with that from other organizations.
Other top-five large organization Best Places to Work are: The National Aeronautics and Space Administration and the U.S. Departments of Commerce, State and Justice.
Visit bestplacestowork.org to see which agencies top the rankings and to access trend analysis, demographic data and all 10 workplace categories, as well as generate custom reports and conduct side-by-side comparisons for up to three agencies.
---
---
Join as a corporate, academic,
or foundation member
---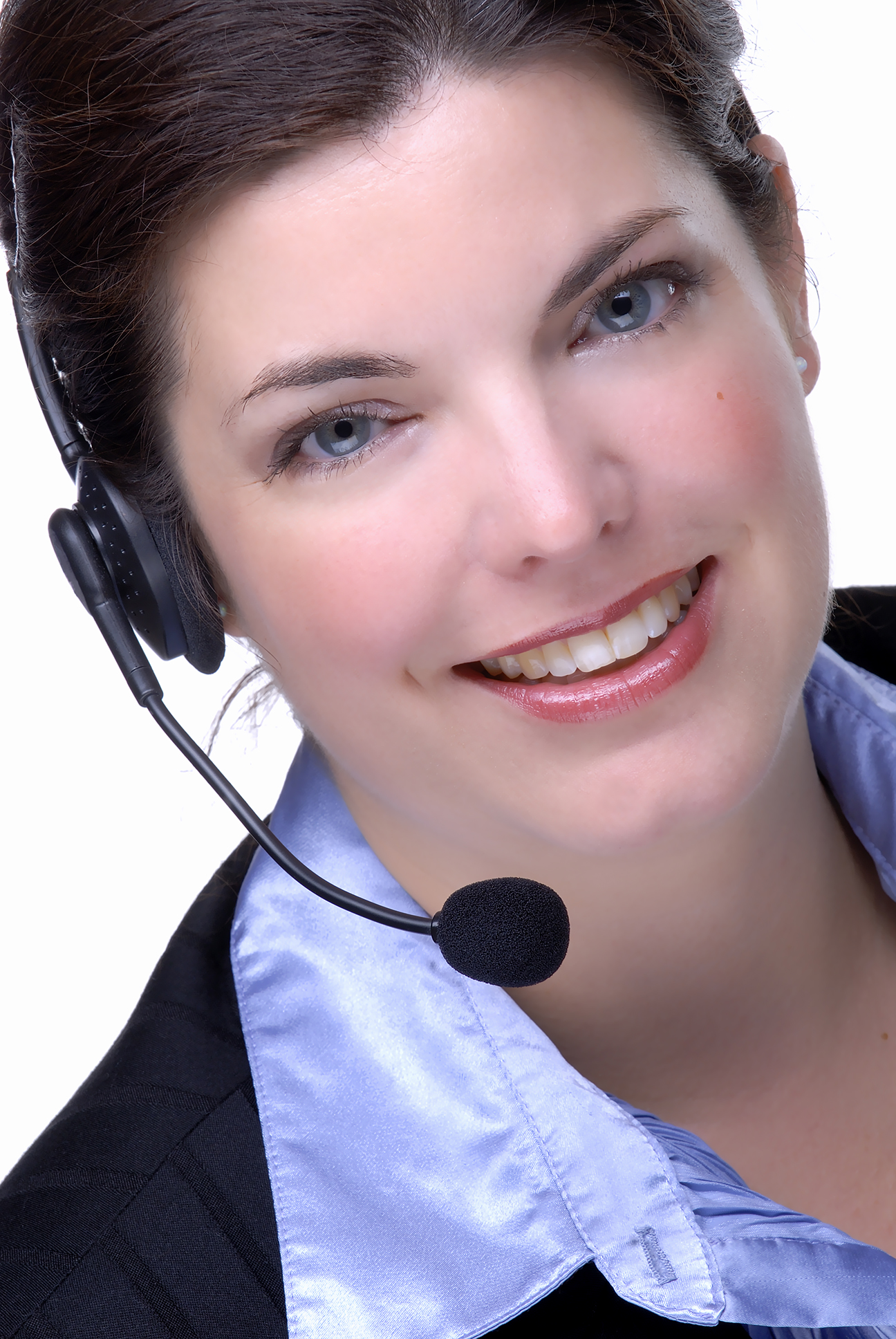 Become an Individual Member
or Subscriber
use this Online Form

Join or subscribe to our publications and enjoy all our unusual member benefits
---
---
Student Rates: U.S.-based Students, 28 years old or younger, attending a U.S. nonprofit accredited college, may join 1x at special rate. Email us at afio@afio.com with your info for application and rates. Rate not available to current or former members. Use this form to apply for student membership.
---
CURRENT or LAPSED MEMBERS - RENEW HERE:
Renew or Reinstate Your Membership or Subscription here
UPDATE MEMBER INFO:
New Email or Mailing Address? Provide here.
Review our Member
CODE of ETHICS
---
BOARD OF DIRECTORS' Photos and Public Biographies
---
---
---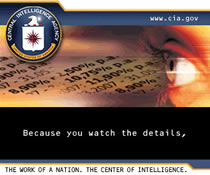 ---
Movies of Interest to members can be found here.
---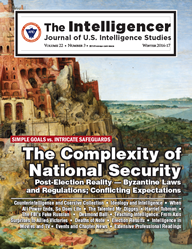 Send your articles and reviews to afio@afio.com for the journal INTELLIGENCER

---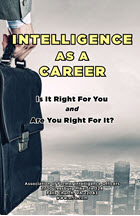 Intelligence
as a Career
UPDATED 2017

Is It Right For You
AND
Are You Right For It?
Click HERE, or the cover photo above, for the updated version Booklet.
---
Donations Needed -
Help AFIO continue our Special Events, Publications, and Speakers Program.
---

---