The Association of Former Intelligence Officers (AFIO) presents this website to serve our members and visitors as a portal to our activities and to provide word of upcoming educational events by other select intelligence groups.
Upcoming AFIO and Intelligence Community Events
Many informative, fascinating programs are occuring in the Washington Metro Area and across the country. Find out which ones to add to your calendar to stay connected and to stay current.

Corporate
Learn how your company can make a difference with AFIO corporate memberships and marketing opportunities. Reach more than 4,800 intelligence professionals.

National Members
Join or renew your existing membership and enjoy member benefits, such as special publications, invitations to events, unique banking & investment services, scholarships, and career assistance.

Publications
Sign up and receive the popular Weekly Intelligence Notes [WINs] and the printed industry journal: Intelligencer - Journal of U.S. Intelligence Studies, 3 issues per year for the intelligence community by intelligence professionals. AFIO also produces Intelligence As A Career - a printed and online guide to organizing your life and education to qualify for work in the intelligence community, and a Guide to the Study of Intelligence intended to assist college instructors and secondary school teachers of history, civics, and current events.

About Us
Learn about us - our many events, publications, programs, and legislative alerts. Support AFIO with purchases and donations or meet our members at events throughout the US. Make your views known.

Chapters
Local chapters have appeal to many members, so after you have joined AFIO National, consider adding a local chapter membership to your mix.

Upcoming AFIO and related Organization Educational Events ... Full listings found here

Teaching -- or Seeking to learn more -- about the world of Intelligence?

AFIO's Guide to the Study of Intelligence
Are You Using It?
The Guide consists of more than 66 articles on all aspects of intelligence. It is intended to help instructors become familiar with intelligence-related subjects. Guide articles, written by both academic experts and seasoned practitioners, are introductions to the subject with recommended readings for further study.
Guide articles appear in AFIO's journal Intelligencer and as PDFs on our website here.
They are free for academic use.

For a complete list of what articles are available at this time, view this pdf.

AFIO's Intelligence Community Mousepad

Full color seals of all 18 members of the U.S. Intelligence Community on this 8" round, slick surface, nonskid, rubber-backed mouse pad. Price: $20.00 for 2 pads [includes shipping to U.S. based address, only. For foreign shipments, we will contact you with a quote.] Great gift for colleagues and self. Click image above for larger image.

OTHER IMPORTANT UPCOMING EDUCATIONAL EVENTS....

Monday, 27 June 2016, 6:30-9 pm - Washington, DC - Lockpicking 101 - International Spy Museum Spy School Workshop

Spying today may seem dominated by the digital realm of hackers, cryptography, and eavesdropping, but the field operative will never go away. In the physical world, where secrets are under lock and key, sometimes the only way in is to pick the lock.
In this workshop, led by Preston Thomas, president of the DC Chapter of The Open Organization Of Lockpickers, you'll learn the art and science of how locks work-and how to open them. From classical picking to field expedient methods, we will survey the tools and techniques necessary to attack many common locks. Try your hand at getting out of handcuffs and zip ties. Discover if you really can escape with just your wits and a bobby pin. Participants will work in small groups getting hands-on practice with lockpicking experts, and once you've got "the touch," you can put your skills to the test against other students.
Location: City Tap House, 901 9th St NW, Washington, DC - Gallery Place/Chinatown Metrorail Station
High-quality lock picking kits will be available to take home after the class for $25 (cash or check). Please email soltmans@spymusem.org if you would like one.
Food and drink will be available for purchase throughout the event.
TICKETS: $35. Space limited to 30 - advance registration required. No tickets available at event. To register contact aabrell@spymuseum.org

---

Thursday, 30 June 2016, 5 - 7pm - Washington, DC - "The Color of Courage" featuring Dr. Julian Kulski at the Daniel Morgan Academy

The Daniel Morgan Academy hosts an exclusive, invitation-only national security lecture featuring The Color of Courage: The World War II Diary of Julian Kulski with a presentation by Dr. Julian Kulski.
"If there is going to be a war, I do not want to miss it." So writes Julian Kulski a few days before WWII begins, in his remarkable diary of a boy at war from ages 10 to 16.
At age 12 Kulski is recruited as a soldier in the clandestine Underground Army by his Boy Scout leader, and at age 13 enters the Warsaw Ghetto on a secret mission. Arrested by the Gestapo at age 14 and sentenced to Auschwitz, he is rescued and joins the commandos. At age 15, Kulski fights in the 1944 Warsaw Uprising. He ends the war as a German POW, finally risking a dash for freedom onto an American truck instead of waiting for Soviet "liberation."
Dr. Julian Kulski will speak about his experiences fighting in the Polish Underground during World War II.
TIMES: Reception with food and wine starts at 5 pm. Presentation by Dr. Kulski is from 6 to 7 pm.
LOCATION: Daniel Morgan Academy, 1620 L St NW, 7th Floor, Washington, DC 20036; Near Farragut North and West Metro Stations
For more information or to RSVP do so here or contact Frank Fletcher, Director of Lectures and Seminars, DMA at Fletcher@DanielMorgan.academy; call 202-759-4988.

---

Wednesday, 13 July 2016, 6:30-8:30pm - Washington, DC - High Hand: The Authors Behind the Thrills - at the International Spy Museum

Espionage, political machinations, oil, secretly funded high-tech weapons of intelligence, ghosts of the Cold War, murder, and poker. Join the three co-authors of High Hand, a new spy thriller, to explore how they used their professional and personal experiences to create this novel written using the pseudonym Curtis J. James on the CIA and SVR. The authors: Pentagon journalist James Rosen, and cancer scientist Curtis Harris, and James Ellenberger, a former senior official of a national labor federation, will be joined by Spy Museum board member and retired KGB Major General Oleg D. Kalugin. Tickets: $12. Visit www.spymuseum.org


Thursday, 7 July 2016, 11:30am - 1pm - Washington, DC - "Expectations of Privacy in the Digital Age" by Terry Roberts, Former DD/ONI, at the Daniel Morgan Academy

The Daniel Morgan Academy hosts an exclusive, invitation-only national security lecture featuring Terry Roberts, former Deputy Director of Naval Intelligence, speaking on the expectation of privacy in the digital age.

TIMING: Reception at 11:30 am, remarks by Terry Roberts at noon followed by Q & A.
LOCATION: Daniel Morgan Academy, 1620 L St NW, 7th Floor, Washington, DC 20036; Near Farragut North and West Metro Stations
For more information or to RSVP do so here or contact Frank Fletcher, Director of Lectures and Seminars, DMA at Fletcher@DanielMorgan.academy; call 202-759-4988.
Please note: DMA events are by invitation-only and not open to the public. Contact the Academy for more information.

---

Saturday, 9 July 2016, 11am-noon - Washington, DC - The Magic of Spying: Tradecraft Trickery at the International Spy Museum

In the real-life world of espionage, spies often call upon the art of magic and illusion to distract the enemy, make evidence disappear, and escape unnoticed. Join professional magician, Peter Wood, as he demonstrates the art of misdirection, sleight of hand, and other illusions used by skilled spies. This one of a kind performance, custom-designed for the Spy Museum, is guaranteed to fascinate children and adults alike. Ages: 7 and up. Space is limited– advance registration required. Tickets: $10. Visit www.spymuseum.org

---

Tuesday, 19 July 2016, 7- 8:15pm - Washington, DC - Spy School Workshop with Eric O'Neill and SpyChasers presents: Welcome to Khandar - at the International Spy Museum

You are invited to an evening at the Khandar Embassy with Eric O'Neill…but all is not as it seems. The Embassy has just become the center of an espionage investigation with global repercussions. It's up to you to identify the spy from among four Embassy luminaries before time runs out. Space is limited to 25 participants -- advance registration is required. Tickets: $45. Visit www.spymuseum.org

---

18 July thru 5 August 2016 - Emmitsburg, MD - International Security & Intelligence - attend a Cambridge University Experience at Mt. Saint Mary's University in Maryland

International Security and Intelligence (ISI) is a program offered at Mount St. Mary's University in association with the Cambridge Security initiative (CSi). This 3-week, highly competitive summer course runs from July 18-Aug 5, 2016.Through the lens of professional practitioners of the craft, and academics closely involved in the world of intelligence, students will explore the role of the intelligence and security agencies in a democratic society, applying the enduring principles of intelligence and security to cutting-edge problems. The 2016 program is being offered in the United States for the first time, exclusively at Mount St. Mary's University in Emmitsburg, Md. Attendees range from undergraduate students to seasoned professionals, and everyone experiences the same mix of lectures, seminars and social activities. The aim is to offer an experience of teaching and learning which is very similar to that offered at the University of Cambridge. Applications are being accepted until June. Learn more at http://isi.msmary.edu/
NOW AVAILABLE
Getting a Security Clearance: Questions and Answers about what they are, how they are conducted,
how you can qualify, how long they take, and what can put them in jeopardy.

Two valuable booklets are now available
The Security Clearance Process: Answers to Frequently Asked Questions - by the Congressional Research Service, Sept 2013
[PDF]
Security Clearances - FAQs - ClearanceJobs.com / DICE
[PDF]
---
Intelligence as a Career -with listings of colleges teaching intelligence courses.

AFIO's booklet for high school and college students considering careers
in the U.S. Intelligence Community.
Careers Booklet in PDF Format available here.
Cannot open some or all of these PDFs? It can mean your PDF viewer is out-of-date.
Use this link to update your viewer to the latest version.
---
Intelligence Community - Seven Years in a Row - Named 2015
One of the Best Places to Work in the Federal Government
For the seventh consecutive year, the Intelligence Community (IC) was honored as #2 in the top-ten Best Places to Work in the Federal Government, according to an independent analysis of federal workers' job satisfaction and commitment.
The rankings were compiled by the Partnership for Public Service (PPS) and American University's Institute for the Study of Public Policy Implementation (ISPPI) and announced recently in Washington, D.C. PPS is a nonprofit, nonpartisan organization that aims to attract people to federal careers and improve how the government runs. The institute conducts research and helps federal leaders solve difficult public-policy issues.
The IC ranked fourth overall among large agencies, which includes over 30 organizations, each of which employs more than two thousand people. Rankings are based on data from the 2015 Federal Employee Viewpoint Survey, which the U.S. Office of Personnel Management administers. The first Federal Government survey was in 2003, but the IC has only participated since 2009. Max Stier, president and CEO of the Partnership for Public Service, noted that the IC does not have to participate but does so voluntarily, "which is a credit to them."
To maintain the security of information about its work force, the IC relies on its own survey instrument to assess each year how its workers feel about issues such as job satisfaction, professional development, and the effectiveness of senior leaders. The IC includes several questions from the federal survey in the IC's annual Employee Climate Survey. That way, the Community's information can be compared with that from other organizations.
Other top-five large organization Best Places to Work are: The National Aeronautics and Space Administration and the U.S. Departments of Commerce, State and Justice.
Visit bestplacestowork.org to see which agencies top the rankings and to access trend analysis, demographic data and all 10 workplace categories, as well as generate custom reports and conduct side-by-side comparisons for up to three agencies.
---
Join or subscribe to our publications and enjoy all our unusual member benefits
JOIN:
As a Member or Subscriber - Use this Online Form
Student Rates: Students, 28 years old or younger, attending a U.S. nonprofit accredited college, may join 1x at special rate. Email us at afio@afio.com with your info for application and rates.
RENEW:
Renew or Reinstate Your Membership or Subscription here
UPDATE MEMBER INFO:
New Email or Mailing Address? Provide it here.
---
---
Review our Member
CODE of ETHICS

---
BOARD OF DIRECTORS' Photos and Public Biographies
---
---
---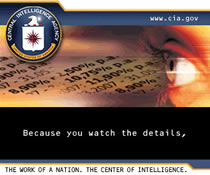 ---
We Thank These Corporate, Academic, and Charitable Foundation Members
Join as a corporate
or foundation member
---
Movies of Interest to members can be found here.
---

Send your articles and reviews to afio@afio.com for the journal INTELLIGENCER

---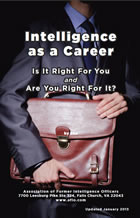 Intelligence
as a Career

Is It Right For You
AND
Are You Right For It?
Click HERE, or the cover photo above, for the updated version Booklet.
---
Donations Needed -
Help AFIO continue our Special Events, Publications, and Speakers Program.
---

---