The Association of Former Intelligence Officers (AFIO) presents this website to serve our members and visitors as a portal to the activities of AFIO and other educational intelligence groups.
Upcoming AFIO and Intelligence Community Events
Many informative, fascinating programs are occuring in the Washington Metro Area and across the country. Find out which ones to add to your calendar to stay connected and to stay current.

Corporate
Learn how your company can make a difference with AFIO corporate memberships and marketing opportunities. Reach more than 4,800 intelligence professionals.

National Members
Join AFIO or renew your existing membership and enjoy member benefits, such as special invitations to events, unique banking & investment services, scholarships and career assistance.

Publications
Sign up and receive the popular Weekly Intelligence Notes [WINs], and the printed industry journal: Intelligencer - Journal of U.S. Intelligence Studies, 3 issues per year for the intelligence community by intelligence professionals. AFIO also produces Intelligence As A Career - a frequently updated printed and online guide to organizing your life and education to qualify for work in the intelligence community, and a Guide to the Study of Intelligence intended to assist college instructors and secondary school teachers of history, civics, and current events.

About Us
Learn about AFIO - our many events, publications, programs, and legislative alerts. Support AFIO with purchases and donations or meet our members at events throughout the US. Make your views known.

Chapters
Local AFIO Chapters are the heart of AFIO activities for many members, so join AFIO National and then consider adding a local chapter membership to your mix.

Upcoming AFIO and related Organization Educational Events ... Full listings found here

21 August 2014, 12:30pm - Los Angeles, CA - AFIO – Los Angeles hosts LAPD Police Chief Bernard Parks on Aerial Surveillance Platforms

The chapter will host Bernard Parks, former Chief of Police of the L.A.P.D. (Los Angeles Police Dept.) and current member of the Los Angeles City Council, to discuss the current state of safety in the city of Los Angeles and future limited use of aerial surveillance platforms (UAV-Drones), and the impact it will have on the future of local law enforcement in L.A.
Location for the meeting: LAPD-ARTC 5651 W Manchester Ave. Los Angeles, CA 90045, Start Time:12.30 PM, Room 1E.
Please RSVP for attendance: afio_LA@yahoo.com

---

13 September 2014, 1130 hrs - Indian Harbour Beach, FL - The Florida Satellite Chapter hosts Counterterrorism expert, Wallace Bruschweiler

Former AFIO Suncoast Chapter VP Wallace Bruschweiler will explore various approaches used by Israel, USA, Western Europe and Russia in combating terrorist activities around the world. He is a quadri-linguist and an expert on counter terrorism and national security issues. Wallace is a results oriented security executive, strategist and problem solver with extensive expertise and over 25 years in solving complex domestic and international security and intelligence situations in a large range of venues. Terrorism has evolved and Wallace has stayed in front of the curve.
Event location: Eau Gallie Yacht Club, 100 Datura Drive, Indian Harbour Beach, FL 32937
For reservations and further details, contact Barbara Keith, 1024 Osprey Drive, Melbourne, Florida 32940. Telephone: 321.777.5561, email: bobbie6769@juno.com

---

Monday, 22 September 2014, 6 pm - New York, NY - The AFIO NY Metro Chapter features Jack Devine

Former CIA Director of Operations, Jack Devine, speaks on his new book Good Hunting.
Location: Society of Illustrators, 128 E 63rd St.
Full details to follow. Questions to afiometro@gmail.com

Saturday, 9 August 2014 - Orange Park, FL - AFIO North Florida Chapter hosts meeting

Location: Country Club of Orange Park. Questions and reservations: Quiel Begonia at qbegonia@comcast.net call 352-332-6150. Cost will be $16 each, pay the Country Club at the luncheon.

---

14 August 2014, 11:30 a.m. - San Francisco, CA - The AFIO San Francisco Chapter hosts Capt. Welton Chang, DoD Analyst and Ph.D. student at the University of Pennsylvania.

Topic: Predicting War and Peace: Inside the Massive IARPA Political Forecasting Experiment - Exploring the Frontiers of Optimal Political Forecasting. In 2011, IARPA sponsored a tournament to test a big idea: can people predict political outcomes? If so, how? Come learn how the tournament has progressed over the last three years from a participant in the project. Capt. Welton Chang will discuss the experimental set up, findings, and implications for intelligence and policy making.

11:30AM no host cocktails; meeting starts at noon. Please note new meeting location: Basque Cultural Center, 599 Railroad Avenue, South San Francisco, CA 94080. RSVP required by 8/1/14 to Mariko Kawaguchi: e-mail afiosf@aol.com with meal choice (Salmon with Champagne Sauce or Veal Roast au Jus) and mail check made out to "AFIO" to: Mariko Kawaguchi, P.O. Box 117578, Burlingame, CA 94011. Members and students: $25; non-member guests $35.

OTHER IMPORTANT UPCOMING EDUCATIONAL EVENTS....

Friday, 15 August 2014, 1 - 4 pm - Washington, DC - Meet former FBI/CIA Counterintelligence Officer, Christopher Lynch

Christopher Lynch was a Counterintelligence Officer, first in the FBI, and then in the CIA, for thirty years. As an Operations Analyst, he specialized in the KGB in assessing tradecraft and in detecting hostile control.
Free. No registration required. More info and directions at www.spymuseum.org

---

Tuesday, 19 August 2014, noon - Washington, DC - Good Hunting: An American Spymaster's Story with Jack Devine

Jack Devine is one of the legendary spymasters of our time. He was in Chile when Allende fell; he ran Charlie Wilson's war in Afghanistan; he had too much to do with Iran-Contra for his own taste, though he tried to stop it; he caught Pablo Escobar in Colombia; and he tried to warn George Tenet that there was a bullet coming from Iraq with his name on it. His new book, Good Hunting, is Devine's guide to the art of spycraft and his belief in the CIA's vital importance as a tool of American statecraft. Although it has been caricatured by Hollywood, lionized by the right, and pilloried by the left, Devine believes the CIA remains one of the least understood instruments of the United States government. Join him as he uses his wit, candor, and common sense wisdom to set the record straight about an organization whose history has not been given its due.

Tickets: Free! No registration required. Visit www.spymuseum.org.

Many more Spy Museum activities in coming months are listed here.

Wednesday, 13 August 2014, noon - Washington, DC - Global Terrorism, Espionage and Cybersecurity Monthly Update, at the International Spy Museum

Be the first to learn the latest intelligence news! Join David Major, retired FBI agent and former director of Counterintelligence, Intelligence and Security Programs, for a briefing on the hottest intelligence and security issues, breaches, and penetrations. Presented in partnership with The Centre for Counterintelligence and Security Studies (CI Centre), these updates will cover worldwide events such as breaking espionage cases and arrest reports, cyber espionage incidents, and terrorist activity. Find out Snowden's current status and what could happen next with this case. Major uses his expertise to analyze trends and highlight emerging issues of interest to both intelligence and national security professionals and the public. Cases are drawn from the CI Centre's SPYPEDIA®, the most comprehensive source of espionage information in the world, containing events and information that may not be reported by mainstream media outlets. Major will also highlight and review the latest books and reports to keep you current on what is hitting think tank desks.
Tickets: Free! No registration required. Visit www.spymuseum.org.

---

Friday, 22 August 2014, 1- 4 pm - - Washington, DC - Meet A Spy: Tony & Jonna Mendez, the real CIA Officers behind the movie ARGO

Meet the Mendezes, both are former CIA Chiefs of Disguise, responsible for changing the identity and appearance of thousands of clandestine operatives around the world. Tony is most famous for his rescue of American diplomats from Tehran during the Iranian Hostage Crisis as depicted in the film ARGO.
Free. No registration required. More info and directions at www.spymuseum.org
NOW AVAILABLE
Getting a Security Clearance: Questions and Answers about what they are, how they are conducted,
how you can qualify, how long they take, and what can put them in jeopardy.

Two valuable booklets are now available
The Security Clearance Process: Answers to Frequently Asked Questions - by the Congressional Research Service, Sept 2013
[PDF]
Security Clearances - FAQs - ClearanceJobs.com / DICE
[PDF]
---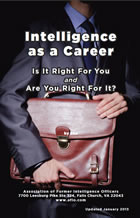 Intelligence as a Career - Updated with latest listings of colleges teaching intelligence courses.

AFIO's new booklet for high school and college students considering careers in the U.S. Intelligence Community.
Careers Booklet in PDF Format updated 10 January 2013 available here.
Cannot open some or all of these PDFs? It can mean your PDF viewer is out-of-date.
Use this link to update your viewer to the latest version.
---
Intelligence Community Named 2010
Best Place to Work in the Federal Government
For the second consecutive year, the Intelligence Community (IC) was honored as one of the top-ten Best Places to Work in the Federal Government, according to an independent analysis of federal workers' job satisfaction and commitment.
The rankings were compiled by the Partnership for Public Service (PPS) and American University's Institute for the Study of Public Policy Implementation (ISPPI) and announced today at a ceremony in Washington, D.C. PPS is a nonprofit, nonpartisan organization that aims to attract people to federal careers and improve how the government runs. The institute conducts research and helps federal leaders solve difficult public-policy issues.
Army Lt. Gen. John F. Kimmons, the director of the intelligence staff for the Office of the Director of National Intelligence, accepted the award on behalf of the entire IC. "The fact that the IC placed in the top ten for two consecutive years reflects a work force understanding of the critical role they fill and the importance of our national security mission," he said.
The IC ranked tenth overall among large agencies, which includes 32 organizations, each of which employs more than two thousand people. Rankings are based on data from the 2010 Federal Employee Viewpoint Survey, which the U.S. Office of Personnel Management administers. The first survey was in 2003, but the IC has only participated since 2009. Max Stier, president and CEO of the Partnership for Public Service, noted that the IC does not have to participate but does so voluntarily, "which is a credit to them."
To maintain the security of information about its work force, the IC relies on its own instrument to assess each year how its workers feel about issues such as job satisfaction, professional development, and the effectiveness of senior leaders. The IC includes several questions from the federal survey provided by the PPS, in the IC's annual Employee Climate Survey. That way, the Community's information would be comparable with that from other organizations under consideration for Best Places.
Other returning top-ten Best Places to Work are: The Nuclear Regulatory Commission, Government Accountability Office, National Aeronautics and Space Administration, the U.S. Departments of State and Justice, and the Social Security Administration.
According to the Best Places to Work analysis, employee satisfaction is at an all-time high of 65 out of 100, a 7.4 percent jump from 2003 when the rankings were first released, with 68 percent of agencies improving their index score since the last rankings in 2009.
Visit bestplacestowork.org to see which agencies top the rankings and to access trend analysis, demographic data and all 10 workplace categories, as well as generate custom reports and conduct side-by-side comparisons for up to three agencies.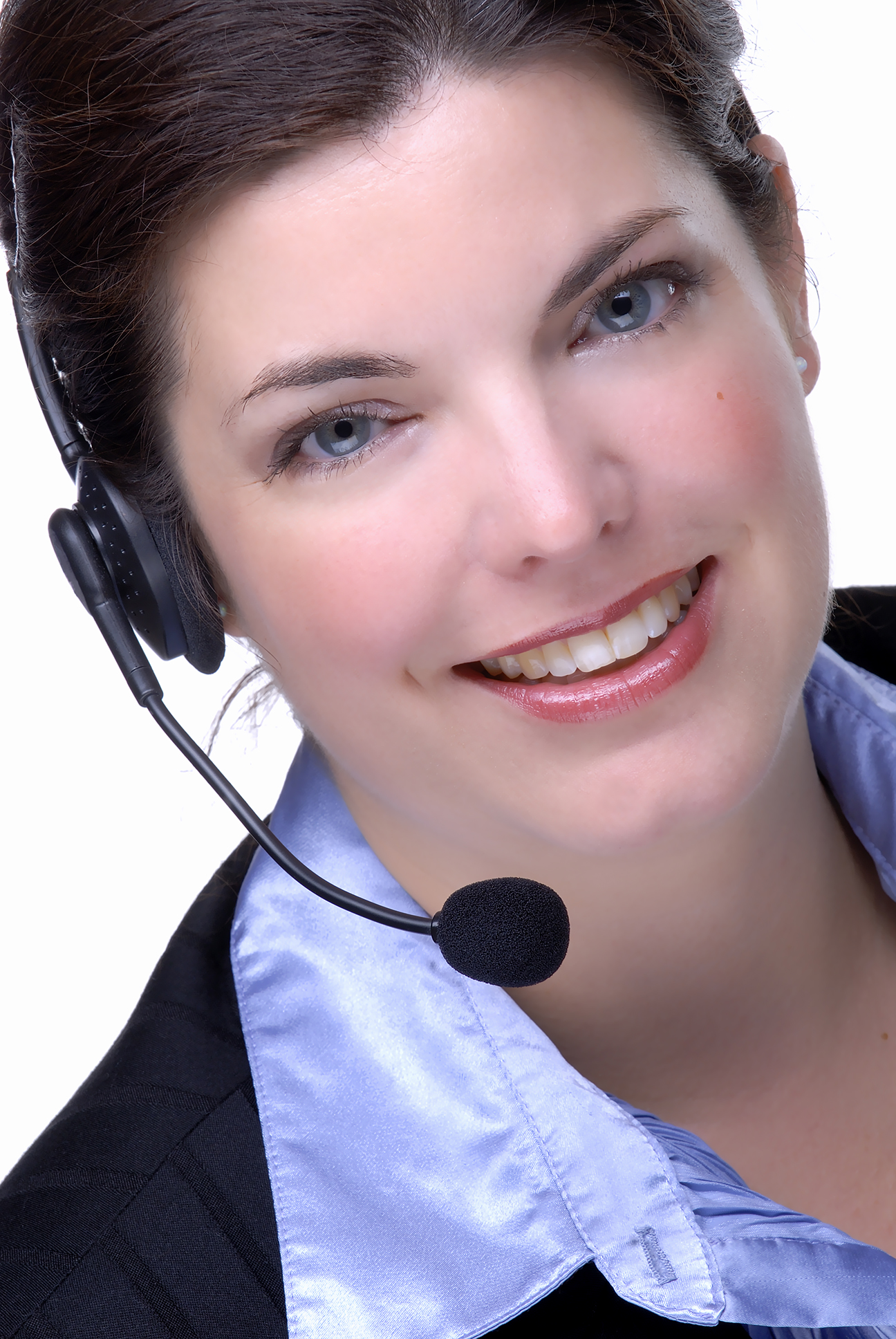 Become a Member
or a Subscriber

Join AFIO or subscribe to our publications and enjoy all our unusual member benefits
To Join as an Individual Member, complete this Online Application
To Join as a Corporate Member, complete this Online Application
To Subscribe, [not be a member] complete subscription form here.
RENEWALS: Current Members ...
Renew or Reinstate Your Membership
Current Subscribers ...
Renew your Subscription

Update Email or Mailing Address here to update your email or mailing addresses.
All members must adhere to the Association's CODE of ETHICS.
---
---
AFIO BOARD OF DIRECTORS' Photos and Public Biographies
---

We Thank These Corporate Members
---
---
Put your Intelligence Career
on the Fast Track
Consider their new
PASS:PORT Program.
---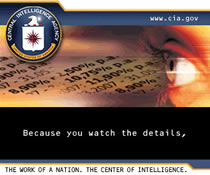 ---
Movies of Interest to AFIO members can be found here.
---

Send your articles and reviews to afio@afio.com for the journal INTELLIGENCER...
This issue mailed to all current members and subscribers on July 21, 2014.

---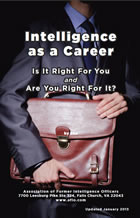 NOW AVAILABLE

Updated for 2013
Intelligence
as a Career

Is It Right For You
AND
Are You Right For It?
Click HERE, or the cover photo above, for the updated version of Careers In Intelligence Booklet.
Released 10 January 2013
---
Donations Needed -
Help AFIO continue our Special Events, Publications, and Speakers Program.
If you are interested in considering a bequest or deferred, income yielding gift such as a charitable annuity (with a lifetime of income to self and/or spouse), please explore our Bequest Booklet below:
Bequest and Deferred Gifts To AFIO
Consider an immediate donation here, of any amount to underwrite the many free talks AFIO Members provide groups across the country.
---

---