AFIO Central Office
7700 Leesburg Pike
Suite 324
Falls Church, VA
22043
Voice: 703 790 0320
Fax: 703 991 1278
Email: afio@afio.com

© 2016 AFIO

Copyright and Privacy Notice


The Association of Former Intelligence Officers (AFIO) presents this website to serve our members and visitors as a portal to our activities and to provide word of upcoming educational events by other select intelligence groups.
Upcoming AFIO and Intelligence Community Events
Many informative, fascinating programs are occuring in the Washington Metro Area and across the country. Find out which ones to add to your calendar to stay connected and to stay current.

Corporate
Learn how your company can make a difference with AFIO corporate memberships and marketing opportunities. Reach more than 4,800 intelligence professionals.

National Members
Join or renew your existing membership and enjoy member benefits, such as special publications, invitations to events, unique banking & investment services, scholarships, and career assistance.

Publications
Sign up and receive the popular Weekly Intelligence Notes [WINs] and the printed industry journal: Intelligencer - Journal of U.S. Intelligence Studies, 3 issues per year for the intelligence community by intelligence professionals. AFIO also produces Intelligence As A Career - a printed and online guide to organizing your life and education to qualify for work in the intelligence community, and a Guide to the Study of Intelligence to assist college instructors, secondary school teachers of history, civics, and current events, and students, on the best readings on a wide variety of current intelligence topics.

About Us
Learn about us - our many events, publications, programs, and legislative alerts. Support AFIO with purchases and donations or meet our members at events throughout the US. Make your views known.

Chapters
Local chapters have appeal to many members, so after you have joined AFIO National, consider adding a local chapter membership to your mix.

Upcoming AFIO and related Organization Educational Events ... Full listings found here

Tuesday, 13 December 2016, noon - MacDill AFB, FL - The Suncoast AFIO Chapter hosts Calvin Pratt, speaking on "Trends within the Travel and Operational Risk Management Space."

The chapter has an informative program as they welcome Calvin Pratt, Managing Director of The Anvil Group LLC, speaking on current and emerging trends within the travel and operational risk management space.

Event location: MacDill AFB Surf's Edge Club, 7315 Bayshore Boulevard, MacDill AFB, FL 33621. The program is scheduled to start at noon.
If you will be attending, please respond to Michael Shapiro no later than noon on Tuesday, December 6, with your name and the names of any guests.
The Surf's Edge Club has tightened its reservation policy, so do not respond late.
If you (or any of your guests) have not previously attended one of the chapter's meetings and need base access, when emailing Mike Shapiro, ask for instructions to have your name added to the Base Access List. If you have previously been on the Base Access List and your information has not changed, they only need your RSVP. If you make a reservation, and do not cancel and receive from the chapter a cancellation confirmation by the response deadline, and then fail to appear on day of event, you are responsible for the cost of the luncheon.
After you respond, you will receive an email confirmation. Should you not receive a reply wihin a day or two, contact Michael F. Shapiro at sectysuncoastafio@att.net to make certain he received your registration.

---


Just published. AFIO's 800-page Guide to the Study of Intelligence. Peter C. Oleson, Editor. View authors and table of contents here.

Perfect for professors, students, those considering careers in intelligence, and current/former officers seeking to see what changes are taking place across a wide spectrum of intelligence disciplines.

AFIO's Guide to the Study of Intelligence helps instructors teach about the large variety of subjects that make up the field of intelligence. This includes secondary school teachers of American History, Civics, or current events and undergraduate and graduate professors of History, Political Science, International Relations, Security Studies, and related topics, especially those with no or limited professional experience in the field. Even those who are former practitioners are likely to have only a limited knowledge of the very broad field of intelligence, as most spend their careers in one or two agencies at most and may have focused only on collection or analysis of intelligence or support to those activities.

$95, includes Fedex shipping to a CONUS (U.S.-based) address. AK, HI, and other US or foreign addresses should contact afio@afio.com to inquire about shipping options.

To order for shipment to a U.S.-based CONUS address, use this online form,
To order multiple copies or for purchases going to AK, HI, other US territories, or other countries call our office at 703-790-0320 or send email to afio@afio.com
providing your name, mailing address, quantity, cc number and expire date, and amount authorized to charge, and your phone should we have questions. Foreign shipments fees will be calculated and estimates sent, awaiting your approval.

The Guide is also available directly from Amazon at this link.

---

12 January 2017 (Thursday) - San Francisco, CA - The AFIO Andre LeGallo Chapter hosts Special Agent in Charge, John F. Bennett, FBI San Francisco Office.

Location: Basque Cultural Center, 599 Railroad Ave, South San Francisco, CA 94080. 11:30am no host cocktail; meeting and luncheon at noon.
Eventbrite registration link is here.

Reservation and pre-payment is required before January 4, 2017. The venue cannot accommodate walk-ins.
Please contact Mariko Kawaguchi, Board Secretary at afiosf@aol.com or Mariko Kawaguchi, c/o AFIO, P.O. Box 117578, Burlingame, CA 94011 for questions.

---

AFIO's Intelligence Community Mousepad

Full color seals of all 18 members of the U.S. Intelligence Community on this 8" round, slick surface, nonskid, rubber-backed mouse pad. Price: $20.00 for 2 pads [includes shipping to U.S. based address, only. For foreign shipments, we will contact you with a quote.] Great gift for colleagues and self. Click image above for larger image.


---

Teaching -- or Seeking to learn more -- about the world of Intelligence?

AFIO's Guide to the Study of Intelligence
Are You Using It?
The Guide consists of more than 66 articles on all aspects of intelligence. It is intended to help instructors become familiar with intelligence-related subjects. Guide articles, written by both academic experts and seasoned practitioners, are introductions to the subject with recommended readings for further study.
Guide articles appear in AFIO's journal Intelligencer and as PDFs on our website here.
They are free for academic use.

For a complete list of what articles are available at this time, view this pdf.

---

PERFECT CHRISTMAS PRESENT
FOR SELF AND COLLEAGUES

Explore larger versions of the images in this fine calendar, comments, and ways to order.

Calendar is also available at the International Spy Museum Bookshop at this link.

---

Other Upcoming Educational Events....

11 December 2016 (Sunday) - San Francisco, CA - Mosab Hassan Yousef - a Mossad Informant - Movie Screening


Speaker: Mosab Hassan Yousef, AKA "The Green Prince"
Topic: An Evening with a Mossad Informant - Movie Screening and Q&A. Mosab Hassan Yousef, aka "The Green Prince", son of a top Hamas leader, secretly worked undercover for the Israeli Mossad for years, saving hundreds of lives before fleeing Gaza for a new life. Join us for the riveting movie of his amazing life, then meet him for a Q&A on his story and the terrorist threats facing Israel today. This event is hosted by Congregation Emanu-El.
Location: Congregation Emanu-El, 2 Lake Street, San Francisco
Time: 5PM movie screening of The Green Prince; 7PM Q&A with Mosab Hassan Yousef
Registration: The event is free but registration is mandatory. (Must RSVP HERE by December 8, 2016. Security screening at the entrance)

---

Friday, 13 January 2017, noon - 2pm - Ashburn, VA - Loudoun Crime Commission hosts 6th Annual State of Law Enforcement in Loudoun County Forum.

More information on event will be forthcoming. Please don't miss what will be a very interesting presentation.
Location: Belmont Country Club.
RSVP by 8 November at RSVP@loudouncrimecommission.org. Doors open at noon.
$25.00 for non-members, $20.00 for members, payable by cash or check or CC (add $1 for cc).

12 December 2016, 6 to 9 pm - Washington, DC - Daniel Morgan Graduate School of National Security Hosts Holiday Open House


Enjoy beer and wine, and festive hors d'oeuvres at the Daniel Morgan Academy, a new graduate school of national security in Washington, DC, at their holiday open house. Take a tour of their new, state-of-the-art graduate school decorated for the holidays. Meet their leadership, professors, staff and students to find out what makes their school unique.
Event location: Daniel Morgan Academy, 1620 L St NW, Seventh Floor, Washington, DC 20036
Convenient to Farragut North and West Metro Stations
To RSVP, do so here.
For more information, please call 202-759-4988 or E-mail or visit their Website

---

Friday, 16 December 2016, 1-4pm - Washington, DC - Meet an F-4 Pilot: Mark Hewitt - at the International Spy Museum

Head to the Spy Museum Store and meet F-4 pilot, Mark A. Hewitt, who has always had a fascination with spyplanes and the intelligence community's development and use of aircraft. He flew F-4s in the Marine Corps, served as Director of Maintenance with the Border Patrol and the Air Force, and was an Associate Professor for Embry-Riddle Aeronautical University. He is the author of Special Access, Shoot Down and his latest, No Need to Know. His novels have been approved by the CIA Publication Review Board. Mark's new book focuses on a major security breach that finds the CIA's closest secrets divulged and dozens of their highly-placed spies exposed and killed. As the Agency investigates the source of the disclosures, an old Office of Strategic Services file and the former Director of Central Intelligence become the focal point of their research. A race is on to find the file's secrets. If al-Qaeda wins, they can acquire "suitcase" thermonuclear devices to attack America. If the CIA gets there first, they can make a deal with a Russian billionaire and trade the missing treasure for the weapons al-Qaeda craves. The political awakening of Duncan Hunter continues as he battles radical fundamentalists across the globe, thwarts the terrorists' best plans, and eliminates their leaders. He survived their latest attempts to kill him when he's finally cornered, captured, and dragged to an al-Qaeda lair. Inside lurks certain doom at the hand of his bitterest foe. Tickets for the general public: free. Visit www.spymuseum.org
NOW AVAILABLE
Getting a Security Clearance: Questions and Answers about what they are, how they are conducted,
how you can qualify, how long they take, and what can put them in jeopardy.

Two valuable booklets are now available
The Security Clearance Process: Answers to Frequently Asked Questions - by the Congressional Research Service, Sept 2013
[PDF]
Security Clearances - FAQs - ClearanceJobs.com / DICE
[PDF]
---
Intelligence as a Career - with listings of colleges teaching intelligence courses.

AFIO's booklet for high school and college students considering careers
in the U.S. Intelligence Community.
Careers Booklet in PDF Format available here.
Cannot open some or all of these PDFs? It can mean your PDF viewer is out-of-date.
Use this link to update your viewer to the latest version.
---
Intelligence Community - Seven Years in a Row - Named 2015
One of the Best Places to Work in the Federal Government
For the seventh consecutive year, the Intelligence Community (IC) was honored as #2 in the top-ten Best Places to Work in the Federal Government, according to an independent analysis of federal workers' job satisfaction and commitment.
The rankings were compiled by the Partnership for Public Service (PPS) and American University's Institute for the Study of Public Policy Implementation (ISPPI) and announced recently in Washington, D.C. PPS is a nonprofit, nonpartisan organization that aims to attract people to federal careers and improve how the government runs. The institute conducts research and helps federal leaders solve difficult public-policy issues.
The IC ranked fourth overall among large agencies, which includes over 30 organizations, each of which employs more than two thousand people. Rankings are based on data from the 2015 Federal Employee Viewpoint Survey, which the U.S. Office of Personnel Management administers. The first Federal Government survey was in 2003, but the IC has only participated since 2009. Max Stier, president and CEO of the Partnership for Public Service, noted that the IC does not have to participate but does so voluntarily, "which is a credit to them."
To maintain the security of information about its work force, the IC relies on its own survey instrument to assess each year how its workers feel about issues such as job satisfaction, professional development, and the effectiveness of senior leaders. The IC includes several questions from the federal survey in the IC's annual Employee Climate Survey. That way, the Community's information can be compared with that from other organizations.
Other top-five large organization Best Places to Work are: The National Aeronautics and Space Administration and the U.S. Departments of Commerce, State and Justice.
Visit bestplacestowork.org to see which agencies top the rankings and to access trend analysis, demographic data and all 10 workplace categories, as well as generate custom reports and conduct side-by-side comparisons for up to three agencies.
---
Join or subscribe to our publications and enjoy all our unusual member benefits
---
---
JOIN:
As a Member or Subscriber - use this Online Form
Student Rates: U.S.-based Students, 28 years old or younger, attending a U.S. nonprofit accredited college, may join 1x at special rate. Email us at afio@afio.com with your info for application and rates. Rate not available to current or former members.
RENEW:
Renew or Reinstate Your Membership or Subscription here
UPDATE MEMBER INFO:
New Email or Mailing Address? Provide here.
---
Join as a corporate
or foundation membe
---
Review our Member
CODE of ETHICS
---
BOARD OF DIRECTORS' Photos and Public Biographies
---
---
---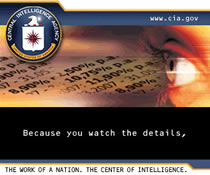 ---
Movies of Interest to members can be found here.
---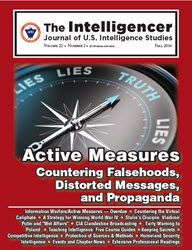 Send your articles and reviews to afio@afio.com for the journal INTELLIGENCER

---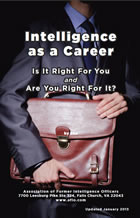 Intelligence
as a Career

Is It Right For You
AND
Are You Right For It?
Click HERE, or the cover photo above, for the updated version Booklet.
---
Donations Needed -
Help AFIO continue our Special Events, Publications, and Speakers Program.
---

---