Periscope - The AFIO Newsletter
PERISCOPE was discontinued in 2006 and its coverage of association members and events was added to Intelligencer journal which was expanded by 40 pages. More about Intelligencer is here.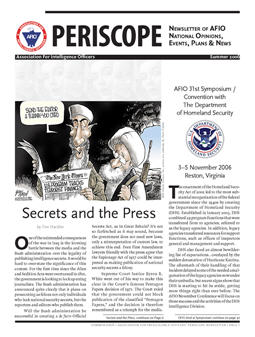 Our newsletter of AFIO National and Chapter events and people, which contains opinions, letters, photos of special national events and speakers, breakdowns of membership composition, donor lists, board of director biographies and ballots, as well as summaries of chapter events throughout the year. The newsletter appears twice a year.
Though the publication is no longer available online, some of the prior issues can be viewed in PDF format here:
2000 PDF Version - low-resolution version at 0.3MB
2001 PDF Version - low-resolution version at 4.5 MB
2002 PDF Version - low-resolution version at 1.5 MB
2003 PDF Version - l ow-resolution version at 1.5 MB
2004 PDF Version - low-resolution version at 2.4 MB
2005 PDF Version - low-resolution version at 3.7 MB