---
CONTENTS
Section I - INTELLIGENCE HIGHLIGHTS
Section II - CONTEXT & PRECEDENCE
Section IV - Research Requests, Jobs, Obituaries
Other Upcoming Events from Advertisers, Corporate Sponsors, and Others
For Additional AFIO and other Events two+ months or more... Calendar of Events

WIN CREDITS FOR THIS ISSUE: The WIN editors thank the following special contributors: ec, po, mh, km, gh, mk, rd, fm, kc, jm, mr, jg, th, ed, and fwr. They have contributed one or more stories used in this issue.

The WIN editors attempt to include a wide range of articles and commentary in the Weekly Notes to inform and educate our readers. However, the views expressed in the articles are purely those of the authors, and in no way reflect support or endorsement from the WIN editors or the AFIO officers and staff. We welcome comments from the WIN readers on any and all articles and commentary.

CAVEATS: IMPORTANT: AFIO does not "vet" or endorse research inquiries, career announcements, or job offers. Reasonable-sounding inquiries and career offerings are published as a service to our members, and for researchers, educators, and subscribers. You are urged to exercise your usual caution and good judgment when responding, and should verify the source independently before supplying any resume, career data, or personal information.]
If you are having difficulties with the links or viewing this newsletter when it arrives by email, members may view the latest edition each week at this link. You will need your LOGIN NAME and your PASSWORD.

---

Assassins Inc.: The Kremlin's Secret Squad of Killers
Podcast series discusses Russian wet affairs operations around the world.

Entire 5-part podcast series is now available for streaming and downloading. The series — Assassins Inc. — is by J.J. Green of WTOP.

In March 2016, WTOP national security correspondent J.J. Green began investigating the suspicious deaths of Russian diplomats and others around the world linked, in some way, to the Kremlin. Some of them died in the US — in New York and DC. The deaths of some were deemed "natural." Others were obviously murdered. The investigation, which also examined failed assassination attempts, revealed a persistent pattern and a recurrent scheme, involving money, power, and revenge. In the WTOP podcast series, "Assassins Inc.," dozens of people, including victims, their family members, diplomats, journalists, US intelligence, US law enforcement officials and sources, members of Congress, and experts were interviewed to gain a better understanding of how this deadly ring of killers operates.

Part One: The Adelphi Affair ― Unsolved: The mysterious shooting of Paul Joyal, a former federal law enforcement officer, is attacked by two strange men outside his home in Adelphi, MD. The audio can be streamed or downloaded.

Part Two: The Russian Assassin's Business Model. Vladimir Putin, the connection between a shooting in Adelphi and a murder in London.

Part Three: The Russian Assassin's Business Model. A foiled plot that blew the lid off of one the Kremlin's secret squad of killers.

Part Four: Russia's Deadly Threat to the West. 'Those who are at the top are hiding in Russia ... beyond reach ... '

Part Five: A hotel in Dupont Circle was the scene of the suspicious death of a Russian former military intelligence officer
---
NOTICES
MEMBERS — ELECTIONS CONTINUE FOR AFIO BOARD 2019-2022
Please Cast Your Vote
AFIO National Board Elections have started for terms running 2019 thru 2022.
Printed ballots were also sent to all members with the Fall 2018 edition of Intelligencer journal.
That issue should reach all members NLT 26 November. No need to wait.
The list of candidates and their bios also appears on the online ballot accessed via link below.

Current members are asked to cast votes securely online NOW.
Vote Here
Election closes 11:59 pm EST 31 December 2018
---
Sign up now for...
Texas Intelligence Academy
20-30 May 2019 in Washington DC
APPLY NOW
Deadline for Applications: November 30, 2018
Information Session: November 15 at 6:00pm in RLP 1.302E
UT-Austin's Intelligence Studies Project and the Texas National Security Network announce the 2019 Texas Intelligence Academy (TIA), an intensive academic program focused on intelligence and national security from May 20 - 30, 2019 in Washington, D.C. The TIA will offer a competitively-chosen group of UT-System undergraduates the opportunity to learn about US intelligence through lectures by distinguished scholars and practitioners, moderated discussions, simulation exercises, and visits to intelligence-related sites and facilities in the Washington, D.C. area.
Students selected for the TIA will be housed in the District of Columbia and study at the UT-System's Archer Center, one block from the White House. All travel, lodging and program expenses for the TIA are provided by the Texas National Security Network. Applicants must be at a sophomore or junior level standing at a UT-System institution, demonstrate a strong academic record and interest in public service, and hold U.S. citizenship.
For more information about the TIA and detailed application instructions, please visit here.
---
New and Forthcoming Books of the Week
One Nation Under Drones: Legality, Morality, and Utility of Unmanned Combat Systems
by John E. Jackson, Capt USN (Ret)
(Naval Institute Press, Dec 2018)
Reviews how robotic and unmanned systems are impacting every aspect of American life, from how we fight our wars to how we play to how we grow our food. Chapters from a dozen experts, researchers, and operators of the sophisticated systems that have become ubiquitous. Press reports have focused primarily on unmanned aerial vehicles, officially designated as UAVs, but more often referred to as "drones."
Goes behind the scenes and describes how Predators, Reapers, Scan Eagles, and dozens of other pilotless aircraft have been used to fight the Global War on Terrorism. Although these systems seemed to emerge fully-developed into the skies above America's distant battlefields following the attacks of September 11, 2001, readers will discover that they actually trace their lineage to WWI, when the "automatic airplane/aerial torpedo," designed and built by the Sperry Gyroscope Company, made its first flight just over a century ago. Unmanned aircraft were used by various combatants in WWII and took many forms: from converted manned bombers to intercontinental attacks on the American homeland by rice-paper balloons. Technology developed in the latter decades of the 20th century enabled crews stationed thousands of miles away to attack targets on remote battlefields. Such long-range and remote-controlled weapons have been extensively used but are controversial from both legal and ethical standpoints.
Book may be ordered here.
---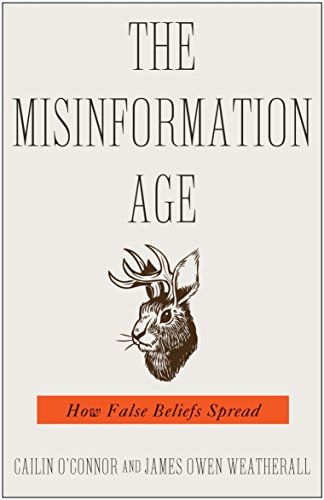 The Misinformation Age: How False Beliefs Spread
by Cailin O'Connor and James Owen Weatherall
(Yale University Press, Jan 2019)
The social dynamics of "alternative facts": why what you believe depends on who you know. Why should we care about having true beliefs? And why do demonstrably false beliefs persist and spread despite consequences for the people who hold them? Philosophers of science Cailin O'Connor and James Weatherall argue that social factors, rather than individual psychology, are what's essential to understanding the spread and persistence of false belief. It might seem that there's an obvious reason that true beliefs matter: false beliefs will hurt you. But if that's right, then why is it (apparently) irrelevant to many people whether they believe true things or not?
In an age riven by "fake news," "alternative facts," and disputes over the validity of everything from climate change to the size of inauguration crowds, the authors argue that social factors, not individual psychology, are what's essential to understanding the persistence of false belief and that we must know how those social forces work in order to fight misinformation effectively.

Book may be ordered here.
---
TWO FORTHCOMING DYSTOPIAN INTEL NOVELS OF INTEREST: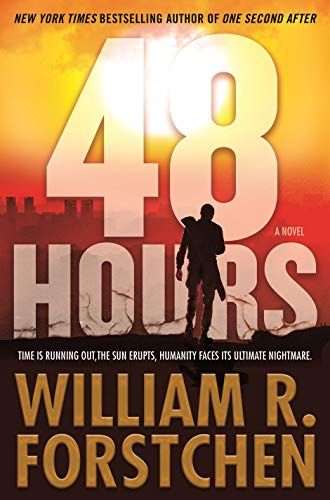 48 Hours
by William R. Forstchen
(Forge Books, Jan 2019)
From bestselling author of smash EMP hit One Second After series comes 48 Hours, a prescient thriller about a solar storm with the power to destroy the world's electrical infrastructure. The Earth will be hit by a Coronal Mass Ejection (CME) from the Sun, a "Carrington Event" that has the power to shut down and destroy the world's electrical infrastructure. To prevent permanent damage, everything goes dark prior to the hit: global communications are shut down; hospital emergency generators are disconnected; the entire internet, media broadcasting, and cell phone systems are turned off. Will the world's population successfully defend itself in the wake of the CME, or will mass panic lead to the breakdown of society as we know it? Or will some bad actors take advantage of the opportunity to use the vulnerability to increase power.
Book may be ordered here.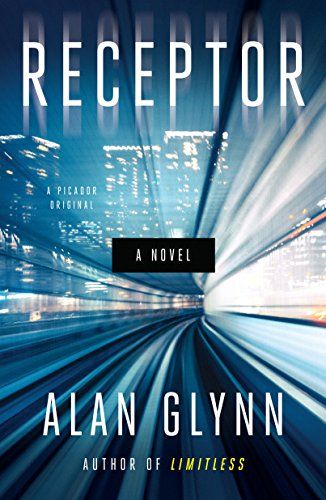 Receptor
by Alan Glynn
(Picador, Jan 2019)
One night in 1953, in a Manhattan apartment, advertising executive Ned Sweeney drinks a martini laced with MDT-48, a mind control drug, and becomes an unwitting participant in the CIA's MK-Ultra program. The drug makes Ned smarter and gives him the confidence to sway opinions of clients and some of the period's most iconic figures, but he dies within months. 60 years later, Ray Sweeney, Ned's grandson, still believes his grandfather committed suicide, until he meets Clay Proctor, a retired CIA official who tells him he's got it wrong. Guided by Clay, Ray embarks on a search for the truth, and obtains a sample of MDT-48 to experiment with the drug on his own. Author Glynn wrote the award-winnng Limitless book which was turned into a movie.

Book may be ordered here.
---
---
Section I - INTELLIGENCE HIGHLIGHTS

Russia Turns Up Uninvited to NATO's Trident Juncture War Games. The whirring of a low-flying Soviet Union-era war plane signaled Russia's uninvited arrival at NATO's biggest military exercise since the end of the Cold War.

Marines on board the USS Mount Whitney off the Norwegian coast had gathered for a group photo on deck, when the Tupolev TU-142 soared overhead.

"It's a long-range maritime patrol reconnaissance plane," said one fascinated Marine after casting an expert eye over the visitor. Although he had seen plenty of images of the aircraft, this was the first time he had seen it live, so to speak.

Russia has already made clear its displeasure over NATO's Trident Juncture exercises, the largest by the alliance since the end of the Cold War. They warned that the two-week long exercise, which it sees as an anti-Russian show of force, would not go unanswered. [Read more: Deshayes/AFP/3November2018]

Germany Appoints New Head of Intelligence Agency. Germany's interior ministry is naming a long-time civil servant to head the country's domestic intelligence agency.

In a statement, the ministry confirmed reports that Thomas Haldenwang would replace outgoing spy chief Hans-Georg Maassen.

The center-left Social Democrats, part of Chancellor Angela Merkel's coalition, had demanded Maassen's removal from the BfV spy agency in September after he appeared to downplay far-right violence against migrants in the eastern city of Chemnitz.

Haldenwang joined the interior ministry in 1991, moving to the BfV domestic intelligence agency in 2009. Four years later he became Maassen's deputy. [Read more: AP/12November2018]

Trial of Former Australian Spy Could Hear Evidence in Secret. Lawyers prosecuting a former spy and his lawyer who accuse Australia of illegally bugging the East Timorese Cabinet while negotiating a deal to share oil and gas revenue have made an application that could lead to the court being closed during the trial.

The former Australian Secret Intelligence Service spy, who cannot be identified, and his lawyer Bernard Collaery have been charged under the Intelligence Services Act with conspiracy to communicate ASIS information. ASIS is an overseas spy agency that operates out of Australian embassies.

Collaery's lawyer Chris Ward told Australian Capital Territory Chief Magistrate Lorraine Walker on Wednesday that prosecutors had told his legal team late Tuesday that Attorney General Christian Porter had been asked last week to issue a Section 24 certificate under the National Security Information Act.

Such a certificate relates to so-called national security information - which can cover international relations, defense, security, and law enforcement - likely to be disclosed in court and can lead to the court being closed. [Read more: McGuirk/TheRepublic/7November2018]

Moscow Names Square After British Double Agent Kim Philby. Moscow has named a square after Kim Philby, the British double agent who defected to the Soviet Union in 1963, near the headquarters of Russia's foreign intelligence service.

The move comes as relations between the UK and Russia are at lows not seen since the cold war over the poisoning of the former double agent Sergei Skripal, allegedly by Russian spies.

Sergei Sobyanin, the mayor of Moscow, ordered that an intersection in a south-west district be renamed Kim Philby Square, according to a decree posted on a local government website.

A city hall spokeswoman said she could not immediately comment on the decision, while local residents expressed surprise on social networks, saying Philby had nothing to do with the neighbourhood. [Read more: AFP/8November2018]

Austria Exposes Another Intelligence Officer as Russian Spy. Austrian authorities have reported on exposing another spy who worked for Russia. It is an employee of the Office for the Protection of the Constitution and the Fight against Terrorism. This is reported by the largest Austrian newspaper Kronen Zeitung.

According to journalists, the spy was discovered as a result of an investigation that lasted a year. Allegedly, the officer passed secret documents to Russian authorities.

Two weeks ago, the suspect's office and two home addresses were searched. As a result of searches, an account into which he allegedly received money for intelligence gathering was found. [Read more: CrimeRussia/11November2018]

Former Mossad Director Joins Advisory Board of Israel Spy Firm Black Cube. Black Cube, the Israeli private intelligence firm which gained notoriety last year when a New Yorker magazine exposé revealed that it was hired by Hollywood producer Harvey Weinstein to spy on one of his accusers, has appointed former Mossad Director Efraim Halevy (83) to its advisory board, according to the company's website.

Founded in 2010 and based in Tel Aviv, Black Cube offers the expertise of ex-Israeli spies to clients who are engaged in business disputes. Many of the firm's 100-plus employees are veterans of Israeli military intelligence units and agencies such as the Mossad and the Shin Bet Security service, Israel's equivalent of the FBI.

In the past year, Black Cube has been at the center of several investigative reports. A May New Yorker Magazine article linked Black Cube to surveillance done on Obama administration staffers involved in the 2015 Iran nuclear deal. A Politico report in July linked the firm to attempts to discredit a number of Hungarian NGOs ahead of Hungary's elections in April. [Read more: Wenkert/CTech/11November2018]

Intelligence Agency Wants New Tech to Safeguard Future SCIFs from Foreign Surveillance. Facing increasing eavesdropping and surveillance tactics from foreign adversaries, the Intelligence Advanced Research Projects Activity is reaching out to industry for new solutions to safeguard the government's sensitive meeting sites.

IARPA issued a request for information Nov. 1 seeking innovative methods for securing Sensitive Compartmented Information Facilities, or SCIFs, from a variety of spying operations.

SCIFs are secure sites where government officials can view and discuss sensitive information, such as the White House Situation Room or the one set up at President Donald Trump's Mar-A-Lago estate.

IARPA officials are calling for information on how to prevent surveillance attacks utilizing radio frequency, optical, magnetic or acoustic transmissions from intercepting communications within the SCIFs. [Read more: Cordell/FedScoop/6November2018]


---
Section II - CONTEXT & PRECEDENCE

The Mystery of the Havana Syndrome. In the winter of 2017, the American Embassy in Havana was in a precarious state. The Embassy, a six-story tower that sits next to the seawall known as the Malecón, was built in 1953, and during the five decades in which diplomatic relations between Cuba and the United States were suspended it had suffered from neglect. Salt and humidity from the ocean ate away at the pins holding up the marble façade. Work crews erected a fence around the most vulnerable area, to insure that no one was impaled by shards of marble tumbling from the walls.

Audrey Lee, a career Foreign Service officer in her late forties, worked in a snug office on the ground floor. (The name is a pseudonym, which she requested in order to protect her privacy.) Her life in Havana was fascinating but orderly. She lived with her husband and their twelve-year-old twins in a quiet neighborhood full of diplomats, and drove an S.U.V. to work each morning, arriving habitually by seven-thirty. A veteran of several Foreign Service tours, she felt at ease in Cuba - except for one peculiar incident. Earlier that year, when the family returned to Havana from a vacation, they were struck by a foul stench in their kitchen. The freezer was unplugged. Lee and her husband cleaned out the rotten food, plugged the freezer in, and went back to their routine, thinking little about the fact that someone had been there while they were away.

On the evening of March 17th, Lee came home from the Embassy, made dinner, and ate with the twins in the kitchen nook. Her husband was away on business. Afterward, the kids went upstairs to play Minecraft. At around eight o'clock, Lee washed the dishes. The kitchen lights made it hard to see out the window, but she knew that there was a wooden booth outside where Cuban police kept watch. As Lee was cleaning, she felt a sudden burst of pressure in her head, then a stabbing pain worse than any she had ever experienced. Her breath quickened and she was overcome by panic. Lee had heard rumors around the Embassy of colleagues falling victim to mysterious "sonic attacks," but no one knew what they were or what had caused them. [Read more: Entous&Anderson/TheNewYorker/19November2018]

How a Former Canadian Spy Helps Wall Street Mavens Think Smarter. Shane Parrish was a cybersecurity expert at Canada's top intelligence agency and an occasional blogger when he noticed something curious about his modest readership six years ago: 80 percent of his followers worked on Wall Street.

The blog was meant to be a method of self-improvement, helping Mr. Parrish deal with a job whose pressures had increased with the growing threat of global hacking. But his lonely riffs - on how learning deeply, thinking widely and reading books strategically could improve decision-making skills - had found an eager audience among hedge fund titans and mutual fund executives, many of whom were still licking their wounds after the financial crisis.

"People just found us," Mr. Parrish said. "We became a thing on Wall Street."

His website, Farnam Street, urges visitors to "Upgrade Yourself." In saying as much, Mr. Parrish is promoting strategies of rigorous self-betterment as opposed to classic self-help fare - which appeals to his overachieving audience in elite finance, Silicon Valley and professional sports. His many maxims cite Ralph Waldo Emerson, Bertrand Russell and even Frank Zappa. ("A mind is like a parachute. It doesn't work if it is not open.") [Read more: Thomas/NYTimes/11November2018]

Interview: Rep. Adam Schiff Weighs In On What's Ahead For House Intelligence Committee. [Listen here: NPR/7November2018]

The Spy Guy: Andrew Bustamante's Everyday Espionage. Seven years into his Central Intelligence Agency service, Andrew Bustamante realized he'd had enough. As a clandestine operative for the agency's undercover arm, he'd not only lived, plotted and fought in dangerous spots around the world, he had to lie to everyone he knew - including his parents - and to everyone he met. Manipulation was all part of the job.

The job was rewarding, but it was stressful. And when Andrew Bustamante began who wonder who he really was - the highly-trained spy, or his roster of calculating alter-egos, or a husband and father who wanted some semblance of a normal life - the outcome was, perhaps, inevitable.

"How many of us are living a lie every single day?" he asks. "Pretending to be somebody we're not. Trying to present a face that isn't the face we really have."

In 2014, Bustamante and his wife Jihi - herself a skilled operative - resigned from the CIA to raise their young son Sina. They relocated to St. Petersburg, where her parents lived. [Read more: DeYoung/StPeteCatalyst/6November2018]

Dreams of Being a Knight Leads to Life in Marines. One little boy's dream of becoming a knight never truly changed. Growing up surrounded by family who served in the military, including a grandma who was a real-life Rosie the Riveter, pushed Brian McDowell into the Marines.

McDowell, of Union, said he always liked the idea of being a knight.

"I know it sounds cheesy, but what little kid doesn't want to fight dragons and save people?" he said.

Two of McDowell's grandparents served in the military.

"I admired them and I wanted to be a Marine," he said. "It's the ideology of service and honor and doing something (meaningful). That's kind of where it came from." [Read more: Kaechele/LaGrandeObserver/9November2018]

The Cybersecurity 202: Two Ex-CIA Officers are Coming to Congress. Here's How They Want to Improve Security Policy. Two former spooks are heading to Congress - and both say they're ready to use their expertise to help push forward new cybersecurity policies.

Former Central Intelligence Agency officers Abigail Spanberger and Elissa Slotkin won their House races last week and will be representing Virginia and Michigan respectively. They're coming to Washington at a time when Congress is expected to address a wide range of cybersecurity issues - including securing election systems and supply chains.

The Trump administration needs to do more to guard against cyberattacks on critical infrastructure, from electrical grids to election systems, Slotkin said in a statement. It's Congress's job "to put politics aside and make ensure that happens," she said. "As a former CIA officer trained to identify and mitigate risks, it is clear to me there is far more work to do."

Spanberger says she is positioning herself for a seat on a committee such as Foreign Affairs and wants to focus on national security. Securing elections from tampering by foreign adversaries is a big priority for her, she said. "Because of my work at the CIA, I have a very good perspective on what threats exist," she said in an interview. "It will inform how I look at all aspects of cybersecurity." [Read more: Zakrzewski/TheWashingtonPost/12November201


---
What Is Cyber Threat Intelligence, and Why Do You Need It? The global cost of cybercrime is estimated to be $600 billion, or 0.8 percent of the global GDP, according to a report by CSIS. It has grown at an alarming rate from about $445 billion in 2014, suggesting that this problem is only going to get worse.

It is increasingly easy for nontechnical users to launch cyberattacks using premade toolkits that can be downloaded online for free or at a very small cost. Combine that with online resources like YouTube, and there are thousands of attacking options and millions of willing users. Keeping up with all of this is a full-time job, resulting in the expansion of a new area of cybersecurity known as cyber threat intelligence. [Read more: Brathwaite/BusinessNewsDaily/12November2018]

Teufelsberg: Berlin's Graffitied Ruin Is Perfect for Spy Lovers. Teufelsberg, in photos, is a tall shaft with a ribbed white vinyl covering stretching up several stories between two globes perched on a four-story concrete building looking out over a dense forest. Yes, you could say it looks phallic. In reality, these globes on the roof of a featureless building once shielded the antennas at the center of West Berlin's Cold War espionage activities. Abandoned by Western military forces in 1992, the complex has become a giant indoor graffiti park, a very cool movie location, and a fascinating excursion for Berliners curious about the city's espionage past.

It's a rainy day and I am trudging up to the ominous "Devil's Hill" in the Grunewald, a leafy forest covering 3,000 hectares in West Berlin. Hitler's military planned to build a military staff college on the forest floor, but were distracted from the unfinished project after the war started; in 1945, the concrete foundations in the woods proved the perfect place to dispose of the rubble in the city and the ad hoc landfill became an earth-covered mountain 115 meters high.

The height of the hill, post-1945, also made it an ideal spy station for the United States Army Security Agency (ASA), whose main function was to listen to, record, and decipher the military communications of the DDR (East German) and Soviet military forces stationed for hundreds of miles around Berlin in East Germany. Allied forces officially occupied West Berlin from 1945 through 1990, but security matters were their main interest, and under the cover of orbs in the forest, they had discovered the perfect secret spot. [Read more: Manthei/TheDailyBeast/9November2018]


---
Section IV - Research Requests, Jobs, Obituaries
Speakers Sought for 2019 St. Petersburg (FL) Conference on World Affairs.
AFIO/CIRA members with intelligence/foreign affairs backgrounds in the Florida region — and those whose travels will bring them to that region — are sought as speakers for the Seventh Annual St. Petersburg Conference on World Affairs, 12 - 15 February 2019. The conference is a 3-1/2 day cooperative venture of a group of civic-minded St. Petersburg residents and the University of South Florida St. Petersburg.
It features over 30 panel discussions held at the University of South Florida St. Petersburg. Speakers and panelists include distinguished diplomats, military, media, and academic experts discussing critical international issues of the day.
There are thousands of attendees at this popular event. The public, including students of USF St. Petersburg and other area universities, as well as several thousand local residents, attend the discussions (some are concurrent). The event makes available to the people of the Tampa Bay area information, and insights, on crucial intelligence and national security issues critical to our lives and well-being.
The 2019 Keynote Address will be delivered by diplomat Chas Freeman, at the Palladium Theater on 12 Feb 2019. There will also be food trucks and a jazz concert!
Several AFIO and CIRA members served as expert speakers in past years. Add your name to the list. If you are an intelligence/national security SME (subject matter expert) with great public presentation skills, please consider applying to be a speaker at this major February 2019 event, or to get on their list for later years. .
TO VOLUNTEER AS SPEAKER: Interested experts/speakers should contact: Amb. Douglas L. McElhaney at dlmce07@gmail.com
EVENT DETAILS: General details available here. A frequently updated list of 2019 speakers is here.
Seeking Assistance IDing IC Documents on NK's Possible Use of Provocateurs or Infiltrators in the Gwangju Events of 1980
Recently, I have begun to research a 1980 incident in South Korea known as the Gwangju (aka Kwangju) Incident or the 5/18 Incident. I have not done previous research on South Korea but was made aware of this incident as a result of my contacts among ROKA Veterans of the Vietnam War. I attended their first reunion in 2002 in Seoul and have since maintained contact. It is my understanding that there is disagreement among South Koreans as to the events during that incident and whether all participants in the violence were only South Koreans. I have received a book, in Korean and English, titled 5-18 A Bill of Indictment, Images of the May 18th Gwangju Riot, in which the author has published a large number of photographs taken during the incident plus analysis of over 180,000 documents referencing the incident. A team of retired American imagery analyst/face recognition officers have analyzed the faces in the photos and allege they have identified current North Korean officials from the old photos. There seem to be two sides to the dispute over the events in 1980 which can generally be characterized as left and right points of view. Admittedly, my contacts are on the right side of such a spectrum.

I have two sources of documentary information. First, a USIS Backgrounder - United States Government Statement on the Events in Kwangju, Republic of Korea, in May 1980 found on the website of the U.S. Embassy, Seoul. Second, the CREST documents published on the CIA web site. I am in the process of searching through the CREST documents but it is a cumbersome, time-consuming process. I am looking for assistance in identifying declassified intelligence community documents that address the issue of whether there were North Korean political provocateurs or military infiltrators among those who participated in the Gwangju events. Any information or guidance that might assist me in my research would be greatly appreciated.
Please respond to Thomas Leo Briggs at briggs@redpeach.net or through his LinkedIn account.
Technical Writer sought for Reston, VA area firm by FireEye
Job Title:

Company:

Experience:

7 to 10 years

Salary:

Full Time

Job Location:

Reston, VA

As a Technical Writer, you are expected to perform the following functions Support documentation releases for new products as well as updates for existing products according to company standards, quality, and style guidelines. Address customer support requests and questions within the documentation. Plan, research, develop,...
Bob Blackwell, CIA Analyst
Robert Blackwell Jr, 76, a former CIA analyst, died 3 November 2018 in Vienna, VA of Alzheimer's disease.
Bob graduated from the University of Georgia, and earned his PhD at the University of Michigan.
While an assistant professor of political science at Emory University, Bob was approached in 1975 by the CIA to serve as an analyst. He moved his family to Great Falls, VA and worked at the Agency for 30 years. He briefed presidents, members of Congress, cabinet officials, and diplomats on Russian activities, providing critical insight before, during, and after the fall of the Soviet Union.
Bob was also an avid skier, traveler and sang tenor in the church choir.
Bob retired in 2005 and was diagnosed with early-onset Alzheimer's a year later. The disease had claimed his mother, aunt, and grandmother. He was featured in several articles on Alzheimer's in USA Today.
Bob was a man of singular intelligence, integrity, and warmth.
He is survived by his wife of 51 years, Carol Burns, a son and daughter, and other family.
Pete Chadwick, NSA chief of production official
David Peter Chadwick, 84, a National Security Agency official who served 40 years, died of heart disease 16 September 2018 in Columbia, MD.
Pete was also an amateur musician and active volunteer.
Pete graduated from Michigan State University with high honors and was a member of the band with whom he maintained an association throughout his life, traveling to East Lansing for alumni band days and participating in two European tours with alumni band groups. He enlisted in the US Navy in 1957, and after completion of Officer Candidate School, was commissioned an ensign and assigned to the NSA at Fort Meade, MD. He was released from active duty in 1960 and became a civilian NSA employee where he remained until retirement in 1990, serving in a variety of management positions. His final assignment was as chief of a production division.
Pete was an active amateur musician throughout his life. He studied clarinet with Keith Stein and Norman Heim, and was an original member of the Maryland Clarinet Quartet, as well as a frequent soloist and ensemble player. He sang with the Maryland Chorus for 20 years, performing with major symphony orchestras in the Kennedy Center, Meyerhoff Symphony Hall, Carnegie Hall, the Casals Festival, and the Royal Festival Hall in London. The "Academia Notes" Barbershop quartet was a source of great merriment and social get-togethers for the families for more than 3 decades. Most recently he has sung with the Washington-area chamber chorus Voices XXI, as an original member, and served on the Board of Directors. These musical associations were the source of his closest and most enduring friendships. He was also an active member of Savage United Methodist Church, and the founding director of the Savage Ringers hand bell choir.
He later volunteered for several other churches, community associations, concert societies, and health charity activities.
He is survived by his wife, Rosalie Lijinsky Chadwick, a step-daughter, and his children from his earlier marriage to Mary "Lu" Chadwick. An earlier marriage to Sue Holiway also ended in divorce.
Harold John Grimes CDR USN, former CIA
Harold John Grimes, CDR USN, 97, a Naval and CIA officer, died 23 October 2018 in Falls Church, VA.
As a young man, he was appointed to the Naval Academy in Annapolis, class of 1944 graduating in 1943. Commissioned into the Navy to battleship BB-33 Arkansas and directed fire support for the D-Day invasion at Normandy. He next earned his wings as a USN pilot of seaplanes. Notable tours included Berlin, Germany and the 7th fleet flagship USS St Paul (CA-73) based in Yokusuka, Japan. Military retirement in 1965, he went on to work at CIA.
With his first wife, Mary Jane, they had four children. After he death he married Elizabeth. They enjoyed retirement in Sarasota, FL and a cherished cottage during summers in Islesboro, ME before returning to North Arlington, VA. An avid Navy and Redskins football fan, he was proud of learning New England style construction in Bath, ME and enjoyed a second career of customer support jobs, including Brown's Hardware. Harold frequented churches in McLean Methodist, Sarasota, the Falls Church Episcopal, and later, the Falls Church Anglican.
He is survived by two sons and two daughters.
Michael Sheehan, Prescient Counterterrorism Expert
Michael Andrew Sheehan, 63, a a former top counterterrorism official for the State Department, the Pentagon and New York City, who sounded an early, and unheeded, warning about Osama bin Laden and the dangers of Al Qaeda before 9/11, died of multiple myeloma 30 July 2018 in Bethesda, MD.
Sheehan entered the Special Forces after graduating from the US Military Academy at West Point, NY in 1977. He received a master's degree in 1988 from the Georgetown University School of Foreign Service and a second master's, in 1992, from the Army Command and Staff College at Fort Leavenworth, KS.
Mr. Sheehan, an intensely energetic man, started a counterterrorism career of more than three decades as an Army Green Beret, leading a clandestine hostage-rescue assault team in Panama in 1979. Fluent in Spanish, he later carried out antidrug and counterinsurgency missions in El Salvador, Colombia and Honduras.
A year after retiring from the Army, he was named, in 1998, the State Department's chief of counterterrorism. Soon he was presciently raising alarms about Al Qaeda and its leader.
In a secret memorandum written that year, after the bombings of two United States embassies in East Africa, Mr. Sheehan urged the Clinton administration to step up efforts to persuade Afghanistan and its neighbors to cut off financing to Mr. bin Laden and stop giving Al Qaeda sanctuary, according to an account in The New York Times.
Mr. Sheehan's memo outlined a series of actions the United States could take toward Pakistan, Afghanistan, Saudi Arabia, the United Arab Emirates and Yemen to persuade them to help isolate Al Qaeda. The document called Pakistan pivotal to the strategy, urged Clinton aides to work with the countries to curb terrorist financing, and recommended that the United States go public if any of the governments failed to cooperate.
Mr. Sheehan's plan was ignored. Mr. Sheehan pressed on, wondering "What's it going to take to get them to hit Al Qaeda?" "Does Al Qaeda have to attack the Pentagon?"
After 9/11, the Bush Administration finally took the steps outlined in the Sheehan memo, but it had ignored all the earlier about the threat of attack.
Post 9/11, Sheehan spent two years as assistant secretary general of the UN, overseeing 16 missions and 40,000 military and police personnel in peacekeeping operations around the globe.
In 2003, Sheehan was selected to run NYC's new counterterrorism bureau. He created one of the world's elite terror-fighting units, overseeing some 220 officers and investigators.
Sheehan's first marriage, to Maria Eitel, ended in divorce. In addition to his wife of 18 years, Sita Graham Vasan, he is survived by a daughter, a son, and other family. [Read more: Schmitt/NYTimes/2August2018]
Bill Wesley, Senior NSA Executive
William Olen Wesley, 82, a senior NSA Executive, died 28 October 2018. Bill attended the University of Alabama.
In 1958 he moved to Crofton, MD for his first assignment as a Naval Officer where he had a long and successful career as a Senior Executive for the NSA. William enjoyed his work where he met numerous friends and was proud to serve his country.
Even with his career he always found time to enjoy his passions of golf and sailing.
Bill is survived by William is survived by a son and daughter, and other family.
---



AFIO EDUCATIONAL EVENTS IN COMING TWO MONTHS....

Wednesday, 14 November 2018, 11:30 AM - Albuquerque, NM - AFIO New Mexico Chapter hosts Robert Hull on "The Anthrax Letters."

SPEAKER: Mr. Robert Hull, Los Alamos Technical Associates Inc., will present an updated talk given several years ago, on the Anthrax Letters, including his interview with Bruce Ivins before he was ultimately determined to be the culprit and committed suicide. A question period will follow the presentation.

Location of event: "The Egg & I" restaurant on Menaul just east of Louisiana, next door to Chili's, 6909 Menaul Boulevard Northeast, Albuquerque, NM 87110, (505) 888-3447
Fee to attend: Free. 11 am (Arrive, Order Lunch - available at separate cost), 11:30 am (Call To Order), 1 pm (Adjourn)

Our meetings are normally open to present and former members of Federal, Military (uniformed and civilian), State and Local Agencies and selective others who support the Intelligence Community.

If you desire further information, please contact one of the following: Sam Shaw - Phone: 505-379-3963 e-mail: President@afionm.org; Tom Dyble - Phone: 505-299-3242 e-mail: Vice-President@afionm.org.

Thursday, 15 November 2018, 11:30 AM - Colorado Springs, CO - AFIO Rocky Mountain Chapter hosts Nancy Charles-Parker, discussing "What's a Nice Person Like You Doing in a Place Like This?"

The experiences our speaker will share in November emanate from her work in U.S. embassies in 13 countries in South Africa, Central Asia, South and Central America, Europe, the Arabian Gulf and East Asia. Our speaker has asked that we invite students who may want to enter an international career. Please invite those in your circles who may be interested to attend.

Nancy Charles-Parker has an MA from Columbia University, where she was an administrator prior to moving to Spain to teach. Born into a long line of pacifist conscientious objectors, Nancy ironically found her first government job with the U.S. Air Force. After course work at Yale, she joined an agency known by its initials and was an operations officer and economic reporter in U.S. embassies in Asia, Latin America, and Europe for 13 years. Although she entered with working knowledge of Spanish and French, she found herself using Mandarin Chinese after training in Taiwan. Her responsibilities were to recruit and debrief people willing to share sensitive information in a discrete way with the U.S. government. In addition to being posted on every continent except Australia and Antarctica, she traveled to an additional 20 countries as part of her energy and infrastructure portfolios and while heading a worldwide collection program out of Washington DC.

Nancy finished her 33 year government career with the Foreign Commercial Service by promoting U.S. exports in the Arabian Gulf. She was the first woman to serve as Commercial Counselor in the UAE and in Saudi Arabia, the latter during a time of Al Queda terrorism against the U.S. Largest success of her Gulf commercial team was a $3 billion sale of U.S. airplane engines to Emirates Airlines. This large sale and the Saudi successes helped her gain promotion into the Sr. Foreign Service, an SES equivalent. Her most interesting "war stories" stem from Saudi Arabia, where businessmen and government officials generally treated her like an "honorary man."

Since leaving government service, Nancy travels 3 months a year, visiting faith-based development and micro-finance projects that she supports in Vietnam, Guatemala, Nepal, the former Soviet Union, and the Middle East. She especially enjoys speaking with people under 35 about careers abroad and in the Foreign Service.

Please contact Tom VanWormer at steve13507@gmail.com for more information.

Saturday, 17 November 2018, 2 p.m. - Kennebunk, ME - AFIO Maine Chapter hears from Craig Osth, former CIA Ops Officer, on "Strategic Transparency."

The AFIO Maine meeting features Craig Peters Osth, who served in CIA for 35 years as a clandestine service officer. He will discuss "Strategic Transparency: We Can See Right Through Our Enemies."

Osth served as a CIA Case Officer in seven Chief of Station positions in five regions of the world including the Middle East, South Asia, Latin America, Europe, and North America. His talk will cover how U.S. intelligence works with military, law enforcement, and international partners to protect and advance our national security interests around the world.

He graduated from Hampden-Sydney College and continued his education with four years of graduate study in Spain. His first espionage thriller novel, Preemptive Retribution, is expected to become available later this year.

The chapter meeting is open to the public and begins at 2 p.m. at the Program Center of the Brick Store Museum, 4 Dane St., Kennebunk, ME.

A question and answer period will follow the presentation.

Saturday, 24 November 2018 11:30 a.m. - Melbourne, FL - AFIO Florida Satellite Chapter hosts JJ Justice of "Rolling Thunder," discussing role of that influential Veteran-supporting organization

The AFIO Florida Satellite chapter presents a double-barreled meeting. Guest Speaker James (JJ) Justice, president of Rolling Thunder Florida Chapter One, will discuss the role of his organization in educating the public about the hidden reality that many American Prisoners of War were left behind after all previous wars, to correct the past, and to protect future Veterans from being left behind should they become POWs or Missing In Action. Rolling Thunder is also committed to helping American Veterans and their families from all wars.

A second highlight of this meeting will be the Grand Airline Ticket Raffle of two round trip tickets on American Airlines from Orlando Melbourne International Airport to any domestic destination in the contiguous United States. Raffle tickets will be available only at the 24 November meeting. Sure...like the rest of us, you missed out winning last week's Mega Millions and Powerball lotteries. Well, opportunity is knocking. Here's your chance to win one! Attend this meeting and participate in a raffle with far better odds.

Location: Suntree Country Club, One Country Club Dr, Melbourne, FL 32940
Registration: deadline to register is 15 November. Paid, advance registration is required for attendance. For further information, or to register, contact Treasurer Rhonda Rhoads at afiofsc@afio.com or by phone at 321-626-4465. Mail her at Rhonda Rhoads, PO Box 410158, Melbourne, FL 2941.

Monday, 3 December 2018, 5:30 - 8 pm - New York, NY - AFIO NY Metro Chapter hosts David Hunt, CIA Operations Officer on "From Russia with Love: Assassinations from the 16th to 21st Century."

David Hunt, a CIA 32 Years of Distinguished Service with field assignments in Italy, Vietnam, Somalia, Norway, France and New York City, Station Chief in Somalia and New York. Expertise on old Soviet Union. Currently Chairman of Charles Pratt and Company in New York. TOPIC: From Russia with Love. Assassinations are a continuum from the 16th century. David will provide depth and continuity to the 4 March 2018 assassination attempt on Sergei Skripal in England.
LOCATION: Society of Illustrators building: 128 East 63rd Street Between Lexington Ave and Park Ave in Manhattan.
TIME: Meeting starts 6:00 PM. Registration starts 5:30 PM
COST: $50/person. Cash or check payable at the door only.
REGISTRATION: Strongly recommended, not required. Phone Jerry Goodwin 1-646-717-3776 or Email afiometro@gmail.com

7 December 2018 (Friday), 6pm - San Francisco, CA - The AFIO San Francisco Chapter hosts Dr. William H. Overholt on "China's Crisis of Success."

Speaker: Dr. William H. Overholt, President of Fung Global Institute; Senior Research Fellow at John F. Kennedy School of Government at Harvard University and Principal of AsiaStrat, LLC., discusses "China's Crisis of Success."
Location: San Francisco War Memorial Building, 405 Van Ness Avenue, Lecture Hall 210, San Francisco, CA.
RSVP: Eventbrite Registration is here.

Please note: all proceeds from this meeting will be donated to the Veteran's Success Center (VSC), a non-profit dedicated to finding employment for veterans.

Contact Mariko Kawaguchi, Board Secretary at afiosf@aol.com with any questions.

Wednesday, 12 December 2018, 6:30 pm - Las Vegas, NV - Join the Las Vegas Roger McCarthy Chapter for this Holiday Party

It is that time again and the holidays are upon us. We are pleased to announce this year's holiday party. Please join the chapter for an evening of good food, camaraderie, and a very special guest speaker.
Guests are welcome and encouraged. If you have family members or friends who may be interested in learning more about AFIO, invite them to join you for this special evening with the chapter. This is an opportunity to introduce our vibrant chapter to potential new members.
Please note that an RSVP is requested by Wednesday, 5 December 2018, to ensure there is plenty of traditional holiday food and fixings on the buffet.
Happy Holidays to everyone.

Fee: $30 per person. Guests are welcome.
Location: Los Prados Country Club, 5150 Los Prados Cir, Las Vegas, NV 89130.
RSVP by Wednesday, 5 December 2018 to lasvegasafio@gmail.com or by phone/message at 702-239-1370.

---
Other Upcoming Events from Advertisers, Corporate Sponsors, and Others
Wednesday, 14 November 2018, noon - Alexandria, VA - Remembrance Luncheon for Bill Bailey, past president of Rotary Club of Annandale.
The Rotary Club of Annandale Virginia (BXRC for Bailey's Crossroads) is hosting a remembrance luncheon for their former president, William Benteen Bailey, a former lawyer and naval officer. Bailey also served in the 1990s as a legal advisor for AFIO.
His widow, Alice, and possibly his children Alicia and Bruce, will be in attendance. Bill died of a stroke on 25 Sep 2018 at his home in Annandale, VA.
Location: Clyde's at Mark Center www.clydes.com 1700 N Beauregard St, Alexandria, VA 22311. Clyde's will present a single check that be divided among attendees. RSVP needed to Tina at bxrrotary@verizon.net or bxrcnewsletter@yahoo.com.
16 November 2018, 8am - 5pm - Washington, DC - "CARVERCON2018: Target Analysis and Vulnerability Assessment" hosted by Security Management International
This one-day event will cover a range of topics related to protecting critical infrastructure and key resources, utilizing the world-famous CARVER Target Analysis and Vulnerability Assessment Methodology as a foundation for discussion. The latest innovations in assessment technology, recent case studies, and best practices for identifying and minimizing security threats will all be addressed. Featured speakers include retired CIA officer and the "Godfather of CARVER," Leo Labaj, Dr. Jenni Hesterman, Major General Edward Leacock, Chuck Brooks, Luke Bencie, and others. An opportunity to learn from and network with security professionals from public and private sectors who specialize in the CARVER methodology and are responsible for protecting their organization's valuable assets from would-be aggressors.
CARVER is a nationally recognized target analysis and vulnerability assessment methodology used extensively by the military, intelligence and law enforcement community. While numerous other vulnerability assessments have emerged and gone by the wayside, the U.S. Department of Homeland Security officially recognized CARVER as the preferred methodology for securing critical infrastructure. The CARVER methodology is both a defensive and offensive tool: it can assess and analyze risk based on a wide variety of threats and adversaries, as well analyze potential enemy targets to ensure maximum impact.
CARVER allows complex data to be synthesized into usable information by integrating the analysis and examination of assets, threats, vulnerabilities, and countermeasures surrounding a specific facility. Its applications are numerous, from physical security and counter-intelligence, to cyber security. It plays an essential role in the protection of critical infrastructure and safety by determining the likelihood of an adversary successfully exploiting a system or an asset's vulnerabilities. It is a time-tested vulnerability assessment methodology that balances efficiency with reliability. What separates the CARVER method from other methodologies is the fact that it offers both a qualitative and quantitative analysis of its findings. This is particularly useful to the security practitioner to help clarify thinking, assist with decision-making, and to provide reasoning for budgets and resource allocations.
Speakers: Luke Bencie, Leo Labaj, Jerry Savnik, Chuck Brooks, Dr. Jenni Hesterman, Maj Gen Edward Leacock USA, and James Maxwell.
Location: The event will be at the Washington Marriott Metro Center with a continental breakfast, lunch, and light fare in the afternoon.
Event includes: Book Launch & Signing of Leo Labaj's and Luke Bencie's new book: The CARVER Target Analysis and Vulnerability Assessment Methodology: A Practical Guide for Evaluating Security Vulnerabilities.
Full details and registration here.
Saturday, 17 November 2018, 5 - 10 pm - McLean, VA - 13th Annual GEOGala by USGIF
The USGIF [US Geospatial-Intelligence Foundation) is proud to bring together more than 500 leaders from across the Defense, Intelligence, and Homeland Security Communities with USGIF Organizational Members, Individual Members, Foundation partners and their guests.
The USGIF black-tie GEOGala celebrates the dedication and support of the GEOINT Community to the tradecraft and our national security mission.

Location: Hilton McLean Tysons Corner, 7920 Jones Branch Dr., McLean, VA 22102.
Attire: Black Tie/Formal Dress
If you plan to register more than 4 people, you will need to download and submit the paper application.
Registration: Individual Seats are $250* - USGIF Individual Member; $295 - Non-member
Young Professional Seats are $225* - USGIF Individual Member; $270 - Non-member
Registration ends at noon on 17 Nov 2018.
Register here.
19 November 2018, 4:45 - 9 pm - Washington, DC - DMGS hosts panel on "USA-Georgia-Azerbaijan: Global and Regional Perspectives of Trilateral Cooperation.
Strategic Link for Energy and Trade between Europe and Asia, panel featuring David Bakradze, Dr. Yuval Weber, Edward Lemon, Elin Suleymanov, Georgia, Global and Regional Perspectives of Trilateral Cooperation, Mamuka Tsereteli, Orkhan Zeynalov, Yuval Weber.
The USA – Georgia – Azerbaijan: Global and Regional Perspectives of Trilateral Cooperation
4 - 4:30 pm – Registration of guests; 4:45 - 5 pm – Welcome speech of DMGS President Mr. Christopher Croft; 5 - 6:10 pm. Panel 1: South Caucasus at the Crossroads: Challenges to Regional Stability- Speaker: H.E Mr. Elin Suleymanov, the Ambassador of the Republic of Azerbaijan to the US; H.E Mr. David Bakradze, the Ambassador of the Republic of Georgia to the US; Moderator: Dr. Yuval Weber (Daniel Morgan Graduate School). 6:10 - 6: 25 pm– Q&A Session; 6:30 - 7:45 pm. Panel 2: Azerbaijan – Georgia: A Strategic Link for Energy and Trade between Europe and Asia
Speaker: Mr. Orkhan Zeynalov, Counselor of the Embassy of the Republic of Azerbaijan in the US; Mr. Mamuka Tsereteli, Senior Fellow with the Central Asia-Caucasus Institute & Silk Road Studies Program Joint Center, based in Washington DC. Moderator: Dr. Edward Lemon (Daniel Morgan Graduate School)
7:45 - 8 pm – Q&A Session; 8 pm - Reception
RSVP is required and guests must check in prior to entering the event. Guests may be asked to present government issued identification.
Venue: Daniel Morgan Graduate School of National Security, 1620 L St NW Suite 700, Washington, DC 20036
Daniel Morgan Graduate School of National Security reserves the right to refuse entry.
Proper attire is required: Business
Please note that registration commences at 4 pm
Cost: Free
More information and to register do so here.
EVENT CANCELLED - Tuesday, 27 November 2018, 5 - 6 pm - Washington, DC - DMGS hears Amédée Prouvost on "How The World Bank Manages Risk."
How The World Bank Manages Risk will be the presentation by Amédée Prouvost, Director, Operational Risk (CROOR) World Bank Group Risk Officer Vice President
Mr. Provoust will discuss how the World Bank manages risk to include non-financial risk.
Cost: Free
Where: Daniel Morgan Graduate School of National Security, 1620 L St NW Suite 700, Washington, DC 20036
Dress Code is Business or Business Casual
RSVP is required and guests must check in prior to entering the event. DMGS Reserves the Right to Refuse entry and May Ask for Government Issued Identification.
RSVP and more information on event is here.
Qs?: Direct Qs to Frank Fletcher, Director of Lectures & Seminars, at events@dmgs.org. THIS EVENT HAS BEEN CANCELLED.
Wednesday, 28 November 2018, 6 - 10:30 pm - Washington, DC - International Spy Museum's Annual "William H. Webster Distinguished Service Award Dinner" honoring Adm McRaven
For your calendar. A special evening to illuminate the critical role of individuals and organizations serving the Intelligence Community, and to raise funds in support of the International Spy Museum.
The William H. Webster Distinguished Service Award Dinner will take place at The Ritz Carlton Hotel. More than 600 attendees are anticipated and will recognize the men and women who have served in the field of National Security with integrity and distinction. This annual tribute dinner is given by the International Spy Museum to an individual who has embodied the values of Judge William H. Webster. This year's honoree is a patriot for whom love of country has been his guiding principle: Admiral William H. McRaven, former US Special Operations Commander, former Joint Special Operations Commander, and Chancellor of The University of Texas System.
Schedule: 6 pm - VIP Reception; 6:30 pm - Cocktail Reception; 7:30 - 9 pm - Dinner & Awards; 9 - 10:30 pm - Dessert Reception.
Location: The Ritz-Carlton Hotel, 1150 22nd St NW, Washington, DC 20037. **Please note: this event is closed to Media**
Tickets Available Now: Prices range from $100,000 to a single seat for $495. Funds raised at this tribute dinner will support artifact preservation, educational programming, research, exhibits, and accessibility programs for underserved communities at the International Spy Museum. To purchase tickets now, do so here. To learn more about this annual dinner, it is available here.
Friday, 30 November 2018, 8 am - 5:15 pm - Austin, TX - Texas National Security Forum, "The Return of Great Power Competition."
This year's forum, "The Rise of Great Power Competition" will feature a keynote panel with Senator Richard Burr, Senator Mark Warner, and Senator John Cornyn of the U.S. Senate Select Committee on Intelligence, as well as a keynote address by Senator Ben Sasse of the Armed Services Committee. Panels will feature experts on global threats, strategies and tactics, Russia, China, and world order. The full agenda can be viewed here.
Of interest to AFIO Members:
SESSION II. Keynote Conversation on the SSCI Investigation into Russian Active Measures.
Introduction by President Gregory Fenves, The University of Texas at Austin
Senator Richard Burr, Chairman of the U.S. Senate Select Committee on Intelligence
Senator Mark Warner, Vice Chairman of the U.S. Senate Select Committee on Intelligence
Senator John Cornyn, Member of the U.S. Senate Select Committee on Intelligence
Moderator: Stephen Slick, Director of the Intelligence Studies Project
Keynote Address by Senator Ben Sasse, Member of the Armed Services Committee
Introduction by Admiral Bob Inman, Centennial Chair in National Policy at the LBJ School of Public Affairs
SESSION III. A Special Conversation on Global Threats...see agenda here.
Location: Etter-Harbin Alumni Center, The University of Texas at Austin
NOTE: Registration is required to attend the Texas National Security Forum. Registration does not ensure admittance. Please arrive early to secure your seat.
An overflow room will be available when max capacity is reached. If you register for a UT student ticket, you must bring your UT student ID to be admitted.
Registration is now open. The event is free and open to the public, however, advance registration is required to attend each session.
Register Now
16 May 2019 - Washington, DC - HOLD THE DATE for "Night of Heroes" Gala Dinner by the PENFED Foundation
The PENFED Foundation hosts their annual "Night of Heroes Gala" at the Mandarin Oriental, Washington, DC. Hold the date. Details to follow.
---
Gift Suggestions:
AFIO's 788-page Guide to the Study of Intelligence. Peter C. Oleson, Editor, also makes a good gift. View authors and table of contents here.

Perfect for professors, students, those considering careers in intelligence, and current/former officers seeking to see what changes are taking place across a wide spectrum of intelligence disciplines. AFIO's Guide to the Study of Intelligence helps instructors teach about the large variety of subjects that make up the field of intelligence. This includes secondary school teachers of American History, Civics, or current events and undergraduate and graduate professors of History, Political Science, International Relations, Security Studies, and related topics, especially those with no or limited professional experience in the field. Even those who are former practitioners are likely to have only a limited knowledge of the very broad field of intelligence, as most spend their careers in one or two agencies at most and may have focused only on collection or analysis of intelligence or support to those activities.
For a printed, bound copy, it is $95 which includes Fedex shipping to a CONUS (US-based) address.
To order for shipment to a US-based CONUS address, use this online form,

To order multiple copies or for purchases going to AK, HI, other US territories, or other countries call our office at 703-790-0320 or send email to afio@afio.com to hear of shipment fees.

Order the Guide from the AFIO's store at this link.

The Guide is also available directly from Amazon at this link.
AFIO's Intelligence Community Mousepads are a great looking addition to your desk...or as a gift for others.
Made in USA. Click image for larger view.
These 2017 mousepads have full color seals of all 18 members of the US Intelligence Community on this 8" round, slick surface, nonskid, rubber-backed mouse pad with a darker navy background, brighter, updated seals. Also used, by some, as swanky coasters. Price still only $20.00 for 2 pads [includes shipping to US address. Foreign shipments - we will contact you with quote.] Order MOUSEPADS here.
Disclaimers and Removal Instructions
Weekly Intelligence Notes (WINs) are commentaries on Intelligence and related national security matters, based on open media sources, selected, interpreted, edited and produced for non-profit educational uses by members and WIN subscribers.
REMOVAL INSTRUCTIONS: We do not wish to add clutter to inboxes. To discontinue receiving the WINs:
a) IF YOU ARE A MEMBER - click here: UNSUBSCRIBE and supply your full name and email address where you receive the WINs. Click SEND, you will be removed from list. If this link doesn't open a blank email, create one on your own and send to afio@afio.com with the words: REMOVE FROM WINs as the subject, and provide your full name and email address where you are currently receiving them.
b) IF YOU ARE NOT A MEMBER, and you received this message, someone forwarded this newsletter to you [contrary to AFIO policies]. Forward to afio@afio.com the entire WIN or message you received and we will remove the sender from our membership and distribution lists. The problem will be solved for both of us.
CONTENTS of this WIN [HTML version recipients - Click title to jump to story or section, Click Article Title to return to Contents. This feature does not work for Plaintext Edition or for some AOL recipients]. If you wish to change to HTML format, let us know at afio@afio.com. The HTML feature also does not work for those who access their e-mail using web mail...however NON-HTML recipients may view the latest edition each week in HTML at this link: https://www.afio.com/pages/currentwin.htm
---
WINs are protected by copyright laws and intellectual property laws, and may not be reproduced or re-sent without specific permission from the Producer. Opinions expressed in the WINs are solely those of the editor's or author's listed with each article. AFIO Members Support the AFIO Mission - sponsor new members! CHECK THE AFIO WEBSITE at www.afio.com for back issues of the WINs, information about AFIO, conference agenda and registrations materials, and membership applications and much more!
(c) 2000, 2012, 2013, 2014, 2015, 2016, 2017, 2018. AFIO, 7600 Leesburg Pike, Suite 470 East, Falls Church, VA 22043-2004. Voice: (703) 790-0320; Fax: (703) 991-1278; Email: afio@afio.com
---
About AFIO | Membership Renewal | Change of Address | Upcoming Events | Chapter Locations | Corporate/Institutional Memberships | Careers in Intelligence Booklet | Guide to the Study of Intelligence | Intelligencer Journal | Weekly Intelligence Notes | To Make A Donation | AFIO Store | Member-Only Section | Code of Ethics | Home Page
---