---
CONTENTS
Section I - INTELLIGENCE HIGHLIGHTS
Section II - CONTEXT & PRECEDENCE
Other Upcoming Events from Advertisers, Corporate Sponsors, and Others
For Additional AFIO and other Events two+ months or more... Calendar of Events

WIN CREDITS FOR THIS ISSUE: The WIN editors thank the following special contributors: ec, po, mh, km, gh, mk, rd, fm, kc, jm, mr, jg, th, ed, and fwr. They have contributed one or more stories used in this issue.

The WIN editors attempt to include a wide range of articles and commentary in the Weekly Notes to inform and educate our readers. However, the views expressed in the articles are purely those of the authors, and in no way reflect support or endorsement from the WIN editors or the AFIO officers and staff. We welcome comments from the WIN readers on any and all articles and commentary.

CAVEATS: IMPORTANT: AFIO does not "vet" or endorse research inquiries, career announcements, or job offers. Reasonable-sounding inquiries and career offerings are published as a service to our members, and for researchers, educators, and subscribers. You are urged to exercise your usual caution and good judgment when responding, and should verify the source independently before supplying any resume, career data, or personal information.]
If you are having difficulties with the links or viewing this newsletter when it arrives by email, members may view the latest edition each week at this link. You will need your LOGIN NAME and your PASSWORD.

---

---

---

MEMBERS — ELECTIONS CONTINUE FOR NATIONAL BOARD 2019-2022
Please Cast Your Vote
AFIO National Board Elections have started for terms running 2019 thru 2022.
Printed ballots were also sent to all members with the Fall 2018 edition of Intelligencer journal.
That issue should reach all members NLT 26 November. No need to wait.
The list of candidates and their bios also appears on the online ballot accessed via link below.

Current members are asked to cast votes securely online NOW.
Vote Here
Election closes 11:59 pm EST 31 December 2018

---

---

---

Sign up now for...
Texas Intelligence Academy
20-30 May 2019 in Washington DC
APPLY NOW
Deadline for Applications: November 30, 2018

Information Session: November 15 at 6:00pm in RLP 1.302E
UT-Austin's Intelligence Studies Project and the Texas National Security Network announce the 2019 Texas Intelligence Academy (TIA), an intensive academic program focused on intelligence and national security from May 20 - 30, 2019 in Washington, D.C. The TIA will offer a competitively-chosen group of UT-System undergraduates the opportunity to learn about US intelligence through lectures by distinguished scholars and practitioners, moderated discussions, simulation exercises, and visits to intelligence-related sites and facilities in the Washington, D.C. area.
Students selected for the TIA will be housed in the District of Columbia and study at the UT-System's Archer Center, one block from the White House. All travel, lodging and program expenses for the TIA are provided by the Texas National Security Network. Applicants must be at a sophomore or junior level standing at a UT-System institution, demonstrate a strong academic record and interest in public service, and hold U.S. citizenship.
For more information about the TIA and detailed application instructions, please visit here.
---
NOTICES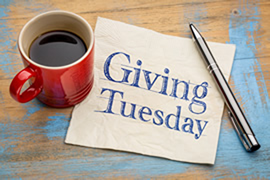 All of us, these days, receive barrages of fund-raising emails and letters. The annoyance factor is one reason AFIO rarely asks members for contributions and runs a lean outfit. Just as we avoid sending more than a single email per week: the Weekly Notes. And only if you opted-in to receive that.
On this occasion of "Giving Tuesday" and as the end-of-year approaches, we make an exception to ask if you will consider making a contribution (U.S. tax-deductible) in the next two weeks, to help us continue our important outreach and educational missions in 2019.

AFIO provides members with special events, meeting opportunities, one-on-one career guidance, publications, and notices few find elsewhere — an effort that requires support far beyond dues. For those reasons we invite you to donate today, Giving Tuesday — a holiday that celebrates generosity and kindness by giving to nonprofit organizations — or before the close of 2018.
You are the ones making the real difference! And our work is made possible through the support of our members, subscribers, and donors — you. Clicking on either image above will take you to our donation page. AFIO appreciates your interest and any support you're able to provide!
---
Holiday Gifts for intelligence officers, colleagues, recruitments, agents, advisors, and family

CIA Employee Activity Association (Gift Shop)
A source for special, unusual gifts which make lasting memories

Are you getting ready for Christmas or other end of year holidays? Beat the crowds and turn up with some fascinating gifts your recipients will proudly display and keep. Where? Right here on the EAA store website. Many new items have been added. To find those new items click here on "What's New" or on the tool bar when viewing the webpage.
We're sure your family and friends will be happy with the unique gifts you can get nowhere else. If you don't find exactly what you're looking for, more items are being stocked in coming weeks.

If you see something you like, buy now because many of these are available in small quantities and when an item sells out, it's gone forever. If it is something you or they would really like, buy two.
All current AFIO members have the opportunity to join the CIA Employee Activity Association. If you have not already done so, login and read the requirements and modest one-time fee. [To view the instructions at this link you will need your membership login info found on your latest AFIO membership card.]

The International Spy Museum is launching an inaugural volunteer program before moving to the new L'Enfant Plaza location in 2019. Our volunteers will be the first to experience this new and expanded vision of SPY and will provide a vital role in establishing a robust team dedicated to serving and engaging guests. Click image below to view full page. To find out more, please visit HERE.
---
---
New and Forthcoming Books of the Week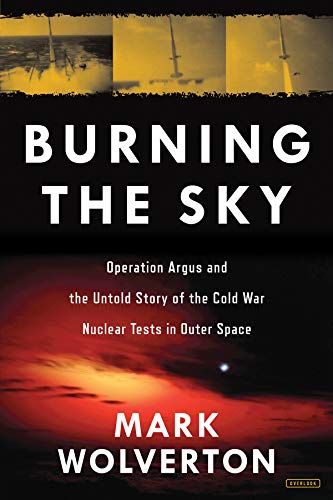 Burning the Sky: Operation Argus and the Untold Story of the Cold War Nuclear Tests in Outer Space
by Mark Wolverton
(Overlook Press, Nov 2018)
After the Soviet Union proved to the US that it possessed an operational intercontinental ballistic missile with the launch of Sputnik in the October 1957, the world watched anxiously as the two superpowers engaged in a game of nuclear one-upmanship. In the midst of this rising tension, Nicholas Christofilos, an eccentric Greek-American physicist, brought forth an outlandish, albeit ingenious, idea to defend the US from a Soviet attack: launching nuclear warheads to detonate in outer space, creating an artificial radiation belt that would fry incoming Soviet ICBMs. Known as Operation Argus, this plan is the most secret and riskiest scientific experiment in history, and classified details of these nuclear tests have been long obscured.
"With lucid, compelling prose, Mark Wolverton reveals the secret, risky nuclear tests employed by scientists working for the US military during the height of the Cold War in the late 1950s. A gripping chronicle of some of the most potentially dangerous atmospheric tests ever carried out is a must for enthusiasts of military and scientific history."— Paul Halpern, physicist and author of The Quantum Labyrinth
"A gripping and nerdy tale of how a military's fetish for power and technology can wind up threatening the public instead of securing the peace. A timely reminder of the dangers of unchecked adventurism as we enter an age of cyber and social warfare."— R. Scott Kemp, Professor, Nuclear Science and Engineering, MIT
Book may be ordered here.
---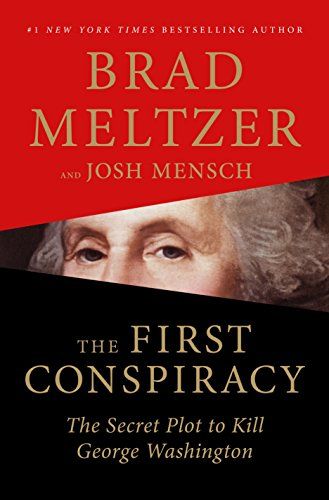 The First Conspiracy: The Secret Plot to Kill George Washington
by Brad Meltzer and Josh Mensch
(Flatiron Books, Jan 2019)
In 1776, an elite group of soldiers were handpicked to serve as George Washington's bodyguards. Washington trusted them; relied on them. But unbeknownst to Washington, some of them were part of a treasonous plan. In the months leading up to the Revolutionary War, these traitorous soldiers, along with the Governor of New York, William Tryon, and Mayor David Mathews, launched a deadly plot against the most important member of the military: George Washington himself.
This is the story of the secret plot and how it was revealed. It is a story of leaders, liars, counterfeiters, and jailhouse confessors. It also shows just how hard the battle was for George Washington and how close America was to losing the Revolutionary War.
Book may be ordered here.
---
Two recent novels brought to our attention: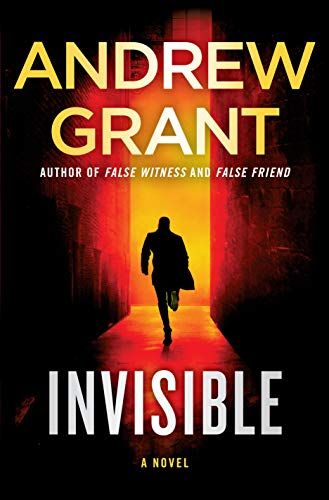 Invisible
by Andrew Grant
(Ballantine Books, Jan 2019)
After successfully carrying out a highly tricky mission in Istanbul that serves to sabotage Iran's nuclear ambitions, U.S. Army intelligence operative Paul McGrath, the hero of this superior thriller from Grant, receives a letter from his estranged father two years after it was written, thanks to the inefficient military mail system. McGrath's choice of career alienated his father, a pacifist, but the senior McGrath offers hope for the two of them to reconcile in the letter. When McGrath finally reaches the house in Westchester he grew up in, he's stunned to learn that his father has died, apparently from a heart attack, following a heated argument with his shady business partner, Alex Pardew. The circumstances immediately trigger guilt in McGrath over his refusal to be that partner. Things get worse when the NYPD suspect McGrath of being behind his father's death, leading McGrath to turn investigator. Grant capably combines a riveting plot and depth of character. —Publishers Weekly
Book may be ordered here.
---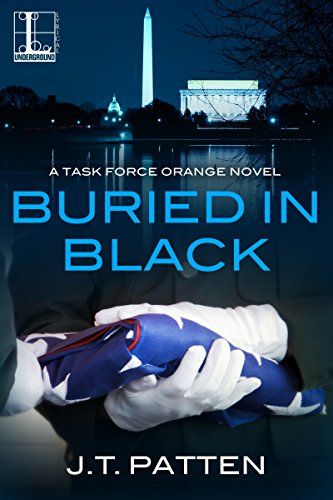 Buried in Black
by J.T. Patten
(Lyrical Underground, Nov 2018)
In the clandestine world of shadow ops, he's known as a master of surveillance, signals intelligence, and silent killing. Special operative Drake Woolf has been groomed and trained by the old-guard intel community after his CIA father and mother were murdered in Tunisia. Now he works for Task Force Orange, handling cases the government doesn't want its fingerprints on. Woolf can always be relied on to carry out an assignment with surgical precision—make problem people go away, permanently. But his latest mission is different. Woolf knows the targets personally having trained them in Iraq to be effective killing machines. Known as the "Mohawks," these Iraqi rebels know our secrets, our strengths, and our weaknesses. And they're using this knowledge to launch a deadly attack on American soil. Reap what you sow.
Book may be ordered here.
---
---
Section I - INTELLIGENCE HIGHLIGHTS

Norwegian Spy Service Seeks Right to Break Law During Espionage Operations. Norway's supreme legislature body is considering a bill that would offer immunity from prosecution to intelligence officers and informants who are authorized by the country's spy service to conduct espionage. The bill has been proposed on behalf of the Royal Norwegian Ministry of Defense, which supervises the operations of the Norwegian Intelligence Service (NIS), Norway's primary intelligence agency. The NIS operates primarily abroad and is the only institution of the Norwegian state that can be authorized by the government to break laws in foreign countries. However, supporters of the new bill point out that NIS overseas operations can also break Norwegian law. That is something that the proposed bill addresses, they argue.

The proposed bill offers immunity from prosecution to NIS case officers and their assets - either informants or foreign spies - who may commit offenses under Norwegian law, as part of authorized espionage operations. In its consultation note that accompanies the proposed bill, the Norwegian Ministry of Defense admits that a number of NIS operations "already violate existing Norwegian laws". That is inevitable, argues the Ministry, because officers and informants who engage in espionage operations will often "act contrary to the stipulations of criminal law [...] as part of their assignments". They may, in other words, "do certain things that would be illegal if they were done not on behalf of the intelligence service", states the consultation note. [Read more: Fitsanakis/IntelNews/21November2018]

UAE Pardons, Releases British Academic Convicted of Spying. The United Arab Emirates said Monday it pardoned and released a British academic sentenced to life in prison on spying charges, ending a diplomatic dispute with its longtime Western ally while still alleging the researcher spied for MI6.

Matthew Hedges' monthslong detention and sentencing last week came as relations between Britain and its onetime protectorate have been strained since the 2011 Arab Spring, the tension only worsening with the UAE's military campaign in Yemen and its boycott of Qatar. Tens of thousands of British expatriates nevertheless fill lucrative jobs across the sheikhdoms of the UAE and more visit as tourists.

Emirati officials insisted they had developed a strong case against Hedges. At a meeting of journalists hastily convened in Abu Dhabi, the UAE capital, officials showed short video clips of Hedges purportedly acknowledging his intelligence work. [Read more: Gambrell/AP/26November2018]

French Senate Official Spied for North Korea, Intelligence Service Says. A senior civil servant working for the French Senate has been arrested on suspicion of spying for North Korea.

The Associated Press cited an anonymous judicial official who said the employee was arrested on Sunday based on information gleaned from an investigation opened last March.

The source said the probe related to "collecting and delivering information to a foreign power susceptible to harming fundamental interests of the nation." The investigation is being led by France's domestic intelligence agency, the General Directorate for Internal Security.

The civil servant was named by a security official as Benoit Quennedey. The source confirmed he was suspected of working for North Korea. [Read more: Brennan/Newsweek/27November2018]

MI6 Battling to Stop Donald Trump Releasing Classified Russia Probe Documents. MI6 chiefs are secretly battling Donald Trump to stop him publishing classified information linked to the Russian election meddling investigation.

The UK is warning that the US president would undermine intelligence gathering if he releases pages of an FBI application to wiretap one of his former campaign advisers.

However Trump allies are fighting back, demanding transparency and asking why Britain would oppose the move unless it had something to hide.

It forces the spotlight on whether the UK played a role in the FBI's investigation launched before the 2016 presidential election into Trump campaign ties to the Kremlin. [Read more: Riley-Smith/TheTelegraph/21November2018]

Ex-C.I.A. Officer's Brief Detention Deepens Mystery in Montenegro. When a former C.I.A. officer was detained overseas recently, Montenegrin officials thought the answer to a question that their country has been obsessed with for two years might be within reach: How did Russia try to topple Montenegro's government?

On the eve of a parliamentary vote in 2016 viewed as a referendum on membership in the North Atlantic Treaty Organization, the Montenegrin police broke up what they claimed was a Russian-backed coup. The investigation and court proceedings over the ensuing two years have riveted the country, including the sensational, and head-scratching, allegation that the coup backers recruited a former C.I.A. officer to help ferry its plotters out of Montenegro.

The former officer, Joseph Assad, insisted it was all a huge mistake. He denied knowing of any Russian involvement in Montenegro and said he was only advising a friend hired as the opposition's campaign adviser.

The Montenegrin controversy is a prime example of the sort of mistrust, suspicion and, sometimes, paranoia, that has arisen in the wake of Russia's campaigns to meddle in European and American elections. [Read more: Barnes/NYTimes/23November2018]


---
Section II - CONTEXT & PRECEDENCE

The Meir Amit Intelligence and Terrorism Information Center. The Meir Amit Intelligence and Terrorism Information Center (ITIC) issues information bulletins and studies about terrorist organizations. Its research fields include Palestinian terrorist organizations, Lebanese terrorist organizations, and organizations affiliated with global jihad. The ITIC researchers monitor the various aspects of the activities of the terrorist organizations in the Middle East and elsewhere, countries sponsoring terrorism, terrorist attacks, terrorist infrastructure, weapons, funding terrorist organizations, terrorist organizations' media outlets and more.

The ITIC issues basic studies and periodic bulletins dealing with the structure of the terrorist organizations, their weapons, the activities of terrorist organizations, countries sponsoring terrorist organizations, the worldwide expansion of global jihad organizations, the Palestinian Authority and its policies toward terrorism, the funding of terrorist organizations, foiling terrorist attacks and more.

The Institute for the Research of Intelligence and Policy operating as part of the ITIC is engaged in research on intelligence issues. Its main topics are the methodology of intelligence, intelligence and decision making, and the heritage of the Israeli intelligence community. The institute publishes periodic articles and in-depth studies. It issues a semi-annual professional bulletin on various methodological issues of interest to intelligence researchers in Israel and abroad. In addition, the institute conducts workshops and seminars on intelligence issues, and holds an annual international conference. [Read more: ITIC/25November2018]

How the CIA Helped Prevent the Next 9/11 - And Why You Can't Bring Liquids Onto Planes. Airline travel is a nightmare these days - especially over the holidays - thanks in no small part to the TSA's exhaustive security measures. And, while most American travelers know why they're forced to remove their shoes prior to boarding (f*ck you, Richard Reid), far fewer are aware of the reason they're allowed only 3.4 ounces of liquid per passenger, and must thereby purchase extortionate six-dollar bottles of water.

It's all due to a complex terrorist mission known as the 2006 Transatlantic Liquid Bomb Plot.

The new docuseries Terrorism Close Calls, now streaming on Netflix, chronicles some of the biggest attempted terrorist attacks that were foiled just under the wire. Its fifth episode is dedicated to the Transatlantic Liquid Bomb Plot, wherein two dozen terrorists planned to smuggle plastic bottles filled with liquid explosives (and other devices) onto seven commercial airliners departing from London's Heathrow Airport and traveling to North America, assemble the bombs onboard, and detonate them over the Atlantic Ocean.

"The British cell was planning to smuggle those liquid bombs onto planes and blow up seven airliners heading to North America, with at least 1,500 people onboard. That would have made it the biggest loss of life since 9/11," Mark Kelton, former CIA chief of European operations, tells The Daily Beast. "And if the bombs had gone off over a populated area, the casualties would have gone up exponentially." [Read more: Stern/TheDailyBeast/24November2018]

How this Civil War Spy Became a Legendary Lawman in the Wild West. Pop culture always tells the stories of the outlaws of the Wild West. Lying, cheating, drinking, robbing banks, holding up train cars, getting into shootouts at high noon - these are all objectively cool things that make for great tales, but they're often overplayed for the sake of storytelling.

In reality, the Wild West was much tamer than most storytellers make it out to be. You were much more likely to die of some mundane and awful illness, like dysentery, than be gunned down in the streets as part of a duel. This is because the lawmen of the time were experts at what they did. And that's all thanks to one former spy: Allan Pinkerton.

Allan Pinkerton first got into detective work before the Civil War. He was living in Chicago when he developed a grudge with the Banditti of the Prairie Gang. They suspected his home was used as a stop on the Underground Railroad, so they sacked it. In response, Pinkerton trailed the Banditti of the Prairie Gang, infiltrated their hideout, and observed their activities. He compiled a detailed report, handed it over to the Chicago Police Department, and they successfully took down the gang.

For his actions, he was given the title of Detective and went on to found the Pinkerton National Detective Agency. His first jobs mostly consisted of protecting abolitionist meetings, aiding John Brown during his raid of Harpers Ferry, and investigating a series of train robberies on the Illinois Central Railroad. His contact for the railroad gig was the company's lawyer, a man by the name of Abraham Lincoln. [Read more: Milzarski/WATM/26November2018]

'Tinker Tailor Soldier Spy' is the Most Realistic Spy Movie, According to Two Real Spies. To help get the word out about the impending Mission: Impossible - Fallout home video release, I had a chance to visit the International Spy Museum in Washington D.C., and speak with real-life former spies. Peter Earnest, a 35 year veteran of the Central Intelligence Agency, and Jonna Mendez, a former Chief of Disguise in the CIA's Office of Technical Service, spoke with me about their careers in the spy trade, how they got into their line of work, and more.

But seeing as we care most about movies around here at /Film, I had to ask these real-life secret agents: what would an actual spy consider to be the most accurate spy movie? The answer probably isn't too surprising: Tomas Alfredson's 2011 slow-burner Tinker Tailor Solider Spy.

Peter Earnest served 25 years as a case officer in the CIA's Clandestine Service, running a wide range of "intelligence collection and covert action operations including counterintelligence and double agent operations working with the Federal Bureau of Investigation and military intelligence." Jonna Mendez is known as a master of disguise, having served as the CIA's Chief of Disguise, as well as a specialist in clandestine photography. The pair sat down with me at the International Spy Museum last weekend, at which point I popped a question I was dying to know the answer to: which spy movie is the most accurate? The most authentic? The one that even real-life spies like? [Read more: Evangelista/slashfilm/21November2018]

The Spy Who Really DID Come In From The Cold: How a KGB Superspy Was 'Turned' to Become MI6's Best Cold War Agent and Gave the West a Vital Advantage over the Kremlin. One of the must-reads of 2018 is best-selling author Ben Macintyre's gripping account of how Oleg Gordievsky, a senior KGB officer, switched his loyalty from Moscow to the West and took on the dangerous role of a double agent - the most successful of all in recent times.

In its cliff-hanging drama and intrigue, it has all the hallmarks of a le Carre thriller - but with the added twist that the events it describes were not fiction. Gordievsky really is the spy who came in from the cold. In this first extract from The Spy And The Traitor, MI6 uses all its cunning to lure him into its net, then foolishly nearly lets him slip away...[Read more: MacIntyre/DailyMail/23November2018]

Meet Richard Komlan Folly, the Founder of African Geospatial-Intelligence Agency (AGIA) based in Togo. Richard Komlan Folly is a Data Scientist focused on Remote Sensing and Geographic Information System (GIS). He founded the African Geospatial-Intelligence Agency (AGIA) an aerospace research and development company focused on developing geospatial and space technologies for meeting the SDGs in Africa.

Tech enthusiast and entrepreneur, Komlan was on free consultancy as Technology Trainer for the U.S. Embassy in Togo training young girls on computer programming and journalists on data journalism. He was GIS and Communications Consultant at the Ministry of Posts and Digital Economy of the Togolese Government. He worked up the career ladder to become a consultant on an Early Warning System (EWS) development for hydrological, rainfall and climatological data collection and analysis, an Automated SMS System that can feed crowd-sourced flood data into a self-learning, algorithmically-based forecast model (FUNES), for the Togolese Red Cross in collaboration with the Global Facility for Disaster Reduction and Recovery (GFDRR) of the World Bank and experts from the Red Cross & Red Crescent Climate Centre. Following his passion for STEAM, knowledge and experience sharing, Komlan devoted part of his time to continuously train hundreds of students on planetary sciences and geospatial technology, inspiring young people across the whole country, as he is part of the managing team of MoLab - a mobile science and technology laboratory project developed by the U.S. Embassy in Togo. [Read more: Ibeh/AfricaNews/27November2018]


---
Why Americans Should Care About Mueller's Counterintelligence Probe - Aside from any Criminal or Political Implications. The primary mandate of Special Counsel Robert Mueller's investigation is to determine if there are "any links between the Russian government and individuals associated with the campaign of President Donald Trump." That specific task has nothing directly to do with criminal liability for any Americans or Russians, nor anything to do with the potential political implications for the President whether in the form of an impeachment report or something else. The primary mandate of the Special Counsel is, instead, a counterintelligence investigation. With all the media focus on potential criminal and political implications, we often forget this critically important, core mission for Mueller. We should concentrate far more on that dimension - the counterintelligence effort - as the country prepares for the release of the Special Counsel's report.

Mueller's counterintelligence effort can answer nationally important questions like: Why were the Russians so successful in impacting the 2016 presidential election? For the last year and half, the Special Counsel has undertaken a broad scoped investigation into allegations regarding "collusion" on the part of then candidate Donald Trump's campaign and matters that arise from that investigation. While the political and criminal investigative efforts make for great media, the critically important counterintelligence part of the Special Counsel's investigation is being undertaken much more discretely. Of course, the Special Counsel is looking to determine if criminal wrongdoing happened, but he will be working to identify and understand the more complex intentions and actions undertaken at the direction or, at the least, with the concurrence of one of America's most significant adversaries, the Russian government.

We are all hopeful that the counterintelligence investigation will not only identify the actions undertake by the Russians but why they were so successful. [Read more: Douglas/JustSecurity/26November2018]

Prosecuting Assange is Essential for Restoring Our National Security. Full disclosure: I am not a fan of Julian Assange or Wikileaks. My disdain for started long before both apparently acted as digital mouthpiece for Russian intelligence by releasing hacked emails. It began with the actions of Chelsea Manning, and hit a crescendo with Edward Snowden. Assange and Wikileaks are responsible for creating a class of leakers motivated by ego, who justify their betrayal of our national security by claiming that their moral code trumps the actual code governing the release of classified information.

Like many current and former members of the intelligence community, I've been frustrated by the unwillingness of our government to act against Assange and Wikileaks. Up to now, they have been allowed to occupy a grey area that affords them some pseudo status as journalist and news outlet, stymieing any interest in holding them to account. But with the news that the Department of Justice has apparently filed criminal charges against Julian Assange, I am hopeful that perhaps we may be turning the page on this story, and once again defending our national security.

Secrecy is a necessary component of national security, and keeping secrets secret is an oath anyone who has worked in intelligence understands. It is not just something that we agree to because we are legally required to do so, rather, it is because we understand that the release of any information may have an impact on our national security. [Read more: Jamali/Newsweek/24November2018]


---
Pete Bell, CIA EA/China Ops Officer
Peter Feely Bell, 92, a CIA EA/China Operations Officer, died 4 November 2018 in Fairfax, VA.
Pete was Chinese-American born and raised until his early teens in Shanghai. His father was a crewman on an American whaler in the early 1900s out of Massachusetts. His Dad jumped ship somewhere in China and made his way to Shanghai where he became a wealthy landowner and businessman. He married a Chinese woman and Pete was one of the younger kids in the family.
He spoke Chinese and English and living the good life in Shanghai when the Japanese Army took over the city. A Japanese businessman/family "friend" they had known for several years suddenly appeared at the Bell home wearing a Japanese Army Colonel uniform the night before the Japanese Army entered the city and warned the family to prepare for arrival of the Japanese army. He also suggested they hide all their shotguns and rifles from Japanese authorities who would otherwise confiscate them.
After the Japanese took over, they rounded up all foreigners and, indeed, confiscated all property. Pete's father and older brothers were taken away and imprisoned. Later, Pete (because he was in his early teens), his sisters, and mother were allowed to leave the country as part of a US-Japan civilian exchange program set up to help Japanese immigrants in America return home to "join the cause" for the East Asia Economic Co-conspiracy Program.
Pete's family and other Americans sailed from Shanghai on an old Japanese freighter which had scant food. The exchange point for the American and Japanese groups was in a port on the East Coast of India. The Japanese arrived from America on a big, modern, luxury cruise liner. The boats docked opposite each other along the same wharf. The Japanese and American passengers then switched boats crossing by each other in lines going to and from the two ships.
The Japanese made abusive comments about the USA and said the Americans will be sorry about the plight they will face when they get to America. The Americans did not take the bait nor tell the Japanese about the awful conditions they faced when they board the scow that was to take them back to Nihon.
In the States, Pete continued his education and was drafted in the Army Infantry where he used his Chinese area and language knowledge. He thought those skills might get him to Asia, but nobody cared. His final infantry training was at a base in Texas scheduled to head to Europe. The day before departure, Pete was called out of the ranks and told to report to an admin officer who informed him he had been selected for a job that would require his Chinese language ability.
Pete was ordered to leave that night for the University of Michigan and to report to a Chinese professor at the university. As he made his way north, he was wondering why the hell he had to go to study Chinese, since he was already fluent.
When he reported at the university, the Professor spoke only Chinese and took Pete into a one room library with tall shelves of books all in Chinese. The Professor instructed Pete to retrieve a certain book on a very complicated subject. Pete wandered around and spent some time looking for the book which he eventually found on one of the upper shelves.
The Professor then told him to open the book to a specific page and begin reading and translating that page. With this supposed entrance exam done, the Professor told him he was be admitted to a special language class beginning in a few days. Pete left the office, wondering why he would have to go to Chinese language training. When he walked into the classroom, he learned the language was Japanese and he and the others were to be trained for interpreter and interrogation duties.
Pete spent one semester in Ann Arbor and then went to an advanced Japanese language training at the University of Minnesota. After that he shipped out to the West Coast and eventually was island hopping through the South Pacific on the way to Japan. After the Japanese surrender, he was sent to Japan, flying into Atsugi Air Station a few days after General Macarthur and his entourage landed there.
After being marshaled out of the service, he returned home, eventually to join CIA. He spent some time in Japan during the Korean War and later had assignments in Seoul, Taiwan, Hong Kong, and Bangkok before his assignment to Vientiane. Pete retired from CIA sometime in the mid-1970s.
He is survived by children and other family.
Stanley Disson, an Engineer and Commercial Cryptographic Specialist aiding NSA
Stanley B. Disson, 90, an Engineer, Inventor, and Commercial Cryptographic Specialist aiding NSA, died 16 August 2018. He lived nearly all of his adult life in the Broomall / Valley Forge area of Pensylvania before moving to Fairfax, Virginia in 2018.
Stanley graduated from the University of Pennsylvania Moore School of Engineering and did postgraduate studies at the University of Maryland and the University of Pennsylvania.
Stanley served in the USAF and later became a senior executive of Burroughs Corporation managing their Special Systems Division in Paoli and then Vice President at AEL Defense Corp. During his professional career, along with having five patents, he co-edited an engineering textbook which was so informative that the Russians "stole" the book and translated it into Russian and Polish. He also created the Washington, DC electrical engineering chapter of IEEE and became the president of the Philadelphia area chapter of IEEE.
Stanley was an avid golfer at the White Manor Country Club. He was an Associate Member of The Phoenix Society.
Stanley is survived by a son and daughter, and other family.
Melissa Drisko, Naval Intelligence Officer, Deputy Director/DIA

Melissa Anne Drisko, 59, died of cancer 14 November 2018. She was born in Ft. Bragg, NC, whee she was the oldest of four children and moved frequently throughout childhood as the daughter of a U.S Army officer. Smart and driven from an early age, Melissa attended the University of Virginia on an ROTC scholarship, graduated in 1981 and was commissioned as an Ensign in the US Navy. As a Naval Intelligence officer, Melissa was assigned as a Soviet submarine analyst to the Office of Naval Intelligence (ONI), Washington, DC. She went on to work at the Department of State and as Flag Aide to the Director of Naval Intelligence. Following her Naval service she carved an impressive career as a civilian in the Intelligence Community, attaining leadership positions in several agencies including ONI, the CIA, and the Defense Intelligence Agency (DIA) where she worked for the last 14 years of her life. Melissa's leadership positions included Deputy Director of Naval Intelligence (N2B), Director of S&T for the DIA, Chief of Staff for DIA, and ultimately Deputy Director of DIA. Professionally, Melissa was known for her integrity, inquisitive mind, and willingness to challenge the status quo. She was firmly committed to serving her country.
Melissa is survived by her husband of 32 years, Philip Kosmacki, three children, and other family.
Her warmth, selflessness and great sense of humor brightened the lives of the family and friends who were privileged to have been part of her life.
Harry A. Jacobs, Military Intelligence "Ritchie Boy"
Harry A. Jacobs, 94, died 23 November 2018 in Chevy Chase, MD.
During his WWII service in WWII, he was a "Ritchie Boy," one of a number of U.S. Special Military Intelligence Officers and enlisted men who were trained at Camp Ritchie, MD, to assist in special assignments because they were German-born and were better able to gain a rapport interrogating German prisoners.
He is survived by his wife, Selma, a daughter, two sons, and other family.
Phil Leyva, Young Naval Intelligence Officer with BAE Systems
Phillip Leyva, 46, a Young Intelligence Officer Whose Career Was Cut Short, died of cancer on 23 November 2018 at Inova Loudoun Hospital in Leesburg, VA.
Phil graduated from LaMarque High School in LaMarque, TX, entered the US Navy where he spent 17 years (Active and Reserve), concluding his career with the rank of Intelligence Chief Petty Officer in the US Navy Reserve. He earned a Bachelor of Arts degree in Intelligence Studies from American Military University in 2007.
Phillip joined BAE Systems where he spent the last 16 years of his career supporting various US Government contracts in the US and abroad. For the past eight years Phil served as a Program Director supervising the overall execution of one of the largest intelligence contracts in supporting US Forces in Southwest Asia. He also earned a certification as a Project Management Professional (PMP).
Phil was a loving and supportive father, son, brother, and friend to many. Outside of his work, Phil enjoyed playing the guitar, spending time with his sons, and watching his beloved Dallas Cowboys.
Phil is survived by his parents, his sisters, and other family.
Igor Korobov, Head of Russia's GRU Spy Agency, Dies at 62. Igor Korobov, head of the Russian military intelligence agency GRU, which has been accused of meddling in U.S. elections, has died in Moscow. He was 62.

The Defense Ministry said Thursday in a statement that Korobov, who led the GRU since 2016, died Wednesday of "a lengthy and grave illness," a usual Russian euphemism for cancer. His predecessor had died two years earlier, at 58.

Russian President Vladimir Putin offered condolences to Korobov's family but did not immediately name his successor. [Read more: Vasilyeva/AP/22November2018]
---
AFIO EDUCATIONAL EVENTS IN COMING TWO MONTHS....

Monday, 3 December 2018, 5:30 - 8 pm - New York, NY - AFIO NY Metro Chapter hosts David Hunt, CIA Operations Officer on "From Russia with Love: Assassinations from the 16th to 21st Century."

David Hunt, a CIA 32 Years of Distinguished Service with field assignments in Italy, Vietnam, Somalia, Norway, France and New York City, Station Chief in Somalia and New York. Expertise on old Soviet Union. Currently Chairman of Charles Pratt and Company in New York. TOPIC: From Russia with Love. Assassinations are a continuum from the 16th century. David will provide depth and continuity to the 4 March 2018 assassination attempt on Sergei Skripal in England.
LOCATION: Society of Illustrators building: 128 East 63rd Street Between Lexington Ave and Park Ave in Manhattan.
TIME: Meeting starts 6:00 PM. Registration starts 5:30 PM
COST: $50/person. Cash or check payable at the door only.
REGISTRATION: Strongly recommended, not required. Phone Jerry Goodwin 1-646-717-3776 or Email afiometro@gmail.com

EVENT CANCELED - 7 December 2018 (Friday), 6pm - San Francisco, CA - The AFIO San Francisco Chapter hosts Dr. William H. Overholt on "China's Crisis of Success."

Speaker: Dr. William H. Overholt, President of Fung Global Institute; Senior Research Fellow at John F. Kennedy School of Government at Harvard University and Principal of AsiaStrat, LLC., discusses "China's Crisis of Success."
Location: San Francisco War Memorial Building, 405 Van Ness Avenue, Lecture Hall 210, San Francisco, CA.
RSVP: Eventbrite Registration is no available since event has been canceled.
Please note: all proceeds from this meeting will be donated to the Veteran's Success Center (VSC), a non-profit dedicated to finding employment for veterans.
Questions about cancellation? Contact Mariko Kawaguchi, Board Secretary at afiosf@aol.com with any questions.

Tuesday, 11 December 2018, noon - MacDill AFB, FL - Larry Kraus, Pasco County Sheriff's Office, discusses "Intelligence-Led Policing" at this Florida Suncoast AFIO Chapter Meeting

In a change of pace from our more typical subject matter, we are most fortunate to have as our speaker Mr. Larry Kraus, who is the Director, Intelligence-Led Policing Section of the Pasco County Sheriff's Office. Intelligence-led policing is a new paradigm in law enforcement, sharing a number of traits common to operations in the Intelligence Community. Criminal intelligence flows up to decision-makers at the executive level, who set priorities for enforcement and prevention, and then passes these priorities back down to lower levels of the organization for operational tasking.

Fee: luncheon fee is $20 paid by check or cash at the door. Luncheon reservations and arrangements for base access for those without military ID must be made by Tuesday, 4 December by contacting Chapter Secretary at michaels@suncoastafio.org.
Event location: MacDill AFB Surf's Edge Club, 7315 Bayshore Boulevard, MacDill AFB, FL 33621.

Wednesday, 12 December 2018, 6:30 pm - Las Vegas, NV - Join the Las Vegas Roger McCarthy Chapter for this Holiday Party

It is that time again and the holidays are upon us. We are pleased to announce this year's holiday party. Please join the chapter for an evening of good food, camaraderie, and a very special guest speaker.
Guests are welcome and encouraged. If you have family members or friends who may be interested in learning more about AFIO, invite them to join you for this special evening with the chapter. This is an opportunity to introduce our vibrant chapter to potential new members.
Please note that an RSVP is requested by Wednesday, 5 December 2018, to ensure there is plenty of traditional holiday food and fixings on the buffet.
Happy Holidays to everyone.

Fee: $30 per person. Guests are welcome.
Location: Los Prados Country Club, 5150 Los Prados Cir, Las Vegas, NV 89130.
RSVP by Wednesday, 5 December 2018 to lasvegasafio@gmail.com or by phone/message at 702-239-1370.

---
Other Upcoming Events from Advertisers, Corporate Sponsors, and Others
Wednesday, 28 November 2018, 6 - 10:30 pm - Washington, DC - International Spy Museum's Annual "William H. Webster Distinguished Service Award Dinner" honoring Adm McRaven
For your calendar. A special evening to illuminate the critical role of individuals and organizations serving the Intelligence Community, and to raise funds in support of the International Spy Museum.
The William H. Webster Distinguished Service Award Dinner will take place at The Ritz Carlton Hotel. More than 600 attendees are anticipated and will recognize the men and women who have served in the field of National Security with integrity and distinction. This annual tribute dinner is given by the International Spy Museum to an individual who has embodied the values of Judge William H. Webster. This year's honoree is a patriot for whom love of country has been his guiding principle: Admiral William H. McRaven, former US Special Operations Commander, former Joint Special Operations Commander, and Chancellor of The University of Texas System.
Schedule: 6 pm - VIP Reception; 6:30 pm - Cocktail Reception; 7:30 - 9 pm - Dinner & Awards; 9 - 10:30 pm - Dessert Reception.
Location: The Ritz-Carlton Hotel, 1150 22nd St NW, Washington, DC 20037. **Please note: this event is closed to Media**
Tickets Available Now: Prices range from $100,000 to a single seat for $495. Funds raised at this tribute dinner will support artifact preservation, educational programming, research, exhibits, and accessibility programs for underserved communities at the International Spy Museum. To purchase tickets now, do so here. To learn more about this annual dinner, it is available here.
Wednesday, 28 November 2018, 5:15 to 6:15 p.m. - Washington, DC - Trouble in the Kingdom: An Appraisal of the US-Saudi Relationship with Brian Weidner and Michael Doran at the Daniel Morgan Graduate School of National Security
Trouble in the Kingdom: An Appraisal of the US-Saudi Relationship with Brian Weidner and Michael Doran.
Attend this DMGS discussion of the long and complicated relationship with the Kingdom of Saudi Arabia led by two preeminent national security experts. Recent developments such as the killing of journalist Jamal Khashoggi, which President Trump has called the "worst coverup ever" have brought more attention than ever to the US-Saudi relationship. The relationship has often been characterized as transactional, rather than an alliance of shared values. Are the deliverables of this transaction worth their cost? Sign up for a timely discussion on US-Saudi relations in keeping with Daniel Morgan Graduate School's goal of hosting speakers who can help prepare the next generation of leaders, scholars, and practitioners to develop actionable solutions to global and domestic security challenges.
SPEAKERS:
Brian Weidner is an Adjunct Professor of Intelligence at the Daniel Morgan Graduate School of National Security. In his over 30 year career in law enforcement and national security, he has served in the United States Army, the FBI, and the Defense Intelligence Agency. He has taught at the FBI training academy in Quantico, and has appeared as a counterterrorism expert on Fox News.
Michael Doran is a Senior Fellow at the Hudson Institute. He specializes in Middle East security issues. In the administration of President George W. Bush, Doran served in the White House as a Senior Director on the National Security Council, where he was responsible for helping to devise and coordinate United States strategies on a variety of Middle East issues, including Arab-Israeli relations and U.S. efforts to contain Iran and Syria.He also served in the Bush administration as a senior advisor in the State Department and a Deputy Assistant Secretary of Defense in the Pentagon. Before coming to Hudson, Mr. Doran was a Senior Fellow at the Brookings Institution. He has also held teaching positions at NYU, Princeton, and the University of Central Florida. His latest book, Ike's Gamble, was published by Free Press in 2016.
RSVP Required; Daniel Morgan Graduate reserves the right to refuse entry and may ask for government issued identification.
Dress code is business or business casual.
The views and opinions expressed in the lecture series do not necessarily reflect the official position of Daniel Morgan Graduate School, its administration, faculty, or students.
Where: Daniel Morgan Graduate School, 1620 L St NW, Suite 700, Washington, DC. 20036; Cost: Free.
RSVP is required and guests must check in prior to entering the event. DMGS Reserves the Right to Refuse entry and May Ask for Government Issued Identification.
RSVP and more information on event is here.
Qs?: Direct Qs to Frank Fletcher, Director of Lectures & Seminars, at events@dmgs.org.
Friday, 30 November 2018, 8 am - 5:15 pm - Austin, TX - Texas National Security Forum, "The Return of Great Power Competition."
This year's forum, "The Rise of Great Power Competition" will feature a keynote panel with Senator Richard Burr, Senator Mark Warner, and Senator John Cornyn of the U.S. Senate Select Committee on Intelligence, as well as a keynote address by Senator Ben Sasse of the Armed Services Committee. Panels will feature experts on global threats, strategies and tactics, Russia, China, and world order. The full agenda can be viewed here.
Of interest to AFIO Members:
SESSION II. Keynote Conversation on the SSCI Investigation into Russian Active Measures.
Introduction by President Gregory Fenves, The University of Texas at Austin
Senator Richard Burr, Chairman of the U.S. Senate Select Committee on Intelligence
Senator Mark Warner, Vice Chairman of the U.S. Senate Select Committee on Intelligence
Senator John Cornyn, Member of the U.S. Senate Select Committee on Intelligence
Moderator: Stephen Slick, Director of the Intelligence Studies Project
Keynote Address by Senator Ben Sasse, Member of the Armed Services Committee
Introduction by Admiral Bob Inman, Centennial Chair in National Policy at the LBJ School of Public Affairs
SESSION III. A Special Conversation on Global Threats...see agenda here.
Location: Etter-Harbin Alumni Center, The University of Texas at Austin
NOTE: Registration is required to attend the Texas National Security Forum. Registration does not ensure admittance. Please arrive early to secure your seat.
An overflow room will be available when max capacity is reached. If you register for a UT student ticket, you must bring your UT student ID to be admitted.
Registration is now open. The event is free and open to the public, however, advance registration is required to attend each session.
Register Now
Friday, 7 December 2018, 11 a.m. to noon - Washington, DC - DMGS hears "All Quiet on the Eastern Front: War in Ukraine from 2015-18" by Tomasz Grzywaczewski
All Quiet on the Eastern Front: War in Ukraine from 2015 to 2018 is the presentation at Daniel Morgan GS by Tomasz Grzywaczewski.
The conflict which erupted in eastern Ukraine lingers on. Officially it is peace, but when the night falls, gunfire starts again. On and on again. In the pain and suffering of the war, new unrecognized states are born near Donetsk and Lugansk.
Since 2015 Tomasz Grzywaczewski, journalist from Poland, has been covering the different stages of the war in Donbas. From the fierce fights in 2015, to the obscure for the modern notion of warfare, trench war in 2018, he has been gathering the testimonies of people entangled in this never-ending conflict, stimulated by the re-emerging Russian empire. This is a story of how, using national feuds and historical resentments, former neighbors, friends and even family members can be drawn into bloody conflict. This is a story about how war becomes part of the human soul and causes it to rot.
Event Details: When: Friday December 7, 2018 11:00 am - 12:00 pm; Where: 1620 L St NW, Suite 700, Washington, D.C. 20036; Cost: Free
RSVP is required and guests must check in prior to entering the event. DMGS Reserves the Right to Refuse entry and May Ask for Government Issued Identification.
RSVP and more information on event is here.
Qs?: Direct Qs to Frank Fletcher, Director of Lectures & Seminars, at events@dmgs.org.
Wednesday, 12 December 2018 from 7 - 8:45 p.m. - McLean, VA - Tawfik Hamid: "The Making (and Unmaking) of a Jihadist Mind" at The Westminster Institute
Dr. Tawfik Hamid is a thinker and reformer who was at one time an Islamic extremist. While still in medical school, he was recruited as a member of al-Gama'a al-Islamiyya, the most violent Jihadi group in Egypt. There he became acquainted with Dr. Ayman Al-Zawaheri, who later served as second in command to Osama bin Laden. Zawaheri is now the leader of Al-Qaeda. After being radicalized Dr. Hamid experienced an awakening of conscience, recognized the threat of Radical Islam, and started to teach modern peaceful interpretations of classical Islamic core texts.
Reception starts at 7 p.m. Hamid speaks 7:30 - 8:45 p.m.
The Westminster Institute, 6729 Curran Street, McLean, VA 22101
Questions: Contact Robert R. Reilly, Director, The Westminster Institute, 703-288-2885 at br@westminster-institute.org.
No cost to attend.
Register here.
16 May 2019 - Washington, DC - HOLD THE DATE for "Night of Heroes" Gala Dinner by the PENFED Foundation
The PENFED Foundation hosts their annual "Night of Heroes Gala" at the Mandarin Oriental, Washington, DC. Hold the date. Details to follow.
---
Gift Suggestions:
AFIO's 788-page Guide to the Study of Intelligence. Peter C. Oleson, Editor, also makes a good gift. View authors and table of contents here.

Perfect for professors, students, those considering careers in intelligence, and current/former officers seeking to see what changes are taking place across a wide spectrum of intelligence disciplines. AFIO's Guide to the Study of Intelligence helps instructors teach about the large variety of subjects that make up the field of intelligence. This includes secondary school teachers of American History, Civics, or current events and undergraduate and graduate professors of History, Political Science, International Relations, Security Studies, and related topics, especially those with no or limited professional experience in the field. Even those who are former practitioners are likely to have only a limited knowledge of the very broad field of intelligence, as most spend their careers in one or two agencies at most and may have focused only on collection or analysis of intelligence or support to those activities.
For a printed, bound copy, it is $95 which includes Fedex shipping to a CONUS (US-based) address.
To order for shipment to a US-based CONUS address, use this online form,

To order multiple copies or for purchases going to AK, HI, other US territories, or other countries call our office at 703-790-0320 or send email to afio@afio.com to hear of shipment fees.

Order the Guide from the AFIO's store at this link.

The Guide is also available directly from Amazon at this link.
AFIO's Intelligence Community Mousepads are a great looking addition to your desk...or as a gift for others.
Made in USA. Click image for larger view.
These 2017 mousepads have full color seals of all 18 members of the US Intelligence Community on this 8" round, slick surface, nonskid, rubber-backed mouse pad with a darker navy background, brighter, updated seals. Also used, by some, as swanky coasters. Price still only $20.00 for 2 pads [includes shipping to US address. Foreign shipments - we will contact you with quote.] Order MOUSEPADS here.
Disclaimers and Removal Instructions
Weekly Intelligence Notes (WINs) are commentaries on Intelligence and related national security matters, based on open media sources, selected, interpreted, edited and produced for non-profit educational uses by members and WIN subscribers.
REMOVAL INSTRUCTIONS: We do not wish to add clutter to inboxes. To discontinue receiving the WINs:
a) IF YOU ARE A MEMBER - click here: UNSUBSCRIBE and supply your full name and email address where you receive the WINs. Click SEND, you will be removed from list. If this link doesn't open a blank email, create one on your own and send to afio@afio.com with the words: REMOVE FROM WINs as the subject, and provide your full name and email address where you are currently receiving them.
b) IF YOU ARE NOT A MEMBER, and you received this message, someone forwarded this newsletter to you [contrary to AFIO policies]. Forward to afio@afio.com the entire WIN or message you received and we will remove the sender from our membership and distribution lists. The problem will be solved for both of us.
CONTENTS of this WIN [HTML version recipients - Click title to jump to story or section, Click Article Title to return to Contents. This feature does not work for Plaintext Edition or for some AOL recipients]. If you wish to change to HTML format, let us know at afio@afio.com. The HTML feature also does not work for those who access their e-mail using web mail...however NON-HTML recipients may view the latest edition each week in HTML at this link: https://www.afio.com/pages/currentwin.htm
---
WINs are protected by copyright laws and intellectual property laws, and may not be reproduced or re-sent without specific permission from the Producer. Opinions expressed in the WINs are solely those of the editor's or author's listed with each article. AFIO Members Support the AFIO Mission - sponsor new members! CHECK THE AFIO WEBSITE at www.afio.com for back issues of the WINs, information about AFIO, conference agenda and registrations materials, and membership applications and much more!
(c) 2000, 2012, 2013, 2014, 2015, 2016, 2017, 2018. AFIO, 7600 Leesburg Pike, Suite 470 East, Falls Church, VA 22043-2004. Voice: (703) 790-0320; Fax: (703) 991-1278; Email: afio@afio.com
---
About AFIO | Membership Renewal | Change of Address | Upcoming Events | Chapter Locations | Corporate/Institutional Memberships | Careers in Intelligence Booklet | Guide to the Study of Intelligence | Intelligencer Journal | Weekly Intelligence Notes | To Make A Donation | AFIO Store | Member-Only Section | Code of Ethics | Home Page
---