---
CONTENTS
Section I - INTELLIGENCE HIGHLIGHTS
Section II - CONTEXT & PRECEDENCE
Section IV - Obituaries, Jobs, Research Request
Other Upcoming Events from Advertisers, Corporate Sponsors, and Others
For Additional AFIO and other Events two+ months or more... Calendar of Events

WIN CREDITS FOR THIS ISSUE: The WIN editors thank the following special contributors: rsy, ec, po, pj, mh, km, gh, mk, rd, fm, kc, jm, mr, jg, th, ed, and fwr. They have contributed one or more stories used in this issue.

The WIN editors attempt to include a wide range of articles and commentary in the Weekly Notes to inform and educate our readers. However, the views expressed in the articles are purely those of the authors, and in no way reflect support or endorsement from the WIN editors or the AFIO officers and staff. We welcome comments from the WIN readers on any and all articles and commentary.

CAVEATS: IMPORTANT: AFIO does not "vet" or endorse research inquiries, career announcements, or job offers. Reasonable-sounding inquiries and career offerings are published as a service to our members, and for researchers, educators, and subscribers. You are urged to exercise your usual caution and good judgment when responding, and should verify the source independently before supplying any resume, career data, or personal information.]
If you are having difficulties with the links or viewing this newsletter when it arrives by email, members may view the latest edition each week at this link. You will need your LOGIN NAME and your PASSWORD.

---

AFIO's Latest Project is Now Online:

PROJECT: When Intelligence Made a Difference - a new series by editor Peter Oleson, is available here.

Released in Spring-Summer 2019 edition of Intelligencer and now available online as PDFs are:

• Project overview and theme by Peter Oleson
• George Washington, Spymaster Extraordinaire: A Master of Intelligence, Counterintelligence, and Military Deception by Gene Poteat
• Lafayette and the French Intrigue to Lead the American Revolution by Gene Poteat
• How Sweden Chose Sides by Michael Fredholm
• George Washington's Attacks on Trenton and Princeton, 1776-77 by Ken Daigler

---

---
---
Newly Released and Forthcoming Books of the Week
All Hell Breaking Loose: Climate Change, Global Chaos, and American National Security
by Michael Klare
(Metropolitan Books, Nov 2019)
Though the White House and major Republicans and conservatives may not believe that the climate is changing for the worse, the U.S. military does.
The Pentagon, unsentimental and politically conservative, might not seem likely to be worried about climate change—still linked, for many people, with polar bears and coral reefs. Yet of all the major institutions in American society, none take climate change as seriously as the U.S. military. Both as participants in climate-triggered conflicts abroad, and as first responders to hurricanes and other disasters on American soil, the armed services are already confronting the impacts of global warming. The military now regards climate change as one of the top threats to American national security—and is busy developing strategies to cope with it while many do-nothings sit at their computers, denying it.
Drawing on previously obscure reports and government documents, renowned security expert Michael Klare shows that the U.S. military sees the climate threat as imperiling the country on several fronts at once. Droughts and food shortages are stoking conflicts in ethnically divided nations, with "climate refugees" producing worldwide havoc. Pandemics and other humanitarian disasters will increasingly require extensive military involvement. The melting Arctic is creating new seaways to defend. And rising seas threaten American cities and military bases themselves.
While others still debate the causes of global warming, the Pentagon is intensely focused on its effects. Its response makes it clear that where it counts, the immense impact of climate change is not in doubt.
Book may be ordered here.
---
The Mysterious Affair at Olivetti: IBM, the CIA, and the Cold War Conspiracy to Shut Down Production of the World's First Desktop Computer
by Meryle Secrest
(Knopf, Nov 2019)
The design and development of the first desktop computer by the world's most famous high-styled typewriter company, more than a decade before the arrival of the Osborne 1, the Apple 1, the first Intel microprocessor, and IBM's PC5150.
The human, business, design, engineering, cold war, and tech story of how the Olivetti company came to be, how it survived two world wars and brought a ravaged Italy back to life, how after it mastered the typewriter business with the famous "Olivetti touch," it entered the new, fierce electronics race; how its first desktop compter, the P101, came to be; how, within eighteen months, it had caught up with, and surpassed, IBM, the American giant that by then had become an arm of the American government, developing advanced weapon systems; Olivetti putting its own mainframe computer on the market with its desktop prototype, selling 40,000 units, including to NASA for its lunar landings. How Olivetti made inroads into the US market by taking control of Underwood of Hartford CT as an assembly plant for Olivetti's own typewriters and future miniaturized personal computers; how a week after Olivetti purchased Underwood, the US government filed an antitrust suit to try to stop it; how Adriano Olivetti, the legendary idealist, socialist, visionary, heir to the company founded by his father, built the company into a fantastical dynasty—factories, offices, satellite buildings spread over more than fifty acres—while on a train headed for Switzerland in 1960 for supposed meetings and then to Hartford, never arrived, dying suddenly of a heart attack at fifty-eight . . . how eighteen months later, his brilliant young engineer, who had assembled Olivetti's superb team of electronic engineers, was killed, as well, in a suspicious car crash, and how the Olivetti company and the P101 came to its insidious and shocking end.
And here you thought only Putin solved his problems using 'wet work.'
Book may be ordered here.
---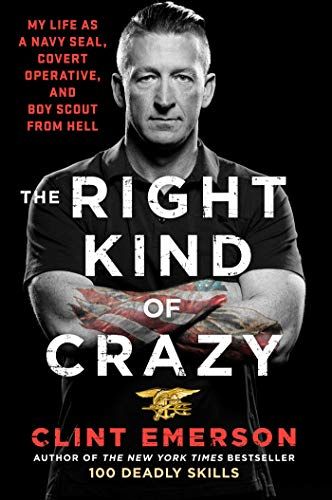 The Right Kind of Crazy: My Life as a Navy SEAL, Covert Operative, and Boy Scout from Hell
by Clint Emerson
(Atria Books, Nov 2019)
Emerson spent his career on the bleeding edge of intelligence and operations, often specializing in missions that took advantage of subterfuge, improvisation, the best in recon and surveillance tech to combat the changing global battlefield. MacGyvering everyday objects into working spyware was routine, and fellow SEALs referred to his activities simply as "special shit." His parameters were: find, fix, and finish—and of course, leave no trace.

He operated by only two codes: "if you aren't cheating, you aren't trying" and "it's only illegal if you get caught." This is unlike most military memoirs because Emerson is upfront about the fact that what makes you a great soldier and sometimes hero doesn't always make you the best guy—but it gets the job done quickly, effectively, and makes for damn good stories.
Book may be ordered here.
---
AFIO National Board Elections Continue...

CAST YOUR VOTE
FOR 2020-2023 MEMBERS OF
AFIO NATIONAL BOARD
Vote for Three of Four Candidates
If you wish, instead, to download a ballot, print, and mail it back, use this PDF.
Voting closes on 27 December 2019
---
Gifts appropriate for intelligence officers, colleagues, recruitments, agents, advisors, and family.
The AFIO Store has following new items ready for quick shipment:
NEW: LONG and Short-Sleeved Shirts with embroidered AFIO Logo and New Mugs with color-glazed permanent logo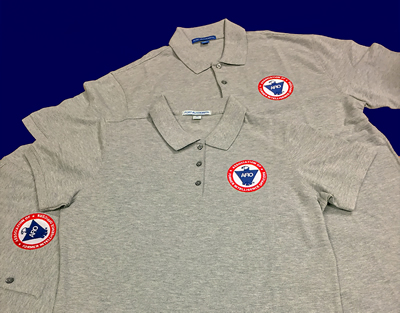 Show your support for AFIO with our new Polo Shirts. Be the first to buy these new, high quality, subtle heathered grey short sleeve shirts, and dark blue long sleeved shirts, of shrink and wrinkle resistant fine cotton with a soft yet substantial feel. They feature a detailed embroidered AFIO seal. Get a shirt for yourself and consider as gifts for colleagues, family, and friends. Only $45 each including shipping.
Sizes of (M) men or (W) women shirts; Small, Medium, Large, XL, XXL, and XXXL. At this time all orders will arrive as Short Sleeve shirts.
You may pay by check or credit card. Complete your order online here or mail an order along with payment to: AFIO, 7600 Leesburg Pike, Ste 470 East, Falls Church, VA 22043-2004. Phone orders at 703-790-0320.

If interested in other shirt colors or sleeve lengths, contact Annette at: annettej@afio.com.
---
NEW: Mug with color glazed logo. Made in America. (We left out all that lead-based glaze and hidden toxins in those mugs made in China being sold by other organizations). Also sturdy enough to sit on desk to hold pens, cards, paperclips, and candy.
This handsome large, heavy USA-made ceramic mug is dishwasher-safe with a glazed seal. $35 per mug includes shipping. Order this and other store items online here.
---
---
---
---
Section I - INTELLIGENCE HIGHLIGHTS

Space War Threats from China, Russia Getting New U.S. Assessment. The U.S. intelligence community is updating its assessment of space warfare capabilities of Russia and China as military commanders express concerns about advances in the adversaries' ability to jam, ram or destroy satellites in orbit.

Air Force Gen. John Hyten requested the National Intelligence Estimate before he left his prior command at the U.S. Strategic Command, and it "is being worked by the IC at this time," said Lt. Col. Christina Hoggatt, an Air Force spokeswoman. Hyten is now the U.S.'s No. 2 military officer.

The new U.S. Space Command will use the updated intelligence estimate "alongside current operations and critical information from our international, civil, and commercial partnerships, to identify and drive" future "training and acquisition requirements," Hoggatt said. [Read more: Capaccio/Bloomberg/11November2019]

Lithuania Vote Paves Way for Large Spy Swap with Russia. Lithuanian lawmakers adopted a bill Thursday that is paving the way for a spy swap with neighboring Russia.

The exchange could include a Norwegian citizen serving a 14-year sentence for espionage in a Russian jail.

Lithuania's parliament voted 76-2 to give the country's president the right to pardon a convict involved in a spy swap deal. [Read more: AP/11November2019]

German Intelligence Agencies Open New Spy School in Berlin. Germany's intelligence agencies are inaugurating a joint spy school in the heart of Berlin, a city that was dubbed the 'capital of spies' during the Cold War and remains a hotspot of espionage.

The heads of the foreign and domestic spy agencies on Tuesday officially opened the Center for Intelligence Service Training close to where the Berlin Wall once sliced the city in two.

Officials say agents will be taught how to fend off cyberattacks and foil terrorists. The new training center features workshops and chemistry labs.

The spy school is located at the new headquarters of the foreign intelligence agency BND, which was opened earlier this year and provides space for 4,000 staff. It was previously based in a sprawling Nazi-era complex outside Munich. [AP/12November2019]

Pakistan Chief of Spy Agency Visits Afghan Official in Kabul. An Afghan official says a Pakistani delegation is in Kabul to meet Afghan authorities amid increased tensions.

Monday's meeting is the first since the Pakistani Embassy closed its consular section in Kabul earlier this month, citing unspecified security concerns.

Afghanistan and Pakistan have an uneasy relationship. Kabul blames Islamabad for supporting the Taliban in the country's protracted war, a charge Pakistan denies.

The two countries also trade accusations that each side is firing across their shared border. Cross-border clashes killed three Afghan women last month. [Read more: AP/11November2019]

Austrian Army Colonel Charged with Spying for Russia. A retired colonel from the Austrian army is facing up to 10 years in prison on charges of passing on military secrets to Russia. The case has strained diplomatic ties between Vienna and Moscow.

Prosecutors in the Austrian city of Salzburg on Friday charged a 71-year-old former Austrian army colonel with having worked for Russia's military intelligence service for at least a quarter of a century. The case was uncovered a year ago.

The charges brought against the retired colonel included committing espionage to the detriment of Austria, betraying state secrets and the deliberate betrayal of military secrets, according to a statement from police and the prosecutor's office cited in the Kurier newspaper.

The man is accused of having provided comprehensive information on weapons systems and tasks of the army and air force, using radio, satellite communications and special software to transfer data to his handling officer at Russia's GRU intelligence agency. [Read more: Jones/DW/8November2019]



---
Section II - CONTEXT & PRECEDENCE

The Most Decorated Soldier in American History. As we look back on American military heroes for Veteran's Day, the list includes generals, West Point graduates and famous politicians. The most decorated veteran of all time, however, is a lawyer who went on to become the person widely considered the father of the Central Intelligence Agency.

In his recent book, "Hope and History: A Memoir of Tumultuous Times," famous 20th-century diplomat Ambassador William J. vanden Heuvel described in great detail his years as an aide to William J. "Wild Bill" Donovan. Over the course of the section on Donovan, he describes the military career of a man who is the only American to have won all four of the highest military honors: the Medal of Honor, the Distinguished Service Cross, the Distinguished Service Medal and the National Security Medal.

Donovan's early life had nothing to do with the military or military intelligence. He was born in Buffalo in 1883. He eventually became a college football star, went to Columbia Law School and entered private practice. [Read more: McIntyre/247wallst/11November2019]

In Cold War Berlin, the Americans had a Tunnel, but the Soviets had a Mole. This book is really two separate stories. One is about a tunnel, the other about a traitor; one embodies ingenuity, the other evil. But they intersect in Berlin during the depths of the Cold War, when the West was petrified that the Soviets would stage an unprovoked and undetected assault. Steve Vogel quotes CIA chief Allen Dulles warning President Dwight Eisenhower in 1953, "The Russians could launch an atomic attack on the United States tomorrow."

That fear of annihilation motivated the United States and Britain to dig a tunnel from the American sector of Berlin into the Soviet sector, where the allies could tap into key telephone lines that ran close to the border and overhear the plans of Russian military and intelligence officers. Richard Helms, later the CIA director, called it "the most elaborate and costly secret operation ever undertaken within Soviet-occupied territory." Costly and risky, but the stakes were enormous. As Vogel writes, "The Berlin tunnel was born of...desperation."

The Soviets were equally desperate. Their goal was to counteract Western power and pressure, and they had a secret weapon - not a missile but a man, a highly placed British intelligence officer named George Blake who had turned against his country years before and was assigned to take minutes at a top-secret meeting that outlined the tunnel project. He gave his Soviet handlers a copy of those minutes and a "simple sketch" of the tunnel's route.

Here is the supreme irony at the core of this tale: The Russians heard about the tunnel before it began, yet did nothing to stop it. [Read more: Roberts/WashingtonPost/8November2019]

A Critical Intelligence Failure Ruined Hitler's Best Chance At Winning World War II. Key point: A meeting in Iran almost change world history.

In German it was called Operation Rösselsprung, which translates to "Long Jump." Its goal was to kill or kidnap the Allies' "Big Three" leaders - Soviet Premier Josef Stalin, British Prime Minister Winston S. Churchill, and American President Franklin D. Roosevelt - when they met in Tehran, Iran, in November 1943. That the plan did not succeed is attributable to smart intelligence work, a drunken disclosure, and a bit of good luck.

Perhaps no operation was more audacious or had greater consequences to the war's outcome if it had succeeded than Long Jump. Former Soviet Lieutenant General and KGB intelligence officer Vadim Kirpichenko said, "The first secret report that this act was being planned came from Soviet intelligence officer Nikolai Kuznetsov, who learnt about it during a conversation with SS-Sturmbannführer Ulrich von Ortel. Ortel was the chief of the sabotage group in Copenhagen, which was preparing the operation. While drunk, the senior German counterintelligence officer blurted out that preparations were underway to assassinate the Big Three. Later the Soviet Union and Britain discovered other facts confirming that preparations had been made to assassinate Stalin, Churchill, and Roosevelt." [Read more: WarfareHistoryNetwork/9November2019]

Anthony Blunt: The True Story of the Queen's Art Adviser and a Soviet Spy Featured in The Crown. Netflix's The Crown is set to delve into the murky tale of a Soviet spy working within the walls of Buckingham Palace.

Anthony Blunt was once part of the infamous Cambridge Five spy ring - and admitted as much - but how did he come to be Queen Elizabeth II's art advisor?

Despite confessing to being a mole, deep inside British intelligence his secret was kept closely guarded for decades before a certain prime minister ended the 15-year cover up.

How did Anthony Blunt become a spy? [Read more: Alibhai/iNews/11November2019]

Vietnam Veteran: 'Take Better Care of our Veterans.' Retired United States Army Col. Richard "Dick" Moore on Monday said it had been more than 50 years since he last stood at a podium on the University of Lynchburg's campus.

"A lot has changed since then," said Moore, a 1963 graduate of Lynchburg College. "But a lot also has remained the same."

Since his graduation in 1963, Moore served two combat tours in Vietnam - one with the 101st Airborne Division and another with the 23rd Infantry Division - and served 31 years in all three of the major U.S. intelligence agencies - the National Security Agency, Defense Intelligence Agency and Central Intelligence Agency.

"I've traveled a long road between then and now," Moore said. [Read more: Keith/NewsAdvance/11November2019]

The Ruthless 16th-Century Spy Network That Kept Queen Elizabeth I Safe. In late 16th-century England, Queen Elizabeth was a Protestant royal who faced perpetual threats to her life and reign. Real enemies and exaggerated fears led to paranoia - and the royal court responded with a secret war.

In what would become England's first great brush with espionage, spies and even kidnappers were deployed to keep the queen safe.

The threats facing late Tudor England came from both home and abroad. Decades of hostility between Spain and England were exacerbated by England's provocative policy of letting privateers raid Spanish treasure fleets. As the Spanish King Philip II lost patience with his piratical neighbors, the English rightly feared invasion. In 1588, Spain dispatched a 130-ship naval fleet as part of a planned invasion of England. The Spanish Armada ultimately failed, but it fueled paranoia about Spanish intrusions.

Within England, meanwhile, Mary Queen of Scots, a rival for Elizabeth's throne, was living under house arrest. Some Catholics hoped to overthrow Elizabeth and replace her with Mary. Catholic priests such as Edmund Campion were smuggled into England, where they preached to secret congregations. To some, they were upholders of true faith. To Elizabeth, they were secret agents stirring up treason. [Read more: Knighton/History/6November2019]

How Codebreakers Helped Secure U.S. Victory in the Battle of Midway. In May 1942, U.S. and Australian naval and air forces were facing off against the Imperial Japanese Navy in the Battle of the Coral Sea in the South Pacific. But in a windowless basement at Pearl Harbor, a group of U.S. Navy codebreakers had intercepted Japanese radio messages suggesting Japan was planning an entirely different - and potentially far more damaging - operation in the Pacific theater.

Led by Lieutenant Commander Joseph Rochefort, the team of cryptanalysts and linguists made up the U.S. Navy's Combat Intelligence Unit (better known as Station Hypo). By April 1942, they had gotten so good at breaking Japan's main operational code, which they dubbed JN-25b, that they were able to intercept, decrypt and translate parts of Japan's radio messages within hours of when they were sent.

The radio traffic they intercepted that May suggested that Admiral Isoroku Yamamoto, the mastermind behind the Pearl Harbor attack, was preparing a major invasion, involving four Japanese aircraft carriers along with many other ships, at a location designated with the initials "AF."

Station Hypo had little doubt as to what "AF" referred to: the U.S. naval and air base on Midway Atoll, two tiny islands located in the central Pacific, around 1,200 miles northwest of Pearl Harbor. Back in March, a Japanese plane reporting weather conditions near the islands had also mentioned "AF," suggesting strongly that the designator referred to Midway.

But not everyone was convinced the codebreakers were right. [Read more: Pruitt/History/7November2019]


---
Russia's Suspected Internet Cable Spy Ship Appears Off Americas. A controversial suspected spy ship has arrived in the Americas, open source intelligence indicates. According to position tracking data, the Russian Navy's Yantar left her home port about a month ago, and has not been visible on open sources until suddenly appearing in the Caribbean on Friday. That she appeared on ship trackers so suddenly is unusual.

She has gained attention in the past for hovering in the vicinity of the undersea cables which connect the world. Called Submarine Communications Cables (SCC), these crisscross the world's oceans carrying Internet traffic and military communications.

Yantar is a ship of particular interest among Western Navies. According to naval officers familiar with the situation, she is suspected of being involved in placing listening devices on undersea communications.

Yantar stands out because she is specially equipped for these types of mission, with at least three separate systems for conducting seabed warfare. [Read more: Sutton/Forbes/10November2019]

Two Years In, How Has a New Strategy Changed Cyber Operations? By 2013 U.S. networks were already were under constant attack from sophisticated nation-state actors. Hackers stole millions of sensitive records from the Office of Personnel Management, gained access to White House networks and destroyed dozens of computers at Sony Pictures from thousands of miles away.

But the Department of Defense's own cyber teams couldn't hit back or work on enemy networks abroad because, officials said, the rules for such operations were incredibly stringent. In fact, one U.S. senator said DoD didn't conduct an offensive operation for five years. That's not to say the United States sat idly by in cyberspace - experts pointed to covert strikes and intrusions - but it does mean the Pentagon rarely or never used cyber operations as an overt response or to flex its power.

That was then. [Read more: Pomerleau/FifthDomain/11November2019]

Twitter Employee Surveillance For Saudi Arabia Raises Questions About Company's Cybersecurity And Governance. On November 5, the U.S. Justice Department filed a criminal complaint against two former Twitter employees and an accomplice, alleging that they had violated 18 U.S.C. § 951 by acting as agents of a foreign government without notifying the U.S. Attorney General. The complaint alleges that the former employees, Ali Alzabarah and Ahmad Abouammo, acted at the direction of the Saudi government. Their intermediary, Ahmed Almutairi, is a Saudi citizen who came to the U.S. on a student visa and resided in the U.S. from August 2014 to May 2015. He controls a social media company in Saudi Arabia that performs work for the Saudi Royal Family, including "Royal Family Member-1, presumed to be Crown Prince Mohammad Bin Salman.

Alzabarah, a citizen of Saudi Arabia, received a computer science degree in the U.S. and worked for Twitter as a site reliability engineer from around August 2013 to December 2015. Abouammo, a U.S. citizen, was a media partnership manager responsible for the Middle East and North Africa regions for Twitter. The Complaint states that both employees had access to proprietary and confidential Twitter information about Twitter users, including email addresses, birthdates, phone numbers, and Internet protocol (IP) addresses. [Read more: Westby/Forbes/12November2019]


---
Section IV - Obituaries, Jobs, Research Request
Jim Child, Renown NSA Linguist
James Robert Child, 94, a Renown NSA Linguist, died 29 October 2019.
Born in Troy, NY, Jim immediately displayed an astonishing ability in linguistics, which strongly guided the direction of his life. His early acquisition of Chippewa words and phrases (at age 5) during a family vacation in Canada prefaced a longtime fascination with and career in linguistics. He studied German, Russian, Latin, and Greek while at Kent School in Connecticut. After graduating, Jim served in the US Army with the 3rd Infantry Division in Europe from 1944 to 1946, working as an Army interpreter in Germany after the war ended. He graduated from Princeton in 1949 with a major in German language and literature and a minor in Russian language. He subsequently earned a Master's at the University of Pennsylvania before leaving academia for government service.
Jim worked many years for the NSA specializing in theoretical and applied linguistics. He retired in 2001 with 48 years of federal service. He taught reading and grammar, in Bulgarian, Czech, Indonesian, Portuguese, Turkish, German, and Russian. Later in his career, he helped to develop instruments for government communities that measured language learning performance, and standardized methods for translators. During his career, he worked in some 27 different languages. His passion for linguistics meant many hours at his desk at home as well as work, poring over both modern and ancient manuscripts. He spent decades, in particular, analyzing and translating a 15th century handwritten and illustrated codex known as the Voynich manuscript, working with a colleague into his 90s to create and update a website. While teaching a course in Indonesian, he became acquainted with his future wife, Margaret. They shared a profound love of literature and a mutual dedication to their careers in teaching and government service.
They had three children, and Jim was a devoted husband. At home Jim could often be found reciting poetry, in English or some foreign tongue, while washing the dishes or mowing the lawn. His children fondly remember him reading bedtime stories aloud, brilliantly bringing many classic characters to life. They also share fond memories of outdoor adventures with their father: learning to play softball, throw a football, and ride bikes. Always an avid sports fan, Jim was thrilled that the Nationals were in the World Series this October. He was a member of the Phoenix Society
As a man of deep faith, Jim was devoted to the Episcopal church and his faith community at All Souls Episcopal Church in Washington DC. He had a rich spiritual and social life, due to his devotion to study, even temperament, and sincere interest in the lives and well-being of others. He continued to make diverse and new friendships throughout the course of his life.
He is survived by his wife Margaret, a sister, two daughters and other family. Expressions of sympathy may be sent to: 2853 Ontario Rd NW Apt 101, Washington, DC 20009.

John Pierucki, NSA Cryptographer
Ervin John Pierucki, Capt USN (Ret), 95, an NSA cryptographer, died 30 September 2019. John enlisted in the Navy in 1942 at age 18 and was initially assigned to a minesweeper in the Atlantic. Upon completion of a bachelor's degree in Naval Science and commissioning as Ensign, he completed two more shipboard assignments as Navigator and Communications Officer. After Russian language submersion training in Washington. DC from 1948 to 1949, he served in various Naval Security Group HQ and field assignments decrypting and translating Russian naval and air communications. His cryptologic background and Russian language expertise then led him to complete various cryptologic tours of duty at National Security Agency HQ, Ft. Meade, MD as well as at number of overseas field sites. John completed the SERE (survival, escape, resistance, & evasion) course in San Diego prior to beginning a sensitive assignment in Vietnam as the U.S. Defense Department Special Representative under Gen. Abrams. In 1970, John was awarded the Legion of Merit by the U.S. President for his exemplary performance, leadership, and technical support to further U.S. military objectives in the Republic of Vietnam.
After his naval service, John retired to Albuquerque, NM. He was a member of multiple Rotary clubs, most recently Rotary Club of Albuquerque Del Norte, where he was involved in the Club's and in Rotary International's (RI) philanthropic work. c programs worldwide, such as the eradication of polio, disaster relief, and illiteracy.
He is survived by a daughter, a son, a sister, and other family.

Jim Ryba, Senior NSA Official, former Chairman Phoenix Society
James Alden Ryba, 74, Senior NSA Official, former Chairman Phoenix Society, died 3 November 2019 of complications from Corticobasal Degeneration, a rare neurodegenerative disorder.
Jim spent his early years in Euclid, OH. Later, the family moved to Lake Lucerne, in Chagrin Falls, OH. He attended Muskingum College and upon graduation accepted an entry-level position with the National Security Agency and moved to the Washington DC area. Jim's career with the NSA spanned nearly four decades and entailed tours of duty in England and Hawaii, a rise to the ranks of the Senior Executive Service, and the receipt of multiple awards for service, including both the Meritorious Civilian Service Award in 1989 and the Exceptional Civilian Service Award in 2001. He retired in 2001 and happily spent many of his post-retirement days on the golf course. Aside from golfing, he loved spending time with lifelong friends, traveling the world with Barb, and solving the computer problems of anyone in need.
He enjoyed photography. He is survived by his wife of 52 years, Barbara, two daughters, and other family.
Expressions of sympathy may be sent to his family at: 10351 Sawmill Parkway Apt #152, Powell, OH 43065

---
Homeland Security Position with E3 Sentinel
E3 Sentinel based in DC-area has unique opportunity for someone with strong communications and/or consulting skills and an interest in the homeland security space. The person who ends up in this role will be working directly with some senior federal clients to help design and implement a communications strategy for their agency. If interested in learning more, contact Rosanna Minchew at rminchew@e3sentinel.com. More about E3 Sentinel is available here.
FireEye Has Many Intelligence Positions Available For You - Worldwide - Contract, Full-time, Part-time, Interns
Explore the many career and contractor intelligence jobs available here. Jobs openings in Cyber Security include - Advisory, Architecture, Digital Forensics & Incident Response, Penetration Testing, Threat Research. They positions are needed here: New York, Chicago, Manila, Reston, Dallas, Atlanta, Suitland, Singapore, Denver, Las Vegas, Phoenix, Doha, Stockholm, London, Milpitas, multiple cities in Australia, Washington, Indianapolis, Tampa, Santiago, Alexandria, Seattle, Carlsbad, Houston, San Francisco, Arlington, Dubai, Amsterdam, Ft Belvoir, Minneapolis, Mexico City, San Diego, Boston, El Segundo, Philadelphia, San Antonio, Chiyoda, Ft Huachuca, Ft Gordon, Ft Meade, Ft Shafter, Kuwait City, Seoul, Sttutgart, Salt Lake City, Austin, Dublin, Bangalore, Cork, Colorado Springs... Explore the many career and contractor intelligence jobs available here.
Faculty Opportunities: Cybersecurity faculty, professionals, and Master's or PHD Graduates can find jobs for CAE designated institutions through the listings below. Listings are by University with the most recent at the top.
Searching for U.S. Expert on Syrian Military Intelligence between 1977-82 for fee-based advice
Dear AFIO Members - I am a lawyer working in Montreal, Quebec, Canada. I work in the area of immigration and refugee law, and am working on the case of an older Syrian man who is trying to be admitted to Canada.
I am looking to obtain written (paid) expertise (3-5 pages) on various subjects with respect to the Syrian Military Intelligence ('SMI'), between 1977 and 1982.
We are wondering if you or a colleague to whom you can refer this request, would be able to provide answers to a series of questions? We are willing to compensate this expert (or multiple experts). Please provide, in advance, what your fee would be.

If you would rather speak on the phone, please let me know.

Please reply to: Peter Shams, Avocat • Lawyer, peter@hadekelshams.ca or call him at (Voice) 514.439.0800; (Fax) 514.439.0798. Address:
Hadekel Shams s.e.n.c.r.l./LLP, 305, rue Bellechasse est, bureau 400A, Montréal (Québec) H2S 1W9, Canada.

---
AFIO EDUCATIONAL EVENTS IN COMING TWO MONTHS....
Wednesday, 13 November 2019, 1130 - Albuquerque, NM - AFIO New Mexico Chapter hears Tom Dyble on "Part II -- Chaos in Cairo - Arab Spring in Egypt"
Speaker Tom Dyble will provide Part 2 of his presentation on "Chaos in Cairo: Arab Spring in Egypt" based on David D. Kirkpatrick's book "Into the Hands of the Soldiers: Freedom and Chaos in Egypt and the Middle East".
Location of event: "Sunnyside Up Cafe" formerly the "The Egg & I" restaurant on Menaul just east of Louisiana, next door to Chili's.
6909 Menaul Boulevard Northeast, Albuquerque, NM 87110, (505) 888-3447
Fee to attend: Meeting is Free.
11:00 AM (Arrive, Order Lunch - available at separate cost), 11:30 AM (Call To Order), 1:00 PM (Adjourn)
Our meetings are normally open to present and former members of Federal, Military (uniformed and civilian), State and Local Agencies and selective others who support the Intelligence Community.
If you desire further information, please contact one of the following:
Sam Shaw - Phone: 505-379-3963 e-mail: President@afionm.org
Tom Dyble - Phone: 505-299-3242 e-mail: Vice-President@afionm.org
Wednesday, 13 November 2019, 11:30 a.m. no-host cocktails; 12 noon - San Francisco, CA - The "Andre Le Gallo" San Francisco Chapter hosts Dr. Matthew Brazil on Beijing's Spy Apparatus
Dr. Matthew Brazil, a non-resident Fellow at The Jamestown Foundation, worked in Asia for over 20 years as a U.S. Army officer, American diplomat, and corporate security manager. He is the co-author of Chinese Communist Espionage: An Intelligence Primer (Annapolis: Naval Institute Press, Nov 2019)
Hitherto, almost all writings about Beijing's espionage and influence operations have focused on individual cases that shed little light on the actual nature of their organs of state security. Dr. Brazil will speak about how he and his co-author researched original sources in Chinese and unearthed new insights into Beijing's most secret operations at home and abroad.

RSVP: Your registration via Eventbrite may be quickly completed here.
Thursday, 21 November 2019, 11:30 a.m. - Colorado Springs, CO - The AFIO Rocky Mountain Chapter hosts Edin Mujkic, discussing "The Balkans: A Joker in Putin's Sleeve"
Synopsis: This presentation by Edin Mujkic discusses Russian interference in Balkan politics, the American and European role in the Balkans, as well as the potential for escalation of the situation toward violence. From interference in the United States domestic politics to support of some of the most brutal regimes in the world, Russia is again the focus of attention. Whether it is media attention, or attention of intelligence and national security professionals, there is a consensus that Vladimir Putin is engaged in a campaign of undermining the post-World War II international theater and generally the Western democracies. While attention where Putin's next move will be, is usually focused on the Baltics or the Middle East, the situation in the Balkans is not generating much attention. The Balkans, always on the periphery of European politics, until it explodes, is fertile ground for Vladimir Putin to exploit its weaknesses and complicate European and world affairs. The political quagmire in Bosnia and Herzegovina that does not have a government since elections in the Fall of 2018, relations between Serbia and Kosovo, the role of Croatia, a NATO member, in internal affairs of Bosnia and Herzegovina, are not only exploited, but directly influenced by Moscow.
Biography: Edin Mujkic is an Assistant Professor in the School of Public Affairs for University of Colorado Colorado Springs. He is also a UCCS Daniels Fund Ethics Initiative Faculty Fellow for 2017-2018. Edin received his BA from Auburn University Montgomery, majored in Political Science, with a minor in Criminal Justice. Edin followed up his Bachelor's Degree with a Master's in International Relations (2008) and was a Prince Khalid bin Sultan fellow. Upon completing his Master's degree, Edin entered the Public Administration and Policy Ph.D. program at Auburn University graduating December 2012. While earning his PhD, Edin furthered his education studying Strategic Leadership and National Security at Air War College, Maxwell Air Force Base, AL. Edin is continuing his research focusing on national security, defense, homeland security and U.S. foreign policy.
For more information, please contact: steve13507@gmail.com.
Wednesday 4 December 2019, 5:30 p.m. - New York, NY - AFIO NY Metro Chapter hosts CIA Officer (Ret) Dr. John A. Gentry discussing "IC Political Activism since 2016 -- Origins and Implications."
Partisan political activism by current and former intelligence officers since mid-2016 is the largest and most significant politicization of intelligence by intelligence officers in U.S. history. This presentation will explore the causes and the wholly negative consequences of this new form of politicization for the IC and the country.

Dr. John A. Gentry was for 12 years an intelligence analyst at the CIA, where he worked mainly economic issues associated with the Soviet Union and Warsaw Pact countries; for two of those years he was senior analyst on the staff of the National Intelligence Officer for Warning. He is a retired U.S. Army Reserve officer, with most assignments in special operations and intelligence arenas. On active duty, he was executive officer of a special forces operational detachment. As a reservist, he was mobilized and spent much of 1996 as a civil affairs officer in Bosnia. Dr. Gentry also is an adjunct associate professor with the School of International and Public Affairs, Columbia University. He formerly taught at the College of International Security Affairs, National Defense University, at the National Intelligence University, and at George Mason University. His research interests primarily are in intelligence and security studies. He publishes frequently in Intelligence and National Security and International Journal of Intelligence and CounterIntelligence. Georgetown University Press published his co-authored book, Strategic Warning Intelligence: History, Challenges and Prospects, in early 2019. He is a member of the Editorial Committee of the International Journal of Intelligence and CounterIntelligence. He is adjunct professor at Georgetown University.
Location: Society of Illustrators, 128 E 63rd St (between Park and Lexington), New York, NY 10065.
Timing: Registration starts at 5:30 pm, Speaker presentation starts at 6 pm. Fee: $50/person. Payment at the door only. Cash or check. Full dinner, cash bar.
RSVP: Strongly recommended that you RSVP to ensure space at event. Call or Email Chapter President Jerry Goodwin at afiometro@gmail.com or 646-717-3776.
Thursday, 5 December 2019, 12:30 - 2 pm - Los Angeles, CA - AFIO Los Angeles Chapter meeting features Dr John Gans discussing "White House Warriors: How the NSC Transformed the American Way of War."
Dr. John Gans will be the guest speaker for the Los Angeles Chapter of AFIO and discuss key topics of his newly published book White House Warriors: How the National Security Council Transformed the American Way of War, which covers the people and power of the National Security Council staff.
Gans is Perry World House's Director of Communications and Research. In addition to leading Perry World House's Graduate Associates program, he teaches Penn undergraduate and graduate students. Prior to joining Perry World House, he was the chief speechwriter to Secretary of Defense Ash Carter at the Pentagon. In addition to leading the writing team at the Defense Department, Gans served as senior speechwriter for Defense Secretary Chuck Hagel and Secretary of the Treasury Jack Lew.
In 2019, Gans published White House Warriors: How the National Security Council Transformed the American Way of War, which the Wall Street Journal said was a "bottom-up history," The New Republic called "enlightening," and Lawfare concluded it was "rollicking and compellingly told." Gans earned his Ph.D. from Johns Hopkins University's School of Advanced International Studies.
We look forward to your attendance. Please mark your calendar and your spouse or other guests are welcomed.
Event Location: 5651 W Manchester Ave, Los Angeles, CA 90045. Map or Directions here.
Full refreshments served
RSVP: afio_LA@yahoo.com
Questions to Vincent Autiero, President, AFIO-Los Angeles Chapter, at afio_LA@yahoo.com.
Monday, 10 February 2020, 5:30 p.m. - New York, NY - AFIO NY Metro Chapter hosts CIA Officer (Ret) and Author/Disguise Expert Jonna Mendez
Jonna Mendez (Spy Dust: Two Masters of Disguise Reveal the Tools and Operations That Helped Win the Cold War), share (with late husband Tony Mendez) their experiences as spies in Moscow during the height of the Cold War in the mid-1980s. The authors begin with the initial list of "the Moscow Rules" and continue to discuss briefly the current state of affairs in Russia under Vladimir Putin, and how they interfered with the 2016 U.S. election. Additional details to follow in coming months.
Location: Society of Illustrators, 128 E 63rd St (between Park and Lexington), New York, NY 10065.
Timing: Registration starts at 5:30 pm, Speaker presentation starts at 6 pm. Fee: $50/person. Payment at the door only. Cash or check. Full dinner, cash bar.
RSVP: Strongly recommended that you RSVP to ensure space at event. Call or Email Chapter President Jerry Goodwin at afiometro@gmail.com or 646-717-3776.
---
Other Upcoming Events from Advertisers, Corporate Sponsors, and Others
Wednesday, 13 November 2019, 6:30 pm - Washington, DC - "Agents of Influence" by Henry Hemming at the International Spy Museum
When we talk about outside influence and "fake news" tactics in today's politics, it's surprising to be reminded that foreign intervention in American policy is hardly new. As World War II raged into its second year, Britain sought a powerful ally to join its cause—but the American public was sharply divided on the subject. Canadian-born MI6 officer William Stephenson, with his knowledge and influence in North America, was charged with changing US opinion by any means necessary. Join Henry Hemming, author of Agents of Influence: A British Campaign, a Canadian Spy, and the Secret Plot to Bring America into World War II, as he shares Stephenson's ingenious propaganda efforts from forging documents to thwarting the anti-war "America First" movement.
Agents of Influence will be available for sale and signing at the event.
Tickets: $10 | Members: FREE! Buy tickets here.
Tuesday, 19 November 2019, 1 - 5:30 p.m. reception to follow - Boston, MA - "Using Rapid DNA to Advance Justice" - conference at Boston University
This Boston University Event is sponsored by The Frederick S. Pardee School of Global Studies, the BU Police Department & the Metropolitan College of Applied Social Sciences
DNA has been used for criminal justice purposes since the 1980s but current DNA methods are slow and some labs are backlogged by years. The recent development of Rapid DNA has reduced processing time from months to minutes, increasing expediency and accuracy. Learn more about this cutting edge technology with transformational global implications.
Speakers include:
• Ed Davis, Former Boston Police Commissioner,
• John Boyd, Office of Biometric Identity Management, Department of Homeland Security,
• Richard Seiden, M.D., Ph.D., Founder & Chief Scientific Officer, ANDE Corp.
A panel of subject matter experts including:
• Prof. Robin Cotton, Ph.D., Director, Biomedical Forensic Science, BU School of Medicine.
The conference chair is Prof. John Woodward, J.D., Pardee School.

Event Location: Barrister's Hall, BU School of Law, 765 Commonwealth Ave., Boston, MA
There is no conference fee but you must RSVP to: Ms. Madison Sargeant msrgnt@bu.edu
21-22 November 2019 - Phoenix, AZ - CAE in Cyber Security Annual Symposium
The CAE in Cyber Security Symposium is right around the corner! CAE is Centers of Academic Excellence. If your institution belongs to the CAE-CD, CAE-2Y, CAE-R, or CAE-CO Program, you are eligible to participate. Details to follow several months from now.
Direct your questions to info@caecommunity.org. What are CAEs? More information here.
Upcoming CAE events and the Cyber Security Symposium.
Tuesday, 26 November 2019, 7 - 8:45 pm - McLean, VA - How Terrorist Groups End - Dr Christopher Harmon at the Westminster Institute
Dr. Christopher C. Harmon is the Donald Bren Chair of Great Power Competition at Marine Corps University, where he teaches at schools such as Command and Staff College and the School of Advanced Warfighting.
Some terrorist campaigns are short; some last for decades. Most terrorist campaigns do end....but how? The answers not only reveal much about a given terrorist group, they also aid us in identifying good strategies for countering such political violence. Dr. Harmon's work -- from a 2004 think tank report to lectures at the National Counter-Terrorism Center and Interpol headquarters -- has focused on five results: defeat of the terrorists by force; arrest or killing of the leader(s); terrorism's turn up a pacific political path; defeat via good grand strategy including law enforcement; and terrorist success. His lecture will address a dozen important modern groups of varied ideologies and will include Al Qaeda and ISIS.
Long ago stirred by the question of this evening's topic, Dr. Harmon created a rubric and concept of analysis, articulated in many publications from 2004 through 2010, including a book chapter for Cambridge University Press in early 2006. He is lead author or editor of six books, including A Citizen's Guide to Terrorism & Counterterrorism, Toward A Grand Strategy Against Terrorism, and The Terrorist Argument. The latter book's thesis was presented at a Westminster Institute lecture in December, 2017 (https://www.youtube.com/watch?v=0q8U7T1vJcw).
Harmon's most recent essays are in Combating Terrorism Exchange, the geopolitical journal Orbis, and Oxford Bibliographies.
Dr. Harmon wrote his political science dissertation on terrorism in the early 1980s at the Claremont Graduate School in California, where he had also earned his M.A. He continued that work as Legislative Aide for Foreign Policy to a member of Congress and, much later, director of counterterrorism studies programs in Asia and Europe for the U.S. government. A professor at civilian and military graduate schools, including the Naval War College, Dr. Harmon has also taught courses at The Institute of World Politics on terrorism and on counterterrorism.

No fee. Register Now
Reception at 7:00 pm; Dr Harmon at 7:30.
Where: The American Legion, 1355 Balls Hill Rd, McLean, VA
Questions: Contact Robert R. Reilly, Director, The Westminster Institute, 703-288-2885 or at br@westminster-institute.org

---
Gift Suggestions:
AFIO's 788-page Guide to the Study of Intelligence. Peter C. Oleson, Editor, also makes a good gift. View authors and table of contents here.

Perfect for professors, students, those considering careers in intelligence, and current/former officers seeking to see what changes are taking place across a wide spectrum of intelligence disciplines. AFIO's Guide to the Study of Intelligence helps instructors teach about the large variety of subjects that make up the field of intelligence. This includes secondary school teachers of American History, Civics, or current events and undergraduate and graduate professors of History, Political Science, International Relations, Security Studies, and related topics, especially those with no or limited professional experience in the field. Even those who are former practitioners are likely to have only a limited knowledge of the very broad field of intelligence, as most spend their careers in one or two agencies at most and may have focused only on collection or analysis of intelligence or support to those activities.
For a printed, bound copy, it is $95 which includes Fedex shipping to a CONUS (US-based) address.
To order for shipment to a US-based CONUS address, use this online form,

To order multiple copies or for purchases going to AK, HI, other US territories, or other countries call our office at 703-790-0320 or send email to afio@afio.com to hear of shipment fees.

Order the Guide from the AFIO's store at this link.

The Guide is also available directly from Amazon at this link.
AFIO's Intelligence Community Mousepads are a great looking addition to your desk...or as a gift for others.
Made in USA. Click image for larger view.
These 2017 mousepads have full color seals of all 18 members of the US Intelligence Community on this 8" round, slick surface, nonskid, rubber-backed mouse pad with a darker navy background, brighter, updated seals. Also used, by some, as swanky coasters. Price still only $20.00 for 2 pads [includes shipping to US address. Foreign shipments - we will contact you with quote.] Order MOUSEPADS here.
Disclaimers and Removal Instructions
Weekly Intelligence Notes (WINs) are commentaries on Intelligence and related national security matters, based on open media sources, selected, interpreted, edited and produced for non-profit educational uses by members and WIN subscribers.
REMOVAL INSTRUCTIONS: We do not wish to add clutter to inboxes. To discontinue receiving the WINs:
a) IF YOU ARE A MEMBER - click here: UNSUBSCRIBE and supply your full name and email address where you receive the WINs. Click SEND, you will be removed from list. If this link doesn't open a blank email, create one on your own and send to afio@afio.com with the words: REMOVE FROM WINs as the subject, and provide your full name and email address where you are currently receiving them.
b) IF YOU ARE NOT A MEMBER, and you received this message, someone forwarded this newsletter to you [contrary to AFIO policies]. Forward to afio@afio.com the entire WIN or message you received and we will remove the sender from our membership and distribution lists. The problem will be solved for both of us.
CONTENTS of this WIN [HTML version recipients - Click title to jump to story or section, Click Article Title to return to Contents. This feature does not work for Plaintext Edition or for some AOL recipients]. If you wish to change to HTML format, let us know at afio@afio.com. The HTML feature also does not work for those who access their e-mail using web mail...however NON-HTML recipients may view the latest edition each week in HTML at this link: https://www.afio.com/pages/currentwin.htm
---
WINs are protected by copyright laws and intellectual property laws, and may not be reproduced or re-sent without specific permission from the Producer. Opinions expressed in the WINs are solely those of the editor's or author's listed with each article. AFIO Members Support the AFIO Mission - sponsor new members! CHECK THE AFIO WEBSITE at www.afio.com for back issues of the WINs, information about AFIO, conference agenda and registrations materials, and membership applications and much more!
(c) 2000, 2012, 2013, 2014, 2015, 2016, 2017, 2018, 2019. AFIO, 7600 Leesburg Pike, Suite 470 East, Falls Church, VA 22043-2004. Voice: (703) 790-0320; Fax: (703) 991-1278; Email: afio@afio.com
---
About AFIO | Membership Renewal | Change of Address | Upcoming Events | Chapter Locations | Corporate/Institutional Memberships | Careers in Intelligence Booklet | Guide to the Study of Intelligence | Intelligencer Journal | Weekly Intelligence Notes | To Make A Donation | AFIO Store | Member-Only Section | Code of Ethics | Home Page
---