---
CONTENTS
Section I - INTELLIGENCE HIGHLIGHTS
Section II - CONTEXT & PRECEDENCE
Section IV - Obituaries, Jobs
Other Upcoming Events from Advertisers, Corporate Sponsors, and Others
For Additional AFIO and other Events two+ months or more... Calendar of Events

WIN CREDITS FOR THIS ISSUE: The WIN editors thank the following special contributors: rsy, ec, po, pj, mh, km, gh, mk, rd, fm, kc, jm, mr, jg, th, ed, and fwr. They have contributed one or more stories used in this issue.

The WIN editors attempt to include a wide range of articles and commentary in the Weekly Notes to inform and educate our readers. However, the views expressed in the articles are purely those of the authors, and in no way reflect support or endorsement from the WIN editors or the AFIO officers and staff. We welcome comments from the WIN readers on any and all articles and commentary.

CAVEATS: IMPORTANT: AFIO does not "vet" or endorse research inquiries, career announcements, or job offers. Reasonable-sounding inquiries and career offerings are published as a service to our members, and for researchers, educators, and subscribers. You are urged to exercise your usual caution and good judgment when responding, and should verify the source independently before supplying any resume, career data, or personal information.]
If you are having difficulties with the links or viewing this newsletter when it arrives by email, members may view the latest edition each week at this link.

---

Guide to the Study of Intelligence and When Intelligence Made a Difference

"AFIO's Guide to the Study of Intelligence" has sold out in hard-copy.
However, it is available in digital form in its entirety on the AFIO website here.

Also available on the website here are the individual articles of AFIO's history project "When Intelligence Made a Difference" that have been published to date in The Intelligencer journal. More articles will be forthcoming in future editions.

---

AFIO National Board Elections Continue...

CAST YOUR VOTE
FOR 2020-2023 MEMBERS OF
AFIO NATIONAL BOARD

Vote for Three of Four Candidates

If you wish, instead, to download a ballot, print, and mail it back, use this PDF.

Voting closes on 27 December 2019

---
---
** There will be no Weekly Intelligence Notes next week, 10 December 2019. **

We will resume on 17 December 2019.

---
'Tis the season of gift-giving and AFIO has NEW GIFT ITEMS certain to please the most difficult recipients...
Long-Sleeved Shirts and Hooded Sweatshirts with embroidered AFIO Logo
Show your support for AFIO with our new long-sleeved Polo Shirts and Hooded Sweatshirts.
Both items are high quality and shrink resistant and feature a detailed embroidered AFIO seal. The color of the long-sleeved Polo Shirts is royal blue; the price is $55 and includes shipping.
The Hooded Sweatshirts are dark grey; price is $70 and includes shipping.
Purchase a shirt and sweatshirt for yourself and consider as gifts for colleagues, family, and friends.

Both items are available in men's sizes: Small, Medium, Large, XL, XXL, and XXXL. The long-sleeved Polo Shirts and Hooded Sweatshirts are not available in ladies' sizes.

You may pay by check or credit card. Complete your order online here or mail an order along with payment to: AFIO, 7600 Leesburg Pike, Ste 470 East, Falls Church, VA 22043-2004. Phone orders at 703-790-0320.
PAGE DOWN TO BOTTOM OF THE NOTES TO SEE MORE AFIO GIFTS. All of these items are appropriate for intelligence officers, colleagues, recruitments, agents, advisors, and family.
---
Newly Released and Forthcoming Books of the Week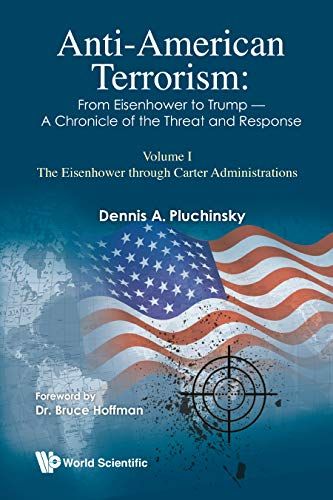 Anti-American Terrorism: From Eisenhower to Trump - A Chronicle of the Threat and Response:
Volume I - The Eisenhower through Carter Administrations
Volume II - The Reagan and George H W Bush Administrations
by Dennis A. Pluchinsky
(World Scientific Publishing Europe Ltd, Jan 2020)
"America's involvement in counterterrorism did not start with 9/11, and its earlier history is rich in lessons for how to deal with the issue of terrorism today. Dennis Pluchinsky's long attention to the topic makes him well qualified to guide us through that long and often painful story." — Paul R Pillar, former chief of analysis and deputy chief of CIA's Counterterrorism Center, author of Terrorism and US Foreign Policy
"Dennis Pluchinsky has produced in Volumes I and II of his four-volume study, an extraordinarily detailed and authoritative assessment of US counterterrorism policies and programs from the administration of President Eisenhower to that of President George H W Bush. No one to my knowledge has prepared for the US public such a comprehensive assessment of US counterterrorism activities as Mr Pluchinsky. As a senior CIA officer who held key positions within the Agency and the Intelligence Community during several major terrorist crises, I can attest that he has captured well the 'highs and lows' of US counterterrorism programs, especially as these administrations struggled primarily with state-sponsored terrorism. Mr Pluchinsky has a critical eye that is not sparing when it comes to evaluating the effectiveness of counterterrorism efforts across various administrations." — Charles E Allen, former National Intelligence Officer for Counterterrorism and Deputy Chief for Intelligence CIA Counterterrorism Center, and Former Under Secretary of Homeland Security for Intelligence and Analysis
"Dennis Pluchinsky has undertaken a welcome and overdue challenge to trace the development of anti-American terrorism over the past 70 years. He has written a wonderful book tracing the growth of the threat and, importantly, the development of American policies to meet it. I worked with Mr Pluchinsky when I was Ambassador-At-Large for Counterterrorism in the Reagan administration, and can attest to his dedication and first-hand knowledge of all facets of both the threat and the American response as anti-American terrorism grew over the years. Future historians will find his book to be an essential tool in their study of this important subject." — Ambassador L Paul Bremer III Ambassador-At-Large for Counterterrorism, 1986-1989, Chairman, National Commission on Terrorism (1991)
Volume I may be ordered here. Volume II here.
---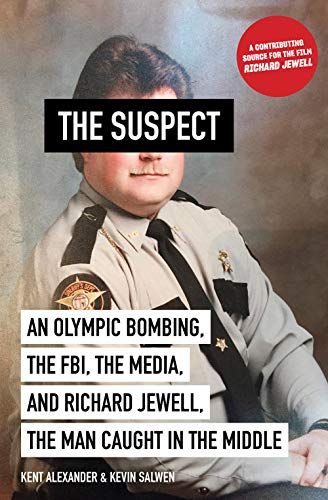 Suspect: An Olympic Bombing, the FBI, the Media, and Richard Jewell, the Man Caught in the Middle
by Kent Alexander and Kevin Salwen
(Harry N. Abrams, Nov 2019)
On 27 July 1996, a hapless former cop turned hypervigilant security guard named Richard Jewell spotted a suspicious bag in Atlanta's Centennial Olympic Park, the town square of the 1996 Summer Games. Inside was a bomb, the largest of its kind in FBI and ATF history. Minutes later, the bomb detonated amid a crowd of fifty thousand people. But thanks to Jewell, it only wounded 111 and killed two, not the untold scores who would have otherwise died. With the eyes of the world on Atlanta, the Games continued. But the pressure to find the bomber was intense. Within seventy-two hours, Jewell went from the hero to the FBI's main suspect. The FBI sought to squeeze Jewell by leaking his name as "person of interest" to the news media which then started a 24/7 news cycle to destroy him. Understandably, this Trial by Media forever changed his life. It indirectly killed Jewell and it let the true bomber roam free to strike again. 
The attack left a mark on American history, but most of what we remember is wrong. In a triumph of reporting and access in the tradition of the best investigative journalism, former U.S. Attorney Kent Alexander and former Wall Street Journal reporter Kevin Salwen reconstruct all the events leading up to, during, and after the Olympic bombing from mountains of law enforcement evidence and the extensive personal records of key players, including Richard himself.
Book may be ordered here.
---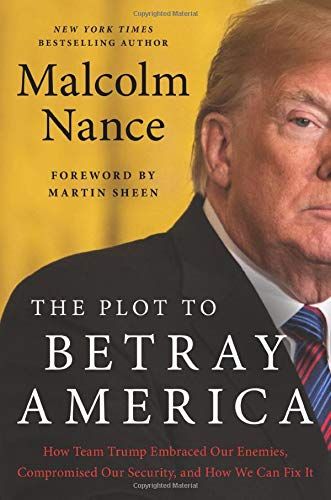 The Plot to Betray America: How Team Trump Embraced Our Enemies, Compromised Our Security, and How We Can Fix It
by Malcolm Nance
(Hachette Books, Nov 2019)
Malcolm Nance, on the Advisory Board of the International Spy Museum, writes that Trump and his inner circle conspired, coordinated, communicated, and eventually strategized to commit the greatest act of treachery in the history of the United States: compromising the presidential oath of office in exchange for power and personal enrichment.
Seduced by the promises of riches dangled in front of them by Putin, the Trump administration eagerly decided to reap the rewards of the plan to put a Kremlin-friendly crony in the Oval Office. And instead of interfering, the Republican Party's faithful William Barr, Paul Manafort, Michael Cohen, Steve Bannon, Rudy Giuliani, Mitch McConnell, Roger Stone, George Papadopoulos, and Jeff Sessions among others did everything they could to facilitate Trump's damage to national security to fill his own pockets. Nance provides research and interviews with intelligence experts and insiders who have advised him that all of this is true, and it enabled Nance to chart Trump's financial ties to Russia through family investments, including those of Donald Trump Jr., Ivanka Trump, and Jared Kushner, and the corrupt behavior of his other double-crossing pro-Moscow associates.
Book may be ordered here.
---
---
---
---
Section I - INTELLIGENCE HIGHLIGHTS

New Details on Covert Israeli Operation in Gaza Revealed. New details have emerged about a botched Israeli intelligence operation in the Gaza Strip in November 2018 that sparked deadly Israeli air strikes and Palestinian rocket fire.

Eight undercover Israeli agents - who were disguised as Palestinians and had taken the aliases of a real family in Gaza - entered the coastal enclave on November 11 last year with the objective of planting listening devices on Hamas's private communications system, an investigation by Al Jazeera Arabic's Ma Khafia Aazam (Tip of the Iceberg) programme revealed.

However, the Israelis were stopped and questioned by a Hamas patrol unit in Khan Younis for 40 minutes and became suspicious of their answers. A firefight broke out and the Israeli operatives used guns with silencers, immediately killing Hamas commander Nour Baraka and one of his aides, Mohammed al-Qarra. [AlJazeera/3December2019]

India to Post Customs Intelligence Officers in London, Hong Kong to Check Money Laundering. India is looking for suitable officers for posting as customs sleuths in London, Hong Kong, Dubai and Brussels in an effort to check trade-based money laundering among others, officials said on Monday.

The Directorate of Revenue Intelligence (DRI), the lead agency to check customs frauds and smuggling, has started the process of selecting customs overseas intelligence network (COIN) officers for these places, they said.

The officers will be posted as Consul at the Consulate General of India at Dubai and Hong Kong and as First Secretary at the country's High Commission at London and in Brussels, the officials said. [Read more: PTI/2December2019]

Gordon Joins National Intelligence University Foundation. Susan Gordon, former principal deputy director of national intelligence, will help lead the National Intelligence University Foundation (NIUF) as the vice chair. Gordon joins other intelligence professionals assisting the foundation, including Chairman Gen. Mike Hayden, USAF (Ret.), principal, The Chertoff Group; Lt. Gen. Ronald L. Burgess Jr., USA (Ret.), chief operating officer, Auburn University; and Dr. Stephen Cambone, associate vice chancellor for cybersecurity initiatives and professor of practice, Texas A&M University.

Prior to working at the Office of the Director of National Intelligence, Gordon was the deputy director of the National Geospatial-Intelligence Agency (NGA), a position she held following her service in the CIA as the director of the its Information Operations Center and senior cyber adviser to the agency's director concurrently.

Gordon's career at the CIA began in 1981 as an analyst in the Office of Scientific and Weapons Research, Directorate of Intelligence. She later moved to the agency's Directorate of Science and Technology and became the first director of the Office of Advanced Analytic Tools. While at the agency, she rose to senior executive positions in each of its four directorates: operations, analysis, science and technology, and support. Gordon worked at the CIA for more than 25 years. [Read more: AFCEA/3December2019]

'Hello, World': GCHQ Reaches Twitter Landmark Three Years After Emerging from the Shadows. The UK intelligence agency GCHQ has reached the milestone of 100,000 followers on Twitter, three years after setting up its first social-media account in a PR push to help the public understand its role in security.

The secretive organisation made its debut on the platform in May 2016 with the two-word tweet "Hello, world" - a phrase often used to introduce novice coders to programming language.

The account acquired 30,000 intrigued followers within its first few days, and has since gone from strength to strength as followers check the feed for a daily dose of puzzles, history and behind-the-scenes peeks at the intelligence, cyber and security agency.

Along with its famed code-breaking and listening skills, the GCHQ account regularly deploys that most British of secret weapons, a sense of humour, in its tweets. [Read more: Griggs/PRWeek/3December2019]

Croatia and Serbian Intelligence Services Trade Accusations. The Security-Intelligence Agency (SOA) on Saturday responded to a statement by the Serbian Security Service (BIA) saying that it had reported a Croatian and a Serbian national on the suspicion that they had been spying for Croatian security and political structures, including SOA.

SOA said the report in question "is a trumped-up report aimed at diverting the attention of the domestic and international public from serious scandals in Serbia, of which two are recent - suspected corruption and illegal trade in weapons between Serbia and foreign countries and the release of a video showing a Russian intelligence officer, a member of GRU, handing over money to a Serbian Army officer."

"We are worried about the fact that Serbian security institutions, in an attempt to cover up suspected breaches of international law and downplay the work of its political, security and military bodies for the benefit of third countries, have been constantly behaving aggressively towards the Republic of Croatia and its citizens as well as towards NATO allies," SOA says in a statement published on its website. [Read more: HINA/1December2019]


---
Section II - CONTEXT & PRECEDENCE

He was a Baby When his Dad Died in Afghanistan. He's 18 Now, and the War Still Isn't Over. First came the horse-drawn wagon rolling through Arlington National Cemetery, carrying the remains of the first American killed in Afghanistan in a flag-draped casket. Members of a Marine honor guard trailed behind, clad in navy blue uniforms, white caps and white gloves, marching ramrod-straight to muffled drums and the clip-clop of horse hoofs.

Then the family of CIA officer Johnny "Mike" Spann appeared, dressed in black. His 32-year-old widow, Shannon Spann, who also worked at the agency, walked behind the caisson, cradling a white-blanketed bundle in her arms. This was their infant son, Jake, just 6 months old on Dec. 10, 2001.

Jake had no way of knowing he was at the nation's most distinguished military cemetery. Or that his father, a 32-year-old CIA paramilitary officer, was among the first U.S. warriors sent to Afghanistan after the Sept. 11 attacks to confront the terrorists responsible. Or that, by losing his father, Jake would become a symbol of the longest war in U.S. history, one still claiming American lives 18 years later. [Read more: Shapira/WashingtonPost/27November2019]

Meet the Man Behind the Store Most People Aren't Allowed to Visit: the CIA Gift Shop. There's a room in the main building of the Central Intelligence Agency stocked with secret sauce. Barbecue sauce, that is. It's available by the bottle: $12.99 plus tax, complete with a "Top Secret" label and the official CIA seal. Nearby are a display of infant onesies stamped "the result of an UNDERCOVER operation"; a rack of ties designed to look like burn bags (the bags government spies ignite to disappear classified materials); and a basket of plush "secret squirrels" inspired by the ones scurrying about on the Langley grounds.

"We like wordplay and fun things," Mark Wiggins says of the merchandise. Wiggins is executive director of the CIA gift shop, a one-of-a-kind souvenir store that most of the world can't visit. He greets me and a photographer - and our entourage of plainclothes security chaperones - at the door to the unmarked space in the Original Headquarters Building, past the Directors Gallery, a wall of portraits of the men who've headed the agency since its 1947 founding (Gina Haspel's portrait is not up yet).

At 6-foot-6, Wiggins rivals the height of the sauce display. Affable and casual, he's sporting a red polo shirt emblazoned with the agency's circular blue logo that matches the shirts hanging in the shop's golf section. [Read more: Sanders/WashingtonPost/2December2019]

Recent Policy Could Improve Working Relations between EPA's Office of Inspector General and Office of Homeland Security. For at least 7 years, EPA's Office of Inspector General and its Office of Homeland Security - set up after 9/11 to address terrorism threats - have clashed over responsibility for certain national security matters. In May 2019, EPA finalized a new policy on intelligence operations, in part to help improve the offices' working relations on these issues.

We found that the offices' key activities seldom overlap, except when national security concerns are involved. We also found that the offices generally have not coordinated in this area. The recent policy clarified responsibilities. However, it is too early to assess the policy's effect. [Read report: GAO/2December2019]

Party Like a Spy: Spookstock is Intel World's Hush-Hush Bash. Sometime earlier this year, one of the most elite social events in Washington took place, but without any fanfare or news coverage.

It drew about 1,800 attendees and Grammy-winning rocker Lenny Kravitz performed. Yet there were no written invitations, and the actual date and location were carefully guarded secrets.

The annual charitable event is mischievously known as Spookstock. While many Washington insiders, let alone the public, haven't heard of it, the gala has become a centerpiece for the capital region's tightknit intelligence and military special operations communities.

Now in its seventh year, Spookstock has raised millions for the CIA Officers Memorial Foundation and the Special Operations Warrior Foundation, which look after the families of CIA officers and special operations forces killed in the field. Last year, after expenses, each charity received about $400,000, according to Spookstock board member Mark Kelton. [Read more: Khalil/AP/29November2019]

Intelligence Reforms: Time for a Japanese James Bond. In Ian Fleming's novel You Only Live Twice, the Japanese Secret Service is a formidable organization. Directed by Tiger Tanaka, an ex-kamikaze volunteer with a first-class degree from Oxford University, and headquartered, memorably, in a disused subway station, it appears at least the equal of its British equivalent.

As M. explains to James Bond, "They've built incredible cracking machines, far ahead of I.B.M... For the last year they've been reading the cream of the Soviet traffic from Vladivostok and Oriental Russia - diplomatic, naval, air-force, the lot."

Bond is sent to Japan to arrange an intelligence swap - access to the output of Japan's code-cracking machines in exchange for the "top-grade" information gathered by MI6's station in Macau. Unfortunately, no swap is possible. Whereas Tiger gives Bond vital intelligence about an imminent Soviet plan to nuclear-blackmail Britain, the Macau material has no value to the Japanese - they penetrated MI6's China network right from its inception.

In 1964, when the novel was published, Japan had no such capability, as Fleming, a wartime spy who retained many contacts in the secret world, would have been well aware. His exaggeration of Japanese strength reflected what he saw as British intelligence's collapse in credibility after the betrayal of the Cambridge spies and, particularly, the defection of MI6 veteran Kim Philby ("Prendergast" in the novel) in 1963. [Read more: Tasker/JapanForward/29November2019]

The Eye in the Sky: How One Man Survived the Holocaust and Went on to Design One of America's Great Spy Satellites. While fictional "secret agents" such as James Bond and Napoleon Solo still evoke the concept of 1960s spycraft (when they weren't drinking martinis with various femme fatales), the real work of the intelligence community was done by men and women like Philip Pressel.

But Pressel, who truly lived a "top secret" life, didn't jet set around the globe and he didn't carry a gun. Instead, as an engineer at Perkin-Elmer, he spent his days in a windowless office in Danbury, CT where he helped design the KH-9, codenamed Hexagon but also known as the Big Bird. This series of satellites was the largest and last of the U.S. intelligence satellites that physically returned photographic evidence to Earth.

Pressel's story is even more impressive in that he did face real danger - not as a spy, but as a Jewish child in Nazi-occupied Europe. [Read more: Suciu/ClearanceJobs/27November2019]


---
Poland's Internal Security Service is Critical to Hunting Down Spies. Poland's counterintelligence service has been busy hunting down spies. Faced with an evolving espionage threat, it has developed a toolkit to push back against those who want to steal the state's secrets. And it has proven successful.

In recent years, the Internal Security Agency, or ABW, has detained several individuals suspected of espionage. In March 2018, Marek W., whose name is withheld pursuant to Poland's privacy laws, was arrested on charges of spying for Russia. At that time Marek W. was an employee of the Ministry of Energy. A year later he was sentenced to jail and imposed a 10-year ban on working in public administration.

In January, the ABW nabbed two men - Wejing W. and Piotr D. The former, a Chinese national, was identified as an agent of China's civilian intelligence service. The latter, a Polish national, was caught collaborating with Wejing W. Both men are awaiting their trial.

Most recently, this October, the agency apprehended an individual poised to cooperate with Russian secret services. [Read more: Zaryn/DefenseNews/2December2019]

The Wang Liqiang Case in Cold War Perspective. The recent publication of Peter Hartcher's Quarterly Essay Red Flag: Waking Up to China's Challenge coincided with fast-breaking stories about Chinese espionage and influence operations in Australia, the leaking of the Xinjiang Papers from inside China, and the overwhelming victory by Hong Kong's democratic movement in district and local council elections.

Hot on the heels of Hartcher's monograph came the news that a task force set up under the 2018 foreign interference legislation had finally been granted an operational budget. It brings the Australian Security Intelligence Organisation, Defence Intelligence Organisation, the Australian Federal Police, and the Australian Signals Directorate together to confront the "existential" threat to our institutions from Chinese espionage and influence operations declared by recently retired ASIO chief Duncan Lewis.

This is the context in which to think about the "defection" and request for asylum by Wang Liqiang. He claims to have been a Chinese intelligence officer involved in operations here, in Hong Kong, and against Taiwan. Given that his debriefing is ongoing, it may be a little premature to reach confident conclusions about both his past and his bona fides. But the case itself needs to be put in deeper perspective, whatever the final outcome of his questioning. [Read more: Monk/LowyInstitute/3December2019]

General Election 2019: What Impact on UK Security and Intelligence? Would a change of government alter the UK's security and intelligence relationships?

Yes. And no. If that sounds like an evasive politician's answer, that's because there are many layers to this question.

When an attack takes place, like the one around London Bridge on Friday, all parties rightly come together in their condemnation of the perpetrator and the underlying extremist ideology that inspired him.

But when it comes to the more nuanced areas of human rights, international humanitarian law, intelligence partnerships and just who Britain should be friends with around the world, then there are clear differences between the parties, especially when it comes to the Middle East. [Read more: Gardner/BBC/1December2019]

New DIA Report Underscores Iranian Cruise Missile Threat. The U.S. Defense Intelligence Agency (DIA) last week released a landmark report analyzing the capabilities of Iran's military. In light of Iran's September attacks on the Abqaiq and Khurais oil facilities in eastern Saudi Arabia, the report's emphasis on Tehran's expanding cruise missile capabilities has already proven to be prescient.

The DIA's new report, titled Iran Military Power: Ensuring Regime Survival and Securing Regional Dominance, highlights Tehran's development of land-attack cruise missiles (LACMs). The report notes that Tehran "has invested heavily in its domestic infrastructure, equipment, and expertise" to develop increasingly capable cruise missiles.

Tehran's investment of its limited resources in LACMs is not surprising, given the challenges LACMs create for opposing air defense forces. The DIA notes that LACMs "present a unique threat profile from ballistic missiles because they can fly at low altitude and attack a target from multiple directions." [Read more: Taleblu&Bowman/FDD/28November2019]


---
Ray Close and Marty Close, CIA Operations Officer and Wife/Partner
Marty Close, CIA Spouse and Intelligence Field Ops Partner
Martha Jane Weir Close, 88, died 30 April 2019 in Princeton, NJ of complications of a fall and fractured pelvis. Marty was born in Lahore, a city that was then in India and became a part of Pakistan when the subcontinent was divided into two independent countries in 1947. Her father and mother lived in India for over fifty years, in various cities, including Lahore, Delhi, Dehra Dun, and Mussoorie. Her father was head of the Presbyterian mission in country, after several years as a professor at Forman Christian College in Lahore.
Marty went to the Woodstock School in Mussoori, India, from which she graduated in 1948, and thence to The College of Wooster in Wooster, OH. In September of 1951, she married Raymond Close (Princeton, Class of 1951) and, after the wedding, Ray joined the Central Intelligence Agency. Their first post was Beirut, Lebanon. For the next 26 years, the two of them worked and traveled in some of the world's most fabled cities, among them Beirut, Alexandria, Cairo, Lahore, Damascus, Jerusalem, and Istanbul, many now transformed by war and mass exile. For seven years, Ray was Chief of Station in Saudi Arabia, resigning in 1977 to start a career as an international consultant based in Jeddah, where they lived for another seven years.
In every CIA posting, Marty transformed their houses into palaces with her taste and skill as a bargainer in the suqs of the Middle East and the bazaars of South Asia. At the same time, she performed the role of a dutiful 1950s Foreign Service wife, while off-stage she was effectively working with her husband for the CIA. She was an essential partner, as many of the wives were, providing intelligence not gleaned by legions of male officers. When posted to Lahore, she served as president of the International Women's Club. When in Islamabad, she ran a thrift shop which benefited schools and hospitals in northern Pakistan. Fearless and always ready for adventure, Marty drove herself alone along the Grand Trunk Road in her VW station wagon from Lahore to Delhi to visit her boarding student son.
After tours of duty in Lebanon, Egypt, Pakistan, and 14 years in Jeddah, Saudi Arabia, she and Ray moved back to the U.S. in the early 1980s. Together, they created Ruscombe Farm in Clarke County, VA where they stayed for twenty years. They moved back to Princeton, NJ where she had last lived in 1943.
Marty was survived by her husband, Raymond, by two sons, and other family.
Raymond Close, CIA Chief of Station
A formal obituary has not yet arrived in our offices. Marty's similar experiences in obituary above will need to suffice for now.
Ed Connor, USAFR/CIA
Edward D. Connor, USAFR/CIA, died in Vienna, VA on 12 November 2019 of complication of a stroke.
His civilian education included completion of a BBA at the University of Miami and an MA from Sacramento State College.
His military education included completion of the USAF Command and Staff Course and the National Security Management Course from the National Defense University.
Ed flew combat missions for the USAAC and USAF during World War II, the Korean War and the Cold Wars. He served the CIA in Laos and South Viet Nam during the Viet Nam war. He served those outfits for 34 years.
He then completed 20 years in private industry. His last position was as Vice President of Corvus Corporation.
His military decorations included the Silver Star, Distinguished Flying Cross (DFC), the Air Medal with two oak leaf clusters and the Air Force Commendation medal.
He belonged to The Returned and Services League (Australia) Washington, D.C. chapter, the American Legion (China Post # 1- Shanghai), the Veterans of Foreign Wars Post 4337, the Arlington-Fairfax Elks lodge and the 13th Bomb Squadron Association.
Ed is survived by his wife, Sarah B. Connor, and a son. He was preceded in death by his first wife Muriel H. Connor.
Gordon Daiger, Naval Intelligence Officer, CIA Operations Officer
Gordon W. Daiger, 89, a Naval and CIA Operations Officer, died 16 November 2019 in Bethesda, MD. Except for a period of military service, Gordon lived and worked in the Washington, DC area his entire life. He graduated from Sidwell Friends School, Princeton University, and the George Washington University Law School. He was a member of the DC and US Supreme Court Bar Associations.
Gordon served his country in a variety of important and challenging federal positions in a career extending over 46 years. He began his federal career in 1953 as a commissioned officer in the US Navy, where he worked in intelligence operations in Japan soon after the conclusion of the postwar occupation. In 1958, he left military intelligence to assume a position as an Operations Officer with the CIA, where he focused on the national security threats presented by the former Soviet Bloc during the darkest days of the Cold War.
While serving at the CIA, Gordon completed law school, and he eventually took a trial attorney position with the US Dept. of Justice in 1970. At Justice, he was at the forefront in developing case law addressing state secret concerns arising from potential disclosures in litigation, and he successfully defended a host of complex and sensitive cases presenting national security issues. Gordon also developed an unparalleled reputation as a teacher and mentor for new attorneys.
Gordon left federal service in 1999 and enjoyed a long and fruitful retirement with his companion, Patricia Sandefur. They traveled extensively.
He is survived by two sons, and other family.
Rich Lattanze, Director of CIA Office of Security
Richard Francis Lattanze, 80, Director of CIA Office of Security, died 26 November 2019 of Alzheimer's disease.
He was a 1957 graduate of Wakefield High School, Arlington, VA. Richard earned a degree in History from Georgetown University and worked for the Central Intelligence Agency in the Office of Security for 30+ years.
He is survived by his wife of 58 years, Julia Horowitz Lattanze, three sons, and other family.
David Montague, DIA Chief of Director's Staff Group
David Perry Montague, Colonel, USAF (Ret), 80, DIA Chief of Director's Staff Group, died 17 November 2019 in Clinton, MD of complications of a heart attack.
David Montague was born in Worcester, MA . He is a magna cum laude 1961 graduate of Yale University, has a MS from Auburn University, AL, and is a graduate of the Department of State's Foreign Service Institute. He married Clemmer Slaton in 1972 at Maxell Air Force Base, Montgomery, AL, before moving to Fort Washington where they both completed military service and retired.
Col Montague was a student at the Johns Hopkins School of International Studies in international economics. He then moved to the Defense Intelligence Agency as an international relations specialist where he was chief of the briefing team for the Joint Chiefs of Staff. After this assignment, he moved to the Air Staff, followed by a final assignment at the DIA as chief of the Director's Staff Group. He retired in 1985.
David and Clemmer were strong supporters of art and craft organizations. He was a member of the board of directors of the former Friends of the Corcoran Gallery of Art. They joined the James Renwick Alliance, (JRA), a support group for the Smithsonian American Art Museum's Renwick Gallery. He went on to help establish a Distinguished Artist Lecture Series for JRA. He was president of the James Renwick Alliance from 1998 to 2000. He was an early supporter of the Washington Concert Opera, and served on the board of directors of the Guild for Washington Concert Opera and the board of directors. He loved to solve crossword and Ken-Ken puzzles, was an avid bridge player and enjoyed walking his dog, Figgy.
Survivors are his wife of 47 years, Clemmer Montague, a sister, and other family.
A memorial service is planned for 14 December 2019 at 2 p.m. at the Grace Lutheran Church, 10928 Indian Head Hwy, Fort Washington, MD 20744.
Lee Schatzley
Byron Lee Schatzley, Colonel, USAF (Ret), 98, died in Beavercreek OH on 26 October 2018. His death was just brought to our attention.
He was born in West Milton, OH. He was a longtime member of AFIO.
Ed Thompson, Military Intelligence; President AFIO New England; Author
Edmund Randall Thompson, Maj Gen USA (Ret), 89, Military Intelligence Officer; President AFIO New England; Author, died 14 July 2019 in Kennebunk, ME.
He was born in New Rochelle, NY and grew up in Windham, CT and Washington, DC, graduating from Western HS in 1947. Ed graduated from the USMA, Class of '52. Career: 4th Pack Artillery Battalion, Camp Carson, CO; Apr '54-Feb "57 77th Field Artillery Battalion Japan; Masters' and Doctorate' degrees in Geography at Syracuse University 1957-58; West Point instructor through 1962. Recruited to Intelligence, Ed served as a MAAG advisor in SE Asia in 1963-64; attended the Command & General Staff College, Class of '65; ACSI office 1966-1967; Commander U.S. Army Field Detachment "O" 1968; G2 of 25th Infantry Division, Vietnam to late 1969; office of the Asst Sec of Defense (Int'l Sec Affairs) 1970; and, ICAF, Class of "71.
As a Colonel, Ed commanded the 116th MI Group, Ft McNair 1971-72, then to DCSPER until Jun '75. Promoted to BG, he assumed commander of USAINTA, Ft Meade, MD to Aug "77. Earning his second star, he was confirmed as the ACSI, serving into 1981, followed by the Dep Dir for Mgmt and Ops at DIA before retiring in May "84.MG Thompson's numerous decorations include the DSM, LM, BSM, MSM; and induction with the first class to the MI Hall of Fame, Fort Huachuca, AZ.
Ed and his wife, Anne Ridenour Wheeler, retired to Kennebunk, ME to live in the home he designed for more than 30 years. Ed continued public service as President of AFIO New England. He edited and republished books by Kennebunk's own Kenneth Roberts and wrote historical fiction and spy stories set around the world including "Spies of New England."
Survivors include wife Anne Thompson of Kennebunk; a sister, three sons, two daughters, and other family. He loved his country, his family and his friends without hesitation or precondition. "That's for damn sure!"
A Funeral Service will be held on Tuesday, 10 December 2019 at 1 p.m. at Ft Myer Chapel, 204 Lee Ave, Arlington, VA followed by burial with full military honors in Arlington National Cemetery. To share a memory or leave a message of condolence, please visit Ed's Book of Memories Page here.
---
Information Systems Security Officer (ISSO) - Location: Fayetteville, NC
Duties: The ISSO will provide support to the ISSM for maintaining the appropriate security posture of systems accredited under the DCSA Risk Management Framework. The ISSO assists with the management of security aspects of the information system and is assigned performs day-to-day security operations of the system. The ISSO provides support to the customer on matters involving the security of the information system and assists in maintenance to ensure the system accreditation. This includes developing and updating the system security plan, maintaining the company Emass account, as well as managing and controlling changes to the system and assessing the security impact of those changes. The ISSO also provides support to plan, coordinate, and implement IT security programs and policies and provides configuration management for security-relevant information system software, hardware, and firmware. The ISSO will advise and assist the ISSM with the continuous monitoring of accredited systems.
Qualifications: Bachelor's Degree in Computer Science or related field and at least 6 years of applicable experience, or equivalent Active Secret or Top Secret/ SCI clearance DOD 8570 compliance (CISSP, Security +, etc.)
Preferred Additional Skills: Experience with ICD503 and NISPOM Chapter 8 Familiarity with multiple Intel community and DCSA system accreditation procedures Experience producing security artifacts into Emass (SSP, POAMs, etc.) Experience hardening OTS operating systems Experience with vulnerability and compliance scanning tools (WASSP, Nessus, SCAP, etc.) Experience implanting the Risk Management Framework (RMF) Experience managing Windows 10-based systems. Strong investigative drive, intuition, and self motivation Understanding of system vulnerabilities, exploitation and mitigation
Security Clearance: This position requires a current, final security clearance eligibility and the ability to obtain a TS/SCI with polygraph. You must be a U.S. Citizen. In addition, applicants who accept a conditional offer of employment may be subject to government security investigation(s) and must meet eligibility requirements for access to classified information. The candidate may also be subject to a local background check.
To apply or for more information contact: Kelly George at kgeorge@walsinghamgroup.com
Syracuse University's School of Information Assistant Professor - Trustworthy Cyberspace
DePaul University, School of Computing Assistant Professor in Software Engineering
The School of Computer and Cyber Sciences Tenure Track and Tenured Positions at the Assistant, Associate, and Full Professor Levels
Department of Cyber and Computer Sciences at The Citadel Tenure-Track Positions in the Department of Cyber and Computer Sciences
Portland Community College - Computer Information Systems Instructor, CIS / Windows System Administration
Augusta University - Tenure Track and Tenured Positions at the Assistant, Associate, and Full Professor Levels
FireEye Has Many Intelligence Positions Available For You - Worldwide - Contract, Full-time, Part-time, Interns
Explore the many career and contractor intelligence jobs available here. Jobs openings in Cyber Security include - Advisory, Architecture, Digital Forensics & Incident Response, Penetration Testing, Threat Research. They positions are needed here: New York, Chicago, Manila, Reston, Dallas, Atlanta, Suitland, Singapore, Denver, Las Vegas, Phoenix, Doha, Stockholm, London, Milpitas, multiple cities in Australia, Washington, Indianapolis, Tampa, Santiago, Alexandria, Seattle, Carlsbad, Houston, San Francisco, Arlington, Dubai, Amsterdam, Ft Belvoir, Minneapolis, Mexico City, San Diego, Boston, El Segundo, Philadelphia, San Antonio, Chiyoda, Ft Huachuca, Ft Gordon, Ft Meade, Ft Shafter, Kuwait City, Seoul, Sttutgart, Salt Lake City, Austin, Dublin, Bangalore, Cork, Colorado Springs... Explore the many career and contractor intelligence jobs available here.

---
AFIO EDUCATIONAL EVENTS IN COMING TWO MONTHS....
Wednesday 4 December 2019, 5:30 p.m. - New York, NY - AFIO NY Metro Chapter hosts CIA Officer (Ret) Dr. John A. Gentry discussing "IC Political Activism since 2016 -- Origins and Implications."
Partisan political activism by current and former intelligence officers since mid-2016 is the largest and most significant politicization of intelligence by intelligence officers in U.S. history. This presentation will explore the causes and the wholly negative consequences of this new form of politicization for the IC and the country.

Dr. John A. Gentry was for 12 years an intelligence analyst at the CIA, where he worked mainly economic issues associated with the Soviet Union and Warsaw Pact countries; for two of those years he was senior analyst on the staff of the National Intelligence Officer for Warning. He is a retired U.S. Army Reserve officer, with most assignments in special operations and intelligence arenas. On active duty, he was executive officer of a special forces operational detachment. As a reservist, he was mobilized and spent much of 1996 as a civil affairs officer in Bosnia. Dr. Gentry also is an adjunct associate professor with the School of International and Public Affairs, Columbia University. He formerly taught at the College of International Security Affairs, National Defense University, at the National Intelligence University, and at George Mason University. His research interests primarily are in intelligence and security studies. He publishes frequently in Intelligence and National Security and International Journal of Intelligence and CounterIntelligence. Georgetown University Press published his co-authored book, Strategic Warning Intelligence: History, Challenges and Prospects, in early 2019. He is a member of the Editorial Committee of the International Journal of Intelligence and CounterIntelligence. He is adjunct professor at Georgetown University.
Location: Society of Illustrators, 128 E 63rd St (between Park and Lexington), New York, NY 10065.
Timing: Registration starts at 5:30 pm, Speaker presentation starts at 6 pm. Fee: $50/person. Payment at the door only. Cash or check. Full dinner, cash bar.
RSVP: Strongly recommended that you RSVP to ensure space at event. Call or Email Chapter President Jerry Goodwin at afiometro@gmail.com or 646-717-3776.
Thursday, 5 December 2019, 12:30 - 2 pm - Los Angeles, CA - AFIO Los Angeles Chapter meeting features Dr John Gans discussing "White House Warriors: How the NSC Transformed the American Way of War."
Dr. John Gans will be the guest speaker for the Los Angeles Chapter of AFIO and discuss key topics of his newly published book White House Warriors: How the National Security Council Transformed the American Way of War, which covers the people and power of the National Security Council staff.
Gans is Perry World House's Director of Communications and Research. In addition to leading Perry World House's Graduate Associates program, he teaches Penn undergraduate and graduate students. Prior to joining Perry World House, he was the chief speechwriter to Secretary of Defense Ash Carter at the Pentagon. In addition to leading the writing team at the Defense Department, Gans served as senior speechwriter for Defense Secretary Chuck Hagel and Secretary of the Treasury Jack Lew.
In 2019, Gans published White House Warriors: How the National Security Council Transformed the American Way of War, which the Wall Street Journal said was a "bottom-up history," The New Republic called "enlightening," and Lawfare concluded it was "rollicking and compellingly told." Gans earned his Ph.D. from Johns Hopkins University's School of Advanced International Studies.
We look forward to your attendance. Please mark your calendar and your spouse or other guests are welcomed.
Event Location: 5651 W Manchester Ave, Los Angeles, CA 90045. Map or Directions here.
Full refreshments served
RSVP: afio_LA@yahoo.com
Questions to Vincent Autiero, President, AFIO-Los Angeles Chapter, at afio_LA@yahoo.com.
Tuesday, 10 December 2019, 11:30 am - 2 pm - MacDill AFB, FL - Florida Suncoast Chapter Meeting and Luncheon features Mark Aubin on "The Scourge of Human Trafficking"
Mark Aubin, licensed investigator and practicing attorney, speaks on the growing scourge of human trafficking and several cases he's personally pursued.
As of the end of last year, almost 11,000 human trafficking cases in the Untied States were reported to the National Human Trafficking Hotline, which provided resources and referrals to over 9,000 potential victims. Among all US states, Florida ranked third after California and Texas with 767 cases reported. The clear majority of cases involve adult women but about a third of trafficking cases involve minors.Traffickers compel victims to engage in commercial sex and to work in both legal and illicit industries, including in hospitality, traveling sales crews, agriculture, janitorial services, construction, restaurants, care for persons with disabilities, salon services, massage parlors, retail, fairs and carnivals, peddling and begging, drug smuggling and distribution, child care, and domestic work.
Top Gun Investigations in Tampa was established by Mark J. Aubin, a Licensed Investigator, Class "A" Investigative Agency owner and practicing Attorney at Law. Mark has more than 12 years of experience as a licensed Florida private investigator and over 19 years of experience a wide variety of legal disciplines including civil litigation, criminal law, family law, contracts, bankruptcy, probate and all manner of general civil law. Mr. Aubin is also the Volunteer Legal Advisor for FALI, The Florida Association of Licensed Investigators, whichrepresents close to a thousand licensed investigators throughout the State of Florida.
To Attend: RSVP to the Chapter Secretary at michaels@suncoastafio.org, no later than noon Tuesday, 3 December, for yourself and any guests. You will receive a confirmation via email. If you do not get a confirmation, contact the Chapter Secretary.
FEE: $20 check per person payable to "Suncoast Chapter, AFIO" (or cash) at check-in to cover the luncheon. If you make a reservation, don't cancel and get a cancellation confirmation by the response deadline and then don't show up, you will be responsible for the cost of the luncheon.
Anyone with special AFIO Base Access should proceed to the Bayshore Gate. If you need directions, please let us know.
Note: Meal Alternatives Available
When you RSVP, you may indicate an alternate meal preference of a chef's salad, grilled vegetable plate or a fruit plate. You will receive a coupon when you check
in for your meal alternative-please remember to return your coupon when the meeting concludes.
Location: MacDill AFB Surf's Edge Club, 7315 Bayshore Boulevard, MacDill AFB, FL 33621.
Check-in starting at 1130 hours; Opening ceremonies, lunch and business meeting at noon, followed by our speaker.
Monday, 10 February 2020, 5:30 p.m. - New York, NY - AFIO NY Metro Chapter hosts CIA Officer (Ret) and Author/Disguise Expert Jonna Mendez
Jonna Mendez (Spy Dust: Two Masters of Disguise Reveal the Tools and Operations That Helped Win the Cold War), share (with late husband Tony Mendez) their experiences as spies in Moscow during the height of the Cold War in the mid-1980s. The authors begin with the initial list of "the Moscow Rules" and continue to discuss briefly the current state of affairs in Russia under Vladimir Putin, and how they interfered with the 2016 U.S. election. Additional details to follow in coming months.
Location: Society of Illustrators, 128 E 63rd St (between Park and Lexington), New York, NY 10065.
Timing: Registration starts at 5:30 pm, Speaker presentation starts at 6 pm. Fee: $50/person. Payment at the door only. Cash or check. Full dinner, cash bar.
RSVP: Strongly recommended that you RSVP to ensure space at event. Call or Email Chapter President Jerry Goodwin at afiometro@gmail.com or 646-717-3776.
Friday, 28 February 2020, 10:30 am - 2 pm - Tysons, VA - First AFIO luncheon of 2020 features James Olson, author of To Catch a Spy: The Art of Counterintelligence; and political scientist Seth G. Jones, author of A Covert Action: Reagan, the CIA, and the Cold War Struggle in Poland.
James Olson's presentation starts at 1 p.m.: Olson served for over thirty years in the Directorate of Operations of the CIA, mostly overseas in clandestine operations. In addition to several foreign assignments, he was chief of counterintelligence at CIA headquarters in Langley, VA. Currently, he is a Professor of the Practice at the Bush School of Government and Public Service of Texas A& M University.
At this event Professor Olson will be discussing his March 2019 book, To Catch a Spy: The Art of Counterintelligence which suggests that the US is losing the counterintelligence war. Foreign intelligence services, particularly those of China, Russia, and Cuba, are recruiting spies in our midst and stealing our secrets and cutting-edge technologies. He provides a guide for how our country can do a better job of protecting its national security and trade secrets. He will review the principles and methods of counterintelligence, including the running of double-agent operations and surveillance. He also addresses why people spy against their country, the tradecraft of counterintelligence, and where counterintelligence breaks down or succeeds.
The morning speaker, Dr. Seth G. Jones, will begin 11 a.m. Dr. Jones director of the Transnational Threats Project, and is a senior adviser to the International Security Program at the Center for Strategic and International Studies (CSIS). He teaches at Johns Hopkins University's School of Advanced International Studies (SAIS) and the Center for Homeland Defense and Security (CHDS) at the U.S. Naval Postgraduate School. Prior to joining CSIS, Dr. Jones was the director of the International Security and Defense Policy Center at the RAND Corporation and was Adjunct Professor, Security Studies Program, Edmund A. Walsh School of Foreign Service, Georgetown University, where he taught classes on "Counterinsurgency" and "Stability Operations." He also served as representative for the commander, U.S. Special Operations Command, to the assistant secretary of defense for special operations.
He will discuss counterinsurgency and counterterrorism, with a particular focus on Afghanistan, Pakistan, and al Qa'ida.
Registration will open in early 2020.
Venue: DoubleTree by Hilton, 1960 Chain Bridge Rd, Tysons Corner, VA 22182 Phone: (703) 893-2100. Directions at this link.
---
Other Upcoming Events from Advertisers, Corporate Sponsors, and Others
Thursday, 5 December 2019, 2–3:30 pm - Washington, DC - Chinese Communist Espionage: An Intelligence Primer Book Launch
CSIS hosts a discussion of Chinese espionage with two authors – Peter Mattis and Matt Brazil – as well as Aruna Viswanatha of The Wall Street Journal, in a discussion moderated by Jude Blanchette, CSIS Freeman Chair in China Studies.
Peter Mattis, Deputy Staff Director, Congressional-Executive Commission on China and Matt Brazil, Non-Resident Fellow, The Jamestown Foundation present their new book Chinese Communist Espionage: An Intelligence Primer, which focuses on the world of Chinese espionage both past and present, enabling a better understanding of how important its influence is, both in China and abroad.
Against the backdrop of recent allegations leveled against Huawei and other Chinese entities, the nature and scope of the Communist Party of China's (CCP) secret operations overseas, including traditional espionage, influence operations, industrial espionage, and intellectual property theft have never been more important, yet this topic remains widely misunderstood and understudied.
Event location: CSIS Headquarters, Center for Strategic & International Studies, 1616 Rhode Island Ave NW, Washington, DC 20036
Register here.
11-12 February 2020 - Charleston, SC - Conference on "Legally Immoral Activity? Testing the Limits of Intelligence Collection" at The Citadel
Are there limits to intelligence collection in support of national security? Where, if at all, does a free and open society provide the limits of surveillance? Civil liberties are a founding tenet of democracy, but at what cost? How does a country balance collective security with individual rights? Recently, a Federal Court ordered Apple to help the FBI unlock the cellphone of a terrorist, but company officials would oppose that order, citing concerns over the privacy rights of all Americans.
This 2-day inter-disciplinary conference will examine the legal, ethical, social, economic, historical and political aspects of the United States government's ability to protect its citizens in an era that warfare has no societal or personal boundaries.
The conference will be held February 11-12, 2020 on the campus of The Citadel in Charleston, South Carolina.
Deadline for proposals and abstracts must be received by October 15, 2019.
Inquires and Submissions should be sent to Dr. Jan Goldman, Department of Intelligence and Security Studies at Email: jgoldma1@citadel.edu.
---
In addition to the new Royal Blue long sleeve shirts, and the gray long sleeve hooded sweatshirts, the AFIO Store also has the following items ready for quick shipment:
NEW: LONG and Short-Sleeved Shirts with embroidered AFIO Logo and New Mugs with color-glazed permanent logo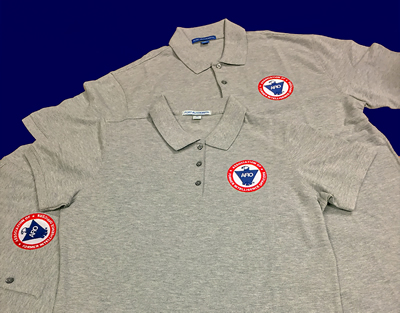 Show your support for AFIO with our new Polo Shirts. Be the first to buy these new, high quality, subtle heathered grey short sleeve shirts, and dark blue long sleeved shirts, of shrink and wrinkle resistant fine cotton with a soft yet substantial feel. They feature a detailed embroidered AFIO seal. Get a shirt for yourself and consider as gifts for colleagues, family, and friends. Only $45 each including shipping.
Sizes of (M) men or (W) women shirts; Small, Medium, Large, XL, XXL, and XXXL. At this time all orders will arrive as Short Sleeve shirts.
You may pay by check or credit card. Complete your order online here or mail an order along with payment to: AFIO, 7600 Leesburg Pike, Ste 470 East, Falls Church, VA 22043-2004. Phone orders at 703-790-0320. If interested in other shirt colors or sleeve lengths, contact Annette at: annettej@afio.com.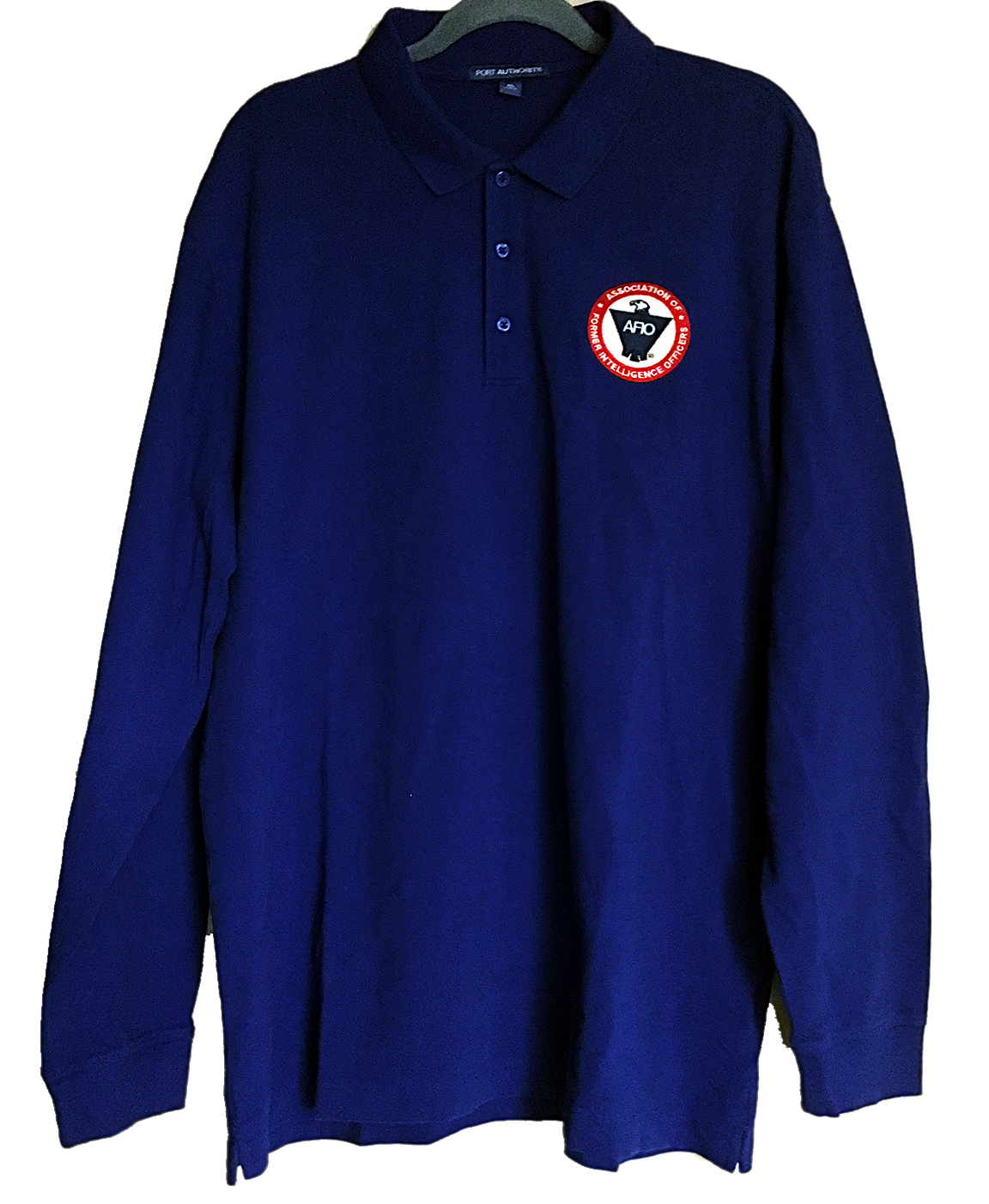 Long-Sleeved Shirts and Hooded Sweatshirts with embroidered AFIO Logo
Show your support for AFIO with our new long-sleeved Polo Shirts and Hooded Sweatshirts.
Both items are high quality and shrink resistant and feature a detailed embroidered AFIO seal. The color of the long-sleeved Polo Shirts is royal blue; the price is $55 and includes shipping.
The Hooded Sweatshirts are dark grey; the price is $70 and includes shipping.
Purchase a shirt and sweatshirt for yourself and consider as gifts for colleagues, family, and friends.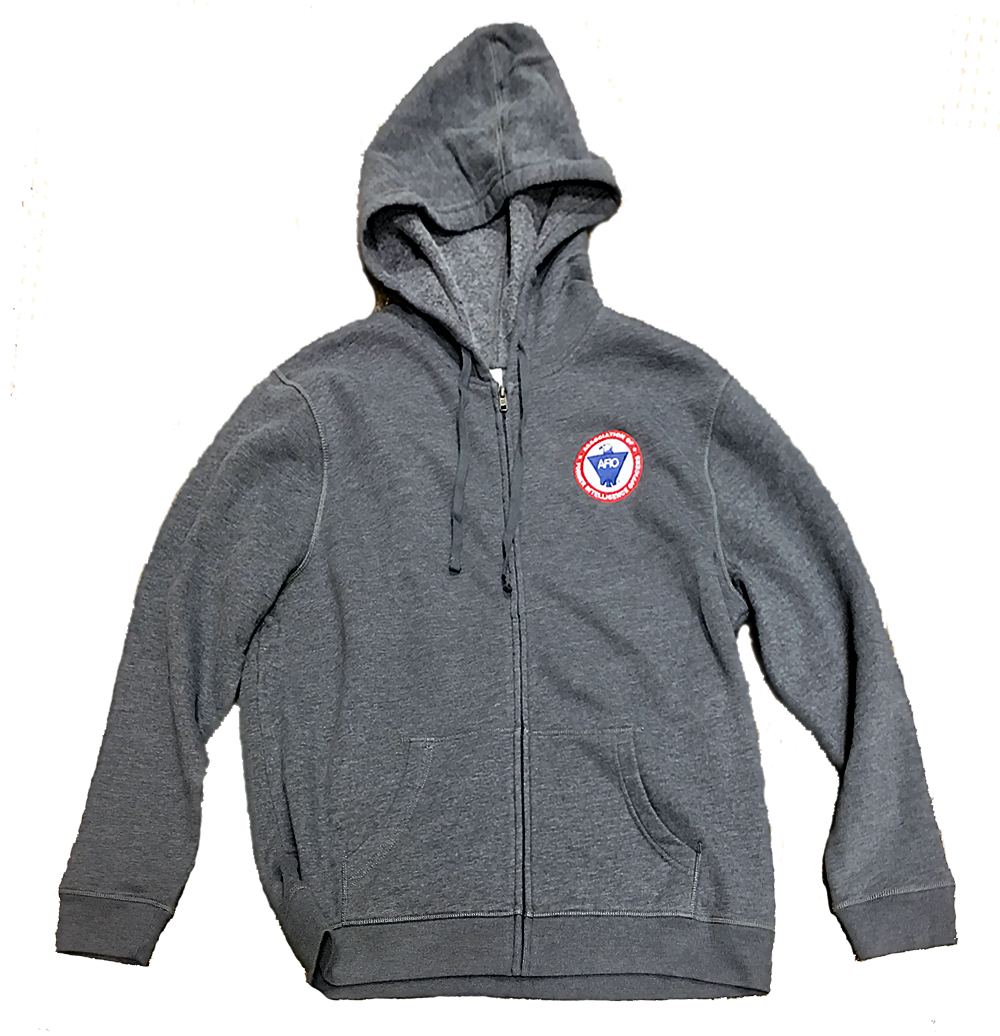 Both items are available in men's sizes: Small, Medium, Large, XL, XXL, and XXXL. The long-sleeved Polo Shirts and Hooded Sweatshirts are not available in ladies' sizes.
---
NEW: Mug with color glazed logo. Made in America. (We left out all that lead-based glaze and hidden toxins in those mugs made in China being sold by other organizations). Also sturdy enough to sit on desk to hold pens, cards, paperclips, and candy.
This handsome large, heavy USA-made ceramic mug is dishwasher-safe with a glazed seal. $35 per mug includes shipping. Order this and other store items online here.
AFIO's Intelligence Community Mousepads are a great looking addition to your desk...or as a gift for others.
Made in USA. Click image for larger view.
These 2017 mousepads have full color seals of all 18 members of the US Intelligence Community on this 8" round, slick surface, nonskid, rubber-backed mouse pad with a darker navy background, brighter, updated seals. Also used, by some, as swanky coasters. Price still only $20.00 for 2 pads [includes shipping to US address. Foreign shipments - we will contact you with quote.] Order MOUSEPADS here.
---
Guide to the Study of Intelligence and When Intelligence Made a Difference
"AFIO's Guide to the Study of Intelligence" has sold out in hard-copy.
However, it is available in digital form in its entirety on the AFIO website here.

Also available on the website here are the individual articles of AFIO's history project "When Intelligence Made a Difference" that have been published to date in The Intelligencer journal. More articles will be forthcoming in future editions.
---
Disclaimers and Removal Instructions
Weekly Intelligence Notes (WINs) are commentaries on Intelligence and related national security matters, based on open media sources, selected, interpreted, edited and produced for non-profit educational uses by members and WIN subscribers.
REMOVAL INSTRUCTIONS: We do not wish to add clutter to inboxes. To discontinue receiving the WINs:
a) IF YOU ARE A MEMBER - click here: UNSUBSCRIBE and supply your full name and email address where you receive the WINs. Click SEND, you will be removed from list. If this link doesn't open a blank email, create one on your own and send to afio@afio.com with the words: REMOVE FROM WINs as the subject, and provide your full name and email address where you are currently receiving them.
b) IF YOU ARE NOT A MEMBER, and you received this message, someone forwarded this newsletter to you [contrary to AFIO policies]. Forward to afio@afio.com the entire WIN or message you received and we will remove the sender from our membership and distribution lists. The problem will be solved for both of us.
CONTENTS of this WIN [HTML version recipients - Click title to jump to story or section, Click Article Title to return to Contents. This feature does not work for Plaintext Edition or for some AOL recipients]. If you wish to change to HTML format, let us know at afio@afio.com. The HTML feature also does not work for those who access their e-mail using web mail...however NON-HTML recipients may view the latest edition each week in HTML at this link: https://www.afio.com/pages/currentwin.htm
---
WINs are protected by copyright laws and intellectual property laws, and may not be reproduced or re-sent without specific permission from the Producer. Opinions expressed in the WINs are solely those of the editor's or author's listed with each article. AFIO Members Support the AFIO Mission - sponsor new members! CHECK THE AFIO WEBSITE at www.afio.com for back issues of the WINs, information about AFIO, conference agenda and registrations materials, and membership applications and much more!
(c) 2000, 2012, 2013, 2014, 2015, 2016, 2017, 2018, 2019. AFIO, 7600 Leesburg Pike, Suite 470 East, Falls Church, VA 22043-2004. Voice: (703) 790-0320; Fax: (703) 991-1278; Email: afio@afio.com
---
About AFIO | Membership Renewal | Change of Address | Upcoming Events | Chapter Locations | Corporate/Institutional Memberships | Careers in Intelligence Booklet | Guide to the Study of Intelligence | Intelligencer Journal | Weekly Intelligence Notes | To Make A Donation | AFIO Store | Member-Only Section | Code of Ethics | Home Page
---