---
CONTENTS
Section I - INTELLIGENCE HIGHLIGHTS
Section II - CONTEXT & PRECEDENCE
Section IV - Obituaries, Jobs
Other Upcoming Events from Advertisers, Corporate Sponsors, and Others
For Additional AFIO and other Events two+ months or more... Calendar of Events

WIN CREDITS FOR THIS ISSUE: The WIN editors thank the following special contributors: rsy, ec, po, pj, mh, km, gh, mk, rd, fm, kc, jm, mr, jg, th, ed, and fwr. They have contributed one or more stories used in this issue.

The WIN editors attempt to include a wide range of articles and commentary in the Weekly Notes to inform and educate our readers. However, the views expressed in the articles are purely those of the authors, and in no way reflect support or endorsement from the WIN editors or the AFIO officers and staff. We welcome comments from the WIN readers on any and all articles and commentary.

CAVEATS: IMPORTANT: AFIO does not "vet" or endorse research inquiries, career announcements, or job offers. Reasonable-sounding inquiries and career offerings are published as a service to our members, and for researchers, educators, and subscribers. You are urged to exercise your usual caution and good judgment when responding, and should verify the source independently before supplying any resume, career data, or personal information.]
If you are having difficulties with the links or viewing this newsletter when it arrives by email, members may view the latest edition each week at this link.

---

Guide to the Study of Intelligence and When Intelligence Made a Difference

"AFIO's Guide to the Study of Intelligence" has sold out in hard-copy.
However, it is available in digital form in its entirety on the AFIO website here.

Also available on the website here are the individual articles of AFIO's history project "When Intelligence Made a Difference" that have been published to date in The Intelligencer journal. More articles will be forthcoming in future editions.

---

FINAL CALL TO CAST YOUR BALLOT

AFIO National Board Elections Continue...

CAST YOUR VOTE
FOR 2020-2023 MEMBERS OF
AFIO NATIONAL BOARD

Vote for Three of Four Candidates

If you wish, instead, to download a ballot, print, and mail it back, use this PDF.

Voting closes on 27 December 2019

---
---
** This will be the final Weekly Intelligence Notes for 2019. **

They will resume 7 January 2020.
These days we receive a vast number of fund-raising emails and letters. The annoyance factor is one reason AFIO rarely asks for contributions; instead, we run a lean outfit and rely on dues, subscriptions, and occasional donations.
As 2020 approaches, members are asked if they wish to make a contribution to help our outreach and educational activities in the coming year. Gifts are U.S. tax-deductible.

AFIO provides members and guests with outstanding double-speaker events and symposia, meeting opportunities, one-on-one career guidance, weekly and quarterly publications, reviews and notices few get elsewhere — an effort that entails more time and expense than dues covers. If you enjoy the benefits of membership, we invite you to make a donation before the close of 2019.
Our work is made possible through the support of members, subscribers, board, volunteer officers, chapters, and donors — you! Clicking on the images above will take you to a donation page for a speedy charitable gift.
AFIO warmly thanks you for any support you wish to provide!
---
'Tis the season of gift-giving and AFIO has NEW GIFT ITEMS certain to please the most difficult recipients...
Long-Sleeved Shirts and Hooded Sweatshirts with embroidered AFIO Logo
Show your support for AFIO with our new long-sleeved Polo Shirts and Hooded Sweatshirts.
Both items are high quality and shrink resistant and feature a detailed embroidered AFIO seal. The color of the long-sleeved Polo Shirts is royal blue; the price is $55 and includes shipping.
The Hooded Sweatshirts are dark grey; price is $70 and includes shipping.
Purchase a shirt and sweatshirt for yourself and consider as gifts for colleagues, family, and friends.

Both items are available in men's sizes: Small, Medium, Large, XL, XXL, and XXXL. The long-sleeved Polo Shirts and Hooded Sweatshirts are not available in ladies' sizes.

You may pay by check or credit card. Complete your order online here or mail an order along with payment to: AFIO, 7600 Leesburg Pike, Ste 470 East, Falls Church, VA 22043-2004. Phone orders at 703-790-0320.
PAGE DOWN TO BOTTOM OF THE NOTES TO SEE MORE AFIO GIFTS. All of these items are appropriate for intelligence officers, colleagues, recruitments, agents, advisors, and family.
---
Just released and available for immediate reading online:
The Counter Terrorist: The Journal for Law Enforcement, Intelligence & Special Operations Professionals
DECEMBER 2019; VOLUME 12 - NUMBER 6
THE DAAWA by Garret Machine
FEATURES:
URBAN E&E by Orlando Wilson
BREACHING DOORS by Garret Machine
K9 TRAINING by Editorial Staff
ACTIVE SHOOTER INTERVENTION COURSE REVIEW by Thomas Braga-Henebry
MARJORY STONEMAN DOUGLAS HIGH SCHOOL SHOOTING AFTER ACTION REPORT AND LESSONS LEARNED by Friedrich Seiltgen
DEPARTMENTS:
Publisher's Editorial - Stay Vigilant, Stay Safe
Product Review - Glock 43/48 Deep Concealment Holster
To read at no cost, use this link.
---
Also of interest and available is "Inside the SCIF" an email newsletter by JJ Green of WTOP, Washington, DC
5 Reasons to Read INSIDE THE SCIF...
Reason #1: Lavrov's private meeting at the White House.

Reason #2: The Pensacola Terror Attack — motive, planning, participants.

Reason #3: Legendary spy released from prison. Is he still a threat to the US?

Reason #4: New hope for Americans detained in Iran and Russia emerges this week.

Reason #5: Plus much more intel, espionage, security, military news.

Inside the SCIF drops on Thursdays.

To view issues of Inside the SCIF or contact JJ Green, do so here. To sign up to receive it directly, that can happen here.
---
Newly Released and Forthcoming Books of the Week
Sizing People Up: A Veteran FBI Agent's User Manual for Behavior Prediction
by Robin Dreeke and Cameron Stauth
(Portfolio, Jan 2020)
Former FBI agent Dreeke shares six signs of behavior prediction, based on his time in the agency's Behavior Analysis Program. They are Vesting (being invested in another person's success), Longevity, Reliability, Actions, Language, and Stability—to explore the roots of behavior. He finds people who lack stability are often unable to "handle the challenge of seeing inside themselves." He sometimes pairs his points with career anecdotes, illustrating longevity by recounting how he built a lasting relationship with an informant, despite initial mutual suspicion, who helped the U.S. avert a potential nuclear showdown. Dreeke's insights are widely applicable beyond the world of counterespionage and crime-fighting, and include signs for identifying unreliable or untrustworthy people in one's everyday life, such as the "tell" of chronic lateness. He also provides tips on cementing lasting bonds with others—"ritualize the relationship," because "rituals memorialize moments"—and determining that bosses or co-workers are "vested" in one's success—for instance, they "tell you something they've never told anyone else." Dreeke's style, humility, and occasional flashes of humor make for an enjoyable and illuminating work. —Publishers Weekly
Book may be ordered here.
---
The State of Secrecy: Spies and the Media in Britain [title aka: Official Secrets: Investigating Intelligence and the British State]
by Richard Norton-Taylor
(I.B. Tauris & Co Ltd, Jan 2020)
"In a finely written memoir that every student and observer of British politics and journalism must read, Norton-Taylor rightly identifies secrecy as the British disease which stifles and undermines democracy in this country. It's a classic of telling truth to power from a formidable journalist of real integrity.
Uniquely, among British journalists, Norton-Taylor had access to sources at the highest levels of the civil service and the intelligence services but didn't fall for their blandishments and lies. Often faced with deliberate official obstruction and, sometimes, employer indifference, he doggedly pursued stories when the media circus had moved on. In forensic detail and with controlled anger Norton-Taylor revisits the stories, scandals and events which have now drifted back into history but which illustrate the enduring power of secrecy to deny citizens access to truth." —Dr Stephen Dorril, author of MI6: Fifty Years of Special Operations
Book may be ordered here.
---
---
Section I - INTELLIGENCE HIGHLIGHTS

Mossad: Israel's Mysterious Intelligence Agency Celebrates 70th Anniversary. The Mossad, Israel's mysterious international intelligence agency, celebrated its 70th anniversary this Friday and is enjoying increasing popularity worldwide.

The Israeli secret service is often cited as one of the most powerful spy services on the planet.

And for good reason, since its founding on December 13, 1949, the Mossad has shown its capability in a number of complex, risky and successful operations.

Among them, the kidnapping of Adolf Eichmann in Argentina in 1961; the hunt and targeted assassination campaign against the masterminds behind the Munich Olympics massacre; and the uncovering of tens of thousands of documents on Iran's clandestine nuclear weapons program in 2018. [Read more: i24News/14December2019]

James E. Dennehy Named Special Agent in Charge of the Intelligence and Surveillance Division of the New York Field Office. Director Christopher Wray has named James E. Dennehy as the special agent in charge of the Intelligence and Surveillance Division of the New York Field Office. He most recently served as chief of staff in the National Security Branch at FBI Headquarters in Washington.

Mr. Dennehy has spent most of his FBI career in the New York Field Office. He joined the FBI as a special agent in 2002 and was assigned to the New York office to work counterintelligence cases. He also served in leadership roles on the SWAT team and was certified as a crisis management coordinator. In 2013, he was promoted to supervisory special agent of the counterintelligence and counter-proliferation squad in New York's Hudson Valley and White Plains resident agencies.

In 2015, Mr. Dennehy served as unit chief in the Counterproliferation Center at FBI Headquarters and in 2016 was promoted to assistant section chief. In those roles, he guided the FBI's efforts to combat attempts by foreign adversaries to obtain export-controlled, sensitive technologies related to weapons of mass destruction and missile, space, and conventional weapons systems.

Mr. Dennehy returned to the New York Field Office in 2017 as the assistant special agent in charge over crisis management, firearms, operations command, recruiting, private sector engagement, community outreach, and several other programs. [Read more: FBI/16December2019]

Japan to Launch Intelligence-Gathering Satellite in January. An H-IIA rocket carrying a government optical intelligence-gathering satellite is scheduled for launch in January, according to Mitsubishi Heavy Industries Ltd.

The device will join Japan's seven other reconnaissance satellites believed to be utilized for such purposes as monitoring developments at North Korean missile sites.

The H-IIA rocket is set to lift off between 10 a.m. and noon Jan. 27 from the Tanegashima Space Center in Kagoshima Prefecture, Mitsubishi Heavy said Monday. [Read more: JapanTimes/16December2019]

Rachel Noble to Become the First Woman to Lead a Major Australian Spy Agency. The Federal Government has appointed the first woman to lead a major Australian spy agency.

Rachel Noble will become the next director-general of the Australian Signals Directorate (ASD), which intercepts electronic communications from foreign countries.

She is currently the head of the Australian Cyber Security Centre (ACSC).

Ms Noble replaces Mike Burgess, who is now Australia's spy chief at the Australian Security Intelligence Organisation (ASIO). [Read more: [ABCNews/13December2019]

U.S. Secretly Expelled Chinese Officials Suspected of Spying After Breach of Military Base. The American government secretly expelled two Chinese Embassy officials this fall after they drove on to a sensitive military base in Virginia, according to people with knowledge of the episode. The expulsions appear to be the first of Chinese diplomats suspected of espionage in more than 30 years.

American officials believe at least one of the Chinese officials was an intelligence officer operating under diplomatic cover, said six people with knowledge of the expulsions. The group, which included the officials' wives, evaded military personnel pursuing them and stopped only after fire trucks blocked their path.

The episode in September, which neither Washington nor Beijing made public, has intensified concerns in the Trump administration that China is expanding its spying efforts in the United States as the two nations are increasingly locked in a global strategic and economic rivalry. American intelligence officials say China poses a greater espionage threat than any other country. [Read more: Wong&Barnes/TheNewYorkTimes/15December2019]

After Years of Delays, NATO Receives U.S.-Made Spy Drones. NATO will receive its second U.S.-made Global Hawk drone on Thursday and aims to have all five unmanned aircraft of its $1.5 billion surveillance system operational in 2022, alliance officials said on Tuesday.

After years of delays, the drone system, which NATO says will be the world's most advanced, will give the alliance 24-hour, near-real time surveillance of land and sea beyond its borders and provide greater visibility than satellites.

"It's been a very, very long road," said Brigadier General Volker Samanns, a senior manager at the NATO Alliance Ground Surveillance (AGS) drone system, which was first discussed three decades ago and was scheduled to operate from 2017. [Read more: Emmott/Reuters/17December2019]



---
Section II - CONTEXT & PRECEDENCE

Hackers Could Use Smart Displays to Spy on Meetings. Add another entry to the list of internet-connected devices causing problems in unexpected places. Touchscreen smart TVs from DTEN, a "certified hardware provider" for popular video conferencing service Zoom, have flaws that hackers could use to essentially bug conference rooms, lift video feeds, or nab notes written on the device's digital whiteboard. Just one more reason to hate long meetings.

Security firm Forescout discovered the vulnerabilities in July when its researchers turned their bug hunting skills on the video conferencing units sitting in their own office meeting rooms. After two weeks conducting a surface-level security review of the DTEN D5 and D7 connected displays, the team found five bugs. Three have been patched, but two remain vulnerable. After disclosing the flaws to DTEN at the beginning of August, the researchers wanted to come forward with the findings to raise awareness about the threat of security issues lurking in inconspicuous devices.

"This new hardware is basically replacing a lot of the displays in conference rooms, and it's an interesting melding of things like smart TVs, web conference systems, and telepresence robots," says Alex Eisen, Forescout's senior director of research. [Read more: Newman/Wired/17December2019]

Can A Computer Catch A Spy? Thirty years ago finding a traitor required intuition, a kind of sixth-sensy feeling that something wasn't quite right. Before the Internet, widespread GPS and Google, it required paper trails, human intelligence and gumshoe investigations. Sandy Grimes experienced that firsthand, though almost by accident: She lost a source.

"Working in this kind of business you have a personal relationship with those people who when they agreed to work for the United States government put their lives in our hands," she said, which is why she may have taken it so personally when one of the spies she was running, a KGB official in Lagos, Nigeria, disappeared.

"He didn't appear for the first re-contact, didn't appear for the second re-contact," she said. It turned out he had been arrested, the first in a roster of Soviet double agents who were discovered to be working for the West. "One after another we were losing them," Grimes said, "And you couldn't cut it any other way: We failed them."

The big mystery was whether the agency was dealing with a spy in the ranks or a code breaker in Moscow. Had today's analytics existed back then, it might have sped up the process of discovery. Modern algorithms would have racked and stacked employee locations, found suspicious patterns in their work habits and tracked their movements. [Read more: NPR/8December2019]

Exposed as Stasi Spy, a Newspaper Owner Tries to Reclaim His Story. When a wealthy married couple bought the Berliner Zeitung, a distinguished but ailing survivor of the East German press, they timed their newspaper's big revamp for the 30th anniversary of the fall of the Berlin Wall last month.

In an attention-grabbing two-page editorial, the entrepreneurial couple, Silke and Holger Friedrich, urged a reimagining of history since German reunification. They argued that 30 years after the wall came down, East Germans should wrest back control of their own narrative from the West, and stirred controversy by defending the last East German leader.

But there was an essential piece of information that they left out.

A week later, a rival newspaper reported that Mr. Friedrich, 53, had been an informant for the Stasi, the feared secret police of Communist East Germany in the late 1980s. [Read more: Schuetze/NewYorkTimes/16December2019]

The CIA's Former Chief of Disguise Drops Her Mask. One morning during the presidency of George H.W. Bush, Jonna Mendez, then the CIA's chief of disguise, entered the White House wearing a mask. She had originally disguised herself as an African-American man but decided that mask wouldn't work, not least because her voice would give her away. Instead, she borrowed the face of a female colleague. "It was a little nerve-racking," she recalls. "I hadn't really worn it anywhere." She sat outside the Oval Office, chewing her pencil through the mask, until the president was ready for his morning intelligence briefing.

Entering the Oval with Brent Scowcroft, the national security adviser, and Robert Gates, the CIA director, Ms. Mendez delivered the briefing without raising the slightest suspicion. "Then I said, I'm going to show you what we're doing now, the latest technology. I'm going to take it off." President Bush, himself a former CIA director, told her not to; he wanted to figure it out himself. Mr. Bush stood up from his desk and circled her but couldn't spot anything amiss.

"So I just took it off," laughs Ms. Mendez. "I did the Tom Cruise peel before Tom Cruise did. I think they should call it the Jonna Mendez peel." Several of the masks she created are now at the International Spy Museum in Washington, D.C. (She sits on the museum's board of directors and was involved with its design and planning.) [Read more: Winkler/WallStreetJournal/12December2019]


---
It's Time to Reform Intelligence Community Hiring Practices. The intelligence community is generally good at keeping secrets. But its career management process shouldn't be one of those secrets. That was a key takeaway at a panel of intelligence community talent managers and leaders at Wednesday's #NatSecGirlSquad conference in Washington.

"Change is very hard inside a bureaucracy, and it's doubly hard inside a bureaucracy where secrecy and security is paramount," said Terri Randall, deputy director of talent acquisition at CIA. "How we can speed up our process - which is extensive and intensive - with tools that are more user friendly?"

The intelligence community has traditionally hired people through one of its 17 member agencies, most of which have their own suitability standards and security clearance processes. The Office of the Director of National Intelligence wants to change that to make it easier to consider qualified candidates for positions across the community.

"We have got to figure out how we can compete for talent more efficiently and effectively," said Erin Reitkopp, human capital program manager at ODNI. [Read more: Kyzer/GovernmentExecutive/12December2019]

Missile Defense: Further Collaboration with the Intelligence Community Would Help MDA Keep Pace with Emerging Threats. The Missile Defense Agency (MDA) is experiencing delays getting the threat assessments needed to inform its acquisition decisions. Officials from the defense intelligence community - intelligence organizations within the Department of Defense (DOD) - told GAO this is because they are currently overextended due to an increased demand for threat assessments from a recent upsurge in threat missile activity, as well as uncertainties related to their transition to new threat processes and products. The delays are exacerbated because MDA does not collectively prioritize the various types of threat assessment requests submitted to the defense intelligence community or provide resources for unique requests, as other major defense acquisition programs are generally required to do. Without timely threat assessments, MDA risks making acquisition decisions for weapon systems using irrelevant or outdated threat information, which could result in performance shortfalls.

MDA has increased its outreach to the defense intelligence community over the past few years, but opportunities remain for further engagement on key threat-­related processes and decisions. [Read more: GAO/11December2019]

Great Britain: What Impact has the General Election had on the Work of the Intelligence and Security Committee? It is a feature of the British political system that when general elections take place government continues. The transition of power after an election is almost seamless and, in most cases, takes place overnight. In contrast, parliamentary scrutiny of government is paused during a general election campaign and it can take some time for parliamentary scrutiny mechanisms to be reconstituted following an election. The interruption to the work of Parliament's Intelligence and Security Committee (ISC) has been particularly acute following recent general elections.

Like other parliamentary committees, the ISC is dissolved when a general election is called. The first task will therefore be to appoint a new committee. It has been common practice following a general election that the ISC is reconstituted with a combination of new and experienced members. Retaining members with some experience of the committee is particularly important for the ISC. Few parliamentarians have any experience of the world of intelligence prior to serving on the committee. Even those who have held ministerial office tend to have had a fairly narrow range of contact with the intelligence and security agencies, if they have had any contact at all. Moreover, the timing of the election means that the ISC has a number of ongoing inquiries that will need to be completed. Retaining some institutional memory is therefore vital for its effective operation. [Read more: Defty/DemocraticAuditUK/17December2019]

Why the State Department Rejected a Plan to Train Saudi Intelligence. The State Department recently rejected a proposal by DynCorp to train the Saudi intelligence service because of fears that the kingdom doesn't yet have proper safeguards to prevent lawless covert operations like the killing last year of Post contributing columnist Jamal Khashoggi.

What has disturbed State Department and CIA officials, and led them to argue against the proposal, are reports that Saudi Arabia is continuing abusive practices, including attempts to force dissidents back to the kingdom, surveillance abroad of Khashoggi's family and arrests of human rights activists.

U.S. officials worry that Saudi Crown Prince Mohammed bin Salman still hasn't recognized that intelligence accountability and reform are necessary to stabilize the U.S.-Saudi relationship. Officials are upset, for example, that Saud al-Qahtani, a close adviser to the crown prince named by the Treasury Department as an organizer of the operation that killed Khashoggi, still hasn't been charged - and continues to operate behind the scenes. [Read more: Ignatius/WashingtonPost/5December2019]

My Mom Was A Spy For The CIA, And This Is What She Wore To Work. I distinctly remember my mother getting home from work every evening around 4 p.m. She would hustle to her bedroom before properly greeting us - a one-inch kitten heel flying in one direction, a tweed brown blazer in the other. I always found it peculiar that the first thing she wanted to do when she entered our home in Maryland was to find an entirely new outfit to wear for dinner.

In retrospect, her nightly routine reflected my mother's need to shed her post-Cold War espionage persona for the maternal visage she wore at home. Working for the Central Intelligence Agency as a staff operational officer was sufficiently demanding to propel my mother, Suzanne Matthews, to her closet doors every evening. Despite this, she carried the stress of her job home, like a tracking device discreetly placed in her lapels.

Over the course of a career that spanned from 1975 to 2007, this is what my mother - an agent working for the CIA - wore to work every day. [Read more: Matthews/HuffingtonPost/13December2019]


---

Jack Childress, NSA Crytographer
Jack Earl Childress, 90, a former National Security Agency Cryptographer and a Korean and Vietnam War veteran, died 12 November 2019 of complications from a fall he suffered at his home in Columbia, MD.
Jack was born in Asheville, NC, raised in Greenville, SC, and joined the Army after high school in 1947. He was a graduate of the Army Language School in Monterey, CA, where he became proficient in Arabic, and was posted to U.S. embassies in Saudi Arabia, Lebanon, Egypt, and India.
Mr. Childress served in both the Korean and Vietnam wars in cryptology and was decorated with the Bronze Star for his Vietnam service. He attained the rank of sergeant at the time of his discharge in 1968.
He then went to work at the NSA, from which he retired in 1980.
Avocationally, he enjoyed tennis and was ranked in the Fort Meade Tennis Ladder and the U.S. Tennis Association Mid-Atlantic Ladder. He also was a fan of Washington Post crossword puzzles, Sudoku puzzles and bridge.
His wife of 50 years, Janet Childress, died several years ago. There are no survivors.
Terry DeMay, Chief Psychologist and CIA Operations Officer
Terrence William DeMay PhD, 70, a CIA Psychologist and Operations Officer, died 7 December 2019 in Fairfax, VA.
Born and raised in Sharon, PA, Terry received his doctorate from Lehigh University in 1978. He worked for the Central Intelligence Agency for 36 years as a Clinical Psychologist and Operations Officer. He was the Chief Psychologist for 15 years, responsible for all Agency mental health programs worldwide.
An avid traveler, Dr. DeMay had visited 56 different countries and all 50 US states. He traveled with a camera in hand and was a talented photographer, winning numerous contests and having his work selected for inclusion in the CIA World Factbook and on permanent display on Princess Cruises ships. During his earlier years, Dr. DeMay was an accomplished runner, completing 29 marathons with a personal best of 3:05:06 at the Boston Marathon.
He is survived by children, grandchildren, and other family.
A celebration of Terry DeMay's life will take place on 19 December 2019 at Fairfax Memorial Funeral Home, 9902 Braddock Road, Fairfax, VA, with a viewing at noon and a funeral service at 1 pm. Interment will follow at 2 pm at the adjacent Fairfax Memorial Park.
William Floyd Milligan, 77, Gifted NSA Linguist, died 5 December 2019 in Annapolis, MD.
Bill was born in Salisbury, MD. In his early years, Bill moved to Cambridge, MD where he graduated from Cambridge High school in 1960.
After graduation Bill enlisted in the Navy where he served as a Vietnamese Linguist. When his first tour was about to be up, the National Security Agency recruited him and he worked at NSA from 1963 to 1991.
During his NSA years, Bill worked abroad in Southeast Asia, Korea, and Japan. After retiring in 1991, he took on many volunteer roles to serve the community, especially veterans. Bill volunteered on the Prince George's County Veterans Advisory Commission, Marlboro Day Committee, Citizens Police Academy and The Citizens Emergency Response Team (C.E.R.T.) along with other public safety organizations.
Bill wore many hats for Prince George's County Police department, Sheriff's Department and the county's public safety agencies. For decades, he was a fixture in the county's public safety community. Bill was the driving force behind the county's annual Public Safety Food Basket Program, now in its 35th year, working to make sure families in need will have food for the Holidays. Bill believed so much in the program that he was working on it from his hospital bed just hours before he passed. As Executive Director of the Prince George's County's Public Assistance Program, Bill was an unwavering supporter of the men and women in public safety. Every year he oversaw the tremendous effort of organizing the County's Public Safety Valor Award Ceremony, which honors police officers, sheriff's deputies, fire and EMS personnel as well as Department of Corrections personnel who serve with distinction. He was a member of the Phoenix Society.
He is survived by sisters and other family.
Kenneth Leroy Smock, 77, died 21 November 2019.
He was born in Manhattan, KS. He earned a bachelor's degree from Kansas Wesleyan University. After serving in the army during the Vietnam War, Ken earned a MA from the University of Kansas and moved to the Washington, DC area for 40 years. For over 30 of those years, Ken was a top analyst at the CIA where his tireless dedication, expertise, and depth of knowledge on Central Europe and the Balkans were invaluable assets in service of his country.
Ken is survived by two sons and other family.

---
Daniel Morgan Graduate School of National Security is seeking an adjunct faculty member to teach a basis course on counter-intelligence in the Spring term (January 13 to April 24).
The course, which will be strictly unclassified, is currently scheduled to meet on Thursdays from 6 to 9pm.
Daniel Morgan students come from many countries and often already have advanced degrees or substantial professional experience. Classes are small and require faculty who are comfortable with inspiring and sustaining detailed small group explorations of complex problems.
In the course, students will be challenged to:
• Analyze methods to defend against foreign and domestic espionage
• Elaborate the use of deception to defeat other actor's intelligence capabilities;
• Examine the role of espionage and counterintelligence as means of achieving national goals;
• Assess the growing relationship between the intelligence and law enforcement communities and the relationship between civilian and military agencies;
• Evaluate the role of counterintelligence in cyber espionage and economic espionage;
• Communicate ideas clearly, concisely, and effectively in writing, discussions, and presentations
The ideal candidate is a highly experienced counter-intelligence professional who views teaching counter-intelligence issues in an unclassified format as a challenge not an obstacle. Previous teaching experience is especially welcome.
Those interested should email a brief expression of interest and short cv to Thomas Dowling, director of the intelligence program at dowling@dmgs.org
Email only please, no phone calls.
Daniel Morgan Graduate School is located in downtown Washington, DC. Visit our homepage at dmgs.org.
Assistant/Associate/Full Professor - Department of Intelligence & Security Studies, Charleston, SC - Two Openings Available
Work type: Full Time Permanent - Faculty; Location: Charleston, SC; Categories: Humanities; Payscale: Unclassified.
The Citadel's newly created Department of Intelligence & Security Studies houses some of the most popular and flourishing academic programs on campus. Since 2016, we have created both a Master of Arts (MA) and a Bachelor of Arts (BA) program in Intelligence and Security Studies; the MA program is 100% online while the BA is offered in both online and traditional formats. Our growth has created faculty openings for individuals who want to join an established team dedicated to producing principled leaders in all walks of life.
Job Responsibilities: The Citadel's School of Humanities and Social Sciences invites applications for two(2) tenure-track position in all areas of intelligence studies at the level of Assistant, Associate or Full Professor beginning in August 2020. The Department is particularly interested in individuals with experience in intelligence and big data analytics, homeland/national security, Eastern European/former Soviet area studies, applied intelligence community (IC) research, and military intelligence matters. The incumbent will be expected to teach at the undergraduate and graduate level using both traditional and online delivery methods. This is a full-time teaching, research and service position. Faculty within the School typically teach a 4+4 course load with appropriate research and service expectations.
Minimum Requirements: Applicants must have an earned doctorate from an accredited university in an area associated with intelligence studies. The ability to use or the motivation to learn technologies relevant to online teaching is required. All candidates should also be able to show effective past teaching experience, demonstrated research potential, and appropriate service activities. Advanced ABD candidates will be considered. There is also a potential for teaching additional summer courses. Salary will be competitive, and commensurate with experience and qualifications.
Preferred Qualifications: Relevant experience in the US intelligence community, the military, or other organizational contexts is preferred, but not required. Online teaching experience is preferred, but not required.
Additional Comments: Ranked as the #1 Public School in the South for nine years in a row by U.S. News and World Report, The Citadel offers a unique academic environment. The incumbent will teach members of the South Carolina Corps of Cadets (SCCC) in the classroom as well as non-cadet graduate and undergraduate students in an online venue. Regardless of the teaching milieu, Citadel faculty commit themselves to preparing the next generation of principled leaders for the military, private, and government sectors. Approximately 30% of every graduating SCCC class is commissioned into the U.S. military; the remainder seek job opportunities in the public and private arenas. Initial screening of applicants will begin immediately and continue until the position is filled. The position is expected to begin in August of 2020.
The Citadel is an Equal Opportunity / Affirmative Action employer and does not discriminate against any individual, or group of individuals, on the basis of age, color, race, disability, gender, gender identity, sexual orientation, religion, pregnancy, national origin, genetic information or veteran's status in its employment practices.The Citadel has a culturally diverse faculty and staff committed to working in a multicultural environment. We encourage applications from minorities, females, individuals with disabilities and veterans.
Interested applicants should apply now for Job No: 495785. To apply utilize the official online application and upload supporting documents to include: 1 Letter of interest addressing the qualifications listed above; 2 A curriculum vita; 3 Evidence of teaching effectiveness; In addition, please provide three professional references that can be contacted.
Information Systems Security Officer (ISSO) - Location: Fayetteville, NC
Duties: The ISSO will provide support to the ISSM for maintaining the appropriate security posture of systems accredited under the DCSA Risk Management Framework. The ISSO assists with the management of security aspects of the information system and is assigned performs day-to-day security operations of the system. The ISSO provides support to the customer on matters involving the security of the information system and assists in maintenance to ensure the system accreditation. This includes developing and updating the system security plan, maintaining the company Emass account, as well as managing and controlling changes to the system and assessing the security impact of those changes. The ISSO also provides support to plan, coordinate, and implement IT security programs and policies and provides configuration management for security-relevant information system software, hardware, and firmware. The ISSO will advise and assist the ISSM with the continuous monitoring of accredited systems.
Qualifications: Bachelor's Degree in Computer Science or related field and at least 6 years of applicable experience, or equivalent Active Secret or Top Secret/ SCI clearance DOD 8570 compliance (CISSP, Security +, etc.)
Preferred Additional Skills: Experience with ICD503 and NISPOM Chapter 8 Familiarity with multiple Intel community and DCSA system accreditation procedures Experience producing security artifacts into Emass (SSP, POAMs, etc.) Experience hardening OTS operating systems Experience with vulnerability and compliance scanning tools (WASSP, Nessus, SCAP, etc.) Experience implanting the Risk Management Framework (RMF) Experience managing Windows 10-based systems. Strong investigative drive, intuition, and self motivation Understanding of system vulnerabilities, exploitation and mitigation
Security Clearance: This position requires a current, final security clearance eligibility and the ability to obtain a TS/SCI with polygraph. You must be a U.S. Citizen. In addition, applicants who accept a conditional offer of employment may be subject to government security investigation(s) and must meet eligibility requirements for access to classified information. The candidate may also be subject to a local background check.
To apply or for more information contact: Kelly George at kgeorge@walsinghamgroup.com
Syracuse University's School of Information Assistant Professor - Trustworthy Cyberspace
DePaul University, School of Computing Assistant Professor in Software Engineering
The School of Computer and Cyber Sciences Tenure Track and Tenured Positions at the Assistant, Associate, and Full Professor Levels
Department of Cyber and Computer Sciences at The Citadel Tenure-Track Positions in the Department of Cyber and Computer Sciences
Portland Community College - Computer Information Systems Instructor, CIS / Windows System Administration
Augusta University - Tenure Track and Tenured Positions at the Assistant, Associate, and Full Professor Levels
FireEye Has Many Intelligence Positions Available For You - Worldwide - Contract, Full-time, Part-time, Interns
Explore the many career and contractor intelligence jobs available here. Jobs openings in Cyber Security include - Advisory, Architecture, Digital Forensics & Incident Response, Penetration Testing, Threat Research. They positions are needed here: New York, Chicago, Manila, Reston, Dallas, Atlanta, Suitland, Singapore, Denver, Las Vegas, Phoenix, Doha, Stockholm, London, Milpitas, multiple cities in Australia, Washington, Indianapolis, Tampa, Santiago, Alexandria, Seattle, Carlsbad, Houston, San Francisco, Arlington, Dubai, Amsterdam, Ft Belvoir, Minneapolis, Mexico City, San Diego, Boston, El Segundo, Philadelphia, San Antonio, Chiyoda, Ft Huachuca, Ft Gordon, Ft Meade, Ft Shafter, Kuwait City, Seoul, Sttutgart, Salt Lake City, Austin, Dublin, Bangalore, Cork, Colorado Springs... Explore the many career and contractor intelligence jobs available here.
---
AFIO EDUCATIONAL EVENTS IN COMING TWO MONTHS....
Wednesday, 8 January 2020, 1130 - Albuquerque, NM - AFIO New Mexico Chapter Speaker Luncheon
SPEAKER: T.B.A. for this AFIO NM Chapter Meeting.
Location of event: "Sunnyside Up Cafe" formerly the "The Egg & I" restaurant on Menaul just east of Louisiana, next door to Chili's, 6909 Menaul Boulevard Northeast, Albuquerque, NM 87110, (505) 888-3447
Fee to attend: Meeting is Free.
11:00 a.m. (Arrive, Order Lunch - available at separate cost), 11:30 a.m. (Call To Order), 1:00 p.m. (Adjourn)
Our meetings are normally open to present and former members of Federal, Military (uniformed and civilian), State and Local Agencies and selective others who support the Intelligence Community.
If you desire further information, please contact one of the following: Sam Shaw - Phone: 505-379-3963 e-mail: President@afionm.org; Tom Dyble - Phone: 505-299-3242 e-mail: Vice-President@afionm.org
Thursday, 16 January 2020, 11:30 a.m. - Colorado Springs - The AFIO Rocky Mountain Chapter hosts Steve Maffeo, discussing "The Battle of Midway"
This meeting of the Rocky Mountain Chapter features author/US Naval Officer Steve Maffeo discussing The Battle of Midway.
Synopsis: Call it what you will -- the incredible victory, the turning point of the war, or simply a miracle -- the June 1942 Battle of Midway has fascinated people ever since it ended in a massive "win" by the US Navy over the Imperial Japanese Navy. Stimulated by the recent Hollywood movie on the battle, Steve Maffeo brings us a presentation which illuminates the history of the actual battle, the personalities of some of the key players, some nuances of the 2019 movie as well as the 1976 movie, and the remarkably crucial roles linguistics, intelligence, and codebreaking played in the sequence of events.
Biography: Steve Maffeo retired in 2015 as the Associate Library Director at the U.S. Air Force Academy. He holds degrees from the University of Colorado, the University of Denver, and the U.S. National Defense Intelligence College. His civilian career was for the most part a library administrator. He also worked at Joslins Dry Goods, Martin-Marietta Aerospace, the University of Northern Colorado; the U.S. Naval War College; and the Aurora (Colo.) Public Library.
In 2008, Steve retired as a Navy captain after 30 years (both enlisted and commissioned) in the Colorado Army National Guard, the U.S. Navy, and the U.S. Naval Reserve. His last three assignments were as the commanding officer of reserve shore-based units supporting the Office of Naval Intelligence, the Joint Intelligence Center Pacific, and the National Defense Intelligence College.
Steve has published several journal and encyclopedia articles as well as five books: Most Secret and Confidential: Intelligence in the Age of Nelson; Seize, Burn, or Sink: The Thoughts and Words of Vice Admiral Lord Nelson; The Perfect Wreck: "Old Ironsides" and HMS Java--A Story of 1812; U.S. Navy Codebreakers, Linguists, and Intelligence Officers against Japan: 1910-1941; and just this last month, The Russian Who Saved the World: A Novel of the Cuban Missile Crisis.
To attend of for more information, please contact steve13507@gmail.com.
Saturday, 8 February 2020, 11:30 a.m. - 2 p.m. - Indialantic, FL - The Florida Satellite Chapter hosts FBI Agent Mike Popolano on "Profiles and Motives of Active Shooters."
FBI Agent and FSC Member Mike Popolano's talk will cover some infamous active shooter cases and how law enforcement strives to profile potential active shooters and determine their motives. He will examine police response to active shooter incidents and the options available for self-protection and defense. In all cases, Mike will make use of his extensive background as an FBI Special Agent and investigator to present historical cases both to underscore and further elucidate his presentation.

TIMING: 11:30 AM - 12:15 PM: Social Hour, greet old, new members and guests. Cash bar. 12:15 PM: Sit-Down lunch

LOCATION: Doubletree Melbourne Beach Oceanfront, 1665 N Highway A1A, Indialantic, FL 32903. Location and Directions via Google Maps.

TO ATTEND: Prepaid reservations are required and must be received by Sunday, 2 February. To reserve, indicate food choice [Pasta Marinara, Pasta Primavera, or Chicken Francese) for self and any guests. The meal fees are $32 for members, $36 for guests. Send check, payable to AFIO FSC, to FSC Treasurer Rhonda Rhoads, PO Box 410158, Melbourne, FL 32941.
Questions? Rhonda can also be reached at afiofsctreas@gmail.com and at 321 626 -4465.
Paid, advance registration is required, and none will be accepted after February 2.
Monday, 10 February 2020, 5:30 p.m. - New York, NY - AFIO NY Metro Chapter hosts CIA Officer (Ret) and Author/Disguise Expert Jonna Mendez
Jonna Mendez (Spy Dust: Two Masters of Disguise Reveal the Tools and Operations That Helped Win the Cold War), share (with late husband Tony Mendez) their experiences as spies in Moscow during the height of the Cold War in the mid-1980s. The authors begin with the initial list of "the Moscow Rules" and continue to discuss briefly the current state of affairs in Russia under Vladimir Putin, and how they interfered with the 2016 U.S. election. Additional details to follow in coming months.
Location: Society of Illustrators, 128 E 63rd St (between Park and Lexington), New York, NY 10065.
Timing: Registration starts at 5:30 pm, Speaker presentation starts at 6 pm. Fee: $50/person. Payment at the door only. Cash or check. Full dinner, cash bar.
RSVP: Strongly recommended that you RSVP to ensure space at event. Call or Email Chapter President Jerry Goodwin at afiometro@gmail.com or 646-717-3776.
Wednesday, 19 February 2020, 11:30 a.m. - San Francisco, CA - The "Andre Le Gallo" San Francisco Chapter hosts FBI Special Agent Michael Gimbel
2019 ended with a shooting at a kosher grocery store in New Jersey, a stabbing at a rabbi's home during a Hanukkah celebration in New York and another shooting at a church in Texas. What can we do to prevent, mitigate, and respond to violent incidents?
On 28 July 2019 at approximately 5:41pm, a lone gunman opened fire at the Gilroy Garlic Festival, resulting in the death of 3 people and 21 individuals shot. The active shooter incident called on the mutual aid response of local, county, state, and federal law enforcement resources from multiple counties and over 50 agencies. FBI Special Agent Michael Gimbel will speak about the law enforcement response to this shooting and their vital inter-agency relationship and coordination which facilitates and expedites the handling and processing of the crime scene.
Timing: No-host cocktails at 11:30, luncheon meeting and presentation begins at noon.
Location: Basque Cultural Center - San Francisco, CA
RSVP: Eventbrite link forthcoming.
Friday, 28 February 2020, 10:30 am - 2 pm - Tysons, VA - First AFIO luncheon of 2020 features James Olson, author of To Catch a Spy: The Art of Counterintelligence; and political scientist Seth G. Jones, author of A Covert Action: Reagan, the CIA, and the Cold War Struggle in Poland.
James Olson's presentation starts at 1 p.m.: Olson served for over thirty years in the Directorate of Operations of the CIA, mostly overseas in clandestine operations. In addition to several foreign assignments, he was chief of counterintelligence at CIA headquarters in Langley, VA. Currently, he is a Professor of the Practice at the Bush School of Government and Public Service of Texas A& M University.
At this event Professor Olson will be discussing his March 2019 book, To Catch a Spy: The Art of Counterintelligence which suggests that the US is losing the counterintelligence war. Foreign intelligence services, particularly those of China, Russia, and Cuba, are recruiting spies in our midst and stealing our secrets and cutting-edge technologies. He provides a guide for how our country can do a better job of protecting its national security and trade secrets. He will review the principles and methods of counterintelligence, including the running of double-agent operations and surveillance. He also addresses why people spy against their country, the tradecraft of counterintelligence, and where counterintelligence breaks down or succeeds.
The morning speaker, Dr. Seth G. Jones, will begin 11 a.m. Dr. Jones director of the Transnational Threats Project, and is a senior adviser to the International Security Program at the Center for Strategic and International Studies (CSIS). He teaches at Johns Hopkins University's School of Advanced International Studies (SAIS) and the Center for Homeland Defense and Security (CHDS) at the U.S. Naval Postgraduate School. Prior to joining CSIS, Dr. Jones was the director of the International Security and Defense Policy Center at the RAND Corporation and was Adjunct Professor, Security Studies Program, Edmund A. Walsh School of Foreign Service, Georgetown University, where he taught classes on "Counterinsurgency" and "Stability Operations." He also served as representative for the commander, U.S. Special Operations Command, to the assistant secretary of defense for special operations.
He will discuss counterinsurgency and counterterrorism, with a particular focus on Afghanistan, Pakistan, and al Qa'ida.
Registration has opened and may be done quickly here.
Venue: DoubleTree by Hilton, 1960 Chain Bridge Rd, Tysons Corner, VA 22182 Phone: (703) 893-2100. Directions at this link.
---
Other Upcoming Events from Advertisers, Corporate Sponsors, and Others
Tuesday, 7 January 2020, 6-8pm  -  Washington, DC  -  Cork Wars  -  at Cork Wine Bar (through the International Spy Museum)
Next time you pop open a wine bottle take a second to consider the cork. From capping bottles to insulating fighter planes, cork had surprising significance in World War II. This evening David Taylor, author of Cork Wars, will reveal how the Nazis spied and conspired to deprive the Allies of this ingredient crucial to the defense industry. From secret missions in North Africa to OSS agents working undercover in the cork industry in Portugal, you'll be surprised by this extraordinary tale of industrial espionage and Nazi sabotage. And where better to learn the story than at Cork Wine Bar? Taylor will speak midway through a tasting of five different Portuguese wines accompanied by cheese and charcuterie as part of this unique evening celebrating a little-known, yet essential part of the World War II war effort. Pre-Registration is required. Guests must be 21 or older. Tickets for the general public: $90 per person (includes talk, wine tasting, cheese and charcuterie) / with book $110; tickets for Members: $80/ with book $100. Visit www.spymuseum.org. [Program description provided by Spy Museum]
Wednesday, 11 January 2020, 6:30pm  -  Washington, DC  -  LAIR: Why do Bad Guys Live in Cool Houses?  -  at the International Spy Museum
How do you know if you're a villain? You think building on the sea floor or at the bottom of a volcano sounds good…really good. This evening celebrate the unreal real estate that classic spy villains call HQ. What goes into planning a place where evil plotters can freely plot? Innovative architect Chad Oppenheim of Oppenheim Architecture + Design, took on this question in his new book Lair: Radical Homes and Hideouts of Movie Villains.  Oppenheim will discuss the design influences and impact of these stunning, sophisticated, envy-inducing expressions of the warped drives and desires of their occupants. But first, enjoy a cocktail fit for Blofeld, view the diabolical dioramas entered in our mini-lair competition, and explore how to escape should a rogue restrain you with zip ties while powering up a laser! Books will be for sale and signing at the event. Feeling crafty? Enter our diabolical diorama mini-lair contest. To participate, register here. Co-sponsored by the National Building Museum.  Tickets for the general public: $35 per person (includes cocktail)/ with book $80; tickets for Members: $25 (includes cocktail)/ with book $70. Visit www.spymuseum.org. [Program description provided by Spy Museum]
Tuesday, 14 January 2020, 6:30 - 8:30 p.m. - San Francisco, CA - Brig Gen/Professor Nagel on "Israel's National Security Challenges: A Briefing on New Defense Technologies from Israeli Intelligence Insider."
Brigadier General (Res) Professor Jacob Nagel speaks on " Israel's National Security Challenges: A Briefing on New Defense Technologies from Israel's Own Intelligence Insider."
Gen, Nagel was a career Israeli civil servant official (Defense Ministry and Prime Minister's Office) for over 40 years. A Technion graduate, he returned to the school in May 2017 as a visiting professor in the Aerospace Engineering Faculty. From January 2016 to May 2017, Brig. Gen. Nagel served as the head of Israel's National Security Council (NSC) and as Prime Minister Benjamin Netanyahu's National Security Advisor (acting). During that period, he met with world leaders including former U.S. President Barack Obama and President Donald Trump. Gen. Nagel led the negotiations for more than 3 years and signed the agreement on the next-generation $38 billion military aid to Israel. He also met several times with Michael Flynn, President Trump's National Security Advisor, to brief him on a variety of security and strategic matters and to prepare the first official meeting between Israeli Prime Minister Benjamin Netanyahu and President Trump. [Program description provided by AFIO's SF Chapter]
Location: Congregation Emanu-El, 2 Lake St (cross street: Arguello), San Francisco, CA 94118. Street parking limited.
Registration: No charge. More information and RSVP link is required and is here.
Thursday, 16 January 2020, noon  -  Washington, DC  -  Spy Chat with Chris Costa  -  at International Spy Museum
Having trouble getting a handle on world events? Join Spy Museum Executive Director Chris Costa for a discussion of the latest intelligence, national security, and terrorism issues in the news.  Costa, a former intelligence officer of 34 years with 25 of those in active duty in hot spots such as Panama, Bosnia, Afghanistan, and Iraq is also a past Special Assistant to the President and Senior Director for Counterterrorism on the National Security Council. He will be joined by Spy Museum Advisory Board Member Michael J. Lacombe.  During his 28 year CIA career, Mr. Lacombe served in multiple senior leadership positions, including four war zone tours with two as Chief of Station.  In that capacity, he led collaborative counterterrorism and cyber operations/programs with US military and regional international Intelligence partners. Together they will draw on their expertise and personal experience to help you make sense of the intelligence, national security, and terrorism cases you've heard about…and ones you haven't.  Bring your questions, this is your chance to ask the experts!  Event is free  -  no registration required.  Visit www.spymuseum.org. [Program description provided by Spy Museum]
Saturday, 25 January 2020, 2pm  -  Washington, DC  -  Catching a Russian Spy: A Family-Friendly Book Talk  -  at the International Spy Museum
The FBI and CIA suspected Russia had a dangerous spy working in the US in the early 1990s. But who was it?  The newest book in Bryan Denson's "FBI Files" series for younger readers Catching a Russian Spy: Agent Les Wiser Jr. and the Case of Aldrich Ames explores the race to uncover the traitor.  Denson will be joined by Leslie Wiser, Jr., the agent who ran the Ames operation out of the Washington Metropolitan Field Office, and Sandy Grimes, a CIA officer who was determined to find the evidence that Ames was spying.  Together they will explain how Ames betrayed his country, caused US assets to be killed, and ultimately was brought to justice.  Catching a Russian Spy will be available for sale and signing at the event. (The book is recommended for young readers age 8-13.)  Free.  No registration required. Visit www.spymuseum.org. [Program description provided by Spy Museum]
Friday, 31 January 2020, 6-9pm  -  Washington, DC  -  Spy Fest: Tradecraft Try-Its  -  at the International Spy Museum
Could you be a spy? Now's your chance to find out! Do you have the savvy to beat a lie-detector? The smarts to break a top secret coded message? The wits to create secret writing? The moves of a Ninja? Families are invited to find out how they measure up at the Museum's annual Spy Fest. Mini-missions, tradecraft demonstrations by the experts, and the chance to try spy skill challenges will give KidSpy agents and their handlers an insider's peek into the shadow world of spying—and who knows, there just may be a spy or two in your midst. Ages: 5 and up (one adult required for every five KidSpy agents). Ages 3+ must have a ticket to attend.  *Ticket includes exclusive after-hours admission, scavenger hunt, and more.  Tickets for the general public: $16 per person; tickets for Members: $14.  Visit www.spymuseum.org. [Program description provided by Spy Museum]
11-12 February 2020 - Charleston, SC - Conference on "Legally Immoral Activity? Testing the Limits of Intelligence Collection" at The Citadel
Are there limits to intelligence collection in support of national security? Where, if at all, does a free and open society provide the limits of surveillance? Civil liberties are a founding tenet of democracy, but at what cost? How does a country balance collective security with individual rights? Recently, a Federal Court ordered Apple to help the FBI unlock the cellphone of a terrorist, but company officials would oppose that order, citing concerns over the privacy rights of all Americans.
This 2-day inter-disciplinary conference will examine the legal, ethical, social, economic, historical and political aspects of the United States government's ability to protect its citizens in an era that warfare has no societal or personal boundaries.
The conference will be held February 11-12, 2020 on the campus of The Citadel in Charleston, South Carolina.
Deadline for proposals and abstracts must be received by October 15, 2019.
Inquires and Submissions should be sent to Dr. Jan Goldman, Department of Intelligence and Security Studies at Email: jgoldma1@citadel.edu.
25 - 27 June 2020 - London, England - IAFIE 2020 Annual Conference
The 2020 Annual Conference of the International Association for Intelligence Education (IAFIE) will be held in London from June 25 to 27. The conference is being held jointly by IAFIE and the IAFIE Europe Chapter (IAFIE EC). This will be the 5th Annual Conference of IAFIE EC. The submission date for abstract proposals is January 27, 2020. Proposals for papers, panels, posters and interactive workshops are being accepted. The topics/themes for the conference are Intelligence Analysis, Intelligence Domains, Management of Intelligence Community, and Intelligence Education and Research. Notification of acceptance will be in mid-February, and papers, posters, presentations and workshop materials will be due on April 20, 2020. Authors of recent books, monographs and reports in line with these topics/themes are also invited to submit proposals to participate in Author Roundtables. More information here.
---
In addition to the new Royal Blue long sleeve shirts, and the gray long sleeve hooded sweatshirts, the AFIO Store also has the following items ready for quick shipment:
NEW: LONG and Short-Sleeved Shirts with embroidered AFIO Logo and New Mugs with color-glazed permanent logo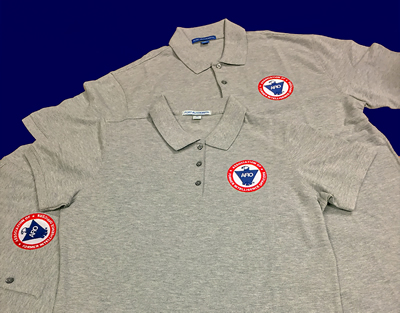 Show your support for AFIO with our new Polo Shirts. Be the first to buy these new, high quality, subtle heathered grey short sleeve shirts, and dark blue long sleeved shirts, of shrink and wrinkle resistant fine cotton with a soft yet substantial feel. They feature a detailed embroidered AFIO seal. Get a shirt for yourself and consider as gifts for colleagues, family, and friends. Only $45 each including shipping.
Sizes of (M) men or (W) women shirts; Small, Medium, Large, XL, XXL, and XXXL. At this time all orders will arrive as Short Sleeve shirts.
You may pay by check or credit card. Complete your order online here or mail an order along with payment to: AFIO, 7600 Leesburg Pike, Ste 470 East, Falls Church, VA 22043-2004. Phone orders at 703-790-0320. If interested in other shirt colors or sleeve lengths, contact Annette at: annettej@afio.com.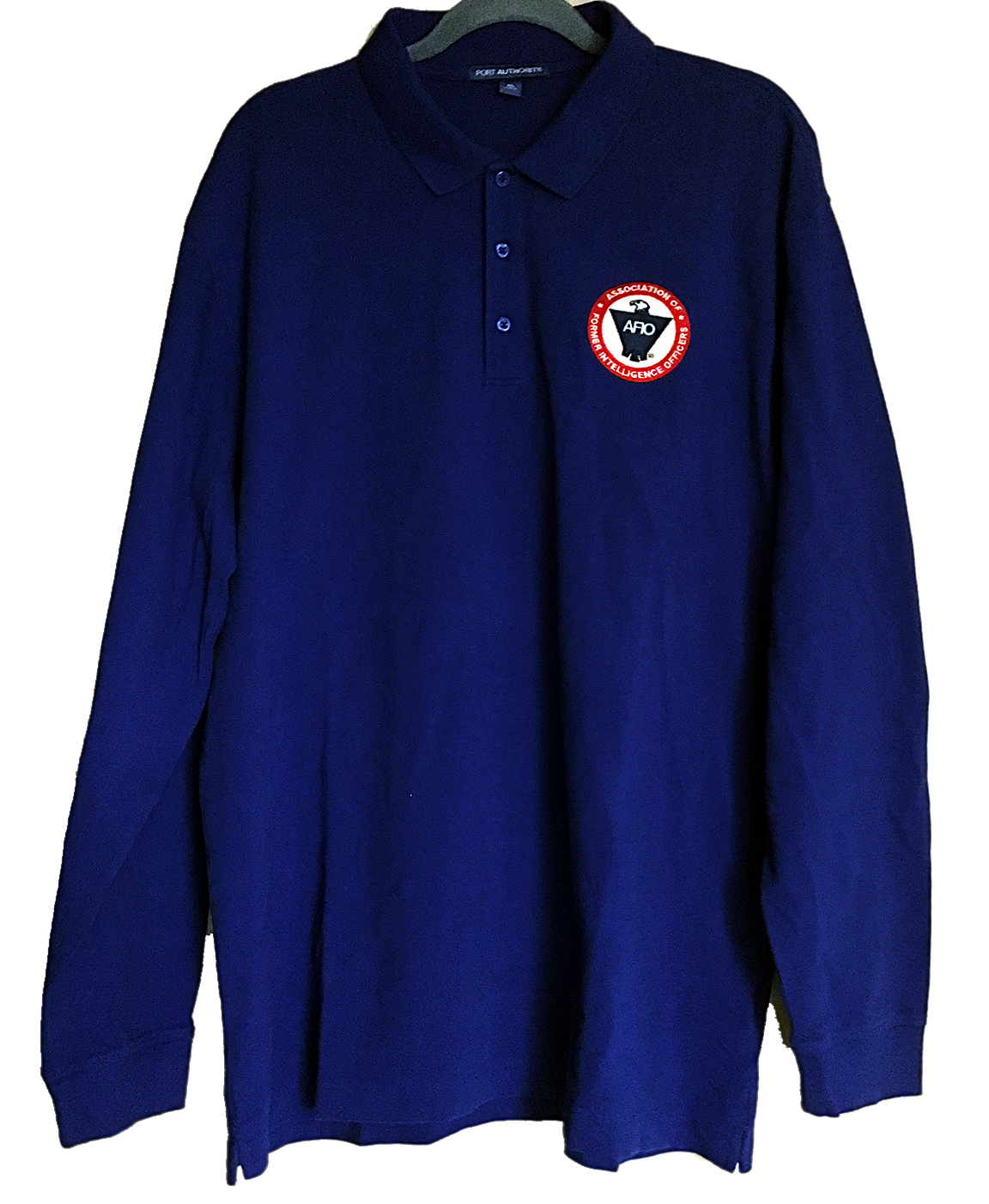 Long-Sleeved Shirts and Hooded Sweatshirts with embroidered AFIO Logo
Show your support for AFIO with our new long-sleeved Polo Shirts and Hooded Sweatshirts.
Both items are high quality and shrink resistant and feature a detailed embroidered AFIO seal. The color of the long-sleeved Polo Shirts is royal blue; the price is $55 and includes shipping.
The Hooded Sweatshirts are dark grey; the price is $70 and includes shipping.
Purchase a shirt and sweatshirt for yourself and consider as gifts for colleagues, family, and friends.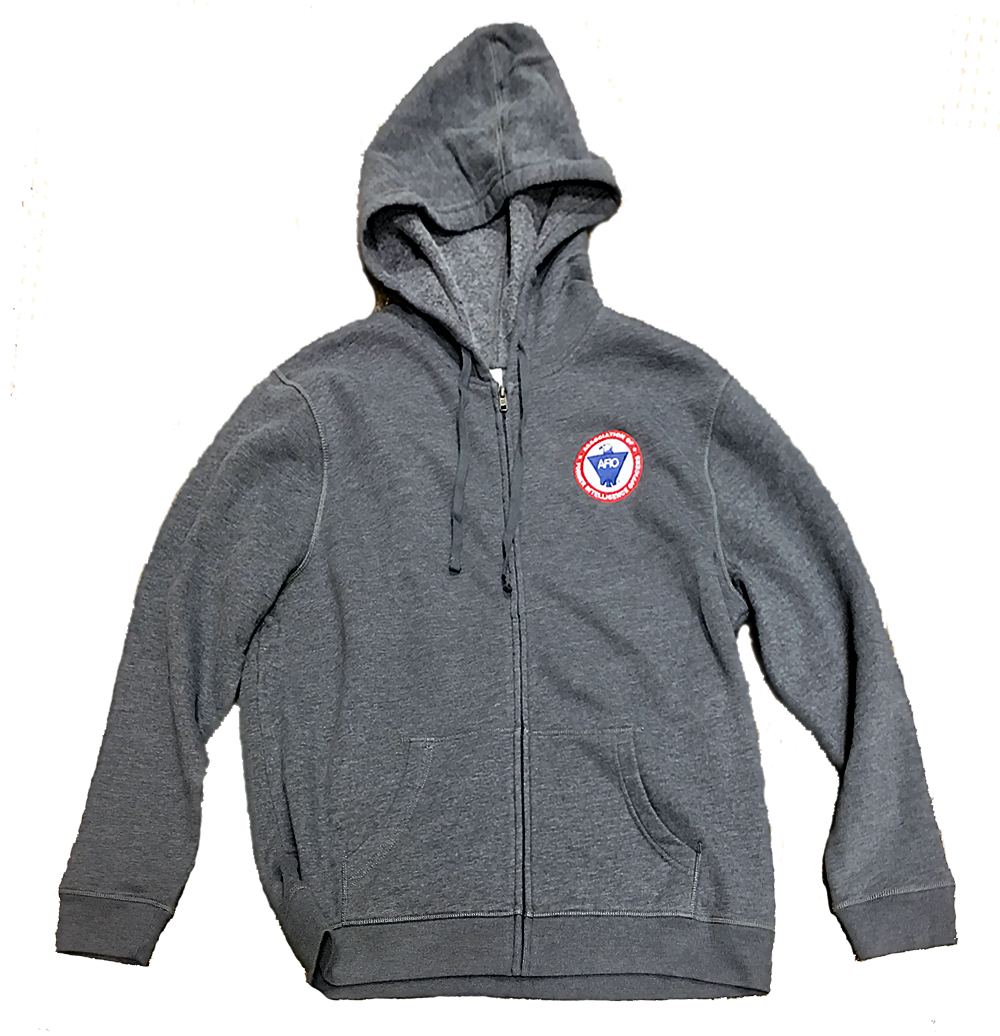 Both items are available in men's sizes: Small, Medium, Large, XL, XXL, and XXXL. The long-sleeved Polo Shirts and Hooded Sweatshirts are not available in ladies' sizes.
---
NEW: Mug with color glazed logo. Made in America. (We left out all that lead-based glaze and hidden toxins in those mugs made in China being sold by other organizations). Also sturdy enough to sit on desk to hold pens, cards, paperclips, and candy.
This handsome large, heavy USA-made ceramic mug is dishwasher-safe with a glazed seal. $35 per mug includes shipping. Order this and other store items online here.
AFIO's Intelligence Community Mousepads are a great looking addition to your desk...or as a gift for others.
Made in USA. Click image for larger view.
These 2017 mousepads have full color seals of all 18 members of the US Intelligence Community on this 8" round, slick surface, nonskid, rubber-backed mouse pad with a darker navy background, brighter, updated seals. Also used, by some, as swanky coasters. Price still only $20.00 for 2 pads [includes shipping to US address. Foreign shipments - we will contact you with quote.] Order MOUSEPADS here.
---
Guide to the Study of Intelligence and When Intelligence Made a Difference
"AFIO's Guide to the Study of Intelligence" has sold out in hard-copy.
However, it is available in digital form in its entirety on the AFIO website here.

Also available on the website here are the individual articles of AFIO's history project "When Intelligence Made a Difference" that have been published to date in The Intelligencer journal. More articles will be forthcoming in future editions.
---
Disclaimers and Removal Instructions
Weekly Intelligence Notes (WINs) are commentaries on Intelligence and related national security matters, based on open media sources, selected, interpreted, edited and produced for non-profit educational uses by members and WIN subscribers.
REMOVAL INSTRUCTIONS: We do not wish to add clutter to inboxes. To discontinue receiving the WINs:
a) IF YOU ARE A MEMBER - click here: UNSUBSCRIBE and supply your full name and email address where you receive the WINs. Click SEND, you will be removed from list. If this link doesn't open a blank email, create one on your own and send to afio@afio.com with the words: REMOVE FROM WINs as the subject, and provide your full name and email address where you are currently receiving them.
b) IF YOU ARE NOT A MEMBER, and you received this message, someone forwarded this newsletter to you [contrary to AFIO policies]. Forward to afio@afio.com the entire WIN or message you received and we will remove the sender from our membership and distribution lists. The problem will be solved for both of us.
CONTENTS of this WIN [HTML version recipients - Click title to jump to story or section, Click Article Title to return to Contents. This feature does not work for Plaintext Edition or for some AOL recipients]. If you wish to change to HTML format, let us know at afio@afio.com. The HTML feature also does not work for those who access their e-mail using web mail...however NON-HTML recipients may view the latest edition each week in HTML at this link: https://www.afio.com/pages/currentwin.htm
---
WINs are protected by copyright laws and intellectual property laws, and may not be reproduced or re-sent without specific permission from the Producer. Opinions expressed in the WINs are solely those of the editor's or author's listed with each article. AFIO Members Support the AFIO Mission - sponsor new members! CHECK THE AFIO WEBSITE at www.afio.com for back issues of the WINs, information about AFIO, conference agenda and registrations materials, and membership applications and much more!
(c) 2000, 2012, 2013, 2014, 2015, 2016, 2017, 2018, 2019. AFIO, 7600 Leesburg Pike, Suite 470 East, Falls Church, VA 22043-2004. Voice: (703) 790-0320; Fax: (703) 991-1278; Email: afio@afio.com
---
About AFIO | Membership Renewal | Change of Address | Upcoming Events | Chapter Locations | Corporate/Institutional Memberships | Careers in Intelligence Booklet | Guide to the Study of Intelligence | Intelligencer Journal | Weekly Intelligence Notes | To Make A Donation | AFIO Store | Member-Only Section | Code of Ethics | Home Page
---