---
Section I - INTELLIGENCE HIGHLIGHTS

The Fortress: Turkey's New intelligence HQ Opens in Ankara. A new, larger headquarters for Turkey's National Intelligence Organization (MİT) was inaugurated Monday in the capital Ankara. President Recep Tayyip Erdoğan and ministers opened the headquarters dubbed "Kale," or "The Fortress," by the directorate.

The massive complex, built in a space of 5,000 acres in the Bağlıca neighborhood of the city's Etimesgut district, is surrounded with three-meter high concrete walls, barbed wire and fitted with a secretive security system against unauthorized access, infiltration and wiretapping.

The organization moved its headquarters at least three times since its foundation in 1965. Its last headquarters was in the Yenimahalle district of the capital. That building came under fire by putschists during the July 15, 2016 coup attempt by Gülenist Terror Group (FETÖ).

Speaking at the inauguration ceremony, Erdoğan said that intelligence was indispensable both in wartime and peacetime for a country's existence. [Read more: DailySabah/6January2020]

London Stock Exchange May Have Been Taken Down by Cyberattack. An outage that affected the London Stock Exchange last year may have been caused by a cyberattack, reports have claimed.

The Wall Street Journal has claimed that last year's downtime could be down to something far more serious than initially thought, with the possibilty that criminal forces looked to affect financial transactions occurring on the LSE.

The UK's GCHQ intelligence agency has now been called in to investigate the outage, which took the exchange offline for around an hour and a half on August 16th, with the UK Treasury also involved. [Read more: Moore/TechRadar/6January2019]

Amid Rising Spy Concerns, 2 More Chinese Students Held After Shooting Photos at Base. Key West visitors always flock to the town's favorite tourist spots - Mallory Square, Duval Street, Ernest Hemingway's home, and the Southernmost Point Buoy - to snap photos and record memories.

But apparently, not students visiting from China. For some reason, they seem to like taking pictures of military facilities in Key West.

The latest - a pair of Chinese nationals attending the University of Michigan - were arrested over the weekend and appeared in federal court in Key West on Monday on a charge of entering a U.S. Naval property for the purpose of photographing defense installations. [Read more: Filosa&Weaver/MiamiHerald/7January2019]

Somali Terrorist Group Destroyed U.S. Spy Aircraft in an Attack on Military Base in Kenya. Al Shabab, the Somali terrorist group, on Sunday attacked a military base in Kenya that is used by both American and Kenyan forces, according to U.S. Africa Command.

"U.S. Africa Command acknowledges there was an attack at Manda Bay Airfield, Kenya and is monitoring the situation," said a spokesperson for U.S. Africa Command in a statement provided to ABC News. "As facts and details emerge, we will provide an update."

The official did not provide information about any potential casualties at the Kenyan military base that has housed U.S. military personnel for years. It is unclear how many American personnel are stationed at the base that has reportedly been a site for U.S. special operations forces operating in Somalia. [Read more: Malyasov/DefenceBlog/5January2020]


---
Section II - CONTEXT & PRECEDENCE

How the CIA Tried to Quell UFO Panic During the Cold War. In January 1953, the fledgling Central Intelligence Agency had a thorny situation on its hands. Reports of UFO sightings were mushrooming around the country. Press accounts were fanning public fascination - and concern. So the CIA convened a group of scientists to investigate whether these unknown phenomena in the sky represented a national security threat.

But there was something else.

At a time when growing Cold War anxiety about the Soviets ranged from psychological warfare to wholesale nuclear annihilation, the U.S. government worried about the prospect of a growing national hysteria. In the previous year, UFOs had begun to figure prominently in the public conversation. In April 1952, the popular magazine LIFE published a story titled "Have We Visitors from Space?" that promised to offer "scientific evidence that there is a real case for interplanetary saucers." In July that year, newspaper headlines around the country blared reports of flying saucers swarming Washington, D.C. Between March and June that year, the number of UFO sightings officially reported to the U.S. Air Force jumped from 23 to 148. Given all the attention UFOs were getting, the CIA decided it needed a "national policy" for "what should be told the public regarding the phenomenon, in order to minimize risk of panic," according to government documents. [Read more: Little/History/5January2020]

Transcript: Sean Roche on "Intelligence Matters". In this episode of Intelligence Matters, host Michael Morell speaks with Sean Roche, a recently retired senior CIA official who ran the agency's digital innovation arm. Roche, who spent nearly 30 years at the agency, discusses the early internal preparations the CIA made in anticipation of both technological challenges and new opportunities in the digital domain – including the creation of the CIA's first new directorate in more than 50 years. Roche also discusses evolving cyber threats from nation state and non-nation state actors. [Read more: CBSNews/1January2020]

How to Get a Job at the CIA. When you think of the Central Intelligence Agency, you might picture the infamous characters of Jason Bourne or Ethan Hunt. But the CIA isn't a group of spies taking down international bad guys in a blaze of gunfire and explosives; the agency is made of several directorates with the responsibility to provide national security intelligence to U.S. policymakers, its website explains.

(As ClearanceJobs recently discussed, the media has often misrepresented the CIA; and in 1976, President Gerald R. Ford condemned the CIA for its previous assassination attempts and orders.)

CIA employees might analyze all-source intelligence and produce informative reports; develop scientific solutions for problems; provide medical services; create cutting-edge digital and cyber tradecraft; and, yes, they may work in a clandestine capacity to collect international intelligence.

If you'd like to work for the agency, in any capacity, then here is everything you need to know. [Read more: Kramer/ClearanceJobs/2January2020]


---
The Cyber Consequences Of Killing Qassim Suleimani. It is somewhat remarkable that the commander of the Iranian Revolutionary Guards Corps' (IRGC) Quds Force, General Qassim Suleimani, chose to fly into Baghdad so soon after Iranian-backed militias had ransacked and burned portions of the U.S. Embassy 104-acre, Green Zone compound in Iraq. Nonetheless, he did. The decision led to his killing via a drone strike upon his motorcade shortly after departing Baghdad International Airport. What could have been chocked up to be covert action has been acknowledged by the U.S. Secretary of Defense.

At the direction of the President, the U.S. military has taken decisive defensive action to protect U.S. personnel abroad by killing Qasem Soleimani, the head of the Islamic Revolutionary Guard Corps-Quds Force, a U.S.-designated Foreign Terrorist Organization.

Now the geopolitical experts will go into high gear assessing what this escalation of the Iranian-U.S. conflict in the Greater Middle East means. Some will argue new surprises of asymmetric conflict will no doubt be next. Others will opine that such bold action will lay Iran's ambitions to make trouble across the region low. This will largely add up to so much jibber-jabber. The real work to do is in figuring out how this act of conflict escalation may lead to new forms of action from Iran or its allies that can be hurled against the United States. In the area of cyber and information operations related to conflict with Iran, there are some things for which we need to prepare. [Read more: Bronk/Forbes/3January2019]

A Chinese "Tourist" Accused of Espionage is the latest Example of a Growing Threat to US Security. On June 28, 2019, Qingshan Li landed in Southern California on a flight from China. Li, a Chinese national visiting the US on a tourist visa, was scheduled to return home 10 days later.

The day after he arrived, Li drove his rental car to a storage facility in the San Diego area. There, he met up with an unidentified person named in court filings only as "AB," from whom Li had arranged to purchase several pieces of sensitive military gear.

Li's case, which has not been previously reported and is described in a federal charging document obtained by Quartz, is among the most recent incidents of Chinese civilians accused of spying on behalf of Beijing. While Li was apprehended by authorities, he represents the immediate - and increasing- threat China poses to US national security, say experts. [Read more: Rohrlich/Quartz/5January2019]

We've Been Inching Toward War with Iran for Decades. Will it Ever End? War with Iran has been coming at us in slow motion since 1979. Now, ominously, it's really here, but we don't seem any better at deflecting revolutionary Iran from its destructive course than we were at the beginning.

The Iranian-backed militiamen with their battering ram at the gate of the U.S. Embassy in Baghdad on Tuesday looked eerily similar to the well-directed mob that seized the U.S. Embassy in Tehran and set this dreadful story rolling. In the 40 years since then, journalists like me have written about the "brink of war" in the Persian Gulf so often that we ought to have the phrase on a function key. But there was never a direct, acknowledged act of war until Thursday night.

Maj. Gen. Qasem Soleimani, the head of Iran's Quds Force, deserved his fate. He was a ruthlessly clever commander who threatened the United States and its allies for two decades. For more than a year, Soleimani and his colleagues had been ignoring U.S. signals to cease proxy attacks against U.S. facilities that could result in American deaths. The last message was a fireball that Soleimani probably never saw coming, literally or figuratively.

For all his television swagger and belligerence, President Trump had been fairly restrained in his military actions against Iran, until last week. But when an American contractor was killed Dec. 27, the U.S. retaliated by killing 25 members of an Iranian-backed militia; the militia counter-retaliated by assaulting the U.S. Embassy; and Trump double-doubled down by ordering the killing of Soleimani, supposedly to prevent further proxy attacks. [Read more: Ignatius/WashingtonPost/3/January2019]

The Democrats' Strange Reaction to the Death of Qassem Soleimani. On April 18, 1943, during the Solomon Islands campaign in the Pacific, the U.S. Army Air Force shot down the bomber known to be transporting Admiral Isoroku Yamamoto, the commander of the Combined Fleet of the Imperial Japanese Navy. The aircraft went down in flames, and all on board died.

Planned and executed under the strictest secrecy, Operation Vengeance was launched with the specific purpose of killing Yamamoto. Although the planners were concerned that this targeted assassination might invite retaliation in kind by the Japanese, the American press, public, and political establishment overwhelmingly approved the intentional killing of Yamamoto. He had been the architect of the sneak attack on Pearl Harbor and was deemed to be the Imperial Navy's ablest officer. His death was not only well-earned retribution, it also materially advanced the war effort. So, targeted assassination or not, the killing of Yamamoto was considered to be a good thing.

Similarly, the 2011 execution of Osama Bin Laden by special forces received universal praise from the American public, the media, and both major political parties. And, consistent with the goal of that operation, the Obama administration also conducted extensive drone warfare that targeted and killed scores of lower-ranking terrorists while in many instances collaterally wounding or killing hundreds of non-combatants. Nevertheless, despite this "collateral damage," neither the Democrats nor the mainstream media raised any serious criticism or opposition to Obama's lethal drone program.

Which brings us to the recent drone strike on Major General Qassem Soleimani of the Iranian Revolutionary Guards Force ("IRGC") and his top ally in Iraq, militia leader Abu Mahdi al-Muhandis. [Read more: Parry/AmericanSpectator/6January2019]

Hezbollah: A Case Study - Is The FBI Up To The Task? In the wake of 9/11 a great deal of thought was given in this country to the state of our intelligence services. Much of the focus, justifiably so, was placed on CIA and collection abroad. Simultaneously, though, there was significant discussion of the possibility of creating an American version of MI5, the British domestic intelligence service, to handle spying at home.

MI5 is not the British FBI. It is not a law enforcement organization. It is an intelligence collection apparatus that works within the United Kingdom. Its focus is not on criminal investigations and arrests, but on the running of sources and the collection of intelligence.

In the end the decision was made not to create any new organization here in the United States. Instead, the task of collecting intelligence was given to the FBI, which created for the purpose a National Security Branch. In theory, this entity would integrate FBI counterintelligence and counterterrorist capabilities and somehow blend law enforcement and intelligence functions into a cohesive whole.

Recent cases involving Hezbollah highlight the continuing concerns about the effectiveness of this solution. [Read more: Faddis/ANDMagazine/1December2019]


---
Section IV - Research Requests, Obituaries, Jobs
Inquiry regarding a document from the East German intelligence ("Stasi") archives in Berlin
AFIO Members: I am a historian with the U.S. Army Center of Military History in Washington, DC, and am currently writing an official history of Army intelligence operations in early Cold War Germany.
In the course of my research, I found an intriguing document at the archives of the Ministry for State Security (MfS or Stasi) in Berlin (BStU). With your help, I hope to shed more light on its background and significance.
In January 1961, the Soviet intelligence service (KGB) submitted the transcript of an interview to their colleagues of the MfS. The BStU contains the German translation of this document. Although the interviewee is not identified, the content of the document suggests that he was an American who had worked for the U.S. Army Counter Intelligence Corps (CIC) in southwest Germany from the end of the war until the early or mid-1950s. The interview would have taken place in late 1960. The document does not indicate whether the interviewee was a defector or whether he gave the information to the KGB on another occasion, e.g., on a trip behind the Iron Curtain or to a KGB officer in the West.
The content of the document suggests that the interviewee had intimate knowledge of CIC operations and the organization of American intelligence in Germany. For example, he identifies a number of personalities and administrative details about the postwar CIC that were only known to a small number of individuals. He also provides some information about the CIA in Germany of the type that would have been known to a CIC/CIA liaison. His most explosive claim involves a high-level West German politician who, according to the interviewee, worked as a paid informant for the CIC in the late 1940s. I cannot independently verify the latter allegation, but given the interviewee's familiarity with the CIC, I can't dismiss it out of hand.
I have tried to identify the interviewee but was unable to do so. My question to all of you is, do you have any suggestions who this individual might be? Some of the criteria for his identification include:
- Worked as a civilian employee for the CIC in Germany (Region I, Stuttgart) from c. 1945 to c. 1954.
- May have been of German extraction (possibly a German Jew who immigrated to the United States in the 1930s and joined Army intelligence during the war).
- Probably had communist sympathies.
- May have defected behind the Iron Curtain in the late 1950s or in 1960.
Any thoughts or suggestions will be much appreciated.
You can reach me at tboghardt@yahoo.com
Seeking Information on CIA Officer Michael Burke's anti-Communist activities in Albania in 1940s-50s
AFIO Members: I'm a Donald Altschiller, a librarian at Boston University, and am helping a student who is doing some research on a former CIA officer.
Here's some information about the individual:
• Edmund Michael Burke--known as "Michael Burke" worked for the OSS during World War II--he joined in 1942
• He joined the CIA in 1949
• He worked to overthrow the Communist government in Albania by training resistance fighters.
• He lived in an unspecified city/town along the Rhine
• Retired from CIA in 1954
• He became president of CBS Europe and later CEO of the New York Yankees. He was also president of Madison Square Garden in 1973.
• He later retired to Ireland and died in 1987.
The student mainly wants to find out more information about Burke's activities in Albania which are only sparsely mentioned in his autobiography Outrageous Good Fortune.
Thank you very much for any assistance you can offer.
Please reply directly to me: donaltsc@bu.edu
Carlos Avery, CIA physicist
Carlos Preston Avery, 81, a CIA physicist for 50 years, died of cancer 15 November 2019 in Silver Spring, MD.
Dr. Avery was born in Hutchinson, MN. He was a 1956 graduate of Glenwood High School and received three degrees, including a 1967 doctorate in physics, from the University of Minnesota.
He was with the CIA from 1967 to 2017 and became a senior analyst in 1986. He spent his whole career at the agency in various roles, in the areas of Soviet science, technology, and strategic defense weapons, as well as Y2K and Iraq, marking 50 years of service in March of 2017.
An amateur railroad historian, he co-wrote the 2003 book "E. Francis Baldwin, Architect: The B&O, Baltimore, and Beyond" published in 2003 by the Baltimore Architecture Foundation.
He enjoyed the music of Vivaldi and Mahler and listened to Pink Floyd, Enya, and Mumford and Sons, and also relished solving math puzzles.
He survived by his wife, Sara Lynn Torvik, two daughters, two sons, and other family.
Walt "Ege" Egelanian, NSA Electrical Engineer
Walton Egelanian, 90, a Career NSA Electrical Engineer, died 15 December 2019 at his home in Easton, MD. Born in Detroit, MI, Walton "Ege" was the son of emigres from Guren, Turkey. Walton graduated from John Marshall High School, Richmond, VA in 1946 and from Virginia Polytechnic Institute ("Virginia Tech") in 1950 with a degree in electrical engineering. Upon graduation from Virginia Tech, he began a long career as an Engineer at the National Security Agency where he worked for 39 years.
Following his NSA career, he continued national security work at Bendix/Honeywell for ten plus years.
Following that retirement, he moved to Scranton, PA, and after 15 years moved again to Easton, MD.
He was a former member of the Phoenix Society.
He is survived by his wife Frances Barbara Alfieri, four children, and other family.
Christine Johnson, CIA Technical Services Officer/Disguise Unit
Christine Annette Johnson, 67, a CIA Technical Services Officer who played a role in Operation Argo, died 25 December 2019. She was born in Springfield, MA, graduating from High School of Commerce and attending Atlantic Air School in Hartford, CT where she was recruited by Central Intelligence Agency in April 1972. She also attended Northern VA College, Prince George's Community College, and UMUC studying international business, with Associate level equivalent in education.
She had a rewarding career traveling all over the world providing technical support to CIA initiatives. She lived in Spain and Germany. She was the first Black Female Technical Officer for the Disguise Unit at CIA and was involved in supporting the Iranian Hostage initiative as seen in the movie "Argo." Christine CIA career spanned 36-years.
The world became her educational venue. Christine had a love for languages, with an intermediate level in Spanish...which assisted her in her South America travels. Christine also spoke some French and Portuguese, and could gurgle in a few other languages.
She is survived by her moth, sister, and other family.
Len Lawson, US Government SIGINT Expert
Leonard L. Lawson, 68, a USG SIGINT Expert, died 19 December 2019.
He served in the U.S. Army as a SIGINT Communications Specialist, SP5 from 1976-1980, and then worked extensively in the IT communications field in the private and government sector which brought numerous accolades and respect from his peers.
Len loved travelling extensively with his wife, especially skiing in Europe. Bermuda, where he lived for a short time as a boy, remained in his heart. He also had fondness for Germany where he worked operationally for NSA. He retired from NSA in May 2018 .
Len is survived by his wife of 28 years, Kimberly Poell Lawson, two daughters, and other family.
Sue MacDonald, CIA Analyst and Wife to Career DO Officer
Janet "Sue" Rozier MacDonald, 88, a CIA Analyst and Wife to career DO Officer, died 25 December 2019.
Sue was born in St. Louis, MO. She graduated from Rollins College in Winter Park, FL in 1953. After teaching second grade for several years she moved to Washington, DC where she was employed as an analyst in the Central Intelligence Agency. She married a colleague in the DO and thereafter they began living abroad during Alaster's career, in Hamburg, Germany; Kabul, Afghanistan; and Ankara, Turkey. While living in those countries, Sue taught English-as-a-second-language to college students preparing for study in the U.S. Living in Chevy Chase, MD, after that, she continued to teach English to foreign nationals preparing for American citizenship.
She was an avid gardener, was former president of the Garden Club of Chevy Chase, and co-chair of the 1990 Washington Antiques Show.
She served on a board of the Childrens Hospital. She was a member of the Chevy Chase Club, the Sulgrave Club and, in Maine, the Small Point Club. She was adored by her many friends for her quick and agile wit, her generous spirit and her loving concern for others.
She is survived by her husband of 58 years, Alaster, a daughter, and other family.
A funeral service will be held at 11am, 11 January 2020, at St. Columba's Church, 1801 Albemarle St NW, Washington, DC.
Eric Neff, State Department, Former COS Nicosia, CIA
Eric Neff, 94, a retired senior Foreign Service officer and WWII Navy veteran, died of a stroke on 14 December 2019.
Mr. Neff was born in Paris, France, in 1925, the son of the President and Founding Partner of a Paris merchant banking house. In 1939, at the outbreak of WWII, the family returned to New York. Mr. Neff attended Trinity Academy and then Harvard where he earned an AB degree in English and History. In 1943 he enlisted in the Navy's V-12 Officers Training Program and later served on a P.C. in the North Pacific Theatre attached to the Naval Air Station on Attu.
After the war, he studied at the Sorbonne in Paris. In 1949 he joined USIS and was appointed Director of the Haitian-American Institute in Port-au-Prince, Haiti. During his tenure he created Haiti's first radio program devoted to the arts and the literary review, "Conjonction." In 1951 Neff joined a Nelson Rockefeller sponsored mission under the auspices of USIS to explore establishing multinational Cultural Centers in Western Europe. Upon completion of the mission he resigned from USIS and spent a year traveling in the Middle East and South Asia. In 1953-56 he attended Oxford University (Magdalen College) where he studied Oriental Languages and in 1956 he received the BA and MA degrees. Mr. Neff joined the State Department in 1957 and served as a Foreign Service Officer until his retirement in 1985. His overseas postings included India, Afghanistan, Cyprus, Pakistan and Belgium.
After his retirement, Mr. Neff devoted himself to writing novels and poetry. He was a member of the Harvard Club of New York City. His marriage to Muriel Michalover ended in divorce.
He is survived by his second wife of 52 years, Nancy Noble Neff, a daughter, and other family.
Bob Parker, NSA Linguist and Operations Manager
Robert Bowling Parker, 79, NSA Linguist and Operation Manager, died 17 December 2019 in Crofton, MD.
Born and raised in Alabama, Bob studied aerospace engineering at Auburn University, and at the same time trained in aviation electronics in the US Naval Air Reserve. In 1959 he joined the US Air Force, studied a language at Yale, and in the early 1960s served as a member of a reconnaissance aircrew in Asia.
In 1963 he returned to Alabama to work with Boeing engineers at Marshall Spaceflight Center as they designed equipment for transporting and handling the S1C first stage of the Saturn V rocket which took man to the moon six years later.
He joined the National Security Agency in 1965 and later graduated from the University of Maryland. After serving NSA as linguist, analyst, intelligence officer and operations manager, Bob retired in 1996 with 35 years of combined federal service.
In retirement, he was briefly a course manager at the National Cryptologic School and a volunteer crime analyst with Anne Arundel County police. Lifetime interests included cooking, photography, history, cards, travel, research, writing, music, dancing, fishing, camping, beekeeping, genealogy. He was a proud member of the Phoenix Society.
He is survived by his wife, Judith Kane Parker, three sons, and other family.
"Mr. Les" Partiss, NSA Ops Manager and Asst Dean, National Cryptologic School
Leslie Raymond Partiss Jr, known as "Mr. Les," 88, NSA Ops Manager and Asst Dean, National Cryptologic School, died 21 December 2019 in Severna Park, MD.
In the late 1940s he organized and led "The Les Partiss Orchestra," a big band that played in the New England area. In 1949, he enlisted in the US Army and served during the Korean War. After his discharge, he joined the National Security Agency and served in various operational positions including as the Assistant Dean of the Management Department of the National Cryptologic School at NSA and retired as an Operations Manager in 1986 after 36 years on service.
Music and Piano were at the center of his life and that love of the piano led him to work part time as a piano instructor with Jason's School of Music. Upon his retirement from NSA in 1986 he became a full time piano instructor and taught over 600 students. Les played frequently at local establishments and private events. In 2000, Les produced a CD entitled "I Remember You," a compilation of songs he played on the piano in memory of his second wife who died in February of that year.
Les is survived by four daughters and other family.
Charles Smith, CIA Operations Officer
Charles S. Smith, 82, a CIA Operations Officer, died 17 December 2019.
Charles spoke several languages and lived in Mannheim and Stuttgart, Germany while in the Army. After the Army, he returned to his hometown of Saint Louis where he joined the family business for a year. In his youth, one of his favorite books was "The Scarlett Pimpernel" which sparked his interest in intrigue. Having talked to an Agency operations recruiter in college and having a taste of overseas life in the Army, he joined the CIA in 1964. He served in Vientiane, Paris, Madrid, Bogota, Athens, Bangkok, and Buenos Aires. After retiring from the Agency, he worked as an independent contractor in training. He took much joy and satisfaction in retirement spending time with his two grandchildren.
He is survived by his wife of 58 years, Phyllis, two sons, and other family.
James Spirides, DIA Regional Director
James Dennis Spirides, 90, a DIA Officer, died 5 November 2019 in Annandale, VA.
Born in Greece, he came to the US as an infant. He graduated from The George Washington University, earning a BA and an MA in Foreign Affairs. After graduation, he joined the Army during the Korean War. Upon completion of his military service, he served in various diplomatic posts.
In 1954, he was assigned to the U.S. Consulate General in Thessaloniki, Greece, as a Foreign Service Officer. His next post was the American Embassy in Tehran, Iran followed by a tour of duty at the American Embassy in Hong Kong, BCC.
He then joined the Defense Intelligence Agency (DIA) where he served as Regional Director, Southeast Asia. During his employment at DIA, he attended the Air War College in Montgomery, AL in 1976 and received the Intelligence Meritorious Civilian Service Medal. In 1982, he received an MA from Johns Hopkins School of Advanced International Studies. Also, during his tenure at DIA, he participated in the Tripartite Conferences in Australia and New Zealand until his retirement in 1986.
James was buried with military honors and will be remembered for his dedication and love for family and country.
He is survived by his wife of 63 years Despina Pipinou, a son, a daughter, and other family.
Roger Thayer, NSA, NRO, CIA Radar, Spy Satellite, and Antenna Expert
Roger Eugene Thayer, 92, NSA, NRO, CIA Radar, Spy Satellite, and Antenna Expert, died 12 December 2019.
Born in Ithaca, NY, he graduated from Ithaca High School and enlisted in the U.S. Army Air Corps as an air cadet, trained as a radar technician in Lowry Field in Denver, and was honorably discharged in 1945 to pursue his college education at Cornell University, where he graduated with a degree in Electrical Engineering in 1949. Roger went on to get a Masters of E.E. at Cornell in 1951 publishing "Radar Echoes from the Aurora Borealis."
He worked for The General Electric Co. summers from 1948. He moved to Washington, DC in 1952 and took a Job with the, then secret, National Security Agency where he developed radio intercept equipment. Roger was a Lifetime member of The Phoenix Society since joining in 1980.
Roger got an NSA Fellowship in 1955 to attend Harvard University where he received a Masters in Applied Physics, specializing in radio antenna theory and radio propagation. In 1957 NSA sent him to Japan to head their laboratory in Tokyo responsible for, among other work, Soviet radio intercepts, including those from the First Man-made earth satellite Sputnik; it inspired the remainder of his career, conceiving, promoting, and developing U.S. electronic spy satellites. In 1963 they detached him to the, then also secret, National Reconnaissance Office in the Pentagon where he was responsible for their Radar and Communications Intercept Satellites, for which he was recently honored with a Certificate of Recognition and included on a DVD of the declassified POPPY Program operated for the NRO by the U.S. Navy Naval Research Laboratory to intercept and locate foreign RADARs.
In 1973 he was sent to work with the CIA on other secret signals intelligence projects. He retired from NSA in 1986. In 1989 he was called back to help write a history of SIGINT Satellite projects developed prior to 1975. In 2005 one of those book chapters, "POPPY", was declassified and its general description is on the INTERNET.
Since 1989 Roger volunteered for Recording for the Blind recording portions of electronics and other technical textbooks. After moving to Martha's Vineyard in 1995, he was loaned recording equipment to continue work from his home in Sengekontacket.
He is survived by a son, David, a daughter, and other family.
Sam Watson, White House Deputy National Security Adviser
Samuel Johnston Watson III, 80, White Deputy National Security Adviser, died 23 December 2019 in Alexandria, VA.
He was with the US Army, 1962-1992, retired as Colonel, served as White House Deputy National Security Adviser (1985-1989), with the 101st Airborne in Vietnam, worked on Strategic Arms Limitation Talks (SALT II) in Office of Chairman of Joint Chiefs of Staff, and served on the Reagan-Bush Transition Team Chief of Staff at CIA. He served three tours of duty in Vietnam. Worked with Kapos Associates, 1994-1999 as Senior Analyst and Program Manager.
University of Pittsburgh, 1999-2005, Associate Professor of Public Health Practice. Serco, 2005-2009, Senior Consultant. US Department of State, 2009-2011, Governance Adviser, Public Diplomacy Officer, and Public Health Adviser. US Department of Health and Human Services, 2012-2013, Director, Office of Europe and Eurasia, Global Affairs.
He is survived by wife, Wendy Janine Fibison, three sones, a daughter, and other family.
---
Two Positions at James Madison University for Assistant or Associate Professor - Intelligence Analysis
James Madison University (JMU) located in Harrisonburg, VA, seeks applicants for two faculty positions in its Bachelor's Degree Program in Intelligence Analysis (IA). The appointments will be at the Assistant or Associate Professor level and will reside within the larger School of Integrated Sciences. The IA program offers a multidisciplinary undergraduate degree with an emphasis on methodology and technology to prepare students to become analysts, with a specialization in intelligence analysis. Its graduates have been successful in securing positions as analysts in both the public and private sectors, to include the Intelligence Community, military and law enforcement organizations, defense contractors, and major consulting firms. The program emphasizes methodology and synthesizes critical and creative thinking methods with technological tools for data collection, visualization, and analysis with situational knowledge of a problem's political, economic, social, and technological context with strong communicative and professional skills to support decision-making.
Ideal candidates will be comfortable in an interdisciplinary, diverse setting and possess the potential for becoming an excellent teacher to future analysts in one or more intelligence domains including national security, military, homeland security, law enforcement, private sector security, cyber security, and geospatial. They optimally have a background in either mixed-methods, qualitative, or quantitative research and analysis methods. We especially encourage applications from candidates that can leverage the use of systems thinking, employ data science in analysis, support the development of writing skills, or teach ethics specifically for future analysts. The typical teaching load in the school is 3 courses per semester.
We welcome applicants from all academic disciplines—to include the humanities, social sciences, and sciences—that provide a knowledge foundation for doing analysis. Prospective candidates should review our curriculum online to identify areas that match their expertise and to locate potential areas that they could help the program to develop. The program values teaching excellence as well as one-on-one professional mentoring and seeks candidates who can demonstrate potential for both. In addition, the position requires the potential for an active program of scholarly activity. The position requires either a Ph.D. in a relevant academic field by the date of hire (for a tenure-track appointment) OR Master's Degree with substantial experience in the field (for appointment on a Renewable Term Contract).
More information or applications may be found here.
Daniel Morgan Graduate School of National Security is seeking an adjunct faculty member to teach a basis course on counter-intelligence in the Spring term (January 13 to April 24).
The course, which will be strictly unclassified, is currently scheduled to meet on Thursdays from 6 to 9pm.
Daniel Morgan students come from many countries and often already have advanced degrees or substantial professional experience. Classes are small and require faculty who are comfortable with inspiring and sustaining detailed small group explorations of complex problems.
In the course, students will be challenged to:
• Analyze methods to defend against foreign and domestic espionage
• Elaborate the use of deception to defeat other actor's intelligence capabilities;
• Examine the role of espionage and counterintelligence as means of achieving national goals;
• Assess the growing relationship between the intelligence and law enforcement communities and the relationship between civilian and military agencies;
• Evaluate the role of counterintelligence in cyber espionage and economic espionage;
• Communicate ideas clearly, concisely, and effectively in writing, discussions, and presentations
The ideal candidate is a highly experienced counter-intelligence professional who views teaching counter-intelligence issues in an unclassified format as a challenge not an obstacle. Previous teaching experience is especially welcome.
Those interested should email a brief expression of interest and short cv to Thomas Dowling, director of the intelligence program at dowling@dmgs.org
Email only please, no phone calls.
Daniel Morgan Graduate School is located in downtown Washington, DC. Visit our homepage at dmgs.org.
Assistant/Associate/Full Professor - Department of Intelligence & Security Studies, Charleston, SC - Two Openings Available
Work type: Full Time Permanent - Faculty; Location: Charleston, SC; Categories: Humanities; Payscale: Unclassified.
The Citadel's newly created Department of Intelligence & Security Studies houses some of the most popular and flourishing academic programs on campus. Since 2016, we have created both a Master of Arts (MA) and a Bachelor of Arts (BA) program in Intelligence and Security Studies; the MA program is 100% online while the BA is offered in both online and traditional formats. Our growth has created faculty openings for individuals who want to join an established team dedicated to producing principled leaders in all walks of life.
Job Responsibilities: The Citadel's School of Humanities and Social Sciences invites applications for two(2) tenure-track position in all areas of intelligence studies at the level of Assistant, Associate or Full Professor beginning in August 2020. The Department is particularly interested in individuals with experience in intelligence and big data analytics, homeland/national security, Eastern European/former Soviet area studies, applied intelligence community (IC) research, and military intelligence matters. The incumbent will be expected to teach at the undergraduate and graduate level using both traditional and online delivery methods. This is a full-time teaching, research and service position. Faculty within the School typically teach a 4+4 course load with appropriate research and service expectations.
Minimum Requirements: Applicants must have an earned doctorate from an accredited university in an area associated with intelligence studies. The ability to use or the motivation to learn technologies relevant to online teaching is required. All candidates should also be able to show effective past teaching experience, demonstrated research potential, and appropriate service activities. Advanced ABD candidates will be considered. There is also a potential for teaching additional summer courses. Salary will be competitive, and commensurate with experience and qualifications.
Preferred Qualifications: Relevant experience in the US intelligence community, the military, or other organizational contexts is preferred, but not required. Online teaching experience is preferred, but not required.
Additional Comments: Ranked as the #1 Public School in the South for nine years in a row by U.S. News and World Report, The Citadel offers a unique academic environment. The incumbent will teach members of the South Carolina Corps of Cadets (SCCC) in the classroom as well as non-cadet graduate and undergraduate students in an online venue. Regardless of the teaching milieu, Citadel faculty commit themselves to preparing the next generation of principled leaders for the military, private, and government sectors. Approximately 30% of every graduating SCCC class is commissioned into the U.S. military; the remainder seek job opportunities in the public and private arenas. Initial screening of applicants will begin immediately and continue until the position is filled. The position is expected to begin in August of 2020.
The Citadel is an Equal Opportunity / Affirmative Action employer and does not discriminate against any individual, or group of individuals, on the basis of age, color, race, disability, gender, gender identity, sexual orientation, religion, pregnancy, national origin, genetic information or veteran's status in its employment practices.The Citadel has a culturally diverse faculty and staff committed to working in a multicultural environment. We encourage applications from minorities, females, individuals with disabilities and veterans.
Interested applicants should apply now for Job No: 495785. To apply utilize the official online application and upload supporting documents to include: 1 Letter of interest addressing the qualifications listed above; 2 A curriculum vita; 3 Evidence of teaching effectiveness; In addition, please provide three professional references that can be contacted.
Information Systems Security Officer (ISSO) - Location: Fayetteville, NC
Duties: The ISSO will provide support to the ISSM for maintaining the appropriate security posture of systems accredited under the DCSA Risk Management Framework. The ISSO assists with the management of security aspects of the information system and is assigned performs day-to-day security operations of the system. The ISSO provides support to the customer on matters involving the security of the information system and assists in maintenance to ensure the system accreditation. This includes developing and updating the system security plan, maintaining the company Emass account, as well as managing and controlling changes to the system and assessing the security impact of those changes. The ISSO also provides support to plan, coordinate, and implement IT security programs and policies and provides configuration management for security-relevant information system software, hardware, and firmware. The ISSO will advise and assist the ISSM with the continuous monitoring of accredited systems.
Qualifications: Bachelor's Degree in Computer Science or related field and at least 6 years of applicable experience, or equivalent Active Secret or Top Secret/ SCI clearance DOD 8570 compliance (CISSP, Security +, etc.)
Preferred Additional Skills: Experience with ICD503 and NISPOM Chapter 8 Familiarity with multiple Intel community and DCSA system accreditation procedures Experience producing security artifacts into Emass (SSP, POAMs, etc.) Experience hardening OTS operating systems Experience with vulnerability and compliance scanning tools (WASSP, Nessus, SCAP, etc.) Experience implanting the Risk Management Framework (RMF) Experience managing Windows 10-based systems. Strong investigative drive, intuition, and self motivation Understanding of system vulnerabilities, exploitation and mitigation
Security Clearance: This position requires a current, final security clearance eligibility and the ability to obtain a TS/SCI with polygraph. You must be a U.S. Citizen. In addition, applicants who accept a conditional offer of employment may be subject to government security investigation(s) and must meet eligibility requirements for access to classified information. The candidate may also be subject to a local background check.
To apply or for more information contact: Kelly George at kgeorge@walsinghamgroup.com
Syracuse University's School of Information Assistant Professor - Trustworthy Cyberspace
DePaul University, School of Computing Assistant Professor in Software Engineering
The School of Computer and Cyber Sciences Tenure Track and Tenured Positions at the Assistant, Associate, and Full Professor Levels
Department of Cyber and Computer Sciences at The Citadel Tenure-Track Positions in the Department of Cyber and Computer Sciences
Portland Community College - Computer Information Systems Instructor, CIS / Windows System Administration
Augusta University - Tenure Track and Tenured Positions at the Assistant, Associate, and Full Professor Levels
FireEye Has Many Intelligence Positions Available For You - Worldwide - Contract, Full-time, Part-time, Interns
Explore the many career and contractor intelligence jobs available here. Jobs openings in Cyber Security include - Advisory, Architecture, Digital Forensics & Incident Response, Penetration Testing, Threat Research. They positions are needed here: New York, Chicago, Manila, Reston, Dallas, Atlanta, Suitland, Singapore, Denver, Las Vegas, Phoenix, Doha, Stockholm, London, Milpitas, multiple cities in Australia, Washington, Indianapolis, Tampa, Santiago, Alexandria, Seattle, Carlsbad, Houston, San Francisco, Arlington, Dubai, Amsterdam, Ft Belvoir, Minneapolis, Mexico City, San Diego, Boston, El Segundo, Philadelphia, San Antonio, Chiyoda, Ft Huachuca, Ft Gordon, Ft Meade, Ft Shafter, Kuwait City, Seoul, Sttutgart, Salt Lake City, Austin, Dublin, Bangalore, Cork, Colorado Springs... Explore the many career and contractor intelligence jobs available here.
---
AFIO EDUCATIONAL EVENTS IN COMING TWO MONTHS....
Wednesday, 8 January 2020, 1130 - Albuquerque, NM - AFIO New Mexico Chapter Speaker Luncheon
SPEAKER: T.B.A. for this AFIO NM Chapter Meeting.
Location of event: "Sunnyside Up Cafe" formerly the "The Egg & I" restaurant on Menaul just east of Louisiana, next door to Chili's, 6909 Menaul Boulevard Northeast, Albuquerque, NM 87110, (505) 888-3447
Fee to attend: Meeting is Free.
11:00 a.m. (Arrive, Order Lunch - available at separate cost), 11:30 a.m. (Call To Order), 1:00 p.m. (Adjourn)
Our meetings are normally open to present and former members of Federal, Military (uniformed and civilian), State and Local Agencies and selective others who support the Intelligence Community.
If you desire further information, please contact one of the following: Sam Shaw - Phone: 505-379-3963 e-mail: President@afionm.org; Tom Dyble - Phone: 505-299-3242 e-mail: Vice-President@afionm.org
Thursday, 16 January 2020, 11:30 a.m. - Colorado Springs - The AFIO Rocky Mountain Chapter hosts Steve Maffeo, discussing "The Battle of Midway"
This meeting of the Rocky Mountain Chapter features author/US Naval Officer Steve Maffeo discussing The Battle of Midway.
Synopsis: Call it what you will -- the incredible victory, the turning point of the war, or simply a miracle -- the June 1942 Battle of Midway has fascinated people ever since it ended in a massive "win" by the US Navy over the Imperial Japanese Navy. Stimulated by the recent Hollywood movie on the battle, Steve Maffeo brings us a presentation which illuminates the history of the actual battle, the personalities of some of the key players, some nuances of the 2019 movie as well as the 1976 movie, and the remarkably crucial roles linguistics, intelligence, and codebreaking played in the sequence of events.
Biography: Steve Maffeo retired in 2015 as the Associate Library Director at the U.S. Air Force Academy. He holds degrees from the University of Colorado, the University of Denver, and the U.S. National Defense Intelligence College. His civilian career was for the most part a library administrator. He also worked at Joslins Dry Goods, Martin-Marietta Aerospace, the University of Northern Colorado; the U.S. Naval War College; and the Aurora (Colo.) Public Library.
In 2008, Steve retired as a Navy captain after 30 years (both enlisted and commissioned) in the Colorado Army National Guard, the U.S. Navy, and the U.S. Naval Reserve. His last three assignments were as the commanding officer of reserve shore-based units supporting the Office of Naval Intelligence, the Joint Intelligence Center Pacific, and the National Defense Intelligence College.
Steve has published several journal and encyclopedia articles as well as five books: Most Secret and Confidential: Intelligence in the Age of Nelson; Seize, Burn, or Sink: The Thoughts and Words of Vice Admiral Lord Nelson; The Perfect Wreck: "Old Ironsides" and HMS Java--A Story of 1812; U.S. Navy Codebreakers, Linguists, and Intelligence Officers against Japan: 1910-1941; and just this last month, The Russian Who Saved the World: A Novel of the Cuban Missile Crisis.
To attend of for more information, please contact steve13507@gmail.com.
Saturday, 8 February 2020, 11:30 a.m. - 2 p.m. - Indialantic, FL - The Florida Satellite Chapter hosts FBI Agent Mike Popolano on "Profiles and Motives of Active Shooters."
FBI Agent and FSC Member Mike Popolano's talk will cover some infamous active shooter cases and how law enforcement strives to profile potential active shooters and determine their motives. He will examine police response to active shooter incidents and the options available for self-protection and defense. In all cases, Mike will make use of his extensive background as an FBI Special Agent and investigator to present historical cases both to underscore and further elucidate his presentation.

TIMING: 11:30 AM - 12:15 PM: Social Hour, greet old, new members and guests. Cash bar. 12:15 PM: Sit-Down lunch

LOCATION: Doubletree Melbourne Beach Oceanfront, 1665 N Highway A1A, Indialantic, FL 32903. Location and Directions via Google Maps.

TO ATTEND: Prepaid reservations are required and must be received by Sunday, 2 February. To reserve, indicate food choice [Pasta Marinara, Pasta Primavera, or Chicken Francese) for self and any guests. The meal fees are $32 for members, $36 for guests. Send check, payable to AFIO FSC, to FSC Treasurer Rhonda Rhoads, PO Box 410158, Melbourne, FL 32941.
Questions? Rhonda can also be reached at afiofsctreas@gmail.com and at 321 626 -4465.
Paid, advance registration is required, and none will be accepted after February 2.
Monday, 10 February 2020, 5:30 p.m. - New York, NY - AFIO NY Metro Chapter hosts CIA Officer (Ret) and Author/Disguise Expert Jonna Mendez
Jonna Mendez (Spy Dust: Two Masters of Disguise Reveal the Tools and Operations That Helped Win the Cold War), share (with late husband Tony Mendez) their experiences as spies in Moscow during the height of the Cold War in the mid-1980s. The authors begin with the initial list of "the Moscow Rules" and continue to discuss briefly the current state of affairs in Russia under Vladimir Putin, and how they interfered with the 2016 U.S. election. Additional details to follow in coming months.
Location: Society of Illustrators, 128 E 63rd St (between Park and Lexington), New York, NY 10065.
Timing: Registration starts at 5:30 pm, Speaker presentation starts at 6 pm. Fee: $50/person. Payment at the door only. Cash or check. Full dinner, cash bar.
RSVP: Strongly recommended that you RSVP to ensure space at event. Call or Email Chapter President Jerry Goodwin at afiometro@gmail.com or 646-717-3776.
Friday, 28 February 2020, 10:30 am - 2 pm - Tysons, VA - First AFIO luncheon of 2020 features James Olson, author of To Catch a Spy: The Art of Counterintelligence; and political scientist Seth G. Jones, author of A Covert Action: Reagan, the CIA, and the Cold War Struggle in Poland.
James Olson's presentation starts at 1 p.m.: Olson served for over thirty years in the Directorate of Operations of the CIA, mostly overseas in clandestine operations. In addition to several foreign assignments, he was chief of counterintelligence at CIA headquarters in Langley, VA. Currently, he is a Professor of the Practice at the Bush School of Government and Public Service of Texas A& M University.
At this event Professor Olson will be discussing his March 2019 book, To Catch a Spy: The Art of Counterintelligence which suggests that the US is losing the counterintelligence war. Foreign intelligence services, particularly those of China, Russia, and Cuba, are recruiting spies in our midst and stealing our secrets and cutting-edge technologies. He provides a guide for how our country can do a better job of protecting its national security and trade secrets. He will review the principles and methods of counterintelligence, including the running of double-agent operations and surveillance. He also addresses why people spy against their country, the tradecraft of counterintelligence, and where counterintelligence breaks down or succeeds.
The morning speaker, Dr. Seth G. Jones, will begin 11 a.m. Dr. Jones director of the Transnational Threats Project, and is a senior adviser to the International Security Program at the Center for Strategic and International Studies (CSIS). He teaches at Johns Hopkins University's School of Advanced International Studies (SAIS) and the Center for Homeland Defense and Security (CHDS) at the U.S. Naval Postgraduate School. Prior to joining CSIS, Dr. Jones was the director of the International Security and Defense Policy Center at the RAND Corporation and was Adjunct Professor, Security Studies Program, Edmund A. Walsh School of Foreign Service, Georgetown University, where he taught classes on "Counterinsurgency" and "Stability Operations." He also served as representative for the commander, U.S. Special Operations Command, to the assistant secretary of defense for special operations.
He will discuss counterinsurgency and counterterrorism, with a particular focus on Afghanistan, Pakistan, and al Qa'ida.
Registration has opened and may be done quickly here.
Venue: DoubleTree by Hilton, 1960 Chain Bridge Rd, Tysons Corner, VA 22182 Phone: (703) 893-2100. Directions at this link.
Wednesday, 11 March 2020, 11:30 a.m. - San Francisco, CA - The "Andre Le Gallo" San Francisco Chapter hosts FBI Special Agent Michael Gimbel
2019 ended with a shooting at a kosher grocery store in New Jersey, a stabbing at a rabbi's home during a Hanukkah celebration in New York, and another shooting at a church in Texas. What can we do to prevent, mitigate, and respond to violent incidents?
FBI Special Agent Michael Gimbel will speak about FBI's Counterterrorism Division, the law enforcement response to the recent Gilroy Garlic Festival shooting, and the vital inter-agency relationship and coordination which facilitates and expedites the handling and processing of the crime scene.
Timing: No-host cocktails at 11:30, luncheon meeting and presentation begins at noon.
Location: Basque Cultural Center - San Francisco, CA
RSVP now at Eventbrite.
---
Other Upcoming Events from Advertisers, Corporate Sponsors, and Others
Wednesday, 8 January 2020 from 7:30 to 8:45pm - McLean, VA - Saudi Arabia's Unpredictable Future - event by The Westminster Institute
Dr. Ali H. Alyami is a native of Saudi Arabia. He has lived in the U.S. for many years and has been an avid advocate for political reforms in Saudi Arabia most of his life. He holds a Ph.D. in Govt from Claremont Graduate University, writing his thesis on "The Impact of Modernization on the Stability of the Saudi Monarchy."
Where: The American Legion Post 270, 1355 Balls Hill Rd, McLean, VA 22101
Questions: Robert R. Reilly, Director, The Westminster Institute, br@westminster-institute.org
No charge to attend. More info here. Register at this link.
Wednesday, 11 January 2020, 6:30pm - Washington, DC - LAIR: Why do Bad Guys Live in Cool Houses? - at the International Spy Museum
How do you know if you're a villain? You think building on the sea floor or at the bottom of a volcano sounds good…really good. This evening celebrate the unreal real estate that classic spy villains call HQ. What goes into planning a place where evil plotters can freely plot? Innovative architect Chad Oppenheim of Oppenheim Architecture + Design, took on this question in his new book Lair: Radical Homes and Hideouts of Movie Villains. Oppenheim will discuss the design influences and impact of these stunning, sophisticated, envy-inducing expressions of the warped drives and desires of their occupants. But first, enjoy a cocktail fit for Blofeld, view the diabolical dioramas entered in our mini-lair competition, and explore how to escape should a rogue restrain you with zip ties while powering up a laser! Books will be for sale and signing at the event. Feeling crafty? Enter our diabolical diorama mini-lair contest. To participate, register here. Co-sponsored by the National Building Museum. Tickets for the general public: $35 per person (includes cocktail)/ with book $80; tickets for Members: $25 (includes cocktail)/ with book $70. Visit www.spymuseum.org. [Program description provided by Spy Museum]
Tuesday, 14 January 2020, 6:30 - 8:30 p.m. - San Francisco, CA - Brig Gen/Professor Nagel on "Israel's National Security Challenges: A Briefing on New Defense Technologies from Israeli Intelligence Insider."
Brigadier General (Res) Professor Jacob Nagel speaks on " Israel's National Security Challenges: A Briefing on New Defense Technologies from Israel's Own Intelligence Insider."
Gen, Nagel was a career Israeli civil servant official (Defense Ministry and Prime Minister's Office) for over 40 years. A Technion graduate, he returned to the school in May 2017 as a visiting professor in the Aerospace Engineering Faculty. From January 2016 to May 2017, Brig. Gen. Nagel served as the head of Israel's National Security Council (NSC) and as Prime Minister Benjamin Netanyahu's National Security Advisor (acting). During that period, he met with world leaders including former U.S. President Barack Obama and President Donald Trump. Gen. Nagel led the negotiations for more than 3 years and signed the agreement on the next-generation $38 billion military aid to Israel. He also met several times with Michael Flynn, President Trump's National Security Advisor, to brief him on a variety of security and strategic matters and to prepare the first official meeting between Israeli Prime Minister Benjamin Netanyahu and President Trump.
Location: Congregation Emanu-El, 2 Lake St (cross street: Arguello), San Francisco, CA 94118. Street parking limited.
Registration: No charge. More information and RSVP link is required and is here.
[Program description provided by AFIO's SF Chapter]
Thursday, 16 January 2020, noon - Washington, DC - Spy Chat with Chris Costa - at International Spy Museum
Having trouble getting a handle on world events? Join Spy Museum Executive Director Chris Costa for a discussion of the latest intelligence, national security, and terrorism issues in the news. Costa, a former intelligence officer of 34 years with 25 of those in active duty in hot spots such as Panama, Bosnia, Afghanistan, and Iraq is also a past Special Assistant to the President and Senior Director for Counterterrorism on the National Security Council. He will be joined by Spy Museum Advisory Board Member Michael J. Lacombe. During his 28 year CIA career, Mr. Lacombe served in multiple senior leadership positions, including four war zone tours with two as Chief of Station. In that capacity, he led collaborative counterterrorism and cyber operations/programs with US military and regional international Intelligence partners. Together they will draw on their expertise and personal experience to help you make sense of the intelligence, national security, and terrorism cases you've heard about…and ones you haven't. Bring your questions, this is your chance to ask the experts! Event is free - no registration required. Visit www.spymuseum.org. [Program description provided by Spy Museum]
Friday, 17 January 2020, 1:30 - 2:30 pm - NCM Lecture Series: Elizebeth Friedman, Cryptologist-in-Charge, U.S. Coast Guard
This National Cryptologic Museum program will be presented by Captain Larry Hall, USCG (Ret.), Historian's Office Staff.
The Roaring 20s was an era of prosperity in the U.S. It was also the Prohibition Era when the private manufacture and distribution of alcohol was outlawed. Come listen to retired U.S. Coast Guard Capt. Larry Hall talk about master cryptologist Elizebeth Friedman and how she cracked codes used by rumrunners and smugglers and brought them to justice.
Event is free, but seats are limited.
More Info and Registration here.
Location: National Cryptologic Museum - Magic Room, 8290 Colony Seven Rd, Annapolis Junction, MD 20701. [Program description provided by NCM]
Saturday, 25 January 2020, 2pm - Washington, DC - Catching a Russian Spy: A Family-Friendly Book Talk - at the International Spy Museum
The FBI and CIA suspected Russia had a dangerous spy working in the US in the early 1990s. But who was it? The newest book in Bryan Denson's "FBI Files" series for younger readers Catching a Russian Spy: Agent Les Wiser Jr. and the Case of Aldrich Ames explores the race to uncover the traitor. Denson will be joined by Leslie Wiser, Jr., the agent who ran the Ames operation out of the Washington Metropolitan Field Office, and Sandy Grimes, a CIA officer who was determined to find the evidence that Ames was spying. Together they will explain how Ames betrayed his country, caused US assets to be killed, and ultimately was brought to justice. Catching a Russian Spy will be available for sale and signing at the event. (The book is recommended for young readers age 8-13.) Free. No registration required. Visit www.spymuseum.org. [Program description provided by Spy Museum]
Friday, 31 January 2020, 6-9pm - Washington, DC - Spy Fest: Tradecraft Try-Its - at the International Spy Museum
Could you be a spy? Now's your chance to find out! Do you have the savvy to beat a lie-detector? The smarts to break a top secret coded message? The wits to create secret writing? The moves of a Ninja? Families are invited to find out how they measure up at the Museum's annual Spy Fest. Mini-missions, tradecraft demonstrations by the experts, and the chance to try spy skill challenges will give KidSpy agents and their handlers an insider's peek into the shadow world of spying—and who knows, there just may be a spy or two in your midst. Ages: 5 and up (one adult required for every five KidSpy agents). Ages 3+ must have a ticket to attend. *Ticket includes exclusive after-hours admission, scavenger hunt, and more. Tickets for the general public: $16 per person; tickets for Members: $14. Visit www.spymuseum.org. [Program description provided by Spy Museum]
11-12 February 2020 - Charleston, SC - Conference on "Legally Immoral Activity? Testing the Limits of Intelligence Collection" at The Citadel
Are there limits to intelligence collection in support of national security? Where, if at all, does a free and open society provide the limits of surveillance? Civil liberties are a founding tenet of democracy, but at what cost? How does a country balance collective security with individual rights? Recently, a Federal Court ordered Apple to help the FBI unlock the cellphone of a terrorist, but company officials would oppose that order, citing concerns over the privacy rights of all Americans.
This 2-day inter-disciplinary conference will examine the legal, ethical, social, economic, historical and political aspects of the United States government's ability to protect its citizens in an era that warfare has no societal or personal boundaries.
The conference will be held February 11-12, 2020 on the campus of The Citadel in Charleston, South Carolina.
Deadline for proposals and abstracts must be received by October 15, 2019.
Inquires and Submissions should be sent to Dr. Jan Goldman, Department of Intelligence and Security Studies at Email: jgoldma1@citadel.edu.
Wednesday, 19 February 2020, 10 am - 1 pm - Annapolis Junction, MD - NCMF 2020 Winter Cryptologic Program Featuring Ms. Jonna Mendez, CIA Disguise Expert
SAVE THE DATE! The NCMF's 2020 Winter Cryptologic Program will feature CIA Officer (Ret) Author/Chief of Disguise, Ms. Jonna Mendez.
Can you change your appearance completely while walking down a crowded street in Moscow? Can you elude the KGB by pressing a button while rounding a corner? Can you fool the president while briefing him in the Oval Office? The CIA's former Chief of Disguise Jonna Mendez tells it all in her presentation at this NCMF event. More info about event is here.
Location: CACI Inc., Maryland Conference Center, 2720 Technology Dr, Annapolis Junction, MD 20755
REGISTRATION INFO: registration fee is $25pp for members and guests and includes lunch. Online registration may be handled here. Or mail-in your registration fee with payment by check to NCMF, PO Box 1682, Fort George G. Meade, MD 20755-9998. Include names of self and guests.
Questions? Call the NCMF office at 301-688-5436.
REGISTER online here.
25 - 27 June 2020 - London, England - IAFIE 2020 Annual Conference
The 2020 Annual Conference of the International Association for Intelligence Education (IAFIE) will be held in London from June 25 to 27. The conference is being held jointly by IAFIE and the IAFIE Europe Chapter (IAFIE EC). This will be the 5th Annual Conference of IAFIE EC. The submission date for abstract proposals is January 27, 2020. Proposals for papers, panels, posters and interactive workshops are being accepted. The topics/themes for the conference are Intelligence Analysis, Intelligence Domains, Management of Intelligence Community, and Intelligence Education and Research. Notification of acceptance will be in mid-February, and papers, posters, presentations and workshop materials will be due on April 20, 2020. Authors of recent books, monographs and reports in line with these topics/themes are also invited to submit proposals to participate in Author Roundtables. More information here.
---
In addition to the new Royal Blue long sleeve shirts, and the gray long sleeve hooded sweatshirts, the AFIO Store also has the following items ready for quick shipment:
NEW: LONG and Short-Sleeved Shirts with embroidered AFIO Logo and New Mugs with color-glazed permanent logo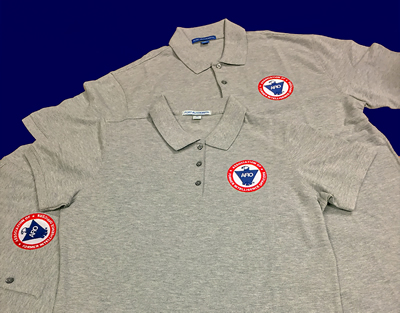 Show your support for AFIO with our new Polo Shirts. Be the first to buy these new, high quality, subtle heathered grey short sleeve shirts, and dark blue long sleeved shirts, of shrink and wrinkle resistant fine cotton with a soft yet substantial feel. They feature a detailed embroidered AFIO seal. Get a shirt for yourself and consider as gifts for colleagues, family, and friends. Only $45 each including shipping.
Sizes of (M) men or (W) women shirts; Small, Medium, Large, XL, XXL, and XXXL. At this time all orders will arrive as Short Sleeve shirts.
You may pay by check or credit card. Complete your order online here or mail an order along with payment to: AFIO, 7600 Leesburg Pike, Ste 470 East, Falls Church, VA 22043-2004. Phone orders at 703-790-0320. If interested in other shirt colors or sleeve lengths, contact Annette at: annettej@afio.com.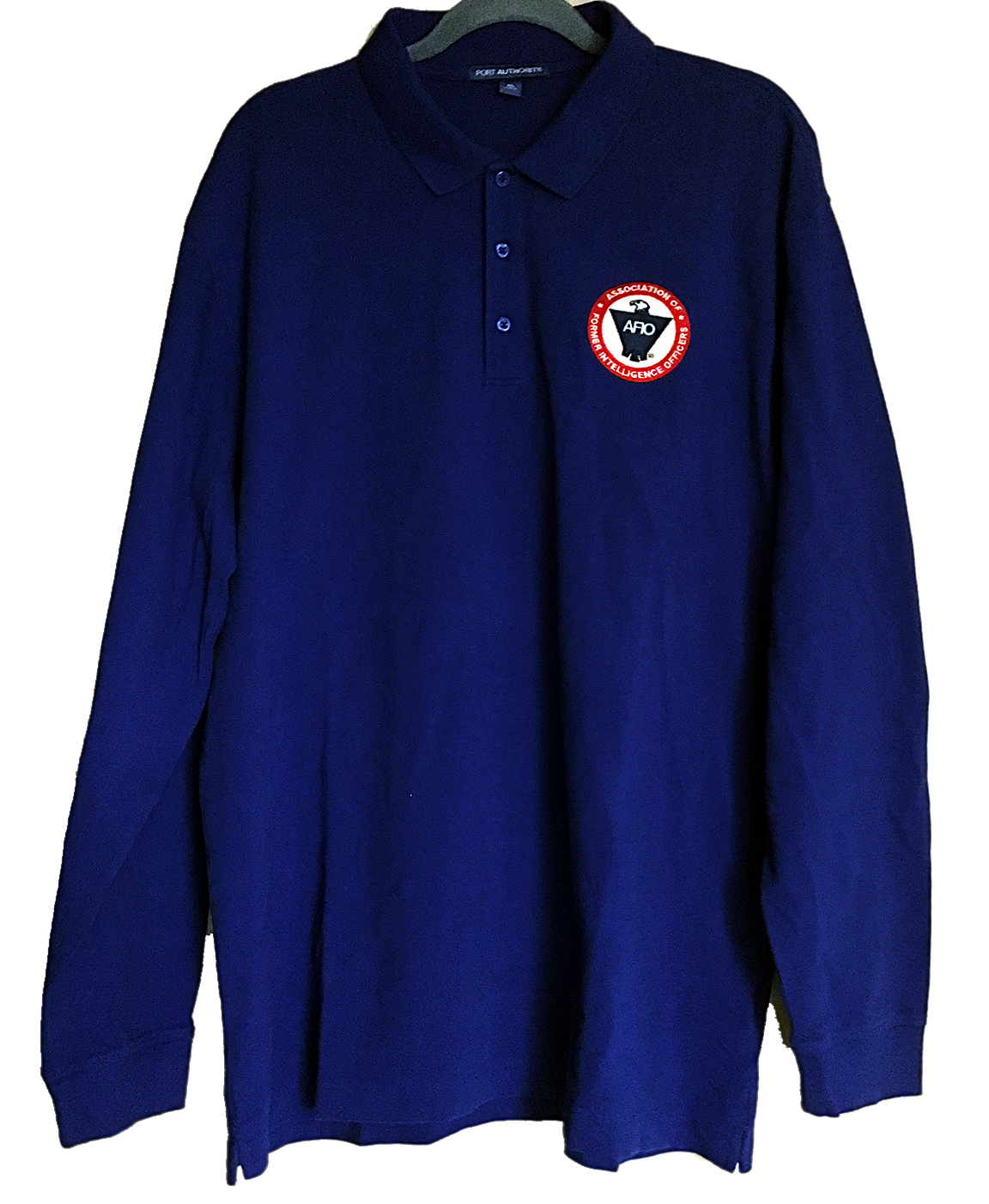 Long-Sleeved Shirts and Hooded Sweatshirts with embroidered AFIO Logo
Show your support for AFIO with our new long-sleeved Polo Shirts and Hooded Sweatshirts.
Both items are high quality and shrink resistant and feature a detailed embroidered AFIO seal. The color of the long-sleeved Polo Shirts is royal blue; the price is $55 and includes shipping.
The Hooded Sweatshirts are dark grey; the price is $70 and includes shipping.
Purchase a shirt and sweatshirt for yourself and consider as gifts for colleagues, family, and friends.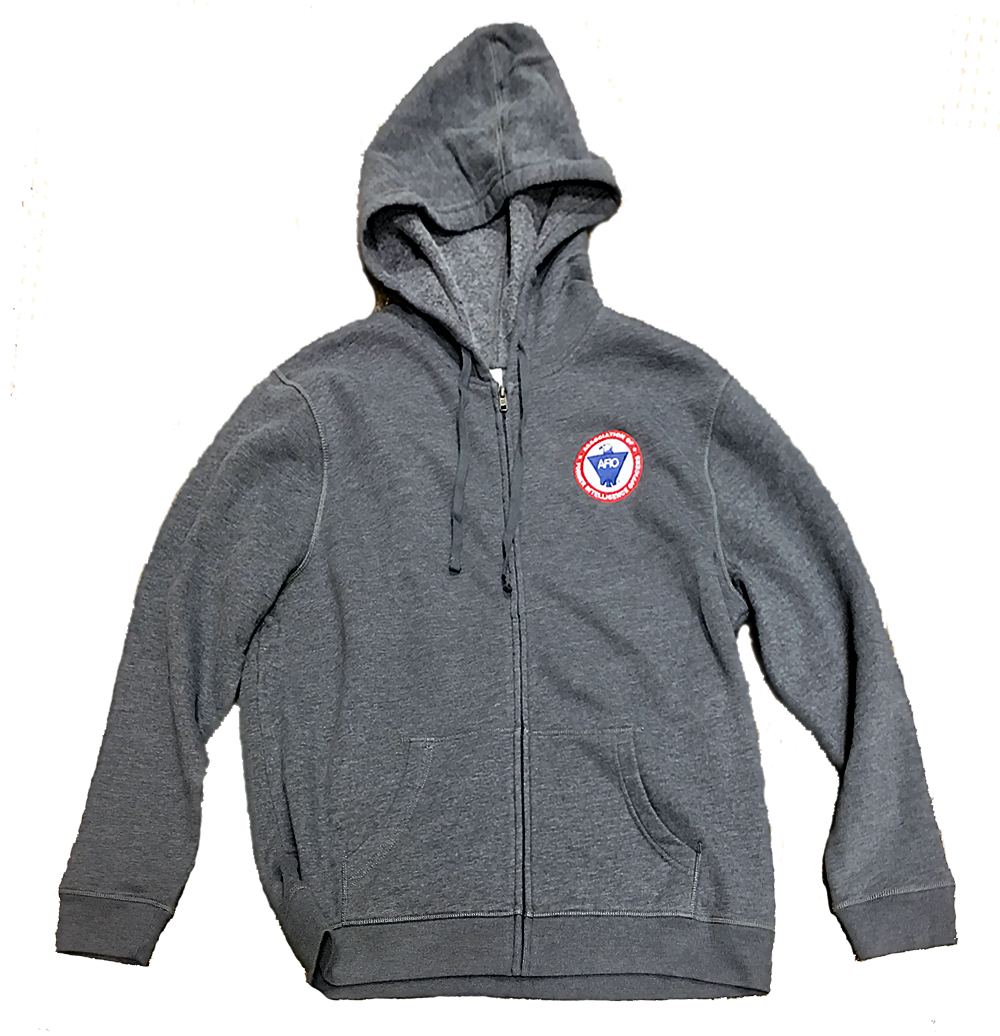 Both items are available in men's sizes: Small, Medium, Large, XL, XXL, and XXXL. The long-sleeved Polo Shirts and Hooded Sweatshirts are not available in ladies' sizes.
---
NEW: Mug with color glazed logo. Made in America. (We left out all that lead-based glaze and hidden toxins in those mugs made in China being sold by other organizations). Also sturdy enough to sit on desk to hold pens, cards, paperclips, and candy.
This handsome large, heavy USA-made ceramic mug is dishwasher-safe with a glazed seal. $35 per mug includes shipping. Order this and other store items online here.
AFIO's Intelligence Community Mousepads are a great looking addition to your desk...or as a gift for others.
Made in USA. Click image for larger view.
These 2017 mousepads have full color seals of all 18 members of the US Intelligence Community on this 8" round, slick surface, nonskid, rubber-backed mouse pad with a darker navy background, brighter, updated seals. Also used, by some, as swanky coasters. Price still only $20.00 for 2 pads [includes shipping to US address. Foreign shipments - we will contact you with quote.] Order MOUSEPADS here.
---
Guide to the Study of Intelligence and When Intelligence Made a Difference
"AFIO's Guide to the Study of Intelligence" has sold out in hard-copy.
However, it is available in digital form in its entirety on the AFIO website here.

Also available on the website here are the individual articles of AFIO's history project "When Intelligence Made a Difference" that have been published to date in The Intelligencer journal. More articles will be forthcoming in future editions.
---
Disclaimers and Removal Instructions
Weekly Intelligence Notes (WINs) are commentaries on Intelligence and related national security matters, based on open media sources, selected, interpreted, edited and produced for non-profit educational uses by members and WIN subscribers.
REMOVAL INSTRUCTIONS: We do not wish to add clutter to inboxes. To discontinue receiving the WINs:
a) IF YOU ARE A MEMBER - click here: UNSUBSCRIBE and supply your full name and email address where you receive the WINs. Click SEND, you will be removed from list. If this link doesn't open a blank email, create one on your own and send to afio@afio.com with the words: REMOVE FROM WINs as the subject, and provide your full name and email address where you are currently receiving them.
b) IF YOU ARE NOT A MEMBER, and you received this message, someone forwarded this newsletter to you [contrary to AFIO policies]. Forward to afio@afio.com the entire WIN or message you received and we will remove the sender from our membership and distribution lists. The problem will be solved for both of us.
CONTENTS of this WIN [HTML version recipients - Click title to jump to story or section, Click Article Title to return to Contents. This feature does not work for Plaintext Edition or for some AOL recipients]. If you wish to change to HTML format, let us know at afio@afio.com. The HTML feature also does not work for those who access their e-mail using web mail...however NON-HTML recipients may view the latest edition each week in HTML at this link: https://www.afio.com/pages/currentwin.htm
---
WINs are protected by copyright laws and intellectual property laws, and may not be reproduced or re-sent without specific permission from the Producer. Opinions expressed in the WINs are solely those of the editor's or author's listed with each article. AFIO Members Support the AFIO Mission - sponsor new members! CHECK THE AFIO WEBSITE at www.afio.com for back issues of the WINs, information about AFIO, conference agenda and registrations materials, and membership applications and much more!
(c) 1998 thru 2020. AFIO, 7600 Leesburg Pike, Suite 470 East, Falls Church, VA 22043-2004. Voice: (703) 790-0320; Fax: (703) 991-1278; Email: afio@afio.com
---
About AFIO | Membership Renewal | Change of Address | Upcoming Events | Chapter Locations | Corporate/Institutional Memberships | Careers in Intelligence Booklet | Guide to the Study of Intelligence | Intelligencer Journal | Weekly Intelligence Notes | To Make A Donation | AFIO Store | Member-Only Section | Code of Ethics | Home Page
---