---
Section I - INTELLIGENCE HIGHLIGHTS

Launch of Japanese Spy Satellite Postponed by Nitrogen Leak. Japanese officials halted a countdown Monday at the Tanegashima Space Center when teams overseeing preparations for launch of an H-2A rocket detected a nitrogen gas leak, prompting the return of the launcher and its Japanese government payload to a nearby assembly building for repairs.

Mitsubishi Heavy Industries, which builds Japan's H-2A rockets and oversees launch operations, tweeted that the countdown was stopped because of "facility trouble."

Numerous other reports pointed to a leak in the nitrogen gas system that supplies conditioned air to the rocket.

Officials halted the countdown before super-cold liquid hydrogen and liquid oxygen propellants flowed into the rocket, and ground crews were able to transfer the H-2A launcher back into the Vehicle Assembly Building at Tanegashima within a few hours of discovering the problem. [Read more: Clark/SpaceflightNow/27January2020]

Germany Walks Away from $2.5 Billion Purchase of US Navy's Triton Spy Drones. The German government has canceled plans to buy Northrop Grumman-made Triton drones to the tune of $2.5 billion, opting instead for manned planes carrying eavesdropping sensors.

The decision to buy Bombardier Global 6000 aircraft comes after officials became convinced that the Global Hawk derivatives would be unable to meet the safety standards needed for flying through European airspace by 2025, a target date for Berlin's NATO obligations.

A defense ministry spokeswoman told Defense News the Triton option had grown "significantly more expensive" compared with earlier planning assumptions. [Read more: Sprenger/DefenseNews/28January2020]

New U.S. Law Requires Government to Report Risks of Overseas Activities by Ex-Spies. Troubled that former American spies are plying their trade for foreign governments, Congress has passed new legislation requiring U.S. spy agencies to provide an annual assessment detailing the risks such conduct poses for national security.

The new measure was driven by a Reuters investigation revealing how former National Security Agency employees clandestinely assisted a foreign cyber espionage operation in the United Arab Emirates, helping the monarchy target rivals, dissidents and journalists.

Max Rose, a Democratic Congressman from New York, called the contracting practices revealed by Reuters "absolutely chilling" when he initially proposed the legislation on the floor of the U.S. House of Representatives last year.

In an emailed statement this week, Rose said the U.S. government has "no comprehensive understanding" of the national security implications triggered when former U.S. intelligence experts go to work overseas. [Read more: Reuters/22January2020]

Feds Charge Chinese Army Lieutenant as Spy at BU; Arrest of Harvard Professor Also Announced. Two Chinese nationals were charged - and a Harvard professor arrested - in connection with what the US Attorney's office alleges are Chinese efforts to purloin US data and intelligence.

The two Chinese nationals named by the feds were charged with actively working to grab American know how - one directly under the control of her alleged superiors in the People's Liberation Army, the other with dreams of writing a research paper on how cancer-cells reproduce, using vials allegedly stolen from Beth Israel Hospital, where he'd been doing post-doctoral work.

Also named: Charles Lieber, chairman of the Chemistry and Chemical Biology at Harvard and an expert in nanotechnology. [Read more: Gaffin/UniversalHub/28January2020]

Belgian Spy Services Launch Internal Clear-Up. Belgian intelligence services, responsible for protecting the EU and Nato, have launched a major clear-up amid fears of Russian and other infiltration.

Belgium's intelligence oversight body, the so-called Comite R, opened an investigation into some 20 cases a few months ago, Belgian newspaper Die Tijd reported on Saturday (25 January).

About 15 were in the military intelligence service, the ADIV, and five more were in its homeland service, the VSSE, Die Tijd said.

The VSSE denied that there were any cases in its ranks, however. Die Tijd's information was false, the Belgian homeland service told EUobserver. [Read more: Rettman/EUObserver/28January2020]

Senate Intelligence Committee Holds Hearing on Security Clearance Reforms. The U.S. Senate Select Committee on Intelligence held a hearing this week on the federal government's security clearance reform efforts.

The current security clearance model has been mostly unchanged for more than 70 years. The Intelligence Authorization Act for FY 2018, 2019, and 2020, signed into law in December by President Donald Trump, seeks to modernize, simplify, and make more transparent the security clearance process. Specifically, it seeks to reduce backlogs, improve information sharing, and reflect the demands of today's mobile workforce.

Committee Chairman Sen. Richard Burr (R-NC) said he is pleased with the improvements in the security clearance process. [Read more: Kovaleski/HomelandPreparednessNews/24January2020]

Russian Foreign Intelligence Chief Discloses Names of 7 Unaffiliated Undercover Agents. Russian Foreign Intelligence Service Head Sergey Naryshkin took the unprecedented step on Tuesday to declassify the names of seven agents who were working without any legal cover, revealing recipients of the highest state honorary titles of Russia and the Soviet Union among them.

This is the first time Russia's intelligence services are disclosing simultaneously several names of its agents who operate abroad without the legal cover of state agencies such as embassies and consulates. The Foreign Intelligence Service is expected to share their biographies shortly. [Read more: Sputnik/28January2020]

Dutch Police Chief to take Reigns at Intelligence Agency AIVD. National police chief Erik Akerboom is expected to be named as the new boss of domestic intelligence agency AIVD, according to the Volkskrant. The current head of the 18-year-old agency, Dick Schoof, is expected to re-join the Ministry of Security and Justice which he left in 2013 to lead national counter-terrorism office NCTV.

Akerboom worked in various capacities in Dutch police offices for 23 years after studying for four years at the Apeldoorn police academy. He spent much of his career in Utrecht, before becoming the top cop in the Brabant-Noord region.

He stepped out of that office to run the NCTV as Schoof's predecessor, and then switched to a leadership role at the Ministry of Defense. In 2016 Akerboom was appointed the head of the national police at the age of 55. [Read more: Newmark/NLTimes/24January2020]

Chief of Intelligence Service of Georgia Quits. Levan Izoria, Secretary of the Security Council of Georgia and Head of the Intelligence Service, has resigned.

He denies media reports that the resignation is somehow linked to the recently released video, recorded in 2014, depicting his brother, Kita Izoria's dispute with a law enforcer. In the video, Kita verbally assaults a police officer and threatens that he will be fired from work for stopping him allegedly driving under the influence of alcohol.

The former Head of the Intelligence Service noted that he will continue to serve as Ambassador to Germany, adding that the above decision was taken in December. [Read more: Dumbadze/GeorgiaToday/28January2019]


---
Section II - CONTEXT & PRECEDENCE

Podcasts: Espionage and the Best Spy Podcasts to Listen to. The practice of espionage has existed since ancient times and has fascinated the public for just as long. Tales of the secret art of intelligence-gathering and sabotage captivate us with crazy-but-true acts of bravery and daring feats by daring individuals. Here are a few espionage podcasts to listen to. [Read more: Girard/StarNewsOnline/24January2020]

Nambi Narayanan: The Fake Spy Scandal that Blew up a Rocket Scientist's Career. One winter afternoon a quarter of a century ago three policemen arrived at a house in a narrow lane in the southern Indian city of Trivandrum, the capital of the state of Kerala.

The officers were polite and respectful, Nambi Narayanan remembers.

They told the space scientist that their boss, a deputy inspector general of police, wanted to talk to him.

"Am I under arrest?" Mr Narayanan asked. [Read more: Biswas/BBC/27January2020]

Spy Sites of New York: A Guide to the Region's Secret History. Bob Wallace and Keith Melton are a power pair of writers and researchers who have produced high quality, fact-based, enjoyable books for decades. The latest in their long string of fantastic books provides a guide to the secret history of spies and counter spies in and around New York.

Their book, Spy Sites of New York: A Guide to the Region's Secret History, is a fantastic reference to anyone who loves to learn the history of espionage. But is is also a great book for those who enjoy the excitement of spy vs spy action and drama. And for those who are lucky enough to be in or able to travel to the New York area it can provide great tips top plan visits to locations where many critical events of our nation's history took place.

The nation's espionage history really began in the New York region. [Read more: Gourley/CTOVision/26January2020]


---
Spy Novels Need to Come in from the Cold War. The golden age of the spy thriller ended with the Cold War. But of late, news reports have provided enough material for a silver age to start - if authors take heed.

The last time a spy thriller topped the list of a year's bestselling novels in the US, compiled by Publisher's Weekly, was in 1988 or 1989 - depending on whether one counts the latter year's Clear and Present Danger by Tom Clancy as an espionage novel or a political one. (In 1988, another Clancy book, The Cardinal of the Kremlin, unmistakably a spy novel, was number one.) John Le Carre, who had his first book on top of the list in 1964 (The Spy Who Came in from the Cold) and was in the Top 10 a total of nine times, had his last big hit in 1989, too, with The Russia House, although he has continued to publish regularly. That year, glasnost reigned in Mikhail Gorbachev's moribund Soviet Union and the Berlin wall came down. In November, 1989, the New York Times book critic Walter Goodman wrote - prophetically, as it turned out - about the future of spy fiction:

With ideological walls tumbling and affinities popping up, lesser practitioners find themselves in straits whose direness matches those of their heroes. An Ian Fleming might bring into play some space-age Mafia out to extort billions from both Washington and Moscow, but his books were always kid stuff. Will [Len] Deighton resort to having his creations take on Colonel Muammar Qaddafi of Libya or General Manuel Antonio Noriega of Panama, at the risk of provoking a PEN resolution against picking on little guys? And will [Le Carre's] next plot find hardliners in the Pentagon and the Kremlin united against the Greens? Until new threats present themselves, addicts of the spy stuff may find themselves out in the cold.

All these tacks, and countless variations, have been tried, and some novels have sold well. [Read more: Bershidsky/Bloomberg/27January2020]

Holocaust Memorial Day: Witold Pilecki went into Auschwitz as a Spy - this Hero Needs to be Remembered. It is one of the bravest tales you could ever hear, and yet for years it was largely unknown, especially outside the hero's homeland. I only came across it by chance myself, when I met up with a friend in 2011, a fellow reporter I had worked with while covering the wars in Iraq and Afghanistan for a British newspaper.

We were chatting while trying to make sense of what we had witnessed in the Middle East, and he told me how he had since travelled to southern Poland to visit Auschwitz, where he had learnt of an underground cell that had operated in the concentration camp.

I remember being shocked by the idea. How was resistance possible in that most hellish of places?

A year went by until I discovered the name of the cell leader: Witold Pilecki. One of his reports had finally been translated into English and his story was even more amazing than anyone could have imagined. [Read more: Fairweather/iNews/23January2020]

Washington's Spies. Utter the name Nathan Hale and the majority think, "I only regret that I have but one life to give for my country."

Utter the name Nathan Hale and the majority think, "I only regret that I have but one life to give for my country."

But, there's a slight problem.

He never said it.

Mind blown, right? [Read more: Robinson/CantonDailyLedger/25January2020]


---
Section IV - Research Requests, Obituaries, Jobs
Seeking CIA/DIA, State Department Officers Who Worked in Beirut, Lebanon, or Langley, VA, in 1978-1990
I am a researcher from Chicago and am looking to interview any CIA, DIA or State Dept officials who may have worked at the Lebanon Desk at Langley or in Beirut during the period of 1978-1990. I am interested in the relationship that existed between some in CIA and members of Fatah's inner circle, namely Ali Hassan Salameh. Additionally, I am interested in discussing in some detail the work of Mustafa Zein as hostage negotiator for CIA and the NSC.
Any help in this matter would be extremely beneficial to my book project on US-Lebanon policy & the USMC peace-keeping mission in '82-'83.
All interviews are completely confidential and all questions will be submitted prior to any discussion.
I can be available for contact any time between 7am and 7pm, Monday-Friday.
Replies to Dan Egan, Chicago, IL, at 331-245-9955 or dwegan40@yahoo.com
Assist Psychology Professor and Radio Host with Your Professional Cybercrime Experiences and Insights
My name is Dr. Carlos. I'm a forensic psychology professor and iHeart radio host. I am seeking any intelligence officers who might be interested in speaking to my class about cybercrime? My class is an undergraduate class.
I would also be happy to promote on my podcast which has about 120,000 followers. Thank you.
Replies to Dr. Carlos Vazquez at circleofinsight@icloud.com or call him at 949-456-9215
Help Choose the IAFIE 2020 Intelligence Education Instructor of the Year
If you know outstanding teachers in the field of intelligence, please nominate them as explained below, before the 1 April 2020 deadline.
The IAFIE (International Association for Intelligence Education) recognizes individuals who have excelled in intelligence instruction, which includes both academic and professional training instruction. The IAFIE Instructor of the Year Award is presented at the IAFIE Annual Conference being held in 2020 in London. The award recipient is invited to attend the event as a guest, and is provided with partial compensation for travel expenses, plus conference fees and a commemorative award.

Nominations may be submitted by a supervisor, colleague or other individual. Self-nomination is also allowed and encouraged. The nominee must submit an application package, the contents of which are described below, by 1 April. An IAFIE subcommittee will select the winner.

Read full details of the application process here.
Questions? Contact jonsmith@coastal.edu.
Frank Anderson, CIA Chief of Station
Word just reached us that...
Frank Ray Anderson, 77, a former CIA Chief of the Near East and South Asia Division, died 27 January 2020 in Sarasota, FL.
He served in the U.S. Army (Sgt, E-5) in the US and Korea (1959-62).
He earned his B.A. from the University of Illinois in Chicago, a Diploma from the U.S. Foreign Service Institute's Arab Language and Middle East Area Studies School in Beirut, Lebanon, and a Certificate from Harvard University's John F. Kennedy School of Government Program for Senior Executives in National and International Security.
He joined CIA and served for 27 years in Operations. His career included three tours of duty as the Agency's Chief of Station in Middle East countries, running the Afghan Task Force (1987-89) in its effort to expel the Red Army from Afghanistan, was chief of the Near East and South Asia Division, and served a stint as the Director of Technical Services.
After his 1995 retirement, Anderson served on a joint CIA/Defense Department Task Force to study intelligence needs for the War on Terrorism, consulted with U.S. energy, telecommunications and aerospace companies on doing business in the Middle East, served as President of the Middle East Policy Council, and worked in Afghanistan on a Defense Department effort to bring U.S. business and investments to the country.
He had been featured in interviews by the BBC, CNN, PBS, and Harper's Magazine, and participated in numerous panel discussions and conferences regarding the Middle East and South Asia.
Details on family and funeral plans did not reach us in time for this announcement.
Tom Darcy, CIA Paramilitary Officer
Thomas Patrick Darcy Jr, 62, a CIA Paramilitary Officer, died 26 January 2020 of complications due to pancreatic cancer
He was born in Massapequa, NY. Thomas was a graduate of SUNY Maritime College (1979) and Drake University (1997). Upon graduation he served as a U.S. Naval officer on vessels such as the USS John A. Moore, USS Duncan, and the USS Kitty Hawk. He then served as a paramilitary officer with the CIA from 1984-1993. Assignments included service in Central America, Western Europe, and the Near East, including time at a major US Embassy.
Following the CIA, he continued as an intelligence professional, both as an active duty and reserve US Naval officer at United States Strategic Command in Omaha, NE. He was initially assigned as a senior exercise planner with the J2 organization and later served as an intelligence advisor for the J5 planning team. He retired as a Commander from the Naval Reserve in 2003.
He was an AFIO Life Member.
Tom served two terms as an Alderman of Fitchburg, WI, worked on the city's Park Commission, and was chairman of the Fitchburg Police and Fire Commission. In 2003, Tom helped establish the Madison Edgewood/West High School Boys lacrosse team and coached the team until 2011.
He is survived by his beloved spouse of 34 years, Terri, and their five children.
A Mass of Christian Burial will be held 1 February 2020 at Good Shepherd Catholic Parish at St Joseph Church, 1905 West Beltline Highway, Madison, at 11 a.m. A visitation will be held at the church from 9:30 a.m. until the time of the Mass. Interment will be at Arlington National Cemetery. "Fair winds and following seas."
Art O'Connor, USMC and CIA Officer
Arthur William O'Connor Jr, 88, USMC and CIA Officer, died 18 January 2020 in Melbourne, FL.
Art was born in Brooklyn, NY and later moved to Flushing, NY. He attended Fordham University for one year before enlisting in the U.S. Marine Corps and serving in combat in the Korean War with the First Marine Division. His love of the USMC led to a lifetime sartorial display of the USMC logo on shirts, jackets, hats, and bumper stickers and giving a Semper Fi to fellow Marines. The USMC values—honor, courage, and commitment—were carried forward in how he lived his life.
Post military service, Art returned to Fordham where he graduated with a B.A in English. He then began a 30-year career with CIA and travelled the globe. With his family, Art had long-term assignments in California, Taiwan, and the Washington D.C. area.
By his 1990 retirement, Art had served in much of Europe, Asia, and the Middle East. Art's loyalty to country continued long beyond retirement as he continued to work as a security consultant for another 23 years.
In retirement, he doted on family and enjoyed seeing plays and attending band concerts with his wife, trying new foods (preferably Asian), and reading on the balcony or by the pool of his beautiful beachfront condominium. He was an active member of AFIO's Florida Satellite Chapter.
He also was active with the Melbourne, FL League of Women Voters, International Relations Committee, providing insights on the Middle East and clarifying issues on the conduct of joint civilian/military international operations.
He is survived by his wife, Carol, five children, and other family.
A memorial service will be held at Holy Name of Jesus Church in Melbourne, FL on 17 February 2020. Visitation will be at 10:30 am and mass will be at 11:00 am. A reception will follow. A burial service will be held at Marine Corps Base Quantico on 16 June 2020.
Alfred Schumann, CIA
Alfred William Schumann, 94, CIA, died 24 October 2019 in Melbourne, FL.
Schumann was born in Portland, OR. At age 18 he enlisted in the Navy where he served on a Navy LST ship in the South Pacific during WWII. His main duties were in the engine room as an electrician, but also skippered a Higgins landing craft, transporting troops and supplies to the shore during the Iwo Jima and Saipan campaigns.
After WWII ended, he attended Lewis & Clark College where he earned a degree in Engineering, and a Masters in Acoustical Engineering. He moved to Washington DC and attended George Washington University earning a Law degree. He served in the Naval Reserves as a JAG Officer (Judicial Advocate General) as legal counsel and enjoyed helping Enlisted men/women, since he rose from an enlisted rank to Captain before he retired from the US Navy.
With his expertise in Engineering and Acoustical Engineering he was recruited to work for CIA and served in numerous locations around the world. He retired after 43 years of service.
He is survived by his identical twin brother, Arnold Schumann, and other family. His wife, Winifred Carobel Brown Schumann, died two months after his death.
Alfred will be interred in Arlington National Cemetery, along with his wife, in late Spring/early Summer. No date for this ceremony has been set.
Doug Vartorella, NSA Administrator
Douglas Lee Vartorella, 69, former NSA Administrator, died 14 January 2020 in Laurel, MD.
He was born in Berlin Heights, OH, an historic small town on the shore of Lake Erie.
He retired from NSA as a senior electrical engineer and administrator, after nearly 40 years of service to the country. He was the recipient of numerous career-related awards.
Doug's hobbies included geo-politics and various NSA and DOD associations and clubs.
He is survived by a brother, William F. Vartorella, and other relatives.
Formal services and interment of his ashes will be announced at a future date.

---
Two Positions at James Madison University for Assistant or Associate Professor - Intelligence Analysis
James Madison University (JMU) located in Harrisonburg, VA, seeks applicants for two faculty positions in its Bachelor's Degree Program in Intelligence Analysis (IA). The appointments will be at the Assistant or Associate Professor level and will reside within the larger School of Integrated Sciences. The IA program offers a multidisciplinary undergraduate degree with an emphasis on methodology and technology to prepare students to become analysts, with a specialization in intelligence analysis. Its graduates have been successful in securing positions as analysts in both the public and private sectors, to include the Intelligence Community, military and law enforcement organizations, defense contractors, and major consulting firms. The program emphasizes methodology and synthesizes critical and creative thinking methods with technological tools for data collection, visualization, and analysis with situational knowledge of a problem's political, economic, social, and technological context with strong communicative and professional skills to support decision-making.
Ideal candidates will be comfortable in an interdisciplinary, diverse setting and possess the potential for becoming an excellent teacher to future analysts in one or more intelligence domains including national security, military, homeland security, law enforcement, private sector security, cyber security, and geospatial. They optimally have a background in either mixed-methods, qualitative, or quantitative research and analysis methods. We especially encourage applications from candidates that can leverage the use of systems thinking, employ data science in analysis, support the development of writing skills, or teach ethics specifically for future analysts. The typical teaching load in the school is 3 courses per semester.
We welcome applicants from all academic disciplines—to include the humanities, social sciences, and sciences—that provide a knowledge foundation for doing analysis. Prospective candidates should review our curriculum online to identify areas that match their expertise and to locate potential areas that they could help the program to develop. The program values teaching excellence as well as one-on-one professional mentoring and seeks candidates who can demonstrate potential for both. In addition, the position requires the potential for an active program of scholarly activity. The position requires either a Ph.D. in a relevant academic field by the date of hire (for a tenure-track appointment) OR Master's Degree with substantial experience in the field (for appointment on a Renewable Term Contract).
More information or applications may be found here.
New Positions Available with Thomson Reuters

Job Title: Politics Editor
Experience: 2 to 20 years
Employment Type: Full Time
Job Location: Washington, DC
Reuters is looking for a Politics Editor in our Washington bureau. The editor will take on some of the biggest stories in the world as Donald Trump overhauls U.S. policies almost across the board from trade and diplomacy to immigration and regulation and the presidency itself. We are looking for someone with a deep understa...[full details here]
________________________________________
Job Title: Washington Bureau Chief
Experience: 10 to 20 years
Employment Type: Full Time
Job Location: Washington, DC
Reuters, the news and media division of Thomson Reuters, is the world's largest international multimedia news provider reaching more than one billion people every day. Reuters provides trusted business, financial, national, and international news to professionals via Thomson Reuters desktops, the world's media organizat...[full details here]
________________________________________
Job Title: Account Executive, Federal
Experience: 5 to 20 years
Employment Type: Full Time
Job Location: Washington, DC
Account Executive, Federal Job Description Position Objective/ Mission This role exists to sell online legal and investigative research, integrated workflow solutions in the federal government market. Outcomes Consistently achieve monthly, quarterly, and full year new sales quotas with a mix across the sales bag. Maintain a...[full details here]
________________________________________
Job Title: Facility Security Analyst
Experience: 3 to 9 years
Employment Type: Full Time
Job Location: McLean, VA
This position is responsible for planning and establishing security procedures to comply with Federal Regulations for handling classified information and material within a program environment. This position will support a FOCI organization and perform security functions that are required by National Industrial Security Oper...[full details here]
________________________________________
Job Title: White House Correspondent (Level 1 journalist)
Experience: 5 to 20 years
Employment Type: Full Time
Job Location: Washington, DC
White House Correspondent Reuters is looking for an experienced and talented reporter to join our team for a new role covering the Trump administration. The successful candidate will break news on the Trump presidency, its policies and dramas and help Reuters set the agenda beyond the daily headlines. She or he will tell th...[full details here]
________________________________________
Job Title: Social Media Producer (Level 1 Journalist- TEMP)
Experience: 2 to 20 years
Employment Type: Full Time
Job Location: Washington, DC
Reuters has an exciting opportunity available to join a new and dynamic team that will work to verify social media content relating to the U.S. presidential election. You will have a passion for politics and current affairs, expertise in navigating social networks and a track record in spotting emerging trends and stories....[full details here]
________________________________________
Job Title: Government Analyst
Experience: 2 to 20 years
Employment Type: Full Time
Job Location: McLean, VA
Provide insightful, well researched analysis and guidance to clients bases on rigorous, in depth analysis using public records, proprietary data, and open source data (including social media). Provide client support, including but not limited to meeting client inquiries, delivering ad hoc reporting, advising on analytic bes...[full details here]
________________________________________
Job Title: Sales Product Specialist, Government Investigative
Experience: 3 to 20 years
Employment Type: Full Time
Job Location: McLean, VA; Philadelphia, PA
Support field sales representatives in identifying and closing CLEAR sales opportunities Conduct demonstrations of the CLEAR product line both in person and via WebEx Prospect and identify new opportunities for CLEAR products with government customers Provide expertise to the field regarding CLEAR data sources and product c...[full details here]
________________________________________
Assistant/Associate/Full Professor - Department of Intelligence & Security Studies, Charleston, SC - Two Openings Available
Work type: Full Time Permanent - Faculty; Location: Charleston, SC; Categories: Humanities; Payscale: Unclassified.
The Citadel's newly created Department of Intelligence & Security Studies houses some of the most popular and flourishing academic programs on campus. Since 2016, we have created both a Master of Arts (MA) and a Bachelor of Arts (BA) program in Intelligence and Security Studies; the MA program is 100% online while the BA is offered in both online and traditional formats. Our growth has created faculty openings for individuals who want to join an established team dedicated to producing principled leaders in all walks of life.
Job Responsibilities: The Citadel's School of Humanities and Social Sciences invites applications for two(2) tenure-track position in all areas of intelligence studies at the level of Assistant, Associate or Full Professor beginning in August 2020. The Department is particularly interested in individuals with experience in intelligence and big data analytics, homeland/national security, Eastern European/former Soviet area studies, applied intelligence community (IC) research, and military intelligence matters. The incumbent will be expected to teach at the undergraduate and graduate level using both traditional and online delivery methods. This is a full-time teaching, research and service position. Faculty within the School typically teach a 4+4 course load with appropriate research and service expectations.
Minimum Requirements: Applicants must have an earned doctorate from an accredited university in an area associated with intelligence studies. The ability to use or the motivation to learn technologies relevant to online teaching is required. All candidates should also be able to show effective past teaching experience, demonstrated research potential, and appropriate service activities. Advanced ABD candidates will be considered. There is also a potential for teaching additional summer courses. Salary will be competitive, and commensurate with experience and qualifications.
Preferred Qualifications: Relevant experience in the US intelligence community, the military, or other organizational contexts is preferred, but not required. Online teaching experience is preferred, but not required.
Additional Comments: Ranked as the #1 Public School in the South for nine years in a row by U.S. News and World Report, The Citadel offers a unique academic environment. The incumbent will teach members of the South Carolina Corps of Cadets (SCCC) in the classroom as well as non-cadet graduate and undergraduate students in an online venue. Regardless of the teaching milieu, Citadel faculty commit themselves to preparing the next generation of principled leaders for the military, private, and government sectors. Approximately 30% of every graduating SCCC class is commissioned into the U.S. military; the remainder seek job opportunities in the public and private arenas. Initial screening of applicants will begin immediately and continue until the position is filled. The position is expected to begin in August of 2020.
The Citadel is an Equal Opportunity / Affirmative Action employer and does not discriminate against any individual, or group of individuals, on the basis of age, color, race, disability, gender, gender identity, sexual orientation, religion, pregnancy, national origin, genetic information or veteran's status in its employment practices.The Citadel has a culturally diverse faculty and staff committed to working in a multicultural environment. We encourage applications from minorities, females, individuals with disabilities and veterans.
Interested applicants should apply now for Job No: 495785. To apply utilize the official online application and upload supporting documents to include: 1 Letter of interest addressing the qualifications listed above; 2 A curriculum vita; 3 Evidence of teaching effectiveness; In addition, please provide three professional references that can be contacted.
Syracuse University's School of Information Assistant Professor - Trustworthy Cyberspace
DePaul University, School of Computing Assistant Professor in Software Engineering
The School of Computer and Cyber Sciences Tenure Track and Tenured Positions at the Assistant, Associate, and Full Professor Levels
Department of Cyber and Computer Sciences at The Citadel Tenure-Track Positions in the Department of Cyber and Computer Sciences
Portland Community College - Computer Information Systems Instructor, CIS / Windows System Administration
Augusta University - Tenure Track and Tenured Positions at the Assistant, Associate, and Full Professor Levels
FireEye Has Many Intelligence Positions Available For You - Worldwide - Contract, Full-time, Part-time, Interns
Explore the many career and contractor intelligence jobs available here. Jobs openings in Cyber Security include - Advisory, Architecture, Digital Forensics & Incident Response, Penetration Testing, Threat Research. They positions are needed here: New York, Chicago, Manila, Reston, Dallas, Atlanta, Suitland, Singapore, Denver, Las Vegas, Phoenix, Doha, Stockholm, London, Milpitas, multiple cities in Australia, Washington, Indianapolis, Tampa, Santiago, Alexandria, Seattle, Carlsbad, Houston, San Francisco, Arlington, Dubai, Amsterdam, Ft Belvoir, Minneapolis, Mexico City, San Diego, Boston, El Segundo, Philadelphia, San Antonio, Chiyoda, Ft Huachuca, Ft Gordon, Ft Meade, Ft Shafter, Kuwait City, Seoul, Sttutgart, Salt Lake City, Austin, Dublin, Bangalore, Cork, Colorado Springs... Explore the many career and contractor intelligence jobs available here.
---
AFIO EDUCATIONAL EVENTS IN COMING TWO MONTHS....
Saturday, 8 February 2020, 11:30 a.m. - 2 p.m. - Indialantic, FL - The Florida Satellite Chapter hosts FBI Agent Mike Popolano on "Profiles and Motives of Active Shooters."
FBI Agent and FSC Member Mike Popolano's talk will cover some infamous active shooter cases and how law enforcement strives to profile potential active shooters and determine their motives. He will examine police response to active shooter incidents and the options available for self-protection and defense. In all cases, Mike will make use of his extensive background as an FBI Special Agent and investigator to present historical cases both to underscore and further elucidate his presentation.

TIMING: 11:30 AM - 12:15 PM: Social Hour, greet old, new members and guests. Cash bar. 12:15 PM: Sit-Down lunch

LOCATION: Doubletree Melbourne Beach Oceanfront, 1665 N Highway A1A, Indialantic, FL 32903. Location and Directions via Google Maps.

TO ATTEND: Prepaid reservations are required and must be received by Sunday, 2 February. To reserve, indicate food choice [Pasta Marinara, Pasta Primavera, or Chicken Francese) for self and any guests. The meal fees are $32 for members, $36 for guests. Send check, payable to AFIO FSC, to FSC Treasurer Rhonda Rhoads, PO Box 410158, Melbourne, FL 32941.
Questions? Rhonda can also be reached at afiofsctreas@gmail.com and at 321 626 -4465.
Paid, advance registration is required, and none will be accepted after February 2.
Monday, 10 February 2020, 5:30 p.m. - New York, NY - AFIO NY Metro Chapter hosts CIA Officer (Ret) and Author/Disguise Expert Jonna Mendez
Jonna Mendez (Spy Dust: Two Masters of Disguise Reveal the Tools and Operations That Helped Win the Cold War), share (with late husband Tony Mendez) their experiences as spies in Moscow during the height of the Cold War in the mid-1980s. The authors begin with the initial list of "the Moscow Rules" and continue to discuss briefly the current state of affairs in Russia under Vladimir Putin, and how they interfered with the 2016 U.S. election. Additional details to follow in coming months.
Location: Society of Illustrators, 128 E 63rd St (between Park and Lexington), New York, NY 10065.
Timing: Registration starts at 5:30 pm, Speaker presentation starts at 6 pm. Fee: $50/person. Payment at the door only. Cash or check. Full dinner, cash bar.
RSVP: Strongly recommended that you RSVP to ensure space at event. Call or Email Chapter President Jerry Goodwin at afiometro@gmail.com or 646-717-3776.
Wednesday, 12 February 2020, 1130 - Albuquerque, NM - AFIO New Mexico Chapter hosts Robert Hull on "The Internet Research Agency, Trolling, and the Rise of Russian Interference"
The speaker at this AFIO New Mexico Chapter event will be Robert Hull discussing "The Internet Research Agency, Trolling, and the Rapid Rise of Russian Interference – What's Real and What Isn't."
Location of event: "Sunnyside Up Cafe" on Menaul just east of Louisiana, next door to Chili's, 6909 Menaul Blvd NE, Albuquerque, NM 87110, (505) 888-3447. Google Maps location of event.
Fee to attend: Meeting is Free.
11:00 AM (Arrive, Order Lunch - available at separate cost), 11:30 AM (Call To Order), 1:00 PM (Adjourn)
Our meetings are normally open to present and former members of Federal, Military (uniformed and civilian), State and Local Agencies and selective others who support the Intelligence Community.
If you desire further information, please contact one of the following:
Sam Shaw - Phone: 505-379-3963 e-mail: President@afionm.org
Tom Dyble - Phone: 505-299-3242 e-mail: Vice-President@afionm.org
Friday, 28 February 2020, 10:30 am - 2 pm - Tysons, VA - First AFIO luncheon of 2020 features James Olson, author of To Catch a Spy: The Art of Counterintelligence; and political scientist Seth G. Jones, author of A Covert Action: Reagan, the CIA, and the Cold War Struggle in Poland.
James Olson's presentation starts at 1 p.m.: Olson served for over thirty years in the Directorate of Operations of the CIA, mostly overseas in clandestine operations. In addition to several foreign assignments, he was chief of counterintelligence at CIA headquarters in Langley, VA. Currently, he is a Professor of the Practice at the Bush School of Government and Public Service of Texas A& M University.
At this event Professor Olson will be discussing his March 2019 book, To Catch a Spy: The Art of Counterintelligence which suggests that the US is losing the counterintelligence war. Foreign intelligence services, particularly those of China, Russia, and Cuba, are recruiting spies in our midst and stealing our secrets and cutting-edge technologies. He provides a guide for how our country can do a better job of protecting its national security and trade secrets. He will review the principles and methods of counterintelligence, including the running of double-agent operations and surveillance. He also addresses why people spy against their country, the tradecraft of counterintelligence, and where counterintelligence breaks down or succeeds.
The morning speaker, Dr. Seth G. Jones, will begin 11 a.m. Dr. Jones director of the Transnational Threats Project, and is a senior adviser to the International Security Program at the Center for Strategic and International Studies (CSIS). He teaches at Johns Hopkins University's School of Advanced International Studies (SAIS) and the Center for Homeland Defense and Security (CHDS) at the U.S. Naval Postgraduate School. Prior to joining CSIS, Dr. Jones was the director of the International Security and Defense Policy Center at the RAND Corporation and was Adjunct Professor, Security Studies Program, Edmund A. Walsh School of Foreign Service, Georgetown University, where he taught classes on "Counterinsurgency" and "Stability Operations." He also served as representative for the commander, U.S. Special Operations Command, to the assistant secretary of defense for special operations.
He will discuss counterinsurgency and counterterrorism, with a particular focus on Afghanistan, Pakistan, and al Qa'ida.
Registration has opened and may be done quickly here.
Venue: DoubleTree by Hilton, 1960 Chain Bridge Rd, Tysons Corner, VA 22182 Phone: (703) 893-2100. Directions at this link.
Wednesday, 11 March 2020, 11:30 a.m. - San Francisco, CA - The "Andre Le Gallo" San Francisco Chapter hosts FBI Special Agent Michael Gimbel
2019 ended with a shooting at a kosher grocery store in New Jersey, a stabbing at a rabbi's home during a Hanukkah celebration in New York, and another shooting at a church in Texas. What can we do to prevent, mitigate, and respond to violent incidents?
FBI Special Agent Michael Gimbel will speak about FBI's Counterterrorism Division, the law enforcement response to the recent Gilroy Garlic Festival shooting, and the vital inter-agency relationship and coordination which facilitates and expedites the handling and processing of the crime scene.
Timing: No-host cocktails at 11:30, luncheon meeting and presentation begins at noon.
Location: Basque Cultural Center - San Francisco, CA
RSVP now at Eventbrite.
---
Other Upcoming Events from Advertisers, Corporate Sponsors, and Others
Friday, 31 January 2020, 6-9pm - Washington, DC - Spy Fest: Tradecraft Try-Its - at the International Spy Museum
Could you be a spy? Now's your chance to find out! Do you have the savvy to beat a lie-detector? The smarts to break a top secret coded message? The wits to create secret writing? The moves of a Ninja? Families are invited to find out how they measure up at the Museum's annual Spy Fest. Mini-missions, tradecraft demonstrations by the experts, and the chance to try spy skill challenges will give KidSpy agents and their handlers an insider's peek into the shadow world of spying—and who knows, there just may be a spy or two in your midst. Ages: 5 and up (one adult required for every five KidSpy agents). Ages 3+ must have a ticket to attend. *Ticket includes exclusive after-hours admission, scavenger hunt, and more. Tickets for the general public: $16 per person; tickets for Members: $14. Visit www.spymuseum.org. [Program description provided by Spy Museum]
11-12 February 2020 - Charleston, SC - Conference on "Legally Immoral Activity? Testing the Limits of Intelligence Collection" at The Citadel
Are there limits to intelligence collection in support of national security? Where, if at all, does a free and open society provide the limits of surveillance? Civil liberties are a founding tenet of democracy, but at what cost? How does a country balance collective security with individual rights? Recently, a Federal Court ordered Apple to help the FBI unlock the cellphone of a terrorist, but company officials would oppose that order, citing concerns over the privacy rights of all Americans.
This 2-day inter-disciplinary conference will examine the legal, ethical, social, economic, historical and political aspects of the United States government's ability to protect its citizens in an era that warfare has no societal or personal boundaries.
The conference will be held February 11-12, 2020 on the campus of The Citadel in Charleston, South Carolina.
Deadline for proposals and abstracts must be received by October 15, 2019.
Inquires and Submissions should be sent to Dr. Jan Goldman, Department of Intelligence and Security Studies at Email: jgoldma1@citadel.edu.
Thursday, 13 February 2020, 7:30 - 8:45 p.m. - McLean, VA - "Is the Muslim Brotherhood Still a Threat Today?" - Cynthia Farahat speaking at The Westminster Institute
Is the Muslim Brotherhood Still a Threat Today? Cynthia Farahat is an Egyptian author, columnist, political analyst, and writer. She co-founded the Misr El-Umm (2003-06) and Liberal Egyptian (2006-08) parties, which stood for peace with Israel, capitalism, and the abolition of theocracy. She co-authored several books in Arabic, writing on blasphemy laws, the Muslim Brotherhood, and terrorism.
Where: The American Legion, 1355 Balls Hill Rd, McLean, VA. Google Map Link for Directions.
No Fee to attend.
Hosted by The Westminster Institute, 6729 Curran Street, McLean, VA 22101
Questions: Contact Robert R. Reilly, Director, The Westminster Institute, 703-288-2885 or at br@westminster-institute.org
Register HERE.
Wednesday, 19 February 2020, 10 am - 1 pm - Annapolis Junction, MD - NCMF 2020 Winter Cryptologic Program Featuring Ms. Jonna Mendez, CIA Disguise Expert
SAVE THE DATE! The NCMF's 2020 Winter Cryptologic Program will feature CIA Officer (Ret) Author/Chief of Disguise, Ms. Jonna Mendez.
Can you change your appearance completely while walking down a crowded street in Moscow? Can you elude the KGB by pressing a button while rounding a corner? Can you fool the president while briefing him in the Oval Office? The CIA's former Chief of Disguise Jonna Mendez tells it all in her presentation at this NCMF event. More info about event is here.
Location: CACI Inc., Maryland Conference Center, 2720 Technology Dr, Annapolis Junction, MD 20755
REGISTRATION INFO: registration fee is $25pp for members and guests and includes lunch. Online registration may be handled here. Or mail-in your registration fee with payment by check to NCMF, PO Box 1682, Fort George G. Meade, MD 20755-9998. Include names of self and guests.
Questions? Call the NCMF office at 301-688-5436.
REGISTER online here.
25-28 March 2020 - Honolulu, HI - International Studies Association (ISA) conference Intelligence Studies Section (ISA/ISS) Panels at ISA2020
Various links below provide a view of the extensive program of the Intelligence Studies Section being held as part of ISA2020...the International Studies Association (ISA) conference in Honolulu, Hawaii on 25-28 March. The Intelligence Studies Section is one of thirty thematic sections that make up the ISA, has approximately 400 members, and has been sponsoring research about intelligence as a function of government since the mid-1980s. This Intelligence Studies Section content (4 straight days, 30 panels and roundtables) is one (highly impressive) small part of ISA's much larger conference.
Information about the conference is here.
And the full conference program of almost 300 pages is here.
The ISA/Intelligence Studies Section Program (kindly supplied by Steve Marrin) may be viewed here.
26-29 April 2020 - Tampa, FL - USGIF GEOINT 2020 Symposium
US Geospatial-Intelligence Foundation's GEOINT 2020 Symposium has the theme, "New Decade, New Challenges, New Strategies."
Learn more. Network with more than 4,000 GEOINT Community professionals from 40+ countries spanning defense, intelligence, homeland security, industry, and academia. See the latest in technology, services, and solutions from 200+ exhibitors in more than 100,000 sq ft of exhibit space. Learn from 50+ hours of professional development, training, and education sessions with PDUs and CEUs.
All official GEOINT 2020 hotels are conveniently located within walking distance of the Tampa Convention Center, and are only available through the GEOINT Symposium website and our registration partner SPARGO.
Do not delay reserving your hotel room, booking your flight, or registering for the nation's premier geospatial intelligence event of the year, which returns to Tampa from Sunday, April 26, to Wednesday, April 29.
View program, speakers, and registration requirements here.
25 - 27 June 2020 - London, England - IAFIE 2020 Annual Conference
The 2020 Annual Conference of the International Association for Intelligence Education (IAFIE) will be held in London from June 25 to 27. The conference is being held jointly by IAFIE and the IAFIE Europe Chapter (IAFIE EC). This will be the 5th Annual Conference of IAFIE EC. The submission date for abstract proposals is January 27, 2020. Proposals for papers, panels, posters and interactive workshops are being accepted. The topics/themes for the conference are Intelligence Analysis, Intelligence Domains, Management of Intelligence Community, and Intelligence Education and Research. Notification of acceptance will be in mid-February, and papers, posters, presentations and workshop materials will be due on April 20, 2020. Authors of recent books, monographs and reports in line with these topics/themes are also invited to submit proposals to participate in Author Roundtables. More information here.
---
In addition to the new Royal Blue long sleeve shirts, and the gray long sleeve hooded sweatshirts, the AFIO Store also has the following items ready for quick shipment:
NEW: LONG and Short-Sleeved Shirts with embroidered AFIO Logo and New Mugs with color-glazed permanent logo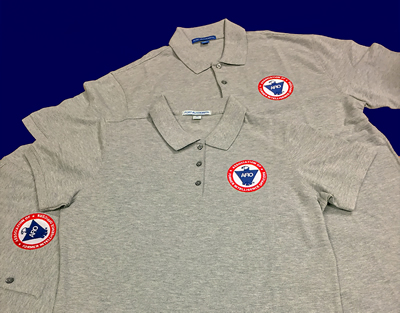 Show your support for AFIO with our new Polo Shirts. Be the first to buy these new, high quality, subtle heathered grey short sleeve shirts, and dark blue long sleeved shirts, of shrink and wrinkle resistant fine cotton with a soft yet substantial feel. They feature a detailed embroidered AFIO seal. Get a shirt for yourself and consider as gifts for colleagues, family, and friends. Only $45 each including shipping.
Sizes of (M) men or (W) women shirts; Small, Medium, Large, XL, XXL, and XXXL. At this time all orders will arrive as Short Sleeve shirts.
You may pay by check or credit card. Complete your order online here or mail an order along with payment to: AFIO, 7600 Leesburg Pike, Ste 470 East, Falls Church, VA 22043-2004. Phone orders at 703-790-0320. If interested in other shirt colors or sleeve lengths, contact Annette at: annettej@afio.com.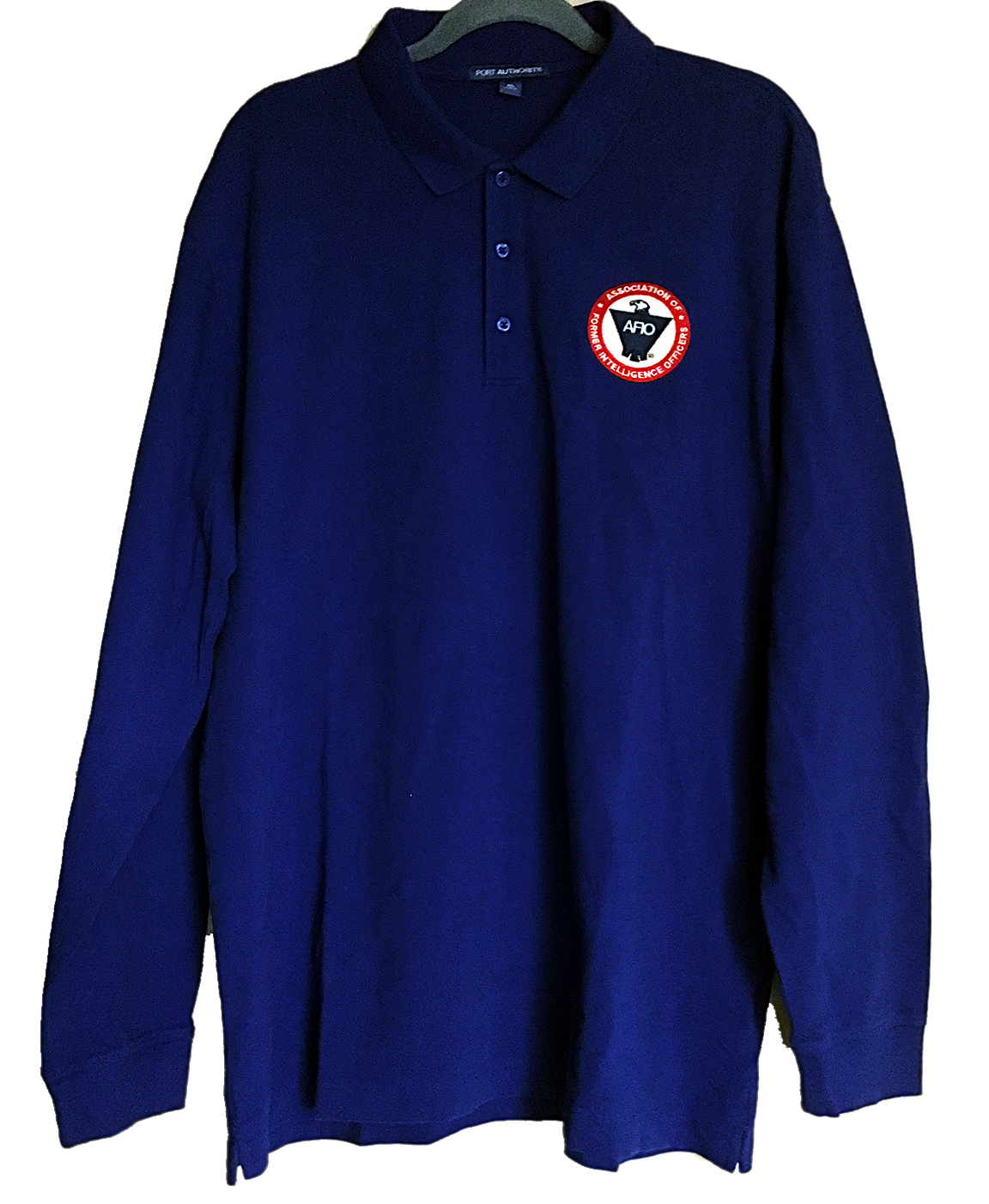 Long-Sleeved Shirts and Hooded Sweatshirts with embroidered AFIO Logo
Show your support for AFIO with our new long-sleeved Polo Shirts and Hooded Sweatshirts.
Both items are high quality and shrink resistant and feature a detailed embroidered AFIO seal. The color of the long-sleeved Polo Shirts is royal blue; the price is $55 and includes shipping.
The Hooded Sweatshirts are dark grey; the price is $70 and includes shipping.
Purchase a shirt and sweatshirt for yourself and consider as gifts for colleagues, family, and friends.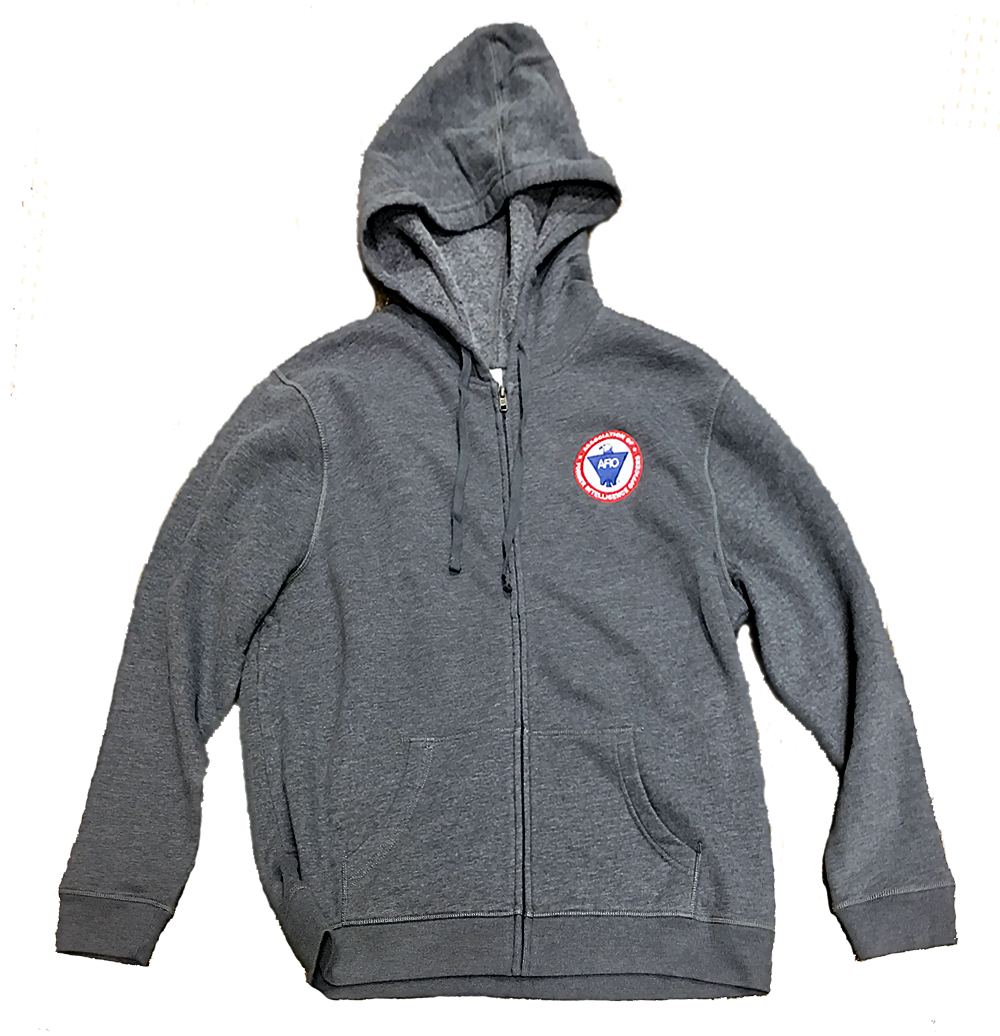 Both items are available in men's sizes: Small, Medium, Large, XL, XXL, and XXXL. The long-sleeved Polo Shirts and Hooded Sweatshirts are not available in ladies' sizes.
---
NEW: Mug with color glazed logo. Made in America. (We left out all that lead-based glaze and hidden toxins in those mugs made in China being sold by other organizations). Also sturdy enough to sit on desk to hold pens, cards, paperclips, and candy.
This handsome large, heavy USA-made ceramic mug is dishwasher-safe with a glazed seal. $35 per mug includes shipping. Order this and other store items online here.
AFIO's Intelligence Community Mousepads are a great looking addition to your desk...or as a gift for others.
Made in USA. Click image for larger view.
These 2017 mousepads have full color seals of all 18 members of the US Intelligence Community on this 8" round, slick surface, nonskid, rubber-backed mouse pad with a darker navy background, brighter, updated seals. Also used, by some, as swanky coasters. Price still only $20.00 for 2 pads [includes shipping to US address. Foreign shipments - we will contact you with quote.] Order MOUSEPADS here.
---
Guide to the Study of Intelligence and When Intelligence Made a Difference
"AFIO's Guide to the Study of Intelligence" has sold out in hard-copy.
However, it is available in digital form in its entirety on the AFIO website here.

Also available on the website here are the individual articles of AFIO's history project "When Intelligence Made a Difference" that have been published to date in The Intelligencer journal. More articles will be forthcoming in future editions.
---
Disclaimers and Removal Instructions
Weekly Intelligence Notes (WINs) are commentaries on Intelligence and related national security matters, based on open media sources, selected, interpreted, edited and produced for non-profit educational uses by members and WIN subscribers.
REMOVAL INSTRUCTIONS: We do not wish to add clutter to inboxes. To discontinue receiving the WINs:
a) IF YOU ARE A MEMBER - click here: UNSUBSCRIBE and supply your full name and email address where you receive the WINs. Click SEND, you will be removed from list. If this link doesn't open a blank email, create one on your own and send to afio@afio.com with the words: REMOVE FROM WINs as the subject, and provide your full name and email address where you are currently receiving them.
b) IF YOU ARE NOT A MEMBER, and you received this message, someone forwarded this newsletter to you [contrary to AFIO policies]. Forward to afio@afio.com the entire WIN or message you received and we will remove the sender from our membership and distribution lists. The problem will be solved for both of us.
CONTENTS of this WIN [HTML version recipients - Click title to jump to story or section, Click Article Title to return to Contents. This feature does not work for Plaintext Edition or for some AOL recipients]. If you wish to change to HTML format, let us know at afio@afio.com. The HTML feature also does not work for those who access their e-mail using web mail...however NON-HTML recipients may view the latest edition each week in HTML at this link: https://www.afio.com/pages/currentwin.htm
---
WINs are protected by copyright laws and intellectual property laws, and may not be reproduced or re-sent without specific permission from the Producer. Opinions expressed in the WINs are solely those of the editor's or author's listed with each article. AFIO Members Support the AFIO Mission - sponsor new members! CHECK THE AFIO WEBSITE at www.afio.com for back issues of the WINs, information about AFIO, conference agenda and registrations materials, and membership applications and much more!
(c) 1998 thru 2020. AFIO, 7600 Leesburg Pike, Suite 470 East, Falls Church, VA 22043-2004. Voice: (703) 790-0320; Fax: (703) 991-1278; Email: afio@afio.com
---
About AFIO | Membership Renewal | Change of Address | Upcoming Events | Chapter Locations | Corporate/Institutional Memberships | Careers in Intelligence Booklet | Guide to the Study of Intelligence | Intelligencer Journal | Weekly Intelligence Notes | To Make A Donation | AFIO Store | Member-Only Section | Code of Ethics | Home Page
---