---
Section I - INTELLIGENCE HIGHLIGHTS

Japan Launches Optical Spy Satellite. Japan launched an optical reconnaissance satellite from the Tanegashima Space Center Sunday aboard an H-2A rocket after a 12-day delay caused by a nitrogen leak.

Japanese crews returned the H-2A rocket to its vertical assembly building at Tanegashima for repairs following the aborted countdown Jan. 27. Officials from Mitsubishi Heavy Industries, builder and prime contractor for the H-2A rocket, said the leak detected during the previous countdown was in the system providing conditioned air to the rocket.

The 174-foot-tall (53-meter) H-2A rocket returned to Launch Pad No. 1 at the Yoshinobu launch complex at Tanegashima Saturday in preparation for the mission's second launch attempt.

MHI teams gave approval to load super-cold liquid hydrogen and liquid oxygen propellants into the two-stage H-2A rocket in the hours before liftoff. [Read more: Clark/SpaceFlightNow/9February2020]

Swiss Investigate Report That Firm Helped CIA Break Codes. Switzerland said on Tuesday it was probing reports that the U.S. Central Intelligence Agency and the German BND spy service used a Swiss firm's encryption technology to crack other nations' top-secret messages.

The company, called Crypto AG, sold code-making equipment to Iran, India, Pakistan, Latin American nations and dozens of other countries.

The technology was modified to let the CIA and BND break codes, the Washington Post reported along with German and Swiss broadcasters ZDF and SRF. They described a Cold War-era caper in which American spymasters and counterparts from what was then West Germany from 1970 were responsible for nearly all Crypto AG operations, from hiring and firing to sales tactics.

The reports cite a classified CIA history to underpin the allegations, some of which date back at least to 1992, when one of Crypto's employees was arrested and held in Iran for nine months as a suspected spy. [Read more: Reuters/11February2020 and WashPost]

U.S. Counterintelligence Chief Warns of Broadening Spy Threat. The United States faces espionage threats from a growing range of adversaries that are employing new technologies to undermine the country's interests, according to a new document released Monday by the National Counterintelligence and Security Center (NCSC).

Threats from "foreign intelligence entities are becoming more complex, diverse, and harmful to U.S. interests," the National Counterintelligence Strategy for 2020-2022 says. "Foreign threat actors have become more dangerous because, with ready access to advanced technology, they are threatening a broader range of targets at lower risk."

The strategy, which updates a version last released in 2015, lists Russia, China, Cuba, Iran and North Korea as notable state adversaries. It says non-state organizations like Lebanese Hizballah, ISIS and al-Qaeda as well as other criminal and ideologically motivated entities pose "significant threats." [Read more: Gazis/CBSNews/10February2020]

The Air Force Plans on Retiring the Vaunted U-2 Spy Plane Starting in 2025. After nearly 70 years of service, the U.S. Air Force plans to begin divesting its fleet of U-2 Dragon Lady spy planes starting in fiscal year 2025, budget documents show.

According to the service's fiscal year 2021 budget request of $120.2 million for U-2 procurement, the service "will maintain operational capability up to and through FY25" for the high-altitude plane before divesting in the aircraft beginning that year.

"These investments will address reliability, maintainability, supportability, diminishing manufacturing sources/material shortages (DMS/MS), flight test, safety issues, and integration of capability development activities in support of the broader [intelligence, surveillance, and reconnaissance] portfolio," the budget request says. "This continued investment in the platform ends in FY25, where the U-2 will be divested."

Air Force Magazine notes that, taken along with the Air Force's push to retire older versions of the RQ-4 Global Hawk, the sudden retirement of the U-2 represents a "potentially sweeping drawdown" of the service's high-altitude ISR aircraft and related capabilities. [Read more: Keller/Task&Purpose/11February2020]

U.S. Bans Bulgarian Judge who let Suspected Spy Leave for Russia. The United States imposed a travel ban on Wednesday against a Bulgarian judge accused of having wrongly allowed a former lawmaker suspected of spying for Russia to leave the country.

Judge Andon Mitalov, of Bulgaria's Specialized Criminal Court, permitted former member of parliament Nikolai Malinov to travel to Moscow last year while Malinov was on bail awaiting trial for espionage on behalf of Moscow.

Bulgaria's chief prosecutor accused the judge of violating procedure by allowing the suspect to travel without first consulting prosecutors. [Read more: Reuters/5February2020]

Former South Korea Spy Chief Jailed for Political Meddling. A former South Korean spy chief received a seven-year jail sentence Friday (Feb 7) for using taxpayer money for political meddling in favour of the then conservative government, among other charges.

Won Sei-hoon, 69, who led the National Intelligence Service (NIS) from 2009 to 2013, paid civilians to post favourable online comments about the administration.

Under Won's leadership the agency had "lost the trust of the citizens" and its role to protect national security had also been "seriously damaged", Seoul Central District Court said.

He has lost his civil service status and privileges while behind bars, the court added. [Read more: AFP/7February2020]


---
Section II - CONTEXT & PRECEDENCE

The Spy Next Door. Whenever I've imagined meeting a spy, I've never pictured it happening at a Starbucks in North Dallas, or that the spy would be wearing pink pants and carrying a mint green Yeti tumbler with T-R-A-C-Y spelled out in pink letters on the side. But that's my fault. I've watched too many movies, seen too many trench-coated silhouettes in empty parking garages. Anyway, it's the spy's lunch break.

Tracy Walder has met me to talk about her forthcoming memoir, which, in my defense, is titled The Unexpected Spy. She spends much of our interview alternating between telling her story - how she went from a USC sorority house to teaching at Hockaday, by way of the CIA and FBI - and apologizing for it. Instead of periods and paragraph breaks, she punctuates her thoughts by asking if she is rambling on for too long or if she is boring me, protesting that she is not very good at talking about herself. Her writing partner, the novelist Jessica Anya Blau, later confirms this is true.

"I mean, she's obviously brilliant, but she doesn't have a sense of what about her is interesting," Blau says. "So she would say things like, 'Oh, well, and then the bomb went off,' and she would talk about something else. And I'd be like, 'Wait, hold on: what do you mean "the bomb went off"?' She doesn't have a sense of her own drama."

Blau helped guide Walder through that drama - or, more accurately, to that drama - for The Unexpected Spy, which St. Martin's Press will publish at month's end. [Read more: Crain/DMagazine/February2020]

Orlando Science Center Cracks Open 'Top Secret' Spy Exhibit. Hidden cameras, encrypted codes and assorted bits of espionage are incorporated into the fun of "Top Secret: License to Spy," a traveling exhibit now in place at Orlando Science Center.

The storyline behind the displays is based on the theft of a powerful computer chip, and visitors are challenged to figure out who swiped it and why. This is accomplished through interconnected tasks and brain teasers. Information learned at one station can lead to uncovering more information at another one.

"It actually requires some thought," said Spencer Jones, part of the science center's visitor-experience team. "It's not just for kids where you can walk in and it's super-easy and you're done. It's designed that it can be solved by a 7-, 8-year old, but adults somehow just have tons of fun." [Read more: Bevil/OrlandoSentinel/10February2020]

Civil War Spy Aided Hostages After Meeker Tragedy in 1879. In October 1879, when Josephine Meeker and four other hostages were freed by Ute Indians who had captured them after the killing of Nathan Meeker, Josephine welcomed the assistance of a man called Captain Cline.

On the morning of Oct. 23, near the mouth of Whitewater Creek, they were loaded onto a buckboard.

"We left for Uncompahgre in charge of Captain Cline and Mr. Sherman," she recalled. "To these gentlemen we were indebted for a safe and rapid journey to Chief Ouray's house on the Uncompahgre River."

George Sherman was a clerk at the Los Piños Indian Agency near Ouray's home. Milton W. "Captain" Cline, was a former Civil War spy. [Read more: TheDailySentinal/10February2020]

This Virginia Winery was used as a Spy Station in WWII to Intercept Coded Messages about the Nazis. The history lesson you'll hear at Vint Hill Craft Winery sounds more like the start of a spy novel. After all, the glasses at the winery say,"You were never here." So, what secrets does this place hold?

Our story starts in 1942 on a quiet dairy farm in Warrenton, Virginia.

"What Vint Hill used to be is a top-secret signals intelligence base," Jason Hall, executive director of the Cold War Museum, said. "It's one of the four best places in the world to listen to radio signals."

But how that bit of knowledge was discovered is an even better story. [Read more: Geller/WUSA/9February2020]

Today in history February 10, 1962 - U.S.-Soviet Union Exchange Spies. On February 10, 1962, U.S. spy pilot Francis Powers was returned to the United States in exchange for Soviet KGB spy Colonel Rudolf Abel. Abel was caught in the United States five years prior to the exchange. The men were exchanged on opposite sides of the Glienicker Bridge. As the pair of spies waited, tense negotiations took place in the center of the bridge that divided East from West. At 8:52 a.m., Powers and Abel were allowed to cross their borders into freedom. The incident is the subject of the 2015 movie Bridge of Spies. [NewsMirror/10February2020]

Secret Snaps of Israeli Spy Finally 'Emerge From the Shadows'. Sara Eyal dedicated her entire life to taking classified photos for Israel's intelligence agencies, which nobody besides the operatives in archive rooms has ever seen. Now, years after Eyal's death, dozens of never-before-seen photographs from her personal collection are set to go on display in a special exhibition in Jerusalem.

The exhibition, titled "Emerging from the shadows," will showcase the images that captured the landscapes and people of Israel back when the country was only in its infancy, in the 1950s and 60s.

The photographs, stored for many years in boxes at the woman's family home in Tel Aviv, have a hint of her unique clandestine style - which made her such a successful espionage photographer- despite being taken for personal collection. [Read more: Karra/YNet/8February2020]


---
How US-UK intelligence Sharing Works - and Why Huawei 5G Decision Puts it at Risk. The UK's decision to allow Huawei to build part of its 5G network despite US opposition threatens to undermine one of the world's longest standing and most important intelligence partnerships.

There is no closer intelligence relationship between two countries than that between the UK and the US. Forged during the second world war, it developed through a series of memorandums of understanding between 1946 and 1948 to form the UKUSA agreement. Since then, a huge volume of intelligence has been shared between the two countries.

The Huawei case is unusual in that the UK and US have disagreed publicly, whereas disputes on intelligence issues usually play out behind the scenes. It's also the result of a deliberate policy choice by the UK. And it concerns communications technology - usually an area of close alignment. [Read more: TheConversation/5February2020]

The Blessings of Secrecy. In February 1996, Director of Central Intelligence John Deutch gave an unclassified worldwide threat briefing to the Senate Select Committee on Intelligence. Although intelligence leaders had occasionally provided similar overviews in the past, Deutch's briefing set the pattern for what would become an annual event. Over the last quarter century, we have become accustomed to this tour d'horizon - a ritualized glimpse into the issues that keep analysts up at night.

Some intelligence officials apparently want to end the ritual. Last month Politico reported that officials within the Office of the Director of National Intelligence are pushing to remove the public portion of the briefing, perhaps in an attempt to avoid a public confrontation with President Donald Trump. Last year, their open testimony contradicted Trump's statements on Russia, Iran, North Korea, and the self-proclaimed Islamic State. The next day he tweeted, "Perhaps intelligence should go to school!" Intelligence officials may fear that another dust-up with the White House will make it difficult to have any useful influence on the policy process. [Read more: Rovner/WarOnTheRocks/11February2020]


---
Section IV - Research Requests, Obituaries, Jobs

Seeking CIA/DIA, State Department Officers Who Worked in Beirut, Lebanon, or Langley, VA, in 1978-1990

I am a researcher from Chicago and am looking to interview any CIA, DIA or State Dept officials who may have worked at the Lebanon Desk at Langley or in Beirut during the period of 1978-1990. I am interested in the relationship that existed between some in CIA and members of Fatah's inner circle, namely Ali Hassan Salameh. Additionally, I am interested in discussing in some detail the work of Mustafa Zein as hostage negotiator for CIA and the NSC.
Any help in this matter would be extremely beneficial to my book project on US-Lebanon policy & the USMC peace-keeping mission in '82-'83.
All interviews are completely confidential and all questions will be submitted prior to any discussion.
I can be available for contact any time between 7am and 7pm, Monday-Friday.
Replies to Dan Egan, Chicago, IL, at 331-245-9955 or dwegan40@yahoo.com

Assist Psychology Professor and Radio Host with Your Professional Cybercrime Experiences and Insights

My name is Dr. Carlos. I'm a forensic psychology professor and iHeart radio host. I am seeking any intelligence officers who might be interested in speaking to my class about cybercrime? My class is an undergraduate class.
I would also be happy to promote on my podcast which has about 120,000 followers. Thank you.
Replies to Dr. Carlos Vazquez at circleofinsight@icloud.com or call him at 949-456-9215

Help Choose the IAFIE 2020 Intelligence Education Instructor of the Year

If you know outstanding teachers in the field of intelligence, please nominate them as explained below, before the 1 April 2020 deadline.

The IAFIE (International Association for Intelligence Education) recognizes individuals who have excelled in intelligence instruction, which includes both academic and professional training instruction. The IAFIE Instructor of the Year Award is presented at the IAFIE Annual Conference being held in 2020 in London. The award recipient is invited to attend the event as a guest, and is provided with partial compensation for travel expenses, plus conference fees and a commemorative award.

Nominations may be submitted by a supervisor, colleague or other individual. Self-nomination is also allowed and encouraged. The nominee must submit an application package, the contents of which are described below, by 1 April. An IAFIE subcommittee will select the winner.

Read full details of the application process here.
Questions? Contact jonsmith@coastal.edu.

Gerard Burke, Former Senior NSA and PFIAB Official

Gerard Patrick Burke, 89, a Senior NSA and PFIAB Official, died 9 February 2020 in Cambridge MD.
Mr. Burke was born in Darby, PA, graduated from Archmere Academy in Claymont, DE, and the College of the Holy Cross in Worcester, MA, where he was awarded the Strain Gold Medal in Philosophy. After his 1952 college graduation, he entered the US Navy, where he was assigned to Naval Intelligence. After his naval service he accepted a position with the National Security Agency at Fort Meade, MD.
He received a law degree from Georgetown University in 1958.
He served as Station Chief for NSA in Paris, France from 1958-1961. Upon returning from France, he served in several senior positions at NSA, earning the agency's highest civilian honor, the Exceptional Service Award.
He was appointed to the White House staff in 1969, serving as Executive Director of the President's Foreign Intelligence Advisory Board until 1973. He returned to NSA as General Counsel for Legal & Legislative Affairs until 1978, when he retired to private law practice.
In 1984 he founded Parvus, a corporate intelligence and security group which had several international subsidiary operations, including Moscow-based ZAO Parvus, the first Russian security services company headed by an American. Mr. Burke chaired the Russian Organized Crime Task Force at the Center for Strategic & International Studies in Washington DC, and frequently consulted and testified before Congress on intelligence matters. In 1999 the Parvus Group was merged into Armor Holdings Inc.
He and his wife, Ann Marie Burke, retired to Cambridge, on Maryland's Eastern Shore, where they introduced their granddaughters to fishing and crabbing and shared their passion as 50-year season ticketholders of the Washington Redskins. They were devout Catholics and longstanding parishioners at St. Peter's in Olney, St. Mary's in Cambridge, and Our Lady of Lourdes in Bethesda.
He is survived by a son, Gerard P. Jr. and other family.
Friends will be received at Our Lady of Lourdes Catholic Church, 7500 Pearl St, Bethesda, MD on 17 February 2020 beginning at 9 AM until the time of the Mass of Christian Burial at 10 AM. Interment to follow at Gate of Heaven Cemetery.


John Davis Sr, Senior NSA Officer, PCCIP Commissioner, Director National Computer Security Center

John C. Davis Sr, 80, a Senior NSA Officer and PCCIP Commissioner, died 1 February 2020 in Ellicott City, MD
Born in Donaldson, PA, he graduated from Pennsylvania State University in 1961 with a B.S. in Physics and received his M.S. in Solid State Physics in 1962. He completed an M.S. in Electrical Engineering from Johns Hopkins University in 1972. He went from graduate school at Penn State to Bell Telephone Labs. He served two years as a lieutenant in the U.S. Army Signal Corps at NSA. In 1965 he joined NSA as a civilian.
Mr. Davis was a nationally recognized member of the information security community. His areas of expertise related to computer security, computer architecture, supercomputers, artificial intelligence, microelectronics, advanced processing techniques, and optical and magnetic data storage.
At NSA he served as a Commissioner on the President's Commission on Critical Infrastructure Protection (PCCIP), and as the Senior Representative to the Critical Infrastructure Assurance Office. His prior positions included assignments as the Director of the National Computer Security Center (1994-1999); Deputy Chief of Research and Technology (1992-1994); Chief of the Microelectronics Office (1987-1992); and, Chief of the Computer and Processing Technology Office (1982-1987). Davis served as a member of the Computer System Security Privacy Advisory Board, (Department of Commerce); a subcommittee chair on the National Security Telecommunications and Information System Security Committee, (DoD); and, an executive committee member of the Research and Development Committee for Critical Infrastructure Protection (White House's Office of Science and Technology). He also was the co-chair of the National Information System Security Conference, a premier annual information security event.
He served as the NSA Senior Executive Account Representative to the US Pacific Command.
After a thirty-year career with NSA, he joined KPMG where he held senior level technical and managerial positions responsible for various phases of developing, planning, and implementing information protection and information collection solutions. After KPMG, he went on to become a partner at Mitretek Systems where he continued his work within the cybersecurity field.
His memberships included The Phoenix Society, Free Masonry, the Shriner's Organization, Veterans of Foreign Wars, and the American Legion.
He served on numerous DoD and NSA committees.
He received the NSA Director's Distinguished Service Medal, 1999, the Meritorious Executive Service Award, 1992, and the Meritorious Civilian Service Award, 1991.
He retired from the Agency in 1999 with 37 years of service.
He is survived by his wife, Patricia Ann Davis, three sons, and other family.

'Mad Mike' Hoare, Ex-Accountant Who Became World-Famous Mercenary, Dies Aged 100. Michael "Mad Mike" Hoare, one of the world's best-known mercenaries, has died at the age of 100, his family has confirmed.

A former accountant, Hoare gained fame - and inspired a movie - for leading mercenaries in 1964-5 during the Congo Crisis and later organizing a failed coup in the Seychelles.

Chris Hoare, his son and biographer, told CNN: "He lived to be 100 even though he embraced the philosophy that you can get more out of life by living dangerously - which makes his hundred all the more extraordinary." [Read more: Sullivan/CNN/3February2020]


---
Adjunct instructors at the University of Texas at El Paso (US)
The National Security Studies Institute at the University of Texas at El Paso (UTEP) (see their website here) is seeking adjunct instructors to teach online graduate-level courses:
Legal Issues in Intelligence and National Security
Propaganda and Influence Operations
Intelligence and Counterterrorism
Political Economy of Terrorism
Risk Analysis
Emergency Management
Public Health and Homeland Security
A PhD in public policy, security studies, political science, or a related field is required.
Interested and eligible applicants should contact Stephen Coulthart (sjcoulthart@utep.edu).
Two Positions at James Madison University for Assistant or Associate Professor - Intelligence Analysis
James Madison University (JMU) located in Harrisonburg, VA, seeks applicants for two faculty positions in its Bachelor's Degree Program in Intelligence Analysis (IA). The appointments will be at the Assistant or Associate Professor level and will reside within the larger School of Integrated Sciences. The IA program offers a multidisciplinary undergraduate degree with an emphasis on methodology and technology to prepare students to become analysts, with a specialization in intelligence analysis. Its graduates have been successful in securing positions as analysts in both the public and private sectors, to include the Intelligence Community, military and law enforcement organizations, defense contractors, and major consulting firms. The program emphasizes methodology and synthesizes critical and creative thinking methods with technological tools for data collection, visualization, and analysis with situational knowledge of a problem's political, economic, social, and technological context with strong communicative and professional skills to support decision-making.
Ideal candidates will be comfortable in an interdisciplinary, diverse setting and possess the potential for becoming an excellent teacher to future analysts in one or more intelligence domains including national security, military, homeland security, law enforcement, private sector security, cyber security, and geospatial. They optimally have a background in either mixed-methods, qualitative, or quantitative research and analysis methods. We especially encourage applications from candidates that can leverage the use of systems thinking, employ data science in analysis, support the development of writing skills, or teach ethics specifically for future analysts. The typical teaching load in the school is 3 courses per semester.
We welcome applicants from all academic disciplines—to include the humanities, social sciences, and sciences—that provide a knowledge foundation for doing analysis. Prospective candidates should review our curriculum online to identify areas that match their expertise and to locate potential areas that they could help the program to develop. The program values teaching excellence as well as one-on-one professional mentoring and seeks candidates who can demonstrate potential for both. In addition, the position requires the potential for an active program of scholarly activity. The position requires either a Ph.D. in a relevant academic field by the date of hire (for a tenure-track appointment) OR Master's Degree with substantial experience in the field (for appointment on a Renewable Term Contract).
More information or applications may be found here.
New Positions Available with Thomson Reuters

Job Title: Washington Bureau Chief
Experience: 10 to 20 years
Employment Type: Full Time
Job Location: Washington, DC
Reuters, the news and media division of Thomson Reuters, is the world's largest international multimedia news provider reaching more than one billion people every day. Reuters provides trusted business, financial, national, and international news to professionals via Thomson Reuters desktops, the world's media organizat...[full details here]
________________________________________
Job Title: Account Executive, Federal
Experience: 5 to 20 years
Employment Type: Full Time
Job Location: Washington, DC
Account Executive, Federal Job Description Position Objective/ Mission This role exists to sell online legal and investigative research, integrated workflow solutions in the federal government market. Outcomes Consistently achieve monthly, quarterly, and full year new sales quotas with a mix across the sales bag. Maintain a...[full details here]
________________________________________
Job Title: Facility Security Analyst
Experience: 3 to 9 years
Employment Type: Full Time
Job Location: McLean, VA
This position is responsible for planning and establishing security procedures to comply with Federal Regulations for handling classified information and material within a program environment. This position will support a FOCI organization and perform security functions that are required by National Industrial Security Oper...[full details here]
________________________________________
Job Title: Government Analyst
Experience: 2 to 20 years
Employment Type: Full Time
Job Location: McLean, VA
Provide insightful, well researched analysis and guidance to clients bases on rigorous, in depth analysis using public records, proprietary data, and open source data (including social media). Provide client support, including but not limited to meeting client inquiries, delivering ad hoc reporting, advising on analytic bes...[full details here]
________________________________________
Assistant/Associate/Full Professor - Department of Intelligence & Security Studies, Charleston, SC - Two Openings Available
Work type: Full Time Permanent - Faculty; Location: Charleston, SC; Categories: Humanities; Payscale: Unclassified.
The Citadel's newly created Department of Intelligence & Security Studies houses some of the most popular and flourishing academic programs on campus. Since 2016, we have created both a Master of Arts (MA) and a Bachelor of Arts (BA) program in Intelligence and Security Studies; the MA program is 100% online while the BA is offered in both online and traditional formats. Our growth has created faculty openings for individuals who want to join an established team dedicated to producing principled leaders in all walks of life.
Job Responsibilities: The Citadel's School of Humanities and Social Sciences invites applications for two(2) tenure-track position in all areas of intelligence studies at the level of Assistant, Associate or Full Professor beginning in August 2020. The Department is particularly interested in individuals with experience in intelligence and big data analytics, homeland/national security, Eastern European/former Soviet area studies, applied intelligence community (IC) research, and military intelligence matters. The incumbent will be expected to teach at the undergraduate and graduate level using both traditional and online delivery methods. This is a full-time teaching, research and service position. Faculty within the School typically teach a 4+4 course load with appropriate research and service expectations.
Minimum Requirements: Applicants must have an earned doctorate from an accredited university in an area associated with intelligence studies. The ability to use or the motivation to learn technologies relevant to online teaching is required. All candidates should also be able to show effective past teaching experience, demonstrated research potential, and appropriate service activities. Advanced ABD candidates will be considered. There is also a potential for teaching additional summer courses. Salary will be competitive, and commensurate with experience and qualifications.
Preferred Qualifications: Relevant experience in the US intelligence community, the military, or other organizational contexts is preferred, but not required. Online teaching experience is preferred, but not required.
Additional Comments: Ranked as the #1 Public School in the South for nine years in a row by U.S. News and World Report, The Citadel offers a unique academic environment. The incumbent will teach members of the South Carolina Corps of Cadets (SCCC) in the classroom as well as non-cadet graduate and undergraduate students in an online venue. Regardless of the teaching milieu, Citadel faculty commit themselves to preparing the next generation of principled leaders for the military, private, and government sectors. Approximately 30% of every graduating SCCC class is commissioned into the U.S. military; the remainder seek job opportunities in the public and private arenas. Initial screening of applicants will begin immediately and continue until the position is filled. The position is expected to begin in August of 2020.
The Citadel is an Equal Opportunity / Affirmative Action employer and does not discriminate against any individual, or group of individuals, on the basis of age, color, race, disability, gender, gender identity, sexual orientation, religion, pregnancy, national origin, genetic information or veteran's status in its employment practices.The Citadel has a culturally diverse faculty and staff committed to working in a multicultural environment. We encourage applications from minorities, females, individuals with disabilities and veterans.
Interested applicants should apply now for Job No: 495785. To apply utilize the official online application and upload supporting documents to include: 1 Letter of interest addressing the qualifications listed above; 2 A curriculum vita; 3 Evidence of teaching effectiveness; In addition, please provide three professional references that can be contacted.
Syracuse University's School of Information Assistant Professor - Trustworthy Cyberspace
DePaul University, School of Computing Assistant Professor in Software Engineering
The School of Computer and Cyber Sciences Tenure Track and Tenured Positions at the Assistant, Associate, and Full Professor Levels
Department of Cyber and Computer Sciences at The Citadel Tenure-Track Positions in the Department of Cyber and Computer Sciences
Portland Community College - Computer Information Systems Instructor, CIS / Windows System Administration
Augusta University - Tenure Track and Tenured Positions at the Assistant, Associate, and Full Professor Levels
FireEye Has Many Intelligence Positions Available For You - Worldwide - Contract, Full-time, Part-time, Interns
Explore the many career and contractor intelligence jobs available here. Jobs openings in Cyber Security include - Advisory, Architecture, Digital Forensics & Incident Response, Penetration Testing, Threat Research. They positions are needed here: New York, Chicago, Manila, Reston, Dallas, Atlanta, Suitland, Singapore, Denver, Las Vegas, Phoenix, Doha, Stockholm, London, Milpitas, multiple cities in Australia, Washington, Indianapolis, Tampa, Santiago, Alexandria, Seattle, Carlsbad, Houston, San Francisco, Arlington, Dubai, Amsterdam, Ft Belvoir, Minneapolis, Mexico City, San Diego, Boston, El Segundo, Philadelphia, San Antonio, Chiyoda, Ft Huachuca, Ft Gordon, Ft Meade, Ft Shafter, Kuwait City, Seoul, Sttutgart, Salt Lake City, Austin, Dublin, Bangalore, Cork, Colorado Springs... Explore the many career and contractor intelligence jobs available here.
---
AFIO EDUCATIONAL EVENTS IN COMING TWO MONTHS....
Wednesday, 12 February 2020, 1130 - Albuquerque, NM - AFIO New Mexico Chapter hosts Robert Hull on "The Internet Research Agency, Trolling, and the Rise of Russian Interference"
The speaker at this AFIO New Mexico Chapter event will be Robert Hull discussing "The Internet Research Agency, Trolling, and the Rapid Rise of Russian Interference – What's Real and What Isn't."
Location of event: "Sunnyside Up Cafe" on Menaul just east of Louisiana, next door to Chili's, 6909 Menaul Blvd NE, Albuquerque, NM 87110, (505) 888-3447. Google Maps location of event.
Fee to attend: Meeting is Free.
11:00 AM (Arrive, Order Lunch - available at separate cost), 11:30 AM (Call To Order), 1:00 PM (Adjourn)
Our meetings are normally open to present and former members of Federal, Military (uniformed and civilian), State and Local Agencies and selective others who support the Intelligence Community.
If you desire further information, please contact one of the following:
Sam Shaw - Phone: 505-379-3963 e-mail: President@afionm.org
Tom Dyble - Phone: 505-299-3242 e-mail: Vice-President@afionm.org
Friday, 28 February 2020, 10:30 a.m. - 2 p.m. - Tysons, VA - First AFIO luncheon of 2020 features James Olson, author of To Catch a Spy: The Art of Counterintelligence; and political scientist Seth G. Jones, author of A Covert Action: Reagan, the CIA, and the Cold War Struggle in Poland.
James Olson's presentation starts at 1 p.m.: Olson served for over thirty years in the Directorate of Operations of the CIA, mostly overseas in clandestine operations. In addition to several foreign assignments, he was chief of counterintelligence at CIA headquarters in Langley, VA. Currently, he is a Professor of the Practice at the Bush School of Government and Public Service of Texas A& M University.
At this event Professor Olson will be discussing his March 2019 book, To Catch a Spy: The Art of Counterintelligence which suggests that the US is losing the counterintelligence war. Foreign intelligence services, particularly those of China, Russia, and Cuba, are recruiting spies in our midst and stealing our secrets and cutting-edge technologies. He provides a guide for how our country can do a better job of protecting its national security and trade secrets. He will review the principles and methods of counterintelligence, including the running of double-agent operations and surveillance. He also addresses why people spy against their country, the tradecraft of counterintelligence, and where counterintelligence breaks down or succeeds.
The morning speaker, Dr. Seth G. Jones, will begin 11 a.m. Dr. Jones director of the Transnational Threats Project, and is a senior adviser to the International Security Program at the Center for Strategic and International Studies (CSIS). He teaches at Johns Hopkins University's School of Advanced International Studies (SAIS) and the Center for Homeland Defense and Security (CHDS) at the U.S. Naval Postgraduate School. Prior to joining CSIS, Dr. Jones was the director of the International Security and Defense Policy Center at the RAND Corporation and was Adjunct Professor, Security Studies Program, Edmund A. Walsh School of Foreign Service, Georgetown University, where he taught classes on "Counterinsurgency" and "Stability Operations." He also served as representative for the commander, U.S. Special Operations Command, to the assistant secretary of defense for special operations.
He will discuss counterinsurgency and counterterrorism, with a particular focus on Afghanistan, Pakistan, and al Qa'ida.
Registration has opened and may be completed quickly here.
Venue: DoubleTree by Hilton, 1960 Chain Bridge Rd, Tysons Corner, VA 22182 Phone: (703) 893-2100. Directions at this link. Easy access from two nearby SilverLine Metro stations. Generous free parking at hotel.
Friday, 6 March 2020, 1 pm - Westchester, CA - AFIO Los Angeles holds 2020 Annual Business Meeting
The AFIO Los Angeles Chapter holds its annual business meeting. Agenda Items are • Election of Chapter Officers; • Membership Growth; • 2020 Speakers. Members are asked to add any topics to the agenda when they RSVP.
We strongly encourage participation from all members.
RSVP to afio_la@yahoo.com
Location: Alejos Restaurant 8343 Lincoln Blvd, Westchester, CA 90045
Questions to Vincent Autiero, President, AFIO-Los Angeles Chapter, afio_la@yahoo.com, 5651 W Manchester Ave, Los Angeles, CA 90045.
Wednesday, 11 March 2020, 11:30 a.m. - San Francisco, CA - The "Andre Le Gallo" San Francisco Chapter hosts FBI Special Agent Michael Gimbel
2019 ended with a shooting at a kosher grocery store in New Jersey, a stabbing at a rabbi's home during a Hanukkah celebration in New York, and another shooting at a church in Texas. What can we do to prevent, mitigate, and respond to violent incidents?
FBI Special Agent Michael Gimbel will speak about FBI's Counterterrorism Division, the law enforcement response to the recent Gilroy Garlic Festival shooting, and the vital inter-agency relationship and coordination which facilitates and expedites the handling and processing of the crime scene.
Timing: No-host cocktails at 11:30, luncheon meeting and presentation begins at noon.
Location: Basque Cultural Center - San Francisco, CA
RSVP now at Eventbrite.
Thursday, 19 March 2020, 11:30 a.m. - Colorado Springs - The AFIO Rocky Mountain Chapter hosts Amb. Mary Ann Casey discussing "Lessons in Cooperation: A Diplomat's View"
Synopsis: Amb. Mary Ann Casey will share some of the challenges she encountered during her tenure in oil-and-gas-rich Algeria, where she served as ambassador at a time of major conflict between the Algerian security services and that country's home-grown Islamic fundamentalist movement. Close collaboration with the US national security community was central to the success of the Embassy's efforts to ensure the safety of American personnel, while pursuing the US foreign policy agenda in Algeria. Ambassador Casey's talk will provide an insider's account of how events unfolded.
Biography: Ambassador Mary Ann Casey is Middle East specialist, who developed deep area expertise in Arab North Africa while working in that region for twelve years as an American diplomat.
Among other assignments, she was selected by President Bush Sr. to be his Ambassador to Algeria and later by President Clinton to serve as his Ambassador to Tunisia.
Mary Ann also spent more than a decade in Washington D.C. at the State Department, where she had a variety of responsibilities, including Director for North Africa. Later, in the Bureau of Intelligence and Research, she managed a team of 100 professionals engaged in global research and analysis for the Secretary of State.
As a Diplomat in Residence at the University of Colorado, Mary Ann worked with several of the University's international studies programs and taught a course on the Art and Practice of Diplomacy. After her retirement from the State Department, she lectured periodically at the Joint Forces Staff College in Norfolk Virginia as part of the Senior Fellows Program. She now serves on the Advisory Board for CU-Boulder's Program in International Affairs.

For more information please contact our Secretary Steve Pease at steve13507@gmail.com
Saturday, 21 March 2020, 5:30 p.m. - Oak Lawn, IL - Terry Donat, MD discusses "Pandemics and National Security" at Indiana/Illinois AFIO Chapter
AFIO's Indiana/Illinois Chapter hosts Terry Donat, M.D. speaking on "Pandemics and National Security."
Dr. Terry Donat is the first physician certified as an Illinois Professional Emergency Manager. He is trained in acute Radiation Emergency Medicine, the Medical Management of Chemical and
Biological Casualties and as a past National Disaster Life Support Instructor. He also serves as an external resource and speaker for both the FBI Chicago Field Office WMD Coordinator and
the FBI WMD Directorate Biological Countermeasure Unit. He is a lifetime member of the Special Operations Medical ssociation (SOMA); serves as the Health and Public Health Sector
Chief for lnfraGard Chicago; serves aside James Terbush, MD MPH, as co-chair of the Healthcare Industry Advisory Group of the Jr'ifraGard National Disaster Resilience Council and is a member
of the Healthcare and Public Health Sector Cloordin􀀻ting Council - DHS/DHHS. He is keenly interested in the promising capabilities of DNA data storage, as well as assessing those threats, risks, and vulnerabilities of infrastructure and evolving dual-use technologies relevant to homeland and national security.
Event includes cocktails and dinner.
Fee: $40 per person.
Location: Stony Creek Golf Course, 5850 W 103rd St, Oak Lawn, IL 60453
REGISTER or MORE INFO: Contact John Fanning (Treasurer) at 708-433-9522 or johnf@fanninginc.com
8 May 2020, 10:30 a.m. - 2 p.m. - Tysons, VA - AFIO National Spring Luncheon features a Washington Post columnist and reporter: David Ignatius and Stephen Vogel
HOLD THE DATE: The morning speaker will be David Ignatius, author of the upcoming intelligence novel, The Paladin: A Spy Novel [WW Norton, May 2020]. Ignatius is a Washington Post columnist and has been covering the Middle East and CIA for nearly three decades.
Of Ignatius' forthcoming novel, reviewers wrote: "For me nothing is more intriguing than life inside our intelligence agencies. David Ignatius uses his decades' worth of reporting experience to take us there in this fast-moving, jaw-dropping drama that reads like it was ripped from the headlines. I recommend you grab a copy and hold on tight for the entire thrilling ride." — Brian Kilmeade, Fox News.
"David Ignatius once again takes readers behind the scenes of America's most secretive bureaucracy, revealing in fiction what could never be declassified in fact. The Paladin is yet another stirring read from one of America's most revered reporters and gifted storytellers." — Joe Scarborough, MSNBC
The afternoon program features Stephen Vogel, author of Betrayal in Berlin: The True Story of the Cold War's Most Audacious Espionage Operation [Custom House, Sept 2019]. Vogel is a Washington Post reporter who covers the federal government. He was based overseas from 1989 through 1994 where he covered the fall of the Berlin Wall and the first Gulf War, and subsequently reported on military operations in Somalia, Rwanda, the Balkans, Afghanistan and Iraq.
Of Betrayal in Berlin, Former CIA Officer Sandy Grimes wrote: "The best spy book I have ever read...Steve Vogel is a talented and gifted writer who brings the personalities and idiosyncrasies of every participant in this operation to life. His research is vast, varied, and full of detail. It is truly one of those rare books you can't put down."
Registration will open in April and link will be here.
Venue: DoubleTree by Hilton, 1960 Chain Bridge Rd, Tysons Corner, VA 22182 Phone: (703) 893-2100. Directions at this link.
---
Other Upcoming Events from Advertisers, Corporate Sponsors, and Others
Thursday, 13 February 2020, 7:30 - 8:45 p.m. - McLean, VA - "Is the Muslim Brotherhood Still a Threat Today?" - Cynthia Farahat speaking at The Westminster Institute
Is the Muslim Brotherhood Still a Threat Today? Cynthia Farahat is an Egyptian author, columnist, political analyst, and writer. She co-founded the Misr El-Umm (2003-06) and Liberal Egyptian (2006-08) parties, which stood for peace with Israel, capitalism, and the abolition of theocracy. She co-authored several books in Arabic, writing on blasphemy laws, the Muslim Brotherhood, and terrorism.
Where: The American Legion, 1355 Balls Hill Rd, McLean, VA. Google Map Link for Directions.
No Fee to attend.
Hosted by The Westminster Institute, 6729 Curran Street, McLean, VA 22101
Questions: Contact Robert R. Reilly, Director, The Westminster Institute, 703-288-2885 or at br@westminster-institute.org
Register HERE.
LAST CHANCE - Register by 13 February to attend...Wednesday, 19 February 2020, 10 am - 1 pm - Annapolis Junction, MD - NCMF 2020 Winter Cryptologic Program Featuring Ms. Jonna Mendez, CIA Disguise Expert
The NCMF's 2020 Winter Cryptologic Program will feature CIA Officer (Ret) Author/Chief of Disguise, Ms. Jonna Mendez.
Can you change your appearance completely while walking down a crowded street in Moscow? Can you elude the KGB by pressing a button while rounding a corner? Can you fool the president while briefing him in the Oval Office? The CIA's former Chief of Disguise Jonna Mendez tells it all in her presentation at this NCMF event. More info about event is here. Download the registration flyer here.
Location: CACI Inc., Maryland Conference Center, 2720 Technology Dr, Annapolis Junction, MD 20755
REGISTRATION INFO: registration fee is $25pp for members and guests and includes lunch. Online registration may be handled here. Or mail-in your registration fee with payment by check to NCMF, PO Box 1682, Fort George G. Meade, MD 20755-9998. Include names of self and guests.
Questions? Call the NCMF office at 301-688-5436.
REGISTER online here.
Thursday, 20 February 2020, 6 pm - Alexandria, VA - Naval Intelligence Professionals February No-Host Social
The National Capital Region Chapter-sponsored NIP "Third Thursday" 2020 No-Host Social features Ms. Terry Roberts, Former Deputy Director of Naval Intelligence and Founder/President/CEO White Hawk CEC, Inc. discussing "Cyber Security."
Please join them for socializing, professional insight and libations. Happy Hour begins at 6 PM, remarks by our guest speaker 6:30-7:15 PM, followed by informal discussion.
You do not have to be a NIP member to attend.
LOCATION: Daniel O'Connell's Irish Bar and Restaurant, 112 King St, Alexandria, VA 22314
Questions to: naval.intelligence.pros@gmail.com
25-28 March 2020 - Honolulu, HI - International Studies Association (ISA) conference Intelligence Studies Section (ISA/ISS) Panels at ISA2020
Various links below provide a view of the extensive program of the Intelligence Studies Section being held as part of ISA2020...the International Studies Association (ISA) conference in Honolulu, Hawaii on 25-28 March. The Intelligence Studies Section is one of thirty thematic sections that make up the ISA, has approximately 400 members, and has been sponsoring research about intelligence as a function of government since the mid-1980s. This Intelligence Studies Section content (4 straight days, 30 panels and roundtables) is one (highly impressive) small part of ISA's much larger conference.
Information about the conference is here.
And the full conference program of almost 300 pages is here.
The ISA/Intelligence Studies Section Program (kindly supplied by Steve Marrin) may be viewed here.
26-29 April 2020 - Tampa, FL - USGIF GEOINT 2020 Symposium
US Geospatial-Intelligence Foundation's GEOINT 2020 Symposium has the theme, "New Decade, New Challenges, New Strategies."
Learn more. Network with more than 4,000 GEOINT Community professionals from 40+ countries spanning defense, intelligence, homeland security, industry, and academia. See the latest in technology, services, and solutions from 200+ exhibitors in more than 100,000 sq ft of exhibit space. Learn from 50+ hours of professional development, training, and education sessions with PDUs and CEUs.
All official GEOINT 2020 hotels are conveniently located within walking distance of the Tampa Convention Center, and are only available through the GEOINT Symposium website and our registration partner SPARGO.
Do not delay reserving your hotel room, booking your flight, or registering for the nation's premier geospatial intelligence event of the year, which returns to Tampa from Sunday, April 26, to Wednesday, April 29.
View program, speakers, and registration requirements here.
25 - 27 June 2020 - London, England - IAFIE 2020 Annual Conference
The 2020 Annual Conference of the International Association for Intelligence Education (IAFIE) will be held in London from June 25 to 27. The conference is being held jointly by IAFIE and the IAFIE Europe Chapter (IAFIE EC). This will be the 5th Annual Conference of IAFIE EC. The submission date for abstract proposals is January 27, 2020. Proposals for papers, panels, posters and interactive workshops are being accepted. The topics/themes for the conference are Intelligence Analysis, Intelligence Domains, Management of Intelligence Community, and Intelligence Education and Research. Notification of acceptance will be in mid-February, and papers, posters, presentations and workshop materials will be due on April 20, 2020. Authors of recent books, monographs and reports in line with these topics/themes are also invited to submit proposals to participate in Author Roundtables. More information here.
---
In addition to the new Royal Blue long sleeve shirts, and the gray long sleeve hooded sweatshirts, the AFIO Store also has the following items ready for quick shipment:
NEW: LONG and Short-Sleeved Shirts with embroidered AFIO Logo and New Mugs with color-glazed permanent logo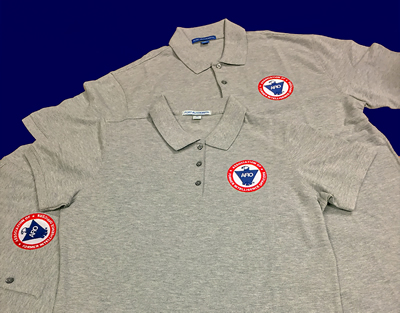 Show your support for AFIO with our new Polo Shirts. Be the first to buy these new, high quality, subtle heathered grey short sleeve shirts, and dark blue long sleeved shirts, of shrink and wrinkle resistant fine cotton with a soft yet substantial feel. They feature a detailed embroidered AFIO seal. Get a shirt for yourself and consider as gifts for colleagues, family, and friends. Only $45 each including shipping.
Sizes of (M) men or (W) women shirts; Small, Medium, Large, XL, XXL, and XXXL. At this time all orders will arrive as Short Sleeve shirts.
You may pay by check or credit card. Complete your order online here or mail an order along with payment to: AFIO, 7600 Leesburg Pike, Ste 470 East, Falls Church, VA 22043-2004. Phone orders at 703-790-0320. If interested in other shirt colors or sleeve lengths, contact Annette at: annettej@afio.com.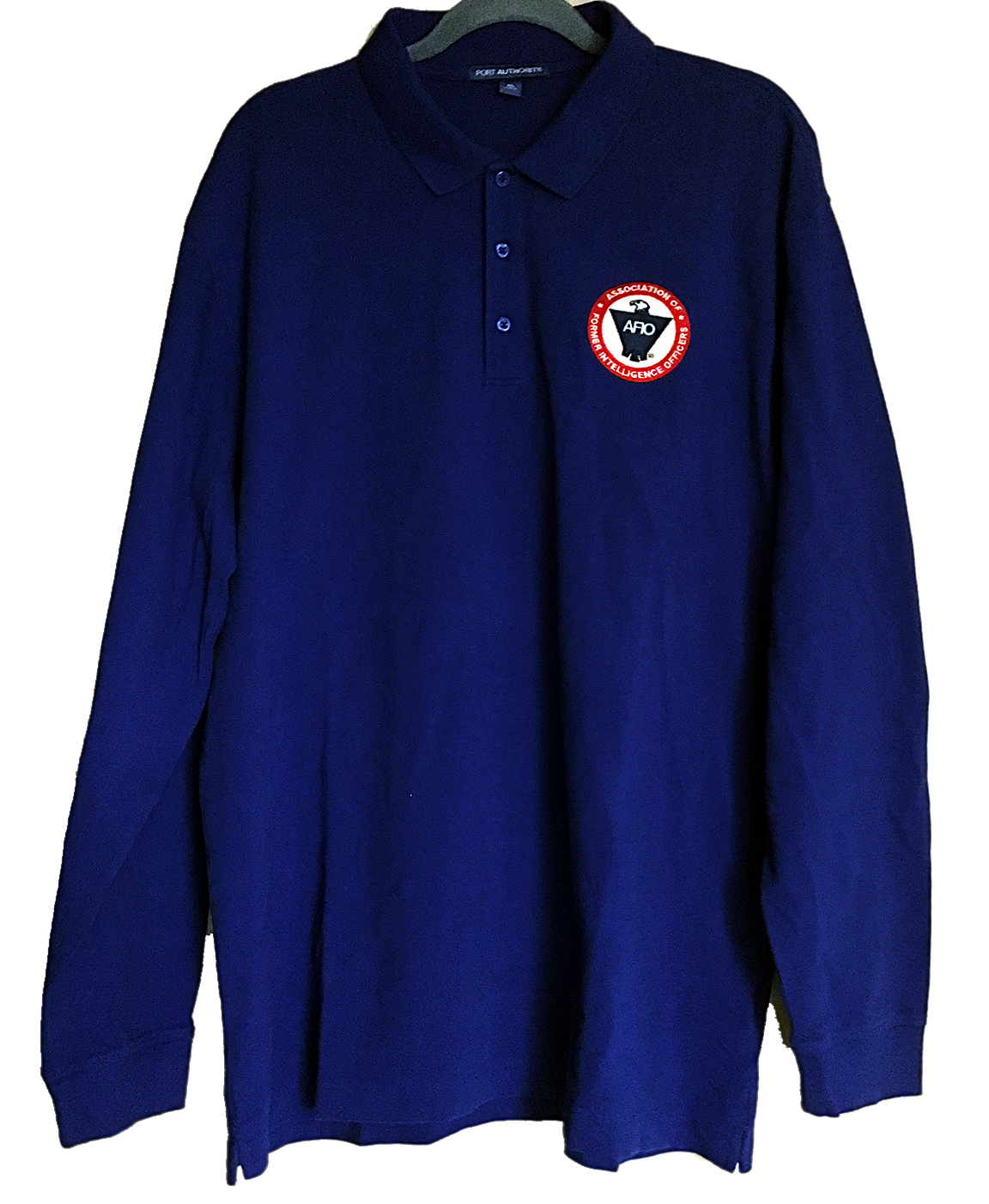 Long-Sleeved Shirts and Hooded Sweatshirts with embroidered AFIO Logo
Show your support for AFIO with our new long-sleeved Polo Shirts and Hooded Sweatshirts.
Both items are high quality and shrink resistant and feature a detailed embroidered AFIO seal. The color of the long-sleeved Polo Shirts is royal blue; the price is $55 and includes shipping.
The Hooded Sweatshirts are dark grey; the price is $70 and includes shipping.
Purchase a shirt and sweatshirt for yourself and consider as gifts for colleagues, family, and friends.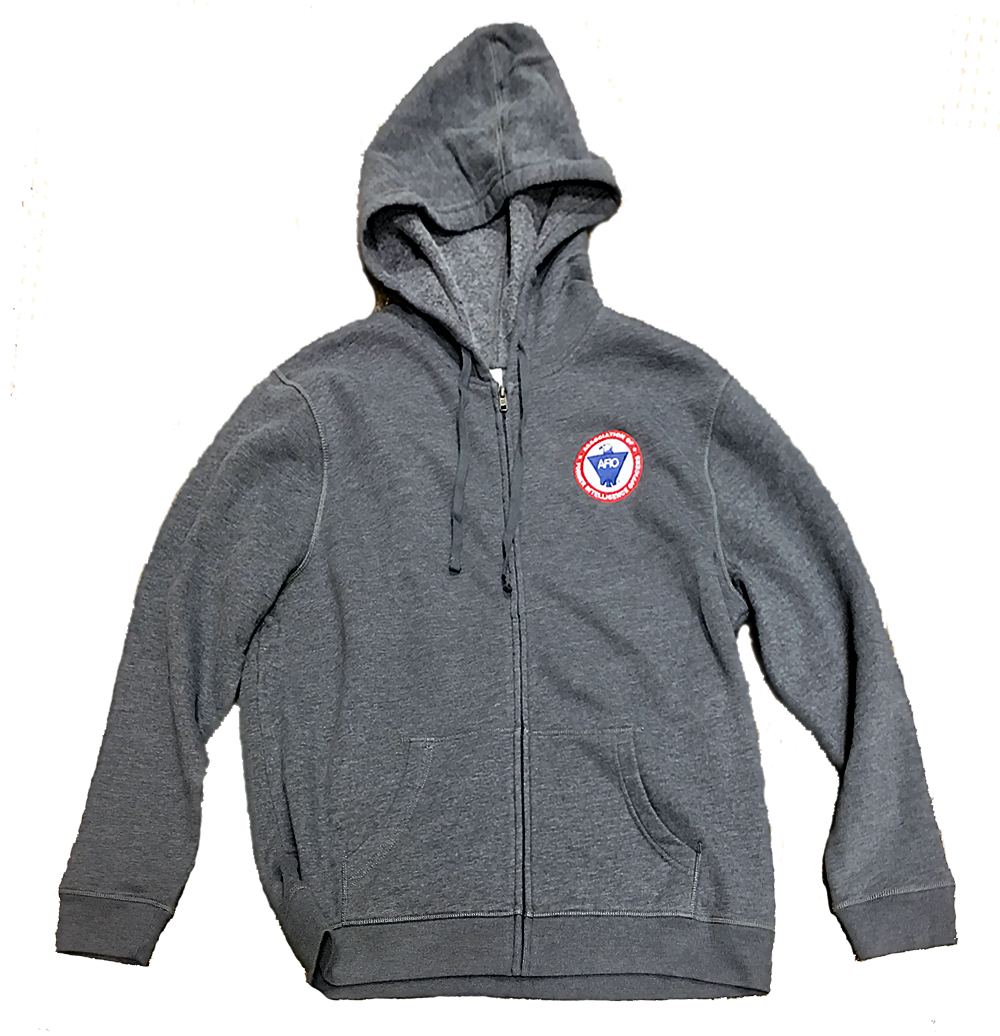 Both items are available in men's sizes: Small, Medium, Large, XL, XXL, and XXXL. The long-sleeved Polo Shirts and Hooded Sweatshirts are not available in ladies' sizes.
---
NEW: Mug with color glazed logo. Made in America. (We left out all that lead-based glaze and hidden toxins in those mugs made in China being sold by other organizations). Also sturdy enough to sit on desk to hold pens, cards, paperclips, and candy.
This handsome large, heavy USA-made ceramic mug is dishwasher-safe with a glazed seal. $35 per mug includes shipping. Order this and other store items online here.
AFIO's Intelligence Community Mousepads are a great looking addition to your desk...or as a gift for others.
Made in USA. Click image for larger view.
These 2017 mousepads have full color seals of all 18 members of the US Intelligence Community on this 8" round, slick surface, nonskid, rubber-backed mouse pad with a darker navy background, brighter, updated seals. Also used, by some, as swanky coasters. Price still only $20.00 for 2 pads [includes shipping to US address. Foreign shipments - we will contact you with quote.] Order MOUSEPADS here.
---
Guide to the Study of Intelligence and When Intelligence Made a Difference
"AFIO's Guide to the Study of Intelligence" has sold out in hard-copy.
However, it is available in digital form in its entirety on the AFIO website here.

Also available on the website here are the individual articles of AFIO's history project "When Intelligence Made a Difference" that have been published to date in The Intelligencer journal. More articles will be forthcoming in future editions.
---
Disclaimers and Removal Instructions
Weekly Intelligence Notes (WINs) are commentaries on Intelligence and related national security matters, based on open media sources, selected, interpreted, edited and produced for non-profit educational uses by members and WIN subscribers.
REMOVAL INSTRUCTIONS: We do not wish to add clutter to inboxes. To discontinue receiving the WINs:
a) IF YOU ARE A MEMBER - click here: UNSUBSCRIBE and supply your full name and email address where you receive the WINs. Click SEND, you will be removed from list. If this link doesn't open a blank email, create one on your own and send to afio@afio.com with the words: REMOVE FROM WINs as the subject, and provide your full name and email address where you are currently receiving them.
b) IF YOU ARE NOT A MEMBER, and you received this message, someone forwarded this newsletter to you [contrary to AFIO policies]. Forward to afio@afio.com the entire WIN or message you received and we will remove the sender from our membership and distribution lists. The problem will be solved for both of us.
CONTENTS of this WIN [HTML version recipients - Click title to jump to story or section, Click Article Title to return to Contents. This feature does not work for Plaintext Edition or for some AOL recipients]. If you wish to change to HTML format, let us know at afio@afio.com. The HTML feature also does not work for those who access their e-mail using web mail...however NON-HTML recipients may view the latest edition each week in HTML at this link: https://www.afio.com/pages/currentwin.htm
---
WINs are protected by copyright laws and intellectual property laws, and may not be reproduced or re-sent without specific permission from the Producer. Opinions expressed in the WINs are solely those of the editor's or author's listed with each article. AFIO Members Support the AFIO Mission - sponsor new members! CHECK THE AFIO WEBSITE at www.afio.com for back issues of the WINs, information about AFIO, conference agenda and registrations materials, and membership applications and much more!
(c) 1998 thru 2020. AFIO, 7600 Leesburg Pike, Suite 470 East, Falls Church, VA 22043-2004. Voice: (703) 790-0320; Fax: (703) 991-1278; Email: afio@afio.com
---
About AFIO | Membership Renewal | Change of Address | Upcoming Events | Chapter Locations | Corporate/Institutional Memberships | Careers in Intelligence Booklet | Guide to the Study of Intelligence | Intelligencer Journal | Weekly Intelligence Notes | To Make A Donation | AFIO Store | Member-Only Section | Code of Ethics | Home Page
---