---
Section I - INTELLIGENCE HIGHLIGHTS

Trump Adviser Pushes Utah Congressman for Top Intelligence Post. A Utah congressman has emerged as a top contender to be the next director of national intelligence in the weeks before the acting intelligence chief must by law give up the post, people briefed on the matter said on Tuesday.

President Trump's national security adviser, Robert C. O'Brien, is pushing him to nominate Representative Chris Stewart, Republican of Utah and a member of the House Intelligence Committee, for the job, the people said. Current and former officials cautioned that the discussions were fluid.

A spokeswoman for Mr. Stewart did not comment.

Joseph Maguire, the director of the National Counterterrorism Center, has filled in as the acting director of national intelligence since Dan Coats resigned in August. But under current law limiting the duration of postings for acting cabinet-level officials, Mr. Maguire must step down next month. [Read more: NYTimes/11February2020]


Estonian Foreign Intelligence Warns of Growing Cyber Threats from Russia. Russia will continue to engage in cyber operations to threaten Western nations, with sanctions so far proving ineffective.

The warning comes from the Estonian Foreign Intelligence Service (EFIS), which in its 2020 annual threat assessment report states that Russian cyber operations have been successful so far and will continue to look for new security vulnerabilities to exploit in coming months.

"In 2019, Russian cyber operations were revealed that have been going on undiscovered for years, and there are likely to be more," the EFIS wrote in its report.

"In addition to their continuity, Russia's cyber operations are characterised by the tendency to exploit situations as they arise - as security vulnerabilities become public, the Russians are eager to exploit these immediately against their existing targets." [Read more: Kundaliya/Computing/18February2020]

Hamas Slams PA Intelligence Meetings with US Counterparts. A spokesman for Hamas has criticised the ongoing meetings between the Palestinian Authority intelligence service and its US counterparts.

Fawzi Barhoum said that the meetings reflect the fact that PA President Mahmoud Abbas is simply not serious about ending communication and meetings with the Trump administration.

"The meetings are confirmation that Abbas's promises are merely words that lack the will to be translated into practical actions that conform to the Palestinian unified national demand to completely sever relations with the US administration," said the Islamic Resistance Movement official. "They have serious repercussions for the interests of our people and their rights." [Read more: MEM/18February2020]

Trump Plans to Nominate DOD Exec Kathryn Wheelbarger to Deputy Undersecretary of Defense for Intelligence and Security Role. President Donald Trump on Feb. 13 announced his intent to nominate Kathryn Wheelbarger to serve as deputy undersecretary of defense for intelligence and security.

Currently the principal deputy assistant secretary of defense for international security affairs, Wheelbarger oversees policy issues related to the nations and international organizations of Europe, Russia, the Middle East, Africa and the Western Hemisphere.

Prior, Wheelbarger served as vice president for litigation and chief compliance officer at CSRA Inc., where she managed the litigation and investigations portfolio and oversaw the Ethics and Compliance Office.

Wheelbarger also served within Congress from 2011-2017 as the policy director for the Senate Armed Services Committee, where she handled the committee's intelligence portfolio for Chairman John McCain. [Read more: Ziadeh/WashingtonExec/18February2020]

Former Armenian Security Chief to Set Up Party. Artur Vanetsyan, the former head of Armenia's most powerful security service, has announced his entry into active politics, saying that he will set up a party to challenge Prime Minister Nikol Pashinyan's government.

In an interview with the editors of nine Armenian newspapers publicized on Thursday, February 6, Vanetsyan said the party will strive to disprove government claims that the country's former leaders are the main political rivals of the current authorities.

"A very important practice has emerged in Armenia, which is called dividing the society into [pro-government political] whites and [opposition] blacks," he said. "I think that it's a false political agenda that has been brought to our landscape; a political agenda whereby the former rulers are the alternative to the current authorities. I can assure you that there is no such thing."

"There will be no return to the past," added Vanetsyan. "I am someone who will be fighting against a return to the past." [Read more: MirrorSpectator/13February2020]


---
Section II - CONTEXT & PRECEDENCE

Smithsonian Channel(TM) Enters the World of Global Espionage to Retrace the Movements of the World's Most Notorious Spies in "Spy Wars with Damian Lewis." Smithsonian Channel is set to investigate some of the most shocking and explosive cases of espionage over the last 50 years. SPY WARS WITH DAMIAN LEWIS features the incredible true stories of spy wars fought in the shadows, from the turbulent years of the Cold War to the Iran Hostage Crisis and the discovery of a complex web of sleeper agents living in the U.S. - a major inspiration for the plot of The Americans. Each episode of this new eight-part series sees host Damian Lewis revealing these remarkable tales of the secretive world of government intelligence, surveillance and international conspiracy plots with interviews from the experts and eyewitnesses that lived through them. SPY WARS WITH DAMIAN LEWIS premieres Sunday, March 22 at 8 p.m. ET/PT on Smithsonian Channel.

The series premiere episode, THE MAN WHO SAVED THE WORLD, recounts the story of Oleg Gordievsky - a KGB agent who may have singlehandedly averted World War III. Posted to the Soviet embassy in London by the KGB, Gordievsky would become disenfranchised by the Soviet agenda and, in a shocking move, flipped to become a double agent for British intelligence MI6. What was to follow was a years-long effort by Gordievsky to pass Soviet intelligence to the British, all but preventing a nuclear Armageddon between the Soviet Union and the West. [Read more: TheFutonCritic/12February2020]

Sophisticated Soviet Spy Radio Discovered Buried in Former Forest in Germany. Archaeologists digging for the remains of a Roman villa near the German city of Cologne have found a sophisticated Soviet spy radio that was buried there shortly before the fall of the Iron Curtain.

The spy radio was buried inside a large metal box that was hermetically sealed with a rubber ring and metal screws. Although the radio's batteries had run down after almost 30 years in the ground, the box hissed with inrushing air when it was opened.

"Everything in the box was carefully encased in wrapping paper - it is a factory-fresh radio," said archaeologist Erich Classen from the Rhineland Regional Association (LVR). [Read more: Metcalfe/LiveScience/18February2020]

Isachar Zacharie: Lincoln's Chiropodist and Spy. In early 1863, a friend discussed with Abraham Lincoln the idea of restoring European Jewry to its ancient homeland in Palestine. Lincoln agreed that the vision of a Jewish state in the Holy Land merited consideration. "I myself have regard for the Jews," he is reported to have said. "My chiropodist is a Jew, and he has so many times 'put me on my feet' that I would have no objection to giving his countrymen 'a leg up.'"

Lincoln was referring to Isachar Zacharie, his foot doctor and confidante. Zacharie's relationship with Lincoln was complex, but two things are clear: first, Zacharie had Lincoln's confidence and, secondly, he represented American Jewry in Lincoln's eyes.

Born in England, Zacharie never attended college or medical school but was trained in chiropody and called himself a doctor. Zacharie immigrated to America in the mid-1840s and worked in several cities before settling in Washington, D. C. in 1862. Before the machine manufacture of uniformly sized shoes was possible, many individuals suffered corns and calluses caused by ill-fitting handmade footwear. Zacharie's reputation for treating foot pain earned him Secretary of War Edwin M. Stanton, Secretary of State William Henry Seward and, eventually, President Lincoln as clients. [Read more: Feldberg/SDJW/13February2020]

The Man who Carried Secrets of the Atomic Bomb to Russia. Last fall, a pair of historians revealed that yet another Soviet spy, code named Godsend, had infiltrated the Los Alamos laboratory in the US where the world's first atomic bomb was built. But they were unable to discern the secrets he gave Moscow or the nature of his work.

However, the lab recently declassified and released documents detailing the spy's highly specialised employment and likely atomic thefts, potentially recasting a mundane espionage case as one of history's most damaging.

It turns out that the spy, whose real name was Oscar Seborer, had an intimate understanding of the bomb's inner workings. His knowledge most likely surpassed that of the three previously known Soviet spies at Los Alamos, and played a crucial role in Moscow's ability to quickly replicate the complex device. In 1949, four years after the Americans tested the bomb, the Soviets detonated a knockoff, abruptly ending Washington's monopoly on nuclear weapons.

"It's fascinating," Harvey Klehr, an author of the original paper, said in an interview. "We had no idea he was that important." [Read more: Broad/NYTNS/16February2020]

Nukes, Malware and Bots: US Intelligence Races to Stay Ahead of Adversaries. Before the first rays of sunlight peek over the horizon in D.C., Deirdre Walsh is on her way to the sprawling, 40 -acre Liberty Crossing complex, in McLean, Virginia, that houses the Office of Director of National Intelligence (ODNI) and several of the 16 intelligence agencies it oversees.

"I'm out the door. I try to get some exercise, as much as I can, to kind of get the cobwebs out, and I'm in the office between 7:00 and 8:00 (a.m.)," she said.

Clearing the cobwebs quickly is important.

As the chief operating officer at the ODNI, the collection of threats Walsh and the rest of the intelligence community faces in 2020 is comparable to a phalanx of hidden fire hoses that can erupt, seemingly out of nowhere, waving around and uncontrollably blasting critical intelligence at the IC. Each source requires immediate diagnosis and action. [Read more: Green/WTOP/18February2020]

Behind the Scenes of James Bond: A New Book Offers a Look Back at the Longest-Running Movie Franchise. With "No Time to Die," the 25th official James Bond adventure, set to open in April, the Bond films - which have appeared at fairly steady intervals since 1962 - make up the longest-running movie franchise in history. Factor in the two unsanctioned entries, the 1967 farce "Casino Royale" and 1983's "Never Say Never Again," and the tally reaches almost double the number of Bond books that creator Ian Fleming wrote. And yet the list of Bond flicks that actually hold together from beginning to end is considerably shorter. For every "From Russia With Love," you get a half-dozen "Octopussys."

There's a similar shaken-to-stirred ratio at work in "Nobody Does It Better," Mark A. Altman and Edward Gross's "complete, uncensored, unauthorized oral history" of the films. Juicy, previously unreported material abounds, though it's camouflaged by vaporous paragraphs of superficial commentary and self-congratulation, generally from the biggest names. Contributors with vague credentials like "pop culture commentator" have to earn their place here by being interesting. Longtime series producers Barbara Broccoli and Michael G. Wilson and 007s past and present Pierce Brosnan and Daniel Craig need no introduction, but too often their notoriety equates to a license to bore. Either they don't have much to say about how they approach their work, or (more likely) they see little upside to actually saying it. [Read more: Klimek/WashingtonPost/12February2020]


---
From the Real James Bond to the Doan Gang, Here are the Spies of Bucks County. A few months ago, Georgetown University asked me to review a new historical guide due out early next year. "Spy Sites of Philadelphia and the Delaware Valley" reveals 200 tales from Colonial times to the 20th century. It's an intriguing, well-illustrated compendium.

Here's a sample: [Read more: LaVO/CourierTimes/17February2020]

Speaking Truth to Power: A Survival Guide for Intelligence Professionals. Speaking truth to power is one of the primary tasks of every intelligence professional, but it also matters just how you speak it. As the managing editor of the President's Daily Brief (PDB), I confronted that question every day for two years. I edited written analysis to maximize insight for the President and his national security team and determined much of the content of the PDB, and usually even the final text. On a good day, our intelligence raised the President's understanding of a national security challenge or opportunity. On a bad day, we missed this vital opportunity.

Not infrequently, intelligence reporting would lead to analytic conclusions the President and his team would not deem to be good news. Perhaps a foreign policy initiative had floundered, or we discovered an important diplomatic agreement was not being honored in good faith. Maybe a pivotal ally proved less reliable than the White House expected. How does one craft such messages for the President of the United States?

Throughout my tenure as the PDB's managing editor, I succeeded - and sometimes, failed - to effectively convey unwelcome news to the President and his senior staff. Here are best practices I learned about speaking truth to power: [Read more: Bowden/ClearanceJobs/17November2020]

The Risk of a Politicized National Intelligence Director. President George W. Bush signed the Intelligence Reform and Terrorism Act into law some 15 years ago, creating the Office of the Director of National Intelligence (ODNI), the National Counterterrorism Center and the Privacy and Civil Liberties Oversight Board. Designed to increase collaboration and transparency across the Intelligence Community (IC), the reality has been greater competition for resources and increased bureaucracy. More grave is the ODNI's potential to be politically weaponized, as some argue Attorney General William Barr has done with the Department of Justice.

The ODNI was conceived to address inherent flaws that the 9/11 Commission believed had accounted for the tragedy's intelligence failure. Recommendations focused on six principal weaknesses, foremost of which was reforming structural barriers and addressing the lack of common standards and practices to pool overseas information with that collected domestically.

The commission highlighted the IC's divided management and weak capacity to set priorities or move resources and judged it handicapped from overcoming systemic challenges to holistic approaches. The CIA director's multiple, and often competing, roles managing the overall IC while serving as the president's principal intelligence adviser was judged inefficient. Likewise, the IC's complex authorities and overly secretive funding was judged to be cumbersome and requiring greater transparency. [Read more: London/TheHill/14February2020]

The Importance of Maintaining Trust in the Intelligence Community. Despite Congress' role in overseeing the Intelligence Community (IC), most staffers and, indeed, even some members don't know much about it. That's why last week we held the first Intelligence Community Day on Capitol Hill to give congressional staffers a chance to learn more about the mission, structure and requirements of the agencies and people who work tirelessly to keep our nation safe.

It's sometimes difficult, even for many of those working on the Hill, to grasp the depth and breadth of what the Intelligence Community does, given that so much of it must be shrouded in secrecy to protect our national security. It's not nefarious - it's necessary.

That's why the House Permanent Select Committee on Intelligence's (HPSCI) Subcommittee on Intelligence Modernization and Readiness organized this unclassified event to respond to other members' desire to increase awareness of what our 17 intelligence agencies do and how they do it. The day also focused on expanding the agencies' recruitment efforts from coast to coast, so that we can achieve more diversity in the IC. We invited members, their staff, and even their interns to participate in a full day of programming. [Read more: Swalwell/TheHill/18February2020]
In 1933, two rebellious women bought a home in Virginia's woods. Then the CIA moved in. Five thousand square feet, wide windows, a grand staircase, a front porch with a panoramic view of nature. The year was 1933, and Northern Virginia was still the countryside, even with Washington just across the Potomac. So it was the ideal retreat for Florence Thorne and Margaret Scattergood, two pioneers of the American labor movement who defied the gender expectations of their time. "Florence said, 'Of all the houses we looked at, this is the only one I would care to live in,'" Scattergood recalled years later. "That was pretty final." The women lived at the estate for a decade before it appeared that some federal agencies were also looking to buy property across the Potomac. And they wanted the land where the big white house sat. In 1948, Thorne, 71, and Scattergood, 54, made a deal: They would sell their 30 acres to the government, but only if they could live out the rest of their lives in their home. Any agency that acquired the land would have to abide by that agreement. And that was how two rebellious ladies came to live on the grounds of the Central Intelligence Agency for nearly 40 years. [Read more: Contrera/Brockell/WPost/14Feb2020]
---
Section IV - Research Requests, Obituaries, Jobs
Seeking CIA/DIA, State Department Officers Who Worked in Beirut, Lebanon, or Langley, VA, in 1978-1990
I am a researcher from Chicago and am looking to interview any CIA, DIA or State Dept officials who may have worked at the Lebanon Desk at Langley or in Beirut during the period of 1978-1990. I am interested in the relationship that existed between some in CIA and members of Fatah's inner circle, namely Ali Hassan Salameh. Additionally, I am interested in discussing in some detail the work of Mustafa Zein as hostage negotiator for CIA and the NSC.
Any help in this matter would be extremely beneficial to my book project on US-Lebanon policy & the USMC peace-keeping mission in '82-'83.
All interviews are completely confidential and all questions will be submitted prior to any discussion.
I can be available for contact any time between 7am and 7pm, Monday-Friday.
Replies to Dan Egan, Chicago, IL, at 331-245-9955 or dwegan40@yahoo.com
Assist Psychology Professor and Radio Host with Your Professional Cybercrime Experiences and Insights
My name is Dr. Carlos. I'm a forensic psychology professor and iHeart radio host. I am seeking any intelligence officers who might be interested in speaking to my class about cybercrime? My class is an undergraduate class.
I would also be happy to promote on my podcast which has about 120,000 followers. Thank you.
Replies to Dr. Carlos Vazquez at circleofinsight@icloud.com or call him at 949-456-9215
Help Choose the IAFIE 2020 Intelligence Education Instructor of the Year
If you know outstanding teachers in the field of intelligence, please nominate them as explained below, before the 1 April 2020 deadline.
The IAFIE (International Association for Intelligence Education) recognizes individuals who have excelled in intelligence instruction, which includes both academic and professional training instruction. The IAFIE Instructor of the Year Award is presented at the IAFIE Annual Conference being held in 2020 in London. The award recipient is invited to attend the event as a guest, and is provided with partial compensation for travel expenses, plus conference fees and a commemorative award.

Nominations may be submitted by a supervisor, colleague or other individual. Self-nomination is also allowed and encouraged. The nominee must submit an application package, the contents of which are described below, by 1 April. An IAFIE subcommittee will select the winner.

Read full details of the application process here.
Questions? Contact jonsmith@coastal.edu.
Bill Friend, CIA Officer and Professorial Lecturer in European history
Julius William Friend, 93, a CIA Officer and Professorial Lecturer in European history, died 9 February 2020 in Chevy Chase, MD.
Born in New Orleans, LA. Bill served in the Pacific theater as a combat infantryman during WW II, and later as a journalist in Japan for the Stars and Stripes. After the war he completed undergraduate studies at the University of Chicago and doctoral studies at the University of Chicago and the Sorbonne.
He then joined the CIA, serving for 27 years in Western Europe and the US.
Upon retirement, he started a second career in academia, teaching at the George Washington University and the Foreign Service Institute. He was the author of several books on European politics. In later years, Bill volunteered as a reader for the blind and visually impaired. He rode his bike until the age of 91. His explorations throughout Rock Creek Park brought him great pleasure.
Bill was well known for his encyclopaedic knowledge of literature, history, and international politics. He wore his erudition lightly, however, and it was his dry wit, humor, charm, and love of travel, food, friends, and family that made him a delight to be with.
His wife of 62 years, Louise, predeceased him. He is survived by his two sons and two daughters, and other family.
Frederick Walters, CIA Intelligence Analyst
Frederick Ray Walters, CIA Intelligence Analyst, 84, a CIA Officer, died 9 February 2020 in Rockville, MD.
He was born in St. Joseph, MO, and raised in Omaha, NE. He obtained a BA in History from the University of Nebraska/Omaha, and an MA in History from American University. He was an Archivist at the National Archives before entering the Army Counter Intelligence Corps (ACIC). He studied Russian at the Army Language School in Monterey, CA, before being posted to Germany.
Following his Army service, he became an intelligence officer for the CIA and served in Germany, Greece, and Viet Nam. During his CIA service some of his reports were included in the President's Daily Brief.
After he retired, he became a Master Gardener and enjoyed gardening at home and at his small farm in West Virginia. He was a president of the Men's Garden Club of Montgomery County and of the national ACIC Veterans. He served with his wife as volunteer librarian at the Rockville Senior Center. A life-long interest in history led him to have the ability to answer many historical questions posed to him (including exact dates). There was no need to Google anything historic with him around!
He is survived by his wife of 61 years, Betty Lawson Walters, a daughter, and other family. [For an interesting look at the lives of Betty Walters and Frederick, and the nature of obituaries and intelligence officers, see this recent article in the Washington Post.]
The family will receive friends from 2 to 5 p.m. on Saturday, 22 February 2020 at the Walters family residence.
---
Adjunct instructors at the University of Texas at El Paso (US)
The National Security Studies Institute at the University of Texas at El Paso (UTEP) (see their website here) is seeking adjunct instructors to teach online graduate-level courses:
Legal Issues in Intelligence and National Security
Propaganda and Influence Operations
Intelligence and Counterterrorism
Political Economy of Terrorism
Risk Analysis
Emergency Management
Public Health and Homeland Security
A PhD in public policy, security studies, political science, or a related field is required.
Interested and eligible applicants should contact Stephen Coulthart (sjcoulthart@utep.edu).
Two Positions at James Madison University for Assistant or Associate Professor - Intelligence Analysis
James Madison University (JMU) located in Harrisonburg, VA, seeks applicants for two faculty positions in its Bachelor's Degree Program in Intelligence Analysis (IA). The appointments will be at the Assistant or Associate Professor level and will reside within the larger School of Integrated Sciences. The IA program offers a multidisciplinary undergraduate degree with an emphasis on methodology and technology to prepare students to become analysts, with a specialization in intelligence analysis. Its graduates have been successful in securing positions as analysts in both the public and private sectors, to include the Intelligence Community, military and law enforcement organizations, defense contractors, and major consulting firms. The program emphasizes methodology and synthesizes critical and creative thinking methods with technological tools for data collection, visualization, and analysis with situational knowledge of a problem's political, economic, social, and technological context with strong communicative and professional skills to support decision-making.
Ideal candidates will be comfortable in an interdisciplinary, diverse setting and possess the potential for becoming an excellent teacher to future analysts in one or more intelligence domains including national security, military, homeland security, law enforcement, private sector security, cyber security, and geospatial. They optimally have a background in either mixed-methods, qualitative, or quantitative research and analysis methods. We especially encourage applications from candidates that can leverage the use of systems thinking, employ data science in analysis, support the development of writing skills, or teach ethics specifically for future analysts. The typical teaching load in the school is 3 courses per semester.
We welcome applicants from all academic disciplines—to include the humanities, social sciences, and sciences—that provide a knowledge foundation for doing analysis. Prospective candidates should review our curriculum online to identify areas that match their expertise and to locate potential areas that they could help the program to develop. The program values teaching excellence as well as one-on-one professional mentoring and seeks candidates who can demonstrate potential for both. In addition, the position requires the potential for an active program of scholarly activity. The position requires either a Ph.D. in a relevant academic field by the date of hire (for a tenure-track appointment) OR Master's Degree with substantial experience in the field (for appointment on a Renewable Term Contract).
More information or applications may be found here.
New Positions Available with Thomson Reuters

Job Title: Washington Bureau Chief
Experience: 10 to 20 years
Employment Type: Full Time
Job Location: Washington, DC
Reuters, the news and media division of Thomson Reuters, is the world's largest international multimedia news provider reaching more than one billion people every day. Reuters provides trusted business, financial, national, and international news to professionals via Thomson Reuters desktops, the world's media organizat...[full details here]
________________________________________
Job Title: Account Executive, Federal
Experience: 5 to 20 years
Employment Type: Full Time
Job Location: Washington, DC
Account Executive, Federal Job Description Position Objective/ Mission This role exists to sell online legal and investigative research, integrated workflow solutions in the federal government market. Outcomes Consistently achieve monthly, quarterly, and full year new sales quotas with a mix across the sales bag. Maintain a...[full details here]
________________________________________
Job Title: Facility Security Analyst
Experience: 3 to 9 years
Employment Type: Full Time
Job Location: McLean, VA
This position is responsible for planning and establishing security procedures to comply with Federal Regulations for handling classified information and material within a program environment. This position will support a FOCI organization and perform security functions that are required by National Industrial Security Oper...[full details here]
________________________________________
Job Title: Government Analyst
Experience: 2 to 20 years
Employment Type: Full Time
Job Location: McLean, VA
Provide insightful, well researched analysis and guidance to clients bases on rigorous, in depth analysis using public records, proprietary data, and open source data (including social media). Provide client support, including but not limited to meeting client inquiries, delivering ad hoc reporting, advising on analytic bes...[full details here]
________________________________________
Assistant/Associate/Full Professor - Department of Intelligence & Security Studies, Charleston, SC - Two Openings Available
Work type: Full Time Permanent - Faculty; Location: Charleston, SC; Categories: Humanities; Payscale: Unclassified.
The Citadel's newly created Department of Intelligence & Security Studies houses some of the most popular and flourishing academic programs on campus. Since 2016, we have created both a Master of Arts (MA) and a Bachelor of Arts (BA) program in Intelligence and Security Studies; the MA program is 100% online while the BA is offered in both online and traditional formats. Our growth has created faculty openings for individuals who want to join an established team dedicated to producing principled leaders in all walks of life.
Job Responsibilities: The Citadel's School of Humanities and Social Sciences invites applications for two(2) tenure-track position in all areas of intelligence studies at the level of Assistant, Associate or Full Professor beginning in August 2020. The Department is particularly interested in individuals with experience in intelligence and big data analytics, homeland/national security, Eastern European/former Soviet area studies, applied intelligence community (IC) research, and military intelligence matters. The incumbent will be expected to teach at the undergraduate and graduate level using both traditional and online delivery methods. This is a full-time teaching, research and service position. Faculty within the School typically teach a 4+4 course load with appropriate research and service expectations.
Minimum Requirements: Applicants must have an earned doctorate from an accredited university in an area associated with intelligence studies. The ability to use or the motivation to learn technologies relevant to online teaching is required. All candidates should also be able to show effective past teaching experience, demonstrated research potential, and appropriate service activities. Advanced ABD candidates will be considered. There is also a potential for teaching additional summer courses. Salary will be competitive, and commensurate with experience and qualifications.
Preferred Qualifications: Relevant experience in the US intelligence community, the military, or other organizational contexts is preferred, but not required. Online teaching experience is preferred, but not required.
Additional Comments: Ranked as the #1 Public School in the South for nine years in a row by U.S. News and World Report, The Citadel offers a unique academic environment. The incumbent will teach members of the South Carolina Corps of Cadets (SCCC) in the classroom as well as non-cadet graduate and undergraduate students in an online venue. Regardless of the teaching milieu, Citadel faculty commit themselves to preparing the next generation of principled leaders for the military, private, and government sectors. Approximately 30% of every graduating SCCC class is commissioned into the U.S. military; the remainder seek job opportunities in the public and private arenas. Initial screening of applicants will begin immediately and continue until the position is filled. The position is expected to begin in August of 2020.
The Citadel is an Equal Opportunity / Affirmative Action employer and does not discriminate against any individual, or group of individuals, on the basis of age, color, race, disability, gender, gender identity, sexual orientation, religion, pregnancy, national origin, genetic information or veteran's status in its employment practices.The Citadel has a culturally diverse faculty and staff committed to working in a multicultural environment. We encourage applications from minorities, females, individuals with disabilities and veterans.
Interested applicants should apply now for Job No: 495785. To apply utilize the official online application and upload supporting documents to include: 1 Letter of interest addressing the qualifications listed above; 2 A curriculum vita; 3 Evidence of teaching effectiveness; In addition, please provide three professional references that can be contacted.
Syracuse University's School of Information Assistant Professor - Trustworthy Cyberspace
DePaul University, School of Computing Assistant Professor in Software Engineering
The School of Computer and Cyber Sciences Tenure Track and Tenured Positions at the Assistant, Associate, and Full Professor Levels
Department of Cyber and Computer Sciences at The Citadel Tenure-Track Positions in the Department of Cyber and Computer Sciences
Portland Community College - Computer Information Systems Instructor, CIS / Windows System Administration
Augusta University - Tenure Track and Tenured Positions at the Assistant, Associate, and Full Professor Levels
FireEye Has Many Intelligence Positions Available For You - Worldwide - Contract, Full-time, Part-time, Interns
Explore the many career and contractor intelligence jobs available here. Jobs openings in Cyber Security include - Advisory, Architecture, Digital Forensics & Incident Response, Penetration Testing, Threat Research. They positions are needed here: New York, Chicago, Manila, Reston, Dallas, Atlanta, Suitland, Singapore, Denver, Las Vegas, Phoenix, Doha, Stockholm, London, Milpitas, multiple cities in Australia, Washington, Indianapolis, Tampa, Santiago, Alexandria, Seattle, Carlsbad, Houston, San Francisco, Arlington, Dubai, Amsterdam, Ft Belvoir, Minneapolis, Mexico City, San Diego, Boston, El Segundo, Philadelphia, San Antonio, Chiyoda, Ft Huachuca, Ft Gordon, Ft Meade, Ft Shafter, Kuwait City, Seoul, Sttutgart, Salt Lake City, Austin, Dublin, Bangalore, Cork, Colorado Springs... Explore the many career and contractor intelligence jobs available here.
---
AFIO EDUCATIONAL EVENTS IN COMING TWO MONTHS....
Friday, 28 February 2020, 10:30 a.m. - 2 p.m. - Tysons, VA - First AFIO luncheon of 2020 features James Olson, author of To Catch a Spy: The Art of Counterintelligence; and political scientist Seth G. Jones, author of A Covert Action: Reagan, the CIA, and the Cold War Struggle in Poland.
James Olson's presentation starts at 1 p.m.: Olson served for over thirty years in the Directorate of Operations of the CIA, mostly overseas in clandestine operations. In addition to several foreign assignments, he was chief of counterintelligence at CIA headquarters in Langley, VA. Currently, he is a Professor of the Practice at the Bush School of Government and Public Service of Texas A& M University.
At this event Professor Olson will be discussing his March 2019 book, To Catch a Spy: The Art of Counterintelligence which suggests that the US is losing the counterintelligence war. Foreign intelligence services, particularly those of China, Russia, and Cuba, are recruiting spies in our midst and stealing our secrets and cutting-edge technologies. He provides a guide for how our country can do a better job of protecting its national security and trade secrets. He will review the principles and methods of counterintelligence, including the running of double-agent operations and surveillance. He also addresses why people spy against their country, the tradecraft of counterintelligence, and where counterintelligence breaks down or succeeds.
The morning speaker, Dr. Seth G. Jones, will begin 11 a.m. Dr. Jones director of the Transnational Threats Project, and is a senior adviser to the International Security Program at the Center for Strategic and International Studies (CSIS). He teaches at Johns Hopkins University's School of Advanced International Studies (SAIS) and the Center for Homeland Defense and Security (CHDS) at the U.S. Naval Postgraduate School. Prior to joining CSIS, Dr. Jones was the director of the International Security and Defense Policy Center at the RAND Corporation and was Adjunct Professor, Security Studies Program, Edmund A. Walsh School of Foreign Service, Georgetown University, where he taught classes on "Counterinsurgency" and "Stability Operations." He also served as representative for the commander, U.S. Special Operations Command, to the assistant secretary of defense for special operations.
He will discuss counterinsurgency and counterterrorism, with a particular focus on Afghanistan, Pakistan, and al Qa'ida.
Registration has opened and may be completed quickly here.
Venue: DoubleTree by Hilton, 1960 Chain Bridge Rd, Tysons Corner, VA 22182 Phone: (703) 893-2100. Directions at this link. Easy access from two nearby SilverLine Metro stations. Generous free parking at hotel.
Friday, 6 March 2020, 1 pm - Westchester, CA - AFIO Los Angeles holds 2020 Annual Business Meeting
The AFIO Los Angeles Chapter holds its annual business meeting. Agenda Items are • Election of Chapter Officers; • Membership Growth; • 2020 Speakers. Members are asked to add any topics to the agenda when they RSVP.
We strongly encourage participation from all members.
RSVP to afio_la@yahoo.com
Location: Alejos Restaurant 8343 Lincoln Blvd, Westchester, CA 90045
Questions to Vincent Autiero, President, AFIO-Los Angeles Chapter, afio_la@yahoo.com, 5651 W Manchester Ave, Los Angeles, CA 90045.
Wednesday, 11 March 2020, 11:30 a.m. - San Francisco, CA - The "Andre Le Gallo" San Francisco Chapter hosts FBI Special Agent Michael Gimbel
2019 ended with a shooting at a kosher grocery store in New Jersey, a stabbing at a rabbi's home during a Hanukkah celebration in New York, and another shooting at a church in Texas. What can we do to prevent, mitigate, and respond to violent incidents?
FBI Special Agent Michael Gimbel will speak about FBI's Counterterrorism Division, the law enforcement response to the recent Gilroy Garlic Festival shooting, and the vital inter-agency relationship and coordination which facilitates and expedites the handling and processing of the crime scene.
Timing: No-host cocktails at 11:30, luncheon meeting and presentation begins at noon.
Location: Basque Cultural Center - San Francisco, CA
RSVP now at Eventbrite.
Thursday, 19 March 2020, 11:30 a.m. - Colorado Springs - The AFIO Rocky Mountain Chapter hosts Amb. Mary Ann Casey discussing "Lessons in Cooperation: A Diplomat's View"
Synopsis: Amb. Mary Ann Casey will share some of the challenges she encountered during her tenure in oil-and-gas-rich Algeria, where she served as ambassador at a time of major conflict between the Algerian security services and that country's home-grown Islamic fundamentalist movement. Close collaboration with the US national security community was central to the success of the Embassy's efforts to ensure the safety of American personnel, while pursuing the US foreign policy agenda in Algeria. Ambassador Casey's talk will provide an insider's account of how events unfolded.
Biography: Ambassador Mary Ann Casey is Middle East specialist, who developed deep area expertise in Arab North Africa while working in that region for twelve years as an American diplomat.
Among other assignments, she was selected by President Bush Sr. to be his Ambassador to Algeria and later by President Clinton to serve as his Ambassador to Tunisia.
Mary Ann also spent more than a decade in Washington D.C. at the State Department, where she had a variety of responsibilities, including Director for North Africa. Later, in the Bureau of Intelligence and Research, she managed a team of 100 professionals engaged in global research and analysis for the Secretary of State.
As a Diplomat in Residence at the University of Colorado, Mary Ann worked with several of the University's international studies programs and taught a course on the Art and Practice of Diplomacy. After her retirement from the State Department, she lectured periodically at the Joint Forces Staff College in Norfolk Virginia as part of the Senior Fellows Program. She now serves on the Advisory Board for CU-Boulder's Program in International Affairs.

For more information please contact our Secretary Steve Pease at steve13507@gmail.com
Saturday, 21 March 2020, 5:30 p.m. - Oak Lawn, IL - Terry Donat, MD discusses "Pandemics and National Security" at Indiana/Illinois AFIO Chapter
AFIO's Indiana/Illinois Chapter hosts Terry Donat, M.D. speaking on "Pandemics and National Security."
Dr. Terry Donat is the first physician certified as an Illinois Professional Emergency Manager. He is trained in acute Radiation Emergency Medicine, the Medical Management of Chemical and
Biological Casualties and as a past National Disaster Life Support Instructor. He also serves as an external resource and speaker for both the FBI Chicago Field Office WMD Coordinator and
the FBI WMD Directorate Biological Countermeasure Unit. He is a lifetime member of the Special Operations Medical ssociation (SOMA); serves as the Health and Public Health Sector
Chief for lnfraGard Chicago; serves aside James Terbush, MD MPH, as co-chair of the Healthcare Industry Advisory Group of the Jr'ifraGard National Disaster Resilience Council and is a member
of the Healthcare and Public Health Sector Cloordin􀀻ting Council - DHS/DHHS. He is keenly interested in the promising capabilities of DNA data storage, as well as assessing those threats, risks, and vulnerabilities of infrastructure and evolving dual-use technologies relevant to homeland and national security.
Event includes cocktails and dinner.
Fee: $40 per person.
Location: Stony Creek Golf Course, 5850 W 103rd St, Oak Lawn, IL 60453
REGISTER or MORE INFO: Contact John Fanning (Treasurer) at 708-433-9522 or johnf@fanninginc.com
8 May 2020, 10:30 a.m. - 2 p.m. - Tysons, VA - AFIO National Spring Luncheon features Washington Post columnist David Ignatius, and Author, former Post reporter Stephen Vogel
HOLD THE DATE: The morning speaker will be David Ignatius, author of the upcoming intelligence novel, The Paladin: A Spy Novel [WW Norton, May 2020]. Ignatius is a Washington Post columnist and has been covering the Middle East and CIA for nearly three decades.
Of Ignatius' forthcoming novel, reviewers wrote: "For me nothing is more intriguing than life inside our intelligence agencies. David Ignatius uses his decades' worth of reporting experience to take us there in this fast-moving, jaw-dropping drama that reads like it was ripped from the headlines. I recommend you grab a copy and hold on tight for the entire thrilling ride." — Brian Kilmeade, Fox News.
"David Ignatius once again takes readers behind the scenes of America's most secretive bureaucracy, revealing in fiction what could never be declassified in fact. The Paladin is yet another stirring read from one of America's most revered reporters and gifted storytellers." — Joe Scarborough, MSNBC
The afternoon program features Stephen Vogel, author of Betrayal in Berlin: The True Story of the Cold War's Most Audacious Espionage Operation [Custom House, Sept 2019]. Vogel is a former Washington Post reporter who covered the federal government. He was based overseas from 1989 through 1994 where he covered the fall of the Berlin Wall and the first Gulf War, and subsequently reported on military operations in Somalia, Rwanda, the Balkans, Afghanistan and Iraq.
Of Betrayal in Berlin, Former CIA Officer Sandy Grimes wrote: "The best spy book I have ever read...Steve Vogel is a talented and gifted writer who brings the personalities and idiosyncrasies of every participant in this operation to life. His research is vast, varied, and full of detail. It is truly one of those rare books you can't put down."
Registration will open in April.
Venue: DoubleTree by Hilton, 1960 Chain Bridge Rd, Tysons Corner, VA 22182 Phone: (703) 893-2100. Directions at this link.
---
Other Upcoming Events from Advertisers, Corporate Sponsors, and Others
Wednesday, 19 February 2020, 10 am - 1 pm - Annapolis Junction, MD - NCMF 2020 Winter Cryptologic Program Featuring Ms. Jonna Mendez, CIA Disguise Expert
The NCMF's 2020 Winter Cryptologic Program will feature CIA Officer (Ret) Author/Chief of Disguise, Ms. Jonna Mendez.
Can you change your appearance completely while walking down a crowded street in Moscow? Can you elude the KGB by pressing a button while rounding a corner? Can you fool the president while briefing him in the Oval Office? The CIA's former Chief of Disguise Jonna Mendez tells it all in her presentation at this NCMF event. More info about event is here. Download the registration flyer here.
Location: CACI Inc., Maryland Conference Center, 2720 Technology Dr, Annapolis Junction, MD 20755
REGISTRATION INFO: registration fee is $25pp for members and guests and includes lunch. Online registration may be handled here. Or mail-in your registration fee with payment by check to NCMF, PO Box 1682, Fort George G. Meade, MD 20755-9998. Include names of self and guests.
Questions? Call the NCMF office at 301-688-5436.
REGISTER online here.
Thursday, 20 February 2020, 6 pm - Alexandria, VA - Naval Intelligence Professionals February No-Host Social
The National Capital Region Chapter of NIP "Third Thursday" 2020 No-Host Social features a new speaker at this February event: The Honorable Nicholas Andersen, Deputy Assistant Secretary for Infrastructure Security and Energy Restoration at U.S. Department of Energy (DOE).
Nick Andersen was appointed by President Trump to be the Deputy Assistant Secretary of Energy for Infrastructure Security and Energy Restoration at U.S. Department of Energy (DOE) in December of 2020. 
Prior to DoE, Nick was served as the federal cybersecurity lead at OMB, and was previously the Chief Information Security Officer for the Vermont government Nick brings years of cybersecurity experience any organization to include recently serving as a vice president at Invictus International Consulting, LLC and co-founder of Pueo Business Solutions, LLC. Nick has worked with the Defense Intelligence Agency, Federal Aviation Administration, U.S. Department of Homeland Security, U.S. Army, Coast Guard and Navy, and served in the U.S. Marine Corps.

Socializing, professional insight and libations begin at 6 PM
Event location: Daniel O'Connel's Irish Restaurant and Bar, 112 King St, Alexandria VA 22314. Google map link.
Nick's remarks will start approximately 6:30 and followed by informal discussions.
You do not have to be a NIP member to attend. Questions to: naval.intelligence.pros@gmail.com
To attend: just show up!
Friday, 28 February 2020, 1:30 - 2:30pm - Annapolis Junction, MD - National Cryptologic Museum Lecture Series: Invisible Cryptologists
Learn about African-American cryptologists at NSA from WWII to the first decade of the Cold War...their challenges and accomplishments.
This is the story of African-Americans employed at the National Security Agency and its forerunners at Arlington Hall Station from 1939–1956. In essence, this lecture by NSA's Center for Cryptologic History is about the people who, during WWII and the first decade of the Cold War, were limited to primarily low-paying, support jobs in federal government as akin to the private sector. Learn about these great Americans and their challenges, dedication, and accomplishments. Event is Free, but requires ticket registration - see below to register via EventBrite.
Event is free, but seats are limited. More information and registration at this link.
Location: National Cryptologic Museum - Magic Room, 8290 Colony Seven Rd, Annapolis Junction, MD 20701. [Program description provided by NCM]
CAREERS FOR WOMEN IN INTELLIGENCE
Tuesday, 3 March 2020, 6:30 - 8 p.m. - Washington, DC - Women in Intelligence Panel Discussion and Networking Event
On March 3, the Catholic University Intelligence Club is co-sponsoring a Women in Intelligence panel discussion and networking event that seeks to honor the experiences of women in the field of intelligence and to encourage young women to pursue careers in the field. There will be a pre-panel discussion networking reception with light refreshments, then a formal discussion followed by an open Q&A.

The panelists are Rollie Flynn, president of the Foreign Policy Research Institute and a former CIA field operations officer; Kathleen Kaderabek, senior compliance consultant at DuPont and a former FBI Agent; and Commander Jacquelyn McClelland, Rear Admiral in the U.S. Navy and a former agent in the IRS Criminal Investigation Division.

The event will take place in the Catholic University of America's Heritage Hall in Washington, D.C. from 6:30 pm - 8:00 pm.
For questions or accommodations, please contact Cara DiMarcantonio at dimarcantonio@cua.edu. Poster about the event is here.
Thursday, 5 March 2020, 6 - 8 p.m. - New York, NY - Spy Sites of New York City Book Launch at the KGB Espionage Museum
There are more spies working in New York City today than ever before, according to H. Keith Melton, the espionage advisor on The Americans, and Robert Wallace, the former chief of the CIA's Office of Technical Service. But, as the authors show in their fascinating new book SPY SITES OF NEW YORK CITY: A GUIDE TO THE REGION'S SECRET HISTORY (Georgetown University Press; February 2020), the city has always been a hotbed of international intrigue. Review of book by Jacqueline Cutler at NY Daily News is here.
The authors kick-off the release of this new book at this KGB Espionage Museum event.
AGENDA: 6 pm: Reception; 6:15 -7 pm: KGB Espionage Museum tour; 7 pm: Talk with the authors of SPY SITES OF NEW YORK CITY.
Authors: Keith Melton, Robert Wallace, and Henry B. Schlesinger. Moderator: Gerald Goodwin, the head of the New York Chapter of the Association of Foreign Intelligence Officers
Ticket price: $30
Ticket will include a signed copy of SPY SITES, an exclusive tour of the museum, book talk, and refreshments.
For more information about the book, see here.
Location: KGB Espionage Museum, 245 W 14th St, New York, NY 10011
REGISTER HERE.
Thursday, 19 March 2020, 1:30 - 2:30 p.m. - Annapolis Junction, MD - National Cryptologic Museum Lecture Series: Queens of Code
Queens of Code: Panel of women working on top secret information technology projects at NSA in the 1960s, 70s, and 80s tell their stories.
Queens of Code is a women's technology history project involving collecting stories, experiences, and insights from women who worked in information technology at NSA in the 1960s, 70s,and 80s. Because their jobs were often top secret, and they worked on sensitive national security programs, they couldn't discuss what they were doing - not even with their families. In many cases, they couldn't even confirm they worked at the Agency. Queens of Code is bringing the NSA's computing women out of the shadows, allowing them to claim their rightful place in history and the ever-evolving story of how technology has altered America's position in the world. These women created innovations in technology and expanded women's career opportunities for the generations that followed.
Come hear their stories. Come ask them questions. Free event, however, registration is required and seats are limited. Click the link below to register via EventBrite.
More information and registration at this link.
Location: National Cryptologic Museum - Magic Room, 8290 Colony Seven Rd, Annapolis Junction, MD 20701. [Program description provided by NCM]
25-28 March 2020 - Honolulu, HI - International Studies Association (ISA) conference Intelligence Studies Section (ISA/ISS) Panels at ISA2020
Various links below provide a view of the extensive program of the Intelligence Studies Section being held as part of ISA2020...the International Studies Association (ISA) conference in Honolulu, Hawaii on 25-28 March. The Intelligence Studies Section is one of thirty thematic sections that make up the ISA, has approximately 400 members, and has been sponsoring research about intelligence as a function of government since the mid-1980s. This Intelligence Studies Section content (4 straight days, 30 panels and roundtables) is one (highly impressive) small part of ISA's much larger conference.
Information about the conference is here.
And the full conference program of almost 300 pages is here.
The ISA/Intelligence Studies Section Program (kindly supplied by Steve Marrin) may be viewed here.
26-29 April 2020 - Tampa, FL - USGIF GEOINT 2020 Symposium
US Geospatial-Intelligence Foundation's GEOINT 2020 Symposium has the theme, "New Decade, New Challenges, New Strategies."
Learn more. Network with more than 4,000 GEOINT Community professionals from 40+ countries spanning defense, intelligence, homeland security, industry, and academia. See the latest in technology, services, and solutions from 200+ exhibitors in more than 100,000 sq ft of exhibit space. Learn from 50+ hours of professional development, training, and education sessions with PDUs and CEUs.
All official GEOINT 2020 hotels are conveniently located within walking distance of the Tampa Convention Center, and are only available through the GEOINT Symposium website and our registration partner SPARGO.
Do not delay reserving your hotel room, booking your flight, or registering for the nation's premier geospatial intelligence event of the year, which returns to Tampa from Sunday, April 26, to Wednesday, April 29.
View program, speakers, and registration requirements here.
14 May 2020, 5:30 p.m. - Washington, DC - Save the Date! PenFed Foundation's 2020 Night of Heroes Gala

PUT ON CALENDAR AND HOLD THE DATE: The Pentagon Federal (PenFed Credit Union) Foundation will be hosting their spectacular Night of Heroes Gala on Thursday, 14 May 2020 at the Mandarin Oriental in Washington, D.C. Last year's annual gala raised over $1.5 million and honored children of military families.
VIP Reception at 5:30 PM
General Reception and Silent Auction at 6:00 PM
Location: The Mandarin Oriental, 1330 Maryland Ave SW, Washington, D.C.
Attire: Black Tie or Military Dress
RSVP: April 25, 2020
Click here to learn more or sponsor a table.
Wednesday, 25 March 2020, 1:30 - 2:30pm - Annapolis Junction, MD - National Cryptologic Museum Lecture Series: Women in Cryptology
In the world of codes and ciphers, women have always played a role. Throughout American history, women have provided vital information to military leaders, done the daily grind searching for the enemy's secrets, and pioneered new scientific fields. Learn about the contributions and talents these women have brought to cryptology.
This lecture is free, but registration is required. Register via EventBrite - see link below.
More information and registration available at this link.
Location: National Cryptologic Museum - Magic Room, 8290 Colony Seven Rd, Annapolis Junction, MD 20701. [Program description provided by NCM]
25 - 27 June 2020 - Pordenone, Italy - IAFIE 2020 Annual Conference - Intelligence Education, Research and Practice in the 2020s
The 2020 Annual Conference of the International Association for Intelligence Education (IAFIE) will be held in Pordenone, Italy from June 25 to 27. This year IAFIE and IAFIE EC are joining hands in organising a joint annual conference examining the intelligence requirements for the next decade 2020- 2030, with its changing threat environment and fast developing technological advancements. The conference papers will reach out to other cognate disciplines for a multidisciplinary approach and brings scholars and practitioners together for a blend of research and applied discussions on intelligence. This will be the 5th Annual Conference of IAFIE EC. The topics/themes for the conference are Intelligence Analysis, Intelligence Domains, Management of Intelligence Community, and Intelligence Education and Research. Authors of recent books, monographs and reports in line with these topics/themes are also invited to submit proposals to participate in Author Roundtables. Please email your general enquiries to iafie2020@ecoleuniversitaireinternationale.net. More information here.
---
In addition to the new Royal Blue long sleeve shirts, and the gray long sleeve hooded sweatshirts, the AFIO Store also has the following items ready for quick shipment:
NEW: LONG and Short-Sleeved Shirts with embroidered AFIO Logo and New Mugs with color-glazed permanent logo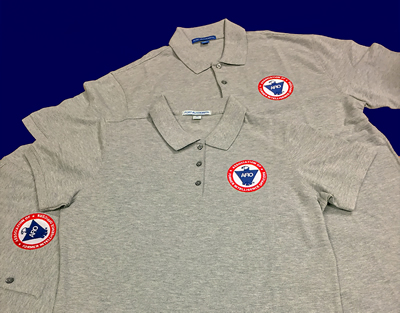 Show your support for AFIO with our new Polo Shirts. Be the first to buy these new, high quality, subtle heathered grey short sleeve shirts, and dark blue long sleeved shirts, of shrink and wrinkle resistant fine cotton with a soft yet substantial feel. They feature a detailed embroidered AFIO seal. Get a shirt for yourself and consider as gifts for colleagues, family, and friends. Only $45 each including shipping.
Sizes of (M) men or (W) women shirts; Small, Medium, Large, XL, XXL, and XXXL. At this time all orders will arrive as Short Sleeve shirts.
You may pay by check or credit card. Complete your order online here or mail an order along with payment to: AFIO, 7600 Leesburg Pike, Ste 470 East, Falls Church, VA 22043-2004. Phone orders at 703-790-0320. If interested in other shirt colors or sleeve lengths, contact Annette at: annettej@afio.com.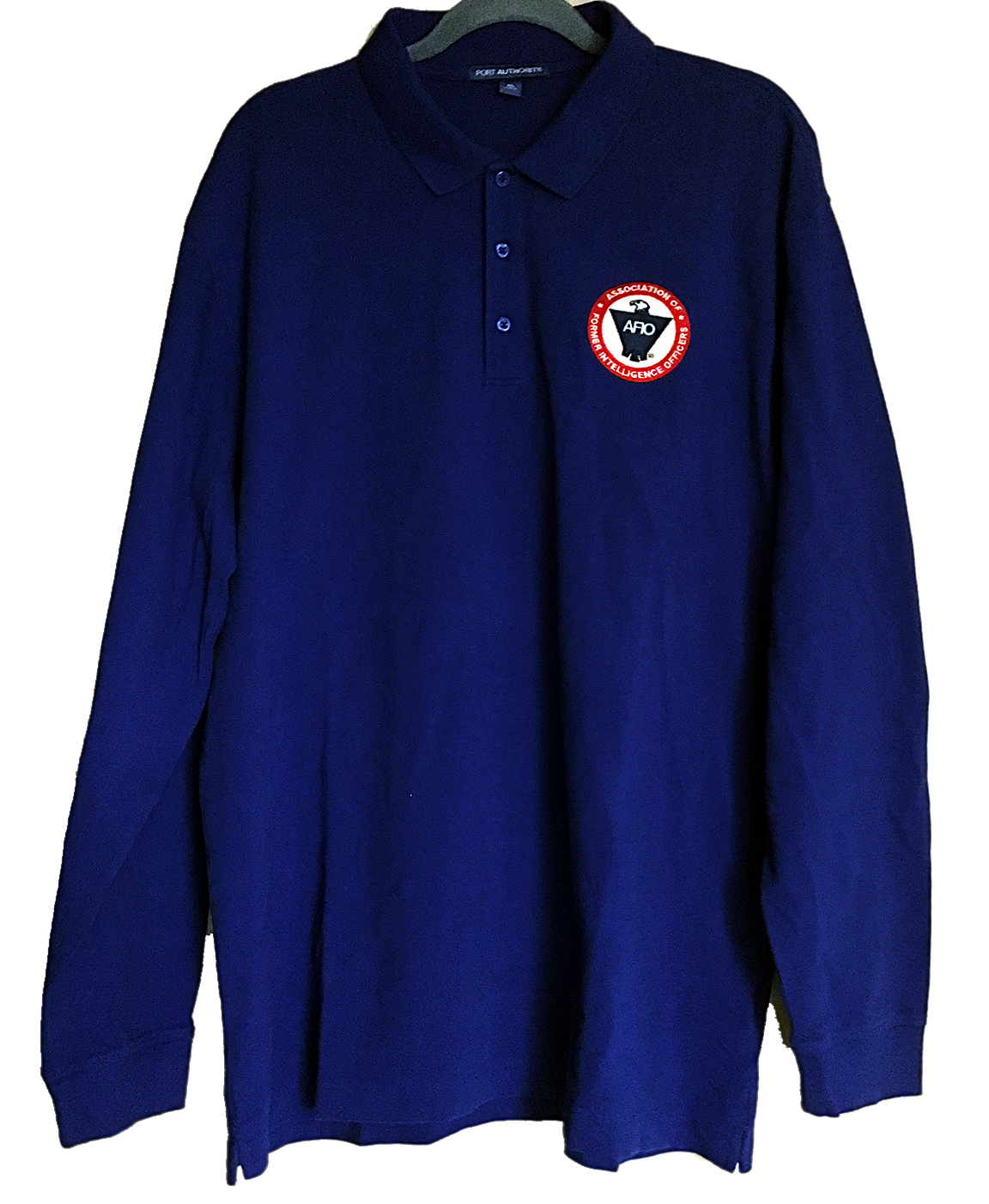 Long-Sleeved Shirts and Hooded Sweatshirts with embroidered AFIO Logo
Show your support for AFIO with our new long-sleeved Polo Shirts and Hooded Sweatshirts.
Both items are high quality and shrink resistant and feature a detailed embroidered AFIO seal. The color of the long-sleeved Polo Shirts is royal blue; the price is $55 and includes shipping.
The Hooded Sweatshirts are dark grey; the price is $70 and includes shipping.
Purchase a shirt and sweatshirt for yourself and consider as gifts for colleagues, family, and friends.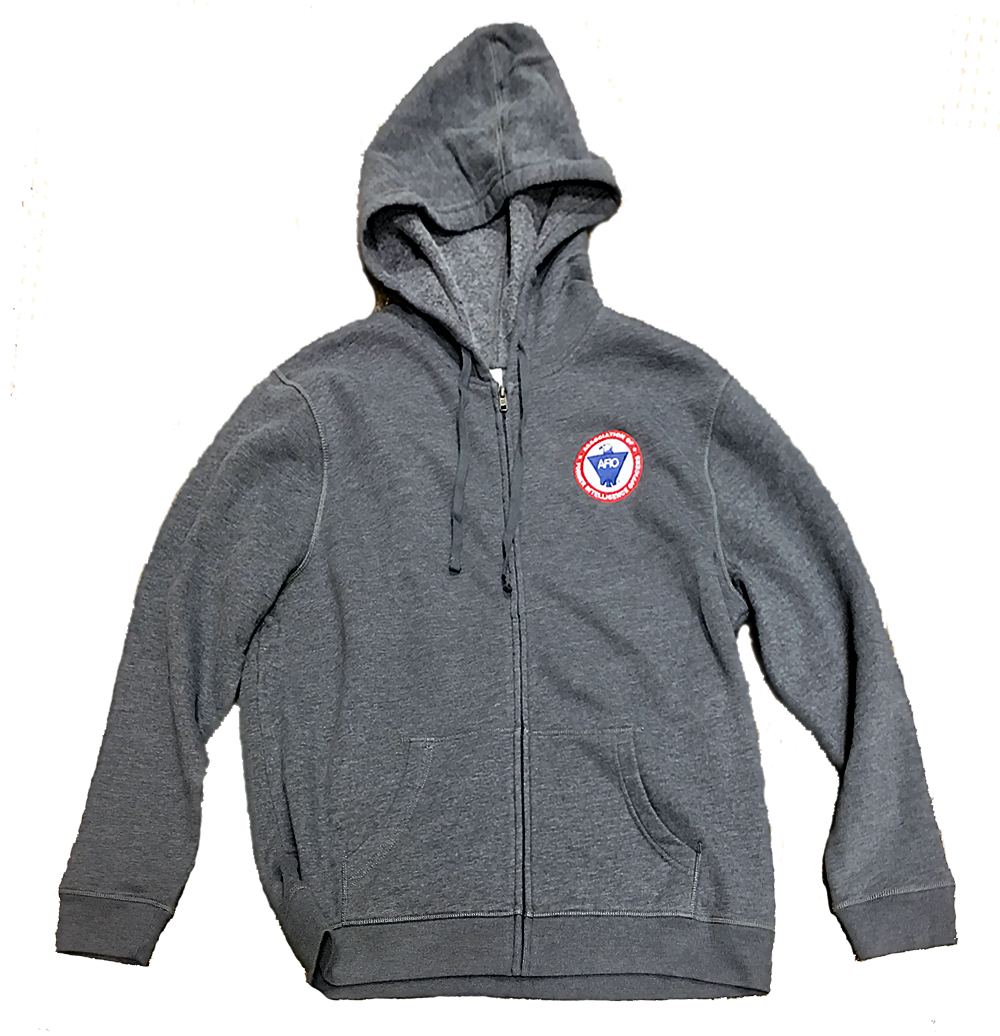 Both items are available in men's sizes: Small, Medium, Large, XL, XXL, and XXXL. The long-sleeved Polo Shirts and Hooded Sweatshirts are not available in ladies' sizes.
---
NEW: Mug with color glazed logo. Made in America. (We left out all that lead-based glaze and hidden toxins in those mugs made in China being sold by other organizations). Also sturdy enough to sit on desk to hold pens, cards, paperclips, and candy.
This handsome large, heavy USA-made ceramic mug is dishwasher-safe with a glazed seal. $35 per mug includes shipping. Order this and other store items online here.
AFIO's Intelligence Community Mousepads are a great looking addition to your desk...or as a gift for others.
Made in USA. Click image for larger view.
These 2017 mousepads have full color seals of all 18 members of the US Intelligence Community on this 8" round, slick surface, nonskid, rubber-backed mouse pad with a darker navy background, brighter, updated seals. Also used, by some, as swanky coasters. Price still only $20.00 for 2 pads [includes shipping to US address. Foreign shipments - we will contact you with quote.] Order MOUSEPADS here.
---
Guide to the Study of Intelligence and When Intelligence Made a Difference
"AFIO's Guide to the Study of Intelligence" has sold out in hard-copy.
However, it is available in digital form in its entirety on the AFIO website here.

Also available on the website here are the individual articles of AFIO's history project "When Intelligence Made a Difference" that have been published to date in The Intelligencer journal. More articles will be forthcoming in future editions.
---
Disclaimers and Removal Instructions
Weekly Intelligence Notes (WINs) are commentaries on Intelligence and related national security matters, based on open media sources, selected, interpreted, edited and produced for non-profit educational uses by members and WIN subscribers.
REMOVAL INSTRUCTIONS: We do not wish to add clutter to inboxes. To discontinue receiving the WINs:
a) IF YOU ARE A MEMBER - click here: UNSUBSCRIBE and supply your full name and email address where you receive the WINs. Click SEND, you will be removed from list. If this link doesn't open a blank email, create one on your own and send to afio@afio.com with the words: REMOVE FROM WINs as the subject, and provide your full name and email address where you are currently receiving them.
b) IF YOU ARE NOT A MEMBER, and you received this message, someone forwarded this newsletter to you [contrary to AFIO policies]. Forward to afio@afio.com the entire WIN or message you received and we will remove the sender from our membership and distribution lists. The problem will be solved for both of us.
CONTENTS of this WIN [HTML version recipients - Click title to jump to story or section, Click Article Title to return to Contents. This feature does not work for Plaintext Edition or for some AOL recipients]. If you wish to change to HTML format, let us know at afio@afio.com. The HTML feature also does not work for those who access their e-mail using web mail...however NON-HTML recipients may view the latest edition each week in HTML at this link: https://www.afio.com/pages/currentwin.htm
---
WINs are protected by copyright laws and intellectual property laws, and may not be reproduced or re-sent without specific permission from the Producer. Opinions expressed in the WINs are solely those of the editor's or author's listed with each article. AFIO Members Support the AFIO Mission - sponsor new members! CHECK THE AFIO WEBSITE at www.afio.com for back issues of the WINs, information about AFIO, conference agenda and registrations materials, and membership applications and much more!
(c) 1998 thru 2020. AFIO, 7600 Leesburg Pike, Suite 470 East, Falls Church, VA 22043-2004. Voice: (703) 790-0320; Fax: (703) 991-1278; Email: afio@afio.com
---
About AFIO | Membership Renewal | Change of Address | Upcoming Events | Chapter Locations | Corporate/Institutional Memberships | Careers in Intelligence Booklet | Guide to the Study of Intelligence | Intelligencer Journal | Weekly Intelligence Notes | To Make A Donation | AFIO Store | Member-Only Section | Code of Ethics | Home Page
---