---
CONTENTS
Section I - INTELLIGENCE HIGHLIGHTS
Section II - CONTEXT & PRECEDENCE
Section IV - Research Requests, Obituaries, Jobs
Other Upcoming Events from Advertisers, Corporate Sponsors, and Others
For Additional AFIO and other Events two+ months or more... Calendar of Events

WIN CREDITS FOR THIS ISSUE: The WIN editors thank the following special contributors: rsy, ec, po, pj, mh, km, gh, mk, rd, fm, kc, jm, mr, jg, th, ed, and fwr. They have contributed one or more stories used in this issue.

The WIN editors attempt to include a wide range of articles and commentary in the Weekly Notes to inform and educate our readers. However, the views expressed in the articles are purely those of the authors, and in no way reflect support or endorsement from the WIN editors or the AFIO officers and staff. We welcome comments from the WIN readers on any and all articles and commentary.

CAVEATS: IMPORTANT: AFIO does not "vet" or endorse research inquiries, career announcements, or job offers. Reasonable-sounding inquiries and career offerings are published as a service to our members, and for researchers, educators, and subscribers. You are urged to exercise your usual caution and good judgment when responding, and should verify the source independently before supplying any resume, career data, or personal information.]
If you are having difficulties with the links or viewing this newsletter when it arrives by email, members may view the latest edition each week at this link.

---

Guide to the Study of Intelligence and When Intelligence Made a Difference

"AFIO's Guide to the Study of Intelligence" has sold out in hard-copy.
However, it is available in digital form in its entirety on the AFIO website here.

Also available on the website here are the individual articles of AFIO's history project "When Intelligence Made a Difference" that have been published to date in The Intelligencer journal. More articles will be forthcoming in future editions.

---

AFIO Gift items for colleagues or self.

Long-Sleeved Shirts and Hooded Sweatshirts with embroidered AFIO Logo

Show your support for AFIO with our new long-sleeved Polo Shirts and Hooded Sweatshirts.

Both items are high quality and shrink resistant and feature a detailed embroidered AFIO seal. The color of the long-sleeved Polo Shirts is royal blue; the price is $55 and includes shipping.

The Hooded Sweatshirts are dark grey; price is $70 and includes shipping.

Purchase a shirt and sweatshirt for yourself and consider as gifts for colleagues, family, and friends.

Both items are available in men's sizes: Small, Medium, Large, XL, XXL, and XXXL. The long-sleeved Polo Shirts and Hooded Sweatshirts are not available in ladies' sizes.

You may pay by check or credit card. Complete your order online here or mail an order along with payment to: AFIO, 7600 Leesburg Pike, Ste 470 East, Falls Church, VA 22043-2004. Phone orders at 703-790-0320.

PAGE DOWN TO BOTTOM OF THE NOTES TO SEE MORE AFIO GIFTS. All of these items are appropriate for intelligence officers, colleagues, recruitments, agents, advisors, and family.
---
Special Items for our members:
---
Newly Released and Forthcoming Books of the Week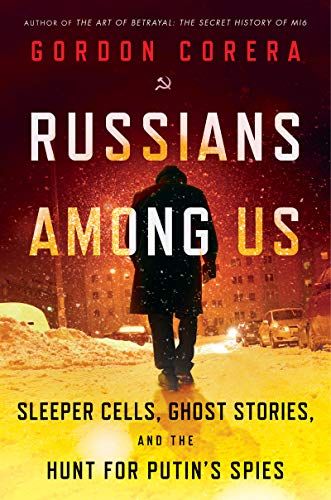 Russians Among Us: Sleeper Cells, Ghost Stories, and the Hunt for Putin's Spies
by Gordon Corera
(William Morrow, Mar 2020)
"An eye-opening look at the illegals and other agents who have been spying for Russia, Soviet and otherwise, over the last several decades… Corera tells a big story in a relatively short space… A book that helps make sense of recent headlines and old news alike." —Kirkus
Tells the story of Putin's escalating espionage campaign in the West, the Russian 'deep cover' spies who penetrated the US and the years-long FBI hunt to capture them. Details the recruitment, running, and escape of one of the most important spies of modern times, a man who worked inside the heart of Russian intelligence. Corera tracks the history and evolution of Russian espionage, including the use of 'cyber illegals' who continue to manipulate us today and might pose a threat to the 2020 elections.
Book may be ordered here.
---
Spying from the Sky: At the Controls of US Cold War Aerial Intelligence
by Robert Richardson
(Casemate, Mar 2020)
William Gregory, "Greg" to all, was born into a sharecropper's life in the hills of north central Tennessee. From the back of a mule-drawn plow, Greg learned the value of resilience and the importance of living a determined life. Refusing to accept a life of continued poverty, Greg sought and found a way out—a work-study college program that made it possible to leave farming behind him forever.
While at college, Greg completed the Civilian Pilot Training Program and was subsequently accepted into the Army's pilot training program. Earning his wings in 1942, Greg became a P-38 combat pilot and served in North Africa during the summer of 1943—a critical time when the Luftwaffe was still a potent threat, and America had begun the march northward from the Mediterranean into Europe proper.
Following the war, Greg served with a B-29 unit, then transitioned to the new, red-hot B-47 strategic bomber. In his frequent deployments, he was always assigned the same target in the Soviet Union—Tblisi, Stalin's home town. While a B-47 pilot, Greg was selected to join America's first high-altitude program—the Black Knights. Flying RB-57D aircraft, Greg and his team flew peripheral "ferret" missions around the Soviet Union and its satellites, collecting critical order-of-battle data so desperately needed by the Air Force at that time. When that program neared its design end, and following the Gary Powers shoot-down over the Soviet Union, Greg was assigned to command of the CIA's U-2 unit at Edwards AFB. It was during that five-year command that Greg and his team provided critical overflight intelligence, including during the Bay of Pigs, the Cuban Missile Crisis, and the Vietnam build-up. He found time to also become one of the first to fly U-2s off aircraft carriers in a demonstration project.
Following his U-2 command, Greg attended the National War College, was assigned to the reconnaissance office at the Pentagon, and then was named Vice-Commandant of the Air Force Institute of Technology (AFIT). Greg retired from the Air Force in 1972.
Book may be ordered here.
---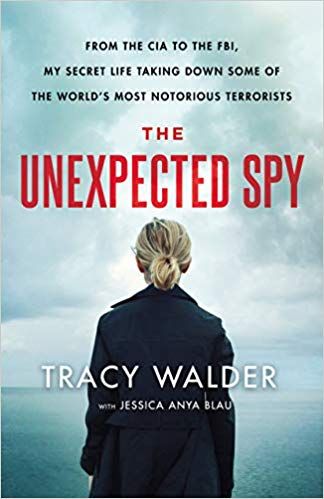 The Unexpected Spy: From the CIA to the FBI, My Secret Life Taking Down Some of the World's Most Notorious Terrorists
by Tracy Walder, with Jessica Anya Blau
(St. Martin's Press, Feb 2020)
When Tracy Walder enrolled at the University of Southern California, she never thought that one day she would offer her pink beanbag chair in the Delta Gamma house to a CIA recruiter, or that she'd fly to the Middle East under an alias identity.
This is the riveting story of Walder's CIA tenure and, later, in the FBI. In high-security, steel-walled rooms in Virginia, Walder watched al-Qaeda members with drones as President Bush looked over her shoulder and CIA Director George Tenet brought her donuts. She tracked chemical terrorists and searched the world for WMDs. She created a chemical terror chart that someone in the White House altered to convey information she did not have or believe, leading to the Iraq invasion. Driven to stop terrorism, Walder debriefed terrorists—men who swore they'd never speak to a woman—until they gave her leads. She followed trails through North Africa, Europe, and the Middle East, shutting down multiple chemical attacks.
Then Walder moved to the FBI, where she worked in counterintelligence. In a single year, she helped take down one of the most notorious foreign spies ever caught on American soil. Catching the bad guys wasn't a problem in the FBI, but rampant sexism was. Walder left the FBI to teach young women, encouraging them to find a place in the FBI, CIA, State Department or the Senate—and thus change the world.
Book may be ordered here.
---
The Hacker and the State: Cyber Attacks and the New Normal of Geopolitics
by Ben Buchanan
(Harvard Univ Press, Feb 2020)
"One of the finest books on information security published so far in this century—easily accessible, tightly argued, superbly well-sourced, intimidatingly perceptive." —Thomas Rid, author of Active Measures
"The best examination I have read of how increasingly dramatic developments in cyberspace are defining the 'new normal' of geopolitics in the digital age. Buchanan…captures the dynamics of all of this truly brilliantly."—General David Petraeus, former Director of the CIA and Commander of Coalition Forces in Iraq and Afghanistan
Few national-security threats are as menacing—or as nebulous—as state-sponsored hacking. Buchanan reveals how hackers are transforming spycraft and statecraft, catching us all in the crossfire, whether we know it or not.
Ever since WarGames, we have been bracing for a coming cyberwar. Popular thrillers and political forecasters like to conjure images of exploding power plants, food shortages, and mass panic, but while cyber attacks are now disturbingly common, they don't look anything like we thought they would. They are not exceptional occurrences triggering an immediate crisis; they happen every day and impact our companies, our health systems, and every aspect of our lives.
Buchanan explores the real geopolitical competition of the digital age, revealing details of how China, Russia, North Korea, Britain, and the United States use computer code to gain an edge, moving deftly from underseas cable taps to underground nuclear sabotage, from blackouts and billion-dollar cyber attacks to election interference.
The nations that hack best will triumph.
Book may be ordered here.
---
---
---
Section I - INTELLIGENCE HIGHLIGHTS

Mercyhurst University to Host U.S. Intelligence Community Hall of Fame. Mercyhurst University has been tapped to house the first-ever U.S. Intelligence Community Hall of Fame, the school announced Tuesday during a kickoff ceremony in Washington, D.C.

The Hall of Fame is a partnership between two key intelligence groups - the Intelligence and National Security Alliance and the Intelligence and National Security Foundation - and Mercyhurst's Ridge College of Intelligence Studies and Applied Sciences.

Mercyhurst landed the hall of fame through the help of former Pennsylvania Gov. and U.S. Homeland Security Sec. Tom Ridge, for whom the College of Intelligence Studies is named.

The first of its kind hall of fame will recognize recipients of the William Oliver Baker Award. That's the highest honor presented by the INSA annually since 1984. Previous winners include former director of the CIA and the National Security Agency, General Michael Hayden; and former director of National Intelligence James Clapper. Both men are scheduled to attend Tuesday's ceremony, held at the National Press Club in Washington. [Read more: Knoedler/ErieNewsNow/25February2020]

DRC: Suspended Spy Chief Delphin Kahimbi Found Dead. The Congolese army deputy Chief of Staff in charge of military intelligence, died on Friday 28 February.

A relative of Joseph Kabila, Kahimbi had been suspended from his duties after being arrested on 20 February by the Directorate General of Migration.:

According to several sources within the National Security Council (CNS), General Delphin Kahimbi, FARDC Deputy Chief of Staff in charge of military intelligence, died on Friday at the 50th Anniversary Hospital in Kinshasa.

The information was confirmed to by the General's wife, Brenda Kahimbi, as well as by several high-level security and political sources, who wished to remain anonymous. The cause of death is not yet known. [Read more: AfricaReport/3March2020]

Latvian Security Service Asks for Prosecution of Alleged Recruiter for Russian Intelligence. One of Latvia's security agencies, the State Security Service (VDD) said March 2 that two weeks earlier - on 17 February - it had asked the Prosecutor General's office to initiate criminal proceedings against a Latvian citizen for attempting to recruit one of its employees as a Russian spy.

"On behalf of the Russian intelligence service the Latvian citizen sought to recruit a VDD official, who then would gather and transfer to a foreign intelligence service undisclosable information and information containing official secrets, which was available to the official in performance of the official duties and which could be used by the Russian intelligence service against the interests of the Republic of Latvia," said a release from the VDD.

While not naming the people concerned or giving many more details, the statement was considerably more forthcoming than is sometimes the case. [Read more: LSM/2March2020]

Intelligence Analyst Awarded Bronze Star for Service in Iraq. An Air Force intelligence analyst was awarded the Bronze Star for his work during a deployment to Iraq.

Master Sgt. Timothy L. Heggedahl was presented with the award during a ceremony at the Air Force Institute of Technology, Wright-Patterson Air Force Base, on Feb. 26 by Brig. Gen. James Dienst, commander of the Air Force Research Laboratory's 711th Human Performance Wing, for his meritorious service. Heggedahl was awarded the Bronze Star Medal by Lt. Gen. Joseph Guastella, U.S. Air Forces Central Command.

Heggedahl's citation states that he "distinguished himself by meritorious achievement as superintendent, Detachment 2, 370th Air Expeditionary Advisory Group, 321st Air Expeditionary Wing, Bagdad Diplomatic Support Center, Iraq while engaged in military operations against an opposing armed force" from Nov. 18, 2018, to June 25, 2019.

Heggedahl led 42 missions outside of coalition-controlled areas, traveling more than 250 miles of roadways with confirmed improvised explosive device threats, conducting 66 key leader engagements with a dozen Iraqi Air Force units and 24 Iraqi officers, the citation continued. [Read more: Rollins/RobinsAFB/28February2020]

Somalia: Mogadishu Intelligence Chief Sacked. Somalia's spy chief in the capital Mogadishu was sacked Tuesday just days after a terrorist group targeted a heavily fortified compound in Mogadishu, local media reported.

"National intelligence chief Fahad Yassin sacked Banadir region intelligence chief Ibrahim Badiyow and appointed Isse Mohamed Isse" to replace him, local media Hiran Online said.

National intelligence and Security Agency (NISA) officials who spoke to Anadolu Agency on the phone on condition of anonymity confirmed the sacking but gave no reason for it.

Badiyow "was well educated and well liked at the agency," one NISA official told Anadolu Agency. [Read more: Anadolu/3March2020]

Trial Against Three Former SREL Operatives Begins on Tuesday. Three former Luxembourg Government State Intelligence Service (SREL) operatives go on trial on Tuesday for illegal wiretapping, stealing data, and failing to respect the private sphere of their target.

The trial has been much-delayed due to the aneurysm surgery of one of the major witnesses, namely Jean-Claude Juncker.

Juncker, who was Prime Minister and Minister of State at the time of the events covered in court, was unable to testify in November due to his surgery, leading the entire trial to be delayed by several months. Due to his tenure, Juncker was effectively politically responsible for the intelligence service and would have had to authorise the recordings.

Three former SREL agents, Marco Mille, Fränk Schneider, and André Kemmer, stand accused of illegally wiretapping businessman Loris Mariotto. [Read more: RTL/3March2020]

Switzerland Files Criminal Complaint Over Crypto Spying Scandal. The Swiss government has filed a criminal complaint over the U.S. Central Intelligence Agency's alleged use of a cryptography company as a front to spy on various governments' secret communications, the Swiss attorney general's office said on Sunday.

The complaint against persons unknown for alleged breaches of the law governing export controls follows recent reports on "Operation Rubicon", which for decades involved the CIA and German BND spy services covertly reading other nations' secret messages encoded with technology sold by Swiss firm Crypto AG.

The case of Crypto, which sold encryption devices and software while being secretly owned by U.S. and German intelligence services that could freely read what it encrypted, is embarrassing for neutral Switzerland and could hurt its international reputation, particularly if it turned a blind eye.

Although the outlines of Operation Rubicon were known for years, new details about its scope and duration were made public last month by Swiss, German and U.S. investigative journalists. [Read more: Reuters/1March2020]


---
Section II - CONTEXT & PRECEDENCE

Air Force Builds Up Information Warfare Ops. The Air Force is using its first information warfare cell to support cyber operations, part of a new approach to digital, "gray zone" combat.

The IW cell brings together experts in intelligence, surveillance, and reconnaissance; electronic warfare; cyber; information operations; and public affairs, according to 16th Air Force commander Lt. Gen. Timothy Haugh. It is helping tackle overarching problems in the cyber realm including U.S. election security, protecting air defenses, and rooting out malign influence on networks.

The cell will be a pivotal player in 16th AF's evolving structure. Haugh said the organization's multiple operations centers will merge into a singular hub under one commander on March 16. Officials found those ops centers were focused on the same problems but were split up by specialty, limiting what they could do together.

As the 616th Operations Center handles daily intelligence-gathering, offensive and defensive missions in the air, on cyber networks, and across the electromagnetic spectrum, the IW cell will pull together the assets needed as the "integration point" for a particular response. [Read more: Cohen/AirForceMag/2March2020]

Queen Elizabeth Makes A Surprise Visit To London's Intelligence Agency MI5. Queen Elizabeth made a surprise visit to London's intelligence agency MI5 on Tuesday.

The monarch, 93, met with director Sir Andrew Parker at the headquarters for a private tour wearing a plum coat and matching wide-brimmed hat.

Not only did the Queen get a personal tour of the spy centre but she later thanked the agency for "the tireless work you do to keep our country safe."

While video cameras were not allowed on the tour, the official Royal Family Instagram account shared video of her speech. [Read more: Darmon/ETCanada/25February2020]

Hunt for Russian Black Ops Specialist Ranges From Spain to Bulgaria. An international manhunt for a Russian spy chief accused of plotting assassinations and coups in several countries is shedding light on how Russia's covert activities have been increasing throughout Europe, according to Western intelligence analysts.

A general of Russia's military intelligence service (GRU), Denis Sergeev, who is under investigation in Spain for his possible role in supporting Catalonia's independence drive, also has been accused of masterminding a murder attempt in Bulgaria, according to information sent by Bulgaria's public prosecutor's office to Spanish police last week.

British counterintelligence services have long suspected Sergeev of involvement in a similar attempt to poison a high-level Russian defector in Britain, Sergei Skripal. Authorities in the Balkan state of Montenegro, meanwhile, accuse him of hatching plans for a coup to block their country's recent entry into NATO.

The Kremlin has strongly denied the charges. [Read more: Arostegui/VOA/28February2020]

Estonia Joins European Intelligence Cooperation Initiative. Estonia and 22 other European countries signed an agreement in Zagreb on Wednesday to establish a cooperation platform for the exchange of information on wider activities of intelligence agencies.

The cooperation platform has been called the Intelligence College in Europe (ICE). Its purpose is to provide the opportunity to exchange and disseminate professional and academic views on a variety of intelligence-related topics to contribute to the development of a strategic intelligence culture in Europe, the ICE website states.

It also allows intelligence communities and national and European decision-makers, and citizens, to raise awareness about intelligence-related challenges and issues.

"Estonia joined this format to participate in the cooperation of the intelligence communities of European countries in accordance with the objectives of the Intelligence College in Europe," government spokesman Urmas Seaver told ERR. [Read more: ERR/29March2020]

Professor Awarded Select Fellowship for Work on Biography of Norman Holmes Pearson. Duquesne is well-known for its many faculty-led research projects that range from the humanities to health sciences, but one commonality of all research is the need for funding. Greg Barnhisel, English professor in the McAnulty College and Graduate School of Liberal Arts, has been awarded a $60,000 fellowship from the National Endowment for the Humanities, his second fellowship in seven years, to support his most recent project.

Barnhisel explained why this particular fellowship is highly coveted and competitive as it provides funding to scholars to complete research and projects associated with their work.

"[The fellowships] give recipients up to 12 months of support to work on a scholarly project, usually a book. They are highly competitive; only about 7% of applicants are funded," Barnhisel said.

This program is also responsible for a variety of funding outside of scholarly projects. [Read more: Schrum/DuquesneDuke/27February2020]

Spy or Saint? The Buddhist Monk Who Brought Russia Closer to Tibet. The British believed he was a Russian agent influencing the 13th Dalai Lama. How accurate was this suspicion?

The life of Agvan Dorzhiev (also Dorjiev) (1853-1938) was a long and interesting one, during which he left a profound mark on the political history of Central Asia in the late 19th-early 20th century and the development of Buddhism in Russia.

Born in 1853 in Khara-Shibit ulus (today in Russia's Republic of Buryatia), Agvan was interested in religion since he was a child. His education started in Shulutsky datsan (Buddhist university monastery) in Buryatia. He went on his first pilgrimage at the age of 19, first to Mongolia, then Tibet. There he continued his Buddhist education in the Drepung Monastery (one of the "great three" Gelug university monasteries in Tibet) and, after 12 years of studies, received the highest academic title in the Gelug school of Buddhism - Geshe Lharampa.

In addition to perfecting his religious knowledge, he also learned six languages and became one of the few foreigners who managed to make a career in Tibet, attaining the title of "Master of Buddhist Philosophy" (Tsanid-Hambo), and in the mid-1880s becoming one of the seven mentors of the 13th Dalai Lama, Thubten Gyatso. For many years, until the late 1910s, Agvan Dorzhiev was one of Dalai Lama's closest advisors, being his "debating partner" in philosophy and official envoy to Russia. [Read more: Zubacheva/RussiaBeyond/26February2020]


---
The F-35A Is the World's Most Dominant, Cost-Effective Fighter: The Air Force Needs to Accelerate Its Acquisition Now. The F-35 Lightning II is now the world's most dominant multi-role fighter. Its detection range, geolocation, threat identification, and system response capabilities allow the jet to detect, find, precisely fix, and destroy the world's most advanced threats, including every element within the layered Russian SA-20 surface-to-air missile (SAM) system. While it still has several rough edges, the F-35 has crossed several thresholds that make it the most lethal and cost-effective fighter in or nearing production within the NATO Alliance. The U.S. Air Force should forgo plans to buy the F-15EX and accelerate the acquisition of the F-35A.

The first combat F-35A wing in the U.S. Air Force at Hill Air Force Base received the last of its full complement of 78 stealth fighters and began combat deployments to the Middle East in 2019.

The maneuvering restrictions the jet had when it was first introduced are now completely gone, and even with a complete internal weapons load-out and full internal fuel, pilots can fight without limitation. Thirty of the wing's fighter pilots were interviewed about the jet, and all 20 with previous experience in fourth-generation fighters would rather fly the F-35 in combat than their previous fighters, including in almost every dogfight scenario they could imagine. [Read more: Venable/HeritageFoundation/l2March2020]

Turkey is a Mediocre NATO Ally, but Russia is Enemy No. 1. Turkey and Syria seem headed into a war. In the Syrian city of Idlib, at least 33 Turkish soldiers have been killed by Syrian shelling — with assistance from Russia — and 18 Syrians were then killed in retaliatory strikes. Conditions for the nearly three million refugees are horrific, with children dying and large groups on the move by foot, trying to break out of this Levant killing field.

The Syrian civil war should by now be over. Perhaps 11 million Syrians have been displaced, and more than 500,000 killed. Assad, using a horrific mixture of military tactics — nerve gas, barrel bombs dropped from helicopters, attacks against hospitals and schools, and torture of prisoners — has managed to crush the rebellion down to this final corner of the largely destroyed country. He has been abetted every step of the way by Russian President Vladimir Putin.

But now there is a fly in the ointment: President Recep Tayyip Erdogan of Turkey.

When I was the supreme allied commander of NATO at the early stages of the civil war, the long, vulnerable Turkish-Syrian border was a deep concern. I was asked repeatedly at briefings with allied heads of state why Russia was so deeply supportive of the Syrian regime. [Read more: Stavridis/Bloomberg/2March2020]


---
Section IV - Research Requests, Obituaries, Jobs
Help Choose the IAFIE 2020 Intelligence Education Instructor of the Year
If you know outstanding teachers in the field of intelligence, please nominate them as explained below, before the 1 April 2020 deadline.
The IAFIE (International Association for Intelligence Education) recognizes individuals who have excelled in intelligence instruction, which includes both academic and professional training instruction. The IAFIE Instructor of the Year Award is presented at the IAFIE Annual Conference being held in 2020 in London. The award recipient is invited to attend the event as a guest, and is provided with partial compensation for travel expenses, plus conference fees and a commemorative award.

Nominations may be submitted by a supervisor, colleague or other individual. Self-nomination is also allowed and encouraged. The nominee must submit an application package, the contents of which are described below, by 1 April. An IAFIE subcommittee will select the winner.

Read full details of the application process here.
Questions? Contact jonsmith@coastal.edu.
Jerry Liebenau, Former OSS Officer and CIA Analyst
Gerald L. Liebenau, 94, a OSS Officer and CIA Analyst, died 27 February 2020 in Bethesda, MD.
Jerry was born in 1925 near Elssholzstrasse in Berlin, Germany, where he had a relatively peaceful childhood until Jews were no longer allowed to attend public schools in 1936. His family moved to the Haberlandstrasse section of Berlin and his parents sought a variety of ways to obtain an affidavits to immigrate to the US where a relative already lived. However, time was running out and the Nazi pogrom known as Kristallnacht (1938) frightened them to escape any way they could find. Their affidavit was turned down at the time that the Nazis had started rounding up Jewish males to interrogate and deport to concentration camps. His father, hoping that by staying alive while being abroad he would have more use to the family, than imprisoned in Germany, left Germany for London in September 1938. As an outsider he was then able to arrange for all of their furniture to be moved to Scranton, PA, a few days before the Gestapo ransacked Jewish homes. The family then received visas to London and left Berlin in December 1938. They left London for the U.S. in late January 1939 on the "RMS Aquitania"; settling in Scranton, PA. The family then moved to New London, CT in 1941 where young Jerry met the woman he would later marry.
Because of Jerry's native German language skills, he was drafted into the US Army within a week of his high school graduation, trained at Camp Blanding to be a machine gunner (approximately 1942-1943), and then sent to Southern Italy in 1944. He was spotted by the OSS and shifted into their outfit which placed him in Caserta, Italy and then to a villa on the Adriatic Sea where he trained to jump from airplanes. He was then officially a part of the Austrian unit of the OSS in Vienna and spent time back in Germany searching for scientists with knowledge of atomic weaponry. He returned to Berlin briefly to seek out survivors from his family (circa 1945-1946), and then returned to the U.S. where he was discharged from the army.
After serving in the Army, Gerald went back to school and in 1950 graduated from Yale University, where he had majored in history and the Russian language.
Upon graduation, he married "his girl" -- Vivian Shepardton -- and the two moved to Arlington, VA where Jerry began work with CIA as an analyst of intelligence records. He served most of his Agency career in Europe -- which included living in Berlin for a few years -- and then back at headquarters in Langley, VA.
In retirement, he was an active translator for numerous works in German and Russian. He translated Nicholas Gonner's Luxemburgers in the New World, and Janusz Piekalkiewicz's massive World History of Espionage: Agents, Systems, Operations, and a multi-volume set titled: The Collected Clinical Works of Alfred Adler, the Austrian psychologist. He also served as a docent with the U.S. Holocaust Memorial Museum in Washington, DC, which did an oral history interview of him in April 2011. It can be viewed here and here.
His wife of 63 years, Vivian Liebenau, predeceased him. He is survived by his children, Betsi Closter, Jonathan Liebenau, Arlene Reiniger, and Janet Liebenau, and other family.
Henry Louie, Chinese Language Expert for CIA and FBIS
Henry Owen Louie, 94, a Chinese Language Expert for CIA and FBIS, died 18 February 2020 in Potomac, MD.
Born in Akron, OH, he spent his childhood in his family's village in China before returning to the US in 1939 to live with family in Easton, MD, where his father had established a successful laundry business.
In 1953 he embarked on a thirty-three year career as a Chinese language expert for the Central Intelligence Agency. Mr. Louie's distinguished service to the government included a six year overseas posting in Taiwan, and culminated in his appointment as chief of the China Political/Military Program of the Foreign Broadcast Information Service.
In retirement he played tennis and enjoyed his family and friends.
He is survived by his wife, Gloria Lee Louie, and other family.
A funeral mass will be held at 10 a.m. on 6 March 2020 at Our Lady of Mercy Catholic Church, 9200 Kentsdale Dr, Potomac, MD 20854, immediately followed by an internment of Mr. Louie's ashes at the Gate of Heaven Cemetery, 13801 Georgia Ave, Silver Spring, MD 20906.

---
IT Acquisitions Subject Matter Expert for Intelligence Community Client; Other Openings in Reston and Bolling AFB
E3/Sentinel has a funded opening for an IT Acquisitions Subject Matter Expert with specific experience in IT architecture requirements to support an IC customer. Candidate will assist in developing innovative business strategies and procurement policy/processes. Only candidates with TS/SCI clearances will be considered. Contact Rosanna Minchew rminchew@e3sentinel.com for more details.
E3/Sentinel has multiple openings for Contracts Specialists, Acquisition Analysts, Cost/Pricing Analysts and Contracts Closeout Specialists. Positions in Reston and at Bolling AFB. TS/SCI required to be considered for interview. Polygraph preferred. Contact Rosanna Minchew rminchew@e3sentinel.com for more details.
Adjunct instructors at the University of Texas at El Paso (US)
The National Security Studies Institute at the University of Texas at El Paso (UTEP) (see their website here) is seeking adjunct instructors to teach online graduate-level courses:
Legal Issues in Intelligence and National Security
Propaganda and Influence Operations
Intelligence and Counterterrorism
Political Economy of Terrorism
Risk Analysis
Emergency Management
Public Health and Homeland Security
A PhD in public policy, security studies, political science, or a related field is required.
Interested and eligible applicants should contact Stephen Coulthart (sjcoulthart@utep.edu).
Two Positions at James Madison University for Assistant or Associate Professor - Intelligence Analysis
James Madison University (JMU) located in Harrisonburg, VA, seeks applicants for two faculty positions in its Bachelor's Degree Program in Intelligence Analysis (IA). The appointments will be at the Assistant or Associate Professor level and will reside within the larger School of Integrated Sciences. The IA program offers a multidisciplinary undergraduate degree with an emphasis on methodology and technology to prepare students to become analysts, with a specialization in intelligence analysis. Its graduates have been successful in securing positions as analysts in both the public and private sectors, to include the Intelligence Community, military and law enforcement organizations, defense contractors, and major consulting firms. The program emphasizes methodology and synthesizes critical and creative thinking methods with technological tools for data collection, visualization, and analysis with situational knowledge of a problem's political, economic, social, and technological context with strong communicative and professional skills to support decision-making.
Ideal candidates will be comfortable in an interdisciplinary, diverse setting and possess the potential for becoming an excellent teacher to future analysts in one or more intelligence domains including national security, military, homeland security, law enforcement, private sector security, cyber security, and geospatial. They optimally have a background in either mixed-methods, qualitative, or quantitative research and analysis methods. We especially encourage applications from candidates that can leverage the use of systems thinking, employ data science in analysis, support the development of writing skills, or teach ethics specifically for future analysts. The typical teaching load in the school is 3 courses per semester.
We welcome applicants from all academic disciplines—to include the humanities, social sciences, and sciences—that provide a knowledge foundation for doing analysis. Prospective candidates should review our curriculum online to identify areas that match their expertise and to locate potential areas that they could help the program to develop. The program values teaching excellence as well as one-on-one professional mentoring and seeks candidates who can demonstrate potential for both. In addition, the position requires the potential for an active program of scholarly activity. The position requires either a Ph.D. in a relevant academic field by the date of hire (for a tenure-track appointment) OR Master's Degree with substantial experience in the field (for appointment on a Renewable Term Contract).
More information or applications may be found here.
New Positions Available with Thomson Reuters

Job Title: Washington Bureau Chief
Experience: 10 to 20 years
Employment Type: Full Time
Job Location: Washington, DC
Reuters, the news and media division of Thomson Reuters, is the world's largest international multimedia news provider reaching more than one billion people every day. Reuters provides trusted business, financial, national, and international news to professionals via Thomson Reuters desktops, the world's media organizat...[full details here]
________________________________________
Job Title: Account Executive, Federal
Experience: 5 to 20 years
Employment Type: Full Time
Job Location: Washington, DC
Account Executive, Federal Job Description Position Objective/ Mission This role exists to sell online legal and investigative research, integrated workflow solutions in the federal government market. Outcomes Consistently achieve monthly, quarterly, and full year new sales quotas with a mix across the sales bag. Maintain a...[full details here]
________________________________________
Job Title: Facility Security Analyst
Experience: 3 to 9 years
Employment Type: Full Time
Job Location: McLean, VA
This position is responsible for planning and establishing security procedures to comply with Federal Regulations for handling classified information and material within a program environment. This position will support a FOCI organization and perform security functions that are required by National Industrial Security Oper...[full details here]
________________________________________
Job Title: Government Analyst
Experience: 2 to 20 years
Employment Type: Full Time
Job Location: McLean, VA
Provide insightful, well researched analysis and guidance to clients bases on rigorous, in depth analysis using public records, proprietary data, and open source data (including social media). Provide client support, including but not limited to meeting client inquiries, delivering ad hoc reporting, advising on analytic bes...[full details here]
________________________________________
Assistant/Associate/Full Professor - Department of Intelligence & Security Studies, Charleston, SC - Two Openings Available
Work type: Full Time Permanent - Faculty; Location: Charleston, SC; Categories: Humanities; Payscale: Unclassified.
The Citadel's newly created Department of Intelligence & Security Studies houses some of the most popular and flourishing academic programs on campus. Since 2016, we have created both a Master of Arts (MA) and a Bachelor of Arts (BA) program in Intelligence and Security Studies; the MA program is 100% online while the BA is offered in both online and traditional formats. Our growth has created faculty openings for individuals who want to join an established team dedicated to producing principled leaders in all walks of life.
Job Responsibilities: The Citadel's School of Humanities and Social Sciences invites applications for two(2) tenure-track position in all areas of intelligence studies at the level of Assistant, Associate or Full Professor beginning in August 2020. The Department is particularly interested in individuals with experience in intelligence and big data analytics, homeland/national security, Eastern European/former Soviet area studies, applied intelligence community (IC) research, and military intelligence matters. The incumbent will be expected to teach at the undergraduate and graduate level using both traditional and online delivery methods. This is a full-time teaching, research and service position. Faculty within the School typically teach a 4+4 course load with appropriate research and service expectations.
Minimum Requirements: Applicants must have an earned doctorate from an accredited university in an area associated with intelligence studies. The ability to use or the motivation to learn technologies relevant to online teaching is required. All candidates should also be able to show effective past teaching experience, demonstrated research potential, and appropriate service activities. Advanced ABD candidates will be considered. There is also a potential for teaching additional summer courses. Salary will be competitive, and commensurate with experience and qualifications.
Preferred Qualifications: Relevant experience in the US intelligence community, the military, or other organizational contexts is preferred, but not required. Online teaching experience is preferred, but not required.
Additional Comments: Ranked as the #1 Public School in the South for nine years in a row by U.S. News and World Report, The Citadel offers a unique academic environment. The incumbent will teach members of the South Carolina Corps of Cadets (SCCC) in the classroom as well as non-cadet graduate and undergraduate students in an online venue. Regardless of the teaching milieu, Citadel faculty commit themselves to preparing the next generation of principled leaders for the military, private, and government sectors. Approximately 30% of every graduating SCCC class is commissioned into the U.S. military; the remainder seek job opportunities in the public and private arenas. Initial screening of applicants will begin immediately and continue until the position is filled. The position is expected to begin in August of 2020.
The Citadel is an Equal Opportunity / Affirmative Action employer and does not discriminate against any individual, or group of individuals, on the basis of age, color, race, disability, gender, gender identity, sexual orientation, religion, pregnancy, national origin, genetic information or veteran's status in its employment practices.The Citadel has a culturally diverse faculty and staff committed to working in a multicultural environment. We encourage applications from minorities, females, individuals with disabilities and veterans.
Interested applicants should apply now for Job No: 495785. To apply utilize the official online application and upload supporting documents to include: 1 Letter of interest addressing the qualifications listed above; 2 A curriculum vita; 3 Evidence of teaching effectiveness; In addition, please provide three professional references that can be contacted.
Syracuse University's School of Information Assistant Professor - Trustworthy Cyberspace
DePaul University, School of Computing Assistant Professor in Software Engineering
The School of Computer and Cyber Sciences Tenure Track and Tenured Positions at the Assistant, Associate, and Full Professor Levels
Department of Cyber and Computer Sciences at The Citadel Tenure-Track Positions in the Department of Cyber and Computer Sciences
Portland Community College - Computer Information Systems Instructor, CIS / Windows System Administration
Augusta University - Tenure Track and Tenured Positions at the Assistant, Associate, and Full Professor Levels
FireEye Has Many Intelligence Positions Available For You - Worldwide - Contract, Full-time, Part-time, Interns
Explore the many career and contractor intelligence jobs available here. Jobs openings in Cyber Security include - Advisory, Architecture, Digital Forensics & Incident Response, Penetration Testing, Threat Research. They positions are needed here: New York, Chicago, Manila, Reston, Dallas, Atlanta, Suitland, Singapore, Denver, Las Vegas, Phoenix, Doha, Stockholm, London, Milpitas, multiple cities in Australia, Washington, Indianapolis, Tampa, Santiago, Alexandria, Seattle, Carlsbad, Houston, San Francisco, Arlington, Dubai, Amsterdam, Ft Belvoir, Minneapolis, Mexico City, San Diego, Boston, El Segundo, Philadelphia, San Antonio, Chiyoda, Ft Huachuca, Ft Gordon, Ft Meade, Ft Shafter, Kuwait City, Seoul, Sttutgart, Salt Lake City, Austin, Dublin, Bangalore, Cork, Colorado Springs... Explore the many career and contractor intelligence jobs available here.
---
AFIO EDUCATIONAL EVENTS IN COMING TWO MONTHS....
Friday, 6 March 2020, 1 pm - Westchester, CA - AFIO Los Angeles holds 2020 Annual Business Meeting
The AFIO Los Angeles Chapter holds its annual business meeting. Agenda Items are • Election of Chapter Officers; • Membership Growth; • 2020 Speakers. Members are asked to add any topics to the agenda when they RSVP.
We strongly encourage participation from all members.
RSVP to afio_la@yahoo.com
Location: Alejos Restaurant 8343 Lincoln Blvd, Westchester, CA 90045
Questions to Vincent Autiero, President, AFIO-Los Angeles Chapter, afio_la@yahoo.com, 5651 W Manchester Ave, Los Angeles, CA 90045.
Wednesday, 11 March 2020, 1130 - Albuquerque, NM - AFIO New Mexico Chapter hears Tom Dyble on "The FBI and Martin Luther King Jr: From SOLO to Memphis."
SPEAKER: Tom Dyble will do a presentation on the book The FBI and Martin Luther King, Jr.: From "SOLO" to Memphis by David J. Garrow. Tom is trying to understand the bad wrap associated by J. Edgar Hoover.
Location of event: "Sunnyside Up Cafe" on Menaul just east of Louisiana, next door to Chili's, 6909 Menaul Boulevard Northeast, Albuquerque, NM 87110, (505) 888-3447. Google map location here.
Fee to attend: Meeting is Free.
Timing: 11:00 a.m. (arrive, order lunch - available at separate cost), 11:30 a.m. (call to order), 1 p.m. (adjourn).
Our meetings are normally open to present and former members of Federal, Military (uniformed and civilian), State and Local Agencies and selective others who support the Intelligence Community. A link to a map for this location is on our chapter website: www.afionm.org.
If you desire further information, please contact one of the following: Sam Shaw - at 505-379-3963 at President@afionm.org; or Tom Dyble - at 505-299-3242 or Vice-President@afionm.org.
NOTE: THIS EVENT HAS BEEN CANCELED -- Wednesday, 11 March 2020, 11:30 a.m. - San Francisco, CA - The "Andre Le Gallo" San Francisco Chapter hosts FBI Special Agent Michael Gimbel
2019 ended with a shooting at a kosher grocery store in New Jersey, a stabbing at a rabbi's home during a Hanukkah celebration in New York, and another shooting at a church in Texas. What can we do to prevent, mitigate, and respond to violent incidents?
FBI Special Agent Michael Gimbel will speak about FBI's Counterterrorism Division, the law enforcement response to the recent Gilroy Garlic Festival shooting, and the vital inter-agency relationship and coordination which facilitates and expedites the handling and processing of the crime scene.
Timing: No-host cocktails at 11:30, luncheon meeting and presentation begins at noon.
Location: Basque Cultural Center - San Francisco, CA
EVENT HAS BEEN CANCELED.
Thursday, 19 March 2020, 11:30 a.m. - Colorado Springs - The AFIO Rocky Mountain Chapter hosts Amb. Mary Ann Casey discussing "Lessons in Cooperation: A Diplomat's View"
Synopsis: Amb. Mary Ann Casey will share some of the challenges she encountered during her tenure in oil-and-gas-rich Algeria, where she served as ambassador at a time of major conflict between the Algerian security services and that country's home-grown Islamic fundamentalist movement. Close collaboration with the US national security community was central to the success of the Embassy's efforts to ensure the safety of American personnel, while pursuing the US foreign policy agenda in Algeria. Ambassador Casey's talk will provide an insider's account of how events unfolded.
Biography: Ambassador Mary Ann Casey is Middle East specialist, who developed deep area expertise in Arab North Africa while working in that region for twelve years as an American diplomat.
Among other assignments, she was selected by President Bush Sr. to be his Ambassador to Algeria and later by President Clinton to serve as his Ambassador to Tunisia.
Mary Ann also spent more than a decade in Washington D.C. at the State Department, where she had a variety of responsibilities, including Director for North Africa. Later, in the Bureau of Intelligence and Research, she managed a team of 100 professionals engaged in global research and analysis for the Secretary of State.
As a Diplomat in Residence at the University of Colorado, Mary Ann worked with several of the University's international studies programs and taught a course on the Art and Practice of Diplomacy. After her retirement from the State Department, she lectured periodically at the Joint Forces Staff College in Norfolk Virginia as part of the Senior Fellows Program. She now serves on the Advisory Board for CU-Boulder's Program in International Affairs.

For more information please contact our Secretary Steve Pease at steve13507@gmail.com
Saturday, 21 March 2020, 5:30 p.m. - Oak Lawn, IL - Terry Donat, MD discusses "Pandemics and National Security" at Indiana/Illinois AFIO Chapter
AFIO's Indiana/Illinois Chapter hosts Terry Donat, M.D. speaking on "Pandemics and National Security."
Dr. Terry Donat is the first physician certified as an Illinois Professional Emergency Manager. He is trained in acute Radiation Emergency Medicine, the Medical Management of Chemical and
Biological Casualties and as a past National Disaster Life Support Instructor. He also serves as an external resource and speaker for both the FBI Chicago Field Office WMD Coordinator and
the FBI WMD Directorate Biological Countermeasure Unit. He is a lifetime member of the Special Operations Medical ssociation (SOMA); serves as the Health and Public Health Sector
Chief for lnfraGard Chicago; serves aside James Terbush, MD MPH, as co-chair of the Healthcare Industry Advisory Group of the Jr'ifraGard National Disaster Resilience Council and is a member
of the Healthcare and Public Health Sector Cloordin􀀻ting Council - DHS/DHHS. He is keenly interested in the promising capabilities of DNA data storage, as well as assessing those threats, risks, and vulnerabilities of infrastructure and evolving dual-use technologies relevant to homeland and national security.
Event includes cocktails and dinner.
Fee: $40 per person.
Location: Stony Creek Golf Course, 5850 W 103rd St, Oak Lawn, IL 60453
REGISTER or MORE INFO: Contact John Fanning (Treasurer) at 708-433-9522 or johnf@fanninginc.com
8 May 2020, 10:30 a.m. - 2 p.m. - Tysons, VA - AFIO National Spring Luncheon features Washington Post columnist David Ignatius, and Author, former Post reporter Stephen Vogel
HOLD THE DATE: The morning speaker will be David Ignatius, author of the upcoming intelligence novel, The Paladin: A Spy Novel [WW Norton, May 2020]. Ignatius is a Washington Post columnist and has been covering the Middle East and CIA for nearly three decades.
Of Ignatius' forthcoming novel, reviewers wrote: "For me nothing is more intriguing than life inside our intelligence agencies. David Ignatius uses his decades' worth of reporting experience to take us there in this fast-moving, jaw-dropping drama that reads like it was ripped from the headlines. I recommend you grab a copy and hold on tight for the entire thrilling ride." — Brian Kilmeade, Fox News.
"David Ignatius once again takes readers behind the scenes of America's most secretive bureaucracy, revealing in fiction what could never be declassified in fact. The Paladin is yet another stirring read from one of America's most revered reporters and gifted storytellers." — Joe Scarborough, MSNBC
The afternoon program features Stephen Vogel, author of Betrayal in Berlin: The True Story of the Cold War's Most Audacious Espionage Operation [Custom House, Sept 2019]. Vogel is a former Washington Post reporter who covered the federal government. He was based overseas from 1989 through 1994 where he covered the fall of the Berlin Wall and the first Gulf War, and subsequently reported on military operations in Somalia, Rwanda, the Balkans, Afghanistan and Iraq.
Of Betrayal in Berlin, Former CIA Officer Sandy Grimes wrote: "The best spy book I have ever read...Steve Vogel is a talented and gifted writer who brings the personalities and idiosyncrasies of every participant in this operation to life. His research is vast, varied, and full of detail. It is truly one of those rare books you can't put down."
Registration will open in April.
Venue: DoubleTree by Hilton, 1960 Chain Bridge Rd, Tysons Corner, VA 22182 Phone: (703) 893-2100. Directions at this link.
Saturday, 9 May 2020 -- Indialantic, FL - Florida Satellite Chapter hears Col Prince on the Qu'ran
The speaker will be AFIO Florida Satellite Chapter member Col. Bill Prince, USA (ret.) In his active duty career, Bill served in both Special Forces and as an Army Ranger. After retirement from the military, Bill was awarded a graduate degree from Harvard and as an Army Ranger. He left active duty after eight years to pursue a career as a CIA case officer, serving several tours in hostile environments. The topic of his address will be the Qu'ran, a subject he has studied extensively.
Florida Satellite Chapter meets at the Doubletree Melbourne Beach Oceanfront, 1665 N. Highway A1A, Indialantic, FL 32903.
For more information, or to register for the luncheon meeting, contact Chapter Treasurer Rhonda Rhoads, P.O Box 410158, Melbourne, FL 32941. Rhonda can also be reached at afiofsctreas@gmail.com and at 321 626 -4465.
---
Other Upcoming Events from Advertisers, Corporate Sponsors, and Others
Thursday, 5 March 2020, 6 - 8 p.m. - New York, NY - Spy Sites of New York City Book Launch at the KGB Espionage Museum
There are more spies working in New York City today than ever before, according to H. Keith Melton, the espionage advisor on The Americans, and Robert Wallace, the former chief of the CIA's Office of Technical Service. But, as the authors show in their fascinating new book Spy Sites of New York City: A Guide to the Region's Secret History (Georgetown University Press; February 2020), the city has always been a hotbed of international intrigue. Review of book by Jacqueline Cutler at NY Daily News is here.
The authors kick-off the release of this new book at this KGB Espionage Museum event.
AGENDA: 6 pm: Reception; 6:15 -7 pm: KGB Espionage Museum tour; 7 pm: Talk with the authors of SPY SITES OF NEW YORK CITY.
Authors: Keith Melton, Robert Wallace, and Henry B. Schlesinger. Moderator: Gerald Goodwin, the head of the New York Chapter of the Association of Foreign Intelligence Officers
Ticket price: $30
Ticket will include a signed copy of SPY SITES, an exclusive tour of the museum, book talk, and refreshments.
For more information about the book, see here.
Location: KGB Espionage Museum, 245 W 14th St, New York, NY 10011
REGISTER HERE.
Thursday, 19 March 2020, 1:30 - 2:30 p.m. - Annapolis Junction, MD - National Cryptologic Museum Lecture Series: Queens of Code
Queens of Code: Panel of women working on top secret information technology projects at NSA in the 1960s, 70s, and 80s tell their stories.
Queens of Code is a women's technology history project involving collecting stories, experiences, and insights from women who worked in information technology at NSA in the 1960s, 70s,and 80s. Because their jobs were often top secret, and they worked on sensitive national security programs, they couldn't discuss what they were doing - not even with their families. In many cases, they couldn't even confirm they worked at the Agency. Queens of Code is bringing the NSA's computing women out of the shadows, allowing them to claim their rightful place in history and the ever-evolving story of how technology has altered America's position in the world. These women created innovations in technology and expanded women's career opportunities for the generations that followed.
Come hear their stories. Come ask them questions. Free event, however, registration is required and seats are limited. Click the link below to register via EventBrite.
More information and registration at this link.
Location: National Cryptologic Museum - Magic Room, 8290 Colony Seven Rd, Annapolis Junction, MD 20701. [Program description provided by NCM]
Saturday, 21 March 2020, 11 a.m. - 12:30 p.m. - Reston, VA - CHINA: Confronting an Emerging National Security Threat with Admiral, U.S. Navy (Retired), Jonathan W. Greenert Former Chief of Naval Operations Former Member of the Joint Chiefs of Staff
This event is co-sponsored by the Movement for the Renaissance of Vietnam, the National Bureau of Asian Research, and The Institute of World Politics

About the lecture: The discussion is on PRC's military rise, its maritime strategic interests and on U.S. military strategy to confront the

About the speaker: Admiral, U.S. Navy (Retired), Jonathan W. Greenert served as the 30th Chief of Naval Operations from 2011-2015. As CNO, he was a member of the Joint Chiefs of Staff. Other Washington experience included: Vice CNO (2009-11), Navy's CFO (N8), and Navy Deputy Comptroller. He has extensive military leadership experience (10 years) in the Indo-Pacific region, including service in Japan (3 years) and Guam (1 year). A nuclear engineer by training/education, he commanded the nuclear submarine USS HONOLULU. He currently serves as a director on corporate boards, a consultant and advisor. He holds the John M. Shalikashvili Chair in National Security Studies at the National Bureau of Asian Research.

Event location: Pragmatics, Inc, 1761 Business Center Dr, Reston, VA 20190
Register here.
25-28 March 2020 - Honolulu, HI - International Studies Association (ISA) conference Intelligence Studies Section (ISA/ISS) Panels at ISA2020
Various links below provide a view of the extensive program of the Intelligence Studies Section being held as part of ISA2020...the International Studies Association (ISA) conference in Honolulu, Hawaii on 25-28 March. The Intelligence Studies Section is one of thirty thematic sections that make up the ISA, has approximately 400 members, and has been sponsoring research about intelligence as a function of government since the mid-1980s. This Intelligence Studies Section content (4 straight days, 30 panels and roundtables) is one (highly impressive) small part of ISA's much larger conference.
Information about the conference is here.
And the full conference program of almost 300 pages is here.
The ISA/Intelligence Studies Section Program (kindly supplied by Steve Marrin) may be viewed here.
26-29 April 2020 - Tampa, FL - USGIF GEOINT 2020 Symposium
US Geospatial-Intelligence Foundation's GEOINT 2020 Symposium has the theme, "New Decade, New Challenges, New Strategies."
Learn more. Network with more than 4,000 GEOINT Community professionals from 40+ countries spanning defense, intelligence, homeland security, industry, and academia. See the latest in technology, services, and solutions from 200+ exhibitors in more than 100,000 sq ft of exhibit space. Learn from 50+ hours of professional development, training, and education sessions with PDUs and CEUs.
All official GEOINT 2020 hotels are conveniently located within walking distance of the Tampa Convention Center, and are only available through the GEOINT Symposium website and our registration partner SPARGO.
Do not delay reserving your hotel room, booking your flight, or registering for the nation's premier geospatial intelligence event of the year, which returns to Tampa from Sunday, April 26, to Wednesday, April 29.
View program, speakers, and registration requirements here.
14 May 2020, 5:30 p.m. - Washington, DC - Save the Date! PenFed Foundation's 2020 Night of Heroes Gala

PUT ON CALENDAR AND HOLD THE DATE: The Pentagon Federal (PenFed Credit Union) Foundation will be hosting their spectacular Night of Heroes Gala on Thursday, 14 May 2020 at the Mandarin Oriental in Washington, D.C. Last year's annual gala raised over $1.5 million and honored children of military families.
VIP Reception at 5:30 PM
General Reception and Silent Auction at 6:00 PM
Location: The Mandarin Oriental, 1330 Maryland Ave SW, Washington, D.C.
Attire: Black Tie or Military Dress
RSVP: April 25, 2020
Click here to learn more or sponsor a table.
Wednesday, 25 March 2020, 1:30 - 2:30pm - Annapolis Junction, MD - National Cryptologic Museum Lecture Series: Women in Cryptology
In the world of codes and ciphers, women have always played a role. Throughout American history, women have provided vital information to military leaders, done the daily grind searching for the enemy's secrets, and pioneered new scientific fields. Learn about the contributions and talents these women have brought to cryptology.
This lecture is free, but registration is required. Register via EventBrite - see link below.
More information and registration available at this link.
Location: National Cryptologic Museum - Magic Room, 8290 Colony Seven Rd, Annapolis Junction, MD 20701. [Program description provided by NCM]
25 - 27 June 2020 - Pordenone, Italy - IAFIE 2020 Annual Conference - Intelligence Education, Research and Practice in the 2020s
The 2020 Annual Conference of the International Association for Intelligence Education (IAFIE) will be held in Pordenone, Italy from June 25 to 27. This year IAFIE and IAFIE EC are joining hands in organising a joint annual conference examining the intelligence requirements for the next decade 2020- 2030, with its changing threat environment and fast developing technological advancements. The conference papers will reach out to other cognate disciplines for a multidisciplinary approach and brings scholars and practitioners together for a blend of research and applied discussions on intelligence. This will be the 5th Annual Conference of IAFIE EC. The topics/themes for the conference are Intelligence Analysis, Intelligence Domains, Management of Intelligence Community, and Intelligence Education and Research. Authors of recent books, monographs and reports in line with these topics/themes are also invited to submit proposals to participate in Author Roundtables. Please email your general enquiries to iafie2020@ecoleuniversitaireinternationale.net. More information here.
---
In addition to the new Royal Blue long sleeve shirts, and the gray long sleeve hooded sweatshirts, the AFIO Store also has the following items ready for quick shipment:
NEW: LONG and Short-Sleeved Shirts with embroidered AFIO Logo and New Mugs with color-glazed permanent logo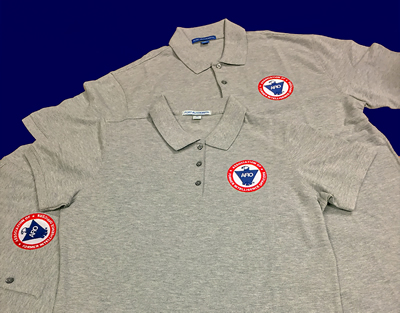 Show your support for AFIO with our new Polo Shirts. Be the first to buy these new, high quality, subtle heathered grey short sleeve shirts, and dark blue long sleeved shirts, of shrink and wrinkle resistant fine cotton with a soft yet substantial feel. They feature a detailed embroidered AFIO seal. Get a shirt for yourself and consider as gifts for colleagues, family, and friends. Only $45 each including shipping.
Sizes of (M) men or (W) women shirts; Small, Medium, Large, XL, XXL, and XXXL. At this time all orders will arrive as Short Sleeve shirts.
You may pay by check or credit card. Complete your order online here or mail an order along with payment to: AFIO, 7600 Leesburg Pike, Ste 470 East, Falls Church, VA 22043-2004. Phone orders at 703-790-0320. If interested in other shirt colors or sleeve lengths, contact Annette at: annettej@afio.com.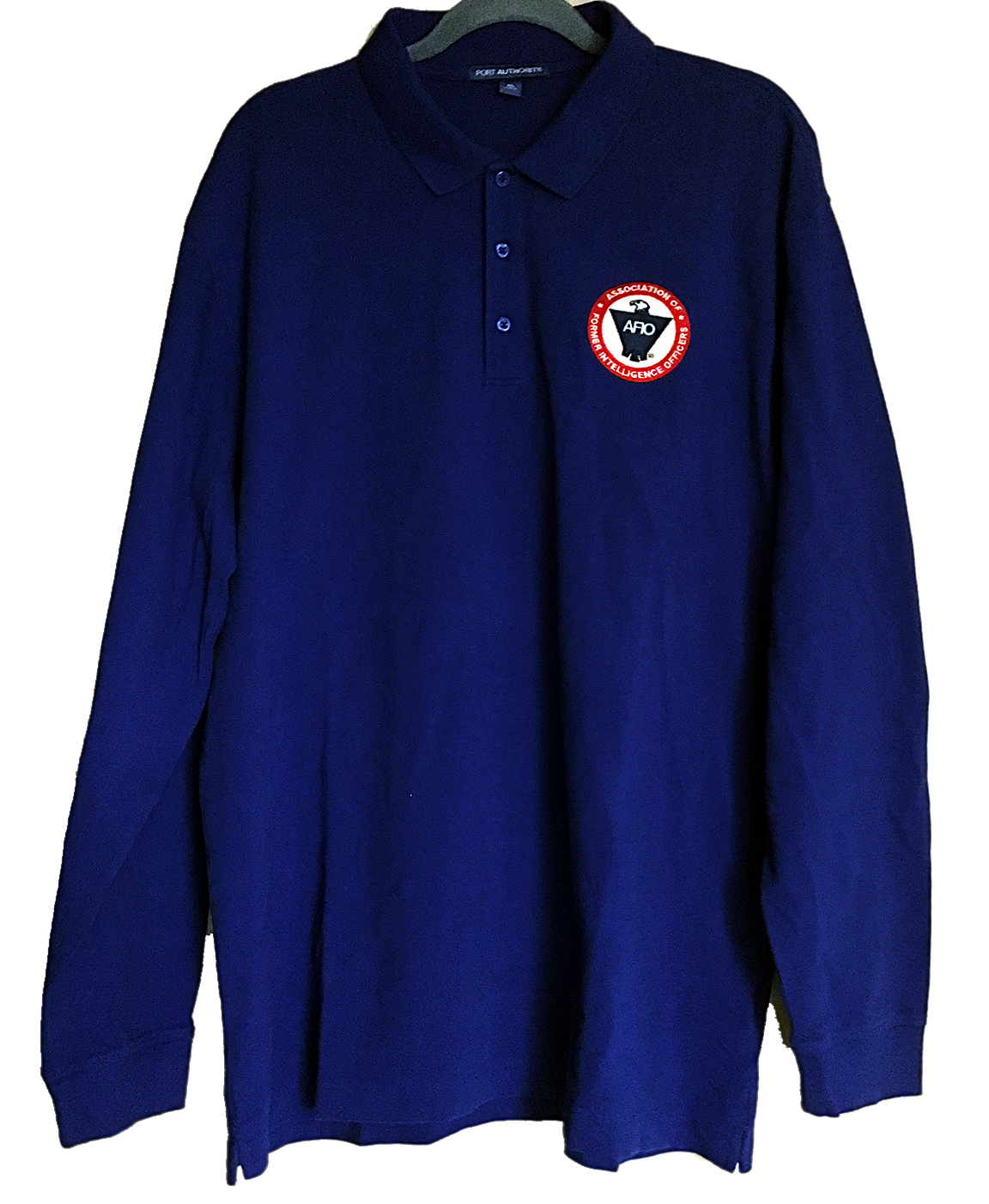 Long-Sleeved Shirts and Hooded Sweatshirts with embroidered AFIO Logo
Show your support for AFIO with our new long-sleeved Polo Shirts and Hooded Sweatshirts.
Both items are high quality and shrink resistant and feature a detailed embroidered AFIO seal. The color of the long-sleeved Polo Shirts is royal blue; the price is $55 and includes shipping.
The Hooded Sweatshirts are dark grey; the price is $70 and includes shipping.
Purchase a shirt and sweatshirt for yourself and consider as gifts for colleagues, family, and friends.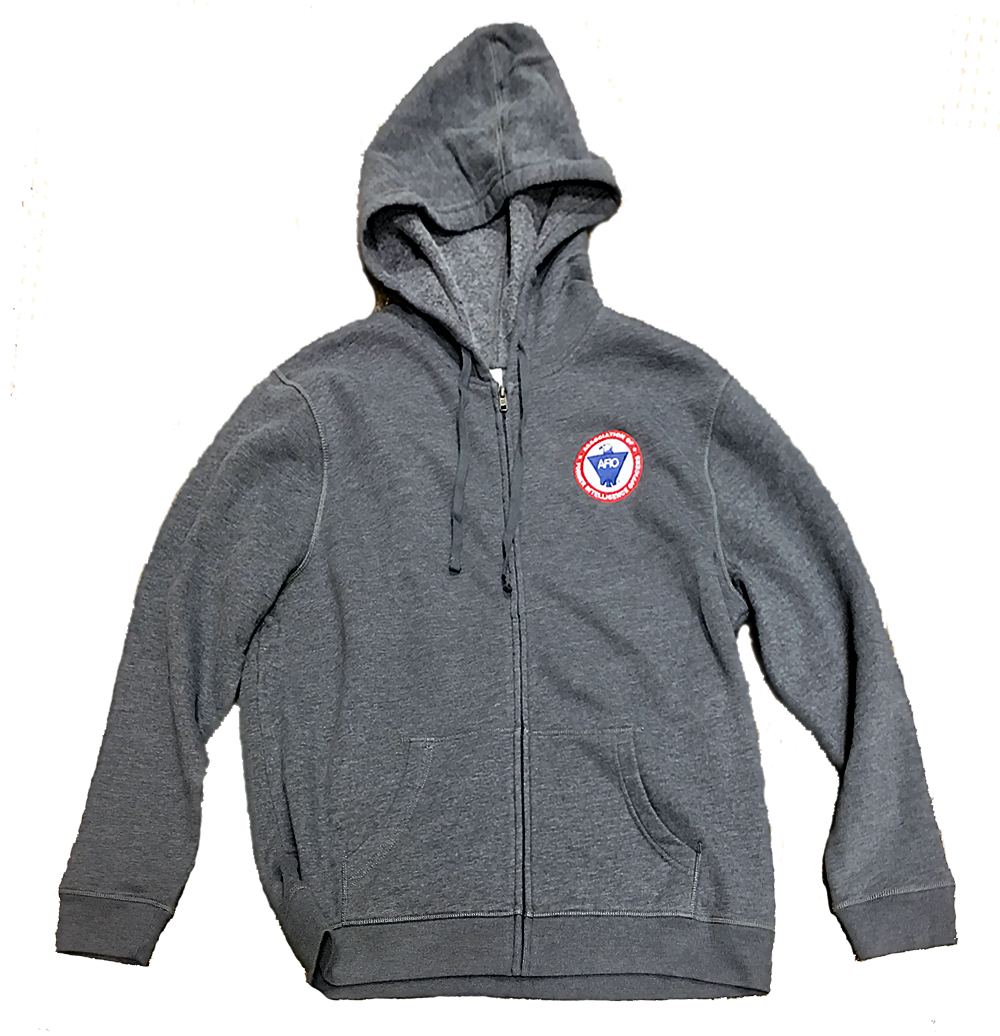 Both items are available in men's sizes: Small, Medium, Large, XL, XXL, and XXXL. The long-sleeved Polo Shirts and Hooded Sweatshirts are not available in ladies' sizes.
---
NEW: Mug with color glazed logo. Made in America. (We left out all that lead-based glaze and hidden toxins in those mugs made in China being sold by other organizations). Also sturdy enough to sit on desk to hold pens, cards, paperclips, and candy.
This handsome large, heavy USA-made ceramic mug is dishwasher-safe with a glazed seal. $35 per mug includes shipping. Order this and other store items online here.
AFIO's Intelligence Community Mousepads are a great looking addition to your desk...or as a gift for others.
Made in USA. Click image for larger view.
These 2017 mousepads have full color seals of all 18 members of the US Intelligence Community on this 8" round, slick surface, nonskid, rubber-backed mouse pad with a darker navy background, brighter, updated seals. Also used, by some, as swanky coasters. Price still only $20.00 for 2 pads [includes shipping to US address. Foreign shipments - we will contact you with quote.] Order MOUSEPADS here.
---
Guide to the Study of Intelligence and When Intelligence Made a Difference
"AFIO's Guide to the Study of Intelligence" has sold out in hard-copy.
However, it is available in digital form in its entirety on the AFIO website here.

Also available on the website here are the individual articles of AFIO's history project "When Intelligence Made a Difference" that have been published to date in The Intelligencer journal. More articles will be forthcoming in future editions.
---
Disclaimers and Removal Instructions
Weekly Intelligence Notes (WINs) are commentaries on Intelligence and related national security matters, based on open media sources, selected, interpreted, edited and produced for non-profit educational uses by members and WIN subscribers.
REMOVAL INSTRUCTIONS: We do not wish to add clutter to inboxes. To discontinue receiving the WINs:
a) IF YOU ARE A MEMBER - click here: UNSUBSCRIBE and supply your full name and email address where you receive the WINs. Click SEND, you will be removed from list. If this link doesn't open a blank email, create one on your own and send to afio@afio.com with the words: REMOVE FROM WINs as the subject, and provide your full name and email address where you are currently receiving them.
b) IF YOU ARE NOT A MEMBER, and you received this message, someone forwarded this newsletter to you [contrary to AFIO policies]. Forward to afio@afio.com the entire WIN or message you received and we will remove the sender from our membership and distribution lists. The problem will be solved for both of us.
CONTENTS of this WIN [HTML version recipients - Click title to jump to story or section, Click Article Title to return to Contents. This feature does not work for Plaintext Edition or for some AOL recipients]. If you wish to change to HTML format, let us know at afio@afio.com. The HTML feature also does not work for those who access their e-mail using web mail...however NON-HTML recipients may view the latest edition each week in HTML at this link: https://www.afio.com/pages/currentwin.htm
---
WINs are protected by copyright laws and intellectual property laws, and may not be reproduced or re-sent without specific permission from the Producer. Opinions expressed in the WINs are solely those of the editor's or author's listed with each article. AFIO Members Support the AFIO Mission - sponsor new members! CHECK THE AFIO WEBSITE at www.afio.com for back issues of the WINs, information about AFIO, conference agenda and registrations materials, and membership applications and much more!
(c) 1998 thru 2020. AFIO, 7600 Leesburg Pike, Suite 470 East, Falls Church, VA 22043-2004. Voice: (703) 790-0320; Fax: (703) 991-1278; Email: afio@afio.com
---
About AFIO | Membership Renewal | Change of Address | Upcoming Events | Chapter Locations | Corporate/Institutional Memberships | Careers in Intelligence Booklet | Guide to the Study of Intelligence | Intelligencer Journal | Weekly Intelligence Notes | To Make A Donation | AFIO Store | Member-Only Section | Code of Ethics | Home Page
---