---
CONTENTS
Section I - INTELLIGENCE HIGHLIGHTS
Section II - CONTEXT & PRECEDENCE
Section IV - Research Requests, Obituaries, Jobs
Other Upcoming Events from Advertisers, Corporate Sponsors, and Others
For Additional AFIO and other Events two+ months or more... Calendar of Events

WIN CREDITS FOR THIS ISSUE: The WIN editors thank the following special contributors: rsy, ec, po, pj, mh, km, gh, mk, rd, fm, kc, jm, mr, jg, th, ed, and fwr. They have contributed one or more stories used in this issue.

The WIN editors attempt to include a wide range of articles and commentary in the Weekly Notes to inform and educate our readers. However, the views expressed in the articles are purely those of the authors, and in no way reflect support or endorsement from the WIN editors or the AFIO officers and staff. We welcome comments from the WIN readers on any and all articles and commentary.

CAVEATS: IMPORTANT: AFIO does not "vet" or endorse research inquiries, career announcements, or job offers. Reasonable-sounding inquiries and career offerings are published as a service to our members, and for researchers, educators, and subscribers. You are urged to exercise your usual caution and good judgment when responding, and should verify the source independently before supplying any resume, career data, or personal information.]
If you are having difficulties with the links or viewing this newsletter when it arrives by email, members may view the latest edition each week at this link.

---

Guide to the Study of Intelligence and When Intelligence Made a Difference

"AFIO's Guide to the Study of Intelligence" has sold out in hard-copy.
However, it is available in digital form in its entirety on the AFIO website here.

Also available on the website here are the individual articles of AFIO's history project "When Intelligence Made a Difference" that have been published to date in The Intelligencer journal. More articles will be forthcoming in future editions.

---

---

AFIO Gift items for colleagues or self.

Long-Sleeved Shirts and Hooded Sweatshirts with embroidered AFIO Logo

Show your support for AFIO with our new long-sleeved Polo Shirts and Hooded Sweatshirts.

Both items are high quality and shrink resistant and feature a detailed embroidered AFIO seal. The color of the long-sleeved Polo Shirts is royal blue; the price is $55 and includes shipping.

The Hooded Sweatshirts are dark grey; price is $70 and includes shipping.

Purchase a shirt and sweatshirt for yourself and consider as gifts for colleagues, family, and friends.

Both items are available in men's sizes: Small, Medium, Large, XL, XXL, and XXXL. The long-sleeved Polo Shirts and Hooded Sweatshirts are not available in ladies' sizes.

You may pay by check or credit card. Complete your order online here or mail an order along with payment to: AFIO, 7600 Leesburg Pike, Ste 470 East, Falls Church, VA 22043-2004. Phone orders at 703-790-0320.

PAGE DOWN TO BOTTOM OF THE NOTES TO SEE MORE AFIO GIFTS. All of these items are appropriate for intelligence officers, colleagues, recruitments, agents, advisors, and family.

---
---
Special Items for our members:
A message from AFIO President Jim Hughes, to all members, subscribers, speakers, event attendees and guests.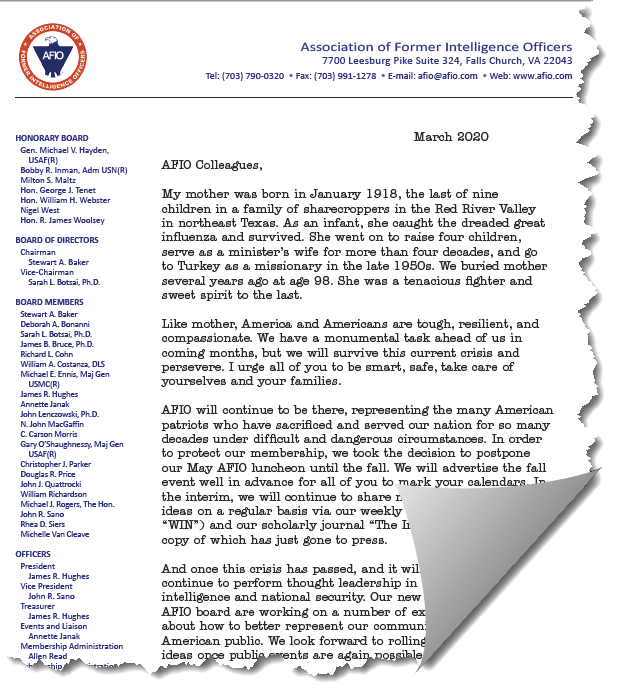 ---
A message from Darrell Weber of Starr Wright USA: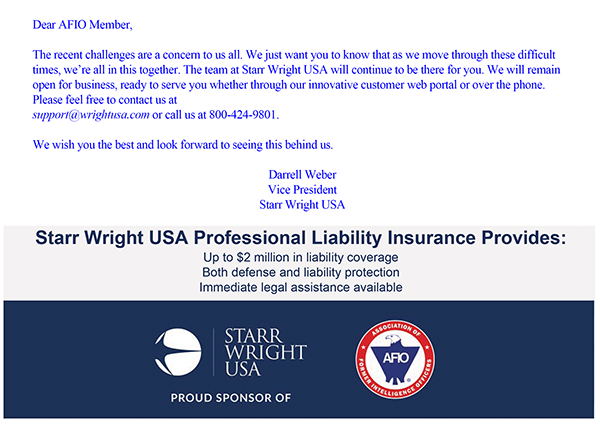 ---
The Arkin Group has released the following topics in their "Other News" email to clients:
With COVID-19 dominating headlines - from infection rates to border closures to economic fallout and bailout - important stories that would have once been front-page news have been pushed to the bottom half of A6. Here is a roundup of some significant global developments you may have missed this week:
Joe Biden has emerged as the presumptive Democratic nominee for president after winning the Florida, Arizona, and Illinois primaries...
A foreign government carried out a cyber-attack on U.S. Department of Health and Human Services as U.S. confronts coronavirus outbreak...
China has expelled American journalists working for the Wall Street Journal, Washington Post, and New York Times in China...
The U.S. and Iran trade fire in Iraq.
Two American prisoners - one in Iran and the other in Lebanon - have been released.
Market analysts warn that oil prices could fall to $20.00/barrel or lower - as the Saudi-Russia oil price war rages on.
U.S. and Mexico agree to close border to non-essential traffic.
Read the full report and learn more about The Arkin Group's unique services here.
---
World Health Organization list of pandemics and viruses. Almost all came from China.
Link is here. The WHO's list of viruses, epidemics, pandemics, plagues emanating from China since 2000. Includes other health crises they created e.g., putting ground up plastic (melamine) in milk and baby formula—killing thousands and destroying kidney function of thousands more. Doesn't list 2007 and 2014 toxins they put in pet foods and exported which killed thousands of dogs and cats. See links here ... and here.
You would think these pandemics would cause them to institute better sanitary conditions for animals, and implement tighter food safety. Not so. Instead they hide emerging diseases, obfuscate, then release false numbers, and later concoct propaganda to blame the diseases on other countries, while their markets continue selling rodents, bats, snakes, and other wildlife. And snooker certain figures in the U.S. press to attack those who point out the Coronavirus is a "Chinese virus" — one that originated in Wuhan, China. As did the majority of viruses which turned into pandemics in the past half century.
---
Newly Released and Forthcoming Books of the Week
The Return of Great Power Rivalry: Democracy versus Autocracy from the Ancient World to the U.S. and China
by Matthew Kroenig
(Oxford University Press, Mar 2020)
"In this age of widespread pessimism about the future of democracy, this book makes a powerful argument: democracy is not only better for the people, but may have the edge against autocracies in the coming great power rivalry. It is an erudite, well-argued and uplifting book." — Daron Acemoglu, Institute Professor at the Massachusetts Institute of Technology
The US has been the most powerful country in the world for over seventy years, but recently the U.S. National Security Strategy declared that the return of great power competition with Russia and China is the greatest threat to U.S. national security. Many analysts predict that America's autocratic rivals will have at least some success in disrupting—and, in the longer term, possibly even displacing—U.S. global leadership.

Kroenig argues that this conventional wisdom is wrong. Draws on historical evidence and the works of figures like Herodotus, Machiavelli, and Montesquieu and combines with social science research. Democracies tend to excel in great power rivalries, and have unique economic, diplomatic, and military advantages in long-run geopolitical competitions. He considers autocratic advantages as well, but shows these are more than outweighed by their vulnerabilities. Kroenig demonstrates that despite its many problems, the U.S. is better positioned to maintain a global leadership role than either Russia or China.
A vitally important book for anyone concerned about the future of global geopolitics, The Return of Great Power Rivalry provides both an innovative way of thinking about power in international politics and an optimistic assessment of the future of American global leadership.
Book may be ordered here.
---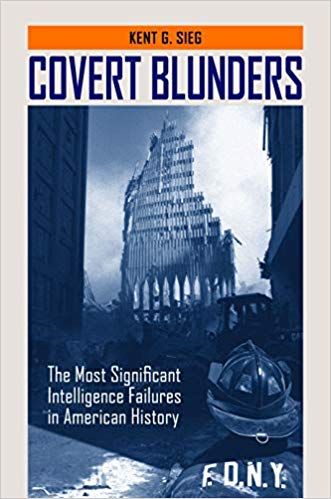 Covert Blunders: The Most Significant Intelligence Failures in American History
by Kent G. Sieg
(Praeger, Mar 2020)
From the French and Indian War of the mid-1700s to the War on Terrorism in the 21st century, Sieg details the costliest and most tragic intelligence mistakes in American history.
Three dozen "intelligence failure" case studies cover the who, what, where, why, and how of the major U.S. intelligence failures throughout history.
Provides expert assessments of intelligence missteps by Sieg, an academic historian who is also a trained and experienced intelligence collector and analyst with the U.S. Air Force.
Provides reflections on how intelligence mistakes might be avoided in the future.
Book may be ordered here.
---
Section I - INTELLIGENCE HIGHLIGHTS

Coronavirus Confinement Challenges Intelligence Services. The home confinement of hundreds of millions of people worldwide to halt coronavirus contagion has presented intelligence services with a challenge: monitoring an explosion in internet traffic, above board and not, even as their own capacity is reduced.

The global health crisis has exposed the internet as both a tool and a potential target for malefactors, experts say, with agents - many themselves working from home - having to sift through the deluge looking for credible threats.

Criminals could take advantage of the disarray to launch attacks on government and nuclear systems, alter scientific or electoral data, paralyse servers, or spread fake news.

Developing countries and those with weak monitoring systems are most at risk, with Western nations better geared to pick up external cyber threats. [Read more: Lauras/IBT/23March2020]

Intelligence Community Wrestles with a Security Threat: Coronavirus Hardship. As government work slows and non-essential workers are sent home to prevent the spread of COVID-19, money is getting tighter - and many in the national security community are wondering whether their security clearances could be on the line as a result.

The U.S. national security apparatus has played a key role in the coronavirus response, monitoring how the disease has affected closed societies like China, Iran, and North Korea while working to prevent the virus from spreading inside the nation's intelligence and defense agencies themselves.

But the disruption of normal government operations as agencies implement "social distancing" policies could leave federal contractors and their employees without a paycheck, potentially jeopardizing their ability to hold or maintain a security clearance if they start to miss payments and incur debt. Clearance holders or applicants who have debt are considered more vulnerable to bribery or coercion, and financial irresponsibility is generally considered to be indicative of irresponsibility in other areas. [Read more: Bertrand/Politico/23March2020]

DOD to Extend Maximum Telework to Contractors. The Defense Department wants contractors to maximize telework opportunities in the midst of the coronavirus outbreak.

Kim Herrington, the acting director for Defense Pricing and Contracting in the Office of the Secretary of Defense, issued a memo March 20 instructing defense companies to "consider unprecedented flexibilities" during the COVID-19 pandemic and allow workers to do their jobs remotely "without mission degradation."

"We are asking that the same maximum telework flexibilities extended to DOD service members and civilians also be made available to contractors when contract services can be delivered, without mission degradation, while off-site," Herrington wrote. [Read more: Williams/FCW/24March2020]

Grenell Appoints Two Women to Top Intel Jobs. Richard Grenell, the acting Director of National Intelligence, has appointed two top female intelligence executives to coordinate America's counter-terror operations.

Grenell named Lora Shiao as acting director of the National Counterterrorism Center (NCTC), and she will become the agency's deputy director, pending Senate confirmation. Shiao previously served as the NCTC's executive director. She will be the first woman to run the NCTC.

Clare Linkins, formerly the director of strategic operational planning for NCTC, will move into Shiao's previous job as the NCTC's new executive director.

Amanda Schoch, the assistant director of national intelligence for strategic communications, remarked in a statement that Grenell is "excited and proud" to announce the promotions of Shiao and Linkins. [Read more: Patten/Newsmax/23March2020]

Election 2020: Iran-Contra Spy Wins Florida Beach Town Mayor's Race. A pardoned Iran-Contra American spy won his bid for mayor of tiny Palm Beach Shores, an unneighborly clash between neighbors resulted in likely defeat for a Lantana Councilman and the first contested election in 11 years in Jupiter Inlet Colony saw an incumbent in danger of losing his seat.

In Palm Beach Shores, Alan Fiers ousted Mayor Myra Koutzen with backing from about 55 percent of voters, Tuesday's results showed.

Fiers' bloc for town commission - former Mayor Tom Mills and former Commissioner Scott "Surf Doc" McCranels - led by slim margins over challenger Tracy Larcher and Commissioners Gil Gilgallon and Brian Tyler.

Fiers, who headed the CIA's Central American Task Force during the Iran-Contra arms-for-hostages scandal, worked with the man at the center of the scandal, Lt. Col. Oliver North. In 1991, Fiers became the first former CIA official to admit knowledge of the scheme. He was among 14 people convicted and six pardoned. [Read more: Persaud/PBPost/17March2020]


---
Section II - CONTEXT & PRECEDENCE

Spies Working From Home: How Coronavirus Is Impacting U.S. Intelligence Networks Across the World. In a foreign capital recently, an American spy was facing an unexpected dilemma: how to cancel a clandestine first meeting with a promising new recruit? People were not leaving their homes, so the usually crowded shops, bars, buses, parks, and restaurants were empty, and there was no longer a place to meet without arousing suspicion.

While the coronavirus is exacting a far larger toll on people around the world who are losing income, jobs and even their lives to the pandemic, it also poses an unprecedented problem for intelligence case officers stationed around the world whose job it is to meet the agents they're recruiting or running without being noticed or risking their own, their contacts', and their contacts' families' liberty and lives. The pandemic has slowed the pace of America's adversaries' spy networks, as well, as they too have turned their attention to combating the virus, U.S. officials say.

"It's hard enough to maintain your cover in a crowded city," said a U.S. intelligence officer, who spoke on condition of anonymity. With an increasing number of cities on lockdown, "it's even harder to avoid attracting attention on an empty street," the officer said. "And you can't just pick up the phone or send a text." [Read more: Walcott/TIME/19March2020]

A Spy and a Democracy Pedlar: The Complicated Truths in the Life of Australian Citizen Yang Hengjun. In the photo from 1992, Yang Hengjun's mouth is tilted into a barely-there hint of a smile, which hangs below smiling eyes and a serious pair of spectacles.

He was supposedly working for the Ministry of Foreign Affairs in the southern province of Hainan, and the photo shows him wearing a boxy moss green police-style uniform.

There's just one small issue: The Ministry of Foreign Affairs doesn't have a uniform and the clothes Yang is wearing, according to a Beijing-based security analyst, belong to China's most powerful and feared spy agency, the Ministry of State Security (MSS).

"The MSS is a sprawling security intelligence service with wide ranging powers," said Clive Hamilton, co-author of an upcoming book about global Chinese influence operations, Hidden Hand. [Read more: ABCNews/22March2020]

Defense Intelligence Agency Museum. The Defense Intelligence Agency (DIA) Museum tells the story of the agency's nearly 60 years of rooting out the world's military secrets.

The DIA is one of the country's "big five" intelligence services and acts as a combat support agency. It's focused mission is made clear at the entrance of the museum, which one reaches after walking past an enormous red mural of major historical events in a giant foyer.

Alongside notorious, and celebrated espionage relics are narrations about the villains and heroes in the annals of military history. Prominent among the displays is the story of DIA analyst Ana Belen Montes, who spied for Cuba from 1985 to 2001 and the rescue of Jessica Lynch. [Read more: AtlasObscura/24March2020]

How the CIA's Predecessor Helped the Allies Crush Hitler and the Nazi. In utter silence, the saboteurs carefully wired their target for demolition. All knew even the slightest noise might alert sentries to their presence underneath the Occoquan Creek bridge in northern Virginia. Finally, with explosives and detonators in place, the team of infiltrators made their escape undetected by patrolling watchmen.

During World War II, thousands of would-be secret agents roamed rural Maryland and Virginia while learning the "ungentlemanly arts" of espionage, covert action, and irregular warfare. These operatives in training belonged to the U.S. Office of Strategic Services (OSS), the first national-level intelligence organization. Soon they would put their skill and nerve to the ultimate test - as clandestine warriors fighting far behind enemy lines.

On July 11, 1941, President Franklin D. Roosevelt took a momentous step toward centralizing America's intelligence-gathering efforts when he authorized the office of the Coordinator of Information (COI). In doing so, FDR hoped to create a single agency responsible for sorting and analyzing reports collected by more than a dozen U.S. diplomatic, law enforcement, and military establishments. Chosen to head the COI was prominent Wall Street attorney Colonel William J. Donovan. [Read more: WarfareHistoryNetwork/19March2020]


---
Putin's Secret Intelligence Agency Hacked: Dangerous New 'Cyber Weapons' Now Exposed. Red faces in Red Square, again. Last July, I reported on the hacking of SyTech, an FSB (Federal Security Service) contractor working on internet surveillance tech. Now, reports have emerged from Russia of another shocking security breach within the FSB ecosystem. This one has exposed "a new weapon ordered by the security service," one that can execute cyber attacks on the Internet of Things (IoT) - the millions of connected devices now in our homes and offices.

The goal of the so-called "Fronton Program" is to exploit IoT security vulnerabilities en masse - remember, these technologies are fundamentally less secure than other connected devices in homes and offices. In fact, one of the breached technical documents reported by BBC Russia even explains that "the Internet of Things is less secure than mobile devices and servers." The security contractors highlight retained default "factory" passwords as the obvious weakness, one that is easy to exploit.

"Why is our own government spying on us through the IoT?" the hackers ask on Twitter. "In fact, spies on the whole world. How do they do it?" In an earlier tweet, they say "we can prove Kremlin henchmen crack our computers and spy on us." [Read more: Doffman/Forbes/21March2020]

Last Year, the U.S. Intelligence Community Warned of a Coronavirus Pandemic: Will We Heed their Climate Warnings? In the absence of a public hearing and release of the U.S. Intelligence Community's "Worldwide Threat Assessment" this year, it is instructive to look at last year's assessment to see what the nation's intelligence professionals were predicting. The following passage was particularly striking:
We assess that the United States and the world will remain vulnerable to the next flu pandemic or largescale outbreak of a contagious disease that could lead to massive rates of death and disability, severely affect the world economy, strain international resources, and increase calls on the United States for support. Although the international community has made tenuous improvements to global health security, these gains may be inadequate to address the challenge of what we anticipate will be more frequent outbreaks of infectious diseases because of rapid unplanned urbanization, prolonged humanitarian crises, human incursion into previously unsettled land, expansion of international travel and trade, and regional climate change.
Given the Intelligence Community's clear assessment of the threat from pandemics over a year ago, serious questions naturally follow: What additional policies and measures could have been put into place to prepare for the potential for "massive rates of death and disability," or how it would "severely affect the world economy?" And do the small numbers (so far) of deaths from coronavirus (compared with seasonal annual flu which kills 700,000 worldwide without all the ballyhoo) override the warnings from the IC? [Read more: Climate&Security/18March2020]

Intelligence: Chinese Camera Commandos. American military intelligence agencies are trying to figure out what is behind the recent arrest of ten Chinese who were caught brazenly entering restricted areas to take photographs of secret installations and operations. There may have been others who got in and out and were not caught. Most of those involved appear to be taking advantage of U.S. law since anyone caught illegally entering a base and taking photos or videos can spend as little as a year in jail if they plead guilty, while a ten year sentence is more likely if they go to trial. The first such incident resulted in a one-year sentence but the other eight are facing more scrutiny, even though four of these had diplomatic immunity and were expelled.

The first such Chinese student caught doing this, in late 2018, pled guilty and spent a year in jail for it. He finished that sentence in November 2019. That guilty plea was obtained by dropping several more serious charges. After this, there were three more incidents of Chinese students doing the same thing at the same Key West naval base. Meanwhile, two Chinese diplomats and their wives were caught after driving boldly through the security gate of a Virginia base. They and their wives had had diplomatic immunity and could only be expelled from the country. In March a Chinese woman was caught after illegally entering a Mar-a-Lago Florida resort owned by the American president and sometimes used for presidential meetings. In September another Chinese woman was caught trying the same thing. One of the Chinese women was found to have connections with Chinese intelligence.

The first incident could be considered a rogue operation but eight more after the first man gets a light sentence indicates something more deliberate and widespread. [Read more: StrategyPage/20March2020]

Ben Macintyre on Ian Fleming and James Bond. With the release of latest James Bond film "No Time to Die" postponed from April to November due to the COVID-19 outbreak, millions of Bond fans around the world will have to be content to watch the older Bond films, or perhaps they should go back to the original source - Ian Fleming's James Bond novels.

They could also read some of the many books written about the popular character and his creator, such as two fine biographies of the late Ian Fleming, John Pearson's "The Life of Ian Fleming" and Andrew Lycett's "Ian Fleming: The Man Behind James Bond."

Ben Macintyre, a columnist for the London Times and the author of "The Spy and the Traitor: The Greatest Espionage Story of the Cold War," (which I reviewed in these pages) "A Spy Among Friends: Kim Philby and the Great Betrayal" and "Agent Zigzag: A True Story of Nazi Espionage, Love and Betrayal," also wrote an interesting book called "For Your Eyes Only: Ian Fleming and James Bond."

He wrote the book in 2008 as a companion to the Imperial War Museum exhibition that was held to celebrate the centenary of Ian Fleming's birth. The exhibition examined the late thriller writer and his fictional character in historical context. The exhibition also looked at Ian Fleming's experiences as a naval intelligence officer in World War II and how they informed his plots and characters. [Read more: Davis/WashingtonTimes/18March2020]
---
Section IV - Research Requests, Obituaries, Jobs
Help Choose the IAFIE 2020 Intelligence Education Instructor of the Year
If you know outstanding teachers in the field of intelligence, please nominate them as explained below, before the 1 April 2020 deadline.
The IAFIE (International Association for Intelligence Education) recognizes individuals who have excelled in intelligence instruction, which includes both academic and professional training instruction.

Nominations may be submitted by a supervisor, colleague or other individual. Self-nomination is also allowed and encouraged. The nominee must submit an application package, the contents of which are described below, by 1 April. An IAFIE subcommittee will select the winner.

Read full details of the application process here.
Questions? Contact jonsmith@coastal.edu.
Nat Alderman, US Army Intelligence, Army Security Agency (NSA)
Nathaniel J Alderman Jr, Col, USA (Ret), RDJTF CS GP, 87, a former Army Security Agency (NSA) employee, died 10 March 2020 in Saint Petersburg, FL.
He was born in Eunice, LA , raised in Pooler. GA. He graduated from Savannah High School in 1950, and attended Georgia Tech until 1952, when he enlisted in the US Army to support the Korean War. He
graduated from the USA Command and General Staff College in 1966 and later completed a BA degree from the University of Georgia. Savannah, GA, in 1974.
In the Army, he served as a high-speed Morse intercept operator. After receiving his commission. he served in operational and command positions in seven stateside facilities. including the Pentagon and NSA. He served overseas in Turkey, Alaskan Aleutian Islands, Germany, and Vietnam. He retired in 1982 with rank of Colonel. He was initially commissioned to serve in USA Combat Engineers from the Corp of Engineers Officer Candidate School, but served the majority of his 30 years specializing in Signals Intelligence, Signals Security, and Electronic Warfare. He enjoyed his contributions to each of these military functions. and all the Army comrades he met along the way, plus those from Joint Operations with the US Air Force, Marine Corps, Navy units and British. German and Vietnamese organizations. He felt honored to have these varied assignments and experiences.
His military achievements include two awards of the Army Legion of Merit, the Defense Meritorious Service Medal, the Army Meritorious Service Medal, three awards of the Army Commendation Medal, the Army Good Conduct Medal, Army General Staff ID Badge, and two foreign awards, the RVN Cross of Gallantry with Silver Star. Unit and service awards include the Presidential Unit Citation, Army Meritorious Unit Medal, Army of Occupation Medal (Berlin ). National Defense Service Medal and two overseas Combat Service Bars.
After his assignment to MacDill Air Force Base in 1977, he lived in St. Petersburg, FL with his wife, Janet, who predeceased him in 2019\
He is survived by five children, grandchildren, and other family.
Internment with military honors was at the Sarasota National Cemetery, Sarasota, FL [We thank Suncoast Chapter officers and friends for supplying the obituary]
Pam Balow (Tovar), former CIA Chief of Station
Pamela Kay Balow Tovar, a senior CIA officer and former Chief of Station, died of mesothelioma on 15 March 2020 in McLean, VA.
Pam grew up in Oak Park, IL. She graduated from Rosary College in 1963 and served in Bangkok, Thailand with the State Department until 1965. She later joined the Central Intelligence Agency and returned to Bangkok where she became fluent in the Thai language and was the embassy's most experienced political officer.
Pam's career at the CIA advanced with increasing responsibility through tours of duty in Rome, Singapore, Chicago, and Canberra, where she was Chief of Station. Pam was Chief of the National Resettlement Operations Center (NROC) when she retired after 30 years in 1997.
In 1975, Pam married fellow CIA officer and Chief of Station B. Hugh Tovar. It was his second marriage. They enjoyed a long and happy marriage sharing their love of family and many interests such as travel and playing golf and tennis. Pam was an excellent card-player and in retirement became an avid gardener and accomplished potter.
In retirement, she and Hugh moved to Champion, PA where they were active members of the Catholic Church of St. Raymond of the Mountains and of the Pike Run Club, where Pam served on the Board. Hugh predeceased Pam in June of 2015.
Pam is survived by two brothers, three sisters, and other family.
Pam's internment alongside her beloved husband Hugh in the St. Raymond's Cemetery will take place at a later date.

---
IT Acquisitions Subject Matter Expert for Intelligence Community Client; Other Openings in Reston and Bolling AFB
E3/Sentinel has a funded opening for an IT Acquisitions Subject Matter Expert with specific experience in IT architecture requirements to support an IC customer. Candidate will assist in developing innovative business strategies and procurement policy/processes. Only candidates with TS/SCI clearances will be considered. Contact Rosanna Minchew rminchew@e3sentinel.com for more details.
E3/Sentinel has multiple openings for Contracts Specialists, Acquisition Analysts, Cost/Pricing Analysts and Contracts Closeout Specialists. Positions in Reston and at Bolling AFB. TS/SCI required to be considered for interview. Polygraph preferred. Contact Rosanna Minchew rminchew@e3sentinel.com for more details.
Adjunct instructors at the University of Texas at El Paso (US)
The National Security Studies Institute at the University of Texas at El Paso (UTEP) (see their website here) is seeking adjunct instructors to teach online graduate-level courses:
Legal Issues in Intelligence and National Security
Propaganda and Influence Operations
Intelligence and Counterterrorism
Political Economy of Terrorism
Risk Analysis
Emergency Management
Public Health and Homeland Security
A PhD in public policy, security studies, political science, or a related field is required.
Interested and eligible applicants should contact Stephen Coulthart (sjcoulthart@utep.edu).
Two Positions at James Madison University for Assistant or Associate Professor - Intelligence Analysis
James Madison University (JMU) located in Harrisonburg, VA, seeks applicants for two faculty positions in its Bachelor's Degree Program in Intelligence Analysis (IA). The appointments will be at the Assistant or Associate Professor level and will reside within the larger School of Integrated Sciences. The IA program offers a multidisciplinary undergraduate degree with an emphasis on methodology and technology to prepare students to become analysts, with a specialization in intelligence analysis. Its graduates have been successful in securing positions as analysts in both the public and private sectors, to include the Intelligence Community, military and law enforcement organizations, defense contractors, and major consulting firms. The program emphasizes methodology and synthesizes critical and creative thinking methods with technological tools for data collection, visualization, and analysis with situational knowledge of a problem's political, economic, social, and technological context with strong communicative and professional skills to support decision-making.
Ideal candidates will be comfortable in an interdisciplinary, diverse setting and possess the potential for becoming an excellent teacher to future analysts in one or more intelligence domains including national security, military, homeland security, law enforcement, private sector security, cyber security, and geospatial. They optimally have a background in either mixed-methods, qualitative, or quantitative research and analysis methods. We especially encourage applications from candidates that can leverage the use of systems thinking, employ data science in analysis, support the development of writing skills, or teach ethics specifically for future analysts. The typical teaching load in the school is 3 courses per semester.
We welcome applicants from all academic disciplines—to include the humanities, social sciences, and sciences—that provide a knowledge foundation for doing analysis. Prospective candidates should review our curriculum online to identify areas that match their expertise and to locate potential areas that they could help the program to develop. The program values teaching excellence as well as one-on-one professional mentoring and seeks candidates who can demonstrate potential for both. In addition, the position requires the potential for an active program of scholarly activity. The position requires either a Ph.D. in a relevant academic field by the date of hire (for a tenure-track appointment) OR Master's Degree with substantial experience in the field (for appointment on a Renewable Term Contract).
More information or applications may be found here.
New Positions Available with Thomson Reuters

Job Title: Washington Bureau Chief
Experience: 10 to 20 years
Employment Type: Full Time
Job Location: Washington, DC
Reuters, the news and media division of Thomson Reuters, is the world's largest international multimedia news provider reaching more than one billion people every day. Reuters provides trusted business, financial, national, and international news to professionals via Thomson Reuters desktops, the world's media organizat...[full details here]
________________________________________
Job Title: Account Executive, Federal
Experience: 5 to 20 years
Employment Type: Full Time
Job Location: Washington, DC
Account Executive, Federal Job Description Position Objective/ Mission This role exists to sell online legal and investigative research, integrated workflow solutions in the federal government market. Outcomes Consistently achieve monthly, quarterly, and full year new sales quotas with a mix across the sales bag. Maintain a...[full details here]
________________________________________
Job Title: Facility Security Analyst
Experience: 3 to 9 years
Employment Type: Full Time
Job Location: McLean, VA
This position is responsible for planning and establishing security procedures to comply with Federal Regulations for handling classified information and material within a program environment. This position will support a FOCI organization and perform security functions that are required by National Industrial Security Oper...[full details here]
________________________________________
Job Title: Government Analyst
Experience: 2 to 20 years
Employment Type: Full Time
Job Location: McLean, VA
Provide insightful, well researched analysis and guidance to clients bases on rigorous, in depth analysis using public records, proprietary data, and open source data (including social media). Provide client support, including but not limited to meeting client inquiries, delivering ad hoc reporting, advising on analytic bes...[full details here]
________________________________________
Many other jobs available with Thomson-Reuter. Email Brian Lemley for a list with descriptions and links.
FireEye Has Many Intelligence Positions Available For You - Worldwide - Contract, Full-time, Part-time, Interns
Explore the many career and contractor intelligence jobs available here. Jobs openings in Cyber Security include - Advisory, Architecture, Digital Forensics & Incident Response, Penetration Testing, Threat Research. They positions are needed here: New York, Chicago, Manila, Reston, Dallas, Atlanta, Suitland, Singapore, Denver, Las Vegas, Phoenix, Doha, Stockholm, London, Milpitas, multiple cities in Australia, Washington, Indianapolis, Tampa, Santiago, Alexandria, Seattle, Carlsbad, Houston, San Francisco, Arlington, Dubai, Amsterdam, Ft Belvoir, Minneapolis, Mexico City, San Diego, Boston, El Segundo, Philadelphia, San Antonio, Chiyoda, Ft Huachuca, Ft Gordon, Ft Meade, Ft Shafter, Kuwait City, Seoul, Sttutgart, Salt Lake City, Austin, Dublin, Bangalore, Cork, Colorado Springs... Explore the many career and contractor intelligence jobs available here.
---
AFIO EDUCATIONAL EVENTS IN COMING TWO MONTHS....

CANCELLED for Public Safety from Coronavirus - Saturday, 9 May 2020 -- Indialantic, FL - Florida Satellite Chapter hears Col Prince on the Qu'ran

The speaker will be AFIO Florida Satellite Chapter member Col. Bill Prince, USA (ret.) After graduating from West Point, Bill served in Vietnam with both Ranger and Special Forces units. He resigned his regular army commission to accept a position as a CIA case officer, with subsequent experiences in numerous hostile environments. He has a graduate degree from Harvard, where his studies focused on the Middle East. The topic of his address will be the Qur'an, a subject he has studied extensively.

Please note that attendance at Florida Satellite Chapter meetings is always well within current CDC guidelines against gatherings of fifty or more.

Timing: 11:30 AM - 12:15 PM: Social Hour, greet old, new members and guests. Cash bar. 12:15 PM: Sit Down lunch

TO ATTEND: Prepaid reservations are required which must be received by 2 May 2020.

Florida Satellite Chapter meets at the Doubletree Melbourne Beach Oceanfront, 1665 N. Highway A1A, Indialantic, FL 32903.
For more information, or to register for the luncheon meeting, contact Chapter Treasurer Rhonda Rhoads, P.O Box 410158, Melbourne, FL 32941. Rhonda can also be reached at afiofsctreas@gmail.com and at 321-626-4465. CANCELLED for Public Safety from Coronavirus.

RESCHEDULED from Spring: Friday, 23 October 2020, 10:30 a.m. - 2 p.m. - Tysons, VA - AFIO National Fall Luncheon features Washington Post columnist David Ignatius, and Author, former Post reporter Stephen Vogel

HOLD THE DATE: The morning speaker will be David Ignatius, author of the upcoming intelligence novel, The Paladin: A Spy Novel [WW Norton, May 2020]. Ignatius is a Washington Post columnist and has been covering the Middle East and CIA for nearly three decades.
Of Ignatius' forthcoming novel, reviewers wrote: "For me nothing is more intriguing than life inside our intelligence agencies. David Ignatius uses his decades' worth of reporting experience to take us there in this fast-moving, jaw-dropping drama that reads like it was ripped from the headlines. I recommend you grab a copy and hold on tight for the entire thrilling ride." — Brian Kilmeade, Fox News.
"David Ignatius once again takes readers behind the scenes of America's most secretive bureaucracy, revealing in fiction what could never be declassified in fact. The Paladin is yet another stirring read from one of America's most revered reporters and gifted storytellers." — Joe Scarborough, MSNBC
The afternoon program features Stephen Vogel, author of Betrayal in Berlin: The True Story of the Cold War's Most Audacious Espionage Operation [Custom House, Sept 2019]. Vogel is a former Washington Post reporter who covered the federal government. He was based overseas from 1989 through 1994 where he covered the fall of the Berlin Wall and the first Gulf War, and subsequently reported on military operations in Somalia, Rwanda, the Balkans, Afghanistan and Iraq.
Of Betrayal in Berlin, Former CIA Officer Sandy Grimes wrote: "The best spy book I have ever read...Steve Vogel is a talented and gifted writer who brings the personalities and idiosyncrasies of every participant in this operation to life. His research is vast, varied, and full of detail. It is truly one of those rare books you can't put down."
Registration will open in late September.

Venue: DoubleTree by Hilton, 1960 Chain Bridge Rd, Tysons Corner, VA 22182 Phone: (703) 893-2100. Directions at this link.
---
Other Upcoming Events from Advertisers, Corporate Sponsors, and Others
CANCELLED for Public Safety from Coronavirus - 25-28 March 2020 - Honolulu, HI - International Studies Association (ISA) conference Intelligence Studies Section (ISA/ISS) Panels at ISA2020
Various links below provide a view of the extensive program of the Intelligence Studies Section being held as part of ISA2020...the International Studies Association (ISA) conference in Honolulu, Hawaii on 25-28 March. The Intelligence Studies Section is one of thirty thematic sections that make up the ISA, has approximately 400 members, and has been sponsoring research about intelligence as a function of government since the mid-1980s. This Intelligence Studies Section content (4 straight days, 30 panels and roundtables) is one (highly impressive) small part of ISA's much larger conference.
Information about the conference is here.
And the full conference program of almost 300 pages is here.
The ISA/Intelligence Studies Section Program (kindly supplied by Steve Marrin) may be viewed here. CANCELLED for Public Safety from Coronavirus
CANCELLED for Public Safety from Coronavirus - Wednesday, 25 March 2020, 1:30 - 2:30pm - Annapolis Junction, MD - National Cryptologic Museum Lecture Series: Women in Cryptology
In the world of codes and ciphers, women have always played a role. Throughout American history, women have provided vital information to military leaders, done the daily grind searching for the enemy's secrets, and pioneered new scientific fields. Learn about the contributions and talents these women have brought to cryptology.
This lecture is free, but registration is required. Register via EventBrite - see link below.
More information and registration available at this link.
Location: National Cryptologic Museum - Magic Room, 8290 Colony Seven Rd, Annapolis Junction, MD 20701. [Program description provided by NCM] CANCELLED for Public Safety from Coronavirus
CANCELLED for Public Safety from Coronavirus - 26-29 April 2020 - Tampa, FL - USGIF GEOINT 2020 Symposium
US Geospatial-Intelligence Foundation's GEOINT 2020 Symposium has the theme, "New Decade, New Challenges, New Strategies."
Learn more. Network with more than 4,000 GEOINT Community professionals from 40+ countries spanning defense, intelligence, homeland security, industry, and academia. See the latest in technology, services, and solutions from 200+ exhibitors in more than 100,000 sq ft of exhibit space. Learn from 50+ hours of professional development, training, and education sessions with PDUs and CEUs.
All official GEOINT 2020 hotels are conveniently located within walking distance of the Tampa Convention Center, and are only available through the GEOINT Symposium website and our registration partner SPARGO.
Do not delay reserving your hotel room, booking your flight, or registering for the nation's premier geospatial intelligence event of the year, which returns to Tampa from Sunday, April 26, to Wednesday, April 29.
View program, speakers, and registration requirements here.
17 June 2020, 10 a.m. to 1 p.m. - Annapolis Junction, MD - The NCMF Summer Cryptologic Program features Seth Jones on "Covert Action."
(Date is subject to change depending upon COVID-19 related restrictions.)

This National Cryptologic Museum Foundation 2020 Summer program features Political Scientist & Author Seth Jones. Jones is a senior advisor at the Center for Strategic and International Studies (CSIS) in Washington, DC. His most recent book, A Covert Action: Reagan, the CIA, and the Cold War Struggle in Poland, details the dramatic untold story of one of the CIA's most successful intelligence operations during the Cold War, which has important implications for today's threat from Russia. Learn more about Jones's books.
Registration is not yet open, but the fee will be $25 and will include lunch. For your convenience, we will offer easy online registration. You may also mail-in your registration fee using the Flyer/Registration form (coming soon). Or mail checks to NCMF, P.O. Box 1682, Fort George G. Meade, Maryland 20755-9998, and include the names of all registrants. For more details, please call the NCMF office at 301-688-5436.

Visit the NCMF Event Page for updates. (Date is subject to change depending upon COVID-19 related restrictions.)
CANCELLED for Public Safety from Coronavirus - 25 - 27 June 2020 - Pordenone, Italy - IAFIE 2020 Annual Conference - Intelligence Education, Research and Practice in the 2020s
The 2020 Annual Conference of the International Association for Intelligence Education (IAFIE) will be held in Pordenone, Italy from June 25 to 27. This year IAFIE and IAFIE EC are joining hands in organising a joint annual conference examining the intelligence requirements for the next decade 2020- 2030, with its changing threat environment and fast developing technological advancements. The conference papers will reach out to other cognate disciplines for a multidisciplinary approach and brings scholars and practitioners together for a blend of research and applied discussions on intelligence. This will be the 5th Annual Conference of IAFIE EC. The topics/themes for the conference are Intelligence Analysis, Intelligence Domains, Management of Intelligence Community, and Intelligence Education and Research. Authors of recent books, monographs and reports in line with these topics/themes are also invited to submit proposals to participate in Author Roundtables. Please email your general enquiries to iafie2020@ecoleuniversitaireinternationale.net. More information here. CANCELLED for Public Safety from Coronavirus
NEW DATE - Saturday, 24 October 2020, 5:30 p.m. - Washington, DC - Save the Date! PenFed Foundation's 2020 Night of Heroes Gala
PUT ON CALENDAR AND HOLD THE DATE: The Pentagon Federal (PenFed Credit Union) Foundation will be hosting their spectacular Night of Heroes Gala on Saturday, 24 October 2020 at the Mandarin Oriental in Washington, D.C. Last year's annual gala raised over $1.5 million and honored children of military families.
VIP Reception at 5:30 PM
General Reception and Silent Auction at 6:00 PM
Location: The Mandarin Oriental, 1330 Maryland Ave SW, Washington, D.C.
Attire: Black Tie or Military Dress
RSVP: October 2, 2020
Click here to learn more or sponsor a table.
---
In addition to the new Royal Blue long sleeve shirts, and the gray long sleeve hooded sweatshirts, the AFIO Store also has the following items ready for quick shipment:
NEW: LONG and Short-Sleeved Shirts with embroidered AFIO Logo and New Mugs with color-glazed permanent logo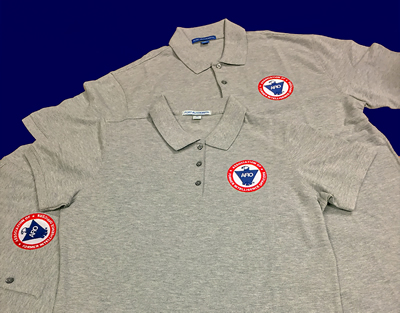 Show your support for AFIO with our new Polo Shirts. Be the first to buy these new, high quality, subtle heathered grey short sleeve shirts, and dark blue long sleeved shirts, of shrink and wrinkle resistant fine cotton with a soft yet substantial feel. They feature a detailed embroidered AFIO seal. Get a shirt for yourself and consider as gifts for colleagues, family, and friends. Only $45 each including shipping.
Sizes of (M) men or (W) women shirts; Small, Medium, Large, XL, XXL, and XXXL. At this time all orders will arrive as Short Sleeve shirts.
You may pay by check or credit card. Complete your order online here or mail an order along with payment to: AFIO, 7600 Leesburg Pike, Ste 470 East, Falls Church, VA 22043-2004. Phone orders at 703-790-0320. If interested in other shirt colors or sleeve lengths, contact Annette at: annettej@afio.com.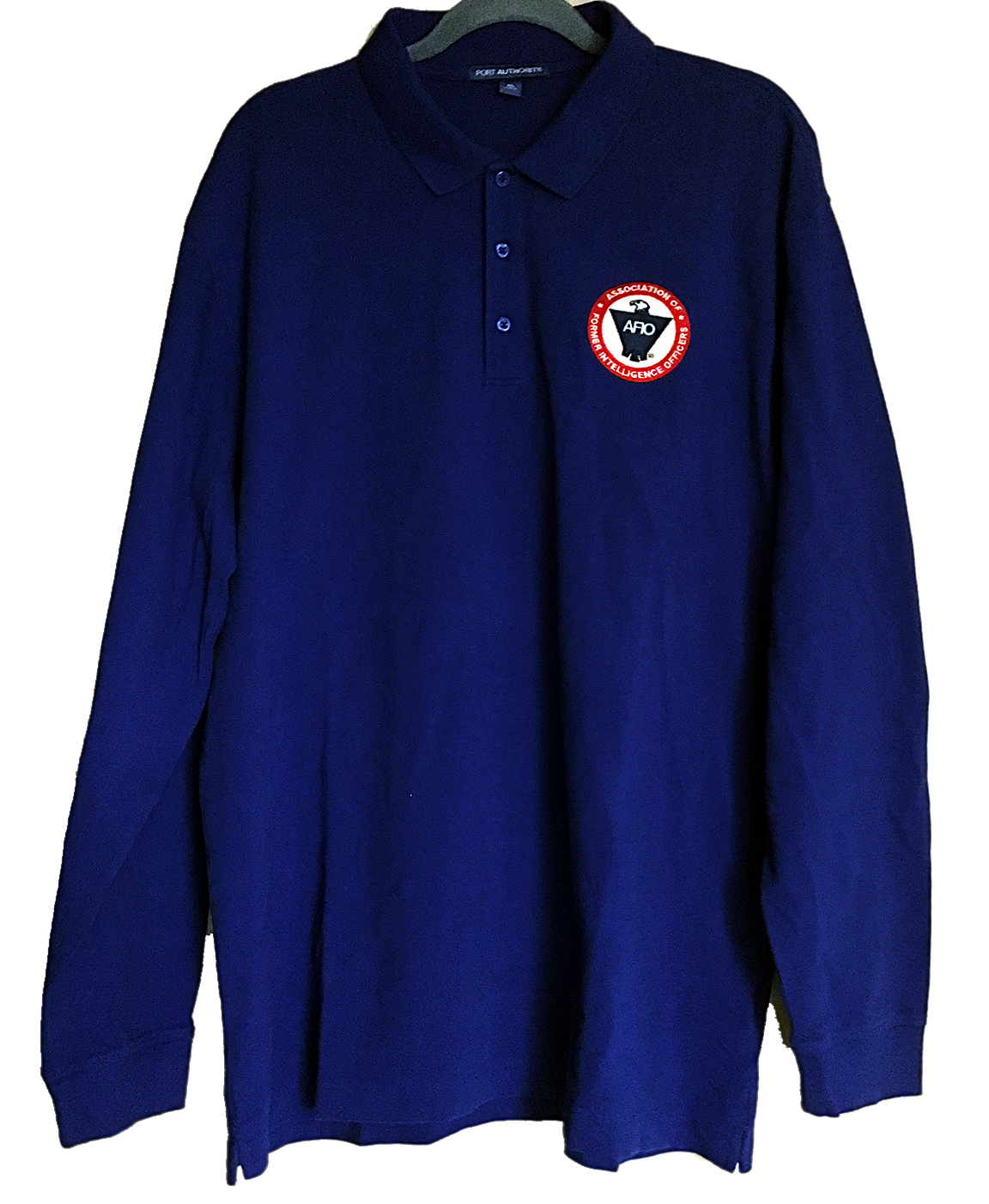 Long-Sleeved Shirts and Hooded Sweatshirts with embroidered AFIO Logo
Show your support for AFIO with our new long-sleeved Polo Shirts and Hooded Sweatshirts.
Both items are high quality and shrink resistant and feature a detailed embroidered AFIO seal. The color of the long-sleeved Polo Shirts is royal blue; the price is $55 and includes shipping.
The Hooded Sweatshirts are dark grey; the price is $70 and includes shipping.
Purchase a shirt and sweatshirt for yourself and consider as gifts for colleagues, family, and friends.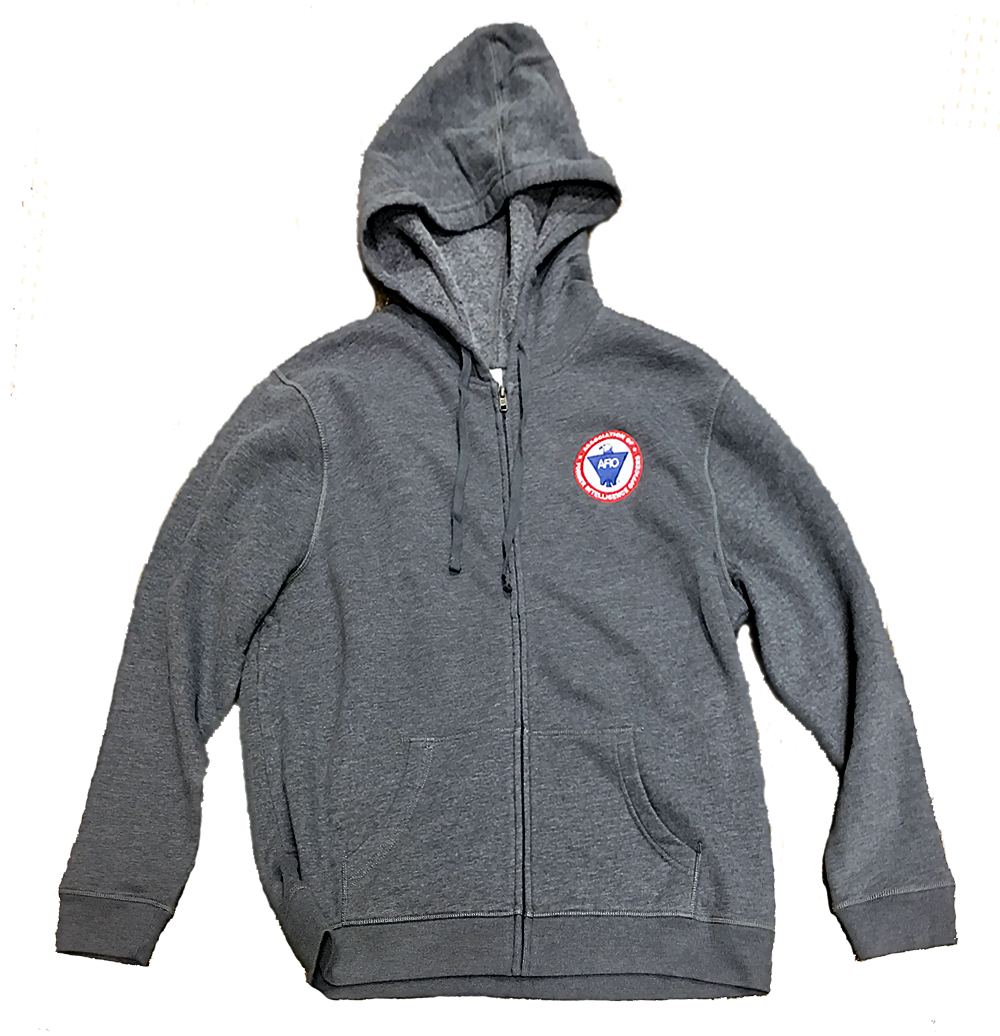 Both items are available in men's sizes: Small, Medium, Large, XL, XXL, and XXXL. The long-sleeved Polo Shirts and Hooded Sweatshirts are not available in ladies' sizes.
---
NEW: Mug with color glazed logo. Made in America. (We left out all that lead-based glaze and hidden toxins in those mugs made in China being sold by other organizations). Also sturdy enough to sit on desk to hold pens, cards, paperclips, and candy.
This handsome large, heavy USA-made ceramic mug is dishwasher-safe with a glazed seal. $35 per mug includes shipping. Order this and other store items online here.
AFIO's Intelligence Community Mousepads are a great looking addition to your desk...or as a gift for others.
Made in USA. Click image for larger view.
These 2017 mousepads have full color seals of all 18 members of the US Intelligence Community on this 8" round, slick surface, nonskid, rubber-backed mouse pad with a darker navy background, brighter, updated seals. Also used, by some, as swanky coasters. Price still only $20.00 for 2 pads [includes shipping to US address. Foreign shipments - we will contact you with quote.] Order MOUSEPADS here.
---
Guide to the Study of Intelligence and When Intelligence Made a Difference
"AFIO's Guide to the Study of Intelligence" has sold out in hard-copy.
However, it is available in digital form in its entirety on the AFIO website here.

Also available on the website here are the individual articles of AFIO's history project "When Intelligence Made a Difference" that have been published to date in The Intelligencer journal. More articles will be forthcoming in future editions.
---
Disclaimers and Removal Instructions
Weekly Intelligence Notes (WINs) are commentaries on Intelligence and related national security matters, based on open media sources, selected, interpreted, edited and produced for non-profit educational uses by members and WIN subscribers.
REMOVAL INSTRUCTIONS: We do not wish to add clutter to inboxes. To discontinue receiving the WINs:
a) IF YOU ARE A MEMBER - click here: UNSUBSCRIBE and supply your full name and email address where you receive the WINs. Click SEND, you will be removed from list. If this link doesn't open a blank email, create one on your own and send to afio@afio.com with the words: REMOVE FROM WINs as the subject, and provide your full name and email address where you are currently receiving them.
b) IF YOU ARE NOT A MEMBER, and you received this message, someone forwarded this newsletter to you [contrary to AFIO policies]. Forward to afio@afio.com the entire WIN or message you received and we will remove the sender from our membership and distribution lists. The problem will be solved for both of us.
CONTENTS of this WIN [HTML version recipients - Click title to jump to story or section, Click Article Title to return to Contents. This feature does not work for Plaintext Edition or for some AOL recipients]. If you wish to change to HTML format, let us know at afio@afio.com. The HTML feature also does not work for those who access their e-mail using web mail...however NON-HTML recipients may view the latest edition each week in HTML at this link: https://www.afio.com/pages/currentwin.htm
---
WINs are protected by copyright laws and intellectual property laws, and may not be reproduced or re-sent without specific permission from the Producer. Opinions expressed in the WINs are solely those of the editor's or author's listed with each article. AFIO Members Support the AFIO Mission - sponsor new members! CHECK THE AFIO WEBSITE at www.afio.com for back issues of the WINs, information about AFIO, conference agenda and registrations materials, and membership applications and much more!
(c) 1998 thru 2020. AFIO, 7600 Leesburg Pike, Suite 470 East, Falls Church, VA 22043-2004. Voice: (703) 790-0320; Fax: (703) 991-1278; Email: afio@afio.com
---
About AFIO | Membership Renewal | Change of Address | Upcoming Events | Chapter Locations | Corporate/Institutional Memberships | Careers in Intelligence Booklet | Guide to the Study of Intelligence | Intelligencer Journal | Weekly Intelligence Notes | To Make A Donation | AFIO Store | Member-Only Section | Code of Ethics | Home Page
---