---
CONTENTS
Section I - INTELLIGENCE HIGHLIGHTS
Section II - CONTEXT & PRECEDENCE
Section IV - Research Requests, Obituaries, Jobs
Other Upcoming Events from Advertisers, Corporate Sponsors, and Others
For Additional AFIO and other Events two+ months or more... Calendar of Events

WIN CREDITS FOR THIS ISSUE: The WIN editors thank the following special contributors: rsy, ec, po, pj, mh, km, gh, mk, rd, fm, kc, jm, mr, jg, th, ed, and fwr. They have contributed one or more stories used in this issue.

The WIN editors attempt to include a wide range of articles and commentary in the Weekly Notes to inform and educate our readers. However, the views expressed in the articles are purely those of the authors, and in no way reflect support or endorsement from the WIN editors or the AFIO officers and staff. We welcome comments from the WIN readers on any and all articles and commentary.

CAVEATS: IMPORTANT: AFIO does not "vet" or endorse research inquiries, career announcements, or job offers. Reasonable-sounding inquiries and career offerings are published as a service to our members, and for researchers, educators, and subscribers. You are urged to exercise your usual caution and good judgment when responding, and should verify the source independently before supplying any resume, career data, or personal information.]
If you are having difficulties with the links or viewing this newsletter when it arrives by email, members may view the latest edition each week at this link.

---

Guide to the Study of Intelligence and When Intelligence Made a Difference

"AFIO's Guide to the Study of Intelligence" has sold out in hard-copy.
However, it is available in digital form in its entirety on the AFIO website here.

Also available on the website here are the individual articles of AFIO's history project "When Intelligence Made a Difference" that have been published to date in The Intelligencer journal. More articles will be forthcoming in future editions.

---

---

AFIO Gift items for colleagues or self.

Long-Sleeved Shirts and Hooded Sweatshirts with embroidered AFIO Logo

Show your support for AFIO with our new long-sleeved Polo Shirts and Hooded Sweatshirts.

Both items are high quality and shrink resistant and feature a detailed embroidered AFIO seal. The color of the long-sleeved Polo Shirts is royal blue; the price is $55 and includes shipping.

The Hooded Sweatshirts are dark grey; price is $70 and includes shipping.

Purchase a shirt and sweatshirt for yourself and consider as gifts for colleagues, family, and friends.

Both items are available in men's sizes: Small, Medium, Large, XL, XXL, and XXXL. The long-sleeved Polo Shirts and Hooded Sweatshirts are not available in ladies' sizes.

You may pay by check or credit card. Complete your order online here or mail an order along with payment to: AFIO, 7600 Leesburg Pike, Ste 470 East, Falls Church, VA 22043-2004. Phone orders at 703-790-0320.

PAGE DOWN TO BOTTOM OF THE NOTES TO SEE MORE AFIO GIFTS. All of these items are appropriate for intelligence officers, colleagues, recruitments, agents, advisors, and family.

---

Also worth visiting are these insightful blogs, podcasts, newsletters, and articles by WTOP's JJ Green

Target USA - The National Security Podcast with JJ Green. Whether its terrorists, anarchists, cyber criminals or nation states, America has a target on its back. WTOP National Security Correspondent J.J. Green investigates the threats facing the U.S., the people behind them, the agencies fighting them and their impact on Americans.

Leaks, Lags and Lies. Journalism has found itself at the crossroads of duty and the lure of celebrity. Celebrity is not a dirty word. It's a necessary element of our society. Those blessed with it often use the attendant power and resources to champion the causes of the disadvantaged.

Inside the SCIF - JJ Green's National Security Newsletter
---
Special Items for our members:
Three articles and Some "Flu vs Covid Stats" brought to AFIO's attention by several members as follows:
Israel's Not-So-Secret Weapon in Coronavirus Fight: The Spies of Mossad
by Ronen Bergman, NYTimes 12 Apr 2020
TEL AVIV, Israel — When Israel's health minister was found to be infected with the coronavirus early this month, all high-level officials in close contact with him were quarantined, including one who stood out: the director of the Mossad, the storied Israeli spy service. Mossad officers, primarily associated with covert operations abroad in the name of protecting Israel, are not normally in the business of public health. So Israelis were immediately intrigued. Why would the Mossad director, Yossi Cohen, a widely respected figure in the country, have even been in the same room as the health minister, Yaakov Litzman? Mr. Cohen's powerful agency, it turns out, has been deeply involved in Israel's fight against the virus, and has been one of the country's most valuable assets in acquiring medical equipment and manufacturing technology abroad, according to Israeli medical and security officials. Article continues here
---
The Origin of the COVID-19 Outbreak in Wuhan
We don't know yet. But contrary to recent reporting, science does not rule out a lab accident or even bioterrorism.
by Khaled Talaat, University of New Mexico; Tablet Magazine, 6 Apr 2020
After the exponential growth in coronavirus (SARS-CoV-2) infections, it is no surprise that the internet is full to the brim with all sorts of conspiracy theories regarding its origin. Strong claims often trigger similarly strong responses, such as accusations by conspiracy theorists of malicious intent and claims that the virus could not have been leaked from a laboratory. Loud voices from both sides overshadow calls to investigate a spectrum of plausible scenarios. Recent studies suggested that the virus is not bioengineered. However, bioweapons and genetically engineered viruses are not equivalent, as the latter are used in peaceful applications in order to understand potential threats in the environment. These include studying the natural gain of function that happens in nature as viruses evolve or recombine, and their potential for use in drug delivery and vaccine development. On the other hand, a bioweapon used by a nonstate actor (i.e., a bioterrorist) could be an entirely natural virus, although a malicious state might be likely to seek a more effective weapon through bioengineering. Article continues here
---
E106 - Invasion Norway: Early 1940 - Bletchley Park's Role in Britain's War at Sea
9 April 2020, Apple Podcast on Bletchley Park History, 1 hr, 10 min
In early 1940, as winter turned to spring, the world waited for the 'Phony war' to end with the expected German attack in the west. But the leaders of both Allied and Axis forces were looking in another direction, to the north, to the snow and the steel, to Scandinavia. Meanwhile in a wooden hut at Bletchley Park, recent recruit Harry Hinsley was certain a German fleet was preparing to set sail, but how could he, a 21-year-old civilian in a highly secret department, persuade the Admiralty that he was right? In this 'It Happened Here' episode we explore the difficult start of Bletchley Park's role in Britain's war at sea. Bletchley Park's Research Historian Dr David Kenyon will be our guide. As usual special thanks go to Mr Ben Thompson for voicing our archival documents. Listen to podcast here. Also on the podcast page are many other episodes.
---
Some Flu vs Covid vs Norovirus Statistics to Ponder:
How Does the New Coronavirus Compare with the Flu?
by Rachael Rettner - Senior Writer, LiveScience, 18 March 2020
So far, the new coronavirus has led to more than 220,000 illnesses and more than 9,300 deaths worldwide. But that's nothing compared with the flu, also called influenza. In the U.S. alone, the flu has caused an estimated 36 million illnesses, 370,000 hospitalizations and 22,000 deaths this season, according to the Centers for Disease Control and Prevention (CDC). Read full report here.
Flu Outbreak in Italy Peaking as Half a Million People Struck Down in a Week
2,768,000 Italians had contracted the flu by Jan 2020. Many times more than Covid-19 has infected Italians by March 24. A half million cases of annual flu per month. This report comes from the Italian paper, The Local. Read it here.
Looking one year back before the politicization of an epidemic...
Influenza Illnesses, Medical visits, Hospitalizations, and Deaths in the United States — 2018–2019 Influenza Season
by the Centers for Disease Control / CDC
CDC estimates that influenza was associated with more than 35.5 million illnesses, more than 16.5 million medical visits, 490,600 hospitalizations, and 34,200 deaths during the 2018–2019 influenza season in the U.S. This burden was similar to estimated burden during the 2012–2013 influenza season. Read full CDC report here.
Overview of Norovirus or "the Cruise Ship Virus"
by the U.S. Centers for Disease Control / CDC
Norovirus sickens 21 million people each year. Norovirus is also known as Norwalk virus, or "the cruise ship virus," because of the multiple outbreaks that have occurred on cruise ships. Norovirus causes 685 million cases of acute gastroenteritis, making it the most common cause of acute gastroenteritis worldwide. About 200 million cases are among children under 5, leading to an estimated 50,000 child deaths every year, mostly in developing countries. ... Every year norovirus is estimated to cost $60 billion worldwide due to healthcare costs and lost productivity. Read more about it here.
---
---
One of the special benefits of membership in AFIO is your authorized access to CIA's inhouse gift shop — the EAA Store. It requires a quick preapproval process described here to all newly joined and current AFIO members. And then allows you to purchase online their unusual logo'd gift items for self or colleagues. Here is another group of photos the EAA sent on the 10th of their latest items:
---
Newly Released and Forthcoming Books of the Week
The Crash of Flight 3804: A Lost Spy, a Daughter's Quest, and the Deadly Politics of the Great Game for Oil
by Charlotte Dennett
(Chelsea Green Publishing, Apr 2020)
When Daniel Dennett, an American spy in the Middle East, was dispatched to Saudi Arabia in 1947, he had a particular mission: to study the route of the proposed Trans-Arabian Pipeline. It would be his last assignment. The plane carrying him from Saudi Arabia to Ethiopia went down in a mysterious crash, killing all on board. Decades later his daughter, journalist Charlotte Dennett, decided to find out what was behind her father's death and why the records about it remained classified after so many years. Along the way she stumbled upon map after map showing proposed, built, and contested pipelines. And she came to realize just how much unrest in and around the Middle East in the past three decades could be explained by doing one simple thing: following pipeline routes.

Through stories and maps she explores her father's last journey and reveals the hidden dynamics of pipeline politics in Afghanistan, Iraq, Syria, Lebanon, Gaza, Yemen, Turkey, Israel/Palestine, Iran, and Saudi Arabia. She shows how pipeline conflicts help explain why the US is vehemently opposed to Iran and its allies, Syria and Russia, and why Africa is becoming a major battleground where the US is pitted against China and their proxies in the Great Game for Oil.

Since 9/11, Americans have been told that they are sending soldiers to foreign lands to eradicate Islamist terrorists threatening US national security. Rarely has the American media provided the broader context in which the conflicts have taken place—namely, the feverish competition for oil and natural gas supplies among nations and fossil fuel companies.
Book may be ordered here.
---
Coding Democracy: How Hackers Are Disrupting Power, Surveillance, and Authoritarianism
by Maureen Webb
(The MIT Press, Apr 2020)
Facebook and Amazon may be in the business of selling us to the highest bidder, but not without good guys fighting to keep the internet free and safe.
Hackers have a bad reputation, as shady deployers of bots and destroyers of infrastructure. Webb offers another view. Hackers, she argues, can be vital disruptors. Hacking is becoming a practice, an ethos, and a metaphor for a new wave of activism in which ordinary citizens are inventing new forms of distributed, decentralized democracy for a digital era. Confronted with concentrations of power, mass surveillance, and authoritarianism enabled by new technology, the hacking movement is trying to "build out" democracy into cyberspace.
Webb travels to Berlin, where she visits the Chaos Communication Camp, a flagship event in the hacker world; to Silicon Valley, where she reports on the Apple-FBI case, the significance of Russian troll farms, and the hacking of tractor software by desperate farmers; to Barcelona, to meet the hacker group XNet, which has helped bring nearly 100 prominent Spanish bankers and politicians to justice for their role in the 2008 financial crisis; and to Harvard and MIT, to investigate the institutionalization of hacking. Webb describes an amazing array of hacker experiments that could dramatically change the current political economy. These ambitious hacks aim to displace such tech monoliths as Facebook and Amazon; enable worker cooperatives to kill platforms like Uber; give people control over their data; automate trust; and provide citizens a real say in governance, along with capacity to reach consensus.
Book may be ordered here.
---
Section I - INTELLIGENCE HIGHLIGHTS

Iraqi President Taps Spy Chief Mustafa al-Kadhimi for Prime Minister. Iraq's president named intelligence chief Mustafa al-Kadhimi as prime minister-designate on Thursday, the third person tapped to lead the country in just 10 weeks as it struggles to replace a government that fell last year after months of deadly protests.

Kadhimi was nominated by President Barham Salih, state television reported, shortly after the previous designated prime minister, Adnan al-Zurfi, announced he was withdrawing having failed to secure enough support to pass a government.

Iraq, exhausted by decades of sanctions, war and political corruption now faces economic ruin, social unrest and a growing outbreak of the new coronavirus, all of which it must face with only a caretaker cabinet.

Adel Abdul Mahdi, who resigned under pressure from anti-government protests in November, still heads the government as caretaker prime minister. [Read more: France24/9April2020]

U-2 Spy Plane Will Be Upgraded To Support Future Battlespace Needs. The American company Lockheed Martin has recently received a $50 million contract from the U.S. Air Force to upgrade the U-2 spy plane to support future battlespace needs.

As part of the modernization program, the aircraft will receive a new avionics suite to readily accept and use new technology, new mission computer, and modern cockpit displays. The new dashboard will make everyday pilot tasks easier while enhancing the presentation of the data the aircraft collects to enable faster, better-informed decisions.

Modernization of the aircraft will be carried out under the U.S. Air Force's open mission systems (OMS) standard that enables the U-2 to integrate with systems across air, space, sea, land, and cyber domains at disparate security levels. Thanks to this, any company will be able to modernize military equipment, and the modernization itself will be much faster. [Read more: Malewar/InceptiveMind/14April2020]

COVID-19 Has Delayed the Launch of 3 US Spy Satellites. The rapid spread of COVID-19 around the globe has delayed the launch of three US intelligence payloads from New Zealand until at least April 23, launch provider Rocket Lab confirmed April 6.

Rocket Lab announced that they were pausing the scheduled March 30 launch of three National Reconnaissance Office payloads following the New Zealand government's March 23 announcement that the country would enter Alert Level 4. This forced most businesses to close and the government ordered people to stay at home.

"This decision was made with the full support of the NRO, and we continue to engage with our partners at Rocket Lab as they work with the New Zealand government and local health officials to determine when launch operations can resume," said NRO spokesperson Laura Lundin. "The launch vehicle and ground systems will remain in a state of readiness for launch as the evolving situation allows." [Read more: Strout/C4ISRNet/7April2020]

Uganda Police Appoints 100 Regional, Divisional Spy Commanders. Uganda Police Force has appointed 101 commanders to revamp regional and divisional spy units. The Police Human Resource Director, Brig Jesse Kamunanwire announced the appointments in consultation with the placement committee which is chaired by the Deputy Inspector General of Police, Maj. Gen. Sabiiti Muzeyi.

The other members are the Director Research AIGP, Edward Osiru Ochom and Chief Political Commissar, AIGP Asan Kasingye. The newly appointed commanders have been tasked to ensure the police spy systems are vibrant. Only one of the 101 intelligence heads is at the rank of Superintendent of Police.

The remaining commanders are Assistant Superintendent of Police. All the newly appointed officers have been undergoing a six month fresher spy course. A senior police officer told Uganda Radio Network-URN that, the new commanders have been tasked to make ensure no criminal cartels operate in their areas. [Read more: TheIndependent/9April2020]

ODNI Releases CARES Act Guidance for Intel Community. The Office of the Director of National Intelligence on April 8 unveiled guidelines for the intelligence community that relate to acquisition and procurement issues during the COVID-19 pandemic and implementation of Section 3610 of the Coronavirus Aid, Relief and Economic Security Act.

Signed by Deputy Director of National Intelligence for Enterprise Capacity Kevin Meiners on April 3, the memo "strongly urges" intelligence agencies to fully use CARES Act flexibilities.

Specifically, Section 3610 allows agencies to modify contracts when contractor employees can't access authorized work sites or work remotely because of COVID-19 health and safety restrictions. This is especially helpful to companies performing essential national security missions, ensuring they remain financially viable, and that highly skilled and often cleared contractor employees are retained - securing the longterm health of the IC. [Read more: Ziadeh/WashingtonExec/12April2020]

Amid Coronavirus Chaos, Russian Spies See Opportunity: Intelligence Assessment. As Russia's leaders concede coronavirus is now an "emergency" in that country, Moscow's intelligence services remain hard at work searching for an angle amid tragedy that could give them an upper hand over the U.S., according to a new U.S. intelligence analysis obtained by ABC News.

The assessment says U.S. intelligence suspects that their Russian counterparts have been trying to sow discord and chaos in America by amplifying social media messages that push conspiracy theories and other narratives that could cause people to lose faith in their government and communities.

At the same time, analysts say Russians would have been closely monitoring the well-documented failings in the U.S. healthcare system laid bare by the coronavirus pandemic. [Read more: ABCNews/14April2020]


---
Section II - CONTEXT & PRECEDENCE

The Most Successful Soviet Intelligence Operation During World War II. One cold winter night in 1941, German positions under Mozhaysk, in the Moscow region, were approached by a man - a traitor, claiming to represent an anti-bolshevik church and monarchy-sympathizing group called 'Престол' ("Prestol"; Eng. "throne"). He was willing to assist the Germans in bringing down Soviet rule.

In reality, the man was a Soviet intelligence agent named Aleksandr Demyanov. One of the most successful intelligence operations in the history of the USSR had now entered its active phase. The operation's name was 'Монастырь' ("Monastyr"; Eng. "monastery").

Sporting oodles of charm, intelligence and good education, with an excellent command of German, Aleksandr was a perfect fit for deployment behind enemy lines. Not many in Moscow had a clue that the man who came from noble beginnings had already been turned by Soviet intelligence some time at the beginning of the 1930s.

The spy had a good story. [Read more: Egorov/RussiaBeyond/14April2020]

Why is a Swedish Spy Ship Pinging from a Bungalow in Cobh? East Cork residents who've been wracking their brains over a maritime mystery finally have an explanation.

A lot of people in Cobh have been baffled after noticing something very unusual on the maritime traffic radar in the area.

For the past year a Swedish spy ship has been pinging its location from a bungalow in the Cork town.

The HSwMS Orion (A201) is actually situated somewhere in the Baltic Sea at the moment, but for some reason it can also be found on the map in Cobh.

The vessel, which supports the US National Security Agency, was launched in 1984 and is dedicated to gathering intelligence by covert means. [Read more: O'Callaghan/CorkBeo/9April2020]

Podcast: The Spies Who Inspired Bond. Author and spy expert Henry Hemming discusses the real historical personalities who Ian Fleming drew on to create 007 and other major characters in the Bond novels. [Listen here: HistoryExtra/13April2020]


---
Pandemic Gives Canadian Security and Intelligence Community an Urgent New Mission. The global pandemic caused by COVID-19 has generated a new kind of demand for intelligence, which Canada must confront. Security and intelligence agencies around the world are being thrust onto the front lines of the COVID-19 battle. Their mission is two-fold: monitoring the global tidal wave of COVID-19, and combating misinformation, fraud and even deliberate foreign interference that circulates domestically. This is a tall order for any intelligence system, made even taller for Canada by the fact that our security and intelligence agencies have never seen health emergency reporting as part of their core mandate, despite a plan laid down in the National Security Policy announced after SARS that unfortunately went nowhere.

The idea of a "health intelligence" mission may seem novel and strange in a Canadian context, but it has been on the minds of allied intelligence agencies for many years. Britain published, starting in 2010, a national risk registry based on classified intelligence assessments, which listed global pandemics as the number one risk to civil society. In response to the Ebola outbreak in West Africa between 2014 and 2016, US intelligence devoted significant resources to tracking the spread of the virus, fearing that it would leap beyond the region.

Prescience and readiness are two different things, as COVID-19 has demonstrated globally. [Read more: Wark/PolicyOptions/14April2020]

Intelligence Sharing Remains Key to Fight Against IS. In late March, the Telegraph reported that four Islamic State (IS) militants escaped from the Ghweran prison in the northeastern Syrian city of Hasakah but were quickly recaptured. The Kurdish Syrian Democratic Forces (SDF), which played such a critical role in destroying IS' so-called caliphate, are in charge of the prison. The US military was reported to have provided aerial reconnaissance assistance to support the SDF's recapture of the IS prisoners. Other news stories said up to 12 prisoners escaped.

The SDF continues to be responsible for the security of the prisons in northern Syria, where roughly 11,000-12,000 captured IS fighters are held.

The March 30 prison incident highlights the conundrum surrounding the IS detainees. Western governments refuse to accept their repatriation, while the SDF believes they should face prosecution inside Syria, if necessary with an international tribunal. [Read more: Hoffman/Al-Monitor/10April2020]


---
Section IV - Research Requests, Obituaries, Jobs
CALLING ALL WOMEN INTELLIGENCE OFFICERS: Book author seeks interviews with female intelligence officers
Liza Mundy, author of Code Girls: The Untold Story of the American Women Code Breakers of World War II, is working on a book about the history of women at the CIA. She is eager to interview women intelligence professionals, retired and active, to gather their insight into topics including their own careers; the intelligence community's changing climate for women; signal achievements by women and female teams, including, for example, the women of Alec station; and encounters with early pioneers such as Eloise Page and others. The CIA public affairs office is cooperating. The book will be published by Crown, a major commercial publisher. The aim is to highlight women's contributions to intelligence and national security—a female equivalent to Evan Thomas's The Very Best Men. If you would be willing to chat and share your insights, please contact Liza at lizamundy@gmail.com or 703-517-1542 (phone, text or Signal app).
Her book Code Girls was a New York Times best-seller and received glowing reviews in publications including The Washington Post, The New York Times, and Studies in Intelligence, which said that "Code Girls pays tribute to an unsung group of patriotic Americans who, more than seven decades later, are just now receiving their due." It won awards including "Best General Audience Intelligence Book" of 2018 from AFIO, which said that "Code Girls does for women of that era what Hidden Figures did for African American women of the 1960s and Windtalkers did for the native American code communicators of World War II." In addition, she is currently a scholar-in-residence with the history office at NSA, where she is researching the postwar careers of female codebreakers, looking at many of the same issues.
Bob Dompka, NCIS and NSA Officer
Robert James Dompka, 93, a NICS and NSA Officer, died 1 April 2020 in Springfield, VA.
Bob graduated from the University of Pittsburgh, received an M.Sc from George Washington University and a PhD from University of Southern California. Dr. Dompka had a long career in criminal justice including a succession of Federal appointments with the Federal Bureau of Narcotics, Office of Naval Intelligence Criminal Investigation (NCIS), and National Security Agency. He held teaching positions at American University and Montgomery College where he was awarded the title of Emeritus Professor of Criminal Justice.
Bob and Dora were intrepid travelers who visited 130 countries over 32 years. He was an avid golfer and an amateur painter and sculptor. He was actively involved in numerous professional and social organizations. Bob had eclectic interests and active pursuits throughout his lifetime.
He was preceded in death by his wife of nearly 60 years Dora. He is survived by two sons and two daughters, and other family.
Chris Frederick, CIA Terrorism Specialist
Christian Francis Frederick Jr, 87, a CIA Terrorism Specialist, died 31 August 2019 [we were just notified].
He was born in Philadelphia, PA. Chris was an alumnus of Hampton H.S., NJ; and in 1953 he graduated from Rutgers University with a Bachelor of Letters in Journalism. He then served in the Air Force for three years.
He joined CIA in 1956, retiring in 1986 after 30 years of service. During that career, he served in East Asia and Latin America until the late 1970s when he held several senior positions in the Counterterrorism Center. A specialist in terrorist organizations, tactics and modus operandi, he participated on-site as an advisor to U.S. and foreign governments during terrorist incidents abroad.
Following retirement, Chris worked as a consultant in counter-terrorism and crisis management for various agencies of the U.S. Government, as well as for private corporations. He developed the "Incident Management Seminar" in 1983 and participated in over 70 seminars conducted throughout six continents. He visited over 90 countries.
He enjoyed sports and was an avid sports fan, especially of golf tournaments and Redskin games. He also loved music, books, and enjoyed book discussions with colleagues over a good meal.
He is survived by a brother and other family.
Hal Joslin, USN Capt, POW, NSA SIGINT
Harold Eugene Joslin, 101, WWII Navy Captain, former Prisoner of War, and Significant NSA SIGINT Official, died 11 March 2020.
He was born in Port Angeles or Sequim, WA where his family had a dairy farm. His dad worked on a railroad for awhile. During that period, the family lived in a logging community. The Great Depression had little impact on the family because they had the farm which provided plenty to eat. Joslin completed grade school and high school. Immediately after graduation, he entered the Navy. His career in the service spanned 39 years.
He married Marie, whose family had a farm near Harold's family farm, and together they went to Guam where he was intercepting enemy communications. Marie left Guam before WWII started, but Harold remained and was captured by the Japanese shortly after the attack on Pearl Harbor.
Captain Joslin spent almost four years as a slave laborer in the Zentsuji prison camp in Japan after his capture on Guam shortly after the outbreak of the war. His captivity was especially stressful because he was a member of the "On the Roof Gang" and had trained as an intercept operator in Washington, D.C. Had the Japanese learned his true mission as an interceptor of their communications he would have faced torture and possibly death. Worse, if he or one of his mates had "broken", the Japanese would have changed their codes! Fortunately, he and his seven fellow team members survived numerous interrogations throughout their captivity without revealing anything of value to their captors.
Transported to Japan in a crowded merchant ship (mercifully, not one of the "Hell Ships"), he spent almost four years slaving on Japanese docks in northern Japan. Despite poor food, lack of clothing in the cold northern climate, and injury to the nerve endings of his feet because of wearing wet or frozen shoes, he survived the ordeal relatively well. He attributed his survival to his enduring faith in his God, his love for his wife, and his feisty, positive attitude that he demonstrated by committing acts of sabotage to the cargo at every opportunity and risktaking to get food and medicine for his mates. To keep his mind occupied he studied and taught courses after "lights out."
He bore no malice toward his captors because he believed that acts of cruelty perpetrated by individuals were random acts, not calculated or officially sanctioned policy.
As the war progressed conditions in the camp worsened in terms of food and medical care and he stated that dropping the A-bombs probably saved the POW's lives. The camp regimen changed shortly after
the nuclear attacks to the point where the erstwhile prisoners took over the camp. By the time the liberating forces arrived three weeks later most of the camp's inhabitants had regained health and strength using the food and medicines they found in Red Cross parcels denied them by their captors.
After the war, Harold returned to the States and resumed life with Marie. His only child, Sandra, was born, and Harold continued in a long and successful Navy career, rising through the ranks and serving at sea and abroad.
Hal had a storied Navy and NSA career. As Chief, NCPAC, Hal was the senior NSA representative in Hawaii and the cryptologic adviser to the Commander in Chief, Pacific, working with all the cryptologic elements on island. As Chief, B Group, he headed the operations organization focusing on Asia. He retired as a Navy Captain and moved to Bethesda, MD after nearly 40 years of service.
In retirement, Harold enjoyed serving his church and HOA board, walking, golfing, studying and visiting with family and friends. Throughout life, to the very end, he was quick with a joke, and a laugh, and a helping hand.
Harold spent later years caring for Marie as she struggled with Alzheimer's. He lived on his own until age 92, then spent five years in assisted living in McLean, VA, finally moving to an assisted living home in Ann Arbor, MI, near a daughter.
He is survived by that daughter, two grandsons, and other family.
Harold will join Marie in Arlington National Cemetery where he will be buried with full military honors later this year when such events are possible again.
A splendid 2015 Oral History video of him by the National WWII Museum appears here.
Also Capt Joslin's extraordinary tale of survival is available on DVD for $11.50 including shipping and handling. You may contact the NCMF (National Cryptologic Museum Foundation) office at 301-688-5436 or ncmf@cryptologicfoundation.org to purchase a copy.
Ed or Bud McGrath, CIA Codebreaker and Communications Officer
Edward Francis McGrath, 93, CIA Codebreaker and Communications Officer, died 22 March 2020 in Winchester, VA
Ed was born in Providence, RI. During WWII, he left Samuel Gorton High School in his junior year to join the US Navy and became Radioman First Class. He later was trained in cryptography.
After the war, Ed became an air traffic controller at Nantucket airport and married his high school sweetheart.
In the following years he completed high school and went on to earn an undergraduate degree from the University of Maryland, and a graduate degree from the University of Miami (FL) in Public Administration and Political Science.
At the start of the Korean war and because of his codebreaking background, Ed was recruited by the Central Intelligence Agency in the Office of Communications, where he enjoyed a 30 year career that took him and his family around the world on many tours.
Upon his 1975 retirement, he was awarded the Agency's Distinguished Service Medal.
Ed and his wife, Margaret Ann "Peg," opened MR Real Estate in Vienna, VA, splitting time between their Virginia and Vero Beach, FL homes. Ed was an avid boatman and traveled the intercoastal waterway from the Chesapeake Bay to South Florida and back 16 times in his beloved "El Dorado."
He is survived by a sister, and other family.
Inurnment with military honors will be held at a later date at Arlington National Cemetery.
John Sullens, CIA Technical Operations Officer
John Michael Sullens, 74, a CIA Technical Operations Officer, died 3 April 2020 in Virginia Beach, VA.
A native of Baltimore, MD, he served his country honorably in the U. S. Army and then had a career in the Central Intelligence Agency for over twenty years as a Technical Operations Officer.
Of his passing, colleagues wrote: Mike was a long time colleague and good friend who could always be counted upon to help with the most difficult tasks at work. His unwavering dedication to mission set the bar for others to follow. His eternal wit and good humor helped us all get through some difficult times in the office. Mike could always be counted upon to find something positive to laugh about; even when under enormous pressure under difficult circumstances.
All of us will remember Mike's service to our country and the operations mission he faithfully supported for many years. He will be sorely missed by many who had the honor to work with Mike and call him our friend.
In addition to Sharon, his wife of 54 years, he is survived by a son, two sisters, and other family.
---
IT Acquisitions Subject Matter Expert for Intelligence Community Client; Other Openings in Reston and Bolling AFB
E3/Sentinel has a funded opening for an IT Acquisitions Subject Matter Expert with specific experience in IT architecture requirements to support an IC customer. Candidate will assist in developing innovative business strategies and procurement policy/processes. Only candidates with TS/SCI clearances will be considered. Contact Rosanna Minchew rminchew@e3sentinel.com for more details.
E3/Sentinel has multiple openings for Contracts Specialists, Acquisition Analysts, Cost/Pricing Analysts and Contracts Closeout Specialists. Positions in Reston and at Bolling AFB. TS/SCI required to be considered for interview. Polygraph preferred. Contact Rosanna Minchew rminchew@e3sentinel.com for more details.
Adjunct instructors at the University of Texas at El Paso (US)
The National Security Studies Institute at the University of Texas at El Paso (UTEP) (see their website here) is seeking adjunct instructors to teach online graduate-level courses:
Legal Issues in Intelligence and National Security
Propaganda and Influence Operations
Intelligence and Counterterrorism
Political Economy of Terrorism
Risk Analysis
Emergency Management
Public Health and Homeland Security
A PhD in public policy, security studies, political science, or a related field is required.
Interested and eligible applicants should contact Stephen Coulthart (sjcoulthart@utep.edu).
Two Positions at James Madison University for Assistant or Associate Professor - Intelligence Analysis
James Madison University (JMU) located in Harrisonburg, VA, seeks applicants for two faculty positions in its Bachelor's Degree Program in Intelligence Analysis (IA). The appointments will be at the Assistant or Associate Professor level and will reside within the larger School of Integrated Sciences. The IA program offers a multidisciplinary undergraduate degree with an emphasis on methodology and technology to prepare students to become analysts, with a specialization in intelligence analysis. Its graduates have been successful in securing positions as analysts in both the public and private sectors, to include the Intelligence Community, military and law enforcement organizations, defense contractors, and major consulting firms. The program emphasizes methodology and synthesizes critical and creative thinking methods with technological tools for data collection, visualization, and analysis with situational knowledge of a problem's political, economic, social, and technological context with strong communicative and professional skills to support decision-making.
Ideal candidates will be comfortable in an interdisciplinary, diverse setting and possess the potential for becoming an excellent teacher to future analysts in one or more intelligence domains including national security, military, homeland security, law enforcement, private sector security, cyber security, and geospatial. They optimally have a background in either mixed-methods, qualitative, or quantitative research and analysis methods. We especially encourage applications from candidates that can leverage the use of systems thinking, employ data science in analysis, support the development of writing skills, or teach ethics specifically for future analysts. The typical teaching load in the school is 3 courses per semester.
We welcome applicants from all academic disciplines—to include the humanities, social sciences, and sciences—that provide a knowledge foundation for doing analysis. Prospective candidates should review our curriculum online to identify areas that match their expertise and to locate potential areas that they could help the program to develop. The program values teaching excellence as well as one-on-one professional mentoring and seeks candidates who can demonstrate potential for both. In addition, the position requires the potential for an active program of scholarly activity. The position requires either a Ph.D. in a relevant academic field by the date of hire (for a tenure-track appointment) OR Master's Degree with substantial experience in the field (for appointment on a Renewable Term Contract).
More information or applications may be found here.
Do not let Social Distancing slow your career. New Positions Available with Thomson Reuters
Many other jobs available with Thomson-Reuter. Email Brian Lemley for a list with descriptions and links.
FireEye Has Many Intelligence Positions Available For You - Worldwide - Contract, Full-time, Part-time, Interns
Explore the many career and contractor intelligence jobs available here. Jobs openings in Cyber Security include - Advisory, Architecture, Digital Forensics & Incident Response, Penetration Testing, Threat Research. They positions are needed here: New York, Chicago, Manila, Reston, Dallas, Atlanta, Suitland, Singapore, Denver, Las Vegas, Phoenix, Doha, Stockholm, London, Milpitas, multiple cities in Australia, Washington, Indianapolis, Tampa, Santiago, Alexandria, Seattle, Carlsbad, Houston, San Francisco, Arlington, Dubai, Amsterdam, Ft Belvoir, Minneapolis, Mexico City, San Diego, Boston, El Segundo, Philadelphia, San Antonio, Chiyoda, Ft Huachuca, Ft Gordon, Ft Meade, Ft Shafter, Kuwait City, Seoul, Sttutgart, Salt Lake City, Austin, Dublin, Bangalore, Cork, Colorado Springs... Explore the many career and contractor intelligence jobs available here.
---
AFIO EDUCATIONAL EVENTS IN COMING TWO MONTHS....

CANCELLED for Public Safety from Coronavirus - Saturday, 9 May 2020 -- Indialantic, FL - Florida Satellite Chapter hears Col Prince on the Qu'ran

The speaker will be AFIO Florida Satellite Chapter member Col. Bill Prince, USA (ret.) After graduating from West Point, Bill served in Vietnam with both Ranger and Special Forces units. He resigned his regular army commission to accept a position as a CIA case officer, with subsequent experiences in numerous hostile environments. He has a graduate degree from Harvard, where his studies focused on the Middle East. The topic of his address will be the Qur'an, a subject he has studied extensively.

Please note that attendance at Florida Satellite Chapter meetings is always well within current CDC guidelines against gatherings of fifty or more.

Timing: 11:30 AM - 12:15 PM: Social Hour, greet old, new members and guests. Cash bar. 12:15 PM: Sit Down lunch

TO ATTEND: Prepaid reservations are required which must be received by 2 May 2020.

Florida Satellite Chapter meets at the Doubletree Melbourne Beach Oceanfront, 1665 N. Highway A1A, Indialantic, FL 32903.
For more information, or to register for the luncheon meeting, contact Chapter Treasurer Rhonda Rhoads, P.O Box 410158, Melbourne, FL 32941. Rhonda can also be reached at afiofsctreas@gmail.com and at 321-626-4465. CANCELLED for Public Safety from Coronavirus.

RESCHEDULED from Spring: Friday, 23 October 2020, 10:30 a.m. - 2 p.m. - Tysons, VA - AFIO National Fall Luncheon features Washington Post columnist David Ignatius, and Author, former Post reporter Stephen Vogel

HOLD THE DATE: The morning speaker will be David Ignatius, author of the upcoming intelligence novel, The Paladin: A Spy Novel [WW Norton, May 2020]. Ignatius is a Washington Post columnist and has been covering the Middle East and CIA for nearly three decades.
Of Ignatius' forthcoming novel, reviewers wrote: "For me nothing is more intriguing than life inside our intelligence agencies. David Ignatius uses his decades' worth of reporting experience to take us there in this fast-moving, jaw-dropping drama that reads like it was ripped from the headlines. I recommend you grab a copy and hold on tight for the entire thrilling ride." — Brian Kilmeade, Fox News.
"David Ignatius once again takes readers behind the scenes of America's most secretive bureaucracy, revealing in fiction what could never be declassified in fact. The Paladin is yet another stirring read from one of America's most revered reporters and gifted storytellers." — Joe Scarborough, MSNBC
The afternoon program features Stephen Vogel, author of Betrayal in Berlin: The True Story of the Cold War's Most Audacious Espionage Operation [Custom House, Sept 2019]. Vogel is a former Washington Post reporter who covered the federal government. He was based overseas from 1989 through 1994 where he covered the fall of the Berlin Wall and the first Gulf War, and subsequently reported on military operations in Somalia, Rwanda, the Balkans, Afghanistan and Iraq.
Of Betrayal in Berlin, Former CIA Officer Sandy Grimes wrote: "The best spy book I have ever read...Steve Vogel is a talented and gifted writer who brings the personalities and idiosyncrasies of every participant in this operation to life. His research is vast, varied, and full of detail. It is truly one of those rare books you can't put down."
Registration will open in late September.

Venue: DoubleTree by Hilton, 1960 Chain Bridge Rd, Tysons Corner, VA 22182 Phone: (703) 893-2100. Directions at this link.
---
Other Upcoming Events from Advertisers, Corporate Sponsors, and Others
CANCELLED for Public Safety from Coronavirus - 26-29 April 2020 - Tampa, FL - USGIF GEOINT 2020 Symposium
US Geospatial-Intelligence Foundation's GEOINT 2020 Symposium has the theme, "New Decade, New Challenges, New Strategies."
Learn more. Network with more than 4,000 GEOINT Community professionals from 40+ countries spanning defense, intelligence, homeland security, industry, and academia. See the latest in technology, services, and solutions from 200+ exhibitors in more than 100,000 sq ft of exhibit space. Learn from 50+ hours of professional development, training, and education sessions with PDUs and CEUs.
All official GEOINT 2020 hotels are conveniently located within walking distance of the Tampa Convention Center, and are only available through the GEOINT Symposium website and our registration partner SPARGO.
Do not delay reserving your hotel room, booking your flight, or registering for the nation's premier geospatial intelligence event of the year, which returns to Tampa from Sunday, April 26, to Wednesday, April 29.
View program, speakers, and registration requirements here.
17 June 2020, 10 a.m. to 1 p.m. - Annapolis Junction, MD - The NCMF Summer Cryptologic Program features Seth Jones on "Covert Action."
(Date is subject to change depending upon COVID-19 related restrictions.)

This National Cryptologic Museum Foundation 2020 Summer program features Political Scientist & Author Seth Jones. Jones is a senior advisor at the Center for Strategic and International Studies (CSIS) in Washington, DC. His most recent book, A Covert Action: Reagan, the CIA, and the Cold War Struggle in Poland, details the dramatic untold story of one of the CIA's most successful intelligence operations during the Cold War, which has important implications for today's threat from Russia. Learn more about Jones's books.
Registration is not yet open, but the fee will be $25 and will include lunch. For your convenience, we will offer easy online registration. You may also mail-in your registration fee using the Flyer/Registration form (coming soon). Or mail checks to NCMF, P.O. Box 1682, Fort George G. Meade, Maryland 20755-9998, and include the names of all registrants. For more details, please call the NCMF office at 301-688-5436.

Visit the NCMF Event Page for updates. (Date is subject to change depending upon COVID-19 related restrictions.)
CANCELLED for Public Safety from Coronavirus - 25 - 27 June 2020 - Pordenone, Italy - IAFIE 2020 Annual Conference - Intelligence Education, Research and Practice in the 2020s
The 2020 Annual Conference of the International Association for Intelligence Education (IAFIE) will be held in Pordenone, Italy from June 25 to 27. This year IAFIE and IAFIE EC are joining hands in organising a joint annual conference examining the intelligence requirements for the next decade 2020- 2030, with its changing threat environment and fast developing technological advancements. The conference papers will reach out to other cognate disciplines for a multidisciplinary approach and brings scholars and practitioners together for a blend of research and applied discussions on intelligence. This will be the 5th Annual Conference of IAFIE EC. The topics/themes for the conference are Intelligence Analysis, Intelligence Domains, Management of Intelligence Community, and Intelligence Education and Research. Authors of recent books, monographs and reports in line with these topics/themes are also invited to submit proposals to participate in Author Roundtables. Please email your general enquiries to iafie2020@ecoleuniversitaireinternationale.net. More information here. CANCELLED for Public Safety from Coronavirus
NEW DATE - Saturday, 24 October 2020, 5:30 p.m. - Washington, DC - Save the Date! PenFed Foundation's 2020 Night of Heroes Gala
PUT ON CALENDAR AND HOLD THE DATE: The Pentagon Federal (PenFed Credit Union) Foundation will be hosting their spectacular Night of Heroes Gala on Saturday, 24 October 2020 at the Mandarin Oriental in Washington, D.C. Last year's annual gala raised over $1.5 million and honored children of military families.
VIP Reception at 5:30 PM
General Reception and Silent Auction at 6:00 PM
Location: The Mandarin Oriental, 1330 Maryland Ave SW, Washington, D.C.
Attire: Black Tie or Military Dress
RSVP: October 2, 2020
Click here to learn more or sponsor a table.
---
In addition to the new Royal Blue long sleeve shirts, and the gray long sleeve hooded sweatshirts, the AFIO Store also has the following items ready for quick shipment:
NEW: LONG and Short-Sleeved Shirts with embroidered AFIO Logo and New Mugs with color-glazed permanent logo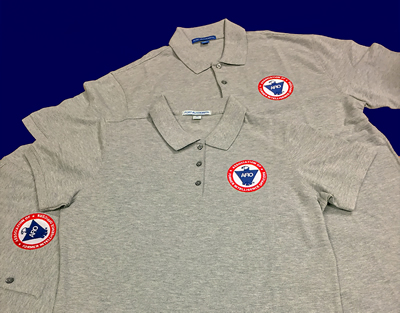 Show your support for AFIO with our new Polo Shirts. Be the first to buy these new, high quality, subtle heathered grey short sleeve shirts, and dark blue long sleeved shirts, of shrink and wrinkle resistant fine cotton with a soft yet substantial feel. They feature a detailed embroidered AFIO seal. Get a shirt for yourself and consider as gifts for colleagues, family, and friends. Only $45 each including shipping.
Sizes of (M) men or (W) women shirts; Small, Medium, Large, XL, XXL, and XXXL. At this time all orders will arrive as Short Sleeve shirts.
You may pay by check or credit card. Complete your order online here or mail an order along with payment to: AFIO, 7600 Leesburg Pike, Ste 470 East, Falls Church, VA 22043-2004. Phone orders at 703-790-0320. If interested in other shirt colors or sleeve lengths, contact Annette at: annettej@afio.com.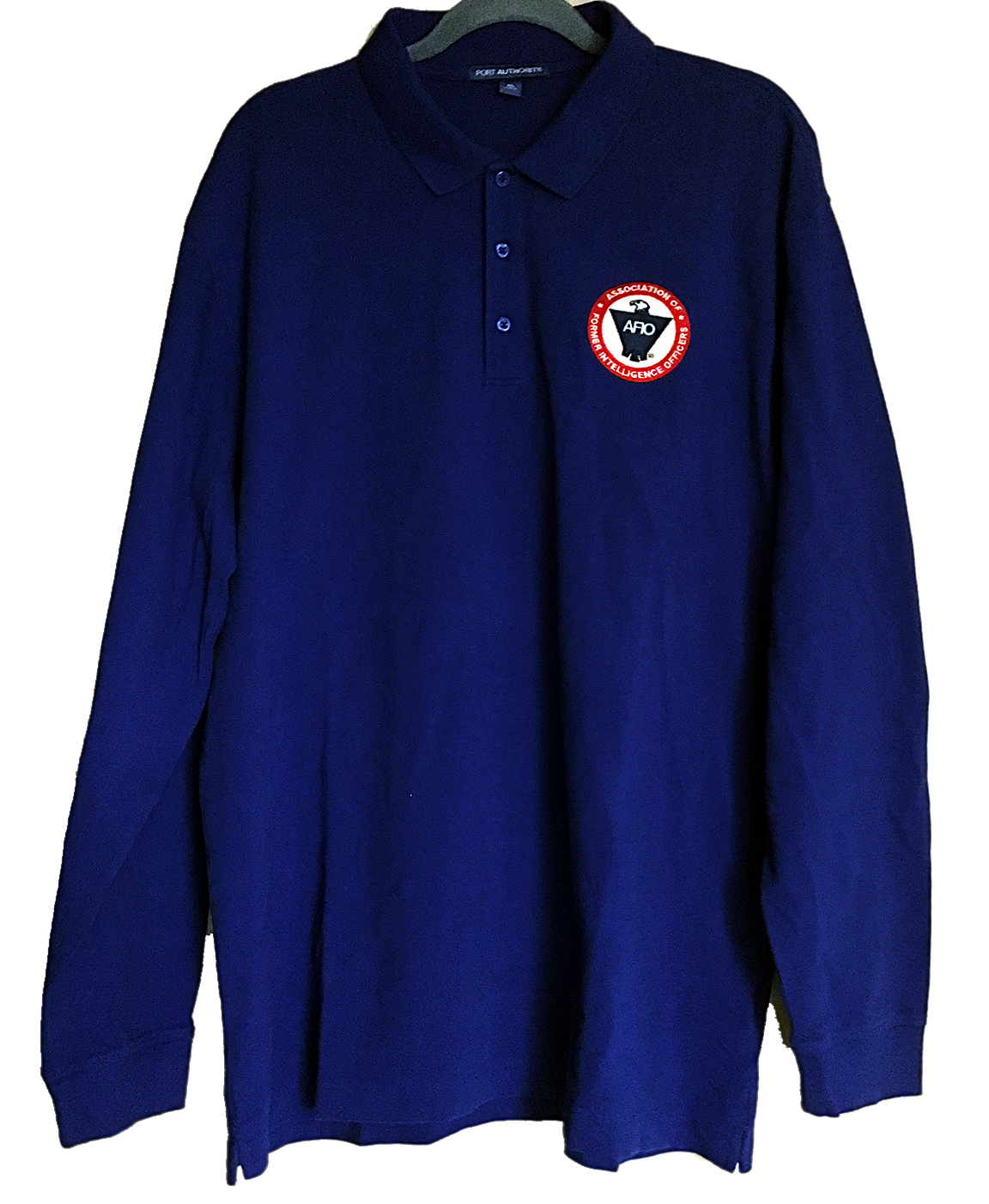 Long-Sleeved Shirts and Hooded Sweatshirts with embroidered AFIO Logo
Show your support for AFIO with our new long-sleeved Polo Shirts and Hooded Sweatshirts.
Both items are high quality and shrink resistant and feature a detailed embroidered AFIO seal. The color of the long-sleeved Polo Shirts is royal blue; the price is $55 and includes shipping.
The Hooded Sweatshirts are dark grey; the price is $70 and includes shipping.
Purchase a shirt and sweatshirt for yourself and consider as gifts for colleagues, family, and friends.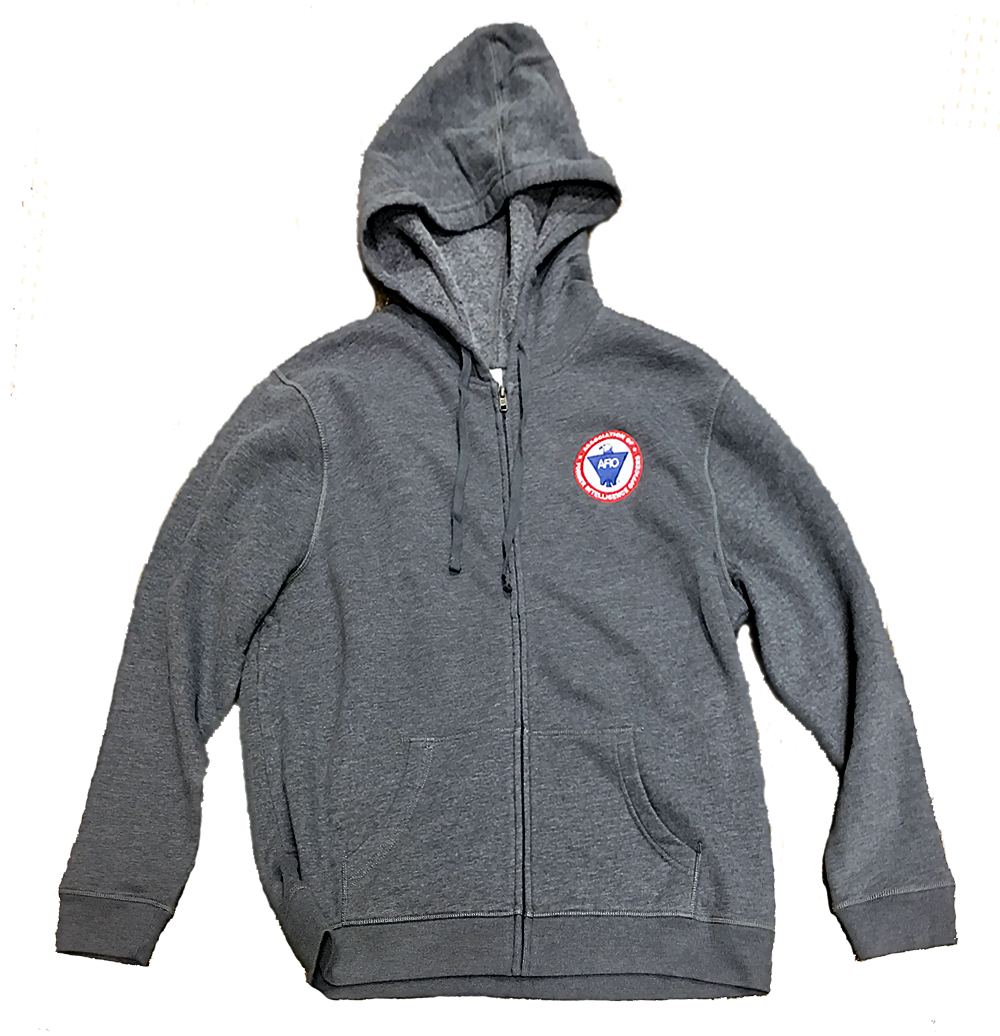 Both items are available in men's sizes: Small, Medium, Large, XL, XXL, and XXXL. The long-sleeved Polo Shirts and Hooded Sweatshirts are not available in ladies' sizes.
---
NEW: Mug with color glazed logo. Made in America. (We left out all that lead-based glaze and hidden toxins in those mugs made in China being sold by other organizations). Also sturdy enough to sit on desk to hold pens, cards, paperclips, and candy.
This handsome large, heavy USA-made ceramic mug is dishwasher-safe with a glazed seal. $35 per mug includes shipping. Order this and other store items online here.
AFIO's Intelligence Community Mousepads are a great looking addition to your desk...or as a gift for others.
Made in USA. Click image for larger view.
These 2017 mousepads have full color seals of all 18 members of the US Intelligence Community on this 8" round, slick surface, nonskid, rubber-backed mouse pad with a darker navy background, brighter, updated seals. Also used, by some, as swanky coasters. Price still only $20.00 for 2 pads [includes shipping to US address. Foreign shipments - we will contact you with quote.] Order MOUSEPADS here.
---
Guide to the Study of Intelligence and When Intelligence Made a Difference
"AFIO's Guide to the Study of Intelligence" has sold out in hard-copy.
However, it is available in digital form in its entirety on the AFIO website here.

Also available on the website here are the individual articles of AFIO's history project "When Intelligence Made a Difference" that have been published to date in The Intelligencer journal. More articles will be forthcoming in future editions.
---
Disclaimers and Removal Instructions
Weekly Intelligence Notes (WINs) are commentaries on Intelligence and related national security matters, based on open media sources, selected, interpreted, edited and produced for non-profit educational uses by members and WIN subscribers.
REMOVAL INSTRUCTIONS: We do not wish to add clutter to inboxes. To discontinue receiving the WINs:
a) IF YOU ARE A MEMBER - click here: UNSUBSCRIBE and supply your full name and email address where you receive the WINs. Click SEND, you will be removed from list. If this link doesn't open a blank email, create one on your own and send to afio@afio.com with the words: REMOVE FROM WINs as the subject, and provide your full name and email address where you are currently receiving them.
b) IF YOU ARE NOT A MEMBER, and you received this message, someone forwarded this newsletter to you [contrary to AFIO policies]. Forward to afio@afio.com the entire WIN or message you received and we will remove the sender from our membership and distribution lists. The problem will be solved for both of us.
CONTENTS of this WIN [HTML version recipients - Click title to jump to story or section, Click Article Title to return to Contents. This feature does not work for Plaintext Edition or for some AOL recipients]. If you wish to change to HTML format, let us know at afio@afio.com. The HTML feature also does not work for those who access their e-mail using web mail...however NON-HTML recipients may view the latest edition each week in HTML at this link: https://www.afio.com/pages/currentwin.htm
---
WINs are protected by copyright laws and intellectual property laws, and may not be reproduced or re-sent without specific permission from the Producer. Opinions expressed in the WINs are solely those of the editor's or author's listed with each article. AFIO Members Support the AFIO Mission - sponsor new members! CHECK THE AFIO WEBSITE at www.afio.com for back issues of the WINs, information about AFIO, conference agenda and registrations materials, and membership applications and much more!
(c) 1998 thru 2020. AFIO, 7600 Leesburg Pike, Suite 470 East, Falls Church, VA 22043-2004. Voice: (703) 790-0320; Fax: (703) 991-1278; Email: afio@afio.com
---
About AFIO | Membership Renewal | Change of Address | Upcoming Events | Chapter Locations | Corporate/Institutional Memberships | Careers in Intelligence Booklet | Guide to the Study of Intelligence | Intelligencer Journal | Weekly Intelligence Notes | To Make A Donation | AFIO Store | Member-Only Section | Code of Ethics | Home Page
---