---
Section I - INTELLIGENCE HIGHLIGHTS

2,000 COVID-19 Scams Killed By British Spy Unit In Just One Month. Across the world, law enforcement and intelligence agencies are waging a different kind of war on COVID-19, one taking on scammers who're exploiting fear around the coronavirus.

In the U.K., an arm of the GCHQ intelligence agency, has spent the last month wiping COVID-19 crooks from the web, with the National Cyber Security Centre (NCSC) announcing Monday that it had taken down more than 2,000 scams in a single month.

The swindles included: 471 stores selling fraudulent coronavirus related items, 555 websites trying to launch malware on visitors, 200 phishing sites seeking personal information such as passwords or credit card details, and 832 "advance-fee frauds" where victims are duped into handing over a "set-up" payment in the belief they'll get a large sum in return. [Read more: Brewster/Forbes/20April2020]

Sherman Leaving ODNI, Joining DoD as Next Deputy CIO. John Sherman, the chief information officer for the intelligence community, is leaving after two-and-a-half years, but he isn't going far.

Sherman is joining the Defense Department to be its principal deputy CIO, replacing Essye Miller, who is retiring in June.

"It's been an honor to work at ODNI and lead the efforts to modernize the IC information technology environment. All of our progress is a testament to the unified effort and team work of the CIOs across the community. Together with the IC CIO team we have set a strong foundation for the future," Sherman said in a statement. "I look forward to assisting DoD CIO, Dana Deasy, and the Department of Defense with its ongoing digital modernization." [Read more: Miller/FederalNewsNetwork/20April2020]

Somalia Rejects Kenyan Media Reports its Intelligence Agency 'Facilitated' Al-Shabaab Attacks. Somalia has vehemently denied reports published on the Kenyan media, which alleged that the Somali National Intelligence and Security Agency (NISA) was working with the Al-Shabaab militant group to coordinate attacks against the neighbouring country as well as the African Union peacekeeping forces in the country.

The Star and Standard newspapers in Kenya, citing a "confidential" report from the Kenyan security forces, claimed there was evidence NISA had been supporting the militant group with intelligence and finances in its attacks against Kenyan targets both in Somalia and in Kenya.

"A top NISA official is named as the main contact person who has been in constant communication with the militant group. He is suspected of facilitating the Al-Shabaab through financial and material support, including armaments and critical information on Amisom [African Union Mission in Somalia] troop movement, particularly the Kenyan contingent," claimed a report published by the Standard.

The same intelligence official had reportedly facilitated a $1.5 million cheque to Al-Shabaab and identified "soft targets" along the border between the two countries for the militants. [Read more: SomaliAffairs/18April2020]

Algeria Suspends Senior Official in Intelligence Agency 'Purge'. Mohamed Bouzit was appointed on Thursday as chief of the external security directorate, succeeding Kamel-Eddine Remili.

New army chief, Major-General Said Chengriha, oversaw the appointment ceremony.

Bouzit's appointment came at the order of President Abdelmadjid Tebboune in his role as defense minister and commander of the armed forces, said Chengriha.

Remili had stepped down from his post three days after the dismissal and imprisonment of internal security and head of intelligence chief Wasini Bouazza. [Read more: AsharqAlAwsat/17April2020]

U.S. Floats Pulling Afghan-Based CIA. The United States is considering pulling back front-line CIA personnel from bases in Afghanistan, according to U.S. officials, as part of the U.S. government's effort to further reduce violence in the country in the wake of its landmark peace agreement with the Taliban.

The deliberations over the CIA presence in the country are part of larger discussions about pulling back international forces to push forward the peace plan, which shows signs of floundering amid continuing violence.

Top Taliban leaders have demanded reductions in the CIA presence in the country alongside U.S. troops, something that until now U.S. negotiators have resisted. There are thought to be several hundred CIA officers and contractors in Afghanistan, a number that fluctuates often.

CIA personnel operate in various places around the country, advising militia groups. [Read more: NYTimes/18April2020]

University of Lynchburg Launches Intelligence Studies Major. Starting this fall, students at the University of Lynchburg will be able to major in intelligence studies. Housed in the International Relations and Security Studies Program, the brand-new major offers courses taught by professors with practical experience in the field, including at the National Security Agency and the Drug Enforcement Administration.

"Intelligence studies provides students with a rigorous liberal arts approach to the study of international security policy and issues," said Dr. David Richards, chair of the International Relations and Security Studies Program. "It prepares students to be job-competitive in both government and the private sector."

The major examines the relationships between state and non-state actors, including NGOs, multinational corporations, and non-state paramilitary organizations. Fundamental questions addressed in the security field include: What is needed to provide a safe and secure world? What leads to comprehensive human security? How do security threats like terrorists form and persist, and what can be done to negate their actions?

Intelligence studies encompasses 39 credit hours and will feature hands-on classes taught by experts, as well as experiential learning opportunities such as internships. "These hands-on, real-world, workplace internships will introduce students to jobs in the field, as well as give them résumé-building skills," Richards said. [Read more: Broom/WLNI/15April2020]

Coronavirus Scientists are Big Targets for Foreign Cyber-Espionage, FBI Says. Nation-state hackers have been running cyber-espionage operations against medical research organizations in the U.S. that are studying the novel coronavirus, according to the FBI.

"We have certainly seen reconnaissance activity and some intrusions into some of those institutions, especially those that have publicly identified themselves as working on COVID-19 related research," the deputy assistant director of the FBI's cyber division, Tonya Ugoretz, said Thursday while speaking on a virtual panel hosted by the Aspen Institute.

Ugoretz did not specify the nature of the intrusions, the timing of the targeting and intrusions, or which entities had been targeted. [Read more: Vavra/Cyberscoop/16April2020]

Judge Dismisses Lawsuit Challenging Censorship of Writings by Ex-Officials. A federal judge on Thursday dismissed a novel lawsuit challenging a censorship system the government uses to ensure that millions of former military and intelligence officials disclose no classified secrets if they write articles and books after leaving public service.

It has become a routine part of gaining a security clearance to consent to prepublication reviews of writings that relate to government work. Over the past 40 years, that system has expanded to cover many more officials and agencies than it did in 1980, when the Supreme Court upheld it in a cursory and unsigned decision.

But in a 57-page opinion, Judge George J. Hazel of the Federal District Court of the District of Maryland ruled that the 1980 precedent still controlled the legal dispute - at least at his level. He wrote that only the Supreme Court can decide if one of its precedents is obsolete in light of changed circumstances. [Read more: Savage/NYTimes/16April2020]



---
Section II - CONTEXT & PRECEDENCE

Meet Dusko Popov: A Nazi-American Double Agent. On March 18, 1941, an accident took place in the crowded streets of New York's Times Square. Normally an accident like this would not make news. After all, such things happened frequently. This incident, however, was different.

The victim, while lying on the ground, was then run over by a second vehicle, which sped away. The man died the next day in a New York hospital. In his possession was a Spanish passport in the name of Don Julio Lopez Lido. New York police officers traced the man to the Taft Hotel in New York City. Upon searching his room, they were shocked to find secret documents, including a report on the defenses of the U.S. Army base at Pearl Harbor, Hawaii, and nearby Hickam Field. This information was then turned over to the FBI. After a thorough investigation, Don Julio Lopez Lido was identified as Ulrich von der Osten, a top member of Germany's military intelligence service, the Abwehr, who had been sent to the United States to set up a spy ring.

Unknown to the FBI was that the death of Ulrich von der Osten would lead to another spy case involving Great Britain, the United States, and Germany. [Read more: WarfareHistoryNetwork/18April2020]

Fort Detrick Installation Utilizes Whole of Government Approach to Tackle COVID-19. Fort Detrick, located in Frederick, Maryland, may be small in size, but its scientific expertise is mighty - and when faced with a global pandemic, the installation is at the forefront of the COVID-19 response.

"We are using both our immediate research capabilities and our larger interagency partnerships to help tackle COVID-19," said Brig. Gen. Michael Talley, commanding general of the U.S. Army Medical Research and Development Command (USAMRDC) and Fort Detrick. "The trust and hope placed in our team by the Department of Defense, the Department of the Army and the American public have already enabled us to make great strides in this fight, and we are eager to pursue this effort to the end."

The installation is home to the National Interagency Confederation for Biological Research (NICBR), of which USAMRDC is a member. This consortium of eight agencies shares a common vision of federal research partners working in synergy to achieve a healthier and more secure nation. It serves as a framework for facilitating and encouraging interaction among member organizations on topics of mutual interest, like COVID-19. NICBR includes elements of the DOD, Health and Human Services, the U.S. Department of Agriculture and Homeland Security, and its members collaborate and share technical expertise and scientific support.

There is no better place to witness the whole-of-government approach in action than at Fort Detrick, which is playing a significant role in COVID-19 response efforts by relying on unique communities of research and acquisition personnel during this challenging and unprecedented time. [Read more: dvids/21/April2020]

Book Review: Tracing the Cold War Roots of Russia's Digital-Age Intelligence Strategy. Spying may be the world's second-oldest profession, but Russian President Vladimir Putin has certainly given it a fresh makeover.

To fully grasp what Russia did in the 2016 United States (US) presidential election - and hopes to replicate this fall - you need to look back to the end of the Cold War. Putin was a young Soviet KGB officer in Dresden, East Germany, and as the Berlin Wall teetered, he sought guidance from Moscow. The response: "Moscow is silent."

Putin was stunned as the Soviet empire collapsed in what he has called the "greatest geopolitical catastrophe of the 20th Century." To restore what was lost, Putin has focused on reimagining Russian intelligence - something the US often underestimated until the last presidential vote.

"Spies - the threat of foreign ones and the successes of Russia's own - would be a defining theme for Vladimir Putin," Gordon Corera wrote in his excellent new book, Russians Among Us: Sleeper Cells, Ghost Stories, and the Hunt for Putin's Spies. [Read more: Myre/WashingtonPost/21April2020]

A Secret List Of 10 Of Best Spy Shows You Should Watch During Lockdown. Life of spies and detectives has intrigued people everywhere, no matter how old they are. Hell, most of us wanted to be one when growing up! Life though turned out to be quite different. But so what if we can't be spies, we could escape to the world of one through some great shows, right?

And if like me, you are also looking for shows that have truly defined how we look at and understand spies, then here is the perfect list for you. [Read more: Srivastava/ScoopWhoop/18April2020]


---
Interview: Gathering Intelligence During a Pandemic. The Intelligence Community by many accounts was on to the possibility of a pandemic like this one for a long time. Well, now that it's here, what effect might the pandemic be having on the intelligence community itself? For an assessment, Federal Drive with Tom Temin turned to Martijn Rasser, the senior fellow for technology and national security at the Center for a New American Security. [Listen: Temin/FederalNewsNetwork/17April2020]

What It Was Like to Be Followed by a KGB Agent in the 1990s. I wanted to go to Russia when I finished my training at The Farm. I had originally entered the service as an analyst, but after learning more about the clandestine arm of the agency and the work that they did, I knew that's where I wanted to be.

They put you through psychological training to make sure that you will be able to handle the job in the field. They want to make sure you are able to mentally deal with people tapping your phone, filming you inside your home and following you everywhere you go. There are people, even in the agency, who can't deal with the reality of that life. Or have families that make that element difficult.

The experience in Russia is just a whole other level of what we call operational tradecraft, because the opposition is spending a lot of money and resources against you. Every single person that you meet with outside of the office is going to be stopped and questioned. And if they have information that the US government wants, they are going to be dealt with. On top of that, they are going to be turned against you, if they can be.

I was there when Aldrich Ames was arrested by the CIA for espionage against the US. [Read more: Thorpe/InsideHook/20April2020]


---
Section IV - Research Requests, Obituaries, Jobs
CALLING ALL WOMEN INTELLIGENCE OFFICERS: Book author seeks interviews with female intelligence officers
Liza Mundy, author of Code Girls: The Untold Story of the American Women Code Breakers of World War II, is working on a book about the history of women at the CIA. She is eager to interview women intelligence professionals, retired and active, to gather their insight into topics including their own careers; the intelligence community's changing climate for women; signal achievements by women and female teams, including, for example, the women of Alec station; and encounters with early pioneers such as Eloise Page and others. The CIA public affairs office is cooperating. The book will be published by Crown, a major commercial publisher. The aim is to highlight women's contributions to intelligence and national security—a female equivalent to Evan Thomas's The Very Best Men. If you would be willing to chat and share your insights, please contact Liza at lizamundy@gmail.com or 703-517-1542 (phone, text or Signal app).
Her book Code Girls was a New York Times best-seller and received glowing reviews in publications including The Washington Post, The New York Times, and Studies in Intelligence, which said that "Code Girls pays tribute to an unsung group of patriotic Americans who, more than seven decades later, are just now receiving their due." It won awards including "Best General Audience Intelligence Book" of 2018 from AFIO, which said that "Code Girls does for women of that era what Hidden Figures did for African American women of the 1960s and Windtalkers did for the native American code communicators of World War II." In addition, she is currently a scholar-in-residence with the history office at NSA, where she is researching the postwar careers of female codebreakers, looking at many of the same issues.
Arthur Brooks, 81, an associate member of AFIO, died 11 February 2020 in Simi Valley, CA.
Roy Burks, CIA SIGINT "Trailblazer", Director of CIA Office of SIGINT Operations
Archie Roy Burks, 88, a CIA "Trailblazer" and SIGINT Pioneer, Director of CIA Office of SIGINT Operations, died 14 April 2020 in Lancaster, PA.
Archie was born in Louisville, KY. His father was a co-owner of an electronics retailer. Roy graduated from Manual High School in Louisville where he was class valedictorian, state champ in the 100 yard dash, and one of Louisville's top football stars. He attended the University of Wisconsin, Madison graduating Phi Beta Kappa with a Master's degree in System Engineering in 1954. Roy was a member of the University of Wisconsin track and football teams. He was an academic all American at the University of Wisconsin.
Roy became a leading pioneer of America's Signals and Imagery Intelligence [SIGINT] program at the Central Intelligence Agency where he worked for 30 years. Burks was the cofounder and first director of an interagency office that became a highly productive and cost effective program in the history of the Intelligence Community. Later as Director of the Office of SIGINT Operations, Burks developed multiple new technical intelligence programs each of which are still producing quality intelligence today. Roy was the payload system technical director for the US's first satellite imaging system - the Corona program.
He was recognized and honored by the CIA in 1997 as one of 50 "Trailblazers" - the 50 most distinguished CIA officers in the CIA's first 50 years. He also was awarded the CIA's highest service awards including the Distinguished Intelligence Medal, and two Intelligence Medal of Merits.
In 2000, Roy was recognized and honored by the National Reconnaissance Office (NRO) as one of the first group of 46 NRO "Pioneers" who made significant and lasting contributions to national reconnaissance.
Following his retirement from the CIA, Roy worked as a Director for GTE and did private consulting work before his final retirement.
He is survived by his current wife Joan, his first wife Norma, two sons, a daughter, and six grandchildren.
Roy Burks will be buried at Arlington Memorial Cemetery at a later date when such burials are possible again.
Larry Laser, CIA Operations Officer in Latin America Division
Lawrence Clement Laser, 86, a CIA Operations Officer, died 13 April 2020 in Annapolis, MD.
Larry was an enormously successful case officer, especially during his several tours in Brazil, where his successes in collection and influence operations earned him the sobriquet "Mr. Brazil" within the Agency.
He was raised in Kenilworth, MD. He graduated from Bladensburg High School in 1951, He attended the University of Maryland and after graduation taught Spanish at the University. His bride, Phyllis, joined the CIA Office of Security and Larry soon followed, joining the Latin American Division of CIA. Fifty years (as staff and contract) of exciting and rewarding work followed, including ten in Brazil, four in Miami, and extensive international travel. Larry's positions included Chief of Base, Chief of Station, Chief of Operations for Latin America, and Chief of Counter Narcotics, with world-wide responsibilities.
Larry and Phyllis developed a love for Brazil and her people. When Chief of Base in Belo Horizonte, the City Council voted him an honorary citizen.
His all-star CIA wife, Phyllis quickly learned Portuguese, supporting Larry in three successful careers, the other two being Director of International Affairs for a major energy company and President of a business security/intelligence firm.
Larry and Phyllis then became active in the Bay Area Community Church, where they served as ushers/greeters for many years. Larry's interests were many and varied, including ballroom and country line dancing, sports, and landscaping. They were volunteer DJ's (country line dancing) for many years, playing at senior centers, nursing homes, the Moose, and other spots.
He is survived by his wife, Phyllis Mae Laser, two sons and a daughter, and other family.
Mo Sovern, CIA Operations Officer
Maurice Alan Sovern, 90, CIA Senior Operations Officer, died 14 April 2020 of complications of Covid-19 in Larchmont, NY.
He graduated Purdue University, 1951; received a law degree, George Washington University, 1959. Served in the US Army followed by 38 years of service in Washington and abroad with CIA's Operations Directorate in various capacities. During period 1982-1989 Mo was CIA Senior Officer responsible for liaison with all Intelligence Community Agencies as well as managing the U.S. Defector Program. Was awarded honorary Doctorate of Strategic Intelligence by Defense Intelligence College in June, 1989. He then served as assistant to president of USATREX International, Inc., an international security services firm in McLean, VA.
His wife, Georgia May Sovern, died in 2013.
He was a member of AFIO since 1989. He was the former president, later chairman, of CIRA - the Central Intelligence Retirees Association.
A full bio will appear in a forthcoming edition of the WINs and the journal.
Charlie Stegall, NSA Manager and Linguist
Charles Blair Stegall, 87, NSA Manager and Linguist, died of complications from liver failure on 9 March 2020. He lived in Melbourne, FL.
Charlie served with the U.S. Navy and the National Security Agency for 37 years, retiring in 1989. In his early years with NSA, he was a Russian linguist. He rose to become a manager in A1 at the time of his retirement. He continued to be active in the U.S. Naval Reserve until 1992. As a reservist, he was appointed by Commander, Naval Surface Reserve Forces, as National Language Coordinator, East, to establish and operate classified training in multiple languages for Naval Reserve Linguists from the eastern United States.
Charlie grew up in the small town of Marshville, NC where he met his his wife, Patsy. In his early years he earned The Eagle Scout Award and was appointed U.S. Senate Page in 1948.
In his retirement years he and Patsy enjoyed traveling all over the world often with friends from NSA and the military.
His wife of 67 years, Patsy, preceded him in death by two weeks.
He is survived by a son and other family.

---
IT Acquisitions Subject Matter Expert for Intelligence Community Client; Other Openings in Reston and Bolling AFB
E3/Sentinel has a funded opening for an IT Acquisitions Subject Matter Expert with specific experience in IT architecture requirements to support an IC customer. Candidate will assist in developing innovative business strategies and procurement policy/processes. Only candidates with TS/SCI clearances will be considered. Contact Rosanna Minchew rminchew@e3sentinel.com for more details.
E3/Sentinel has multiple openings for Contracts Specialists, Acquisition Analysts, Cost/Pricing Analysts and Contracts Closeout Specialists. Positions in Reston and at Bolling AFB. TS/SCI required to be considered for interview. Polygraph preferred. Contact Rosanna Minchew rminchew@e3sentinel.com for more details.
Adjunct instructors at the University of Texas at El Paso (US)
The National Security Studies Institute at the University of Texas at El Paso (UTEP) (see their website here) is seeking adjunct instructors to teach online graduate-level courses:
Legal Issues in Intelligence and National Security
Propaganda and Influence Operations
Intelligence and Counterterrorism
Political Economy of Terrorism
Risk Analysis
Emergency Management
Public Health and Homeland Security
A PhD in public policy, security studies, political science, or a related field is required.
Interested and eligible applicants should contact Stephen Coulthart (sjcoulthart@utep.edu).
Two Positions at James Madison University for Assistant or Associate Professor - Intelligence Analysis
James Madison University (JMU) located in Harrisonburg, VA, seeks applicants for two faculty positions in its Bachelor's Degree Program in Intelligence Analysis (IA). The appointments will be at the Assistant or Associate Professor level and will reside within the larger School of Integrated Sciences. The IA program offers a multidisciplinary undergraduate degree with an emphasis on methodology and technology to prepare students to become analysts, with a specialization in intelligence analysis. Its graduates have been successful in securing positions as analysts in both the public and private sectors, to include the Intelligence Community, military and law enforcement organizations, defense contractors, and major consulting firms. The program emphasizes methodology and synthesizes critical and creative thinking methods with technological tools for data collection, visualization, and analysis with situational knowledge of a problem's political, economic, social, and technological context with strong communicative and professional skills to support decision-making.
Ideal candidates will be comfortable in an interdisciplinary, diverse setting and possess the potential for becoming an excellent teacher to future analysts in one or more intelligence domains including national security, military, homeland security, law enforcement, private sector security, cyber security, and geospatial. They optimally have a background in either mixed-methods, qualitative, or quantitative research and analysis methods. We especially encourage applications from candidates that can leverage the use of systems thinking, employ data science in analysis, support the development of writing skills, or teach ethics specifically for future analysts. The typical teaching load in the school is 3 courses per semester.
We welcome applicants from all academic disciplines—to include the humanities, social sciences, and sciences—that provide a knowledge foundation for doing analysis. Prospective candidates should review our curriculum online to identify areas that match their expertise and to locate potential areas that they could help the program to develop. The program values teaching excellence as well as one-on-one professional mentoring and seeks candidates who can demonstrate potential for both. In addition, the position requires the potential for an active program of scholarly activity. The position requires either a Ph.D. in a relevant academic field by the date of hire (for a tenure-track appointment) OR Master's Degree with substantial experience in the field (for appointment on a Renewable Term Contract).
More information or applications may be found here.
Do not let Social Distancing slow your career. New Positions Available with Thomson Reuters
Many other jobs available with Thomson-Reuter. Email Brian Lemley for a list with descriptions and links.
FireEye Has Many Intelligence Positions Available For You - Worldwide - Contract, Full-time, Part-time, Interns
Explore the many career and contractor intelligence jobs available here. Jobs openings in Cyber Security include - Advisory, Architecture, Digital Forensics & Incident Response, Penetration Testing, Threat Research. They positions are needed here: New York, Chicago, Manila, Reston, Dallas, Atlanta, Suitland, Singapore, Denver, Las Vegas, Phoenix, Doha, Stockholm, London, Milpitas, multiple cities in Australia, Washington, Indianapolis, Tampa, Santiago, Alexandria, Seattle, Carlsbad, Houston, San Francisco, Arlington, Dubai, Amsterdam, Ft Belvoir, Minneapolis, Mexico City, San Diego, Boston, El Segundo, Philadelphia, San Antonio, Chiyoda, Ft Huachuca, Ft Gordon, Ft Meade, Ft Shafter, Kuwait City, Seoul, Sttutgart, Salt Lake City, Austin, Dublin, Bangalore, Cork, Colorado Springs... Explore the many career and contractor intelligence jobs available here.
---
AFIO EDUCATIONAL EVENTS IN COMING TWO MONTHS....

CANCELLED for Public Safety from Coronavirus - Saturday, 9 May 2020 -- Indialantic, FL - Florida Satellite Chapter hears Col Prince on the Qu'ran

The speaker will be AFIO Florida Satellite Chapter member Col. Bill Prince, USA (ret.) After graduating from West Point, Bill served in Vietnam with both Ranger and Special Forces units. He resigned his regular army commission to accept a position as a CIA case officer, with subsequent experiences in numerous hostile environments. He has a graduate degree from Harvard, where his studies focused on the Middle East. The topic of his address will be the Qur'an, a subject he has studied extensively.

Please note that attendance at Florida Satellite Chapter meetings is always well within current CDC guidelines against gatherings of fifty or more.

Timing: 11:30 AM - 12:15 PM: Social Hour, greet old, new members and guests. Cash bar. 12:15 PM: Sit Down lunch

TO ATTEND: Prepaid reservations are required which must be received by 2 May 2020.

Florida Satellite Chapter meets at the Doubletree Melbourne Beach Oceanfront, 1665 N. Highway A1A, Indialantic, FL 32903.
For more information, or to register for the luncheon meeting, contact Chapter Treasurer Rhonda Rhoads, P.O Box 410158, Melbourne, FL 32941. Rhonda can also be reached at afiofsctreas@gmail.com and at 321-626-4465. CANCELLED for Public Safety from Coronavirus.

RESCHEDULED from Spring: Friday, 23 October 2020, 10:30 a.m. - 2 p.m. - Tysons, VA - AFIO National Fall Luncheon features Washington Post columnist David Ignatius, and Author, former Post reporter Stephen Vogel

HOLD THE DATE: The morning speaker will be David Ignatius, author of the upcoming intelligence novel, The Paladin: A Spy Novel [WW Norton, May 2020]. Ignatius is a Washington Post columnist and has been covering the Middle East and CIA for nearly three decades.
Of Ignatius' forthcoming novel, reviewers wrote: "For me nothing is more intriguing than life inside our intelligence agencies. David Ignatius uses his decades' worth of reporting experience to take us there in this fast-moving, jaw-dropping drama that reads like it was ripped from the headlines. I recommend you grab a copy and hold on tight for the entire thrilling ride." — Brian Kilmeade, Fox News.
"David Ignatius once again takes readers behind the scenes of America's most secretive bureaucracy, revealing in fiction what could never be declassified in fact. The Paladin is yet another stirring read from one of America's most revered reporters and gifted storytellers." — Joe Scarborough, MSNBC
The afternoon program features Stephen Vogel, author of Betrayal in Berlin: The True Story of the Cold War's Most Audacious Espionage Operation [Custom House, Sept 2019]. Vogel is a former Washington Post reporter who covered the federal government. He was based overseas from 1989 through 1994 where he covered the fall of the Berlin Wall and the first Gulf War, and subsequently reported on military operations in Somalia, Rwanda, the Balkans, Afghanistan and Iraq.
Of Betrayal in Berlin, Former CIA Officer Sandy Grimes wrote: "The best spy book I have ever read...Steve Vogel is a talented and gifted writer who brings the personalities and idiosyncrasies of every participant in this operation to life. His research is vast, varied, and full of detail. It is truly one of those rare books you can't put down."
Registration will open in late September.

Venue: DoubleTree by Hilton, 1960 Chain Bridge Rd, Tysons Corner, VA 22182 Phone: (703) 893-2100. Directions at this link.
---
Other Upcoming Events from Advertisers, Corporate Sponsors, and Others
Thursday, 23 April 2020, noon - 1 pm - Virtual Talk - Curator's Corner: Robert Hanssen, An Inside View - by the International Spy Museum
Attend virtually (using GoToWebinar software - link to be provided) this presentation by the International Spy Museum. It is an online discussion of one of the most damaging spies in US history. SPY historian/curator Vince Houghton will talk with former FBI operative Eric O'Neill about the worst boss he ever had: Robert Hanssen. O'Neill will discuss the case and how it fits into the Museum's Turncoats & Traitors gallery. They'll take a look at some of the key artifacts on view...and some that aren't!
Event is virtual and FREE! Registration Required. Register here.
Thursday, 23 April 2020, 5:30 - 6:30 pm - Virtual - Spies & Spymasters with Dmitri Bystrolyotov - a Virtual Happy Hour by the International Spy Museum
Attend virtually (using GoToWebinar software - link to be provided) this presentation by the International Spy Museum. Spy stories and cocktails are back! This evening, Shana Oltmans, Exhibitions & Programs Manager, will share the story of Soviet Romeo spy Dmitri Bystrolyotov, who used his charm and good looks to steal secrets and then used those same skills to survive imprisonment in the Gulag. Shana will be joined by special guest Costa Ronin who is an expert at playing the role of a Russian spy with his characters in hit TV series The Americans and Homeland and as our own Bystrolyotov in the Museum. You're welcome to ask questions after the talk.
Event is virtual and FREE! Registration Required. Register here.
CANCELLED for Public Safety from Coronavirus - 26-29 April 2020 - Tampa, FL - USGIF GEOINT 2020 Symposium
US Geospatial-Intelligence Foundation's GEOINT 2020 Symposium has the theme, "New Decade, New Challenges, New Strategies."
Learn more. Network with more than 4,000 GEOINT Community professionals from 40+ countries spanning defense, intelligence, homeland security, industry, and academia. See the latest in technology, services, and solutions from 200+ exhibitors in more than 100,000 sq ft of exhibit space. Learn from 50+ hours of professional development, training, and education sessions with PDUs and CEUs.
All official GEOINT 2020 hotels are conveniently located within walking distance of the Tampa Convention Center, and are only available through the GEOINT Symposium website and our registration partner SPARGO.
Do not delay reserving your hotel room, booking your flight, or registering for the nation's premier geospatial intelligence event of the year, which returns to Tampa from Sunday, April 26, to Wednesday, April 29.
View program, speakers, and registration requirements here.
CANCELLED for Public Safety from Coronavirus - 17 June 2020, 10 a.m. to 1 p.m. - Annapolis Junction, MD - The NCMF Summer Cryptologic Program features Seth Jones on "Covert Action."
(Date is subject to change depending upon COVID-19 related restrictions.)

This National Cryptologic Museum Foundation 2020 Summer program features Political Scientist & Author Seth Jones. Jones is a senior advisor at the Center for Strategic and International Studies (CSIS) in Washington, DC. His most recent book, A Covert Action: Reagan, the CIA, and the Cold War Struggle in Poland, details the dramatic untold story of one of the CIA's most successful intelligence operations during the Cold War, which has important implications for today's threat from Russia. Learn more about Jones's books.
Registration is not yet open, but the fee will be $25 and will include lunch. For your convenience, we will offer easy online registration. You may also mail-in your registration fee using the Flyer/Registration form (coming soon). Or mail checks to NCMF, P.O. Box 1682, Fort George G. Meade, Maryland 20755-9998, and include the names of all registrants. For more details, please call the NCMF office at 301-688-5436.

Visit the NCMF Event Page for updates. (Date is subject to change depending upon COVID-19 related restrictions.)
CANCELLED for Public Safety from Coronavirus - 25 - 27 June 2020 - Pordenone, Italy - IAFIE 2020 Annual Conference - Intelligence Education, Research and Practice in the 2020s
The 2020 Annual Conference of the International Association for Intelligence Education (IAFIE) will be held in Pordenone, Italy from June 25 to 27. This year IAFIE and IAFIE EC are joining hands in organising a joint annual conference examining the intelligence requirements for the next decade 2020- 2030, with its changing threat environment and fast developing technological advancements. The conference papers will reach out to other cognate disciplines for a multidisciplinary approach and brings scholars and practitioners together for a blend of research and applied discussions on intelligence. This will be the 5th Annual Conference of IAFIE EC. The topics/themes for the conference are Intelligence Analysis, Intelligence Domains, Management of Intelligence Community, and Intelligence Education and Research. Authors of recent books, monographs and reports in line with these topics/themes are also invited to submit proposals to participate in Author Roundtables. Please email your general enquiries to iafie2020@ecoleuniversitaireinternationale.net. More information here. CANCELLED for Public Safety from Coronavirus
NEW DATE - Saturday, 24 October 2020, 5:30 p.m. - Washington, DC - Save the Date! PenFed Foundation's 2020 Night of Heroes Gala
PUT ON CALENDAR AND HOLD THE DATE: The Pentagon Federal (PenFed Credit Union) Foundation will be hosting their spectacular Night of Heroes Gala on Saturday, 24 October 2020 at the Mandarin Oriental in Washington, D.C. Last year's annual gala raised over $1.5 million and honored children of military families.
VIP Reception at 5:30 PM
General Reception and Silent Auction at 6:00 PM
Location: The Mandarin Oriental, 1330 Maryland Ave SW, Washington, D.C.
Attire: Black Tie or Military Dress
RSVP: October 2, 2020
Click here to learn more or sponsor a table.
---
In addition to the new Royal Blue long sleeve shirts, and the gray long sleeve hooded sweatshirts, the AFIO Store also has the following items ready for quick shipment:
NEW: LONG and Short-Sleeved Shirts with embroidered AFIO Logo and New Mugs with color-glazed permanent logo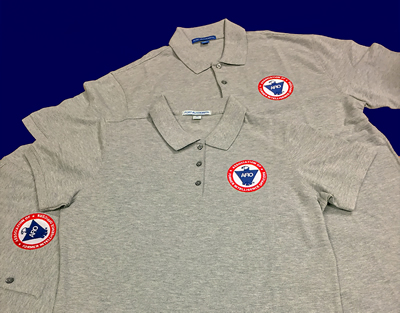 Show your support for AFIO with our new Polo Shirts. Be the first to buy these new, high quality, subtle heathered grey short sleeve shirts, and dark blue long sleeved shirts, of shrink and wrinkle resistant fine cotton with a soft yet substantial feel. They feature a detailed embroidered AFIO seal. Get a shirt for yourself and consider as gifts for colleagues, family, and friends. Only $45 each including shipping.
Sizes of (M) men or (W) women shirts; Small, Medium, Large, XL, XXL, and XXXL. At this time all orders will arrive as Short Sleeve shirts.
You may pay by check or credit card. Complete your order online here or mail an order along with payment to: AFIO, 7600 Leesburg Pike, Ste 470 East, Falls Church, VA 22043-2004. Phone orders at 703-790-0320. If interested in other shirt colors or sleeve lengths, contact Annette at: annettej@afio.com.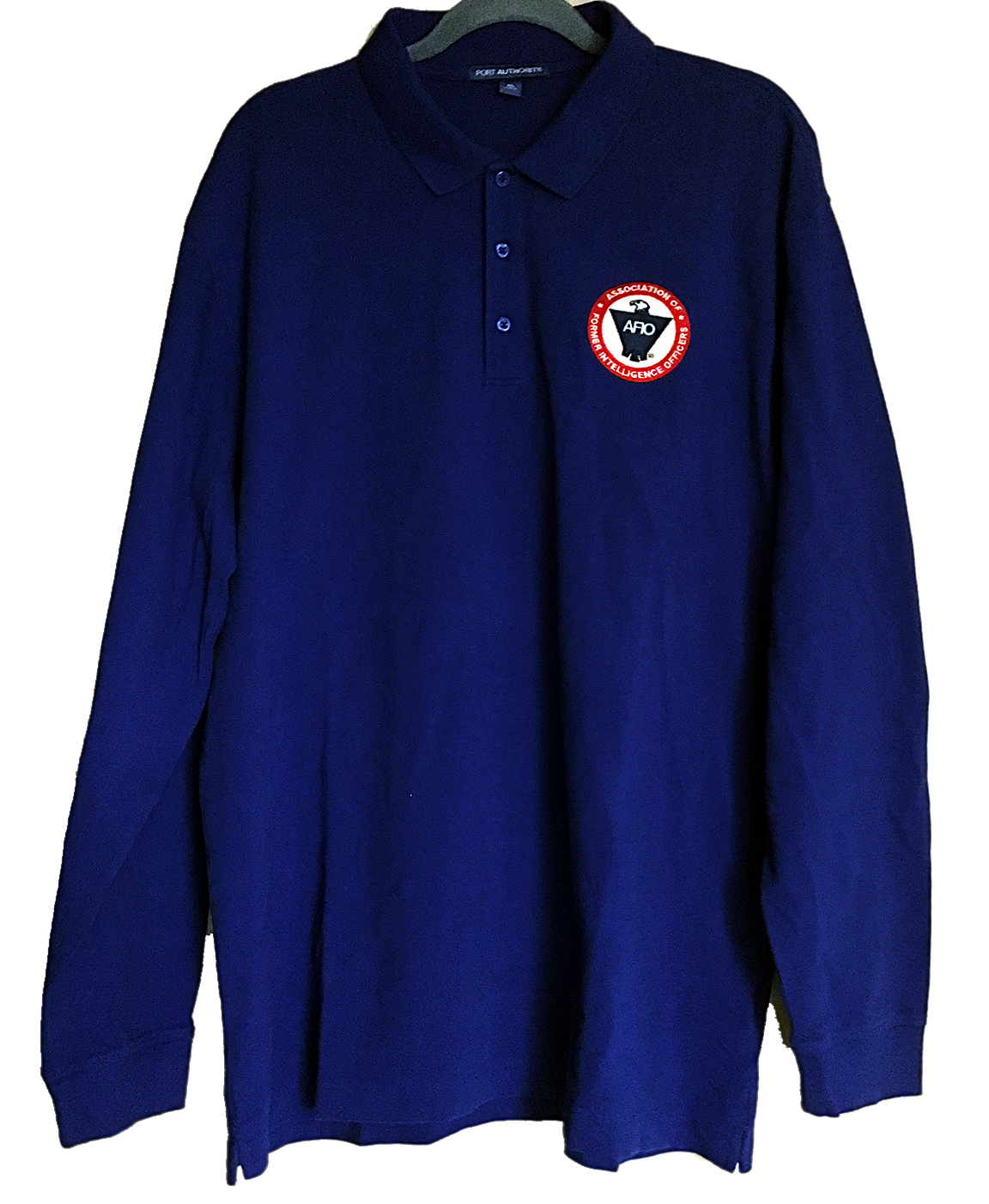 Long-Sleeved Shirts and Hooded Sweatshirts with embroidered AFIO Logo
Show your support for AFIO with our new long-sleeved Polo Shirts and Hooded Sweatshirts.
Both items are high quality and shrink resistant and feature a detailed embroidered AFIO seal. The color of the long-sleeved Polo Shirts is royal blue; the price is $55 and includes shipping.
The Hooded Sweatshirts are dark grey; the price is $70 and includes shipping.
Purchase a shirt and sweatshirt for yourself and consider as gifts for colleagues, family, and friends.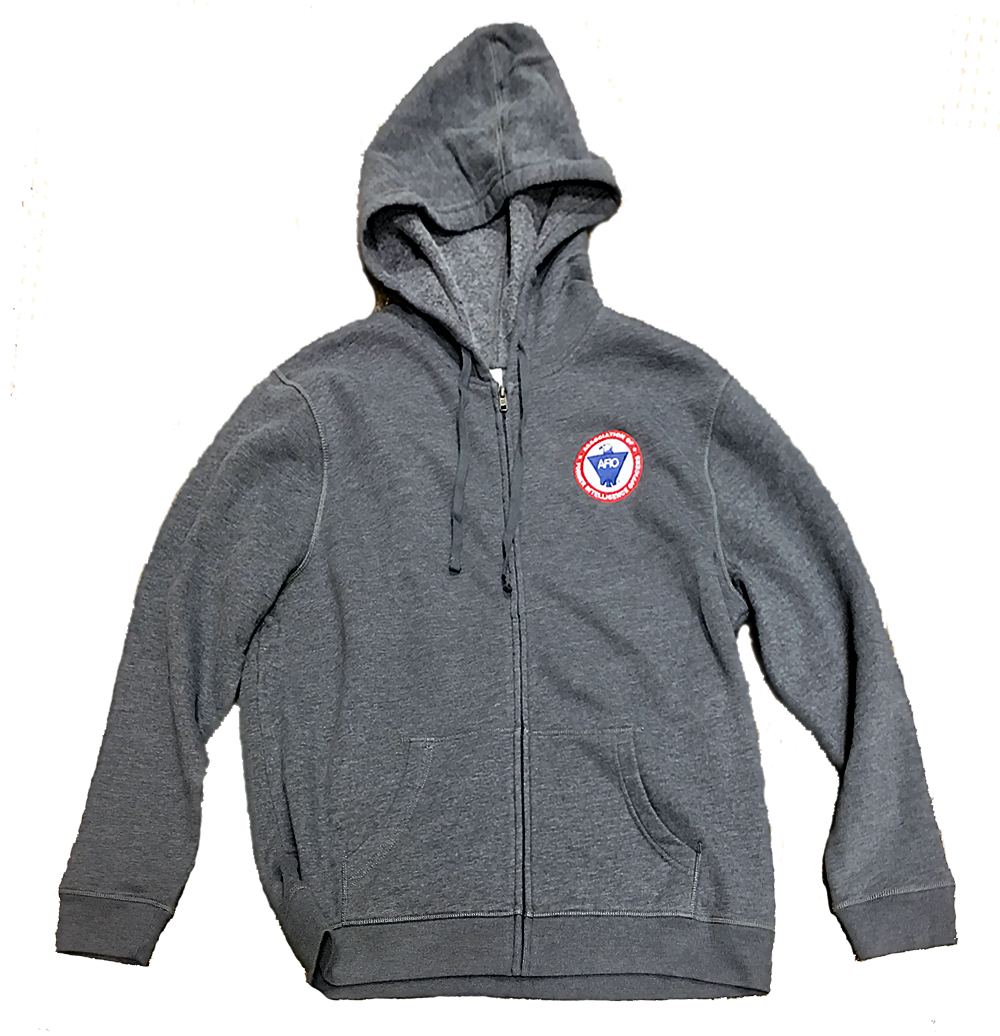 Both items are available in men's sizes: Small, Medium, Large, XL, XXL, and XXXL. The long-sleeved Polo Shirts and Hooded Sweatshirts are not available in ladies' sizes.
---
NEW: Mug with color glazed logo. Made in America. (We left out all that lead-based glaze and hidden toxins in those mugs made in China being sold by other organizations). Also sturdy enough to sit on desk to hold pens, cards, paperclips, and candy.
This handsome large, heavy USA-made ceramic mug is dishwasher-safe with a glazed seal. $35 per mug includes shipping. Order this and other store items online here.
AFIO's Intelligence Community Mousepads are a great looking addition to your desk...or as a gift for others.
Made in USA. Click image for larger view.
These 2017 mousepads have full color seals of all 18 members of the US Intelligence Community on this 8" round, slick surface, nonskid, rubber-backed mouse pad with a darker navy background, brighter, updated seals. Also used, by some, as swanky coasters. Price still only $20.00 for 2 pads [includes shipping to US address. Foreign shipments - we will contact you with quote.] Order MOUSEPADS here.
---
Guide to the Study of Intelligence and When Intelligence Made a Difference
"AFIO's Guide to the Study of Intelligence" has sold out in hard-copy.
However, it is available in digital form in its entirety on the AFIO website here.

Also available on the website here are the individual articles of AFIO's history project "When Intelligence Made a Difference" that have been published to date in The Intelligencer journal. More articles will be forthcoming in future editions.
---
Disclaimers and Removal Instructions
Weekly Intelligence Notes (WINs) are commentaries on Intelligence and related national security matters, based on open media sources, selected, interpreted, edited and produced for non-profit educational uses by members and WIN subscribers.
REMOVAL INSTRUCTIONS: We do not wish to add clutter to inboxes. To discontinue receiving the WINs:
a) IF YOU ARE A MEMBER - click here: UNSUBSCRIBE and supply your full name and email address where you receive the WINs. Click SEND, you will be removed from list. If this link doesn't open a blank email, create one on your own and send to afio@afio.com with the words: REMOVE FROM WINs as the subject, and provide your full name and email address where you are currently receiving them.
b) IF YOU ARE NOT A MEMBER, and you received this message, someone forwarded this newsletter to you [contrary to AFIO policies]. Forward to afio@afio.com the entire WIN or message you received and we will remove the sender from our membership and distribution lists. The problem will be solved for both of us.
CONTENTS of this WIN [HTML version recipients - Click title to jump to story or section, Click Article Title to return to Contents. This feature does not work for Plaintext Edition or for some AOL recipients]. If you wish to change to HTML format, let us know at afio@afio.com. The HTML feature also does not work for those who access their e-mail using web mail...however NON-HTML recipients may view the latest edition each week in HTML at this link: https://www.afio.com/pages/currentwin.htm
---
WINs are protected by copyright laws and intellectual property laws, and may not be reproduced or re-sent without specific permission from the Producer. Opinions expressed in the WINs are solely those of the editor's or author's listed with each article. AFIO Members Support the AFIO Mission - sponsor new members! CHECK THE AFIO WEBSITE at www.afio.com for back issues of the WINs, information about AFIO, conference agenda and registrations materials, and membership applications and much more!
(c) 1998 thru 2020. AFIO, 7600 Leesburg Pike, Suite 470 East, Falls Church, VA 22043-2004. Voice: (703) 790-0320; Fax: (703) 991-1278; Email: afio@afio.com
---
About AFIO | Membership Renewal | Change of Address | Upcoming Events | Chapter Locations | Corporate/Institutional Memberships | Careers in Intelligence Booklet | Guide to the Study of Intelligence | Intelligencer Journal | Weekly Intelligence Notes | To Make A Donation | AFIO Store | Member-Only Section | Code of Ethics | Home Page
---