---
CONTENTS
Section I - INTELLIGENCE HIGHLIGHTS
Section II - CONTEXT & PRECEDENCE
Section IV - Research Requests, Obituaries, Jobs
Other Upcoming Events from Advertisers, Corporate Sponsors, and Others
For Additional AFIO and other Events two+ months or more... Calendar of Events

WIN CREDITS FOR THIS ISSUE: The WIN editors thank the following special contributors: rsy, ec, po, pj, mh, km, gh, mk, rd, fm, kc, jm, mr, jg, th, ed, and fwr. They have contributed one or more stories used in this issue.

The WIN editors attempt to include a wide range of articles and commentary in the Weekly Notes to inform and educate our readers. However, the views expressed in the articles are purely those of the authors, and in no way reflect support or endorsement from the WIN editors or the AFIO officers and staff. We welcome comments from the WIN readers on any and all articles and commentary.

CAVEATS: IMPORTANT: AFIO does not "vet" or endorse research inquiries, career announcements, or job offers. Reasonable-sounding inquiries and career offerings are published as a service to our members, and for researchers, educators, and subscribers. You are urged to exercise your usual caution and good judgment when responding, and should verify the source independently before supplying any resume, career data, or personal information.]
If you are having difficulties with the links or viewing this newsletter when it arrives by email, members may view the latest edition each week at this link.

---

Guide to the Study of Intelligence and When Intelligence Made a Difference

"AFIO's Guide to the Study of Intelligence" has sold out in hard-copy.
However, it is available in digital form in its entirety on the AFIO website here.

Also available on the website here are the individual articles of AFIO's history project "When Intelligence Made a Difference" that have been published to date in The Intelligencer journal. More articles will be forthcoming in future editions.

---

---

AFIO Gift items for colleagues or self.

Long-Sleeved Shirts and Hooded Sweatshirts with embroidered AFIO Logo

Show your support for AFIO with our new long-sleeved Polo Shirts and Hooded Sweatshirts.

Both items are high quality and shrink resistant and feature a detailed embroidered AFIO seal. The color of the long-sleeved Polo Shirts is royal blue; the price is $55 and includes shipping.

The Hooded Sweatshirts are dark grey; price is $70 and includes shipping.

Purchase a shirt and sweatshirt for yourself and consider as gifts for colleagues, family, and friends.

Both items are available in men's sizes: Small, Medium, Large, XL, XXL, and XXXL. The long-sleeved Polo Shirts and Hooded Sweatshirts are not available in ladies' sizes.

You may pay by check or credit card. Complete your order online here or mail an order along with payment to: AFIO, 7600 Leesburg Pike, Ste 470 East, Falls Church, VA 22043-2004. Phone orders at 703-790-0320.

PAGE DOWN TO BOTTOM OF THE NOTES TO SEE MORE AFIO GIFTS. All of these items are appropriate for intelligence officers, colleagues, recruitments, agents, advisors, and family.

---

Also worth visiting are these insightful blogs, podcasts, newsletters, and articles by WTOP's JJ Green

Target USA - The National Security Podcast with JJ Green. Whether its terrorists, anarchists, cyber criminals or nation states, America has a target on its back. WTOP National Security Correspondent J.J. Green investigates the threats facing the U.S., the people behind them, the agencies fighting them and their impact on Americans.

Episode 221 — COVID-19 Questions Linger. Former CIA covert operative Robert Baer says U.S. intelligence still doesn't know exactly where the COVID 19 virus came from. Dr. Jennifer Nuzzo, a scholar and epidemiologist from John's Hopkins University says considering the dangerous nature of the virus, opening the country up to general activity too soon, could be a big mistake.

Leaks, Lags and Lies. Journalism has found itself at the crossroads of duty and the lure of celebrity. Celebrity is not a dirty word. It's a necessary element of our society. Those blessed with it often use the attendant power and resources to champion the causes of the disadvantaged.

Inside the SCIF - JJ Green's National Security Newsletter - subscribe to it.
---
Special Items for our members:
The Virus and the China Threat, released 17 Apr 2020
A call to Americans about the totalitarian and aggressive nature of the Chinese regime and the dangerous depths of our dependence on China for pharmaceuticals and the supply chains for our defense systems.
Dr. John Lenczowski of the Institute of World Politics discusses how the coronavirus pandemic has raised America's consciousness of the reality of communist rule in China and its implications for the security and prosperity of our country.
"For years, our leaders have hoped and dreamed of a benevolent, democratic China. We gave away the store on this fantasy, and now we are paying the price. Ironically, this plague is a wake-up call to the gravity of the threat from communist China."
The event was moderated by IWP Chairman John Lovewell.
Lenczowski answers questions from webinar host John Lovewell, IWP Chairman, and members of the audience, about the continuing communist nature of the Chinese regime, the many dimensions of the threat from China, and the implications of Chinese behavior during the current virus crisis. Among the many issues discussed, he notes that the American policy of friendship with China which began with Nixon and Kissinger led to a moral-strategic confusion about the nature of the Chinese regime. He lists a number of the Chinese Communist Party's actions inimical to US national security, of which too many Americans are unaware. He also explains why many government, corporate, media, and academic leaders have turned a blind eye to Chinese human rights violations, military buildup, espionage, and influence operations: many of them have been purchased, in effect, and corrupted or neutralized by China.
With regard to the current situation, he discusses how the Chinese regime has been addressing the COVID-19 pandemic and how its policies – including disinformation and suppression of its people – are characteristic of the Chinese regime, whose primary domestic goal is internal security.
Video may be viewed here.
---
From Intelligencer Senior Editor Peter Oleson:
Spies, especially "heroic" spies, have long been a major theme in Russian literature. Now Professor Kovacevic of the University of San Francisco has compiled a bibliography of Russian language books on intelligence and state security. For Russian speaking scholars this is a valuable reference. The Bibliography has been made available under the kind auspices of sister association, IAFIE (International Association for Intelligence Education) and is available on their IAFIE-Europe website here.
---
Chinese Communist Espionage featuring Matt Brazil
Podcast by the U.S. Naval Institute
Dr Matt Brazil talks about Chinese Communist Espionage: An Intelligence Primer, his new book from USNI Press, coauthored with Peter Mattis.
Interview begins here. Release date: 28 January 2020

Brazil's book was featured in AFIO WIN #40-19 dtd 22 Oct 2019 here.
His book is available for purchase from Amazon here.
A video interview of Dr Brazil on How China's Spies Became World-Class is available here.
He discusses why China has some of the best spies in the world. And China is using them in a new cold war against the United States. Dr. Matthew Brazil is interviewed by a journalist with "China Uncensored."
---
The Mind of a Spy, released Sunday, 26 April 2020
Journalist James Rosen produced this excellent video which includes an interview of Dr. David Charney about Robert Hanssen, the thought process of someone who decides to spy, and the NOIR concept (a proposed National Office for Intelligence Reconciliation) as a potential solution to preventing and stopping espionage. The show aired on Full Measure with Sharon Attkisson.
Watch Video (6.5 min) A transcript appears below the video on the webpage.

A Perfect Traitor, an episode of the Smithsonian Channel "Spy Wars" series, released 16 May 2019
The story of Robert Hanssen, who systematically compromised every single operative the FBI had working in Russia. Host Damian Lewis reveals how Hanssen's actions pitted the CIA against the FBI and triggered a mole hunt that brought the American intelligence services to their knees.
This Smithsonian Channel production features David Charney, David Major, and Milt Bearden.
A 3-minute preview of the episode is here. The full episode is available online only by subscription. It was released 16 May 2019.

More about psychiatrist David Charney MD, and his proposed NOIR approach to halting espionage, is available here.
________________________________________

THE CYBERLAW PODCASTS feature Stewart Baker [AFIO's current Chairman], a partner at Steptoe & Johnson. He is joined by various guests to discuss current, often major, privacy and cyber issues. The latest podcast is always found here. They are also available as Apple podcasts here.

The Cyberlaw Podcast episodes for March and April may be accessed directly here as mp3 files:

Episode 313: Is the international law of cyberwar a thing? recorded 27 April 2020
Episode 312: Russia's online disinformation has a 100-year history recorded 20 April 2020
Episode 311: What the Cyber Solarium Report Means for the Private Sector recorded 13 April 2020
Episode 310: Is Twitter using the health emergency to settle political scores? recorded 6 April 2020
Episode 309: How Israel is fighting the coronavirus recorded 2 April 2020
Episode 308: Location, location, location. And the virus recorded 30 March 2020
Episode 307: Is privacy in pandemics like atheism in foxholes? recorded 23 March 2020
Episode 306: The (almost) COVID-19-free episode recorded 16 March 2020
Episode 305: NSA's call detail records program: Travis LeBlanc of the PCLOB recorded 11 March 2020
Episode 304: Unfiltered: An interview with NSA's former general counsel recorded 9 March 2020
Episode 303: Another merger the FTC should block recorded 5 March 2020
Episode 302: Will the First Amendment Kill Free Speech in America? recorded 2 March 2020

The Cyberlaw Podcast is open to feedback. Be sure to engage with @stewartbaker on Twitter. Send your questions, comments, and suggestions for topics or interviewees to CyberlawPodcast@steptoe.com. Remember: If your suggested guest appears on the show, the Cyberlaw Podcast folks will send you a highly coveted Cyberlaw Podcast mug!
---
The Smithsonian National Air and Space Museum has an exhibit series on SPY PLANES - Posted on 26 April
A High-Flying Spy Plane by Russell Lee, Aeronautics Department
Until recently, a Lockheed U-2, one of the most successful intelligence-gathering aircraft every produced, was on display in the Museum's Looking at Earth gallery. It has been moved out of the Museum as part of our renovation, but will go back on display in a few years.
A Look at the SR-71
SR-71 pilot and National Air and Space Museum docent Buz Carpenter gives STEM in 30 host Marty a tour of his favorite plane, the SR-71 Blackbird. NOTE: There is no inside of the Plane. The fuselage is all fuel tanks. This is a tour of the outside of the Aircraft.
Francis Gary Powers and the U-2
Read the story of the Lockheed U-2 and pilot Francis Gary Powers, who was flying a U-2 mission over the Soviet Union when he was shot down and captured. Dive into Powers' first-hand account of his experience through his Soviet prison diary, held in our Archives.
THE SKY SPIES - An Exhibit on MI's Use of Aerial Photography
One of the major uses of aerial photography is the gathering of military intelligence. Usually unsung and unrecognized, photointerpreters and reconnaissance pilots play a vital role, often spelling the difference between success or failure, accuracy or blunder, readiness or surprise.
Explore how aerial reconnaissance photography has been used throughout history and the people who collected it in the online Sky Spies exhibit.
---
---
One of the special benefits of membership in AFIO is your authorized access to CIA's inhouse gift shop — the EAA Store. It requires a quick preapproval process described here to all newly joined and current AFIO members. And then allows you to purchase online their unusual logo'd gift items for self or colleagues. Here is another group of photos the EAA sent on the 24th of their latest items:
---
Newly Released and Forthcoming Books of the Week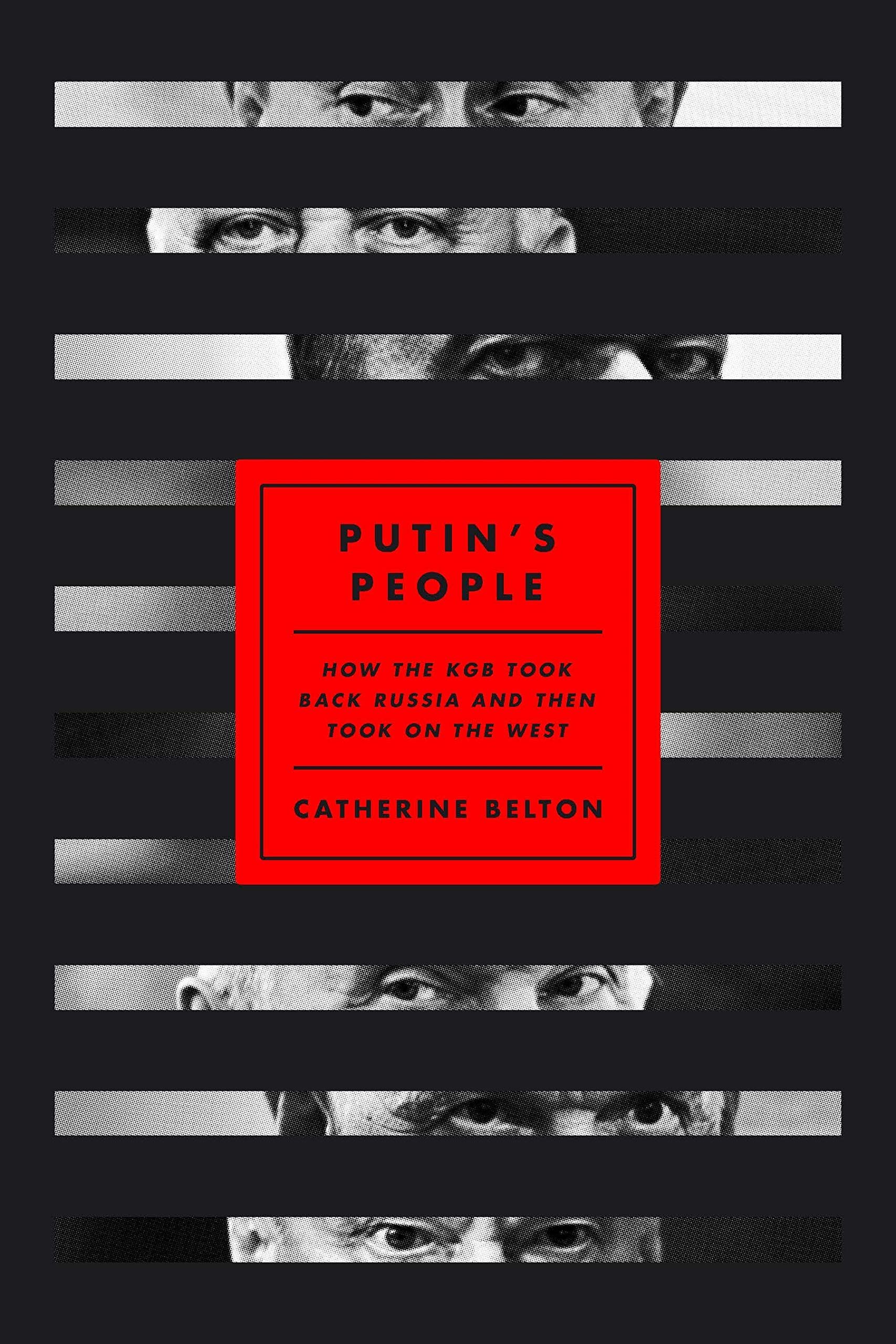 Putin's People: How the KGB Took Back Russia and Then Took On the West
by Catherine Belton
(Farrar, Straus and Giroux, Apr 2020)
The hacking of American elections. The sponsorship of extremist politics in Europe. War in Ukraine. In recent years, Vladimir Putin's Russia has waged a concerted campaign to expand its influence and undermine Western institutions. But how and why did all this come about, and who has orchestrated it?
Belton reveals how Putin and the small group of KGB men surrounding him rose to power and looted their country. She reveals how Putin replaced the freewheeling tycoons of the Yeltsin era with a new generation of loyal oligarchs, who in turn subverted Russia's economy and legal system and increased its impact in the U.S. and Europe. A story that begins in the murk of the Soviet collapse, when networks of operatives were able to siphon billions of dollars out of state enterprises and move their spoils into the West. Putin and his allies subsequently completed the agenda, reasserting Russian power while taking control of the economy for themselves, suppressing independent voices, and launching covert influence operations abroad.
Book may be ordered here.
---
Becoming Kim Jong Un: A Former CIA Officer's Insights into North Korea's Enigmatic Young Dictator
by Jung H. Pak
(Ballantine Books, Apr 2020)
The wild, improbable rise of Kim Jong Un. Jung H. Pak has held senior positions at the CIA and the Office of the Director of National Intelligence. When Kim Jong Un became the leader of North Korea following his father's death in 2011, predictions about his imminent fall were rife. North Korea was isolated, poor, unable to feed its people, and clinging to its nuclear program for legitimacy. Surely this twentysomething with the bizarre haircut and no leadership experience would soon be usurped by his elders. Instead the opposite happened. Now in his mid-thirties, Kim Jong Un has solidified his grip on his country and brought the U.S. and the region to the brink of war. Still, we know so little about him—or how he rules.
Enter former CIA analyst Jung Pak, whose brilliant Brookings Institution essay "The Education of Kim Jong Un" cemented her status as the go-to authority on the calculating young leader. From the beginning of Kim's reign, Pak has been at the forefront of shaping U.S. policy on North Korea and providing strategic assessments for leadership at the highest levels in the government, and in this masterly book, she traces and explains Kim's ascent on the world stage, from the brutal purges he carried out to consolidate his power to his abrupt pivot to diplomatic engagement that led to his historic--and still poorly understood—summits with President Trump. She also sheds light on how a top intelligence analyst assesses thorny national security problems, avoiding biases, questioning assumptions, and identifying risks as well as opportunities.
Pak argues that his personality, perceptions, and preferences are underestimated by Washington policy wonks who assume he sees the world as they do. As the North Korea nuclear threat grows, Becoming Kim Jong Un gives readers the first authoritative, behind-the-scenes look at Kim's personality and motivations, creating an insightful biography of the enigmatic man who will likely rule the Hermit Kingdom for decades—and has already left an indelible imprint on world history.
Book may be ordered here.
---
Section I - INTELLIGENCE HIGHLIGHTS

US Steps Up Intelligence-Gathering on Kim Jong Un's Sister. Amid mixed reports about the health of North Korean leader Kim Jong Un, speculation is brewing over the question of who might assume power in Pyongyang should he be incapacitated, with his 32-year-old sister emerging as a leading candidate.

While there has been no clear evidence that Kim is indeed ill, the U.S. intelligence community will no doubt be accelerating its information-gathering on the sibling, Kim Yo Jong, said Bruce Klingner, who spent 20 years working at the Central Intelligence Agency and the Defense Intelligence Agency and is now senior research fellow for Northeast Asia at the Washington-based Heritage Foundation think tank.

Klingner said that the CIA carries out "leadership analysis," separate from a more general "political analysis" of a country, where it tries to gain a deeper understanding of top leaders. [Read more: NikkeiAsianReview/28April2020]

NGA, NRO Managing Cyber Risk Through More Data-Driven, Collaborative Approaches. Even for the intelligence community, risk management is not an easy task.

The National Geospatial Intelligence Agency is trying to get its arms around supply chain risk.

The National Reconnaissance Office is focused on implementing the risk management framework.

Both agencies are in the middle of expanding and maturing their approaches to cybersecurity. [Read more: Miller/FederalNewsNetwork/24April2020]

ISIS Claims Suicide Attack Targeting Kirkuk's Intelligence Headquarters.An Islamic State suicide attacker with explosive belts detonated himself on Tuesday while attempting to penetrate Kirkuk's intelligence headquarters, resulting in four injuries to intelligence members.

The suicide attack comes as the province of Kirkuk eased its COVID-19 lockdown measures last week when the infections rate declined significantly.

"Overall, four members of the intelligence community got injured in the attack," a source at the site of the incident told Kurdistan 24.

The intelligence headquarters is located in the Qadisya neighborhood, southeastern Kirkuk province. [Read more: Sherwani/Kurdistan24/28April2020]

Iran Puts First Spy Satellite in Orbit. After days of deliberations and evaluations, Israeli and western experts concluded that Iran's most recent satellite launch, which took place last week, was successful. Iran managed to put four satellites into orbit in the past, but they were short-lived. It took 13 attempts, four of which only entered orbit for a short time, and nine of which failed completely, but this time it seems that the new satellite will last much longer - likely years - before disintegrating. Iran's military spy satellite is now orbiting the earth at an approximate altitude of 450 kilometers.

"It is indeed an important accomplishment for the Iranian space program in general and its military in particular," an Israeli security source, who asked not to be named, told Haaretz. "The most significant result is its symbolism, the fact that the launch didn't fail."

But there is a caveat. Most experts emphasize that still Iran has a long way to go before it could upgrade its long-range missiles to deliver nuclear warheads. Israeli military officials refused to comment on the launch, and only Prime Minister Benjamin Netanyahu condemned it, describing it as a threat to Israeli and international security. [Read more: Melman/Haaretz/27April2020]

U.S. May Share Less Intelligence With Countries That Criminalize Homosexuality. The Trump administration is considering cutting back on sharing intelligence with partner countries that criminalize homosexuality as part of a push by the acting director of national intelligence, Richard Grenell, to prod those nations to change their laws.

The intelligence community should be pushing American values with the countries it works with, Mr. Grenell said in an interview this week.

"We can't just simply make the moral argument and expect others to respond in kind because telling others that it's the right thing to do doesn't always work," he said. But, he added, "to fight for decriminalization is to fight for basic human rights."

Mr. Grenell is thought to be the first openly gay cabinet member and has put anti-discrimination issues near the top of his agenda.[Read more: Barnes/NYTimes/22April2020]


---
Section II - CONTEXT & PRECEDENCE

CIA Says People Who Use Marijuana And Other Drugs Aren't Necessarily 'Bad' Or 'Unworthy'. The Central Intelligence Agency (CIA) said on Thursday that it doesn't necessarily believe using illegal drugs makes you a bad person.

The new comments came in response to question submitted as part of its ongoing "Ask Molly" series.

"I would love to join CIA, but I've done illegal drugs in the past," the person, writing under the name "Eager to Serve," said. They asked whether there's "any path forward for me at CIA."

The agency's reply emphasized that those applying to work there could still get a job if they admit to such activity, as long as they haven't consumed any illicit substances within the past year. [Read more: Jaeger/MarijuanaMoment/24April2020]

Interview: What the Epidemic Intelligence Service Means for the Virus. The New Yorker's Charles Duhigg joins Morning Joe to discuss the Epidemic Intelligence Service, which is a part of the CDC. [Listen: MSNBC/28April2020]

What Happened to the KGB When the Soviet Union Folded? If you're passing the time by binge-watching episodes of the critically-acclaimed TV series "The Americans," you may have grown fascinated with the story of a married couple living in the Washington, D.C. suburbs during the 1980s, who struggle to protect a dark secret. They're actually operatives for the KGB, the Soviet spy agency that during the Cold War battled clandestinely with the U.S. Central Intelligence Agency and other Western nations' intelligence organizations. The KGB - a Russian acronym that stands for Committee for State Security - became infamous in those years, thanks to its prowess at stealing secrets and assassinating perceived enemies abroad, as well as crushing domestic dissent. In the process it provided subject material for numerous movies and literary thrillers by novelists such as John le Carré and Martin Cruz Smith.

Since the Soviet Union itself ceased to exist back in 1991, you might assume that the KGB vanished with it. Indeed, after the hammer-and-sickle flag on the Kremlin was replaced by the tricolor of the Russian Federation that nation's first president, Boris Yeltsin, dismantled the agency and dispersed its functions among various other parts of the new government. In reality, though, intelligence experts say the KGB never really went away. Instead, like spies often do, it simply has resurfaced with a different name, FSB, whose letters stand in Russian for Federal Security Service. And today, with a former KGB agent and FSB head named Vladimir Putin as the head of state, the organization once known as the KGB seems to have regained much of its old reach and power. [Read more: Kiger/HowStuffWorks/22April2020]

Russian Commandos Jump From 33,000 Feet Over The Arctic In Unprecedented Exercise. A task force of Russian special operators and paratroopers recently conducted an unprecedented high-altitude airborne training exercise in the Arctic, with some personnel jumping from Il-76 Candid transport aircraft flying at close to 33,000 feet. This is is yet another high-profile demonstration of Russia's steadily growing capabilities in this ever-more strategic region and showed off its ability to quickly send special operations forces there or anywhere else.

The three-day exercise took place last week on Alexandra Land, an island in Russia's Franz Josef Land archipelago, which sits on the Arctic Ocean well above the Arctic Circle. Russian special operations forces, often referred to collectively as spetsnaz, from both the military Special Operations Forces Command and the Federal Security Service's Special Purpose Center, took part in the event, together with Russian Army paratroopers. The drill itself included troops setting up a base camp once on the ground, conducting reconnaissance patrols using snowmobiles and drones, and launching a raid on a mock camp filled with "saboteurs," a term Russia often applies to terrorist cells or other small groups of hostile actors, including enemy special operations teams. [Read more: Trevithick/TheDrive/27April2020]

Hitler's Nightmare: Meet America's Spies In Nazi Germany. By the autumn of 1944, most of Nazi-occupied Europe had been liberated by Allied forces. The conquering armies now faced the invasion of the German homeland. But, in this phase of the war, they lacked intelligence networks behind enemy lines. The well-developed resistance organizations in occupied France, Holland, Belgium, Yugoslavia. and even Fascist Italy had been ready to receive OSS (Office of Strategic Services, forerunner of the Central Intelligence Agency) and SOE (British Special Operations Executive) agents and support espionage and sabotage operations.

Inside Hitler's Germany there was no significant underground framework that would compare to the dedicated guerrillas in countries held captive by the Nazis. The obstacles to the intelligence flow from inside Germany were brutally demonstrated by the powerful surprise offensive in the Ardennes during December 1944. The bloody Battle of the Bulge was a direct consequence of diminished tactical and strategic intelligence coming out of the Reich to American commanders. [Read more: Mancini/TheNationalInterest/25April2020]


---
Iraq's Prime Ministerial Merry-Go-Round Lands on Spy Chief. Iraq's prime ministerial merry-go-round continues to spin apace. Spy chief Mustafa al-Kadhimi, director of the country's National Intelligence Service, is the third prime minister designate this year, following the withdrawal of Adnan al-Zurfi, the previous prospective candidate, after he failed to secure enough support to form a government.

Al-Zurfi had tried to step into the shoes of Mohammed Tawfiq Allawi, who suffered a similar fate, leaving Iraq under the tremulous caretaker control of Adil Abdul-Mahdi, the crooked former prime minister and puppet of the Iranian mullahs, who was forced to resign last November amidst widespread protests.

Under the Iraqi constitution, a prime minister designate has 30 days to secure the backing of parliament for his new government. This has been the stumbling block for each of Abdul-Mahdi's chosen successors so far, as they have attempted to gain the approval of the wide range of deeply divided and sectarian factions that make up Iraq's Majilis. [Read more: [Stevenson/UPI/28April2020]

What Role Does the Intelligence Community Play in a Pandemic? Many questions remain about the precise source of the novel coronavirus 2019 (COVID-19), and yet there is one thing of which we can all be certain: there will soon be a collective rush to identify those responsible for our country's systematic failure to get in front of the pandemic, and to assign blame for the lost lives and ruined economy. As in previous national crises, including September 11 and Pearl Harbor, some fingers will be pointing at the Intelligence Community (IC) for its perceived failure to provide adequate warning. Unlike 9/11, the IC is unlikely to receive a surge of funding to build its capacity to gather pandemic-related intelligence around the world, as our country focuses primarily on the homeland and seeks ways to cover the cost of the CARES Act and other coronavirus-related spending. This is, however, an international crisis that has yet to play out fully in much of the world, including in the developing world, where its impact may be most acutely felt due to poverty and lack of adequate medical resources. Accordingly, the capabilities of the IC are more important than ever to track the pandemic's geopolitical impacts—large and small—that could ultimately affect the U.S. economy and national security.

The IC plays the same role in a public health crisis as it does in any crisis: It collects and analyzes information and intelligence, that special category of information that is secret and timely, so that policymakers can understand complicated situations, avoid surprise, and make sound decisions in planning and responding to potential threats. It is important to note that the IC only provides intelligence analysis; policymakers must determine whether and how to act on that intelligence. Unfortunately, history abounds in examples of intelligence that was ignored: a recent example being the infamous August 6, 2001 President's Daily Brief that warned of impending al-Qaeda terrorist activity in the U.S. [Read more: Flynn/FPRI/28April2020]

Human Intelligence: The Missing Piece to Comprehensive Maritime Domain Awareness. To effectively govern the maritime space, states need an accurate picture of what is happening and where in order to establish normal "patterns of life" at sea. With this picture, states can identify suspicious activity and task assets to respond. This ability to collect, analyze, share, and respond to information in the maritime realm is often called maritime domain awareness (MDA).

This is a challenging task for any state, much less those with relatively limited resources and assets in the maritime realm. Combined territorial waters and exclusive economic zones are huge spaces to monitor and, for many states , this "maritime domain" is much larger than their total land area. What's more, this maritime domain is an incredibly active space. Tens of thousands of shipping vessels, millions of fishing boats, and other vessels, registered and otherwise, traverse the seas on a daily basis for an incredibly diverse set of licit and illicit purposes. It can be an overwhelming scope of activity for many states around the world to monitor.

States have largely sought to establish MDA through the use of high-tech, high-cost solutions like technical information collection platforms (e.g., coastal radar systems, and tracking shipping through AIS) and deploying costly air and sea patrols These are important elements of robust MDA, but few states possess the resources to implement all of these tools.

Given this strain on resources it may be useful for maritime security policy makers to make more effective use of another, less utilized, form of information collection in the maritime space - human intelligence. [Read more: Benson/CIMSEC/28April2020]

The Coronavirus Pandemic Will Force a Paradigm Shift in the U.S. Intelligence Community. The U.S. intelligence community is a living organism. Our country's best and brightest make up the collective hive-mind. It relies on information from a vast network of sources, experts, and data collected and processed by the most advanced technology the world has ever seen. When failures occur, they are almost exclusively a failure of analysis and not a failure of collection.

Just like individual humans, the intelligence community, as a whole, is susceptible to the same psychological barriers to rational, dispassionate, and objective analysis that all people experience in their day-to-day life. When undergoing formal analysis training, there is much time spent on how to recognize cognitive bias, the impact human perception has on analysis, and what countermeasures are useful to mitigate these vulnerabilities. CIA legend Richards Heuer made studying the psychology of intelligence analysis his life's work and noted the wiring of the brain conditions it to see what it expects to see. The world must be as it seems. Nevertheless, every so often, a catastrophic event catches the intelligence community by surprise and forces a paradigm shift. We are now at one of those crossroads, and sadly the second such for this generation. As Heuer put it so well: "When faced with a major paradigm shift, analysts who know the most about a subject have the most to unlearn."

It is hard to rapidly change the course of the massive seventeen-member frigate that is the intelligence community, replete with its thousands of captains. One thing that forces almost immediate change is an intelligence failure, of which I consider there to be two types. [Read more: Barbaccia/TheNationalInterest/23April2020]


---
Section IV - Research Requests, Obituaries, Jobs
Seeking Info on Father, Frank Lowell, who served in WWII as Counterintelligence Officer
My Dad was a Counterintelligence Officer, (9302) in Austria in 1945, working for the 15th Army Group under General Mark Clark. I have very little information from him other than through his two small diaries that he kept as he fought with the 88th Infantry Division, 349th Infantry Regiment through Italy in 1944 and was wounded in action in October of that year. He left the hospital in December and joined the 15th Army Group, first in Siena, then to Vienna but then there is very little information regarding where he served until he returned to New York City on February 2, 1946. His name was 1st Lt. Frank J. Lowell. Can you help?
Replies to Jim Lowell at jimlowell4@gmail.com
Seeking to Interview Women Intelligence Officers
Liza Mundy, author of Code Girls: The Untold Story of the American Women Code Breakers of World War II, is working on a book about the history of women at the CIA. She is eager to interview women intelligence professionals, retired and active, to gather their insight into topics including their own careers; the intelligence community's changing climate for women; signal achievements by women and female teams, including, for example, the women of Alec station; and encounters with early pioneers such as Eloise Page and others. The CIA public affairs office is cooperating. The book will be published by Crown, a major commercial publisher. The aim is to highlight women's contributions to intelligence and national security—a female equivalent to Evan Thomas's The Very Best Men. If you would be willing to chat and share your insights, please contact Liza at lizamundy@gmail.com or 703-517-1542 (phone, text or Signal app).
Her book Code Girls was a New York Times best-seller and received glowing reviews in publications including The Washington Post, The New York Times, and Studies in Intelligence, which said that "Code Girls pays tribute to an unsung group of patriotic Americans who, more than seven decades later, are just now receiving their due." It won awards including "Best General Audience Intelligence Book" of 2018 from AFIO, which said that "Code Girls does for women of that era what Hidden Figures did for African American women of the 1960s and Windtalkers did for the native American code communicators of World War II." In addition, she is currently a scholar-in-residence with the history office at NSA, where she is researching the postwar careers of female codebreakers, looking at many of the same issues.
Fred Parker, NSA Official and Pearl Harbor COMINT Author
Frederick Donnelly Parker, 94, NSA Official and Pearl Harbor COMINT Author, died 13 April 2020 in Easton, MD after an extended illness.
Fred was born in Elmira, NY. He served in the U.S Marine Corps during WWII as a Private First Class radio man, machine gunner, and second driver in an amphibious tank. He saw action in two major engagements, Saipan and Iwo Jima. Between 1950 and 1962, he served as a Commissioned Officer in the Marine Corps Reserve. In 1950 he graduated from Georgetown University, Walsh School of Foreign Service.
He served in the National Security Agency for 30 years, retiring in January 1984. He held a number of responsible positions in operations and planning. Upon his retirement, he joined the staff of the Center for Cryptologic History, led by the NSA Historian. At the Center, Parker published the extensive contributions made by Communications Intelligence to the U.S. Pacific and Asiatic Fleets in 1941 and 1942. Fred's studies were featured in two monographs published and distributed by the National Security Agency, Central Security Service: "Pearl Harbor Revisited: United States Navy Communications Intelligence, 1924-1941" and "A Priceless Advantage: United States Navy Communications Intelligence and the Battles of Coral Sea, Midway, and the Aleutians 1942." Recognition of his work for the Center led to Mr. Parker's selection as a speaker during celebrations of the 50th anniversary of Pearl Harbor in Hawaii and the 50th anniversary of the Battle of Midway sponsored by the Nimitz Museum in Fredericksburg, Texas. He also prepared articles for CRYPTOLOGIA, a periodical published by the U.S. Military Academy, including "The Unsolved Messages of Pearl Harbor," based on the unpublished work of Navy crypto-analysts in Washington, and "The Tragic Story of How OP-20G Got Rid of Joe Rochefort."
In retirement, Fred was active in community affairs in Rockville, Annapolis, and St. Michaels (Maryland) and served as a Lector at St. Mary's Church in Annapolis and Sts. Peter and Paul Church in Easton. He was an avid sailor and golfer.
In 1950, Mr. Parker married Yvonne Evangeline Hickey to whom he was married for 40 years until her death. In 1991, he married Dorothy Drummond Parker, who survives him. He is also survived by a son and other family.
Ralph Sigler, Deputy Director White House SITROOM, Military Intelligence
Ralph Hoyt Sigler, 76, Deputy Director White House SITROOM, died 20 April 2020.
He was born in Henderson, KY. His family moved to Detroit where he resided until he joined the Army in 1961. He was first stationed in Verdun, France in 1962. In 1965, he managed a major relay facility in Vietnam. In 1967, he served the US Army Intelligence Command at Fort Holabird, MD supervising the installation and operation of a communications network connecting US Army Intelligence groups nationwide. While assigned to the Communications Agency at the White House in 1968, he oversaw communications for the President of the United States and assisted in establishing remote facilities for presidential visits. In 1972, he was appointed personal communicator for the National Security Advisor and traveled worldwide with Henry Kissinger on negotiating missions by providing communications support from remote locations throughout many countries.
His received many awards, medals, and commendations. When he left the White House in 2007, he was the Deputy Director of the Situation Room. His 39 years of service spanned eight presidential terms and was the longest tenure of any White House employee.
He was active in his community of Fairfax, VA serving on HOAs, volunteering as soccer coach, and advocating for wildlife.
He is survived by brothers, a daughter and a son, two beloved pets, and other family.
Hal Vorhies, Deputy Chief, NSA Europe, Military Intelligence Officer, Commander Arlington Hall Station
Harold Winston Vorhies, Colonel, U.S. Army (Ret.) 89, Deputy Chief, NSA Europe, Military Intelligence Officer, Commander Arlington Hall Station, died 18 April 2020 in Arlington, VA.
He was born in Inglewood, CA, and spent his formative years in Burbank. He graduated from Burbank High School where he was known as "Pete." He earned a Bachelor's degree from the University of California Berkeley, where he joined Army ROTC. Commissioned as a 2nd Lieutenant, he served nine years with the Quartermaster Corps and Field Artillery before assignment to the U.S. Army Security Agency, spending the remainder of his 30 years of active duty in Military Intelligence.
He served two tours in Vietnam and completed assignments in France, Panama, Germany, and various domestic posts. He served in multiple command and staff assignments, to include Commander, Arlington Hall Station; Commander, 504th ASA Group; and Deputy Chief, NSA Europe. He attended the Command and General Staff College and the National War College, and earned a Master's degree in International Relations at the American University. Colonel Vorhies retired from active duty in 1983.
His numerous awards and decorations include five awards of the Legion of Merit, the Defense Meritorious Service Medal, the Army Commendation Medal, the Republic of Korea Order of Military Merit (for intelligence support to Republic of Korea's military units in Vietnam), the Republic of Vietnam Staff Service Honor Medal, and a parachutist badge. Colonel Vorhies was inducted into the Military Intelligence Hall of Fame in 1999.
Following his service in the Army, Hal completed a second career with E-Systems/Raytheon, primarily based in Brussels, Belgium, as Regional Vice President for Europe, Middle East, and Africa. He retired from Raytheon in 1995.
Hal enjoyed skiing and scuba diving, and was a skilled photographer.
Hal is survived by his companion of more than 25 years Karen Mahalik, a brother, a sister, two daughters, and other family. Services at Arlington National Cemetery at a later date.

---
IT Acquisitions Subject Matter Expert for Intelligence Community Client; Other Openings in Reston and Bolling AFB
E3/Sentinel has a funded opening for an IT Acquisitions Subject Matter Expert with specific experience in IT architecture requirements to support an IC customer. Candidate will assist in developing innovative business strategies and procurement policy/processes. Only candidates with TS/SCI clearances will be considered. Contact Rosanna Minchew rminchew@e3sentinel.com for more details.
E3/Sentinel has multiple openings for Contracts Specialists, Acquisition Analysts, Cost/Pricing Analysts and Contracts Closeout Specialists. Positions in Reston and at Bolling AFB. TS/SCI required to be considered for interview. Polygraph preferred. Contact Rosanna Minchew rminchew@e3sentinel.com for more details.
Adjunct instructors at the University of Texas at El Paso (US)
The National Security Studies Institute at the University of Texas at El Paso (UTEP) (see their website here) is seeking adjunct instructors to teach online graduate-level courses:
Legal Issues in Intelligence and National Security
Propaganda and Influence Operations
Intelligence and Counterterrorism
Political Economy of Terrorism
Risk Analysis
Emergency Management
Public Health and Homeland Security
A PhD in public policy, security studies, political science, or a related field is required.
Interested and eligible applicants should contact Stephen Coulthart (sjcoulthart@utep.edu).
Two Positions at James Madison University for Assistant or Associate Professor - Intelligence Analysis
James Madison University (JMU) located in Harrisonburg, VA, seeks applicants for two faculty positions in its Bachelor's Degree Program in Intelligence Analysis (IA). The appointments will be at the Assistant or Associate Professor level and will reside within the larger School of Integrated Sciences. The IA program offers a multidisciplinary undergraduate degree with an emphasis on methodology and technology to prepare students to become analysts, with a specialization in intelligence analysis. Its graduates have been successful in securing positions as analysts in both the public and private sectors, to include the Intelligence Community, military and law enforcement organizations, defense contractors, and major consulting firms. The program emphasizes methodology and synthesizes critical and creative thinking methods with technological tools for data collection, visualization, and analysis with situational knowledge of a problem's political, economic, social, and technological context with strong communicative and professional skills to support decision-making.
Ideal candidates will be comfortable in an interdisciplinary, diverse setting and possess the potential for becoming an excellent teacher to future analysts in one or more intelligence domains including national security, military, homeland security, law enforcement, private sector security, cyber security, and geospatial. They optimally have a background in either mixed-methods, qualitative, or quantitative research and analysis methods. We especially encourage applications from candidates that can leverage the use of systems thinking, employ data science in analysis, support the development of writing skills, or teach ethics specifically for future analysts. The typical teaching load in the school is 3 courses per semester.
We welcome applicants from all academic disciplines—to include the humanities, social sciences, and sciences—that provide a knowledge foundation for doing analysis. Prospective candidates should review our curriculum online to identify areas that match their expertise and to locate potential areas that they could help the program to develop. The program values teaching excellence as well as one-on-one professional mentoring and seeks candidates who can demonstrate potential for both. In addition, the position requires the potential for an active program of scholarly activity. The position requires either a Ph.D. in a relevant academic field by the date of hire (for a tenure-track appointment) OR Master's Degree with substantial experience in the field (for appointment on a Renewable Term Contract).
More information or applications may be found here.
Do not let Social Distancing slow your career. New Positions Available with Thomson Reuters
Many other jobs available with Thomson-Reuter. Email Brian Lemley for a list with descriptions and links.
FireEye Has Many Intelligence Positions Available For You - Worldwide - Contract, Full-time, Part-time, Interns
Explore the many career and contractor intelligence jobs available here. Jobs openings in Cyber Security include - Advisory, Architecture, Digital Forensics & Incident Response, Penetration Testing, Threat Research. They positions are needed here: New York, Chicago, Manila, Reston, Dallas, Atlanta, Suitland, Singapore, Denver, Las Vegas, Phoenix, Doha, Stockholm, London, Milpitas, multiple cities in Australia, Washington, Indianapolis, Tampa, Santiago, Alexandria, Seattle, Carlsbad, Houston, San Francisco, Arlington, Dubai, Amsterdam, Ft Belvoir, Minneapolis, Mexico City, San Diego, Boston, El Segundo, Philadelphia, San Antonio, Chiyoda, Ft Huachuca, Ft Gordon, Ft Meade, Ft Shafter, Kuwait City, Seoul, Sttutgart, Salt Lake City, Austin, Dublin, Bangalore, Cork, Colorado Springs... Explore the many career and contractor intelligence jobs available here.
---
AFIO EDUCATIONAL EVENTS IN COMING TWO MONTHS....

CANCELLED for Public Safety from Coronavirus - Saturday, 9 May 2020 -- Indialantic, FL - Florida Satellite Chapter hears Col Prince on the Qu'ran

The speaker will be AFIO Florida Satellite Chapter member Col. Bill Prince, USA (ret.) After graduating from West Point, Bill served in Vietnam with both Ranger and Special Forces units. He resigned his regular army commission to accept a position as a CIA case officer, with subsequent experiences in numerous hostile environments. He has a graduate degree from Harvard, where his studies focused on the Middle East. The topic of his address will be the Qur'an, a subject he has studied extensively.

Please note that attendance at Florida Satellite Chapter meetings is always well within current CDC guidelines against gatherings of fifty or more.

Timing: 11:30 AM - 12:15 PM: Social Hour, greet old, new members and guests. Cash bar. 12:15 PM: Sit Down lunch

TO ATTEND: Prepaid reservations are required which must be received by 2 May 2020.

Florida Satellite Chapter meets at the Doubletree Melbourne Beach Oceanfront, 1665 N. Highway A1A, Indialantic, FL 32903.
For more information, or to register for the luncheon meeting, contact Chapter Treasurer Rhonda Rhoads, P.O Box 410158, Melbourne, FL 32941. Rhonda can also be reached at afiofsctreas@gmail.com and at 321-626-4465. CANCELLED for Public Safety from Coronavirus.

RESCHEDULED from Spring: Friday, 23 October 2020, 10:30 a.m. - 2 p.m. - Tysons, VA - AFIO National Fall Luncheon features Washington Post columnist David Ignatius, and Author, former Post reporter Stephen Vogel

HOLD THE DATE: The morning speaker will be David Ignatius, author of the upcoming intelligence novel, The Paladin: A Spy Novel [WW Norton, May 2020]. Ignatius is a Washington Post columnist and has been covering the Middle East and CIA for nearly three decades.
Of Ignatius' forthcoming novel, reviewers wrote: "For me nothing is more intriguing than life inside our intelligence agencies. David Ignatius uses his decades' worth of reporting experience to take us there in this fast-moving, jaw-dropping drama that reads like it was ripped from the headlines. I recommend you grab a copy and hold on tight for the entire thrilling ride." — Brian Kilmeade, Fox News.
"David Ignatius once again takes readers behind the scenes of America's most secretive bureaucracy, revealing in fiction what could never be declassified in fact. The Paladin is yet another stirring read from one of America's most revered reporters and gifted storytellers." — Joe Scarborough, MSNBC
The afternoon program features Stephen Vogel, author of Betrayal in Berlin: The True Story of the Cold War's Most Audacious Espionage Operation [Custom House, Sept 2019]. Vogel is a former Washington Post reporter who covered the federal government. He was based overseas from 1989 through 1994 where he covered the fall of the Berlin Wall and the first Gulf War, and subsequently reported on military operations in Somalia, Rwanda, the Balkans, Afghanistan and Iraq.
Of Betrayal in Berlin, Former CIA Officer Sandy Grimes wrote: "The best spy book I have ever read...Steve Vogel is a talented and gifted writer who brings the personalities and idiosyncrasies of every participant in this operation to life. His research is vast, varied, and full of detail. It is truly one of those rare books you can't put down."
Registration will open in late September.

Venue: DoubleTree by Hilton, 1960 Chain Bridge Rd, Tysons Corner, VA 22182 Phone: (703) 893-2100. Directions at this link.
---
Other Upcoming Events from Advertisers, Corporate Sponsors, and Others
Wednesday, 29 April 2020, 5:30 - 6:30 PM EDT - Virtual Webinar - Break Out of Quarantine Mode Without Leaving Your Living Room starring Clint Emerson - "The Right Kind of Crazy" hosted by the International Spy Museum
Former Navy SEAL and JSOC Operator Clinton Emerson draws on over 20 years' experience with actual special forces operations to teach you how to protect yourself. This evening, he'll share practical hands-on advice for surviving any dangerous situation.
FREE! Registration Required here.
Thursday, 30 April 2020, Noon - 1 EDT - Virtual Webinar - Curator's Corner: What Do Spy Historians Keep in their Closets? - hosted by the International Spy Museum
Now for something completely different. Ever wonder what spy historians do for fun? Does prowling back alleys looking for flecks of intelligence history sound right? Well it is! Join us for an online show and tell extravaganza with the current and a former Spy Museum historian. Historian and Curator Vince Houghton and immediate past Historian Mark Stout are ready to share their stuff.
Houghton has been haunting the auctions gathering documents and some objects that particularly resonate with him. Don't worry he doesn't compete with Spy for things we are collecting. Stout has loaned the museum many of his gems and they are locked away in our vault, but accompanied by their cat companions, they are ready to open their homes and show you their goods.
Together they will share their unique objects, documents, and answer your questions about what makes a person a proud and flag-flying nerd! They're even letting the moderator Amanda Ohlke share a few of her favorite things.
Free. Registration required here.
Thursday, 30 April 2020, 5:30 pm EDT - Virtual Happy Hour via GoToWebinar - Spies and Spymasters Virtual Happy Hour with Morten Storm - hosted by the International Spy Museum
You can't visit the Spy Museum right now, but we can tell you some of our favorite stories about the spies who live on in our Spies & Spymasters gallery and why not do it over a cocktail? Join us online for a virtual happy hour.
This evening Vince Houghton, Historian/Curator, will share the story of Morten Storm. This Viking of a man used his contacts in al Qaeda and matchmaking skill to help the CIA track down terrorist Anwar al Alawki.
His life as a double agent will have you on the edge of your seat. Psst, we're hoping a special guest will join us from an undisclosed location for a Dark & (Morten) Stormy.
Free. Registration required here.
CANCELLED for Public Safety from Coronavirus - 17 June 2020, 10 a.m. to 1 p.m. - Annapolis Junction, MD - The NCMF Summer Cryptologic Program features Seth Jones on "Covert Action."
(Date is subject to change depending upon COVID-19 related restrictions.)

This National Cryptologic Museum Foundation 2020 Summer program features Political Scientist & Author Seth Jones. Jones is a senior advisor at the Center for Strategic and International Studies (CSIS) in Washington, DC. His most recent book, A Covert Action: Reagan, the CIA, and the Cold War Struggle in Poland, details the dramatic untold story of one of the CIA's most successful intelligence operations during the Cold War, which has important implications for today's threat from Russia. Learn more about Jones's books.
Registration is not yet open, but the fee will be $25 and will include lunch. For your convenience, we will offer easy online registration. You may also mail-in your registration fee using the Flyer/Registration form (coming soon). Or mail checks to NCMF, P.O. Box 1682, Fort George G. Meade, Maryland 20755-9998, and include the names of all registrants. For more details, please call the NCMF office at 301-688-5436.

Visit the NCMF Event Page for updates. (Date is subject to change depending upon COVID-19 related restrictions.)
CANCELLED for Public Safety from Coronavirus - 25 - 27 June 2020 - Pordenone, Italy - IAFIE 2020 Annual Conference - Intelligence Education, Research and Practice in the 2020s
The 2020 Annual Conference of the International Association for Intelligence Education (IAFIE) will be held in Pordenone, Italy from June 25 to 27. This year IAFIE and IAFIE EC are joining hands in organising a joint annual conference examining the intelligence requirements for the next decade 2020- 2030, with its changing threat environment and fast developing technological advancements. The conference papers will reach out to other cognate disciplines for a multidisciplinary approach and brings scholars and practitioners together for a blend of research and applied discussions on intelligence. This will be the 5th Annual Conference of IAFIE EC. The topics/themes for the conference are Intelligence Analysis, Intelligence Domains, Management of Intelligence Community, and Intelligence Education and Research. Authors of recent books, monographs and reports in line with these topics/themes are also invited to submit proposals to participate in Author Roundtables. Please email your general enquiries to iafie2020@ecoleuniversitaireinternationale.net. More information here. CANCELLED for Public Safety from Coronavirus
NEW DATE - Saturday, 24 October 2020, 5:30 p.m. - Washington, DC - Save the Date! PenFed Foundation's 2020 Night of Heroes Gala
PUT ON CALENDAR AND HOLD THE DATE: The Pentagon Federal (PenFed Credit Union) Foundation will be hosting their spectacular Night of Heroes Gala on Saturday, 24 October 2020 at the Mandarin Oriental in Washington, D.C. Last year's annual gala raised over $1.5 million and honored children of military families.
VIP Reception at 5:30 PM
General Reception and Silent Auction at 6:00 PM
Location: The Mandarin Oriental, 1330 Maryland Ave SW, Washington, D.C.
Attire: Black Tie or Military Dress
RSVP: October 2, 2020
Click here to learn more or sponsor a table.
---
In addition to the new Royal Blue long sleeve shirts, and the gray long sleeve hooded sweatshirts, the AFIO Store also has the following items ready for quick shipment:
NEW: LONG and Short-Sleeved Shirts with embroidered AFIO Logo and New Mugs with color-glazed permanent logo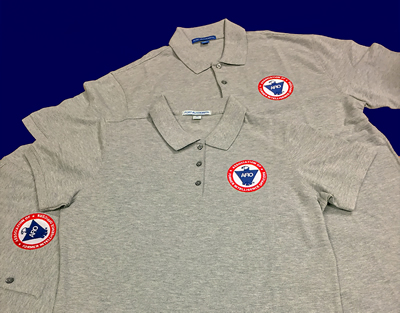 Show your support for AFIO with our new Polo Shirts. Be the first to buy these new, high quality, subtle heathered grey short sleeve shirts, and dark blue long sleeved shirts, of shrink and wrinkle resistant fine cotton with a soft yet substantial feel. They feature a detailed embroidered AFIO seal. Get a shirt for yourself and consider as gifts for colleagues, family, and friends. Only $45 each including shipping.
Sizes of (M) men or (W) women shirts; Small, Medium, Large, XL, XXL, and XXXL. At this time all orders will arrive as Short Sleeve shirts.
You may pay by check or credit card. Complete your order online here or mail an order along with payment to: AFIO, 7600 Leesburg Pike, Ste 470 East, Falls Church, VA 22043-2004. Phone orders at 703-790-0320. If interested in other shirt colors or sleeve lengths, contact Annette at: annettej@afio.com.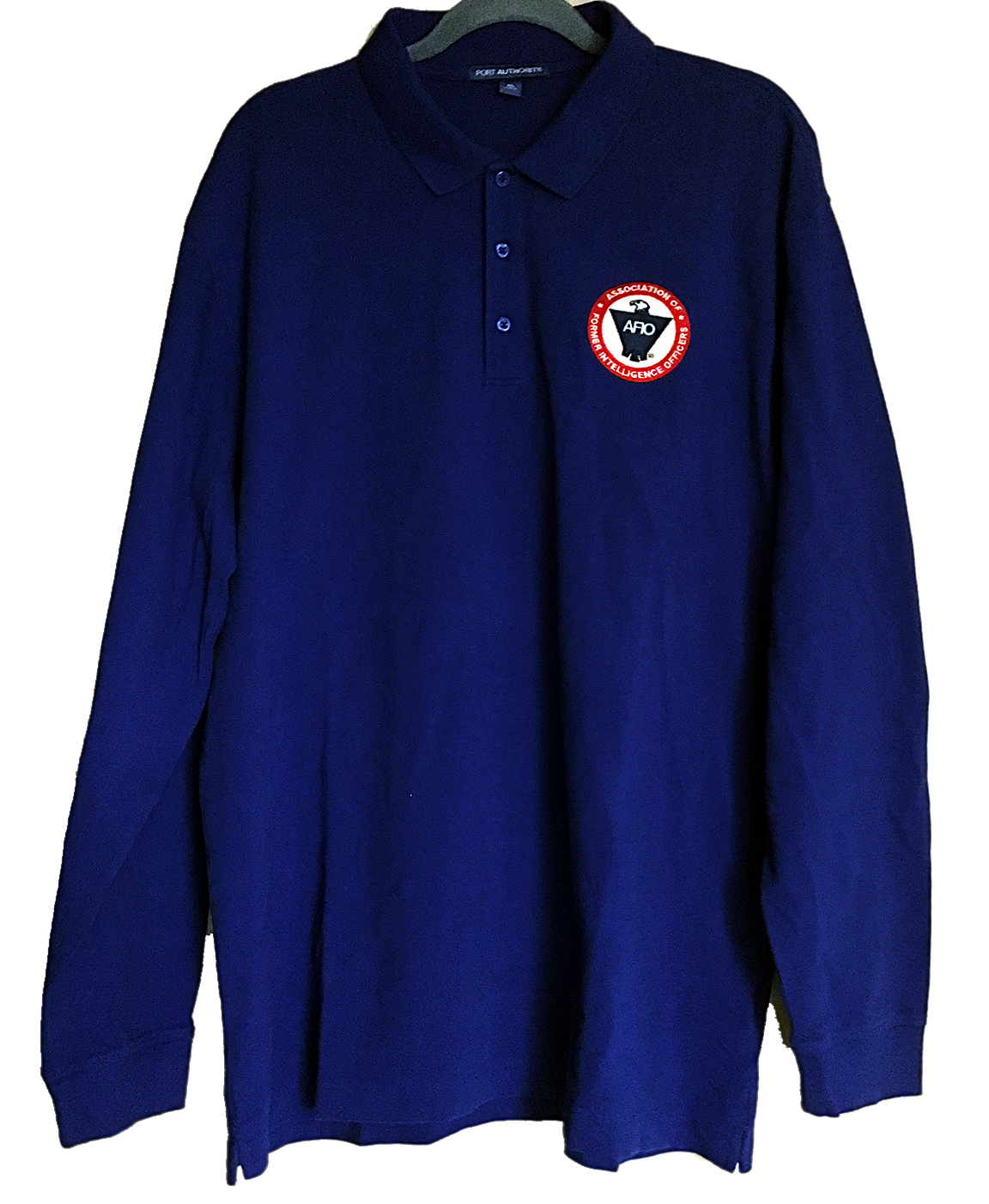 Long-Sleeved Shirts and Hooded Sweatshirts with embroidered AFIO Logo
Show your support for AFIO with our new long-sleeved Polo Shirts and Hooded Sweatshirts.
Both items are high quality and shrink resistant and feature a detailed embroidered AFIO seal. The color of the long-sleeved Polo Shirts is royal blue; the price is $55 and includes shipping.
The Hooded Sweatshirts are dark grey; the price is $70 and includes shipping.
Purchase a shirt and sweatshirt for yourself and consider as gifts for colleagues, family, and friends.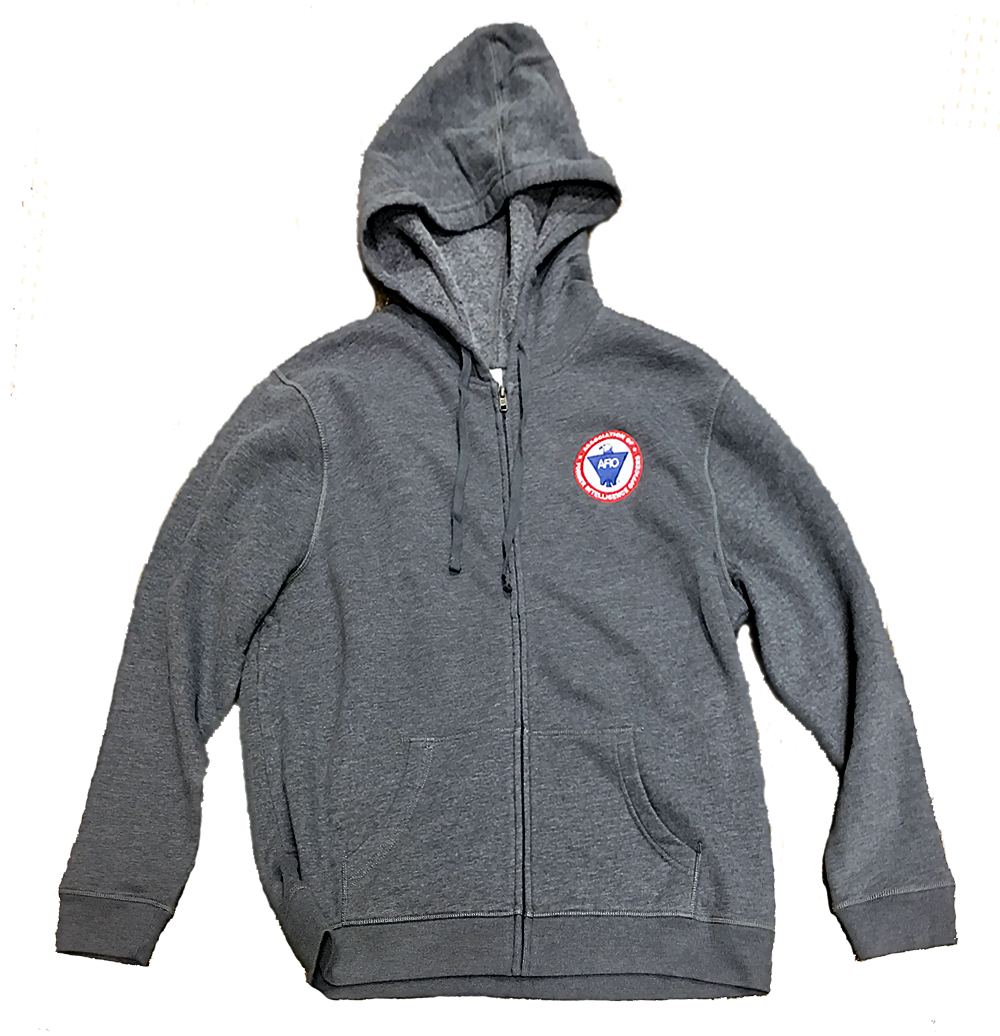 Both items are available in men's sizes: Small, Medium, Large, XL, XXL, and XXXL. The long-sleeved Polo Shirts and Hooded Sweatshirts are not available in ladies' sizes.
---
NEW: Mug with color glazed logo. Made in America. (We left out all that lead-based glaze and hidden toxins in those mugs made in China being sold by other organizations). Also sturdy enough to sit on desk to hold pens, cards, paperclips, and candy.
This handsome large, heavy USA-made ceramic mug is dishwasher-safe with a glazed seal. $35 per mug includes shipping. Order this and other store items online here.
AFIO's Intelligence Community Mousepads are a great looking addition to your desk...or as a gift for others.
Made in USA. Click image for larger view.
These 2017 mousepads have full color seals of all 18 members of the US Intelligence Community on this 8" round, slick surface, nonskid, rubber-backed mouse pad with a darker navy background, brighter, updated seals. Also used, by some, as swanky coasters. Price still only $20.00 for 2 pads [includes shipping to US address. Foreign shipments - we will contact you with quote.] Order MOUSEPADS here.
---
Guide to the Study of Intelligence and When Intelligence Made a Difference
"AFIO's Guide to the Study of Intelligence" has sold out in hard-copy.
However, it is available in digital form in its entirety on the AFIO website here.

Also available on the website here are the individual articles of AFIO's history project "When Intelligence Made a Difference" that have been published to date in The Intelligencer journal. More articles will be forthcoming in future editions.
---
Disclaimers and Removal Instructions
Weekly Intelligence Notes (WINs) are commentaries on Intelligence and related national security matters, based on open media sources, selected, interpreted, edited and produced for non-profit educational uses by members and WIN subscribers.
REMOVAL INSTRUCTIONS: We do not wish to add clutter to inboxes. To discontinue receiving the WINs:
a) IF YOU ARE A MEMBER - click here: UNSUBSCRIBE and supply your full name and email address where you receive the WINs. Click SEND, you will be removed from list. If this link doesn't open a blank email, create one on your own and send to afio@afio.com with the words: REMOVE FROM WINs as the subject, and provide your full name and email address where you are currently receiving them.
b) IF YOU ARE NOT A MEMBER, and you received this message, someone forwarded this newsletter to you [contrary to AFIO policies]. Forward to afio@afio.com the entire WIN or message you received and we will remove the sender from our membership and distribution lists. The problem will be solved for both of us.
CONTENTS of this WIN [HTML version recipients - Click title to jump to story or section, Click Article Title to return to Contents. This feature does not work for Plaintext Edition or for some AOL recipients]. If you wish to change to HTML format, let us know at afio@afio.com. The HTML feature also does not work for those who access their e-mail using web mail...however NON-HTML recipients may view the latest edition each week in HTML at this link: https://www.afio.com/pages/currentwin.htm
---
WINs are protected by copyright laws and intellectual property laws, and may not be reproduced or re-sent without specific permission from the Producer. Opinions expressed in the WINs are solely those of the editor's or author's listed with each article. AFIO Members Support the AFIO Mission - sponsor new members! CHECK THE AFIO WEBSITE at www.afio.com for back issues of the WINs, information about AFIO, conference agenda and registrations materials, and membership applications and much more!
(c) 1998 thru 2020. AFIO, 7600 Leesburg Pike, Suite 470 East, Falls Church, VA 22043-2004. Voice: (703) 790-0320; Fax: (703) 991-1278; Email: afio@afio.com
---
About AFIO | Membership Renewal | Change of Address | Upcoming Events | Chapter Locations | Corporate/Institutional Memberships | Careers in Intelligence Booklet | Guide to the Study of Intelligence | Intelligencer Journal | Weekly Intelligence Notes | To Make A Donation | AFIO Store | Member-Only Section | Code of Ethics | Home Page
---