---
CONTENTS
Section I - INTELLIGENCE HIGHLIGHTS
Section II - CONTEXT & PRECEDENCE
Section IV - Research Requests, Obituaries, Jobs
Other Upcoming Events from Advertisers, Corporate Sponsors, and Others
For Additional AFIO and other Events two+ months or more... Calendar of Events

WIN CREDITS FOR THIS ISSUE: The WIN editors thank the following special contributors: rsy, ec, po, pj, mh, km, gh, mk, rd, fm, kc, jm, mr, jg, th, ed, and fwr. They have contributed one or more stories used in this issue.

The WIN editors attempt to include a wide range of articles and commentary in the Weekly Notes to inform and educate our readers. However, the views expressed in the articles are purely those of the authors, and in no way reflect support or endorsement from the WIN editors or the AFIO officers and staff. We welcome comments from the WIN readers on any and all articles and commentary.

CAVEATS: IMPORTANT: AFIO does not "vet" or endorse research inquiries, career announcements, or job offers. Reasonable-sounding inquiries and career offerings are published as a service to our members, and for researchers, educators, and subscribers. You are urged to exercise your usual caution and good judgment when responding, and should verify the source independently before supplying any resume, career data, or personal information.]
If you are having difficulties with the links or viewing this newsletter when it arrives by email, members may view the latest edition each week at this link.

---

Call for Papers: The University of Texas at Austin Announces the 2020 "Bobby R. Inman Award" for Student Scholarship on Intelligence


Austin, Texas – The Intelligence Studies Project of The University of Texas at Austin announces the sixth annual competition recognizing outstanding student research and writing on topics related to intelligence and national security. The winner of the "Inman Award" will receive a cash prize of $5,000, with two semifinalists each receiving a cash prize of $2,500. This competition is open to unpublished work by undergraduate and graduate students enrolled in degree programs at accredited U.S. higher education institutions during the 2019-20 academic year. The deadline for submitting papers is June 30, 2020.

The Intelligence Studies Project was established at The University of Texas at Austin in 2013 as a joint venture of the Robert Strauss Center for International Security and Law and the Clements Center for National Security with the LBJ School of Public Affairs. The Project's mission is to improve understanding of intelligence activities and institutions through research, courses, and public events bringing intelligence practitioners together with scholars, students, and the public.

The Bobby R. Inman Award recognizes more than six decades of distinguished public service by Bobby R. Inman, Admiral, U.S. Navy (Ret.). Admiral Inman served in multiple leadership positions in the U.S. military, intelligence community, private industry, and at The University of Texas. His previous intelligence posts include Director of Naval Intelligence, Vice-Director of the Defense Intelligence Agency, Director of the National Security Agency, and Deputy Director of Central Intelligence. He continues to serve as a teacher, advisor, and mentor to students, faculty members, and current government officials while occupying the Lyndon B. Johnson Centennial Chair in National Policy at the LBJ School of Public Affairs. His areas of teaching and research are focused on political, economic, and military activities, policy processes and institutions, international affairs and diplomacy, and intelligence and national security.

Additional information about the Inman Award, including submission requirements and previous winners, is available at www.intelligencestudies.utexas.edu/inman-award.

---

Guide to the Study of Intelligence and When Intelligence Made a Difference

"AFIO's Guide to the Study of Intelligence" has sold out in hard-copy.
However, it is available in digital form in its entirety on the AFIO website here.

Also available on the website here are the individual articles of AFIO's history project "When Intelligence Made a Difference" that have been published to date in The Intelligencer journal. More articles will be forthcoming in future editions.

---

Thinking of Cybersecurity Education and Careers? Here are some options.

Cyber Security Education and Careers - Start your exploration with the Cyberscurity Guide Organization.

Cybersecurityguide.org is a community resource for those exploring educational and professional opportunities in the field of Cybersecurity. In addition, the site offers a wide variety of cybersecurity resources curated by educational experts. They are physically located at 1428 Tintern Ln, Saint Augustine, FL 32092 if you wish to write to them.

---

Series of Cryptologic Museum Webinars on Cybersecurity

Cybersecurity Virtual Classroom
ONLINE CYBERSECURITY CHATS by the National Cryptologic Museum Foundation

The Cyber Center for Education and Innovation (CCEI) have been conducting a series of Cybersecurity Chats as part of their special CCEI Cybersecurity Series. These online chats for K-12 students [but older ages would benefit, too], are presented by cybersecurity professionals and experts. General information on the series is here. The next in the series is this Thursday, June 4, as follows:

4 June 2020, 2pm EST—Cybersecurity Principles & Career Experiences from the "Queen of Codes". Ms. Eileen Buckholtz of Technology Concepts will introduce the students to the Queens of Code - the National Security Agency's computing women and how they contributed to early technology development and the national defense—a secret they've kept for over 50 years. She will relate her stories to "Code Girls" and "Hidden Figures," and how their mission and technology helped provide critical information to the president, key decision makers, and the military. She will explain why Queens of Code and other women should be included in computing history. Ms. Buckholtz will be joined by a fellow Queen of Codes, Ms. Maureen McHugh who will share her story. Click date/time for more details and to attend.

There are many online chats that follow and they may be found here.

If you wish to share your own cybersecurity/cryptology expertise, review the instructions here

---

AFIO Gift items for colleagues or self.

Long-Sleeved Shirts and Hooded Sweatshirts with embroidered AFIO Logo

Show your support for AFIO with our new long-sleeved Polo Shirts and Hooded Sweatshirts.

Both items are high quality and shrink resistant and feature a detailed embroidered AFIO seal. The color of the long-sleeved Polo Shirts is royal blue; the price is $55 and includes shipping.

The Hooded Sweatshirts are dark grey; price is $70 and includes shipping.

Purchase a shirt and sweatshirt for yourself and consider as gifts for colleagues, family, and friends.

Both items are available in men's sizes: Small, Medium, Large, XL, XXL, and XXXL. The long-sleeved Polo Shirts and Hooded Sweatshirts are not available in ladies' sizes.

You may pay by check or credit card. Complete your order online here or mail an order along with payment to: AFIO, 7600 Leesburg Pike, Ste 470 East, Falls Church, VA 22043-2004. Phone orders at 703-790-0320.

PAGE DOWN TO BOTTOM OF THE NOTES TO SEE MORE AFIO GIFTS. All of these items are appropriate for intelligence officers, colleagues, recruitments, agents, advisors, and family.

---
---
Special Items for our members:
"Operation Overlord: OSS and the Battle for France" - Now available online
Saturday, 6 June 2020, marked the 76th anniversary of D-Day when more than 150,000 American and Allied soldiers stormed the beaches of Normandy to save the world from tyranny. The OSS Society has produced an award-winning short documentary about D-Day: "Operation Overlord: OSS and the Battle for France" tells the story of Allied special forces whose daring exploits changed the course of World War II. The film includes an introduction by The Honorable Leon Panetta. It was written and directed by Carl Colby, an award-winning documentary filmmaker whose father, William Colby, jumped into Nazi-occupied France as an OSS Jedburgh. The film's executive producer is Charles Pinck, The OSS Society's president.
Watch full documentary here. Runs ~15 minutes.
---
Canadian Intelligence Assessments on Iraq, 2002-2003:
The partial release of Canadian intelligence assessments on Iraq during 2002 and 2003 has made it possible for the first time to examine the role that intelligence played in informing the Chrétien government's decisions in the lead-up to the war in Iraq. Canadian assessments of US policy on Iraq, Baghdad's weapons of mass destruction capabilities, the regional implications of an invasion, and the subsequent internal instability of Iraq proved to be largely accurate, in contrast to much of the analysis on Iraq by other members of the Five Eyes intelligence partnership. Read full paper "Getting it right: Canadian intelligence assessments on Iraq, 2002-2003" by Alan Barnes which appeared28 May 2020 in the journal Intelligence and National Security. [CCentner]
---
Revolutionary Extremist Groups Lighting American Cities Ablaze – Where Was the FBI? by Charles "Sam" Faddis June 1, 2020 in AND Magazine.
If you watched the video of the killing of George Floyd and were not horrified, I suggest you spend some time in intense self-reflection. I fear your immortal soul may be in peril. The man was murdered. If you are engaged in peaceful protesting of Floyd's killing, I support you fully. You are exercising your rights as an American citizen. You are demanding this nation do better and that there be a reckoning for a wrong done.
If you are watching the riots engulfing major American cities from coast to coast and spreading abroad and you honestly believe these are all spontaneous events fueled by nothing but frustration and anger, you are dangerously naïve. What you are seeing now is a coordinated, premeditated effort by groups that have been building in strength for years. The goal of the rioting and looting now in progress is not justice. It is not equality.
On Sunday night, New York's Deputy Commissioner for Intelligence and Counterterrorism John Miller detailed his office's investigation into why the New York City protests have become so violent and damaging. "They prepared to commit property damage and directed people who were following them that this should be done selectively and only in wealthier areas or at high-end stores run by corporate entities." "And they developed a complex network of bicycle scouts to move ahead of demonstrators in different directions of where police were and where police were not for purposes of being able to direct groups from the larger group to places where they could commit acts of vandalism including the torching of police vehicles and Molotov cocktails where they thought officers would not be." "We believe that a significant amount of people who came here from out of the area who have come here as well as the advance preparation, having advance scouts, the use of encrypted information, having resupply routes for things such as gasoline and accelerants as well as rocks and bottles, the raising of bail, the placing of medics," Miller said. "Taken together, (this) is a strong indicator that they plan to act with disorder, property damage, violence, and violent encounters with police before the first demonstration and or before the first arrest."
Faddis article continues here...
---
Who Is Providing The Bricks (And Other Props) For The Riots? by AND Magazine Staff June 1, 2020
Dallas protestors film a pallet of bricks placed in front of what is believed to be a courthouse, as the young man in the video says that he's not going to say what building this is but that he "did jury duty three months ago" and "you all don't keep no bricks right there." Unidentified organizers were directing the crowd where to go. They had pallets of 100 bricks ready for rioters. This wasn't random chaos.
Charlie Kirk took to Twitter to ask why the FBI is not investigating what appears to be "organized terror" in our cities. "Who is funding it?" he asks. A protester tweeted: "White people conveniently dropping off a pallet of bricks during a protest. Where are these bricks coming from?"
View videos, tweets, and other commentary here... And then see if you can assist FBI below, seeking to ID anarchists.
---
FBI Seeking Your Assistance...provide tips here
Minneapolis in the News
Statement from FBI Minneapolis—Seeking Public Help
The FBI's Minneapolis Field Office is seeking the public's help in gathering information regarding possible violations of federal law related to recent unrest experienced in the Twin Cities.
June 1, 2020
FBI HQ in the News
Seeking Information on Individuals Inciting Violence During First Amendment-Protected Peaceful Demonstrations
To help us identify actors who are actively instigating violence in the wake of George Floyd's death—interfering with the rights and safety of First Amendment-protected peaceful demonstrators, as well as all other citizens—the FBI is accepting tips and digital media depicting violent encounters surrounding the civil unrest that is happening throughout the country at fbi.gov/violence.
June 1, 2020
---
Election Security Issues - View from Two Sides
Is Ballot Fraud Real?
Side One: The Heritage Foundation Report

A SAMPLING OF 1,071 ELECTION FRAUD CASES FROM ACROSS THE COUNTRY.
The United States has a long and unfortunate history of election fraud. Attached is a list of election fraud cases from across the country, broken down by state, where individuals were either convicted of vote fraud, or where a judge overturned the results of an election. This is not an exhaustive list but simply a sampling that demonstrates the many different ways in which fraud is committed. Preventing, deterring, and prosecuting such fraud is essential to protecting the integrity of our voting process. Look over this PDF of these cases, explore the thousands of other cases on the database (but not in the report).
Next Tuesday we provide Side Two - a response by The Brookings Institution refuting the significance of the ballot fraud convictions.
---
One of the special benefits of membership in AFIO: access to CIA's inhouse gift shop — the EAA Store.
It requires a quick preapproval process described here to all newly joined and current AFIO members. And then allows you to purchase online their unusual logo'd gift items for self or colleagues. Here is the latest photo EAA released on May 22nd featuring some of their newest items:
---
Newly Released, Overlooked, or Forthcoming Books
The Button: The New Nuclear Arms Race and Presidential Power from Truman to Trump
by William J. Perry and Tom Z. Collina
(BenBella Books, Jun 2020)
The President has the power to end the world in minutes. Right now, no one can stop him.
Since the Truman administration, America has been one "push of a button" away from nuclear war—a decision that rests solely in the hands of the President. Without waiting for approval from Congress or even the Secretary of Defense, the President can unleash America's entire nuclear arsenal.
Almost every governmental process is subject to institutional checks and balances. The authors ask, "Why is potential nuclear annihilation the exception to the rule?" For decades, glitches and slip-ups have threatened to trigger nuclear winter: misinformation, false alarms, hacked warning systems, or even an unstable President. And a new nuclear arms race has begun, threatening us all. At the height of the Cold War, Russia and the US each built arsenals exceeding 30,000 nuclear weapons, armed and ready to destroy each other—despite the fact that just a few hundred are necessary to end life on earth.
Perry, Secretary of Defense in the Clinton administration and Undersecretary of Defense for Research and Engineering in the Carter administration, and Collina, the Director of Policy at Ploughshares Fund, a global security foundation in Washington, DC, provide the terrifying history of nuclear launch authority, from the faulty 46-cent microchip that nearly caused WWIII to President Trump's tweet about his "much bigger & more powerful" button. Includes interviews with former Presidents Jimmy Carter and Bill Clinton, former Secretary of Defense Jim Mattis, Congressman Adam Smith, Nobel Peace Prize winner Beatrice Fihn, senior Obama administration officials, and others.
Book may be ordered here.
---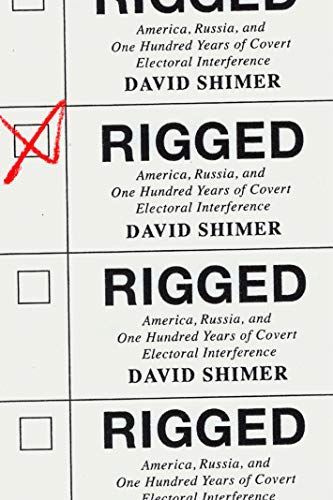 Rigged: America, Russia, and One Hundred Years of Covert Electoral Interference
by David Shimer
(Knopf, June 2020)
"As a CIA operations officer, I served through the most complicated periods of the Cold War. David Shimer's book gives a riveting account of that traumatic period. Shimer knows why and how we engaged in covert action, and what we were up against. He also knows the policies we must modify, if we are to succeed in the 2020s. This is a truly significant book; by all means, read it." —Ambassador Donald Gregg, Former CIA Station Chief and National Security Advisor to VP George H.W. Bush
Shimer provides a review of the hidden history of covert electoral interference past and present by the US and by Russia. He discusses decades of secret operations employed to shape electoral outcomes, melding historical research with 130 interviews withl officials in the Obama and Trump administrations, CIA and NSA directors, and a former KGB general.
Throughout history Russian and American operations sought to influence the way voters think, rather than tampering with actual vote tallies. The author claims he is "casting aside partisanship and sensationalism," to expose what Russia achieved in 2016, how the Obama administration responded, and why Putin has also been interfering covertly in elections across the globe in recent years, while American presidents have largely refrained from doing so. Shimer claims that this these intrusions can harm Democrats and Republicans alike. Russia's central aim, he says, is to undermine and disrupt our democracy.
Book may be ordered here.
---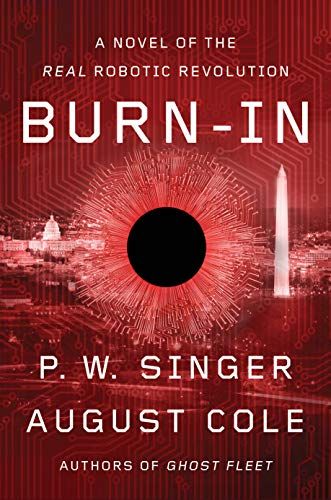 Burn-In: A Novel of the Real Robotic Revolution [techno-fiction]
by P. W. Singer and August Cole
(Houghton Mifflin Harcourt, May 2020)
"Burn-In is a fantastic, compelling, and authoritative look into the future—a future that is equal parts amazing and terrifying. ...Peter Singer and August Cole establish themselves both as masters of the techno-thriller and as scientifically-grounded futurists. Woven into their riveting, page-turning tale of a brilliant FBI agent's future hunt for a diabolically clever, tech-savvy criminal are important lessons about the extremely difficult issues that lie ahead surrounding the use of AI, robotics, augmented reality, and ubiquitous surveillance. It is a terrific read!" —General David Petraeus (U.S. Army, Ret.), former Commander of the Surge in Iraq, U.S. Central Command, and Coalition Forces in Afghanistan and former Director of the CIA
A technothriller, following a hunt for a terrorist through the streets of a future Washington DC. Baked into the story are over 300 factual explanations and predictions, with 27 pages of nonfiction endnotes to show their source from the real world. Through a vivid story and characters, you learn about everything from how AI works and its planned applications to its impact on the future of politics, business, security, etc.
"This perceptive near-future techno-thriller from Singer and Cole (Ghost Fleet) warns of the unintended consequences of rapid technologic change . . . For all the emphasis on high-tech fears, the authors tell a very human story." —Publishers Weekly
"A near-future SF thriller starring an FBI agent and one damn smart robot . . . lots of clever details . . . a great premise for a series . . . just keep those suckers away from Putin." —Kirkus Reviews
Book may be ordered here.
---
---
Section I - INTELLIGENCE HIGHLIGHTS

New Intelligence Chief Takes Over as Community Has Altered Work Operations for Pandemic. President Trump's controversial pick to be director of national intelligence was sworn in on Tuesday, which comes as the intelligence community has modified workforce operations to accommodate the novel coronavirus pandemic.

In March, President Trump tapped Rep. John Ratcliffe, R-Texas, for the position for the second time. Last summer Ratcliffe quickly withdrew from consideration after questions were raised about his qualifications (the law requires extensive intelligence experience) and dubious claims on his resume. Nevertheless, on May 21 the Senate confirmed Ratcliffe, 49-44, along party lines. In addition to taking on a role where his predecessors have clashed with the president, he takes office during unprecedented times. The Office of Personnel Management directed federal agencies to "maximize telework" during the pandemic, but it's more complicated for the 17 intelligence agencies due to the classified nature of their work.

The Office of the Director of National Intelligence "continues to monitor the COVID-19 pandemic and adjust its response, in accordance with [Centers for Disease Control and Prevention] and OPM guidance," an ODNI official told Government Executive. The office "has reduced staff contact through a variety of options including staggered shifts, flexible schedules and social distancing practices."

The official said the office is balancing continuity of operations and the need to protect workforce health. [Read more: Buble/GovernmentExecutive/28May2020]

Macri, Argentinian Ex-Spy Agency Chiefs Face Probe Over Alleged Illegal Espionage. Federal prosecutor Jorge Di Lello said Friday that former president Mauricio Macri and a number of his former officials should face a judicial investigation into alleged illegal espionage charges presented by AFI intelligence trustee Cristina Caamaño.

A federal judge will determine whether to authorsze an investigation and possible charges.

In her deposition, Caamano asked state prosecutors to investigate Macri and said "emails from almost 100 people were spied on without any court order," according to sources.

Also indicted were ex-AFI chief Gustavo Arribas, his former second-in-command Silvia Majdalani and the latter's brother-in-law Darío Biorci, together with a number of unidentified agents. [Read more: BuenosAiresTimes/29May2020]

Pakistan Uses Terror-Tracking Tech Against Virus. Pakistan's intelligence services are deploying secretive surveillance technology used to locate terrorists to track coronavirus patients and the people they come into contact with.

In a program touted by Prime Minister Imran Khan, the government has turned to the powerful Inter-Services Intelligence agency (ISI) for help in tackling the virus, which is spreading at an accelerating rate across Pakistan.

Details about the project have not been released, but two officials told AFP that intelligence services are using geofencing and phone-monitoring systems that ordinarily are employed to hunt high-value targets including homegrown and foreign terrorists. [Read more: APF/28May2020]

Turkey Will Assist Guinea in Maritime Security, Share Military Intelligence. The Turkish parliament in January ratified a Turkey-Guinea military cooperation framework agreement that includes assistance in maritime security, cooperation in the defense industry, military intelligence and logistical systems, and the holding of joint exercises.

According to the text of the agreement, obtained by Nordic Monitor, Turkey will assist Guinea in maritime security in the Gulf of Guinea and piracy, which has increased off the west coast of Africa despite preventative measures. The agreement states in Article 4 that Turkey and Guinea will focus on "capacity building at sea and maritime security, fighting against piracy and armed robbery at sea."

The International Maritime Bureau (IMB) indicated that the Gulf of Guinea remains a hot spot for piracy, accounting for the vast majority of seagoing hostage seizures and kidnappings globally, and that 82 percent of maritime kidnappings between January-September 2019 worldwide occurred in the Gulf of Guinea. [Read more: NordicMonitor/2June2020]

Air Force to Consolidate Intelligence Contracts for Air, Space. The U.S. Air Force is conducting market research to potentially consolidate services from as many as two dozen intelligence analysis contracts into a single vehicle, according to a request for information released on May 29.

The proposed program, known as NOVASTAR, will support the National Air and Space Intelligence Center (NASIC) in its mission to "discover and characterize air, space, missile, forces, and cyber threats to enable full-spectrum multi-domain operations, drive weapon system acquisition, and inform national defense policy," according to an attached sources-sought notice.

The proposed contract would deliver "research, development, and sustainment of new and existing hardware, systems, and software capabilities enabling scientific and technical intelligence production" for the Air Force and broader intelligence community. The majority of the work will take place at Wright-Patterson Air Force Base in Dayton, Ohio, where NASIC is located. [Read more: Cornillie/Bloomberg/2June2020]


---
Section II - CONTEXT & PRECEDENCE
Sabotage and Subversion: How Secret Agents Helped Win WWII. In 1940, following the fall of France, Winston Churchill authorized the establishment of a volunteer fighting force to wage a secret war against Hitler's armies. This unique force became known as the Special Operations Executive (SOE), and their main mission was sabotage and subversion behind enemy lines. Despite being shrouded in controversy, and being viewed with suspicion by other agencies - the Secret Intelligence Service (SIS) didn't want their information-gathering operations disrupted with blown up bridges and factories - the SOE survived World War II and actually played a big part in winning the war for the Allies.

In a speech after World War II was over, General Eisenhower even stated, "The disruption of enemy rail communications, the harassing of German road moves, and the continual and increasing strain placed on German security services throughout occupied Europe by the organized forces of Resistance, played a very considerable part in our complete and final victory."

For the SOE, sabotage meant blowing up trains, bridges and factories. Subversion was about fostering revolt and/or guerilla warfare in all enemy and enemy-occupied countries. The most unique element of the SOE is the fact that while the senior staff were ex-public school and Oxbridge, the agents were people from all walks of life, for example, former chefs, electricians, and journalists.

The SOE's first headquarters was set up in November 1940. [Read more: Baker/WeAreTheMighty/1June2020]
NSA's Cyber Wing Looks to Safeguard COVID Research and Expand Outreach.
The National Security Agency's cybersecurity directorate is focusing its resources on protecting medical research related to the COVID-19 pandemic and assisting critical infrastructure that can help speed up America's economic recovery, according to the agency's Deputy Director George Barnes.

Speaking on a webcast hosted by the Intelligence National Security Alliance, Barnes provided an update on the agency's cyber-focused directorate formed late last year. The rise of the COVID-19 pandemic has provided a whole host of additional challenges, increasing the collective digital threat surface as governments and businesses moved to mostly online operations and putting public health organizations and pharmaceutical companies working on a vaccine and other aspects of the response firmly in the crosshairs of nation-state hackers.

Barnes said the fallout from the pandemic has pushed the directorate to ask "how do we protect critical activities that are vital to us getting back in a healthy state?" and enable Americans to get back to work and keep the economy moving. When it comes to protecting private and public medical research, the agency's bread and butter - signals intelligence - can provide medical research organizations with insight into what information foreign governments are after as well as the tools and methods they're using to get it. [Read more: Johnson/FCW/28May2020]

Polish Pilot, Spy, and Decorated Underground Officer Who Was Later Jailed by the Soviets, Kazimierz Leski died 20 Years Ago Today. As head of counter-intelligence in one of Poland's most secretive WWII resistance groups, Kazimierz Leski was high up on the Gestapo's list of most-wanted.

Entering the war as pilot in the Polish Air Force, he was shot down on 17th September 1939 near Chortkiv, in modern day Ukraine, by the Red Army.

Captured and interrogated, he soon managed to escape to Lwow before crossing the new Soviet-German 'border of peace' and in October 1939 returned to Warsaw, where he joined the underground organisation known as the Musketeers.

With direct contact to Britain's Secret Intelligence Service, the group regularly risked their lives to send reports to London, including in one case rolls of microfilm with photos of a German military buildup near the border with the Soviet Union indicating that a German invasion of the Soviet Union was being planned. [Read more: Westerby/TheFirstNews/2June2020]

104 Year-Old Michigan World War II Veteran Honored with Birthday Parade. Richard Stuart has lived a life that would rival James Bond. Although he presently lives in Okemos, Michigan under the part-time care of home health aides, the 104-year-old veteran served honorably during World War II with the Office of Strategic Services (OSS), the precursor to the Central Intelligence Agency (CIA).

In 1945, Stuart helped plan and was part of "Operation ICEBERG" during the Okinawa campaign. His contributions are chronicled by William J. Rust in a 22 page article with 80 sources cited (a March 2016 publication of Studies in Intelligence Vol 60, No.1 Transitioning into CIA: The Strategic Services Unit in Indonesia).

Stuart had been a school principal prior to the war. During his time with the OSS, he was also involved in of some of the largest POW rescue missions in the Pacific theater. As the OSS transitioned to the CIA, Lieutenant Stuart was offered the opportunity to continue his services to the intelligence community and led an eventful career with other agencies with several overseas assignments. [Read more: Bennett/DVIDS/28May2020]

A Deep Dive into Canada's Overhaul of Its Foreign Intelligence and Cybersecurity Laws. Following the release of documents by Edward Snowden, many of the Western governments whose agencies' activities were implicated in the leaks raced to update and modernize their national security legislation. Such legislation was, in at least some cases, designed to clearly establish the legality of activities and operations that had been already undertaken for many years in near-absolute secrecy. In June 2019, the Canadian government passed major national security legislation, which massively overhauled how Canada's signals intelligence agency and cybersecurity agency, the Communications Security Establishment (CSE), could lawfully operate. Those updates are found in Bill C-59: An Act respecting national security matters. This Bill promises to extend and amplify the kinds of activities that the CSE can undertake in the coming decades. [Read more: Parsons&Gold/JustSecurity/2June2020]


---
Lack of Emphasis on Secure Teleworking is a National Security Risk. Today, due to COVID-19, hundreds of thousands of Department of Defense (DoD) and Intelligence Community (IC) workers are now working on confidential documents and having confidential meetings while leveraging smartphones and other commercial mobile devices. These same devices are inherently risky due to the relative ease with which they can be exploited for espionage by bad actors using the cameras and microphones to capture confidential information.

Confidential information is the lowest classification level of information obtained and used by government and is defined as information that would "damage" national security if publicly disclosed.

The idea that leaked confidential information risks national security is acknowledged in security policy guidance banning the use of commercial mobile devices, but only at the office, unless the cameras and microphones are physically disabled. Putting smartphones in lock boxes when working in or visiting a DoD or IC office has become almost routine.

Lock boxes aren't a complete solution, however. When not in the office and actually mobile, the "hope and a prayer" risk mitigation has been in effect. This was accepted because telework was not widely adopted. [Read more: Campbell/SecurityBoulevard/1June2020]

The Impact of Spycraft on How We Secure Our Data. The cyber security industry has come a long way since its inception. The ancestors of cyber were the men and women working at Bletchley Park during the Second World War, long before the introduction of what we would consider modern cyber security practices – but even before then, humans used codes and ciphers to keep information safe for millennia. Even Julius Caesar popularised a cipher which was named after him.

More recently, developments have been driven by the intelligence and defence sectors, which have a real need to uncover as well as keep sensitive intelligence safe. Some of these innovations were showcased recently at the Science Museum's Top Secret exhibition, which ran from July 2019 to February 2020 to coincide with the 100th anniversary of GCHQ, the UK's intelligence, security and cyber agency.

It also gives us the context as to where developments have originated, and the ways in which they will subsequently impact how businesses keep their data safe from cyber criminals in the future. [Read more: Hughs/ComputerWeekly/1June2020]

The Coronavirus Pandemic Should Change the Way We Look at National Security. The Covid-19 pandemic is changing how we approach national security. It is giving tangible form to issues that had been brewing in the emergent digital environment and putting America's security challenges in urgent relief.

Despite effort and some accomplishment, advancement against new threats has been slow. This is in part because the effects of a changed world were not immediately visible, and the limitations of our existing approach were not strategically relevant enough to command attention and action. And, democracies tend to be slow to act short of crisis.

The current pandemic has accelerated our response to this changed world. It has pulled the future forward, forcing a new look at national security. Now, we must adapt how we operate to reflect this reality, and act with urgency.

Here are five things that should change about our approach to national security because of this crisis. [Read more: Gordon/CNBC/28May2020]



---
Section IV - Research Requests, Obituaries, Jobs
Call for Papers by the University of Texas at Austin for the 2020 "Bobby R. Inman Award" for Student Scholarship on Intelligence
Austin, Texas – The Intelligence Studies Project of The University of Texas at Austin announces the sixth annual competition recognizing outstanding student research and writing on topics related to intelligence and national security. The winner of the "Inman Award" will receive a cash prize of $5,000, with two semifinalists each receiving a cash prize of $2,500. This competition is open to unpublished work by undergraduate and graduate students enrolled in degree programs at accredited U.S. higher education institutions during the 2019-20 academic year. The deadline for submitting papers is June 30, 2020.

The Intelligence Studies Project was established at The University of Texas at Austin in 2013 as a joint venture of the Robert Strauss Center for International Security and Law and the Clements Center for National Security with the LBJ School of Public Affairs. The Project's mission is to improve understanding of intelligence activities and institutions through research, courses, and public events bringing intelligence practitioners together with scholars, students, and the public.

The Bobby R. Inman Award recognizes more than six decades of distinguished public service by Bobby R. Inman, Admiral, U.S. Navy (Ret.). Admiral Inman served in multiple leadership positions in the U.S. military, intelligence community, private industry, and at The University of Texas. His previous intelligence posts include Director of Naval Intelligence, Vice-Director of the Defense Intelligence Agency, Director of the National Security Agency, and Deputy Director of Central Intelligence. He continues to serve as a teacher, advisor, and mentor to students, faculty members, and current government officials while occupying the Lyndon B. Johnson Centennial Chair in National Policy at the LBJ School of Public Affairs. His areas of teaching and research are focused on political, economic, and military activities, policy processes and institutions, international affairs and diplomacy, and intelligence and national security.

Additional information about the Inman Award, including submission requirements and previous winners, is available at www.intelligencestudies.utexas.edu/inman-award.
Aber Dearfield, NSA Executive Manager
Aber Harry Dearfield, 93, NSA Executive Manager and Engineer, died 24 May 2020 in Silver Spring, MD due to complications related to the COVID-19 virus.
Dearfield was born in Coal Valley, PA. After graduating from Clairton High School, Clairton, PA, he enlisted in the U.S. Navy near the end of WWII. In training as an electronics engineering technician in the intelligence field, he was part of the contingency preparations for an invasion of Japan when the war ended. He held a bachelor's degree in Electrical Engineering from the Carnegie Institute of Technology, Pittsburgh, PA and a master's degree in Engineering Administration from George Washington University.
From 1949 to 1986 he served his nation as an electronics engineer and executive manager with the National Security Agency and its predecessor organization, retiring from NSA with more than 37 years of public service. He was an intrepid world-traveler, avid dancer, and accomplished musician (with his beloved trombone and piano), enjoyed the beach, and supported his family and friends. A genealogy enthusiast, he was proud to learn of his numerous Civil War and Revolutionary War ancestors, and proud that his wife and female descendants were members of the Daughters of the American Revolution.
He is survived by his wife of nearly 70 years, Shirley R. Dearfield, two sons and a daughter, and other family.
A memorial service will be determined at a future date. Aber H. Dearfield will be later interred at Arlington National Cemetery.
Andrew Falkiewicz, Asst Dir USIA and to DCI; Served Nixon & Bush
Andrew Wallis Tadeusz Falkiewicz, 91, Asst Dir USIA and to DCI, died 16 May 2020 in Washington, DC.
Andrew was born in Lwów, Poland. In 1939 he, his brother, and mother were deported into the USSR during the Soviet Occupation of Poland. After 2.5 years, he was released by the Polish Army and made his way to Great Britain.
He was educated at the Royal High School of Edinburgh, where he graduated first in his class, having arrived without speaking a word of English. He continued his education at Edinburgh University, where he completed both a BSc and PhD in Engineering with First Class Honours.
Andrew started his career with Ford Motor Company, first in the UK and then in the US, before completing the diploma program at the School of Foreign Service of Georgetown University. He then embarked on a public service career, representing his adopted country. After serving in the U.S. Army (from 1953-1955), he joined the U.S. Information Agency. He then entered the Foreign Service in 1960 and served in Bonn, Saigon, Prague, and Moscow, as well as at the U.S. Department of State in Washington. Andrew was an influential and senior statesperson.
He was Deputy Press Secretary to President Nixon, Assistant Director of USIA, and Assistant to the Director of Central Intelligence, working with the then future President George Bush Sr.
As an expert in Soviet and European affairs, he left public sector for the private sector, first as advisor and then Director of Corporate Affairs for Philip Morris International. At the conclusion of his career, Andrew moved back into the public sector serving as Director of the National Security Task Force in George Bush Sr.'s presidential campaign. And at the time of his retirement he was the Policy Advisor to the Director of U.S. Office of Personnel Management.
Andrew was a highly intelligent raconteur, fluent in six languages, gracious and charming. He was a sought-after dinner guest, filled with insightful views of life and current affairs and easily captivated a room with stories of his life.
He is survived by a son and a daughter, and other family. A memorial service will be arranged at a later date. Friends and colleagues are invited to share memories and stories at here.
---
IT Acquisitions Subject Matter Expert for Intelligence Community Client; Other Openings in Reston and Bolling AFB
E3/Sentinel has a funded opening for an IT Acquisitions Subject Matter Expert with specific experience in IT architecture requirements to support an IC customer. Candidate will assist in developing innovative business strategies and procurement policy/processes. Only candidates with TS/SCI clearances will be considered. Contact Rosanna Minchew rminchew@e3sentinel.com for more details.
E3/Sentinel has multiple openings for Contracts Specialists, Acquisition Analysts, Cost/Pricing Analysts and Contracts Closeout Specialists. Positions in Reston and at Bolling AFB. TS/SCI required to be considered for interview. Polygraph preferred. Contact Rosanna Minchew rminchew@e3sentinel.com for more details.
Adjunct instructors at the University of Texas at El Paso (US)
The National Security Studies Institute at the University of Texas at El Paso (UTEP) (see their website here) is seeking adjunct instructors to teach online graduate-level courses:
Legal Issues in Intelligence and National Security
Propaganda and Influence Operations
Intelligence and Counterterrorism
Political Economy of Terrorism
Risk Analysis
Emergency Management
Public Health and Homeland Security
A PhD in public policy, security studies, political science, or a related field is required.
Interested and eligible applicants should contact Stephen Coulthart (sjcoulthart@utep.edu).
Two Positions at James Madison University for Assistant or Associate Professor - Intelligence Analysis
James Madison University (JMU) located in Harrisonburg, VA, seeks applicants for two faculty positions in its Bachelor's Degree Program in Intelligence Analysis (IA). The appointments will be at the Assistant or Associate Professor level and will reside within the larger School of Integrated Sciences. The IA program offers a multidisciplinary undergraduate degree with an emphasis on methodology and technology to prepare students to become analysts, with a specialization in intelligence analysis. Its graduates have been successful in securing positions as analysts in both the public and private sectors, to include the Intelligence Community, military and law enforcement organizations, defense contractors, and major consulting firms. The program emphasizes methodology and synthesizes critical and creative thinking methods with technological tools for data collection, visualization, and analysis with situational knowledge of a problem's political, economic, social, and technological context with strong communicative and professional skills to support decision-making.
Ideal candidates will be comfortable in an interdisciplinary, diverse setting and possess the potential for becoming an excellent teacher to future analysts in one or more intelligence domains including national security, military, homeland security, law enforcement, private sector security, cyber security, and geospatial. They optimally have a background in either mixed-methods, qualitative, or quantitative research and analysis methods. We especially encourage applications from candidates that can leverage the use of systems thinking, employ data science in analysis, support the development of writing skills, or teach ethics specifically for future analysts. The typical teaching load in the school is 3 courses per semester.
We welcome applicants from all academic disciplines—to include the humanities, social sciences, and sciences—that provide a knowledge foundation for doing analysis. Prospective candidates should review our curriculum online to identify areas that match their expertise and to locate potential areas that they could help the program to develop. The program values teaching excellence as well as one-on-one professional mentoring and seeks candidates who can demonstrate potential for both. In addition, the position requires the potential for an active program of scholarly activity. The position requires either a Ph.D. in a relevant academic field by the date of hire (for a tenure-track appointment) OR Master's Degree with substantial experience in the field (for appointment on a Renewable Term Contract).
More information or applications may be found here.
Do not let Social Distancing slow your career. New Positions Available with Thomson Reuters
Many other jobs available with Thomson-Reuter. Email Brian Lemley for a list with descriptions and links.
FireEye Has Many Intelligence Positions Available For You - Worldwide - Contract, Full-time, Part-time, Interns
Explore the many career and contractor intelligence jobs available here. Jobs openings in Cyber Security include - Advisory, Architecture, Digital Forensics & Incident Response, Penetration Testing, Threat Research. They positions are needed here: New York, Chicago, Manila, Reston, Dallas, Atlanta, Suitland, Singapore, Denver, Las Vegas, Phoenix, Doha, Stockholm, London, Milpitas, multiple cities in Australia, Washington, Indianapolis, Tampa, Santiago, Alexandria, Seattle, Carlsbad, Houston, San Francisco, Arlington, Dubai, Amsterdam, Ft Belvoir, Minneapolis, Mexico City, San Diego, Boston, El Segundo, Philadelphia, San Antonio, Chiyoda, Ft Huachuca, Ft Gordon, Ft Meade, Ft Shafter, Kuwait City, Seoul, Sttutgart, Salt Lake City, Austin, Dublin, Bangalore, Cork, Colorado Springs... Explore the many career and contractor intelligence jobs available here.
---
AFIO EDUCATIONAL EVENTS IN COMING TWO MONTHS....

RESCHEDULED from Spring: Friday, 23 October 2020, 10:30 a.m. - 2 p.m. - Tysons, VA - AFIO National Fall Luncheon features Washington Post columnist David Ignatius, and Author, former Post reporter Stephen Vogel

HOLD THE DATE: The morning speaker will be David Ignatius, author of the upcoming intelligence novel, The Paladin: A Spy Novel [WW Norton, May 2020]. Ignatius is a Washington Post columnist and has been covering the Middle East and CIA for nearly three decades.
Of Ignatius' forthcoming novel, reviewers wrote: "For me nothing is more intriguing than life inside our intelligence agencies. David Ignatius uses his decades' worth of reporting experience to take us there in this fast-moving, jaw-dropping drama that reads like it was ripped from the headlines. I recommend you grab a copy and hold on tight for the entire thrilling ride." — Brian Kilmeade, Fox News.
"David Ignatius once again takes readers behind the scenes of America's most secretive bureaucracy, revealing in fiction what could never be declassified in fact. The Paladin is yet another stirring read from one of America's most revered reporters and gifted storytellers." — Joe Scarborough, MSNBC
The afternoon program features Stephen Vogel, author of Betrayal in Berlin: The True Story of the Cold War's Most Audacious Espionage Operation [Custom House, Sept 2019]. Vogel is a former Washington Post reporter who covered the federal government. He was based overseas from 1989 through 1994 where he covered the fall of the Berlin Wall and the first Gulf War, and subsequently reported on military operations in Somalia, Rwanda, the Balkans, Afghanistan and Iraq.
Of Betrayal in Berlin, Former CIA Officer Sandy Grimes wrote: "The best spy book I have ever read...Steve Vogel is a talented and gifted writer who brings the personalities and idiosyncrasies of every participant in this operation to life. His research is vast, varied, and full of detail. It is truly one of those rare books you can't put down."
Registration will open in late September.

Venue: DoubleTree by Hilton, 1960 Chain Bridge Rd, Tysons Corner, VA 22182 Phone: (703) 893-2100. Directions at this link.
---
Other Upcoming Events from Advertisers, Corporate Sponsors, and Others
Upcoming virtual (and a few live, post-quarantine) events at the International Spy Museum. Click event to explore and register for event. All virtual events require pre-registration.

27 July 2020, Spy Camp 2020: Session 1, 9 am - 3 pm
3 August 2020, Spy Camp 2020: Session 2, 9 am - 3 pm
7 November 2020, 14th Annual Parade of Trabants, 10 am - 4 pm
14 November 2020, Operation Secret Sleepover, 7 pm - 9:30 am
Thursday, 4 June 2020, noon – 12:30pm EDT - Virtual - "Words Matter: How We Talk About the Pandemic" is topic of this discussion hosted by Georgetown University Press et al.
Georgetown University Professor in the department of linguistics Deborah Tannen on Words Matter: How We Talk About the Pandemic.
We encourage you to submit your thoughts and questions ahead of time via social media using #BooksforaBetterWorld and tagging us on Facebook and Twitter.
Register for the event here or to view other upcoming Georgetown University Press virtual events.
Thursday, 25 June 2020, noon – 12:30pm EDT - Virtual - "Russian Cyber Operations in a Year of Crisis" is topic of this discussion hosted by Georgetown University Press et al.
US Naval Postgraduate School Lecturer Scott Jasper on Russian Cyber Operations in a Year of Crisis.
We encourage you to submit your thoughts and questions ahead of time via social media using #BooksforaBetterWorld and tagging us on Facebook and Twitter.
Register for the event here or to view other upcoming Georgetown University Press virtual events.
NEW DATE - Saturday, 24 October 2020, 5:30 p.m. - Washington, DC - Save the Date! PenFed Foundation's 2020 Night of Heroes Gala
PUT ON CALENDAR AND HOLD THE DATE: The Pentagon Federal (PenFed Credit Union) Foundation will be hosting their spectacular Night of Heroes Gala on Saturday, 24 October 2020 at the Mandarin Oriental in Washington, D.C. Last year's annual gala raised over $1.5 million and honored children of military families.
VIP Reception at 5:30 PM
General Reception and Silent Auction at 6:00 PM
Location: The Mandarin Oriental, 1330 Maryland Ave SW, Washington, D.C.
Attire: Black Tie or Military Dress
RSVP: October 2, 2020
Click here to learn more or sponsor a table.
---
In addition to the new Royal Blue long sleeve shirts, and the gray long sleeve hooded sweatshirts, the AFIO Store also has the following items ready for quick shipment:
NEW: LONG and Short-Sleeved Shirts with embroidered AFIO Logo and New Mugs with color-glazed permanent logo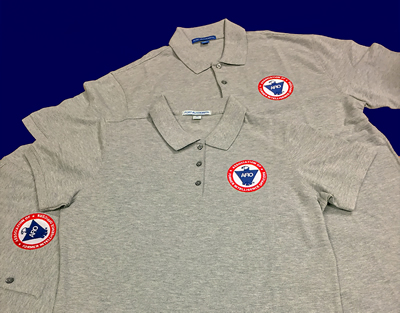 Show your support for AFIO with our new Polo Shirts. Be the first to buy these new, high quality, subtle heathered grey short sleeve shirts, and dark blue long sleeved shirts, of shrink and wrinkle resistant fine cotton with a soft yet substantial feel. They feature a detailed embroidered AFIO seal. Get a shirt for yourself and consider as gifts for colleagues, family, and friends. Only $45 each including shipping.
Sizes of (M) men or (W) women shirts; Small, Medium, Large, XL, XXL, and XXXL. At this time all orders will arrive as Short Sleeve shirts.
You may pay by check or credit card. Complete your order online here or mail an order along with payment to: AFIO, 7600 Leesburg Pike, Ste 470 East, Falls Church, VA 22043-2004. Phone orders at 703-790-0320. If interested in other shirt colors or sleeve lengths, contact Annette at: annettej@afio.com.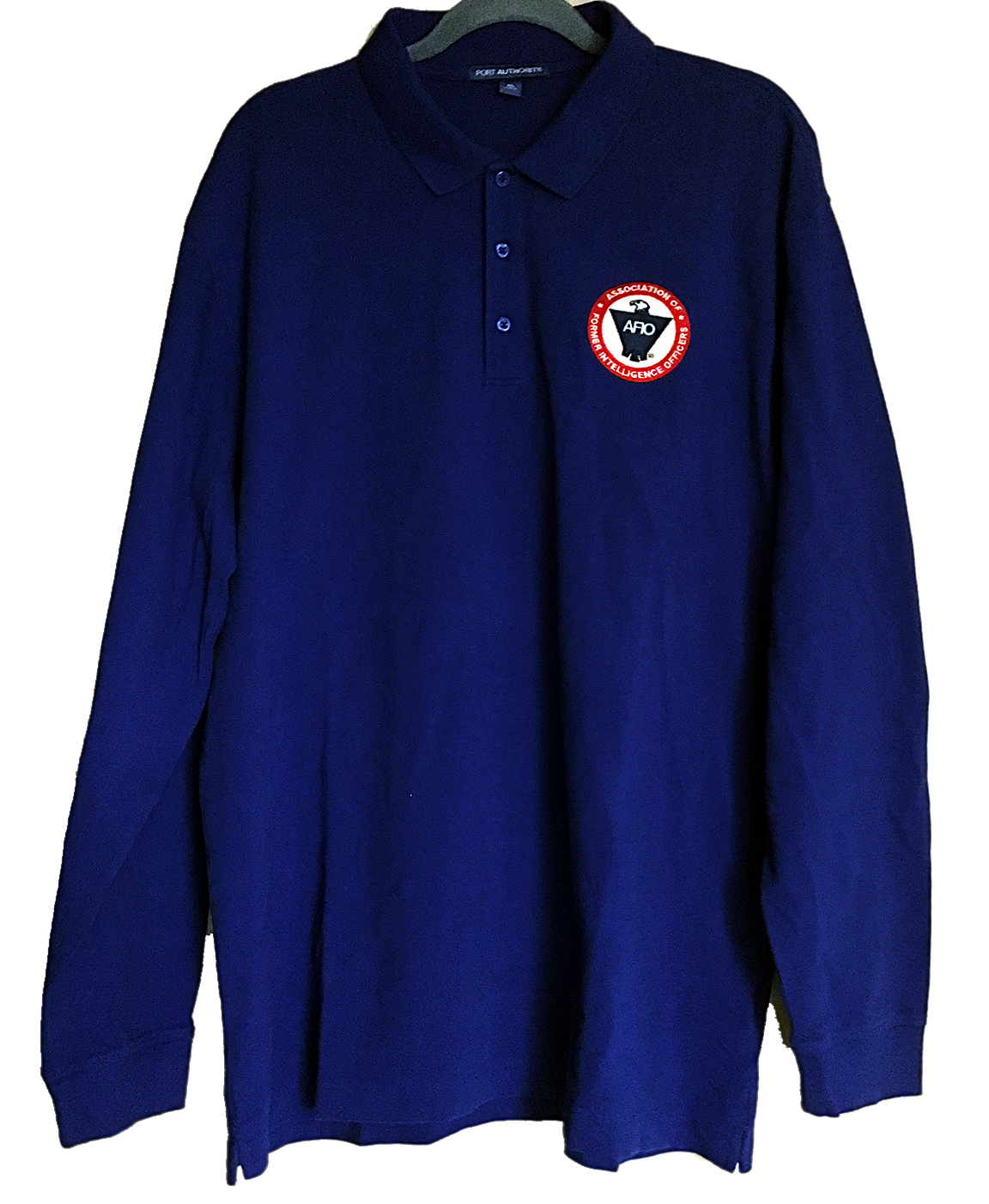 Long-Sleeved Shirts and Hooded Sweatshirts with embroidered AFIO Logo
Show your support for AFIO with our new long-sleeved Polo Shirts and Hooded Sweatshirts.
Both items are high quality and shrink resistant and feature a detailed embroidered AFIO seal. The color of the long-sleeved Polo Shirts is royal blue; the price is $55 and includes shipping.
The Hooded Sweatshirts are dark grey; the price is $70 and includes shipping.
Purchase a shirt and sweatshirt for yourself and consider as gifts for colleagues, family, and friends.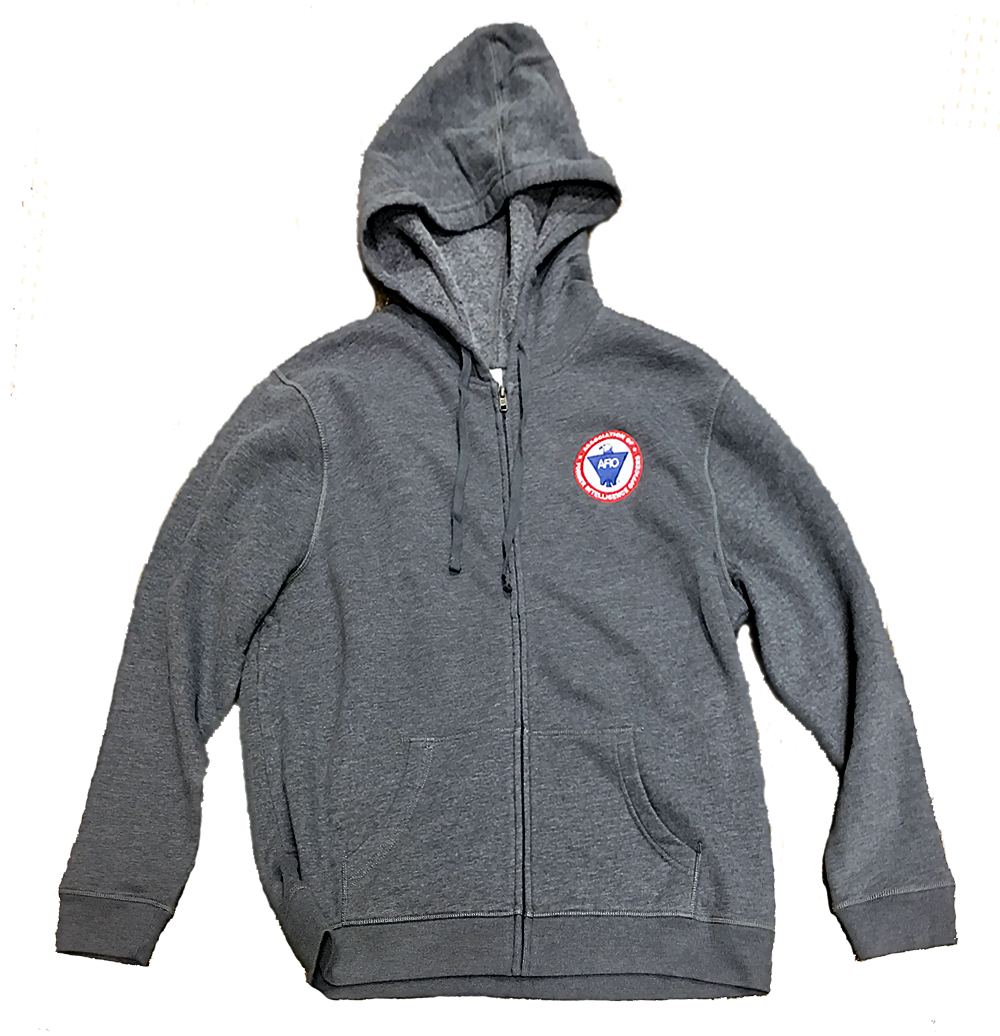 Both items are available in men's sizes: Small, Medium, Large, XL, XXL, and XXXL. The long-sleeved Polo Shirts and Hooded Sweatshirts are not available in ladies' sizes.
---
NEW: Mug with color glazed logo. Made in America. (We left out all that lead-based glaze and hidden toxins in those mugs made in China being sold by other organizations). Also sturdy enough to sit on desk to hold pens, cards, paperclips, and candy.
This handsome large, heavy USA-made ceramic mug is dishwasher-safe with a glazed seal. $35 per mug includes shipping. Order this and other store items online here.
AFIO's Intelligence Community Mousepads are a great looking addition to your desk...or as a gift for others.
Made in USA. Click image for larger view.
These 2017 mousepads have full color seals of all 18 members of the US Intelligence Community on this 8" round, slick surface, nonskid, rubber-backed mouse pad with a darker navy background, brighter, updated seals. Also used, by some, as swanky coasters. Price still only $20.00 for 2 pads [includes shipping to US address. Foreign shipments - we will contact you with quote.] Order MOUSEPADS here.
---
Guide to the Study of Intelligence and When Intelligence Made a Difference
"AFIO's Guide to the Study of Intelligence" has sold out in hard-copy.
However, it is available in digital form in its entirety on the AFIO website here.

Also available on the website here are the individual articles of AFIO's history project "When Intelligence Made a Difference" that have been published to date in The Intelligencer journal. More articles will be forthcoming in future editions.
---
Disclaimers and Removal Instructions
Weekly Intelligence Notes (WINs) are commentaries on Intelligence and related national security matters, based on open media sources, selected, interpreted, edited and produced for non-profit educational uses by members and WIN subscribers.
REMOVAL INSTRUCTIONS: We do not wish to add clutter to inboxes. To discontinue receiving the WINs:
a) IF YOU ARE A MEMBER - click here: UNSUBSCRIBE and supply your full name and email address where you receive the WINs. Click SEND, you will be removed from list. If this link doesn't open a blank email, create one on your own and send to afio@afio.com with the words: REMOVE FROM WINs as the subject, and provide your full name and email address where you are currently receiving them.
b) IF YOU ARE NOT A MEMBER, and you received this message, someone forwarded this newsletter to you [contrary to AFIO policies]. Forward to afio@afio.com the entire WIN or message you received and we will remove the sender from our membership and distribution lists. The problem will be solved for both of us.
CONTENTS of this WIN [HTML version recipients - Click title to jump to story or section, Click Article Title to return to Contents. This feature does not work for Plaintext Edition or for some AOL recipients]. If you wish to change to HTML format, let us know at afio@afio.com. The HTML feature also does not work for those who access their e-mail using web mail...however NON-HTML recipients may view the latest edition each week in HTML at this link: https://www.afio.com/pages/currentwin.htm
---
WINs are protected by copyright laws and intellectual property laws, and may not be reproduced or re-sent without specific permission from the Producer. Opinions expressed in the WINs are solely those of the editor's or author's listed with each article. AFIO Members Support the AFIO Mission - sponsor new members! CHECK THE AFIO WEBSITE at www.afio.com for back issues of the WINs, information about AFIO, conference agenda and registrations materials, and membership applications and much more!
(c) 1998 thru 2020. AFIO, 7600 Leesburg Pike, Suite 470 East, Falls Church, VA 22043-2004. Voice: (703) 790-0320; Fax: (703) 991-1278; Email: afio@afio.com
---
About AFIO | Membership Renewal | Change of Address | Upcoming Events | Chapter Locations | Corporate/Institutional Memberships | Careers in Intelligence Booklet | Guide to the Study of Intelligence | Intelligencer Journal | Weekly Intelligence Notes | To Make A Donation | AFIO Store | Member-Only Section | Code of Ethics | Home Page
---