---
CONTENTS
Section I - INTELLIGENCE HIGHLIGHTS
Section II - CONTEXT & PRECEDENCE
Section IV - Research Requests, Jobs, Obituaries
Other Upcoming Events from Advertisers, Corporate Sponsors, and Others
For Additional AFIO and other Events two+ months or more... Calendar of Events

WIN CREDITS FOR THIS ISSUE: The WIN editors thank the following special contributors: rsy, ec, po, pj, mh, km, gh, mk, rd, fm, kc, jm, mr, jg, th, ed, and fwr. They have contributed one or more stories used in this issue.

The WIN editors attempt to include a wide range of articles and commentary in the Weekly Notes to inform and educate our readers. However, the views expressed in the articles are purely those of the authors, and in no way reflect support or endorsement from the WIN editors or the AFIO officers and staff. We welcome comments from the WIN readers on any and all articles and commentary.

CAVEATS: IMPORTANT: AFIO does not "vet" or endorse research inquiries, career announcements, or job offers. Reasonable-sounding inquiries and career offerings are published as a service to our members, and for researchers, educators, and subscribers. You are urged to exercise your usual caution and good judgment when responding, and should verify the source independently before supplying any resume, career data, or personal information.]
If you are having difficulties with the links or viewing this newsletter when it arrives by email, members may view the latest edition each week at this link.

---

Recommended Reads:
---
From The Chekist Monitor
Ekho Moskvy: An Interview with Intelligence Historian Colonel Alexander Bondarenko (Part 1)
On February 6, 2016, the liberal Russian radio station Ekho Moskvy invited intelligence historian colonel Alexander Bondarenko to talk about his biography of Pavel Fitin, the WWII Soviet intelligence chief, and the WWII Soviet intelligence operations in general. The interview was conducted by Vladimir Ryzhkov. This is the first part of the interview.
The Chekist Monitor's English translation of "An Interview with Intelligence Historian Colonel Alexander Bondarenko"
Moskovsky Komsomolets: An Interview with a 100-Year-Old Former SMERSH Secretary Anna Rudakova - "I Prepared Secret Documents for Stalin"
On March 7, 2017, one of the main Russian daily newspapers Moskovsky Komsomolets published an interview with Anna Rudakova who worked as a secretary of the Soviet military counterintelligence service SMERSH during WWII. At the time of the interview, Rudakova was 100 years old. The interview was conducted by a well-known journalist Eva Merkacheva who frequently writes on intelligence topics and is a recipient of the SVR annual literary award.
The Chekist Monitor's English translation of "An Interview with a 100-Year-Old Former SMERSH Secretary Anna Rudakova."
---
Memoir on US Strategic Early Warning in Poland (1980-1981) by Gail Nelson PhD
The paper brings focus to the importance of Area Studies as fundamental to Estimative Intelligence and Early Warning. Cyberspace is overwhelming Intelligence Officers with so much data that Strategic Thought embedded in Geopolitics is being submerged in the noise.
Summary: Successful Strategic Early Warning governs 'rules' that are unique only to the singularity of one Crisis Scenario. Lessons learned governing one Warning Problem may not apply to another. Intelligence Sources & Methods are always available within the analyst toolbox but understanding the Political Psychology of Decisionmakers in the Geopolitical Space is forever the responsibility of Regional Scholars to accurately anticipate and intercept the adversary's perception of options and crisis solutions. These existential challenges will forever face National Security experts responsible to statesmen for Conflict Resolution and avoidance of misperception or miscalculation. The alternative is global and regional chaos, or worse – protracted conflict and eventual nuclear catastrophe. It follows that Geopolitical Estimates well defined and regularly produced by Senior Area Specialists provides the best chance for peaceful resolution of disputes and at the lowest possible threshold of violence. The Memoir may be accessed here as a PDF.
---

Continuing Series of Cryptologic Museum Webinars on Cybersecurity

Cybersecurity Virtual Classroom
ONLINE CYBERSECURITY CHATS by the National Cryptologic Museum Foundation

The Cyber Center for Education and Innovation (CCEI) have been conducting a series of Cybersecurity Chats as part of their special CCEI Cybersecurity Series. These online chats for K-12 students [but older ages would benefit, too], are presented by cybersecurity professionals and experts. General information on the series is here.

There are many online chats that follow and they may be found here.

If you wish to share your own cybersecurity/cryptology expertise, review the instructions here

---

One of the special benefits of membership in AFIO: access to CIA's inhouse gift shop — the EAA Store.

It requires a quick preapproval process described here to all newly joined and current AFIO members. And then allows you to purchase online their unusual logo'd gift items for self or colleagues. Here is the latest photo EAA released on July 21 featuring some of their newest items:

---

Guide to the Study of Intelligence and When Intelligence Made a Difference

"AFIO's Guide to the Study of Intelligence" has sold out in hard-copy.
However, it is available in digital form in its entirety on the AFIO website here.

Also available on the website here are the individual articles of AFIO's history project "When Intelligence Made a Difference" that have been published to date in The Intelligencer journal. More articles will be forthcoming in future editions.

---
---
---
Special Items for our members:
Take a Guided Virtual Tour of NSA's Cryptologic Museum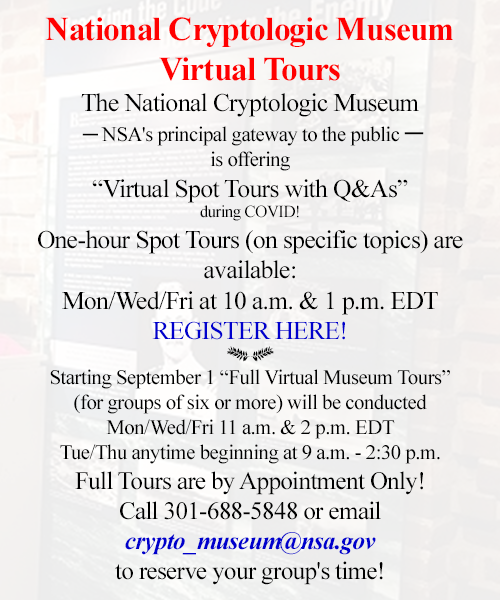 Click image above to register for Spot Tour. For Full Tour inquires for groups email crypto_museum@nsa.gov
---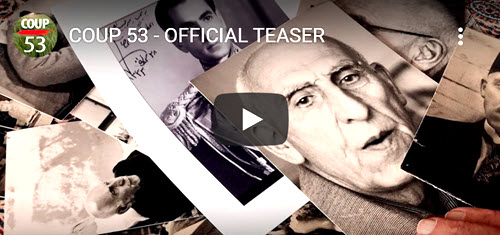 COUP 53: New Documentary on the Western-backed Ousting of Iran's Mohammad Mosaddegh
Film uses declassified documents and recently recovered interviews to revisit the much-debated episode.
MI6 had unwitting part in murder of Tehran Police Chief in leadup to the coup. Oscar nominee Ralph Fiennes fills in on-screen for MI6 operative who was interviewed but did not appear in 1985 TV documentary.
Ten years in the making, COUP 53 tells the story of the 1953 the Anglo-American coup d'état that overthrew Iran's government of Prime Minister Mohammad Mossadegh and reinstalled the Shah, Mohammad Reza Pahlavi. The CIA/MI6 covert action was called Operation Ajax. It was all about Iran's oil and who gets to control and benefit from it. British Petroleum [BP] was at the heart of this story. Shot in seven countries, featuring participants and first-hand witnesses, and unearthing never seen before archive material, COUP 53 is a politically explosive and cinematically innovative documentary that lifts the lid on secrets buried for over sixty-six years. Inconvenient propaganda? Or long-suppressed Western meddling?
On August 19, the 67th anniversary of the Anglo-American coup in Iran, COUP 53 will hold a special transatlantic virtual premiere in partnership with venues across the US, Canada, UK and Ireland, followed on August 20 by an exclusive live Q&A with the editor Walter Murch director Taghi Amirani and a surprise special guest. Trailer runs 1.45 minutes. Register here for virtual screenings to be held 19 August 2020.
Press release by The National Security Archive is here.
---
DURHAM INVESTIGATION Connecting the Dots involving U.S. Intelligence Entities:
Former FBI lawyer set to plead guilty to altering email during Russia investigation; false document used to file FISA warrants to spy on Carter Page
CNN: An FBI lawyer who worked on the surveillance warrant of former Trump foreign policy adviser Carter Page plans to plead guilty Friday to making a false statement in an email as part of an investigation into the Russia investigation. Kevin Clinesmith plans to admit to one charge of altering an email to another official in 2017 that said Page wasn't a previous government source, when he had been one. [Read more in CNN by K Polantz & D Shortell 14Aug2020]
NR: Is Kevin Clinesmith willing to allocute? Is he willing to admit without reservation that he deceived his FBI colleagues and a federal court? The lack of clear answers to those questions is almost certainly the sticking point — the reason why, to this moment, there is only a false-statement charge against the former Bureau lawyer, not a false-statement guilty plea. [Read more in Will Clinesmith Plead Guilty? By A C McCarthy, NationalReview, 18Aug2020, 5:24 PM]
NYTimes: Ex-F.B.I. Lawyer Expected to Plead Guilty in Review of Russia Inquiry A former F.B.I. lawyer intends to plead guilty after he was charged with falsifying a document as part of a deal with prosecutors conducting their own criminal inquiry of the Russia investigation, according to his lawyer and court documents made public on Friday. The lawyer, Kevin Clinesmith, 38, who was assigned to the Russia investigation, plans to admit that he altered an email from the C.I.A. that investigators relied on to seek renewed court permission in 2017 for a secret wiretap on the former Trump campaign adviser Carter Page, who had at times provided information to the spy agency. Mr. Clinesmith's lawyer said he made a mistake while trying to clarify facts for a colleague. [Read more in A Goldman, NYTimes, 14Aug2020]
---
Newly Released, Overlooked, or Forthcoming Books
Deepfakes: The Coming Infocalypse
by Nina Schick
(Twelve, Aug 2020)
If you think election interference and internet fakery are bad now, give it a couple of years. Artificial intelligence is growing in sophistication to the point that it is attaining the ability to generate images depicting things that never happened. In the pornography industry, this is already manifest in "nonconsensual porn" or "faceswapping," in which the faces of celebrities are grafted onto the bodies of porn actors. Another hacker tactic is to graft voice-overs onto images of, say, Barack Obama uttering statements that he never made in order to sway opinion, or altered images in videos to make it appear Nancy Pelosi is slurring her words and possibly drunk. "When used maliciously as disinformation, or when used as misinformation, a piece of synthetic media is called a 'deepfake,'" writes the author; when deepfakes pile up, the result is "Infocalypse."
She explains the dangerous political consequences of the Infocalypse, both in terms of national security and what it means for public trust in politics. Or everything else. Unveils what this means to individuals, how deepfakes will be used to intimidate and to silence, for revenge and fraud, and how unprepared governments and tech companies are for what's coming.
Book may be ordered here.
---
The Nazi Spy Ring in America: Hitler's Agents, the FBI, and the Case That Stirred the Nationy
by Rhodri Jeffreys-Jones
(Georgetown University Press, Sep 2020)
"Kidnapping plots, honey traps, ace detectives—this untold story of a Nazi espionage ring has all the elements of a good spy novel. Besides spinning a great yarn, Jeffreys-Jones also shows how the discovery and revelation of these plots had profound historical consequences for America's role in the world." — Kathryn Olmsted, professor of history, University of California, Davis
"The 1938 Nazi spy affair was an event of world-historical significance. Here, an eminent intelligence historian, writing with tremendous verve and wit, tells the whole story for the first time, revealing a complex web of intrigue, sex, and betrayal." — Hugh Wilford, author of The Mighty Wurlitzer and America's Great Game
"...By exposing the nefarious plans of Hitler's international spy network, Jeffreys-Jones makes a valuable contribution to our understanding of how World War II was fought in the shadows and reminds us that the plots, betrayals, murders, and mayhem of real life can rival the creations of the best Hollywood screenwriters." — Bradley W. Hart, author of Hitler's American Friends: The Third Reich's Supporters in the United States
"Clear, structured, and lively, the book and its intrigues are fascinating. Jeffreys-Jones humanizes all involved, revealing the motivations of spies and government investigators alike. The Nazi Spy Ring is an engaging account of interwar espionage that played out in newspapers across the world." — Foreword Reviews
Book may be ordered here.
---
Ian Fleming's Inspiration: The Truth Behind the Books
by Edward Abel Smith
(Pen and Sword History, Aug 2020)
James Bond is possibly the most well known fictional characters in history. What most people don't know is that almost all of the characters, plots and gadgets come from the real life experiences of Bond's creator - Commander Ian Fleming.
Smith goes through the plots of Fleming's novels explaining the real life experiences that inspired them. The reader is taken on a journey through Fleming's direct involvement in WWII intelligence and how this translated through his typewriter into James Bond's world, as well as the many other factors of Fleming's life which were also taken as inspiration. Most notably, the friends who Fleming kept, among whom were Noel Coward and Randolph Churchill and the influential people he would mingle with, British Prime Ministers and American Presidents.
Bond is known for his exotic travel, most notably to the island of Jamaica, where Fleming spent much of his life. The desk in his Caribbean house, Goldeneye, was also where his life experiences would be put onto paper in the guise of James Bond. As the island was highly influential for Fleming, it features heavily in this book, offering an element of escapism to the reader, with tales of a clear blue sea, Caribbean climate, and island socialising.
Book may be ordered here.
---
---
Section I - INTELLIGENCE HIGHLIGHTS

IARPA Pursues Advanced Radio Eavesdropping Defenses. The intelligence community's research arm wants to protect secure data transmissions from its remote operations by listening for the tell-tale radio wave ripples and whispers that could mean someone is listening in.

On Aug. 20, the Intelligence Advanced Research Projects Activity (IARPA) plans to explain its broad agency announcement for a program to shield classified data transmissions using smart radio technology.

IARPA released a request for information for the Securing Compartmented Information with Smart Radio Systems (SCISRS) Research Program on Aug. 5. The virtual proposers' day on Aug. 20 will explain the goal of developing smart radio technology that can detect the radio wave equivalent of a snapping twig, or other sign someone is trying to listen in on radio communications generated by the intelligence agencies and Department of Defense (DOD) operations' remote sites. [Read more: Rockwell/FCW/17August2020]

Norway Police Arrest Citizen Suspected of Spying for Russia. Police in Oslo have arrested a Norwegian citizen suspected of illegally handing information to a Russian intelligence officer.

The man, whom the PST security police did not name on Monday, was suspected of "harming vital national interests", which could carry a sentence of up to 15 years in prison.

The arrest took place at a restaurant in the Norwegian capital on Saturday during a meeting of the two, PST spokesman Martin Bernsen told Reuters news agency.

"He [the Norwegian man] was arrested in the presence of the intelligence officer," said Bernsen. [Read more: Aljazeera/17August2020]

Mossad Head Meets UAE National Security Adviser: WAM Agency. The head of Israel's foreign intelligence service Mossad met the national security adviser of the United Arab Emirates during a visit to Abu Dhabi, UAE state news agency WAM said on Tuesday.

Israel and the United Arab Emirates said on Thursday they would normalise diplomatic ties and forge a broad new relationship.

Joseph (Yossi) Cohen and Sheikh Tahnoun bin Zayed Al Nahyan discussed ways in which to support the new accord. [Read more: Reuters/18August2020]

Russia Summons Dutch Diplomat After Discovery of "Tracking Equipment". Russia has summoned a Dutch diplomat to Moscow over alleged spying on Russia's military attaché in the Netherlands.

The Russian Foreign Ministry announced on Monday that they had "strongly protested" to the discovery of "tracking equipment" in the service car of an embassy assistant.

Moscow has instructed the Charge d'Affaires of the Netherlands, Dominique Bakker-Kühling, to "immediately take comprehensive measures to prevent such incidents". [Read more: EuroNews/17August2020]

South Korea Police to Handle Spy Cases, Report Says. Seoul's National Police Agency will handle all investigations into anti-state espionage, leaving the National Intelligence Service, South Korea's spy agency, to focus on gathering data, according to a local press report.

The decision to transfer investigative powers into potential pro-North Korean activities was decided upon by the ruling Democratic Party's core administrators on Aug. 4, Money Today reported Monday.

The move may have been expected in Seoul since the election of President Moon Jae-in in 2017. During his campaign, Moon had pledged to transfer the right to conduct "anti-communist investigations" to the police, and away from Seoul's spy agency. [Read more: Shim/UPI/17August2020]

Former CIA Officer Charged with Spying for China. A 15-year veteran of the CIA was charged Monday with selling U.S. secrets to China then unwittingly admitting his spying to the FBI.

The method prosecutors said they used to get him to reveal the nature of his espionage was worthy of a spy novel itself.

Court documents said 67-year-old Alexander Yuk Ching Ma of Honolulu was charged with violating U.S. espionage laws. Prosecutors said he joined the CIA in 1967 then served as a CIA officer until he retired from the agency in 1989. For part of that time he was assigned to work overseas in the East-Asia and Pacific region.

Twelve years after he retired, prosecutors said Monday that Ma met with at least five officers of China's Ministry of State Security in a Hong Kong hotel room, where he "disclosed a substantial amount of highly classified national defense information," including facts about the CIA's internal organization, methods for communicating covertly, and the identities of CIA officers and human assets. [Read more: Williams/NBCNews/17August2020]


---
Section II - CONTEXT & PRECEDENCE

Trial of U-2 Spy Plane Pilot Gary Powers Begins - Archive, 1960. In the House of the Union in Moscow this morning Francis Gary Powers, aged 31, described as a spy, was accused before the Military Collegium of the Soviet Supreme Court of espionage against the Soviet State.

He pleaded guilty in a strangled but scarcely brainwashed tone of voice, and went on to confirm in a protracted but sometimes almost pert exchange of questions and answers everything that the Russians, the Americans, and all the rest of us know too well: the whole sad story of the U-2 flight, his recruitment to the Central Intelligence Agency, his flight from Peshawar, his failure to destroy his aircraft, the pallid part he has been playing as a highly paid cipher of the cold war.

He presented himself as a poor deluded jerk from Virginia - and the part, I suspect, did not require much playing. "At the designated point on the map," he said of his spying activities, "I pulled the designated switch" and, by heavens, how true it rang. [Read more: Morris/TheGuardian/18August2020]

With More Transparency On Election Security, A Question Looms: What Don't We Know? Americans have the most detailed accounting they've ever received in real time about foreign efforts to interfere in a U.S. election - but, for the public at least, there are still as many questions as answers.

The U.S. intelligence community has made good on earlier promises to release some findings and assessments on foreign interference, including with a historic report last week from the nation's top boss of counterintelligence.

The latest word came Wednesday, when Assistant Attorney General for National Security John Demers described what he called the need for the United States to order the closure of the Chinese government's consulate in Houston.

Not only was it involved in what officials have called a tidal wave of espionage efforts directed by China toward the U.S., but it also played a role in Beijing's covert influence operations, Demers said - without giving more detail. [Read more: Ewing/NPR/15August2020]

UK's Lead Role in 1953 Iran Coup d'Etat Exposed. A recently discovered transcript of an interview with a British intelligence officer who played a leading role in the 1953 coup that restored powers to the shah of Iran claims that Britain was the driving force behind the overthrow of Iranian Prime Minister Mohammed Mossadegh.

On the anniversary of the UK-US-led coup d'etat that removed Iran's democratically elected leader, an interview with Norman Darbyshire - head of the MI6 spy agency's "Persia" station in Cyprus at the time - was published.

In his account, Darbyshire said Britain had convinced the US to take part in the coup. [Read more: Aljazeera/18August2020]

Why the FBI Isn't Interested in Recent College Grads. I recently had lunch with an FBI agent who has done hundreds of interviews with hopeful FBI prospects over the years. He highlighted a reality I hadn't considered in our chat - while the FBI notes you must be at least 23 to be considered for agent positions, the average 23-year-old is going to have an incredibly hard time getting their foot in the door. Laying aside the fact that the competition is always fierce - thousands of candidates vying for a few positions - like most Intelligence Community organizations - a recent college grad will have a difficult time answering some of the cornerstone questions in the FBI interview process:

- How have you shown integrity in your career?
- What is a time when you've solved a significant challenge, and how did you overcome it?
- Describe your leadership qualities.

If you're applying for a desk job with a defense contractor, describing the time you had to navigate a really stressful term paper or work on a group project might cut the mustard - but not in an organization that hires less than 5% of its applicants and with high-demand positions. [Read more: Kyzer/ClearanceJobs/13August2020]

Walker Spy Case Remains Legendary 35 Years Later. At 75 years old, Wolfie remains a rock star among spy hunters.

Joe Wolfinger led the Norfolk FBI squad that cracked the Cold War-era Walker spy ring - one of the most notorious cases of espionage in the nation's history.

That was 35 years ago, but when Wolfinger showed up last month at FBI headquarters to share his memories with a reporter, his presence drew staff like moths to flame. The interview turned into an all-ears gathering of fans - agents, analysts, supervisors - who settled into chairs to soak up his every word.

One of them, Laura Harper, explained why: "Agents love to hear about any case from the past but this one is a legend." [Read more: Kimberlin/VirginianPilot/16August2020]


---
Espionage - The New Spy Plague in Australia Reflects Real Tension. Australia is hardly the world's idea of a center of espionage, but there's now a big problem. A host of cyberespionage issues have been officially reported as a serious threat related to Australian defence programs by the Department of Defence.

The Department of Defence report issued a new "blunt" assessment of security risks, citing a very high level of threat from "foreign intelligence services", unofficially meaning China. The big defence program at the heart of this sudden outbreak of bluntness is Australia's big 90 billion dollar submarine program under contract with high-end French contract supplier Marine Nationale.

This very technically sensitive new program is a magnet for espionage and information theft. [Read more: Wallis/DigitalJournal/15August2020]

Japan's Deeper Ties With Five Eyes Hinge On How it Keeps Secrets. As the U.K. makes overtures toward Japan about working more closely with or even joining the Five Eyes intelligence-sharing alliance, Tokyo faces the task of ensuring it can keep sensitive data safe both within and outside the government.

While Japan shares information with the group's members - the U.K., the U.S., Canada, Australia and New Zealand - it is not itself part of Five Eyes. Joining would allow for intelligence to be made available at an earlier stage as well as facilitate sensitive communication.

London has broached the possibility of Japan participating amid growing alarm over China, particularly its crackdown in Hong Kong and its response to the coronavirus pandemic.

Japanese cooperation with Five Eyes would come at an ideal time for Washington as it seeks to build a coalition of democracies against China. [Read more: Kato/NikkeiAsianReview/13/August2020]


---
Section IV - Research Requests, Jobs, Obituaries
Journalist Seeks Former Intelligence Officer Who Served In Covert Capacity or as NOC for Podcast
"My name is Jake Halpern. I teach writing at Yale and a Pulitzer Prize winner. I write for the New York Times, the Wall Street Journal and many other national publications. I am looking to profile a former intelligence officer who -- sometime in the last several decades -- went undercover. I realize often this work is confidential. I am wondering if, however, there are any former agents who have stories to tell and might talk about their experiences. This would be for a podcast. I am happy to talk about this more or send more information."
Replies to Jake Halpern at jakehalpern@aya.yale.edu or explore more at https://www.jakehalpern.com/
Researcher Seeks Documents and Insights on Soviet/Chinese Agitprop Used in US in 60s and 70s
Can you help me find documents/books/articles/people that will provide insight into the efforts of the soviets and Chinese, directly or through their surrogates, to foment conflict and division in the US in the 60s and 70s? I've got the Church hearings, but those hearings were just an attack on the FBI and intelligence ops. I'm primarily interested in Soviet/Chinese support of the anti-war movement, the exploitation of civil rights activists, and their involvement in the drug trade.
Replies to: Thomas Hampson at trhampson@hotmail.com.
Terrorism Author Seeks Your Assistance on Manila Incident in 1996
For volume III of my four-volume study on Anti-American terrorism, I would appreciate hearing from anyone who has information concerning an incident outside the airport that took place on or about November 23, 1996 in Manila, Philippines involving the visit of President Bill Clinton.
Replies to Dennis Pluchinsky at dpluchinsky@rocketmail.com. [A 2019 WIN featured two volumes of Pluchinsky's "Anti-American Terrorism: From Eisenhower to Trump - A Chronicle of the Threat and Response" in the 3 December 2019 WIN #46-19 here.]
Seeking Counterintelligence Cyber Instructors for JCITA at Quantico, VA
Operational Intelligence, LLC, an E3/Sentinel company is looking for Counterintelligence Cyber Instructors for JCITA at Quantico, VA.
Duties include creating courses and content to facilitate instruction of cyber methodologies for counterintelligence professionals.
Current DoD TS/SCI Clearance and accreditation from a CI Special Agent course required.
Please contact OI Lead Recruiter Stacey McKinney, C: 571-214-1992 or stacey.mckinney@oi-llc.com or E3/Sentinel Principle Rosanna Minchew, rminchew@e3sentinel.com
Seeking Counterintelligence Surveillance Instructors for JCITA at Quantico, VA
Operational Intelligence, LLC, an E3/Sentinel company is looking for Counterintelligence Surveillance Instructors for JCITA at Quantico, VA to provide CI subject matter expertise for course development, instruction, and mentorship.
Current DoD TS/SCI Clearance and experience conducting discreet CI Surveillance and CI countersurveillance operations using DoD methodology required.
This position requires work after hours, weekend and travel within the NCR.
Please contact OI Lead Recruiter Stacey McKinney, C: 571-214-1992 or stacey.mckinney@oi-llc.com or E3/Sentinel Principle Rosanna Minchew, rminchew@e3sentinel.com
Seeking Russian and Arabic linguist positions supporting DIA at Quantico, VA
Russian and Arabic linguist positions supporting DIA at Quantico, VA, available with Operational Intelligence, LLC, an E3/Sentinel company. Active TS/SCI required.
Please contact OI Lead Recruiter Stacey McKinney, C: 571-214-1992 or stacey.mckinney@oi-llc.com or E3/Sentinel Principle Rosanna Minchew, rminchew@e3sentinel.com
IT Acquisitions Subject Matter Expert for Intelligence Community Client; Other Openings in Reston and Bolling AFB
E3/Sentinel has a funded opening for an IT Acquisitions Subject Matter Expert with specific experience in IT architecture requirements to support an IC customer. Candidate will assist in developing innovative business strategies and procurement policy/processes. Only candidates with TS/SCI clearances will be considered. Contact Rosanna Minchew rminchew@e3sentinel.com for more details.
E3/Sentinel has multiple openings for Contracts Specialists, Acquisition Analysts, Cost/Pricing Analysts and Contracts Closeout Specialists. Positions in Reston and at Bolling AFB. TS/SCI required to be considered for interview. Polygraph preferred. Contact Rosanna Minchew rminchew@e3sentinel.com for more details.
Adjunct instructors at the University of Texas at El Paso (US)
The National Security Studies Institute at the University of Texas at El Paso (UTEP) (see their website here) is seeking adjunct instructors to teach online graduate-level courses:
Legal Issues in Intelligence and National Security
Propaganda and Influence Operations
Intelligence and Counterterrorism
Political Economy of Terrorism
Risk Analysis
Emergency Management
Public Health and Homeland Security
A PhD in public policy, security studies, political science, or a related field is required.
Interested and eligible applicants should contact Stephen Coulthart (sjcoulthart@utep.edu).
Two Positions at James Madison University for Assistant or Associate Professor - Intelligence Analysis
James Madison University (JMU) located in Harrisonburg, VA, seeks applicants for two faculty positions in its Bachelor's Degree Program in Intelligence Analysis (IA). The appointments will be at the Assistant or Associate Professor level and will reside within the larger School of Integrated Sciences. The IA program offers a multidisciplinary undergraduate degree with an emphasis on methodology and technology to prepare students to become analysts, with a specialization in intelligence analysis. Its graduates have been successful in securing positions as analysts in both the public and private sectors, to include the Intelligence Community, military and law enforcement organizations, defense contractors, and major consulting firms. The program emphasizes methodology and synthesizes critical and creative thinking methods with technological tools for data collection, visualization, and analysis with situational knowledge of a problem's political, economic, social, and technological context with strong communicative and professional skills to support decision-making.
Ideal candidates will be comfortable in an interdisciplinary, diverse setting and possess the potential for becoming an excellent teacher to future analysts in one or more intelligence domains including national security, military, homeland security, law enforcement, private sector security, cyber security, and geospatial. They optimally have a background in either mixed-methods, qualitative, or quantitative research and analysis methods. We especially encourage applications from candidates that can leverage the use of systems thinking, employ data science in analysis, support the development of writing skills, or teach ethics specifically for future analysts. The typical teaching load in the school is 3 courses per semester.
We welcome applicants from all academic disciplines—to include the humanities, social sciences, and sciences—that provide a knowledge foundation for doing analysis. Prospective candidates should review our curriculum online to identify areas that match their expertise and to locate potential areas that they could help the program to develop. The program values teaching excellence as well as one-on-one professional mentoring and seeks candidates who can demonstrate potential for both. In addition, the position requires the potential for an active program of scholarly activity. The position requires either a Ph.D. in a relevant academic field by the date of hire (for a tenure-track appointment) OR Master's Degree with substantial experience in the field (for appointment on a Renewable Term Contract).
More information or applications may be found here.
Do not let Social Distancing slow your career. New Positions Available with Thomson Reuters
Many other jobs available with Thomson-Reuter. Email Brian Lemley for a list with descriptions and links.
FireEye Has Many Intelligence Positions Available For You - Worldwide - Contract, Full-time, Part-time, Interns
Explore the many career and contractor intelligence jobs available here. Jobs openings in Cyber Security include - Advisory, Architecture, Digital Forensics & Incident Response, Penetration Testing, Threat Research. They positions are needed here: New York, Chicago, Manila, Reston, Dallas, Atlanta, Suitland, Singapore, Denver, Las Vegas, Phoenix, Doha, Stockholm, London, Milpitas, multiple cities in Australia, Washington, Indianapolis, Tampa, Santiago, Alexandria, Seattle, Carlsbad, Houston, San Francisco, Arlington, Dubai, Amsterdam, Ft Belvoir, Minneapolis, Mexico City, San Diego, Boston, El Segundo, Philadelphia, San Antonio, Chiyoda, Ft Huachuca, Ft Gordon, Ft Meade, Ft Shafter, Kuwait City, Seoul, Sttutgart, Salt Lake City, Austin, Dublin, Bangalore, Cork, Colorado Springs... Explore the many career and contractor intelligence jobs available here.
---
John Burroughs, NSA Cryptologist and Manager
John Edward Burroughs, 79, a senior NSA Cryptologist and Manager, died 26 July 2020 from consequences of a bicycle accident.
John was born in Columbus, OH. He graduated from Abington Senior High School in Pennsylvania in 1958 and from the University of Pennsylvania with a BS in Mathematics in 1962, and a PhD in Mathematics from the University of Chicago in 1968. He was a Hildebrandt professor at the University of Michigan from 1968 to 1973.
In 1973 John joined the National Security Agency where he held a number of leadership positions in the Agency's mathematics community. Most notably, he served as chief of the Agency component responsible for the design of U.S. cryptographic algorithms and also later as deputy chief of the component responsible for analysis of adversary cryptography. In his management assignments, he proved to be a strategic thinker driving to position the Agency for emerging challenges and a trusted leader. John knew that it took many perspectives to solve complex problems. He successfully and tirelessly mentored many rising members of the community. John was one of the small team of senior mathematicians who worked to revitalize the Agency math community. The team improved recruiting, hiring, training and development of Agency mathematicians and enhanced the Agency's relationship with math departments at major universities across the country. He was a member of the Crypto-Mathematic Institute and KRYPTOS Society. John received the National Intelligence Distinguished Service Medal in 2000.
He retired formally in 1999. He was a member of the Phoenix Society.
In retirement, he worked through the Institute for Defense Analyses and on advisory boards for the Agency. He was an active member of First Presbyterian Church of Annapolis where he served as Elder and Trustee. He was a volunteer reading tutor to second graders in the STAIR program, a volunteer at The Light House, and for the AARP Tax-Aide Program, and served as an Anne Arundel County election judge. He enjoyed the outdoors, biking, hiking, running, rowing and gardening.
He is survived by his wife, Barbara Carney, of Annapolis, a daughter, two sons, and other family.
Sue Goldstein, CIA, FBIS
Susan Gale Goldstein, 79, worked for CIA and FBIS, died 17 July 2020 in Alexandria, VA.
She was born in Pittsburgh, PA. After graduating from Chatham College, she worked for the Central Intelligence Agency. After a leave of absence for graduate studies at Penn State and American Universities, she joined the Foreign Broadcast Information Service with overseas assignments in England, Greece, Thailand, Israel, and Paraguay. Upon retirement, she received the CIA Career Achievement Medal.
Susan then worked part time for the Arlington County Visitors Center as a travel counselor. After 13 years, a friend urged her to "get a real job again" and she joined Veritas Analytics, Inc., a business/government contractor as a senior staff analyst.
She volunteered at the Virginia Hospital Center, Arena Stage, and Signature Theatre, and taught quilting at the Arlington County Detention Facility. Quilting was one of her passions, and she was an active member of Needlechasers of Chevy Chase, a quilting guild with a strong commitment to community service.
She is survived by a brother and other family.
Hans Grainer, CIA Psychologist
Hans Martin Grainer, 92, a CIA Psychologist, died 1 August 2020 in Sarasota FL
Hans was born in the Free City of Danzig, now Gdansk, and came to the U.S. in 1939 at the age of 11 with his parents. After attending the Eastman School of Music, and getting his undergraduate degree at the University of Rochester, he obtained his Masters Degree in clinical psychology at the University of North Carolina. He then embarked on a career as a CIA Psychologist entailing extensive international travel. While in Berlin, he met his wife Margery, also a CIA officer, and they were married for 50 years, until her death in 2016.
Hans enjoyed classical music and the arts, and was loved by all who knew him.
Hans is survived by a daughter, and other family.
William Greaney, Deputy Director NSA Office of Security
William Francis Greaney Jr, 94, Deputy Director NSA Office of Security, died 8 August 2020 in Silver Spring, MD.
He was born in Washington, DC. He enlisted in the Navy in 1944 and served in the Pacific theatre during WWII at the Battle of Okinawa. After graduating from Mount St. Mary's College in 1951, Bill joined the Office of Naval Intelligence as an analyst. He worked for almost forty years for ONI and for the National Security Agency for the majority of his career. He was an expert in counterintelligence and served as Deputy Director of NSA's Office of Security.
Bill was a patriot and a source of inspiration and encouragement to his six children and 14 grandchildren. He is survived by them and other family. His wife of 62 years, Winifred McNamara Greaney, predeceased him.
Uri Ra'anan, Diplomat, Russian, China Scholar, Author
Uri Ra'anan, originally named Heinz Felix Frischwasser-Ra'anan, 94, a Diplomat and Renowned Professor/Author on the Soviet Union and China, died 10 August 2020 in Bethesda, MA.
Born in Vienna, Austria, he received an MA and MLitt from Oxford University.
He served as a diplomat, journalist, and finally as an academic. A prolific author and commentator on world affairs, he was a renowned expert on the politics of communist countries particularly the Soviet Union, and on the resurgence of post-Soviet Russia.
He joined the faculty of the Fletcher School of Law and Diplomacy at Tufts University for over two decades, holding the titles of Professor of International Politics and Director of the International Security Studies Program. He has also taught at the Massachusetts Institute of Technology, Columbia University, and the City University of New York. In addition, he was an associate of the Davis Center at Harvard University.
At Boston University, he served as director of the Institute for the Study of Conflict, Ideology and Policy, teaching there from 1988 until his retirement in 2009.
He published extensively in journals and two dozen books, which included: Intelligence Policy and National Security. (ed. with RL Pfaltzgraff, U Ra'anan, W Milberg) - London: Macmillan, 1981; International Security Dimensions of Space. (ed. with R Pfaltzgraff) - Archon Books, 1984;
Security Commitments and Capabilities: Elements of an American Global Strategy (ed. with R Pfaltzgraff) - Archon Books, 1985, and Hydra of Carnage: The International Linkages of Terrorism and Other Low-intensity Operations: the Witnesses Speak (ed with RH Shultz, R Pfaltzgraff Jr, E Halperin) Lexington Books, 1986.
"He had a brilliant and detailed knowledge of European history and politics, a remarkable ability to draw precise, free-hand, maps, a broad cultural hinterland, and a love in particular of Mozart," said Erik Goldstein, Professor of International Relations and History at the Pardee School. "He would always arrive with a pile of notes for his lectures, and then speak with clarity and precision for the session without ever having to consult them. He was one of the pillars in building an academic program in international relations at BU."
Uri Ra'anan will be dearly missed by his family, his students, his colleagues, and his friends around the world.
He is survived by one son and other family.

---
AFIO EDUCATIONAL EVENTS IN COMING TWO MONTHS....
Thursday, 3 September 2020, 1130 am CDT - Virtual Zoom - AFIO San Antonio TX Chapter Presentation on Communist China by John Franklin
The San Antonio Chapter will again use the Zoom meeting software and will feature a presentation on Communist China and its growth to a world power. The material covers the changes in the communist party's leadership and their ascendancy to a global power. The Chinese military is a part of the Chinese Communist Party. The presentation discusses the party's goals for regional domination and their future goals for global domination. Attendees will learn about the "little blue men," Chinese space operations and anti-satellite weapons, the BeiDou global navigation system, the Chinese Space Stations, and when is an underwater rock a part of nation building.
Contact John Franklin at SATXAFIO@gmail.com for additional information and to be invited to Zoom meeting.
---
Other Upcoming Events from Advertisers, Corporate Sponsors, and Others
The International Spy Museum has reopened to visitors.
Click here to explore events, exhibits, and ticketing.

Saturday, 19 September 2020 - Zoom Virtual - The National Museum of Nuclear Science & History 75th Anniversary Event
The National Museum of Nuclear Science & History presents a virtual symposium focusing on the 75th Anniversary of the ending of WWII. This virtual event will provide an understanding of the Manhattan Project and its implications on the Pacific conflict and following Cold War issues. The panels of distinguished guests will consider current and future concerns and create a public dialogue regarding a path forward for our world and defense concerns.
"They Changed Our World; The 75th Anniversary of World War II and the Use of Atomic Weapons Virtual Symposium" will take place via Zoom Webinar
Two panel sessions will take place, one from 8:30-10:30 am and the second from 10:45 am-1:00 pm. Guests are welcome to register for one or both panel sessions, and advanced registration is required.
One panel session is $25 or both panel sessions are $40 when purchased together.
More Info Here. Museum members and students receive a discount where one panel session is $15 or both panel sessions are $25 when purchased together. Students must provide their valid student email address to receive discount.
Upcoming virtual (and a few live, post-quarantine) events at the International Spy Museum. Click event to explore and register for event. All virtual events require pre-registration.
Access all upcoming Spy Museum events directly from their website: https://www.spymuseum.org/calendar/upcoming/1/
7 November 2020, 14th Annual Parade of Trabants, 10 am - 4 pm
14 November 2020, Operation Secret Sleepover, 7 pm - 9:30 am
22 October 2020, 1 pm EST - Virtual - NCMF General Membership Meeting & Annual Symposium
Join our colleagues at the National Cryptologic Museum Foundation for their first virtual General Membership Meeting & Annual Symposium. The theme of the program is "A Virtual Afternoon at the Museum." For those who do not live in the DC-MD-VA area, this is the perfect opportunity for you to attend the October Meeting/Program AND explore the Museum!
This year's program features a virtual Museum tour, Foundation and Museum updates, and a keynote presentation by Dr. Michael Warner, U.S. Cyber Command Historian and Lt. Col. John Childress, USA. Warner and Childress will speak on themes from their recent book The Use of Force for State Power: History and Future. The book was published in 2020 by Palgrave Macmillan and is also available via Kindle.
*** The program will be free, but registration is required. Stay tuned for the opening of registration and for details on how to view the virtual program. A recording of the program will be made available on our website at a later date.
Full agenda, registration and other details here.
NEW DATE - Saturday, 24 October 2020, 5:30 p.m. - Washington, DC - Save the Date! PenFed Foundation's 2020 Night of Heroes Gala
PUT ON CALENDAR AND HOLD THE DATE: The Pentagon Federal (PenFed Credit Union) Foundation will be hosting their spectacular Night of Heroes Gala on Saturday, 24 October 2020 at the Mandarin Oriental in Washington, D.C. Last year's annual gala raised over $1.5 million and honored children of military families.
VIP Reception at 5:30 PM
General Reception and Silent Auction at 6:00 PM
Location: The Mandarin Oriental, 1330 Maryland Ave SW, Washington, D.C.
Attire: Black Tie or Military Dress
RSVP: October 2, 2020
Click here to learn more or sponsor a table.
---
In addition to the new Royal Blue long sleeve shirts, and the gray long sleeve hooded sweatshirts, the AFIO Store also has the following items ready for quick shipment:
NEW: LONG and Short-Sleeved Shirts with embroidered AFIO Logo and New Mugs with color-glazed permanent logo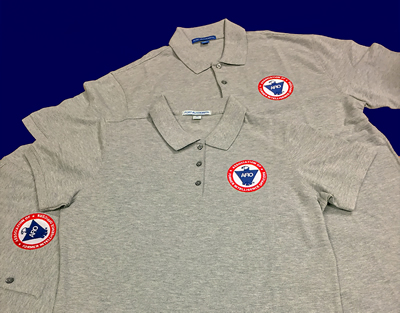 Show your support for AFIO with our new Polo Shirts. Be the first to buy these new, high quality, subtle heathered grey short sleeve shirts, and dark blue long sleeved shirts, of shrink and wrinkle resistant fine cotton with a soft yet substantial feel. They feature a detailed embroidered AFIO seal. Get a shirt for yourself and consider as gifts for colleagues, family, and friends. Only $45 each including shipping.
Sizes of (M) men or (W) women shirts; Small, Medium, Large, XL, XXL, and XXXL. At this time all orders will arrive as Short Sleeve shirts.
You may pay by check or credit card. Complete your order online here or mail an order along with payment to: AFIO, 7600 Leesburg Pike, Ste 470 East, Falls Church, VA 22043-2004. Phone orders at 703-790-0320. If interested in other shirt colors or sleeve lengths, contact Annette at: annettej@afio.com.
Available as a thank you for donations are the new AFIO logo face masks:
These soft, form-fitting, washable, non-medical grade fabric face masks have wide behind-the-ear elastics to make long periods of wear comfortable. Also easier to quickly put on or take off. Blue on outside, white inside. The masks do not have a nose wire but are sculpted, shaped, and sewn to fit most users. The all-cloth composition allows the masks to be washed or steam-disinfected without concerns over metal wires. The color logo is washable and a permanent part of the mask.
The masks, however, are not for sale. They are being offered strictly as a thank you gift to our donors.
For tax-deductible donations of $50 you will receive a receipt and our thank you gift of two of these newly-arrived face masks.
Donations of $100 receive four masks to be sent to the same address. Other amounts and split-shipments are available.
To donate now to support AFIO's programs and publications, please do so here.
We wish all members and donors continued good health, safe social distancing, and warmly appreciate any support you are able to provide the association.
---
AFIO Mug with color glazed logo. Made in America. Sturdy enough to sit on desk to hold pens, cards, paperclips, and candy.
This handsome large, heavy USA-made ceramic mug is dishwasher-safe with a glazed seal. $35 per mug includes shipping. Order this and other store items online here.
---
Guide to the Study of Intelligence and When Intelligence Made a Difference
"AFIO's Guide to the Study of Intelligence" has sold out in hard-copy.
However, it is available in digital form in its entirety on the AFIO website here.

Also available on the website here are the individual articles of AFIO's history project "When Intelligence Made a Difference" that have been published to date in The Intelligencer journal. More articles will be forthcoming in future editions.
---
Disclaimers and Removal Instructions
Weekly Intelligence Notes (WINs) are commentaries on Intelligence and related national security matters, based on open media sources, selected, interpreted, edited and produced for non-profit educational uses by members and WIN subscribers.
REMOVAL INSTRUCTIONS: We do not wish to add clutter to inboxes. To discontinue receiving the WINs:
a) IF YOU ARE A MEMBER - click here: UNSUBSCRIBE and supply your full name and email address where you receive the WINs. Click SEND, you will be removed from list. If this link doesn't open a blank email, create one on your own and send to afio@afio.com with the words: REMOVE FROM WINs as the subject, and provide your full name and email address where you are currently receiving them.
b) IF YOU ARE NOT A MEMBER, and you received this message, someone forwarded this newsletter to you [contrary to AFIO policies]. Forward to afio@afio.com the entire WIN or message you received and we will remove the sender from our membership and distribution lists. The problem will be solved for both of us.
CONTENTS of this WIN [HTML version recipients - Click title to jump to story or section, Click Article Title to return to Contents. This feature does not work for Plaintext Edition or for some AOL recipients]. If you wish to change to HTML format, let us know at afio@afio.com. The HTML feature also does not work for those who access their e-mail using web mail...however NON-HTML recipients may view the latest edition each week in HTML at this link: https://www.afio.com/pages/currentwin.htm
---
WINs are protected by copyright laws and intellectual property laws, and may not be reproduced or re-sent without specific permission from the Producer. Opinions expressed in the WINs are solely those of the editor's or author's listed with each article. AFIO Members Support the AFIO Mission - sponsor new members! CHECK THE AFIO WEBSITE at www.afio.com for back issues of the WINs, information about AFIO, conference agenda and registrations materials, and membership applications and much more!
(c) 1998 thru 2020. AFIO, 7600 Leesburg Pike, Suite 470 East, Falls Church, VA 22043-2004. Voice: (703) 790-0320; Fax: (703) 991-1278; Email: afio@afio.com
---
About AFIO | Membership Renewal | Change of Address | Upcoming Events | Chapter Locations | Corporate/Institutional Memberships | Careers in Intelligence Booklet | Guide to the Study of Intelligence | Intelligencer Journal | Weekly Intelligence Notes | To Make A Donation | AFIO Store | Member-Only Section | Code of Ethics | Home Page
---