---
CONTENTS
Section I - INTELLIGENCE HIGHLIGHTS
Section II - CONTEXT & PRECEDENCE
Section IV - Research Requests, Jobs, Obituaries
Other Upcoming Events from Advertisers, Corporate Sponsors, and Others
For Additional AFIO and other Events two+ months or more... Calendar of Events

WIN CREDITS FOR THIS ISSUE: The WIN editors thank the following special contributors: rsy, ec, po, pj, mh, km, gh, mk, rd, fm, kc, jm, mr, jg, th, ed, and fwr. They have contributed one or more stories used in this issue.

The WIN editors attempt to include a wide range of articles and commentary in the Weekly Notes to inform and educate our readers. However, the views expressed in the articles are purely those of the authors, and in no way reflect support or endorsement from the WIN editors or the AFIO officers and staff. We welcome comments from the WIN readers on any and all articles and commentary.

CAVEATS: IMPORTANT: AFIO does not "vet" or endorse research inquiries, career announcements, or job offers. Reasonable-sounding inquiries and career offerings are published as a service to our members, and for researchers, educators, and subscribers. You are urged to exercise your usual caution and good judgment when responding, and should verify the source independently before supplying any resume, career data, or personal information.]
If you are having difficulties with the links or viewing this newsletter when it arrives by email, members may view the latest edition each week at this link.

---

Recommended Reads:
The Arkin Group's October 9 "In Other News" letter to clients by former Operations Officer Jack Devine features...
• The U.S. Department of Homeland Security released its "Homeland Threat Assessment" this week, highlighting Russian efforts to influence the outcome of this year's presidential election among the country's most pressing threats.
• Mexico announced a $14 billion infrastructure plan in an effort to boost the struggling economy and create 185,000 jobs.
• Armenia and Azerbaijan have agreed to Russia-brokered cease-fire talks after more than a week of hostilities over the disputed enclave of Nagorno-Karabakh, which have killed more than 375 people, with casualties including civilians.

---
Continuing Series of Cryptologic Museum Webinars on Cybersecurity

Cybersecurity Virtual Classroom
ONLINE CYBERSECURITY CHATS by the National Cryptologic Museum Foundation

The Cyber Center for Education and Innovation (CCEI) have been conducting a series of Cybersecurity Chats as part of their special CCEI Cybersecurity Series. These online chats for K-12 students [but older ages would benefit, too], are presented by cybersecurity professionals and experts. General information on the series is here.

There are many online chats that follow and they may be found here.

If you wish to share your own cybersecurity/cryptology expertise, review the instructions here

---

One of the special benefits of membership in AFIO: access to CIA's inhouse gift shop — the EAA Store.

It requires a quick preapproval process described here to all newly joined and current AFIO members. And then allows you to purchase online their unusual logo'd gift items for self or colleagues. Here is the latest photo EAA released on Oct 9 featuring some of their newest items:

---

Guide to the Study of Intelligence and When Intelligence Made a Difference

"AFIO's Guide to the Study of Intelligence" has sold out in hard-copy.
However, it is available in digital form in its entirety on the AFIO website here.

Also available on the website here are the individual articles of AFIO's history project "When Intelligence Made a Difference" that have been published to date in The Intelligencer journal. More articles will be forthcoming in future editions.

---
---
There will be no WINs next week, 20 October.
We will resume the following Tuesday, 27 October.
---
Special Items for our members:
AFIO NOW Interview #4 Released
---
Interview of Friday, 18 September 2020 of David Priess PhD, former CIA Analyst, PDB Briefer, and author. Host-Interviewer: William Richardson, AFIO Board and former CIA Analyst, and Moderator: AFIO President James Hughes, a former CIA Operations Officer.

TOPIC: Dr Priess discusses his service immediately post-9/11 briefing Attorney General John Ashcroft and FBI Director Robert Mueller. Also provides insight into "guidelines" briefers received (none), the heady, tense, important experience, and his motivation to capture some of it in his 2016 book The President's Book of Secrets.
The interview runs 49 minutes including numerous Q&As.

Prior videos in series:
NOTE: Closed Captioning is available with each video. To turn on while viewing, click the CC
button at bottom right of viewing window. If viewing on a mobile browser or device, click on video image while it is running and three dots will appear at top right edge to turn CC on or off. Full program info and bios of speakers appear below video either using the "SHOW MORE" or the caron (or down caret symbol) at far right on mobile devices.
---
Wet Affairs – Part III: Russia's Assassination Pandemic
—This Prepublication Release of Senior Editor Peter Oleson's timely Part 3 article — his trilogy on "Wet Affairs in Russia" — was deemed necessary. The final printed version will appear in Spring 2021 Intelligencer.
Vladimir Putin has said that the demise of the Soviet Union was "one of the greatest tragedies of the 20th century." Since assuming power in 2000, he has undertaken a focused, revanchist campaign to restore what he believes should be Russia's position in the world. He believes in a zero-sum approach to international relations – for Russia to become strong, the West must be weakened. This underscores his approach to relations with perceived opponents, foreign countries, and the United States in particular. Putin has pursued a policy of silencing opponents at home and abroad (including many assassinations), spreading chaos internationally, and conducting a sub rosa conflict against the West across a broad front. Read "Russia's Assassination Pandemic" now, and if missed, Parts 1 and 2 are available here.
---
Other articles brought to our attention:
"This Election Is About America's Safety After Trump Destroyed Trust in U.S. Intelligence" writes Stephen Slick in Foreign Policy. Slick is a former member of the CIA's clandestine service, special assistant to President George W. Bush, and senior director for intelligence programs and reform on the National Security Council staff. His article may be read here.
---
"Former CIA director John Brennan takes on Trump, and doesn't hold back" writes David Ignatius in The Washington Post. Of particular interest to many members was David's closing paragraph in this review of Brennan's book, Undaunted:
A lesson, perhaps, is that former CIA directors really do need to be careful about their public comments, lest they tarnish the reputation of their former agencies. Brennan spent a career protecting America in secret. When he began to speak out publicly, indignantly, it was impossible to stop. He may have been right, but in the process he damaged himself — and the idea that intelligence professionals should keep their distance from politics.
Read Ignatius's review here.
---
Jeff Stein's "SpyTalk" Column has resumed with gusto.
SpyTalk by Jeff Stein - for Oct 11: "Wartime Spies Get Their Due"
New books, movies and the OSS Society pay tribute to our World War Two Secret Agents.
Article continues here.
for Oct 13: "Russian Cyber Warriors Still Aiding Trump"
Moscow's hackers also infiltrated the US power grid years ago and are still there, experts warn.
Article continues here.
for Oct 9: "A 'Must Read'"
SpyTalk gets a tout from Politico.
Article continues here.
---
"'The Nazi Spy Ring in America' Review: Hoover Was Furious The New York Post headline read: 'Ace G-man Bares German Conspiracy to Paralyze United States!' Anger, and a movie, followed." by Bertrand M. Patenaude in the Wall Street Journal. Read review here.
---
Writers, Officers: Please Provide A Brief Article for This Ongoing AFIO History Project
AFIO's educational project "When Intelligence Made a Difference" seeks writers to identify events throughout history involving any nation or organization when the outcome was affected significantly by intelligence.
AFIO has been publishing edited submissions serially in Intelligencer released two to three times a year.
To see what has been published, it is available here. Also look at the Fall edition of the journal arriving in the mail of all members and subscribers over the next three weeks.
Those readers interested in contributing an article, should email peter.oleson@afio.com.
For instructors, this project makes a great class assignment. Accepted articles give students a publication credit in a recognized journal.
---
Newly Released, Overlooked, or Forthcoming Books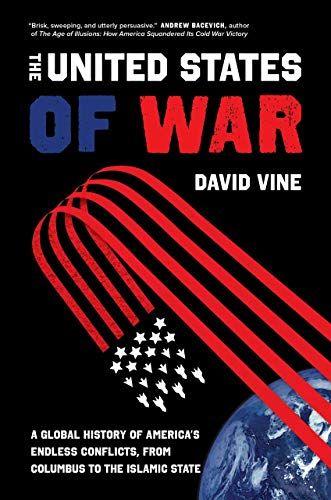 The United States of War: A Global History of America's Endless Conflicts, from Columbus to the Islamic State
by David Vine
(University of California Press, Oct 2020)
A wide-ranging survey of the American way of war, expensive and incessant, in support of an empire we're not supposed to have.
The US has been fighting wars constantly since invading Afghanistan in 2001. This nonstop warfare is far less exceptional than it might seem: the US has been at war or has invaded other countries almost every year since independence. Vine traces this pattern of bloody conflict from Columbus's 1494 arrival in Guantanamo Bay through the 250-year expansion of a global US empire, demonstrating how US leaders across generations have locked the US in a self-perpetuating system of permanent war by constructing the world's largest-ever collection of foreign military bases—a global matrix that has made offensive interventionist wars more likely. Beyond exposing the profit-making desires, political interests, racism, and toxic masculinity underlying the country's relationship to war and empire, Vine shows how the long history of US military expansion shapes our daily lives, from today's multi-trillion–dollar wars to the pervasiveness of violence and militarism in everyday life. The catastrophic toll of American wars is the millions of dead, wounded, and displaced.
Book may be ordered here.
---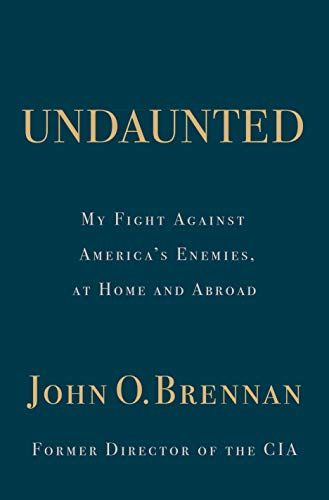 Undaunted: My Fight Against America's Enemies, At Home and Abroad
by John O. Brennan
(Celadon Books - Macmillan, Oct 2020)
From review by David Ignatius...John Brennan writes of his time as director of the Central Intelligence Agency that when he would vent his Irish temper and tell people "what I really thought of them," his staff and friends would describe it as a "full Brennan." The best thing about the memoir of this very strong-willed and prickly man is that it's a full Brennan, from beginning to end. This is a headstrong and unapologetic book, one whose author tells us what he really thinks — especially about President Trump.
As an analyst, Brennan was bruised by a CIA culture that celebrated the derring-do of the operators. As I've written elsewhere, these nasty rivalries are closer to "Mean Girls" than to anything you think you'd find in a modern intelligence agency. You can hear decades of resentment in Brennan's complaint about the "insularity, parochialism, and arrogance" of the operators. He had his revenge as director, with a 2015 modernization plan that created "mission centers" that fused analysts and operators — a reform that, for all the griping at the time, still largely stands.
Until the Trump impasse, the central strand of Brennan's story had been America's deepening — and sometimes self-destructive — war on al-Qaeda terrorism. Brennan says his "most egregious" error was not speaking out against waterboarding and other interrogation techniques he knew were morally wrong. See review by David Ignatius in the Washington Post.
Book may be ordered here.
---
America and Iran: A History, 1720 to the Presentt
by John Ghazvinian
(Knopf, Oct 2020)
An important, urgently needed book—a hugely ambitious, illuminating portrait of the two-century long entwined history of Iran and America, the first book to examine in all its aspects, the rich and fraught relations between these two powers, once allies, now adversaries. —Kirkus Reviews).
In this rich, fascinating history, Ghazvinian traces the complex story of the relations of these two powers back to the eighteenth-century's Persian Empire, the subject of great admiration of Thomas Jefferson and John Quincy Adams and for the Iranians, an America seen as an ideal to emulate for its own government.
Drawing on years of archival research both in the US and Iran—including access to Iranian government archives rarely available to western scholars—the Iranian-born, Oxford-educated historian leads us through the four seasons of US-Iran relations: the 'spring' of mutual fascination; the 'summer' of early interactions; the 'autumn' of close strategic ties; and the long, dark 'winter' of mutual hatred.
Ghazvinian, with grasp and a storyteller's ability, makes clear where, how, and when it all went wrong. And shows why two countries that once had such heartfelt admiration for each other became such committed enemies; showing us, as well, how it didn't have to turn out this way.
Book may be ordered here.
---
---
Section I - INTELLIGENCE HIGHLIGHTS

House Intelligence Committee Report Wants Security Clearance Reform in the IC. The House Permanent Select Committee on Intelligence壮 Subcommittee on Strategic Technologies and Advanced Research (STAR) released a report calling for reforms to strengthen and empower the intelligence community's (IC's) scientific and technological research and development activities (S&T R&D). This included calls to accelerate security clearance reform, and reconsider whether all IC personnel require security clearance.

The report - titled Rightly Scaled, Carefully Open, Infinitely Agile: Reconfiguring to Win the Innovation Race in the Intelligence Community - also recommended that to ensure that the right people are being hired for these crucial government positions, efforts be made to broaden targeted hiring authorities, to expand retention incentives, to create a STEM (science, technology, engineer, mathematics) fellowship program in the IC, to engage with educators, and to even fix immigration to obtain and keep talent. [Read more: Suciu/ClearanceJobs/12October2020]

Poland: Hundreds of Top Secret Documents Found Hidden in Ex-Spy's Home. Over 100 top secret documents have been found in the home of a former spy.

Investigators from the Institute of National Remembrance (IPN) and the Internal Security Agency (ABW) raided the property of a former high ranking officer in Poland's communist-era security service as well as the apartments of his relatives in Katowice where they found files from 1970-1990 detailing the activities of communist-era agents operating overseas.

They also found documents about the activities of the Security Services during Marital Law in the 80s.

Deputy prosecutor general Andrzej Pozorski told PAP: "It was a large-scale operation, not in one, but in several places where we recovered Security Service documents with classified information. [Read more: Jasinska/TheFirstNews/13October2020]

Somali Prime Minister Meets Intelligence Agency Director in Mogadishu. A meeting between Prime Minister Mohamed Hussein Roble and the director of the National Intelligence and Security Agency (NISA), Fahad Yasin, has taken place at the NISA headquarters Habar-Khadijo earlier tonight.

The meeting, which happened after the prime minister visited the NISA offices, discussed the political situation in the country and the formation of a new cabinet, according to sources.

The two did not issue a statement after their meeting, but the prime minister has been holding meetings and seeking council as he works to form a new government.

The NISA director is believed to have a huge pull in President Farmajo's government. [Read more: SomaliAffairs/8October2020]

A Transnational Coalition of Intelligence Agencies Seeks to Abolish End-to-End Encryption. Over the weekend, the transnational alliance of intelligence agencies Five Eyes called for tech companies to provide law enforcement agencies with backdoor access to data transmitted via end-to-end encryption (E2EE).

Japan and India also signed the statement from Five Eyes, whose member nations include Australia, Canada, New Zealand, the UK, and the US. With E2EE, only message senders and receivers can access the transmitted data—by definition, E2EE doesn't allow for backdoors, which enable third parties to intercept and read messages.

Services such as Zoom, Facebook Messenger, WhatsApp, Apple's iMessage, and Signal offer E2EE. The statement from Five Eyes alleges that E2EE "pose[s] significant challenges to public safety, including to highly vulnerable members of our societies." It adds, "We challenge the assertion that public safety cannot be protected without compromising privacy or cyber security." [Read more: Chitkara/BusinessInsider/13October2020]


---
Section II - CONTEXT & PRECEDENCE

National Security Law: How Residents in a Leafy Hong Kong District Became Neighbors with an Intelligence Agency. A hundred days after Hong Kong adopted a sweeping national security law, residents in a leafy middle-class neighbourhood appear to have taken in their stride the presence of a mysterious new institution in their midst, even as some expressed uneasiness about frequent police patrols.

The Metropark Hotel Causeway Bay in Tai Hang was converted into the new headquarters of the Office for Safeguarding National Security - a new Beijing outpost in the city - seven days after the law came into force late on the night of June 30.

Neither the local Hong Kong government nor Beijing's liaison office in the city had made it known that renovation work would begin at the hotel run by a subsidiary of the state-owned China Travel Service. But local media sniffed out a vague announcement on the hotel website that week saying the establishment, just 10 minutes by foot from Causeway Bay, one of the world's busiest and most expensive shopping districts, was under maintenance.

The hotel's logo was removed, its parking space was boarded up, and in the small hours of July 8, it was gussied up for a heavily guarded opening ceremony early that morning, at 7am. [Read more: Lau/SCMP/7October2020]

American-Made Spy Boat on Secret Mission Washes Up in Scotland. So...Who Does it Belong to? Beachcombers on the Scottish Isle of Tiree called the local coastguard after discovering a mysterious boat-like object. They found the American-made drone wedged between two rocks, presumably after it ran aground. As of now, no one has claimed ownership of the uncrewed boat, and the details of how it washed up in Scotland remain a total mystery.

But we have a guess.

The drone, as Maritime Executive explains, was originally tied up in place to prevent it from going back out to sea, but Forbes reports it's been taken to the home of a local man as people kept going out to see it. (Not too many people, mind you; the Isle of Tiree has a population of just 653.) [Read more: Mizokami/PopularMechanics/8October2020]

The Day Nuclear War Almost Broke Out. On October 27, 1962, a day that's been described as the "most dangerous" in human history, a Soviet submarine designated B-59 was churning through the Sargasso Sea when suddenly it was rocked by a series of explosions. "It felt like you were sitting in a metal barrel, which somebody is constantly blasting with a sledgehammer," Vadim Orlov, a communications specialist on board the sub, later recalled. "The situation was quite unusual, if not to say shocking, for the crew."

Four weeks earlier, B-59 had been dispatched from the U.S.S.R. with three other so-called F-class subs as part of Operation Anadyr, Nikita Khrushchev's top-secret effort to install ballistic missiles in Cuba. (The Anadyr is a river that flows into the Bering Sea; the code name was intended to make even soldiers participating in the operation believe they were headed somewhere cold.) Pretty much from the outset of the voyage, things had not gone well.

"For the sailors, this Cuban missile crisis started even before its beginning," Ryurik Ketov, the captain of another Cuba-bound sub, once observed. The Atlantic that October was turbulent, and the pitching sea made it tough for the boats to maintain their desired speed. [Read more: Kolbert/TheNewYorker/5October2020]

Who are Richard and Cynthia Murphy? Here's How FBI Nabbed Russian Spies Disguised as 'Typical American Family'. Cynthia and Richard Murphy resided on Marquette Road in Montclair, New Jersey, along with their young daughters, Kate and Lisa, and were a seemingly normal next-door American family. However, an FBI bust changed everything when 10 people turned out to be Russian spies. Richard and Cynthia were amongst the couples who were arrested in connection with being part of the spy network.

A new documentary by CBS titled 'FBI Declassified' will be delving into the FBI arrests and the uncovering of an elaborate spy network that interacted with each other via brush passes and dead drops. Brush passes are minimal contact exchanges were the spies exchanged goods as they walked past each other in an unsuspecting way whereas a dead drop is when goods or materials are buried at a secret location, only to be dug up and received by the intended person. A dead drop could usually be a large sum of cash or money or in some cases weapons or even radio communication devices which is buried in the ground or in a hollow tree, waiting to be picked up by a person.

In 2000, the FBI had been focusing on four couples, one of whom were the Murphys. A clip of the documentary speaks about how the family seemed to be a "typical American family, living out the typical American dream in the typical American neighborhood". The clip also says the Murphys had come to America with nothing but a birth certificate and had to build up their entire life in the country. [Read more: Ghose/MEAWW/12October2020]

Oldest Living CIA Agent Says Russia Probably Targeted Trump Decades Ago. On Aug. 18, the Senate Intelligence Committee released a 1,300-page report characterizing the involvement of Russian intelligence operatives with officials of the 2016 Trump presidential campaign as an "aggressive, multifaceted effort to influence, or attempt to influence, the outcome of the 2016 presidential election." The report detailed the longstanding relationship between Paul Manafort, Donald Trump's campaign manager, and a Russian intelligence operative named Konstantin Kilimnik, while also describing the links of other Russian intelligence figures to Trump family members, notably Donald Jr. and Jared Kushner, and to such Trump confidants as Roger Stone and Michael Flynn, briefly the president's national security adviser.

As to be expected, President Trump immediately denounced the report as "a hoax" (never mind that it was authored by a Republican-controlled committee), while his inner circle adopted their usual stance on such matters, either staying mum or decrying the committee's work as a tired retread of last year's Mueller report. The real scandal, the president declaimed, was the deep state "witch hunt" against him that spurred these investigations in the first place. [Read more: Anderson/DailyBeast/5October2020]

Watch Russia Fly Its New Fighter Jet with the Top Down, As a Flex. Russia's Ministry of Defense has dropped a new video that includes some very unusual flying. In the video, a pilot is flying Russia's long-in-the-works Sukhoi Su-57 fighter jet, known to NATO as the "Felon," without the usual plexiglass cockpit canopy that protects him from the elements. The flight is likely taking place to ensure there are no unexpected issues flying the plane if the canopy were to suddenly come off.

Here's the video. The missing canopy shot is at the 1:10 mark, but the whole video is worth watching: [Read more: Mizokami/PopularMechanics/7October2020]


---
Challenges in Enhancing Indonesia's Domestic Security. In the last few years, the post-Soeharto era reform consensus on the apportionment of responsibilities between the country's security agencies has become blurred. Among Indonesia's security agencies, the Indonesian Military (TNI) would secure national sovereignty and external defense, the police-maintained safety and public order, while the State Intelligence Agency (BIN) coordinated domestic and foreign intelligence.

This distinction is becoming less clear-cut as the three security agencies work in concert as well as independently to bolster their internal security capabilities. In our opinion, they are responding to what they perceive to be genuine law and order problems plus a marked weakening of national and social resilience. The erosion of Pancasila's role as the state ideology, as well as growing sectarianism and radicalism, are key concerns.

To address these issues, these agencies have opted to supplement their capabilities through external and informal structures to facilitate cost and burden sharing with willing individuals and non-government groups. [Read more: TheJakartaPost/13October2020]

The Secrets and Lies of Cold War Spies. They engaged in thrilling adventures in a shadowy world. But who were the spies who operated during the Cold War and what were they up to? Professor Michael Goodman steps into a realm of suspicion and sedition to explore why some people turned traitor. [Read more: HistoryExtra/7October2020]

Intelligence Operations: We Need More Human in Cybersecurity Intelligence. Threat actors impact every industry, keeping defenders reactive instead of operating in a preventive security posture. Security intelligence is the Swiss Army knife of security tools, with cybersecurity intelligence showing commitment to preventive security. Cybersecurity intelligence aggregates actionable information on adversaries and malicious activities, enabling defenders and stakeholders to reduce harm through informed decision making. Market trend analysis projects that the cybersecurity intelligence market will surpass $13 billion by 2025. The expanded market means abundant and expensive data that is often challenging to incorporate into actionable intelligence.

Cybersecurity intelligence inspires innovative and expensive ideas to identify, prioritize and assess critical threats. One idea is the "Single Pane of Glass" (SPOG) to view enterprise threats. The SPOG powered by threat feeds offer real-time access to hundreds of sources, such as deep and dark web sources, but they may not meet the organization's needs without context. In this discussion, we will unpackage the methodology of the SPOG, threat feeds and how human intelligence analysts can efficiently provide decision makers with actionable intelligence. [Read more: Chambers/SecurityBoulevard/8October2020]

The Man Who Speaks Softly - and Commands a Big Cyber Army. In the years before he became America's most powerful spy, Paul Nakasone acquired an unusually personal understanding of the country's worst intelligence failures.

Growing up, he was reared on his father Edwin's recollections of December 7, 1941: how Edwin, then age 14, was eating a bowl of cornflakes with Carnation powdered milk when he saw Japanese Zeros racing past the family's screen door on Oahu on their way to attack Pearl Harbor. They were so close that Edwin, who would grow up to become an Army intelligence officer, could see one of the pilots. "I can still remember to this day," Edwin would recall years later, "that he had his hachimaki-his headband-around, goggles on."

Decades later, Paul himself experienced another disastrous surprise attack on America at close range: He was working as an intelligence planner inside the Pentagon on the clear September Tuesday when American Airlines Flight 77 crashed into the building. He remembers evacuating about an hour after the attack and looking over his shoulder at the giant column of black smoke rising from the building where he went to work every day.

Over the next 15 years, as America waged the resulting war on terror, Paul Nakasone became one of the nation's founding cyberwarriors-an elite group that basically invented the doctrine that would guide how the US fights in a virtual world. [Read more: Graff/Wired/November2020]


---
Section IV - Research Requests, Jobs, Obituaries
The Vienna Tunnel - "Operation Silver" - Researcher Seeks More Info
After retiring from the CIA I ended up living in Vienna, Austria and got interested in the "Vienna Tunnel." It was a SIS/MI6 operation from 1949-52 or so which tapped Soviet phone lines between Soviet HQs and Moscow. It was the inspiration for the Berlin Tunnel in that same era. Very little information has been made public about the Vienna Tunnel and much of the information doesn't seem to make sense. If you have any ideas for how to find this tunnel or knowledge about this operation I would love to hear from you at hholmer1@gmail.com. Than you in advance, -Hans
Did you know: Eloise Page, Elizabeth Sudmeier, Adelaide Hawkins, or Mary Hutchison at CIA? Please assist this author.
I am a historian and the author of several nonfiction books [see Rise of the Rocket Girls: The Women Who Propelled Us from Missiles to the Moon to Mars]. Over the past few years I've been gathering material on a group of women who worked for the CIA. Penguin Random House will be publishing my group biography on their stories. I have been working with the CIA liaison office directly and they have been supportive of this project. My goal is to highlight the successes of the agency during the 1950s and 60s through the work of these four incredible women.
I would love to hear from AFIO members who may have stories or reminiscences about the women I'm writing about. These women are: Eloise Page, Elizabeth Sudmeier, Adelaide Hawkins, and Mary Hutchison.
I am a New York Times bestselling author and my writing has appeared in The New York Times, The Atlantic, The Los Angeles Times, Time magazine, Science Friday, as well as many other outlets.
Replies to Nathalia Holt PhD at nat@nathaliaholt.com. More info on this author at https://www.nathaliaholt.com/ or @nathaliaholt
Full Time Assistant Professor for Intelligence Studies Program at Catholic University, Washington, DC
AFIO Members with Academic Credentials! Potential Full Time Teaching Opportunity in 2022 in Catholic University's Intelligence Program
University located at 620 Michigan Ave NE, Washington, DC
Former CIA officer and staff historian Nicholas Dujmovic retired in 2016 to become the founding director of the Intelligence Studies Program at the Catholic University of America (CUA) in Washington, D.C. The program is successful and growing. The undergraduate Certificate in Intelligence Studies currently has 76 students enrolled--the largest such program on campus. The program continues to expand the number of intelligence courses offered, as well as their variety.
Dr. Dujmovic is optimistic that a full time position at the assistant professor level will open in the summer of 2022.
He is reaching out early to the AFIO community to identify potential candidates with the following attributes:
Significant service (at least 15 years) as a professional intelligence officer involved in analysis, operations, technical collection, or possibly support. A recent retiree closing a successful career would be ideal.
A Ph.D. from an accredited university in political science, history, area studies, a comparable field or a relevant STEM field.
Teaching experience at the university level, either undergraduate or graduate.
Evidence of past scholarship and a willingness to engage in further research and publication, consistent with CUA's commitment to excellence as a "research university."
An enthusiasm for teaching and advising mostly undergraduate students.
AFIO members wishing to learn more are encouraged to contact Dr. Dujmovic at dujmovic@cua.edu.
Assistant Professor of Criminal Justice - UTEP - University of Texas at El Paso
The University of Texas at El Paso's College of Liberal Arts, Department of Criminal Justice, is seeking a full-time tenure-track "Assistant Professor of Criminal Justice."
Position Description: The position begins Fall 2021 at the Assistant Professor level. Responsibilities include conducting and publishing scholarly research, seeking extramural funding, teaching face-to-face and online courses, and service to the department, university, and profession.
About UTEP: The University of Texas at El Paso is a Carnegie R1 and Community Engaged research university in the heart of the U.S.-Mexico border region, in a bicultural metroplex of over 800,000 people. UTEP faculty are nationally recognized for their commitment to student success, teaching, and research. UTEP enrolls more than 25,000 students, of whom nearly 80 percent are Latino/Latina. UTEP provides equal access and social mobility for over 50% of its student body of first generation students. UTEP comprises 10 academic colleges/schools. The Department of CJ offers an online B.A. in Security Studies, a Master of Science in Intelligence and National Security and a Master of Defense and Strategic Studies. The department also offers a B.A. in Criminal Justice, an equivalent 100% online B.A., and an M.S. in Criminology and Criminal Justice.
Required Qualifications: Applicants must have a Ph.D. in Criminal Justice, Criminology or closely related field in Intelligence and/or Security Studies from an accredited university. ABD applicants will be considered if doctorate will be completed by Fall 2021. Active research agenda and published scholarly journal articles are required to apply. Applicants with only a J.D., Psy.D., or Ed.D. will not be considered.
Preferred Areas: All research/teaching areas of criminal justice and criminology will be considered, but preference will be given to candidates who have demonstrated teaching and/or research areas in at least one of these areas: security studies, open source intelligence, or quantitative methods/statistics.
Application Instructions and Contact Information: To apply, visit https://www.utep.edu/employment Applicants must electronically submit: (1) letter of interest that includes teaching areas and research expertise, (2) curriculum vita, (3) one scholarly publication or dissertation manuscript, and (4) names and full contact information of three references that we may contact. If you have questions about the position, please contact the Search Committee Chair, Dr. Egbert Zavala, at EgbertZ@utep.edu.
Application Review Date: Review of applications will begin October 5th, 2020 and will continue until the position is filled.
Hiring decisions are based on budget approval. To explore UTEP, do so here. To apply for the position, contact Dr. Zavala at EgbertZ@utep.edu.
Adjunct instructors at the University of Texas at El Paso (US)
The National Security Studies Institute at the University of Texas at El Paso (UTEP) (see their website here) is seeking adjunct instructors to teach online graduate-level courses:
Legal Issues in Intelligence and National Security
Propaganda and Influence Operations
Intelligence and Counterterrorism
Political Economy of Terrorism
Risk Analysis
Emergency Management
Public Health and Homeland Security
A PhD in public policy, security studies, political science, or a related field is required.
Interested and eligible applicants should contact Stephen Coulthart (sjcoulthart@utep.edu).
---
Wayne Harper, NSA InfoTech Leader
Wayne Gray Harper, 74, an NSA Infotech Leader, died of cancer in Olney, MD on 24 September 2020.
Born in Marlinton, WV, he graduated from Marlinton High School, then attended the West Virginia Institute of Technology, earning a degree in Electronic Engineering.
An Army veteran, he served his country during the Vietnam War, then was hired by the National Security Agency where he spent the next 28 years as a System Engineer and Information Technology Technical Leader. A life long learner, he always enjoyed learning about new places and cultures through the travel that accompanied his work. A favorite was his frequent travel to Hawaii, for a special telecommunications project that earned him a Civilian Meritorious Service Award. Hawaii was also where he met his wife, Carol, also a retired NSA employee. He considered his time spent working as a liaison between the National Security Agency and the National Reconnaissance Office as another career highlight. After leaving the agency, he was hired by The MITRE Corporation as a government contractor, until officially retiring in 2012.
A proud native son of West Virginia, he enjoyed frequent trips back home, spending time with his family and friends, sharing stories of his youth, growing up in the Mountain State, to include time spent earning his Eagle Scout status and working for the forestry service in the Monongahela National Forest as well as stories of his worldly travels.
He is survived by his wife of 35 years, Carol, a daughter, a son, and other family, including his faithful fur companion, Joey.
Art Letendre, CIA Officer
Arthur Francis Letendre, 89, a former CIA Officer, died 5 October 2020 in Clifton, VA.
A US Navy veteran of the Korean Conflict, Art attended Bryant College, graduating with a degree in finance, and joined the CIA. Art served in multiple overseas and Washington-based assignments, serving as a staff officer then contractor for over 55 years.
In addition to his tremendous patriotism and pride in his work, Art's passions included golf, grilling, and spending time with family and friends.
He is survived by his wife of 55 years, Cynthia Sowyrda Letendre, three daughters, and other family.
---
AFIO EDUCATIONAL EVENTS IN COMING TWO MONTHS....
15 October 2020, 12:30 - 1:30 p.m. PST - Virtual Go-To-Meeting - "Challenges Facing Cyber Intelligence" - Topic of AFIO Los Angeles Chapter Meeting
The AFIO L.A. Chapter will hold its next virtual meeting on featuring guest speaker Prof. Al Lewis discussing "Challenges Facing Cyber Intelligence."
Al Lewis is currently a doctoral candidate in Strategic Intelligence in the School of Security and Global Studies at the American Military University. His primary areas of research includes the role of the Advanced Persistent Threat (APT) within state-sponsored cyber conflict and advocacy for ethics in cyberspace. Al is an Adjunct Professor at the George Washington University where he teaches Cyber Threat, Policy, & Strategy to graduate students in the Elliott School of International Affairs. Additionally, Al currently oversees the Cybersecurity Operations Center of Boeing, the world's largest aerospace and defense company. Before that he served the United States of America as a Special Agent in the Secret Service where he conducted International cybercrime investigations, computer forensics, and executive protection operations. Lastly, Al served in the United States Marine Corps, as a Force Reconnaissance Platoon Commander, conducting deep reconnaissance and direct actions missions around the world
We look forward to your attendance, and if any of your members would like to attend, please feel free to let them know we welcome their participation.
Virtual Platform: Go To Meeting
RSVP For Meeting Link: AFIO_LA@yahoo.com.
5 Nov 2020, 11:30 a.m. CST - Virtual - "Current U.S. Immigration Issues" - theme of this virtual event by the AFIO San Antonio, TX Chapter
U.S. immigration policy was one of the first discussed by the U.S. Congress in 1790 and began our long history of immigration laws for the United States of America. Our current immigration policy stems from landmark legislation of 1952 with the Immigration and Nationality Act (INA), and has been amended significantly seventeen times since and shaped by Presidential executive orders.
Family reunification, labor supply, and humanitarian issues are the main basis of our current immigration policy while immigration enforcement seeks the restriction to those who merit entry and residence here in this great country.
This will be a short overview of selected current immigration issues. Presented by Fred Schellenberg.
Meeting begins at 11:30 a.m. Central Standard Time. If already a SA Chapter Member, mark your calendar. You will be sent a link for the online presentation prior to the meeting. If not a member, contact President John Franklin johntf3@gmail.com.
There is no charge to attend these meetings.

---
Other Upcoming Events from Advertisers, Corporate Sponsors, and Others
The International Spy Museum has reopened to visitors.
Click here to explore events, exhibits, and ticketing.
Upcoming virtual (and a few live, post-quarantine) events at the International Spy Museum. Click event to explore and register for event. All virtual events require pre-registration.
Access all upcoming Spy Museum events directly from their website: https://www.spymuseum.org/calendar/upcoming/1/
7 November 2020, 14th Annual Parade of Trabants, 10 am - 4 pm
14 November 2020, Operation Secret Sleepover, 7 pm - 9:30 am
1 to 29 October 2020, 6:30 - 7:30 pm EDT - Virtual Event - The OSS Society hosts An "Oh So Social" Conversation Series Celebrating the OSS' 75-Year Legacy

Hear leading figures from the Intelligence and Special Operations Communities discuss critical national security issues.
The OSS Society is hosting a month-long series of conversations throughout October with some of the leading figures from the Intelligence and Special Operations Communities to celebrate the Office of Strategic Services' 75-year legacy. They will be moderated by Dr. Michael Vickers who served as the Undersecretary of Defense for Intelligence. Each event will include a unique OSS-themed libation presented by cocktail historian and noted author Philip Greene who has served as The OSS Society's bartender at The William J. Donovan Award® Dinner for many years. We are calling it an "Oh So Social" Conversation Series. (During World War II, so many OSS personnel were listed in the Social Register it was said the initials "O.S.S." really stood for "Oh So Social.")
Upon buying a series pass, you will receive access to five consecutive events throughout the month of October. Twenty-four hours prior to each event, you will receive an email from ohsosocial@osssociety.org that will contain a unique private link for the event. Speakers' biographies, articles related to the topic of discussion and the recipe for the evening's highlighted drink will also be emailed to you and are available on the event page after you register. Your registration is valid for the entire five-part series. Tickets purchased after the first event are not discounted and no refunds are available after purchase.
Program:
Moderated by the Hon. Michael G. Vickers
15 October 2020: INR75: The Bureau of Intelligence & Research -- The Hon. Ellen McCarthy, Asst. Secretary of State for INR
22 October 2020: The Future of Intelligence -- Michael Morell, former Acting Director of CIA
29 October 2020: OSS75: Its Legacy & Lessons -- Sec. Robert Gates, Sec. Leon Panetta, Adm. William McRaven, USN (Ret.) & Gen. David Petraeus, USA (Ret.)
Special Cocktail Presentations by noted author & cocktail historian Philip Greene
All Online Event. Fee - $250 – $1,000. No Refunds
To Attend or explore more about this event, do so here.
Friday, 16 October 2020, 10:30 a.m. to 1:15 p.m. EDT - Virtual Go-to-Meeting - NIP 2020 Annual General Membership and BoD Meeting
The 2020 NIP Annual General Membership and BoD Meeting will be held virtually from 1030-1130 EDT on Friday, 16 October, and is open to all NIP members. Results of voting for NIP Board members and officers will be announced and we will provide a report on NIP finances, Foundation efforts and other NIP initiatives.
We'll take a break from 11:30 to 12:30 EDT at which time VADM Jeff Trussler and RADM Kelly Aeschbach will provide an update on Naval Intelligence until 13:15.
Your comments and observations on this first ever NIP virtual general membership meeting are appreciated and may be sent to naval.intelligence.pros@gmail.com
NIP Members may attend the meeting through the Go To Meeting video conference software or simply dial in for audio. We'll start the conference up at 1000 EDT and leave it open until 1330. Link and instructions for connecting are below.
Go To Meeting Conferencing Instructions:
Join the meeting from your computer, tablet or smartphone.
https://global.gotomeeting.com/join/874144765
You can also dial in using your phone.
(For supported devices, tap a one-touch number below to join instantly.)
United States: +1 (872) 240-3311
- One-touch: tel:+18722403311,,874144765#
Access Code: 874-144-765
New to GoToMeeting? Get the app now and be ready when your first meeting starts: https://global.gotomeeting.com/install/874144765
More details at NIP website.
22 October 2020, 1 pm EST - Virtual - NCMF General Membership Meeting & Annual Symposium
Join our colleagues at the National Cryptologic Museum Foundation for their first virtual General Membership Meeting & Annual Symposium. The theme of the program is "A Virtual Afternoon at the Museum." For those who do not live in the DC-MD-VA area, this is the perfect opportunity for you to attend the October Meeting/Program AND explore the Museum!
This year's program features a virtual Museum tour, Foundation and Museum updates, and a keynote presentation by Dr. Michael Warner, U.S. Cyber Command Historian and Lt. Col. John Childress, USA. Warner and Childress will speak on themes from their recent book The Use of Force for State Power: History and Future. The book was published in 2020 by Palgrave Macmillan and is also available via Kindle.
*** The program will be free, but registration is required. Stay tuned for the opening of registration and for details on how to view the virtual program. A recording of the program will be made available on our website at a later date.
Full agenda, registration and other details here.
NEW DATE - Saturday, 24 October 2020, 5:30 p.m. - Washington, DC - Save the Date! PenFed Foundation's 2020 Night of Heroes Gala
PUT ON CALENDAR AND HOLD THE DATE: The Pentagon Federal (PenFed Credit Union) Foundation will be hosting their spectacular Night of Heroes Gala on Saturday, 24 October 2020 at the Mandarin Oriental in Washington, D.C. Last year's annual gala raised over $1.5 million and honored children of military families.
VIP Reception at 5:30 PM
General Reception and Silent Auction at 6:00 PM
Location: The Mandarin Oriental, 1330 Maryland Ave SW, Washington, D.C.
Attire: Black Tie or Military Dress
RSVP: October 2, 2020
Click here to learn more or sponsor a table.
Wednesday, 27 October 2021 - Washington, DC - HOLD THE DATE - 30th Anniversary Gala and Chancellor's Dinner - Institute of World Politics
Refreshingly non-virtual...but an actual event. Shifted one year because of Covid-19 inconveniences.
Join IWP in October 2021 to celebrate IWP's 30th anniversary -- 1990 - 2020.
Schedule: 6:00 PM Cocktail Reception; 7:00 PM Dinner
Location: The Mayflower Hotel, 1127 Connecticut Ave NW, Washington, DC.
Additional details to follow.
---
In addition to the new Royal Blue long sleeve shirts, and the gray long sleeve hooded sweatshirts, the AFIO Store also has the following items ready for quick shipment:
NEW: LONG and Short-Sleeved Shirts with embroidered AFIO Logo and New Mugs with color-glazed permanent logo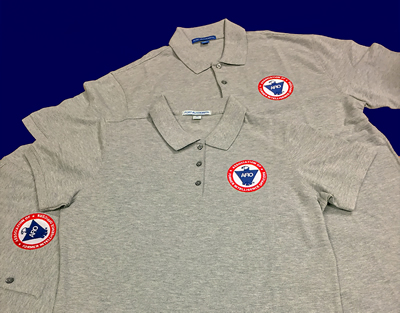 Show your support for AFIO with our new Polo Shirts. Be the first to buy these new, high quality, subtle heathered grey short sleeve shirts, and dark blue long sleeved shirts, of shrink and wrinkle resistant fine cotton with a soft yet substantial feel. They feature a detailed embroidered AFIO seal. Get a shirt for yourself and consider as gifts for colleagues, family, and friends. Only $45 each including shipping.
Sizes of (M) men or (W) women shirts; Small, Medium, Large, XL, XXL, and XXXL. At this time all orders will arrive as Short Sleeve shirts.
You may pay by check or credit card. Complete your order online here or mail an order along with payment to: AFIO, 7600 Leesburg Pike, Ste 470 East, Falls Church, VA 22043-2004. Phone orders at 703-790-0320. If interested in other shirt colors or sleeve lengths, contact Annette at: annettej@afio.com.
Available as a thank you for donations are the new AFIO logo face masks:
These soft, form-fitting, washable, non-medical grade fabric face masks have wide behind-the-ear elastics to make long periods of wear comfortable. Also easier to quickly put on or take off. Blue on outside, white inside. The masks do not have a nose wire but are sculpted, shaped, and sewn to fit most users. The all-cloth composition allows the masks to be washed or steam-disinfected without concerns over metal wires. The color logo is washable and a permanent part of the mask.
The masks, however, are not for sale. They are being offered strictly as a thank you gift to our donors.
For tax-deductible donations of $50 you will receive a receipt and our thank you gift of two of these newly-arrived face masks.
Donations of $100 receive four masks to be sent to the same address. Other amounts and split-shipments are available.
To donate now to support AFIO's programs and publications, please do so here.
We wish all members and donors continued good health, safe social distancing, and warmly appreciate any support you are able to provide the association.
---
AFIO Mug with color glazed logo. Made in America. Sturdy enough to sit on desk to hold pens, cards, paperclips, and candy.
This handsome large, heavy USA-made ceramic mug is dishwasher-safe with a glazed seal. $35 per mug includes shipping. Order this and other store items online here.
---
Guide to the Study of Intelligence and When Intelligence Made a Difference
"AFIO's Guide to the Study of Intelligence" has sold out in hard-copy.
However, it is available in digital form in its entirety on the AFIO website here.

Also available on the website here are the individual articles of AFIO's history project "When Intelligence Made a Difference" that have been published to date in The Intelligencer journal. More articles will be forthcoming in future editions.
---
Disclaimers and Removal Instructions
Weekly Intelligence Notes (WINs) are commentaries on Intelligence and related national security matters, based on open media sources, selected, interpreted, edited and produced for non-profit educational uses by members and WIN subscribers.
REMOVAL INSTRUCTIONS: We do not wish to add clutter to inboxes. To discontinue receiving the WINs:
a) IF YOU ARE A MEMBER - click here: UNSUBSCRIBE and supply your full name and email address where you receive the WINs. Click SEND, you will be removed from list. If this link doesn't open a blank email, create one on your own and send to afio@afio.com with the words: REMOVE FROM WINs as the subject, and provide your full name and email address where you are currently receiving them.
b) IF YOU ARE NOT A MEMBER, and you received this message, someone forwarded this newsletter to you [contrary to AFIO policies]. Forward to afio@afio.com the entire WIN or message you received and we will remove the sender from our membership and distribution lists. The problem will be solved for both of us.
CONTENTS of this WIN [HTML version recipients - Click title to jump to story or section, Click Article Title to return to Contents. This feature does not work for Plaintext Edition or for some AOL recipients]. If you wish to change to HTML format, let us know at afio@afio.com. The HTML feature also does not work for those who access their e-mail using web mail...however NON-HTML recipients may view the latest edition each week in HTML at this link: https://www.afio.com/pages/currentwin.htm
---
WINs are protected by copyright laws and intellectual property laws, and may not be reproduced or re-sent without specific permission from the Producer. Opinions expressed in the WINs are solely those of the editor's or author's listed with each article. AFIO Members Support the AFIO Mission - sponsor new members! CHECK THE AFIO WEBSITE at www.afio.com for back issues of the WINs, information about AFIO, conference agenda and registrations materials, and membership applications and much more!
(c) 1998 thru 2020. AFIO, 7600 Leesburg Pike, Suite 470 East, Falls Church, VA 22043-2004. Voice: (703) 790-0320; Fax: (703) 991-1278; Email: afio@afio.com
---
About AFIO | Membership Renewal | Change of Address | Upcoming Events | Chapter Locations | Corporate/Institutional Memberships | Careers in Intelligence Booklet | Guide to the Study of Intelligence | Intelligencer Journal | Weekly Intelligence Notes | To Make A Donation | AFIO Store | Member-Only Section | Code of Ethics | Home Page
---