---
CONTENTS
Section I - INTELLIGENCE HIGHLIGHTS
Section II - CONTEXT & PRECEDENCE
Section IV - Research Requests, Jobs, Obituaries
Other Upcoming Events from Advertisers, Corporate Sponsors, and Others
WIN CREDITS FOR THIS ISSUE: The WIN editors thank the following special contributors: rsy, ec, po, pj, mh, km, gh, mk, rd, fm, kc, jm, mr, jg, th, ed, and fwr. They have contributed one or more stories used in this issue.

The WIN editors attempt to include a wide range of articles and commentary in the Weekly Notes to inform and educate our readers. However, the views expressed in the articles are purely those of the authors, and in no way reflect support or endorsement from the WIN editors or the AFIO officers and staff. We welcome comments from the WIN readers on any and all articles and commentary.

CAVEATS: IMPORTANT: AFIO does not "vet" or endorse research inquiries, career announcements, or job offers. Reasonable-sounding inquiries and career offerings are published as a service to our members, and for researchers, educators, and subscribers. You are urged to exercise your usual caution and good judgment when responding, and should verify the source independently before supplying any resume, career data, or personal information.]
If you are having difficulties with the links or viewing this newsletter when it arrives by email, members may view the latest edition each week at this link.

---

Recommended Reads:

The Arkin Group's October 30 "In Other News" letter to private clients by former Operations Officer Jack Devine features...
• The United Nations announced a ceasefire agreement on October 23 between the two main factions in the Libya civil war.
• Peaceful elections in Chile and Bolivia demonstrate the resolve of Latin Americans hit hard by the pandemic but determined to vote.
• Anger over police use of excessive force sparked weeks of unrest in Nigeria after video surfaced of officers from the Special Anti-Robbery Squad (SARS) police unit allegedly shooting a civilian in the street.

---

Inside the SCIF by impressive National Security Correspondent JJ Green, WTOP - Issue #87, 29 October has "France attack: Three killed in 'Islamist terrorist' stabbings," Nigel Farage and the U.S. 2020 Election; Election Security; the "...motive behind the Kremlin poisoning of Alexey Navalny"; A Russian assassination attempt in the U.S. on Paul Joyal; many other news topics.
And in The Target USA podcast, Episode: 248 — "C.I.A. officer targeted with sonic attack" Discusses Marc Polymeropoulos's experience in Moscow in 2017 when he was hit, twice, with a debilitating sonic attack, just like American diplomats in Cuba and China. Guess who was behind it? Guess what the C.I.A. did? Listen and find out." Podcast is here.

---

More from Jeff Stein's "SpyTalk" Series

for Nov 3: "Let's Rumble, Pro-Trump Extremists Say"
Self-styled patriots are gearing up to thwart an imagined leftwing 'coup,' report says.
Article continues here

for Nov 1: "R.I.P. Sean Connery"
The original Bond, James Bond, bracketed our Cold War fantasies from the beginning to their end.
Article continues here.

for Oct 29: "Moscow on the Potomac"
A D.C. Council candidate's father has longtime business ties to Russia, worrying some CIA veterans
Article continues here. Written by Jonathan Broder and Jeff Stein

Readers can subscribe for free at the moment here.

---

---

Continuing Series of Cryptologic Museum Webinars on Cybersecurity

Cybersecurity Virtual Classroom
ONLINE CYBERSECURITY CHATS by the National Cryptologic Museum Foundation

The Cyber Center for Education and Innovation (CCEI) have been conducting a series of Cybersecurity Chats as part of their special CCEI Cybersecurity Series. These online chats for K-12 students [but older ages would benefit, too], are presented by cybersecurity professionals and experts. General information on the series is here.

There are many online chats that follow and they may be found here.

If you wish to share your own cybersecurity/cryptology expertise, review the instructions here

---

One of the special benefits of membership in AFIO: access to CIA's inhouse gift shop — the EAA Store.

It requires a quick preapproval process described here to all newly joined and current AFIO members. And then allows you to purchase online their unusual logo'd gift items for self or colleagues. Here is the latest photo EAA released on Oct 29 featuring some of their newest items:

---

Guide to the Study of Intelligence and When Intelligence Made a Difference

"AFIO's Guide to the Study of Intelligence" has sold out in hard-copy.
However, it is available in digital form in its entirety on the AFIO website here.

Also available on the website here are the individual articles of AFIO's history project "When Intelligence Made a Difference" that have been published to date in The Intelligencer journal. More articles will be forthcoming in future editions.

---
---
Special Items for our members:
Video Interview with Professor, Author, PDB Editor, and Former CIA Historian
---

Released 3 November 2020
Interview of Friday, 9 October 2020 of Nicholas Dujmović PhD, Professor, Author, former CIA Analyst, Historian, PDB Editor. Host-Interviewer: AFIO President James Hughes, a former CIA Operations Officer.
TOPIC: Dr Dujmović discusses his experiences developing an intelligence program at Catholic University and focuses on his reasons for "Teaching Intelligence at the College Level in Retirement. " A topic of great interest to a growing number of new retirees who are exploring opportunities after their government careers.
The interview runs 32 minutes including numerous Q&As.
Access Dujmović video here or click above image.
---
Prior videos in series:
NOTE: Closed Captioning is available with each video. To turn on while viewing, click the CC
button at bottom right of viewing window. If viewing on a mobile browser or device, click on video image while it is running and three dots will appear at top right edge to turn CC on or off. Full program info and bios of speakers appear below video either using the "SHOW MORE" or the caron (or down caret symbol) at far right on mobile devices.
---
Other items brought to our attention:
Institute of World Politics releases Fifth Volume of Student Journal: Active Measures
The fifth volume of Active Measures, a student-run journal, is now available online. This edition contains articles on baseball diplomacy, China-Taiwan relations, the National Cyber Strategy, and the Economic Espionage Act. More about the journal is here. Read Journal here
---
Harvard's Belfer Center Offering Online Executive Education Programs in Intelligence and Cybersecurity
Senior Executives in National and International Security November 30 – December 11, 2020
Cybersecurity: The Intersection of Policy and Technology January 11-15, 2021
---
The CICENTRE Now Offers Online Training
The CICentre now has the capability to present all their training courses virtually. They have done this successfully and can do the same for other organizations. Two popular courses (of many) are #510–Understanding and Profiling the Insider Threat (1-5 days) and #207–An Introduction to the People's Republic of China's Intelligence Services (1-3 days). Details on these courses and others here.
SPYPEDIA is also available in addition to virtual training. SPYPEDIA is the Centre's continuously updated counterintelligence and security database with current and historical espionage and terrorism cases, as well as the latest news, podcasts, videos, CI calendar events, quotes, reports, and more. Details on Spypedia and CiCentre membership is here.
CICENTRE book reviews and recommendations are here.
---
MUSEUMS -
National Museum of the U.S. Army Opening 11 November:
Save the date for 11 November when the National Museum of the U.S. Army (Ft Belvoir, VA) will livestream the Museum's Virtual Opening Ceremony from the Museum's Facebook page. Be a part of the celebration as they kick off opening their doors. And enjoy Museum Programming Virtually on 19 November 2020 for a special on-line event with author Marc Gallicchio, and his book Unconditional: The Japanese Surrender in World War II. REGISTER here! More info about the National Museum of the US Army here.
K.G.B. Museum (in NYC) has Closed. Ran afoul of copyright and trademark issues shortly after creation, and failed to gain strong public interest over two year lifespan. See Section I article in this issue
SpyScape Museum (in NYC) Hosts Events, Publishes Emailed Weekly Newsletter. Museum info here. "Six Secrets" weekly briefing newsletter from them may be subscribed viewed here.
International Spy Museum (Washington, DC) has reopened and hosting many programs, exhibits (e.g., must see their Cyber Infinity Room), spycasts, virtual spy chats, and a store filled with books, spy paraphernalia. Make your plans to visit, to buy end of year gifts – virtually or for real – here.
---
---
Writers, Officers: Please Provide A Brief Article for This Ongoing AFIO History Project
AFIO's educational project "When Intelligence Made a Difference" seeks writers to identify events throughout history involving any nation or organization when the outcome was affected significantly by intelligence.
AFIO has been publishing edited submissions serially in Intelligencer released two to three times a year.
To see what has been published, it is available here. Also look at the Fall edition of the journal arriving in the mail of all members and subscribers over the next three weeks.
Those readers interested in contributing an article, should email peter.oleson@afio.com.
For instructors, this project makes a great class assignment. Accepted articles give students a publication credit in a recognized journal.
---
Newly Released, Overlooked, or Forthcoming Books
How Spies Think: 10 Lessons in Intelligence
by David Omand
(Viking, Nov 2020)
Recounting the lessons learned from a career at the very top of the espionage tree, former GCHQ director Omand demonstrates how the techniques employed by spies can prove hugely beneficial when tackling crises in everyday life.
"One of the best books ever written about intelligence analysis and its long-term lessons. Brilliant, lucid and thought-provoking." — Christopher Andrew, UK Historian
From the former director of GCHQ, learn the methodology used by the British intelligence agencies to reach judgements, establish the right level of confidence and act decisively.
Intelligence officers discern the truth. They gather information - often contradictory or incomplete - and, with it, they build the most accurate possible image of the world. With the stakes at their absolute highest, they must then decide what to do.
In everyday life, you are faced with contradictory, incomplete information, too. Reading the news on social media, figuring out the next step in your career, or trying to discover if gossip about a friend is legitimate, you are building an image of the world and making decisions about it.
Looking through the eyes of one of Britain's most senior ex-intelligence officers, Omand shows how the big decisions in your life will be easier to make when you apply the same frameworks used by British intelligence. Full of examples from his storied career, including key briefings with Prime Ministers from Thatcher to Blair, and conflicts from the Falklands to Afghanistan, Professor Omand arms us with the tools to sort fact from fiction, and shows us how to use real intelligence every day.
Book may be ordered here.
---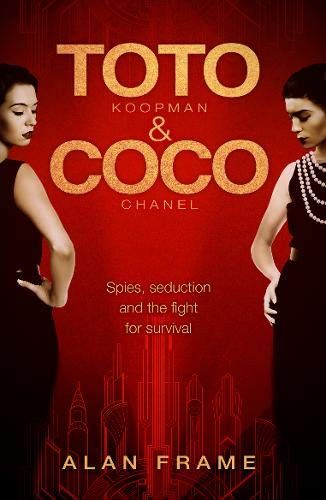 Toto & Coco: Spies, Seduction and the Fight for Survival
by Alan Frame
(Kelvin House, Oct 2020)
Toto Koopman, beautiful, mixed-race, bisexual Vogue cover girl in 1930s Paris and lover of press baron and wartime Cabinet minister Lord Beaverbrook.

Coco Chanel, brilliant couturier and parfumier, rich friend of Winston Churchill.

Both the toast of Parisian and in London society. World War II arrives and one chooses to relinquish everything to be a British spy under threat of incarceration in a concentration camp; the other becomes a Nazi agent luxuriating in the Paris Ritz with her Gestapo lover. Two women, once friends, now united only in their will -- and unique ways -- to survive.
Reveals the best and worst of what happens when the human spirit is taken to the unknowable edge.
An extraordinary true story.
Book may be ordered here.
---
---
Section I - INTELLIGENCE HIGHLIGHTS

U.K. Spies Help NHS Fight Pandemic-Fueled Cyber Crime Attacks. A state security agency has stepped in to help Britain's National Health Service repel a surge in cyber crime linked to the coronavirus pandemic.

Some 723 online incidents required the direct intervention of the National Cyber Security Centre in the 12 months to Aug. 31, a 10% increase from the same period ending in August 2019, the agency said in its annual report published Tuesday. About 200 of the attacks were related to the coronavirus. [Read more: Seal/Bloomberg/2November2020]

K.G.B. Museum Closes; Lipstick Gun and Other Spy Relics Go on Sale. Julius Urbaitis had a grand plan: Take his collection of K.G.B. memorabilia, acquired over three decades, and create a museum in Downtown Manhattan. People would come from all over the world to admire Cold War relics like a gun masquerading as a tube of lipstick, a replica of an umbrella with a hidden poison needle and a bronze desk lamp that supposedly sat in Joseph Stalin's villa.

The 57-year-old Lithuanian collector filled a warehouselike space in Chelsea with more than 3,500 artifacts related to the K.G.B., the Soviet Union's intelligence agency and secret police. "My daughter and I have invested a lot of work, energy, heart and many years of collecting artifacts," Mr. Urbaitis wrote in an email on Tuesday.

But now that dream is dashed. [Read more: Bahr/NYTimes/28October2020]

US Cyber Command Expands Operations Against Russia, China and Iran. US Cyber Command expanded its operations aimed at identifying malicious foreign cyber actors before Tuesday's presidential election, conducting missions to not only seek out Russian hackers, but those from all major adversaries, including Iran and China, a US official confirmed to CNN.

The same US official also told CNN on Monday that cyber operations against foreign actors, across the whole spectrum of offensive and defensive measures, began ahead of the election and will continue after the final ballot is cast.

News that Cyber Command expanded its "hunt forward" operations ahead of Election Day, building on an effort that began in 2018 to identify foreign hackers and tactics, was first reported by The New York Times and comes as US officials across the national security community are on high alert against potential foreign interference. [Read more: Cohen/CNN/2November2020]

North Korea Building Two Submarines, One Capable of Firing Ballistic Missiles. North Korea is building two new submarines, including one capable of firing ballistic missiles, a South Korean lawmaker said on Tuesday, following a closed-door briefing by the South's National Intelligence Service.

North Korea has a large submarine fleet but only one known experimental submarine capable of carrying a ballistic missile.

"One of the submarines North Korea is building can carry a submarine-launched ballistic missile (SLBM)," Ha Tae-keung, an opposition party lawmaker on parliament's intelligence committee, told Reuters. "One is a modified Romeo Class and the other is a new medium-large size one."

North Korea has been subject to U.N. Security Council sanctions since 2006 over its nuclear and ballistic missile programmes. [Read more: Reuters/3November2020]

Botswana: President Appoints Nine to Parliament Intelligence, Security Committee. President Dr Mokgweetsi Masisi has appointed members of the Parliamentary Committee on Intelligence and Security.

According to an Office of the President press release, they are: Mr Tshoganetso Leuwe, Mr Oabile Regoeng, Ms Talita Monnakgotla, Mr Simon Moabi, Mr Tumisang Mangwegape-Healy, Mr Christian Greef, Mr Aubrey Lesaso, Mr Pono Moatlhodi and Mr Leepetswe Lesedi.

The release says Dr Masisi held a virtual consultative meeting with the Speaker of the National Assembly Mr Phandu Skelemani and Leader of Opposition, Mr Dumelang Saleshando regarding the appointments. [Read more: BotswanaDailyNews/1November2020]

"SEAL Team Six" Makes Dramatic Predawn Hostage Rescue of American in Nigeria. Intelligence gathered by the U.S. Central Intelligence Agency using sophisticated cell phone surveillance was used to locate and rescue American hostage Philip Walton, 27, by members of the Navy's elite "SEAL Team Six" or "DEVGRU" (Development Group) early Saturday, Oct. 31, 2020.

The raid, which was announced by the Pentagon later on the same day took place in central-northern Nigeria. Philip Walton, a U.S. citizen, was abducted from a village in the neighbouring country of Niger to the north of Nigeria six days ago on Monday.

Pentagon spokesman Jonathan Hoffman told reporters on Saturday, "U.S. forces conducted a hostage rescue operation during the early hours of 31 Oct. in northern Nigeria to recover an American citizen held hostage by a group of armed men". Hoffman added that Walton, "...is safe and is now in the care of the U.S. Department of State". [Read more: TheAviationist/31October2020]


---
Section II - CONTEXT & PRECEDENCE

Con Man and Fake Spy Who Once Worked for DEA, DHS Gets Seven Years in Prison. As the court documents tell it, the pitch was practically irresistible. And all but unverifiable.

Garrison Kenneth Courtney, once fairly well known in national security circles as a spokesman for the Drug Enforcement Administration, told companies he was working as a CIA operative under non-official cover, prosecutors say. If they would do their patriotic duty and hire him, they would be compensated handsomely with no-bid secret intelligence contracts.

Courtney played his part well. He held meetings in special facilities designed for classified information. He searched his contacts for surveillance devices, gave them fake classified documents, and brought actual military and intelligence officials to presentations, using them as unwitting props to bolster his fraud, prosecutors say.

From 2012 to 2016, the scheme netted him $4.4 million, according to court records. [Read more: Dilanian/NBCNews/28October2020]

How Israel Got This MiG-21 That Sean Connery Posed Next To Was Like A Real-Life Bond Movie. The death of the actor Sean Connery at the age of 90 this weekend saw accolades from across the worlds of cinema, celebrity, politics, and more. Among those acknowledgments of Connery's passing was an intriguing photo posted on the Israeli Air Force's Twitter feed, which showed the late actor posing alongside a MiG-21 with the number "007" painted on the side, a reference to the fictional British super-spy James Bond, who the movie star had played in multiple films. The story of how the Israeli intelligence agency Mossad brought this Iraqi jet back to Israel is an extraordinary one, the result of an intelligence coup that could itself have been lifted straight from a Bond movie.

"In 1967," the accompanying text read, "Connery visited Israel and took this historic picture with then IAF Commander Maj. Gen. Moti Hod with the background of an Iraqi MiG-21, numbered '007' after Bond. RIP." [Read more: Newdick/TheDrive/2November2020]

Talon Strikes Studios' New Cold War Intelligence Agency Boardgame "Shadow Network". Talon Strikes Studios expand their tabletop gaming offerings with another new launch called "Shadow Network". This midweight euro game set in Cold War1960 explores the dark shadows where agencies are gathering intelligence on anything and everything they can to turn an advantage. However, where one agency thinks they have exclusive access on intel, leaks within the network cause information to spill around the world. Shadow Network asks the questions "Which agency will be able to gather enough intel on their high profile targets and at what costs?" and at the end of the game "Who will have built the best Shadow Network?"

Shadow Network is a worker placement style game where players are deploying their agents around the globe collecting fragments of intel. [Read more: GamingLyfe/30October2020]

When the CIA Ran Covert Operations From Bangkok's Red-Light District. Before the pandemic, touts working the neon-lit main drag of Bangkok's notorious nightlife district Patpong, near the city's Old Town, would emerge from the shadows, aggressively offering options for massages, sex, or tickets to the area's racy ping-pong shows.

On a recent Saturday evening, however, there were few to be seen. Against a back-drop of mainly shuttered Go-Go bars, a few solitary drinkers, and an otherwise largely empty strip, one man slouched on his tuk-tuk and lazily shouted an offer of "boom boom" (sex) from a distance before giving up.

The global shutdown brought about by the coronavirus, which has decimated the once booming tourism and nightlife industries in Thailand, is one reason for the decline of Patpong, but its image has been in free-fall for quite some time. [Read more: Slow/Vice/30October2020]

Politics, COVID and Attacks on Civil Service Wearing on Intelligence Community as Election Approaches. A worsening pandemic and fears about losing their protections as civil servants amid ongoing political chaos is leading many intelligence officers in the U.S. government to consider leaving their agencies, according to more than 10 current and former intelligence officers who spoke to Yahoo News.

A combination of challenges is wearing hard on intelligence professionals these days, despite a tradition of avoiding even the most bitter partisan battles. While the intelligence community consists of 17 different agencies and thousands of employees, at least some are struggling in ways they've never previously experienced, according to those who spoke with Yahoo News.

Ongoing attempts made by President Trump and his director of national intelligence, John Ratcliffe, to politicize the intelligence community have made national headlines, but one of the largest concerns for rank-and-file intelligence officers is first and foremost their agency leadership's handling of the pandemic - particularly as many of the intelligence agencies, including the Central Intelligence Agency, the Defense Intelligence Agency and the National Security Agency, are bringing nearly all their employees back to the office in shifts, amid rising coronavirus cases across the country. [Read more: McLaughlin/YahooNews/28October2020]

---
Analysis: The Transformation of Israel's Mossad. Yossi Cohen, the current director of Israel's foreign intelligence agency, the Mossad, has earned himself a reputation as an out-of-the-box thinker and a highly intelligent man who has restored the agency's allure.

The Mossad was responsible for the spectacular operation in Tehran in which much of Iran's secret classified nuclear archive was stolen and flown to Israel via Azerbaijan without the Iranian security services being able to do anything about it.

Cohen was also behind the current rapprochement between Israel and moderate Arab countries such as Bahrain, the United Arab Emirates and Sudan. In his position as Mossad director, Cohen frequently traveled secretly to Arab countries to hold talks with his Arab counterparts, and those talks were not just about the danger Iran poses to these countries and Israel, as has now become apparent. [Read more: Visser/IsraelToday/3November2020]

Want to Be an Intel Analyst? 8 Lessons That Will Make You Invaluable to Decision-Makers. Whether you work in the private sector, for the government, at a multi-national company, or in an intelligence agency, your analysis skills are of vital importance to the daily decisions of your leadership. It doesn't matter if you are reading open source materials, industry secrets, or reports from operators in the field—how you think about and package your insights should be useful to the boss.

I have been on the collection and production end of information handling over the years and want to offer some of the lessons I observed. I had the chance to work with top-notch analysts, and I was able to benefit from their skills in real time. These are the things that made them great. Some of the lessons are what they did on a daily basis, and others are the things they avoided. Taken together, and then combined with your analytic training in your organization, these ideas will help you excel and become a valued team-mate to your decision-makers. [Read more: Howk/ClearanceJobs/28October2020]


---
Section IV - Research Requests, Jobs, Obituaries
The Vienna Tunnel - "Operation Silver" - Researcher Seeks More Info
After retiring from the CIA I ended up living in Vienna, Austria and got interested in the "Vienna Tunnel." It was a SIS/MI6 operation from 1949-52 or so which tapped Soviet phone lines between Soviet HQs and Moscow. It was the inspiration for the Berlin Tunnel in that same era. Very little information has been made public about the Vienna Tunnel and much of the information doesn't seem to make sense. If you have any ideas for how to find this tunnel or knowledge about this operation I would love to hear from you at hholmer1@gmail.com. Than you in advance, -Hans
Did you know: Eloise Page, Elizabeth Sudmeier, Adelaide Hawkins, or Mary Hutchison at CIA? Or have insights on Women in Intelligence? Please assist this author.
Nathalia Holt, Ph.D., author of Rise of the Rocket Girls: The Women who Propelled Us from Missiles to the Moon to Mars, is writing a book about the history of women at the CIA during the Cold War. She is eager to interview retired and active intelligence professionals, both men and women, to gather insight into the role of women at the CIA. She is particularly interested in those who knew Eloise Page, Adelaide Hawkins, Mary Hutchison, and Elizabeth Sudmeier. The CIA public affairs office is cooperating. The book will be published by Penguin Random House. The aim is to highlight the untold successes of the CIA during the early Cold War period and the role of women officers. If you would be willing to chat and share your insights, please contact Nathalia at nathaliaholt@gmail.com or 805-616-1690 (phone, text or Signal app). Holt's book Rise of the Rocket Girls was a New York Times best-seller and received glowing reviews. USA Today called her book, "Illuminating… these women are vividly depicted at work, at play, in and out of love, raising children — and making history. What a team — and what a story!" Her work has appeared in numerous publications including The New York Times, The Los Angeles Times, The Atlantic, Slate, Popular Science, and Time. She is a former fellow at the Ragon Institute of MGH, MIT and Harvard University.
Replies to Nathalia Holt PhD at nat@nathaliaholt.com. More info on this author at https://www.nathaliaholt.com/ or @nathaliaholt
Full Time Assistant Professor for Intelligence Studies Program at Catholic University, Washington, DC
AFIO Members with Academic Credentials! Potential Full Time Teaching Opportunity in 2022 in Catholic University's Intelligence Program
University located at 620 Michigan Ave NE, Washington, DC
Former CIA officer and staff historian Nicholas Dujmovic retired in 2016 to become the founding director of the Intelligence Studies Program at the Catholic University of America (CUA) in Washington, D.C. The program is successful and growing. The undergraduate Certificate in Intelligence Studies currently has 76 students enrolled--the largest such program on campus. The program continues to expand the number of intelligence courses offered, as well as their variety.
Dr. Dujmovic is optimistic that a full time position at the assistant professor level will open in the summer of 2022.
He is reaching out early to the AFIO community to identify potential candidates with the following attributes:
Significant service (at least 15 years) as a professional intelligence officer involved in analysis, operations, technical collection, or possibly support. A recent retiree closing a successful career would be ideal.
A Ph.D. from an accredited university in political science, history, area studies, a comparable field or a relevant STEM field.
Teaching experience at the university level, either undergraduate or graduate.
Evidence of past scholarship and a willingness to engage in further research and publication, consistent with CUA's commitment to excellence as a "research university."
An enthusiasm for teaching and advising mostly undergraduate students.
AFIO members wishing to learn more are encouraged to contact Dr. Dujmovic at dujmovic@cua.edu.
Assistant Professor of Criminal Justice - UTEP - University of Texas at El Paso
The University of Texas at El Paso's College of Liberal Arts, Department of Criminal Justice, is seeking a full-time tenure-track "Assistant Professor of Criminal Justice."
Position Description: The position begins Fall 2021 at the Assistant Professor level. Responsibilities include conducting and publishing scholarly research, seeking extramural funding, teaching face-to-face and online courses, and service to the department, university, and profession.
About UTEP: The University of Texas at El Paso is a Carnegie R1 and Community Engaged research university in the heart of the U.S.-Mexico border region, in a bicultural metroplex of over 800,000 people. UTEP faculty are nationally recognized for their commitment to student success, teaching, and research. UTEP enrolls more than 25,000 students, of whom nearly 80 percent are Latino/Latina. UTEP provides equal access and social mobility for over 50% of its student body of first generation students. UTEP comprises 10 academic colleges/schools. The Department of CJ offers an online B.A. in Security Studies, a Master of Science in Intelligence and National Security and a Master of Defense and Strategic Studies. The department also offers a B.A. in Criminal Justice, an equivalent 100% online B.A., and an M.S. in Criminology and Criminal Justice.
Required Qualifications: Applicants must have a Ph.D. in Criminal Justice, Criminology or closely related field in Intelligence and/or Security Studies from an accredited university. ABD applicants will be considered if doctorate will be completed by Fall 2021. Active research agenda and published scholarly journal articles are required to apply. Applicants with only a J.D., Psy.D., or Ed.D. will not be considered.
Preferred Areas: All research/teaching areas of criminal justice and criminology will be considered, but preference will be given to candidates who have demonstrated teaching and/or research areas in at least one of these areas: security studies, open source intelligence, or quantitative methods/statistics.
Application Instructions and Contact Information: To apply, visit https://www.utep.edu/employment Applicants must electronically submit: (1) letter of interest that includes teaching areas and research expertise, (2) curriculum vita, (3) one scholarly publication or dissertation manuscript, and (4) names and full contact information of three references that we may contact. If you have questions about the position, please contact the Search Committee Chair, Dr. Egbert Zavala, at EgbertZ@utep.edu.
Application Review Date: Review of applications will begin October 5th, 2020 and will continue until the position is filled.
Hiring decisions are based on budget approval. To explore UTEP, do so here. To apply for the position, contact Dr. Zavala at EgbertZ@utep.edu.
JTSUSA Has numerous career and part-time assignments available for cleared former military personnel. See listing here. Or contact Arnie.Gerstein@jtsusa.com or visit www.jtsusa.com
Adjunct instructors at the University of Texas at El Paso (US)
The National Security Studies Institute at the University of Texas at El Paso (UTEP) (see their website here) is seeking adjunct instructors to teach online graduate-level courses:
Legal Issues in Intelligence and National Security
Propaganda and Influence Operations
Intelligence and Counterterrorism
Political Economy of Terrorism
Risk Analysis
Emergency Management
Public Health and Homeland Security
A PhD in public policy, security studies, political science, or a related field is required.
Interested and eligible applicants should contact Stephen Coulthart (sjcoulthart@utep.edu).
---
Marius Burke Jr, Air America Pilot, Participated in 1975 Saigon Airlift
Marius F. Burke Jr, 83, Air America Pilot, Participated in 1975 Saigon Airlift, died 29 October 2020.
Born in Elmhurst, NY, Marius joined the Naval Reserve at age 20. A year later, he accepted a commission with the U.S. Marine Corps, where he attained the rank of Major. A graduate of the service's flight training program, he flew fixed-wing and rotary-wing aircraft for the Marines and Navy, including time on aircraft carriers that took him to many countries and continents worldwide. His love of travel and exploration never stopped.
In 1963, following his active duty career, he joined Air America, flying secret missions throughout Southeast Asia on behalf of the U.S. government. He performed this work with quiet courage, never bragging about the lives he saved—military and civilian—while experiencing his close calls. On his office wall is a small picture frame containing the bullet and helicopter fragments that landed in his lap during a particularly harrowing flight. During the last year of the Vietnam War, he was one of several Air America pilots that evacuated Danang, Nha Trang, and Saigon. Iconic photos and film on 30 April 1975, captured these brave pilots landing on rooftops, picking up desperate Americans and Vietnamese and shuttling them to waiting ships. On that day, Marius flew for 15 hours straight, getting out of the cockpit only twice. He wrote of this experience, "I salute all those fine crews and support personnel of Air America who made it happen."
Marius was a true American Hero having served as a helicopter pilot in the U.S. Marine Corps and later, for many years, as the Chief Helicopter Pilot for Air America in Laos and later in Viet Nam where he flew the last rescue helicopter out of Saigon as the North Vietnamese Army entered the city. His actions in those dark days saved many lives.
Following the Vietnam War, Marius returned to the States, settled in Utah, and started several real estate and construction businesses. His passion for flying drew him back, and he joined the Army Reserve and Key Airlines, an air ambulance company, and later Air Methods, where he eventually became the Director of Operations until he retired. Even after retirement, he continued to consult in the aviation business for companies around the world.
In retirement, he relocated to Merritt Island, FL, where he reconnected with many Air America members. He looked forward to their weekly breakfast meetings. He also joined the local chapters of the Navy League and Daedalians, making new life-long friendships.
Marius was known for his dry sense of humor and quick wit. His coworkers remember him fondly as intelligent, thoughtful, and a big prankster. He seemed to avoid trouble somehow while causing a bit of mischief in the workplace. He was a gifted athlete and loved the game of golf. In high school he held state records in track. He also enjoyed bowling, racquetball, and skiing.
Marius' success in the military, in business, and in life was due to his fierce determination, loyalty, and a bit of luck. He faced his diagnosis of mesothelioma with that same level of fortitude and grit. While the disease robbed him of his health, it did not deprive him of his good humor.
Marius is survived by his wife of 56 years, Vinetra, by three sons and a daughter, and other family.
Sean Connery, "James Bond"
Thomas Sean Connery, 90, Scottish Actor known for "James Bond" role, died in the Lyford Cay community in Nassau, the Bahamas, on 31 October 2020. He had been suffering from dementia for several years.
His five-decade long movie career was dominated by his role as James Bond, which he played in seven movies, beginning with "Dr. No" in 1962.
He was born in the slums of Edinburgh, in a cold-water flat next door to a brewery. The two toilets in the hall were shared with three other families. His father, Joe, earned two pounds a week in a rubber factory. His mother, Effie, occasionally got work as a cleaning woman.
At the age of 9, Thomas found an early-morning job delivering milk in a horse cart for four hours before he went to school. His brother, Neil, had been born in December 1938, and the usual meals of porridge and potatoes had to be stretched four ways. Once a week, if the family had a sixpence to spare, Thomas would walk to the public baths and swim "just to get clean."
Connery began acting in smaller theatre and television productions until his breakout role as Bond. "Bond, James Bond" was the character's familiar self-introduction, and to legions of fans who have watched a parade of actors play the role — otherwise known as Agent 007 on Her Majesty's Secret Service — none uttered the words or played the part as magnetically or as indelibly as Connery. Tall, dark and dashing, he embodied the novelist Ian Fleming's suave and resourceful secret agent in the first five Bond films and seven over all.
He dismayed his fans by walking away from the Bond franchise and went on to have a long career as a respected actor. In the 1970s and '80s, Connery transformed himself into one of the grand old men of the movies...becoming a trained killer in the fantasy "Zardoz" (1974), or a Barbary pirate in "The Wind and the Lion" (1975) or a middle-aged Robin Hood in "Robin and Marian" (1976).
Connery won two Academy Awards and two Golden Globe Awards, and several other honors were bestowed upon him.
In 2000, Connery was knighted at the Palace of Holyroodhouse in Edinburgh by Queen Elizabeth II. It was a knighthood that had been vetoed for two years by officials angry at his outspoken support for the Scottish National Party and his active role in the passage of a referendum that created the first Scottish Parliament in 300 years.
He is survived by his wife, Moroccan-French painter Micheline Roquebrune, by a former wife (Diane Cilento), several children, and other family.
Rheba Fearn, NSA Mathematician/Computer Scientist
Rheba Elaine Galloway Fearn, 89, a NSA Mathematician/Computer Scientist, died 21 September 2020.
She was called by some, one of NSA's own "Hidden Figures."
Rheba was born in Orange County, VA. A precocious child with a gift for mathematics, she graduated from Isabella Lightfoot Training School in 1947 at age 16 and was the Valedictorian. She continued her education at Virginia State University, like her mother before her, where she majored in mathematics.
While an undergraduate student, Rheba was initiated into the Alpha Epsilon Chapter of Alpha Kappa Alpha Sorority, Inc. She graduated from Virginia State College (now known as Virginia State University) in 1951 with a B.S. in Mathematics.
Following graduation, Rheba was a secondary math education teacher in Shipman and Blackstone, VA. She returned to Virginia State College to earn an M.S. in mathematics.
Mrs. Fearn taught math one additional year at Hoffman-Boston Negro High School in Arlington, VA. A close acquaintance informed her of hiring opportunities with the National Security Agency (NSA) who had strong academic backgrounds in science and mathematics. She was hired in 1957 and worked there as a Computer Scientist at Fort Meade, MD, up to her retirement in 1988 - a 31-year career. Several was a member of the Phoenix Society.
She lived in Orange County, VA before relocating to Washington, DC, and later to Severna Park, MD. They razed the small cottage and built a new home with views of the water and the boats that traveled by, as well as entertaining friends and family. She enjoyed sailing and power boating and provided sailing and boating safety training support to Flotilla 13 Auxiliary of the U.S. Coast Guard.
She loved reading, attending musical and theatrical productions, gardening, domestic and foreign travel, and collecting African-American visual art. She also was an amazing cook and entertainer.
She was active with the Shady Grove Baptist Church, Asbury Town Neck United Methodist Church, and the establishment of the National Museum of African American History and Culture in Washington, DC.
In a quiet way, she led by example, with humility. She encouraged young people to read, study, pursue their career and life aspirations, be thrifty and "save for a rainy day," as she had been taught by her mother.
Her husband, Dr. James. E. Fearn, predeceased her. She is survived byseveral stepchildren and other family.
Diana Halsted, NSA Analyst
Diana Baxter Halsted, 87, NSA Analyst, died of pneumonia on 26 August 2020 in Vienna, VA.
Diana was the daughter of Harry Hopkins, a top aide to President Franklin D. Roosevelt.
Diana was born in New York City a week after Roosevelt was elected president in 1932, and grew up in the Washington area. She was fluent in several languages and did analyses for the NSA for 30 years until the early 2000s.
She was a trustee and fundraiser for the private Madeira School in Mclean, VA.
She is survived by a daughter and other family.
I.W. Henry, CIA Weapons and Explosives Expert
John "I.W." Henry Harper, 90, a CIA Weapons and Explosives Expert, died of cancer on 21 October 2020 in Ellicott, CO.
I.W. was born in Dry Creek, LA on the family farm. At age 17, he enlisted in the US Navy as an Aviation Support Equipment Technician (AS). He was eventually stationed in Arlington, VA with the Office of Naval Intelligence. Upon exiting the Navy, he applied for a position at the recently established Central Intelligence Agency and was accepted in the Office of Logistics. After training, he was designated as a Weapons and Explosives Expert. He served a 23-year career with the CIA which included postings in Saipan in 1952 where he was one of the last Americans to evacuate Saigon in 1975. His career involved assignments throughout the world; taking his family to Saipan, Libya, Okinawa, Miami, Greece, Iran, Laos, Cambodia, Vietnam, and Jordan. He was awarded the CIA's Intelligence Medal of Merit for voluntarily remaining to assist evacuations of US, third country national, and South Vietnamese personnel out of an unnamed site, as well as Saigon, under enemy rocket and artillery fire.
He and his wife, Lou, sponsored numerous Cambodian, Laotian, and Vietnamese families' refugee status to the US. Those families went on to become proud American citizens, operating businesses in many different states today.
After retiring from the CIA, I.W. acquired a family owned sporting goods store named Ed's Bait & Tackle in Fairfax, VA. The business operated from 1978 until 1991. During this period, he was recruited for and conducted various clandestine actions in Latin and South America. In the early 1990s, he returned to Cambodia with the UN as an advisor to an explosive ordnance disposal program that cleared large swaths of previously mine-ridden areas.
In 2005, I.W. and Lou bought 80 acres in Colorado next to other family members. They spent the next 15 years operating a tree farm and planted over 1500 trees.
He is survived by his wife of 71 years, Eula May (Lou) Harper, three children, and other family.
A memorial service will be held in the Spring of 2021 at Pikes Peak National Cemetery in Colorado Springs.
Rudy Nothdurft, NSA Officer
Rudolph Julius Nothdurft Jr, 92, NSA Officer, died 9 February 2020.
Born near Whitewater, MO, Rudy was educated in a one room elementary school for 8 years and attended Central High School in Cape Girardeau, MO. He was top of his class for three years and received three Gold Scholarship Medals.
He attended SEMO College/University, George Washington University, and graduated from the University of Maryland in 1965. Some of his classes were in England. He completed his M.S. degree at the University of Maryland. Rudy was a US Army Veteran, and was assigned to the Army Security Agency in Arlington, VA because of his high scores (the top 5% of all military personnel in WWII.) He continued to work for ASA's successor...the National Security Agency... for 33 years. He traveled for the NSA to 36 countries from the Philippines to Saudi Arabia, Iceland and Ethiopia, plus all 50 states. He retired in 1982. He was a member of the Phoenix Society.
Rudy was a genealogist, writer, video producer, art, book, and coin collector. He slept in General Eisenhower's suite in Algiers when he was in charge of Allied Operation in North Africa during WWII.
He first married Kathryn Elizabeth Wright of Harrisburg, PA, who bore him three children. Kathryn died of cancer. He next married Louise Marietta Newsome, which ended in divorce. He is survived by his third wife, Vivian Louise Wessel, a daughter, and other family.
---
AFIO EDUCATIONAL EVENTS IN COMING TWO MONTHS....
5 Nov 2020, 11:30 a.m. CST - Virtual - "Current U.S. Immigration Issues" - theme of this virtual event by the AFIO San Antonio, TX Chapter
U.S. immigration policy was one of the first discussed by the U.S. Congress in 1790 and began our long history of immigration laws for the United States of America. Our current immigration policy stems from landmark legislation of 1952 with the Immigration and Nationality Act (INA), and has been amended significantly seventeen times since and shaped by Presidential executive orders.
Family reunification, labor supply, and humanitarian issues are the main basis of our current immigration policy while immigration enforcement seeks the restriction to those who merit entry and residence here in this great country.
This will be a short overview of selected current immigration issues. Presented by Fred Schellenberg.
Meeting begins at 11:30 a.m. Central Standard Time. If already a SA Chapter Member, mark your calendar. You will be sent a link for the online presentation prior to the meeting. If not a member, contact President John Franklin johntf3@gmail.com.
There is no charge to attend these meetings.
3 Dec 2020, 11:30 a.m. CST - Virtual - "Lessons Learned from 25 Years in Counter-Terrorism" - CIA Operations Officer Bob Dougherty at this San Antonio, TX Chapter virtual event
In the short presentation "Lessons Learned from 25 Years in Counter-Terrorism," veteran CIA operations officer Bob Dougherty utilizes real-world examples from his long operational career with the Agency to illustrate some major lessons he learned throughout his time in the field focused on Counter-Terrorism. Some of these lessons were learned the hard way, and some were taught and demonstrated to him by fellow CIA officers.
Meeting begins at 11:30 a.m. Central Standard Time. If already a SA Chapter Member, mark your calendar. You will be sent a link for the online presentation prior to the meeting. If not a member, contact President John Franklin johntf3@gmail.com.
There is no charge to attend these meetings.
---
Other Upcoming Events from Advertisers, Corporate Sponsors, and Others
Friday, 13 November 2020, 1000-1100 EST - Webcast - US Naval Institute and CSIS host session on "Information Warfare: From A Supporting Role To A Leading Role" with VADM Trussler
In the 2020 Maritime Security Dialogue Series hosted by the U.S. Naval Institute and CSIS, will be a discussion with
VADM Jeffrey E. Trussler, USN, Deputy Chief of Naval Operations for Information Warfare/Director of Naval Intelligence
Moderated by Brian Katz, Fellow, International Security Program, Transnational Threats Project, CSIS
on the topic of: "Information Warfare: From A Supporting Role To A Leading Role"
This event will be webcast live from the registration page here.
The International Spy Museum has reopened to visitors.
Click here to explore events, exhibits, and ticketing.
Upcoming virtual (and a few live, post-quarantine) events at the International Spy Museum. Click event to explore and register for event. All virtual events require pre-registration.
Access all upcoming Spy Museum events directly from their website: https://www.spymuseum.org/calendar/upcoming/1/
7 November 2020, 14th Annual Parade of Trabants, 10 am - 4 pm
14 November 2020, Operation Secret Sleepover, 7 pm - 9:30 am
Thursday, 19 November 2020, 2300/11PM BST; 1800/6PM EST; 1500/3PM PST; 1100/11AM HST - Virtual - NIP September 2020 Virtual Speaker Series
Video Conference (Go to Meeting)
GUEST SPEAKER: Mr. Matt Zullo, Retired U.S. Navy Cryptologic Technician (Interpretive) Master Chief, CTICM (SS), and author of the book series "The U.S. Navy's On the Roof Gang", tracing the origins of the Navy's radio intelligence organization in the interwar and early years of WWII
TOPIC: "The On The Roof Gang" – The History of the Navy's Cryptologic Pioneers.
Please join my meeting from your computer, tablet or smartphone at this link. You can also dial in using your phone. United States: +1 (872) 240-3311 Access Code: 507-949-765 As always, please mute your device/phone.
AGENDA: • RDML (Ret.) Cothron, NIP Chairman, welcoming remarks. • Introduction to the new NIP READBOOK publication by CDR (Ret.) Sue Himes, NIP Editor. • Introduction of CTICM (Ret.) Matt Zullo and discussion (slide presentation) • Q & A encouraged throughout the presentation moderated by CAPT (Ret.) Bob Allen. - Please ask your questions in the GoToMeeting chat window or email your questions in advance/during the video conference to: bob_allen36@hotmail.com. Questions will be presented to by the moderator in stride
---
In addition to the new Royal Blue long sleeve shirts, and the gray long sleeve hooded sweatshirts, the AFIO Store also has the following items ready for quick shipment:
NEW: LONG and Short-Sleeved Shirts with embroidered AFIO Logo and New Mugs with color-glazed permanent logo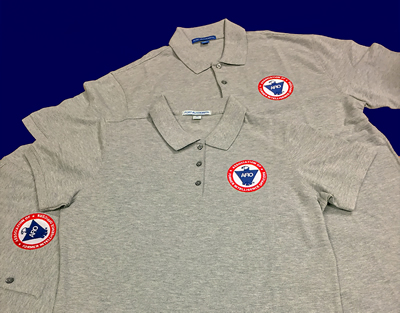 Show your support for AFIO with our new Polo Shirts. Be the first to buy these new, high quality, subtle heathered grey short sleeve shirts, and dark blue long sleeved shirts, of shrink and wrinkle resistant fine cotton with a soft yet substantial feel. They feature a detailed embroidered AFIO seal. Get a shirt for yourself and consider as gifts for colleagues, family, and friends. Only $45 each including shipping.
Sizes of (M) men or (W) women shirts; Small, Medium, Large, XL, XXL, and XXXL. At this time all orders will arrive as Short Sleeve shirts.
You may pay by check or credit card. Complete your order online here or mail an order along with payment to: AFIO, 7600 Leesburg Pike, Ste 470 East, Falls Church, VA 22043-2004. Phone orders at 703-790-0320. If interested in other shirt colors or sleeve lengths, contact Annette at: annettej@afio.com.
Available as a thank you for donations are the new AFIO logo face masks:
These soft, form-fitting, washable, non-medical grade fabric face masks have wide behind-the-ear elastics to make long periods of wear comfortable. Also easier to quickly put on or take off. Blue on outside, white inside. The masks do not have a nose wire but are sculpted, shaped, and sewn to fit most users. The all-cloth composition allows the masks to be washed or steam-disinfected without concerns over metal wires. The color logo is washable and a permanent part of the mask.
The masks, however, are not for sale. They are being offered strictly as a thank you gift to our donors.
For tax-deductible donations of $50 you will receive a receipt and our thank you gift of two of these newly-arrived face masks.
Donations of $100 receive four masks to be sent to the same address. Other amounts and split-shipments are available.
To donate now to support AFIO's programs and publications, please do so here.
We wish all members and donors continued good health, safe social distancing, and warmly appreciate any support you are able to provide the association.
---
AFIO Mug with color glazed logo. Made in America. Sturdy enough to sit on desk to hold pens, cards, paperclips, and candy.
This handsome large, heavy USA-made ceramic mug is dishwasher-safe with a glazed seal. $35 per mug includes shipping. Order this and other store items online here.
---
Guide to the Study of Intelligence and When Intelligence Made a Difference
"AFIO's Guide to the Study of Intelligence" has sold out in hard-copy.
However, it is available in digital form in its entirety on the AFIO website here.

Also available on the website here are the individual articles of AFIO's history project "When Intelligence Made a Difference" that have been published to date in The Intelligencer journal. More articles will be forthcoming in future editions.
---
Disclaimers and Removal Instructions
Weekly Intelligence Notes (WINs) are commentaries on Intelligence and related national security matters, based on open media sources, selected, interpreted, edited and produced for non-profit educational uses by members and WIN subscribers.
REMOVAL INSTRUCTIONS: We do not wish to add clutter to inboxes. To discontinue receiving the WINs:
a) IF YOU ARE A MEMBER - click here: UNSUBSCRIBE and supply your full name and email address where you receive the WINs. Click SEND, you will be removed from list. If this link doesn't open a blank email, create one on your own and send to afio@afio.com with the words: REMOVE FROM WINs as the subject, and provide your full name and email address where you are currently receiving them.
b) IF YOU ARE NOT A MEMBER, and you received this message, someone forwarded this newsletter to you [contrary to AFIO policies]. Forward to afio@afio.com the entire WIN or message you received and we will remove the sender from our membership and distribution lists. The problem will be solved for both of us.
CONTENTS of this WIN [HTML version recipients - Click title to jump to story or section, Click Article Title to return to Contents. This feature does not work for Plaintext Edition or for some AOL recipients]. If you wish to change to HTML format, let us know at afio@afio.com. The HTML feature also does not work for those who access their e-mail using web mail...however NON-HTML recipients may view the latest edition each week in HTML at this link: https://www.afio.com/pages/currentwin.htm
---
WINs are protected by copyright laws and intellectual property laws, and may not be reproduced or re-sent without specific permission from the Producer. Opinions expressed in the WINs are solely those of the editor's or author's listed with each article. AFIO Members Support the AFIO Mission - sponsor new members! CHECK THE AFIO WEBSITE at www.afio.com for back issues of the WINs, information about AFIO, conference agenda and registrations materials, and membership applications and much more!
(c) 1998 thru 2020. AFIO, 7600 Leesburg Pike, Suite 470 East, Falls Church, VA 22043-2004. Voice: (703) 790-0320; Fax: (703) 991-1278; Email: afio@afio.com
---
About AFIO | Membership Renewal | Change of Address | Upcoming Events | Chapter Locations | Corporate/Institutional Memberships | Careers in Intelligence Booklet | Guide to the Study of Intelligence | Intelligencer Journal | Weekly Intelligence Notes | To Make A Donation | AFIO Store | Member-Only Section | Code of Ethics | Home Page
---