---
CONTENTS
Section I - INTELLIGENCE HIGHLIGHTS
Section II - CONTEXT & PRECEDENCE
Section IV - Research Requests, Jobs, Obituaries
Other Upcoming Events from Advertisers, Corporate Sponsors, and Others
WIN CREDITS FOR THIS ISSUE: The WIN editors thank the following special contributors: rsy, ec, po, pj, mh, km, gh, mk, rd, fm, kc, jm, mr, jg, th, ed, and fwr. They have contributed one or more stories used in this issue.

The WIN editors attempt to include a wide range of articles and commentary in the Weekly Notes to inform and educate our readers. However, the views expressed in the articles are purely those of the authors, and in no way reflect support or endorsement from the WIN editors or the AFIO officers and staff. We welcome comments from the WIN readers on any and all articles and commentary.

CAVEATS: IMPORTANT: AFIO does not "vet" or endorse research inquiries, career announcements, or job offers. Reasonable-sounding inquiries and career offerings are published as a service to our members, and for researchers, educators, and subscribers. You are urged to exercise your usual caution and good judgment when responding, and should verify the source independently before supplying any resume, career data, or personal information.]
If you are having difficulties with the links or viewing this newsletter when it arrives by email, members may view the latest edition each week at this link.

---

Continuing Series of Cryptologic Museum Webinars on Cybersecurity

Cybersecurity Virtual Classroom
ONLINE CYBERSECURITY CHATS by the National Cryptologic Museum Foundation

The Cyber Center for Education and Innovation (CCEI) have been conducting a series of Cybersecurity Chats as part of their special CCEI Cybersecurity Series. These online chats for K-12 students [but older ages would benefit, too], are presented by cybersecurity professionals and experts. General information on the series is here.

There are many online chats that follow and they may be found here.

If you wish to share your own cybersecurity/cryptology expertise, review the instructions here

---

Recommended Reads:

The Arkin Group's November 20 "In Other News" letter to private clients by former Operations Officer Jack Devine features...
• Questions about democracy, sovereignty, and corruption have emerged again in Latin America, as Peru got its third president in one week, Mexico secured the release of a high-level former official from drug trafficking charges in the United States, and Brazil held the first round of municipal elections this month.
• The UK has announced the largest increase in defense spending in three decades, allocating an additional $21 billion over four years to develop its military's cyber, space, and artificial intelligence capabilities.
• The US Securities and Exchange Commission is pressing ahead with proposed regulatory changes that could force Chinese firms to delist from U.S. exchanges.

---

Inside the SCIF by JJ Green, WTOP - Issue #09, 19 November: Putin's Health - rumors making the rounds; Biden ODNI, CIA, State possible appointments; Election Security; Did Russia play a role in the 2020 elections? Here are some of the theories; has Death in helicopter crash in Egypt; Presidential Transition and Risk of Secrets; Putin's Nuke-Proof Command Post; Sitrep Russian Spy Ships in Scotland; more.
And in The Target USA podcast, Episode: 251 — "Al Qaida's No. 2 is killed" Abdullah Ahmed Abdullah was the mastermind behind the 1998 U.S. embassy bombings in Kenya and Tanzania. He was killed on the streets of Tehran, Iran recently. Dr. Hans Jakob-Schindler, Sr. Director of the Counter Extremism Project details how it happened and why it's significant. Podcast is here.

---

More from Jeff Stein's "SpyTalk" Series

Nov 23: "Haines, Avril Haines"
The former CIA deputy director is Biden's pick to head U.S. intelligence
Article continues here

Nov 22: "Who's the Next CIA Director?"
Your guess is as good as mine—so go ahead
Article continues here

Nov 19: "FBI Fears Wray's Replacement May be Border Patrol Boss"
CBP's Mark Morgan sent camouflaged agents to quell Portland protests with teargas and unmarked vans
Article continues here

Nov 17: "Chris Krebs is Just a Test"
Look for Trump to Move Against the CIA and FBI Directors Now
Article continues here

Readers can subscribe for free at the moment here.

---

Special Life Insurance Offer for Our Members:

With Open Season upon us, we created a new announcement regarding the VOYA Life Insurance program for Federal Employees. This program is very competitive and in many cases saves Feds thousands of dollars when compared to FEGLI. The coverage can be provided either as a replacement to FEGLI or as supplemental coverage. In either case, it is underwritten by VOYA, one of the country's largest Life Insurance organizations and provided by Starr Wright USA.

For full details click image above or here.

---

One of the special benefits of membership in AFIO: access to CIA's inhouse gift shop — the EAA Store.

It requires a quick preapproval process described here to all newly joined and current AFIO members. And then allows you to purchase online their unusual logo'd gift items for self or colleagues. Here is the latest photo EAA released on November 24th featuring some of their newest items:

---

Writers, Officers: Please Provide A Brief Article for This Ongoing AFIO History Project

AFIO's educational project "When Intelligence Made a Difference" seeks writers to identify events throughout history involving any nation or organization when the outcome was affected significantly by intelligence.
AFIO has been publishing edited submissions serially in Intelligencer released two to three times a year.
To see what has been published, it is available here. Also look at the Fall edition of the journal arriving in the mail of all members and subscribers over the next three weeks.
Those readers interested in contributing an article, should email peter.oleson@afio.com.
For instructors, this project makes a great class assignment. Accepted articles give students a publication credit in a recognized journal.

---

Guide to the Study of Intelligence and When Intelligence Made a Difference

"AFIO's Guide to the Study of Intelligence" has sold out in hard-copy.
However, it is available in digital form in its entirety on the AFIO website here.

Also available on the website here are the individual articles of AFIO's history project "When Intelligence Made a Difference" that have been published to date in The Intelligencer journal. More articles will be forthcoming in future editions.

---
---
Special Items for our members:
---
Visit, Follow, Subscribe to AFIO's LinkedIn, Twitter, and YouTube pages.
Members who use social media or wish to explore, will find new announcements and other material on AFIO's Twitter and LinkedIn pages. New videos on our YouTube page appears below as well.
Access them here: LinkedIn, Twitter, and YouTube. By following or subscribing on those sites, one can be notified as new material appears.




---
Latest Video: Director - Transnational Threats Project at CSIS
---

Released 24 November 2020
Interview of Tuesday, 3 November 2020 of Seth Jones PhD, Director, Transnational Threats Project, CSIS. Interviewer/Host: James Hughes, AFIO President, a former CIA Operations Officer.
TOPIC: Dr Seth Jones details the story of one of the CIA's most successful intelligence operations during the Cold War, which has important implications for today's threat from China, Iran, NK, and Russia. In 1982, while Soviet-backed Polish prime minister Wojciech Jaruzelski worked to crush a budding opposition movement through martial law, the CIA launched a sophisticated intelligence campaign supporting dissident groups—particularly the budding political force Solidarity in Poland. With President Ronald Reagan's support, the U.S. helped fund underground newspapers, support radio programs, and conduct a proactive information campaign. This covert action program, code-named QRHELPFUL, was vital in establishing a free and democratic Poland and undermining the KGB's global disinformation campaign.
The interview runs 42 minutes which includes numerous Q&As.
Access Jones video here or click above image.
---
Prior videos in series:
---
Other items brought to our attention:
BLOOMBERG: The Big Hack: How China Used a Tiny Chip to Infiltrate U.S. Companies [how much greater has this spread since this report appeared? Insiders suggest it went far beyond 30 firms and engulfed the high side of supposedly secure cloud servers.]
The attack by Chinese spies reached almost 30 U.S. companies, including Amazon and Apple, by compromising America's technology supply chain, according to extensive interviews with government and corporate sources.
In 2015, Amazon.com Inc. began quietly evaluating a startup called Elemental Technologies, a potential acquisition to help with a major expansion of its streaming video service, known today as Amazon Prime Video. Based in Portland, Ore., Elemental made software for compressing massive video files and formatting them for different devices. Its technology had helped stream the Olympic Games online, communicate with the International Space Station, and funnel drone footage to the Central Intelligence Agency. Elemental's national security contracts weren't the main reason for the proposed acquisition, but they fit nicely with Amazon's government businesses, such as the highly secure cloud that Amazon Web Services (AWS) was building for the CIA.
To help with due diligence, AWS, which was overseeing the prospective acquisition, hired a third-party company to scrutinize Elemental's security, according to one person familiar with the process. The first pass uncovered troubling issues, prompting AWS to take a closer look at Elemental's main product: the expensive servers that customers installed in their networks to handle the video compression. These servers were assembled for Elemental by Super Micro Computer Inc., a San Jose-based company (commonly known as Supermicro) that's also one of the world's biggest suppliers of server motherboards, the fiberglass-mounted clusters of chips and capacitors that act as the neurons of data centers large and small. In late spring of 2015, Elemental's staff boxed up several servers and sent them to Ontario, Canada, for the third-party security company to test, the person says.
Nested on the servers' motherboards, the testers found a tiny microchip, not much bigger than a grain of rice, that wasn't part of the boards' original design. Amazon reported the discovery to U.S. authorities, sending a shudder through the intelligence community. Elemental's servers could be found in Department of Defense data centers, the CIA's drone operations, and the onboard networks of Navy warships. And Elemental was just one of hundreds of Supermicro customers.
During the ensuing top-secret probe, which remains open more than three years later, investigators determined that the chips allowed the attackers to create a stealth doorway into any network that included the altered machines. Multiple people familiar with the matter say investigators found that the chips had been inserted at factories run by manufacturing subcontractors in China. Article continues here.
---
Sue Gordon to be Recognized with INSA 2021 William Oliver Baker Award. CACI International board member Sue Gordon, the former principal deputy director of national intelligence, will receive the Intelligence and National Security Alliance's 2021 William Oliver Baker Award. The Baker Award recognizes those who made sustained contributions or single achievements of extraordinary merit to U.S. intelligence and national security affairs. Gordon will be recognized at the award dinner on Sept. 25, 2021. Story continues here.
---
50,000 COVID-19 deaths and rising. How Britain failed to stop the second wave by Stephen Grey et al., Reuters. Hospital admissions have risen since the second wave of COVID-19 reached Britain. Above, a staff member in the Intensive Care Unit of Royal Papworth Hospital, Cambridge. Neil Hall/Pool via REUTERS Faced with one of the highest death tolls from the first wave of the coronavirus, Boris Johnson pledged a "world-beating" test-and-trace system to prevent a resurgence this winter. A Reuters investigation reveals how that promise came unstuck. Four part series here.
---
Intelligence Briefings: From Convention Through Transition (from Council on Intelligence Issues).
View these timely and enlightening webinars featuring former intelligence professionals sharing their experiences in planning and presenting pre-inauguration intelligence briefings. Whether you missed the "live" events or simply want a breath of fresh air during this period of transition turmoil, I think you'll enjoy these videos:
September 23 event, co-hosted with the Spy Museum.
October 23 discussion, co-hosted with the Foreign Policy Research Institute (FPRI).
Presented by the non-profit Council on Intelligence Issues (CII), panelists shared their experiences and insights on how CIA and the intelligence community prepare for these briefings, how briefers remain non-political, what happened when asked about getting "the good stuff," and more. Moderated by Dr. Mark Lowenthal, noted author, educator, and former Assistant DCI for Analysis and Production, these panels featured: John McLaughlin, former Deputy Director and Acting Director of Central Intelligence (2000-2004); Dawn Eilenberger, former Deputy Director of National Intelligence and Assistant DNI for Policy & Strategy; Peter Clement, Chief of CIA's Presidential Transition Team (2008); and John Moseman, previously Senior Advisor to the DNI's Transition Teams for the 2008, 2012 and 2016 elections.
---
Harvard's Belfer Center Offering Online Executive Education Programs in Intelligence and Cybersecurity
Senior Executives in National and International Security November 30 – December 11, 2020
Cybersecurity: The Intersection of Policy and Technology January 11-15, 2021
---
Newly Released, Overlooked, or Forthcoming Books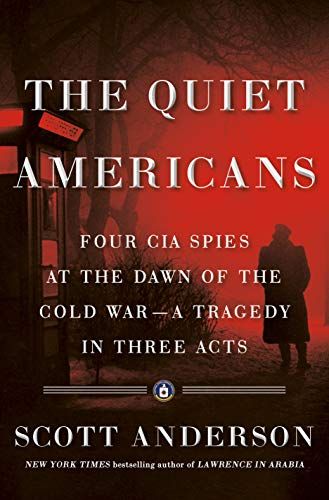 The Quiet Americans: Four CIA Spies at the Dawn of the Cold War—a Tragedy in Three Acts
by Scott Anderson
(Doubleday, Sep 2020)
"This intriguing book is an indictment. From its first page it argues that the CIA lost its way, in all senses, in the first decade of the cold war. Its witnesses are four courageous and initially idealistic patriots. Frank Wisner oversaw some of the earliest efforts to "roll back" communism in Europe. Michael Burke was a daredevil figure in the same game. Edward Lansdale was an éminence grise in the Far East. Peter Sichel, a German-born Jewish wine-merchant and Wunderkind—and the only one of the four still alive—held his nose as he co-opted former Nazis into the agency, an initiative cited as one of its original sins....Many of the CIA's failures stemmed from familiar shortcomings. "We all have this tendency to look for information that confirms our beliefs and to ignore what conflicts with them," explains Mr Sichel. "It's very hard to give somebody information he doesn't want to hear, and the more senior they are, the worse it is." — The Economist
"In this sweeping, vivid, beautifully observed book, Scott Anderson unearths the devastating secret history of how the United States lost the plot during the Cold War. By focusing on the twisty, colorful lives of four legendary spies, Anderson distills the larger geopolitical saga into an intimate story of flawed but talented men, of the 'disease of empires,' and of the inescapable moral hazard of American idealism and power. It's a hell of a book, with themes about the unintended consequences of espionage and interventionism that still resonate, powerfully, today." — Patrick Radden Keefe, author of SAY NOTHING
Book may be ordered here.
---
Slanted: How the News Media Taught Us to Love Censorship and Hate Journalism
by Sharyl Attkisson
(Harper, Nov 2020)
Transcending partisan divides, Attkisson takes on the media's misreporting on Black Lives Matter, coronavirus, Joe Biden, Silicon Valley censorship, and more. When the facts don't fit their Narrative, the media abandons the facts, not the Narrative. Virtually every piece of information you get through the media has been massaged, shaped, curated, and manipulated before it reaches you. Some of it is censored entirely. The news can no longer be counted on to reflect the facts. Instead of telling us what happened yesterday, they tell us what's new in the prepackaged soap opera they've been calling the news.
For the past four years Attkisson has been collecting alarming incidents tracing the devolution of what used to be the most respected news organizations on the planet. For the first time, top news executives and reporters representing every major national television news outlet—ABC, CBS, NBC, and CNN to FOX and MSNBC—speak frankly, confiding in Attkisson about the death of the news as they once knew it.
Most frightening of all, a broad campaign in the media has convinced many Americans not only to accept but to demand censorship over journalism. The want to hear the stories as they wish to believe them. Do not trouble them with messy facts. It is a stroke of genius on the part of those seeking to influence public opinion: undermine public confidence in the news, then insist upon "curating" information and divining the "truth." The thinking is done for you. They'll decide which pesky facts shouldn't appear on your Twitter or FB stream or cross your desk by declaring them false, irrelevant, debunked, unsafe, or out-of-bounds.
We have reached a state of utter absurdity, where journalism schools teach students that their own, personal truth or chosen narratives matter more than reality. From "peaceful protests" for burning, rioting and looting, Attkisson digs into the language of propagandists, the persistence of false media narratives, the driving forces behind today's dangerous blend of facts and opinion, the abandonment of journalism ethics, and the new, Orwellian definition of what it means to report the news. The news business is now the propaganda ministry.
Book may be ordered here.
---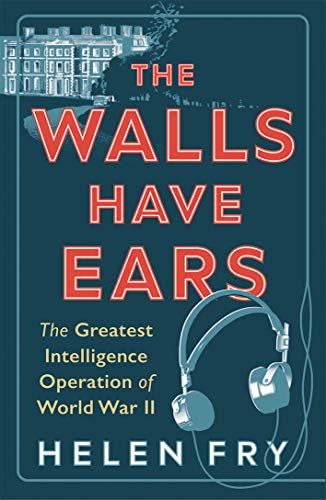 The Walls Have Ears: The Greatest Intelligence Operation of World War II
by Helen Fry
(Yale University Press, Oct 2020)
At the outbreak of World War II, MI6 spymaster Thomas Kendrick arrived at the Tower of London to set up a top secret operation: German prisoners' cells were to be bugged and listeners installed behind the walls to record and transcribe their private conversations. This mission proved so effective that it would go on to be set up at three further sites—and provide the Allies with crucial insight into new technology being developed by the Nazis.
In this history, Fry uncovers the inner workings of the bugging operation. On arrival at stately-homes-turned-prisons like Trent Park, high-ranking German generals and commanders were given a "phony" interrogation, then treated as "guests," wined and dined at exclusive clubs, and encouraged to talk. And so it was that the Allies got access to some of Hitler's most closely guarded secrets—and from those most entrusted to protect them.
Book may be ordered here.
---
My Non-Political FBI: From Hoover to a Violent America
by Bob Pence
(Fulcrum Books, Nov 2020)
The evolution of the Bureau post-Hoover, as seen from an insider. Pence found his dream job being an FBI Agent. Working his way up to SAC (Special Agent in Charge), Bob was assigned throughout the US to combat crime. He was in the South during the civil rights unrest of the 1960s, was trained in Cantonese Chinese for assignments in the Big Apple, was responsible for security at FBI Headquarters and all FBI properties throughout the world, and helped thwart the efforts of bank robbers, drug dealers, and outlaw motorcycle gang members. He and his team helped close down the polluted and controversial Rocky Flats nuclear site in Colorado.
Bob also details the acceptance and growth of female Special Agents working in the FBI, what is required to become a Special Agent, and comments on the troubling trend he sees of the growing violence in America.
Book may be ordered here.
---
Section I - INTELLIGENCE HIGHLIGHTS

Avril Haines Nominated As First Female Director Of National Intelligence. President-elect Joe Biden selected Avril Haines as his director of national intelligence on Monday. Haines, 51, worked with Biden under President Barack Obama and led the Biden transition's national security and foreign policy team. She served as the White House deputy national security advisor and deputy director of the CIA. She was the first woman to hold both positions. And now, she will become the first woman to head national intelligence.

In that role, she will oversee the National Intelligence Program, the National Security Council, the Homeland Security Council and advise the president.

Haines has the respect of many in the intelligence community, former director of the CIA John Brennan told NPR. Her intelligence career spans over a decade: from the White House to the CIA, the NSC to the Department of State. [Read more: Jones/NPR/23November2020] More about Haines from Baltimore Sun; from Newsweek; from Jeff Stein's SpyTalk.

Ghana: BNI Changes Name to National Intelligence Bureau (NIB). The Bureau of National Investigations (BNI) has changed its name to the National Intelligence Bureau (NIB).

This is in line with Section 12 of the Security and Intelligence Agencies Act, 2020 (ACT 1030).

The Director-General of the National Intelligence Bureau in a publication in the Daily Graphic newspaper on Monday, November 23, 2020 asked the public to take note of the change in name which is with "immediate effect." [Read more: Lamptey/GraphicOnline/23November2020]

CSIS alleges Iran used Toronto Company to Wire Millions to Canada Despite Sanctions. A Toronto currency exchange business helped Iran secretly wire millions of dollars into Canada in violation of sanctions, according to a classified intelligence report that calls the financial transfers a threat to national security.

A Canadian Security Intelligence Service report obtained by Global News accuses Alireza Onghaei, the investor immigrant behind the company, of "assisting the government of Iran in the clandestine wiring of monies into Canada."

The money was routed through Dubai in order to "circumvent sanctions," CSIS wrote in its Dec. 20, 2019, report on Onghaei, the owner of ONG Currency Exchange Inc., on Toronto's Yonge Street.

The total amount allegedly funneled into Canada from Iran was not known, but CSIS wrote that "we assess it to be in the millions." One transfer alone was for $600,000, according to CSIS. [Read more: Bell&Cooper/GlobalNews/24November2020]

CIA Awards Secret Multibillion-Dollar Cloud Contract. The Central Intelligence Agency has awarded its long-awaited Commercial Cloud Enterprise, or C2E, contract to five companies—Amazon Web Services, Microsoft, Google, Oracle and IBM.

Under the C2E contract vehicle, the companies will compete for specific task orders issued by the CIA on behalf of itself and the 16 other agencies that comprise the intelligence community. The CIA did not disclose the expected value of the contract to Nextgov, but procurement documents issued by the agency in 2019 indicated it could be worth "tens of billions" of dollars over the next decade and a half.

"We are excited to work with the multiple industry partners awarded the Intelligence Community (IC) Commercial Cloud Enterprise (C2E) Cloud Service Provider (CSP) contract and look forward to utilizing, alongside our IC colleagues, the expanded cloud capabilities resulting from this diversified partnership," CIA spokeswoman Nicole de Haay told Nextgov Friday. [Read more: Konkel/Nextgov/20November2020]

Russian Sentenced To 13 Years For Trying To Pass Classified Materials To CIA. A Russian man has been sentenced to 13 years in prison for attempting to hand classified material to U.S. intelligence.

The Federal Security Service (FSB) said on November 20 that the Bryansk regional court had found that Yury Yeshchenko had illegally collected secret material related to electronic equipment developed for the Russian Navy, while working for a company involved in maintaining military vessels in the northwestern city of Murmansk in 2015-2017.

In 2019, the FSB said, Yeshchenko was caught red-handed while trying to pass the classified materials to a CIA operative. [Read more: RFE/20November2020]

Jamal Khashoggi Murder: Trial of 20 Saudis in Absentia Resumes in Turkey. The trial of the men accused of murdering Saudi Arabian journalist Jamal Khashoggi in Istanbul in 2018 has resumed in Turkey.

Twenty Saudi officials, who are not in Turkey, are being tried in absentia.

A prominent critic of Crown Prince Mohammed bin Salman, Mr Khashoggi was killed by a team of Saudi agents inside the kingdom's consulate. Turkey says he was suffocated and then dismembered.

The defendants include two former aides to the prince, who denies involvement. [Read more: BBC/24November2020]


---
Section II - CONTEXT & PRECEDENCE

After Biden Win, U.S. Intelligence Community 'Probably Doing Cartwheels'. People working at the White House often take guests on tours of the historic building. But unlike others, during his two terms as vice president, Joe Biden made a point of taking guests down to the Situation Room, said Larry Pfeiffer, a veteran intelligence official then serving as the room's senior director.

Biden would look over the team of analysts monitoring world events, point to them, and tell his guests, "These are the smartest people in the world," Pfeiffer said. "That was something you didn't have to do, but it went a heck of a long way to raising the morale of people who were working 12-hour shifts around the clock. It demonstrated a guy who really had a lot of respect for intelligence."

When U.S. President-elect Biden takes office in January, he will have his work cut out for him as he inherits an intelligence community that has been demoralized by President Donald Trump's repeated attacks maligning and politicizing the work of the country's spy agencies. But former intelligence officials said Biden's election will likely be seen within the 17 agencies that make up the U.S. intelligence community as the welcome beginning of a less turbulent relationship with the executive branch. [Read more: Mackinnon&Detsh/FP/18November2020]

Hungary: FM Szijjártó: 'New World Order Emerging,' Setting New Tasks for Intelligence Services. The new crisis management centre of the Information Office (IH), Hungary's civilian intelligence agency, shows the technological and organisational development under way in the sector, Foreign Minister Péter Szijjártó said at the inauguration event in Budapest on Monday.

Szijjártó said that a "new world order is emerging" which will set new tasks for the intelligence services.

After "a financial crisis, natural disasters, migration waves and unprecedented terrorist threat" experienced in Europe in the past 12 years, the coronavirus pandemic in 2020 posed "the greatest challenge ever faced," Szijjártó said.

The health-care systems of "even the largest, richest countries are bursting at the seams," and the world economy is facing severe setbacks, he said. [Read more: HungaryToday/23November2020]

A Reporter Hacked an EU Council Meeting. Here's Why He Did It. European defense ministers did not expect to be chatting with Daniël Verlaan when they logged into what they thought was a confidential video conference.

Using login information shared on one of the defense ministers' Twitter accounts, the Dutch 31-year-old reporter gatecrashed their meeting on Friday, creating a moment of comic relief - combined with a security alert - at a meeting where a classified document on threats facing the EU was on the agenda.

"I don't think I look like a spy. So I understand why ministers were laughing," Verlaan, who works for Dutch media outlet RTL Nieuws, told POLITICO in a call Monday.

The incident exposed problems with the tools that European officials have used to carry on their work during the coronavirus pandemic. It also raises questions about how slowly the Council of the EU has moved to roll out secure conferencing, eight months into the pandemic. [Read more: Cerulus/Politico/23November2020]

Jonathan Pollard, Convicted Spy, Completes Parole and May Move to Israel. Jonathan J. Pollard, the American convicted of spying for Israel in one of the most notorious espionage cases of the late Cold War, completed his parole on Friday, the Justice Department said, freeing him to go to Israel as he has said he intends to do.

The Justice Department's decision to let his parole restrictions expire may be one of the final gifts from the Trump administration to Prime Minister Benjamin Netanyahu of Israel. Mr. Pollard's case had long been an irritant in the relations between the two countries, and both sides at times had used him as a diplomatic bargaining chip.

A U.S. Navy intelligence analyst, Mr. Pollard gave a range of classified documents to Israel starting in 1984. His disclosures exposed the abilities of the American spy agencies, potentially damaged intelligence collection efforts and risked exposing secrets, C.I.A. and Defense Department officials said in classified documents prepared after his arrest. He was arrested in 1985, and was convicted and served 30 years in prison before being released in 2015. [Read more: Barnes/NYTimes/20November2020] Also see articles on Pollard release by DailyMail; by WashingtonPost; by National Security Archives.

Cold War Spy Watch Comes Out of the Shadows at Online Auction. As the Iron Curtain descended across Europe, pitching the powerful Soviet Union against Western allies, industrialists and engineers in Germany were working on gadgets that would help spies stay one step ahead of their enemies.

One such device, a watch with an inbuilt hidden microphone made by Germany's Protona, is up for sale next month at Fellows Auctioneers' Online Watches and Watch Accessories sale.

The Protona spy device, which has a pre-sale estimate of just Ł140 to Ł200 ($185 to $260), was created as a chronograph wristwatch.

On the side of the watch's case there is an insert with a wire which can be threaded up a sleeve and concealed. The wire would then connect to a recording device which would be placed and concealed over the shoulder of the wearer. [Read more: Corder/WatchPro/23November2020]


---
How Canada's Intelligence Agencies Helped Keep the Country out of the 2003 Iraq War. Canada's decision to stay out of the 2003 American-led invasion of Iraq was one of this country's most significant foreign policy choices of the twenty-first century. On the eve of war, Prime Minister Jean Chrétien told the House of Commons that Canada would not join the conflict without a United Nations Security Council resolution. He later said he was not convinced Iraq possessed weapons of mass destruction, which was America's stated reason for going to war.

Events since the invasion have proven Chrétien's suspicions well founded. American, British and other allied forces toppled the regime of Iraqi dictator Saddam Hussein within weeks, but no weapons of mass destruction were found. Thousands of Americans and tens of thousands of Iraqis died in the war and subsequent insurgency, and today, almost two decades later, ripples from America's decision to invade Iraq continue to shape the Middle East.

In the lead-up to the war, American President George W. Bush's administration used intelligence reports to build domestic and international support for military action. Canada is a close ally of the United States. Both countries are members of the Five Eyes intelligence partnership that includes the United Kingdom, Australia and New Zealand and share information with each other. And yet Canadian intelligence analysts came to different conclusions concerning the threat posed by Iraq than did their American counterparts. The partial release of Canadian intelligence assessments on Iraq during 2002 and 2003 - along with interviews with many of those involved in producing these assessments - has now made it possible to explain why that was the case. [Read more: Barnes/OpenCanada/18November2020]

The Underground Movement Trying to Topple the North Korean Regime. On the afternoon of February 22, 2019, a tall Asian man rang the doorbell of the North Korean Embassy in Madrid. His business card identified him as Matthew Chao, an investor from Baron Stone Capital, with offices in Toronto and Dubai. Once he was allowed in, nine men in their twenties and thirties, carrying pellet guns, knives, and metal bars, entered. They covered their faces with black balaclavas, tied up four staffers with zip ties and handcuffs, and herded them into a meeting room, before taking a senior Embassy official to the basement. His wife and his eight-year-old son were put in a room on the first floor.

About thirty minutes later, an employee of a nearby gym was driving past the Embassy and came across a woman, her face covered in blood, who had jumped from a second-floor balcony. The gym employee called for an ambulance, and, when it arrived, the woman told the medics that there were intruders in the Embassy killing people. Soon, the police rang the doorbell of the Embassy. The tall Asian man, now wearing a badge featuring the face of Kim Jong Un, North Korea's Great Leader, came out and told the police that there had been a misunderstanding. At 9:40 p.m., most of the men drove off in Embassy cars. An Uber, ordered under the name Oswaldo Trump, pulled up nearby, and the final two members of the group left in it. Afterward, the North Koreans walked out of the Embassy looking beaten and dishevelled. An Italian I.D. bearing the name Matthew Chao was found by the police.

It was a delicate time for relations between North Korea and the United States. [Read more: Kim/TheNewYorker/16November2020]

Secret Agency Helped American World War II POWs Escape. Shivering with cold, weakness and fear in the poorly heated room, my father, POW SSgt. Julius J. Vossler, duty parcel officer at Stalag 3B, watched for his opportunity with slitted eyes.

His ration-weary captors, searching POW comfort packages for contraband, were distracted by American POWs offering the Nazis cigarettes, so Julius saw his chance to slip two "loaded" packages into the inspected pile.

Minutes earlier, Julius had spotted the telltale crooked stamps indicating packages that contained more than cigarettes and coffee. Perhaps even a "super duper" package containing materials specially ordered by the prisoners of his stalag: a camera, photo enlarger, chemicals, photo paper for making identity photos and passes, printing supplies, map pieces in playing cards, radio transmitters in baseballs, and compasses, all to aid escaping.

His heart beat faster. Would this have something for him? [Read more: Vossler/SCTimes/19November2020]


---
Section IV - Research Requests, Jobs, Obituaries
Did you work in CIA's Alec Station or bin Laden Issue Station?
Author of four-volume history of anti-American terrorism at home and abroad from Eisenhower through Trump administrations would like to connect with anyone who worked in the CIA's Alec Station or Bin Laden Issue Station for assistance in writing an accurate profile of the unit for volume III (Clinton and Bush administrations). Please contact Dennis Pluchinsky at dpluchinsky@rocketmail.com.
The Vienna Tunnel - "Operation Silver" - Researcher Seeks More Info
After retiring from the CIA I ended up living in Vienna, Austria and got interested in the "Vienna Tunnel." It was a SIS/MI6 operation from 1949-52 or so which tapped Soviet phone lines between Soviet HQs and Moscow. It was the inspiration for the Berlin Tunnel in that same era. Very little information has been made public about the Vienna Tunnel and much of the information doesn't seem to make sense. If you have any ideas for how to find this tunnel or knowledge about this operation I would love to hear from you at hholmer1@gmail.com. Than you in advance, -Hans
Did you know: Eloise Page, Elizabeth Sudmeier, Adelaide Hawkins, or Mary Hutchison at CIA? Or have insights on Women in Intelligence? Please assist this author.
Nathalia Holt, Ph.D., author of Rise of the Rocket Girls: The Women who Propelled Us from Missiles to the Moon to Mars, is writing a book about the history of women at the CIA during the Cold War. She is eager to interview retired and active intelligence professionals, both men and women, to gather insight into the role of women at the CIA. She is particularly interested in those who knew Eloise Page, Adelaide Hawkins, Mary Hutchison, and Elizabeth Sudmeier. The CIA public affairs office is cooperating. The book will be published by Penguin Random House. The aim is to highlight the untold successes of the CIA during the early Cold War period and the role of women officers. If you would be willing to chat and share your insights, please contact Nathalia at nathaliaholt@gmail.com or 805-616-1690 (phone, text or Signal app). Holt's book Rise of the Rocket Girls was a New York Times best-seller and received glowing reviews. USA Today called her book, "Illuminating… these women are vividly depicted at work, at play, in and out of love, raising children — and making history. What a team — and what a story!" Her work has appeared in numerous publications including The New York Times, The Los Angeles Times, The Atlantic, Slate, Popular Science, and Time. She is a former fellow at the Ragon Institute of MGH, MIT and Harvard University.
Replies to Nathalia Holt PhD at nat@nathaliaholt.com. More info on this author at https://www.nathaliaholt.com/ or @nathaliaholt
Full Time Assistant Professor for Intelligence Studies Program at Catholic University, Washington, DC
AFIO Members with Academic Credentials! Potential Full Time Teaching Opportunity in 2022 in Catholic University's Intelligence Program
University located at 620 Michigan Ave NE, Washington, DC
Former CIA officer and staff historian Nicholas Dujmovic retired in 2016 to become the founding director of the Intelligence Studies Program at the Catholic University of America (CUA) in Washington, D.C. The program is successful and growing. The undergraduate Certificate in Intelligence Studies currently has 76 students enrolled--the largest such program on campus. The program continues to expand the number of intelligence courses offered, as well as their variety.
Dr. Dujmovic is optimistic that a full time position at the assistant professor level will open in the summer of 2022.
He is reaching out early to the AFIO community to identify potential candidates with the following attributes:
Significant service (at least 15 years) as a professional intelligence officer involved in analysis, operations, technical collection, or possibly support. A recent retiree closing a successful career would be ideal.
A Ph.D. from an accredited university in political science, history, area studies, a comparable field or a relevant STEM field.
Teaching experience at the university level, either undergraduate or graduate.
Evidence of past scholarship and a willingness to engage in further research and publication, consistent with CUA's commitment to excellence as a "research university."
An enthusiasm for teaching and advising mostly undergraduate students.
AFIO members wishing to learn more are encouraged to contact Dr. Dujmovic at dujmovic@cua.edu.
Assistant Professor of Criminal Justice - UTEP - University of Texas at El Paso
The University of Texas at El Paso's College of Liberal Arts, Department of Criminal Justice, is seeking a full-time tenure-track "Assistant Professor of Criminal Justice."
Position Description: The position begins Fall 2021 at the Assistant Professor level. Responsibilities include conducting and publishing scholarly research, seeking extramural funding, teaching face-to-face and online courses, and service to the department, university, and profession.
About UTEP: The University of Texas at El Paso is a Carnegie R1 and Community Engaged research university in the heart of the U.S.-Mexico border region, in a bicultural metroplex of over 800,000 people. UTEP faculty are nationally recognized for their commitment to student success, teaching, and research. UTEP enrolls more than 25,000 students, of whom nearly 80 percent are Latino/Latina. UTEP provides equal access and social mobility for over 50% of its student body of first generation students. UTEP comprises 10 academic colleges/schools. The Department of CJ offers an online B.A. in Security Studies, a Master of Science in Intelligence and National Security and a Master of Defense and Strategic Studies. The department also offers a B.A. in Criminal Justice, an equivalent 100% online B.A., and an M.S. in Criminology and Criminal Justice.
Required Qualifications: Applicants must have a Ph.D. in Criminal Justice, Criminology or closely related field in Intelligence and/or Security Studies from an accredited university. ABD applicants will be considered if doctorate will be completed by Fall 2021. Active research agenda and published scholarly journal articles are required to apply. Applicants with only a J.D., Psy.D., or Ed.D. will not be considered.
Preferred Areas: All research/teaching areas of criminal justice and criminology will be considered, but preference will be given to candidates who have demonstrated teaching and/or research areas in at least one of these areas: security studies, open source intelligence, or quantitative methods/statistics.
Application Instructions and Contact Information: To apply, visit https://www.utep.edu/employment Applicants must electronically submit: (1) letter of interest that includes teaching areas and research expertise, (2) curriculum vita, (3) one scholarly publication or dissertation manuscript, and (4) names and full contact information of three references that we may contact. If you have questions about the position, please contact the Search Committee Chair, Dr. Egbert Zavala, at EgbertZ@utep.edu.
Application Review Date: Review of applications will begin October 5th, 2020 and will continue until the position is filled.
Hiring decisions are based on budget approval. To explore UTEP, do so here. To apply for the position, contact Dr. Zavala at EgbertZ@utep.edu.
JTSUSA Has numerous career and part-time assignments available for cleared former military personnel. See listing here. Or contact Arnie.Gerstein@jtsusa.com or visit www.jtsusa.com
Adjunct instructors at the University of Texas at El Paso (US)
The National Security Studies Institute at the University of Texas at El Paso (UTEP) (see their website here) is seeking adjunct instructors to teach online graduate-level courses:
Legal Issues in Intelligence and National Security
Propaganda and Influence Operations
Intelligence and Counterterrorism
Political Economy of Terrorism
Risk Analysis
Emergency Management
Public Health and Homeland Security
A PhD in public policy, security studies, political science, or a related field is required.
Interested and eligible applicants should contact Stephen Coulthart (sjcoulthart@utep.edu).
---
Rick Long, Career NSA Official
Richard Andrew Long, 64, a career NSA Official, died 15 November 2020 in Dewey Beach, DE.
Born in Annapolis, MD, he worked at FUNLAND in Rehoboth Beach, DE, during the summers. He graduated from Glen Burnie High School before going on to get his bachelor's degree from the University of Maryland.
Following high school graduation, Rick went on to pursue a career with the DOD at the National Security Agency with overseas tours in England and Germany. His career spanned multiple organizations in NSA as well as assignments in the broader Intelligence Community where he ultimately attained the rank of Senior Executive. Rick retired from the DOD after a successful 37-year career which included the Defense Meritorious Service Award.
Rick was a member of The Phoenix Society.
He continued working as a contractor for SERCO, Boeing Corporation, and as a private consultant. He also was involved with the Dewey Beach Lions Club, Kings Creek Country Club, and Pine Bay Community Association. Rick acquired "Koozie Time" -- a pontoon boat -- and enjoyed taking friends and family to the sandbar on Rehoboth Bay. A wine connoisseur, he also enjoyed Irish Whisky, Port, and cigars. His real interest was food and music. Rick was an audiophile and loved cooking for friends while listening to music. He also enjoyed playing Santa Claus for relatives and friends.
Leading up to and upon his retirement, Rick resided in Rehoboth Beach, DE and Eastport, MD with Judy Leichtman, his love. He is survived by three sisters and three brothers and other family.
Jim McInnis, CIA SIS Officer
James Theodore McInnis, 85, for CIA SIS Officer, died 26 October 2020.
Born in Los Angeles, CA, he was adopted by the McInnises and spent childhood in Orange, CA and a ranch in Spicewood, TX.
He began his service to the country in the US Army at age 22. Trained in military intelligence, he was assigned to Hawaii and Japan.
After his military service, he returned to San Bernardino, CA and worked as a telephone lineman before returning to the University of Texas, Austin, graduating with a degree in Industrial Engineering and Business Management. He later continued his studies at Wayne State University graduating with a Masters in Psychology-Counseling.
Following his studies, joined the CIA in 1965 and retired as a member of the Senior Intelligence Service and a hero of the Cold War in 1990. His career took him across the world from tours in Bolivia, Ecuador, Germany, Iran, Turkey, China, Switzerland and host of other countries.
In retirement, he entered private sector working in the oil and gas and mining industries living and working in Colombia, Peru, Canada, and Indonesia.
After more than 20 years of living in 96 nations outside the US, he finally retired to the Hill Country town of Hamilton, TX where he lived his remaining 24 years.
He was a gentle giant of a man. He was a friend to all and would often be found visiting and talking to friends and strangers alike. He provided career counseling to hundreds throughout his life and touched the lives and hearts of many that he came in contact with.
Elected Mayor of Hamilton in 2018, he believed in his community of Hamilton and had dreams and visions for a more beautiful and vibrant city improving the quality of life of its citizens. Notwithstanding his age, he worked hard every day for the betterment of all that live there.
He also enjoyed his time dancing with the Pecan Creek Cloggers. He was a member of the Church of Jesus Christ of Latter Day Saints.
He is survived by Corrinne Frey, his wife of 60 years; seven children, and other family.
Winston Miller, CIA Operations Officer
Winston Delano Miller, 80, CIA Operations Officer, died 15 November 2020 in Manassas, VA.
Winston was born in Luray, VA and moved to Manassas, VA in 1941. He graduated from Osbourn City H.S. in 1958. He began working for the Central Intelligence Agency in 1958 until his retirement in 1993. At CIA, Winston served five overseas tours of duty in the Dominican Republic; Frankfurt, Germany; Vientiane, Laos; Taipei, Taiwan; London, England.
Winston is survived by his wife of 59 years Rebecca Ann Miller; a daughter, a son and other family.
Jerry Post, CIA Psychiatrist and Political Profiler
Jerrold Morton Post MD, 86, a CIA Political psychology pioneer and Psychiatrist, died of complications from COVID-19 on 22 November 2020 in Bethesda, MD.
Dr. Post was Founding Director of the Political Psychology Program at The George Washington University. He was founder and president of Political Psychology Associates, a research and consulting firm specializing in threat analysis, industrial espionage, and counter-terrorism.
Dr. Post spent 21 years as founding director of the CIA's Center for the Analysis of Personality and Political Behavior. In recognition of his leadership of the Center, he was awarded the Intelligence Medal of Merit in 1979, and received the Studies in Intelligence Award in 1980. He maintained a private psychiatry practice in his home throughout his career. He published and lectured widely. His last book, Dangerous Charisma the political psychology of Trump and his followers, was called by many reviewers as a discerning commentary and warning.
Dr. Post received his B.A. and M.D. from Yale where he was elected to Alpha Omega Alpha Medical Society. He received his post-graduate training in psychiatry at Harvard Medical School and the National Institute of Mental Health. At his 50th graduation anniversary, the Association of Yale Alumni in Medicine awarded him the Distinguished Alumni Service Award.
He is survived by his wife of 42 years Carolyn Post, three daughters, a sister, and other family. His first wife of 18 years, Sharon Ruttenberg Post, predeceased him.
---
AFIO EDUCATIONAL EVENTS IN COMING TWO MONTHS....
3 Dec 2020, 11:30 a.m. CST - Virtual - "Lessons Learned from 25 Years in Counter-Terrorism" - CIA Operations Officer Bob Dougherty at this San Antonio, TX Chapter virtual event
In the short presentation "Lessons Learned from 25 Years in Counter-Terrorism," veteran CIA operations officer Bob Dougherty utilizes real-world examples from his long operational career with the Agency to illustrate some major lessons he learned throughout his time in the field focused on Counter-Terrorism. Some of these lessons were learned the hard way, and some were taught and demonstrated to him by fellow CIA officers.
Meeting begins at 11:30 a.m. Central Standard Time. If already a SA Chapter Member, mark your calendar. You will be sent a link for the online presentation prior to the meeting. If not a member, contact President John Franklin johntf3@gmail.com.
There is no charge to attend these meetings.
Wednesday, 9 December 2020, 12 noon PST - Virtual via Zoom - The "Andre Le Gallo" San Francisco Chapter hosts Farhad Mansourian on The Islamic Republic of Iran and the new United States Administration
This meeting will be conducted via Zoom. Registration link is here.
Farhad Mansourian is a former anti-terrorist officer in the Iranian Imperial Army at the time when Islamic Fundamentalists were attempting to overthrow the 2500 year old Monarchy in Iran. Upon the fall of the Shah of Iran, Mr. Mansourian escaped to the United States where he has remained active and in close contact with current Iranian & Middle East events.
Mr. Mansourian has provided high level analysis on Iranian, Middle Eastern and Islamic issues for local, state and numerous federal agencies including the Pentagon, the White House, Pacific Region Organized Crime Drug Enforcement Task Force (OCDETF), DEA and the FBI Joint Terrorism Task Force in San Francisco, Oakland and San Jose, California. He is the author of many articles published in a variety of national and international publications and numerous radio and television appearances.
Mr. Mansourian brings a unique hands-on and insightful perspectives on the latest events in the Middle East. Some of the topics presented will include: the decision making process in the Islamic Republic of Iran; the role of security and intelligence agencies in that process; upcoming June 2021 Presidential election in Iran, The Biden Administration, The Trump Administration arms deal; what the Iranian leaders say, what they hope for and what the Iranian people want.
---
Other Upcoming Events from Advertisers, Corporate Sponsors, and Others
The International Spy Museum has reopened to visitors.
Click here to explore events, exhibits, and ticketing.
Upcoming virtual (and a few live, post-quarantine) events at the International Spy Museum. Click event to explore and register for event. All virtual events require pre-registration.
Access all upcoming Spy Museum events directly from their website: https://www.spymuseum.org/calendar/upcoming/1/
Sunday, 6 December 2020, 2-3:30 pm - Virtual - Cold War Museum hosts presentation by Jonna Mendez, former CIA Chief of Disguise on "Evading the Best: How We Learned to Conduct Successful Intelligence Operations in Cold War Moscow."
The Cold War Museum invites you to attend a presentation by Jonna Mendez, former CIA Chief of Disguise on "Evading the Best: How We Learned to Conduct Successful Intelligence Operations In Cold War Moscow."
Jonna Mendez will talk about her 2019 book, The Moscow Rules, written with her husband Tony Mendez of ARGO fame, with Matt Baglio. The book discusses the CIA's rules of comportment when working on the streets of Moscow, which was perhaps the most difficult environment in the world in which to conduct intelligence operations during the Cold War, given the KGB's high level of competence and surveillance manpower. She will also talk about her next book, being drafted during this quarantine period, a memoir of her career overseas as a female CIA technical operations officer. And she has indicated that she'll tell us some interesting stories about situations where identity changes via disguise have helped solve difficult problems in intelligence operations in the field.
Jonna Mendez is a retired CIA officer with 27 years of service. During her career she lived overseas undercover on multiple assignments, serving tours of duty in Europe, South Asia, and the Far East.
This is the 38th in a series of presentations sponsored by the Museum featuring eyewitnesses to, and other experts on, significant Cold War events and activities.
Cost: $20, 100% of which is a contribution to the Cold War Museum.
ONLINE ONLY. Eventbrite ticket buyers will receive a link to the virtual room on the Zoom platform where this event will take place. We are recording the whole event, including the Q&A, for the Museum's archives.
Information and Tickets here.
Questions: jason@coldwar.org
---
In addition to the new Royal Blue long sleeve shirts, and the gray long sleeve hooded sweatshirts, the AFIO Store also has the following items ready for quick shipment:
NEW: LONG and Short-Sleeved Shirts with embroidered AFIO Logo and New Mugs with color-glazed permanent logo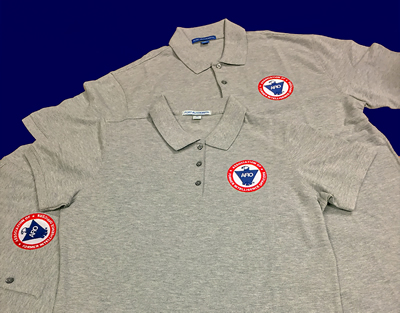 Show your support for AFIO with our new Polo Shirts. Be the first to buy these new, high quality, subtle heathered grey short sleeve shirts, and dark blue long sleeved shirts, of shrink and wrinkle resistant fine cotton with a soft yet substantial feel. They feature a detailed embroidered AFIO seal. Get a shirt for yourself and consider as gifts for colleagues, family, and friends. Only $45 each including shipping.
Sizes of (M) men or (W) women shirts; Small, Medium, Large, XL, XXL, and XXXL. At this time all orders will arrive as Short Sleeve shirts.
You may pay by check or credit card. Complete your order online here or mail an order along with payment to: AFIO, 7600 Leesburg Pike, Ste 470 East, Falls Church, VA 22043-2004. Phone orders at 703-790-0320. If interested in other shirt colors or sleeve lengths, contact Annette at: annettej@afio.com.
Available as a thank you for donations are the new AFIO logo face masks:
These soft, form-fitting, washable, non-medical grade fabric face masks have wide behind-the-ear elastics to make long periods of wear comfortable. Also easier to quickly put on or take off. Blue on outside, white inside. The masks do not have a nose wire but are sculpted, shaped, and sewn to fit most users. The all-cloth composition allows the masks to be washed or steam-disinfected without concerns over metal wires. The color logo is washable and a permanent part of the mask.
The masks, however, are not for sale. They are being offered strictly as a thank you gift to our donors.
For tax-deductible donations of $50 you will receive a receipt and our thank you gift of two of these newly-arrived face masks.
Donations of $100 receive four masks to be sent to the same address. Other amounts and split-shipments are available.
To donate now to support AFIO's programs and publications, please do so here.
We wish all members and donors continued good health, safe social distancing, and warmly appreciate any support you are able to provide the association.
---
AFIO Mug with color glazed logo. Made in America. Sturdy enough to sit on desk to hold pens, cards, paperclips, and candy.
This handsome large, heavy USA-made ceramic mug is dishwasher-safe with a glazed seal. $35 per mug includes shipping. Order this and other store items online here.
---
Guide to the Study of Intelligence and When Intelligence Made a Difference
"AFIO's Guide to the Study of Intelligence" has sold out in hard-copy.
However, it is available in digital form in its entirety on the AFIO website here.

Also available on the website here are the individual articles of AFIO's history project "When Intelligence Made a Difference" that have been published to date in The Intelligencer journal. More articles will be forthcoming in future editions.
---
Disclaimers and Removal Instructions
Weekly Intelligence Notes (WINs) are commentaries on Intelligence and related national security matters, based on open media sources, selected, interpreted, edited and produced for non-profit educational uses by members and WIN subscribers.
REMOVAL INSTRUCTIONS: We do not wish to add clutter to inboxes. To discontinue receiving the WINs:
a) IF YOU ARE A MEMBER - click here: UNSUBSCRIBE and supply your full name and email address where you receive the WINs. Click SEND, you will be removed from list. If this link doesn't open a blank email, create one on your own and send to afio@afio.com with the words: REMOVE FROM WINs as the subject, and provide your full name and email address where you are currently receiving them.
b) IF YOU ARE NOT A MEMBER, and you received this message, someone forwarded this newsletter to you [contrary to AFIO policies]. Forward to afio@afio.com the entire WIN or message you received and we will remove the sender from our membership and distribution lists. The problem will be solved for both of us.
CONTENTS of this WIN [HTML version recipients - Click title to jump to story or section, Click Article Title to return to Contents. This feature does not work for Plaintext Edition or for some AOL recipients]. If you wish to change to HTML format, let us know at afio@afio.com. The HTML feature also does not work for those who access their e-mail using web mail...however NON-HTML recipients may view the latest edition each week in HTML at this link: https://www.afio.com/pages/currentwin.htm
---
WINs are protected by copyright laws and intellectual property laws, and may not be reproduced or re-sent without specific permission from the Producer. Opinions expressed in the WINs are solely those of the editor's or author's listed with each article. AFIO Members Support the AFIO Mission - sponsor new members! CHECK THE AFIO WEBSITE at www.afio.com for back issues of the WINs, information about AFIO, conference agenda and registrations materials, and membership applications and much more!
(c) 1998 thru 2020. AFIO, 7600 Leesburg Pike, Suite 470 East, Falls Church, VA 22043-2004. Voice: (703) 790-0320; Fax: (703) 991-1278; Email: afio@afio.com
---
About AFIO | Membership Renewal | Change of Address | Upcoming Events | Chapter Locations | Corporate/Institutional Memberships | Careers in Intelligence Booklet | Guide to the Study of Intelligence | Intelligencer Journal | Weekly Intelligence Notes | To Make A Donation | AFIO Store | Member-Only Section | Code of Ethics | Home Page
---