---
CONTENTS
Section I - INTELLIGENCE HIGHLIGHTS
Section II - CONTEXT & PRECEDENCE
Section IV - Research Requests, Jobs, Obituaries
Other Upcoming Events from Advertisers, Corporate Sponsors, and Others
WIN CREDITS FOR THIS ISSUE: The WIN editors thank the following special contributors: rsy, ec, po, pj, mh, km, gh, mk, rd, fm, kc, jm, mr, jg, th, ed, and fwr. They have contributed one or more stories used in this issue.

The WIN editors attempt to include a wide range of articles and commentary in the Weekly Notes to inform and educate our readers. However, the views expressed in the articles are purely those of the authors, and in no way reflect support or endorsement from the WIN editors or the AFIO officers and staff. We welcome comments from the WIN readers on any and all articles and commentary.

CAVEATS: IMPORTANT: AFIO does not "vet" or endorse research inquiries, career announcements, or job offers. Reasonable-sounding inquiries and career offerings are published as a service to our members, and for researchers, educators, and subscribers. You are urged to exercise your usual caution and good judgment when responding, and should verify the source independently before supplying any resume, career data, or personal information.]
If you are having difficulties with the links or viewing this newsletter when it arrives by email, members may view the latest edition each week at this link.

---

Recently Seen Online:

"Intelligence Matters" Podcasts by former acting Director of the CIA Michael Morell

DEC 16, 2020—Disinformation as a National Security Issue: Former NSA General Counsel at NSA Glenn Gerstell talks about why tackling disinformation on social media is a national security issue. Glenn outlines legal, technological and policy approaches the new administration can take to combat the spread of disinformation on social media. PLAY 38 min

DEC 9, 2020— Rep. Jim Himes (D-CT) on Biden's National Security Team. Michael Morell speaks with Congressman Jim Himes, a member of the Permanent Select Committee on Intelligence and Chair of the Strategic Technologies and Advanced Research Subcommittee of HPSCI. Congressman Himes discusses coronavirus as a national security threat, re-building trust in the intelligence community, and his confidence in Biden's national security team. PLAY 36 min

DEC 2, 2020—Ambassador Ronald Neumann on Reducing Troops in Afghanistan. Ambassador Ronald Neumann on Reducing Troops in Afghanistan. In this episode of Intelligence Matters, Michael Morell speaks with Ambassador Ronald Neumann, Former Ambassador to Afghanistan, Algeria, and Bahrain, about U.S. national security interests in Afghanistan as the Trump administration announces a reduction of troops in the region. Neumann discusses potential repercussions of lowering U.S. troops, advice to the Biden Administration, and the possibility of a civil war in Afghanistan. PLAY 38 min

NOV 25, 2020—DECLASSIFIED: Former CIA Officer on the Anniversary of the First American Casualty in Afghanistan. In this episode Morell speaks with David Tyson, a retired CIA officer who served in Afghanistan after 9/11. Tyson joins Michael on the anniversary of the death of fellow CIA officer, Mike Spann, the first American casualty in Afghanistan. Tyson recounts the story of Spann's death, the battle that lead to it, and how he honors Spann's legacy today. PLAY 29 min

NOV 18, 2020—North Korea's Impending Threat of Provocation: Korea Expert Sue Mi Terry. In this episode Morell interviews Senior Fellow and Korea Chair at CSIS Sue Mi Terry on the threats North Korea poses to U.S. National Security. They discuss the growing advancement of North Korea's nuclear missile program as U.S. attempts for negotiating denuclearization halt. Terry expresses concern over a potential provocation from North Korea during the Biden administration transition and recommends that President Elect Biden "send a signal to North Korea to not conduct a provocation." PLAY 36 min

NOV 11, 2020—The State of the U.S.-China Rivalry: Harvard Professor Graham Allison. Morell interviews Harvard Professor of Government Graham Allison about the enduring U.S.-China rivalry. Allison is a leading analyst of national security with special interests in nuclear weapons and China, and Former Assistant Secretary of Defense under President Clinton and Special Advisor to the Secretary of Defense under President Reagan. Allison describes a new climate change M.A.D. policy, China's attempt to ascend to the centerpiece of the international order, and strategies to avoid a nuclear war with China. PLAY 38 min

NOV 4, 2020—Lieutenant General (Ret.) H.R. McMaster on Post-Election Foreign Policy. In this episode Morell interviews Retired Lieutenant General H.R. McMaster, a Senior Fellow at both Stanford University's Hoover Institution and its Graduate School of Business. A career U.S. Army officer and National Security Adviser to President Trump, he is also the author of a newly-released book titled Battlegrounds: The Fight to Defend the Free World. General McMaster passes along advice on how the next president should handle relations with North Korea's Kim Jong Un, gives insight on the effectiveness of our handling of Russia, and shares his passion for helping those in Venezuela. PLAY 38 min

The Morell "Intelligence Matters" series is also available on CBSNews, Google, American-Podcasts, PlayerFM, Stitcher, Art19. These links lead to the Dec 2 podcast but also allow access to all earlier ones.

---

Inside the SCIF by JJ Green, WTOP - Issue #93, 17 December has new details on: Democracy under Duress Russian disinformation, dark money and deceit, Billions Spent on U.S. Defenses Failed to Detect Giant Russian Hack; Netherlands Intelligence disrupts Russian spy operation; many other topics.
The latest Target USA Podcast 255 features: America caught in the grips of Russian disinformation.
Dr. Christopher Paul, a senior social scientist at the Rand Corporation, explains how Russia's disinformation game has put the U.S. in a very tough spot.

---

The Latest... from the "SpyTalk" Series

Dec 21: "License to Kill" by Jonathan Broder
Israel's Top Spy Yossi Cohen Takes Mossad to New Levels
Article here

Dec 19: "Spies on Flynn-Trump Coup Talk" by Jeff Stein
'Horrifying...embarrassing.' It's 'white knuckle' time, says one former top CIA officer
Article here

Dec 19: "Another Cyber 'Pearl Harbor,' Just Like the Last One" by Jeff Stein
Nobody on the inside is really shocked to discover that Russians have been in our cyber pants for months.
Article here

Dec 17: "Le Carré: The Spy Who Saw Into Our Eyes" by James Grady
James Grady remembers the master of human intrigue, foibles, ideals and cruelty
Article here

Dec 14: "Can the FBI Stop the Trump Extremists?" by Jeff Stein
The president's backers are openly calling for sedition, secession, even murder, while police struggle with sympathizers in their ranks
Article here

Dec 11: "Got Spies? We do." by Jeff Stein
James 'Condor' Grady is SpyTalk's newest contributing editor Jeff Stein
Article here

Dec 10: "Bill Barr's Drug Bust" by Elaine Shannon
The attorney general got nothing but promises in return for handing back Mexico's former defense minister, accused of protecting a drug cartel
Article here

Readers can subscribe for free at the moment here.

---

One of the special benefits of membership in AFIO: access to CIA's inhouse gift shop — the EAA Store.

It requires a quick preapproval process described here to all newly joined and current AFIO members. And then allows you to purchase online their unusual logo'd gift items for self or colleagues. Here is the latest photo EAA released on December 16 featuring some of their newest items:

---

Writers, Officers: Please Provide A Brief Article for This Ongoing AFIO History Project

AFIO's educational project "When Intelligence Made a Difference" seeks writers to identify events throughout history involving any nation or organization when the outcome was affected significantly by intelligence.
AFIO has been publishing edited submissions serially in Intelligencer released two to three times a year.
To see what has been published, it is available here. Also look at the Fall edition of the journal arriving in the mail of all members and subscribers over the next three weeks.
Those readers interested in contributing an article, should email peter.oleson@afio.com.
For instructors, this project makes a great class assignment. Accepted articles give students a publication credit in a recognized journal.

---

Guide to the Study of Intelligence and When Intelligence Made a Difference

"AFIO's Guide to the Study of Intelligence" has sold out in hard-copy.
However, it is available in digital form in its entirety on the AFIO website here.

Also available on the website here are the individual articles of AFIO's history project "When Intelligence Made a Difference" that have been published to date in The Intelligencer journal. More articles will be forthcoming in future editions.

---
---
This is the final Weekly Notes for 2020
We thank you all for your patience and help this year while the association pivoted operations to serve you during pandemic disruptions and closures. We wish you all a Merry Christmas, a Joyous Holiday season, and a safe New Year.
---
Did you view these "AFIO Now"
Interviews in 2020 of current/former
Intelligence Officers?

---
Prior videos in series (based on image above, top row, L to R):
Joseph W. Augustyn, former CIA Clandestine Services Officer on "CIA's Role in the Creation of the Department of Homeland Security"

Seth Jones PhD, Director, Transnational Threats Project, CSIS on "A Covert Action"

David Priess PhD, Author, former Senior CIA Analyst and PDB Briefer on "The President's Book of Secrets"

Everette Jordan, Dep Asst Sec for IC Integration, Office of Intel and Analysis, Treasury on "Enjoying a Rich, Challenging Intelligence Career Spanning Multiple Agencies."

Bruce Riedel, former CIA Senior Analyst, Served on National Security Council during Iraq War on "Early Gulf War Policy Decisions"

Shelby Pierson, Election Threats Executive, Office of the Director of National Intelligence on "Nationwide Election Security"

Bruce Klingner, Former CIA Deputy Division Chief for Korea; Heritage Foundation Fellow on "U.S. Strategy Towards North Korea"

Series Introduction: Stewart Baker, Chairman, and James Hughes, President

Nicholas Dujmović, Professor, Author, former CIA Historian, PDB Editor on "Guidelines and Experiences Teaching Intelligence at the University Level"

David Robarge, CIA Chief Historian, PDB Editor on "The Complexities of Counterintelligence"

Vince Houghton PhD, Director, National Cryptologic Museum on "Nuking the Moon...and Other Intelligence Themes and Military Plots Left on the Drawing Board"

Martin C. Faga, former Director, National Reconnaissance Office on "NRO Support to the Gulf War"

Many more interviews have been conducted, and are being scheduled, for release in 2021. Stay tuned.
---
Special Items for our members:
During this end of year, gift-giving season, we encourage you to give to AFIO and help us celebrate the selfless service and sacrifice of the thousands of dedicated men and women who have served without recognition in the U.S. Intelligence Community. And enable us to encourage, advise, and support the career interests of the next generation of Intelligence Officers. If you are ready to "give back"...please donate here.
---
Visit, Follow, Subscribe to AFIO's LinkedIn, Twitter, and YouTube pages.
Members who use social media or wish to explore, will find new announcements and other material on AFIO's Twitter and LinkedIn pages. New videos on our YouTube page appears below as well.
Access them here: LinkedIn, Twitter, and YouTube. By following or subscribing on those sites, one can be notified as new material appears.




---
Other items brought to our attention:
BELLINGCAT: FSB Team of Chemical Weapon Experts Implicated in Alexey Navalny Novichok Poisoning by Bellingcat Investigation Team
We have detailed the research methodology for this investigation into a separate article. You can read it here. In a previous series of investigations, Bellingcat uncovered evidence that Russia's military intelligence agency – the GRU – was responsible for both the Novichok poisoning of Sergey and Yulia Skripal in the U.K. (an assassination attempt that led to the death of one British citizen) and the poisoning of Emilian Gebrev in Bulgaria. We also determined that Russia's principal security agency – the FSB – was behind the assassination of a Georgian asylum seeker on German soil. In a further joint investigation, Bellingcat uncovered evidence that Russia has not terminated its chemical weapons program, but has instead disguised its development capability behind a network of state-run institutes. Following the official closure of Russia's military-run chemical weapons program in 2010, its core scientists were rehired by institutes which engage in ostensibly civilian research. In reality, these scientists continued to provide chemical weapons development and manufacturing support to Russia's security services
Read the full investigation into Navalny's poisoners here, produced in collaboration with The Insider, CNN and Der Spiegel.
---
"Hackers May Be Deeply Embedded In DoD," Jack Devine on Bloomberg Radio, December 21, 2020
Former chief of CIA's worldwide operations, founding partner and President of The Arkin Group, and author of the new book Spymaster's Prism: The Fight Against Russian Aggression, Devine discussed the gravity of the massive cyber hack by Russia, yesterday on Bloomberg Radio, hosted by Paul Sweeney and Vonnie Quinn. Jack talked about the scale of the cyberattack on U.S. government agencies. He said, "Collecting intelligence around the world is a common event, but the magnitude of going into every aspect of our defense system, is really over the top, an extremely aggressive thing … I think we're only looking at the tip of the iceberg here." According to Jack, Russian hackers are deeply embedded in DoD and our defense contracting industry. Regarding the history of Russian aggression against the United States, Jack said there have been continuous intelligence activities over the last 25 years. He noted that the Russians are still using the Cold War strategy to put the United States off balance. Jack commented that Russian interference in the 2016 election is an example whereby Russia is now going beyond just the collection of intelligence, and now with the information they have from the 2020 cyber hack, they will be in a position to take further action against us. Jack believes we are looking at the same dynamics as we were in the Cold War with nuclear weapons, and while cyber weapons are not kinetic, they are nonetheless damaging. "We need new ground rules," according to Jack who believes the United States and Russia should negotiate the rules of the game when it comes to cyber warfare. Jack said, "If someone thought Russia hasn't been in an adversarial role, this should be a wake-up call."
Listen to it here: "Hackers May Be Deeply Embedded In DoD," Bloomberg Radio, December 21, 2020
Also see the following: The Cyber Threat Is Real and Growing The U.S. must respond proportionally to the SolarWinds breach—and prepare for the next attack in the Wall Street Journal, by Mike Rogers, former Chairman, HPSCI (and on AFIO Board).
Suspected Russian hack: Was it an epic cyber attack or spy operation? "This is really just a very successful espionage operation," said one former Pentagon cyber official. "It's the kind of thing we would love to carry out." By Ken Dilanian Dec. 18, 2020 in NBC News.
Joint Statement by the Federal Bureau of Investigation (FBI), the Cybersecurity and Infrastructure Security Agency (CISA), and the Office of the Director of National Intelligence (ODNI)
Over the course of the past several days, the FBI, CISA, and ODNI have become aware of a significant and ongoing cybersecurity campaign. Pursuant to Presidential Policy Directive (PPD) 41, the FBI, CISA, and ODNI have formed a Cyber Unified Coordination Group (UCG) to coordinate a whole-of-government response to this significant cyber incident. The UCG is intended to unify the individual efforts of these agencies as they focus on their separate responsibilities. This is a developing situation, and while we continue to work to understand the full extent of this campaign, we know this compromise has affected networks within the federal government.
---
FBI: New Charges in Pan Am Flight 103 Bombing 190 Americans Killed in 1988 Terror Attack; Case Remains Under Investigation
Thirty-two years to the day after the terrorist bombing of a Pan Am jet over Scotland killed 270 people, including 190 Americans and 11 residents in the town of Lockerbie, federal investigators today announced charges against a Libyan man they say was involved in making the bomb. The investigation has been open for more than three decades, even after a Libyan intelligence officer was convicted in 2001 on 270 counts of murder in the case in a Scottish court. The FBI, working closely with authorities in Scotland, has continued to pursue leads over the years pointing to others that may have been involved in the attack. Story here...
Also see DOJ: Former Senior Libyan Intelligence Officer and Bomb-Maker for the Muamar Qaddafi Regime Charged for The December 21, 1988 Bombing of Pan Am Flight 103
Today, Attorney General William Barr, Director of the FBI, Christopher Wray, Assistant Attorney General for National Security John Demers, and Acting U.S. Attorney for the District of Columbia, Michael Sherwin, announced new charges against a former Libyan intelligence operative, Abu Agela Mas'ud Kheir Al-Marimi, aka, "Hasan Abu Ojalya Ibrahim" (Masud), for his role in building the bomb that killed 270 individuals in the destruction of Pan Am Flight 103 over Lockerbie, Scotland on Dec. 21, 1988.
---
Forthcoming documentary: "A Spy in the FBI"
New Dominion Pictures LLC. Click to view trailer.
Robert Hanssen is a contradiction. On the surface he is a family man, devout Catholic, and career FBI agent. Secretly, he is a spy, betraying the trust of everyone he knows. In the final years of the Cold War, Hanssen positions himself within the FBI to spy for the Soviets, compromising sources and programs through the entire US counterintelligence community. While the FBI and CIA search for the mole in their midst, his fellow agents, friends, and family have no clue of his second life. His betrayal runs deeper that selling out his country as he is carrying on secret relationships and keeping secrets from his wife. But Hanssen can't hide forever from the best detectives in the world. Former FBI agents and journalists recount Hanssen's life, what drew him to espionage, how he stayed hidden in plain sight for over 20 years, and the events that brought down the most damaging spy in American history.
Documentary will premiere on the REELZ channel on Sunday, February 14th at 8:00 pm ET / 9:00 pm CT. REELZ is channel 692 HD on Verizon FIOS, channel 238 on DIRECTV, channel 299 on Dish Network, and channel 799 on AT&T U-verse. It's also available in HD on other cable systems nationwide. More info here.
---
Harvard's Belfer Center Offering Online Executive Education Programs in Intelligence and Cybersecurity
Cybersecurity: The Intersection of Policy and Technology January 11-15, 2021
---
Newly Released, Overlooked, or Forthcoming Books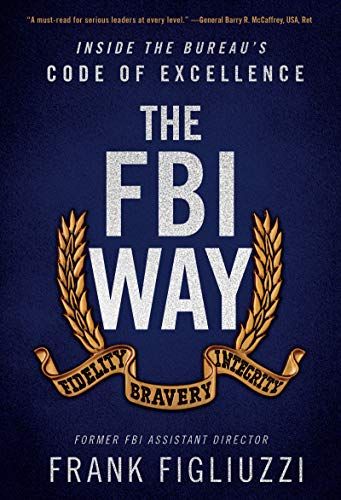 The FBI Way: Inside the Bureau's Code of Excellence
by Frank Figliuzzi
(Custom House, Jan 2021)
"The institutions that best preserve and defend our nation's values are made up of men and women who live and die by a code of excellence. ... As Frank Figliuzzi's The FBI Way makes clear, their survival and success are dependent on the same values that will determine the survival and success of our democracy. It's time we all ask whether we are willing to live by that code." (Leon E. Panetta, Former Secretary of Defense and Director of the CIA)
"This is a must read for serious leaders at every level. Frank Figliuzzi served 25 years in the famed FBI rising to the highest levels of leadership. His assignments as chief counter-espionage officer for the Bureau, his street experience as a Special Agent confronting crime, corruption and police misconduct, and his perspective as an FBI policy maker offer us fresh insights into the links between preserving values, pursuing excellence, and defending anything worth keeping." (General Barry R. McCaffrey (U.S. Army Retired)
Book may be ordered here.
---
A Red Line in the Sand: Diplomacy, Strategy, and the History of Wars That Might Still Happen
by David A. Andelman
(Pegasus Books, Jan 2021)
A behind-the-scenes look at the world's most intense "red lines," from diplomatic and military challenges at particular turning points in history to the ones that set the tone of geopolitics today. More red lines exist in the world today than at any other single moment in history. Whether it was the red line in Munich that led to the start of the Second World War, to the red lines in the South China Sea, the Korean Peninsula, Syria and the Middle East.

As we traverse the globe, Andelman uses original documentary research, previously classified material, interviews with key players, and reportage from more than 80 countries across five decades to help us understand the growth, the successes and frequent failures that have shaped our world today.

Provides a political anatomy of these red lines. How might their failures be prevented going forward? When and how can such lines in the sand help preserve peace rather than tempt conflict?
As America establishes more red lines than it has pledged to defend, every American should understand the volatile atmosphere and the existential stakes of the red web that encompasses the globe.
Book may be ordered here.
---
---
Section I - INTELLIGENCE HIGHLIGHTS

Lockerbie Bombing: Alleged Bomb-Maker Charged on 32nd Anniversary of Attack. The US has announced charges against a Libyan suspected of making the bomb that blew up Pan Am Flight 103 over Lockerbie, Scotland, in 1988.

Abu Agila Mohammad Masud has been charged with terrorism-related crimes, Attorney General William Barr said on Monday, 32 years on from the atrocity.

The deadly bomb attack on the Boeing 747 killed 270 people, including 190 American citizens.

Prosecutors will seek the extradition of Mr Masud to stand trial in the US. [Read more: BBC/22December2020]

Kosovo Fires Intelligence Chief Over 'Raid on President's Safe'. Kosovo Prime Minister Avdullah Hoti, in coordination with acting Kosovo President Vjosa Osmani, on Thursday dismissed the chief of the Kosovo Intelligence Agency, KIA, Kreshnik Gashi, allegedly for trying to obtain confidential documents from the President's office.

Gashi was dismissed as KIA chief after an incident in which a KIA inspector was allegedly found at the President's office on November 6, trying to obtain confidential information from the safe, together with former intelligence chief Driton Gashi, who was the secretary of the recently resigned president, Hashim Thaci; he stepped down recently to deal with war crime charges in the Hague concerning the Kosovo independence war.

"There was coordination and full agreement between acting President Vjosa Osmani, and Prime Minister Hoti on relieving the KIA director of his duties," a media advisor to President Osmani, Bekim Kupina, told BIRN. (Read more: BIRN/18December2020]

SpaceX Successfully Launches Spy Satellite for National Reconnaissance Office. SpaceX successfully completed its NROL-108 mission on Saturday, December 19, the event was live streamed. The event saw a spy satellite sent to low-Earth orbit for the U.S. National Reconnaissance Office (NRO) in what is SpaceX's second mission for the agency.

The launch took place from Launch Complex 39A (LC-39A) at Kennedy Space Center, Florida at 9:00 a.m. EST (or 14:00 UTC). It was completed with Falcon 9's first stage booster that "previously supported the launch of SpaceX's 19th and 20th cargo resupply missions to the International Space Station, a Starlink mission, and the SAOCOM 1B mission," according to SpaceX's website. SpaceX also successfully landed Falcon 9's first stage on Landing Zone 1 at Cape Canaveral Space Force Station in Florida. [Read more: Papadapoulos/InterestingEngineering/19December2020]

Israel Picks New Mossad Spy Agency Chief. Israeli Prime Minister Benjamin Netanyahu on Tuesday chose the next director of the Mossad spy agency, known only as "D" to replace Yossi Cohen.

"D" is the former deputy director of Mossad, the unit responsible for intelligence collection, covert operations and counter-terrorism in Israel. "D" had served in the role for two years.

Israel does not customarily disclose the names of top Mossad personnel for security reasons. But Cohen is widely seen as having a more prominent public profile than many past chiefs of the foreign intelligence service.

What do we know about 'D'? [Read more: DeuscheWelle/15December2020]

The 2020 Declassification Deadline is Counting Down. It is doubtful that many people may get out the reading glasses come New Year's Day, but those interested in knowing what was once secret will have the opportunity as classified records that turn 25 years old will be automatically declassified on December 31. This year, because of the Covid-19 pandemic, some agencies have sought to extend the deadlines, yet unless the records are reviewed and specifically found to be subject to an authorized exemption the content will soon be declassified.

"Several agencies have expressed concerns that, due to diminished operational capacity and capability, they would likely be unable to complete declassification reviews of their 25-year old classified permanent records before the onset of automatic declassification on December 31, 2020," Mark A. Bradley, the director of the Information Security Oversight Office (ISOO), said in a letter to the executive branch agencies in late November. "These agencies have requested some form of relief, such as a declassification delay or waiver."

In consultation with the National Security Council and legal counsel, ISOO determined that Executive Order 13526, "Classified National Security Information," does not permit a waiver or delay in automatic declassification due to the COVID-19 pandemic. [Read more: Suciu/ClearanceJobs/19December2020]


---
Section II - CONTEXT & PRECEDENCE
Here's What We Know About Rep. Swalwell's Connection To A Suspected Chinese Spy. Rep. Eric Swalwell (D-Calif.) has come under intense scrutiny and some sharp criticism, especially from Republicans, this month after it was revealed that a suspected spy for the Chinese Communist Party worked as a prominent Swalwell fundraiser for years - to the point she was able to influence a job hire in his Congressional office (an embedded leave-behind Chicom operative) - leading to some calls for his removal from the House intelligence committee even though he hasn't been accused of wrongdoing by authorities.

Sen. Rand Paul (R-Ky.) has gone so far as to suggest Swalwell "probably ought to just resign from Congress." [Read more: Reimann/Forbes/19December2020.]
Also see: China's relentless spying on Mr. Swalwell's neighborhood Congressional oversight of the intelligence community is compromised by its vulnerability to espionage by Jed Babbin, WashTimes, 20 Dec 2020.

What's in Haiti's New National Security Decrees: An Intelligence Agency and an Expanded Definition of Terrorism. On November 26, 2020, the Haitian government published two decrees on national security. The first creates a new national intelligence agency, while the second greatly expands the definition of terrorism. Haitian president Jovenel Moise has been ruling by decree since January when the terms of parliament expired, and has used that power to consolidate the strength of the executive branch. The government has framed the changes as a response to recently increasing insecurity, however the Port-au-Prince Bar Association and various human rights organizations have denounced the new decrees and warned that they could be used to increase repression.

Marie Suzy Legros, the head of the bar association, labeled the decrees as "tyrannical" and as the destruction of liberty. "Jovenel Moise has the madness of a dictator," former Senator Steven Benoit commented in response to the decrees. "He does not realize that we are no longer in 1957," he continued, in reference to Francois "Papa Doc" Duvalier who created his own intelligence agency in the early years of the dictatorship. Even before these recent decrees, 11 human rights organizations had condemned the "dictatorial and unconstitutional" actions of the current administration.

So, what is in these new decrees? [Read more: CEPR/14December2020]

U.S. Intelligence Agencies are Increasingly Focused on Domestic Extremists. Their Latest Target: Satanists. In recent years, the U.S. law enforcement and intelligence communities have identified domestic threats linked to a variety of ideologies and movements, ranging from the "boogaloo bois" to conspiracy theorists. But a recent internal government report obtained by Yahoo News adds what may be the most surprising addition to the list of threats: an obscure satanic cult.

A special analysis report authored by the National Counterterrorism Center, the FBI and the Department of Homeland Security focuses on a neo-Nazi-influenced satanic group called the Order of Nine Angles, which the intelligence community believes is making inroads among white supremacists. Nine Angles "is a largely decentralized group that advocates a violent extremist interpretation of Satanism," the document says. "Satanism is a religion with multiple variants, most of which are not violent extremist."

The Order of Nine Angles, which originated in the U.K., came to public attention in the U.S. earlier this year when Ethan Melzer, an Army private, was charged in a violent plot aimed at his own unit. Melzer allegedly shared details of his unit with the Order of Nine Angles. [Read more: Winter/YahooNews/19December2020]

Intelligence Community Postdoctoral Research Fellowship Program. The Intelligence Community (IC) Postdoctoral Research Fellowship Program offers scientists and engineers from a wide variety of disciplines unique opportunities to conduct research in a wide range of topics relevant to the intelligence community.

The research is conducted by the postdocs, while working in partnership with a research advisor and collaborating with an advisor from the Intelligence Community. In partnership with the research advisor, the postdoc composes and submits a technical proposal that responds to a research opportunity identified at: https://orise.orau.gov/icpostdoc/current-opportunities.html. [Read more: APSPhysics/17December2020]

3D Modeling Finds Surprising Source Of The Shots That Killed Iranian Nuclear Scientist. A 3D model of the scene of the assassination of Iran's top nuclear scientist, Mohsen Fakhrizadeh, reveals a surprising result: all the bullets fired seem to have originated from the same place, apparently supporting the highly contested official explanation of the killing. But there may be more to the case than meets the 3D eye.

The Iranian authorities have insisted that the assassination was carried out with a remote-controlled machinegun in the back of a Nissan pickup truck parked by the side of the road, which then blew up. Other accounts suggest the attack was carried out by up to 12 gunmen who then fled the scene.

The modelling was carried by one of a growing army of online OSINT (Open-Source Intelligence) analysts using freely-available data to investigate crimes, an approach made famous by the Bellingcat website. The anonymous analyst, who uses the handle Putin Is A Virus, and was supported by the OsintEditor community, is a video game designer and used the Unity 3D simulation software to recreate the scene of the killing. [Read more: Hambling/Forbes/22December2020]

How Many Differences Can You Spot In These Pics Shared By The CIA? The Central Intelligence Agency of the United States recently challenged its Twitter followers to a fun puzzle. The CIA has shared brain teasers and puzzles on social media in the past as well. From questions designed to test a user's analytical skills to their observation powers, these puzzles are always a good way to keep your little grey cells working.

This time, the CIA shared two illustrations that look the same at first glance and asked their followers to find all the differences between the two. The illustrations both feature picturesque red-roofed houses and trees against a dark sky. However, there are certain differences in both these pics and social media users have been challenged to find them all.

"You know how this works. Let us know how many differences you find," the CIA wrote while sharing the pics on Twitter last week. Take a look: [Read more: Jain/NDTV/21December2020]

Can You Solve the 'Fiendish' Puzzle on the GCHQ Christmas Card? Do you have what it takes to solve a fiendishly difficult Christmas riddle by the country's top communications intelligence agency?

GCHQ revealed the Christmas card sent by its Director Jeremy Fleming to colleagues and partners across the world.

It features a the brainteaser for you to enjoy over the festive season.

To solve it, you'll need to complete a number of incomplete letter sequences before plotting your answers on a special Christmas bauble to reveal a hidden message: [Read more: Toufexi/HertsLive/22December2020]
---
New Tricks and Old Truths for the World's Second Oldest Profession: Spying. David Cornwell died last week at the age of 89. As John le Carre, Cornwell transformed the spy story. His New York Times obituary credited him with "Cold War thrillers [that] elevated the spy novel to high art by presenting both Western and Soviet spies as morally compromised cogs in a rotten system full of treachery, betrayal and personal tragedy."

Le Carre's "heroes" were the antithesis of the spies who dominated the popular and cinematic imagination. They weren't cartoon action figures, whose shot and chaser was a bullet and a beverage. Instead, explained the Times, they were "lonely, disillusioned men whose work is driven by budget troubles, bureaucratic power plays and the opaque machinations of politicians - men who are as likely to be betrayed by colleagues and lovers as by the enemy." While le Carre gets the credit, other writers - Len Deighton (my personal favorite) and Brian Freemantle, to name two - created similarly cynical, rumpled and gray characters, who were much more than they seemed and never failed to best their establishment "betters." That was often a result of their insight into and understanding of the human condition, born of - or perhaps responsible for - that inferior social status. They recognized and knew each other in an encounter - unlike their superiors, who never saw the threat they posed.

To call these protagonists "heroes" requires some work. [Read more: Glosserman/TheJapanTimes/22December2020]

Mr. President, Don't Pardon Edward Snowden. No one will ever accuse President Donald Trump of being overly careful in his exercise of his pardon power.

So it makes sense that advocates of Edward Snowden, the man responsible for the most damaging classified leak in U.S. history, are mounting a last-minute push to get the president who pardoned Sheriff Joe and Roger Stone to issue his most outrageous and indefensible pardon yet.

As his Trump's presidency winds down and his clout on Capitol Hill diminishes, his sweeping power to grant clemency will be even more alluring to him, and he said over the summer that he's considering a Snowden pardon. "There are a lot of people," per Trump, "that think he's not being treated unfairly."

If pardoning Snowden can be sold to Trump as a way to stick it to the Deep State on his way out the door, anything is possible. Why go to the trouble of firing CIA Director Gina Haspel or FBI Director Christopher Wray if he can signal his contempt for their ilk by bringing a bête noir of the U.S. national-security apparatus in from the cold with a stroke of his pen? [Read more: Lowry/Politico/16December2020]

I Was the Homeland Security Adviser to Trump. We're Being Hacked. At the worst possible time, when the United States is at its most vulnerable - during a presidential transition and a devastating public health crisis - the networks of the federal government and much of corporate America are compromised by a foreign nation. We need to understand the scale and significance of what is happening.

Last week, the cybersecurity firm FireEye said it had been hacked and that its clients, which include the United States government, had been placed at risk. This week, we learned that SolarWinds, a publicly traded company that provides software to tens of thousands of government and corporate customers, was also hacked.

The attackers gained access to SolarWinds software before updates of that software were made available to its customers. Unsuspecting customers then downloaded a corrupted version of the software, which included a hidden back door that gave hackers access to the victim's network. [Read more: Bossert/NewYorkTimes/16December2020]


---
Section IV - Research Requests, Jobs, Obituaries
Researcher Looking for Intelligence Officers with Knowledge of Cuban Government and Drug Trade
Hello. I am Alan Cunningham, a current graduate student at Norwich University where I am pursuing a Master's degree in International Relations. At Norwich, I am currently working on my Master's thesis, which focuses on Cuban governmental involvement in the drug trade from the 1960s to the 1980s, exploring how the use of narcotics can be a method of establishing effective diplomatic relationships and making war against an adversary. While I have gained a significant amount of information, I am making this announcement to see if any intelligence officers or analysts has information in regards to Cuban involvement in the drug trade and would be open to being interviewed by myself for my thesis. If you are interested in being interviewed or desire more information about my research before proceeding, please email me at alan.c.cunningham@gmail.com and I can go into more detail about my project.
Did you work in CIA's Alec Station or bin Laden Issue Station?
Author of four-volume history of anti-American terrorism at home and abroad from Eisenhower through Trump administrations would like to connect with anyone who worked in the CIA's Alec Station or Bin Laden Issue Station for assistance in writing an accurate profile of the unit for volume III (Clinton and Bush administrations). Please contact Dennis Pluchinsky at dpluchinsky@rocketmail.com.
The Vienna Tunnel - "Operation Silver" - Researcher Seeks More Info
After retiring from the CIA I ended up living in Vienna, Austria and got interested in the "Vienna Tunnel." It was a SIS/MI6 operation from 1949-52 or so which tapped Soviet phone lines between Soviet HQs and Moscow. It was the inspiration for the Berlin Tunnel in that same era. Very little information has been made public about the Vienna Tunnel and much of the information doesn't seem to make sense. If you have any ideas for how to find this tunnel or knowledge about this operation I would love to hear from you at hholmer1@gmail.com. Than you in advance, -Hans
Did you know: Eloise Page, Elizabeth Sudmeier, Adelaide Hawkins, or Mary Hutchison at CIA? Or have insights on Women in Intelligence? Please assist this author.
Nathalia Holt, Ph.D., author of Rise of the Rocket Girls: The Women who Propelled Us from Missiles to the Moon to Mars, is writing a book about the history of women at the CIA during the Cold War. She is eager to interview retired and active intelligence professionals, both men and women, to gather insight into the role of women at the CIA. She is particularly interested in those who knew Eloise Page, Adelaide Hawkins, Mary Hutchison, and Elizabeth Sudmeier. The CIA public affairs office is cooperating. The book will be published by Penguin Random House. The aim is to highlight the untold successes of the CIA during the early Cold War period and the role of women officers. If you would be willing to chat and share your insights, please contact Nathalia at nathaliaholt@gmail.com or 805-616-1690 (phone, text or Signal app). Holt's book Rise of the Rocket Girls was a New York Times best-seller and received glowing reviews. USA Today called her book, "Illuminating… these women are vividly depicted at work, at play, in and out of love, raising children — and making history. What a team — and what a story!" Her work has appeared in numerous publications including The New York Times, The Los Angeles Times, The Atlantic, Slate, Popular Science, and Time. She is a former fellow at the Ragon Institute of MGH, MIT and Harvard University.
Replies to Nathalia Holt PhD at nat@nathaliaholt.com. More info on this author at https://www.nathaliaholt.com/ or @nathaliaholt
THREE Faculty Openings for 2021 at Hilbert College, Hamburg, NY
Assistant Professor, Criminal Justice; Assistant Professor, Forensic Science/Crime Scene Investigation; and Assistant Professor, Intelligence & Data Analysis.
Interested candidates can view our job postings here.
Full Time Assistant Professor for Intelligence Studies Program at Catholic University, Washington, DC
AFIO Members with Academic Credentials! Potential Full Time Teaching Opportunity in 2022 in Catholic University's Intelligence Program
University located at 620 Michigan Ave NE, Washington, DC
Former CIA officer and staff historian Nicholas Dujmovic retired in 2016 to become the founding director of the Intelligence Studies Program at the Catholic University of America (CUA) in Washington, D.C. The program is successful and growing. The undergraduate Certificate in Intelligence Studies currently has 76 students enrolled--the largest such program on campus. The program continues to expand the number of intelligence courses offered, as well as their variety.
Dr. Dujmovic is optimistic that a full time position at the assistant professor level will open in the summer of 2022.
He is reaching out early to the AFIO community to identify potential candidates with the following attributes:
Significant service (at least 15 years) as a professional intelligence officer involved in analysis, operations, technical collection, or possibly support. A recent retiree closing a successful career would be ideal.
A Ph.D. from an accredited university in political science, history, area studies, a comparable field or a relevant STEM field.
Teaching experience at the university level, either undergraduate or graduate.
Evidence of past scholarship and a willingness to engage in further research and publication, consistent with CUA's commitment to excellence as a "research university."
An enthusiasm for teaching and advising mostly undergraduate students.
AFIO members wishing to learn more are encouraged to contact Dr. Dujmovic at dujmovic@cua.edu.
Assistant Professor of Criminal Justice - UTEP - University of Texas at El Paso
The University of Texas at El Paso's College of Liberal Arts, Department of Criminal Justice, is seeking a full-time tenure-track "Assistant Professor of Criminal Justice."
Position Description: The position begins Fall 2021 at the Assistant Professor level. Responsibilities include conducting and publishing scholarly research, seeking extramural funding, teaching face-to-face and online courses, and service to the department, university, and profession.
About UTEP: The University of Texas at El Paso is a Carnegie R1 and Community Engaged research university in the heart of the U.S.-Mexico border region, in a bicultural metroplex of over 800,000 people. UTEP faculty are nationally recognized for their commitment to student success, teaching, and research. UTEP enrolls more than 25,000 students, of whom nearly 80 percent are Latino/Latina. UTEP provides equal access and social mobility for over 50% of its student body of first generation students. UTEP comprises 10 academic colleges/schools. The Department of CJ offers an online B.A. in Security Studies, a Master of Science in Intelligence and National Security and a Master of Defense and Strategic Studies. The department also offers a B.A. in Criminal Justice, an equivalent 100% online B.A., and an M.S. in Criminology and Criminal Justice.
Required Qualifications: Applicants must have a Ph.D. in Criminal Justice, Criminology or closely related field in Intelligence and/or Security Studies from an accredited university. ABD applicants will be considered if doctorate will be completed by Fall 2021. Active research agenda and published scholarly journal articles are required to apply. Applicants with only a J.D., Psy.D., or Ed.D. will not be considered.
Preferred Areas: All research/teaching areas of criminal justice and criminology will be considered, but preference will be given to candidates who have demonstrated teaching and/or research areas in at least one of these areas: security studies, open source intelligence, or quantitative methods/statistics.
Application Instructions and Contact Information: To apply, visit https://www.utep.edu/employment Applicants must electronically submit: (1) letter of interest that includes teaching areas and research expertise, (2) curriculum vita, (3) one scholarly publication or dissertation manuscript, and (4) names and full contact information of three references that we may contact. If you have questions about the position, please contact the Search Committee Chair, Dr. Egbert Zavala, at EgbertZ@utep.edu.
Application Review Date: Review of applications will begin October 5th, 2020 and will continue until the position is filled.
Hiring decisions are based on budget approval. To explore UTEP, do so here. To apply for the position, contact Dr. Zavala at EgbertZ@utep.edu.
JTSUSA Has numerous career and part-time assignments available for cleared former military personnel. See listing here. Or contact Arnie.Gerstein@jtsusa.com or visit www.jtsusa.com
Adjunct instructors at the University of Texas at El Paso (US)
The National Security Studies Institute at the University of Texas at El Paso (UTEP) (see their website here) is seeking adjunct instructors to teach online graduate-level courses:
Legal Issues in Intelligence and National Security
Propaganda and Influence Operations
Intelligence and Counterterrorism
Political Economy of Terrorism
Risk Analysis
Emergency Management
Public Health and Homeland Security
A PhD in public policy, security studies, political science, or a related field is required.
Interested and eligible applicants should contact Stephen Coulthart (sjcoulthart@utep.edu).
---
Laurence Cove, a CIA psychiatrist and psychoanalyst
Laurence A. Cove MD, 87, a CIA psychiatrist from 1985 to 2018, died of carcinoid cancer 29 November 2020 at his home in Bethesda, MD.
Dr. Cove was born "Ari Icikovic" in Kaunas, Lithuania, and immigrated to the US in 1939.
Growing up mostly in New York City, he earned scholarships to Ramaz School, Columbia University, and SUNY Downstate College of Medicine. He received specialty training at Bellevue Hospital, Walter Reed General Hospital, and the Baltimore Washington Institute for Psychoanalysis. Dr. Cove served seven years in the U.S. Army during the 1960s. He then joined the National Institute of Mental Health as a career teacher and training director in child psychiatry at George Washington University. After several years in private practice, at age 52, he began a long career at the CIA, specializing in the influence of personality on political behavior, during which he was promoted into the Senior Intelligence Service. He continued mentoring, and consulting at the CIA, until age 85.
He is survived by his wife of 31 years, Ann Brody Cove; a daughter and son, and other family. He also will be missed by his devoted dog Daisy.
Joe Fernandez, CIA Operations Officer
Joseph F. Fernandez, 83, a former CIA Operations Officer, died of cancer 3 December 2020 in Miami, FL.
Born in New York City to immigrant parents. His family moved to Miami, FL. Joe's father died when he was a young teenager, forcing him to assume the mantle of service, a responsibility he carried throughout his life.
After graduating from Sts. Peter and Paul High School in Miami, he entered The Athenaeum of Ohio - Mount St. Mary's Seminary of the West in Cincinnati, OH. He served as a Police Officer with the Miami-Dade County Police Department for eight years, earning rank of Detective Sergeant.
He left the police department in 1967 and joined the CIA where he served his country for 20 years both domestically and in Latin America and Europe, retiring as a Senior Operations Officer.
After federal service, he started multiple businesses, including a company for which he developed several patents for body armor. His careers fighting organized crime or conducting sensitive operations to protect US national security interests or as an inventor and businessman were important to him and where he left his mark.
He is survived by his sister Dolores; seven children, and many other family members.
George Meek, VOA Miami Bureau Chief
George Duncan Meek, 84, VOA Bureau Chief, died 3 December 2020 in Arlington, VA of Parkinson's Disease and Covid-19.
Raised in New York State, Mr. Meek was a Phi Beta Kappa graduate of Syracuse University, majoring in journalism and Latin American Studies. He studied for a year in Santiago, Chile, with a fellowship from the Inter-American Press Association and the New York Times, and received an M.A. in international affairs from George Washington University.
He worked for 20 years at the General Secretariat of the Organization of American States in Washington as managing editor of Américas magazine, speech writer for Secretary General Galo Plaza of Ecuador, and chief of public affairs. While at the OAS he was president of both the Staff Association and the Credit Union. Fluent in Spanish and Portuguese, Mr. Meek was a translator or supervisor of translators at over 20 OAS conferences.
George retired in 2000 from a 20-year career at the Voice of America, the U.S. government's international radio station, where he wrote the first news and feature programming for the Caribbean. He traveled extensively in that region in the 1980s as VOA's Miami Bureau Chief. His favorite assignment was in Rio de Janeiro, Brazil, as South America correspondent from 1995 to 1999. In retirement, he used interpreting in his volunteer work and translated hundreds of documents for international organizations, donating the income to charity.
He was active in local public high school PTAs, and in the National Active and Retired Federal Employees Association (NARFE), and many other volunteer associations and with his church.
A long-distance hiker, he section-hiked the entire 2,100-mile Appalachian Trail from Georgia to Maine between 1994 and 2000, and the Florida National Scenic Trail between 2003 and 2011. He wrote poems on both trails, as well as a verse a day for ten years on a wide variety of subjects, and posted all of them for the public on his web site He authored two books: Time for Everything: A Six-year Adventure on the Appalachian Trail (Potomac Appalachian Trail Club: 2006), and Manna Calendar: An uplifting poem and scripture verse for every day of any year (Pleasant Word: 2006).
For the last five years, he and Jean enjoyed their senior living condo at The Jefferson, where he also served as Secretary of the HOA. In both his personal and professional life, George will be remembered for his generosity, wisdom, organization, self-discipline, and his faith in Jesus Christ.
In addition to Jean, his wife of 63 years, he is survived by two brothers, five children, and other family.
Bob Moriarty, Bank Executive, Economist
Robert Bernard Moriarty, 92, died of cancer 17 October 2020 in northern California.
Bob was born in Hoboken, NJ.
After graduating from high school, Bob joined the Army as a PFC with the 11th Airborne Division where he became a parachutist, a lineman and a glider man, stationed in Japan. After discharge, he returned to NJ and attended Fordham University and Seton Hall. He was called again to serve in the Korean conflict. He worked in Okinawa for the US Army of Engineers after discharge.
Bob loved Japan and decided to enroll in the Jesuit Sophia University in Tokyo, graduating with a B.S. in Economics and learned to speak fluent Japanese. He was offered a job in Korea with an engineering firm and after living 7 years in Asia, returned to the US, settling in San Francisco and joined "Old St. Mary's Youth Group" where he met his wife, Leona, in 1961.
He worked for Crocker Bank, and later became Vice President for Barclays Bank of London in San Francisco. He continued his education and received an MBA from Golden Gate University.
After retirement, Bob worked with Document Reprocessors, a vendor specializing in wet document restoration with a focus on libraries and government agencies.
Bob was a gentleman with a quick wit. He loved sharing stories and had vast knowledge on any subject. He enjoyed weekly special breakfasts with friends and monthly dinners at the Italian Club. He thoroughly enjoyed the informative bi-monthly guest speakers luncheons sponsored by the AFIO San Francisco Chapter where he was a longtime member.
Bob lived a full life and visited many countries. He earned a private pilot's license, as well, and enjoyed many trips. He was involved in his sons' activities, such as coaching soccer or baseball, Boy Scouts, Indian Guides or building a kayak or a cabin. Many vacations were spent traveling to North Dakota visiting Leona's family.
He is survived by his wife of 60 years, Leona, four sons and other family.

Bud Reynolds, Army Security Agency/NSA/INSCOM/Military Intelligence
Bernard Eugene Reynolds, 96, ASA/NSA/INSCOM, died 7 December 2020 in Fairfax, VA.
Bud was born in West Chicago, IL. He enlisted in the Army at 18 to serve in WW II. He served in the Pacific Theatre. He went on to serve in Korea, Ethiopia, Japan and, stateside. He served first with the 2nd Engineer Special Brigade and then in what came to be known as the Army Security Agency and the U.S. Army Intelligence and Security Command. Bud participated in the Battles of Cape Gloucester, New Guinea, Leyte, Southern Philippines, Bismarck Archipelago, and Luzon. The medals, decorations, and citations awarded to Bud included two Bronze Star Medals, the World War II Victory Medal, the Army Commendation Medal, the Army of Occupation Medal (Japan), National Defense Service Medal, the Good Conduct Medal, the Asiatic-Pacific Campaign Medal, the Philippine Independence Ribbon, the Philippine Liberation Ribbon, and the Distinguished Unit Citation Badge.
After he retired as a Lt Col. in 1966, he served in the Army Security Agency (ASA) until his retirement in 1986. In 2014, the Military Intelligence Corps Association presented Bud with the Knowlton Award in recognition of his significant and lasting contributions to the Military Intelligence Corps.
Bud was a Founding Member of the recently opened National Museum for the United States Army. He was a senior member of the ASA Alumni Association, National Capitol Region, and an active member of the VFW Hall in Occoquan, VA.
He is survived by three daughters and other family.
Richard E. Smith, language and translation specialist
Richard E. Smith, 85, a language and translation specialist, died 14 December 2020 in Las Vegas, NV of heart failure.
He had master's degree in linguistics from The University of Texas at Austin. He then became a technical translator with his company, Communications Consulting Service, which he ran for 40 years.
Richard was an original member of the AFIO Las Vegas Chapter, serving as Vice-President and President each of the last nearly 18 years. He will be greatly missed at our meetings.
Don Wallace, CIA Officer
Donald E. Wallace, 81, CIA Officer, died 2 December 2030 of a stroke from Covid-19.
Don was born in Washington, DC. He graduated from Wakefield High School in Arlington, VA, and received his BA from American University in DC. He devoted his professional life to serving his country, in the Coast Guard Reserve and in CIA, where he spent 37 years overseeing various human resources programs.
After leaving federal service, he worked for several years in the private sector.
He was an active member of Little River United Church of Christ, and regularly volunteered throughout his retirement with a local food bank. Don enjoyed singing in the church with the Wakefield Chorale, and at the life-long learning center OLLIE. Don's infectious personality drew in friends, old and new, wherever he went. He was an avid storyteller with a booming laugh, and a true lover of community. Genuine and outgoing, Don formed bonds with many people over the decades through tennis and fitness, making close friends at Fairfax and Burke fitness centers, most recently through his water aerobics class. A lifetime learner, Don enjoyed travel, reading, story writing, and taking classes. He was also a patron of the Old Opera House in Charlestown, WV.
He is survived by his wife, Jane; four children, and other family.
---
AFIO EDUCATIONAL EVENTS IN COMING TWO MONTHS....
Thursday, 21 January 2021, noon PST - Virtual - L.A. Chapter hosts Dr Ray Batvinis, Historian, Author, and former FBI
Our guest speaker will be Ray Batvinis, a former FBI Special Agent. Below is an abbreviated biography of Dr. Batvinis. This will be a virtual meeting expected to start at 12 PM (PST). Please mark your calendars. More details to follow after the first of January.
Raymond J. Batvinis PhD is a historian and educator specializing in the discipline of counterintelligence as a function of statecraft. For twenty-five years (1972-1997) Dr. Batvinis was a Special Agent of the FBI concentrating on counterintelligence and counterterrorism matters. His assignments included the Washington Field Office and the Intelligence Division's Training Unit at FBI headquarters. Later he served in the Baltimore Division as a Supervisory Special Agent where he supervised the espionage investigations of Ronald Pelton, John and Michael Walker, Thomas Dolce and Daniel Walter Richardson.
Following 9/11, Dr. Batvinis returned to the FBI for three years managing a team of former FBI agents and CIA officers who taught the Basic Counterintelligence Course at the FBI Academy. In addition to authoring scholarly articles, he has contributed to the Oxford History of Intelligence, an anthology of essays, published in 2009 by Oxford University Press. He has produced two books on the history of the FBI's counterintelligence program. The Origins of FBI Counterintelligence, (University Press of Kansas [UPK], 2007), and Hoover's Secret War Against Axis Spies, (UPK, 2014). He is currently writing a biography of William Weisband, an early Cold War American spy, while completing the third of a three volume history of the FBI's activities during World War II.
Questions about L.A. Chapter or meetings? Contact Vincent Autiero, President, at afio_la@yahoo.com
---
Other Upcoming Events from Advertisers, Corporate Sponsors, and Others
The International Spy Museum: will temporarily close to the public, beginning at 6 p.m. on December 23 through at least January 14, 2021
Click here to explore events, exhibits, and ticketing.
Friday, 15 January 2021, 11 a.m. - 12:30 p.m. - Ocala, FL - "Robert Wallace...America's 'Q' to discuss spy gadgets at upcoming Master the Possibilities event"
Yes...a physical event. A good sign for starting the new year.
The not-for-profit lifelong learning center Master the Possibilities is hosting AFIO Member Bob Wallace, former director of CIA's Office of Technical Service. Wallace's presentation, titled "Q" Lives: Spy Gadgets for Every Season," will be held PHYSICALLY in the Circle Square Cultural Center, 8395 S.W. 80th St. in Ocala, FL.
The course fee for the presentation is $5 for members and $10 for non-members. The event is open to the public. Registration is required, as space is limited.
Wallace, who served 33 years with the CIA as case officer and Director of Clandestine Technical Programs, will talk about how the development of spy technology has transformed espionage operations from Revolutionary War covert communications to present day disinformation operations.
Wallace earned his BA in History from Ottawa (Kansas) University in 1966 and an MA in Political Science from the University of Kansas in 1968. He served in U.S. Army during 1968-1970, leading long-range reconnaissance patrol teams of Company E, 75th Rangers in Vietnam.
Wallace joined CIA as an operations officer in 1971. His career at the CIA included five field tours and Chief of Station assignments. Headquarters tours were with the Comptroller's Office, Director of the Office of Technical Service and Acting Director of the Foreign Broadcast Information Service.
After retiring from the Agency in 2003, Wallace founded Artemus Consulting Group and was a part-time oral historian for CIA's Center for the Study of Intelligence.
Wallace has co-authored many books.
Books will be available for purchase and there will be a book signing immediately following the presentation.
To Register online, do so here. Or call (352) 861-9751 M-F, 9 a.m. to 4 p.m.
Attendees will be required to bring and wear a personal mask or face shield and to complete and sign a Coronavirus screening form prior to entry into the event.
---
In addition to the new Royal Blue long sleeve shirts, and the gray long sleeve hooded sweatshirts, the AFIO Store also has the following items ready for quick shipment:
NEW: LONG and Short-Sleeved Shirts with embroidered AFIO Logo and New Mugs with color-glazed permanent logo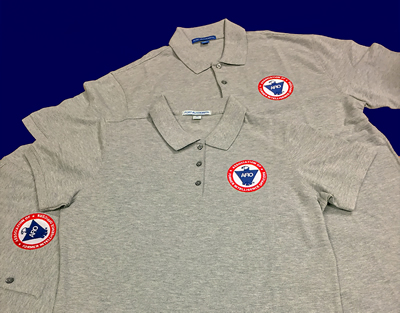 Show your support for AFIO with our new Polo Shirts. Be the first to buy these new, high quality, subtle heathered grey short sleeve shirts, and dark blue long sleeved shirts, of shrink and wrinkle resistant fine cotton with a soft yet substantial feel. They feature a detailed embroidered AFIO seal. Get a shirt for yourself and consider as gifts for colleagues, family, and friends. Only $45 each including shipping.
Sizes of (M) men or (W) women shirts; Small, Medium, Large, XL, XXL, and XXXL. At this time all orders will arrive as Short Sleeve shirts.
You may pay by check or credit card. Complete your order online here or mail an order along with payment to: AFIO, 7600 Leesburg Pike, Ste 470 East, Falls Church, VA 22043-2004. Phone orders at 703-790-0320. If interested in other shirt colors or sleeve lengths, contact Annette at: annettej@afio.com.
Available as a thank you for donations are the new AFIO logo face masks:
These soft, form-fitting, washable, non-medical grade fabric face masks have wide behind-the-ear elastics to make long periods of wear comfortable. Also easier to quickly put on or take off. Blue on outside, white inside. The masks do not have a nose wire but are sculpted, shaped, and sewn to fit most users. The all-cloth composition allows the masks to be washed or steam-disinfected without concerns over metal wires. The color logo is washable and a permanent part of the mask.
The masks, however, are not for sale. They are being offered strictly as a thank you gift to our donors.
For tax-deductible donations of $50 you will receive a receipt and our thank you gift of two of these newly-arrived face masks.
Donations of $100 receive four masks to be sent to the same address. Other amounts and split-shipments are available.
To donate now to support AFIO's programs and publications, please do so here.
We wish all members and donors continued good health, safe social distancing, and warmly appreciate any support you are able to provide the association.
---
AFIO Mug with color glazed logo. Made in America. Sturdy enough to sit on desk to hold pens, cards, paperclips, and candy.
This handsome large, heavy USA-made ceramic mug is dishwasher-safe with a glazed seal. $35 per mug includes shipping. Order this and other store items online here.
---
Guide to the Study of Intelligence and When Intelligence Made a Difference
"AFIO's Guide to the Study of Intelligence" has sold out in hard-copy.
However, it is available in digital form in its entirety on the AFIO website here.

Also available on the website here are the individual articles of AFIO's history project "When Intelligence Made a Difference" that have been published to date in The Intelligencer journal. More articles will be forthcoming in future editions.
---
Disclaimers and Removal Instructions
Weekly Intelligence Notes (WINs) are commentaries on Intelligence and related national security matters, based on open media sources, selected, interpreted, edited and produced for non-profit educational uses by members and WIN subscribers.
REMOVAL INSTRUCTIONS: We do not wish to add clutter to inboxes. To discontinue receiving the WINs:
a) IF YOU ARE A MEMBER - click here: UNSUBSCRIBE and supply your full name and email address where you receive the WINs. Click SEND, you will be removed from list. If this link doesn't open a blank email, create one on your own and send to afio@afio.com with the words: REMOVE FROM WINs as the subject, and provide your full name and email address where you are currently receiving them.
b) IF YOU ARE NOT A MEMBER, and you received this message, someone forwarded this newsletter to you [contrary to AFIO policies]. Forward to afio@afio.com the entire WIN or message you received and we will remove the sender from our membership and distribution lists. The problem will be solved for both of us.
CONTENTS of this WIN [HTML version recipients - Click title to jump to story or section, Click Article Title to return to Contents. This feature does not work for Plaintext Edition or for some AOL recipients]. If you wish to change to HTML format, let us know at afio@afio.com. The HTML feature also does not work for those who access their e-mail using web mail...however NON-HTML recipients may view the latest edition each week in HTML at this link: https://www.afio.com/pages/currentwin.htm
---
WINs are protected by copyright laws and intellectual property laws, and may not be reproduced or re-sent without specific permission from the Producer. Opinions expressed in the WINs are solely those of the editor's or author's listed with each article. AFIO Members Support the AFIO Mission - sponsor new members! CHECK THE AFIO WEBSITE at www.afio.com for back issues of the WINs, information about AFIO, conference agenda and registrations materials, and membership applications and much more!
(c) 1998 thru 2020. AFIO, 7600 Leesburg Pike, Suite 470 East, Falls Church, VA 22043-2004. Voice: (703) 790-0320; Fax: (703) 991-1278; Email: afio@afio.com
---
About AFIO | Membership Renewal | Change of Address | Upcoming Events | Chapter Locations | Corporate/Institutional Memberships | Careers in Intelligence Booklet | Guide to the Study of Intelligence | Intelligencer Journal | Weekly Intelligence Notes | To Make A Donation | AFIO Store | Member-Only Section | Code of Ethics | Home Page
---