---
CONTENTS
Section I - INTELLIGENCE HIGHLIGHTS
Section II - CONTEXT & PRECEDENCE
Section IV - Research Requests, Jobs, Obituaries
Other Upcoming Events from Advertisers, Corporate Sponsors, and Others
WIN CREDITS FOR THIS ISSUE: The WIN editors thank the following special contributors: rsy, ec, po, pj, mh, km, gh, mk, rd, fm, kc, jm, mr, jg, th, ed, and fwr. They have contributed one or more stories used in this issue.

The WIN editors attempt to include a wide range of articles and commentary in the Weekly Notes to inform and educate our readers. However, the views expressed in the articles are purely those of the authors, and in no way reflect support or endorsement from the WIN editors or the AFIO officers and staff. We welcome comments from the WIN readers on any and all articles and commentary.

CAVEATS: IMPORTANT: AFIO does not "vet" or endorse research inquiries, career announcements, or job offers. Reasonable-sounding inquiries and career offerings are published as a service to our members, and for researchers, educators, and subscribers. You are urged to exercise your usual caution and good judgment when responding, and should verify the source independently before supplying any resume, career data, or personal information.]
If you are having difficulties with the links or viewing this newsletter when it arrives by email, members may view the latest edition each week at this link.

---

Recently Seen Online:

John O. Brennan on Life in the CIA (Ep. 111) in "Conversations with Tyler."
What working in intelligence has taught him about human nature. Growing up in a working-class city in New Jersey, John Brennan's father was an Irish immigrant who always impressed upon his children how grateful they should be to be American citizens. That deeply-instilled patriotism and the sense of right and wrong emphasized by his Catholic upbringing would lead John first to become an intelligence officer and then eventually Director of the CIA.Listen to discussion or read full transcript here.




---

Inside the SCIF by JJ Green, WTOP - Issue #96, 14 January has new details on "The Capitol Riot" and asks "Intelligence Failure? or Security Failure?" Also Biden National Security Appointments.
The latest Target USA Podcast 259 features: The Riot.
Who was behind the riot on Jan 6th that led to 5 deaths at the U.S. Capitol? What will the fallout be? Senator Mark Warner and former Deputy Director of the Secret Service A.T. Smith discuss a dark chapter in American history.

---

The Latest... from the Jeff Stein's "SpyTalk" Series

Jan 19: "Former Spy Boss Hayden: Ellis NSA Appointment is 'Really Bad'" by Jeff Stein
The former NSA chief says Trump's mole can see anything he wants.
Article here

Jan 18 - "Can U.S. Spy Agencies Stop White Power Violence?" by Jeff Stein
The threat of widespread pro-Trump violence is raising questions of whether the U.S. needs an American-style MIS. But creating a domestic counter-terro...
Article here

Jan 17 - "Rage Over Mexico's Insults on Big Time Drug Case" by Elaine Shannon
Biden's Justice Department may not play the patsy like Bill Barr, who released Mexico's cartel-protecting former defense minister
Article here

Jan 14 - "Pence Must Denounce White Terrorism, Famed FBI Counterterrorism Agent Says" by Jeff Stein
Ali Soufan also joins chorus for a special commission to investigate the nexus of extremists, money and Republican politicians
Article here

Jan 11 - "She Had a Code: The Secret Life of Elizebeth Smith Friedman" by Patricia Ravalgi
A new PBS film hails the life of an unsung pioneering cryptologist
Article here

Readers can subscribe for free at the moment here.

---

From our colleagues at the National Cryptologic Museum...

They invite you to join them on January 29th at 10am EST for their first virtual program of 2021, "American Codebreakers at Bletchley Park, 1941-1945," to be held via Zoom webinar with guest speaker, Dr. David Sherman. Dr. Sherman will discuss a secret February 1941 U.S. visit to Britain's wartime codebreaking center and how it set the stage for the enduring partnership that emerged after World War II, a partnership often called the closest and most important relationship in the history of intelligence. His monograph on the 1941 mission, The First Americans, is available online from the Center for Cryptologic History. Learn more about Dr. David Sherman here on their Quarterly Programs page.

Other Forthcoming documentaries: "The Codebreaker: Wife. Mother. Secret American Hero."
PBS "American Experience" Documentary about Elizebeth Friedman - debuted 11 January 2021

Based on the book The Woman Who Smashed Codes: A True Story of Love, Spies, and the Unlikely Heroine Who Outwitted America's Enemies, The Codebreaker reveals the fascinating story of Elizebeth Smith Friedman, the groundbreaking cryptanalyst whose painstaking work to decode thousands of messages for the U.S. government would send infamous gangsters to prison in the 1920s and bring down a massive, near-invisible Nazi spy ring in WWII. Her remarkable contributions would come to light decades after her death, when secret government files were unsealed. But together with her husband, the legendary cryptologist William Friedman, Elizebeth helped develop the methods that led to the creation of the powerful new science of cryptology and laid the foundation for modern codebreaking today. More info at the National Cryptologic Museum Foundation website here.


---

"A Spy in the FBI"

New Dominion Pictures LLC. Click to view trailer.

Robert Hanssen is a contradiction. On the surface he is a family man, devout Catholic, and career FBI agent. Secretly, he is a spy, betraying the trust of everyone he knows. In the final years of the Cold War, Hanssen positions himself within the FBI to spy for the Soviets, compromising sources and programs through the entire US counterintelligence community. While the FBI and CIA search for the mole in their midst, his fellow agents, friends, and family have no clue of his second life. His betrayal runs deeper that selling out his country as he is carrying on secret relationships and keeping secrets from his wife. But Hanssen can't hide forever from the best detectives in the world. Former FBI agents and journalists recount Hanssen's life, what drew him to espionage, how he stayed hidden in plain sight for over 20 years, and the events that brought down the most damaging spy in American history.

Documentary will premiere on the REELZ channel on Sunday, February 14th at 8:00 pm ET / 9:00 pm CT. REELZ is channel 692 HD on Verizon FIOS, channel 238 on DIRECTV, channel 299 on Dish Network, and channel 799 on AT&T U-verse. It's also available in HD on other cable systems nationwide. More info here.

---

---

One of the special benefits of membership in AFIO: access to CIA's inhouse gift shop — the EAA Store.

It requires a quick preapproval process described here to all newly joined and current AFIO members. And then allows you to purchase online their unusual logo'd gift items for self or colleagues. Here is the latest photo EAA released on December 16 featuring some of their newest items:

---
---
CIA Director Gina Haspel announced her retirement.
AFIO Salutes Director Gina Haspel for her 36 years of dedicated service to the American people.
---
Just released to members-only...
CIA's little-known Defector Resettlement Program

Released 19 January 2021
Joe Augustyn
Former CIA Clandestine Services Officer

on "CIA's Defector Resettlement Program"
Interview of Monday, 7 December 2020, between former CIA Clandestine Services Officer Joseph Augustyn and AFIO President James Hughes (also a former Operations Officer)..
TOPIC: Joe Augustyn discusses his role with the little known Defector Resettlement Program at CIA. A few Q&As follow the 54-minute presentation.
Access Augustyn video on our YouTube page here or log into the Member-Only area of our website here.
---
Prior Videos in the "AFIO Now" Series
To view them, visit our YouTube page here
or log into the Member-Only area of our website here.
---
Victor Cha PhD, Former Director for Asian Affairs, NSC on "North and South Koreas — Issues Facing the Incoming Biden Administration" - members-only. Members are also directed to read Dr Cha's Op-Ed "North Korea could become one of Biden's biggest challenges — and not just because of its nukes" in The Washington Post on 15 January 2021 on this topic.

Joseph W. Augustyn, former CIA Clandestine Services Officer on "CIA's Role in the Creation of the Department of Homeland Security"

Seth Jones PhD, Director, Transnational Threats Project, CSIS on "A Covert Action"

David Priess PhD, Author, former Senior CIA Analyst and PDB Briefer on "The President's Book of Secrets"

Everette Jordan, Dep Asst Sec for IC Integration, Office of Intel and Analysis, Treasury on "Enjoying a Rich, Challenging Intelligence Career Spanning Multiple Agencies."

Bruce Riedel, former CIA Senior Analyst, Served on National Security Council during Iraq War on "Early Gulf War Policy Decisions"

Shelby Pierson, Election Threats Executive, Office of the Director of National Intelligence on "Nationwide Election Security"

Bruce Klingner, Former CIA Deputy Division Chief for Korea; Heritage Foundation Fellow on "U.S. Strategy Towards North Korea"

Series Introduction: Stewart Baker, Chairman, and James Hughes, President

Nicholas Dujmović, Professor, Author, former CIA Historian, PDB Editor on "Guidelines and Experiences Teaching Intelligence at the University Level"

David Robarge, CIA Chief Historian, PDB Editor on "The Complexities of Counterintelligence"

Vince Houghton PhD, Director, National Cryptologic Museum on "Nuking the Moon...and Other Intelligence Themes and Military Plots Left on the Drawing Board"

Martin C. Faga, former Director, National Reconnaissance Office on "NRO Support to the Gulf War"

Many more interviews have been conducted, and will be released throughout 2021. Stay tuned.
---
Other items brought to our attention:
Upcoming Spy Series...
Netflx Series: SPYCRAFT premiere's 20 January 2021. It is a new eight episode Netflix program by retired CIA DS&T officer Robert Wallace and intelligence historian Keith Melton (co-authors of Spycraft: The Secret History of the CIA's Spytechs, from Communism to Al-Qaeda). Robert Wallace and Keith Melton are co-executive producers of the series. The episodes include portions of interviews by several CIA and IC officers.
Spycraft — The spy game is a serious business, and throughout history, the tools and technologies developed for it have mattered as much as the spies themselves. Series looks at the techniques methods and technologies used in espionage. Examines the amazing gadgetry behind some of history's greatest stories of espionage, the ingenious minds that invented them, and the officers or agents that put them to use with accounts from ancient history to modern day intrigue.

Season 1 Trailer, featuring tradecraft experts Robert Wallace and Keith Melton, here. Also see producer's website and longer introductory video for series on YouTube here
---
Visit, Follow, Subscribe to AFIO's LinkedIn, Twitter, and YouTube pages to receive updates.
Members who use social media or wish to explore, will find new announcements and other material on AFIO's Twitter and LinkedIn pages. New videos on our YouTube page appears below as well.
Access them here: LinkedIn, Twitter, and YouTube. By following or subscribing on those sites, one can be notified as new material appears.




---
Recommended Reads:
The Arkin Group's January 15 "In Other News" letter to private clients by former Operations Officer Jack Devine features...
• Alexey Navalny has announced that he plans to return to Russia – where he will be arrested – from Germany, where he has been convalescing since August 2020 after being poisoned by the Federal Security Service (FSB).
• Israel is taking stock of its military and strategic readiness for conflict with Iran as Tehran escalates flagrant violations of the 2015 nuclear deal and the incoming administration of U.S. President-elect Joe Biden seeks a return to non-proliferation negotiations.
• Brazil's economy is likely to grow 3% in 2021, which is good but not good enough to offset the economic contraction of 2020 due to the coronavirus pandemic.
---
Newly Released, Overlooked, or Forthcoming Books
The Unquiet Englishman: A Life of Graham Greene
by Richard Greene
(W. W. Norton & Company, Jan 2021)
At 86, Graham Greene anticipated death with fearless curiosity about "what lies on the other side of the fence." Richard Greene's (no relation) insightful new biography shows that until the very end, the great twentieth-century novelist courageously crossed barriers—geographic, political, social, amorous, psychological, religious. Graham Greene lived a life as strange and compelling as those in his brilliant novels. A journalist and MI6 officer, Greene sought out the inner narratives of war and politics across the world; he witnessed the Second World War, the Vietnam War, the Mau Mau Rebellion, the rise of Fidel Castro, and the guerrilla wars of Central America. His classic novels, including The Heart of the Matter and The Quiet American, are only pieces of a career that reads like a primer on the twentieth century itself. From novelist Greene's travels to hotspots of Sierra Leone, Liberia, Vietnam, Cuba, and Elaiti, the clashes he witnessed added to the creation of his works of spy fiction (Our Man in Havana) and other novels. Discusses his work as a British intelligence officer in Sierra Leone and South Africa.
Book may be ordered here.
---
War of Shadows: Codebreakers, Spies, and the Secret Struggle to Drive the Nazis from the Middle East
by Gershom Gorenberg
(PublicAffairs, Jan 2021)
When the Nazis broke the Black Code, used by American diplomatic missions around the world, they were able to get detailed portrayals of British positions and weaknesses in North Africa, sometimes just a few hours after they were written. Using this information, under Rommel's command, they marched swiftly and terrifyingly toward Alexandria, with the ultimate goal of reaching the Middle East.
But Allied forces had broken the Nazis' code, Enigma, as well. They soon discovered they were leaking information, and set off on a fevered and high-stakes search for the source.
War of Shadows is the cinematic story of the race for information in North African theater of WWII, and the battle of cryptographers on both sides of it. Years in the making, this book is a feat of historical research and storytelling, and a rethinking of the popular narrative of the war. It portrays the war not as an inevitable clash of heroes and villains but a spiraling series of failures and accidents-one that spread into Africa and nearly beyond.
Book may be ordered here.
---
Writers, Officers: Please Provide A Brief Article for This Ongoing AFIO History Project
AFIO's educational project "When Intelligence Made a Difference" seeks writers to identify events throughout history involving any nation or organization when the outcome was affected significantly by intelligence.
AFIO has been publishing edited submissions serially in Intelligencer released two to three times a year.
To see what has been published, it is available here. Also look at the Fall edition of the journal arriving in the mail of all members and subscribers over the next three weeks.
Those readers interested in contributing an article, should email peter.oleson@afio.com.
For instructors, this project makes a great class assignment. Accepted articles give students a publication credit in a recognized journal.
---
Guide to the Study of Intelligence and When Intelligence Made a Difference
"AFIO's Guide to the Study of Intelligence" has sold out in hard-copy.
However, it is available in digital form in its entirety on the AFIO website here.

Also available on the website here are the individual articles of AFIO's history project "When Intelligence Made a Difference" that have been published to date in The Intelligencer journal. More articles will be forthcoming in future editions.
---
---
Section I - INTELLIGENCE HIGHLIGHTS

CIA Director Gina Haspel Announces Resignation. CIA Director Gina Haspel, who has had an increasingly strained relationship with President Trump during the final year of his administration, announced Tuesday that she is leaving the agency.

"It has been the greatest honor of my life to lead this remarkable organization," Haspel wrote in a statement shared by the CIA on Twitter. [Read more: McEvoy/Forbes/19January2021]

Big Brother: Germany's Foreign Intelligence Service Under Pressure. The European Court of Human Rights (ECHR) has admitted a Reporters Without Borders (RSF) complaint claiming that people are not properly protected against groundless and unjustified mass surveillance by Germany's foreign intelligence service, the BND.

The admission of the complaint on a European level opens up the possibility, "of finally remedying this untenable abuse of law," said Christian Mihr, executive director of the RSF, an international organization that represents the interests and safety of journalist worldwide.

Mihr sees it as an encouraging sign that in May 2020 Germany's Constitutional Court ruled on the activities of the BND.The ruling stated that so-called strategic surveillance activities carried out by the intelligence agency are incompatible with the fundamental human right to privacy and the freedom of the press. [Read more: Fürstenau/DW/14January2021]

UK: 'Child Spies' Bill Could Face Lords Defeat as Tory Peers Rebel. Tory peers, bishops and crossbenchers could inflict defeat on the government after an outcry over new guidance which allows state agencies to use children as undercover spies as part of the government's covert intelligence bill.

Church of England bishops are among those who are expected to back an amendment led by the crossbench peer and children's rights activist Beeban Kidron, the former Tory cabinet minister George Young, Labour's Roy Kennedy and the Lib Dems' Sally Hamwee.

Labour sources said they believed there would be enough backing to ensure the bill is returned to the Commons, where it is hoped the government may accept some of the new safeguards.

The current guidance in the bill would allow children spying for government agencies to break the law if their actions would prevent or detect crime - and even permits those over the age of 16 to be recruited to inform on their parents if they are suspected of terror or criminal involvement. [Elgot/TheGuardian/13January2021]

NGA Wants Faster Access to Commercial Geospatial Data. The private sector is coming out with new geospatial intelligence products and services faster than the government can figure out how to buy them. That means analysts need ways to procure commercial geoint "at a moment's notice," said David Gauthier, director of the National Geospatial Intelligence Agency's commercial and business operations group.

NGA supplies U.S. government agencies with geospatial intelligence derived from satellite images. Its sister agency, the National Reconnaissance Office, is responsible for procuring imagery for NGA.

Most of the demand is for photographic imagery captured by electro-optical sensors in space but analysts are increasingly seeing the value of other sources of intelligence such as space-based synthetic aperture radar that can penetrate clouds, and radio frequency satellites that identify and geolocate the source of RF signals. A growing number of companies in the United States and Europe are offering these services. [Read more: Erwin/SpaceNews/12January2021]

Military Intelligence Agency Wants to Understand Customers' Needs Better. The chief information office of the Pentagon's military intelligence arm has a new strategy to improve its understanding of customers' needs.

The Defense Intelligence Agency CIO four-year strategy aims to improve the relationship with its intelligence customers after stakeholders provided feedback that said the office didn't understand their needs or what skills the office's workforce should have. The DIA provides military customers with intelligence about foreign countries' military capabilities.

The strategy, released Dec. 31, includes four goals: [Read more: Eversden/C4ISRNet/12January2021]



---
Section II - CONTEXT & PRECEDENCE

Who's Who List for the White House Intelligence Positions. As the Biden administration officially starts on Wednesday, the President-elect has already chosen a bulk of the senior staff Cabinet positions to oversee global and domestic intelligence. A clear pattern has emerged in Biden's choices: he often chooses career officials and recognized experts whom he already trusts. This includes many former Obama administration officials. While many of his choices are deemed non-scandalous, most will still likely still face a polarized Senate-confirmation process.

Although Biden's picks may be viewed as "safe", his team will hit some historic milestones for the intelligence community if confirmed: Gen. Lloyd Austin III as the first Black Defense Secretary, Avril Haines as the first woman Director of National Intelligence, and Alejandro Mayorkas as the first Latino and immigrant to serve as the Homeland Security Secretary.

To help get you up to speed, here are Biden's selections so far for key intelligence positions. [Read more: Osgood/ClearanceJobs/19January2021]

The Spies who Fought to Keep the Nazis out of Palestine. There were moments amid his research when Gershom Gorenberg wanted to whoop for joy inside the hushed, staid rooms of the British National Archives.

"It would not have been well thought of," joked Gorenberg of his suppressed instinct. But it was still hard to contain his excitement each time he uncovered a key detail to piecing together his latest book, War of Shadows: Codebreakers, Spies, and the Secret Struggle to Drive the Nazis from the Middle East, which hits shelves today.

Gorenberg, an Israeli-American journalist, author and Washington Post columnist, spent five years criss-crossing the globe from Rome to London, Cairo and California to gather materials and evidence for his research. He sifted through archives and documents as he worked to uncover the mystery that lies at the center of War of Shadows, which spotlights the lesser-known Nazi incursions into the heart of the Middle East. With the cadence of a spy thriller and a wide and varied cast of characters that can be hard to keep straight, Gorenberg takes readers on a journey to the center of World War II's less-explored battlefront. [Read more: Spiro/JewishInsider/19January2021]

In 1942, FBI Knew About Spies in St. Johns County. I've been reading the book, "The Year of Peril: America in 1942," released in May of 2020. Author Tracy Campbell asserts that newspaper articles and the statements by public officials in that year reveal a nation facing how to deal with divisions among the population in order to wage war.

The world map looked bleak in 1942. Germany controlled much of Europe and Japan had quickly taken over strategic ports and nations in the days soon after striking at Pearl Harbor, Hawaii, on Dec. 7, 1941. Mr. Campbell notes that about 30% of the U.S. population wanted to make an agreement with Germany rather than fight a war in Europe.

The perils of 1942 literally came ashore in St. Johns County in June as Campbell writes in his book. Four German saboteurs landed at Ponce Vedra Beach as part of a plan with so much potential for harm within the United States. Four other saboteurs who were part of the same scheme landed on Long Island, New York. All eight had intensive training in explosives and all had lived in the United States and spoke fluent English. In fact, two were American citizens. [Read more: Parker/TheStAugustineRecord/17January/2021]

House Lawmakers Open Investigation Into Capitol Attack. The U.S. House of Representatives has opened an investigation into this month's attack on the U.S. Capitol. In a letter to the heads of America's leading intelligence and law enforcement agencies, House lawmakers asked for any information that could help them understand whether warning signs were missed.

Lawmakers want to know what the intelligence community and federal law enforcement knew about the threats of violence and whether that information was shared with the right people. Capitol Police have said they were unprepared for the ferocity of the attack, which left one of its officers dead.

"Security and logistical preparations before January 6 were not consistent with the prospect of serious and widespread violence," lawmakers wrote Saturday. "Yet, according to media accounts that have surfaced in recent days, federal and other authorities earlier on possessed - and may have shared with some parties - intelligence and other information forecasting a dire security threat against the Congress's meeting to certify the election results." [Read more: Schwartz/NPR/16January2020]


---
Why Russia's Overseas Spies Keep Getting Caught. Lithuania is the latest country to announce that it has busted a Russian spy ring on its soil. The allegation that two of its citizens were spying for Russia comes a few weeks after the Dutch authorities rolled up another of the Kremlin's "substantial espionage networks." It's been a tumultuous few months for President Putin's overseas espionage operation, which keeps getting caught in the act.

It is unclear if a string of recent arrests blowing up Russia's overseas missions is merely a coincidence, or whether there has been some kind of leak from inside Russia's notorious intel agencies. "There is some penetration," Andrei Soldatov, one of Russia's best-informed trackers of the security agencies, told The Daily Beast. "Whether it's relatively new or old, I don't know, but it looks like a big decision was made to use that penetration to slow down Russian offensive ops."

By far the biggest discovery of a recent Russian overseas operation was the massive cyberattack against U.S. government and private company websites, revealed last month. [Read more: Knight/DailyBeast/19January2021]

How the Intelligence Community Views the Dangers of "Domestic Extremism." With President Trump's looming impeachment trial in the Senate, some are asking what kind of access he should have to intelligence briefings after leaving office. Susan Gordon, the former principal deputy director of national intelligence, joins Nick Schifrin to discuss whether Trump should be cut off after leaving office, insider threats in the military, and political appointments at the NSA. [Read or listen: PBS/18January2021]
Alexei Navalny Video Details $1.3B Mansion Said to Be Vladimir Putin's Secret Russia Estate. One day after he returned to Russia after surviving a summer assassination attempt, opposition leader Alexei Navalny released an investigation that showed a massive, $1.35 billion estate said to be owned by President Vladimir Putin in Gelendzhik, a resort town along the coast of the Black Sea. Navalny on Tuesday released a two-hour video calling the home and grounds "the most secretive and well-guarded facility in Russia." The property covers more than 27 square miles and has an underground ice rink, a nightclub with dance pole, a casino, a church, and tennis courts. "From now on, millions of Russian citizens will be able to visit Putin's home," the video says. [Check this out: Murillo/DailyBeast/19January2021]
---
Section IV - Research Requests, Jobs, Obituaries
Author Wishes to Add You To His Mailing List: Matt Brazil, an author researching forthcoming book with working title China's Secret Wars: From Mao to Now, is seeking contact from anyone who would like to hear more about the book as the author progresses. Those who reply will be added by Dr Brazil to his email and marketing list. "If you wish your address to be added to that list, please reply to this email. I'm building an email list of people interested in this topic." If you would like to go on that list, write him at matthew.brazil@gmail.com.
Author Researching Italians Involved in Vietnam War
"I intend to publish my historical research on the Italian fighters and civilians in the Vietnam War and would be very grateful if you could give any information, documents and images of Italians (not Italian-Americans, but nationals, recent immigrants born in Italy, soldiers, volunteers, mercenaries, contractors, pilots, drivers, former Foreign Legionnaires of the French Legion, civilians, etc.) who collaborated "unofficially " (CIA covert actions MACV) with the U.S. Armed Forces in the Vietnam War between 1963 and 1975. Please advise if you know of other Italians who had some type of involvement in the Vietnam War. Of interest would be hearing of missionaries, doctors, diplomats, journalists or others. If AFIO member can help me, please reply to Diego Verdegiglio at dv52@libero.it. Thank you very much for your precious help. Best regards and Happy New Year, Diego Verdegiglio Via Romei 27 - 00136 Roma, Italia"
Replies to dv52@libero.it
THREE Faculty Openings for 2021 at Hilbert College, Hamburg, NY
Assistant Professor, Criminal Justice; Assistant Professor, Forensic Science/Crime Scene Investigation; and Assistant Professor, Intelligence & Data Analysis.
Interested candidates can view our job postings here.
---
Jim Barnum, CIA Officer
James Gordon Barnum, 82, a CIA Officer, died 7 January 2021 of COPD in Ann Arbor, MI.
Barnum grew up in Denver, CO. A cowboy at heart, he carried his love for the west throughout his life.
Following three years' service in Germany with the US Army Security Agency, Jim came to the Washington area in 1959 to attend Georgetown University and begin a 40-year career with the Central Intelligence Agency (CIA). Jim met Lois at the Agency and after his graduation they were married. They moved to McLean VA where they lived for over 53 years before moving to Ashburn, VA.
Jim lived a life filled with many friends, golfing, skiing trips, cooking, and adventures in the 65 countries he visited. He loved every dog he ever had including his last, Dolly. His voice would light up the room and make everyone feel welcome. A kind, special person.
Jim leaves behind his wife of 55 years, Lois; a sister, and other family.
Marcia Fleming, CIA Officer
Mary Marcia Moran Fleming, 77, CIA Officer, died 12 January 2021 in Fishers, IN.
Marcia was born in Andover, NY. The family later relocated to Erie, PA. After high school, she moved to Washington, DC and later Falls Church, VA where she began a 35-year career with the Central Intelligence Agency. Through her position with the CIA, Marcia traveled the world, meeting new people, and experiencing new cultures. She spent several years living and working in Geneva, Switzerland and Ottawa, Canada. Upon her retirement from the CIA, Marcia moved to Charlottesville, VA where she lived and worked for an additional 20 years.
She was active in the New Comers Club, First Night Virginia, Osher Lifelong Learning Institute (OLLI), and many others. In 2017, she relocated to Fishers, IN to be near family.
Marcia was pleasantly grumpy, fiercely independent, and protective of friends and family. An avid reader, super fan of crossword puzzles (thought New York Times too easy) and always taking on new challenges.
She is by a daughter and a son, and other family.
Ward Morris, Naval Intelligence Officer
Charles Ward Morris, Capt, USN(Ret), 83, Naval Intelligence Officer, died of acute respiratory failure and pneumonia on 1 January 2021 in Fairfax, VA.
Born in Seattle, WA, Ward was a 1959 graduate of Whitman College, Walla Walla, WA, with a BA in English. He joined the US Navy and served for 31 years in Naval Intelligence. In 1991 he retired as Captain after serving at duty stations in Germany, Japan, Ft. Meade, Maryland, Washington, DC, and Hawaii.
He met and married a Navy Lieutenant, Barbara, whom he married in 1964. Upon retirement in Alexandria, VA, Ward was an active supporter of numerous arts organizations including The Washington Opera where he volunteered for 26 years. Ward also supported Wolf Trap Opera, Washington Performing Arts Society, The Kennedy Center, Washington Concert Opera, Metropolitan Opera Guild, and the Wagner Society. Ward ( "Renaissance Man" to Barbara ) enjoyed courses on literature, history and art at the Smithsonian. He was an avid reader of history books about the Middle East, England and India. He was also a passionate cat lover and parent to many Siamese. He was a 44 year parishioner at Grace Episcopal Church, Alexandria, VA, serving as usher, Homeless Shelter, and Brown Bag lunch volunteer. He was an avid runner and world traveler, visiting over one hundred countries. He made three long visits to India, his favorite.
He is survived by his wife of 56 years, Barbara, and other family.
Richard Pfaff, CIA Officer
Richard Lee Pfaff, 91, CIA Officer, died 13 January 2021 in Fredericksburg, VA.
Richard was born in Evansville, IN. In 1935 his family moved to Richmond, IN where he graduated from Richmond High School in 1948. Richard spent a year attending Earlham College in Richmond and then a year at Wyoming University, Laramie, WY before joining the US Army in 1950. Richard is a Veteran of the Korean War, serving in the US Army G-2 (Intelligence) from 1951 to 1953.
After his military service, Pfaff attended Indiana University in 1953 before transferring to George Washington University, where he graduated in 1954 with a B.S. in Geology.
In 1955 Richard was hired by the CIA where he served as an Intelligence Officer for 28 years.
Among his favorite hobbies were reading historical novels, genealogy, raising bonsai, traveling, photography, and enjoying his beloved dogs.
He is survived by his wife of 65 years, Virginia, a son and daughter, and other family.
---
AFIO EDUCATIONAL EVENTS IN COMING TWO MONTHS....
Thursday, 21 January 2021, noon - 1 PST - Virtual via GoToMeeting - L.A. Chapter hosts Dr Ray Batvinis, Historian, Author, and former FBI speaks on "Agent Zhora: The Most Devastating Spy in American History"
Our guest speaker will be Ray Batvinis, a former FBI Special Agent. He will discuss: Agent Zhora: The Most Devastating Spy in American History
William Wolfe Weisband [Agent Zhora], an American who is considered by many scholars as the most damaging spy in the nation's history. He was a KGB source working as a Russian linguist for the Army Security Agency and the Armed Forces Security Agency - both were predecessors of the NSA. He was at the heart of American codebreaking against the Russians at the dawn of the Cold War and did incalculable damage to American security in the run up to the Korean War.
Raymond J. Batvinis PhD is a historian and educator specializing in the discipline of counterintelligence as a function of statecraft. For twenty-five years (1972-1997) Dr. Batvinis was a Special Agent of the FBI concentrating on counterintelligence and counterterrorism matters. His assignments included the Washington Field Office and the Intelligence Division's Training Unit at FBI headquarters. Later he served in the Baltimore Division as a Supervisory Special Agent where he supervised the espionage investigations of Ronald Pelton, John and Michael Walker, Thomas Dolce and Daniel Walter Richardson.
Following 9/11, Dr. Batvinis returned to the FBI for three years managing a team of former FBI agents and CIA officers who taught the Basic Counterintelligence Course at the FBI Academy. In addition to authoring scholarly articles, he has contributed to the Oxford History of Intelligence, an anthology of essays, published in 2009 by Oxford University Press. He has produced two books on the history of the FBI's counterintelligence program. The Origins of FBI Counterintelligence, (University Press of Kansas [UPK], 2007), and Hoover's Secret War Against Axis Spies, (UPK, 2014). He is currently writing a biography of William Weisband, an early Cold War American spy, while completing the third of a three volume history of the FBI's activities during World War II.

To participate or if you have other questions about this or other Los Angeles Chapter or meetings, email Vincent Autiero, President, at afio_la@yahoo.com To participate in the above event, email him and he will send you the link for the virtual GoToMeeting event.
Thursday, 28 January 2021, 6 PM EST - Virtual & In-Person - AFIO Atlanta hosts its monthly Thursday Cigar & Strategy Group social.
For details, contact Atlanta Chapter President Brian Hooper at brian@afioatlanta.com or 404.403.8004.
Thursday, 4 February 2021, 6:30pm CST - Virtual - San Antonio AFIO hear "The Dragon Lady and the Dreamland Resort."
We will begin the meeting with a 30 minute social "half-hour" to talk with other members and then begin the presentation "The Dragon Lady and the Dreamland Resort." It is a story your mother never knew to tell you! Prior to the meeting members will be sent a unique pass code for admission to the virtual meeting. Guests from other chapters may attend by requesting to be added to the email prior to Groundhog Day (2 Feb). The chapter will be joined by students from the University of Texas at San Antonio's Global Intelligence Association.
In preparation for the meeting, here is a link to an online article from the Wall Street Journal. This excellent article includes a link to an approximately 20 minute video that will prepare you to meet the Dragon Lady. The video is excellent quality.
Questions to John Franklin, President, AFIO San Antonio Chapter at 210 863-0430 or email him at satxafio@gmail.com.
---
Other Upcoming Events from Advertisers, Corporate Sponsors, and Others
Thursday, 21 January 2021, noon EST - Virtual - Frank Figliuzzi, The FBI's Keeper of the Code – hosted virtually by the International Spy Museum
As the FBI's former head of counterintelligence, Frank Figliuzzi had a unique opportunity to study patterns of conduct among high-achieving individuals, as well as the errors made by unethical persons. He came to understand that maintaining a "code of excellence" was the key to success in any field. Appointed the FBI's Chief Inspector by then Director Robert Mueller, as "Keeper of the Code," Figliuzzi was charged with overseeing sensitive internal inquiries, target shooting reviews, and performance audits. He ensured each employee met the Bureau's exacting standards. Now, drawing on his distinguished career serving as a special agent for twenty-five years with leadership positions in major American cities, Figliuzzi takes us on a personal journey with The FBI Way: Inside the Bureau's Code of Excellence. Join International Spy Museum Historian and Curator Andrew Hammond for a discussion with Figliuzzi about his memoir, the lessons he's learned, and the FBI execs who he believes erred! Following their discussion, you'll be able to ask questions via our online platform.
Event is free – Registration required. Visit www.spymuseum.org.
Thursday, 21 January 2021, 1800/6pm EST; 1500/3PM PST; 1300/1PM HST; 0700 Beijing, 22 January - Virtual GoToMeeting Event - Naval Intelligence Professionals Virtual Speaker Series
RDML Thomas M. Henderschedt, Senior Defense Official/Defense Attaché, Beijing, PRC on "Perspectives on the Evolution of U.S.-PRC Relations in the Last 15 Years."
• RDML Henderschedt will provide an overview of: o DAO Beijing support the evacuation of US Citizens from Wuhan; o A more confident PLA in its interactions with foreigners; o The "modernization" and post-2015 reforms of the PLA.
Please join the meeting from your computer, tablet or smartphone, beginning at 1750/5:50 EDT:https://global.gotomeeting.com/join/859605821
You can also dial in using your phone. United States: +1 (872) 240-3212; Access Code: 859-605-821
As always, please mute your device/phone.
AGENDA: • (3 min) RDML (Ret.) Cothron, NIP Chairman, welcoming remarks.; • (~30 min) RDML Henderschedt remarks; • Q & A moderated by CAPT (Ret.) Bob Allen. - Please ask your questions in the GoToMeeting chat window or email your questions in advance/during the video conference to: bob_allen36@hotmail.com.
Monday, 25 January 2021, noon EST - Virtual - Dead Doubles with Trevor Barnes - hosted virtually by the International Spy Museum
In 1960, alerted by the CIA, MI5 discovered two British spies stealing secrets from the highly sensitive submarine research center in Portland in southwest England. In the wake of the spies' sensational trial, the FBI would uncover the true identity of the enigmatic Lonsdale—Konon Molody, a Russian who had lived in California before being recruited by the KGB. While in jail Molody and the Cohens opened secret talks with MI5 to betray Russia, but before they had the chance, the KGB blackmailed Britain into spy swaps to fly them back to Moscow. Join International Spy Museum Historian and Curator Andrew Hammond in conversation with journalist and intelligence historian Trevor Barnes as we mark the 60th anniversary of the arrest of the Portland Spy Ring. Barnes is the author of Dead Doubles: The Extraordinary Worldwide Hunt for One of the Cold War's Most Notorious Spy Rings. He and Hammond will explore how he drew on never-before-seen MI5 and FBI files, private family archives, and sources in Russia to illuminate one of the most infamous spy cases from the Cold War. Following their discussion, you'll be able to ask questions via our online platform. Event is free – Registration required. Visit www.spymuseum.org.
Wednesday, 27 January 2021, noon EST - Virtual - Adolf Tolkachev, the Billion Dollar Spy - hosted virtually by the International Spy Museum co-sponored with the Council on Intelligence Issues
What is a good spy worth? In the case of this one, an estimate by the US Air Force specialist who used the intelligence gained from this one source to terminate or direct research, "somewhere in the neighborhood of $2 billion…" That was before the source, Adolf Tolkachev, delivered another 179 rolls of film with thousands of pages of Soviet documents. Burton Gerber, a legendary CIA officer and senior leader and Moscow Chief during much of the operation, will join Washington Post journalist and Pulitzer Prize winning author David E. Hoffman for a discussion of the Tolkachev case. William D. "Bill" Murray, a retired senior operations officer of the CIA and co-founder of the Council on Intelligence Issues, will be moderating this program. Please join us for this unique presentation which will bring you deeply into one of the most successful and important US espionage operations of the late 20th century, and then you'll be able to ask questions via our online platform. Co-sponsored by the Council on Intelligence Issues.
Event is free – Registration required. Visit www.spymuseum.org
28 January 2021, 6 pm EST - Virtual - OSS Society "Oh So Social" Conversation with Sec James Mattis and Hon. Mike Vickers

OSS Society kicks off their "Oh So Social" Monthly Conversation Series for 2021 with a presentation by Secretary James Mattis and the Honorable Michael Vickers. Event includes a special cocktail presentation by noted author/cocktail historian Philip Greene.
There is no charge to attend. To register, use this link.
---
In addition to the new Royal Blue long sleeve shirts, and the gray long sleeve hooded sweatshirts, the AFIO Store also has the following items ready for quick shipment:
NEW: LONG and Short-Sleeved Shirts with embroidered AFIO Logo and New Mugs with color-glazed permanent logo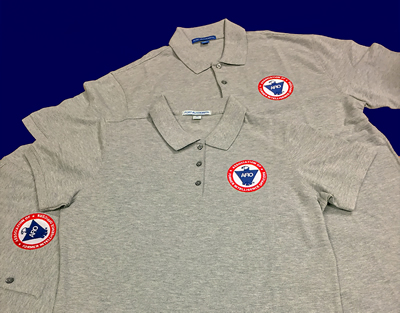 Show your support for AFIO with our new Polo Shirts. Be the first to buy these new, high quality, subtle heathered grey short sleeve shirts, and dark blue long sleeved shirts, of shrink and wrinkle resistant fine cotton with a soft yet substantial feel. They feature a detailed embroidered AFIO seal. Get a shirt for yourself and consider as gifts for colleagues, family, and friends. Only $45 each including shipping.
Sizes of (M) men or (W) women shirts; Small, Medium, Large, XL, XXL, and XXXL. At this time all orders will arrive as Short Sleeve shirts.
You may pay by check or credit card. Complete your order online here or mail an order along with payment to: AFIO, 7600 Leesburg Pike, Ste 470 East, Falls Church, VA 22043-2004. Phone orders at 703-790-0320. If interested in other shirt colors or sleeve lengths, contact Annette at: annettej@afio.com.
Available as a thank you for donations are the new AFIO logo face masks:
These soft, form-fitting, washable, non-medical grade fabric face masks have wide behind-the-ear elastics to make long periods of wear comfortable. Also easier to quickly put on or take off. Blue on outside, white inside. The masks do not have a nose wire but are sculpted, shaped, and sewn to fit most users. The all-cloth composition allows the masks to be washed or steam-disinfected without concerns over metal wires. The color logo is washable and a permanent part of the mask.
The masks, however, are not for sale. They are being offered strictly as a thank you gift to our donors.
For tax-deductible donations of $50 you will receive a receipt and our thank you gift of two of these newly-arrived face masks.
Donations of $100 receive four masks to be sent to the same address. Other amounts and split-shipments are available.
To donate now to support AFIO's programs and publications, please do so here.
We wish all members and donors continued good health, safe social distancing, and warmly appreciate any support you are able to provide the association.
---
AFIO Mug with color glazed logo. Made in America. Sturdy enough to sit on desk to hold pens, cards, paperclips, and candy.
This handsome large, heavy USA-made ceramic mug is dishwasher-safe with a glazed seal. $35 per mug includes shipping. Order this and other store items online here.
---
Guide to the Study of Intelligence and When Intelligence Made a Difference
"AFIO's Guide to the Study of Intelligence" has sold out in hard-copy.
However, it is available in digital form in its entirety on the AFIO website here.

Also available on the website here are the individual articles of AFIO's history project "When Intelligence Made a Difference" that have been published to date in The Intelligencer journal. More articles will be forthcoming in future editions.
---
Disclaimers and Removal Instructions
Weekly Intelligence Notes (WINs) are commentaries on Intelligence and related national security matters, based on open media sources, selected, interpreted, edited and produced for non-profit educational uses by members and WIN subscribers.
REMOVAL INSTRUCTIONS: We do not wish to add clutter to inboxes. To discontinue receiving the WINs:
a) IF YOU ARE A MEMBER - click here: UNSUBSCRIBE and supply your full name and email address where you receive the WINs. Click SEND, you will be removed from list. If this link doesn't open a blank email, create one on your own and send to afio@afio.com with the words: REMOVE FROM WINs as the subject, and provide your full name and email address where you are currently receiving them.
b) IF YOU ARE NOT A MEMBER, and you received this message, someone forwarded this newsletter to you [contrary to AFIO policies]. Forward to afio@afio.com the entire WIN or message you received and we will remove the sender from our membership and distribution lists. The problem will be solved for both of us.
CONTENTS of this WIN [HTML version recipients - Click title to jump to story or section, Click Article Title to return to Contents. This feature does not work for Plaintext Edition or for some AOL recipients]. If you wish to change to HTML format, let us know at afio@afio.com. The HTML feature also does not work for those who access their e-mail using web mail...however NON-HTML recipients may view the latest edition each week in HTML at this link: https://www.afio.com/pages/currentwin.htm
---
WINs are protected by copyright laws and intellectual property laws, and may not be reproduced or re-sent without specific permission from the Producer. Opinions expressed in the WINs are solely those of the editor's or author's listed with each article. AFIO Members Support the AFIO Mission - sponsor new members! CHECK THE AFIO WEBSITE at www.afio.com for back issues of the WINs, information about AFIO, conference agenda and registrations materials, and membership applications and much more!
(c) 1998 thru 2021. AFIO, 7600 Leesburg Pike, Suite 470 East, Falls Church, VA 22043-2004. Voice: (703) 790-0320; Fax: (703) 991-1278; Email: afio@afio.com
---
About AFIO | Membership Renewal | Change of Address | Upcoming Events | Chapter Locations | Corporate/Institutional Memberships | Careers in Intelligence Booklet | Guide to the Study of Intelligence | Intelligencer Journal | Weekly Intelligence Notes | To Make A Donation | AFIO Store | Member-Only Section | Code of Ethics | Home Page
---