---
CONTENTS
Section I - INTELLIGENCE HIGHLIGHTS
Section II - CONTEXT & PRECEDENCE
Section IV - Research Requests, Jobs, Obituaries
Other Upcoming Events from Advertisers, Corporate Sponsors, and Others
For Additional AFIO and other Events two+ months or more... Calendar of Events
WIN CREDITS FOR THIS ISSUE: The WIN editors thank the following special contributors: rsy, ec, po, pj, mh, km, gh, mk, rd, fm, kc, jm, mr, jg, th, ed, and fwr. They have contributed one or more stories used in this issue.

The WIN editors attempt to include a wide range of articles and commentary in the Weekly Notes to inform and educate our readers. However, the views expressed in the articles are purely those of the authors, and in no way reflect support or endorsement from the WIN editors or the AFIO officers and staff. We welcome comments from the WIN readers on any and all articles and commentary.

CAVEATS: IMPORTANT: AFIO does not "vet" or endorse research inquiries, career announcements, or job offers. Reasonable-sounding inquiries and career offerings are published as a service to our members, and for researchers, educators, and subscribers. You are urged to exercise your usual caution and good judgment when responding, and should verify the source independently before supplying any resume, career data, or personal information.]
If you are having difficulties with the links or viewing this newsletter when it arrives by email, members may view the latest edition each week at this link.

---

Other items brought to our attention:

The Arkin Group's February 4 "In Other News" letter to private clients by former Operations Officer Jack Devine features...
• Russian protests are continuing – albeit in smaller numbers – following the arrest and sentencing of Kremlin critic and opposition figure Alexey Navalny, who made his name in politics with videos exposing corruption among Russia's political elites.
• Venezuelan opposition leader Juan Guaidó received a boost of confidence from the United States this week, even as Venezuelan President Nicolás Maduro remains in power.
• China has announced plans to donate coronavirus vaccines to Zimbabwe, Guinea, and Sierra Leone and help another 38 developing countries procure shots in the latest salvo in its Covid-19 assistance/vaccine diplomacy drive.
• Just released: Jack Devine's Spymaster's Prism. AFIO conducted an interview with him about this book and will release that interview to members on March 2.

---

The Latest... from the Jeff Stein's "SpyTalk" Series

Feb 9: "Spy Sorries: Jan. 6's Massive Intelligence Failure" by Jeff Stein
The next 'wakeup call' could get us killed. Oh, wait...
Article here

Feb 4: "A Detective in China: A Memoir of Sleuthing Out Technology Cheating" by Matthew Brazil
A former US Commerce rep recalls cat-and-mouse games with Chinese firms
Article here

Readers can subscribe for free at the moment here.

---

Recently Seen Online:

Inside the SCIF by JJ Green, WTOP - Issue #99, 4 February has details on breaking news on "The 10 most surveilled cities in the United States"; "Putin Backed into a Corner"; "Iranian Diplomat Sentenced to 20 Years for Foiled..."; The Mainstream Media and Propaganda, social media, podcasts; North Korean diplomat defects to South Korea; Cyber Czar's Low Bar; and more.
The latest Target USA Podcast 262 features: Navalny goes back to prison; Putin caught off guard.
The Hunt: Concern about future extremist attacks linger. Former FBI agent Michael German said perspective is important right now. Many Americans are worried that violence similar to what happened at the U.S. Capitol on Jan. 6 might happen again somewhere else.

---

---

From NCMF:

The National Cryptologic Museum Foundation's #CyberChats, held virtually via their Nepris online classroom, will resume this month. The first session was today, 9 February 2021, 11am EST - 'Safer Internet Day,' as we discuss how to use the internet safely. Charissa Kim from K-12 CyberTalk (https://k12cybertalk.org/) along with Kirsten Gibson, Cara Groff, and Kaitlyn Knabe from Purdue's CERIAS (https://www.cerias.purdue.edu/) will join Mark S Loepker, NCMF for a panel discussion on the challenges of living and operating on the Internet. There will be ample time for questions and answers so come prepared to join in the conversation.
Click here and then on the Date/Title to visit the Nepris online classroom page. Please note you will need a free Nepris account to attend the live session or view the recording.

---

One of the special benefits of membership in AFIO: access to CIA's inhouse gift shop — the EAA Store.

It requires a quick preapproval process described here to all newly joined and current AFIO members. And then allows you to purchase online their unusual logo'd gift items for self or colleagues. Here is the latest photo EAA released on January 22 featuring some of their newest items:

---
---
Just released to members-only...
OSS Operative Aline Griffith who become the Countess of Romanones

Released 9 February 2021
Interview of Tuesday, 2 February 2021 of Larry Loftis, on his latest book "The Princess Spy: The True Story of World War II Spy Aline Griffith, Countess of Romanones." Interviewer - Host: James Hughes, AFIO President, a former CIA Operations Officer.
TOPIC: Larry Loftis and Jim Hughes discuss a Pearl River, NY citizen, Aline Griffith, who volunteered to assist the OSS abroad, had three weeks of training, and was launched into a life of glamour, glitz, and mysterious characters. She spied for OSS...and possibly did a number of favors for its successor, CIA. She remained in Europe, becoming a Spanish Countess.
The interview runs 37 minutes which includes several Q&As.
The author will be appearing on the Today Show Friday, 12 February 2021. A review appeared in the Wall Street Journal. To purchase a signed copy of this book, it is available from the Writers Block Bookstore in Winter Park, FL.
Access Loftis video here or click above image.
---
Prior Videos in the "AFIO Now" Series
To view them, visit our YouTube page here
or log into the Member-Only area of our website here.
---
Linda Millis, former Senior Intelligence Officer at NSA, CIA, ODNI on "Women in Intelligence"
Vince Houghton PhD, Director, National Cryptologic Museum on "The Nuclear Spies: America's Atomic Intelligence Operation Against Hitler and Stalin"
Joe Augustyn, former CIA Clandestine Services Officer on "CIA's Defector Resettlement Program"
Joseph W. Augustyn, former CIA Clandestine Services Officer on "CIA's Role in the Creation of the Department of Homeland Security"
Seth Jones PhD, Director, Transnational Threats Project, CSIS on "A Covert Action"
David Priess PhD, Author, former Senior CIA Analyst and PDB Briefer on "The President's Book of Secrets"
Everette Jordan, Dep Asst Sec for IC Integration, Office of Intel and Analysis, Treasury on "Enjoying a Rich, Challenging Intelligence Career Spanning Multiple Agencies."
Bruce Riedel, former CIA Senior Analyst, Served on National Security Council during Iraq War on "Early Gulf War Policy Decisions"
Shelby Pierson, Election Threats Executive, Office of the Director of National Intelligence on "Nationwide Election Security"
Bruce Klingner, Former CIA Deputy Division Chief for Korea; Heritage Foundation Fellow on "U.S. Strategy Towards North Korea"
Series Introduction: Stewart Baker, Chairman, and James Hughes, President
Nicholas Dujmović, Professor, Author, former CIA Historian, PDB Editor on "Guidelines and Experiences Teaching Intelligence at the University Level"
David Robarge, CIA Chief Historian, PDB Editor on "The Complexities of Counterintelligence"
Vince Houghton PhD, Director, National Cryptologic Museum on "Nuking the Moon...and Other Intelligence Themes and Military Plots Left on the Drawing Board"
Martin C. Faga, former Director, National Reconnaissance Office on "NRO Support to the Gulf War"
Many more interviews have been conducted, and will be released throughout 2021. Stay tuned.
---
The following articles from the Winter-Spring 2021 edition of Intelligencer are available as PDFs at these links:
• Terror in Athens — Remembering CIA Station Chief Dick Welch by Samantha Randazzo Childress and Carol "Rollie" Flynn
• When Intelligence Made a Difference - Part V Intro by Peter Oleson
• Soviet Deception and the Cuban Missile Crisis by Robert M. Clark
• Occasionem Cognosce — Francis Cabot Lowell by Joel Wickwire
• The Seizure of Danang City Hall by Jim Schnell PhD
• The Breaking of JN-25 and its Impact in the War Against Japan by Peter C. Oleson
• Developing a Cooperative Strategy in the El Salvador Civil War by John Fishel
Writers, Officers: Please Provide A Brief Article for This Ongoing AFIO History Project
AFIO's educational project "When Intelligence Made a Difference" seeks writers to identify events throughout history involving any nation or organization when the outcome was affected significantly by intelligence.
AFIO has been publishing edited submissions serially in Intelligencer released two to three times a year.
To see what has been published, it is available here. Also look at the Winter-Spring edition of the journal arriving in the mail of all members and subscribers over the next three weeks.
Those readers interested in contributing an article, should email peter.oleson@afio.com.
For instructors, this project makes a great class assignment. Accepted articles give students a publication credit in a recognized journal.
---

The OSS Society's much praised February 1 event: "Leadership & Strategy" with Sec. James Mattis & The Hon. Mike Vickers was part of an "Oh So Social" Conversation Series. After considerable interest, they have agreed to make it available. It is worth viewing, and is available here.
25 March 2021 - Virtual - The next OSS "Oh So Social" Conversation features former Asst Sec of State for INR Ellen McCarthy

The next "Oh So Social" conversation by The OSS Society will feature the Honorable Ellen McCarthy, former Assistant Secretary of State for the Bureau of Intelligence and Research - the successor to the OSS' Research and Analysis Branch - will interview best-selling author Erika Robuck about her new book "The Invisible Woman" - the OSS' Virginia Hall, the only civilian woman to receive the Distinguished Service Cross in World War II. To register for this virtual event, do so here.
---
Visit, Follow, Subscribe to AFIO's LinkedIn, Twitter, and YouTube pages to receive updates.
Members who use social media or wish to explore, will find new announcements and other material on AFIO's Twitter and LinkedIn pages. New videos on our YouTube page appears below as well.
Access them here: LinkedIn, Twitter, and YouTube. By following or subscribing on those sites, one can be notified as new material appears.




---
Newly Released, Overlooked, or Forthcoming Books
This Is How They Tell Me the World Ends: The Cyberweapons Arms Race
by Nicole Perlroth
(Bloomsbury Publishing, Feb 2021)
The story of the cyberweapons market—a secretive, invisible, government-backed market—which is leading to a new kind of global warfare.
Zero day: a software bug that allows a hacker to break into your devices and move around undetected. One of the most coveted tools in a spy's arsenal, a zero day has the power to silently spy on your iPhone, dismantle the safety controls at a chemical plant, alter an election, and shut down the electric grid (just ask Ukraine).
For decades, under cover of classification levels and non-disclosure agreements, the US government became the world's dominant hoarder of zero days. The US paid top dollar—thousands, and later millions of dollars—to hackers willing to sell their lock-picking codes and their silence. Then the US lost control of its hoard and the market.
Now those "zero days" are in the hands of hostile nations and mercenaries who do not care if your vote goes missing, your clean water is contaminated, all your electricity suddenly halts, or our nuclear plants melt down.
New York Times reporter Nicole Perlroth reveals the urgent threat faced by us all if we cannot bring the global cyber arms race to heel.
Book may be ordered here.
---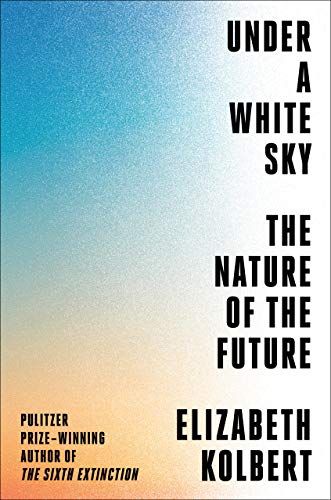 Under a White Sky: The Nature of the Future
by Elizabeth Kolbert
(Crown, Feb 2021)
Takes a hard look at the new world we are creating. Biologists trying to preserve the world's rarest fish; engineers turning carbon emissions to stone; Australian researchers trying to develop a super coral to survive on a hot globe; and physicists contemplating shooting tiny diamonds into the stratosphere to cool the earth.
One way to look at human civilization, says Kolbert, is as a ten-thousand-year exercise in defying nature. Can these new and sometimes desperate interventions that have imperiled our planet be the only hope for its salvation? Urgent, absolutely necessary reading as a portrait of our devastated planet.
Book may be ordered here.
---
Guide to the Study of Intelligence and When Intelligence Made a Difference
"AFIO's Guide to the Study of Intelligence" has sold out in hard-copy.
However, it is available in digital form in its entirety on the AFIO website here.

Also available on the website here are the individual articles of AFIO's history project "When Intelligence Made a Difference" that have been published to date in The Intelligencer journal. More articles will be forthcoming in future editions.
---
---
Section I - INTELLIGENCE HIGHLIGHTS

Norwegian Intelligence Service: Foreign Intelligence Activity Against Norway Remains Significant Threat. On Monday, the Norwegian Intelligence Services, the Police Security Services (PST) and the National Security Authority (NSM) presented the open sections of their threat and risk assessments. It is the first time that these three services present their respective threat and risk assessments together.

Director of the Norwegian Intelligence Services Vice Admiral Nils Andreas Stensønes, pointed to three trends in the threat situation Norway is facing in 2021.

"First of all, the threat from intelligence and influence activities will continue. Secondly, the military activity in the High North is increasing, and thereby also tension. Thirdly, the terror threat against Europe has not disappeared", Stensønes said during the press conference. [Read more: Bye/HighNorthNews/9February2021]

Canada: Judge Denies CSIS Request to Collect Foreign Intelligence. A court has put the brakes on a Canadian Security Intelligence Service request to collect foreign information, ruling a proposed technique would stray beyond the spy service's legal mandate.

The service was seeking court warrants so it could gather intelligence in other countries, from a location inside Canada, to at the request of an unnamed federal minister.

The spy service is allowed to collect information about threats to national security anywhere in the world, but there are limits on gathering intelligence unrelated to security outside Canada.

Section 16 of the CSIS Act allows the service to collect, within Canada, foreign intelligence relating to the capabilities, intentions or activities of any foreign state, as long as the information-gathering is not aimed at Canadians. [Read more: Bronskill/TheCanadianPress/4February2021]

Fugitive Ex-Officer of the Romanian Intelligence Service Turns Himself in to Italian Police. Daniel Dragomir, a former officer of the Romanian Intelligence Service (SRI) sentenced to 3 years and 10 months in prison for influence peddling and bribery in Romania, turned himself in at a police station in Bari, Italy.

He became a wanted person after fleeing Romania in June last year, just before the court's ruling.

"On the morning of February 4, 2021, the Romanian Police was informed [...] by the Italian authorities that yesterday, a 42-year-old man, wanted at international level, presented himself at a police station in Bari, accompanied by his lawyer. He was taken to the Bari Penitentiary, pending his presentation before the court, for the validation of the European arrest warrant issued by the Bucharest Tribunal," the Romanian Police said in a press release quoted by News.ro.

A court is to judge and rule on his extradition to Romania. [Read more: Marica/RomaniaInsider/5February2021]

Lobbying Begins Anew for FBI Headquarters as GSA Considers its Options. The General Services Administration is embarking on yet another phase of the long-stalled effort to relocate the FBI headquarters from its 45-year home in downtown Washington, teeing off a complex lobbying battle over the jobs and financial investment the project would entail.

The omnibus spending bill recently approved by Congress requires the GSA, whose Public Building Service operates as a sort of centralized landlord for the federal government, to come up with a plan for a new headquarters within 90 days. The bill also specifies that the headquarters should remain in the Washington region.

The GSA under President Donald Trump canceled a decade-long plan to relocate the headquarters, leaving the intelligence agency stuck with a crumbling building that doesn't meet its security requirements. [Read more: Gregg&Cox/WashingtonPost/5February2021]

Ethiopia Says it Foiled Attack on UAE Embassy in Addis Ababa. Ethiopia has arrested 15 people over a plot to attack the United Arab Emirates' embassy in Addis Ababa, Ethiopia's state news agency said on Wednesday, citing a statement from the intelligence service.

The group was working at the direction of foreigners, the Ethiopian Press Agency (EPA) reported. An unspecified amount of arms, explosives and documents were seized during the operation, the agency said.

"The group took the mission from a foreign terrorist group and was preparing to inflict significant damage on properties and human lives," it reported. [Read more: Reuters/4February2021]



---
Section II - CONTEXT & PRECEDENCE

Underground Interrogation Room Restored at Former Korean Central Intelligence Agency Site. On the morning of Feb. 3, the city of Seoul announced it was opening up several facilities to the public as part of its five-year revitalization project for the Yejang Jarak area of Namsan Mountain, which will be wrapping up in May.

The name "Yejang" refers to a martial arts training site located here during the Joseon Dynasty. During the Japanese occupation, the area hosted the residence of the governor-general of Korea. After liberation, it was the location of the headquarters of the Korean Central Intelligence Agency (KCIA), today known as the National Intelligence Service.

The underground interrogation room of the KCIA's sixth bureau, which was opened to the public on Feb. 4, was restored and recreated in its original location with original materials based on witness testimony. [Read more: Hankyoreh/6February2021]

5 Instagram Lessons from the Office of the Director of National Intelligence. The Office of the Director of National Intelligence launched an Instagram account featuring its newly appointed director Avril Haines and her important work.

The social media account isn't filled with fast food puns or snarky quips. It didn't even host an "I spy" challenge - how the CIA announced its Instagram presence in April 2019. However, the ODNI's account can provide communicators with several social media takeaways for Instagram and other social media platforms.

"Instagram is an important way for ODNI to strengthen our connection with the American public," says Amanda Schoch, assistant director of national intelligence for strategic communications. "Through our Instagram account, we will look to creatively highlight our people, values, and the important work happening at ODNI and across the Intelligence Community to meet our mission."

Consider the following lessons: [Read more: Winchel/PRDaily/3February2021]

The White House: Memorandum on Revitalizing America's Foreign Policy and National Security Workforce, Institutions, and Partnerships. The revitalization of our national security and foreign policy institutions is essential to advancing America's security, prosperity, and values, accelerating our domestic renewal, and delivering results for all Americans.

Our national security and foreign policy institutions are made up of remarkable professionals and patriots whose service and sacrifice are too often taken for granted and whose expertise has too often been sidelined or demeaned. For too long, we have asked our public servants to do more in an increasingly complicated and competitive world, with fewer financial resources and less support. Their experience, integrity, and professionalism have been severely tested. We have fallen short in ensuring that our national security workforce reflects and draws on the richness and diversity of the country it represents. And we have failed to ensure that our public servants have the necessary tools, training, and support to fully realize their potential.

At home and around the world, we face challenges that require us to lean forward, not shrink back. [Read more: TheWhiteHouse/4February3021]

Cuban Artist Continues to Spread Laughter With Spy Cartoons. Some years back, when Madonna used a white pantsuit for the Oscars and later that night changed into the same outfit in black, adding a hat that gave her an air of mystery, the memes followed quickly.

One showed Madonna next to the well-known cartoon spies and archenemies dressed in black and white, the characters in the famed Spy vs Spy strip created by Cuba-born Antonio Prohías in 1960 for Mad Magazine, the U.S. satire publication.

The use of Prohías' spies to make fun of a pop icon like Madonna proved not just how deeply the characters were carved into U.S. culture, with the spies also appearing in video games and animated cartoons. It was also another sign of the universal success of a Cuban exile.

Prohías arrived in New York in May of 1960 with just $5 in his pocket, pressured to leave Cuba after Fidel Castro accused him of being a CIA agent. [Read more: AP/7February2021]



---
Book Review: This is How They Tell Me the World Ends - The Cyberweapons Arms Race. Sometime last year, a shadowy group of hackers - now thought to be Russians working for that country's foreign intelligence service - broke into digital systems run by Solar Winds, an American tech firm, and inserted malware into the code. When the company then sent out its next regular software update, it inadvertently spread the virus to its clients - more than 18,000 of them, including huge corporations, the Pentagon, the State Department, Homeland Security, the Treasury and other government agencies. The hack went undetected for months, until the victims started discovering that enormous amounts of their data - some of it very sensitive - had been stolen.

Solar Winds may have been the biggest cyberattack on the United States in years, if not ever. But it was hardly a singular event. In the last half decade or so, American corporations have suffered billions of dollars of losses in similar incursions. Between 2019 and 2020, more than 600 towns, cities and counties were hit by ransomware attacks, shutting down hospitals, police departments and more. America's adversaries - Russia, China, Iran and North Korea - have by now thoroughly infiltrated the computer systems that run some of the United States' most important infrastructure, including not just power grids and dams but also nuclear plants.

All of which raises the question: Why does this keep happening? [Read more: Tepperman/NYTimes/9February2021]

The Future of the Spy Novel is Human. In late December, it seemed as if two different shows were playing out on the same screen. On one half was the death of John le Carré, whose stories of George Smiley and the Circus (le Carré's invented name for the British Secret Intelligence Service) remade the spy novel. On the other half was the news that Russian hackers stole secrets from some of the most sensitive parts of the American government by hacking the cybersecurity company SolarWinds. So what should we make of the split-screen - the death of the master spy novelist alongside the real-life story of signals intelligence? While it seems that human intelligence is being eclipsed by the technological, in fact, there's good reason to believe that the future of the spy novel is human.

To understand the nature of le Carré's legacy and why it will endure, it's useful to look first at his novels themselves before coming to grips with the relationship between fiction about intelligence and the work of intelligence. [Read more: Voyles/InkstickMedia/4February2021]

South Africa: State Security Agency Debate: Intelligence is the Lifeblood of All Nations. The American science fiction writer Octavia E Butler said: "In order to rise from its own ashes a phoenix first must burn." The events of the past week at the Zondo Commission have brought this adage into sharp focus and difficult questions arise as a result. What kind of an intelligence outfit washes its dirty linen in the manner South Africa recently witnessed at the commission? Or better still, will the phoenix that is the State Security Agency ever rise from its ashes, following the chilling testimonies of its own agents to Deputy Justice Raymond Zondo and the country?

It is possibly the first time in South Africa's history that matters of intelligence have been laid so bare for public consumption. Even the much-acclaimed democracies around the world have never exposed their inside operations in the manner we did. Exposing malfeasance, poor governance, criminality and party-political meddling in state affairs is something our country desperately needs and must achieve. Those who are accused of wrongdoing and undermining state agencies must be held to account - but not at the expense of the very foundation that defines an intelligence function. [Read more: Scott/DailyMaverick/3February2021]



---
Section IV - Research Requests, Jobs, Obituaries
Author Seeks Your Assistance Answering a Few Questions Regarding al Qaeda and US Operations
AFIO Colleagues,
I have benefited in the past with AFIO's assistance and need a few additional answers as I write a four-volume history of anti-American terrorism in the US and overseas from the Eisenhower through Trump administrations. Volumes I and II are published and were featured in prior Weekly Notes. I am now working on Volume III which addresses the Clinton and Bush II administrations. This volume has many pages on the evolution of al Qaeda, the 9/11 attacks and subsequent investigations, and the responses by both administrations to the prevailing threat. First, much of the relevant material has not been declassified. In addition, the memoirs by relevant actors are written from the perspective of highlighting the successes and minimizing or ignoring the failures. Given the developments that took place during these two administrations, many of the key actors have not written their memoirs. There have been many books written on al Qaeda, the 9/11 attacks, and the intelligence "malfunction" which contain many examples of "dueling facts" on events and developments. I am seeking to present the facts in my study, but when I cannot determine a "fact," what can I do? I can present both presentations of the fact, which will take up a lot of space in the volume, or simply pick the fact presentation that I think makes most sense. In that case, it is not a fact but an interpretation. I want facts.
Towards that goal, I ask of you AFIO members and colleagues, to help me with a few of these facts. Below is a brief list of questions. If you can answer any of them, please email me at dpluchinsky@rocketmail.com. These questions deal with the 1990s, the pre-9/11 decade...developments over two decades ago.
1. In what year did the NSA or CIA detect bin Laden's first satellite phone? I do not want sources and methods, just the year.
2. In what year did the NSA or CIA first detect al Qaeda's London communication hub at which Khaled al Fawwaz acted as the caretaker?
3. In mid-1996, bin Laden asked for an updated Inmarsat Compact M satellite phone. This was tasked to Dr. Saad al Fagih, who tasked it to Ziyad Khaleel, a student in Virginia. He reportedly bought the phone from a store in Dix Hills, Long Island in November 1996. This would mean that the FBI was involved in monitoring this purchase. This would also mean that the FBI might have known that the NSA and or CIA were monitoring bin Laden's cell phone. Is it true that the FBI knew about bin Laden's cell phone in 1996?
4. In what year did the NSA and CIA first detect al Qaeda's communications hub in Sana'a, Yemen – BEFORE the August 1998 attacks on the U.S. Embassies or AFTER, when the FBI obtained the phone number from of the Embassy bombers – Mohamed Rashed Daoud al-'Owhali?
5. In what year did the CIA establish its ground based dish to intercept one side of the calls coming into the Sana's hub?
6. If the NSA knew that some phone calls from the U.S. were coming into the Sana'a hub in 2000 / 2001, why were they not able to determine locations in the U.S.? The prevailing open source explanation is that it did not have the technological capability.
7. Lastly, could someone explain to me in layman's terms how the USG would have intercepted in the 1990s a phone call from a landline and a satellite phone?
These questions are historical. It is unlikely sources and methods used in some of these events are still active. I have read James Bamford and Matthew Aid's books on NSA. While the CIA and DOJ declassified their Inspector General reports on pre-9/11 activities of the CIA and FBI, the NSA has not.
Whatever help you can provide me would be greatly appreciated. I do not have to source you. If you wish, I can camo source you – "A former U.S. government employee who wishes to remain anonymous."
I leave you with a thought you should ponder – the sharpest and largest thorn in history is silence.
Thank you. REPLIES TO: Author/Research Dennis Pluchinsky at dpluchinsky@rocketmail.com
THREE Faculty Openings for 2021 at Hilbert College, Hamburg, NY
Assistant Professor, Criminal Justice; Assistant Professor, Forensic Science/Crime Scene Investigation; and Assistant Professor, Intelligence & Data Analysis.
Interested candidates can view our job postings here.
---
Russ Langelle, CIA Operations Officer
Russell August Langelle, 98, a CIA Operations officer who served in Europe, the Far East, the USSR, and Africa, died of congestive heart failure on 24 November 2020 in Kingman, AZ.
Syndicated columnist Jack Anderson wrote in 1985 that Langelle was assigned under diplomatic cover at the U.S. Embassy in Moscow, where he had been receiving information from a Soviet military officer. The officer, Col. Pyotr Popov, had been a CIA asset since 1953.
In October 1959 the two men met on a Moscow bus and Popov slipped Langelle a note rolled in a cylinder saying he had been found out and the Soviets were intending to use him as a double agent.
KGB officers witnessed the transaction and arrested both men. Langelle was roughed up and questioned, and then expelled from the Soviet Union. Popov was executed.
Langelle was born in St. Louis, MO. He graduated from the University of Missouri and, before WWII, was an advertising agency executive. During the war, and again during the Korean conflict, Langelle served as a U.S. Navy aviator.
He joined the CIA in 1950 and retired in 1978 and was awarded the Intelligence Star – for valor, and the Intelligence Medal – for exceptional achievement.
Following his wife's passing from cancer in 2001, Mr. Langelle became an active resident at his senior living community in Virginia, where he was well-known by residents and staff for his happy demeanor, mischievous grin, and fun-loving jokes. Russ enjoyed frequent visits with family and adored his great-grandchildren. He will be deeply missed by many. Survivors include two daughters and other family.
He was a former Northern Virginia president of the Alliance for the Mentally Ill. He had recently moved to Arizona from Auburn, VA.
Ed Smith, Deputy Director for Intelligence, USN, and Author
Edward Allen Smith Jr, Captain U.S. Navy (Ret), PhD, 73, Deputy Director for Intelligence, USN, and Vietnam War veteran, died 5 June 2020 of complications from Alzheimer's disease and COVID-19 in Arlington, VA.
Smith was born in Brooklyn, NY and grew up in Glen Head, Long Island. Ed graduated from the Ohio State University's NROTC program in 1968 with a BA in International Relations. He served in the Navy from 1968 to 1998. In Vietnam, he was an intelligence officer and flew in nearly 200 combat missions before being wounded in action. In later assignments, he oversaw war gaming operations. During and after his military career, he helped develop a post-Cold War strategy for the Navy and Marine Corps in lectures, articles, studies, and books. Following his service in Vietnam, Ed continued his education and graduated with a MA and doctorate in International Relations from The American University.
During a 30-year Navy career, Ed saw combat in Vietnam as the Intelligence Officer on the staff of Commander Delta Naval Forces, completing almost 200 combat missions in helicopters and OV-10 Broncos, to include being shot down and wounded in action. Later assignments included duty in the Navy Field Operational Intelligence Office, as Executive Assistant to the Political Advisor to CINCLANT/SACLANT, and as Assistant Naval Attaché to Paris. His last sea duty was as the Assistant Chief of Staff for Intelligence for Cruiser Destroyer Group Eight and the Battle Force Sixth Fleet, a tour that included participation in the intercept of the Achille Lauro hijackers and in the 1986 and 1987 operations off Libya. He then served on the staff of the Director of Naval Intelligence and was a primary player in creating the Navy white paper "…From the Sea."
Subsequently, he set up the Intelligence Directorate in the Office of Naval Intelligence and served as Deputy Director for Intelligence. His final Navy tour was on the personal staff of the Chief of Naval Operations in the CNO Executive Panel where he directed the Navy's RMA wargames and was the author of the Navy's Anytime, Anywhere vision.
Smith wrote extensively on the future of Naval tactics and doctrine
Upon his retirement from the Navy in 1998, Smith joined Boeing's Washington Studies and Analysis think tank as Executive Strategist for Effects-Based Operations. While at Boeing, he worked closely with the Office of the Secretary of Defense, the Office of Force Transformation, and others on network-centric and effects-based operations.
Captain Smith earned numerous military decorations.
Outside of his illustrious military career, Ed and his wife Marie-France were world travelers. He was a talented painter, gardener, and cook.
He is survived by his wife of 45 years, Marie-France Smith, a daughter and a son, a sister, and other family.
Online condolences may be left for the family at www.storkefuneralhome.com. Updates regarding the funeral date and time will be posted on this website.
Pat Strupp, CIA Officer
Patricia Irene Strupp, 79, CIA Officer, died 16 January 2021 of ovarian cancer.
Born in Portland, OR. She earned a BS degree in 1963 from Oregon State University, and was recruited by the CIA when no one knew what it was...including Pat. She continued her 45-year career with three overseas assignments (9 years), one domestic rotational assignment, and 10 years as a contractor. She was the recipient of the Career Intelligence Medal.
In 1964 she met Darla Clark, and became an honorary member of her family, giving her a sister, siblings, and an East Coast family she treasured. Darla and their two fox terriers were her life. Equally important, wonderful friends too many to name.
---
AFIO EDUCATIONAL EVENTS IN COMING TWO MONTHS....
Thursday, 11 February 2021, 1 - 2 pm (EST) - Virtual on Zoom - AFIO Atlanta presents its Chinese New Year Event featuring Nicholas Eftimiades, author of Chinese Espionage: Operations and Tactics (2020), whom SpyTalk calls "one of the most well informed former U.S. government officials on Beijing's espionage apparatus."
The AFIO Atlanta Chapter hosts Nicholas Eftimiades, a professor of homeland security at Penn State University. In 2017 he retired as a senior intelligence officer from a 34-year career in the U.S. Intelligence Community, serving in CIA, State, and DIA. Mr. Eftimiades currently holds senior appointments on the DoD Defense Science Board, DHS Security Advisory Council, DHS Economic Security Subcommittee, and an Intelligence Community Associate for the Office of the Director of National Intelligence, National Intelligence Council. He was also a Senior Research Fellow at King's College War Studies Department in London. His Chinese Intelligence Operations examines the structure, operations, and methodology of the intelligence services of the People's Republic of China. His recent monograph Chinese Espionage: Operations and Tactics expands on that work and details Chinese economic espionage. He has testified numerous times before Congress, and he consults to USG agencies and private industry. SpyTalk calls him "one of the most well informed former U.S. government officials on Beijing's espionage apparatus."
RSVP or questions to afioatlanta@gmail.com or 404.403.8004, Brian Hooper, President, AFIO Atlanta, 1266 West Paces Ferry Road NW, Atlanta, Georgia, 30327.
All AFIO members and friends are invited!
Thursday, 18 February 2021, 12:30 - 1:30 pm (PST) - Virtual GoToMeeting - Annual 2021 AFIO-LA Chapter Business Meeting
The AFIO Los Angeles Chapter will hold its annual General Business Meeting which includes annual elections, yearly objectives and other chapter business. All members are encouraged to attend and bring forth any chapter points of interest for the 2021 agenda. This meeting will be held virtually through GoToMeeting. Please RSVP via email reply to attend, we look forward to your participation.
RSVP or Questions to: afio_la@yahoo.com, Vincent Autiero, President, AFIO-Los Angeles Chapter, 5651 W Manchester Ave
Los Angeles, CA 90045. www.afio.org
Wednesday, 17 March 2021 - Virtual on Zoom - AFIO Atlanta presents its St. Patrick's Day Event featuring Ruth Dudley Edwards on "How the Appeasement of Terrorism in Northern Ireland by Western Liberalism has led to the Spectre of a Fascist Takeover."
The AFIO Atlanta Chapter hosts Ruth Dudley Edwards, an Irish historian, political commentator, and crime writer who has written extensively on the Troubles. Her most recent book is The Seven: The Lives and Legacies of the Founding Fathers of the Irish Republic (2016), and some of her other works include Aftermath: The Omagh Bombings and the Families' Pursuit of Justice and The Faithful Tribe: An Intimate Portrait of the Loyal Institutions (shortlisted for Channel 4/The House Politico's Book of the Year).
Her bio can be found here.
RSVP or questions to afioatlanta@gmail.com or 404.403.8004, Brian Hooper, President, AFIO Atlanta, 1266 West Paces Ferry Road NW, Atlanta, Georgia, 30327.
All AFIO members and friends are invited!
Wednesday, 17 March 2021, noon PST - Virtual Zoom Event - The "Andre Le Gallo" San Francisco Chapter hosts Phil Gioia on "The History of the OSS."
The AFIO San Francisco Chapter hosts Phil Gioia on "The History of the OSS."
Phil Gioia grew up as an Army Brat on US Army posts in the United States, Japan, and Italy. After graduating from Virginia Military Institute, he was commissioned as a Regular Officer in the US Army. Twice wounded in action in Vietnam, he served as an Infantry platoon leader in the 82nd Airborne Division during the 1968 TET Offensive, and as an Infantry company commander in the First Air Cavalry Division (Airmobile) in 1969-70.
Following his military service, Phil received an MBA from Stanford University. He also holds a Master of Science in Foreign Service from Georgetown University.
Phil has thirty years of experience in business management, has served as investor, CEO or board member of emerging-growth corporations in the technology sector, and is a co-founder of Pathfinder Partners LLC, providing services to the US defense and national security communities.
Registration is required to receive the zoom link. Register here.
Questions to Mariko Kawaguchi, Board Secretary, AFIO San Francisco Chapter at afiosf@aol.com
---
Other Upcoming Events from Advertisers, Corporate Sponsors, and Others
Thursday, 11 February 2021, 5:30pm EST - Virtual - Spies & Spymasters Happy Hour: The Valentine Edition - Virtual International Spy Museum Program
How do you know if your Valentine is your one and only? Have you ever considered lie detection? Join these experts virtually, for a serious, though tongue-in-cheek, approach to Valentine's Day. National security lawyer Mark S. Zaid will be leading this exploration of lie detection techniques from their roots, including discussion of polygraph provocateur and Wonder Woman creator William Marston, to the latest research into voice stress analyzers, micro-facial expressions, brain scans, and how the spy community has used such techniques over the years. Guests include: Retired DOD Chief of Polygraph Thomas P. Mauriello, University of South Carolina Associate Professor Jennifer Vendemia, and University of Rochester Associate Professor M. Ehsan Hoque. Event is sponsored by the Alumni of the University of Rochester.
Event is free but registration required. Visit www.spymuseum.org.
Thursday, 18 February 2021, noon EST - Virtual - Inside the Robert Hanssen Investigation with Debra Smith - Virtual International Spy Museum Program
Twenty years ago today, the worst spy to ever penetrate the FBI was arrested at Foxstone Park near his home in suburban northern Virginia. Robert P. Hanssen was a veteran FBI agent with thwarted ambitions. Beginning in 1979, he provided highly classified national security information to Russia and the former Soviet Union on and off through 2001. Join this virtual museum event for an inside look at Hanssen and the investigation that rolled him up with Debra Smith, former Deputy Assistant Director of the Counterintelligence Division at FBI Headquarters. Event is free but registration required. Visit www.spymuseum.org.
Thursday, 25 Feb 2021, 1800/6pm EST; 1500/3pm PST; 1300/1pm HST - Virtual GoToMeeting - NIP Speaker Series Features RDML Michael Vernazza
The Naval Intelligence Professionals Virtual Speaker Series this month features RDML Michael Vernazza – Commander, Naval Information Warfighting Development Center, on "Mission, Role, and Status of the Naval Information Warfighting Development Center."
Biography: RDML Vernazza bio available here.
FORMAT: Video Conference – GoToMeeting. Please join the meeting from your computer, tablet or smartphone, beginning at 1750/5:50 EDT at this link: https://global.gotomeeting.com/join/153406485
You can also dial in using your phone. US: +1 (571) 317-3122 Access Code: 153-406-485.
New to GoToMeeting? Get the app now at https://global.gotomeeting.com/install/153406485 and be ready when your first meeting starts.
As always, please mute your device/phone. Thanks.
AGENDA: (3 min) RDML (Ret.) Cothron, NIP Chairman, welcoming remarks; (~30 min) RDML Vernazza remarks; Q & A moderated by CAPT (Ret.) Bob Allen.
Please ask your questions in the GoToMeeting chat window or email your questions in advance/during the video conference to: bob_allen36@hotmail.com.
Thursday, 25 February 2021, noon EST - Virtual - Virtual Spy Chat with Chris Costa and Special Guest Thomas P. Bossert - Virtual International Spy Museum Program
Join these experts for an online discussion of the latest intelligence, national security, and terrorism issues in the news. Spy Museum Executive Director Chris Costa, a former intelligence officer of 34 years, will lead the briefing. He will be joined by Thomas P. Bossert, who served as Homeland Security Advisor to two US presidents. Following their discussion of key issues, you'll be able to ask questions via our online platform. Sponsored by Accenture. Event is free but registration required. Visit www.spymuseum.org.
Sunday, 28 February 2012, 3pm EST - Virtual - The Magic of Spying with Peter Wood: Live Virtual Family Performance and Workshop - Virtual International Spy Museum Program
You may have seen him on Penn & Teller: Fool Us, now join professional magician Peter Wood as he performs the art of misdirection, sleight of hand, and other illusions used by skilled spies. In the real-life world of espionage, spies often call upon the art of magic and illusion to distract the enemy, make evidence disappear, and escape unnoticed. Event is $10/household. Visit www.spymuseum.org.
25 March 2021 - Virtual - The next OSS "Oh So Social" Conversation features former Asst Sec of State for INR Ellen McCarthy
The next "Oh So Social" conversation by The OSS Society will feature the Honorable Ellen McCarthy, former Assistant Secretary of State for the Bureau of Intelligence and Research - the successor to the OSS' Research and Analysis Branch - will interview best-selling author Erika Robuck about her new book "The Invisible Woman" - the OSS' Virginia Hall, the only civilian woman to receive the Distinguished Service Cross in World War II. To register for this virtual event, do so here
---
In addition to the new Royal Blue long sleeve shirts, and the gray long sleeve hooded sweatshirts, the AFIO Store also has the following items ready for quick shipment:
NEW: LONG and Short-Sleeved Shirts with embroidered AFIO Logo and New Mugs with color-glazed permanent logo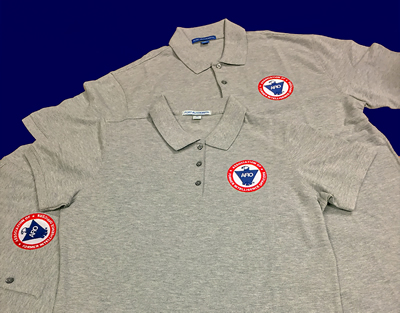 Show your support for AFIO with our new Polo Shirts. Be the first to buy these new, high quality, subtle heathered grey short sleeve shirts, and dark blue long sleeved shirts, of shrink and wrinkle resistant fine cotton with a soft yet substantial feel. They feature a detailed embroidered AFIO seal. Get a shirt for yourself and consider as gifts for colleagues, family, and friends. Only $45 each including shipping.
Sizes of (M) men or (W) women shirts; Small, Medium, Large, XL, XXL, and XXXL. At this time all orders will arrive as Short Sleeve shirts.
You may pay by check or credit card. Complete your order online here or mail an order along with payment to: AFIO, 7600 Leesburg Pike, Ste 470 East, Falls Church, VA 22043-2004. Phone orders at 703-790-0320. If interested in other shirt colors or sleeve lengths, contact Annette at: annettej@afio.com.
Available as a thank you for donations are the new AFIO logo face masks:
These soft, form-fitting, washable, non-medical grade fabric face masks have wide behind-the-ear elastics to make long periods of wear comfortable. Also easier to quickly put on or take off. Blue on outside, white inside. The masks do not have a nose wire but are sculpted, shaped, and sewn to fit most users. The all-cloth composition allows the masks to be washed or steam-disinfected without concerns over metal wires. The color logo is washable and a permanent part of the mask.
The masks, however, are not for sale. They are being offered strictly as a thank you gift to our donors.
For tax-deductible donations of $50 you will receive a receipt and our thank you gift of two of these newly-arrived face masks.
Donations of $100 receive four masks to be sent to the same address. Other amounts and split-shipments are available.
To donate now to support AFIO's programs and publications, please do so here.
We wish all members and donors continued good health, safe social distancing, and warmly appreciate any support you are able to provide the association.
---
AFIO Mug with color glazed logo. Made in America. Sturdy enough to sit on desk to hold pens, cards, paperclips, and candy.
This handsome large, heavy USA-made ceramic mug is dishwasher-safe with a glazed seal. $35 per mug includes shipping. Order this and other store items online here.
---
Guide to the Study of Intelligence and When Intelligence Made a Difference
"AFIO's Guide to the Study of Intelligence" has sold out in hard-copy.
However, it is available in digital form in its entirety on the AFIO website here.

Also available on the website here are the individual articles of AFIO's history project "When Intelligence Made a Difference" that have been published to date in The Intelligencer journal. More articles will be forthcoming in future editions.
---
Disclaimers and Removal Instructions
Weekly Intelligence Notes (WINs) are commentaries on Intelligence and related national security matters, based on open media sources, selected, interpreted, edited and produced for non-profit educational uses by members and WIN subscribers.
REMOVAL INSTRUCTIONS: We do not wish to add clutter to inboxes. To discontinue receiving the WINs:
a) IF YOU ARE A MEMBER - click here: UNSUBSCRIBE and supply your full name and email address where you receive the WINs. Click SEND, you will be removed from list. If this link doesn't open a blank email, create one on your own and send to afio@afio.com with the words: REMOVE FROM WINs as the subject, and provide your full name and email address where you are currently receiving them.
b) IF YOU ARE NOT A MEMBER, and you received this message, someone forwarded this newsletter to you [contrary to AFIO policies]. Forward to afio@afio.com the entire WIN or message you received and we will remove the sender from our membership and distribution lists. The problem will be solved for both of us.
CONTENTS of this WIN [HTML version recipients - Click title to jump to story or section, Click Article Title to return to Contents. This feature does not work for Plaintext Edition or for some AOL recipients]. If you wish to change to HTML format, let us know at afio@afio.com. The HTML feature also does not work for those who access their e-mail using web mail...however NON-HTML recipients may view the latest edition each week in HTML at this link: https://www.afio.com/pages/currentwin.htm
---
WINs are protected by copyright laws and intellectual property laws, and may not be reproduced or re-sent without specific permission from the Producer. Opinions expressed in the WINs are solely those of the editor's or author's listed with each article. AFIO Members Support the AFIO Mission - sponsor new members! CHECK THE AFIO WEBSITE at www.afio.com for back issues of the WINs, information about AFIO, conference agenda and registrations materials, and membership applications and much more!
(c) 1998 thru 2021. AFIO, 7600 Leesburg Pike, Suite 470 East, Falls Church, VA 22043-2004. Voice: (703) 790-0320; Fax: (703) 991-1278; Email: afio@afio.com
---
About AFIO | Membership Renewal | Change of Address | Upcoming Events | Chapter Locations | Corporate/Institutional Memberships | Careers in Intelligence Booklet | Guide to the Study of Intelligence | Intelligencer Journal | Weekly Intelligence Notes | To Make A Donation | AFIO Store | Member-Only Section | Code of Ethics | Home Page
---