---
CONTENTS
Section I - INTELLIGENCE HIGHLIGHTS
Section II - CONTEXT & PRECEDENCE
Section IV - Research Requests, Jobs, Obituaries
Other Upcoming Events from Advertisers, Corporate Sponsors, and Others
For Additional AFIO and other Events two+ months or more... Calendar of Events
WIN CREDITS FOR THIS ISSUE: The WIN editors thank the following special contributors: rsy, ec, po, pj, mh, km, gh, mk, rd, fm, kc, jm, mr, jg, th, ed, and fwr. They have contributed one or more stories used in this issue.

The WIN editors attempt to include a wide range of articles and commentary in the Weekly Notes to inform and educate our readers. However, the views expressed in the articles are purely those of the authors, and in no way reflect support or endorsement from the WIN editors or the AFIO officers and staff. We welcome comments from the WIN readers on any and all articles and commentary.

CAVEATS: IMPORTANT: AFIO does not "vet" or endorse research inquiries, career announcements, or job offers. Reasonable-sounding inquiries and career offerings are published as a service to our members, and for researchers, educators, and subscribers. You are urged to exercise your usual caution and good judgment when responding, and should verify the source independently before supplying any resume, career data, or personal information.]
If you are having difficulties with the links or viewing this newsletter when it arrives by email, members may view the latest edition each week at this link.

---

Other items brought to our attention:

SOE's Training and Joint Operations with Polish Special Agents in WWII; Polish Anti-NKVD Actions — Two Articles

Silent Unseen: The Polish Special Agents of Audley End During the Second World War, Audley End House near Saffron Walden in Essex was used as a training base by the Polish Section of the Special Operations Executive. Known as the Cichociemni – the Silent Unseen – these agents were elite special-operations paratroopers trained in covert operations, sabotage and intelligence-gathering. Between 1941 and 1945, 316 Cichociemni were dropped into occupied Poland. Of these brave men and women, 103 were killed in combat with the Germans or executed by the Gestapo. A further nine were killed by the communists in Poland after the war. Article here.

The Doomed Soldiers Website: Major Maciej Kalenkiewicz (1906-1944), nom de guerre "Kotwicz," And the Battle Against the NKVD At Surkonty - August 21, 1944. Nicknamed by the NKVD, the "handless major" ("besrukhii major"), Maciej Kalenkiewicz was one of the most distinguished officers in the ranks of the Polish Home Army [AK (Armia Krajowa; Eng. Home Army; Polish Patriot: military)]. Kalenkiewicz was also one of the first victims of the organized mass terror, conducted by the Soviets against Polish Democratic Underground, and against the Polish population at large. Article Part 1 here. Part 2 here.

---

The Arkin Group's February 12 "In Other News" letter to private clients by former Operations Officer Jack Devine features...
• Cuba announced this week that it will open up its economy to expand private businesses on the island.
• Germany, Poland, and Sweden each expelled a Russian diplomat stationed in their respective countries following Moscow's expulsion of their envoys for attending protests in support of Alexey Navalny,...
• A WHO team investigating the origins of the Covid-19 pandemic in Wuhan, China has released a statement that effectively debunks theories that the virus was released – accidentally or otherwise – from a Chinese lab.
• Just released: Jack Devine's Spymaster's Prism. AFIO conducted an interview with him about this book and will release that interview to members on March 2.

---

The Latest... from the Jeff Stein's "SpyTalk" Series

Feb 13: "An FBI Code for the Business World" by Patricia Ravalgi
Frank Figliuzzi's memoir of FBI failures and triumphs makes the case for a corporate code of excellence
Article here

Feb 12: "Hope and Chaos on the Border" by Elaine Shannon
Biden's reversal of Trump policies triggers record crossings, smuggling
Article here

Readers can subscribe for free at the moment here.

---

Recently Seen Online:

Inside the SCIF by JJ Green, WTOP - Issue #100, 11 February has details on breaking news on "Vladimir Kara-Murza Tailed by Members of FSB Squad Prior to Suspected Poisonings"; The Tampa Bay Water System Hack; National Security and Project Raven; Domestic Extremism; and more.
The latest Target USA Podcast 263 features: Natalia Arno, President of the Free Russia Society says it was probably no accident that Dr. Sergei Maximishin died suddenly. He treated Vladimir Putin's nemesis Alexei Navalny, after he was poisoned in Russia last year.
And in "The Hunt" The Hunt: Terrorism in 2021 — what should the US expect?

---

---

From the National Cryptologic Museum Foundation:

THE NCMF's #CyberChats, held virtually via their Nepris online classroom, have resumed.
NCMF #CyberChat with Debbie Plunkett is Wednesday, 24 February 2021 2 to 3 pm EST. Access it here.
Digital Learning Day will be held Thursday, 25 February 2021. Access it here.
CodeDay - Virtual is being held Friday, 26 February 2021 and Sunday, 28 February 2021. Explore it here.
NCMF Fireside #CyberChat with Barbara McNamara for Women's History Month is Thursday, 11 March 2021 noon to 1 pm EST. Access it virtually here.
Other NCMF upcoming events will be:
NCMF Fireside #CyberChat with Sally Botsai on 25 March 2021. Stay Tuned for link to register.
NCMF 25th Anniversary on 17 April 2021. Stay tuned for details.

---

One of the special benefits of membership in AFIO: access to CIA's inhouse gift shop — the EAA Store.

It requires a quick preapproval process described here to all newly joined and current AFIO members. And then allows you to purchase online their unusual logo'd gift items for self or colleagues. Here is the latest photo EAA released on January 22 featuring some of their newest items:

---
---
Just released to members-only...
A Cold War Covert Operation of Many Names
Operation Gold (US); Operation Stopwatch (UK); PBJointly (CIA); Operation REGAL (NSA)

Released 16 February 2021
Interview of Thursday, 28 January 2021 of Steve Vogel, Author/Journalist, The Washington Post. Interviewer - Host: James Hughes, AFIO President, a former CIA Operations Officer.
TOPIC: Steve Vogel and Jim Hughes discuss Steve's 2019 book, Betrayal in Berlin: The True Story of the Cold War's Most Audacious Espionage Operation.
Discusses the state of US-Soviet relations in 1950s, particularly reflected in the divided city of Berlin. Vogel describes in considerable detail CIA's plan to construct a clandestine tunnel into East Berlin to tap into critical Soviet telecommunication lines. The plan known in U.S. as "Operation Gold," was aided by our UK intelligence allies, which called it "Operation Stopwatch." Covers the planning, difficulties, risks of exposure, betrayals, and benefits gained from the audacious and ultimately successful covert operation. Reviews some of the major U.S. and UK officers involved.
The interview runs 38 minutes and includes many PowerPoint slides, charts, photographs. It concludes with several Q&As.
Access Vogel video here or click above image.
---
Prior Videos in the "AFIO Now" Series
To view them, visit our YouTube page here
or log into the Member-Only area of our website here.
---
Larry Loftis, attorney, author, professor, on "The Princess Spy" on WWII Spy Aline Griffith, Countess of Romanones
Linda Millis, former Senior Intelligence Officer at NSA, CIA, ODNI on "Women in Intelligence"
Vince Houghton PhD, Director, National Cryptologic Museum on "The Nuclear Spies: America's Atomic Intelligence Operation Against Hitler and Stalin"
Joe Augustyn, former CIA Clandestine Services Officer on "CIA's Defector Resettlement Program"
Joseph W. Augustyn, former CIA Clandestine Services Officer on "CIA's Role in the Creation of the Department of Homeland Security"
Seth Jones PhD, Director, Transnational Threats Project, CSIS on "A Covert Action"
David Priess PhD, Author, former Senior CIA Analyst and PDB Briefer on "The President's Book of Secrets"
Everette Jordan, Dep Asst Sec for IC Integration, Office of Intel and Analysis, Treasury on "Enjoying a Rich, Challenging Intelligence Career Spanning Multiple Agencies."
Bruce Riedel, former CIA Senior Analyst, Served on National Security Council during Iraq War on "Early Gulf War Policy Decisions"
Shelby Pierson, Election Threats Executive, Office of the Director of National Intelligence on "Nationwide Election Security"
Bruce Klingner, Former CIA Deputy Division Chief for Korea; Heritage Foundation Fellow on "U.S. Strategy Towards North Korea"
Series Introduction: Stewart Baker, Chairman, and James Hughes, President
Nicholas Dujmović, Professor, Author, former CIA Historian, PDB Editor on "Guidelines and Experiences Teaching Intelligence at the University Level"
David Robarge, CIA Chief Historian, PDB Editor on "The Complexities of Counterintelligence"
Vince Houghton PhD, Director, National Cryptologic Museum on "Nuking the Moon...and Other Intelligence Themes and Military Plots Left on the Drawing Board"
Martin C. Faga, former Director, National Reconnaissance Office on "NRO Support to the Gulf War"
Many more interviews have been conducted, and will be released throughout 2021. Stay tuned.
---
Visit, Follow, Subscribe to AFIO's LinkedIn, Twitter, and YouTube pages to receive updates.
Members who use social media or wish to explore, will find new announcements and other material on AFIO's Twitter and LinkedIn pages. New videos on our YouTube page appears below as well.
Access them here: LinkedIn, Twitter, and YouTube. By following or subscribing on those sites, one can be notified as new material appears.




---
Newly Released, Overlooked, or Forthcoming Books
Confessions of a CIA Spy: The Art of Human Hacking
by Peter Warmka
(Independently Published, Dec 2020)
What can you learn from this CIA officer (and member of AFIO's Suncoast Chapter) who spent his career artfully manipulating regular people to steal high-value secrets? Plenty! Former Agency operative Warmka details methodologies that he and other threat actors use to breach the security of targets — high-profile individuals or entire organizations. Examples reveal the motivations and objectives behind attempted breaches by foreign intelligence services, criminal groups, industrial competitors, activists and other threat actors; how social media and carefully crafted insights into a victim's motivations and vulnerabilities are leveraged during phishing, smishing, vishing and other advanced social engineering operations to obtain even closely held information; the psychology behind why humans are so susceptible to social engineering, and how influence techniques are used to circumvent established security protocols; and how spies and other social engineers use elicitation to legally procure protected information from victims who often have no idea they're being used.
If you want to learn about the intricate methods threat actors use to access sensitive information on your organization, or want to spot ways a social engineer will manipulate you in person or online, Warmka's book will change the way you think about innocuous emails in your inbox or unusual interactions with eager strangers.
Following his Agency career, Peter founded the Counterintelligence Institute to transform the way individuals and organizations assess their security. Insights in this book can lead to proactive measures in breach prevention over the far more costly reactive measures following a breach.
Book may be ordered here. [Our thanks to our colleagues at the Suncoast Chapter for bringing book to our attention. Peter Warmka will be addressing the chapter later in 2021. Event will be announced in the WINs and online.]
---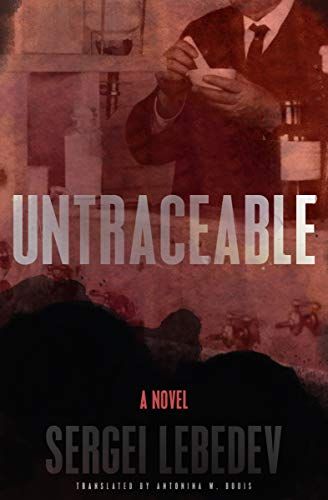 Untraceable
by Sergei Lebedev; Antonina W. Bouis, translator
(New Vessel Press, Feb 2021)
"A thriller dipped in poison...shares some of le Carré's fasincation with secret worlds and the nature of evil." — The New York Times
"One of Russia's most interesting young novelists takes on Putin, poison, and power in this unique novel; Lebedev provides a fascinating window on modern Russia." —Anne Applebaum, author, Gulag: A History and Iron Curtain: The Crushing of Eastern Europe
In 2018, a former Russian secret agent and his daughter were poisoned with a lethal neurotoxin that left them slumped over on a British park bench in critical condition. The story of who did it, and how these horrendous contaminants were developed, captivates and terrifies in equal measure. The event inspired Lebedev's novel. At its center is a scheming chemist named Professor Kalitin, obsessed with developing an absolutely deadly, undetectable, and untraceable poison for which there is no antidote. He becomes consumed by guilt over the death of his wife, the first accidental victim of his Faustian pact to create the ultimate venom, and the deaths of hundreds of test subjects. After he defects from the Soviet Union to spend his "retirement" years in the West, two Russian secret agents are dispatched to assassinate him. In this fast-paced novel, Lebedev explores the historical trajectories of evil...from Nazi labs, Stalinist plots, the Chechen Wars, to present-day Russia. He probes the ethical responsibilities of scientists supplying modern tyrants and autocrats with ever newer instruments of retribution, destruction and control.
Book may be ordered here.
---
The following articles from the Winter-Spring 2021 edition of Intelligencer are available as PDFs at these links:
• Terror in Athens — Remembering CIA Station Chief Dick Welch by Samantha Randazzo Childress and Carol "Rollie" Flynn
• When Intelligence Made a Difference - Part V Intro by Peter Oleson
• Soviet Deception and the Cuban Missile Crisis by Robert M. Clark
• Occasionem Cognosce — Francis Cabot Lowell by Joel Wickwire
• The Seizure of Danang City Hall by Jim Schnell PhD
• The Breaking of JN-25 and its Impact in the War Against Japan by Peter C. Oleson
• Developing a Cooperative Strategy in the El Salvador Civil War by John Fishel
Writers, Officers: Please Provide A Brief Article for This Ongoing AFIO History Project
AFIO's educational project "When Intelligence Made a Difference" seeks writers to identify events throughout history involving any nation or organization when the outcome was affected significantly by intelligence.
AFIO has been publishing edited submissions serially in Intelligencer released two to three times a year.
To see what has been published, it is available here. Also look at the Winter-Spring edition of the journal arriving in the mail of all members and subscribers over the next three weeks.
Those readers interested in contributing an article, should email peter.oleson@afio.com.
For instructors, this project makes a great class assignment. Accepted articles give students a publication credit in a recognized journal.
---
Guide to the Study of Intelligence and When Intelligence Made a Difference
"AFIO's Guide to the Study of Intelligence" has sold out in hard-copy.
However, it is available in digital form in its entirety on the AFIO website here.

Also available on the website here are the individual articles of AFIO's history project "When Intelligence Made a Difference" that have been published to date in The Intelligencer journal. More articles will be forthcoming in future editions.
---
---
Section I - INTELLIGENCE HIGHLIGHTS

Austria to Reform Intelligence Agency After Damning Report into Vienna Attack. Austria's government has promised a root-and-branch reform of its intelligence community after a damning official inquiry blamed spymasters for failing to prevent the deadly terror attack in Vienna in November.

Interior minister Karl Nehammer vowed to erect "a new, strong wall of the republic" by replacing the country's security service - the Federal Office for the Protection of the Constitution and Counterterrorism [BVT] - with a "genuinely new" organisation.

Speaking at a press conference in Vienna, Nehammer said he would double the size of Austria's counter-terrorism effort and set tough new national security legislation in motion. [Read more: Jones/FinancialTimes/10February2021]

CIA, FBI Laud Professionalism of Moroccan Intelligence Services. The CIA and FBI thanked Morocco's domestic intelligence agency, known as DGST, for its cooperation and partnership in countering terrorism.

The US intelligence agencies expressed in letters their gratitude to the DGST in particular for "offering precise intelligence at the right time which helped arrest a dangerous terrorist," DGST said in a statement.

The CIA in particular lauded the leadership and professionalism of the DGST as part of joint efforts against terrorists and extremist groups. [Read more: TheNorthAfricaPost/10February2021]

French Cyber Agency Discovers Hackers Linked to Russian Intelligence. France's national cybersecurity agency said Monday it had discovered a hack of several organisations that bore similarities to other attacks by a group linked to Russian intelligence.

It said the hackers had taken advantage of a vulnerability in monitoring software sold by French group Centreon, which lists blue-chip French companies as clients, such as power group EDF, defence group Thales, or oil and gas giant Total.

The French ministry of justice and city authorities such as Bordeaux are also named as Centreon customers on the group's website.

"This campaign mostly affected information technology providers, especially web hosting providers," said the French National Agency for the Security of Information Systems (ANSSI) in a report. [Read more: AFP/16February2021]

North Korea Tried to Steal Pfizer Coronavirus Vaccine Information, South Says. North Korea tried to hack into the servers of U.S. drugmaker Pfizer to steal coronavirus vaccine information, South Korean intelligence officials reported Tuesday, despite leader Kim Jong Un's professed view that his isolated dictatorship is untouched by the pandemic.

Lawmakers were informed of the findings by South Korea's National Intelligence Service at a regular closed-door hearing of the National Assembly's intelligence committee.

"The cyberattacks included an attempt to steal covid-19 vaccine and treatment technology, to which Pfizer was subject," Ha Tae-keung, an opposition lawmaker and member of the committee, told reporters. He added that South Korea had detected a 32 percent year-on-year jump in the number of cyberattack attempts from North Korea. [Read more: Denyer/WashingtonPost/16February2021]

Nigeria: Gen Adebayo Takes over as Military Intelligence Chief. Major General Samuel Adebayo Friday took over as the new Chief of the Defence Intelligence Agency (DIA).

Adebayo replaces Air Vice Marshal Mohammed Usman.

The new military intelligence helmsman, who received the reins of office from the Deputy Chief of Defence Intelligence, Major General Gbolahan Oyefesobi, promised to improve upon the Intelligence capacity of the agency.

Adebayo said the Armed Forces had done much in tackling security challenges facing the nation. [Read more: Nwezeh/ThisDay/13February2021]


---
Section II - CONTEXT & PRECEDENCE

In a Dangerous Game of Cat and Mouse, Iran Eyes New Targets in Africa. When Ethiopia's intelligence agency recently uncovered a cell of 15 people it said were casing the embassy of the United Arab Emirates, along with a cache of weapons and explosives, it claimed to have foiled a major attack with the potential to sow havoc in the Ethiopian capital, Addis Ababa.

But the Ethiopians omitted a key detail about the purported plot: who was behind it.

The only clue was the arrest of a 16th person: Accused of being the ringleader, Ahmed Ismail had been picked up in Sweden with the cooperation of friendly "African, Asian and European intelligence services," the Ethiopians said.

Now American and Israeli officials say the operation was the work of Iran, whose intelligence service activated a sleeper cell in Addis Ababa last fall with orders to gather intelligence also on the embassies of the United States and Israel. [Read more: NYTimes/15February2021]

Ex-CIA Intelligence Officer Rates 11 CIA Spy Scenes in Movies and TV. Michele Rigby Assad is a former CIA operative and the author of "Breaking Cover: My Secret Life in the CIA and What It Taught Me About What's Worth Fighting For." Here, she reacts to eight undercover-espionage scenes and rates them on their accuracy. Assad looks at undercover operators such as Leonardo Dicaprio in "Body of Lies" (2008), Claire Danes in "Homeland" (2011-2020), and Jennifer Garner in "Alias" (2001). She rates training scenes in "Spy" (2015) and "Spy Game" (2001). She also rates clandestine CIA operation scenes in "Mission: Impossible" (1996), "Skyfall" (2012), "Argo" (2012), and "Tom Clancy's Jack Ryan" (2018). Assad served undercover for 10 years as a counterterrorism officer in the CIA. [Watch here: YahooNews/10February2021]

CIA Asked People to Decipher this Code. Here's how the Internet Responded. CIA, on Twitter, has often thrown some riddles at the people. There is no surprise if you have come across such stuff from the US' agency on social media.

The US federal intelligence agency's Twitter handle has many times caught attention for its 'spot the difference' posts, 'decipher this code' challenges, etc.

Few days back, the agency Twitter handle posted another such image which had a code. To make things easy for people, the cryptic image also had some hints. [Read more: TimesofIndia/15February/2021]

Suburban Spies: All in the Family. It's more 10 years ago now that Sandra Hogan received an unusual tip-off.

A woman, Sue-Ellen Doherty, wanted to tell a journalist the story of how she and her siblings grew up with spies for parents. A mutual friend suggested Hogan meet up with her. And so, she did.

It was, Hogan says, a surreal first meeting in a Brisbane cafe. She was mostly dubious about the things Doherty was telling her at first - about how, growing up, she and her siblings helped out their parents in their day-to-day work as ASIO spies. They learnt how to memorise numberplates, notice unusual behaviour, and follow people undetected.

"It was just incredible," Hogan says. [Read more: Pryor/TheCanberraTimes/13February2021]

Terrorism: Covid Sparks Resurgence of ISIL Terrorists, Threatening International Peace and Security. The threat to international peace and security posed by ISIL terrorist fighters is "on the rise again", the UN counter-terrorism chief told the Security Council on Wednesday.

Despite the competing priorities brought by the COVID-19 pandemic, Vladimir Voronkov, head of the UN Office of Counter-Terrorism (UNOCT), said that it was "crucial" for Member States to remain focused and united in thwarting terrorism.

"While ISIL has not developed a purposeful strategy to exploit the pandemic, its efforts to regroup and to reinvigorate its activities [has] gained further momentum", he said.

Via videoconference, the UN official flagged that the terrorists, also known in Arabic as Da'esh, have maintained the ability to move and operate, including across porous borders. [Read more: ModernDiplomacy/12February2021]


---
Past U.S. Failures in Dealing with Iran and How to Approach a New Nuclear Deal. In this episode of Intelligence Matters, host Michael Morell interviews one of the nation's leading authorities on Iran, Norm Roule. Roule spent 34 years at the CIA, where he was the intelligence community's Iran mission manager. After leaving the CIA, Roule joined ODNI as the National Intelligence Manager for Iran from 2008-2017. Currently, he is serving as a senior adviser to the Counter Extremism Project and United Against Nuclear Iran. On Intelligence Matters this week, Roule analyzes past administration failures dealing with Iran, the consequences of inaction, and what Iran may be looking for in a future nuclear deal. [Read or listen here: CBSNews/10February2021]

Cybersecurity is Not a Tech Problem, it's a Matter of National Survival. ANALYSIS - Last week was a sobering one for Congress.

The second impeachment trial of Donald Trump served as the backdrop, the vivid videos of the angry mob of Jan. 6 underscoring all that could have been lost that day, and all that divides Americans.

In the House committee rooms, meanwhile, lawmakers worked on a giant economic relief package as we head into the second year of a deadly, isolating, growth-killing pandemic.

And finally, in a room far from the central action of the week, a handful of government and private sector professionals held forth before the House Homeland Security panel on one harder-to-define but no-less-real challenge to this democratic republic. The shorthand word for it is cybersecurity -" but that term trivializes the issue, and the challenge.

Cyber makes it sound like it belongs only to the province of the computer savvy, the geeks, as if it is some secondary technical problem that has a permanent fix.

It is not. [Read more: Pexton/RollCall/16February2021]


---
Section IV - Research Requests, Jobs, Obituaries
Daughter Seeks Info on father, Charles Peter Brooks, from CIC Colleagues Vienna/Salzburg 1948-50; CIA Colleagues 1950-60 Berlin or Elsewhere
My father Charles Peter Brooks, died September 10, 1995 leaving me with too many questions and only a few clues of his real life. After 25 years of research, I have figured out just a few and would appreciate AFIO members help to find former colleagues who might still be around and/or family members of those who might have worked with him. In short, he was born in 1922 in Czechoslovakia, fought WWII in the SNP resisting Nazis in the Tatra mountains, managed to escape, became an economist. In 1948 he was working at the Ministry of Agriculture in Bratislava when he was warned of imminent death and escaped to Austria. In his resistance to communism, he worked with British intelligence as I gathered from some Czech archive records. Helped many Czechs escape but not his former girlfriend who was arrested, in an escape from Brno with a British intelligence supported movement. He then worked with CIC from Vienna and Salzburg during 1948-1950, in collaboration with Imrich Kružliak. At that time he was still Koloman (or Kalman, Kolman). After Austria he was Charlie.
I wonder if there are any CIC colleagues who worked in Austria during those years that could remember him, or any former colleagues family members? I am happy to send photos that I have found to recognize him.
He then worked for CIA, trained in DC around 1950-51, posted in Berlin 1952-1960. Any Berlin colleagues or families posted there? He was apparently married there to a lady called Inge (I do not have a last name) and her mother lived with them, as well as a boxer dog. He was very proud of a Prussian tsar desk in his apartment. Wondering if anyone would know who Inge was, or her last name? I would not know if this was a real marriage or part of his work. He was very undercover, spoke 7 languages, and was sent in missions to Czechoslovakia I believe as well. I believe there was a French bar where they used to drink beers and gather in the evenings. Hoping former Berlin colleagues could remember him, and the nature of his work there?
He was then posted in Buenos Aires, Argentina from around 1960 to 1974, when he was going to Vietnam. (although someone mentioned he was in a private lunch with Kennedy in Berlin, that was off agenda, anyone else here that was in that lunch?). In Buenos Aires, he was apparently a secretary at the US Embassy, but working with local SIDE and police, including apparently other missions in Latin America. If you were in the region during the '60s and the '70s please contact me if you might have crossed paths. A great golf player as well.
Finally, the rest of the '70s and '80s coming and going dividing his time between DC, Miami, Argentina. In Miami he lived in Miami Shores. During the '80s he did polygraph training and testing in Miami, and another CIA colleague was taking the training there with him (if you are here in might remember him?).
Please contact me at jenniferbrooks7@hotmail.com. Any information or guidance helps me put his life together. Endlessly grateful to all.
Dept of Labor Researcher Seeks Subject Matter Experts on Apprenticeability of "Cyber All Source Analyst" Jobs

Dear AFIO Members:
One of the responsibilities of the U.S. Department of Labor's, Office of Apprenticeship is to determine if an occupation can be learned through the apprenticeship system of training. Recently, we received an apprenticeability determination request for the occupation of Cyber All Source Analyst. We would very much like to have the benefit of your experience and expertise to assist us in making this determination.
As stated in Title 29 Code of Federal Regulations, part 29.4, Criteria for Apprenticeable Occupations: An apprenticeable occupation is one which is specified by industry and which must:
(a) Involve skills that are customarily learned in a practical way through a structured, systematic program of on-the-job supervised learning;
(b) Be clearly identified and commonly recognized throughout an industry;
(c) Involve the progressive attainment of manual, mechanical or technical skills and knowledge which, in accordance with the industry standard for the occupation, would require the completion of at least 2,000 hours on on-the-job learning to attain; and
(d) Require related instruction to supplement the on-the-job learning
Here is a link to a copy of the Job Description, Work Process Schedule and Related Instruction Outline developed for this occupation. We would appreciate your comments, suggestions and recommendations on the attached Apprenticeability Determination Worksheet. Please return it to us by February 25, 2021.
Please feel free to share the linked documents above in the PDF with as many subject-matter experts as you deem necessary. If you need further information or additional time to prepare a response, please call Dr. Ricky C. Godbolt at (202) 693-3813 or e-mail him at: Godbolt.Ricky.C@dol.gov.
Author Seeks Your Assistance Answering a Few Questions Regarding al Qaeda and US Operations
AFIO Colleagues,
I have benefited in the past with AFIO's assistance and need a few additional answers as I write a four-volume history of anti-American terrorism in the US and overseas from the Eisenhower through Trump administrations. Volumes I and II are published and were featured in prior Weekly Notes. I am now working on Volume III which addresses the Clinton and Bush II administrations. This volume has many pages on the evolution of al Qaeda, the 9/11 attacks and subsequent investigations, and the responses by both administrations to the prevailing threat. First, much of the relevant material has not been declassified. In addition, the memoirs by relevant actors are written from the perspective of highlighting the successes and minimizing or ignoring the failures. Given the developments that took place during these two administrations, many of the key actors have not written their memoirs. There have been many books written on al Qaeda, the 9/11 attacks, and the intelligence "malfunction" which contain many examples of "dueling facts" on events and developments. I am seeking to present the facts in my study, but when I cannot determine a "fact," what can I do? I can present both presentations of the fact, which will take up a lot of space in the volume, or simply pick the fact presentation that I think makes most sense. In that case, it is not a fact but an interpretation. I want facts.
Towards that goal, I ask of you AFIO members and colleagues, to help me with a few of these facts. Below is a brief list of questions. If you can answer any of them, please email me at dpluchinsky@rocketmail.com. These questions deal with the 1990s, the pre-9/11 decade...developments over two decades ago.
1. In what year did the NSA or CIA detect bin Laden's first satellite phone? I do not want sources and methods, just the year.
2. In what year did the NSA or CIA first detect al Qaeda's London communication hub at which Khaled al Fawwaz acted as the caretaker?
3. In mid-1996, bin Laden asked for an updated Inmarsat Compact M satellite phone. This was tasked to Dr. Saad al Fagih, who tasked it to Ziyad Khaleel, a student in Virginia. He reportedly bought the phone from a store in Dix Hills, Long Island in November 1996. This would mean that the FBI was involved in monitoring this purchase. This would also mean that the FBI might have known that the NSA and or CIA were monitoring bin Laden's cell phone. Is it true that the FBI knew about bin Laden's cell phone in 1996?
4. In what year did the NSA and CIA first detect al Qaeda's communications hub in Sana'a, Yemen – BEFORE the August 1998 attacks on the U.S. Embassies or AFTER, when the FBI obtained the phone number from of the Embassy bombers – Mohamed Rashed Daoud al-'Owhali?
5. In what year did the CIA establish its ground based dish to intercept one side of the calls coming into the Sana's hub?
6. If the NSA knew that some phone calls from the U.S. were coming into the Sana'a hub in 2000 / 2001, why were they not able to determine locations in the U.S.? The prevailing open source explanation is that it did not have the technological capability.
7. Lastly, could someone explain to me in layman's terms how the USG would have intercepted in the 1990s a phone call from a landline and a satellite phone?
These questions are historical. It is unlikely sources and methods used in some of these events are still active. I have read James Bamford and Matthew Aid's books on NSA. While the CIA and DOJ declassified their Inspector General reports on pre-9/11 activities of the CIA and FBI, the NSA has not.
Whatever help you can provide me would be greatly appreciated. I do not have to source you. If you wish, I can camo source you – "A former U.S. government employee who wishes to remain anonymous."
I leave you with a thought you should ponder – the sharpest and largest thorn in history is silence.
Thank you. REPLIES TO: Author/Research Dennis Pluchinsky at dpluchinsky@rocketmail.com
THREE Faculty Openings for 2021 at Hilbert College, Hamburg, NY
Assistant Professor, Criminal Justice; Assistant Professor, Forensic Science/Crime Scene Investigation; and Assistant Professor, Intelligence & Data Analysis.
Interested candidates can view our job postings here.
---
Anne Cuomo, NSA Computer Security Expert
Anne Johnson Cuomo, 80, a NSA Computer Security Expert, died 3 February 2021 in Salisbury, MD after a 7 year bout of neurological disease (NPH) worsened when she contracted COVID-19 which led to her death.
She was born in Salisbury, MD. She graduated in 1958 from Wicomico Senior High, and majored in Mathematics at Randolph-Macon Woman's College earning a BA.
She worked for the NSA at Fort Meade, MD for 34 years in computer systems support, ranging from software development to computer operations largely in the management field. Computer security was a focus of her final career years, and for her efforts in establishing computer security standards across the Intelligence Community, she was honored with the National Intelligence Medal of Achievement.
Retiring in 1997, Anne returned to Salisbury, MD and renewed hometown friendships. Her special interests were singing in choirs, especially the Salisbury Chorale and the choirs at St. Francis de Sales Church, playing bridge, and gardening. She also loved her responsibilities at the Joseph House, where she served on the Advisory Board and helped to establish the Joseph House Workshop for homeless, jobless men.
Anne had a friendly personality and was recognized by Lakeside Assisted Living by appointing her as an Ambassador to greet new residents. She always had a smile and a joke for everyone she met.
Anne was pre-deceased by her husband and a brother. She is survived by a brother, a sister, and other family.

Betty Greig, OSS and CIA Officer
Betty Carter Fort Greig, 97, OSS and CIA Officer, died 30 January 2021 in Washington, DC.
She was born in New London, CT and spent her childhood in Navy ports on the West Coast and in Annapolis, Newport, RI and Washington, DC where her father was an Admiral. She attended the Mary C. Wheeler School in Providence, RI, graduated from the Katherine Branson School in Ross, CA and was an honor graduate of Smith College, Class of 1944.
Upon graduation during World War II, she relocated to Washington, DC to work for the Office of Strategic Services, and later for its successor the CIA.
After the war she held a teaching fellowship in Spanish at the University of Washington when her father had command of the 19th Naval District in Seattle. She received a Master's Degree in Education from the Catholic University of America and taught at Westbrook Elementary School in Montgomery County for 23 years. Earlier she had taught at the DC Society for Crippled Children (now the Easter Seal Society) and the National Child Research Center.
She was a member of the Chevy Chase Club, the Army Navy Club, the Junior League of Washington, the Smith College Club of Washington, the Scottish Country Dance Society of Washington and the Conanicut Yacht Club. She served on the Women's Board of the Columbia Hospital for Women. In 1998, at the tender age of 75, she married Pickett Magruder Greig of Jamestown, RI. He predeceased her in 2005. Services will be private.

Ross Johnson, Director, Radio Free Europe/Radio Liberty


Arnold Ross Johnson, 81, Director, RFE/RL, died 6 February 2021 in Vienna, VA.
Ross was born in Cincinnati, OH. After graduating from Highlands High School, Fort Thomas, KY, he earned degrees at Stanford University, the Fletcher School, and Columbia University. His Stanford Study Abroad experience changed his passion from engineering to foreign affairs. He worked as a research fellow at the Rand Corporation, as a research fellow and later Director at Radio Free Europe/Radio Liberty, and as research fellow at the Hoover Institution and the Wilson Center. His numerous publications include the book Radio Free Europe and Radio Liberty: The CIA Years and Beyond [Stanford Univ Press, 2010].
He was an advocate for the declassification of U.S. documents from the Central Intelligence Agency and other U.S. government agencies concerning the history of RFE/RL, filing hundreds of Freedom of Information Act and Mandatory Declassification Review requests. Ross graciously shared many of the documents he obtained as a result of these efforts and helped CWIHP to establish a collection of over 250 documents about RFE/RL on DigitalArchive.org.
Ross was a keen traveler, a polyglot who spoke German and Serbian fluently, an expert in Balkan history and politics, and a tireless advocate for democratic institutions and a free press in Eastern Europe.
In recent years he helped create the Hoover Institution Archives of RFE/RL legacy broadcast recordings and documents. Ross received the Laurel Award from the prime minister of Poland in 2001 and a citation for Meritorious Service to Polish Culture from the Polish minister of culture in 1996.
In his leisure time, Ross enjoyed cycling, hiking, cross-country skiing, and travel. He is survived by his wife Diana; a daughter and son, and other family.

Paul Kern, Naval Intelligence and CIA Officer
Paul Barger Kern Jr, 84, Naval Intelligence and CIA Officer, died 10 February 2021 in Cary, NC.
Paul was born on April 20, 1936 in Morehead City, NC. He was raised in Washington, DC and Bethesda, MD.
He graduated from Landon School, Bethesda, MD, in 1954 and Princeton University in 1958. From Princeton he went to OCS with the Navy and Naval Intelligence where he was recruited by the CIA.
When his father passed away in 1962, he left the CIA and took a leadership role in the family millwork and lumber business, Kern Distributing Company, Inc....a business his father had started in 1936. Paul sold the company in 1989 and started a second career in real estate investment. During his business career, he was active in industry and civic organizations taking on leadership roles with the March of Dimes, Rotary and St. Paul's Lutheran Church (Washington, DC) among others.
He was an accomplished golfer and tennis player and member of Congressional Country Club. He loved cheering for his Washington sports teams and watching his children and grandchildren participate in their various sports and activities. A major source of pride was his childhood school, the Landon School, where he served on its Board of Trustees and his son and a grandson graduated from the school. He established the school's ethics program after endowing the Paul Landon Banfield Endowed Chair in Ethics. The program has become a national model for independent schools.
Paul is survived by his wife of 57 years, Sally Siggins Kern, a son, a daughter, a brother, two sisters, and other family.

Doug MacEachin, CIA Deputy Director for Intelligence
Douglas John MacEachin, 83, CIA Deputy Director for Intelligence, died 20 January 2021 in Reston, VA.
He was born in Port Huron, MI. He proudly and passionately dedicated his life to the service of his country. He attended Miami University (of Ohio) on a Navy ROTC scholarship. After graduating with BA in economics in 1959, he entered active duty in the U.S. Marine Corps, serving until 1963. After leaving active duty, Mr. MacEachin returned to Miami University to obtain a MA in economics, briefly joining the faculty there until 1965. After leaving Miami University, Mr. MacEachin joined the Central Intelligence Agency, beginning a stellar career that would span four decades. During the majority of his career, he focused on research and analysis of Soviet and European security affairs, including serving four years in Vienna, Austria, from 1974 to 1978, as a member of the U.S. delegation to the Mutual and Balanced Force Reductions negotiations between NATO and Warsaw Pact countries. Before retiring from the CIA in 1997, Mr. MacEachin would hold positions of Director of the Office of Soviet Analysis, Special Assistant to the Director of Central Intelligence for Arms Control, and Deputy Director for Intelligence. He spent the final years of his CIA career as the Agency's Officer-in-Residence at Harvard University's John F. Kennedy School of Government. He left Harvard in 1998 to spend a few years living in southern France before once again answering his nation's call, in 2003, by serving as a team lead on the 9-11 Commission.
In his retirement, Doug pursued his passions for classic movies, spy novels, jazz, and opera. He loved to quote, at opportune moments, all the classic lines from the movie Casablanca, and he often could be seen in the opera house at the Kennedy Center, particularly when his favorite, La Boheme, was being performed. He was also a lifelong Detroit Tigers and Washington Capitals fan.
He is survived by a sister, a son, a daughter, and other family.

Peter Moffat, Ambassador and Foreign Service Intelligence Officer
Jay Pierrepont Moffat Jr, 88, a retired Foreign Service Intelligence Officer, Career Diplomat and former Ambassador to Chad, died 23 October 2020.
Born in New York to Ambassador Jay Pierrepont Moffat and Lilla Cabot Grew Moffat, Peter spent some of his childhood in Australia and Canada, before his father's death in 1943. He attended the Groton School and graduated from Harvard University in 1953. He served in the Army and the National Security Administration from 1953 to 1956 before joining the Foreign Service as an intelligence research officer. From 1958 to 1970, he was posted in Kobe, Paris, Bern, and Washington. He was the Deputy Chief of Mission in Port of Spain, Trinidad and Tobago from 1971 to 1974 and in Rabat, Morocco from 1976 to 1980. He served as the temporary chargé d'affaires in The Gambia and Lesotho before becoming the chargé d'affaires in N'Djamena, Chad in 1982. He was appointed Ambassador to Chad in May 1983 and served until July 1985, during the Chadian-Libyan Conflict. Afterward he was briefly the senior vice president of the National War College.
After his retirement, he split his time between Washington, DC and Hancock, NH. He traveled extensively and was an avid reader and tennis player. His sense of humor always made his stories a delight. He was a longtime member of the Alliance Française and the Metropolitan Club of Washington.
In addition to his wife, Pamela Mary Dawson, he is survived by three children and other family.

John Stein, CIA Deputy Director for Operations
John Henry Stein, 88, Deputy Director for Operations at CIA, died 2 February 2021 in West Warwick, RI.
Born in Pottsville, PA, he was raised in Seekonk, MA. He attended high school at St. George's School in Middletown, RI where he was recognized in their sports Hall of Fame in later years. John graduated from Yale University in 1955 and in his senior year became a proud member of the world's oldest and best-known collegiate a cappella groups, the Whiffenpoofs. Although approached by the Yankees during his senior year of college, he instead served in the Army from 1955 to 1959 as a first lieutenant.
John joined CIA and served his country in various intelligence positions from 1959 to 1981 in countries such as the Democratic Republic of the Congo, now Zaire, Cameroon, Cambodia, Libya and twice in Brussels, Belgium.
In 1981 John was appointed Deputy Director for Operations of the CIA and served under then President George H. W. Bush. Current President Joseph R. Biden Jr., then a Senator serving on the Senate Select Committee on Intelligence, was quoted as referring to John as a ''true professional,'' and ''astute, open, knowledgeable, and has the respect of the community and the committee - a rare combination.'' John retired after completing his final post in Korea in 1989, moving back to his cherished New England to settle down.
He is survived by his wife of 64 years, Marilyn M. "Charlie" McCarthy Stein, a brother, and other family.

Ion Mihai Pacepa, Highest-Ranking Soviet Bloc Defector To The West, Reported Dead At 92. Ion Mihai Pacepa, a top Romanian intelligence officer who became the highest-ranking defector from the Soviet bloc when he fled Romania and sought asylum in the United States, has reportedly died after being hospitalized with COVID-19. He was 92.

Ronald Rychlak, Pacepa's co-author on a 2013 book about disinformation during the Soviet era, told RFE/RL that Pacepa died on February 14 in a hospital in an undisclosed location in the United States.

He said he was notified of the death by Pacepa's longtime wife on February 14, and he said he had spoken directly with Pacepa the previous day when his health began to worsen.

There has been no official announcement about Pacepa's death. [Read more: RadioFreeEurope/16February2021]
---
AFIO EDUCATIONAL EVENTS IN COMING TWO MONTHS....
Thursday, 18 February 2021, 12:30 - 1:30 pm (PST) - Virtual GoToMeeting - Annual 2021 AFIO-LA Chapter Business Meeting
The AFIO Los Angeles Chapter will hold its annual General Business Meeting which includes annual elections, yearly objectives and other chapter business. All members are encouraged to attend and bring forth any chapter points of interest for the 2021 agenda. This meeting will be held virtually through GoToMeeting. Please RSVP via email reply to attend, we look forward to your participation.
RSVP or Questions to: afio_la@yahoo.com, Vincent Autiero, President, AFIO-Los Angeles Chapter, 5651 W Manchester Ave
Los Angeles, CA 90045. www.afio.org
Wednesday, 17 March 2021 - Virtual on Zoom - AFIO Atlanta presents its St. Patrick's Day Event featuring Ruth Dudley Edwards on "How the Appeasement of Terrorism in Northern Ireland by Western Liberalism has led to the Spectre of a Fascist Takeover."
The AFIO Atlanta Chapter hosts Ruth Dudley Edwards, an Irish historian, political commentator, and crime writer who has written extensively on the Troubles. Her most recent book is The Seven: The Lives and Legacies of the Founding Fathers of the Irish Republic (2016), and some of her other works include Aftermath: The Omagh Bombings and the Families' Pursuit of Justice and The Faithful Tribe: An Intimate Portrait of the Loyal Institutions (shortlisted for Channel 4/The House Politico's Book of the Year).
Her bio can be found here.
RSVP or questions to afioatlanta@gmail.com or 404.403.8004, Brian Hooper, President, AFIO Atlanta, 1266 West Paces Ferry Road NW, Atlanta, Georgia, 30327.
All AFIO members and friends are invited!
Wednesday, 17 March 2021, noon PST - Virtual Zoom Event - The "Andre Le Gallo" San Francisco Chapter hosts Phil Gioia on "The History of the OSS."
The AFIO San Francisco Chapter hosts Phil Gioia on "The History of the OSS."
Phil Gioia grew up as an Army Brat on US Army posts in the United States, Japan, and Italy. After graduating from Virginia Military Institute, he was commissioned as a Regular Officer in the US Army. Twice wounded in action in Vietnam, he served as an Infantry platoon leader in the 82nd Airborne Division during the 1968 TET Offensive, and as an Infantry company commander in the First Air Cavalry Division (Airmobile) in 1969-70.
Following his military service, Phil received an MBA from Stanford University. He also holds a Master of Science in Foreign Service from Georgetown University.
Phil has thirty years of experience in business management, has served as investor, CEO or board member of emerging-growth corporations in the technology sector, and is a co-founder of Pathfinder Partners LLC, providing services to the US defense and national security communities.
Registration is required to receive the zoom link. Register here.
Questions to Mariko Kawaguchi, Board Secretary, AFIO San Francisco Chapter at afiosf@aol.com
---
Other Upcoming Events from Advertisers, Corporate Sponsors, and Others
Thursday, 18 February 2021, noon EST - Virtual - Inside the Robert Hanssen Investigation with Debra Smith - Virtual International Spy Museum Program
Twenty years ago today, the worst spy to ever penetrate the FBI was arrested at Foxstone Park near his home in suburban northern Virginia. Robert P. Hanssen was a veteran FBI agent with thwarted ambitions. Beginning in 1979, he provided highly classified national security information to Russia and the former Soviet Union on and off through 2001. Join this virtual museum event for an inside look at Hanssen and the investigation that rolled him up with Debra Smith, former Deputy Assistant Director of the Counterintelligence Division at FBI Headquarters. Event is free but registration required. Visit www.spymuseum.org.
Thursday, 25 Feb 2021, 1800/6pm EST; 1500/3pm PST; 1300/1pm HST - Virtual GoToMeeting - NIP Speaker Series Features RDML Michael Vernazza
The Naval Intelligence Professionals Virtual Speaker Series this month features RDML Michael Vernazza – Commander, Naval Information Warfighting Development Center, on "Mission, Role, and Status of the Naval Information Warfighting Development Center."
Biography: RDML Vernazza bio available here.
FORMAT: Video Conference – GoToMeeting. Please join the meeting from your computer, tablet or smartphone, beginning at 1750/5:50 EDT at this link: https://global.gotomeeting.com/join/153406485
You can also dial in using your phone. US: +1 (571) 317-3122 Access Code: 153-406-485.
New to GoToMeeting? Get the app now at https://global.gotomeeting.com/install/153406485 and be ready when your first meeting starts.
As always, please mute your device/phone. Thanks.
AGENDA: (3 min) RDML (Ret.) Cothron, NIP Chairman, welcoming remarks; (~30 min) RDML Vernazza remarks; Q & A moderated by CAPT (Ret.) Bob Allen.
Please ask your questions in the GoToMeeting chat window or email your questions in advance/during the video conference to: bob_allen36@hotmail.com.
Thursday, 25 February 2021, noon EST - Virtual - Virtual Spy Chat with Chris Costa and Special Guest Thomas P. Bossert - Virtual International Spy Museum Program
Join these experts for an online discussion of the latest intelligence, national security, and terrorism issues in the news. Spy Museum Executive Director Chris Costa, a former intelligence officer of 34 years, will lead the briefing. He will be joined by Thomas P. Bossert, who served as Homeland Security Advisor to two US presidents. Following their discussion of key issues, you'll be able to ask questions via our online platform. Sponsored by Accenture. Event is free but registration required. Visit www.spymuseum.org.
Sunday, 28 February 2021, 2-3:30pm EST - Virtual - The Cold War Museum hosts MG Robert Parker (USAF, ret.) on "Protection and Inspection: US Missile Forces & Site Inspections in the USSR"
The Soviets Signed a Lot of Arm Control Treaties with Us. Then Came the Hard Part: Making Sure They Were Complying. What Did That Look Like on the Ground? How Did We Know They Weren't Spoofing Us? How Did Those Site Inspections Work? Ask the Former Missileer AF General Who Was Director of the On-Site Inspection Agency—and Commanded Our ICBM Missile Forces. Major General Robert Parker (USAF, ret.) will discuss "Protection and Inspection: US Missile Forces & Site Inspections in the USSR."
This presentation provides a window into what it took to be a Cold War Missileer at all levels and in many capacities, from Second Lt. Parker reporting for duty at Ellsworth AFB to his rise to commanding the deployment of 1,000 missiles at six bases. But the second phase of his career, as Director the On-Site Inspection Agency, while depending heavily on his experience as a missile commander, called for additional skills: as a diplomat and as an expert evaluator of technological situations with very important strategic consequences.
General Parker will take us through the highlights both of his leadership of the forces controlling some of our most devastating strategic weapons and what it looks and feels like to be part of an on-site missile inspection team where the stakes were very high, and error was not an option.
This is the 41st in a series of presentations sponsored by the Museum featuring eyewitnesses to, and other experts on, significant Cold War events and activities.
Cost: $20, 100% of which is a contribution to the Cold War Museum.
ONLINE ONLY. Eventbrite ticket buyers will receive a link to the virtual room on the Zoom platform where this event will take place. Event, including the Q&A, will be recorded and for those unable to virtually attend when event is taking place, you will still have access to the video after the event. The video will also be placed in the Cold War Museum's archives.
To access the event video after the live event, contact CWM Executive Director Jason Hall at Jason@coldwar.org.
To register now for this virtual event, use this Eventbrite link.
Sunday, 28 February 2012, 3pm EST - Virtual - The Magic of Spying with Peter Wood: Live Virtual Family Performance and Workshop - Virtual International Spy Museum Program
You may have seen him on Penn & Teller: Fool Us, now join professional magician Peter Wood as he performs the art of misdirection, sleight of hand, and other illusions used by skilled spies. In the real-life world of espionage, spies often call upon the art of magic and illusion to distract the enemy, make evidence disappear, and escape unnoticed. Event is $10/household. Visit www.spymuseum.org.
Wednesday, 3 March 2021, noon EST - Virtual - Secret History of History: Three Ordinary Girls - Virtual International Spy Museum Program
Truus Oversteegen, her younger sister Freddie, and their friend Hannie Schaft, came of age during a tumultuous moment in 1930s Europe. In their medieval home city of Haarlem, there were mass protests, communist party meetings, and whispers that the Queen's son-in-law had secret ties to the Nazi party. When the commander of The Dutch Royal Army surrendered to the Nazis in May 1940, the girls felt compelled to resist. Join us for a talk with award-winning author Tim Brady, about his new book Three Ordinary Girls which explores how these young women cleverly wielded the only weapons at their disposal – wits, bravery, audacity, intelligence, and youth – to repeatedly undermine the Nazis and their Dutch collaborators. These Dutch girls started with simple acts of covert illegality: lifting German ID cards to counterfeit them, distributing fliers announcing strikes, and passing out anti-Nazi literature. They then progressed to bigger, deadlier jobs: ferrying Jewish children to safeguard locations, stockpiling weapons, detonating bombs, gathering intel, and ultimately murder. All in support of the Dutch Resistance.
Event is free - registration required. Visit www.spymuseum.org.
Saturday, 6 March 2021, 11am-2pm EST - Virtual - Sisterhood of Spies: A Virtual Girl Scout Event - Virtual International Spy Museum Program
Calling all Girl Scouts! Celebrate Women's History Month with the International Spy Museum and learn about the Sisterhood of Spies. Girl Scouts will test their spy skills and learn tricks of the trade. They will meet Sonia Purnell, author of A Woman of No Importance: The Untold Story of the American Spy Who Helped Win World War II to learn about Virginia Hall; former Chief of Disguise of the CIA Jonna Mendez for a gadget workshop; Liza Mundy, author of Code Girls: The True Story of the American Women Who Secretly Broke Codes in World War II to discuss female code breakers; and Tracy Walder, former CIA and FBI and author of The Unexpected Spy. The speakers will share their knowledge about the shadow world of spying and participants will have the opportunity to ask questions. Designed for Brownies through Senior Girl Scouts.
Event is $12/household. Visit www.spymuseum.org.
Thursday, 11 March 2021, noon EST - Virtual - Secret History of History: Color Wars Part II - Virtual International Spy Museum Program
Some of us have the blues these days we'd like to shake, but some blues are the subject of desire, intrigue, and passion. This is the story of indigo. Every year Pantone picks a "Color of the Year"—2021 is a departure—two colors: Ultimate Gray and Illuminating Yellow. But these can't hold a candle to a color that's been desired for centuries — indigo. In October we explored how cochineal red became coveted and was the subject of economic intelligence campaigns. Today, we will submerge ourselves in the elemental and timelessness of indigo blue—its history, cultural role, and the efforts made to steal and recreate it far from the land where it emerged. Catherine E. McKinley, author of Indigo: In Search of the Color that Seduced the World and just published The African Lookbook, will explore her personal search for indigo and the incredible role it has played globally for centuries. Please join this colorful conversation, and then you'll be able to ask questions via the online platform.
Event is free – registration required. Visit www.spymuseum.org.
Wednesday, 17 March 2021, noon EST - Virtual - Curator's Corner: CROSSFIRE HURRICANE with Josh Campbell - Virtual International Spy Museum Program
CROSSFIRE HURRICANE was the codename the FBI gave the investigation into the Trump campaign's possible ties to Russia. And like any hurricane disaster surrounded it. Join Spy Museum's Historian and Curator Andrew Hammond in conversation with Josh Campbell, former Special Assistant to FBI Director James Comey. In that position, Campbell had a front row seat to the FBI's investigation and experienced the growing alarm inside the Bureau about the sustained assault on the FBI and its independence. The former special agent has written CROSSFIRE HURRICANE: Inside Donald Trump's War on the FBI, an illuminating fly-on-the-wall account from the earliest days of the Russia investigation. Campbell—now a CNN analyst on crime, justice, and national security issues—will also discuss the investigation into the question of Hillary Clinton's private emails and his insights into Trump's war on justice from his perspective inside the FBI. Following their discussion, you'll be able to ask questions via the online platform.
Event is free – registration required. Visit www.spymuseum.org.
Thursday, 25 March 2021, noon EST - Virtual - Virtual Spy Chat with Chris Costa and Special Guest Lieutenant General Robert P. Ashley, Jr. - Virtual International Spy Museum Program
Join us for an online discussion of the latest intelligence, national security, and terrorism issues in the news. Spy Museum Executive Director Chris Costa, a former intelligence officer of 34 years, will lead the briefing. He will be joined by Lieutenant General Robert Ashley, Jr., who retired as Director of the Defense Intelligence Agency in October of 2020. Following their discussion of key issues, you'll be able to ask questions via our online platform. Sponsored by Accenture.
Event is free – registration required. Visit www.spymuseum.org.
25 March 2021 - Virtual - The next OSS "Oh So Social" Conversation features former Asst Sec of State for INR Ellen McCarthy
The next "Oh So Social" conversation by The OSS Society will feature the Honorable Ellen McCarthy, former Assistant Secretary of State for the Bureau of Intelligence and Research - the successor to the OSS' Research and Analysis Branch - will interview best-selling author Erika Robuck about her new book "The Invisible Woman" - the OSS' Virginia Hall, the only civilian woman to receive the Distinguished Service Cross in World War II. To register for this virtual event, do so here
---
In addition to the new Royal Blue long sleeve shirts, and the gray long sleeve hooded sweatshirts, the AFIO Store also has the following items ready for quick shipment:
NEW: LONG and Short-Sleeved Shirts with embroidered AFIO Logo and New Mugs with color-glazed permanent logo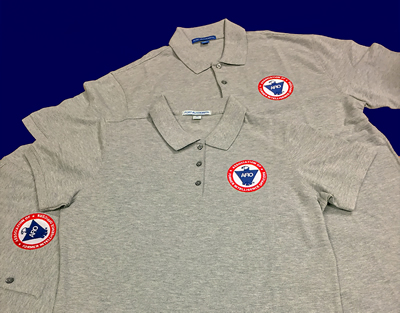 Show your support for AFIO with our new Polo Shirts. Be the first to buy these new, high quality, subtle heathered grey short sleeve shirts, and dark blue long sleeved shirts, of shrink and wrinkle resistant fine cotton with a soft yet substantial feel. They feature a detailed embroidered AFIO seal. Get a shirt for yourself and consider as gifts for colleagues, family, and friends. Only $45 each including shipping.
Sizes of (M) men or (W) women shirts; Small, Medium, Large, XL, XXL, and XXXL. At this time all orders will arrive as Short Sleeve shirts.
You may pay by check or credit card. Complete your order online here or mail an order along with payment to: AFIO, 7600 Leesburg Pike, Ste 470 East, Falls Church, VA 22043-2004. Phone orders at 703-790-0320. If interested in other shirt colors or sleeve lengths, contact Annette at: annettej@afio.com.
Available as a thank you for donations are the new AFIO logo face masks:
These soft, form-fitting, washable, non-medical grade fabric face masks have wide behind-the-ear elastics to make long periods of wear comfortable. Also easier to quickly put on or take off. Blue on outside, white inside. The masks do not have a nose wire but are sculpted, shaped, and sewn to fit most users. The all-cloth composition allows the masks to be washed or steam-disinfected without concerns over metal wires. The color logo is washable and a permanent part of the mask.
The masks, however, are not for sale. They are being offered strictly as a thank you gift to our donors.
For tax-deductible donations of $50 you will receive a receipt and our thank you gift of two of these newly-arrived face masks.
Donations of $100 receive four masks to be sent to the same address. Other amounts and split-shipments are available.
To donate now to support AFIO's programs and publications, please do so here.
We wish all members and donors continued good health, safe social distancing, and warmly appreciate any support you are able to provide the association.
---
AFIO Mug with color glazed logo. Made in America. Sturdy enough to sit on desk to hold pens, cards, paperclips, and candy.
This handsome large, heavy USA-made ceramic mug is dishwasher-safe with a glazed seal. $35 per mug includes shipping. Order this and other store items online here.
---
Guide to the Study of Intelligence and When Intelligence Made a Difference
"AFIO's Guide to the Study of Intelligence" has sold out in hard-copy.
However, it is available in digital form in its entirety on the AFIO website here.

Also available on the website here are the individual articles of AFIO's history project "When Intelligence Made a Difference" that have been published to date in The Intelligencer journal. More articles will be forthcoming in future editions.
---
Disclaimers and Removal Instructions
Weekly Intelligence Notes (WINs) are commentaries on Intelligence and related national security matters, based on open media sources, selected, interpreted, edited and produced for non-profit educational uses by members and WIN subscribers.
REMOVAL INSTRUCTIONS: We do not wish to add clutter to inboxes. To discontinue receiving the WINs:
a) IF YOU ARE A MEMBER - click here: UNSUBSCRIBE and supply your full name and email address where you receive the WINs. Click SEND, you will be removed from list. If this link doesn't open a blank email, create one on your own and send to afio@afio.com with the words: REMOVE FROM WINs as the subject, and provide your full name and email address where you are currently receiving them.
b) IF YOU ARE NOT A MEMBER, and you received this message, someone forwarded this newsletter to you [contrary to AFIO policies]. Forward to afio@afio.com the entire WIN or message you received and we will remove the sender from our membership and distribution lists. The problem will be solved for both of us.
CONTENTS of this WIN [HTML version recipients - Click title to jump to story or section, Click Article Title to return to Contents. This feature does not work for Plaintext Edition or for some AOL recipients]. If you wish to change to HTML format, let us know at afio@afio.com. The HTML feature also does not work for those who access their e-mail using web mail...however NON-HTML recipients may view the latest edition each week in HTML at this link: https://www.afio.com/pages/currentwin.htm
---
WINs are protected by copyright laws and intellectual property laws, and may not be reproduced or re-sent without specific permission from the Producer. Opinions expressed in the WINs are solely those of the editor's or author's listed with each article. AFIO Members Support the AFIO Mission - sponsor new members! CHECK THE AFIO WEBSITE at www.afio.com for back issues of the WINs, information about AFIO, conference agenda and registrations materials, and membership applications and much more!
(c) 1998 thru 2021. AFIO, 7600 Leesburg Pike, Suite 470 East, Falls Church, VA 22043-2004. Voice: (703) 790-0320; Fax: (703) 991-1278; Email: afio@afio.com
---
About AFIO | Membership Renewal | Change of Address | Upcoming Events | Chapter Locations | Corporate/Institutional Memberships | Careers in Intelligence Booklet | Guide to the Study of Intelligence | Intelligencer Journal | Weekly Intelligence Notes | To Make A Donation | AFIO Store | Member-Only Section | Code of Ethics | Home Page
---