---
CONTENTS
Section I - INTELLIGENCE HIGHLIGHTS
Section II - CONTEXT & PRECEDENCE
Section IV - Research Requests, Jobs, Obituaries
Other Upcoming Events from Advertisers, Corporate Sponsors, and Others
For Additional AFIO and other Events two+ months or more... Calendar of Events
WIN CREDITS FOR THIS ISSUE: The WIN editors thank the following special contributors: rsy, ec, po, pj, mh, km, gh, mk, rd, fm, kc, jm, mr, jg, th, ed, and fwr. They have contributed one or more stories used in this issue.

The WIN editors attempt to include a wide range of articles and commentary in the Weekly Notes to inform and educate our readers. However, the views expressed in the articles are purely those of the authors, and in no way reflect support or endorsement from the WIN editors or the AFIO officers and staff. We welcome comments from the WIN readers on any and all articles and commentary.

CAVEATS: IMPORTANT: AFIO does not "vet" or endorse research inquiries, career announcements, or job offers. Reasonable-sounding inquiries and career offerings are published as a service to our members, and for researchers, educators, and subscribers. You are urged to exercise your usual caution and good judgment when responding, and should verify the source independently before supplying any resume, career data, or personal information.]
If you are having difficulties with the links or viewing this newsletter when it arrives by email, members may view the latest edition each week at this link.

---

Other items brought to our attention:


Meet some of the thousands of women who worked for Bletchley Park during World War Two. The top-secret intelligence they helped to produce impacted every sphere of the war. These are some of their remarkable experiences, in their own words

---

The Actress Who Left the Stage to Become a Civil War Spy by Emily Toomey SMITHSONIANMAG.COM | Aug. 12, 2019

Pauline Cushman, now featured in a Smithsonian photography exhibition, unexpectedly found herself spying for the Union after accepting a dare. Article here.

---

The Arkin Group's March 4 "In Other News" letter to private clients by former Operations Officer Jack Devine features...
• The Biden administration has made good on threats of new sanctions on Russia over the poisoning and imprisonment of opposition leader Alexey Navalny, designating seven individual Russian officials and more than 12 government entities.
• U.S. President Joe Biden's virtual bilateral meeting with Mexican President Andrés Manuel López Obrador (AMLO) this week marked a pivot on U.S. immigration policy, with Biden signaling a desire to return to full cross-border trade relations and openness to expanding pathways to legal immigration.
• A U.S. contractor was killed in a rocket attack yesterday on the Ain al-Asad air base in Anbar province, which houses U.S., Coalition, and Iraqi troops.
• Released las week: Jack Devine's Spymaster's Prism. AFIO's interview with him about this book appears in this issue at top of right column of this issue of the WINs. You can view the video at this link. Or hear the podcast here.

---

The Latest... from Jeff Stein's highly popular "SpyTalk" series

Mar 8: "Murder Most Fouled" by Jeff Stein
How Pakistani Spy Officials Blocked Justice for Daniel Pearl ISI officials framed the Wall Street Journal reporter's murder case—and the FBI and DoJ prosecutor Chris Christie went along with it.
Article here

Mar 3: "Knock-Knock: How the FBI Scares Off Would-Be Capitol Bombers" by Elaine Shannon
Just a 'friendly visit' from unsmiling agents lets far right fantasists know they're on the government's radar
Article here

Readers can subscribe for free at the moment here.

---

Inside the heavily-accessed SCIF by JJ Green of WTOP:

Inside the SCIF by JJ Green, WTOP - Issue #103, 4 March has more details on the Capitol Riots, on Russian disinformation operations in the US, Qanon, Biden on states lifting Covid restrictions, Venezuelan Intelligence Monitored Citgo Executives in U.S. - Court Testimony, NPR Kelly's interview of DNI Avril Haines, Rocket Attack in Iraq on 3 March, US removal of Russian air defense system from Libya, the monitoring of NK nuclear facilities, and much more.

The latest Target USA Podcast 266 is on: "Washington is on edge with Capitol security concerns as March 4th comes and goes." A Qanon conspiracy theory says former President Donald Trump will "triumphantly return" to Washington to become President again on March 4th. But that won't happen. Will rioters return? We look at the Intelligence and talk to former FBI Special Agent Tom O'Connor about why domestic terrorism is a "second tier" problem.
And "The Hunt" explores: FBI officials have told WTOP that domestic terrorism is a complex mix of ideas and people. On this week's episode of "The Hunt, with WTOP National Security Correspondent J.J. Green," Sara Kamali, author of "Home Grown Hate," breaks down the group dynamics of those involved on Jan. 6 at the Capitol.

---

---

From the National Cryptologic Museum Foundation:

THE NCMF's #CyberChats, held virtually via their Nepris online classroom, have resumed.
NCMF Fireside #CyberChat with Barbara McNamara for Women's History Month is Thursday, 11 March 2021 noon to 1 pm EST. Access it virtually here.
Other NCMF upcoming events will be:
Debora Plunkett, a cybersecurity trailblazer 23 March, 1pm
NCMF Fireside #CyberChat on 31 March, 3-4pm EST with Dr. Sally Botsai
NCMF 25th Anniversary on 17 April 2021. Stay tuned for details.

---

One of the special benefits of membership in AFIO: access to CIA's inhouse gift shop — the EAA Store.

It requires a quick preapproval process described here to all newly joined and current AFIO members. And then allows you to purchase online their unusual logo'd gift items for self or colleagues. Here is the latest photo EAA released on January 22 featuring some of their newest items:

---

---

Visit, Follow, Subscribe to AFIO's LinkedIn, Twitter, and YouTube pages to receive updates.

Members who use social media or wish to explore, will find new announcements and other material on AFIO's Twitter and LinkedIn pages. New videos on our YouTube page appears below as well.
Access them here: LinkedIn, Twitter, and YouTube. By following or subscribing on those sites, one can be notified as new material appears.


NOTE: All publicly-released "AFIO Now" videos are available as streaming podcasts here.

---
---
Just released to members-only...
Women Exerting Power and Being Innovative in Male-Dominated Enterprises

Released 9 March 2021
Interview of Friday, 19 February 2021 of Carmen Medina, former CIA Deputy Director of Intelligence, innovator, and coauthor of Rebels at Work: A Handbook for Leading Change from Within (O'Reilly, 2014). Interviewer: David Priess, former CIA Analyst, Professor at George Mason University. Host: James Hughes, AFIO President, a former CIA Operations Officer.
TOPIC: Carmen Medina and David Priess discusses how she came to be recruited by CIA, the role of her education, how debating helped her develop the skills that served her well over her CIA career. Priess and Medina discuss her experience of interning at the CIA in 1978, to running the South Africa desk, and leaning into the male-dominated CIA culture to make her voice heard. We hear of her perspective on power, and the role curiosity in her work led to new ways of operating in a vast organization.
The interview runs 38 minutes which includes numerous Q&As.
Access Medina video here or click above image.
---
Prior Videos in the "AFIO Now" Series
To view them, visit our YouTube page here
or log into the Member-Only area of our website here.
---
Jack Devine, former Deputy Director of Operations and Chief of the CIA Afghan Tast Force, on "Spymaster's Prism" on : The Fight Against Russian Aggression. Podcast version here.
Caryn A. Wagner, former Undersecretary, Office of Intelligence and Analysis, Dept of Homeland Security, on "Experiences serving as Undersecretary, Office of Intelligence and Analysis, at the Department of Homeland Security".
Steve Vogel, author, Washington Post journalist, on his book "Betrayal in Berlin: The True Story of the Cold War's Most Audacious Espionage Operation"
Larry Loftis, attorney, author, professor, on "The Princess Spy" on WWII Spy Aline Griffith, Countess of Romanones. Podcast version here
Linda Millis, former Senior Intelligence Officer at NSA, CIA, ODNI on "Women in Intelligence"
Vince Houghton PhD, Director, National Cryptologic Museum on "The Nuclear Spies: America's Atomic Intelligence Operation Against Hitler and Stalin".
Joe Augustyn, former CIA Clandestine Services Officer on "CIA's Defector Resettlement Program"
Joseph W. Augustyn, former CIA Clandestine Services Officer on "CIA's Role in the Creation of the Department of Homeland Security" Podcast version here
Seth Jones PhD, Director, Transnational Threats Project, CSIS on "A Covert Action" Podcast version here
David Priess PhD, Author, former Senior CIA Analyst and PDB Briefer on "The President's Book of Secrets" Podcast version here
Everette Jordan, Dep Asst Sec for IC Integration, Office of Intel and Analysis, Treasury on "Enjoying a Rich, Challenging Intelligence Career Spanning Multiple Agencies." Podcast version here
Bruce Riedel, former CIA Senior Analyst, Served on National Security Council during Iraq War on "Early Gulf War Policy Decisions." Podcast version here
Shelby Pierson, Election Threats Executive, Office of the Director of National Intelligence on "Nationwide Election Security"
Bruce Klingner, Former CIA Deputy Division Chief for Korea; Heritage Foundation Fellow on "U.S. Strategy Towards North Korea." Podcast version here
Series Introduction: Stewart Baker, Chairman, and James Hughes, President
Nicholas Dujmović, Professor, Author, former CIA Historian, PDB Editor on "Guidelines and Experiences Teaching Intelligence at the University Level"
David Robarge, CIA Chief Historian, PDB Editor on "The Complexities of Counterintelligence"
Vince Houghton PhD, Director, National Cryptologic Museum on "Nuking the Moon...and Other Intelligence Themes and Military Plots Left on the Drawing Board". Podcast version here
Martin C. Faga, former Director, National Reconnaissance Office on "NRO Support to the Gulf War." Podcast version here
NEW — PODCASTS: Our new social media expert has been busy! Are you too busy to sit and watch an entire "AFIO Now" episode above on YouTube? Would you rather listen in your car or while accomplishing other tasks? Now you can quickly download or stream episodes on your favorite podcasting platform. AFIO is now available on 8 podcasting platforms. Search for 'AFIO Podcast' for a selection of the interviews above (public released ones) on Podbean; iTunes; Google; Spotify; Amazon Music; Amazon TuneIn + Alexa; iHeartRadio; and Pandora.
---
Newly Released, Overlooked, or Forthcoming Books
2034: A Novel of the Next World War
by Elliot Ackerman, James Admiral Stavridis USN
(Penguin Press, Mar 2021)
From two former military officers and award-winning authors, a chillingly authentic, geopolitical thriller that imagines a naval clash between the US and China in the South China Sea in 2034—and the path from there to a nightmarish global conflagration.
On March 12, 2034, US Navy Commodore Sarah Hunt is on the bridge of her flagship, the guided missile destroyer USS John Paul Jones, conducting a routine freedom of navigation patrol in the South China Sea when her ship detects an unflagged trawler in clear distress, smoke billowing from its bridge. On that same day, US Marine aviator Major Chris "Wedge" Mitchell is flying an F35E Lightning over the Strait of Hormuz, testing a new stealth technology as he flirts with Iranian airspace. By the end of that day, Wedge will be an Iranian prisoner, and Sarah Hunt's destroyer will lie at the bottom of the sea, sunk by the Chinese Navy. Iran and China have clearly coordinated their moves, which involve the use of powerful new forms of cyber weaponry that render US ships and planes defenseless. In a single day, America's faith in its military's strategic pre-eminence is in tatters. A new, terrifying era is at hand.
So begins a disturbingly plausible work of speculative fiction, co-authored by an award-winning novelist and decorated Marine veteran and the former commander of NATO, a legendary admiral who has spent much of his career strategically out maneuvering America's most tenacious adversaries. Written with a powerful blend of geopolitical sophistication and literary, human empathy, 2034 takes us inside the minds of a global cast of characters—Americans, Chinese, Iranians, Russians, Indians—as a series of arrogant miscalculations on all sides leads the world into an intensifying international storm. In the end, China and the United States will have paid a staggering cost, one that forever alters the global balance of power.
Everything in 2034 is an imaginative extrapolation from present-day facts on the ground combined with the authors' years working at the highest and most classified levels of national security. Sometimes it takes a brilliant work of fiction to illuminate the most dire of warnings: 2034 is all too close at hand, and this cautionary tale presents the reader a dark yet possible future that we must do all we can to avoid.
Book may be ordered here.
---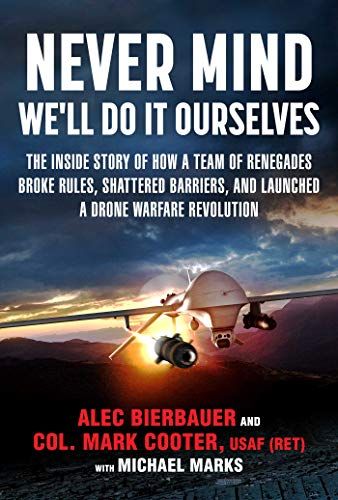 Never Mind, We'll Do It Ourselves: The Inside Story of How a Team of Renegades Broke Rules, Shattered Barriers, and Launched a Drone Warfare Revolution
by Bierbauer Alec, Col. Mark Cooter, Michael E. Marks
(Skyhorse, Jan 2021)
"An extraordinary, riveting, page-turning account—finally cleared for publication by the CIA—of the once highly classified effort by the CIA and special military units to develop a truly game-changing, transformational capability: armed drones. Few, if any, developments in recent decades have had a more significant impact on how we have been able to fight our enemies in the wars of the post-9/11 era. And it all started with the intrepid, innovative, tenacious individuals described in Never Mind, We'll Do It Ourselves. They were the Wright Brothers of the Predator era, and this book captures their actions beautifully!" —General David Petraeus, US Army (Ret.), former Commander of the Surge in Iraq, US Central Command, and US and Coalition Forces in Afghanistan, and former Director of the CIA
"Never Mind We'll Do It Ourselves will give every American confidence that 'the right stuff' still exists in the DNA of our intelligence and military professionals. Their boldness, ingenuity, courage, and commitment changed the face of warfare forever and saved countless lives in the process. As a wartime commander, I will always be in their debt." —Admiral William H. McRaven, U.S. Navy (Retired) former Commander of the U.S. Special Operations Command
"What a stunning, fine read is Never Mind We'll Do It Ourselves! Alec Bierbauer, Col. Mark Cooter, and Michael Marks tell the real story behind the birth of US drones, armed and dangerous, in the dawn of the War on Terror. The first shot came in October of 2001 when the World Trade Center was still smoldering in ruins. This is not about high-ranking poohbahs taking courageous decisions. It is about guys with nicknames: Boom Boom, The Man With Two Brains, Joker, Albert. How they used velcro and duct tape to wire together control systems and Hellfire Missiles strapped below Predator Drones, the Lawnmower Machine. Read it! Enjoy it! Learn from it!" —Joseph L. Galloway, author

Book may be ordered here.
---
Writers, Officers: Please Provide A Brief Article for This Ongoing AFIO History Project
AFIO's educational project "When Intelligence Made a Difference" seeks writers to identify events throughout history involving any nation or organization when the outcome was affected significantly by intelligence.
AFIO has been publishing edited submissions serially in Intelligencer released two to three times a year.
To see what has been published, it is available here. Also look at the Winter-Spring edition of the journal arriving in the mail of all members and subscribers over the next three weeks.
Those readers interested in contributing an article, should email peter.oleson@afio.com.
For instructors, this project makes a great class assignment. Accepted articles give students a publication credit in a recognized journal.
---
Guide to the Study of Intelligence and When Intelligence Made a Difference
"AFIO's Guide to the Study of Intelligence" has sold out in hard-copy.
However, it is available in digital form in its entirety on the AFIO website here.

Also available on the website here are the individual articles of AFIO's history project "When Intelligence Made a Difference" that have been published to date in The Intelligencer journal. More articles will be forthcoming in future editions.
---
---
Section I - INTELLIGENCE HIGHLIGHTS

Russian Disinformation Campaign Aims to Undermine Confidence in Pfizer, Other Covid-19 Vaccines, U.S. Officials Say. Russian intelligence agencies have mounted a campaign to undermine confidence in Pfizer Inc.'s and other Western vaccines, using online publications that in recent months have questioned the vaccines' development and safety, U.S. officials said.

An official with the State Department's Global Engagement Center, which monitors foreign disinformation efforts, identified four publications that he said have served as fronts for Russian intelligence.

The websites played up the vaccines' risk of side effects, questioned their efficacy, and said the U.S. had rushed the Pfizer vaccine through the approval process, among other false or misleading claims.

Though the outlets' readership is small, U.S. officials say they inject false narratives that can be amplified by other Russian and international media. [Read more: Gordon&Voltz/WallStreetJournal/7March2021]

NGA Warns U.S. Lead in Geospatial Intelligence is Being Challenged. The United States is in a "great power competition" and the National Geospatial Intelligence Agency is being challenged to provide faster and better products and services, the agency's deputy director Stacey Dixon said March 2.

To speed up innovation, NGA wants to expand its supplier base and bring more entrepreneurs and academics into the fold, officials said at the NGA Industry Strategy Summit 2021, a virtual conference watched by a large audience of agency employees and contractors.

"We're asking for your help to help us reimagine the geoint enterprise," said Dixon. "We need to be able to deliver at the speed of mission need."

A component of the U.S. intelligence community, NGA provides satellite imagery and other geospatial data to the U.S. military, allies and homeland security agencies. [Read more: Erwin/SpaceNews/2March2021]

Turkish Intelligence Report Shows a Rise in Foreign Intelligence Activities. Turkey's National Intelligence Agency (MIT) has successfully expanded its role in order to collect valuable information on both local and foreign fronts.

In its 2020 Annual Report, MIT chief Hakan Fidan said that the measures taken by Turkey's premier intelligence agency have shown positive results in increasing its effectiveness in the field of foreign intelligence, while taking the fight against terrorism to an international dimension.

"Our organization has shouldered active duties per our country's interests in conflict zones, increased foreign intelligence activities, carried the fight against terrorism to an international dimension, and uncovered intelligence activities that targeted our country and have made technical intelligence part of its works' main component," Fidan said in the article he wrote in the presentation text of the report. [Read more: Tasci/TRTWorld/4March2021]

Trinidad & Tobago: BHC, UNLIREC Begin Two Weeks of Law Enforcement Training with TTPS. A month of capacity-building training to help Trinidad and Tobago's national security agencies combat firearm-related crimes was officially launched yesterday.

The project involves an executive-level training seminar on forensic ballistics intelligence, as part of a joint initiative between the United Nations Regional Centre for Peace, Disarmament and Development in Latin America and the Caribbean (UNLIREC) and the British High Commission.

Over the next two weeks, this cross-agency partnership will provide national law enforcement with training and dialogue on, Forensic ballistics intelligence, Firearms tracing, Restoration of firearm serial numbers, Inter-institutional roundtable meetings and a pilot study to enhance timely production of ballistics intelligence. [Read more: LoopNews/9March2021]

Afghan Intelligence Agency's Chief Prosecutor Killed In Car-Bomb Attack. The chief prosecutor of the Afghan National Directorate of Security has been assassinated in a car-bomb attack.

Sayed Mahmud Agha was killed on March 6 when the convoy he was traveling in to the southern city of Lashkargah was targeted by a suicide bomber driving a car filled with explosives, according to the provincial council chief for Helmand Province, Attaullah Afghan.

One of Agha's bodyguards was killed and eight others, including two passersby, were injured.

No group claimed responsibility for the attack. [Read more: Gandara/6March2021]


---
Section II - CONTEXT & PRECEDENCE

Splitting NSA, CyberCom Now Could Reduce Military Access to Intelligence, Milley Says. Despite years of waiting and a last-minute push by Trump administration officials in December to separate NSA from Cyber Command, the criteria for separating the two has not yet been met, the chairman of the Joint Chiefs of Staff says.

"For us in the military, the signals intelligence we get from the NSA is...unbelievably good," Gen. Mark Milley told reporters last Wednesday aboard a Defense Department aircraft. "It's among the most valuable pieces of intelligence we get on a daily basis. The last thing we want to do is anything that would cause harm to...the production and dissemination of that information. So we want to make sure we do it right, slow, step by step. You can't miss a beat with this thing."

Said Milley: "We established some organizational criteria that had to happen in order for it to split. Those criteria aren't met yet." [Read more: Tucker/DefenseOne/8March2021]

WATCH: SAIC's Michael LaRouche on Aligning to Intelligence Community Mission While Keeping Ahead of Change. WashingtonExec's Amanda Ziadeh caught up with Michael LaRouche, president of SAIC's National Security and Space sector, after being named Intelligence Industry Executive of the Year at WashingtonExec's Pinnacle Awards in November. LaRouche shares what the award means to him, and how he helps shape the next generation of government and industry leaders. And considering the intelligence community holds the important mission of protecting the country, LaRouche explains how he aligns to mission while keeping ahead of change. [Read more: Ziadeh/WashingtonExec/8March2021]

Diary Reveals Birth of Secret UK-US Spy Pact That Grew into Five Eyes. New documents have been released about the birth of a secret intelligence pact between the US and UK 75 years ago.

The documents, including diary entries, detail the war time meetings that began at Bletchley Park and led to the UKUSA deal being signed in March 1946.

The alliance involved working together to intercept communications and break codes, sharing almost everything.

It grew into what is today called the "Five Eyes" pact of the UK, US, Australia, New Zealand and Canada. [Read more: Corera/BBC/5March2021]

The FBI and Iranian Espionage. On February 13, 2021, the FBI issued a public appeal to locate Monica Witt, a former US counterintelligence agent who defected to Iran in 2013 and was formally charged with espionage in 2019. Witt is suspected of assisting Iranian intelligence and targeting her former fellow agents on behalf of the regime. She is also alleged to have disclosed the code name and classified mission of a DIA Special Access Program. [Read more: Fard/BESACenter/7March2021]

How a Cuban Spy Sabotaged New York's Thriving, Illicit Slave Trade. The men of the "Portuguese Company," about a dozen in total, arrived in 1850s Manhattan ready to bring the illegal slave trade to America's mega-metropolis. Hailing from Brazil, Portugal and Angola, the group earned their moniker from their common tongue. They were attracted by New York's large port, with ample ships and sailors, as well as the city's vast financial services and lax law enforcement. Posing as merchants in legal business, the Company snapped up hundreds of ships to send to Africa for captives and then to the sugar estates of Cuba. The Company would traffic thousands of Africans for their own enrichment, but they also crossed Cuban immigrant Emilio Sanchez, whose spycraft for the British government would prevent thousands more from enduring the Middle Passage aboard American slave ships.

Sanchez's turn to informant is just one example of how fighting slavery was a collective effort. A wide cast of characters, from the great orators of the abolitionist movement to the conductors of the Underground Railroad to men like Sanchez fought against the institution of slavery and all its components, including the illegal international slave trade. Their work was dangerous, their foes were powerful - even in the "free" North - and the U.S. government was rarely on their side. [Read more: Harris/SmithsonianMag/8March2021]

The Female World War II Codebreaker Who Busted Nazi Spy Rings. In March 1942, an American codebreaker named Elizebeth Smith Friedman made a horrifying discovery: Nazi spies in Latin America had located a large Allied supply ship named the Queen Mary along the coast of Brazil, and German U-boats were planning to sink it. So intent was Adolf Hitler on destroying the ship that he'd offered $250,000 to whichever captain could take it out. Friedman's discovery allowed the Queen Mary to evade the U-boats, saving the lives of the more than 8,000 soldiers on board.

Friedman was one of the first American cryptanalysts, and she played a crucial role in breaking up Nazi spy rings in Latin American during World War II. Yet because of the sensitive nature of her work, she wasn't allowed to publicly reveal her wartime service. Friedman kept the secret of her work until her death in 1980, even as J. Edgar Hoover took credit for her team's achievements by attributing its work to the FBI. It was only after her death that historians and researchers uncovered her wartime contributions. [Read more: Little/History/4March2021]


---
To Win the Climate Battle, We Need the Intelligence Community. John le Carré famously defined the espionage genre, and his novels were shaped by the global power paradigm and threat of the time: The Cold War. If le Carré were still with us and crafting a novel about the existential threat of our time, the spy hero would be using his or her very particular set of skills on the front lines of climate change.

Lots of you likely just rolled your eyes and thought "you can't be serious." Are you implying that climate change is an existential national security threat? A threat that requires focused intelligence collection and analysis? Really? What about cyber threats or threats from adversarial nation states? Why would our satellites track polar bears instead of terrorist training camps?

The reality is the intelligence community can and should do both because climate change presents an incredible risk to global stability.

This isn't a new idea. [Read more: TheHill/8March2021]

Was SolarWinds a Different Type of Cyber Espionage? The Biden administration announced that it will impose sanctions and other measures against Russia in response to the SolarWinds incident. The cybersecurity firm FireEye disclosed the compromise of numerous government and private-sector networks in December 2020. SolarWinds is among the top cybersecurity breaches the U.S. government has ever confronted and has raised critical questions about the integrity of federal networks and Russia's ultimate intentions. Given the incident's significance, it is understandable that the Biden administration is grappling with how to appropriately address it. But, setting aside important limitations of economic sanctions as a policy tool to address malign cyber behavior, there is a gap between how administration officials are framing the nature of the SolarWinds incident and what the available evidence indicates about it. This is problematic because how policymakers understand the nature of a given policy challenge shapes their choices about appropriate responses - and if the former is mistaken, a mismatch between policy and reality could result.

The crux of the question of how policymakers should understand and address Russia's breach of federal and private-sector networks, and its exfiltration of data, hinges on whether the Russian campaign was "just" a case of routine cyber espionage, a qualitatively different form of cyber espionage that places it outside the scope of routine state behavior, or a type of cyberattack. [Read more: Borghard/Lawfare/9March2021]


---
Section IV - Research Requests, Jobs, Obituaries
Seeking Spy-Themed Tourism Experts and New Recruits (with IC backgrounds) for Metro D.C. area opportunity
ISO former Intelligence Officers who might be interested in getting involved in spy-themed tourism in the Washington D.C. metropolitan area.
Also interested in speaking with those who may already be involved in the tourism and travel industry elsewhere.
Please contact Rosanna Minchew at r_minchew@me.com or 571-236-9052.
Assistant Professor (tenure-stream) of International Affairs/Intelligence sought by University of Pittsburgh
The Graduate School of Public and International Affairs at the University of Pittsburgh is seeking to hire an Assistant Professor of International Affairs with a focus in intelligence matters (broadly understood). We are looking for someone who can teach on intelligence subjects in our Security and Intelligence major and contribute to our International Affairs program more generally. We welcome those trained in political science, history, and other disciplines, and are particularly interested in those with cyber or regional expertise. The deadline is March 31.

The full announcement can be read -- and application submitted -- through Pitt's Talent Center here.
THREE Faculty Openings for 2021 at Hilbert College, Hamburg, NY
Assistant Professor, Criminal Justice; Assistant Professor, Forensic Science/Crime Scene Investigation; and Assistant Professor, Intelligence & Data Analysis.
Interested candidates can view our job postings here.
---
Ray Close, former CIA COA and Operations Officer, Later Became Disillusioned by CIA Mission
Raymond Hooper Close, 89, a former CIA COS and Operations Officer, died 3 March 2021 in Princeton, NJ.
Close was a CIA officer, Middle East consultant, alumnus of Deerfield Academy and Princeton University, and the scion of a family deeply attached to the Levant since the 1850s.
Ray was the son of a dean of arts and sciences and professor of chemistry at the American University of Beirut, and of a teacher and former OSS employee who spoke German and Arabic fluently and whose grandparents began the family's over 170 years of life and work in the Arab world.
On 21 May 1941, almost a year after the fall of France to the Nazis, Ray and his parents joined a taxi caravan of Americans fleeing Beirut, then under the rule of Vichy France and about to be invaded by the British. Their journey by car and train and ship back to America took five months. They crossed the Middle East, the Indian Ocean, and the South Pacific, stopping in Haifa, Jerusalem, Cairo, Suez, Sydney, Fiji and Samoa, Honolulu, Los Angeles, Chicago and finally back to Princeton, NJ.
Along the way, the war always loomed on the horizon. In the western desert while they waited in Cairo, the British Eighth Army and General Erwin Rommel were grappling for control of North Africa. When they boarded the RMS Aquitania at Suez, they were taken past the blackened wreck of a British ship destroyed by German dive bombers, still exhaling smoke through the funnels that remained above the water line. When they reached Honolulu on October 6, it was just two months before the bombing of Pearl Harbor.
As a boy of eleven, Ray was entranced by the marching New Zealanders and Australians heading for the western front. He watched the Italian prisoners of war en route to work in the tea plantations of Ceylon, constantly singing their favorite arias to celebrate their survival. He joined his fellow passengers in singing "God Save the King" when the news came that Hitler had invaded Russia rather than Britain, always the family lodestar. Throughout their journey he knew his mother was without her husband for the first time since their wedding in 1916, and that she now dreaded the fate of two of her remaining three sons, one an Army officer and the other a submariner, both of whom survived the war. Ray idolized his soldier and sailor brothers and also missed his father, whom he would not see throughout adolescence, Harold having returned to Beirut to help keep open the American University.
As he began his 26-year career in the CIA, Ray saw himself continuing the family missionary tradition, this time as a secular proselytizer for democracy, inspired by JFK's call to public service. Though several of his colleagues over the years would be imprisoned or assassinated, he never considered another line of work, until much later when his youthful idealism collided with the reality of American imperialism.
During tours in Beirut, Cairo, Alexandria, Lahore, and Islamabad, and finally Jeddah, Saudi Arabia where he was chief of station, Ray was a witness to much of mid-century history. When the family moved to the city of Lahore in 1966, it had been a mere 19 years since Partition and only one year after the 1965 war between Pakistan and India, with hostility still simmering along the border of a divided Punjab. In Saudi Arabia, he watched the kingdom's oil revenue explode four-fold overnight and urged senior royals not to sully their pristine desert with industrial age pollution and turn it into what would likely soon become a version of America's rust belt. During his tenure, the Great Mosque in Mecca was taken over by extremists, King Faisal assassinated, the Shah of Iran deposed, and Kissinger roamed the Middle East trying to broker a peace between Israel and the Arab states, with Ray as his conduit to the highest reaches of the Saudi royal court.
In 1977, Ray resigned from the CIA, disillusioned by what he saw as the increasing militarization of the Agency, lamenting its transformation into what he called the president's private army.
After the US attack on Baghdad in March of 2003, Ray was appointed to the Iraq Study Group, a bi-partisan commission to assess the Iraq war. He became a voice against the de facto occupation, accurately predicting that the disaster would unfold for decades. He joined the anti-war march on Washington and then organized a protest on the Princeton campus against the torture at Abu Ghraib prison.
Ray was a raconteur, a student of history and politics, and, above all, the kind and generous uncomplaining gentle man until the very end.
Ray's wife, Martha (Marty) Jane Weir Close, predeceased him. Her obituary was featured in AFIO's Weekly Notes #46-19 of 3 December 2019. He is survived by two sons and other family.
Sherman Calvin Flanders, 92, former CIA Officer, died 24 February 2021 in Washington, DC.
Born in Seattle, WA, raised in an orphanage, he enlisted at age 16 to defend our Nation. A proud WWII, Korean War, and Vietnam War Veteran, he served in the US Army Air Corps and the US Army. He was stationed at Rhein-Main Air Base in Germany during the Berlin Airlift. During the Korean War, he served at an isolated area as a member of the Korean Military Advisory Group. He returned for a second tour of duty in Korea with the Army's 1st Calvary Division. He served multiple tours in Vietnam; at Bao Tri, Hau Nghia Province as a member of a three-man Military Advisory Group within the 25th Infantry Division and importantly, as the First Sergeant of A Company, 2nd Battalion, 7th Calvary Regiment, 1st Calvary Division during savage, historically significant fighting in the Ia Drang Valley. For his valor and actions in combat, Sherman received the Combat Infantry Badge, two Bronze Stars, two Purple Hearts and an Air Medal.
Upon Army retirement, Sherman joined the Central Intelligence Agency and returned to Southeast Asia. He also worked for Virginia and California State governments.
His wife of 60 years, Kreszentia, predeceased him. He is survived by his daughter Moira (Russ Carnot) and son Keith. He will be remembered for his positive spirit and generous soul by friends worldwide.
Charles Hawkins, Dep Asst Sec for Intelligence, DOD
Charles Allen Hawkins, 83, Dep Asst Sec for Intelligence, DOD, died 22 February 2021 of dementia and Alzheimer's disease.
He worked for the DOD for more than 30 years, with appointments as the Deputy Assistant Secretary for Intelligence and Acting Assistant Secretary of Defense for Command, Control, Communications, and Intelligence. Before retiring in 1995, both Presidents Ronald Reagan and George H.W. Bush honored him with Distinguished Executive Service awards.
He is survived by his wife of 61 years, Sarah, three sisters, a son, a daughter, and other family.
Thomas Arthur O'Keefe, 90, former CIA, died 1 March 2021 in Berlin, MD.
Tom was a third generation Washingtonian and diehard Washington Redskins fan. He attended Gonzaga High School and later served as an Army paratrooper in the 187th Airborne Regimental Combat Rakkasan Unit during service in Korea from 1952-1954. He also played football for the Army while stationed in Japan in 1953. He later attended the University of Maryland.
He was employed by the Central Intelligence Agency where he was awarded the Intelligence Commendation Medal. He retired in 1986 after 32 years of Federal service.
Tom moved to the Eastern Shore in 1998. He was a member of St. Mary Star of the Sea Parish and was a member of the American Legion, Post 166 and the Veterans of Foreign Wars.
He is survived by his beloved wife of 64 years, Doris O'Keefe, two daughters, and other family.
Michael Scanland, DOD and Military Intelligence Operative
Michael Paul Scanland, 74, a Military Intelligence Operative, died 10 January 2021 in The Villages, FL.
He was born in Dallas, TX. He began his career enlisting in the US Army in 1965 as an E1, furthered his education as a graduate of the University of Tampa, later being appointed as a Warrant Officer and then a commissioned officer, ultimately retiring as a Lieutenant Colonel.
He lived and worked much of his military career in Europe and Asia. In October 1992, he became a Department of Defense civilian, attaining the grade of GS15 in the Military Intelligence Civilian Excepted Career Program, where he continued to protect the country against foreign enemies. He retired from civilian service in July 2012 due to multiple health issues arising from his exposure to the toxic chemical Agent Orange in the Republic of Vietnam, that eventually lead to his death.
Much of Michael's life is the stuff about which novels are written, but cannot be discussed. While he lived, he was an inspiration of wit and intelligence and gave mentorship to hundreds of intelligence professionals. His accomplishments are known in the halls of the Pentagon, the CIA and FBI.
Michael was an invaluable asset to the intelligence community and has been lauded and decorated for his untiring efforts in thwarting those who would do harm to America's National Security.
Michael is survived by his wife of 38 years, Ann Scanland, by two sons, and other family.
Susan Tammen, CIA Economic Analysis and Legislative Officer
Susan Smith Tammen, 75, a CIA Economic Analysis and Legislative Officer, died 14 February 2021 in Lake Oswego, OR.
Susan was born in Mississippi before her family moved to Maryland where her father held a decorated civilian position at the Pentagon while her mother worked for the Department of Labor. She grew up in Silver Spring, MD, followed by obtaining a bachelor's degree in Economics and Political Science at the University of Maryland. During her college summers, Susan worked as an intern in the Pentagon.
Upon graduation from Maryland, Susan was offered a position at the CIA where she became a specialist in economic analysis. While at the Agency, Susan came to the attention of two male colleagues. A great looking blonde driving a top down bright blue TR 250 captured their attention. They decided to follow her home after work. After all that was part of their training at the Farm. So when she pulled out of the South Parking lot, two cars fell in line discreetly behind her. She seemed to drive slowly. Down the GW Parkway, over Key Bridge, and to a dead-end street in the townhouse section of SW. When the two followers turned the last corner, there she was standing behind her parked car. She motioned them over. "What took you so long," she inquired. "I had to slow down to keep from losing you."
Within a year she married one of her not so expert surveillance team. The other became their best man. Originally, they lived on Capitol Hill behind the Supreme Court building. Then they moved to Rockville followed by two houses in succession in Potomac. In parallel, Susan was offered positions as a Legislative Assistant to a senior House Democrat followed by a liberal House Republican. Yes, there were liberal Republicans in that era.
Having accumulated a well-recognized expertise on Congressional legislative affairs, Susan came to the attention of a top ten law firm looking to start an office in D.C. She was the third person hired by Dewey Ballantine, Bushby, Palmer and Wood. After a few years she was promoted to Legislative Director of the firm which had several hundred lawyers and offices in key nations abroad. Susan worked closely with the Managing Partner of Dewey, the Hon. Joe Califano, former head of HEW. Because of her expertise on the House Ways and Means and Senate Finance Committees, she would frequently escort Califano's clients around Capitol Hill including the Disney Corporation, Chrysler Corp and the US Postal Service. At that time, Susan was the only woman to hold the Legislative Directors position among law firms in D.C., and the first non-lawyer as well. This broke the glass ceiling for many young women working their way up the D.C. hierarchy.
Susan was adroit at entertaining, for personal pleasure and business reasons. She particularly enjoyed her membership in the Potomac Polo Club. On Sundays, she often could be found at the Club field with guests drinking champagne and rooting on their favorite Argentine polo stars. Her Potomac house often was the staging center for visiting delegations from abroad including some associated with her husband who was at that point Chief of Staff for Senator William Proxmire, Chairman of the Senate Banking Committee. Susan enjoyed international travel in particular frequent visits to her favorites Spain, Italy and Slovenia where she adventurously explored the relatively unknown wine region of Brda. Susan's consuming passion was politics-national politics. She was a great friend of those who shared her political beliefs and a fierce adversary of those who did not. She had an encyclopedic memory for all things political including an uncanny ability to remember names of far distant people, places and events. She tended to belong to the "don't forget or forgive" end of the political spectrum.
Susan died while looking out her windows on the tranquil waters of Oswego Lake with her husband and her pride of Maine Coon cats nearby.
---
AFIO EDUCATIONAL EVENTS IN COMING TWO MONTHS....
Wednesday, 17 March 2021 - Virtual on Zoom - AFIO Atlanta presents its St. Patrick's Day Event featuring Ruth Dudley Edwards on "How the Appeasement of Terrorism in Northern Ireland by Western Liberalism has led to the Spectre of a Fascist Takeover."
The AFIO Atlanta Chapter hosts Ruth Dudley Edwards, an Irish historian, political commentator, and crime writer who has written extensively on the Troubles. Her most recent book is The Seven: The Lives and Legacies of the Founding Fathers of the Irish Republic (2016), and some of her other works include Aftermath: The Omagh Bombings and the Families' Pursuit of Justice and The Faithful Tribe: An Intimate Portrait of the Loyal Institutions (shortlisted for Channel 4/The House Politico's Book of the Year).
Her bio can be found here.
RSVP or questions to afioatlanta@gmail.com or 404.403.8004, Brian Hooper, President, AFIO Atlanta, 1266 West Paces Ferry Road NW, Atlanta, Georgia, 30327.
All AFIO members and friends are invited!
Wednesday, 17 March 2021, noon PDT - Virtual Zoom Event - The "Andre Le Gallo" San Francisco Chapter hosts Phil Gioia on "The History of the OSS."
The AFIO San Francisco Chapter hosts Phil Gioia on "The History of the OSS."
Phil Gioia grew up as an Army Brat on US Army posts in the United States, Japan, and Italy. After graduating from Virginia Military Institute, he was commissioned as a Regular Officer in the US Army. Twice wounded in action in Vietnam, he served as an Infantry platoon leader in the 82nd Airborne Division during the 1968 TET Offensive, and as an Infantry company commander in the First Air Cavalry Division (Airmobile) in 1969-70.
Following his military service, Phil received an MBA from Stanford University. He also holds a Master of Science in Foreign Service from Georgetown University.
Phil has thirty years of experience in business management, has served as investor, CEO or board member of emerging-growth corporations in the technology sector, and is a co-founder of Pathfinder Partners LLC, providing services to the US defense and national security communities.
Registration is required to receive the zoom link. Register here.
Questions to Mariko Kawaguchi, Board Secretary, AFIO San Francisco Chapter at afiosf@aol.com
Thursday, 18 March 2021, 12:30-1:30 pm PDT - Virtual Go-to-Meeting Platform - the Los Angeles AFIO Chapter hosts Mark Gorwitz on Iran's Nuclear Activities
This LA Chapter virtual event features guest speaker Mark Gorwitz speaking on open source research of Iran's lithium-6 and tritium activities uncovered last year. Details will be presented on Iranian research going back to the early 1980s and continuing to the present day. Both English and Farsi language thesis, journal articles, conference presentations and documents will be covered.
Mark Gorwitz has over thirty years of experience working in the field of the scientific aspects of dual-use nuclear and missile proliferation. He has written numerous articles during this time mainly focusing on Iran and North Korea. His research activities were profiled in the Bulletin of the Atomic Scientists and he has also been interviewed by major news organizations for many important proliferation sensitive events such as South Korea's past research in the area of uranium laser isotope separation (AVLIS). He spent ten years working for the DOD and served as a consultant to various U.S. government agencies and contractors in the WMD field. He is currently writing a detailed report on Iran's research activities in the lithium-6 and tritium areas.
Meeting Information: Virtual using the Go-To-Meeting Platform.
TO ATTEND: RSVP via email to AFIO_LA@yahoo.com
Questions? contact Vincent Autiero, President, AFIO-Los Angeles Chapter at AFIO_LA@yahoo.com.
Thursday, 25 March 2021, noon EDT - Tampa, FL - The Florida Suncoast AFIO Chapter hears FBI Cyber Agent discuss Cybercrime
The Florida Suncoast AFIO Chapter is holding its first post-pandemic inperson gathering featuring John Cauthen, a cybercrime investigator and retired FBI Cyber Agent who worked on many infamous cases during his FBI career. He will share some stories from his tenure and speak to the critical elements of cybercrime.
Event location: the offices of Bleakley, Bavol, Denman & Grace, 15316 N Florida Avenue, Tampa, FL 33613. The offices are off I-275 just north of the Bearss Avenue exit. The program is scheduled to start at noon.

SAFETY: After careful evaluation of the current situation, we concluded it is reasonable to hold an inperson Chapter meeting employing suitable safeguards such as social distancing, mask use, and hand sanitizer.
We have striven to make our meetings informative but also provide the opportunity to meet with colleagues and maintain the ties that are a foundation of involvement in the intelligence community. Almost certainly, we have all experienced Zoom overload, so this is a great chance to gather in person following all COVID-19 guidelines. We thank our member Brian Battaglia for allowing us to utilize space at his office that will satisfy these safety requirements and allow us to meet again.
REGISTRATION GUIDELINES: The chapter will provide box lunches and adhere to CDC guidelines for social distancing, mask use, temperature checks and availability of hand sanitizer. Obtain details from the Chapter secretary at michaels@suncoastafio.org.
Registrants/Attendees will be required to complete a COVID-19 Health Acknowledgements and Food Order form which must be returned with reservations no later than noon on Wednesday, 17 March. Complete, scan, and return forms with your email RSVP or fax them to (813) 832-1154.
The cost is $10, cash or check made out to "Suncoast Chapter, AFIO."
TO ATTEND: If you will be attending, please send an email to Michael Shapiro at michaels@suncoastafio.org, no later than noon on Wednesday, 17 March, with your name and the names of any guests. Each guest must also complete a box lunch and health acknowledgement form (Michael will send you those forms if you lack them). The logistics of this meeting require us to enforce a strict reply deadline, so please do not respond late nor forget to include your box lunch order form(s) and your health acknowledgement form(s) since we will be unable to accept late or incomplete RSVPs.
If you make a reservation, find that you cannot attend, but do not formally cancel and receive a cancellation confirmation by 17 March, and then fail to show up, you will be responsible for the cost of your registration because the chapter will have to pay for your scheduled, uneaten meal.
1 April 2021 - Virtual - San Antonio AFIO hosts Martin Gurri on "The Revolt of the Public and the Crisis of Authority in the New Millennium."
On 1 April the San Antonio Chapter meeting will feature a live presentation by Martin Gurri a geopolitical analyst and expert in new media and information effects. He served the DNI Open Source Center in various senior positions, including Director of Research and chief of a Latin American bureau. Wikipedia. He will be talking about topics related to his book: The Revolt of the Public and the Crisis of Authority in the New Millennium.
A message with the link to the meeting will be sent prior to the meetings.
For more detail, contact John Franklin, President, AFIO San Antonio at satxafio@gmail.com or 210-863-0430
---
Other Upcoming Events from Advertisers, Corporate Sponsors, and Others
Wednesday, 10 March 2021, 2-3:30 pm EST - Zoom Virtual - "Researching Covert Operations in Iran" A Conversation with Mark Gasiorowski sponsored by the National Security Archive (at GWU)
The National Security Archive (at The George Washington University) is pleased to present a talk and panel honoring Prof. Mark Gasiorowski who retired from academia in December 2020 as one of the leading scholars of U.S.-Iran relations.
Mark's books and articles from the 1953 coup to post-revolution covert interactions have stood out for their rigorous use of international archives and groundbreaking interviews with intelligence officers, diplomats, and other historical actors. Mark will discuss his experiences, including numerous research and teaching visits to Iran, as well other Iran-related matters. Topic: Researching Covert Operations in Iran. Panelists: Homa Katouzian (St. Antony's College, Oxford);
Farideh Farhi (Independent Scholar, University of Hawai'i, Manoa); Roham Alvandi (London School of Economics);
Malcolm Byrne (The National Security Archive) (chair).
Register here.
After registering, you will receive a confirmation email containing information about joining the meeting.
Please note: space in the Zoom session is available on a first-come first-served basis and may fill up very quickly.
Thursday, 11 March 2021, noon EST - Virtual - Secret History of History: Color Wars Part II - Virtual International Spy Museum Program
Some of us have the blues these days we'd like to shake, but some blues are the subject of desire, intrigue, and passion. This is the story of indigo. Every year Pantone picks a "Color of the Year"—2021 is a departure—two colors: Ultimate Gray and Illuminating Yellow. But these can't hold a candle to a color that's been desired for centuries — indigo. In October we explored how cochineal red became coveted and was the subject of economic intelligence campaigns. Today, we will submerge ourselves in the elemental and timelessness of indigo blue—its history, cultural role, and the efforts made to steal and recreate it far from the land where it emerged. Catherine E. McKinley, author of Indigo: In Search of the Color that Seduced the World and just published The African Lookbook, will explore her personal search for indigo and the incredible role it has played globally for centuries. Please join this colorful conversation, and then you'll be able to ask questions via the online platform.
Event is free – registration required. Visit www.spymuseum.org.
Wednesday, 17 March 2021, noon EDT - Virtual - Curator's Corner: CROSSFIRE HURRICANE with Josh Campbell - Virtual International Spy Museum Program
CROSSFIRE HURRICANE was the codename the FBI gave the investigation into the Trump campaign's possible ties to Russia. And like any hurricane disaster surrounded it. Join Spy Museum's Historian and Curator Andrew Hammond in conversation with Josh Campbell, former Special Assistant to FBI Director James Comey. In that position, Campbell had a front row seat to the FBI's investigation and experienced the growing alarm inside the Bureau about the sustained assault on the FBI and its independence. The former special agent has written CROSSFIRE HURRICANE: Inside Donald Trump's War on the FBI, an illuminating fly-on-the-wall account from the earliest days of the Russia investigation. Campbell—now a CNN analyst on crime, justice, and national security issues—will also discuss the investigation into the question of Hillary Clinton's private emails and his insights into Trump's war on justice from his perspective inside the FBI. Following their discussion, you'll be able to ask questions via the online platform.
Event is free – registration required. Visit www.spymuseum.org.
Thursday, 18 March 2021, 6 pm EDT; 3 pm PDT; 12 pm HST - GoToMeeting Virtual - Naval Intelligence Professionals Virtual Speaker Series features RADM Thomas Brooks
Guest Speaker: RADM (Ret.) Thomas A. Brooks – Director of Naval Intelligence, 1988-91.
Topic: In Honor of the Birthday of the Office of Naval Intelligence, RADM Brooks will discuss the "History of the Naval Intelligence Officer Community."
AGENDA: (3 min) RDML (Ret.) Cothron, NIP Chairman, welcoming remarks; (~30 min) RADM (Ret.) Brooks remarks
Q & A moderated by CAPT (Ret.) Bob Allen - Please ask your questions in the GoToMeeting chat window or email your questions in advance/during the video conference to: bob_allen36@hotmail.com.
FORMAT: Video Conference – GoToMeeting
Please join the meeting from your computer, tablet or smartphone, beginning at 1750/5:50 EDT:
https://global.gotomeeting.com/join/540848773
You can also dial in using your phone. United States: +1 (224) 501-3412 Access Code: 540-848-773
New to GoToMeeting? Get the app now and be ready when your first meeting starts: https://global.gotomeeting.com/install/540848773
As always, please mute your device/phone.
Sunday, 21 March 2021, 2 pm EDT - Virtual - The Cold War Museum features CIA's Historian, David Robarge, on "The CIA's Covert Actions During the Cold War."
When Did Covert Action Work for CIA? When Did It Fail? Why, in Both Cases? Ask the Agency's Chief Historian
The Cold War Museum invites you to attend a presentation by Dr. David Robarge, the Chief Historian for CIA, on The CIA's Covert Actions During the Cold War
Covert action historically has been perhaps the most controversial and least understood function of the CIA. While all presidents since World War II have used covert action to try to influence the political situation in countries of interest to advance US national security interests, they sometimes have done so to rescue failing foreign policies, with exaggerated expectations of the prospects for success, without due attention to long-term consequences, or in ways that contradict the popular will in the countries targeted. Nonetheless, the CIA has had some notable operational successes, and public perceptions of covert action have been skewed by excessive attention to a small number of dubious undertakings.
David Robarge received his Ph.D. in American History from Columbia University. After teaching at Columbia and working for banker David Rockefeller and at the Gannett Center for Media Studies at Columbia, he joined CIA in 1989 and later became a political and leadership analyst on the Middle East. Dr. Robarge moved to the CIA History Staff in 1996 and was appointed Chief Historian of the CIA in 2005.
He has published several classified works as well as unclassified monographs on the CIA's supersonic A-12 reconnaissance aircraft and intelligence in the American Revolution. His biography of Director of Central Intelligence John McCone was recently declassified. His articles and book reviews on CIA leaders, counterintelligence, covert action, and technical collection have appeared in Studies in Intelligence, Intelligence and National Security, The Journal of Intelligence History, and The Oxford Handbook of Intelligence and National Security. Dr. Robarge has taught at George Mason University, currently teaches at Georgetown University, and also has written a biography of Chief Justice John Marshall.
This is the 42nd in a series of presentations sponsored by the Museum featuring eyewitnesses to, and other experts on, significant Cold War events and activities.
(NOTE: If you cannot attend at day/time listed, purchase a ticket via eventbrite. You will be given a special link to access the post-event video. Contact CWM Executive Director Jason Hall to arrange: Jason@coldwar.org
Cost: $20, 100% of which is a contribution to the Cold War Museum.
Location: ONLINE ONLY. Eventbrite ticket buyers will receive a link to the virtual room on the Zoom platform where this event will take place. We are recording the whole event, including the Q&A, for the Museum's archives.
Ticketing and Information at this link.
Thursday, 25 March 2021, noon EST - Virtual - Virtual Spy Chat with Chris Costa and Special Guest Lieutenant General Robert P. Ashley, Jr. - Virtual International Spy Museum Program
Join us for an online discussion of the latest intelligence, national security, and terrorism issues in the news. Spy Museum Executive Director Chris Costa, a former intelligence officer of 34 years, will lead the briefing. He will be joined by Lieutenant General Robert Ashley, Jr., who retired as Director of the Defense Intelligence Agency in October of 2020. Following their discussion of key issues, you'll be able to ask questions via our online platform. Sponsored by Accenture.
Event is free – registration required. Visit www.spymuseum.org.
25 March 2021 - Virtual - The next OSS "Oh So Social" Conversation features former Asst Sec of State for INR Ellen McCarthy
The next "Oh So Social" conversation by The OSS Society will feature the Honorable Ellen McCarthy, former Assistant Secretary of State for the Bureau of Intelligence and Research - the successor to the OSS' Research and Analysis Branch - will interview best-selling author Erika Robuck about her new book "The Invisible Woman" - the OSS' Virginia Hall, the only civilian woman to receive the Distinguished Service Cross in World War II.
More information: The PDF flyer for event is here and includes registration link. To register for this virtual event, do so here
---
In addition to the new Royal Blue long sleeve shirts, and the gray long sleeve hooded sweatshirts, the AFIO Store also has the following items ready for quick shipment:
NEW: LONG and Short-Sleeved Shirts with embroidered AFIO Logo and New Mugs with color-glazed permanent logo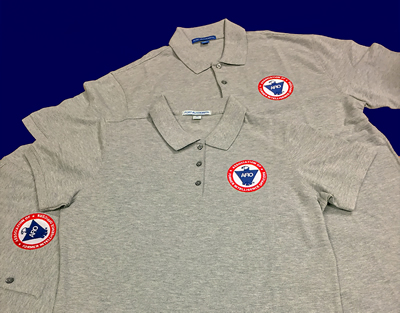 Show your support for AFIO with our new Polo Shirts. Be the first to buy these new, high quality, subtle heathered grey short sleeve shirts, and dark blue long sleeved shirts, of shrink and wrinkle resistant fine cotton with a soft yet substantial feel. They feature a detailed embroidered AFIO seal. Get a shirt for yourself and consider as gifts for colleagues, family, and friends. Only $45 each including shipping.
Sizes of (M) men or (W) women shirts; Small, Medium, Large, XL, XXL, and XXXL. At this time all orders will arrive as Short Sleeve shirts.
You may pay by check or credit card. Complete your order online here or mail an order along with payment to: AFIO, 7600 Leesburg Pike, Ste 470 East, Falls Church, VA 22043-2004. Phone orders at 703-790-0320. If interested in other shirt colors or sleeve lengths, contact Annette at: annettej@afio.com.
Available as a thank you for donations are the new AFIO logo face masks:
These soft, form-fitting, washable, non-medical grade fabric face masks have wide behind-the-ear elastics to make long periods of wear comfortable. Also easier to quickly put on or take off. Blue on outside, white inside. The masks do not have a nose wire but are sculpted, shaped, and sewn to fit most users. The all-cloth composition allows the masks to be washed or steam-disinfected without concerns over metal wires. The color logo is washable and a permanent part of the mask.
The masks, however, are not for sale. They are being offered strictly as a thank you gift to our donors.
For tax-deductible donations of $50 you will receive a receipt and our thank you gift of two of these newly-arrived face masks.
Donations of $100 receive four masks to be sent to the same address. Other amounts and split-shipments are available.
To donate now to support AFIO's programs and publications, please do so here.
We wish all members and donors continued good health, safe social distancing, and warmly appreciate any support you are able to provide the association.
---
AFIO Mug with color glazed logo. Made in America. Sturdy enough to sit on desk to hold pens, cards, paperclips, and candy.
This handsome large, heavy USA-made ceramic mug is dishwasher-safe with a glazed seal. $35 per mug includes shipping. Order this and other store items online here.
---
Guide to the Study of Intelligence and When Intelligence Made a Difference
"AFIO's Guide to the Study of Intelligence" has sold out in hard-copy.
However, it is available in digital form in its entirety on the AFIO website here.

Also available on the website here are the individual articles of AFIO's history project "When Intelligence Made a Difference" that have been published to date in The Intelligencer journal. More articles will be forthcoming in future editions.
---
Disclaimers and Removal Instructions
Weekly Intelligence Notes (WINs) are commentaries on Intelligence and related national security matters, based on open media sources, selected, interpreted, edited and produced for non-profit educational uses by members and WIN subscribers.
REMOVAL INSTRUCTIONS: We do not wish to add clutter to inboxes. To discontinue receiving the WINs:
a) IF YOU ARE A MEMBER - click here: UNSUBSCRIBE and supply your full name and email address where you receive the WINs. Click SEND, you will be removed from list. If this link doesn't open a blank email, create one on your own and send to afio@afio.com with the words: REMOVE FROM WINs as the subject, and provide your full name and email address where you are currently receiving them.
b) IF YOU ARE NOT A MEMBER, and you received this message, someone forwarded this newsletter to you [contrary to AFIO policies]. Forward to afio@afio.com the entire WIN or message you received and we will remove the sender from our membership and distribution lists. The problem will be solved for both of us.
CONTENTS of this WIN [HTML version recipients - Click title to jump to story or section, Click Article Title to return to Contents. This feature does not work for Plaintext Edition or for some AOL recipients]. If you wish to change to HTML format, let us know at afio@afio.com. The HTML feature also does not work for those who access their e-mail using web mail...however NON-HTML recipients may view the latest edition each week in HTML at this link: https://www.afio.com/pages/currentwin.htm
---
WINs are protected by copyright laws and intellectual property laws, and may not be reproduced or re-sent without specific permission from the Producer. Opinions expressed in the WINs are solely those of the editor's or author's listed with each article. AFIO Members Support the AFIO Mission - sponsor new members! CHECK THE AFIO WEBSITE at www.afio.com for back issues of the WINs, information about AFIO, conference agenda and registrations materials, and membership applications and much more!
(c) 1998 thru 2021. AFIO, 7600 Leesburg Pike, Suite 470 East, Falls Church, VA 22043-2004. Voice: (703) 790-0320; Fax: (703) 991-1278; Email: afio@afio.com
---
About AFIO | Membership Renewal | Change of Address | Upcoming Events | Chapter Locations | Corporate/Institutional Memberships | Careers in Intelligence Booklet | Guide to the Study of Intelligence | Intelligencer Journal | Weekly Intelligence Notes | To Make A Donation | AFIO Store | Member-Only Section | Code of Ethics | Home Page
---