---
CONTENTS
Section I - INTELLIGENCE HIGHLIGHTS
Section II - CONTEXT & PRECEDENCE
Section IV - Research Requests, Jobs, Obituaries
None ready for posting this week
Other Upcoming Events from Advertisers, Corporate Sponsors, and Others
For Additional AFIO and other Events two+ months or more... Calendar of Events
WIN CREDITS FOR THIS ISSUE: The WIN editors thank the following special contributors: rsy, ec, po, pj, mh, km, gh, mk, rd, fm, kc, jm, mr, jg, th, ed, and fwr. They have contributed one or more stories used in this issue.

The WIN editors attempt to include a wide range of articles and commentary in the Weekly Notes to inform and educate our readers. However, the views expressed in the articles are purely those of the authors, and in no way reflect support or endorsement from the WIN editors or the AFIO officers and staff. We welcome comments from the WIN readers on any and all articles and commentary.

CAVEATS: IMPORTANT: AFIO does not "vet" or endorse research inquiries, career announcements, or job offers. Reasonable-sounding inquiries and career offerings are published as a service to our members, and for researchers, educators, and subscribers. You are urged to exercise your usual caution and good judgment when responding, and should verify the source independently before supplying any resume, career data, or personal information.]
If you are having difficulties with the links or viewing this newsletter when it arrives by email, members may view the latest edition each week at this link.

---

Other items brought to our attention:

The Arkin Group's March 11 "In Other News" letter to private clients by former Operations Officer Jack Devine features...

Two high-profile cyberattacks on U.S. entities made headlines this week – one by China and one by "hacktivists – exposing widespread vulnerabilities in U.S. cyber infrastructure.
Latin America continues to face crisis and unrest due to the pandemic, economic losses, and inequitable distribution of the vaccine.
The US has announced new sanctions on Ukrainian oligarch Ihor Kolomoisky for corruption, saying he poses an ongoing risk to Ukraine's democratic process and institutions, as part of a broader anti-corruption policy agenda in the country.
Recently released was Jack Devine's Spymaster's Prism. AFIO's interview with him about this book appears in this issue at top of right column of this issue of the WINs. You can view the video at this link. Or hear the podcast here.

---

The Latest... from Jeff Stein's highly popular "SpyTalk" series

Mar 14: "China's Deep Strike" by Matthew Brazil
Beijing's latest hack is an unprecedented, broad assault on the West's computers
Article here

Mar 11: "Man of Mystery Hustles Myanmar" by Elaine Shannon
Make-believe Israeli spy Ari Ben-Menashe turns up again—like a bad penny
Article here

Readers can subscribe for free at the moment here.

---

Inside the SCIF:

Inside the SCIF by JJ Green, WTOP - Issue #104, 11 March has more details on USAF IG Report on Joint Base Andrews Unauthorized Access Incident; Repercussions of the Microsoft Exchange Server hack; did members of the IC actively release false narratives about the 2020 Election?; The FBI and Iranian Espionage; Capitol Security update; Kremlin Turns on Russia's 'Subversive Transparency'; Korean threat persists amid continued pursuit of weapons; and much more.

The latest Target USA Podcast 267 is on: "Steven Adair, the man whose team discovered the Microsoft Exchange hack drops the details on what happened." Careful with your email. Steven Adair, President of Volexity says "this is literally as serious as it gets. There is no one who is really immune from it." And it's not over yet!

And "The Hunt" explores: Kicking terrorists off of mainstream social media has a down side. On this week's episode of "The Hunt with WTOP national security correspondent JJ Green," retired FBI Special Agent Tom O'Connor says the encrypted platforms they've gone to has significantly complicated efforts to find them.

---

---

From the National Cryptologic Museum Foundation:

THE NCMF's #CyberChats, held virtually via their Nepris online classroom, have resumed.

Other NCMF upcoming events will be:
Debora Plunkett, a cybersecurity trailblazer 23 March, 1pm
NCMF Fireside #CyberChat on 31 March, 3-4pm EST with Dr. Sally Botsai
NCMF 25th Anniversary on 17 April 2021. Stay tuned for details.

---

One of the special benefits of membership in AFIO: access to CIA's inhouse gift shop — the EAA Store.

It requires a quick preapproval process described here to all newly joined and current AFIO members. And then allows you to purchase online their unusual logo'd gift items for self or colleagues. Here is the latest photo EAA released on March 12 featuring some of their newest items, this time for children of officers:

---

---

Visit, Follow, Subscribe to AFIO's LinkedIn, Twitter, and YouTube pages to receive updates.

Members who use social media or wish to explore, will find new announcements and other material on AFIO's Twitter and LinkedIn pages. New videos on our YouTube page appears below as well.
Access them here: LinkedIn, Twitter, and YouTube. By following or subscribing on those sites, one can be notified as new material appears.


NEW — PODCASTS: Our new social media expert has been busy! Are you too busy to sit and watch an entire "AFIO Now" episode above on YouTube? Would you rather listen in your car or while accomplishing other tasks? Now you can quickly download or stream episodes on your favorite podcasting platform. AFIO is now available on 8 podcasting platforms. Search for 'AFIO Podcast' for a selection of the interviews above (public released ones) on Podbean; iTunes; Google; Spotify; Amazon Music; Amazon TuneIn + Alexa; iHeartRadio; and Pandora.

---
---
Just released to members-only...
Geopolitical Risks in Iraq; Consequences of Poorly-Planned 2003 U.S. Invasion

Released 16 March 2021
Sam Wyman
former senior CIA Field Operations Officer and Arabist
on the geopolitical risks that U.S. and American businesses face in Iraq,
and the lingering and devastating post-invasion consequences
of the U.S. 2003 removal of Saddam Hussein
Interview of Friday, 5 March 2021 of Samuel H. Wyman, former senior CIA Field Operations Officer and Arabist. Interviewer - Host: James Hughes, AFIO President, a former CIA Operations Officer.
TOPIC: Sam Wyman and Jim Hughes discuss the geopolitical risks that U.S. and American businesses face in Iraq, and the lingering and devastating post-invasion consequences of the U.S. 2003 removal of Saddam Hussein. Questions range from Iraq current needs and difficulty of doing business today, their intelligence services, and the outlook for the country.
The interview runs 41 minutes and includes several Q&As.
Access Wyman video here or click above image.
---
Prior Videos in the "AFIO Now" Series
To view the publicly-released ones, visit our YouTube page
or log into the Member-only area to view private and public interviews.
---
NOTE: ABOUT THE SPEAKERS — Full bios appear below each video. Use the "SHOW MORE" or the caron (down caret symbol) under video or at right on mobile devices. Closed Captioning is available. Click CC button at bottom right of video window. If viewing on a mobile browser or device, click video while running and three dots will appear at top right edge to turn CC on or off.
NEW — PODCASTS: Our new social media expert has been busy! Are you too busy to sit and watch an entire "AFIO Now" episode above on YouTube? Would you rather listen in your car or while accomplishing other tasks? Now you can quickly download or stream episodes on your favorite podcasting platform. AFIO is now available on 8 podcasting platforms. Search for 'AFIO Podcast' for a selection of the interviews above (public released ones) on Podbean; iTunes; Google; Spotify; Amazon Music; Amazon TuneIn + Alexa; iHeartRadio; and Pandora.
---
Newly Released, Overlooked, or Forthcoming Books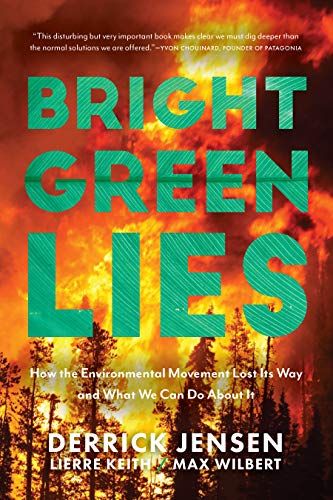 Bright Green Lies: How the Environmental Movement Lost Its Way and What We Can Do About It
by Derrick Jensen, Lierre Keith, Max Wilbert
(Monkfish Book Publishing, Mar 2021)
A critical look at the modern environmental movement and the promises of green, renewable technology. "Unlimited economic and population growth on a finite planet is ecological suicide."
"...dismantles the illusion of 'green' technology in breathtaking, comprehensive detail, revealing a fantasy that must perish if there is to be any hope of preserving what remains of life on Earth. From solar panels to wind turbines, from LED light bulbs to electric cars, no green fantasy escapes Jensen, Keith, and Wilbert's revealing peak behind the green curtain. A must-read for all who cherish life on Earth." —Jeff Gibbs, writer, director, and producer of the film Planet of the Humans
"...lays out in heartbreaking and sometimes disgusting detail the simple fact that to maintain the growth of techno-industrial civilization by replacing fossil fuels with solar panels, wind turbines, hydro-power, electric cars, and whatever other green machines we might construct still requires the continuing rape of Mother Earth and the poisoning of her water, air, soil, wildlife, and human populations. The authors tell us unequivocally: Green growth is a doomed enterprise, and there is no future for humankind living in harmony with nature in which we fail to recognize that unlimited economic and population growth on a finite planet is ecological suicide. Environmental groups ... should be fearful of this book, as it exposes with a sword point their hypocrisies and falsehoods." ―Cristopher Ketcham, author of This Land: How Cowboys, Capitalism, and Corruption Are Ruining the American West
"... a tour de force. The authors expose many of the fallacies of mainstream environmentalism and economics. Their main thesis is that much of what passes for environmental concern today is geared primarily toward sustaining an unsustainable 'lifestyle.' Most so-called 'sustainable' practices are just a slower way to degrade the Earth's ecosystems. For years, I have been harping on the fact that society needs to do a full accounting of the real costs of our lifestyles. This book exposes much of what is missing in our flawed accounting system, and the genuine costs of this failure. I thought I knew a lot about the environmental impacts of the consumer society, but Jensen and his co-authors have shown me that I, like many people, only had a superficial appreciation of these costs." —George Wuerthner, ecologist, wildlands activist, photographer, and author of 38 books, including Wildfire: A Century of Failed Forest Policy
Book may be ordered here.
---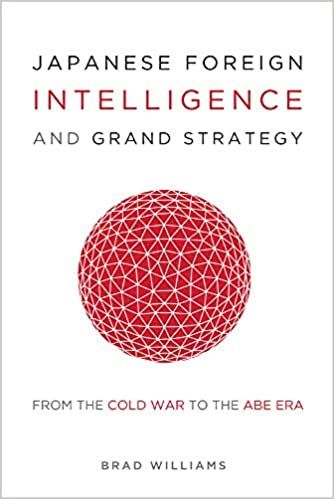 Japanese Foreign Intelligence and Grand Strategy: From the Cold War to the Abe Era
by Brad Williams
(Georgetown Univ Press, Mar 2021)
Probes the unique makeup of Japanese foreign intelligence institutions, practices, and capabilities across the economic, political, and military domains. Williams shows how Japanese intelligence has changed over time, from the Cold War to the reassessment of national security strategy in the Abe Era.
Japanese foreign intelligence is an outlier in many ways. Unlike many states, Japan does not possess a centralized foreign intelligence agency that dispatches agents abroad to engage in espionage. Japan is also notable for civilian control over key capabilities in human and signals intelligence. Japanese Foreign Intelligence and Grand Strategy probes the unique makeup of Japan's foreign intelligence institutions, practices, and capabilities across the economic, political, and military domains and shows how they have changed over time.
"This book is one of the best texts written in English to understand a history of Japanese foreign intelligence after World War II. Dr. Williams sheds light on Japan's dark intelligence world by using numerous interviews and sources, and reveals several factors which have made the present Japanese intelligence community." —Ken Kotani, professor, Nihon University, Japan
Book may be ordered here.
---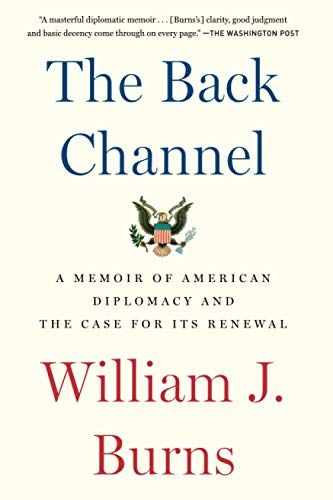 The Back Channel: A Memoir of American Diplomacy and the Case for Its Renewal
by William J. Burns [newly-confirmed CIA Director]
(Random House Trade Paperbacks, Mar 2020)
"A masterful diplomatic memoir" from Joe Biden's confirmed CIA director, a career ambassador who served five presidents and ten secretaries of state—an impassioned argument for the enduring value of diplomacy in an increasingly volatile world.
Burns recounts, with novelistic detail and incisive analysis, some of the seminal moments of his career. Drawing on a trove of newly declassified cables and memos, he gives readers an inside look at American diplomacy in action. His dispatches from war-torn Chechnya and Qaddafi's bizarre camp in the Libyan desert and his warnings of the "Perfect Storm" that would be unleashed by the Iraq War reshapes the understanding of history—and informs the policy debates of the future. Burns sketches the contours of effective American leadership in a world that resembles neither the zero-sum Cold War contest of his early years as a diplomat nor the "unipolar moment" of American primacy that followed.
"Bill Burns is simply one of the finest U.S. diplomats of the last half century. He demonstrates his rare and precious combination of strategic insight and policy action. It is full of riveting historical detail but also, more important, shrewd insights into how we can advance our interests and values in a world where U.S. leadership remains the linchpin of international order."—James A. Baker III
"From one of America's consummate diplomats, this is an incisive and sorely needed case for the revitalization of diplomacy—what Burns wisely describes as our 'tool of first resort.'" —Henry Kissinger
Book may be ordered here.
---
Red Widow [novel]
by Alma Katsu
(Putnam, Mar 2021)
An exhilarating spy thriller by a former CIA analyst and current AFIO Member. Red Widow is about two women CIA officers who become intertwined around a threat to the Russia Division—one that's coming from inside the Agency.
Lyndsey Duncan worries her career with the CIA might be over. After lines are crossed with another officer during her most recent assignment, she is sent home to Langley on administrative leave. So when a former colleague, now Chief of the Russia Division, recruits her for an internal investigation, she jumps at the chance to prove herself. Once a top handler in the Moscow Field Station --known as the "human lie detector" -- and praised for recruiting some of the most senior Russian officials. Lyndsey is now under suspicion when three Russian assets have been compromised—including one of her own—and the Agency is certain there's a mole in the department. With years of work in question, and lives on the line, Lyndsey is thrown back into life at the Agency, only this time tracing the steps of those closest to her.
Meanwhile, fellow agent Theresa Warner can't avoid the spotlight. She is the infamous "Red Widow," the wife of a former director killed in the field under mysterious circumstances. With her husband's legacy shadowing her every move, Theresa is a fixture of the Russia Division, and as she and Lyndsey strike up an unusual friendship, her knowledge proves invaluable. But as Lyndsey uncovers a surprising connection to Theresa that could answer all of her questions, she exposes a terrifying web of secrets within the department, if only she is willing to unravel it...

Book may be ordered here.
---
Writers, Officers: Please Provide A Brief Article for This Ongoing AFIO History Project
AFIO's educational project "When Intelligence Made a Difference" seeks writers to identify events throughout history involving any nation or organization when the outcome was affected significantly by intelligence.
AFIO has been publishing edited submissions serially in Intelligencer released two to three times a year.
To see what has been published, it is available here. Also look at the Winter-Spring edition of the journal arriving in the mail of all members and subscribers over the next three weeks.
Those readers interested in contributing an article, should email peter.oleson@afio.com.
For instructors, this project makes a great class assignment. Accepted articles give students a publication credit in a recognized journal.
---
Guide to the Study of Intelligence and When Intelligence Made a Difference
"AFIO's Guide to the Study of Intelligence" has sold out in hard-copy.
However, it is available in digital form in its entirety on the AFIO website here.

Also available on the website here are the individual articles of AFIO's history project "When Intelligence Made a Difference" that have been published to date in The Intelligencer journal. More articles will be forthcoming in future editions.
---
---
Section I - INTELLIGENCE HIGHLIGHTS

Slovakia: Police Detain Intelligence Head On Corruption Charges. The National Criminal Agency (NAKA) has detained Vladimír Pčolinský, director of the Slovak Information Service (SIS) intelligence agency, over suspicions of corruption, Denník N reported.

President Zuzana Čaputová has temporarily suspended Pčolinský from his position "because the act was allegedly committed in direct connection with the performance of the function of Director of the SIS," according to an official statement from the presidential office.

"His continued service would be unacceptable under these circumstances," the statement added. [Read more: EurActive/13March2021]

Iraqi National Intelligence Service Threatens to Sue 'Asaib Ahl al-Haq' Leader. Iraqi intelligence, led by Prime Minister Mustafa al-Kadhimi, on Monday slammed "harmful" statements made by a militia leader who accused the service of becoming run by a foreign security team.

Qais al-Khazali, Secretary-General of the Iranian-backed militia Asaib Ahl al-Haq, claimed in a tweet on Sunday that he had reliable information that Iraq had brought in an Emirati security team to manage the Iraqi National Intelligence Service, after the transfer of 300 members of the intelligence service, including officers, to the border authority.

Without naming Khazali, the intelligence service hit back at what they labeled as misinformation. [Read more: AsharqAl-Awsat/16March2021]

CSIS, RCMP Modelling New Security Collaboration Efforts on British Lessons. Canada's national police and spy agencies, long under pressure to co-operate more effectively on security cases, are developing new ways to work together based on Britain's recent responses to deadly terrorist attacks.

Following the 2017 terrorist assaults in Manchester and London, British intelligence service MI5 and counter-terrorist policing authorities conducted a review to look at how intelligence was handled and identify changes to improve.

The RCMP and the Canadian Security Intelligence Service (CSIS) approached their British counterparts to learn from their findings with the goal of ensuring similar challenges would not undermine work to thwart terrorism in Canada. [Read more: Bronskill/CanadianPress/14March2021]

ODNI's Declassified Intelligence Community Assessment of Foreign Threats to the 2020 US Federal Elections. The Office of the Director of National Intelligence on Tuesday released an assessment of foreign threats to the 2020 US federal elections.

The report found that Iran carried out a multi-pronged covert influence campaign intended to undercut former President Trump's reelection prospects—though without directly promoting his rivals—undermine public confidence in the electoral process and US institutions, and sow division and exacerbate societal tensions in the US. And Russia's efforts were aimed at "denigrating President Biden's candidacy and the Democratic Party, supporting former President Trump, undermining public confidence in the electoral process, and exacerbating sociopolitical divisions in the US." [Read the National Intelligence Council's summary and full report released by the DNI here/15March2021. The DNI's Press Release is here.]


---
Section II - CONTEXT & PRECEDENCE

Josephine Baker's Daring Double Life as a World War II Spy. As war drums reverberated across Europe in 1939, the head of France's military intelligence service recruited an unlikely spy: France's most famous woman - Josephine Baker.

Jacques Abtey had spent the early days of World War II recruiting spies to collect information on Nazi Germany and other Axis powers. Typically, the secret service chief sought out men who could travel incognito. Then again, nothing was typical when it came to the American-born dancer and singer.

A celebrity of Baker's stature made for a most unlikely spy candidate since she could never travel surreptitiously - but that's exactly what made her such an enticing prospect. Fame would be her cover. Abtey hoped Baker could use her charm, beauty and stardom to seduce secrets from the lips of fawning diplomats at embassy parties. [Read more: Klein/History/15March2021]

Five Best: Books on British Intelligence at Work. Selected by John R. Ferris, the author, most recently, of 'Behind the Enigma.' [Read here: Ferris/WallStreetJournal/12March2021]

From the Military to Becoming a Spy: How Veterans Join the CIA. Bazzel Baz was one of the Marine Corps' first counter-terrorism officers, given the job after the 1983 Beirut embassy bombing. Little did he know, that this got him some attention in Langley.

At an anti-terrorism symposium, two men wearing CIA ID cards on their coats approached Baz as he was pouring a cup of coffee and told him that they had been keeping an eye on him and wanted to know if he would like to join their organization. Baz, a young Marine at the time, told them he was unsure.

Back at his office in Quantico, Baz found a sticky note on his desk telling him to go meet with a colonel at a specific building on the base. When he arrived, he found a structure that looked like it needed to be condemned and torn down.

When he knocked on the paint-chipped door, a civilian secretary opened it and said, "Capt. Baz, we've been expecting you." [Read more: Murphy/Radio/11March2021]

How a Secret Cold War Project Led to Signs of Ancient Life - and a New Warning About the Future. Andrew Christ Remembers the day he became part of "this 60-year, weird, wild Cold War story." It was 2019, and the University of Vermont researcher was just four days away from defending his dissertation. He was beyond stressed, and had better things to do than help examine an ice core sample drilled decades earlier.

The core was subglacial sediment and rock, taken from below a mile of ice in 1966 at Camp Century, an American research base in Greenland that had served as cover for a secret - and failed - military project. Since being pulled from beneath the ice sheet, the sample had been separated from the rest of the core, had criss-crossed the Atlantic, was lost, and then rediscovered. But it had never been analyzed.

"Miraculously, it had stayed frozen all that time," says Christ. "The first thing we did was melt it." Christ and other geology department colleagues were sorting through sediment from the core sample, washing it off before the next stage of analysis, when he noted peculiar black specks floating in the water. He collected a few and put them under the microscope for a better look. "Oh my god, these are plants," he remembers exclaiming. "I went full-on mad scientist."

After his initial giddiness, the significance of the specks sank in. [Read more: Tarlach/AtlasObscura/15March2021]

From CIA to Cookies: Local Baker Starts Bake-at-Home Cookie Delivery Service. At first the Central Intelligence Agency (CIA) and cookies might not appear to have anything in common, but for Alexandria native Alex Reponen, they do.

After serving as a CIA operations officer around the globe for over a decade, Reponen decided to leave the government and return to his hometown and pursue another passion - baking.

With his background in science, Reponen worked to protect the United States from the threat of nuclear, biological and chemical weapons. Now, he uses his knowledge of science to create gourmet pre-formed cookie dough that he delivers directly to customers for them to pop in the freezer to bake whenever they get a sugar craving.

Reponen talked about how the science behind baking is one of the draws for him. [Read more: Moore/AlexandriaLiving/11March2021]


---
How Will Saudi Pro-Reform Activists Respond to Biden's New Approach to MBS? In order to avoid a rupture of U.S.-Saudi relations, President Biden refrained from including Mohammed bin Salman in the list of sanctioned Saudis after last month's publication of the Director of National Intelligence report finding that the crown prince had authorized the murder of Jamal Khashoggi in October 2018. Democracy activists here in the United States have criticized Biden's decision, but what message does this policy send to their counterparts and prisoners of conscience in Saudi Arabia and neighboring autocracies? If autocrats cannot be held accountable for their repression of peaceful dissent, ask human rights advocates, what's the use of such dissent?

The administration argued that it could - and would - use other economic, political, and security means to lower the crown prince's stature and curtail his ability to contact the White House directly whenever he wished, as he did during the Trump administration. Biden has made it clear that his administration will deal with MBS only as the Saudi defense minister, not as the crown prince or future king, despite the fact that MBS remains the kingdom's de facto ruler.

This position may make sense from an American perspective, but it sends the wrong message to peaceful protesters and pro-democracy advocates in Saudi Arabia and across the Arab world. [Read more: Nakhleh/ResponsibleStatecraft/16March2021]

The Mythical War Scare of 1983. The war began in Yemen. Soviet proxies and their American-backed foes gradually dragged their superpower patrons into direct hostilities. So too did similar groups doing battle in Syria and Iran. As 1983 progressed, Moscow looked to consolidate its gains: Yugoslavia, Finland, and Norway all fell as the Kremlin went on the offensive. On Nov. 4, 1983, under the cover of a haze of chemical weapons, the Soviet Army crossed the Fulda Gap, pushing into West Germany. Outnumbered, NATO leadership fell back on the nuclear option: strikes on Warsaw Pact capital cities intended to dissuade the invaders from the east. When these did not halt the Pact's advance, a salvo of intermediate-range nuclear weapons was the beginning of the West's devastating counterattack.

Or so the script went. But did the scenario for NATO's Able Archer 83 command-post exercise nearly become dangerously real? Did the world really come to the brink of nuclear war? [Read more: Miles/WarOnTheRocks/16March2021]

How Should the U.S. Respond to the SolarWinds and Microsoft Exchange Hacks? Over the past two months, news has broken that Russia and China, the United States's two primary geopolitical adversaries, have both executed major cyber operations against the networks of American companies and government agencies. On their faces, the two attacks share much in common. At least at this early stage, both appear to have been espionage operations designed to give foreign intelligence agencies access to sensitive targets and to steal emails, documents and other data that would be of value to the Russian and Chinese governments. Both attacks were far reaching, affecting tens of thousands of American networks and testing the limits of U.S cyber defense capabilities and the country's broader cybersecurity strategy.

Though the strategic goals of the two operations might be similar, the execution of these two attacks could not be more different - and when it comes to the United States' response, these differences matter. [Read more: Alperovitch&Ward/Lawfare/12March2021]

Can Navalny's Opposition Movement Survive? The Biden administration slapped economic sanctions last week on a number of Russian officials in response to the poisoning of opposition leader Alexei Navalny in August and his imprisonment upon returning to Moscow in January after successful treatment in Germany. Navalny's supporters met the Kremlin's action with waves of protest, for which 4,000 were detained or arrested. The protests have now quieted down, and when that happens in Russia, the temptation, based on recent history, is to think that this is another flash-in-the-pan movement unlikely to survive harsh repression. But as a longtime Russia watcher, I think there is modest reason to question that conclusion in the case of Navalny and his supporters.

The Biden administration says it has intelligence that judges with "high confidence" that Navalny's poisoning was carried out by a Russian intelligence agency. Navalny also tricked a federal agent into admitting it in a "sting" phone call. The Kremlin of course denies this, but such denials are threadbare in the aftermath of at least three high-profile poisonings since 2006 of people opposing the regime or associated with regime opponents.

The underlying question is whether the protests related to Navalny are fundamentally different from previous ones and potentially more durable. [Read more: McLaughlin/OZY/10March2021]


---
Section IV - Research Requests, Jobs, Obituaries
Seeking Spy-Themed Tourism Experts and New Recruits (with IC backgrounds) for Metro D.C. area opportunity
ISO former Intelligence Officers who might be interested in getting involved in spy-themed tourism in the Washington D.C. metropolitan area.
Also interested in speaking with those who may already be involved in the tourism and travel industry elsewhere.
Please contact Rosanna Minchew at r_minchew@me.com or 571-236-9052.
Intelligence Analysis Faculty Program Director/Sr. Lecturer, Johns Hopkins University: Zanvyl Krieger School of Arts and Sciences: Advanced Academic Programs, Washington, DC
The Advanced Academic Programs (AAP) division seeks a Faculty Program Director to teach in and provide administrative leadership to the M.S. in Intelligence Analysis and the Post-Baccalaureate Certificate in Intelligence programs. These programs are part of the Center for Advanced Governmental Studies (CAGS) which is comprised of seven master's degree and three graduate certificate programs. The Center also includes the following programs: M.A. in Government, M.S. in Data Analytics and Policy, M.A. in Public Management, M.A. in Global Security Studies, M.S. in Geospatial Intelligence, M.A. in NGO Management; Certificate in Government Analytics, and the Certificate in Nonprofit Management. These programs educate students who wish to apply rigorous academic concepts to policy-related careers.
Of particular interest are candidates who have experience teaching and engaging students from diverse backgrounds. The Program Director is a full-time, non-tenure-track, 12-month renewable faculty position with the academic title of Senior Lecturer. The Faculty Program Director will have significant interaction/collaboration with the Director of the Center and the Associate Director of CAGS, as well as with the Associate Dean for AAP, other Program Directors, Program Coordinators, AAP staff, and administrators. The Program Director reports to the Associate Dean for AAP, the Center Director, and the Program Chair for Governmental Studies. This position is expected to begin July 1, 2021. The Program Director will have the following faculty and administrative responsibilities:
Faculty Responsibilities
Teaching 4 graduate courses per year, including the preparation for and time spent in the classroom (online or onsite), using best practices for online teaching, engaging and mentoring students from diverse backgrounds in the learning process, responding to student questions;
Advising students, including capstone advising for the master's program;
Providing innovative leadership for curriculum design and new course development to ensure the growth and delivery of quality programs; and
Other academic duties normally performed by full-time faculty, such as participating on committees, attending academic events, or contributing to other academic service.
Administrative Responsibilities
Providing overall supervision for the M.S. in Intelligence Analysis and Certificate in Intelligence, including shared management with the Center Director for the programs;
Leading some full-time faculty, adjunct faculty development, hiring, and evaluation;
Overseeing program admissions processes, including reviewing and approving prospect admission materials;
Coordinating program promotion and outreach, including interacting with outside groups and developing external / internal partnerships;
Coordinating with staff in student and faculty services, online education, marketing, finance, and enrollment services departments on operational issues related to program administration;
Other administrative duties as assigned.
Minimum Qualifications:
Ph.D. or other terminal degree (e.g., J.D.) in a relevant field to Intelligence Studies;
3 or more years of higher education teaching experience, preferably including online teaching and at the graduate level;
3 or more years of related professional work with the Intelligence Community (IC), preferably at the national/strategic level, including combatant commands;
3 or more years of management or leadership experience in an Associate Director or similar related position;
The ability to teach a variety of courses in intelligence studies, such as intelligence analysis, legal and ethical issues in intelligence, intelligence leadership, strategic culture analysis, and critical thinking and analysis;
Demonstrated track record of excellence in teaching.
For more information and instructions on how to apply, please follow this link: https://apply.interfolio.com/85064
Program Director, National Security and Technology – Georgetown University Law Center
A new 360 Innovation Incubator at GULC will be tackling problems in four focus areas, the first of which is the NatSec Tech Program, which looks at the intersections between national security and new and emerging technologies. The National Security & Technology Program Director will lead this new program, serving as a thought leader for this increasingly important sub-field. Utilizing the Center's innovation methodology, the Program Director will help develop strategic new project ideas for the Incubator, oversee and manage those projects including all aspects of foundation grants and budgets, write grant proposals, and build new relationships and networks for the Center. In the immediate term, the Program Director will be the day to day lead manager for the Center on National Security's new Public Interest Technology grant-funded project: 360 Tech: Innovation, Security, and Governance. The project aims to identify the most critical risks posed by social media to individuals, communities, and society, and then develop and test holistic governance models to address those risks. The Program Director will be a lead member of the core team (overseen by the Executive Director) and will be responsible for managing all day to day aspects of the project, including research and writing, coordination and outreach, project management, event and workshop planning, and operations oversight.
For full description of duties, responsibilites, and qualifications, or to apply for the position, view job posting here.
Assistant Professor (tenure-stream) of International Affairs/Intelligence sought by University of Pittsburgh
The Graduate School of Public and International Affairs at the University of Pittsburgh is seeking to hire an Assistant Professor of International Affairs with a focus in intelligence matters (broadly understood). We are looking for someone who can teach on intelligence subjects in our Security and Intelligence major and contribute to our International Affairs program more generally. We welcome those trained in political science, history, and other disciplines, and are particularly interested in those with cyber or regional expertise. The deadline is March 31.

The full announcement can be read -- and application submitted -- through Pitt's Talent Center here.
THREE Faculty Openings for 2021 at Hilbert College, Hamburg, NY
Assistant Professor, Criminal Justice; Assistant Professor, Forensic Science/Crime Scene Investigation; and Assistant Professor, Intelligence & Data Analysis.
Interested candidates can view our job postings here.
---
None ready for posting this week.
---
AFIO EDUCATIONAL EVENTS IN COMING TWO MONTHS....
Wednesday, 17 March 2021 - Virtual on Zoom - AFIO Atlanta presents its St. Patrick's Day Event featuring Ruth Dudley Edwards on "How the Appeasement of Terrorism in Northern Ireland by Western Liberalism has led to the Spectre of a Fascist Takeover."
The AFIO Atlanta Chapter hosts Ruth Dudley Edwards, an Irish historian, political commentator, and crime writer who has written extensively on the Troubles. Her most recent book is The Seven: The Lives and Legacies of the Founding Fathers of the Irish Republic (2016), and some of her other works include Aftermath: The Omagh Bombings and the Families' Pursuit of Justice and The Faithful Tribe: An Intimate Portrait of the Loyal Institutions (shortlisted for Channel 4/The House Politico's Book of the Year).
Her bio can be found here.
RSVP or questions to afioatlanta@gmail.com or 404.403.8004, Brian Hooper, President, AFIO Atlanta, 1266 West Paces Ferry Road NW, Atlanta, Georgia, 30327.
All AFIO members and friends are invited!
Wednesday, 17 March 2021, noon PDT - Virtual Zoom Event - The "Andre Le Gallo" San Francisco Chapter hosts Phil Gioia on "The History of the OSS."
The AFIO San Francisco Chapter hosts Phil Gioia on "The History of the OSS."
Phil Gioia grew up as an Army Brat on US Army posts in the United States, Japan, and Italy. After graduating from Virginia Military Institute, he was commissioned as a Regular Officer in the US Army. Twice wounded in action in Vietnam, he served as an Infantry platoon leader in the 82nd Airborne Division during the 1968 TET Offensive, and as an Infantry company commander in the First Air Cavalry Division (Airmobile) in 1969-70.
Following his military service, Phil received an MBA from Stanford University. He also holds a Master of Science in Foreign Service from Georgetown University.
Phil has thirty years of experience in business management, has served as investor, CEO or board member of emerging-growth corporations in the technology sector, and is a co-founder of Pathfinder Partners LLC, providing services to the US defense and national security communities.
Registration is required to receive the zoom link. Register here.
Questions to Mariko Kawaguchi, Board Secretary, AFIO San Francisco Chapter at afiosf@aol.com
Thursday, 18 March 2021, 12:30-1:30 pm PDT - Virtual Go-to-Meeting Platform - the Los Angeles AFIO Chapter hosts Mark Gorwitz on Iran's Nuclear Activities
This LA Chapter virtual event features guest speaker Mark Gorwitz speaking on open source research of Iran's lithium-6 and tritium activities uncovered last year. Details will be presented on Iranian research going back to the early 1980s and continuing to the present day. Both English and Farsi language thesis, journal articles, conference presentations and documents will be covered.
Mark Gorwitz has over thirty years of experience working in the field of the scientific aspects of dual-use nuclear and missile proliferation. He has written numerous articles during this time mainly focusing on Iran and North Korea. His research activities were profiled in the Bulletin of the Atomic Scientists and he has also been interviewed by major news organizations for many important proliferation sensitive events such as South Korea's past research in the area of uranium laser isotope separation (AVLIS). He spent ten years working for the DOD and served as a consultant to various U.S. government agencies and contractors in the WMD field. He is currently writing a detailed report on Iran's research activities in the lithium-6 and tritium areas.
Meeting Information: Virtual using the Go-To-Meeting Platform.
TO ATTEND: RSVP via email to AFIO_LA@yahoo.com
Questions? contact Vincent Autiero, President, AFIO-Los Angeles Chapter at AFIO_LA@yahoo.com.
Thursday, 25 March 2021, noon EDT - Tampa, FL - The Florida Suncoast AFIO Chapter hears FBI Cyber Agent discuss Cybercrime
The Florida Suncoast AFIO Chapter is holding its first post-pandemic inperson gathering featuring John Cauthen, a cybercrime investigator and retired FBI Cyber Agent who worked on many infamous cases during his FBI career. He will share some stories from his tenure and speak to the critical elements of cybercrime.
Event location: the offices of Bleakley, Bavol, Denman & Grace, 15316 N Florida Avenue, Tampa, FL 33613. The offices are off I-275 just north of the Bearss Avenue exit. The program is scheduled to start at noon.

SAFETY: After careful evaluation of the current situation, we concluded it is reasonable to hold an inperson Chapter meeting employing suitable safeguards such as social distancing, mask use, and hand sanitizer.
We have striven to make our meetings informative but also provide the opportunity to meet with colleagues and maintain the ties that are a foundation of involvement in the intelligence community. Almost certainly, we have all experienced Zoom overload, so this is a great chance to gather in person following all COVID-19 guidelines. We thank our member Brian Battaglia for allowing us to utilize space at his office that will satisfy these safety requirements and allow us to meet again.
REGISTRATION GUIDELINES: The chapter will provide box lunches and adhere to CDC guidelines for social distancing, mask use, temperature checks and availability of hand sanitizer. Obtain details from the Chapter secretary at michaels@suncoastafio.org.
Registrants/Attendees will be required to complete a COVID-19 Health Acknowledgements and Food Order form which must be returned with reservations no later than noon on Wednesday, 17 March. Complete, scan, and return forms with your email RSVP or fax them to (813) 832-1154.
The cost is $10, cash or check made out to "Suncoast Chapter, AFIO."
TO ATTEND: If you will be attending, please send an email to Michael Shapiro at michaels@suncoastafio.org, no later than noon on Wednesday, 17 March, with your name and the names of any guests. Each guest must also complete a box lunch and health acknowledgement form (Michael will send you those forms if you lack them). The logistics of this meeting require us to enforce a strict reply deadline, so please do not respond late nor forget to include your box lunch order form(s) and your health acknowledgement form(s) since we will be unable to accept late or incomplete RSVPs.
If you make a reservation, find that you cannot attend, but do not formally cancel and receive a cancellation confirmation by 17 March, and then fail to show up, you will be responsible for the cost of your registration because the chapter will have to pay for your scheduled, uneaten meal.
1 April 2021 - Virtual - San Antonio AFIO hosts Martin Gurri on "The Revolt of the Public and the Crisis of Authority in the New Millennium."
On 1 April the San Antonio Chapter meeting will feature a live presentation by Martin Gurri a geopolitical analyst and expert in new media and information effects. He served the DNI Open Source Center in various senior positions, including Director of Research and chief of a Latin American bureau. Wikipedia. He will be talking about topics related to his book: The Revolt of the Public and the Crisis of Authority in the New Millennium.
A message with the link to the meeting will be sent prior to the meetings.
For more detail, contact John Franklin, President, AFIO San Antonio at satxafio@gmail.com or 210-863-0430
---
Other Upcoming Events from Advertisers, Corporate Sponsors, and Others
Wednesday, 17 March 2021, noon EDT - Virtual - Curator's Corner: CROSSFIRE HURRICANE with Josh Campbell - Virtual International Spy Museum Program
CROSSFIRE HURRICANE was the codename the FBI gave the investigation into the Trump campaign's possible ties to Russia. And like any hurricane disaster surrounded it. Join Spy Museum's Historian and Curator Andrew Hammond in conversation with Josh Campbell, former Special Assistant to FBI Director James Comey. In that position, Campbell had a front row seat to the FBI's investigation and experienced the growing alarm inside the Bureau about the sustained assault on the FBI and its independence. The former special agent has written CROSSFIRE HURRICANE: Inside Donald Trump's War on the FBI, an illuminating fly-on-the-wall account from the earliest days of the Russia investigation. Campbell - now a CNN analyst on crime, justice, and national security issues—will also discuss the investigation into the question of Hillary Clinton's private emails and his insights into Trump's war on justice from his perspective inside the FBI. Following their discussion, you'll be able to ask questions via the online platform.
Event is free – registration required. Visit www.spymuseum.org.
Thursday, 18 March 2021, 6 pm EDT; 3 pm PDT; 12 pm HST - GoToMeeting Virtual - Naval Intelligence Professionals Virtual Speaker Series features RADM Thomas Brooks
Guest Speaker: RADM (Ret.) Thomas A. Brooks – Director of Naval Intelligence, 1988-91.
Topic: In Honor of the Birthday of the Office of Naval Intelligence, RADM Brooks will discuss the "History of the Naval Intelligence Officer Community."
AGENDA: (3 min) RDML (Ret.) Cothron, NIP Chairman, welcoming remarks; (~30 min) RADM (Ret.) Brooks remarks
Q & A moderated by CAPT (Ret.) Bob Allen - Please ask your questions in the GoToMeeting chat window or email your questions in advance/during the video conference to: bob_allen36@hotmail.com.
FORMAT: Video Conference – GoToMeeting
Please join the meeting from your computer, tablet or smartphone, beginning at 1750/5:50 EDT:
https://global.gotomeeting.com/join/540848773
You can also dial in using your phone. United States: +1 (224) 501-3412 Access Code: 540-848-773
New to GoToMeeting? Get the app now and be ready when your first meeting starts: https://global.gotomeeting.com/install/540848773
As always, please mute your device/phone.
Sunday, 21 March 2021, 2 pm EDT - Virtual - The Cold War Museum features CIA's Historian, David Robarge, on "The CIA's Covert Actions During the Cold War."
When Did Covert Action Work for CIA? When Did It Fail? Why, in Both Cases? Ask the Agency's Chief Historian
The Cold War Museum invites you to attend a presentation by Dr. David Robarge, the Chief Historian for CIA, on The CIA's Covert Actions During the Cold War
Covert action historically has been perhaps the most controversial and least understood function of the CIA. While all presidents since World War II have used covert action to try to influence the political situation in countries of interest to advance US national security interests, they sometimes have done so to rescue failing foreign policies, with exaggerated expectations of the prospects for success, without due attention to long-term consequences, or in ways that contradict the popular will in the countries targeted. Nonetheless, the CIA has had some notable operational successes, and public perceptions of covert action have been skewed by excessive attention to a small number of dubious undertakings.
David Robarge received his Ph.D. in American History from Columbia University. After teaching at Columbia and working for banker David Rockefeller and at the Gannett Center for Media Studies at Columbia, he joined CIA in 1989 and later became a political and leadership analyst on the Middle East. Dr. Robarge moved to the CIA History Staff in 1996 and was appointed Chief Historian of the CIA in 2005.
He has published several classified works as well as unclassified monographs on the CIA's supersonic A-12 reconnaissance aircraft and intelligence in the American Revolution. His biography of Director of Central Intelligence John McCone was recently declassified. His articles and book reviews on CIA leaders, counterintelligence, covert action, and technical collection have appeared in Studies in Intelligence, Intelligence and National Security, The Journal of Intelligence History, and The Oxford Handbook of Intelligence and National Security. Dr. Robarge has taught at George Mason University, currently teaches at Georgetown University, and also has written a biography of Chief Justice John Marshall.
This is the 42nd in a series of presentations sponsored by the Museum featuring eyewitnesses to, and other experts on, significant Cold War events and activities.
(NOTE: If you cannot attend at day/time listed, purchase a ticket via eventbrite. You will be given a special link to access the post-event video. Contact CWM Executive Director Jason Hall to arrange: Jason@coldwar.org
Cost: $20, 100% of which is a contribution to the Cold War Museum.
Location: ONLINE ONLY. Eventbrite ticket buyers will receive a link to the virtual room on the Zoom platform where this event will take place. We are recording the whole event, including the Q&A, for the Museum's archives.
Ticketing and Information at this link.
Thursday, 25 March 2021, noon EST - Virtual - Virtual Spy Chat with Chris Costa and Special Guest Lieutenant General Robert P. Ashley, Jr. - Virtual International Spy Museum Program
Join us for an online discussion of the latest intelligence, national security, and terrorism issues in the news. Spy Museum Executive Director Chris Costa, a former intelligence officer of 34 years, will lead the briefing. He will be joined by Lieutenant General Robert Ashley, Jr., who retired as Director of the Defense Intelligence Agency in October of 2020. Following their discussion of key issues, you'll be able to ask questions via our online platform. Sponsored by Accenture.
Event is free – registration required. Visit www.spymuseum.org.
Thursday, 25 March 2021, 7 pm EDT - Virtual on Zoom - "Enemy Within: The Challenge of Domestic Terrorism" webinar featuring Former FBI official Andrew McCabe, former DHS official Elizabeth Neumann, and former CIA analyst David Priess (now with the Hayden Ctr at GMU)
The Michael V. Hayden Center for Intelligence, Policy, and International Security at GMU is presenting a virtual conversation on "Enemy Within: The Challenge of Domestic Terrorism." Joining them as panelists will be Andrew McCabe, former Deputy and Acting Director of the FBI; Elizabeth Neumann, former Assistant Secretary for Threat Prevention and Security Policy at the Department of Homeland Security; and moderator David Priess, former CIA analyst, who currently serves as Hayden Center senior fellow and CEO of the Lawfare Institute.
Full details of the conference topic and online registration are here.
Come prepared to ask questions of these newsworthy panelists.
N.B. This Hayden Center presentation will be recorded for use on their website and social media.
25 March 2021 - Virtual - The next OSS "Oh So Social" Conversation features former Asst Sec of State for INR Ellen McCarthy
The next "Oh So Social" conversation by The OSS Society will feature the Honorable Ellen McCarthy, former Assistant Secretary of State for the Bureau of Intelligence and Research - the successor to the OSS' Research and Analysis Branch - will interview best-selling author Erika Robuck about her new book "The Invisible Woman" - the OSS' Virginia Hall, the only civilian woman to receive the Distinguished Service Cross in World War II.
More information: The PDF flyer for event is here and includes registration link. To register for this virtual event, do so here
---
In addition to the new Royal Blue long sleeve shirts, and the gray long sleeve hooded sweatshirts, the AFIO Store also has the following items ready for quick shipment:
NEW: LONG and Short-Sleeved Shirts with embroidered AFIO Logo and New Mugs with color-glazed permanent logo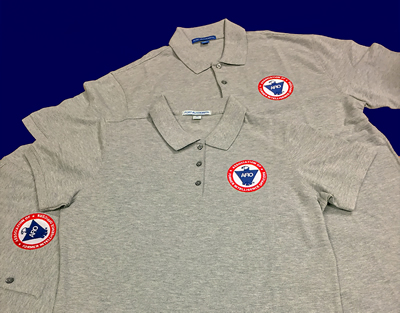 Show your support for AFIO with our new Polo Shirts. Be the first to buy these new, high quality, subtle heathered grey short sleeve shirts, and dark blue long sleeved shirts, of shrink and wrinkle resistant fine cotton with a soft yet substantial feel. They feature a detailed embroidered AFIO seal. Get a shirt for yourself and consider as gifts for colleagues, family, and friends. Only $45 each including shipping.
Sizes of (M) men or (W) women shirts; Small, Medium, Large, XL, XXL, and XXXL. At this time all orders will arrive as Short Sleeve shirts.
You may pay by check or credit card. Complete your order online here or mail an order along with payment to: AFIO, 7600 Leesburg Pike, Ste 470 East, Falls Church, VA 22043-2004. Phone orders at 703-790-0320. If interested in other shirt colors or sleeve lengths, contact Annette at: annettej@afio.com.



Available as a thank you for donations are the new AFIO logo face masks:
These soft, form-fitting, washable, non-medical grade fabric face masks have wide behind-the-ear elastics to make long periods of wear comfortable. Also easier to quickly put on or take off. Blue on outside, white inside. The masks do not have a nose wire but are sculpted, shaped, and sewn to fit most users. The all-cloth composition allows the masks to be washed or steam-disinfected without concerns over metal wires. The color logo is washable and a permanent part of the mask.
The masks, however, are not for sale. They are being offered strictly as a thank you gift to our donors.
For tax-deductible donations of $50 you will receive a receipt and our thank you gift of two of these newly-arrived face masks.
Donations of $100 receive four masks to be sent to the same address. Other amounts and split-shipments are available.
To donate now to support AFIO's programs and publications, please do so here.
We wish all members and donors continued good health, safe social distancing, and warmly appreciate any support you are able to provide the association.
---
AFIO Mug with color glazed logo. Made in America. Sturdy enough to sit on desk to hold pens, cards, paperclips, and candy.
This handsome large, heavy USA-made ceramic mug is dishwasher-safe with a glazed seal. $35 per mug includes shipping. Order this and other store items online here.
---
Guide to the Study of Intelligence and When Intelligence Made a Difference
"AFIO's Guide to the Study of Intelligence" has sold out in hard-copy.
However, it is available in digital form in its entirety on the AFIO website here.

Also available on the website here are the individual articles of AFIO's history project "When Intelligence Made a Difference" that have been published to date in The Intelligencer journal. More articles will be forthcoming in future editions.
---
Disclaimers and Removal Instructions
Weekly Intelligence Notes (WINs) are commentaries on Intelligence and related national security matters, based on open media sources, selected, interpreted, edited and produced for non-profit educational uses by members and WIN subscribers.
REMOVAL INSTRUCTIONS: We do not wish to add clutter to inboxes. To discontinue receiving the WINs:
a) IF YOU ARE A MEMBER - click here: UNSUBSCRIBE and supply your full name and email address where you receive the WINs. Click SEND, you will be removed from list. If this link doesn't open a blank email, create one on your own and send to afio@afio.com with the words: REMOVE FROM WINs as the subject, and provide your full name and email address where you are currently receiving them.
b) IF YOU ARE NOT A MEMBER, and you received this message, someone forwarded this newsletter to you [contrary to AFIO policies]. Forward to afio@afio.com the entire WIN or message you received and we will remove the sender from our membership and distribution lists. The problem will be solved for both of us.
CONTENTS of this WIN [HTML version recipients - Click title to jump to story or section, Click Article Title to return to Contents. This feature does not work for Plaintext Edition or for some AOL recipients]. If you wish to change to HTML format, let us know at afio@afio.com. The HTML feature also does not work for those who access their e-mail using web mail...however NON-HTML recipients may view the latest edition each week in HTML at this link: https://www.afio.com/pages/currentwin.htm
---
WINs are protected by copyright laws and intellectual property laws, and may not be reproduced or re-sent without specific permission from the Producer. Opinions expressed in the WINs are solely those of the editor's or author's listed with each article. AFIO Members Support the AFIO Mission - sponsor new members! CHECK THE AFIO WEBSITE at www.afio.com for back issues of the WINs, information about AFIO, conference agenda and registrations materials, and membership applications and much more!
(c) 1998 thru 2021. AFIO, 7600 Leesburg Pike, Suite 470 East, Falls Church, VA 22043-2004. Voice: (703) 790-0320; Fax: (703) 991-1278; Email: afio@afio.com
---
About AFIO | Membership Renewal | Change of Address | Upcoming Events | Chapter Locations | Corporate/Institutional Memberships | Careers in Intelligence Booklet | Guide to the Study of Intelligence | Intelligencer Journal | Weekly Intelligence Notes | To Make A Donation | AFIO Store | Member-Only Section | Code of Ethics | Home Page
---