---
CONTENTS
Section I - INTELLIGENCE HIGHLIGHTS
Section II - CONTEXT & PRECEDENCE
Section IV - Research Requests, Jobs, Obituaries
Other Upcoming Events from Advertisers, Corporate Sponsors, and Others
For Additional AFIO and other Events two+ months or more... Calendar of Events
WIN CREDITS FOR THIS ISSUE: The WIN editors thank the following special contributors: rsy, ec, po, pj, mh, km, gh, mk, rd, fm, kc, jm, mr, jg, th, ed, and fwr. They have contributed one or more stories used in this issue.

The WIN editors attempt to include a wide range of articles and commentary in the Weekly Notes to inform and educate our readers. However, the views expressed in the articles are purely those of the authors, and in no way reflect support or endorsement from the WIN editors or the AFIO officers and staff. We welcome comments from the WIN readers on any and all articles and commentary.

CAVEATS: IMPORTANT: AFIO does not "vet" or endorse research inquiries, career announcements, or job offers. Reasonable-sounding inquiries and career offerings are published as a service to our members, and for researchers, educators, and subscribers. You are urged to exercise your usual caution and good judgment when responding, and should verify the source independently before supplying any resume, career data, or personal information.]
If you are having difficulties with the links or viewing this newsletter when it arrives by email, members may view the latest edition each week at this link.

---

Other items brought to our attention:

---

GLOBAL TRENDS 2040 by National Intelligence Council of ODNI warns of Global consequences of social fragmentation

This edition of Global Trends constructs its analysis of the future in several stages. First, we examine structural forces in demographics, environment, economics, and technology that shape the contours of our future world. Second, we analyze how these structural forces and other factors—combined with human responses—affect emerging dynamics in societies, states, and the international system. Third, we envision five plausible scenarios for the distant future in 2040.

Five themes appear: 1. Global Challenges; 2. Fragmentation; 3. Disequilibrium; 4. Contestation; and 5. Adaptation. From these they have constructed five scenarios for alternative worlds in the year 2040. Report asks: How severe are the looming global challenges? How do states and nonstate actors en­gage in the world, including focus and type of engagement? and What do states prioritize for the future?
Five outcomes were posed...few of them favorable though highly likely: Renaissance of Democracies (low probability); A World Adrift; Competitive Coexistence; Separate Silo; and Tragedy and Mobilization.

Global Trends 2040 describes a world 20 years hence being shaped and driven by the same forces being experienced today but with far greater consequences and intensity.Read it here.

---

Biden to nominate former NSA deputy director to serve as cyber czar by Maggie Miller in THE HILL 04/12/21

President Biden on Monday will roll out a slate of key leaders to head his administration's approach to cybersecurity, including nominating Chris Inglis, the former deputy director of the National Security Agency (NSA), as the national cyber director at the White House.

Inglis will be nominated to serve in the newly created cyber czar position on the same day Biden will nominate Jen Easterly, another former NSA official, to serve as the director of the Cybersecurity and Infrastructure Security Agency (CISA), the nation's lead agency involved in protecting critical infrastructure from attacks.

"Today, President Biden took another important step forward in strengthening our nation's cyber capability," national security adviser Jake Sullivan said Monday in a statement provided to The Hill. "He will announce his intent to nominate Chris Inglis as National Cyber Director and Jen Easterly as the Director of the Cybersecurity and Infrastructure Agency."

"If confirmed, Chris and Jen will add deep expertise, experience and leadership to our world-class cyber team, which includes the first-ever Deputy National Security Advisor for Cyber and Emerging Technology Anne Neuberger, as well as strong, crisis-tested professionals from the FBI to ODNI to the Department of Homeland Security to U.S. Cyber Command and the National Security Agency," Sullivan said. Full article here.


---

The Arkin Group's April 9 "In Other News" letter to private clients by former Operations Officer Jack Devine features...

The U.S. has announced that it is prepared to lift some sanctions on Iran in coordination with steps by Tehran to come back into compliance with the 2015 nuclear deal's stipulations on uranium enrichment.
Hundreds of Chinese commercial fishing boats dropped anchor off the Spratly Islands in late March, ostensibly to shelter from a coming storm, but in what is a transparent ploy to press its claims to South China Sea territory that both Vietnam and the Philippines also claim as their own.
Jordanian Prince Hamzeh, the younger half-brother of Jordanian King Abdullah, was detained along with more than a dozen others in what has been widely described as a coup attempt backed by foreign interests.
Recently released was Jack Devine's Spymaster's Prism. AFIO's interview with him about this book appears in this issue at top of right column of this issue of the WINs. You can view the video at this link. Or hear the podcast here.

---

The Latest... from Jeff Stein's highly popular "SpyTalk" series

Apr 13: "Get Smart: 5 Ways to Read an Intelligence Report" by Ronald A. Marks
Retired CIA officer Ron Marks advises a new Hill aide not to be wowed by secrets
Article here

Apr 11: "Lone Star Spooks: CIA Ops in Texas" by Jeff Stein
How the 9/11 attacks spurred CIA into homeland security down Mexico Way
Article here

Apr 5: "Spooks on the Rio: U.S. Spy Agencies' Little Known Homeland Security Role" by Todd Bensman
CIA, DIA, FBI, satellites, military play major parts in U.S.-based globe-spanning network
Article here

Readers can subscribe for free at the moment here.

---

Inside the SCIF:

Inside the SCIF by JJ Green, WTOP - Issue #108, 8 April has details on Navalny incarceration and hunger strike; a possible scam involving Navalny to snare US Congressional Reps; White Lives Matter chatter; Increasing gridlock in D.C. for security screening of vehicles; Iran arrests Israeli asset; NIC Global Trends Report; China/Russia build-ups now forces US to elbow its way for advantage.

The latest Target USA Podcast 271 is on:"How Syria Fell Apart and ISIS Got All The Weapons."
Washington Post Reporter Joby Warrick discusses his new book, "Red Line." The Unraveling of Syria and America's Race to Destroy the Most Dangerous Arsenal in the World. The Obama administration's warning to Syria to not use chemical weapons went unheeded. How close did we come to a global disaster? Joby Warrick details how Syria fell apart and ISIS almost got all of their weapons.

And "The Hunt" explores: "Qanon and ISIS are alike." Dr. Hans-Jakob Schindler, senior director of the Counter Extremism Project, said its radicalization process is very similar to way the terror group ISIS does it.

---

---

From the National Cryptologic Museum Foundation:

THE NCMF's #CyberChats, held virtually via their Nepris online classroom, have resumed.

20 April, 11 am: Prepare for Success at NSA - The National Cryptologic School

4 May, 2pm EST: Charting a Path to a Future in Cybersecurity

18 May, 1pm EST: Student Security Clearances: Your Past Impacts Your Future

25 May, 3pm EST: How Breaking the Codes during the Battle at Midway Inspired a Cadet!

Other NCF Events:

Friday, April 16, 2021 3 - 4 pm EDT - Women in Cyber & Cryptology - Free Webinar

Saturday, April 17, 2021 - NCF 25th Anniversary! See announcement below under EVENTS in this issue of the WINs.

Tuesday May 10, 2022 - NCMF spring membership meeting at the Kossiakoff Center
Wednesday May 11 - Thursday May 12, 2022 - CCH Cryptologic History Symposium at the Kossiakoff Center
Friday May 13, 2022 - Half day offering at the National Cryptologic Museum
To explore all these upcoming events, visit NCF website here, and CCH website here.

---

One of the special benefits of membership in AFIO: access to CIA's inhouse gift shop — the EAA Store.

It requires a quick preapproval process described here to all newly joined and current AFIO members. And then allows you to purchase online their unusual logo'd gift items for self or colleagues. Here is the latest photo EAA released on March 26 featuring some of their newest items, this time for children of officers:

---
---
---
OPEN INTELLIGENCE HEARING ON WORLDWIDE THREATS TO BE LIVE-STREAMED ON YouTube
Thursday, 15 April 2021, at 9:00 am
House Permanent Select Committee on Intelligence Hearing: on 15 April at 0900 EST:

*MEDIA ADVISORY*
House Intelligence Committee to Hold Open World Wide Threats Hearing

On Thursday, 15 April 2021, at 9:00 am EDT, the House Permanent Select Committee on Intelligence will hold its annual public World-Wide Threat Hearing to hear testimony about the current security threats that face the United States and its allies. The public hearing will be followed by a closed, classified hearing at 1:00 pm.
"It is imperative that the Intelligence Community's leadership come before the Committee and the American people periodically, and provide their candid assessments about the threats that face our nation," said Chairman Adam Schiff. "This hearing is particular timely because those threats are rapidly evolving, with a rising great power competition with China, an increased threat from domestic violent extremism, nuclear dangers arising from nations like Iran and North Korea, and destabilizing impacts of cross-border threats like climate change and pandemic disease. I look forward to hearing directly from the Intelligence Community leadership about their view of these threats, and how we can position our nation to respond effectively."
This will be the first public World Wide Threats Hearing since 2017. Federal law, including a Committee-authored provision contained in the Intelligence Authorization Act for Fiscal Year 2021, requires the IC to submit the annual worldwide threat assessment, and the heads of IC elements to testify publicly upon request.
WHO:
Director of National Intelligence, Avril Haines
Director of the Central Intelligence Agency, Amb. William Burns
Director of the Federal Bureau of Investigation, Christopher Wray
Director of the National Security Agency, Gen. Paul Nakasone
Director of the Defense Intelligence Agency, LTG. Scott Berrier
WHAT:
Annual Open World Wide Threats Hearing with IC Leadership
WHEN:
Thursday, April 15, 2021, at 9:00 am
WHERE:
Event will be live-streamed on the Committee's YouTube page here.
---
Released to members-only last week...
Elizebeth Friedman: The Woman Who Smashed Codes

Released 06 April 2021
author of the 2017 book "The Woman Who Smashed Codes:
A True Story of Love, Spies, and the Unlikely Heroine Who Outwitted America's Enemies"

Interview of Tuesday, 16 March 2021 of Jason Fagone, author-journalist, on Elizebeth Friedman, "The Woman Who Smashed Codes."
Interviewer: Deborah Bonanni, former Chief of Staff, NSA; AFIO Board. Host: James Hughes, AFIO President, a former CIA Operations Officer.
TOPIC: Jason Fagone and Deborah Bonanni discuss the relatively unknown cryptographer Elizebeth Friedman, her beginnings and remarkable achievements in codebreaking -- including in foreign languages she did not know -- her alliance and marriage to NSA "founder" William Friedman; her work at Riverbank Labs; Rum running; and many other hidden aspects of an outstanding (at times astonishing) "in the shadows" life assisting the nation.
The interview runs 37 minutes and includes several Q&As.
For more information about Elizebeth Friedman, the book, and Jason Fagone's other writing projects, or to read his newsletter, visit https://jfagone.substack.com.
Access Fagone video here or click above image.
---
Prior Videos in the "AFIO Now" Series
To view the publicly-released ones, visit our YouTube page
or log into the Member-only area to view private and public interviews.
---
NEW — PODCASTS: Our new social media expert has been busy! Are you too busy to sit and watch an entire "AFIO Now" episode above on YouTube? Would you rather listen in your car or while accomplishing other tasks? Now you can quickly download or stream episodes on your favorite podcasting platform. AFIO is now available on 8 podcasting platforms. Search for 'AFIO Podcast' for a selection of the interviews above (public released ones) on Podbean; iTunes; Google; Spotify; Amazon Music; Amazon TuneIn + Alexa; iHeartRadio; and Pandora.
---
Newly Released, Overlooked, or Forthcoming Books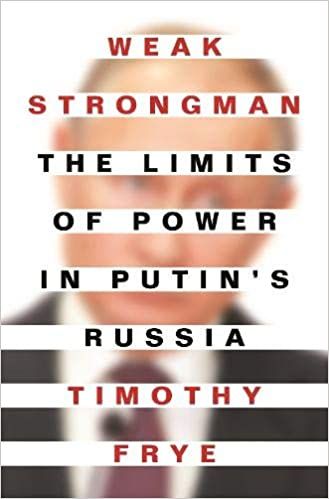 Weak Strongman: The Limits of Power in Putin's Russia
by Timothy Frye
(Princeton Univ Press, Apr 2021)
Frye, a professor of foreign policy at Columbia University, offers a nuanced look at Russian leader Vladimir Putin's political playbook. Media and public discussion tends to understand Russian politics as a direct reflection of Vladimir Putin's seeming omnipotence or Russia's unique history and culture. Yet Russia is remarkably similar to other autocracies—and recognizing this illuminates the inherent limits to Putin's power. Weak Strongman challenges the conventional wisdom about Putin's Russia, highlighting the difficult trade-offs that confront the Kremlin on issues ranging from election fraud and repression to propaganda and foreign policy.
Drawing on three decades of his own on-the-ground experience and research as well as insights from a new generation of social scientists that have received little attention outside academia, Frye reveals how much we overlook about today's Russia when we focus solely on Putin or Russian exceptionalism. Frye brings a new understanding to a host of crucial questions: How popular is Putin? Is Russian propaganda effective? Why are relations with the West so fraught? Can Russian cyber warriors really swing foreign elections? In answering these and other questions, Frye offers a highly accessible reassessment of Russian politics that highlights the challenges of governing Russia and the nature of modern autocracy.

Book may be ordered here.
---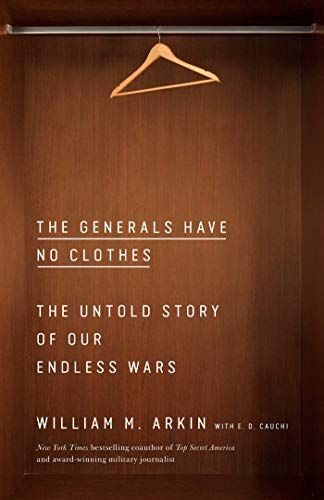 The Generals Have No Clothes: The Untold Story of Our Endless Wars
by William M. Arkin with E.D. Cauchi
(Simon & Schuster, Apr 2021)
The first rule of perpetual war is to never stop, a fact which former NBC News analyst William M. Arkin knows better than anyone, having served in the Army and having covered all of America's wars over the past three decades. He has spent his career investigating how the military throws around the word "war" to justify everything, from physical combat to today's globe-straddling cyber and intelligence network.
Arkin traces how we got where we are—bombing ten countries, killing terrorists in dozens more—all without Congressional approval or public knowledge. Starting after the 9/11 attacks, the government put forth a singular idea that perpetual war was the only way to keep the American people safe. Arkin explains why President Obama failed to achieve his national security goal of ending war in Iraq and reducing our military engagements, and shows how President Trump has been frustrated in his attempts to end conflict in Afghanistan and Syria. He also reveals how COVID-19 is a watershed moment for the military, where the country's civilian and public health needs clash with the demands of future wars against China and Russia, North Korea and Iran.

Proposing bold solutions, Arkin calls for a new era of civilian control over the military. He also calls for a Global Security Index (GSX), the security equivalent to the Dow Jones Industrial Average, which would measure the national and international events in real time to determine whether perpetual war is actually making the nation safer. Arguing that the American people should be empowered by facts rather than spurred by fear, The Generals Have No Clothes outlines how we can take control of the military…before it's too late.
Book may be ordered here.
---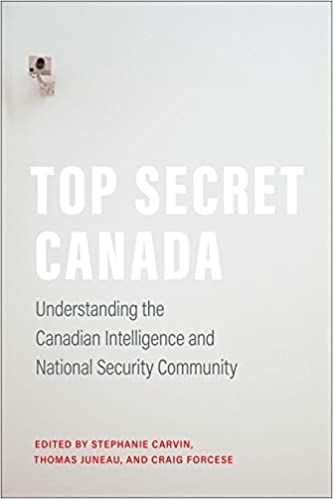 Top Secret Canada: Understanding the Canadian Intelligence and National Security Community
Stephanie Carvin, Thomas Juneau, Craig Forcese, editors
(Univ of Toronto Press, Mar 2021)
"Top Secret Canada is a practitioner's, politician's, and academic's essential resource on the activities, trends, and challenges facing the Canadian intelligence and national security community. Informative, accessible, and thought-provoking." — Andrea Charron, Director, Centre for Defence and Security Studies, University of Manitoba
"Carvin, Juneau, and Forcese have assembled a first-rate collection of authors. Together, they provide readers with an encyclopedic account of the past, present, and future of Canada's national security and intelligence apparatus."— Adam Chapnick, professor of defence studies, Canadian Forces College and Royal Military College of Canada
"This ground-breaking tour d'horizon of Canada's national security and intelligence community by leading scholars and practitioners in the field provides us with an original and much needed – and much-needed – examination of a crucial area of Canadian public administration." — Kim Richard Nossal, Centre for International and Defence Policy, Queen's University
"Top Secret Canada is a comprehensive, in-depth, and up-to-date survey of the diverse actors who make up Canada's national security community. A handy reference for experts, and a guidebook for those seeking an introduction to national security institutions in Canada." — Veronica M. Kitchen, associate professor of political science, University of Waterloo
Book may be ordered here.
---
---
Writers, Officers: Please Provide A Brief Article for This Ongoing AFIO History Project
AFIO's educational project "When Intelligence Made a Difference" seeks writers to identify events throughout history involving any nation or organization when the outcome was affected significantly by intelligence.
AFIO has been publishing edited submissions serially in Intelligencer released two to three times a year.
To see what has been published, it is available here. Also look at the Winter-Spring edition of the journal arriving in the mail of all members and subscribers over the next three weeks.
Those readers interested in contributing an article, should email peter.oleson@afio.com.
For instructors, this project makes a great class assignment. Accepted articles give students a publication credit in a recognized journal.
---
Guide to the Study of Intelligence and When Intelligence Made a Difference
"AFIO's Guide to the Study of Intelligence" has sold out in hard-copy.
However, it is available in digital form in its entirety on the AFIO website here.

Also available on the website here are the individual articles of AFIO's history project "When Intelligence Made a Difference" that have been published to date in The Intelligencer journal. More articles will be forthcoming in future editions.
---
Visit, Follow, Subscribe to AFIO's LinkedIn, Twitter, and YouTube pages to receive updates.
Members who use social media or wish to explore, will find new announcements and other material on AFIO's Twitter and LinkedIn pages. New videos on our YouTube page appears below as well.
Access them here: LinkedIn, Twitter, and YouTube. By following or subscribing on those sites, one can be notified as new material appears.




NEW — PODCASTS: Our new social media expert has been busy! Are you too busy to sit and watch an entire "AFIO Now" episode above on YouTube? Would you rather listen in your car or while accomplishing other tasks? Now you can quickly download or stream episodes on your favorite podcasting platform. AFIO is now available on 8 podcasting platforms. Search for 'AFIO Podcast' for a selection of the interviews above (public released ones) on Podbean; iTunes; Google; Spotify; Amazon Music; Amazon TuneIn + Alexa; iHeartRadio; and Pandora.
---
---
Section I - INTELLIGENCE HIGHLIGHTS

US Intelligence Community Warns of Devastating Long-term Impact of Coronavirus Pandemic. The fallout from the Covid-19 pandemic is poised to fracture societies worldwide, increase instability across the globe and reshape political and economic realities for years to come, the US intelligence community warned in a stark report laying out the top security concerns facing the country.

"The economic fallout from the pandemic is likely to create or worsen instability in at least a few - and perhaps many - countries, as people grow more desperate in the face of interlocking pressures that include sustained economic downturns, job losses, and disrupted supply chains," the report warns.

That dire economic picture boosts the risk of internal conflicts, surges in cross-border migration and even the collapse of national governments, officials warned. [Read more: Williams&Cohen/CNN/13April/2021]

Chief of Algerian Intelligence Agency Pays Secret Visit to Abu Dhabi, Returns Home Empty-Handed. General Abdelghani Rachedi, the head of the Algerian intelligence agency, the General Directorate of Internal Security (DGSI), paid a short trip end of March to Abu Dhabi that was surrounded by complete secrecy.

The Algerian general brough with him a set of confidential files that he wanted to discuss with Emirati officials, several security sources have confirmed.

According to these sources, the files were exclusively linked to cooperation in financial and security matters. [Read more: TheNorthAfricaPost/10April2021]

Coast Guard to Establish 'Security Zone' Off Ocean City. Here's What You Need to Know. Starting later this month a stretch of the Atlantic Ocean off the coast of Ocean City will be closed to all marine traffic while the U.S. Coast Guard and National Geospatial-Intelligence Agency conduct training.

Between April 25 and May 8, the Coast Guard will establish a security zone that will close off a certain area of the Atlantic Ocean, according to the Federal Register.

The area is being closed off to allow for "training and testing," according to the Federal Register. Vessel traffic will be prohibited from entering the security zone unless a boat receives special permission.

Here's what you need to know about the security zone: [Read more: Prensky/SalisburyDailyTimes/12April2021]

Swedish Prosecutor Says Russia's GRU Hacked Sweden's Sports Body. Swedish prosecutors said on Tuesday an investigation showed that Russia's GRU military intelligence agency had carried out serious data secrecy breaches at Sweden's sports confederation in 2017 and 2018 but it was nevertheless dropping the case.

The Swedish Prosecution Authority said in a statement that repeated and comprehensive breaches had resulted in the GRU accessing Swedish athletes' personal details, such as medical records, which were subsequently published.

It said it had decided to discontinue the matter because it would not be able to take the investigation abroad nor have suspects extradited. [Read more: Reuters/13April2021]

ODNI Plans Recruitment Ad Campaign. The Office of the Director of National Intelligence is planning an ad campaign to brand and market the intelligence community.

The "One IC" campaign will focus on how the 18 intelligence organizations fall under the common umbrella of the intelligence community campaign, Lori Welch, the Chief of Emerging Talent in the Human Capital at ODNI, said at an April 8 FedScoop event.

"People know the FBI. They know the CIA," she said. "But there are 16 other elements, and together, we're one."

The campaign will target those with skills in science, technology, engineering and math (STEM), as well as a "younger generation, going all the way down to K-12." The campaign will also align with efforts to recruit a more diverse workforce, Welch said. [Read more: Alms/FCW/8April2021]

CSIS Says 2020 was a Banner Year for Espionage Operations Targeting Canada. Canada's spy agency says 2020 saw the highest level of foreign espionage and foreign interference directed at Canadian targets since the end of the Cold War.

"The fluid and rapidly evolving environment caused by COVID-19 has created a situation ripe for exploitation by threat actors seeking to advance their own interests," said Canadian Security Intelligence Service Director David Vigneault in his agency's 2020 report, released today.

"In 2020, CSIS observed espionage and foreign interference activity at levels not seen since the Cold War."

The report follows a year of warnings from CSIS and other security agencies about national security vulnerabilities in Canada's biopharmaceutical and life sciences sectors. [Read more: Tunney/CBCNews/12April2021]


---
Section II - CONTEXT & PRECEDENCE

President Biden Announces His Intent to Nominate 11 Key Administration Leaders on National Security and Law Enforcement. President Joe Biden announced his intent to nominate 11 members of his Administration to lead on national security and law enforcement at White House and across key agencies.

The President has tapped Christy Abizaid for Director of National Counterterrorism Center at the Office of the Director of National Intelligence, Chris Inglis for National Cyber Director in the Executive Office of the President, Christine Wormuth for Secretary of the Army at the Department of Defense, Gil Cisneros for Under Secretary of Defense, Personnel and Readiness at the Department of Defense, Anne Milgram for Administrator of the Drug Enforcement Administration at Department of Justice, Susanna Blume for Director of Cost Assessment and Program Evaluation at the Department of Defense, Marcela Escobari for Assistant Administrator for Latin America and the Caribbean at USAID, C.S. Eliot Kang for Assistant Secretary of State for International Security and Non-Proliferation at the Department of State, Kenneth Polite for Assistant Attorney General for Criminal Division at the Department of Justice , Todd Robinson for Assistant Secretary of State, International Narcotics and Law Enforcement Affairs at the Department of State, and Christopher Schroeder for Assistant Attorney General for the Office of Legal Counsel at the Department of Justice. [Read more: WhiteHouse/13April2021]

The Ozzi Gov App Puts Threat Intelligence Right in your Pocket. When traveling or PCSing to a new area, especially overseas, servicemembers and their families are usually bombarded with information and left to their own devices to parse it out.

Assuming you even had the time to review what you'd been given, how helpful is that information once you've settled in? You're often completely reliant on outdated or biased sources on everything from the best restaurants to the areas you should avoid at all costs. If you're not fortunate enough to speak the language, then you will be even more dependent on English-speaking sources to curate and provide useful information to make informed decisions.

Those in the intelligence community know all too well how 'stove-piping' of information and a limited number of sources can present a problem. When you have multiple experts handling a portion of any given problem set, the solution can be missed, resulting in missed target opportunities, or conversely exposing friendly assets to enemy influence and/or operations. The same concept is true for servicemembers and their families when visiting or living in a foreign country.

What if there was a better way? (Spoiler alert: there is!) [Read more: Burgess/TaskAndPurpose/12April2021]

The Key to Military Intelligence? A Foundation of Trust. Trust is foundational to many relationships and organizations, maybe none more than those in military, intelligence, and government positions. Joining The Trust Revolution and host Luke Fox is a man who has experience in all three, COL Chris Costa. Costa spent 34 years in the Department of Defense as an intelligence officer and counterterrorism and hostage director. COL Costa has played an important role in security and shared his experiences. He's now retired and is the Executive Director of the International Spy Museum.

"Trust is fundamental to being an intelligence officer and serving in the U.S. military. It starts when you take the oath to the constitution," Costa said.

COL Costa explained that trust among service members starts with the foundation of reliance on one other. What he learned about trust in that role, he took with him as he transitioned to the intelligence world.

However, the trust in relationships is different. [Read more: Fox/MarketScale/13April2021]

DARPA Needs Help Securing Its Programs From Foreign Influence and Malicious Insiders. The Defense Department's main advanced research arm is on the outermost edge of technological progress and needs to ensure its work is protected from malicious eyes and foreign interference.

The Defense Advanced Research Projects Agency, or DARPA, is looking for a contractor to support its program security efforts and entered the first stage of market research with a request for information.

The agency works on a lot of sensitive research with national security implications. To that end, the Security and Intelligence Directorate, or SID, works with the other program offices to "apply risk-managed, proactive program protection and related services," the RFI states. That work is done by a mix of in-house security experts and contractor support. [Read more: Boyd/Nextgov/12April/2021]

History of Surveillance in the Spotlight for Lecture of a Lifetime 2021. Seeking answers that others said couldn't be found is what led John Ferris deep into the murky world of espionage, communications intelligence and national security.

After years of deep-diving into library records about once-secret codes and government intelligence gathering, Ferris - a Canadian - found himself as the foremost expert in his field, even being asked to write the only official history of British Intelligence commissioned by the British government.

Now the UCalgary professor, author, and celebrated historian will lead a thought-provoking discussion about the history of surveillance and its impact on privacy in our modern world during the Lecture of a Lifetime 2021.

On May 4, Dr. Ferris, PhD, will deliver a lecture that may make viewers rethink the online world as they know it. [Read more: Contenti/UCalgary/13April2021]



---
Foreign Fighters and the Trajectory of Violence in Northern Mozambique. On March 24, fighters from Ansar al-Sunna Wa Jamma (ASWJ) - a U.S. State Department-designated foreign terrorist organization that it calls "ISIS-Mozambique" - launched a multi-day assault on Palma, a coastal town of roughly 75,000 people located in Mozambique's hard-pressed province of Cabo Delgado. The operation - which reportedly involved covert infiltration, multiple points of simultaneous attack, and maritime support - was well-coordinated, with clear evidence of prior planning and intelligence gathering. Over the course of the attack, ASWJ fighters targeted military personnel, banks, government buildings, a food warehouse, civil servants, and other civilians. On March 29, the Islamic State claimed the attack, emphasizing that ASWJ militants had killed Mozambican troops, local Christians, and foreigners. While security forces have largely reassumed control of the town, the total number of casualties is not yet known.

The widespread coverage of ASWJ's attack in Palma - building on a year of operational success for the group - has likely elevated the profile of this conflict, including within the jihadist community, potentially increasing its appeal to regional and veteran foreign fighters. [Read more: Columbo&Doctor/WarOnTheRocks/13April2021]

America Must Secure Its Geospatial-Intelligence Information Supply Chain. The United States is in competition with China on multiple fronts: economics, technology, geography, politics, and military power. A major battleground between the two countries is in the field of information. Both sides are racing to gain an advantage in how they acquire, disseminate and exploit information. One of the most important classes of information is geospatial intelligence (GEOINT) which focuses on geography and human activities. GEOINT is increasingly central to the activities of governments, companies, non-governmental organizations, and militaries. That makes it unbelievably valuable.

That is why nations such as China are seeking to establish domination over the ways GEOINT is collected, processed, and disseminated. If the United States is going to compete successfully against China and other countries trying to get the upper hand in the information domain, it must have a secure GEOINT information supply chain.

GEOINT is derived from a fusion of multi-sensor imagery with other sources of information about physical features or human activities tied to a particular location. Anyone who uses Google Maps or peruses Google Earth is taking advantage of commercially available GEOINT.

GEOINT has created an extremely valuable ecosystem. [Read more: Goure/TheNationalInterest/13April2021]

60 Years Later: The Enduring Legacy of the Bay of Pigs Fiasco. On April 17, 1961, a CIA-trained force of fourteen hundred Cuban exiles were all captured or killed within seventy-two hours of landing at the Bay of Pigs. In the aftermath of this fiasco, critics often asked how someone as smart as John F. Kennedy could have approved what some have described as the "perfect failure." But there was a certain inevitability about the entire Bay of Pigs operation. Kennedy hoped to deliver on one of the key promises from his presidential campaign - to remove the cancerous communist growth 90 miles from Key West. Kennedy was determined to reverse Dwight Eisenhower's "lethargic" foreign policy and saw a chance to do so within three months of his inauguration. A successful overthrow of Castro would have been a signal that American complacency had been replaced with a renewed "vigor," a favorite term from the New Frontier. Toppling Castro would fulfill Kennedy's inaugural pledge to "pay any price, bear any burden . . . support any friend, oppose any foe to assure the survival and the success of liberty." More directly, it would fulfill his promise to "let every other power know that this hemisphere intends to remain the master of its own house."

There were several consequences stemming from Kennedy's failure at the Bay of Pigs. Some were significant, others less so. [Read more: Knott/HistoryNewsNetwork/11April2021]



---
Section IV - Research Requests, Jobs, Obituaries
Call for Papers - The Center for Cryptologic History (CCH) and the National Cryptologic Foundation (NCF) invite proposals for papers for 18th Cryptologic History Symposium, 11-13 May 2022.
The Center for Cryptologic History (CCH) and the National Cryptologic Foundation (NCF) invite proposals for papers to be presented at the 18th Cryptologic History Symposium, 11-13 May 2022. The Symposium will be held at the Johns Hopkins University Applied Physics Lab Kossiakoff Center in Laurel, Maryland. The theme for the symposium is "Icons and Innovation." Proposals are due 7 September 2021.
For more information visit the NCF or contact cchevents@nsa.gov.
Seeking Officials Who Served USSR/Russia 1965-2015 and Other Posts - with knowledge of, or exposure to, Microwave/Directed Energy Weapons
Prominent D.C. Attorney seeking former intel officers or others who served in USSR/Russia during 1965-2015, as well as anyone who has information concerning possible microwave/energy directed weapon exposure of U.S. officials by foreign adversary.
Replies to Mark S. Zaid Esq, mark@markzaid.com. Or call him at (202) 454-2809.
More information about Mr. Zaid at MarkZaid.com.
Request for Assistance Researching Clandestine Maritime Operation in Da Nang 1950s-1970s
"My old Master Chief, James "Jim" Gray and I wrote the first history of Naval Special Warfare Combatant Craft (WARBOATS, 55 Years of Naval Special Warfare Combatant Craft History) for our veterans organization the Combatant Craft Crewman Association (CCCA), now in its second printing. One of the areas that we wanted to explore in greater depth were the clandestine maritime operations based in Da Nang from the South Vietnamese and CIA period through Switchback and Military Assistance Command Vietnam-Studies and Observation Group (MACV-SOG) control and the final the American withdrawal.
We are looking for assistance with this research in particular on the CIA side, as much of the MACV-SOG documentation has been declassified and we have spoken with the SEALs and Boat Support Unit One men of Mobile Support Team 1 and the Mobile Repair Team. Our Norwegian colleague, Jan Tore Nilsen is a Senior Reserve Commander in the Norwegian Navy is researching Norwegian involvement in Vietnam and has interviewed the surviving Norwegian contractors and obtained documents and photos from them as well as obtained documents regarding acquisition and construction of the Norwegian PTF (Patrol Torpedo Fast) boats for operations in Vietnam. An old friend of mine who was an historian for the CIA suggested we contact AFIO and ask for assistance. We would greatly appreciate any assistance from AFIO members."
Replies to Phil Garn at pggarn@yahoo.com
Seeking Spy-Themed Tourism Experts and New Recruits (with IC backgrounds) for Metro D.C. area opportunity
ISO former Intelligence Officers who might be interested in getting involved in spy-themed tourism in the Washington D.C. metropolitan area.
Also interested in speaking with those who may already be involved in the tourism and travel industry elsewhere.
Please contact Rosanna Minchew at r_minchew@me.com or 571-236-9052.
Assistant Professor, Intelligence and Information Operations, Tenure Eligible - Arizona (Sierra Vista)
The University of Arizona College of Applied Science and Technology (CAST), an Office of the Director of National Intelligence (ODNI) designated Intelligence Community – Center for Academic Excellence (IC-CAE) located on the University of Arizona Sierra Vista campus, is seeking an Assistant Professor to teach undergraduate courses within the Intelligence and Information Operations (IIO) program and to lead research in the fields of Intelligence, Information warfare, and Law Enforcement Intelligence. Consistent with the Dean's vision for Programs to contribute to interdisciplinary research and educational program innovation, the Tenure-Track Assistant Professor will support the Intelligence and Information Operations Program to contribute to the College's strategy of cross-campus, national, and international multidisciplinary research, and educational initiatives. CAST is seeking candidates who can demonstrate outstanding teaching as well as the ability to develop new research programs consistent with the college's purpose, vision, and values. The Assistant Professor, Intelligence and Information Operations will contribute to building a strong team of culturally diverse faculty and staff who are committed to preparing traditional, post-traditional, and transfer students for success in a 21st-century workforce.
Outstanding UA benefits include health, dental, and vision insurance plans; life insurance and disability programs; sick leave and holidays; UA/ASU/NAU tuition reduction for the employee and qualified family members; state and optional retirement plans; access to UA recreation and cultural activities; and more!
At the University of Arizona, we value our inclusive climate because we know that diversity in experiences and perspectives is vital to advancing innovation, critical thinking, solving complex problems, and creating an inclusive academic community. As a Hispanic-serving institution and a Native American/Alaska Native-serving institution, we translate these values into action by seeking individuals who have experience and expertise working with diverse students, colleagues, and constituencies. Because we seek a workforce with a wide range of perspectives and experiences, we provide equal employment opportunities to applicants and employees without regard to race, color, religion, sex, national origin, age, disability, veteran status, sexual orientation, gender identity, or genetic information. As an Employer of National Service, we also welcome alumni of AmeriCorps, Peace Corps, and other national service programs and others who will help us advance our Inclusive Excellence initiative aimed at creating a university that values student, staff and faculty engagement in addressing issues of diversity and inclusiveness.
For more information and to apply visit this webpage.
Intelligence Analysis Visiting Faculty Position at James Madison University, Harrisonburg, VA
James Madison University (JMU) seeks applicants for a visiting faculty position in its Bachelor's Degree Program in Intelligence Analysis (IA). The appointment is for one academic year (with the possibility of renewal for a second year depending upon the Program's needs) at the Assistant or Associate Professor level. This position will reside within the larger School of Integrated Sciences. The IA program offers a multidisciplinary undergraduate degree with an emphasis on methodology and technology to prepare students to become analysts, with a specialization in intelligence analysis. Its graduates have been successful in securing positions as analysts in both the public and private sectors, to include the Intelligence Community, military and law enforcement organizations, defense contractors, and major consulting firms. The program emphasizes methodology and synthesizes critical and creative thinking methods with technological tools for data collection, visualization, and analysis with situational knowledge of a problem's political, economic, social, and technological context with strong communicative and professional skills to support decision-making.
Review of applications will begin on May 1, 2021; the search will remain open until the position is filled. Application materials should include 1) a detailed cover letter that explains how the candidate's experiences fit the position's requirements and values, and should specifically explain the applicant's views on the importance of diversity and inclusion in higher education, 2) curriculum vitae, 3) concise but specific description (no more than 2 pages) of how the candidate would approach teaching the courses from the above list (if offered the position), and 4) contact information for at least three references. Application materials must be submitted online through JMU's application system: https://joblink.jmu.edu/. To apply refer to job #F1590. Salary shall be commensurate with experience. Employment is contingent upon the successful completion of a criminal background check. Questions can be directed to the Chair of the search committee, Dr. Noel Hendrickson, at hendrinx@jmu.edu.
For a full description of Duties and Responsibilities and Qualifications sought, follow this link: https://joblink.jmu.edu/postings/8812
Intelligence Analysis Faculty Program Director/Sr. Lecturer, Johns Hopkins University: Zanvyl Krieger School of Arts and Sciences: Advanced Academic Programs, Washington, DC
The Advanced Academic Programs (AAP) division seeks a Faculty Program Director to teach in and provide administrative leadership to the M.S. in Intelligence Analysis and the Post-Baccalaureate Certificate in Intelligence programs. These programs are part of the Center for Advanced Governmental Studies (CAGS) which is comprised of seven master's degree and three graduate certificate programs. The Center also includes the following programs: M.A. in Government, M.S. in Data Analytics and Policy, M.A. in Public Management, M.A. in Global Security Studies, M.S. in Geospatial Intelligence, M.A. in NGO Management; Certificate in Government Analytics, and the Certificate in Nonprofit Management. These programs educate students who wish to apply rigorous academic concepts to policy-related careers.
Of particular interest are candidates who have experience teaching and engaging students from diverse backgrounds. The Program Director is a full-time, non-tenure-track, 12-month renewable faculty position with the academic title of Senior Lecturer. The Faculty Program Director will have significant interaction/collaboration with the Director of the Center and the Associate Director of CAGS, as well as with the Associate Dean for AAP, other Program Directors, Program Coordinators, AAP staff, and administrators. The Program Director reports to the Associate Dean for AAP, the Center Director, and the Program Chair for Governmental Studies. This position is expected to begin July 1, 2021. The Program Director will have the following faculty and administrative responsibilities:
Faculty Responsibilities
Teaching 4 graduate courses per year, including the preparation for and time spent in the classroom (online or onsite), using best practices for online teaching, engaging and mentoring students from diverse backgrounds in the learning process, responding to student questions;
Advising students, including capstone advising for the master's program;
Providing innovative leadership for curriculum design and new course development to ensure the growth and delivery of quality programs; and
Other academic duties normally performed by full-time faculty, such as participating on committees, attending academic events, or contributing to other academic service.
Administrative Responsibilities
Providing overall supervision for the M.S. in Intelligence Analysis and Certificate in Intelligence, including shared management with the Center Director for the programs;
Leading some full-time faculty, adjunct faculty development, hiring, and evaluation;
Overseeing program admissions processes, including reviewing and approving prospect admission materials;
Coordinating program promotion and outreach, including interacting with outside groups and developing external / internal partnerships;
Coordinating with staff in student and faculty services, online education, marketing, finance, and enrollment services departments on operational issues related to program administration;
Other administrative duties as assigned.
Minimum Qualifications:
Ph.D. or other terminal degree (e.g., J.D.) in a relevant field to Intelligence Studies;
3 or more years of higher education teaching experience, preferably including online teaching and at the graduate level;
3 or more years of related professional work with the Intelligence Community (IC), preferably at the national/strategic level, including combatant commands;
3 or more years of management or leadership experience in an Associate Director or similar related position;
The ability to teach a variety of courses in intelligence studies, such as intelligence analysis, legal and ethical issues in intelligence, intelligence leadership, strategic culture analysis, and critical thinking and analysis;
Demonstrated track record of excellence in teaching.
For more information and instructions on how to apply, please follow this link: https://apply.interfolio.com/85064
Program Director, National Security and Technology – Georgetown University Law Center
A new 360 Innovation Incubator at GULC will be tackling problems in four focus areas, the first of which is the NatSec Tech Program, which looks at the intersections between national security and new and emerging technologies. The National Security & Technology Program Director will lead this new program, serving as a thought leader for this increasingly important sub-field. Utilizing the Center's innovation methodology, the Program Director will help develop strategic new project ideas for the Incubator, oversee and manage those projects including all aspects of foundation grants and budgets, write grant proposals, and build new relationships and networks for the Center. In the immediate term, the Program Director will be the day to day lead manager for the Center on National Security's new Public Interest Technology grant-funded project: 360 Tech: Innovation, Security, and Governance. The project aims to identify the most critical risks posed by social media to individuals, communities, and society, and then develop and test holistic governance models to address those risks. The Program Director will be a lead member of the core team (overseen by the Executive Director) and will be responsible for managing all day to day aspects of the project, including research and writing, coordination and outreach, project management, event and workshop planning, and operations oversight.
For full description of duties, responsibilites, and qualifications, or to apply for the position, view job posting here.
Assistant Professor (tenure-stream) of International Affairs/Intelligence sought by University of Pittsburgh
The Graduate School of Public and International Affairs at the University of Pittsburgh is seeking to hire an Assistant Professor of International Affairs with a focus in intelligence matters (broadly understood). We are looking for someone who can teach on intelligence subjects in our Security and Intelligence major and contribute to our International Affairs program more generally. We welcome those trained in political science, history, and other disciplines, and are particularly interested in those with cyber or regional expertise. The deadline is March 31.

The full announcement can be read -- and application submitted -- through Pitt's Talent Center here.
THREE Faculty Openings for 2021 at Hilbert College, Hamburg, NY
Assistant Professor, Criminal Justice; Assistant Professor, Forensic Science/Crime Scene Investigation; and Assistant Professor, Intelligence & Data Analysis.
Interested candidates can view our job postings here.
---
Jack Campbell, Naval Intelligence and DIA Officer
Weldon Jackson Campbell Jr USN(Ret), 62, a Naval Intelligence and DIA Officer, died of cancer on 1 April 2021 at Walter Reed National Military Medical Center, Bethesda, MD.
Campbell was born in Winston-Salem, NC and reared in Mt. Airy, NC.
Jack graduated from Mount Airy High School in 1976 and maintained close ties with his hometown "Mayberry." He attended North Carolina State University and the University of North Carolina at Chapel Hill before graduating from his Wake Forest University, where he was a member of Alpha Pi Omega service fraternity and Alpha Sigma Phi social fraternity, and earned his bachelor of arts in politics in 1981. He was proud to represent the Order of the Eastern Star in their fundraising relationship with the Regenerative Medicine Institute at Wake Forest as a member of the General Grand Chapter Regenerative Medicine Committee from 2015 to 2018 and was designated to be reinstalled on November 4, 2021 for another 3-year term. Jack also studied economics at the University of Oklahoma, and obtained a master of arts in national security and strategic studies at the United States Naval War College.
During his 27 years on active duty, Jack served as a naval intelligence officer, operational intelligence officer, photographic intelligence officer, management analysis and control officer, scientific and technical intelligence officer, tactical intelligence officer, and joint specialty officer with sub-special ties in Space Operations and Operational Intelligence. Jack made an impact in the Kuwait Liberation, Operation Desert Storm, Operation Enduring Freedom, Global War on Terrorism and other theaters of operation, the Central Imagery Office, Systems and Technology Directorate, National Imagery and Mapping Agency, and Chief, Future National IMINT Programs, Systems Engineering and Integration Division, Systems Engineering Office. His awards include the Defense Superior Service Medal, Joint Service Commendation Medal (2), Legion of Merit (2) and the Defense Meritorious Service Medal (3), among others.
Jack served two tours in Honolulu, HI. He wore an Aloha shirt on his personal time, and shared the "Aloha" spirit and his wry sense of humor everywhere he went. When not working, Jack filled his life with service organizations, charities, and friends.
At the time of his deathg, Jack was in his 12th year in the Senior Executive Service at DIA as the defense intelligence officer for South Asia. Among his awards is the 2017 Chairman Joint Chiefs of Staff Distinguished Civilian Service Award.
The family will receive friends on 1 May 2021 from 10:30 a.m. to 12:30 p.m. followed by funeral services at Trinity Episcopal Church, Mt. Airy, NC, with simulcast at Moody Funeral Home on 1 May 2021 at 1 p.m. within social distancing guidelines. Graveside Masonic and Eastern Star Rites and military honors will follow the service at Oakdale Cemetery, Mt. Airy, NC. Please email marye.boggs@icloud.com for a link to Zoom services if you wish to attend virtually. Requests via the same email to attend the funeral in person will be honored on a first come first served basis due to COVID-19 restrictions. If there is a photograph with Jack anyone wishes to contribute to the memorial video, please email to paula@garanco.com with names, dates and place. Letters of condolence may be sent to Marye C. Boggs, 37 Meadow Drive, Harlan, KY 40831.
Chris Copenhaver, DIA and NPIC Officer
Chris Eric Copenhaver, 65, a DIA and NPIC Officer, died 31 March 2021. Originally from Glen Ellyn, IL, he was a University of Chicago graduate, earning master's degrees in geography and political science. After graduate school, Chris moved to the DC area to work for the DIA as an intelligence officer and imagery analyst, and also worked for NPIC, NIMA/NGA, and lastly DHS, where he retired in Spring 2019.
An active auto-racing enthusiast, and collector of vintage Corvettes, he was an avid fan of football, hockey, baseball, and billiards, as well as a political junkie and close watcher of the news.
Chris is survived by his children, brother, and other relatives and friends.
Visitation will be held at Demaine Funeral Home, 5308 Backlick Rd., Springfield, VA, 22151 on Friday, 16 April 2021 from 4 to 6 p.m.
Fred "Nick" Evans, CIA Security Officer
Frederick Nicholas Evans, 89, CIA Security Officer, died 6 April 2021 in Sierra Vista, AZ.
Fred grew up mainly in Cincinnati, OH. After graduating from Xavier University in 1954 and serving at Ramstein Air Base in Kaiserslautern, Germany, he began his career with the Central Intelligence Agency. One of his first assignments was serving on the security detail for the U-2 program at Incirlik Air Base, Turkey, at the same time as Francis Gary Powers. Other posts included Chicago, Miami and Okinawa, before settling in Virginia, where he served the remainder of his career in the Office of Security.
Raised as a devout Catholic, Fred was committed to truth and principle. In 1974, he testified before the Executive Session of the Senate Select Committee on Presidential Campaign Activities, disclosing that he and another colleague had saved copies of paperwork that would prove the CIA had more knowledge of the Watergate burglaries than previously disclosed. It was his commitment to the truth that compelled the Agency to admit it had withheld information about the Watergate break-ins two years prior. He appreciated that, years later, those involved in the wrongdoing acknowledged that he had done the right thing.
As a young adult, Fred discovered his passion for motorcycling. He fondly recalled the many cities he'd ridden to in Europe while stationed there in the 1950s. He continued the tradition after retiring from the CIA, riding throughout the US and parts of Canada to visit his many family members. While still living on the East Coast, he participated in Rolling Thunder on Memorial Day each year with his Harley club, the Third Tradition.
In June 2020, Fred celebrated 36 years of sobriety. He was an active member of AA chapters in Northern Virginia; Newport, New Hampshire; and Benson, AZ. He found great joy in sharing his recovery story and helping others stay on their own paths to sobriety.
Fred is survived by his wife, Marjorie Gathering; by three daughters and two sons; and other family.
---
AFIO EDUCATIONAL EVENTS IN COMING TWO MONTHS....
24 April 2021, 10 - noon EDT - Zoom - AFIO New England Hosts Dr. Jeff Treistman on "Right-wing Terrorism"
After some coordination the AFIO NE Chapter is pleased to announce that it will have a virtual presentation from Dr. Jeff Treistman discussing his research into right-wing terrorism. He just got an article published "Revisiting Reactionary Terrorism: Definitions, Causes, and Consequences." Journal of Policing, Intelligence and Counter Terrorism (2021).
Registrants will get an invitation from Ken Gray or the University of New Haven or from chapter President Art Harvey. If you opted out of the meeting announcement in favor of a private notice, it will be sent after the ZOOM invitation has been sent. As this is an unsecure event, no detailed Chapter information will be presented. The chapter looks forward to this event and connecting with all of the members in these troubled times.
Dr. Treistman is an Assistant Professor of National Security at the University of New Haven's Henry C. Lee College of Criminal Justice and Forensic Sciences. Prior to coming to the University of New Haven, Dr. Treistman was a Research Assistant at the Institute of National Security and Counterterrorism. He also served as a consultant to the Department of Defense's Africa Command (AFRICOM) and was a Policy Advisor for the Department of State in Iraq. Dr. Treistman currently sits on the editorial board for the journal Studies in Conflict & Terrorism. His research interests focus on military policy, international relations, asymmetric war, and terrorism.
Watch for your invitation to appear in your mail
To explore further or seek an invitation, contact Arthur Harvey at aharvey@rdi.qozzy.com or afionechapter@gmail.com
---
Other Upcoming Events from Advertisers, Corporate Sponsors, and Others
Wednesday, 14 April 2021, 9 - 10:30am EDT - Zoom Webinar - Special 25th Anniversary Kick-Off for the National Cryptologic Foundation
We hope you will join us for a very exciting virtual program featuring a panel discussion with six former NSA directors to discuss challenges we have faced in the past 25 years, as well as challenges we may face in the next 25 years.
Panel Participants: VADM Bobby Inman, USN (Ret); VADM William Studeman, USN (Ret); VADM J. Michael McConnell, USN (Ret); Lt Gen Kenneth Minihan, USAF (Ret); Gen Keith Alexander, USA (Ret); and ADM Michael Rogers, USN (Ret).
Panel Moderator: Greg Myre, National Security Correspondent, NPR.
Cost: Free. Special Anniversary Donations are Appreciated.
Registration is Required.
REGISTRATION: Please register here and choose one of the options. You will receive an email confirmation. Save that confirmation email as it will contain your Zoom login information.
Deadline: Registration will close on 12 April 2021.
Questions: If you have questions about this program, please email ncmfinfo@cryptologicfoundation.org
Wednesday, 14 April 2021, 5pm EDT - Movie and Zoom Webinar - Virtual Spies & Spymasters Happy Hour: The Courier - Film Preview and Discussion by International Spy Museum
Note: To preview film, you must register between now and April 11.
AFIO Members are invited by the International Spy Museum to attend a complimentary advance virtual screening of The Courier and a later discussion and Happy Hour!
The true-life spy thriller is a story of an unassuming British businessman Greville Wynne, played by Benedict Cumberbatch, who is recruited into one of the greatest international conflicts in history. At the behest of the UK's MI-6 and the CIA, he forms a covert, dangerous partnership with Soviet officer Oleg Penkovsky in an effort to provide crucial intelligence that helps prevent a nuclear confrontation and defuse the Cuban Missile Crisis.
View the trailer here.
And then REGISTER to attend. Registered guests will receive a personal link to view the film (beginning Friday, 9 April) in advance of a special "Live Virtual Spies & Spymasters Happy Hour + Q&A" which will take place 14 April at 5 pm EDT.
At the post-previewing of the film, you will join the Museum experts and guests discussing the film. Film director, Dominic Cooke, who became passionate about the little known story of Wynne and his intense and intriguing Cold War connection with Penkovsky, "the spy who saved the world" will be joined by Spy Museum Historian and Curator, Dr. Andrew Hammond who will give a brief overview of the true spy story behind the movie and share artifacts from the Spy Museum related to the case. Former CIA chief of disguise, Jonna Mendez will describe how the fallout from the Penkovsky case shaped the way the CIA operated in Moscow — the subject of her book The Moscow Rules.
Receive your personal link to preview the film but the window to do so is limited. If you register by 9 am EDT on Friday, 9 April, you will receive your link Friday evening.
If you register by 11:59 pm EDT Sunday, 11 April, you will receive a link to watch The Courier for a limited time. Link will sent to you on Monday, 12 April.
Any registrations after Sunday, 11 April will not receive a link to preview the film.
More information on the programs here.
Do NOT delay. Register NOW for the preview and the post-view conversation here.
Thursday, 15 April 2021, noon EDT - Washington, DC - Virtual Spy Chat with Chris Costa and Special Guest Ellen McCarthy - Virtual International Spy Museum Program
Join the experts at the Spy Museum for an online discussion of the latest intelligence, national security, and terrorism issues in the news. Spy Museum Executive Director Chris Costa, a former intelligence officer of 34 years, will lead the briefing. He will be joined by Ellen McCarthy, former Assistant Secretary of State for the Bureau of Intelligence and Research. Following their discussion of key issues, you'll be able to ask questions via our online platform. Sponsored by the Honorable Mary Beth Long, governing board member of International Spy Museum. Event is free - registration required. Visit www.spymuseum.org.
Thursday, 15 April 2021, 1800/6PM EDT; 1500/3PM PDT; 1200/12PM HST - GoToMeeting - Joint NIP-Naval Order of U.S. (NOUS) Book Club Event - "Between Five Eyes - 50 Years of Intelligence Sharing."
This Naval Intelligence Professionals Speaker Series features Anthony R. Wells, author "Between Five Eyes – 50 Years of Intelligence Sharing" discussing the history of the Five Eyes Community. More about the book and author here.
FORMAT: Video Conference – GoToMeeting
Please join the meeting from your computer, tablet or smartphone, beginning at 1750/5:50 EDT: https://global.gotomeeting.com/join/301329901
You can also dial in using your phone. United States: +1 (224) 501-3412 Access Code: 301-329-901
New to GoToMeeting? Get the app now and be ready when your first meeting starts: https://global.gotomeeting.com/install/301329901
As always, please mute your device/phone. Thanks.
AGENDA: RDML (Ret.) Cothron, NIP Chairman, Welcome, NIP Update; CAPT (Ret.) Bill Steagall, Commander NOUS, National Capital Commandery, Welcome; (~30 min) Anthony Wells Remarks; Q & A moderated by CAPT (Ret.) Bob Allen.
Please ask your questions in the GoToMeeting chat window or email your questions in advance/during the video conference to: bob_allen36@hotmail.com.
Thursday, 15 April 2021, 7pm EDT - Zoom Webinar - Spy Writing in the Real World by The Hayden Center of George Mason University
The Intelligence Community has found itself making real world headlines in recent years, but spying has been a staple in fiction writing for decades. Both non-spies and former intel officers have crafted spy thrillers that have won critical and popular praise. What are the differences between writing spy novels with or without previous intelligence experience? What are the challenges of writing realistic spy fiction? How much creative license is needed to make it exciting? How much realism is sacrificed in the process? How do real life spies react to spy fiction? How different is their response to that of the broader public?
Join Hayden Center senior fellow David Priess as he talks with authors Alma Katsu, Karen Cleveland, and Brad Thor about spy writing in the real world and about their exciting new novels.
This Hayden Center presentation is being recorded for use on the GMU website and social media.
Register for webinar here.
Friday, 23 April 2021, noon ‐ 5:30pm EDT - Virtual - Climate Change, Intelligence, and Global Security featuring John Kerry, James Clapper, Sue Gordon
Climate Change, Intelligence, and Global Security is a half-day conference co-sponsored by the Intelligence Project and the Environment and Natural Resources Program at Harvard Kennedy School's Belfer Center for Science and International Affairs along with the Center for Climate and Security.
The conference will take place directly following the April 22/23 Earth Day Leaders Climate Summit, and will emphasize the critical need for international cooperation and global leadership to collectively address the security threats posed by the climate crisis. With a keynote address by Special Presidential Envoy for Climate John Kerry, the conference will convene senior climate experts, current and former intelligence officers, and leaders in the private sector and academia to facilitate productive dialogue and innovative solutions for combating the climate crisis. The four panels will examine climate change from a security perspective, discuss the role of the intelligence community in monitoring and mitigating the threats posed by climate change, explore new ways of thinking about international cooperation, and examine the role and contributions of the private sector.
This conference is virtual, open to the public, and free to attend. Advanced registration is required. Please register individually for each session.
REGISTER HERE.
Speakers are:
Welcome & Opening Remarks (12:00-12:15pm) - Paul Kolbe, Director, Intelligence Project; Kristin Wood, Belfer Center Non-Resident Fellow; Erin Sikorsky, Deputy Director, Center for Climate and Security.
Session 1: An Overview of Climate Change as a Threat to International Security (12:15-1:15pm) - Panelists: Dr. John Holdren, Teresa and John Heinz Professor of Environmental Policy at the Harvard Kennedy School of Government, Co- Director of the School's Science, Technology, and Public Policy Program, Professor of Environmental Science and Policy in the Department of Earth and Planetary Sciences, and Faculty Affiliate in the Paulson School of Engineering and Applied Science; Sherri Goodman, Senior Strategist and Advisory Board member at the Center for Climate and Security, Chair of the Board at the Council on Strategic Risks, Secretary General of the International Military Council on Climate and Security, and Senior Fellow at the Woodrow Wilson International Center's Polar Institute and Environmental Change and Security Program; Vice Admiral Dennis V. McGinn, United States Navy (Retired), Former Assistant Secretary of the Navy for Energy, Installations and Environment; Moderated by Kristin Wood, Intelligence Project Non-Resident Fellow and Former Deputy Director of the Innovation & Technology Group at the CIA's Open Source Center
Session 2: The Role of Intelligence in Addressing Climate Change (1:30-2:30pm) - Panelists: The Honorable Sue Gordon, Former Principal Deputy Director of National Intelligence; Dr. Rod Schoonover, Founder and CEO of the Ecological Futures Group and former Director of Environment and Natural Resources at the National Intelligence Council (NIC); Erin Sikorsky, Deputy Director for the Center for Climate and Security, Director of the International Military Council on Climate and Security, and former Deputy Director of the Strategic Futures Group on the National Intelligence Council (NIC); Moderated by Paul Kolbe, Intelligence Project Director
Session 3: Looking Forward: The Future of Intelligence Cooperation and Climate Change (2:45-3:45pm) - Panelists: Lt. Gen. James R. Clapper, Former Director of National Intelligence; Rolf Mowatt-Larssen, Former Director of Intelligence and Counterintelligence,Department of Energy; Lt. Gen. Richard Nugee CB CVO CBE, Climate Change and Sustainability Strategy Lead for the UK Ministry of Defence; Moderated by Caitlin Chase, Intelligence Project Coordinator.
Session 4: The Private Sector View of the Climate Threat (4:00-4:50pm) - Panelists: Antoine Halff, Founder, Kayyros; Richard Jenkins, Founder & CEO, Saildrone; Mekala Krishnan, Partner, McKinsey Global Institute; Moderated by Paul Kolbe, Intelligence Project Director
Keynote Address: Secretary John Kerry, Special Presidential Envoy for Climate.
28 April 2021, 11 am - 5 pm EDT - Virtual - Revolution in Intelligence Affairs - COLLOQUIUM #1: Technological Drivers - Event sponsored by ODNI and NASEM
Revolution in Intelligence Affairs: Colloquium Series by National Academies of Sciences Engineering Medicine (NASEM) Intelligence Community Studies Board
Join us for a colloquium series on how emerging technologies will impact intelligence operations and the future strategic environment.
About this Event
Emerging and disruptive technologies are in the process of facilitating a revolution in intelligence affairs (RIA). These technological drivers will impact intelligence strategy, operational and organizational concepts, and contribute to shaping the future strategic environment. This revolution will create new threats, opportunities, and challenges for the U.S. Intelligence Community.
At the request of the Office of the Director of National Intelligence (ODNI), the National Academies will host a three-part subseries of virtual colloquia seeking to address these issues. The subseries will be split into three days, each with a different focus, throughout 2021.
COLLOQUIUM #1: TECHNOLOGICAL DRIVERS
Join us for the first colloquium on 28 April 2021 from 11am-5pm ET.
Featured Talks:
The Coming Revolution in Intelligence Affairs, Dr. Anthony Vinci, Center for a New American Security
Providing Security and Protecting Privacy on an Instrumented Planet , Mr. Robert Cardillo, The Cardillo Group
Augmenting Intelligence: The Future of AI in the IC, Mr. Dean Souleles, Ginosko Consulting
Autonomous Intelligence: Eyes and Ears Everywhere , Mr. Luke Shabro, U.S. Army Mad Scientist Initiative
Turning the Ship: Adapting to the RIA , Ms. Heather Williams, The RAND Corporation
REGISTER here. No cost to attend.
LOGIN INSTRUCTIONS will be supplied online and sent by email as the event approaches.
You will receive login instructions via email before the event.
The entire 3-part series is: Colloquium 1 on April 28, 2021 from 11am-5pm ET: Technological Drivers; Colloquium 2 on June 30, 2021 from 11am-5pm ET: Strategic, Operational, and Organizational Impact; and Colloquium 3 on August 25, 2021 from 11am-5pm ET: Future Strategic Environment
These events are part of an ongoing series of colloquia organized by the National Academies' Intelligence Community Studies Board and sponsored by the ODNI.
28 April 2021, 6 pm EDT - virtual - "Special Duties Pilot" - with Capt. John Billings & Gen. Norton Schwartz in this Conversation Series by The OSS Society
This "Oh So Social" conversation features former Air Force Chief of Staff Gen. Norton Schwartz interviewing another one of WWII's greatest heroes, Captain John Billings, a B-24 Liberator pilot who flew the real "inglourious basterd" - the OSS' Fred Mayer - into Nazi-occupied Austria in one of the war's most daring missions. You can register for this event by clicking here.
This conversation is being held on the same date that Billings's autobiography, "Special Duties Pilot: The Man Who Flew the Real "Inglourious Basterds" Behind Enemy Lines," is being published. You can purchase an advance copy of his book by clicking here.
If you wish to see the prior OSS Society video between The Honorable Ellen McCarthy, former Assistant Secretary of State for the Bureau of Intelligence and Research (INR), and Erika Robuck, author of "The Invisible Woman" about the OSS' Virginia Hall, one of the greatest heroes of WWII, it is available here.
13 May 2021, 11 - 12 a.m. EDT - Virtual via Zoom Webinar - The NCF Quarterly Program features Dr. Robert Spalding, BGen, USAF (Ret)
The National Cryptologic Foundation 2021 Spring Cryptologic Program will feature Dr. Robert Spalding, BGen, USAF (Ret) on "What's to Follow in 2021? From Coronavirus to Taiwan - the new Chinese Communist Party," and will focus on his recent and timely book, Stealth War: How China Took Over While America's Elite Slept.
According to Dr. Spalding, most Americans don't realize just how much influence the Chinese Communist Party (CCP) has had in the United States and the free world. Our democratic freedoms are being challenged by the CCP everyday, by infiltrating our universities, businesses, politicians, and our daily lives. 2020 has been a very hard year for most. How do we stop the CCP in 2021 and years to come?
Signed Book Discount Offer: Dr. Spalding has generously offered a discount for NCF program registrants who would like to purchase his book and have it signed. Upon registration for the program, you will receive a discount code in your confirmation email for 25% off when ordering his book via his website at www.generalspalding.com. The coupon code will be valid through 15 May 2021.
Registration: The cost to attend is free, but registration is required. Deadline to register is 11 May 2021. See link below to register. Your Zoom webinar details will be included in your registration confirmation email. If you are unable to attend the live presentation, there will be a recording of the program made available via their website.
Questions for Dr. Spalding: If you are unable to attend the live presentation, but would still like to submit a question for the speaker, please send them to ncmf@cryptologicfoundation.org prior to 11 May 2021. Those registering for the live program will have an opportunity to include questions with their registration.
Contact: If you have questions about this program, please contact the NCF office at 301-688-5436 or send an email to ncmf@cryptologicfoundation.org
REGISTER HERE
Friday, 14 May 2021, 1700-1900 EDT - Arlington, VA - Naval Intelligence Professionals Red Tie Reception
Please join your NIP shipmates at a reception and in person presentation of the Red Tie Award to Rear Admiral (Ret.) Sam Cox. A career intelligence professional with a passion for Naval history and an exceptional record of brilliant and relevant performance in peace, crisis, and combat, RADM Cox is known for his analytical insight, courage, integrity, and mastery of the facts. RADM Cox exemplifies the finest qualities of our Naval Intelligence Professionals. Congratulations RADM Cox!
The NIP Spring/Red Tie Presentation for 2021 is being held outdoors on the 3rd deck patio at the Army Navy Country Club in Arlington, VA. In accordance with the current Virginia health policy, masks are required, and attendance is limited to a maximum of 100 people.
Agenda: 1700-1830 - Socially-distanced Reception with food and drinks provided; 1830 -1900 - Red Tie Award Presentation and Remarks
Registration closes 7 May.
Event Location: Army Navy Country Club, 1700 Army Navy Drive, Arlington, VA 22202
NIP Members: O-4/GG-12 and above: $50**; NIP Members: Enlisted, O-3/GS-11 and below: $40**; NIP Non-Members: $70.
** NIP members need to Login with NIP username and password when registering to get member price.
Event registration will be online by credit card only - no registrations via mail.
To register online, do so here. Or go to NIP website here.
Questions? Contact NIP at naval.intelligence.pros@gmail.com
YOU DO NOT HAVE TO BE A NIP MEMBER TO REGISTER AND ATTEND. PLEASE NO WALKUPS.
Wednesday, 1 December 2021, TBD Time - Washington, DC - 2021 Webster Distinguished Service Award Event - International Spy Museum
The Spy Museum offers an evening of intrigue for the 2021 Webster Distinguished Service Award event. The award is an opportunity to recognize the extraordinary contributions of individuals in the Intelligence Community. This year's awardee is The Honorable Susan M. Gordon, former principal deputy director of national intelligence. Previous recipients of the Webster Distinguished Service Award include President George H. W. Bush (2017), Admiral William H. McRaven, USN (Ret.) (2018), and Gen. Michael V. Hayden (Ret.) (2019). Webster attendee and sponsor support fuels the nonprofit mission of educating the public about the history and craft of espionage and intelligence through youth and adult programs, community service, and the care of the Museum's unique collection of artifacts for generations to come. For tickets, sponsorship opportunities, or information about ways to support the International Spy Museum, please contact the development office at 202.654.2853. Additional details and online ticket link to follow. Visit www.spymuseum.org.
---
In addition to the new Royal Blue long sleeve shirts, and the gray long sleeve hooded sweatshirts, the AFIO Store also has the following items ready for quick shipment:
NEW: LONG and Short-Sleeved Shirts with embroidered AFIO Logo and New Mugs with color-glazed permanent logo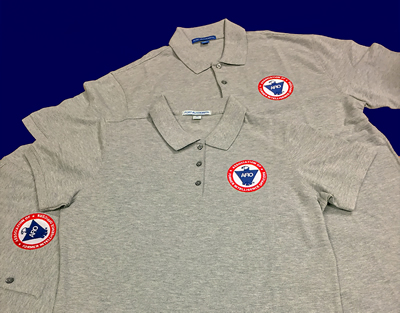 Show your support for AFIO with our new Polo Shirts. Be the first to buy these new, high quality, subtle heathered grey short sleeve shirts, and dark blue long sleeved shirts, of shrink and wrinkle resistant fine cotton with a soft yet substantial feel. They feature a detailed embroidered AFIO seal. Get a shirt for yourself and consider as gifts for colleagues, family, and friends. Only $45 each including shipping.
Sizes of (M) men or (W) women shirts; Small, Medium, Large, XL, XXL, and XXXL. At this time all orders will arrive as Short Sleeve shirts.
You may pay by check or credit card. Complete your order online here or mail an order along with payment to: AFIO, 7600 Leesburg Pike, Ste 470 East, Falls Church, VA 22043-2004. Phone orders at 703-790-0320. If interested in other shirt colors or sleeve lengths, contact Annette at: annettej@afio.com.



Available as a thank you for donations are the new AFIO logo face masks:
These soft, form-fitting, washable, non-medical grade fabric face masks have wide behind-the-ear elastics to make long periods of wear comfortable. Also easier to quickly put on or take off. Blue on outside, white inside. The masks do not have a nose wire but are sculpted, shaped, and sewn to fit most users. The all-cloth composition allows the masks to be washed or steam-disinfected without concerns over metal wires. The color logo is washable and a permanent part of the mask.
The masks, however, are not for sale. They are being offered strictly as a thank you gift to our donors.
For tax-deductible donations of $50 you will receive a receipt and our thank you gift of two of these newly-arrived face masks.
Donations of $100 receive four masks to be sent to the same address. Other amounts and split-shipments are available.
To donate now to support AFIO's programs and publications, please do so here.
We wish all members and donors continued good health, safe social distancing, and warmly appreciate any support you are able to provide the association.
---
AFIO Mug with color glazed logo. Made in America. Sturdy enough to sit on desk to hold pens, cards, paperclips, and candy.
This handsome large, heavy USA-made ceramic mug is dishwasher-safe with a glazed seal. $35 per mug includes shipping. Order this and other store items online here.
---
Guide to the Study of Intelligence and When Intelligence Made a Difference
"AFIO's Guide to the Study of Intelligence" has sold out in hard-copy.
However, it is available in digital form in its entirety on the AFIO website here.

Also available on the website here are the individual articles of AFIO's history project "When Intelligence Made a Difference" that have been published to date in The Intelligencer journal. More articles will be forthcoming in future editions.
---
Disclaimers and Removal Instructions
Weekly Intelligence Notes (WINs) are commentaries on Intelligence and related national security matters, based on open media sources, selected, interpreted, edited and produced for non-profit educational uses by members and WIN subscribers.
REMOVAL INSTRUCTIONS: We do not wish to add clutter to inboxes. To discontinue receiving the WINs:
a) IF YOU ARE A MEMBER - click here: UNSUBSCRIBE and supply your full name and email address where you receive the WINs. Click SEND, you will be removed from list. If this link doesn't open a blank email, create one on your own and send to afio@afio.com with the words: REMOVE FROM WINs as the subject, and provide your full name and email address where you are currently receiving them.
b) IF YOU ARE NOT A MEMBER, and you received this message, someone forwarded this newsletter to you [contrary to AFIO policies]. Forward to afio@afio.com the entire WIN or message you received and we will remove the sender from our membership and distribution lists. The problem will be solved for both of us.
CONTENTS of this WIN [HTML version recipients - Click title to jump to story or section, Click Article Title to return to Contents. This feature does not work for Plaintext Edition or for some AOL recipients]. If you wish to change to HTML format, let us know at afio@afio.com. The HTML feature also does not work for those who access their e-mail using web mail...however NON-HTML recipients may view the latest edition each week in HTML at this link: https://www.afio.com/pages/currentwin.htm
---
WINs are protected by copyright laws and intellectual property laws, and may not be reproduced or re-sent without specific permission from the Producer. Opinions expressed in the WINs are solely those of the editor's or author's listed with each article. AFIO Members Support the AFIO Mission - sponsor new members! CHECK THE AFIO WEBSITE at www.afio.com for back issues of the WINs, information about AFIO, conference agenda and registrations materials, and membership applications and much more!
(c) 1998 thru 2021. AFIO, 7600 Leesburg Pike, Suite 470 East, Falls Church, VA 22043-2004. Voice: (703) 790-0320; Fax: (703) 991-1278; Email: afio@afio.com
---
About AFIO | Membership Renewal | Change of Address | Upcoming Events | Chapter Locations | Corporate/Institutional Memberships | Careers in Intelligence Booklet | Guide to the Study of Intelligence | Intelligencer Journal | Weekly Intelligence Notes | To Make A Donation | AFIO Store | Member-Only Section | Code of Ethics | Home Page
---