---
CONTENTS
Section I - INTELLIGENCE HIGHLIGHTS
Section II - CONTEXT & PRECEDENCE
Section IV - Research Requests, Jobs, Obituaries
Other Upcoming Events from Advertisers, Corporate Sponsors, and Others
For additional AFIO and other Events two+ months or more... Calendar of Events
WIN CREDITS FOR THIS ISSUE: The WIN editors thank the following special contributors: rsy, ec, po, pjk, mh, km, gh, mk, rd, fm, kc, jm, mr, jg, th, ed, and fwr. They have contributed one or more stories used in this issue.

The WIN editors attempt to include a wide range of articles and commentary in the Weekly Notes to inform and educate our readers. However, the views expressed in the articles are purely those of the authors, and in no way reflect support or endorsement from the WIN editors or the AFIO officers and staff. We welcome comments from the WIN readers on any and all articles and commentary.

CAVEATS: IMPORTANT: AFIO does not "vet" or endorse research inquiries, career announcements, or job offers. Reasonable-sounding inquiries and career offerings are published as a service to our members, and for researchers, educators, and subscribers. You are urged to exercise your usual caution and good judgment when responding, and should verify the source independently before supplying any resume, career data, or personal information.]
If you are having difficulties with the links or viewing this newsletter when it arrives by email, members may view the latest edition each week at this link.
---
Other items brought to our attention:
Guidance to Inquiries for Aiding Those in Afghanistan Who Aided the IC and Other USG Entities and Are Now Seeking Asylum
The Afghan SIV Program
The U.S. State Department has established an expedited program to provide Special Immigrant Visas for Afghans Who Were Employed by/on Behalf of the U.S. Government
Please use or refer others to these links:
Afghan SIV Program - Steps to Apply
Special Immigrant Visas (SIVs) for Iraqi and Afghan Translators/Interpreters
Members are urged to not recommend any illegal means (e.g., invading country using northern or southern borders) or filing of fraudulent visa applications, dishonest statements claiming job awaits applicant, sham marriages or claims of U.S. relatives, false claims of U.S. assistance, with expectation there will be amnesty. The Afghan SIV Program above has been carefully organized to vet applicants to avoid admitting terrorists, extremists, criminals, and others who would not qualify for any U.S. Visa.
---
The people's panopticon — The promise of open-source intelligence It is a welcome threat to malefactors and governments with something to hide - From The Economist, 7 Aug 2021
The great hope of the 1990s and 2000s was that the internet would be a force for openness and freedom. As Stewart Brand, a pioneer of online communities, put it: "Information wants to be free, because the cost of getting it out is getting lower and lower all the time." It was not to be. Bad information often drove out good. Authoritarian states co-opted the technologies that were supposed to loosen their grip. Information was wielded as a weapon of war. Amid this disappointment one development offers cause for fresh hope: the emerging era of open-source intelligence (OSINT). New sensors, from humdrum dashboard cameras to satellites that can see across the electromagnetic spectrum, are examining the planet and its people as never before. The information they collect is becoming cheaper. Satellite images cost several thousand dollars 20 years ago, today they are often provided free and are of incomparably higher quality. A photograph of any spot on Earth, of a stricken tanker or the routes taken by joggers in a city is available with a few clicks. And online communities and collaborative tools, like Slack, enable hobbyists and experts to use this cornucopia of information to solve riddles and unearth misdeeds with astonishing speed. Article continues here.
---
Piecing Together the History of Stasi Spying: Researchers undertake the massive task of recreating millions of torn-up records that the East German secret police hoped to destroy
— by Annalisa Quinn, The New York Times, 10 Aug 2021
First the researchers cut the sacks lengthwise, careful not to disturb the jumble of torn paper inside. Then they go through the bags loosely, pulling out food scraps, trash or anything else mixed in during the chaotic rush to destroy evidence. They are working to reassemble, scrap by scrap, some 40 to 55 million pieces of paper that were torn up and stuffed into sacks by the East German secret police in the final days of the German Democratic Republic. When pro-democracy protesters stormed the secret police precincts in 1989 and 1990, they found officers at work inside, shredding, pulping and tearing documents by hand. The Ministry for State Security, known as the Stasi, was trying desperately to destroy the surveillance records it had collected over four decades of spying on its own citizens.
Article continues here.
---
Mystery Attacks on Diplomats Leave Scores of Victims but Still Little Evidence — While the leading theory in the "Havana syndrome" cases is directed microwave attacks, a classified session for senior government officials said months of investigation were inconclusive
— by David E. Sanger, The New York Times, 8 Aug 2021
President Biden's top aides were told on Friday that experts studying the mysterious illnesses affecting scores of diplomats, spies and their family members were still struggling to find evidence to back up the leading theory, that microwave attacks are being launched by Russian agents. The report came in an unusual, classified meeting called by the director of national intelligence, Avril D. Haines, according to several senior administration officials who spoke on the condition of anonymity. The purpose of the meeting was to assess the investigations and efforts to treat victims of the so-called Havana syndrome — the unexplained headaches, dizziness and memory loss reported by scores of State Department officials, C.I.A. officers and their families. While Mr. Biden has said almost nothing publicly about the episodes, the National Security Council has begun an urgent effort to address the issue, and two separate task forces are now in operation, one investigating the cause and led by the C.I.A. and another focused on finding commercial technology that could detect or block attacks. The subject of the Friday meeting of the Joint Intelligence Community Council was confirmed on Sunday evening by Timothy Barrett, the assistant director of national intelligence for strategic communications. Article continues here
---
Another reason to revile Christopher Steele's disastrous Trump dossier It was virus injected into the U.S. political process which caused great harm
By Daniel N. Hoffman, for CIA DO, in ANALYSIS/OPINION, The Washington Times, 29 July 2021
Court filings released last month revealed new details about how retired British MI-6 officer Christopher Steele horrifically mismanaged a network of Russian contacts in compiling his infamous anti-Trump "dossier." The bumbling ex-spy unwisely subcontracted the handling of his network to Russian national research analyst Igor Danchenko. Now, Mr. Danchenko's "sources" are saying he deceitfully mischaracterized them as having provided the juicy material for Mr. Steele's dossier. None of the Russians cited by Mr. Danchenko had access to Kremlin insiders and decision-makers. They provided none of the salacious, unproven allegations against Mr. Trump in the dossier, even as Mr. Steele was claiming Russia was secretly helping Mr. Trump win the 2016 presidential election. Article continues here
---
---
The Latest... from Jeff Stein's "SpyTalk" series...
Aug 4: "Secret Agents, Threats, Fake News Target Ethiopia Regime's Critics in US" by Jeff Stein
Pro-regime thugs are harassing Tigray exiles and critics of Ethiopia's 'genocide'

Aug 1: "FBI's Game Plan on Violent Extremists Needs a Review" by Jeff Stein
Informants push extremist plots along while Jan. 6 warnings were buried

30 July: "DIA Medical Sleuth Busts China Biowarfare Plot Theory" by Jeff Stein
Top former expert in little known DIA medical intelligence unit coughs on conspiracy theory

July 29: "Early Warning Hits and Misses" by Jeff Stein
The FBI's epic fail on white extremists, but a win for medical sleuthing

July 22: "Families of Spies" by Jeff Stein
From Saigon to Kabul to Israel and at home

Readers, for a brief time, can subscribe for free for articles and weekend podcasts here.
---
The Arkin Group's Aug 6 "In Other News" letter to private clients by former Operations Officer Jack Devine features...
Philippines recommits to defense agreement with the United States after China comes up short.
Recent extraterritorial attacks on Belarusians aligns with dangerous trend of transnational repression.
Easing of Covid restrictions primes law enforcement for potential criminal exploits at international borders.

In their July 31 "In Other News" letter were these topics:

European Union proposes new anti-money laundering authority with strong focus on reducing anonymity.
With new leadership in Israel and Iran, Russia is playing a deliberately ambiguous game in Syria
Chinese operations in Pakistan could be increasingly targeted as the U.S. withdraws from Afghanistan

Follow link here to read analyses and predictions given to their private clients on the topics above.
Also, see June 15 Daily Beast article on Putin and Biden by Devine here.

Recently released was Jack Devine's Spymaster's Prism. AFIO's interview with him about this book appears in this issue at top of right column of this issue of the WINs. You can view the video at this link. Or hear the podcast here.

---

Inside the SCIF:

Inside the SCIF by JJ Green, WTOP - Issue #124, 5 Aug has details on Update on OIG Report on FBI Leaks on 2016 Election; DOJ OIG Advisory on Use of Photos of FBI Employees in Undercover Operations; DHS National Whistleblower Day Announcement - Is it related to Jan 6 Intel Failures?; Verifying NK Denuclearization; U of Tenn Professor Faces Second Espionage Trial; Release of DIA ten-year Strategy; Motivations of Sailor Accused of Massive Ship Fire; and more.

The latest Target USA Podcast 288 is on: The U.S. Faces Daunting Cyber Security Challenges
Eric Goldstein, Executive Director of Cyber Security at CISA, and former National Security Council lawyer, John Dermody talk about the threats, challenges and solutions.

And "The Hunt" explores: Federal authorities working to stop extremists seeking materials to make bombs.
The Cybersecurity and Infrastructure Security Agency (CISA) and the FBI have teamed up to launch Operation Flashpoint — a program to help retailers detect signs that people or groups may be trying to obtain chemicals to make bombs. J.J. Green talks with Chuck Leas, a section chief in the Office for Bombing Prevention at CISA, who explains how Operation Flashpoint works.

---
---
---
Just released to members-only...
The Pervasive and Existentially Disruptive Cyber Threats the U.S. Faces from Adversaries

Released 10 August 2021
James Gosler, former Director, CIA's Clandestine Information Technology Office
on "Cyber Threats and Mitigation"
Presentation of Friday, 16 June 2021 by James R. Gosler, former Director, CIA's Clandestine Information Technology Office, on "Cyber Threats and Mitigation"; Host: James Hughes, AFIO President and a former CIA Operations Officer.
TOPIC: Jim Gosler discusses the pervasive and existentially disruptive cyber threats the U.S. faces from adversaries. He describes many factors required to warn, educate, prepare for, and possibly mitigate these growing threats.
The presentation runs 44 minutes.
The three Defense Science Board reports cited in the presentation are available as follow:
Resilient Military Systems and the Advanced Cyber Threat, Jan 2013, https://dsb.cto.mil/reports/2010s/ResilientMilitarySystemsCyberThreat.pdf
Cyber Deterrence, Feb 2017, https://dsb.cto.mil/reports/2010s/DSB-CyberDeterrenceReport_02-28-17_Final.pdf
Cyber as a Strategic Capability–Executive Summary, June 2018, https://dsb.cto.mil/reports/2010s/DSB_CSC_Report_ExecSumm_Final_Web.pdf
Access the Gosler Interview here or click above image.
---
Prior Videos in the "AFIO Now" Series
View the publicly-released ones on our YouTube page, or listen to the podcast version at the links below.
PODCASTS: AFIO NOW content is also available on various podcasting platforms. Search for 'AFIO Podcast' for a selection of public released videos on Podbean; iTunes; Google; Spotify; Amazon Music; Amazon TuneIn + Alexa; iHeartRadio; and Pandora
Or log into the Member-only area to view private and public interviews.
---
---

Tuesday, 14 September 2021, 10 - 11:30 a.m. EDT - Zoom Webinar Event
Virtual Zoom Webinar panel discussion with Former Principal Deputy Directors of National Intelligence.
Speakers: Gen Michael V. Hayden USAF(Ret), Dr Donald Kerr, Stephanie O'Sullivan; Moderator Greg Myre of NPR.
No charge to attend.
More information or to register, do so at cryptologicfoundation.org
Details on the exciting upcoming Virtual Education Programs of the National Cryptologic Museum Foundation are available on their new webpage here
Other NCF Events can be found here on NCF website here, and CCH website here.
---
---
---
Newly Released, Overlooked, or Forthcoming Books
The Rise and Fall of Osama Bin Laden
by Peter L. Bergen
(Simon and Schuster, Aug 2021)
CNN National Security Analyst delivers a biography of a man who set the course of American foreign policy for the 21st century, and whose ideological heirs we continue to battle today.
Bergen provides a reevaluation of the man responsible for precipitating America's long wars with al-Qaeda and its descendants, capturing bin Laden in all the dimensions of his life: as a family man, a zealot, a battlefield commander, a terrorist leader, and as a fugitive. The book captures his many contradictions: the son of a billionaire, yet insisted his family live like paupers. He adored his wives and children, depending on two of his wives, both of whom had PhDs, to make important strategic decisions. Yet he also brought ruin to his family through his fanatic religiosity and willingness to kill thousands of civilians in the name of Islam. He inspired deep loyalty yet, in the end, his bodyguards turned against him. And while he inflicted the most lethal act of mass murder in United States history, he failed to achieve any of his strategic goals.
The lasting image we have of bin Laden in his final years is of an aging man with a graying beard watching old footage of himself, just another dad flipping through the channels with his remote. In the end, he died in a squalid suburban compound, far from the front lines of his holy war. And yet his jihadist ideology trudges on. Includes interviews with family members and associates, and recently unearthed documents.
Book may be ordered here.
---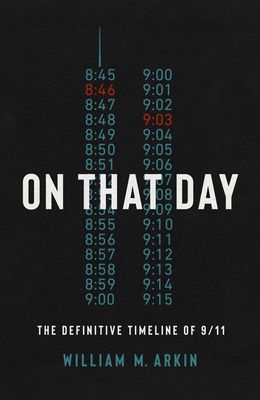 On That Day: The Definitive Timeline of 9/11
by William M. Arkin
(PublicAffairs, Aug 2021)
A damning account of the federal government's response to 9/11 and the two-decade war that ensued. A maddening, essential study in misinformation, jingoism, bad intelligence, and other hallmarks of the recent American past. — Kirkus
9/11 was a unique challenge to the USA, a threat from a "rogue actor" that caught the nation utterly unprepared. William Arkin, veteran military and security analyst and commentator, has reconstructed the minute-by-minute narrative of the day as the nation's airlines, air control systems, military, air force and central government went from a state of absolute confusion and stunned disbelief until they rallied and began to coordinate the largest shut-down of the US from all outsiders. It was a day of absolute heroism and terrible errors, of heartbreaking final messages and incoherent orders, of misunderstandings and brilliant improvisations. It will change the way you see some of the protagonists of that exceptional, terrible day.
Above all, revisiting the intimate details of the day allows Arkin to ask and answer some vital questions: What did we learn from 9/11?  And are we any more likely to be ready if something like it ever happened again? 
Book may be ordered here.
---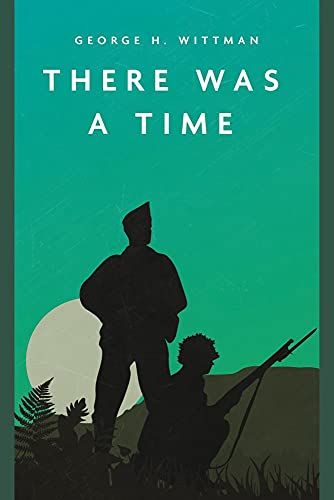 There Was a Time [historical fiction by CIA Case Officer]
by George H. Wittman
(Casemate Publishers, Aug 2021)
It is the summer of 1945, the last and very dangerous days of World War II. The Office of Strategic Services is in close, cooperative contact with Ho Chi Minh and the fighting cadre of the Viet Minh, working against the Japanese. In the closing months of the war, the OSS parachute a team of special operations soldiers into Tonkin, northern Viet Nam.
Led by Major John Guthrie and his second-in-command, Captain Edouard Parnell, both experienced officers from their earlier assignments in occupied France and Belgium, the team is tasked with working with Ho Chi Minh against the Japanese in the midst of various groups vying for control of Indochina. Guthrie and his team have to adapt to the entirely different context of Vietnamese politics in order to encourage communist operations against the Japanese. Guthrie in particular, struggles with both his personal and professional conflicts. The relationship that Guthrie and the rest of the OSS team develops with the Viet Minh leadership is of distinct annoyance to French ambitions to regain control of their colony, Indochina.
Based on the little-known true story of American and Viet Minh collaboration in 1945, this novel challenges the later-accepted dogma of both those supporting and those opposing the American role in the Viet Nam conflict. This novel notes how what is seen at a later time is often inadequate to understand what actually went on. Its contemporary relevance is simply a mirror of what is always the case in international affairs: today's enemies can and may be tomorrow's friends - and most importantly, the reverse is true also.
Wittman died November 2020 prior to the release of his now final work. His obituary appeared in the WINs of 1 December 2020.
Book may be ordered from publisher here. Or from Amazon here.
---
---
The Cyberlaw Podcast and Steptoe Cyberblog
With its sometimes contrasting insights, the podcast and cyberblog serve up opinionated and provocative thoughts on the issues — especially cybersecurity and privacy — that arise at the intersection of law, information technology, and security.

Stewart Baker is the host and editor of Steptoe's Cyberblog and Podcasts.


Stewart served as the first Assistant Secretary for Policy at the Department of Homeland Security where he set cybersecurity policy, including inward investment reviews focused on network security. He is the author of Skating on Stilts – Why We Aren't Stopping Tomorrow's Terrorism, a book on the security challenges posed by technology and a blog of the same name. He also served as General Counsel of the National Security Agency. Stewart was a law clerk to Justice John Paul Stevens on the US Supreme Court and the Honorable Frank M. Coffin of the US Court of Appeals for the First Circuit. He also serves as the Chairman of AFIO.
The Cyberlaw Podcast
Episode 371: Fighting Ransomware by Pushing All the Buttons on the Dashboard
July 19, 2021
Episode 370: Should We Add "Jumping U.S. Red Lines" to the 2021 Olympics?
July 12, 2021
Episode 369: This Episode Could Be Worth $1,000 to the ACLU
July 6, 2021
Episode 368: The Trustbusters Come for Big Tech
June 28, 2021
Episode 367: President Biden's European Cybertour
June 21, 2021
Episode 366: Are Stealth Quotas the Cure for AI Bias?
June 14, 2021
Episode 365: Transatlantic Drift
June 7, 2021
Episode 364: Does Good Ransomware Policy Have To Be Boring?
June 1, 2021
Episode 363: Is Apple Storing its Dorian Gray Portrait Behind the Great Firewall?
May 24, 2021
Episode 362: The Biden Cybersecurity Executive Order – CISA as CISO
May 17, 2021
Episode 361: Computers Will Soon Be Hacking Us. If They Aren't Already.
May 10, 2021
Episode 360: The Robot Apocalypse and You
May 3, 2021
Episode 359: The Cybersecurity Benefits of Desk Drawers
April 26, 2021
Episode 358: Cybersecurity Issues On The Congressional Agenda
April 19, 2021
Episode 357: Conservative Catfight
April 12, 2021
Episode 356: Who Minds the Gap
April 5, 2021
Many more episodes are available here.
---
Visit, Follow, Subscribe to AFIO's LinkedIn, Twitter, and YouTube pages to receive updates.
Members who use social media or wish to explore, will find new announcements and other material on AFIO's Twitter and LinkedIn pages. New videos on our YouTube page appears below as well.
Access them here: LinkedIn, Twitter, and YouTube. By following or subscribing on those sites, one can be notified as new material appears.




NEW — PODCASTS: Are you too busy to sit and watch an entire "AFIO Now" episode above on YouTube? Would you rather listen in your car or while accomplishing other tasks? Now you can quickly download or stream episodes on your favorite podcasting platform. AFIO is now available on 8 podcasting platforms. Search for 'AFIO Podcast' for a selection of the interviews above (public released ones) on Podbean; iTunes; Google; Spotify; Amazon Music; Amazon TuneIn + Alexa; iHeartRadio; and Pandora.
---
Guide to the Study of Intelligence and When Intelligence Made a Difference

"AFIO's Guide to the Study of Intelligence" has sold out in hard-copy.
However, it is available in digital form in its entirety on the AFIO website here.

Also available on the website here are the individual articles of AFIO's history project "When Intelligence Made a Difference" that have been published to date in The Intelligencer journal. More articles will be forthcoming in future editions.

---

---

---

One of the special benefits of membership in AFIO: access to CIA's inhouse gift shop — the EAA Store.

It requires a quick preapproval process described here to all newly joined and current AFIO members. And then allows you to purchase online their unusual logo'd gift items for self or colleagues. At left is the latest photo EAA released on July 28 featuring some of their newest items:

---
---
Section I - INTELLIGENCE HIGHLIGHTS

Israel's Mossad Intelligence Agency is Seeking to Hire a Crypto Expert. Israel's national intelligence agency, Mossad, has posted a job listing for an expert in cryptocurrencies who has at least three years of experience in the fintech space.

The candidate should have "in-depth technological understanding and expertise in the world of fintech, e-commerce, DEF and digital currencies," according to the outlined requirements.

The role's description succinctly indicates that it includes "leading, initiating, planning and accompanying systems development activities" - sufficiently open for local media to proffer its own interpretation of what exactly Mossad may be seeking a crypto expert for.

Major Israeli news site Ynet, for example, has claimed that Mossad is likely to be interested in using cryptocurrencies for making anonymous payments to its agents or for the purchase of equipment. [Read more: Huillet/Cointelegraph/9August2021]

Germany Says Wife of Man Believed to be Double Agent Also Helped Spy for China. Federal prosecutors in Germany have charged a German Italian woman with espionage, alleging she worked with her husband to feed information to Chinese intelligence for years.

In a statement Monday, prosecutors said the woman, identified only as Klara K., is the wife of Klaus L., a retired German political scientist. He was arrested last month on suspicion of spying for China for almost a decade, using the political contacts he built up at a think tank.

At the time of his arrest, German public broadcaster ARD reported that Klaus L., who is in his 70s, had also been an informant for Germany's foreign intelligence agency, the BND, for half a century. He was well-connected with senior officials in the spy agency, according to ARD.

A BND spokesman said it "does not comment on matters that relate to any intelligence information or activities." [Read more: Pannett/WashingtonPost/3August2021]

CIA Chief Visits Israel Amid Iran Tensions. US Central Intelligence Agency chief William Burns was due in Israel Tuesday for talks on common foe Iran, as rising tensions overshadow talks on restoring a landmark nuclear deal.

A spokesman for Prime Minister Naftali Bennett gave no details of the agenda for the CIA chief's talks in Israel.

But the Walla News website said he would discuss Iran's nuclear programme and its activities in the region with both Bennett and his Israeli counterpart David Barnea. [Read more: AFP/10August2021]

South Korea: Espionage Allegation Escalates to Threaten Moon, Liberal Ruling Party. The Moon Jae-in administration and the liberal ruling Democratic Party of Korea (DPK) are facing a new political threat, after a group of activists accused of espionage was found to have contacted Moon and the party before he was elected as President.

The conservative opposition bloc is already labeling this incident an "espionage scandal," demanding an explanation from the Moon government and suggesting that the issue could cause a stir in the upcoming presidential election slated for next march.

On Monday, the Cheongju District Court issued arrest warrants for three of the four activists who are based in the city, on charges of violating the National Security Act. [Read more: Nam/KoreaTimes/7August2021]

Canadian Faces Spy Ruling as Huawei Decision Looms. A Canadian entrepreneur who was charged with spying after his government arrested an executive of Chinese tech giant Huawei faces a possible verdict Wednesday as Beijing steps up pressure on Canada ahead of a court ruling on whether to hand over the executive to face U.S. criminal charges.

Michael Spavor and another Canadian were detained in China in what critics labeled "hostage politics" after the executive's 2018 arrest in connection with possible violations of trade sanctions on Iran. On Tuesday, a court rejected the appeal of a third Canadian whose prison term in a drug case was abruptly increased to death following the executive's arrest.

Canada and other governments including Australia and the Philippines face growing Chinese pressure including trade boycotts in disputes over human rights, the coronavirus and territorial claims. Washington has warned Americans they face "a heightened risk of arbitrary detention" in China for reasons other than to enforce the law. [Read more: McDonald/TheDiplomat/10August2021]


---
Section II - CONTEXT & PRECEDENCE

Spies, Fish and the Devil Star in Podcast 'The Town That Knew Too Much.' In a Cheltenham shopping arcade hangs The Wishing Fish Clock, from which is suspended a weird rotating fish that emits bubbles and plays a song every hour as wooden mice pop their heads out of tiny doors. The clock is the work of artist Kit Williams, who is also the author of Masquerade, a 1979 picture book that sold a million copies and sparked one of Britain's most legendary, not to say obsessive, treasure hunts. The tale of Williams, the mystery woven into his children's fable and the engraved golden hare that he buried (under a cowpat, as it happened) is told in a new series, The Town That Knew Too Much.

This seven-part podcast series is less about people than a place, a concept that is rare outside the bounds of travel podcasting. It is the creation of Nick Hilton, a producer and journalist, and the sequel to last year's The Town That Didn't Stare, about the peculiar history of East Grinstead in Sussex. The series was intriguing and the story well told but, having been created in the early stages of lockdown, the production was on the fuzzy side. The follow-up, on Cheltenham, the Gloucestershire town on the edge of the Cotswolds, is a more polished affair, though the spirit of the original remains the same: to delve below the surface of a genteel British town and show how all is not quite what it seems. [Read more: Sturges/FinancialTimes/9August2021]

A Remarkable Work of Family History Vividly Recreates the Anti-Nazi Resistance in Germany. The title of Rebecca Donner's astonishing new book is a line by Goethe, from a volume of his poems that had been smuggled into the cell of Mildred Harnack - an American woman who was shackled in a Berlin prison, awaiting her death sentence by the Nazi regime. On Feb. 16, 1943, the day she would be taken to the execution shed and beheaded, a chaplain found Mildred hunched over the poems, scribbling in the margins. The heavy gothic font of the German original was accompanied by the ghostly script of her English translation, written with a pencil stub.

Donner includes an image of that page in "All the Frequent Troubles of Our Days," a book about Harnack's life and death that turns out to be wilder and more expansive than a standard-issue biography. (A diligently researched book about Harnack was published two decades ago, by Shareen Blair Brysac, titled "Resisting Hitler.") Donner is Harnack's great-great-niece, so this is a family history too. It is also a story of code names and dead drops, a real-life thriller with a cruel ending - not to mention an account of Hitler's ascent from attention-seeking buffoon to genocidal Führer. [Read more: Szalai/NewYorkTimes/3August2021]

Podcast: This Week in History: The Execution of Ethel Rosenberg. FBI agents arrested a mother of two in a cloak and dagger style sting outside a government building in New York, charging her with conspiracy to commit espionage. Ethel Rosenberg was found guilty, and in June 1953, Ethel and her husband Julius would become the first American civilians to be executed for espionage in peacetime. Indira Naidoo delved deeper into the story with Anne Sebba, author of a new book called Ethel Rosenberg, A Cold War Tragedy. Why The Rosenbergs conspired to give the USSR information that could have helped them build an atomic bomb. [Listen: Naidoo/ABC/8August2021]

The Strait of Gibraltar Bunkers that Franco Never Used. Larissa Swirski and Gabriel Riera probably never met, although both survived that dangerous and intriguing scenario that was the Strait of Gibraltar during World War II; she, as the Queen of Hearts, a double agent for the Nazis and the Allies in Gibraltar's espionage network, which the British christened Spy Row; he, as a prisoner forced to eat crushed snails to avoid starvation while digging a huge tunnel under the Carbonera mountain range to be used in a German offensive against the Rock that never transpired. Although the history books dwell on other exploits, a tense and discreet battle was fought in Cádiz in the early 1940s; one of frustrated military operations, spies and battalions of prisoners who built more than 640 bunkers and various military infrastructures that were soon to be abandoned to their fate along the coast of Cádiz.

Bunkers, anti-aircraft guns, command posts, tunnels and even a hidden road to Algeciras are living witnesses to a war fought in one of the essential geostrategic corners of the world in which no shots were fired. [Read more: Cañas/ElPais/6August2021]

Nazis, Intimidation, and Espionage: How a New Orleans Mansion Became Part of a WWII Conspiracy. It sounds like the plot of a Hollywood summer blockbuster - a vast campaign of espionage and propaganda taking place on U.S. soil that must be stopped before the fabric of America unravels. But this story isn't fiction. From the 1930s to 1941, members of the National Socialist German Workers' Party were secretly building institutions to spread Adolf Hitler's policies and actively attempting to turn American public opinion against entering any upcoming war.

Part of the conspiracy was enacted right here in New Orleans. It wasn't some cliche of passing pamphlets from a seedy backroom with dim lighting and cackling villains. Rather, the plan was carried out from a stately St. Charles mansion where Baron Edgar von Spiegel, German Consul to New Orleans, undertook his campaign of intimidation, espionage, and misinformation. [Read more: Taylor/VeryLocal/5August2021]

Witold Pilecki: The Polish Spy Who Led a Resistance Against the Nazis. Like many of the heroes of the Warsaw Uprising, nearly no one in the Anglosphere has ever heard of Witold Pilecki, a deeply Catholic member of the Polish resistance. However, his heroism is inspiring far beyond his actions during the largest single act of Polish resistance to the Nazi regime.

When we speak of resistance against the Nazis by occupied nations, we speak almost exclusively of the French and sometimes of the Dutch. Rarely mentioned are the Poles, despite the fact that they had a functioning government in exile coordinating with an underground government on the ground with its own military arm, the Polish Home Army.

As part of his duties in the Polish Home Army, Pilecki volunteered for service as a prisoner in Auschwitz so that he could gather intelligence. This made him one of the first people to report on Nazi atrocities during World War II.

Unfortunately, like many others, he picked the wrong side of the coin in Eastern Europe, backing the liberal-democratic government of Poland against the Communist government-backed in Moscow. This meant that much of his heroism was unknown until the 1990s, after the fall of Communism and the release of documents that had been suppressed by the Communists for decades. [Read more: Ricochet/4August2021]



---
The Cold War is Over - Or Is It? The Cold War has been over for more than three decades following the fall of the Berlin Wall in 1989 and the Soviet Union's later collapse. But with the emergence of China and Russia as potential adversaries, the specter of a new cold war cannot be dismissed. This new cold war, if it materializes, would be profoundly different than the first one for several reasons.

First, it will be waged across a broader front in which so-called non-kinetic means will be far more prominent vis-a-vis trade, investment and economic competition, social media, the internet, and other forms of espionage, propaganda, disinformation and misinformation.

Second, unlike the old Soviet Union, China is an economic superpower whose GDP may one day eclipse that of the U.S. Third, both China and Russia have formidable, highly capable militaries, in some cases with technologies equal to America's. [Read more: Ullman/TheHill/5August2021]

The Pegasus Project Has Exposed the Magnitude of Mexico's Surveillance Problem. In Mexico, it has always been said that spying is the true national sport. Journalists and politicians of all levels joke about 'birds on the wire' when they speak on the phone; some delight in insulting the spies listening in on their private conversations.

By revealing the massive dimensions of an indiscriminate espionage programme run with a technological tool that could well be considered a deadly weapon in the wrong hands, the Pegasus Project has reminded Mexicans that communications interception is no laughing matter. And boy, did the spyware created by NSO Group fall into the wrong hands.

Mexico ranks first, by far, within the data accessed by the consortium of more than 80 journalists and 17 media organisations led by Forbidden Stories and Amnesty International, who collaborated in the project: there are more than 15,000 records of potential Mexican targets in a universe of 50,000 numbers.

Among the potential victims of espionage are more than 50 people directly linked to the current president of the republic, Andrés Manuel López Obrador (AMLO). These include his wife, his brothers, almost all of his cabinet, close collaborators and even his cardiologist. In addition, there all kinds of figures in the political sphere, from right to left, who for decades were in opposition. [Read more: Hidalgo/TheWire/5August2021]

The Manhattan Project and NYC's Role in the Hiroshima Bombing. August 6th marks the day that the United States dropped an atomic bomb on Hiroshima, Japan. Three days following the initial atomic bombing that killed an estimated 66,000 people on impact and injured another 69,000, the U.S. dropped a second atomic bomb on Nagasaki, Japan. This bomb would kill 39,000 on impact. Six days after the second deadly bombing, Emperor Hirohito surrendered, effectively ending World War II. However, the journey toward these fateful days took a significant step on December 28, 1942, when President Franklin D. Roosevelt approved the Manhattan Project. Although the name of the project hid its end goals - to develop a nuclear weapon for the United States it did not mask a primary research location: New York City. [Read more: Druckman/UntappedCities/6August2021]

Signing of Munich Agreement Led to Father's Release from Sentence of Hard Labor. I was recently recounting to the members of our Williamsburg Barnes & Noble bookstore salon the story of my father's 1938 spy trial. It took place 80 years ago.

They had many questions to ask.

The story, as I had recounted it in the first part of this column last week began when the beautiful wife of the harnessmaker in our town fell in love with a Hungarian Army officer.

They become lovers and she became a high-value spy for the Czechoslovak intelligence agency. [Read more: Shatz/VirginiaGazette/10August2021]

What are the Taliban's Next Moves? The Biden administration is pressing ahead with the planned withdrawal of international forces from Afghanistan. Early gestures by the Taliban suggested it was willing to demobilize in exchange for a negotiated settlement. Late last year, the group even agreed to a set of rules for negotiating a comprehensive cease-fire.

But recent military operations have changed assessments of what is likely to follow the final withdrawal of U.S. troops on Sept. 11. In recent weeks, the Taliban has led an unexpected offensive, seizing dozens of districts and cities in Northern Afghanistan - along with Afghanistan's main border crossing with Tajikistan. As the Taliban quickly moved across the region, local leaders coordinated peace agreements and Afghan troops exchanged U.S. vehicles and weapons for safe passage.

In response, the U.S. intelligence community has updated a previous, and more optimistic, assessment of the security transition, noting that the Afghan government might collapse within six months of withdrawal. [Read more: WashingtonPost/10August2021]


---
Section IV - Research Requests, Jobs, Obituaries
Seeking Those With Knowledge of 1980s Monitoring of Soviet Tests (Operation Chestnut)
Related to US/Chicom cooperation in joint monitoring Soviet missile/nuclear testing 1980s (Operation Chestnut), seeking DEFSMAC staff with knowledge of such operations. This is for research support on this cooperation.
Lend your expertise/experiences to: Emil Levine, Captain, USNR, RET (NFOIO, SECGRU) emil.levine@a1.net.
Searching for Panelists - Society of Military History 2022 Annual Conference
From Philip Shackelford: I am looking to put together a panel revolving around airpower, intelligence, or early Cold War - ideally a combination of the three - for the 2022 Society of Military History (SMH) annual conference, taking place in Fort Worth, TX April 28 - May 1, 2022. SMH is an international society focused on "stimulating and advancing the study of military history."Learn more here.
My email is pshackelford@southark.edu, and I'm happy to put together the required proposal paperwork, etc. Let me know if you are interested and feel free to share with others.
Seeking Former CIA Officers who knew Abu Bakr al-Baghdadi, others in ISIS, to assist Israeli Journalist with Documentary
My name is Hadar Gat, I'm a journalist from Israel, currently working on the second season of a documentary series about the most influential Arab leaders in the middle east.
It's an international production, broadcasted on Kan Israeli channel (IPBC).
The documentary series provides a profound profile analysis of leaders in the Arab world, and is one of the leading document series of IPBC.
Each episode is covering the history and profile of a different leader, and reviewing his personality and actions from every aspect possible. Especially the way he was grasped through the eyes of different Intelligence agencies.
I'm contacting [AFIO] because in one of the episodes we are focusing on Abu Bakr al-Baghdadi, and ISIS itself. Therefore, we wish to interview former CIA officers or agents who are relevant to that matter. I'm available for any questions and more details, so feel free to contact me at any time.
Looking forward to hearing from you.
Replies to Hadar Gat, 972-50-4800-306 or hadargat8@gmail.com
US-China co-operation against the Soviets in the 1980s. Seeking Intelligence Officers who worked in Western China on joint monitoring stations dedicated to Soviet missile sites
Jane Perlez, the NYTimes bureau chief in Beijing, is seeking officers who worked in China on the joint monitoring stations in Western China that were dedicated to the Soviet missile sites. It is for a podcast that deals with the China-US opening by Richard Nixon. The program, run in part by the Science and Technology division, featured in the excellent book "The Wizards of Langley" by Jeffrey Richelson, "The Great Wall" by Patrick Tyler, and in some press accounts.
To respond, email her at janeperlez@gmail.com; twitter: @janeperlez; +1-646 884 4949
ISO former CIA officers w/ Czech experience
I'm the daughter of Dagmar Stapleton who worked on the Czech desk from around '74 to '94. Am hoping to talk with former Prague case officers, station chiefs, deputy station chiefs from that time period for a research project.
Please contact me at viveca.novak@gmail.com. [Viveca Novak is an American journalist who has worked as the editorial and communications director at the Center for Responsive Politics since 2011. She was previously a Washington correspondent for Time and The Wall Street Journal. She is a frequent guest on CNN, NBC, PBS, and Fox.]
Researcher Seeking Your Experiences Working in Western North Carolina on DoD/NSA Rosman Research Station in 1980s.
I'm Craig Gralley, a 34-year veteran of CIA and currently a freelance writer in the Brevard, NC area. I'm also a volunteer at PARI - the Pisgah Astronomical Research Institute in nearby Rosman. PARI is now dedicated to STEM education and research, but has had a storied history that is largely unknown to the people of this mostly underserved area of rural North Carolina. I have volunteered to write PARI's history. NASA first constructed the site in 1962 as a ground station for a variety of unmanned scientific satellites. AFIO members might remember when DoD/NSA took over the site in 1981 and called it the Rosman Research Station (NSA's participation at the site was declassified nearly a decade ago). NSA gave up the site in 1995.
I am receiving NSA's support through a FOIA request to declassify more information about the facility. My goal is to make this history less about satellites and their capabilities and more about what it was like working in a remote location in western North Carolina. Personal stories, things that could have gone wrong but didn't (or did), success stories—humorous/serious anecdotes—all of it is welcome. My goal is to take the edge off of a dry history and give the Rosman ground station a human face.
I'd be glad to attribute anything that comes to me in the way desired by the contributor.
Thanks for your help.
REPLIES to Craig R. Gralley, 703.581.3440 (mobile), craig.gralley@gmail.com. More about Craig at www.craiggralley.com
Seeking Officials Who Served USSR/Russia 1965-2015 and Other Posts - with knowledge of, or exposure to, Microwave/Directed Energy Weapons
Prominent D.C. Attorney seeking former intel officers or others who served in USSR/Russia during 1965-2015, as well as anyone who has information concerning possible microwave/energy directed weapon exposure of U.S. officials by foreign adversary.
Replies to Mark S. Zaid Esq, mark@markzaid.com. Or call him at (202) 454-2809.
More information about Mr. Zaid at MarkZaid.com.
LUNINT Flight Software Engineer - Washington, DC area location - for Rhea Space Activity
The Flight Software Engineer is responsible for providing technical expertise on the needs of the proposed system, contributing in technical discussions with a multidisciplinary team, and developing navigation software for spacecraft operating throughout cislunar space. As part of our small team, you will be our in-house flight software expert, and be instrumental in the development of novel flight control software for the USSF/USAF.
MANDATORY QUALIFICATIONS
1. Deep experience with coding in C and/or C++.
2. Deep experience with coding MATLAB/Simulink.
3. Familiarity or experience in several of the following areas: orbital dynamics, astrodynamics, manifold dynamics, guidance, navigation, control, avionics, Kalman filtering, optics, and systems engineering.
4. Completed M.S., Ph.D, or equivalent in a STEM field.
5. Able to relocate to the Washington D.C. metro area no later than September 2021.
6. Ability to travel within the continental United States and to various international destinations
7. Must be a U.S. citizen or national, U.S. permanent resident (current Green Card holder), or lawfully admitted into the U.S. as a refugee or granted asylum.
Full job description here.
---
Robert Joseph Blandford, 89, a CIA Analyst, died 23 July 2021 in Raleigh, NC.
Blandford grew up in Accokeek, MD on his parent's farm, one of seven siblings. He served in the U.S. Army in the Korean War. Blandford worked a significant portion of his career for the federal government serving on assignments in Berlin, Frankfurt, and Vietnam. Blandford retired from service as an analyst in the Central Intelligence Agency in 1982 after having served for over 29 years.
Post-retirement, Blandford worked as the East Coast Security Officer for Geodynamics and Northrop Grumman for over 13 years.
Blandford semi-retired with his wife Dale to Governors Land at Two Rivers in Williamsburg, VA where he enjoyed playing golf and participating in activities at Bruton Parish Episcopal Church. He continued to work part-time in his retirement on declassification projects under the FOIA finally retiring from work at the age of 83 in 2015.
Bob often said that he really enjoyed his career and would never trade it for another. He held an undergraduate degree from the University of Maryland.
He is survived by his wife of 65 years, Dale Blandford, a brother, a sister, two sons, a daughter, and other family.
Joe Ekelund, served as CIA NIO and President of Naval Postgrad Sch - Monterey
John Joseph Ekelund, RADM USN (Ret), 93, a former CIA NIO, and also former President of the Naval Postgraduate School in Monterey, CA, died 28 July 2021 in Monterey.
Joe was born in Washington DC.
In 1944 while living with his maternal grandparents in DC during WWII, Joe graduated Gonzaga H.S. after three years, he then graduated Columbian Preparatory School in 1945 and entered the U.S. Naval Academy (USNA), class of 1949. His father (1922) and brother (1947) proceeded him at the USNA.
Joe received a B.S. degree from the USNA, 1949. During his career he earned a Master's of Science in systems analysis, University Rochester, New York, 1969. In 1956 Joe developed a mathematical algorithm which came to be named "The Ekelund Range" which helped revolutionize modern undersea warfare and advanced him through the ranks to Rear Admiral in 1976. He started his career on a surface ship in Key West, FL, transferring to a minesweeper deployed to North Korea. The USS Pirate was sunk in 1950 during an aggressive minesweeping effort. Joe survived and went on to Submarine School. He served in a variety of submarine jobs on both coasts. He was the XO and CO of two experimental submarines that were retrofitted to operate with Regulus missiles. He was head of OPNAV's Strategic Warfare Analysis Branch, 1969-1972. He served as Chief of Staff Commander Naval Forces, Vietnam, 1972-1973, where he designed and executed the phased withdrawal of Navy and Marine personnel after the 1973 negotiations. He was Commander guided missile cruiser, USS Albany, 1973-1975. Dean Naval War College 1975-1976. Deputy Director Naval Education and Training, CNO Washington 1976-1977. National intelligence officer at Central Intelligence Agency 1977-1978. Commander United States South Atlantic Force 1978-1980, President Naval Postgraduate School (NPS), Monterey, California 1980-1983 (Retired from the Navy). President California Maritime Academy 1983-1990 (Retired from the State).
Joe and Lynn retired to Monterey in 1990. They have enjoyed family, friends, golf, travel and annual two-week visits to their time-share in Kauai.
He leaves behind his wife of 69 years, Lynn Marie Schumacher, seven children, and other family.
Robert Ingram, Director, Office of Medical Services, CIA
Word of his 2020 death just reached us:
Robert A. Ingram M.D., 90, D/OMS at CIA 1980-86, died 25 February 2020 in Englewood, FL.
He was born June 27, 1929 in Cleveland, Ohio to the late Clayton Millman Ingram and Annabelle Catherine Graulty. Bob attended West High in Cleveland, Hiram College, and Western Reserve School of Medicine, earning an M.D. degree in 1955. He completed internship and an Internal Medicine residency at Cleveland Metropolitan Hospital. Following that he served 2 years as Captain in the Army Medical Corps stationed in Wurzburg, Germany.
Most of his career was spent in the Washington, D.C. area working for the Central Intelligence Agency, where he served as third Director of the CIA Office of Medical Services holding that position from 1980-1986. He previously served in a variety of positions within OMS, including Chief of the Operations Division of OMS and traveled extensively around the world in that capacity.
He is survived by his wife of 62 years, Dr. Virginia Showers Ingram, whom he met in medical school, two daughters, and other family.
Kathleen Rich, Wife of former D/DIRNSA
Kathleen O'Toole Rich, wife of the former D/DIRNSA (Robert Rich), died 28 July 2021 in Silver Spring, MD of pancreatic cancer.
She was born in New Haven, CT. She spent her childhood in New Haven and Orange, CT. After graduating from Connecticut College with a degree in European history she moved to Washington DC to work for the former Armed Forces Security Agency, the predecessor to the National Security Agency (NSA), in Arlington, VA, where she met her husband, Robert E. Rich. They married in 1955.
Kathleen was an active member and secretary of the Washington Guitar Society and studied classical guitar with noted guitarist Sophocles Papas. From 1968 to 1971, the family lived in Japan where Kathleen explored Japanese art and culture, and began a life-long passion that later led her to be a docent for over 20 years at the Smithsonian's Freer and the Sackler Galleries of Asian Art.
She was also employed for several years with the Congressional Information Service in the early 1980s. Bob served as Deputy Director of NSA, and he and Kathleen later lived in London, 1986 to 1990, and traveled throughout Europe. The Riches traveled extensively throughout Asia as well.
She is survived by her husband of 66 years, Bob Rich, three children, and other family.
Shirley Sulick, former CIA Officer, wife of former AFIO Board Member
Shirley Perry Sulick, 76, a former CIA Officer and wife of former AFIO board member (D/NCS), died of cancer 24 July 2021 in Wake Forest, NC.
Shirley was born in Pittsboro, NC. She was a graduate of Fordham University in New York, and was active in community affairs in New York City, first working as an aide to State Senator Carl McCall, and then as director of a tenant advocacy program.
While in New York, Shirley married Michael Sulick who later (1980) joined the Central Intelligence Agency. Shirley began to accompany him on his overseas DO assignments to Asia, Latin America, Eastern Europe and the former Soviet Union. During this time, she began her own US Government career, first working for the Department of State in US Embassies, and then supporting CIA clandestine operations overseas.
Back in the US, she served as a CIA project manager specializing in diversity recruitment. For her agency service, Shirley was awarded the CIA Career Commendation Medal.
She was passionately involved in community affairs and drove these efforts into high gear in retirement after the relocation to Wake Forest, NC. She was a member to the Democratic Women of Wake County where she worked intensively on voter registration drives.
Although diagnosed with cancer eight years ago, she dedicated herself to promoting early screening and research on lung cancer. She was a member of the board of the Lung Cancer Initiative (LCI) of North Carolina, and an active participant in the organization's many projects. Literally a "poster child," Shirley appeared in interviews, videos, and on posters throughout Raleigh telling her story and advocating early screening for the disease.
Called a "force of nature" by her family, friends, and neighbors, Shirley was as relentless in pursuing her community initiatives as she was during her federal government career, and her vibrant and self-confident personality helped her advance those initiatives.
Shirley is survived by her husband Michael Sulick (chief of CIA counterintelligence and later Director, National Clandestine Service), and by a daughter.
---
AFIO EDUCATIONAL EVENTS IN COMING TWO MONTHS....
Thursday, 26 August 2021, noon EDT - Tampa, FL - The Florida Suncoast AFIO Chapter hosts in-person luncheon to hear Michael Peck on "Drones, Computer Brains, and Hackers: Warfare in the 21st Century."
The Florida Suncoast AFIO Chapter is holding its next in-person meeting at the offices of Bleakley, Bavol, Denman & Grace, 15316 N Florida Avenue, Tampa, FL 33613. The offices are off I-275 just north of the Bearss Avenue exit. The program starts at noon.
Michael Peck, our featured speaker, is a prolific defense writer specializing in military technology, strategic issues and military history. Among many other publications, he is a contributing writer for Forbes. He will present "Drones, Computer Brains and Hackers: Warfare in the 21st Century," discussing the future of warfare, including technological trends such as autonomous weapons, cyberwarfare and artificial intelligence.
Cost: $15, cash or check. We are also testing limited online access to the meeting. If you are interested or to attend in person, please contact the Chapter Secretary at michaels@suncoastafio.org. You will need to complete some forms to attend. The reply deadline is noon on Thursday, 19 August.
Friday, 8 October 2021, 11 am - 2 pm - In-Person Tysons Corner, VA - AFIO Luncheon featuring David Ignatius on "The Paladin" and Stephen Vogel on Traitor George Blake.
FOR YOUR CALENDAR. The first in-person AFIO National Luncheon for 2021 will take place on Friday, 8 October at DoubleTree Hotel, Tysons Corner. Event will feature David Ignatius discussing "The Paladin" or possibly another topic TBA. And the morning speaker, Stephen Vogel, discussing "Betrayal in Berlin" and traitor George Blake.
TO REGISTER: Registration link forthcoming.
VENUE: DoubleTree by Hilton, 1960 Chain Bridge Rd, Tysons Corner, VA 22182 Phone: (703) 893-2100. Directions at this link.
---
Other Upcoming Events from Advertisers, Corporate Sponsors, and Others
Thursday, 19 August 2021, noon EDT - Zoom Webinar - Virtual Spy Chat with Chris Costa with Special Guest Marc Polymeropoulos - Virtual International Spy Museum Program
Participate in an online discussion of the latest intelligence, national security, and terrorism issues in the news. Spy Museum Executive Director Chris Costa, a former intelligence officer of 34 years, will lead the briefing. He will be joined by Marc Polymeropoulos, who retired from the CIA Senior Intelligence Service ranks in 2019 after serving for 26 years in the Intelligence Community in operational field and leadership assignments. Following their discussion of key issues, you'll be able to ask questions via our online platform.
Sponsored by the Honorable Mary Beth Long, International Spy Museum, Board of Directors.
Event is free registration required. Visit www.spymuseum.org.
Thursday, 26 August 2021, noon EDT - Washington, DC - Curator's Corner: Ethel Rosenberg, An American Tragedy - International Spy Museum
In June of 1953, Ethel Rosenberg and her husband were executed for conspiracy to commit espionage for the Soviet Union. Evidence against Ethel was shaky, but she would not incriminate her husband to gain a lesser sentence. Participate with International Spy Museum Historian and Curator Andrew Hammond in conversation with Anne Sebba, the author of Ethel Rosenberg: An American Tragedy.
Following their discussion, you'll be able to ask questions via our online platform. Mike Meeropol, the son of Julius and Ethel, who has spent his life in pursuit of "the real story" behind his parents' secret lives, will join in for the Q&A portion of the program.
Event is free - registration required. Visit www.spymuseum.org.
Sunday, 29 August 2021, 2-3:30 pm EDT - Zoom Webinar - Shock & Awe from the Air: Planning & Executing the Desert Storm Air War by The Cold War Museum
Saddam Hussein Knows You're Coming, and He's Got Potent French-Designed Integrated Air Defenses
But Air Superiority Has to Be Total. How Do You Plan That? And How Do You Make It Happen? Hear and Ask the Two People in Charge of Those Two Things
Hear the story of the transformation of air power in the first Gulf War from two pioneers of the planning and execution of the Desert Storm Air Campaign.
Lt Gen Dave Deptula, USAF (Ret.) invented the master air-attack plan and wrote the attack plans for each day of the Desert Storm air campaign, using desired end-state effects as a planning mechanism by capitalizing on the technologies of stealth and precision in a fashion never applied in warfare before.
Col Al Mink, USAF (Ret.) deployed as the first bomber pilot from the Air Force's only wing of tactically-qualified and ready bomber forces. He served as initial cadre on the secret "black hole" team to plan the shape of the air campaign applying Gen Deptula's new campaign approach. He brought the fighter-approach of Air Tasking Orders to the nuclear bomber force. During combat operations, he coordinated the launch and refueling of the largest bomber strike in the war and flew 18-hour strike formations.
Cost: $20, 100% of which is a contribution
Agenda:
• 1:30-2:00. Participants arrive in the Zoom room online.
• 2:00-2:05. Jason Hall, Executive Director of the Cold War Museum, introduces the Museum, then Dave Deptula and Al Mink.
• 2:05-3:00. Dave and Al present on planning and executing the Desert Storm air war.
• 3:00-3:30. Q&A opportunity for the audience.
Questions? Call or email Jason Hall, 703-283-4124 (cell), jason@coldwar.org
To sign up, do so here on EventBrite.
14 September 2021, 10am EDT - Zoom Webinar - Virtual Panel Discussion with Former Deputy Directors of National Intelligence as part of NCF's 25th Anniversary
The National Cryptologic Foundation is excited to announce the next NCF 25th Anniversary virtual program which features a panel of former deputy directors of national intelligence. Greg Myre, NPR National Security Correspondent, will serve as moderator for the program.
The program is free, but as with our other 25th Anniversary events and activities - we appreciate any and all donations as they will help to support our mission - especially our growing list of exciting education initiatives. Stay tuned as registration will open soon.
Who: National Cryptologic Foundation
What: 25th Anniversary September 14th Panel Discussion with Former Deputy Directors of National Intelligence: Confirmed panelists include: Gen Michael V. Hayden, USAF (Ret), Mr. Donald Kerr, and Ms. Stephanie O'Sullivan. This panel discussion will be moderated by: Greg Myre, National Security Correspondent, NPR.
When: 14 September 2021, 10-11:30 am EDT
Where: Virtual Program - offered via Zoom webinar (Once registration opens, your Zoom details will be in your confirmation email.)
*If you are unable to attend, please stay tuned to the NCF e-newsletter and social media for an announcement about the recording, once available.
Cost: Free. Donations Appreciated.
Contact: If you have questions about this program, please email ncfinfo@cryptologicfoundation.org.
Registration to Open Soon and will be at this link.
14 October 2021, 8:15a to 2p - virtual and in-person - NCF General Membership Meeting (GMM) & Annual Symposium
SAVE THE DATE for the first hybrid (virtual and in-person) National Cryptologic Foundation General Membership Meeting. We are excited to be planning to gather in person again. The 2021 GMM & Annual Symposium will be held on 14 October and will be a hybrid event - offering options to attend virtually or in person. The program will be held at the CACI in the National Business Park. Seating will be limited and the program will be shorter in duration this year. Schedule: Check-in and breakfast from 8:15-8:45am; Program 9am-12pm; Lunch and Booksigning 12-1pm. Stay tuned for program details and registration will be available at this link.
Wednesday, 27 October 2021, 6 - 10 pm - Washington, DC - 30th (+1) Anniversary Gala and Chancellor's Dinner - Institute of World Politics
Save the date. Current timing of this in-person celebration is:
6:00 PM Cocktail Reception
7:00 PM Dinner
9:00 PM Dessert and Dancing
Location: The Mayflower Hotel, 1127 Connecticut Ave NW, Washington, DC
Additional details to follow
*Because this is an unusual year, if you are considering attending the 30th (+1!) Anniversary Gala, please fill out this form: iwp.edu/gala-survey
Wednesday, 1 December 2021, 5:30 PM VIP Reception / 6:30 PM Progressive Reception & Award Program - Washington, DC - 2021 Webster Distinguished Service Award Event - International Spy Museum
The Spy Museum offers an evening of intrigue for the 2021 Webster Distinguished Service Award event. The award is an opportunity to recognize the extraordinary contributions of individuals in the Intelligence Community. This year's awardee is The Honorable Susan M. Gordon, former principal deputy director of national intelligence. Previous recipients of the Webster Distinguished Service Award include President George H. W. Bush (2017), Admiral William H. McRaven, USN (Ret.) (2018), and Gen. Michael V. Hayden (Ret.) (2019). Webster attendee and sponsor support fuels the nonprofit mission of educating the public about the history and craft of espionage and intelligence through youth and adult programs, community service, and the care of the Museum's unique collection of artifacts for generations to come.
Event will be held at the International Spy Museum.
For tickets, sponsorship opportunities, or information about ways to support the International Spy Museum, please contact the development office at 202.654.2853. Event tickets, other details are available here.
---
In addition to the new Royal Blue long sleeve shirts, and the gray long sleeve hooded sweatshirts, the AFIO Store also has the following items ready for quick shipment:
LONG and Short-Sleeved Shirts with embroidered AFIO Logo and New Mugs with color-glazed permanent logo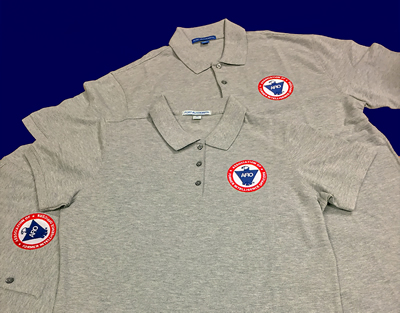 Show your support for AFIO with our new Polo Shirts. Be the first to buy these new, high quality, subtle heathered grey short sleeve shirts, and dark blue long sleeved shirts, of shrink and wrinkle resistant fine cotton with a soft yet substantial feel. They feature a detailed embroidered AFIO seal. Get a shirt for yourself and consider as gifts for colleagues, family, and friends. Only $45 each including shipping.
Sizes of (M) men or (W) women shirts; Small, Medium, Large, XL, XXL, and XXXL. At this time all orders will arrive as Short Sleeve shirts.
You may pay by check or credit card. Complete your order online here or mail an order along with payment to: AFIO, 7600 Leesburg Pike, Ste 470 East, Falls Church, VA 22043-2004. Phone orders at 703-790-0320. If interested in other shirt colors or sleeve lengths, contact Annette at: annettej@afio.com.
---
AFIO Mug with color glazed logo. Made in America. Sturdy enough to sit on desk to hold pens, cards, paperclips, and candy.
This handsome large, heavy USA-made ceramic mug is dishwasher-safe with a glazed seal. $35 per mug includes shipping. Order this and other store items online here.
---
Guide to the Study of Intelligence and When Intelligence Made a Difference
"AFIO's Guide to the Study of Intelligence" has sold out in hard-copy.
However, it is available in digital form in its entirety on the AFIO website here.

Also available on the website here are the individual articles of AFIO's history project "When Intelligence Made a Difference" that have been published to date in The Intelligencer journal. More articles will be forthcoming in future editions.
---
Disclaimers and Removal Instructions
Weekly Intelligence Notes (WINs) are commentaries on Intelligence and related national security matters, based on open media sources, selected, interpreted, edited and produced for non-profit educational uses by members and WIN subscribers.
REMOVAL INSTRUCTIONS: We do not wish to add clutter to inboxes. To discontinue receiving the WINs:
a) IF YOU ARE A MEMBER - click here: UNSUBSCRIBE and supply your full name and email address where you receive the WINs. Click SEND, you will be removed from list. If this link doesn't open a blank email, create one on your own and send to afio@afio.com with the words: REMOVE FROM WINs as the subject, and provide your full name and email address where you are currently receiving them.
b) IF YOU ARE NOT A MEMBER, and you received this message, someone forwarded this newsletter to you [contrary to AFIO policies]. Forward to afio@afio.com the entire WIN or message you received and we will remove the sender from our membership and distribution lists. The problem will be solved for both of us.
CONTENTS of this WIN [HTML version recipients - Click title to jump to story or section, Click Article Title to return to Contents. This feature does not work for Plaintext Edition or for some AOL recipients]. If you wish to change to HTML format, let us know at afio@afio.com. The HTML feature also does not work for those who access their e-mail using web mail...however NON-HTML recipients may view the latest edition each week in HTML at this link: https://www.afio.com/pages/currentwin.htm
---
WINs are protected by copyright laws and intellectual property laws, and may not be reproduced or re-sent without specific permission from the Producer. Opinions expressed in the WINs are solely those of the editor's or author's listed with each article. AFIO Members Support the AFIO Mission - sponsor new members! CHECK THE AFIO WEBSITE at www.afio.com for back issues of the WINs, information about AFIO, conference agenda and registrations materials, and membership applications and much more!
(c) 1998 thru 2021. AFIO, 7600 Leesburg Pike, Suite 470 East, Falls Church, VA 22043-2004. Voice: (703) 790-0320; Fax: (703) 991-1278; Email: afio@afio.com
---
About AFIO | Membership Renewal | Change of Address | Upcoming Events | Chapter Locations | Corporate/Institutional Memberships | Careers in Intelligence Booklet | Guide to the Study of Intelligence | Intelligencer Journal | Weekly Intelligence Notes | To Make A Donation | AFIO Store | Member-Only Section | Code of Ethics | Home Page
---