---
CONTENTS
Section I - INTELLIGENCE HIGHLIGHTS
Section II - CONTEXT & PRECEDENCE
Section IV - Research Requests, Jobs, Obituaries
Other Upcoming Events from Advertisers, Corporate Sponsors, and Others
For additional AFIO and other Events two+ months or more... Calendar of Events
WIN CREDITS FOR THIS ISSUE: The WIN editors thank the following special contributors: rsy, ec, po, pjk, mh, km, gh, mk, rd, fm, kc, jm, mr, jg, th, ed, and fwr. They have contributed one or more stories used in this issue.

The WIN editors attempt to include a wide range of articles and commentary in the Weekly Notes to inform and educate our readers. However, the views expressed in the articles are purely those of the authors, and in no way reflect support or endorsement from the WIN editors or the AFIO officers and staff. We welcome comments from the WIN readers on any and all articles and commentary.

CAVEATS: IMPORTANT: AFIO does not "vet" or endorse research inquiries, career announcements, or job offers. Reasonable-sounding inquiries and career offerings are published as a service to our members, and for researchers, educators, and subscribers. You are urged to exercise your usual caution and good judgment when responding, and should verify the source independently before supplying any resume, career data, or personal information.]
If you are having difficulties with the links or viewing this newsletter when it arrives by email, members may view the latest edition each week at this link.
---
Other items brought to our attention:
Overheard: "I learned something a long time ago in this town. There are only two possibilities: policy success and intelligence failure." — Dr. Thomas Fingar, Deputy Director of National Intelligence for Analysis, and Director, National Intelligence Council (2005–2008)
---
Intelligence Warned of Afghan Military Collapse, Despite Biden's Assurances
Even as the president was telling the public that Kabul was unlikely to fall, intelligence assessments painted a grimmer picture.
By Mark Mazzetti, Julian E. Barnes and Adam Goldman Aug. 17, 2021 in The New York Times
Classified assessments by American spy agencies over the summer painted an increasingly grim picture of the prospect of a Taliban takeover of Afghanistan and warned of the rapid collapse of the Afghan military, even as President Biden and his advisers said publicly that was unlikely to happen as quickly, according to current and former American government officials.

By July, many intelligence reports grew more pessimistic, questioning whether any Afghan security forces would muster serious resistance and whether the government could hold on in Kabul, the capital. President Biden said on July 8 that the Afghan government was unlikely to fall and that there would be no chaotic evacuations of Americans similar to the end of the Vietnam War.

The drumbeat of warnings over the summer raise questions about why Biden administration officials, and military planners in Afghanistan, seemed ill-prepared to deal with the Taliban's final push into Kabul, including a failure to ensure security at the main airport and rushing thousands more troops back to the country to protect the United States' final exit.

One report in July — as dozens of Afghan districts were falling and Taliban fighters were laying siege to several major cities — laid out the growing risks to Kabul, noting that the Afghan government was unprepared for a Taliban assault, according to a person familiar with the intelligence. Article continues here...
---
CIA Weighs Creating Special China Unit in Bid to Out-Spy Beijing
by Peter Martin and Nick Wadhams, August 12, 2021 in Bloomberg
The Central Intelligence Agency is weighing proposals to create an independent "Mission Center for China" in an escalation of its efforts to gain greater insight into the U.S.'s top strategic rival, according to people familiar with the deliberations.
The proposal, part of a broader review of the agency's China capabilities by CIA Director William Burns, would elevate the focus on China within the agency, where China has long been part of a broader "Mission Center for East Asia and Pacific."
Mission centers are stand-alone entities that utilize resources from across the CIA in line with agency priorities. In the intelligence bureaucracy, a separate China center would make it easier to secure headcount, funding and high-level attention for China-related activities, according to three current and former officials who spoke about the internal deliberations on condition of anonymity.
Existing mission centers include those for counterintelligence, counterterrorism and the Near East.
Article continues here...
---
I was seduced by WW2's most dangerous spy
'Cynthia' was known for seducing her targets – even her British spymaster was infatuated. So was she the war's greatest unsung hero?
By Harry de Quetteville, 14 August 2021 in The Telegraph
Infatuation, as Bond creator Ian Fleming knew so well, is the elixir of espionage. Mixing sex and spying himself on naval-intelligence duties during the war, Fleming visited Washington to hear about a femme fatale who was securing sensational secrets from Britain's enemies in then neutral America. Yet he wanted more than just stories about the seductress spy. 'His main objective,' noted her handler, 'was to meet her.' Fleming never got to. Review continues here...

---
Guidance to Inquiries for Aiding Those in Afghanistan Who Aided the IC and Other USG Entities and Are Now Seeking Asylum
The Afghan SIV Program
The U.S. State Department has established an expedited program to provide Special Immigrant Visas for Afghans Who Were Employed by/on Behalf of the U.S. Government
Please use or refer others to these links:
Afghan SIV Program - Steps to Apply
Special Immigrant Visas (SIVs) for Iraqi and Afghan Translators/Interpreters
Members are urged to not recommend any illegal means (e.g., invading country using northern or southern borders) or filing of fraudulent visa applications, dishonest statements claiming job offers to applicants, sham marriages or claims of U.S. relatives, false claims of U.S. assistance, with expectation there will be amnesty. The Afghan SIV Program above has been carefully organized to vet applicants to avoid admitting terrorists, extremists, criminals, and others who would not qualify for a U.S. Visa and have little to offer the country.
---
---
The Latest... from Jeff Stein's "SpyTalk" series...
Aug 17: "Al-Qaeda's Learning Curve: the Fall of the Roman Empire" by Jeff Stein
Former FBI agent Ali Soufan says its goal is to unite 'the savage regions' like the barbarians who took down Rome

Aug 15: "Kabul Doomwatch: A Veteran TV Correspondent Recalls Escapes from Vietnam, Cambodia" by Jim Laurie
Longtime ABC-TV international correspondent Jim Laurie also watched the Russians leave Afghanistan. It was more orderly than the US exit from Kabul.

Aug 15: "Emergency Visa System Fixed, State Dept Says" by Jeff Stein
Email channel for Afghans who worked with U.S. was overwhelmed by applications

Aug 15: "Exclusive: U.S. Channel for Emergency Afghan Visas Crashes" by Jeff Stein
State Department mailbox crashes under weight of thousands of SIV applications

Aug 13: "Kabul Falls...to Multiple Metaphors" by Jeff Stein
Members of Congress add Dunkirk to the Kabul-Saigon metaphor. Or is it Phnom Penh, as some fear? The mostly useless comparisons are adding up.

Aug 11: "A Perfectly Timed New Spy Thriller" by Peter Eisner
Former CIA officer Taylor Moore's 'Down Range' bridges crimes and violence in Afghanistan and Texas

Aug 9: "Spies vs. Spies" by Jeff Stein
A veteran congressional investigator offers tips on the Jan. 6 probes.

Aug 4: "Secret Agents, Threats, Fake News Target Ethiopia Regime's Critics in US" by Jeff Stein
Pro-regime thugs are harassing Tigray exiles and critics of Ethiopia's 'genocide'

Readers, for a brief time, can subscribe for free for articles and weekend podcasts here.
---
The Arkin Group's Aug 13 "In Other News" letter to private clients by former Operations Officer Jack Devine features...
As the Taliban offensive continues, Pakistan's position grows increasingly complicated.
Multiple nations seriously exploring weather-modification technology as climate change worsens.
Private digital asset platform is selected by US government to manage seized cryptocurrency.

Follow link here to read analyses and predictions given to their private clients on the topics above.
Also, see June 15 Daily Beast article on Putin and Biden by Devine here.

Recently released was Jack Devine's Spymaster's Prism. AFIO's interview with him about this book appears in this issue at top of right column of this issue of the WINs. You can view the video at this link. Or hear the podcast here.

---

Inside the SCIF:

Inside the SCIF by JJ Green, WTOP - Issue #125, 12 Aug has details on US Sending Troops back to Afghanistan; Taliban encircling Kabul, US response criticized; Behind the curtain of the Afghanistan situation - emerging themes; Sonic Weapon Attacks Increasing; Espionage Allegations Threaten DPK Moon; DNI Haines Hosts Joint IC Council; Update on captive Paul Whelan; Russian Sub in Danish Waters; No Answer when SK calls NK on hotline; and more.

The latest Target USA Podcast 289 is on: The U.S. "had a heart attack " during the Capitol Riot and the constant venom on social media may cause another — soon. Radek Sikorski, Chairman, of the EU-USA delegation in the European Parliament says disinformation and propaganda on social media platforms brought the US to it's knees on January 6th. But he says we still haven't learned our lesson – nor has the rest of the world.

And "The Hunt" explores: The Taliban continues to overrun key parts of Afghanistan. Threats, torture and death are the tools the Taliban are using execute what many Afghans are calling a brutal campaign to take over Afghanistan. J.J. Green speaks with Ahmadullah Sediqi, an Afghan who served as an interpreter for the U.S. military and is currently an SIV ambassador for "No One Left Behind," describes what the Taliban are doing.

---

---

Guide to the Study of Intelligence and When Intelligence Made a Difference

"AFIO's Guide to the Study of Intelligence" has sold out in hard-copy.
However, it is available in digital form in its entirety on the AFIO website here.

Also available on the website here are the individual articles of AFIO's history project "When Intelligence Made a Difference" that have been published to date in The Intelligencer journal. More articles will be forthcoming in future editions.

---

---
---
---
Released last week to members-only...
The Pervasive and Existentially Disruptive Cyber Threats the U.S. Faces from Adversaries

Released 10 August 2021
James Gosler, former Director, CIA's Clandestine Information Technology Office
on "Cyber Threats and Mitigation"
Presentation of Friday, 16 June 2021 by James R. Gosler, former Director, CIA's Clandestine Information Technology Office, on "Cyber Threats and Mitigation"; Host: James Hughes, AFIO President and a former CIA Operations Officer.
TOPIC: Jim Gosler discusses the pervasive and existentially disruptive cyber threats the U.S. faces from adversaries. He describes many factors required to warn, educate, prepare for, and possibly mitigate these growing threats.
The presentation runs 44 minutes.
The three Defense Science Board reports cited in the presentation are available as follow:
Resilient Military Systems and the Advanced Cyber Threat, Jan 2013, https://dsb.cto.mil/reports/2010s/ResilientMilitarySystemsCyberThreat.pdf
Cyber Deterrence, Feb 2017, https://dsb.cto.mil/reports/2010s/DSB-CyberDeterrenceReport_02-28-17_Final.pdf
Cyber as a Strategic Capability–Executive Summary, June 2018, https://dsb.cto.mil/reports/2010s/DSB_CSC_Report_ExecSumm_Final_Web.pdf
Access the Gosler Interview here or click above image.
---
Prior Videos in the "AFIO Now" Series
View the publicly-released ones on our YouTube page, or listen to the podcast version at the links below.
PODCASTS: AFIO NOW content is also available on various podcasting platforms. Search for 'AFIO Podcast' for a selection of public released videos on Podbean; iTunes; Google; Spotify; Amazon Music; Amazon TuneIn + Alexa; iHeartRadio; and Pandora
Or log into the Member-only area to view private and public interviews.
---
---

Tuesday, 14 September 2021, 10 - 11:30 a.m. EDT - Zoom Webinar Event
Virtual Zoom Webinar panel discussion with Former Principal Deputy Directors of National Intelligence.
Speakers: Gen Michael V. Hayden USAF(Ret), Dr Donald Kerr, Stephanie O'Sullivan; Moderator Greg Myre of NPR.
No charge to attend.
More information or to register, do so at cryptologicfoundation.org
Details on the Virtual Education Programs of the National Cryptologic Museum Foundation are available here Other NCF Events can be found here on NCF website here, and CCH website here.
---
---
---
Newly Released, Overlooked, or Forthcoming Books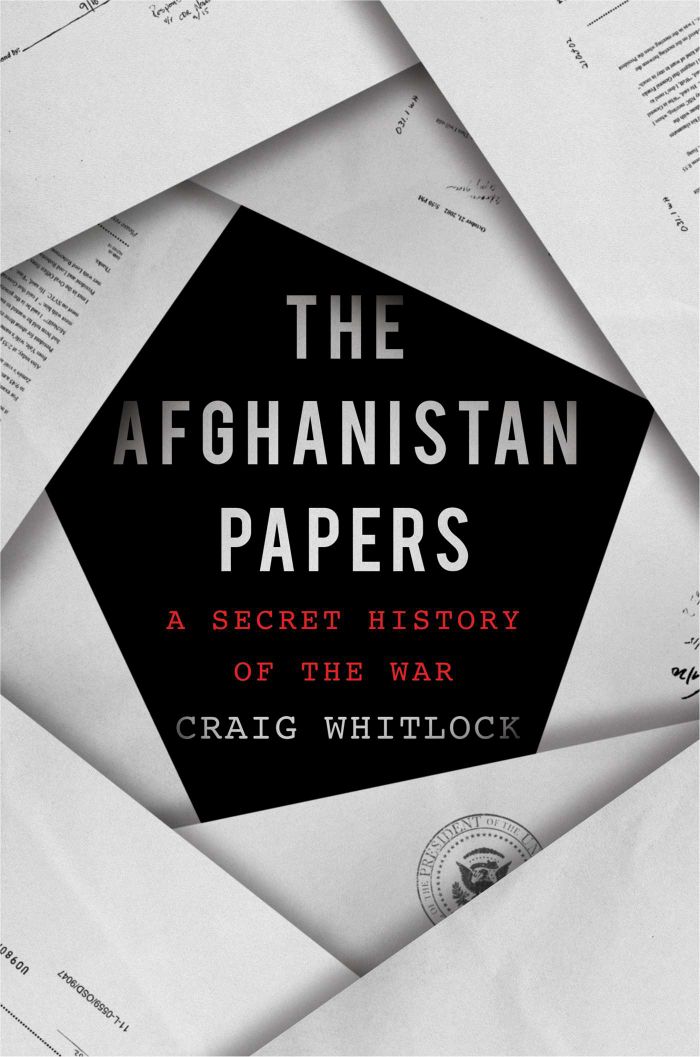 The Afghanistan Papers: A Secret History of the War
by Craig Whitlock, The Washington Post
(Simon and Schuster, Aug 2021)
History of the whole 20-year debacle. How three successive presidents and their military commanders deceived the public year after year about the longest war in American history.
Unlike the wars in Vietnam and Iraq, the US invasion of Afghanistan in 2001 had near-unanimous public support. At first, the goals were straightforward and clear: to defeat al-Qaeda and prevent a repeat of 9/11. Yet soon after the the removal of the Taliban from power, the mission veered off course and US officials lost sight of their original objectives.

Distracted by the war in Iraq, the US military became mired in an unwinnable guerrilla conflict in a country it did not understand. But no president wanted to admit failure, especially in a war that began as a just cause. Instead, the Bush, Obama, and Trump administrations sent more and more troops to Afghanistan and repeatedly said they were making progress, even though they knew there was no realistic prospect for an outright victory.

Contains revelation after revelation from people who played a direct role in the war, from leaders in the White House and the Pentagon to soldiers and aid workers on the front lines who admit the US government's strategies were a mess, that the nation-building project was a colossal failure, and that drugs and corruption gained a stranglehold over their allies in the Afghan government. Based on interviews with more than 1,000 people who knew that the US government was presenting a distorted, and sometimes entirely fabricated, version of the facts on the ground.

This is a shocking account that should supercharge a long overdue reckoning over what went wrong and forever change the way the conflict is remembered. But won't. The next boondoggle is already underway...because money is to be made on wars, peace-keeping, or nation building.
Book may be ordered here.
---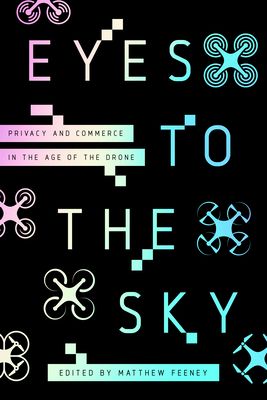 Eyes to the Sky: Privacy and Commerce in the Age of the Drone
by Matthew Feeney, editor
(Cato Institute, Aug 2021)
Drones are among the most exciting and promising new technologies to emerge in the last few decades. Photographers, firefighters, filmmakers, engineers, and retailers have all used drones to improve public safety, innovate, and enhance creativity. Yet drones pose unique regulatory and privacy issues, and lawmakers at the federal and state levels are adopting policies that both ensure the safety of our national airspace and restrict the use of warrantless aerial surveillance. At a time when low-flying drones are affordable and ubiquitous, how useful are the airspace regulations and privacy laws designed for traditional airplanes and helicopters? Is there a way to build a regulatory and legal environment that ensures entrepreneurs and hobbyists can safely use drones while also protecting us from intrusive aerial surveillance?
"Drones are rapidly becoming part of our everyday lives, and society will soon need to grapple with profound issues related to property, privacy, and nuisance. While drones are aircraft, the laws governing aircraft may soon be challenged as drones operate closer to the ground and in airspace never before occupied by manmade flying objects. The unique flying capability of drones is what makes them so valuable and is exactly what will challenge settled laws, individual rights, and liberties. This book tackles these issues head on and is essential reading for anyone who wants to understand how we will balance rights and innovation as this transformational technology begins to occupy our skies." -- Gregory S. McNeal, professor of law and public policy at Pepperdine University and cofounder of AirMap
Book may be ordered here.
---
Our Own Worst Enemy: The Assault from Within on Modern Democracy
by Thomas M. Nichols
(Oxford University Press, Aug 2021)
The spread of illiberal and anti-democratic sentiment throughout our culture that places responsibility on the citizens themselves.
"Taking freedom and democracy for granted is a fatal mistake. ... America has enough enemies without turning on itself." -- Garry Kasparov, author of Winter Is Coming: Why Vladimir Putin and the Enemies of the Free World Must Be Stopped, and the former world chess champion
"Maybe it's not imaginary conspiracies but rather our own failures—moral, intellectual, political—that are leading Americans to support incompetent, inarticulate... politicians. That's the thesis that Tom Nichols argues ... persuasively in this book before concluding that reform must begin from within." -- Anne Applebaum, author of Twilight of Democracy
Over the past three decades, citizens of democracies who claim to value freedom, tolerance, and the rule of law have increasingly embraced illiberal politicians and platforms. Democracy is in trouble—but who is really to blame?
Nichols challenges the current depictions of the rise of illiberal and anti-democratic movements in the United States and elsewhere as the result of the deprivations of globalization or the malign decisions of elites. Rather, he places the blame for the rise of illiberalism on the people themselves. Nichols traces the illiberalism of the 21st century to the growth of unchecked narcissism, rising standards of living, global peace, and a resistance to change. Ordinary citizens, laden with grievances, have joined forces with political entrepreneurs who thrive on the creation of rage rather than on the encouragement of civic virtue and democratic cooperation. While it will be difficult, Nichols argues that we need to defend democracy by resurrecting the virtues of altruism, compromise, stoicism, and cooperation—and by recognizing how good we've actually had it in the modern world.
Reframes the debate about how democracies have ended up in this dire state of affairs and what to do about it.
Book may be ordered here.
---
---
The Spies of Georgetown walking tours
Enjoy walks through the scenic Georgetown neighborhood with a former CIA officer. Learn about the pivotal role the residents here played in the WWII era. These pre- and post- war influencers played friend and foe alike to the Soviets. Learn more about the origins of the CIA, and the life of an operative shared through curated (and unclassified) real-life stories. We'll visit the former homes of William "Wild Bill" Donovan, William Colby, Roald Dahl, and Alger Hiss and see places linked to the espionage activities of Elizabeth Bentley, and Vitaly Yurchenko.
Along the way, participants will be asked to put on their spy hats and consider the role of surveillance in an operative's daily life.
Other things to note:
- This event will take place rain or shine. In the event of thunder/lightening, the event will be cancelled and guests will be issued a full refund and be encouraged to reschedule. A determination on cancellation due to thunder/lightning will be made no later than 2 hours prior to the event. Cancellations will be communicated through the app.
- This event is interactive. Be prepared to participate!
This 1.5 hr walking tour begins in northwest Georgetown and crosses over Wisconsin Ave. to northeast Georgetown and then south towards M Street. We spend most of the tour away from the hustle and bustle of Wisconsin Ave. and M Street, in quieter neighborhoods that have remained timeless. Please note we will end at Martin's Tavern on Wisconsin, away from the starting point.
Dates available: Thu 19 Aug 5-6:30pm; Tue 24 Aug 5-6:30pm; Tue 31 Aug 5-6:30pm; Fri 3 Sep 5:30 - 7pm; Sun 5 Sep 10-11:30am; Mon 6 Sep 10-11:30am; Tue 7 Sep 5-6:30pm; Tue 14 Sep 5-6:30pm; Sun 19 Sep 10-11:30am; Tue 21 Sep 5-6:30pm; Tue 28 Sep 5-6:30pm.
Explore the tours here. Or immediately book your tour at this link.
---
One of the special benefits of membership in AFIO: access to CIA's inhouse gift shop — the EAA Store.

It requires a quick preapproval process described here to all newly joined and current AFIO members. And then allows you to purchase online their unusual logo'd gift items for self or colleagues. At left is the latest photo EAA released on August 13 featuring some of their newest items:
---
---
Visit, Follow, Subscribe to AFIO's LinkedIn, Twitter, and YouTube pages to receive updates.
Members who use social media or wish to explore, will find new announcements and other material on AFIO's Twitter and LinkedIn pages. New videos on our YouTube page appears below as well.
Access them here: LinkedIn, Twitter, and YouTube. By following or subscribing on those sites, one can be notified as new material appears.




NEW — PODCASTS: Are you too busy to sit and watch an entire "AFIO Now" episode above on YouTube? Would you rather listen in your car or while accomplishing other tasks? Now you can quickly download or stream episodes on your favorite podcasting platform. AFIO is now available on 8 podcasting platforms. Search for 'AFIO Podcast' for a selection of the interviews above (public released ones) on Podbean; iTunes; Google; Spotify; Amazon Music; Amazon TuneIn + Alexa; iHeartRadio; and Pandora.
---
---
Section I - INTELLIGENCE HIGHLIGHTS

Concerns Over Chinese Espionage at Center of Proposed Undersea Data Cable. Facebook and Amazon have asked the U.S. government for approval to operate a new undersea data cable between the Philippines and California after China Mobile agreed to exit the plan, a government agency said on Friday.

The two companies told the Federal Communications Commission they intend to start commercial operation by late 2022 and said the new data connection will provide significant new capacity on routes where capacity demand continues to increase substantially each year.

The companies in a joint filing said the new cable will help to support Facebook applications and provide Amazon and its affiliates with the capacity to support Amazon's cloud services and connect its data centers. [Read more: Shephardson/Reuters/13August2021]

How North Korean Spies Posed as Defectors to Get Eyes on the South. North Korea and South Korea recently restored their bilateral hotline, a move that was made after an exchange of letters between the leaders of North Korea and South Korea.

"The top leaders of the North and the South agreed to make a big stride in recovering the mutual trust and promoting reconciliation by restoring the cutoff inter-Korean communication liaison lines through the recent several exchanges of personal letters," the Korean Central News Agency said in late July.

However, that doesn't mean that there isn't still spying going on. NK News recently looked at how North Korea conducts its modern-day spying operations on South Korea. [Read more: Silver/TheNationalInterest/11August2021]

CIA Weighs Creating Special China Unit in Bid to Out-Spy Beijing. The Central Intelligence Agency is weighing proposals to create an independent "Mission Center for China" in an escalation of its efforts to gain greater insight into the U.S.'s top strategic rival, according to people familiar with the deliberations.

The proposal, part of a broader review of the agency's China capabilities by CIA Director William Burns, would elevate the focus on China within the agency, where China has long been part of a broader "Mission Center for East Asia and Pacific."

Mission centers are stand-alone entities that utilize resources from across the CIA in line with agency priorities. [Read more: Martin&Wadhams/Bloomberg/12August2021]

Russian Hypersonic Technology Expert Accused of High Treason. A court in Moscow on Thursday ordered a specialist in hypersonic technologies to be kept in jail pending trial on charges of high treason, in the latest in a series of espionage cases targeting Russian scientists.

The Lefortovo District Court ruled at a hearing behind closed doors that Alexander Kuranov, director-general and chief designer of the St. Petersburg-based Hypersonic Systems Research Institute, should remain in pre-trial detention for two months. The materials of the case were classified, but Russian media reports said Kuranov was accused of handing over sensitive information to representatives of unspecified foreign countries.

The website of Kuranov's institute states that it has worked on the concept of the Ajax hypersonic vehicle, a project first proposed in the late 1980s by Soviet engineer Vladimir Freighstadt. Instead of protecting a vehicle flying at hypersonic speed from the heat it generates, Freighstadt suggested assimilating the heat to augment energy resources. [Read more: AP/12August2021]

Former Intelligence Employees Lose Legal Battle Over Scope of Prepublication Reviews. The 4th U.S. Circuit Court of Appeals doubled down on the validity of prepublication review processes for federal employees who want to publish information about their experiences in government.

Five former intelligence employees sued the government for having what they viewed as overly expansive and untimely prepublication review processes that prevented them from fully exercising their first amendment rights. But the appellate court sided with the government, holding that the process, as it currently exists, is constitutional.

"We conclude that the defendant agencies' prepublication review regimes are a reasonable means of serving the government's compelling interest in keeping classified or otherwise sensitive information secret, and therefore they do not violate the plaintiffs' First Amendment speech rights," the three-judge panel said in its June ruling.

The decision backs last year's district court ruling, which maintained that the protection of national secrets outweighs free-speech concerns. [Read more: Tercasio/FederalNewsNetwork/17August2021]


---
Section II - CONTEXT & PRECEDENCE

Covert Actions: How Espionage Has Helped Win Wars. Books about espionage are in a class by themselves, sometimes illuminating but often raising more questions than they answer, as a crop of new works reminds us. [Read more: Ricks/NewYorkTimes/16August2021]

The Navy Once Had a Spy Sub With a Secret: Tiny Ski Legs. One of the most unusual submarines ever produced for the U.S. Navy was USS Parche. Originally built as a nuclear powered attack submarine, Parche was heavily modified over the course of her career to conduct underwater espionage missions. The missions included top secret efforts to tap undersea communications cables, allowing U.S. intelligence to monitor traffic to and from Soviet naval bases.

The U.S. Navy's corps of submariners is often known as the "Silent Service," and for more ways than one. While a submarine's mission is to run silent in wartime, submarine crew are notoriously tight-lipped even in peacetime. Still, despite the secrecy details of some of the most unusual ships and missions of the Cold War have leaked out into the public domain - including USS Parche. [Read more: Mizokami/PopularMechanics/13August2021]

Russian, British Envoys Anger Iranians with WWII Memorial Photo. Russian and British envoys to Tehran have infuriated Iranians inside and outside the country after they tried to re-enact a World War II conference that hearkens back to a time of death and occupation for Iran.

On Wednesday, Russian Ambassador Levan Dzhagaryan and new UK Ambassador Simon Shercliff sat on chairs on the historical stairs of the Russian embassy in Tehran, leaving an empty chair in the middle.

A tweet by the Russian embassy posting the picture received thousands of angry comments and quote tweets.

The site had hosted the Tehran Conference of 1943, where the "Big Three" Allied leaders, Joseph Stalin, Franklin D. Roosevelt, and Winston Churchill, sat down to discuss how to counter Nazi Germany. [Read more: Motamedi/AlJazeera/12August2021]

See Something, Say Something: Army Observes Antiterrorism Awareness Month. Terrorism continues to be a persistent threat, as violent extremist organizations and individuals with radicalized ideologies are still a known danger to Army installations and personnel, an antiterrorism expert said Tuesday.

August is Antiterrorism Awareness Month and an opportunity for all Soldiers, civilians, and family members to increase their understanding about extremism, terrorism, insider threats, and cybersecurity vulnerabilities, said James Crumley, the antiterrorism deputy division chief for the Office of the Provost Marshal General.

"Each member of the Army community should be actively involved in combatting against these threats through sustained vigilance and prevention," Crumley said. "These efforts support the Army's top priorities of people and readiness."

The threat to national security is becoming increasingly more dynamic and complex, Secretary of the Army Christine E. Wormuth wrote in a letter to the force to highlight the 12th annual monthlong observance and call to action. [Read more: Suits/Army/11August2021]


---
The Berlin Spy Case Reminds Us That Real Espionage is Banal and Human. What's interesting about the news of the security guard at the British Embassy in Berlin caught passing classified documents to a Russian handler, is that it is so banal. As such, it reminds us that modern espionage is still not that far removed from the world depicted by John le Carré and Len Deighton during the Cold War.

We are conditioned by the high-tech antics of cyber spies' and intelligence agencies' eager and early adoption of the latest tools and techniques. But the Berlin case, assuming the charges are proven, is a crucial reminder that human intelligence - humint - remains the most vital of all the so-called "collection disciplines".

A hack can access documents stored on a computer, a phone intercept can overhear a conversation and a satellite can photograph an installation. But they all have workarounds. The Iranian Revolutionary Guard sends key orders on paper by motorcycle courier to avoid US and Israeli eavesdropping and Russia uses inflatable tanks to fool satellites. Humans are imaginative, self-propelled, able to notice context and tell you things you didn't know you needed to know. That's why everyone, from MI6 and the CIA to the Russians, still spends so much effort in recruiting them. [Read more: Galeotti/FinancialTimes/14August2021]

A Flaw in the Attorney General's Policy Against Seizing Reporters' Records. The Department of Justice's use of compulsory process to obtain information from journalists in criminal investigations has been much in the news after an outcry following revelations that the Trump Justice Department had secretly seized reporters' telephone records in search of their sources during a 2017 leak investigation. Those disclosures, along with contemporaneous reports that the Justice Department also had subpoenaed information from Apple accounts maintained by Democratic lawmakers and staff in connection with a separate leak investigation, prompted Attorney General Merrick Garland to meet with senior executives from CNN, The New York Times and the Washington Post on June 14, 2021. Following that meeting, the publisher of the Times, A.G. Sulzberger, issued a statement calling for the Justice Department to "codify that it will no longer seize journalists' records during leak investigations." While Garland's own comments were considered off the record under an agreement setting the parameters of the June 14th meeting, the Times' newsroom lawyer, David McCraw, portrayed the discussion, centering on restricting the ability of leak investigators to pursue reporters' data, as positive. [Read more: Croner/JustSecurity/11August2021]

Orchestration as a Cybersecurity First Principle. In March of 2003, I was the Commander of the Army Computer Emergency Response Team or ACERT. The internet was just really taking off then. Wikipedia had just launched a couple of years before. Apple launched iTunes that year but we were still four years away from seeing our first iPhone. In the military, we were still trying to figure out what cyber operations meant and every organization that could spell cyber correctly, three times out of five, thought that they should own it.

One of my ACERT responsibilities was to coordinate offensive and defensive cyber operations for all of the Army cyber stakeholders (intelligence, networking, law enforcement, legal, information operations, and many others) with our sisters and brothers in the joint world (Air Force, Navy, and the Marines). These were the Title 10 forces, as they say, and my job was to make sure that whatever they were doing didn't step all over what the Title 50 cyber forces at the National Security Agency (NSA) and the Central Intelligence Agency (CIA) were doing.

Title 10 and Title 50 refer to the chapters in the United States Code that provide, among other things, the laws governing the Armed Forces and their use (Title 10) and things like spying, covert operations and espionage (Title 50). [Read more: Howard/CyberWire/16August2021]


---
Section IV - Research Requests, Jobs, Obituaries
Seeking Accounts of Hostage Taking in China - Foreign or Chinese
Hostage-taking has been part of the Chinese playbook since long before the People's Republic.
As I wrote back in 2016 [see story here] your accounts of similar incidents will help me to write an informative update.
Message me at matt.brazil@hushmail.com
Seeking Those With Knowledge of 1980s Monitoring of Soviet Tests (Operation Chestnut)
Related to US/Chicom cooperation in joint monitoring Soviet missile/nuclear testing 1980s (Operation Chestnut), seeking DEFSMAC staff with knowledge of such operations. This is for research support on this cooperation.
Lend your expertise/experiences to: Emil Levine, Captain, USNR, RET (NFOIO, SECGRU) emil.levine@a1.net.
Author of new SpyCom series seeks blurbs from fellow AFIO members
Author Lee Pinsky is seeking AFIO member input on a new work of spycom. "Sometimes spywork is funny. It ain't all James Bond, all the time."
For a review copy (prefinal edits) email leepinsky@gmail.com to receive a review copy. Please review & send back a short blurb.
Searching for Panelists - Society of Military History 2022 Annual Conference
From Philip Shackelford: I am looking to put together a panel revolving around airpower, intelligence, or early Cold War - ideally a combination of the three - for the 2022 Society of Military History (SMH) annual conference, taking place in Fort Worth, TX April 28 - May 1, 2022. SMH is an international society focused on "stimulating and advancing the study of military history."Learn more here.
My email is pshackelford@southark.edu, and I'm happy to put together the required proposal paperwork, etc. Let me know if you are interested and feel free to share with others.
Seeking Former CIA Officers who knew Abu Bakr al-Baghdadi, others in ISIS, to assist Israeli Journalist with Documentary
My name is Hadar Gat, I'm a journalist from Israel, currently working on the second season of a documentary series about the most influential Arab leaders in the middle east.
It's an international production, broadcasted on Kan Israeli channel (IPBC).
The documentary series provides a profound profile analysis of leaders in the Arab world, and is one of the leading document series of IPBC.
Each episode is covering the history and profile of a different leader, and reviewing his personality and actions from every aspect possible. Especially the way he was grasped through the eyes of different Intelligence agencies.
I'm contacting [AFIO] because in one of the episodes we are focusing on Abu Bakr al-Baghdadi, and ISIS itself. Therefore, we wish to interview former CIA officers or agents who are relevant to that matter. I'm available for any questions and more details, so feel free to contact me at any time.
Looking forward to hearing from you.
Replies to Hadar Gat, 972-50-4800-306 or hadargat8@gmail.com
US-China co-operation against the Soviets in the 1980s. Seeking Intelligence Officers who worked in Western China on joint monitoring stations dedicated to Soviet missile sites
Jane Perlez, the NYTimes bureau chief in Beijing, is seeking officers who worked in China on the joint monitoring stations in Western China that were dedicated to the Soviet missile sites. It is for a podcast that deals with the China-US opening by Richard Nixon. The program, run in part by the Science and Technology division, featured in the excellent book "The Wizards of Langley" by Jeffrey Richelson, "The Great Wall" by Patrick Tyler, and in some press accounts.
To respond, email her at janeperlez@gmail.com; twitter: @janeperlez; +1-646 884 4949
ISO former CIA officers w/ Czech experience
I'm the daughter of Dagmar Stapleton who worked on the Czech desk from around '74 to '94. Am hoping to talk with former Prague case officers, station chiefs, deputy station chiefs from that time period for a research project.
Please contact me at viveca.novak@gmail.com. [Viveca Novak is an American journalist who has worked as the editorial and communications director at the Center for Responsive Politics since 2011. She was previously a Washington correspondent for Time and The Wall Street Journal. She is a frequent guest on CNN, NBC, PBS, and Fox.]
Researcher Seeking Your Experiences Working in Western North Carolina on DoD/NSA Rosman Research Station in 1980s.
I'm Craig Gralley, a 34-year veteran of CIA and currently a freelance writer in the Brevard, NC area. I'm also a volunteer at PARI - the Pisgah Astronomical Research Institute in nearby Rosman. PARI is now dedicated to STEM education and research, but has had a storied history that is largely unknown to the people of this mostly underserved area of rural North Carolina. I have volunteered to write PARI's history. NASA first constructed the site in 1962 as a ground station for a variety of unmanned scientific satellites. AFIO members might remember when DoD/NSA took over the site in 1981 and called it the Rosman Research Station (NSA's participation at the site was declassified nearly a decade ago). NSA gave up the site in 1995.
I am receiving NSA's support through a FOIA request to declassify more information about the facility. My goal is to make this history less about satellites and their capabilities and more about what it was like working in a remote location in western North Carolina. Personal stories, things that could have gone wrong but didn't (or did), success stories—humorous/serious anecdotes—all of it is welcome. My goal is to take the edge off of a dry history and give the Rosman ground station a human face.
I'd be glad to attribute anything that comes to me in the way desired by the contributor.
Thanks for your help.
REPLIES to Craig R. Gralley, 703.581.3440 (mobile), craig.gralley@gmail.com. More about Craig at www.craiggralley.com
Seeking Officials Who Served USSR/Russia 1965-2015 and Other Posts - with knowledge of, or exposure to, Microwave/Directed Energy Weapons
Prominent D.C. Attorney seeking former intel officers or others who served in USSR/Russia during 1965-2015, as well as anyone who has information concerning possible microwave/energy directed weapon exposure of U.S. officials by foreign adversary.
Replies to Mark S. Zaid Esq, mark@markzaid.com. Or call him at (202) 454-2809.
More information about Mr. Zaid at MarkZaid.com.
---
Richard Atchison, DDI (J2); Centcom DDI for Desert Storm
Richard MacRae Atchison, Col USAF(Ret.), 80, Deputy Director of Intelligence (J2), died 4 August 2021 in Springfield, VA.
As a commissioned officer, he lived out his boyhood dreams as an Electronic Warfare Officer, flying B-52s Crome-Dome missions, OV-10 Broncos (Pave Nail) in Vietnam, and F-4G Wild Weasel missions in Europe. Later in his career he became the HQ USAF Director of Electronic Combat, eventually becoming the Deputy Director of Intelligence (J2) on the Joint Staff which included TDY as US Central Command Deputy Director of Intelligence for Operation Desert Storm. He lived a life of excellence and service.
He and his wife Barbara parented with patience, love, and grace over 50 children in the foster care system. He served as the president of the Fairfax County Foster Parents Association as well as president of the Belvoir Bowhunters.
In retirement he worked with Wounded Warriors, adaptive sports, and the Warrior Transition Battalion of Fort Belvoir.
He is survived by his wife, Barbara Atchison, one daughter, three sons, and other family.
John Rizzo, Brave, Renowned CIA DO Lawyer and acting General Counsel
John Anthony Rizzo, 73, a brave and renowned (and at times controversial) CIA DO lawyer and acting General Counsel, died of a heart attack on 6 August 2021 in Washington, DC.
Rizzo was born in Worcester, MA and grew up outside Boston. He studied political science at Brown University, receiving a bachelor's degree in 1969, and graduated from George Washington University Law School in 1972. His first job out of law school was with the U.S. Customs Service.
Rizzo joined the Agency in 1976 after watching congressional hearings on White House-authorized "CIA assassination plots" and domestic surveillance operations which the WH later decided to disavow. It occurred to him that if the Agency did not yet have lawyers, they may need some now. Within three years of joining the CIA, he had become the top lawyer for the Directorate of Operations, and, after 9/11, became CIA's acting General Counsel from 2001 to 2002 and from 2004 to 2009.
He later coordinated with House and Senate investigators examining the Iran-contra affair, and developed rules for CIA operatives who were backing anti-communist rebels in Latin America.
Rizzo laid the complex legal groundwork for proxy wars, drone strikes, and the post-9/11 enhanced interrogation program to deal with a highly unconventional threat.
Rizzo did not object to the interrogation program believing the techniques were necessary to extract intelligence that could help avert another strike against the US, which many others thought likely. But he wisely anticipated future criticism and sought "legal cover" by procuring Justice Department memos in 2002, in which the government argued that using the techniques would not violate U.S. law or foreign treaties. The methods were permitted.
Because some in the country quickly forgot the terror and continuing risks of 9/11, Rizzo's post-9/11 role was soon viewed through a different, politicized lens. In 2007, he was denied the official role of General Counsel when his Senate confirmation was blocked by Democratic opposition over the detention and interrogation program conducted (and approved) under the George W. Bush administration.
A later five-year Senate investigation into the interrogation program concluded in 2014 that it was more brutal and less effective than CIA suggested. Rizzo, and the CIA Directors under whom he worked, disagreed and argued the program yielded crucial intelligence before it was discontinued in the mid-2000s. However, Rizzo temporarily shut down the program in response to changes to the law.
Though excoriated by the media as "the brutal architect of torture and interrogation," Rizzo remained a beloved figure at Langley where he was admired for his knowledge of national security law as well as his unusual sartorial displays — Gucci loafers, orange pocket squares, sparkling cuff links, pinstripe suits.
"John was sort of martyred to political correctness for doing the hard mission for the agency," former CIA director Porter J. Goss told the Los Angeles Times in 2009.
"There was nobody more dedicated to the protection of CIA and its officers than John Rizzo," said George Tenet. "He had a first class legal intellect while at the same time being street smart and tough."
Former CIA Deputy Director John E. McLaughlin said, "When it comes to law governing intelligence operations, there is not a large body of precedent you can turn to. … The CIA lawyer is often calling balls and strikes with a strike zone that is not well defined."
He retired with CIA honors including the Distinguished Career Intelligence Medal, and later was a senior counsel at the Washington law firm Steptoe & Johnson and a visiting fellow at the Hoover Institution at Stanford University.
His marriage to Priscilla Walton ended in divorce. In 1993, he married Sharon Knight, who later joined the CIA. She died this April [see AFIO WINs obit 20 Apr 2021].
Survivors include a son from his first marriage, a stepdaughter, two sisters, and other family.
See longer obituaries and remembrances here: AFIO Chairman Stewart Baker's remembrance in Lawfare; and obituaries in the NYTimes and in the Washington Post.
Rodney Sorkin, Senior NSA Officer
Rodney Bruce Sorkin, 80, Senior NSA Officer, died 25 July 2021 in Carmel, IN.
He was born in New York, NY, and started his education in New York at the Bronx School of Science followed by Cooper Union where he graduated with the highest GPA ever in electrical engineering program in 1961 with a B.E.E. (a record he held until 1998). While employed at The Battelle Memorial Institute he continued his studies at The Ohio State University where he graduated with a M.S.E.E. in 1965.
In 1967 Rodney started his career at the National Security Agency where he distinguished himself as a leader and rose through the ranks to Senior Executive prior to his 1999 retirement. During his career he received multiple awards and citations, including several Meritorious Service Awards signed by contemporary POTUS' as well as the National Intelligence Distinguished Service Medal (the highest award given by the Director of Central Intelligence to a US intelligence employee). He retired with 31 years of service and was a former member of the Phoenix Society.
In retirement, he and wife Linda enjoyed traveling through Europe and taking Caribbean cruises. In 2004, approximately 6 weeks after Linda died after a long illness, Rodney had a stroke that limited his post-retirement physical abilities while thankfully leaving his sharp mind intact.
Rodney is survived by a son and daughter and other family.
Vern Watts, Sr NSA Computer Analyst
Vernon Fulton Watts Sr, 70, NSA Computer Analyst, died 18 July 2021 in Ponte Vedra, FL after a three-year battle with Multiple System Atrophy (MSA).
He was originally from Brooklyn Park, MD. In his early NSA career, he was a Computer Systems Operator and rose in the 1980s to become a Computer Systems Operations Specialist. He later was a Signals Intelligence Collection Senior and was named a Senior Member by the Signals Collection Career. He earned the W9T Alumni coin and the South Asia Crisis coin.
He served at NSA for 39 years and for General Dynamics for seven years, earning numerous awards with both, including the Outstanding Support Award and the DO Rapid Process Improvement Pilot and Requirements Review Group certificates and plaques.
Watts moved to Ponte Vedra in Northeast Florida's Nocatee community, and became the unofficial mayor of his neighborhood, Marsh Preserve, helping anyone needing assistance with their new home, electronics, purchasing a golf cart, etc. He started the community's annual golf cart parades, was the "sound guy" in the Performing Arts Club, was active in the Men's Club as events co-coordinator, was a member of the Garden Club, repairing the irrigation systems, and called the Bingo games. Vern was well known for his hard core support of the Baltimore Ravens football team.
Mr. Watts is survived by his wife of 45 years, Debbie, a son, mother, sister, brother, and other family.
Expressions of sympathy may be sent to: 135 Woodhurst Drive, Ponte Vedra, FL 32081-5709
---
AFIO EDUCATIONAL EVENTS IN COMING TWO MONTHS....
Thursday, 26 August 2021, noon EDT - Tampa, FL - The Florida Suncoast AFIO Chapter hosts in-person luncheon to hear Michael Peck on "Drones, Computer Brains, and Hackers: Warfare in the 21st Century."
The Florida Suncoast AFIO Chapter is holding its next in-person meeting at the offices of Bleakley, Bavol, Denman & Grace, 15316 N Florida Avenue, Tampa, FL 33613. The offices are off I-275 just north of the Bearss Avenue exit. The program starts at noon.
Michael Peck, our featured speaker, is a prolific defense writer specializing in military technology, strategic issues and military history. Among many other publications, he is a contributing writer for Forbes. He will present "Drones, Computer Brains and Hackers: Warfare in the 21st Century," discussing the future of warfare, including technological trends such as autonomous weapons, cyberwarfare and artificial intelligence.
Cost: $15, cash or check. We are also testing limited online access to the meeting. If you are interested or to attend in person, please contact the Chapter Secretary at michaels@suncoastafio.org. You will need to complete some forms to attend. The reply deadline is noon on Thursday, 19 August.
Thursday, 2 September 2021, 6:30 pm - Virtual - San Antonio AFIO Chapter hosts Graham Plaster about his "The Intelligence Community, Inc."
The founder of "The Intelligence Community, Inc." [?] will make a presentation at this chapter virtual event. Graham Plaster, a Navy veteran, serial entrepreneur, national security technology startup advisor, investor, and Founder of The Intelligence Community Inc., will speak. He is the Editor in Chief for the Foreign Area Officer Association Journal, "International Affairs." His book, "In the Shadow of Greatness" is on the official reading list for the US Navy. Graham is a graduate of the US Naval Academy and resides near Annapolis with his family and two dogs, Bravo and Zulu.
Prior to the meeting we will send a link to this virtual meeting. This is a meeting you do not want to miss.
Questions or to register, contact John Franklin, President, AFIO San Antonio Chapter, 210 863-0430 or at satxafio@gmail.com.
Saturday, 11 September 2021, 11:30a - 1:30p - Indialantic, FL - In-person Luncheon by Florida Satellite Chapter featuring Capt John Byron USN on "Subs as Intelligence Platforms"
The AFIO Florida Satellite Chapter is holding an in person meeting featuring guest speaker Captain John Byron USN discussing "Submarines as Intelligence Platforms."
Location: Doubletree Hotel, 1665 North A1A, Indialantic, FL. Time 11:30 AM to 1:30 PM.
Fee: Sit down lunch for $30.00.
Reservation deadline: 7 September.
Contact Larry Sanford at afiofloridasatellitechapter@gmail.com or call 978-502-3328.
Friday, 8 October 2021, 11 am - 2 pm - In-Person Tysons Corner, VA - AFIO Luncheon featuring David Ignatius on "The Paladin" and Stephen Vogel on Traitor George Blake.
FOR YOUR CALENDAR. The first in-person AFIO National Luncheon for 2021 will take place on Friday, 8 October at DoubleTree Hotel, Tysons Corner. Event will feature David Ignatius discussing "The Paladin" or possibly another topic TBA. And the morning speaker, Stephen Vogel, discussing "Betrayal in Berlin" and traitor George Blake.
TO REGISTER: Registration link forthcoming.
VENUE: DoubleTree by Hilton, 1960 Chain Bridge Rd, Tysons Corner, VA 22182 Phone: (703) 893-2100. Directions at this link.
---
Other Upcoming Events from Advertisers, Corporate Sponsors, and Others
Thursday, 19 August 2021, noon EDT - Zoom Webinar - Virtual Spy Chat with Chris Costa with Special Guest Marc Polymeropoulos - Virtual International Spy Museum Program
Participate in an online discussion of the latest intelligence, national security, and terrorism issues in the news. Spy Museum Executive Director Chris Costa, a former intelligence officer of 34 years, will lead the briefing. He will be joined by Marc Polymeropoulos, who retired from the CIA Senior Intelligence Service ranks in 2019 after serving for 26 years in the Intelligence Community in operational field and leadership assignments. Following their discussion of key issues, you'll be able to ask questions via our online platform.
Sponsored by the Honorable Mary Beth Long, International Spy Museum, Board of Directors.
Event is free registration required. Visit www.spymuseum.org.
Thursday, 19 August 2021, 6pm EDT - GoToMeeting - NIP Virtual Speaker Series with Neil Wiley on "Intelligence Fundamentals"
Naval Intelligence Professionals virtually host Mr. Neil Wiley, Retired Naval Officer and Civilian Intelligence Professional on "Intelligence Fundamentals – Every Analytic Principle I Ever Needed I Learned On A FOSIC Watch Floor."
Neil Wiley is Principal Executive, Office of the Director of National Intelligence (ODNI); Chairman, National Intelligence Council, ODNI; and Director of Analysis, Defense Intelligence Agency.
Please join the meeting from your computer, tablet or smartphone, beginning at 1750/5:50 EDT:https://global.gotomeeting.com/join/409647493
You can also dial in using your phone. US: +1 (872) 240-3412; Access Code: 409-647-493
New to GoToMeeting? Get the app now and be ready when your first meeting starts: https://global.gotomeeting.com/install/409647493
As always, please mute your device/phone. Thanks.
AGENDA:
• (3 min) RDML (Ret.) Tony Cothron, NIP Chairman, welcoming remarks.
• (~30 min) Mr. Neil Wiley remarks
• (~30 min) Q & A moderated by CAPT (Ret.) Bob Allen. - Please enter your questions in the GoToMeeting chat window or email your questions in advance/during the video conference to: bob_allen36@hotmail.com.
Thursday, 26 August 2021, noon EDT - Washington, DC - Curator's Corner: Ethel Rosenberg, An American Tragedy - International Spy Museum
In June of 1953, Ethel Rosenberg and her husband were executed for conspiracy to commit espionage for the Soviet Union. Evidence against Ethel was shaky, but she would not incriminate her husband to gain a lesser sentence. Participate with International Spy Museum Historian and Curator Andrew Hammond in conversation with Anne Sebba, the author of Ethel Rosenberg: An American Tragedy.
Following their discussion, you'll be able to ask questions via our online platform. Mike Meeropol, the son of Julius and Ethel, who has spent his life in pursuit of "the real story" behind his parents' secret lives, will join in for the Q&A portion of the program.
Event is free - registration required. Visit www.spymuseum.org.
Sunday, 29 August 2021, 2-3:30 pm EDT - Zoom Webinar - Shock & Awe from the Air: Planning & Executing the Desert Storm Air War by The Cold War Museum
Saddam Hussein Knows You're Coming, and He's Got Potent French-Designed Integrated Air Defenses
But Air Superiority Has to Be Total. How Do You Plan That? And How Do You Make It Happen? Hear and Ask the Two People in Charge of Those Two Things
Hear the story of the transformation of air power in the first Gulf War from two pioneers of the planning and execution of the Desert Storm Air Campaign.
Lt Gen Dave Deptula, USAF (Ret.) invented the master air-attack plan and wrote the attack plans for each day of the Desert Storm air campaign, using desired end-state effects as a planning mechanism by capitalizing on the technologies of stealth and precision in a fashion never applied in warfare before.
Col Al Mink, USAF (Ret.) deployed as the first bomber pilot from the Air Force's only wing of tactically-qualified and ready bomber forces. He served as initial cadre on the secret "black hole" team to plan the shape of the air campaign applying Gen Deptula's new campaign approach. He brought the fighter-approach of Air Tasking Orders to the nuclear bomber force. During combat operations, he coordinated the launch and refueling of the largest bomber strike in the war and flew 18-hour strike formations.
Cost: $20, 100% of which is a contribution
Agenda:
• 1:30-2:00. Participants arrive in the Zoom room online.
• 2:00-2:05. Jason Hall, Executive Director of the Cold War Museum, introduces the Museum, then Dave Deptula and Al Mink.
• 2:05-3:00. Dave and Al present on planning and executing the Desert Storm air war.
• 3:00-3:30. Q&A opportunity for the audience.
Questions? Call or email Jason Hall, 703-283-4124 (cell), jason@coldwar.org
To sign up, do so here on EventBrite.
Wednesday-Thursday, 8-9 September 2021 - Zoom Webinar - IMSE 2021 Conference on Illegal, Unregulated and Unreported (IUU) Fishing.
Indo-Pacific Maritime Security Exchange (IMSE). IUU Fishing has replaced piracy as the top global maritime security threat, according to the USCG commandant. The world's fish stocks are threatened by over and unregulated fishing. Countering IUU fishing is largely an intelligence problem. The IMSE two-day conference examines the problem of IUU fishing. The conference has assembled a rich and diverse program, and a distinguished group of speakers to include the vice commandant of the US Coast Guard, NOAA's regional administrator for the Pacific, representatives from the Pew Charitable Trust, Global Fishing Watch, The Nature Conservancy, and others from the State Department, Indo-Pacific nations and academic experts. Day 2 of the conference examines open source technologies used to counter IUU fishing, including imagery, RF, and SAR remote sensing from space to acoustics underwater; integrating disparate data; and the contributions of artificial intelligence and machine learning.
Registration required. Go to https://imsehawaii.org.
14 September 2021, 10am EDT - Zoom Webinar - Virtual Panel Discussion with Former Deputy Directors of National Intelligence as part of NCF's 25th Anniversary
The National Cryptologic Foundation is excited to announce the next NCF 25th Anniversary virtual program which features a panel of former deputy directors of national intelligence. Greg Myre, NPR National Security Correspondent, will serve as moderator for the program.
The program is free, but as with our other 25th Anniversary events and activities - we appreciate any and all donations as they will help to support our mission - especially our growing list of exciting education initiatives. Stay tuned as registration will open soon.
Who: National Cryptologic Foundation
What: 25th Anniversary September 14th Panel Discussion with Former Deputy Directors of National Intelligence: Confirmed panelists include: Gen Michael V. Hayden, USAF (Ret), Mr. Donald Kerr, and Ms. Stephanie O'Sullivan. This panel discussion will be moderated by: Greg Myre, National Security Correspondent, NPR.
When: 14 September 2021, 10-11:30 am EDT
Where: Virtual Program - offered via Zoom webinar (Once registration opens, your Zoom details will be in your confirmation email.)
*If you are unable to attend, please stay tuned to the NCF e-newsletter and social media for an announcement about the recording, once available.
Cost: Free. Donations Appreciated.
Contact: If you have questions about this program, please email ncfinfo@cryptologicfoundation.org.
Registration to Open Soon and will be at this link.
14 October 2021, 8:15a to 2p - virtual and in-person - NCF General Membership Meeting (GMM) & Annual Symposium
SAVE THE DATE for the first hybrid (virtual and in-person) National Cryptologic Foundation General Membership Meeting. We are excited to be planning to gather in person again. The 2021 GMM & Annual Symposium will be held on 14 October and will be a hybrid event - offering options to attend virtually or in person. The program will be held at the CACI in the National Business Park. Seating will be limited and the program will be shorter in duration this year. Schedule: Check-in and breakfast from 8:15-8:45am; Program 9am-12pm; Lunch and Booksigning 12-1pm. Stay tuned for program details and registration will be available at this link.
Wednesday, 27 October 2021, 6 - 10 pm - Washington, DC - 30th (+1) Anniversary Gala and Chancellor's Dinner - Institute of World Politics
Save the date. Current timing of this in-person celebration is:
6:00 PM Cocktail Reception
7:00 PM Dinner
9:00 PM Dessert and Dancing
Location: The Mayflower Hotel, 1127 Connecticut Ave NW, Washington, DC
Additional details to follow
*Because this is an unusual year, if you are considering attending the 30th (+1!) Anniversary Gala, please fill out this form: iwp.edu/gala-survey
Wednesday, 1 December 2021, 5:30 PM VIP Reception / 6:30 PM Progressive Reception & Award Program - Washington, DC - 2021 Webster Distinguished Service Award Event - International Spy Museum
The Spy Museum offers an evening of intrigue for the 2021 Webster Distinguished Service Award event. The award is an opportunity to recognize the extraordinary contributions of individuals in the Intelligence Community. This year's awardee is The Honorable Susan M. Gordon, former principal deputy director of national intelligence. Previous recipients of the Webster Distinguished Service Award include President George H. W. Bush (2017), Admiral William H. McRaven, USN (Ret.) (2018), and Gen. Michael V. Hayden (Ret.) (2019). Webster attendee and sponsor support fuels the nonprofit mission of educating the public about the history and craft of espionage and intelligence through youth and adult programs, community service, and the care of the Museum's unique collection of artifacts for generations to come.
Event will be held at the International Spy Museum.
For tickets, sponsorship opportunities, or information about ways to support the International Spy Museum, please contact the development office at 202.654.2853. Event tickets, other details are available here.
---
In addition to the new Royal Blue long sleeve shirts, and the gray long sleeve hooded sweatshirts, the AFIO Store also has the following items ready for quick shipment:
LONG and Short-Sleeved Shirts with embroidered AFIO Logo and New Mugs with color-glazed permanent logo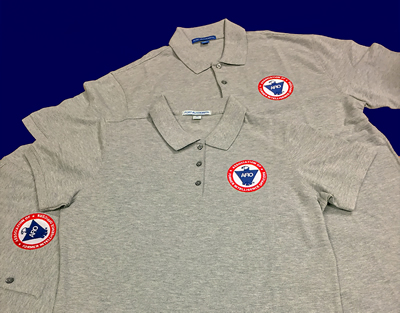 Show your support for AFIO with our new Polo Shirts. Be the first to buy these new, high quality, subtle heathered grey short sleeve shirts, and dark blue long sleeved shirts, of shrink and wrinkle resistant fine cotton with a soft yet substantial feel. They feature a detailed embroidered AFIO seal. Get a shirt for yourself and consider as gifts for colleagues, family, and friends. Only $45 each including shipping.
Sizes of (M) men or (W) women shirts; Small, Medium, Large, XL, XXL, and XXXL. At this time all orders will arrive as Short Sleeve shirts.
You may pay by check or credit card. Complete your order online here or mail an order along with payment to: AFIO, 7600 Leesburg Pike, Ste 470 East, Falls Church, VA 22043-2004. Phone orders at 703-790-0320. If interested in other shirt colors or sleeve lengths, contact Annette at: annettej@afio.com.
---
AFIO Mug with color glazed logo. Made in America. Sturdy enough to sit on desk to hold pens, cards, paperclips, and candy.
This handsome large, heavy USA-made ceramic mug is dishwasher-safe with a glazed seal. $35 per mug includes shipping. Order this and other store items online here.
---
Guide to the Study of Intelligence and When Intelligence Made a Difference
"AFIO's Guide to the Study of Intelligence" has sold out in hard-copy.
However, it is available in digital form in its entirety on the AFIO website here.

Also available on the website here are the individual articles of AFIO's history project "When Intelligence Made a Difference" that have been published to date in The Intelligencer journal. More articles will be forthcoming in future editions.
---
Disclaimers and Removal Instructions
Weekly Intelligence Notes (WINs) are commentaries on Intelligence and related national security matters, based on open media sources, selected, interpreted, edited and produced for non-profit educational uses by members and WIN subscribers.
REMOVAL INSTRUCTIONS: We do not wish to add clutter to inboxes. To discontinue receiving the WINs:
a) IF YOU ARE A MEMBER - click here: UNSUBSCRIBE and supply your full name and email address where you receive the WINs. Click SEND, you will be removed from list. If this link doesn't open a blank email, create one on your own and send to afio@afio.com with the words: REMOVE FROM WINs as the subject, and provide your full name and email address where you are currently receiving them.
b) IF YOU ARE NOT A MEMBER, and you received this message, someone forwarded this newsletter to you [contrary to AFIO policies]. Forward to afio@afio.com the entire WIN or message you received and we will remove the sender from our membership and distribution lists. The problem will be solved for both of us.
CONTENTS of this WIN [HTML version recipients - Click title to jump to story or section, Click Article Title to return to Contents. This feature does not work for Plaintext Edition or for some AOL recipients]. If you wish to change to HTML format, let us know at afio@afio.com. The HTML feature also does not work for those who access their e-mail using web mail...however NON-HTML recipients may view the latest edition each week in HTML at this link: https://www.afio.com/pages/currentwin.htm
---
WINs are protected by copyright laws and intellectual property laws, and may not be reproduced or re-sent without specific permission from the Producer. Opinions expressed in the WINs are solely those of the editor's or author's listed with each article. AFIO Members Support the AFIO Mission - sponsor new members! CHECK THE AFIO WEBSITE at www.afio.com for back issues of the WINs, information about AFIO, conference agenda and registrations materials, and membership applications and much more!
(c) 1998 thru 2021. AFIO, 7600 Leesburg Pike, Suite 470 East, Falls Church, VA 22043-2004. Voice: (703) 790-0320; Fax: (703) 991-1278; Email: afio@afio.com
---
About AFIO | Membership Renewal | Change of Address | Upcoming Events | Chapter Locations | Corporate/Institutional Memberships | Careers in Intelligence Booklet | Guide to the Study of Intelligence | Intelligencer Journal | Weekly Intelligence Notes | To Make A Donation | AFIO Store | Member-Only Section | Code of Ethics | Home Page
---