---
CONTENTS
Section I - INTELLIGENCE HIGHLIGHTS
Section II - CONTEXT & PRECEDENCE
Section IV - Research Requests, Jobs, Obituaries
Other Upcoming Events from Advertisers, Corporate Sponsors, and Others
For additional AFIO and other Events two+ months or more... Calendar of Events
WIN CREDITS FOR THIS ISSUE: The WIN editors thank the following special contributors: rsy, ec, po, pjk, mh, km, gh, mk, rd, fm, kc, jm, mr, jg, th, ed, and fwr. They have contributed one or more stories used in this issue.

The WIN editors attempt to include a wide range of articles and commentary in the Weekly Notes to inform and educate our readers. However, the views expressed in the articles are purely those of the authors, and in no way reflect support or endorsement from the WIN editors or the AFIO officers and staff. We welcome comments from the WIN readers on any and all articles and commentary.

CAVEATS: IMPORTANT: AFIO does not "vet" or endorse research inquiries, career announcements, or job offers. Reasonable-sounding inquiries and career offerings are published as a service to our members, and for researchers, educators, and subscribers. You are urged to exercise your usual caution and good judgment when responding, and should verify the source independently before supplying any resume, career data, or personal information.]
If you are having difficulties with the links or viewing this newsletter when it arrives by email, members may view the latest edition each week at this link.
---
Other items brought to our attention:
Afghanistan, Policy Choices, and Claims of Intelligence Failure
by David Priess, 26 August 2021, in Lawfare Blog
An old adage in foreign policy circles—heard most often from policymakers at the White House or the State Department or the Pentagon—is that there are no policy failures, only intelligence failures. This, of course, is a landfill-sized garbage take. The origins of poor policy decisions go much deeper and much wider than that; intelligence has always been merely one input in a complicated, multifaceted policy process. Yet, it's fair to admit a serious problem when intelligence is both a crucial factor in national security decision-making and inaccurate, not objective, untimely, or poorly communicated. In these cases, "intelligence failure" fits the bill. Without knowing the details of intelligence that had reached President Biden, observers have nevertheless been deploying the phrase... Article continues here
---
Intelligence Matters: A CBS News original national security podcast hosted by former CIA acting director and CBS News national security contributor Michael Morell

A few recent "Intelligence Matters" podcasts to stream or download:
Aug 25 | Remembering 9/11 Part 3: Winston Wiley
In the third installment host Michael Morell speaks with Winston Wiley, the CIA's most senior analyst on 9/11, about his experience on that day. Wiley and Morell discuss the CIA's pre-9/11 focus on al Qaeda how the agency immediately surged resources to counterterrorism efforts after the attacks occurred. They also discuss recent developments in Afghanistan, including the Taliban's takeover of Kabul.
Aug 18 | Remembering 9/11 Part 2: Andy Card
In the second installment host Michael Morell speaks with Andy Card, who served Chief of Staff to President George W. Bush on the day of the September 11, 2001 attacks. Card and Morell walk through the moments that senior officials traveling with the president learned of the planes striking the towers, and the president's reaction upon being informed the country was under attack. They also discuss the tense moments aboard Air Force One in the immediate aftermath of the attacks, as the U.S. government rushed to identify additional threats and to plot a course forward.
Aug 11 | Remembering 9/11 Part 1: Stephen Hadley
In the first installment host Michael Morell speaks with Stephen Hadley, who served as deputy national security advisor to President George W. Bush on the day of the September 11, 2001 attacks. Hadley and Morell walk through the reactions and responses of White House officials who scrambled to understand the scope and origin of the attacks in real time. They also discuss President Bush's early instructions to government agencies and his messages to the shocked and grieving nation.
More about Intelligence Matters by Michael Morell here. Podcasts also located here.
---
Cyberblog by Steptoe & Johnson LLP
Episode 372: Blockchain and Cryptocurrency Regulatory Roundup
By Stewart Baker and Alan Cohn on 24 Aug 2021 02:40 pm
Blockchain takes over the cyberlaw podcast again! This episode of the cyberlaw podcast is a roundtable discussion of the various new regulations that have been brought into effect in the latter part of 2020 and the first half of 2021. There was a flurry of last-minute rulemakings at the end of the previous administration, many... Continue Reading
Recent Articles:
Episode 371: Fighting Ransomware by Pushing All the Buttons on the Dashboard
Episode 370: Should We Add "Jumping U.S. Red Lines" to the 2021 Olympics?
New York DFS Issues Guidance on Ransomware Prevention and Response
Colorado Becomes Third State to Adopt a Comprehensive Privacy Law
Episode 369: This Episode Could Be Worth $1,000 To The ACLU — Ransomware and Florida's deplatforming law
---
---
The Arkin Group's Aug 27 "In Other News" letter to private clients by former Operations Officer Jack Devine features...
Terrorist attacks in Kabul kill numerous US service members, civilians and Afghans, harbinger of challenges to come.
In Africa's Sahel, steady stream of terrorist attacks demonstrates continued breadth and brutality of al-Qaeda and ISIS-linked militants.
Big Oil investing heavily in offshore oil projects in Brazil, Latin America, diversification important for long term economic health.

Follow link here to read analyses and predictions given to their private clients on the topics above.

Jack Devine's Spymaster's Prism was released earlier this year. The book has just been released on audio from Tantor or Amazon. AFIO's interview with him about this book appears at this link. Or hear the podcast here.
---
The Latest... from Jeff Stein's "SpyTalk" series...
Aug 26: "Spying After Kabul: The Human Factor" by Jeff Stein
Penetrating the Taliban, Al Qaeda and ISIS-K is nigh impossible now, a CIA veteran tells us

Aug 24: "Implications for the Kabul Catastrophe" by Jeff Stein
The loss of the US embassy deprives the CIA of a base of operations only days before the 20th anniversary of its victory march into Kabul.

Aug 22: "New Kabul Scare: Terror Groups and Anti-Aircraft Missiles" by Jeff Stein
No one knows the number of MANPADS left behind in Kabul, if any. But the DoD-linked RAND Corp estimated 4,500 last year.

Aug 20: "CIA Won't Back an Afghan Resistance Anytime Soon, If Ever" by Jeff Stein
Central Asia's former Soviet states are now back in Moscow's orbit, for starters, depriving the agency of once friendly staging grounds.

Readers, for a brief time, can subscribe for free for articles and weekend podcasts here.
---
Inside the SCIF:
Inside the SCIF by JJ Green, WTOP - A special abbreviated "Kabul" Issue #127, 26 Aug has details on Deaths at Kabul Airport; The Suicide Bomber; The Global Impact; and more.

The prior Target USA Podcast 290 was on: The Taliban Takeover of Afghanistan: The Human Cost
Two Afghan brothers, NT and RT, former U.S. military interpreters have wives stuck in Afghanistan under death threats from the Taliban. They tell very personal stories.

And the prior "The Hunt" explored: Will the Taliban allow terrorists inside Afghanistan?
The Taliban have suggested that it has shed it old habits. Few people really believe them.
WTOP National Security Correspondent J.J. Green talks with Dr. Hans-Jakob Schindler, senior director of the Counter Extremism Project, who says the Taliban are unlikely to turn their back on Al Qaida.

---

The Spies of Georgetown Walking Tours

Enjoy walks through the scenic Georgetown neighborhood with a former CIA officer. Learn about the pivotal role the residents here played in the WWII era. These pre- and post- war influencers played friend and foe alike to the Soviets. Learn more about the origins of the CIA, and the life of an operative shared through curated (and unclassified) real-life stories. We'll visit the former homes of William "Wild Bill" Donovan, William Colby, Roald Dahl, and Alger Hiss and see places linked to the espionage activities of Elizabeth Bentley, and Vitaly Yurchenko.
Along the way, participants will be asked to put on their spy hats and consider the role of surveillance in an operative's daily life.
Other things to note:
- This event will take place rain or shine. In the event of thunder/lightening, the event will be cancelled and guests will be issued a full refund and be encouraged to reschedule. A determination on cancellation due to thunder/lightning will be made no later than 2 hours prior to the event. Cancellations will be communicated through the app.
- This event is interactive. Be prepared to participate!
This 1.5 hr walking tour begins in northwest Georgetown and crosses over Wisconsin Ave. to northeast Georgetown and then south towards M Street. We spend most of the tour away from the hustle and bustle of Wisconsin Ave. and M Street, in quieter neighborhoods that have remained timeless. Please note we will end at Martin's Tavern on Wisconsin, away from the starting point.
Dates available: Fri 3 Sep 5:30 - 7pm; Sun 5 Sep 10-11:30am; Mon 6 Sep 10-11:30am; Tue 7 Sep 5-6:30pm; Tue 14 Sep 5-6:30pm; Sun 19 Sep 10-11:30am; Tue 21 Sep 5-6:30pm; Tue 28 Sep 5-6:30pm.
Explore the tours here. Or immediately book your tour at this link.
---
---
Released last week to members-only...
The first battle after 9/11 in Mazār-i-Sharīf, Afghanistan,
which resulted in the death of CIA Officer Johnny Micheal Spann

Released 24 August 2021
Mark E. Mitchell
Former Director for Counterterrorism, National Security Council
and Principal Deputy Assistant Secretary of Defense
for Special Operations/Low-Intensity Conflict
Interview of Tuesday, 29 June 2021 of Mark E. Mitchell, Former Director for Counterterrorism on the National Security Council and Former Principal Deputy Assistant Secretary of Defense for Special Operations/Low-Intensity Conflict; Host: James Hughes, AFIO President and a former CIA Operations Officer.
TOPIC: Mark Mitchell discusses the first battle after 9/11 which occurred in Mazār-i-Sharīf, also called Mazār-e Sharīf, or just Mazar, the fourth largest city in Afghanistan. An uprising during the battle of Qala-i-Jangi — to overthrow the Taliban's Islamic Emirate of Afghanistan, which had been harboring al-Qaeda operatives — resulted in the death of Johnny Micheal Spann, an American paramilitary operations officer in the CIA's Special Activities Division. Spann was the first American killed in combat during this late 2001 U.S. invasion of Afghanistan. As Mitchell explains, Spann died at the Qala-i-Jangi fortress during a Taliban prisoner uprising. Mitchell describes what these early days involved as US Special Forces were brought in to treacherous terrain — human and geographic — in Afghanistan. Mitchell met up with CIA Alpha Team already in country, and later captured US-born traitor, John Walker Lindh, who admitted he was aiding the Taliban (and later sentenced to 20 years in prison in 2002).
The presentation runs 40 minutes.
Access the Mitchell Interview here or click above image.
---
Prior Videos in the "AFIO Now" Series
View the publicly-released ones on our YouTube page, or listen to the podcast version at the links below.
PODCASTS: AFIO NOW content is also available on various podcasting platforms. Search for 'AFIO Podcast' for a selection of public released videos on Podbean; iTunes; Google; Spotify; Amazon Music; Amazon TuneIn + Alexa; iHeartRadio; and Pandora
Or log into the Member-only area to view private and public interviews.
---
---
ILLEGAL, UNREPORTED, AND UNREGULATED FISHING
A Virtual Conference on 8-9 September 2021, Honolulu, HI
Help End the Plunder of the Oceans and the Invasion and Poaching in Fishing Territories of All Nations
Leverage Intelligence Capabilities, Enhance U.S. Coast Guard Operations, Build and Strengthen Multilateral Coalitions, and Confront Predatory and Irresponsible Actions
Host: Indo-Pacific Maritime Security Exchange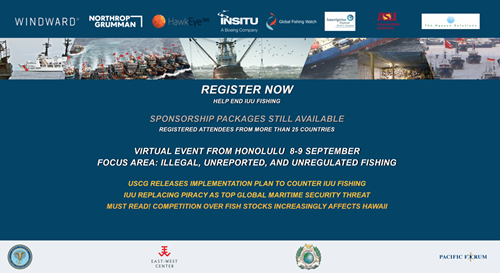 Explore this upcoming virtual event here.
---
---

REGISTRATION HAS OPENED.
Tuesday, 14 September 2021, 10 - 11:30 a.m. EDT - Zoom Webinar Event
Virtual Zoom Webinar panel discussion with Former Principal Deputy Directors of National Intelligence.
Speakers: Gen Michael V. Hayden USAF(Ret), Dr Donald Kerr, Stephanie O'Sullivan; Moderator Greg Myre of NPR.
No charge to attend. Register here. More information at cryptologicfoundation.org

Details on the Virtual Education Programs of the National Cryptologic Museum Foundation are available here Other NCF Events can be found here on NCF website here, and CCH website here.
---
---
---
Newly Released, Overlooked, or Forthcoming Books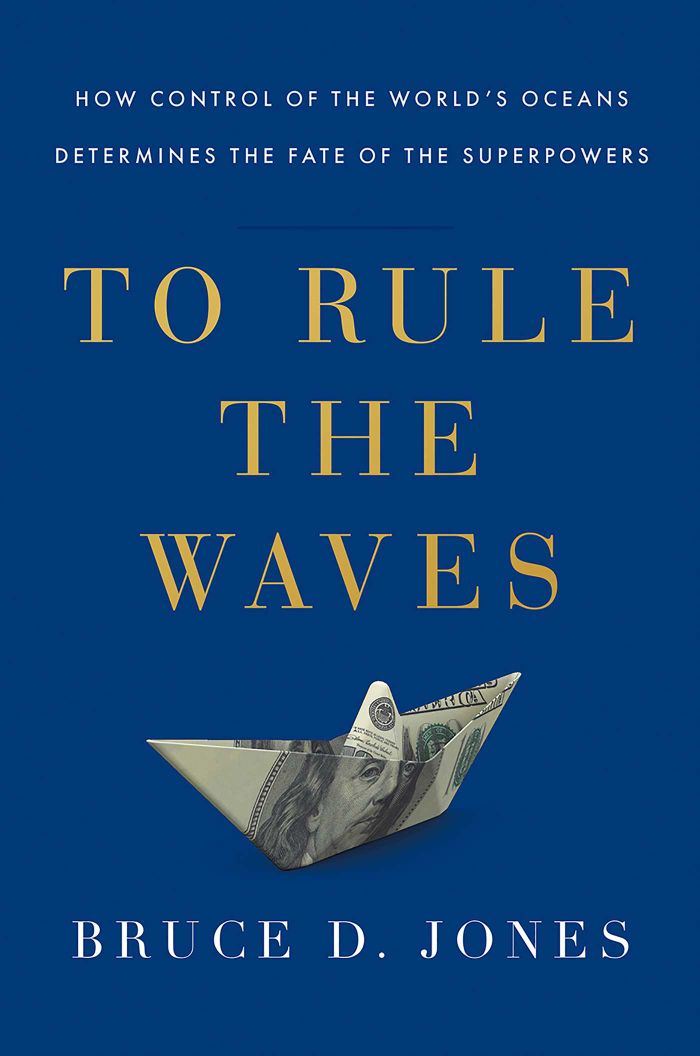 To Rule the Waves: How Control of the World's Oceans Determines the Fate of the Superpowers
by Bruce Jones
(Scribner, Sep 2021)
The critical role oceans play in the daily struggle for global power. As Jones reveals, the three great geopolitical struggles of our time—for military power, for economic dominance, and over our changing climate—are playing out atop, within, and below the world's oceans. The essential question is: who will rule the waves and set the terms of the world to come?
For centuries, oceans were the chessboard on which empires battled for dominance. But in the nuclear age, air power and missile systems dominated our worries about security, and for the U.S., the economy was largely driven by domestic production, with trucking and railways that crisscrossed the continent the primary modes of commercial transit.
Globalization has changed all of that, as nine-tenths of global commerce and the bulk of energy trade is today linked to sea-based flows. A brightly-painted 40-foot steel shipping container loaded in Asia with twenty tons of goods may arrive literally anywhere else in the world; how that really happens and who actually profits by it show that the struggle for power on the seas is a critical issue today.
From modern ports and naval bases of this era—the vast container ports of Shanghai and Hong Kong—to the vital naval base of the American 7th fleet in Hawaii to the sophisticated security arrangements in the port of New York. Jones illustrates how global commerce works, that we are amidst a global naval arms race, and why the oceans are so crucial to America's standing going forward.
Book may be ordered here.
---
Countdown bin Laden: The Untold Story of the 247-Day Hunt to Bring the Mastermind of 9/11 to Justice (Chris Wallace's Countdown Series)
by Chris Wallace
(Avid Reader Press / Simon & Schuster, Sep 2021)
On August 27, 2010, three CIA officers ask for a private meeting with CIA Director Leon Panetta. During that secret session, they tell Panetta that agents have tracked a courier with deep Al Qaeda ties to a three-story house at the end of a dead end street in Abbottabad, Pakistan. But they say it's more than a house—it's a heavily protected fortress. No one in the meeting says the name bin Laden. They don't have to. Everyone understands that finally, after nearly a decade, maybe, just maybe, they've found the world's most wanted man.
Wallace delivers a thrilling account of the final eight months of intelligence gathering, national security strategizing, and meticulous military planning that leads to the climactic mission when SEAL Team Six closes in on its target.
Includes new information collected from Wallace's interviews with more than a dozen central figures, including Admiral William McRaven—leader of the operation in Pakistan—as well as CIA Director Panetta, Secretary of State Hillary Rodham Clinton, Defense Secretary Robert Gates, National Security Adviser Tom Donilon, and two members of SEAL Team Six who participate in the raid, including the Special Operator who kills Osama bin Laden.
Wallace also brings to life the human elements of this story, talking to families who lost loved ones on 9/11; sharing what relatives of SEAL Team Six went through; and bringing us inside the tense Situation Room during the raid.
Book may be ordered here.
---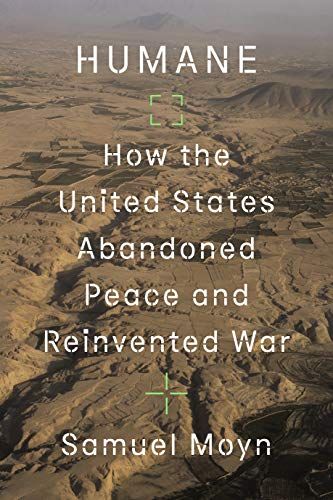 Humane: How the United States Abandoned Peace and Reinvented War
by Samuel Moyn
(Farrar, Straus and Giroux, Sep 2021)
Exposes the dark side of making war more humane. This is the story of how America went off to fight and never came back, and how armed combat was transformed from an imperfect tool for resolving disputes into an integral component of the modern condition. As American wars have become more humane, they have also become endless. This provocative book argues that this development might not represent progress at all.
In the years since 9/11, we have entered an age of endless war. With little debate or discussion, the U.S. carries out military operations around the globe. It hardly matters who's president or whether liberals or conservatives operate the levers of power. The U.S. exercises dominion everywhere.
Moyn asks a troubling but urgent question: What if efforts to make war more ethical—to ban torture and limit civilian casualties—have only shored up the military enterprise and made it sturdier? Moyn looks back at a century and a half of passionate arguments about the ethics of using force. In the nineteenth century, the founders of the Red Cross struggled mightily to make war less lethal even as they acknowledged its inevitability. Tolstoy prominently opposed their efforts, reasoning that war needed to be abolished, not reformed—and over the subsequent century, a popular movement to abolish war flourished on both sides of the Atlantic. Eventually, however, reformers shifted their attention from opposing the crime of war to opposing war crimes, with fateful consequences.
The ramifications of this shift became apparent in the post-9/11 era. By that time, the U.S. military had embraced the agenda of humane war, driven both by the availability of precision weaponry and the need to protect its image. The battle shifted from the streets to the courtroom, where the tactics of the War on Terror were litigated but its foundational assumptions went without serious challenge. These trends only accelerated during the Obama and Trump presidencies. Even as the two administrations spoke of American power and morality in radically different tones, they ushered in the second decade of the "forever" war.
Book may be ordered here.
---
---
One of the special benefits of membership in AFIO: access to CIA's inhouse gift shop — the EAA Store.

It requires a quick preapproval process described here to all newly joined and current AFIO members. And then allows you to purchase online their unusual logo'd gift items for self or colleagues. At left is the latest photo EAA released on August 27 featuring some of their newest items.



---
---
Visit, Follow, Subscribe to AFIO's LinkedIn, Twitter, and YouTube pages to receive updates.
Members who use social media or wish to explore, will find new announcements and other material on AFIO's Twitter and LinkedIn pages. New videos on our YouTube page appears below as well.
Access them here: LinkedIn, Twitter, and YouTube. By following or subscribing on those sites, one can be notified as new material appears.




NEW — PODCASTS: Are you too busy to sit and watch an entire "AFIO Now" episode above on YouTube? Would you rather listen in your car or while accomplishing other tasks? Now you can quickly download or stream episodes on your favorite podcasting platform. AFIO is now available on 8 podcasting platforms. Search for 'AFIO Podcast' for a selection of the interviews above (public released ones) on Podbean; iTunes; Google; Spotify; Amazon Music; Amazon TuneIn + Alexa; iHeartRadio; and Pandora.
---
---
Guide to the Study of Intelligence and When Intelligence Made a Difference
"AFIO's Guide to the Study of Intelligence" has sold out in hard-copy.
However, it is available in digital form in its entirety on the AFIO website here.

Also available on the website here are the individual articles of AFIO's history project "When Intelligence Made a Difference" that have been published to date in The Intelligencer journal. More articles will be forthcoming in future editions.
---
---
---
---
Section I - INTELLIGENCE HIGHLIGHTS

Israel, US Look To Tighten Intel Sharing Post-Afghanistan. Israeli officials visiting Washington last week were met with a request to tighten intelligence cooperation between the CIA and the Mossad, in light of the US exit from Afghanistan, government sources here tell Breaking Defense.

The focus of the improved intelligence sharing - details of which sources would not divulge - comes amid renewed fears that the ISIS terrorist group will use Afghanistan as a hub for new attacks on both American and Israeli targets. ISIS-K, the Afghanistan-focused branch of the terror group, has been blamed for a suicide bombing at the Kabul airport that killed over 200 people last Thursday, including 13 American military personnel.

Israeli sources said that there are "indications" that terror acts are already in planning by ISIS and its different proxies, now emboldened by the success of the Kabul strike and the visual of America being pushed out of Afghanistan. [Read more: Egozi/BreakingDefense/31August2021]

DC Circuit Issues Two Notable FOIA Decisions. Last week, the U.S. Court of Appeals for the District of Columbia Circuit issued decisions in two cases involving the government's withholding of records or information under the Freedom of Information Act. While the government's asserted rationale for withholding in each of the two cases differed, in both instances the appellate court affirmed holdings in the U.S. District Court for the District of Columbia finding that the information in question could be withheld.

In the first of the decisions, issued last Tuesday, the appellate court upheld the National Security Agency's withholding of a 2017 memorandum memorializing a conversation between former President Donald Trump and NSA Director Michael Rogers in a FOIA lawsuit brought by Protect Democracy. The court found the memo properly withheld under the FOIA exemption incorporating executive privilege, and refused to recognize a "misconduct" exception advanced by plaintiffs.

The second decision involved the government's use of so-called Glomar responses under the FOIA exemption permitting the government to withhold classified information. [Read more: Rottman/RCFP/30August2021]

Jeune Afrique: King Mohammed's Full Trust in Moroccan Security Services Defies Pegasus Affairs. King Mohammed indirectly defied the Pegasus project's allegations by renewing his unwavering trust in Morocco's intelligence and security services, Jeune Afrique wrote this week in an analysis of the King's latest speech.

In the past few months, claims accusing Morocco of illegitimate espionage made international headlines.

The claims emerged after Forbidden Stories, a consortium of 17 media organizations, published a report claiming that security services in Morocco used Israeli spyware Pegasus to target journalists, activists, senior politicians, and high-level foreign dignitaries like French president Emmanuel Macron.

Some reports went as far as accusing Moroccan intelligence of spying on King Mohammed VI. [Read more: Kasraoui/MoroccoWorldNews/24August2021]

September is National Insider Threat Awareness Month. September 2021 is the third annual National Insider Threat Awareness Month, according to the National Counterintelligence and Security Center. This means that we are going to spend much of the month looking at insider threat resources, the sources of insider threats, the best practices for implementing an insider threat program, and the top 10 tips to prevent insider threats - among other topics.

In particular, we're going to focus on how to detect, mitigate, and deter insider threats in an organization. A good starting point is the official National Insider Threat Awareness Month website of the Office of the Director of National Intelligence, which has a variety of resources for additional reading and taking action on an insider threat program. The goal here is to provide materials to enable organizations to educate their workforces about the insider threat, and to advocate for and promote cultural awareness of the need for everyone to be aware of the threat.

The National Counterintelligence and Security Center (NCSC) has a huge volume of awareness materials including details on insider threat tactics such as social media deception, spear phishing, travel exploits, human targeting, supply chain risk management, and economic espionage. You can download ready-made posters, brochures, and flyers to share within your organizations. [Read more: Varhol/SecurityBoulevard/30August2021]

Former CIA Officer and Conspiracy Theorist who called Pandemic a Hoax dies of Covid. A former CIA officer who claimed to be the first person to call Covid-19 a hoax, died from the disease after battling for life for nearly a month in a hospital.

Robert David Steele, a veteran of the US marine corps and a QAnon supporter, promoted several conspiracy theories, including one that said Covid-19 was a hoax. He also promoted an anti-vaccination campaign.

Earlier this month, Steele was hospitalised with coronavirus symptoms, including severely damaged lungs. The former marine, however, continued calling the infection a hoax and refused to get inoculated. [Read more: Misra/TheIndependent/31August2021]


---
Section II - CONTEXT & PRECEDENCE

Check Out the United States Army's New Intelligence, Surveillance, and Reconnaissance Plane. The U.S. Army Airborne Reconnaissance and Electronic Warfare System aircraft, ARES, just made its first flight. The Army hopes that the multi-engine jet will offer a more capable intelligence, surveillance, and reconnaissance capability compared to older Army Intelligence, Surveillance, and Reconaissance (ISR) aircraft.

The ARES platform is based on the Bombardier 6000/6500 airplanes, business jets originally designed for luxury flight, but that offer the right mix of range and payload capacity to serve in a specialized intelligence, surveillance, and reconnaissance (ISR) role for the United States Army.

The ARES airplane is serving as a technology demonstrator for the Army's High Accuracy Detection and Exploitation System (HADES) program, which the Army hopes can mesh "capabilities from the Army's existing ISR fleet with capacity to add payloads, sensors and increase standoff ranges." [Read more: Larson/TheNationalInterest/31August2021]

What to Make of the Intelligence Community's Unclassified Report on UFOs. This summer's blockbuster read was a congressionally mandated government report from the Office of the Director of National Intelligence titled Preliminary Assessment: Unidentified Aerial Phenomena.

It had a little something for the UFO believer and nonbeliever alike - a minimal something, but something nonetheless.

The U.S. government has spent decades scoffing at UFO reports, often dismissing them as hoaxes, spoofs, or optical illusions.

The Pentagon even renamed UFOs as UAPs, "Unidentified Aerial Phenomena," to indicate the uncertainly about whether what people were seeing were actually "objects" that were "flying" or simply something that looked like a flying object. [Read more: McIntyre/WashingtonExaminer/26August2021]

'I was on a List to be Terminated' - Sue Dobson, the Spy who Helped to End Apartheid. As a white South African, Sue Dobson risked arrest, torture and imprisonment spying for the black nationalist cause during the latter days of the brutal apartheid regime. She was a middle-class woman in her 20s when she joined the African National Congress (ANC) and infiltrated the white minority government - even having a honey-pot affair with a police official to obtain information, with the full support of her husband, a fellow activist. When her cover was blown in 1989, she fled to Britain, where she sought political asylum after threats to her life.

Now, for the first time in 30 years, she is ready to talk publicly about her story - that of a "very ordinary" woman who played an extraordinary part in fighting racism. [Read more: Alberge/TheObserver/29August2021]

Spies for Hire: China's New Breed of Hackers Blends Espionage and Entrepreneurship. China's buzzy high-tech companies do not usually recruit Cambodian speakers, so the job ads for three well-paid positions with those language skills stood out. The ad, seeking writers of research reports, was placed by an internet security startup in China's tropical island province of Hainan.

That startup was more than it seemed, according to U.S. law enforcement. Hainan Xiandun Technology was part of a web of front companies controlled by China's secretive state security ministry, according to a federal indictment from May. They hacked computers from the United States to Cambodia to Saudi Arabia, seeking sensitive government data as well as less-obvious spy stuff, like details of a New Jersey company's fire-suppression system, according to prosecutors.

The accusations appear to reflect an increasingly aggressive campaign by Chinese government hackers and a pronounced shift in their tactics: China's premier spy agency is increasingly reaching beyond its own ranks to recruit from a vast pool of private-sector talent. [Read more: Mozer&Buckley/NYTimes/26August2021]

U.S. Spying Operations Just Got a Lot Harder in Afghanistan. Of the many implications of ending a 20-year war in Afghanistan, there's one that U.S. spies believe could haunt Americans for years to come: a massively deteriorated intelligence-gathering operation in the Middle East.

Former CIA directors for the region and counterterrorism experts told The Daily Beast that intelligence ground operations would obviously suffer from the absence of a U.S. military presence in Afghanistan, which could have implications for the U.S. government's ability to keep tabs on terrorist threats.

It's not impossible to run espionage operations in the country. But it makes it so that whatever intelligence spies are able to collect is that much muddier and more suspect, as the government will be less able to assess source motivations and agendas for sharing information.

It's also more dangerous. U.S. spies on the ground will have fewer options to escape to safety if their cover is blown. [Read more: Vavra/DailyBeast/31August2021]

Book Review: This is How They Tell Me the World Ends: The Cyberweapons Arms Race. You may or may not know that zero-day exploits are used to take over, control, or destroy a target system. In her book, This is How They Tell Me the World Ends, journalist Nicole Perlroth explains how the zero-day exploits, (code vulnerabilities that are unknown to the vendor or software manufacturer, that allow the operator to gain access) are bought and sold by hackers. The author explains this secret market filled with hackers, spies, arm-dealers, and white-hats in clear, non-technical language.

From compromising iPhones to keeping track of a targetbs movements, emails, messages, and all associated accounts, to compromising the centrifuges in nuclear facilities, zero-days offer technological supremacy and are auctioned off to the highest bidder.

The book chronicles the history of the zero-day exploits up to the present time with the author explaining how zero-days are weaponized in cyberweapon programs - and the arms race - by stockpiling and using the zero-day cyberweapons. In doing so, Perlroth analyzes the capabilities, market makers, buyers, brokers, and hackers, of the zero-day market.

The author covers many public and some non-public breaches, and joint operations between the National Security Agency (NSA), and Central Intelligence Agency (CIA). [Read more: Gallup/TheCipherBrief/31August2021]


---
Inside Vladimir Putin's Shadowy Army of Global Spies. It was the height of summer in Moscow, and the offices around the city were suffering from the heat, including an attic of a five-story building in the old and prestigious district of Arbat. The attic was home to the weekly newspaper Versia, which had a rather scandalous reputation. It was 2002, and I headed the national security department. Staffed with reporters in their mid-twenties, our beat was the Russian security services. Many in the ranks of Russia's counterintelligence agency FSB and the intelligence service SVR loved reading Versia. The owner of the newspaper was a beautiful woman with a soft spot for large American SUVs and long black mink coats. A photograph of her with the director of the FSB held pride of place on the wall in her office.

Vladimir Putin had been in the Kremlin for almost two years, and he made it very clear he wanted his colleagues from the state security organs gaining more of a presence among the great and the good of Russian society. What these spies and counterspies were up to, however, was not very clear, and that made the topic of security services so fascinating for our department, which in turn made our department central to Versia's editorial mission.

One day a letter addressed to me landed on the desk of a receptionist in our little attic. It was a white envelope with no name on it. [Read more: Soldatov/DailyBeast/29August2021]

South Korea: Apology from Intelligence Chief. National Intelligence Service (NIS) director Park Jie-won apologized Friday for the spy agency's illegal surveillance of civilians and political interference in the past and vowed not to repeat such blunders. "The illegal surveillance and interference were carried out systematically via the NIS command structure at the behest of Cheong Wa Dae. Politicians, government officials, scholars, members of related organizations and their families were illegally spied on and persecuted," Park said at a news conference in Seoul.

Having enumerated such wrongdoings from the past, including gathering information on artists and religious leaders, drawing up blacklists of entertainers and offering money to expand pro-government organizations, he said the NIS mistook itself for an agency to protect those in power. "But I dare to say that there has been no such interference or illegal surveillance since the current administration took office. All NIS members will surely keep a distance from politics."

Park's apology is a follow-up to a resolution passed by the National Assembly last month. [Read more: KoreaTimes/30August2021]

What Intelligence was there on Afghanistan? When The Washington Post reported this week that CIA Director William Burns slipped into Afghanistan on Monday to meet with Taliban leader Abdul Ghani Baradar, it was described as the highest-level face-to-face encounter between the Taliban and the Biden Administration. WaPo cited anonymous sources for the information and the CIA offered no immediate comment on the reporting. If the reporting is accurate, it doesn't answer any immediate questions about why the President would dispatch the CIA director for such a meeting.

What we do know, is that the unexpected advances of the Taliban that have dominated the headlines over the past week and a half were initially blamed on an intelligence failure by many. Early on, Cipher Brief Expert and former Acting Director of CIA John McLaughlin tweeted that "The 'intelligence failure' drumbeat is starting. People should be careful about the charge if they have not actually seen/read the intelligence..."

So, what intelligence did the US have that would have led to a different outcome in Kabul and throughout the country? [Read more: TheCipherBrief/25August2021]

The Air Force Learning System and Intelligence Missions. I once overheard two Air Force signals analysts fiercely debating whether a medium-range, single-role, jet bomber was training to employ rockets or bombs. (The correct answer is that bombers drop bombs.) These analysts were green but also bright and industrious, yet they still spent the better part of an hour debating. Why would two professional military analysts disagree on such a basic question? As I saw it, they lacked a contextualized understanding of the subject of their analysis. Instead, they leaned on the intelligence discipline in which they were specialized. They were signals analysts, and no matter how many times they looked at the signals, they still had, essentially, a fill-in-the-blank word problem: A medium-range, single-role, jet bomber was training to employ __________ (rockets / bombs). Eventually, a senior analyst came to the rescue. Turns out, the bomber was training to employ... bombs.

As incredible as it sounds, episodes like this play out time and again in Air Force intelligence missions. Why could the senior analyst solve this when the young analysts could not? Does one need over 20 years of professional experience to know that bombers train to employ bombs? Certainly not. The issue is not experience - it is behavior. [Read more: Freeman/WarOnTheRocks/27August2021]


---
Section IV - Research Requests, Jobs, Obituaries
Searching for Panelists - Society of Military History 2022 Annual Conference
From Philip Shackelford: I am looking to put together a panel revolving around airpower, intelligence, or early Cold War - ideally a combination of the three - for the 2022 Society of Military History (SMH) annual conference, taking place in Fort Worth, TX April 28 - May 1, 2022. SMH is an international society focused on "stimulating and advancing the study of military history."Learn more here.
My email is pshackelford@southark.edu, and I'm happy to put together the required proposal paperwork, etc. Let me know if you are interested and feel free to share with others.
Seeking Former CIA Officers who knew Abu Bakr al-Baghdadi, others in ISIS, to assist Israeli Journalist with Documentary
My name is Hadar Gat, I'm a journalist from Israel, currently working on the second season of a documentary series about the most influential Arab leaders in the middle east.
It's an international production, broadcasted on Kan Israeli channel (IPBC).
The documentary series provides a profound profile analysis of leaders in the Arab world, and is one of the leading document series of IPBC.
Each episode is covering the history and profile of a different leader, and reviewing his personality and actions from every aspect possible. Especially the way he was grasped through the eyes of different Intelligence agencies.
I'm contacting [AFIO] because in one of the episodes we are focusing on Abu Bakr al-Baghdadi, and ISIS itself. Therefore, we wish to interview former CIA officers or agents who are relevant to that matter. I'm available for any questions and more details, so feel free to contact me at any time.
Looking forward to hearing from you.
Replies to Hadar Gat, 972-50-4800-306 or hadargat8@gmail.com
US-China co-operation against the Soviets in the 1980s. Seeking Intelligence Officers who worked in Western China on joint monitoring stations dedicated to Soviet missile sites
Jane Perlez, the NYTimes bureau chief in Beijing, is seeking officers who worked in China on the joint monitoring stations in Western China that were dedicated to the Soviet missile sites. It is for a podcast that deals with the China-US opening by Richard Nixon. The program, run in part by the Science and Technology division, featured in the excellent book "The Wizards of Langley" by Jeffrey Richelson, "The Great Wall" by Patrick Tyler, and in some press accounts.
To respond, email her at janeperlez@gmail.com; twitter: @janeperlez; +1-646 884 4949
ISO former CIA officers w/ Czech experience
I'm the daughter of Dagmar Stapleton who worked on the Czech desk from around '74 to '94. Am hoping to talk with former Prague case officers, station chiefs, deputy station chiefs from that time period for a research project.
Please contact me at viveca.novak@gmail.com. [Viveca Novak is an American journalist who has worked as the editorial and communications director at the Center for Responsive Politics since 2011. She was previously a Washington correspondent for Time and The Wall Street Journal. She is a frequent guest on CNN, NBC, PBS, and Fox.]
Researcher Seeking Your Experiences Working in Western North Carolina on DoD/NSA Rosman Research Station in 1980s.
I'm Craig Gralley, a 34-year veteran of CIA and currently a freelance writer in the Brevard, NC area. I'm also a volunteer at PARI - the Pisgah Astronomical Research Institute in nearby Rosman. PARI is now dedicated to STEM education and research, but has had a storied history that is largely unknown to the people of this mostly underserved area of rural North Carolina. I have volunteered to write PARI's history. NASA first constructed the site in 1962 as a ground station for a variety of unmanned scientific satellites. AFIO members might remember when DoD/NSA took over the site in 1981 and called it the Rosman Research Station (NSA's participation at the site was declassified nearly a decade ago). NSA gave up the site in 1995.
I am receiving NSA's support through a FOIA request to declassify more information about the facility. My goal is to make this history less about satellites and their capabilities and more about what it was like working in a remote location in western North Carolina. Personal stories, things that could have gone wrong but didn't (or did), success stories—humorous/serious anecdotes—all of it is welcome. My goal is to take the edge off of a dry history and give the Rosman ground station a human face.
I'd be glad to attribute anything that comes to me in the way desired by the contributor.
Thanks for your help.
REPLIES to Craig R. Gralley, 703.581.3440 (mobile), craig.gralley@gmail.com. More about Craig at www.craiggralley.com
Seeking Officials Who Served USSR/Russia 1965-2015 and Other Posts - with knowledge of, or exposure to, Microwave/Directed Energy Weapons
Prominent D.C. Attorney seeking former intel officers or others who served in USSR/Russia during 1965-2015, as well as anyone who has information concerning possible microwave/energy directed weapon exposure of U.S. officials by foreign adversary.
Replies to Mark S. Zaid Esq, mark@markzaid.com. Or call him at (202) 454-2809.
More information about Mr. Zaid at MarkZaid.com.
---
John Barrella Jr, NSA Officer
John Anthony Barrella Jr, 83, a senior NSA Officer, died 21 August 2021 in Crofton, MD.
He was born in Lorain, OH. He was a proud veteran of U.S. Army and travelled the world, including tours in Vietnam, South Africa, and other locations.
He graduated from both the US Armed Forces Staff College and The University of Maryland with a Bachelor of Applied Science.
Most of his professional career was spent at NSA for 39 years. He later worked for Lockheed Martin. John was a long-time member of the Phoenix Society.
He took pride in his Italian heritage and was a devoted communicant at St. Elizabeth Anne Seton. John volunteered his time and talents for many causes and took great pride in working within his community of Crofton, holding various positions. He also enjoyed coaching his son's soccer and baseball teams along with attending his daughter's dance recitals.
He is survived by his wife Barbara (Genzel), a daughter, a son, and other family.
Judy Olmer, CIA Military/Political Analyst
Judith Lila Sayler Olmer, 82, a CIA Military/Political Analyst, died 10 August 2021 in Ellington, CT.
Judy was a writer, reader, traveler, great wit, environmentalist, intelligence analyst, lover of sweets, cats, and all things Australia.
Judy was born in Streeter, ND. The family moved to Portland, OR where her father opened the now-iconic Sayler's Old Country Kitchen. Judy worked as a hostess and "salad girl' at the OCK when she was a teen and lived a genuine 1950s lifestyle. She graduated from Franklin High in 1956, and went east to Mt. Holyoke College in Hadley, MA, where she graduated with a BA in Political Science.
In 1959, Judy was a summer intern for Sen Richard Neuberger (D-OR), and a steadfast Democrat was born. She subsequently worked for Sen Maureen Neuberger (D-OR), on the senator's campaign staff and later as a research assistant. She attended The American University, completing her MA in International Relations and Organization in 1965. She married Lionel Olmer in 1962. The family, soon including son, Archer and daughter, Sally, followed Lionel's naval career to Portsmouth, VA, Wahiawa, HI, and Subic Bay, Philippines, before returning to DC. Judy started working for the Business and Professional Women's Foundation in 1969 as Director of Research and Education. She administered scholarship and fellowship programs for women and managed research grants for work on the problems of employed women.
In 1974, at age 35, Judy joined the CIA as a military and political intelligence analyst. Though this was a demanding career for a wife and mother of school-aged children, and a male-dominated field, Judy found her niche. For the next 24 years she was an analyst and manager, covering issues ranging from Soviet naval operations to the disintegration of Yugoslavia. She was admired by her colleagues and served as a mentor and inspiration to the next generation of women coming into the Agency.
She attended the National War College in 1986-87. She spent three years in Canberra, Australia, and fell in love with everything about the country. In retirement in 1998, she travelled extensively. She chaired the Sierra Club's Marine Mammal Subcommittee and represented the Club as an NGO observer to the International Whaling Commission.
She is survived by a son, daughter, and other family.
Bob Steele, former CIA Officer, OSINT Visionary, Promoted Conspiracies
Robert David Steele, 69, a former CIA officer and OSINT Visionary, who later became a fan of conspiracies, died 30 August 2021 of Covid-19 in a Florida hospital.
He was graduated from the Muhlenberg College and from Marine Corps University, and the University of Oklahoma.
Steele was a pioneer of the concept of OSINT (open source intelligence). He later became, in his post-CIA years, an advocate of many conspiracies and controversial ideas from calling Covid a hoax, rejecting vaccines and masking, and claiming that NASA operated a child slave colony on Mars.
Steele also was a Holocaust denier and advanced a QAnon conspiracy that Democrats are running an underground child-sex trafficking ring.
On 17 August Steele posted a photo of himself in a Florida hospital wearing an oxygen mask and predicted he would survive and would still never accept any Covid vaccinations.
On the 30 August Steele succumbed to respiratory problems related to Covid infection.
[This is based on various news accounts. No formal obituary has appeared.]
Don Stephens, CIA Paramilitary Officer, Branch Chief, Instructor, Chief of Base
Donald H. Stephens, 91, CIA Paramilitary Officer, Branch Chief, Instructor, Chief of Base, died 22 August 2021 in Vancouver, WA.
Don was born on in Wayne, MI. Don served in the US Army from 1948 to 1957 with the 7th Ranger Company in the 82nd Airborne Division and was detailed to the CIA in February 1951 and later assigned to a CIA unit operating in Korea. Stephens flew 97 missions deploying and resupplying Korean agents in North Korea and was awarded the Distinguished Flying Cross and four Air Medals while serving in Korea.
He was then assigned TDY in Central America and participated in an successful effort to oust the pro-Communist government in Guatamala. In mid-1954 he was posted in Thailand as an "advisor" to the Thai Border Patrol Police (BPP) in four upcountry locations. After completing a three year tour of duty in Thailand, Stephens requested a discharge from the US Army and accepted staff employment with the CIA. In 1962 Don departed for Vietnam and trained indigenous assets in parachuting and demolitions for insertion into North Vietnam. He returned to Headquarters in early 1964 and was dispatched on several TDY assignments overseas. In 1965 Stephens was assigned as a paramilitary instructor and weapons officer on a clandestine CIA vessel operating in Central America until 1967.
From 1967 to 1969 he was assigned in Xieng Lom in southwestern Laos. From 1971 to 1973, Stephens was Chief of a top secret base southeast of Pakse from where successful special operations in North Vietnam were conducted. In 1973 Stephens was transferred back to the U.S. and worked out of Fort Meade, MD until 1976. This assignment consisted of TDY assignments in Jordan, Sudan, Saudi Arabia, Pakistan, Afghanistan, Chad, Zambia,Congo,and the Cameroons.
Stephens was then assigned as an instructor at Camp Perry from 1976 to 1979 and as a Branch Chief in Headquarters until his retirement in 1981. He also worked as a CIA independent contractor (IC). In 1985 Don opened a CIA-sponsored facility in Atlanta, GA to train clandestine assets being sent or returning from abroad. He terminated his IC status in 1992.
Stephens was notified in September 2018 by the Special Operations Group (SOG) that he had been selected as a retired Operations Officer who has had a distinguished career in the paramilitary field of operations. Don was scheduled to be honored at a "Standard Bearer" Ceremony at Headquarters but was unable to attend for medical reasons. A SOG delegation traveled to Vancouver, WA in late October 2018 to present him with a Standard Bearer's plaque with a photo of Don taken in the 1950s. A larger plaque was also placed on a wall at Headquarters which contains a classsified synopsis of his distinquished career as a CIA paramilitary officer. Stephens was also involved in other activities that were deemed successful but remain classified.
He is survived by three proud sons and other family. And by a grateful nation.
---
AFIO EDUCATIONAL EVENTS IN COMING TWO MONTHS....
Thursday, 2 September 2021, 6:30 pm - Virtual - San Antonio AFIO Chapter hosts Graham Plaster about his "The Intelligence Community, Inc."
The founder of "The Intelligence Community, Inc." [?] will make a presentation at this chapter virtual event. Graham Plaster, a Navy veteran, serial entrepreneur, national security technology startup advisor, investor, and Founder of The Intelligence Community Inc., will speak. He is the Editor in Chief for the Foreign Area Officer Association Journal, "International Affairs." His book, "In the Shadow of Greatness" is on the official reading list for the US Navy. Graham is a graduate of the US Naval Academy and resides near Annapolis with his family and two dogs, Bravo and Zulu.
Prior to the meeting we will send a link to this virtual meeting. This is a meeting you do not want to miss.
Questions or to register, contact John Franklin, President, AFIO San Antonio Chapter, 210 863-0430 or at satxafio@gmail.com.
Saturday, 11 September 2021, 11:30a - 1:30p - Indialantic, FL - In-person Luncheon by Florida Satellite Chapter featuring Capt John Byron USN on "Subs as Intelligence Platforms"
The AFIO Florida Satellite Chapter is holding an in person meeting featuring guest speaker Captain John Byron USN discussing "Submarines as Intelligence Platforms."
Location: Doubletree Hotel, 1665 North A1A, Indialantic, FL. Time 11:30 AM to 1:30 PM.
Fee: Sit down lunch for $30.00.
Reservation deadline: 7 September.
Contact Larry Sanford at afiofloridasatellitechapter@gmail.com or call 978-502-3328.
Friday, 8 October 2021, 11 am - 2 pm - In-Person Tysons Corner, VA - AFIO National Luncheon featuring Seth Jones on his latest book "Three Dangerous Men" and Stephen Vogel on Traitor George Blake from his book, Betrayal in Berlin.
FOR YOUR CALENDAR. The first in-person AFIO National Luncheon for 2021 will take place on Friday, 8 October at DoubleTree Hotel, Tysons Corner. Event will feature Seth Jones on his latest book Three Dangerous Men and Stephen Vogel on Traitor George Blake from his book, Betrayal in Berlin. Special health precautions will be instituted. Event restricted to 90 attendees to allow spacing of only 4 seated at each table. Proof of vaccination required. Masks required except while eating.
TO REGISTER: Registration link forthcoming.
VENUE: DoubleTree by Hilton, 1960 Chain Bridge Rd, Tysons Corner, VA 22182 Phone: (703) 893-2100. Directions at this link.
---
Other Upcoming Events from Advertisers, Corporate Sponsors, and Others
Wednesday, 1 September 2021, 5:30pm - Washington, DC - License to Parent: Back to School with Christina and Ryan Hillsberg - Virtual International Spy Museum Program
What if you could draw on hard-earned experience and strategies from one of the world's most clandestine organizations to raise your kids? That's exactly what Christina Hillsberg (with some help from her husband and fellow spy/field operative Ryan Hillsberg) has done with License to Parent: How My Career as a Spy Helped Me Raise Resourceful, Self-Sufficient Kids. Spy Museum's Family & Youth Programs Manager Jessica Harvey and Director of Adult Education Amanda Ohlke will chat with Christina and Ryan about tips to prepare kids for tricky situations, how to teach kids to verify sources, and when it's okay to persuade them to select the cheesecake you secretly crave. Event is free - registration required. Visit www.spymuseum.org.
Thursday, 2 September 2021, 7:00pm - Washington, DC - 9/11 - The Intelligence Angle: Teacher Professional Development Workshop - International Spy Museum
September 11th, 2001: a day that is seared into the minds of millions and changed the course of history. Yet for students today, it is an event that is hard to grasp and understand. As the world approaches the 20th anniversary of the terrorist attacks, the International Spy Museum will host a virtual teacher professional development workshop to examine the crucial role intelligence played leading up to, during, and following the events of that fateful day. Join SPY's youth education team and Historian/Curator Dr. Andrew Hammond as they delve into declassified documents and provide teachers with a better understanding of intelligence in national security. Teachers will come away with classroom activities and resources to assist them in teaching this important and complex event in the nation's history. Designed for middle and high school teachers. Sponsored by the Diana Davis Spencer Foundation. Event is free - registration required. Visit www.spymuseum.org.
Wednesday, 8 September 2021, noon - Washington, DC - Curator's Corner: Osama bin Laden with Peter Bergen - Virtual International Spy Museum Program
As the 20th anniversary of 9/11 approached, Peter Bergen sought to reevaluate the man responsible for precipitating America's long wars with al-Qaeda and its descendants. Bergen produced the first television interview with bin Laden in 1997. He has had years to reflect on and study the man. Thanks to exclusive interviews with family members and associates, and documents unearthed only recently, Bergen has used the knowledge he has gained in the intervening years to craft his new book The Rise and Fall of Osama bin Laden where he captures all the dimensions of bin Laden's life - family man, zealot, battlefield commander, terrorist leader, and fugitive - to dissect his contradictions and legacy. Following their discussion of key issues, you'll be able to ask questions via our online platform. Event is free - registration required. Visit www.spymuseum.org.
Wednesday-Thursday, 8-9 September 2021 - Zoom Webinar - IMSE 2021 Conference on Illegal, Unregulated and Unreported (IUU) Fishing.
Indo-Pacific Maritime Security Exchange (IMSE). IUU Fishing has replaced piracy as the top global maritime security threat, according to the USCG commandant. The world's fish stocks are threatened by over and unregulated fishing. Countering IUU fishing is largely an intelligence problem. The IMSE two-day conference examines the problem of IUU fishing. The conference has assembled a rich and diverse program, and a distinguished group of speakers to include the vice commandant of the US Coast Guard, NOAA's regional administrator for the Pacific, representatives from the Pew Charitable Trust, Global Fishing Watch, The Nature Conservancy, and others from the State Department, Indo-Pacific nations and academic experts. Day 2 of the conference examines open source technologies used to counter IUU fishing, including imagery, RF, and SAR remote sensing from space to acoustics underwater; integrating disparate data; and the contributions of artificial intelligence and machine learning.
Registration required. Go to https://imsehawaii.org.
Thursday, 9 September 2021, 1800/6PM EDT; 1500/3PM PDT; 1200/12PM HST - GoToMeeting Virtual - Naval Intelligence Professionals 9/11 Virtual Remembrance Event
TOPIC: "Rebuilding Chief of Naval Operations Intelligence Plot (CNO-IP) After 9-11"
GUEST PANELISTS with current responsibilities and duties on 9-11:
• Brian Nicholson, CAPT (Ret.), Dep NIA N5; CDR, Deputy Head of Production
• Dr. Keith Dunbar, LCDR (Ret.); LCDR, Assistant-Officer-in-Charge CNO-IP
• CAPT James Pendergast, CO HOPPER ISC; LT, Back-up Briefer
• CAPT Jeff Kargol, Deputy Director N74/Navy Strategy Panel; LT, Flag Briefer
• Claudio Biltoc, LCDR (Ret.); LT, Watch Officer
• Victor Minella, LT, Watch Officer
FORMAT: Video Conference – GoToMeeting
Please join the meeting from your computer, tablet or smartphone, beginning at 1750/5:50 EDT:
https://global.gotomeeting.com/join/128383133
You can also dial in using your phone. United States: +1 (408) 650-3123 Access Code: 128-383-133
New to GoToMeeting? Get the app now and be ready when your first meeting starts: https://global.gotomeeting.com/install/128383133
As always, please mute your device/phone. Thanks.
AGENDA:
• (5 min) RDML (Ret.) Tony Cothron, NIP Chairman, welcoming remarks.
• (~45-60 min) Guest Panel Remarks
• (~30 min) Q & A moderated by CAPT (Ret.) Bob Allen. - Please enter your questions in the GoToMeeting chat window or email your questions in advance/during the video conference to: bob_allen36@hotmail.com.
14 September 2021, 10am EDT - Zoom Webinar - Virtual Panel Discussion with Former Deputy Directors of National Intelligence as part of NCF's 25th Anniversary
The National Cryptologic Foundation is excited to announce the next NCF 25th Anniversary virtual program which features a panel of former deputy directors of national intelligence. Greg Myre, NPR National Security Correspondent, will serve as moderator for the program.
The program is free, but as with our other 25th Anniversary events and activities - we appreciate any and all donations as they will help to support our mission - especially our growing list of exciting education initiatives. Stay tuned as registration will open soon.
Who: National Cryptologic Foundation
What: 25th Anniversary September 14th Panel Discussion with Former Deputy Directors of National Intelligence: Confirmed panelists include: Gen Michael V. Hayden, USAF (Ret), Mr. Donald Kerr, and Ms. Stephanie O'Sullivan. This panel discussion will be moderated by: Greg Myre, National Security Correspondent, NPR.
When: 14 September 2021, 10-11:30 am EDT
Where: Virtual Program - offered via Zoom webinar (Once registration opens, your Zoom details will be in your confirmation email.)
*If you are unable to attend, please stay tuned to the NCF e-newsletter and social media for an announcement about the recording, once available.
Cost: Free. Donations Appreciated.
Contact: If you have questions about this program, please email ncfinfo@cryptologicfoundation.org.
Registration to Open Soon and will be at this link.
Sunday, 19 September 2021, 2 - 3:30 pm EDT - Virtual - The Cold War Museum hosts TD Barnes on "CIA Station D: Area 51 in the Cold War" - The True Story
No aliens. Much more interesting. The real story behind Area 51, by a man who was on the ground for CIA's Station D.You've Heard About Area 51. And You Know There Weren't Any Aliens Hanging Around. But What Was REALLY Happening at That Top Secret Location? And Why Was the CIA There? Ask the Agency's Man On the Ground
Area 51 In the Cold War: The True Story
TD Barnes will provide us with an accurate unclassified insider's account of the CIA era at Area 51, a.k.a. Station D, including:
• The need for an Area 51; • Why Nevada was chosen as the location; • Why CIA needed to be there; • The politics; • The challenges; • The accomplishments; • The spy planes; • The development of stealth technology; • Soviet MiG exploitation; and • The lives lost and family sacrifices.
TD Barnes served in US Army intelligence and then worked on radar and surface-to-air missiles. Later he served in Nevada on the NASA High Range during Project X-15 and at Area 51 in the CIA's Science & Technology Special Projects, working on the CIA's Project Oxcart, the Soviet MiG exploitation projects, the development of stealth technology, and other black projects that remain classified today.
Cost: $20, 100% of which is a contribution to the Cold War Museum.
Sign Up Here on EventBrite.
Location: ONLINE ONLY. Eventbrite ticket buyers will receive a link to the virtual room on the Zoom platform where this event will take place. We are recording the whole event, including the Q&A, for the Museum's archives.
Agenda:
• 1:30-2:00. Participants arrive in the Zoom room online.
• 2:00-2:05. Jason Hall, Executive Director of the Cold War Museum, introduces the Museum and TD Barnes
• 2:05-3:00. TD presents on what was happening at Area 51.
• 3:00-3:30. Q&A opportunity for the audience.
Questions? Call or email Jason Hall, 703-283-4124 (cell), jason@coldwar.org
Thursday, 23 September 2021, 6:30pm - Washington, DC - Virtual Members-Only SPY themed Trivia Night - Virtual International Spy Museum Program
Join other members of the Spy Museum Inner Circle for an exclusive virtual trivia night. Test your knowledge with trivia centered around the International Spy Museum's history, exhibits, and fun facts. If you've visited the museum recently, you might have an advantage. Event is free and open exclusively to Spy Museum members. You can join SPY as a member online or by calling 202.654.2840. If you are a current member and have not received the link to sign up for this event, please email membership@spymuseum.org to register. Visit www.spymuseum.org.
14 October 2021, 8:15a to 2p - virtual and in-person - NCF General Membership Meeting (GMM) & Annual Symposium
SAVE THE DATE for the first hybrid (virtual and in-person) National Cryptologic Foundation General Membership Meeting. We are excited to be planning to gather in person again. The 2021 GMM & Annual Symposium will be held on 14 October and will be a hybrid event - offering options to attend virtually or in person. The program will be held at the CACI in the National Business Park. Seating will be limited and the program will be shorter in duration this year. Schedule: Check-in and breakfast from 8:15-8:45am; Program 9am-12pm; Lunch and Booksigning 12-1pm. Stay tuned for program details and registration will be available at this link.
Wednesday, 27 October 2021, 6 - 10 pm - Washington, DC - 30th (+1) Anniversary Gala and Chancellor's Dinner - Institute of World Politics
Save the date. Current timing of this in-person celebration is:
6:00 PM Cocktail Reception
7:00 PM Dinner
9:00 PM Dessert and Dancing
Location: The Mayflower Hotel, 1127 Connecticut Ave NW, Washington, DC
Additional details to follow
*Because this is an unusual year, if you are considering attending the 30th (+1!) Anniversary Gala, please fill out this form: iwp.edu/gala-survey
Wednesday, 1 December 2021, 5:30 PM VIP Reception / 6:30 PM Progressive Reception & Award Program - Washington, DC - 2021 Webster Distinguished Service Award Event - International Spy Museum
The Spy Museum offers an evening of intrigue for the 2021 Webster Distinguished Service Award event. The award is an opportunity to recognize the extraordinary contributions of individuals in the Intelligence Community. This year's awardee is The Honorable Susan M. Gordon, former principal deputy director of national intelligence. Previous recipients of the Webster Distinguished Service Award include President George H. W. Bush (2017), Admiral William H. McRaven, USN (Ret.) (2018), and Gen. Michael V. Hayden (Ret.) (2019). Webster attendee and sponsor support fuels the nonprofit mission of educating the public about the history and craft of espionage and intelligence through youth and adult programs, community service, and the care of the Museum's unique collection of artifacts for generations to come.
Event will be held at the International Spy Museum.
For tickets, sponsorship opportunities, or information about ways to support the International Spy Museum, please contact the development office at 202.654.2853. Event tickets, other details are available here.
---
In addition to the new Royal Blue long sleeve shirts, and the gray long sleeve hooded sweatshirts, the AFIO Store also has the following items ready for quick shipment:
LONG and Short-Sleeved Shirts with embroidered AFIO Logo and New Mugs with color-glazed permanent logo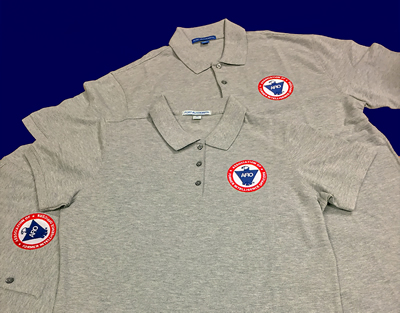 Show your support for AFIO with our new Polo Shirts. Be the first to buy these new, high quality, subtle heathered grey short sleeve shirts, and dark blue long sleeved shirts, of shrink and wrinkle resistant fine cotton with a soft yet substantial feel. They feature a detailed embroidered AFIO seal. Get a shirt for yourself and consider as gifts for colleagues, family, and friends. Only $45 each including shipping.
Sizes of (M) men or (W) women shirts; Small, Medium, Large, XL, XXL, and XXXL. At this time all orders will arrive as Short Sleeve shirts.
You may pay by check or credit card. Complete your order online here or mail an order along with payment to: AFIO, 7600 Leesburg Pike, Ste 470 East, Falls Church, VA 22043-2004. Phone orders at 703-790-0320. If interested in other shirt colors or sleeve lengths, contact Annette at: annettej@afio.com.
---
AFIO Mug with color glazed logo. Made in America. Sturdy enough to sit on desk to hold pens, cards, paperclips, and candy.
This handsome large, heavy USA-made ceramic mug is dishwasher-safe with a glazed seal. $35 per mug includes shipping. Order this and other store items online here.
---
Guide to the Study of Intelligence and When Intelligence Made a Difference
"AFIO's Guide to the Study of Intelligence" has sold out in hard-copy.
However, it is available in digital form in its entirety on the AFIO website here.

Also available on the website here are the individual articles of AFIO's history project "When Intelligence Made a Difference" that have been published to date in The Intelligencer journal. More articles will be forthcoming in future editions.
---
Disclaimers and Removal Instructions
Weekly Intelligence Notes (WINs) are commentaries on Intelligence and related national security matters, based on open media sources, selected, interpreted, edited and produced for non-profit educational uses by members and WIN subscribers.
REMOVAL INSTRUCTIONS: We do not wish to add clutter to inboxes. To discontinue receiving the WINs:
a) IF YOU ARE A MEMBER - click here: UNSUBSCRIBE and supply your full name and email address where you receive the WINs. Click SEND, you will be removed from list. If this link doesn't open a blank email, create one on your own and send to afio@afio.com with the words: REMOVE FROM WINs as the subject, and provide your full name and email address where you are currently receiving them.
b) IF YOU ARE NOT A MEMBER, and you received this message, someone forwarded this newsletter to you [contrary to AFIO policies]. Forward to afio@afio.com the entire WIN or message you received and we will remove the sender from our membership and distribution lists. The problem will be solved for both of us.
CONTENTS of this WIN [HTML version recipients - Click title to jump to story or section, Click Article Title to return to Contents. This feature does not work for Plaintext Edition or for some AOL recipients]. If you wish to change to HTML format, let us know at afio@afio.com. The HTML feature also does not work for those who access their e-mail using web mail...however NON-HTML recipients may view the latest edition each week in HTML at this link: https://www.afio.com/pages/currentwin.htm
---
WINs are protected by copyright laws and intellectual property laws, and may not be reproduced or re-sent without specific permission from the Producer. Opinions expressed in the WINs are solely those of the editor's or author's listed with each article. AFIO Members Support the AFIO Mission - sponsor new members! CHECK THE AFIO WEBSITE at www.afio.com for back issues of the WINs, information about AFIO, conference agenda and registrations materials, and membership applications and much more!
(c) 1998 thru 2021. AFIO, 7600 Leesburg Pike, Suite 470 East, Falls Church, VA 22043-2004. Voice: (703) 790-0320; Fax: (703) 991-1278; Email: afio@afio.com
---
About AFIO | Membership Renewal | Change of Address | Upcoming Events | Chapter Locations | Corporate/Institutional Memberships | Careers in Intelligence Booklet | Guide to the Study of Intelligence | Intelligencer Journal | Weekly Intelligence Notes | To Make A Donation | AFIO Store | Member-Only Section | Code of Ethics | Home Page
---