---
CONTENTS
Section I - INTELLIGENCE HIGHLIGHTS
Section II - CONTEXT & PRECEDENCE
Section IV - Research Requests, Jobs, Obituaries
Other Upcoming Events from Advertisers, Corporate Sponsors, and Others
For additional AFIO and other Events two+ months or more... Calendar of Events
WIN CREDITS FOR THIS ISSUE: The WIN editors thank the following special contributors: rsy, ec, po, pjk, mh, km, gh, mk, rd, fm, kc, jm, mr, jg, th, ed, and fwr. They have contributed one or more stories used in this issue.

The WIN editors attempt to include a wide range of articles and commentary in the Weekly Notes to inform and educate our readers. However, the views expressed in the articles are purely those of the authors, and in no way reflect support or endorsement from the WIN editors or the AFIO officers and staff. We welcome comments from the WIN readers on any and all articles and commentary.

CAVEATS: IMPORTANT: AFIO does not "vet" or endorse research inquiries, career announcements, or job offers. Reasonable-sounding inquiries and career offerings are published as a service to our members, and for researchers, educators, and subscribers. You are urged to exercise your usual caution and good judgment when responding, and should verify the source independently before supplying any resume, career data, or personal information.]
If you are having difficulties with the links or viewing this newsletter when it arrives by email, members may view the latest edition each week at this link.
---
Other items brought to our attention:
The Afghan War's Financial Disaster - Bloomberg Opinion columnist Barry Ritholtz speaks with Jack Devine, former CIA Acting Director Operations (32-year veteran) and founding partner/president of international risk consulting firm The Arkin Group.
This Podcast runs 76 minutes of Q&A featuring a wide ranging interview about the spy business and current geopolitical issues. Devine's operative experiences leading up to the Afghan quagmire and our embarrassing departure 20 years later is discussed. Covers current and historical topics -- from cyber threats, Russian disinfo, internal unrest, Russia, China, Iran, North Korea. Devine: "When in doubt...Never Trust the Russians." Devine is author of Spymaster's Prism: The Fight Against Russian Aggression and Good Hunting: An American Spymaster's Story.
Devine predicted the retreat from Afghanistan. In 2010, in the Wall Street Journal, he wrote:
The CIA Solution for Afghanistan July 29, 2010, Wall Street Journal Opinion [subscription required]
There's no 'victory' to be had there. But we can prevent it from becoming a haven for al Qaeda with a covert strategy based on Predator drones and alliances with local leaders. The U.S. military will not achieve anything resembling victory in Afghanistan, no matter how noble the objective and heroic the effort.
It's time to face this reality. We should start by developing a new covert action plan to be implemented by the Central Intelligence Agency. The strategy should focus on forging the kinds of relationships necessary to keep Afghanistan from re-emerging as al Qaeda's staging ground once our forces depart, and also on continuing the hunt for Osama bin Laden. Article continues here
---
John Gentry, Former CIA analyst, released in International Journal of Intelligence & Counterintelligence on 1 Sep 2021:
Trump-Era Politicization: A Code of Civil–Intelligence Behavior Is Needed.
It begins: Current and former U.S. intelligence officers in unprecedentedly large numbers politicized intelligence in their opposition to candidate and then President Donald Trump. The activists consistently refused, and still refuse, to accept responsibility for the politicization or the damage it caused to intelligence and broader national security. They declined to consider whether a well-established field of thought—civil–military relations—contains insights about normatively appropriate behavior by former senior intelligence officers, especially. This article explores lessons for intelligence officers in the civil–military literature and offers suggestions for revised behavioral norms by intelligence officers in the conduct of "civil–intelligence relations." See full article here. [paywall]

That article was picked up 9 Sep 2021 by Bill Gertz, Washington Times, as:
Anti-Trump officials politicized intelligence, undermined U.S. security
U.S. intelligence officials waged a politicized campaign to undermine President Trump and his administration, and the politicization undermined American security, according to a former U.S. intelligence analyst. John A. Gentry, a former CIA analyst, stated in a journal article that former high-ranking intelligence officials were frequently used by sitting intelligence officials, to leak damaging information. Many "formers" directly or indirectly helped elect current President Biden and defeat Mr. Trump in the 2020 election. "Current and former U.S. intelligence officers in unprecedentedly large numbers politicized intelligence in their opposition to candidate and then President Donald Trump," Mr. Gentry stated in an article in the International Journal of Intelligence and Counterintelligence. "The activists consistently refused, and still refuse, to accept responsibility for the politicization or the damage it caused to intelligence and broader national security." Mr. Gentry names many of those he says were politicized, including both high-ranking and mid-level former agency employees. WTimes article continues here
---
CIA-trained Afghan forces who helped Americans and others evacuate now await resettlement in the U.S.
Shane Harris, Washington Post, 10 Sep 2021
The Afghan forces had been trained for counterterrorism missions and had worked for years with U.S. intelligence agencies and the military hunting militants and fighting Taliban insurgents. When the general Afghan military collapsed in the face of a Taliban onslaught, the special forces moved into Kabul, helping defend Hamid Karzai International Airport and fanning out across the capital to rescue stranded evacuees.
"They were extraordinarily well trained, and when, frankly, the regular army was dropping their weapons and running away, they were running into the breach," said a senior administration official who spoke on the condition of anonymity to candidly describe the Afghan forces' operations in recent weeks.
Like other Afghans who had assisted U.S. forces during their two-decade presence in the country, the Afghan soldiers — as well as linguists, intelligence collectors and support staffers — were at particular risk of Taliban reprisal, current and former officials said. The senior official noted that the Taliban had identified some members of the elite group and sent them text messages, threatening to kill them and their families.
Article continues here
---
Desert One: The failed US rescue attempt of American hostages being held at the American Embassy in Tehran, Iran in 1980.
The television premiere of the HISTORY Channel's documentary feature film, "Desert One," from two time Academy Award(R)-winning director Barbara Kopple, was last Sunday, 12 September 2021. The film tells the story of the failed US rescue attempt of American hostages being held at the American Embassy in Tehran, Iran in 1980, and features interviews with senior members of the Carter administration, including President Jimmy Carter and the late Vice President Walter Mondale, journalist Ted Koppel, former hostages, members of the Delta Force team involved in the rescue attempt, and Iranian hostage-takers and witnesses to the rescue attempt.
View trailer here. Stream full documentary here.
---
Where the Covid Origin Inquiry Goes Now
Congress can focus on U.S. funding for gain-of-function research.
The Editorial Board, WSJ, 13 Sep 2021 (paywall)
After the intelligence community submitted its muddledreport last month on the origins of Covid-19, President Biden said "the world deserves answers, and I will not rest until we get them." He won't get answers from China, but that doesn't mean the U.S. can't do more at home.
It's possible that Covid-19 emerged naturally, coming to humans from bats or an intermediary species. Another possibility—initially discounted because of political partisanship and scientific groupthink—is that the pandemic began with a lab accident in Wuhan, China. The more the world has learned, the more plausible the lab-leak theory has become.
The latest evidence is more than 900 pages of National Institutes of Health (NIH) documents outlining collaboration between the U.S. nonprofit EcoHealth Alliance and the Wuhan Institute of Virology (WIV). Obtained by the Intercept, a left-leaning web outlet, the documents show how American taxpayer dollars were spent on risky bat coronavirus research at the opaque Chinese institute. EcoHealth Alliance President Peter Daszak sought to shut down debate about the lab-leak theory, and his organization understood the dangers of what was being done there. Editorial continues here...
---
The Arkin Group's Sep 10 "In Other News" letter to private clients by former Deputy Director, Operations Officer Jack Devine features...
Terrorism after 9/11 and the potential impact of the Taliban's reemergence.
UAE establishing specialized court for money laundering as part of larger effort to strengthen nation's standing as an international financial center.

Follow link here to read analyses and predictions given to their private clients on the topics above.

Jack Devine's Spymaster's Prism was released earlier this year. The book has just been released on audio from Tantor or Amazon. AFIO's interview with him about this book appears at this link. Or hear the podcast here.
---
The Latest... from Jeff Stein's first out-of-the-gate "SpyTalk" series...
Sep 13: "What Now?" by Jeff Stein
After accountability, we can move on—if it's not too late.​​

Sep 9: "The Man Who Loved Spying" by Jeff Stein [podcast - runs 39 minutes]
Former senior CIA officer Doug London raises unsettling issues about the CIA in his new book, 'The Recruiter: Spying and the Lost Art of American Intelligence'

Sep 8: "The 'American Taliban' and Me" by Jeff Stein
A former CIA analyst digests a new film on the saga of John Walker Lindh

Sep 3: "Kabul's loss and a new 9/11 terror warning" by Jeff Stein and Craig Whitlock
Craig Whitlock discusses the CIA's place in 'The Afghanistan Papers,' while Coast Guard Commandant Karl Schultz addresses readiness for a 9/11 terror p...

Sep 2 "Now, for the Accountability" by Jeff Stein
The CIA and FBI also need a reckoning now that Kabul is gone. Two new startling insider accounts offer a roadmap.

Aug 26: "Spying After Kabul: The Human Factor" by Jeff Stein
Penetrating the Taliban, Al Qaeda and ISIS-K is nigh impossible now, a CIA veteran tells us

Readers, for a brief time, can subscribe for free for articles and weekend podcasts here.
---
Inside the SCIF:
Inside the SCIF by JJ Green, WTOP - Issue #129, 9 Sep has details on the proposed Sep 18th Rally; more evacuation flights from Afghanistan; Resumption of international flights expected shortly; Calling for kindness and understanding for Blinken; Did CIA Chief Burns meet with a Senior Russian Official in India?; Update on David Whelan; and more.

Target USA Podcast 293 is on: The National Reconnaissance Office turns 60
When the United States needs eyes and ears in critical places where no human can reach – be it over the most rugged terrain or through the most hostile territory – it turns to the National Reconnaissance Office. Director, Dr. Chris Scolese joins us to breakdown what they do.

And "The Hunt" explores: Who is Sirajuddin Haqqani?
The Taliban has appointed Sirajuddin Haqqani as its interim interior minister. The U.S has offered a $10 million reward for his arrest. On this week's episode of The Hunt, with WTOP National Security Correspondent J.J. Green, former CIA covert operative Robert Baer breaks down who Haqqani is.
---
---
Friday, 8 October 2021, 11 am - 2 pm
- In-Person Tysons Corner, VA -

The first in-person 2021 AFIO National Luncheon will feature
Seth Jones on his latest book
Three Dangerous Men: Russia, China, Iran and the Rise of Irregular Warfare
and Stephen Vogel on Traitor George Blake from his book, Betrayal in Berlin.

Special health precautions will be instituted. Event restricted to 90 attendees to allow spacing of only 4 seated at each table. Proof of vaccination required. Masks required except while eating.

REGISTER HERE

VENUE: DoubleTree by Hilton, 1960 Chain Bridge Rd, Tysons Corner, VA 22182 Phone: (703) 893-2100. Directions at this link.
---
---
Click title above or here to view the public and member-only interviews in the AFIO Now series.
Or view the publicly-released interviews on our YouTube page. Or listen to the podcast version at the links below.
PODCASTS: AFIO NOW content is also available on various podcasting platforms. Search for 'AFIO Podcast' for a selection of public released videos on Podbean; iTunes; Google; Spotify; Amazon Music; Amazon TuneIn + Alexa; iHeartRadio; and Pandora
Log into the Member-only area to view private and public interviews.
---
---


Did you miss this morning's (Tuesday, 14 September 2021) Zoom Webinar - panel discussion with Former Principal Deputy Directors of National Intelligence?
Speakers: Gen Michael V. Hayden USAF(Ret), Dr Donald Kerr, Stephanie O'Sullivan; Moderator Greg Myre of NPR.
This outstanding event featured first-hand accounts of their reactions as 9/11 unfolded, placing some of these principals in the very buildings under attack. It also covered domestic privacy and intelligence issues, countering cyberthreats, views on continuing to function clandestinely in Afghanistan, and more. Next week we will provide a link to the recorded 90-minute session for you to view on your own schedule. Stay tuned!
Details on the Virtual Education Programs of the National Cryptologic Museum Foundation are available here Other NCF Events can be found here on NCF website here, and CCH website here.
---
---
---
Newly Released, Overlooked, or Forthcoming Books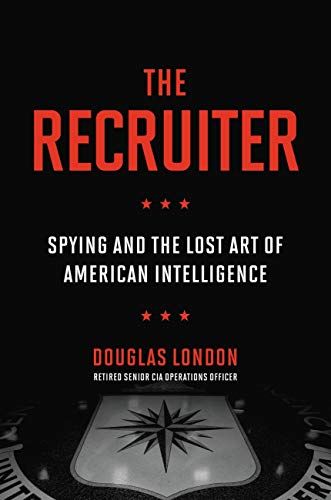 The Recruiter: Spying and the Lost Art of American Intelligence
by Douglas London
(Hachette Books, Sep 2021)
A memoir from a 34-year veteran CIA Case Officer who recruited foreign agents before and after 9/11. Provides rich details and sharp assessments and opinions on the state of modern spycraft, how the CIA has developed, and how it must continue to evolve.
If you've ever wondered what it's like to be a modern Operations Officer, London explains from long experience. He spent the majority of his 34-year CIA career stationed overseas recruiting foreign spies. His work involved spotting and identifying targets, building those relationships over weeks or months, and then pitching them to work for the CIA while maintaining various identities, a day job, and a wife and kids at home.
His insights into the challenges and failures of intelligence work, and the complicated relationships he developed with agents and colleagues, might give some hesitance to follow in his footsteps. In the end, he provides an insider's tale about the state of espionage, with a message to readers warning them about the staggering bureaucratization, toadyism, and decline of CIA's intelligence service since 9/11 and Iraq. And what might be done to recover.
Book may be ordered here.
---
Uncontrolled Spread: Why COVID-19 Crushed Us and How We Can Defeat the Next Pandemic
by Scott Gottlieb
(Harper, Sep 2021)
Physician and former FDA commissioner Scott Gottlieb asks: Has America's COVID-19 catastrophe taught us anything?
"At a time when many of our leading public health experts were blinded by the fog of viral war, Scott Gottlieb was always one step ahead -- warning of the pandemic danger and the urgent steps needed to protect the country. When public health bureaucrats were searching for people with symptoms, he was warning of asymptomatic spread. When public health officials were focused on a doomed effort to screen infected travelers, he was pushing for widespread testing at home. When government scientists still believed the virus wasn't spreading here, he was pushing for a whole-of-government mobilization to stop it. If we had listened to Scott Gottlieb, 2020 might have been a very different year. We must listen to him now, before the next pandemic arrives. Uncontrolled Spread is a must read for anyone who wants to understand why we failed to stop the worst pandemic in modern history -- and why it could happen again if we don't act now." -- Marc Thiessen, Washington Post columnist and bestselling author
He shows how the coronavirus and its variants were able to trounce America's pandemic preparations, and he outlines the steps that must be taken to protect against the next outbreak. As the pandemic unfolded, Gottlieb was in regular contact with all the key players in Congress, the Trump administration, and the drug and diagnostic industries. He provides an inside account of how level after level of American government crumbled as the COVID-19 crisis advanced.
A system-wide failure across government institutions left the nation blind to the threat, and unable to mount an effective response. We'd prepared for the wrong virus. We failed to identify the contagion early enough and became overly reliant on costly and sometimes divisive tactics that couldn't fully slow the spread. We never considered asymptomatic transmission and we assumed people would follow public health guidance. Key bureaucracies like the CDC were hidebound and outmatched. Weak political leadership aggravated these woes. We didn't view a public health disaster as a threat to our national security.
Many of the woes sprung from the CDC, which has very little real-time reporting capability to inform us of Covid's twists and turns or assess our defenses. The agency lacked an operational capacity and mindset to mobilize the kind of national response that was needed. To guard against future pandemic risks, we must remake the CDC and properly equip it to better confront crises. We must also get our intelligence services more engaged in the global public health mission, to gather information and uncover emerging risks before they hit our shores so we can head them off. For this role, our clandestine agencies have tools and capabilities that the CDC lacks.
Uncontrolled Spread argues we must fix our systems and prepare for a deadlier coronavirus variant, a flu pandemic, or whatever else nature -- or those wishing us harm -- may threaten us with. Gottlieb outlines policies and investments that are essential to prepare the United States and the world for future threats.
Book may be ordered here.
---
What Really Happened In Wuhan: The cover-ups, the conspiracies and the classified research
by Sharri Markson
(HarperCollings, Sep 2021)
Investigations Editor at The Australian explores the shrouded origins of Covid-19. Scientists and government officials insisted, for a year and a half, that the virus had a natural origin, ridiculing anyone who dared contradict this view. Tech giants swept the internet, censoring and silencing debate. Yet it is undeniable that a secretive facility in Wuhan was immersed in genetically manipulating bat-coronaviruses in perilous, U.S.-funded (via Fauci) experiments. And as soon as the news of an outbreak in Wuhan leaked, the Chinese military took control and gagged all laboratory insiders.
The origins of Covid-19 also include the cover-ups (in Wuhan and also at the U.S. CDC), the conspiracies and the classified research. Provides primary documents exposing China's concealment of the virus, interviews with whistleblower doctors in Wuhan and crucial eyewitness accounts.
Book may be ordered here.
---
---
One of the special benefits of membership in AFIO: access to CIA's inhouse gift shop — the EAA Store.

It requires a quick preapproval process described here to all newly joined and current AFIO members. And then allows you to purchase online their unusual logo'd gift items for self or colleagues. At left is the latest photo EAA released on Sep 3 featuring some of their newest items.



---
---
Visit, Follow, Subscribe to AFIO's LinkedIn, Twitter, and YouTube pages to receive updates.
Members who use social media or wish to explore, will find new announcements and other material on AFIO's Twitter and LinkedIn pages. New videos on our YouTube page appears below as well.
Access them here: LinkedIn, Twitter, and YouTube. By following or subscribing on those sites, one can be notified as new material appears.




PODCASTS: Are you too busy to sit and watch an entire "AFIO Now" episode above on YouTube? Would you rather listen in your car or while accomplishing other tasks? Now you can quickly download or stream episodes on your favorite podcasting platform. AFIO is now available on 8 podcasting platforms. Search for 'AFIO Podcast' for a selection of the interviews above (public released ones) on Podbean; iTunes; Google; Spotify; Amazon Music; Amazon TuneIn + Alexa; iHeartRadio; and Pandora.
---
Intelligence Matters: A CBS News original national security podcast hosted by former CIA acting director and CBS News national security contributor Michael Morell


The most recent "Intelligence Matters" podcast/interview by Mike Morell:

Sep 8 | Remembering 9/11 Part 5: Gina Bennett
Michael Morell speaks with Gina Bennett, one of the longest-serving intelligence analysts on al Qaeda and other terrorist groups. Bennett and Morell discuss how the CIA first became aware of the work of Osama bin Laden, and how the earliest warnings of al Qaeda's ambitions went largely unheeded. Bennett shares recollections from the day of the 9/11 attacks, including how she and CIA colleagues refused to evacuate headquarters despite being told Langley was a credible target.

A few recent "Intelligence Matters" podcasts to stream or download:
Sep 1 | Remembering 9/11 Part 4: Sandy Winnefeld
Aug 25 | Remembering 9/11 Part 3: Winston Wiley
Aug 18 | Remembering 9/11 Part 2: Andy Card
Aug 11 | Remembering 9/11 Part 1: Stephen Hadley
More about Intelligence Matters by Michael Morell here. Podcasts also located here.
---
Cyberblog by Steptoe & Johnson LLP
THE LATEST — Episode 374: What's the Opposite of Facial Recognition? Ask Your "Smart Toilet."
By Stewart Baker on Sep 13, 2021 05:24 pm
The district court has ruled in the lawsuit between Epic and Apple over access to the Apple app store. Apple is claiming victory and Epic is appealing. But Apple's victory is not complete, and may have a worm at its core. Jamil Jaffer explains. Surprised that ransomware gangs REvil and Groove are back – and... Continue Reading
Recent Articles:
Episode 373: We Can't Run a Twelfth-Century Regime Without WhatsApp!
Episode 372: Blockchain and Cryptocurrency Regulatory Roundup
Episode 371: Fighting Ransomware by Pushing All the Buttons on the Dashboard
Episode 370: Should We Add "Jumping U.S. Red Lines" to the 2021 Olympics?
New York DFS Issues Guidance on Ransomware Prevention and Response
Colorado Becomes Third State to Adopt a Comprehensive Privacy Law
Episode 369: This Episode Could Be Worth $1,000 To The ACLU — Ransomware and Florida's deplatforming law
---
---
Section I - INTELLIGENCE HIGHLIGHTS

Top US Spy Says Somalia, Yemen, Syria and Iraq Represent Greater Terrorist Threat than Afghanistan. Afghanistan is no longer the US' top concern among international terrorist threats to the American homeland, the nation's top spy said at an intelligence and national security conference in Washington on Monday, even amid ongoing fears from some critics who argue that the country could become a haven for terrorist organizations like ISIS and al Qaeda to regroup following the US withdrawal.

Terror threats emanating from Somalia, Yemen, Syria and Iraq - in particular ISIS - pose a greater danger than those that might emerge from Afghanistan, Director of National Intelligence Avril Haines told the annual Intelligence and National Security Summit.

"In terms of the homeland, the threat right now from terrorist groups, we don't prioritize at the top of the list Afghanistan," she said, speaking by videoconference. "What we look at is Yemen, Somalia, Syria and Iraq for ISIS. That's where we see the greatest threat." [Read more: Williams/CNN/13September2021]

Australia Spies Helped CIA in Allende's Chile, Intel Records Show. Australia carried out espionage operations in Chile in the 1970s in support of the US intervention against the socialist government of Salvador Allende, according to intelligence documents released Friday.

The Australian Secret Intelligence Service (ASIS) installed a "station" in Santiago from 1971 to 1973 at the request of the US Central Intelligence Agency (CIA), according to declassified Australian records published by the National Security Archive (NSA) a Washington-based research center.

"After 50 years, the hidden history of concerted, covert U.S. efforts, with other proxies, to destabilize the democratically elected Chilean government of Salvador Allende continues to unfold," NSA historian Peter Kornbluh told AFP. [Read more: AFP/10September2021]

Syria Cement Plant at Centre of Terror Finance Investigation 'Used by Western Spies'. A cement plant in Syria at the centre of a terror financing investigation in France was used by western intelligence agencies to gather information on hostages held by Islamic State, sources connected to the operation have said.

A Jordanian intelligence officer who was central to the spying effort has confirmed to the Guardian that the Lafarge factory, which continued operating after the terrorist group overran eastern Syria, in one of the most controversial episodes of the war, was the regional hub of a failed effort to rescue up to 30 hostages. Those IS held included the American journalist James Foley, British photographer John Cantlie and Jordanian pilot Moaz al-Kasasbeh, two of whom were later confirmed to have been killed.

France's highest court ruled this week that Lafarge could yet be investigated over allegations of complicity in crimes against humanity over its dealings in Syria, saying that a previous decision to strike out the charge was flawed. [Read more: Chulov/TheGuardian/9September2021]

EU Needs to Step Up Espionage Defences, Experts Warn. Experts on Thursday (9 September) warned MEPs that the EU should step up its defences against espionage and foreign interference as it is currently a weak and attractive target.

Margarita Robles Carrillo, professor of public international law at the University of Granada told the special committee on foreign interference that the EU has only seen the "tip of the iceberg" in terms of foreign interference.

She said the EU is also vulnerable also because it has fewer means of defence, limited scope of power, and there needs to be a consensus and agreement between EU institutions and member states for decisions to happen.

It is also an attractive target because any action against the EU will have greater consequences and a bigger impact in member states too, she added. [Read more: Zalan/EUObserver/10September2021]

Spain Arrests Venezuelan Spymaster Wanted on US Drug Charges. Police in Madrid on Thursday arrested a former Venezuelan spymaster wanted on U.S. narcoterrorism charges, capturing him in a hideout apartment nearly two years after he defied a Spanish extradition order and disappeared.

Gen. Hugo Carvajal, who for over a decade was late Venezuelan leader Hugo Chavez's eyes and ears in the Venezuelan military, was arrested in the small apartment in which he had been holed up.

"He lived totally enclosed, never going outside or getting close to the window, always protected by people he trusted," Spain's police said in a statement on social media in which they posted a short video the moment heavily-armed officers put handcuffs on Carvajal. [Read more: Goodman&Parra/AP/9September2021]

Hong Kong to Create More National Security Offences. Hong Kong will create a host of new national security offences, building on a law Beijing imposed last year that has criminalised dissent and transformed the once-outspoken city.

Chris Tang, a former police chief promoted to security secretary this year, said officials started working on local legislation that would define new crimes under the security law.

"We hope to complete it within the next term of legislature, and we will consult with the public," Tang told the pro-Beijing Ta Kung Pao newspaper in a front-page report published on Tuesday.

In a separate interview with Sing Tao Daily, another pro-Beijing media outlet, Tang said officials were studying ongoing national security trials to guide their new legislation. [Read more: AlJazzera/14September2021]


---
Section II - CONTEXT & PRECEDENCE

How a Syrian War Criminal and Double Agent Disappeared in Europe. On a September day in 1961, a thin man with a small mustache walked into a post office in Damascus to pick up a parcel addressed to Georg Fischer. Few people knew that Fischer, an ill-tempered Austrian weapons merchant, was actually the S.S. Hauptsturmführer Alois Brunner, "the erstwhile assistant of Adolf Eichmann in the annihilation of Jews," as a classified U.S. cable put it. But among those who were aware of his identity was a Mossad operative who had infiltrated the Syrian élite. When Brunner opened the package, it exploded, killing two postal workers and blinding him in the left eye.

The Israeli spy was later caught, tortured, and executed; Brunner lived openly in Damascus for the next several decades, in the third-floor apartment of 7 Rue Haddad. "Among Third Reich criminals still alive, Alois Brunner is undoubtedly the worst," the Nazi hunter Simon Wiesenthal wrote, in 1988. France sentenced Brunner to death in absentia. Israel tried to kill him a second time, but the bomb took only some fingers. Brunner told a German magazine that his chief regret was not having killed more Jews.

Hafez al-Assad, Syria's dictator, ignored multiple requests for Brunner's extradition. Brunner was useful - as an assertion of Syrian state sovereignty, a mockery of global norms and values, and an affront to Israel, Syria's neighbor and enemy. He was, as someone in Assad's inner circle later put it, "a card that the regime kept in its hand."

But, in the late nineties, as Assad's health was failing, he became devoted to the task of preparing his ruthless world for his son. [Read more: Taub/NewYorker/13September2021]

Hugh Francis Redmond: Irish American CIA Spy and Hero. Hugh Francis Redmond was born in Yonkers, New York on the 30th of October 1919 to Hugh Francis Redmond Sr (1884-1959) and Ruth Redmond (nee Murphy) (1897-1973). His paternal grandmother was Mary O'Hara, who died in 1934. The family was believed to have very strong Wexford connections.

Hugh Sr worked as a building superintendent in Yonkers. The family struggled terribly during the depression financially. Redmond was a good athlete with a burning desire for knowledge.

After high school, Redmond joined the Civilian Conservation Corps (CCC), a voluntary public work relief program that operated between 1933 and 1942 for unmarried men aged 18-25 that did work improving public land and was founded by President Theodore Roosevelt. [Read more: Clancy/IrishCentral/13September2021]

The Difference Between Espionage and Financial Breaches. Cyberespionage breaches take longer to discover than financial breaches. One of the biggest clues to finding them lies in understanding suspicious network traffic. John Grim of the Verizon Threat Research Advisory Center shares insight from a new study of cyberespionage trends.

Grim, head of research, development and innovation at VTRAC, was part of a recent study of how espionage breaches behave differently from traditional financial breaches.

"In order to understand what suspicious traffic is, you need to understand what is normal," Grim says. "You need to have the means to capture that traffic and to capture the packets as well as detect these threat actors in real time." [Read/Listen: Goswami/BankInfoSecurity/7September2021]

A Brief History of Royal Spies. With their cachet and cosmopolitan backgrounds, aristocrats and royals have long dabbled in spycraft. As historian Antonia Fraser has noted in regards to Marie Antoinette, foreign-born princesses sent to marry in other lands were often akin to sleeper agents, expected to work on behalf of their country, and divulge all they learned if necessary. In modern times, some displaced royals have found espionage a natural fit, a way to still influence world events and be of service - or not - to their home country. [Read more: Meares/VanityFair/8September2021]


---
Uganda: Losing Sight of Grand Strategy. Last week, Uganda's Chieftaincy of Military Intelligence (CMI) arrested the Vice Chancellor of Victoria University, Lawrence Muganda, apparently on charges of espionage. Muganga is not the only person who has suffered such arrest. Many Ugandans of Kinyarwanda culture are routinely arrested and detained by CMI in illegal detention facilities, held for months and even years without trial, often without charges. Many are tortured. The accusation is that they are spies of Rwanda.

It is obvious, given our very bad relations with Rwanda, that Kigali must be having many spies in our midst. It is also possible that many of those arrested are guilty. But why does CMI hold them for months or years without trial or even a charge? Apparently, CMI says, it is conducting "investigations." This claim begs the question: why arrest before investigating?

I admire Museveni because he often keeps his eye on the big picture i.e., he is good at grand strategy. But over the last three years I have been disappointed and frustrated: this big picture disappears when it comes to dealing with Rwanda.

Grand strategy must be driven by policy. What is our policy for this region? [Read more: Mwenda/TheIndependent/13September2021]

The CIA Spent 20 Years on the Front Lines of the War on Terror. It's Time For That to Change. When Gen. David Petraeus became director of the Central Intelligence Agency in 2011, he filled his office with weapons, military challenge coins and other mementos of war - in other words, he made it look like the Pentagon.

The decor was telling. CIA directors often come from the world of intelligence, serving as agency careerists, congressional overseers or military intelligence leaders prior to assuming the top job. Petraeus was none of those. He was an infantry guy, not a career intelligence officer, a retired four-star warrior who had commanded allied forces in Iraq and was fresh off the battlefields of Afghanistan.

As Petraeus was moving into Langley, his predecessor at the CIA, Leon Panetta, was heading to the Pentagon to become secretary of defense. The symbolism of the musical chairs was hard to miss: Intelligence and military operations had never been more fused. The leadership seats were literally interchangeable.

The Sept. 11 terrorist attacks ushered in many organizational changes in the federal government, including the creation of a behemoth new Department of Homeland Security, the establishment of a director of national intelligence and the largest restructuring of intelligence agencies in over half a century. But the integration of intelligence and warfighting may have been the most promising - and problematic - change of all. [Read more: Zegart/Politico/11September2021]


---
Section IV - Research Requests, Jobs, Obituaries
Searching for Panelists - Society of Military History 2022 Annual Conference
From Philip Shackelford: I am looking to put together a panel revolving around airpower, intelligence, or early Cold War - ideally a combination of the three - for the 2022 Society of Military History (SMH) annual conference, taking place in Fort Worth, TX April 28 - May 1, 2022. SMH is an international society focused on "stimulating and advancing the study of military history."Learn more here.
My email is pshackelford@southark.edu, and I'm happy to put together the required proposal paperwork, etc. Let me know if you are interested and feel free to share with others.
Seeking Former CIA Officers who knew Abu Bakr al-Baghdadi, others in ISIS, to assist Israeli Journalist with Documentary
My name is Hadar Gat, I'm a journalist from Israel, currently working on the second season of a documentary series about the most influential Arab leaders in the middle east.
It's an international production, broadcasted on Kan Israeli channel (IPBC).
The documentary series provides a profound profile analysis of leaders in the Arab world, and is one of the leading document series of IPBC.
Each episode is covering the history and profile of a different leader, and reviewing his personality and actions from every aspect possible. Especially the way he was grasped through the eyes of different Intelligence agencies.
I'm contacting [AFIO] because in one of the episodes we are focusing on Abu Bakr al-Baghdadi, and ISIS itself. Therefore, we wish to interview former CIA officers or agents who are relevant to that matter. I'm available for any questions and more details, so feel free to contact me at any time.
Looking forward to hearing from you.
Replies to Hadar Gat, 972-50-4800-306 or hadargat8@gmail.com
US-China co-operation against the Soviets in the 1980s. Seeking Intelligence Officers who worked in Western China on joint monitoring stations dedicated to Soviet missile sites
Jane Perlez, the NYTimes bureau chief in Beijing, is seeking officers who worked in China on the joint monitoring stations in Western China that were dedicated to the Soviet missile sites. It is for a podcast that deals with the China-US opening by Richard Nixon. The program, run in part by the Science and Technology division, featured in the excellent book "The Wizards of Langley" by Jeffrey Richelson, "The Great Wall" by Patrick Tyler, and in some press accounts.
To respond, email her at janeperlez@gmail.com; twitter: @janeperlez; +1-646 884 4949
---
Bill McCarthy, CIA Station Chief/Operations Officer
William Ellsworth McCarthy, 83, former CIA Station Chief/Operations Officer, died 5 September 2021 of congestive heart failure in Henderson, NV.
He was born in Denver, CO. Bill graduated Cum Laude from University of Colorado in 1964 with degrees in Sociology and Psychology. Prior to attending college, he served in the U.S. Army Special Forces (Green Beret) for 3 years as a paratrooper, demolition specialist and paramedic. Bill was also a member of the Green Beret hand-to-hand combat instruction and exhibition team and was a pioneer in the sport of skydiving.
In 1961, Bill became the 83rd skydiver in the U.S. to receive a United States Parachute Association (USPA) "Master" Parachutist license. In 1962, he was among the first 22 skydivers to receive USPA "Instructor" ratings, and in 1964, was elected to the first USPA Board of Directors, representing the Mountain Conference. Bill logged a total of 380 parachute jumps over a period 44 years.
He also earned a private Pilot's license and an FAA Parachute Rigger's license. In SCUBA diving, Bill Made more than 500 open dives around the world and held a "Divemaster" rating.
Upon graduation from College, he joined the San Jose, CA police department and graduated first in his Police Academy class. After 10 months of police work, Bill moved to Washington, D.C. to join the CIA's Clandestine Service where he served as a Clandestine Operations Officer for the next 28 years. Of these, 19 years were spent overseas in regions of strategic interest to the U.S., including the Far East, the Middle East,
and Western Europe. Bill led organizational units within several CIA field Stations and at CIA Headquarters. He served as the CIA Station Chief in a strategically important oil producing country in the Middle East.
Bill toured the world extensively during his lifetime, visiting more than 120 countries. He maintained a large collection of art from the areas he visited. He was a true adventurer.
Upon his retirement from the CIA in 1993, Bill capitalized his lifelong interest in food and cooking and launched a second successful career as a gourmet cooking instructor, specializing in Asian cuisine. He taught cooking classes regularly for 6 years at nationally recognized schools in Maryland, the San Francisco Bay Area, and throughout the nation.
After 8 years in San Francisco, Bill returned to Washington, DC, where he worked as a wine consultant. At the time of his death, he was residing in Henderson, NV, near Las Vegas. There will be no funeral or memorial service. He was survived by his wife Christina S. Dimaranan.
Bill would want his friends and acquaintances to raise a glass of fine wine (no "Two Buck Chuck," please) and remember him as he was the last time they met.
Ed Swecker, CIA Operations Officer
Edward Preston Swecker, 90, CIA Operations Officer, died 4 September 2021 in Alexandria, VA.
Ed was born in Washington, DC. He graduated from Sidwell Friends School in 1949 and received a BA in English Literature from Duke University in 1953. He spent his junior year as an exchange student in Marburg, Germany. In 1954, he was drafted into the Army and served in Augsburg, Germany for 18 months. After discharge, he attended University of Chicago Graduate School, receiving an MA in German in 1958.
He joined the CIA and served for 30 years, including tours in Berlin, Frankfurt, Bonn, and Saigon.
In 1995 Ed and wife Barbara bought a home in Lewes, DE where they spent summers and weekends enjoying biking and hiking in Cape Henlopen Park. After retiring he enjoyed spending time with his family, traveling, and eating in gourmet restaurants. He continued to read in German and French, and sometimes English.
Ed volunteered at the US Holocaust Museum for four years, translating German documents about citizens' experiences during WWII.
He is survived by his wife of 48 years, Barbara Henry Swecker, two sons, a daughter, and other family.
---
AFIO EDUCATIONAL EVENTS IN COMING TWO MONTHS....
Friday, 8 October 2021, 11 am - 2 pm - In-Person Tysons Corner, VA - AFIO National Luncheon featuring Seth Jones on his latest book "Three Dangerous Men" and Stephen Vogel on Traitor George Blake from his book, "Betrayal in Berlin."
REGISTRATION FOR AFIO NATIONAL'S FIRST POST-PANDEMIC IN-PERSON LUNCHEON HAS OPENED

Friday, 8 October 2021, 11 am - 2 pm - In-Person Tysons Corner, VA -
AFIO National Luncheon features Seth Jones on his latest book "Three Dangerous Men" and Stephen Vogel on Traitor George Blake from his book, "Betrayal in Berlin."
FOR YOUR CALENDAR. The first in-person AFIO National Luncheon for 2021 will take place on Friday, 8 October at DoubleTree Hotel, Tysons Corner. Event will feature Seth Jones on his latest book Three Dangerous Men and Stephen Vogel on Traitor George Blake from his book, Betrayal in Berlin. Special health precautions will be instituted. Event restricted to 90 attendees to allow spacing of only 4 seated at each table. Proof of vaccination required. Masks required except while eating.
TO REGISTER: Do so here.
VENUE: DoubleTree by Hilton, 1960 Chain Bridge Rd, Tysons Corner, VA 22182 Phone: (703) 893-2100. Directions at this link.
Saturday, 16 October 2021, 2 pm EST - Kennebunk, ME - The Maine Chapter hears from FSO Louis Sell on "Kosovo and Bosnia."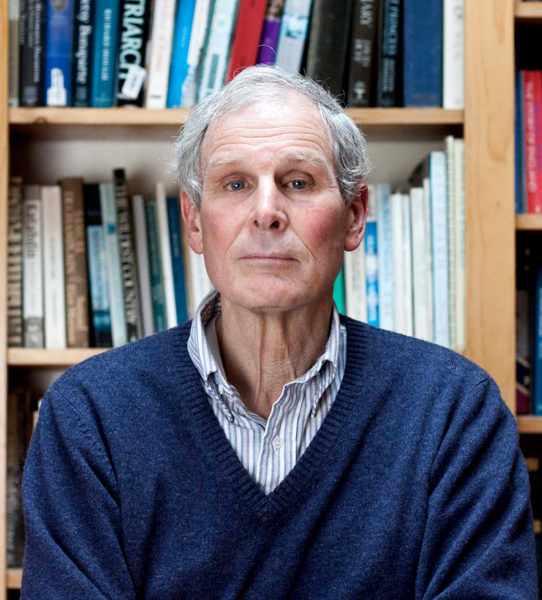 The Maine Chapter of AFIO hosts Louis Sell, a former foreign service officer and author, who will discuss Kosovo and Bosnia. Sell is the author of "From Washington to Moscow: US-Soviet Relations and the Collapse of the USSR" and "Slobodan Milosevic and the Destruction of Yugoslavia."
The meeting is open to the public and begins at 2 p.m. at the Program Center of the Brick Store Museum, 4 Dane St., Kennebunk. A question period will follow the presentation.
Questions? Email chapter president, Mike Severance, at maineboats@roadrunner.com or call 207 967-4298
Wednesday, 17 November, 2021, noon PST - Zoom-virtual - The AFIO San Francisco Chapter hosts Capt Aynesworth on "Intelligence Challenges of the Movement of International Containerized Cargo."
The "Andre Le Gallo" San Francisco Chapter hosts James L. Aynesworth, Captain, U.S. Navy Reserve (ret); President, Trident Information Services International on "Movement of International Containerized Cargo: Intelligence Challenges."

Registration required to receive a zoom link. Register here.
Qs?: contact Mariko Kawaguchi, Chapter Secretary at afiosf@aol.com.
---
Other Upcoming Events from Advertisers, Corporate Sponsors, and Others
Sunday, 19 September 2021, 2 - 3:30 pm EDT - Virtual - The Cold War Museum hosts TD Barnes on "CIA Station D: Area 51 in the Cold War" - The True Story
No aliens. Much more interesting. The real story behind Area 51, by a man who was on the ground for CIA's Station D.You've Heard About Area 51. And You Know There Weren't Any Aliens Hanging Around. But What Was REALLY Happening at That Top Secret Location? And Why Was the CIA There? Ask the Agency's Man On the Ground
Area 51 In the Cold War: The True Story
TD Barnes will provide us with an accurate unclassified insider's account of the CIA era at Area 51, a.k.a. Station D, including:
• The need for an Area 51; • Why Nevada was chosen as the location; • Why CIA needed to be there; • The politics; • The challenges; • The accomplishments; • The spy planes; • The development of stealth technology; • Soviet MiG exploitation; and • The lives lost and family sacrifices.
TD Barnes served in US Army intelligence and then worked on radar and surface-to-air missiles. Later he served in Nevada on the NASA High Range during Project X-15 and at Area 51 in the CIA's Science & Technology Special Projects, working on the CIA's Project Oxcart, the Soviet MiG exploitation projects, the development of stealth technology, and other black projects that remain classified today.
Cost: $20, 100% of which is a contribution to the Cold War Museum.
Sign Up Here on EventBrite.
Location: ONLINE ONLY. Eventbrite ticket buyers will receive a link to the virtual room on the Zoom platform where this event will take place. We are recording the whole event, including the Q&A, for the Museum's archives.
Agenda:
• 1:30-2:00. Participants arrive in the Zoom room online.
• 2:00-2:05. Jason Hall, Executive Director of the Cold War Museum, introduces the Museum and TD Barnes
• 2:05-3:00. TD presents on what was happening at Area 51.
• 3:00-3:30. Q&A opportunity for the audience.
Questions? Call or email Jason Hall, 703-283-4124 (cell), jason@coldwar.org
Thursday, 23 September 2021, 6:30pm - Washington, DC - Virtual Members-Only SPY themed Trivia Night - Virtual International Spy Museum Program
Join other members of the Spy Museum Inner Circle for an exclusive virtual trivia night. Test your knowledge with trivia centered around the International Spy Museum's history, exhibits, and fun facts. If you've visited the museum recently, you might have an advantage. Event is free and open exclusively to Spy Museum members. You can join SPY as a member online or by calling 202.654.2840. If you are a current member and have not received the link to sign up for this event, please email membership@spymuseum.org to register. Visit www.spymuseum.org.
14 October 2021, 8:15a to 2p - virtual and in-person - NCF General Membership Meeting (GMM) & Annual Symposium
SAVE THE DATE for the first hybrid (virtual and in-person) National Cryptologic Foundation General Membership Meeting. We are excited to be planning to gather in person again. The 2021 GMM & Annual Symposium will be held on 14 October and will be a hybrid event - offering options to attend virtually or in person. The program will be held at the CACI in the National Business Park. Seating will be limited and the program will be shorter in duration this year. Schedule: Check-in and breakfast from 8:15-8:45am; Program 9am-12pm; Lunch and Booksigning 12-1pm. Stay tuned for program details and registration will be available at this link.
Wednesday, 27 October 2021, 6 - 10 pm - Washington, DC - 30th (+1) Anniversary Gala and Chancellor's Dinner - Institute of World Politics
Current timing of this in-person celebration is:
6:00 PM Cocktail Reception
7:00 PM Dinner
9:00 PM Dessert and Dancing
Location: The Mayflower Hotel, 1127 Connecticut Ave NW, Washington, DC
Additional details here
Wednesday, 1 December 2021, 5:30 PM VIP Reception / 6:30 PM Progressive Reception & Award Program - Washington, DC - 2021 Webster Distinguished Service Award Event - International Spy Museum
The Spy Museum offers an evening of intrigue for the 2021 Webster Distinguished Service Award event. The award is an opportunity to recognize the extraordinary contributions of individuals in the Intelligence Community. This year's awardee is The Honorable Susan M. Gordon, former principal deputy director of national intelligence. Previous recipients of the Webster Distinguished Service Award include President George H. W. Bush (2017), Admiral William H. McRaven, USN (Ret.) (2018), and Gen. Michael V. Hayden (Ret.) (2019). Webster attendee and sponsor support fuels the nonprofit mission of educating the public about the history and craft of espionage and intelligence through youth and adult programs, community service, and the care of the Museum's unique collection of artifacts for generations to come.
Event will be held at the International Spy Museum.
For tickets, sponsorship opportunities, or information about ways to support the International Spy Museum, please contact the development office at 202.654.2853. Event tickets, other details are available here.
---
In addition to the new Royal Blue long sleeve shirts, and the gray long sleeve hooded sweatshirts, the AFIO Store also has the following items ready for quick shipment:
LONG and Short-Sleeved Shirts with embroidered AFIO Logo and New Mugs with color-glazed permanent logo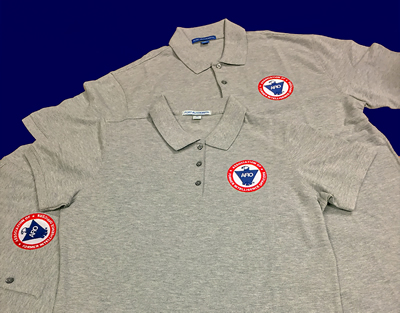 Show your support for AFIO with our new Polo Shirts. Be the first to buy these new, high quality, subtle heathered grey short sleeve shirts, and dark blue long sleeved shirts, of shrink and wrinkle resistant fine cotton with a soft yet substantial feel. They feature a detailed embroidered AFIO seal. Get a shirt for yourself and consider as gifts for colleagues, family, and friends. Only $45 each including shipping.
Sizes of (M) men or (W) women shirts; Small, Medium, Large, XL, XXL, and XXXL. At this time all orders will arrive as Short Sleeve shirts.
You may pay by check or credit card. Complete your order online here or mail an order along with payment to: AFIO, 7600 Leesburg Pike, Ste 470 East, Falls Church, VA 22043-2004. Phone orders at 703-790-0320. If interested in other shirt colors or sleeve lengths, contact Annette at: annettej@afio.com.
---
AFIO Mug with color glazed logo. Made in America. Sturdy enough to sit on desk to hold pens, cards, paperclips, and candy.
This handsome large, heavy USA-made ceramic mug is dishwasher-safe with a glazed seal. $35 per mug includes shipping. Order this and other store items online here.
---
Guide to the Study of Intelligence and When Intelligence Made a Difference
"AFIO's Guide to the Study of Intelligence" has sold out in hard-copy.
However, it is available in digital form in its entirety on the AFIO website here.

Also available on the website here are the individual articles of AFIO's history project "When Intelligence Made a Difference" that have been published to date in The Intelligencer journal. More articles will be forthcoming in future editions.
---
Disclaimers and Removal Instructions
Weekly Intelligence Notes (WINs) are commentaries on Intelligence and related national security matters, based on open media sources, selected, interpreted, edited and produced for non-profit educational uses by members and WIN subscribers.
REMOVAL INSTRUCTIONS: We do not wish to add clutter to inboxes. To discontinue receiving the WINs:
a) IF YOU ARE A MEMBER - click here: UNSUBSCRIBE and supply your full name and email address where you receive the WINs. Click SEND, you will be removed from list. If this link doesn't open a blank email, create one on your own and send to afio@afio.com with the words: REMOVE FROM WINs as the subject, and provide your full name and email address where you are currently receiving them.
b) IF YOU ARE NOT A MEMBER, and you received this message, someone forwarded this newsletter to you [contrary to AFIO policies]. Forward to afio@afio.com the entire WIN or message you received and we will remove the sender from our membership and distribution lists. The problem will be solved for both of us.
CONTENTS of this WIN [HTML version recipients - Click title to jump to story or section, Click Article Title to return to Contents. This feature does not work for Plaintext Edition or for some AOL recipients]. If you wish to change to HTML format, let us know at afio@afio.com. The HTML feature also does not work for those who access their e-mail using web mail...however NON-HTML recipients may view the latest edition each week in HTML at this link: https://www.afio.com/pages/currentwin.htm
---
WINs are protected by copyright laws and intellectual property laws, and may not be reproduced or re-sent without specific permission from the Producer. Opinions expressed in the WINs are solely those of the editor's or author's listed with each article. AFIO Members Support the AFIO Mission - sponsor new members! CHECK THE AFIO WEBSITE at www.afio.com for back issues of the WINs, information about AFIO, conference agenda and registrations materials, and membership applications and much more!
(c) 1998 thru 2021. AFIO, 7600 Leesburg Pike, Suite 470 East, Falls Church, VA 22043-2004. Voice: (703) 790-0320; Fax: (703) 991-1278; Email: afio@afio.com
---
About AFIO | Membership Renewal | Change of Address | Upcoming Events | Chapter Locations | Corporate/Institutional Memberships | Careers in Intelligence Booklet | Guide to the Study of Intelligence | Intelligencer Journal | Weekly Intelligence Notes | To Make A Donation | AFIO Store | Member-Only Section | Code of Ethics | Home Page
---