---
CONTENTS
Section I - INTELLIGENCE HIGHLIGHTS
Section II - CONTEXT & PRECEDENCE
Section IV - Research Requests, Jobs, Obituaries
Other Upcoming Events from Advertisers, Corporate Sponsors, and Others
For additional AFIO and other Events two+ months or more... Calendar of Events
WIN CREDITS FOR THIS ISSUE: The WIN editors thank the following special contributors: rsy, ec, po, pjk, mh, km, gh, mk, rd, fm, kc, jm, mr, jg, th, ed, and fwr. They have contributed one or more stories used in this issue.

The WIN editors attempt to include a wide range of articles and commentary in the Weekly Notes to inform and educate our readers. However, the views expressed in the articles are purely those of the authors, and in no way reflect support or endorsement from the WIN editors or the AFIO officers and staff. We welcome comments from the WIN readers on any and all articles and commentary.

CAVEATS: IMPORTANT: AFIO does not "vet" or endorse research inquiries, career announcements, or job offers. Reasonable-sounding inquiries and career offerings are published as a service to our members, and for researchers, educators, and subscribers. You are urged to exercise your usual caution and good judgment when responding, and should verify the source independently before supplying any resume, career data, or personal information.]
If you are having difficulties with the links or viewing this newsletter when it arrives by email, members may view the latest edition each week at this link.
---
Other items brought to our attention:
Afghanistan Didn't Fall: It Never Existed
Daniel Greenfield, August 18, 2021, on Sultan Knish
"Afghanistan's collapse: Did US intelligence get it wrong?" ABC News asks. "Afghanistan Is Your Fault," barks Tom Nichols at The Atlantic. "Why Afghan Forces So Quickly Laid Down Their Arms," Politico ponders.
The one thing that the Taliban's conquest of Afghanistan is good for is more media hot takes.
Afghanistan didn't fall because it never existed. The Afghan army laid down its arms because it also never existed. And not just because many of the 300,000 soldiers were imaginary. Its Pashtun members surrendered to their fellow Taliban Pashtuns, or fled to Iran or Uzbekistan, depending on their tribal or religious affiliations which, unlike Afghanistan, are very real.
The Afghan army was there because we spent $90 billion on it. Much like Afghanistan with its president, its constitution, and its elections existed because we spent a fortune on it. When we left, the president fled, the army collapsed, and Afghanistan: The Musical closed in Kabul. Afghanistan isn't a country. It's a stone age Brigadoon of quarreling tribes, ethnic groups, Islamic denominations, and warlords manned by young men with old Russian and American rifles. Article continues here
---
The Kremlin's Strange Victory: How Putin Exploits American Dysfunction and Fuels American Decline
By Fiona Hill, Foreign Affairs, Nov/Dec 2021
When the Soviet Union collapsed, many observers hoped that Russia would slowly but surely move toward something resembling U.S.-style liberal democracy. "By the late 1990s, it was clear that such an outcome was not on the horizon," Fiona Hill writes in a new essay. "And in more recent years, quite the opposite has happened."
Vladimir Putin recognized the shift. The Russian president "realized that despite the lofty rhetoric that flowed from Washington about democratic values and liberal norms, beneath the surface, the United States was beginning to resemble his own country," with "populism, cronyism, and corruption [sapping] the strength of American democracy," notes Hill, who served on the National Security Council in the administration of U.S. President Donald Trump. Because the two countries have grown so similar, traditional methods cannot remove the threat Russia poses to the United States. Rather than trying to change Putin, "Americans will have to change themselves." Article continues here

Also recommended in Foreign Affairs:
The Future of Conquest: Fights Over Small Places Could Spark the Next Big War
by Dan Altman · September 24, 2021, Foreign Affairs
The relationship between conquest and conflict may seem straightforward: start a war, prevail on the battlefield, take control of desired territory. Yet more and more, this is not how states take each other's land. Instead, they use a different strategy: seize a small piece of territory quickly and with minimal bloodshed, then try to avoid war. Today, conquest looks like what Russia did in Crimea and what China could do once again in the South China Sea. Article continues here
---
Videos and Report - 9/11: Intelligence and National Security Twenty Years Later
A conference at Harvard's Belfer Center for Science and International Affairs, KSG
Authors: Sean Power Calder Walton Michael Miner Related: Paul Kolbe Natalia Angel | Sep. 23, 2021
Highlights of conference contemplating causes, effects of 9/11
The attacks on September 11, 2001 profoundly altered America's society and national security. Moments of painstaking agony and astonishing courage played out side by side at the World Trade Center, the Pentagon, and on flight United 93. As victims and first responders grasped for life, grief and deep insecurity enveloped the country. For the United States Intelligence Community, it was a transformational event that drove public servants to unprecedented lengths to keep America safe in a world dramatically outpacing the one envisioned within the National Security Act of 1947. Now at the turn of the century and in the face of terror, the U.S. government's response was swift and decisive. America and allies toppled the Taliban in just a few short months and severely limited Al Qaeda's ability to operate in Afghanistan. Over the coming years that limited action in Afghanistan morphed into a Global War on Terror. Twenty years later, following America's chaotic withdrawal, the Taliban is back in power—an outcome that few would have predicted that fateful day two decades ago.
Speakers/Panelists included: Phil Zelikow, James Clapper, Mike Morell, Hank Crumpton, Christopher Andrew, Paul Kolbe.
Videos, transcripts, and highlights of conference here.
---
Vindication Over Hunter's Emails: Politico confirms the New York Post story the Bidens never denied.
By The Editorial Board, Wall Street Journal, 24 Sep 2021 6:50 pm ET
...
A writer for Politico has published a book about President Biden that confirms that some of the emails on a laptop belonging to Hunter Biden are authentic. This is barely a scoop, since neither Hunter Biden nor Joe Biden's campaign denied last year that the laptop provided to the Post by Rudy Giuliani was Hunter's. Both men counted instead on the rest of the media to serve as a cordon sanitaire, and did they ever. Twitter barred the Post's feed for a time lest Americans be able to read about the emails and their content.
A press that was interested in telling the truth about both candidates would have pressed to confirm the Post's story and examined the emails for themselves. Instead they rose nearly as one to denounce the Post and claim without evidence that the emails might have been Russian disinformation. That was a sorry repeat of the Russia collusion narrative from 2016, which the press flogged for more than two years but we now know was concocted by the Hillary Clinton campaign.
We also now know that the Russian email disinformation story was false. But that didn't stop 50 former intelligence officials from signing a statement on Oct. 19, 2020, that floated the Russia canard.
In other words, the former spooks didn't know anything about the emails or the laptop, but they nonetheless asserted baseless speculation to serve their partisan interests. The signers included such Russia collusion myth-makers as former Obama officials...
Editorial continues here
---
Cyberblog by Steptoe & Johnson LLP
THE LATEST —
By Stewart Baker on Sep 27, 2021
Episode 376: AI Dystopia: Only the Elite Will Escape the Algorithm
In this episode, Nick Weaver is back for a special appearance thanks to the time-shifting powers of podcast software. He does a sack dance over cryptocurrency, flagging both China's ban on cryptocurrency transactions and the U.S. Treasury's sanctioning of the SUEX crypto exchange. Maury Shenk explains the plans that the Biden administration and the EU have for Big Tech and the rest of us. Hint: it involves more content moderation in support of, err, democracy. Adam Candeub gives us a tour of the Wall Street Journal's deeply reported series on Facebook's difficulties managing the social consequences of, well, the internet, a responsibility that the press is determined to impose on the company. Among the quasi-scandals turned up by the Journal is details on the list of "secret elite" of users protected from Facebook's clunky and clueless content moderation algorithms. But really, in today's world, true power is about escaping the clueless algorithms.... Continue Reading
A Few Prior Conversations:
Episode 375: China, U.S. Tech Policy: "Let Thousand Hands Throw Sand in the Gears."
Episode 374: What's the Opposite of Facial Recognition? Ask Your "Smart Toilet."
Episode 373: We Can't Run a Twelfth-Century Regime Without WhatsApp!
Episode 372: Blockchain and Cryptocurrency Regulatory Roundup
Episode 371: Fighting Ransomware by Pushing All the Buttons on the Dashboard
Episode 370: Should We Add "Jumping U.S. Red Lines" to the 2021 Olympics?
New York DFS Issues Guidance on Ransomware Prevention and Response
Colorado Becomes Third State to Adopt a Comprehensive Privacy Law
Episode 369: This Episode Could Be Worth $1,000 To The ACLU — Ransomware and Florida's deplatforming law
---
The Arkin Group's Sep 24 "In Other News" letter to private clients by former Deputy Director, Operations Officer Jack Devine features...
The internet was supposed to be borderless, but national leaders are wielding control over tech companies via local employee requirements.
World Bank discontinues high profile Doing Business report, rocks credibility of global rating systems.
In attempt to curb ransomware activity, US Treasury issues first sanctions against cryptocurrency exchange.

Follow link here to read analyses and predictions given to their private clients on the topics above.

Jack Devine's Spymaster's Prism was released earlier this year. The book has just been released on audio from Tantor or Amazon. AFIO's interview with him about this book appears at this link. Or hear the podcast here.
---
The Latest... from Jeff Stein's provocative "SpyTalk" series...
Sep 28: "Taliban Include Heroin Kingpins in Leadership" by Gretchen Peters and John Seaman
Obama and Trump scuttled a DEA-DoJ prosecution plan to spur peace talks with Taliban. Will Biden resurrect it?

Sep 19: "Pakistan to Taliban: You Owe Us" by Jonathan Broder
With the new regime courting India, Pakistan suddenly reminded the Taliban who paid the bills all those years.

Sep 17: "The Milley Miasma" by Jeff Stein
Who controls the nukes got lost in the partisan uproar.

Sep 15: "Diplomats in Wolves' Clothing" by Matthew Brazil
China's smack-talking envoys get a closeup in an impressive new book.

Sep 13: "What Now?" by Jeff Stein
After accountability, we can move on—if it's not too late.​​

Sep 9: "The Man Who Loved Spying" by Jeff Stein [podcast - runs 39 minutes]
Former senior CIA officer Doug London raises unsettling issues about the CIA in his new book, 'The Recruiter: Spying and the Lost Art of American Intelligence.'

Sep 8: "The 'American Taliban' and Me" by Jeff Stein
A former CIA analyst digests a new film on the saga of John Walker Lindh.

Readers, for a brief time, can subscribe for free for articles and weekend podcasts here.
---
Inside the SCIF:
Inside the SCIF by JJ Green, WTOP - Issue #131, 23 Sep has details on... Top Havana Syndrome (HS) Official is OUT -- lasted a mere six months; Clues in the HS attacks: location, location, location; Off the X - IC Movement; Georgian Govt spied on the West; Update on Paul Whelan; and more.

Target USA Podcast 295 is on: Estonia's Outlook on National Defense
Kusti Salm: Permanent Secretary Ministry of Defense of Republic of Estonia, discusses Estonia's outlook on national defense, ZAPAD, Russian aggression, Belarus's provocations, and migrant weaponization.

And "The Hunt" explores: What are the key threats facing the US?
J.J. Green speaks with FBI Director Christopher Wray, during a hearing before the House Homeland Security Committee, and Wray provides his most pressing concerns.
---
---
Filling Fast...
Register Now for our first in-person Luncheon

Friday, 8 October 2021, 11 am - 2 pm
- safely in-person at Tysons Corner, VA -
The first in-person 2021 AFIO National Luncheon will feature
Seth Jones on his latest book
Three Dangerous Men: Russia, China, Iran and the Rise of Irregular Warfare
and Stephen Vogel
on Traitor George Blake from his book, Betrayal in Berlin.
Special health precautions will be instituted. Event restricted to 90 attendees to allow spacing of only 4 seated per table.
Proof of vaccination required. Masks required except while eating (so keep eating and enjoy the two presentations and collegial reunion).
NOTE: For security processing, registration closes at 6 pm 30 September.
VENUE: DoubleTree by Hilton, 1960 Chain Bridge Rd, Tysons Corner, VA 22182 Phone: (703) 893-2100. Directions at this link.
---
Released last week exclusively to members...
Damascus Station — How McCloskey's CIA Tours in Syria give the novel such authenticity

Released 21 September 2021
David McCloskey
Former CIA Analyst, discussing his realistic novel,
Damascus Station, set in Syria during its civil war
Interview of Tuesday, 14 September 2021 of former CIA Analyst David McCloskey discussing his latest novel, Damascus Station: Host/Interviewer: James Hughes, AFIO President, a former CIA Operations Officer.
TOPIC: Former CIA Analyst David McCloskey and former CIA Operations Officer (and President of AFIO) James Hughes discuss David's latest novel, Damascus Station. The novel centers on CIA case officer Sam Joseph who is dispatched to Paris to recruit Syrian Palace official Mariam Haddad. The two fall into a forbidden relationship which creates extraordinary danger when they enter Damascus to find the man responsible for the disappearance of an American spy. The chase for the killer leads to high-profile assassinations and the discovery of a dark secret at the heart of the Syrian regime, bringing the pair under the eyes of Assad's spy catcher, Ali Hassan, and his brother Rustum, the head of the ruthless Republican Guard. Set against the backdrop of a Syria pulsing with fear and rebellion...an area McCloskey knows intimately from his years with the Agency. McCloskey provides considerable authentic modern-day tradecraft.
The interview runs 25 minutes.
Damascus Station is available from Amazon here.
Access the McCloskey Interview here or click above image.
---
---
Click title above or here to view the public and member-only interviews in the AFIO Now series.
Or view the publicly-release-only interviews on our YouTube page. Or listen to the podcast version at the links below.
PODCASTS: AFIO NOW content is also available on various podcasting platforms. Search for 'AFIO Podcast' for a selection of public released videos on Podbean; iTunes; Google; Spotify; Amazon Music; Amazon TuneIn + Alexa; iHeartRadio; and Pandora
Log into the Member-only area to view private and public interviews.
---
---
---
Newly Released, Overlooked, or Forthcoming Books
Wireless Wars: China's Dangerous Domination of 5G and How We're Fighting Back
by Jonathan Pelson
(BenBella Books, Sep 2021)
America invented cellular technology, taught China how to make the gear, and then handed them the market.
"Jon Pelson accurately depicts the transfer, both consciously and unconsciously, of US wireless equipment manufacturing to China . . . This is about what happens when a hostile government subsidizes vendors to take over a market, force the bankruptcy or mergers of vendors who played by the rules, and the resulting national security threats of having untrusted vendors subject to government control." —Eric Burger, former chief technology officer of the Federal Communications Commission and professor at Georgetown University
China cleverly went on to undercut and destroy competing equipment makers, freeing themselves to export their nation's network gear—and their surveillance state. He also reveals China's successful program to purchase the support of the world's leading political, business, and military figures in their effort to control rival nations' networks. Reveals how innovative companies can take on the Chinese threat and work with counterintelligence and cybersecurity experts to prevent China from closing the trap. Provides insights into how 5G impacts businesses, national security, and you.
"Wireless Wars translates a complex subject into a clear, articulable framework on how we got into this predicament and how we can get out of it . . . An extremely compelling must-read for industry experts, intelligence professionals, policy makers, and concerned citizens interested in protecting our nation." —William Evanina, former director of the National Counterintelligence Center
Book may be ordered here.
---
Revolutionary Monsters: Five Men Who Turned Liberation Into Tyranny
by Donald Critchlow
(Regnery History, Oct 2021)
Be careful what you wish for. You might get more than you expect.
Lenin. Mao. Castro. Mugabe. Khomeini. All sparked movements in the name of liberating their people from their oppressors—capitalists, foreign imperialists, or dictators in their own country. These revolutionaries rallied the masses in the name of freedom, only to become more tyrannical than those they replaced. Much has been written about the anatomy of revolution from Edmund Burke to Crane Brinton Crane, Franz Fanon, and contemporary theorists of revolution found in the modern academy. Yet what is missing is a dissection of the revolutionary minds that destroyed the old for the creation of a more harmful new. Critchlow presents a collective biography of five modern day revolutionaries who came into power calling for the liberation of the people only to end up killing millions of people in the name of revolution:  Lenin (Russia), Mao (China), Castro (Cuba), Mugabe (Zimbabwe), and Khomeini (Iran). Explores basic questions about the revolutionary personality, and examines how these revolutionaries came to envision themselves as prophets of a new age.
Book may be ordered here.
---
Damascus Station: A Novel
by David McCloskey
(W. W. Norton Company, Oct 2021)
Former CIA analyst McCloskey tackles the Syrian civil war in all its complexity, awash in unspeakable violence and tragedy, "binding families and sects and ethnicities together in opposition to everyone else." CIA case officer Sam Joseph is dispatched to Paris to recruit Syrian Palace official Mariam Haddad. The two fall into a forbidden relationship, which supercharges Haddad's recruitment and creates unspeakable danger when they enter Damascus to find the man responsible for the disappearance of an American spy.
But the cat and mouse chase for the killer soon leads to a trail of high-profile assassinations and the discovery of a dark secret at the heart of the Syrian regime, bringing the pair under the all-seeing eyes of Assad's spy catcher, Ali Hassan, and his brother Rustum, the head of the feared Republican Guard. Set against the backdrop of a Syria pulsing with fear and rebellion, Damascus Station is a gripping thriller that offers a textured portrayal of espionage, love, loyalty, and betrayal in one of the most difficult CIA assignments on the planet.
Book may be ordered here.
See the "AFIO Now" interview of McCloskey by AFIO's Jim Hughes here.
---
---
One of the special benefits of membership in AFIO: access to CIA's inhouse gift shop — the EAA Store.

It requires a quick preapproval process described here to all newly joined and current AFIO members. And then allows you to purchase online their unusual logo'd gift items for self or colleagues. At left is the latest photo EAA released on Sep 17 featuring some of their newest items.



---
---
Visit, Follow, Subscribe to AFIO's LinkedIn, Twitter, and YouTube pages to receive updates.
Members who use social media or wish to explore, will find new announcements and other material on AFIO's Twitter and LinkedIn pages. New videos on our YouTube page appears below as well.
Access them here: LinkedIn, Twitter, and YouTube. By following or subscribing on those sites, one can be notified as new material appears.




PODCASTS: Are you too busy to sit and watch an entire "AFIO Now" episode above on YouTube? Would you rather listen in your car or while accomplishing other tasks? Now you can quickly download or stream episodes on your favorite podcasting platform. AFIO is now available on 8 podcasting platforms. Search for 'AFIO Podcast' for a selection of the interviews above (public released ones) on Podbean; iTunes; Google; Spotify; Amazon Music; Amazon TuneIn + Alexa; iHeartRadio; and Pandora.
---
Intelligence Matters: A CBS News original national security podcast hosted by former CIA acting director and CBS News national security contributor Michael Morell


The most recent "Intelligence Matters" podcast/interview by Mike Morell:

Sep 22 | 9/11, the CIA, and Afghanistan: Part 2
In this episode Morell offers personal reflections on the CIA's strategic warnings before 9/11, the terror plots it helped foil in its aftermath, and its efforts on the ground in Afghanistan post-9/11. Morell provides new details about the CIA's race to gather intelligence on secondary al Qaeda plots targeting the U.S. – including the agency's behind-the-scenes engagements with leaders in Pakistan and Saudi Arabia – and explains why he believes thousands of lives were saved in the immediate post-9/11 period. He also shares his perspective on the agency's Detention and Interrogation program and how it affected CIA's public standing.

A few recent "Intelligence Matters" podcasts to stream or download:
Sep 15 | Remembering 9/11 9/11, the CIA, and Afghanistan: Part 1
Sep 8 | Remembering 9/11 Part 5: Gina Bennett
Sep 1 | Remembering 9/11 Part 4: Sandy Winnefeld
Aug 25 | Remembering 9/11 Part 3: Winston Wiley
Aug 18 | Remembering 9/11 Part 2: Andy Card
Aug 11 | Remembering 9/11 Part 1: Stephen Hadley
More about Intelligence Matters by Michael Morell here. Podcasts also located here.
---
VIDEO OF NCF PROGRAM NOW AVAILABLE
Did you miss the 14 September 2021 Webinar - panel discussion with Former Principal Deputy Directors of National Intelligence?
Speakers: Gen Michael V. Hayden USAF(Ret), Dr Donald Kerr, Stephanie O'Sullivan; Moderator Greg Myre of NPR.
This outstanding event featured first-hand accounts of their reactions as 9/11 unfolded, placing some of these principals in the very buildings under attack. It also covered domestic privacy and intelligence issues, countering cyberthreats, views on continuing to function clandestinely in Afghanistan, complexities of avoiding politicization impacting the important work of the IC, and more.
The 1:40:22 recorded program can be viewed here.



Details on the Virtual Education Programs of the National Cryptologic Museum Foundation are available here Other NCF Events can be found here on NCF website here, and CCH website here.
---
Section I - INTELLIGENCE HIGHLIGHTS

Intelligence Agencies Pushed to Use More Commercial Satellites. A cluster of satellites operated by an American company called HawkEye 360 looked down on the Middle East early this year and discovered radar and radio waves associated with a Chinese-based fishing fleet off the coast of Oman.

When the company matched the data up with information from NASA satellites that track light sources on the Earth's surface, it discovered the vessels were using powerful lights - a telltale sign of squid hunting - as they surreptitiously sailed into Oman's fishing waters with their tracking transponders turned off.

The surveillance was something of a technological test - in this case the company did not notify either Oman or China. But the work, company officials said, demonstrated the kinds of intelligence that can be gleaned from their satellites, which have also detected military activity on the border between China and India, tracked poachers in Africa for wildlife groups and followed the satellite phones used by smugglers working refugee routes. [Read more: Barnes/NYTimes/27September2021]

Havana Syndrome Attacks Widen With CIA Officer's Evacuation From Serbia. The CIA evacuated an intelligence officer serving in Serbia in recent weeks who suffered serious injuries consistent with the neurological attacks known as Havana Syndrome, according to current and former U.S. officials.

The incident in the Balkans, which hasn't been previously reported, is the latest in what the officials describe as a steady expansion of attacks on American spies and diplomats posted overseas by unknown assailants using what government officials and scientists suspect is some sort of directed-energy source.

Still more suspected attacks have occurred overseas and in the U.S., the current and former officials said, along with recently reported ones in India and Vietnam. "Georgetown's Dr. Giordano said the culprit could be some form of ultrasonic or acoustic device; a rapidly-pulsed microwave; or a laser-based system." [Read more: Strobel/WallStreetJournal/28September2021]

KU's Intelligence Community Center for Academic Excellence Awards Scholarships to ICCAE Scholars. The Intelligence Community Center for Academic Excellence (ICCAE) at the University of Kansas has awarded five ICCAE scholars with an academic scholarship. ICCAE scholars are high-achieving students in the intelligence and national security studies (INSS) minor or certificate program at KU and who are dedicated to working in the U.S. intelligence community upon graduation. Each scholarship is worth $4,000.

The Intelligence Community Center for Academic Excellence is a workforce development program to increase diversity with the U.S. intelligence community. In 2017, KU received a $1.5 million grant from the Office of the Director of National Intelligence to establish a program with Donnelly College, Dodge City Community College and Seward County Community College. [Read more: KU/24September2021]

Nigerian Local Blacksmiths Now Manufacture AK-47, Says Defence Agency. The Defence Intelligence Agency has said some blacksmiths in Nigeria now have the expertise to manufacture assault weapons such as AK-47.

The DIA noted that while blacksmiths and the rifles they traditionally produce are an integral part of some cultures in the country, some blacksmiths now produce more sophisticated weapons - a development he said posed a security threat.

Representing the DIA at a public hearing organised by the House Committee on National Security and Intelligence on four security-related bills in Abuja on Monday, Air Commodore F. G. Okoyi said, "The cautionary attachment to blacksmith skills, as well as the traditional weapons manufactured for hunting, ceremonial and ornamental purposes, has remained the symbol of power and prestige in some traditional communities in Nigeria.

"However, in recent times, blacksmiths have advanced their skills and now possess the capability to manufacture assorted and sophisticated rifles such as AK-47, revolvers, pistols, improvise explosive devices, among others. [Read more: Baiyewu/Punch/28September2021]

II MEF Intelligence Leaders Welcome Norwegian Counterparts. As a critical and valued ally of the U.S., Norway is a key nation in the European Command area of operations that supports II Marine Expeditionary Force with training opportunities, specifically for the intelligence community.

Just like welcoming a longtime friend, members of the Norwegian Military Intelligence Battalion were invited to meet unit leaders from intelligence commands within II MEF on Marine Corps Base Camp Lejeune, Sept. 14 and 15, 2021.

The intelligence staff welcomed the Norwegian leaders with a tour of facilities and workspaces showcasing their capabilities. II MEF hosts also briefed on intelligence integration, mission accomplishment as well as strengthening partnerships amongst the individual units.

Key elements of the visit were to instill trust, cooperation, and understanding between both intelligence communities, said U.S. Marine Corps Maj. John Forshtay, the G-2 Plans Officer for II MEF. [Read more: Torres/Marines/22September2021]

5 Intel Officers Killed in Shootout with Militants in Sudan. Five intelligence officers were killed in a shootout Tuesday with suspected Islamic State group militants in Sudan's capital Khartoum, authorities said.

The General Intelligence Agency said in a statement the suspected militants opened fire on forces who raided their hideout in the Gabra neighborhood in southern Khartoum. It said five were killed and an officer was also wounded in the raid.

The GIA said forces arrested 11 suspected militants and were chasing four others who managed to flee during the shootout. The statement said the suspects were foreigners but did not reveal their nationalities or further details. [Read more: AP/28September2021]


---
Section II - CONTEXT & PRECEDENCE

Monday Mystery: What Happens When Spies Come to Augusta? We have a long fascination with spies.

George Washington employed them successfully during the Revolution with his mysterious Culper Ring.

James Bond movies depict them today with suave malevolence.

In between we seem to have spent a lot of time worrying about German spies, who popped up everywhere in America during the first world war. [Read more: Kirby/AugustaChronicle/27September2021]

Washington's Release of Meng Wanzhou Caps Two Weeks of Diplomatic Moves on China. It has been a fortnight of intense maneuvering by Washington, with the first in-person meeting of the Quad security pact and the unveiling of a new defense alliance with the U.K. and Australia. Then there was a Cold War-style prisoner exchange. It is anybody's guess who is better off at the end of all the wrangling, but Beijing is spinning the release of Huawei CFO Meng Wanzhou as a victory.

The daughter of the telecom giant's founder Ren Zhengfei, Meng strolled down a red carpet at Shenzhen International Airport Sunday after her arrival from Canada, where she had spent three years under house arrest, awaiting extradition to the U.S. on fraud charges. Meng, who had originally been detained on Dec. 1, 2018, told onlookers she had "finally returned to the warm embrace of the motherland." Posts of her homecoming on Chinese social media platform Weibo were garnering over a billion views.

Over 6,000 miles away, a plane carrying two Canadians, who were arrested just nine days after Meng, touched down in Calgary to be greeted by newly reelected Prime Minister Justin Trudeau. [Read more: Campbell/TIME/27September2021]

The NSA and CIA Use Ad Blockers Because Online Advertising Is So Dangerous. Lots of people who use ad blockers say they do it to block malicious ads that can sometimes hack their devices or harvest sensitive information on them. It turns out, the NSA, CIA, and other agencies in the U.S. Intelligence Community (IC) are also blocking ads potentially for the same sorts of reasons.

The IC, which also includes the parts of the FBI, DEA, and DHS, and various DoD elements, has deployed ad-blocking technology on a wide scale, according to a copy of a letter sent by Congress and shared with Motherboard.

The news highlights the continued risk from the online advertising ecosystem. Some hackers leverage how adverts are delivered to send target devices malware. Data brokers and potentially intelligence agencies can leverage the ecosystem to gather information on devices and by extension people, sometimes including their physical location. The IC taking steps to protect itself from the dangers of the advertising ecosystem shows just how malicious it can be. [Read more: Cox/Vice/23September2021]

Angelo State University Security Studies Professor Publishes New Textbook on U.S. Intelligence. Dr. Jeffrey Dailey of the Angelo State University Security Studies Faculty has co-authored a new textbook titled "Intelligence for Homeland Security: An Introduction" through Colorado-based Lynne Rienner Publishers, an independent publisher of scholarly texts, according to a release from Angelo State on Monday.

The release states, since the Sept. 11, 2001, terrorist attacks - considered one of the worst intelligence failures in U.S. history - the many agencies that constitute the homeland security enterprise have aggressively developed their intelligence capabilities and activities.

"Intelligence for Homeland Security: An Introduction" provides a comprehensive introduction to the nature of intelligence, its structures, roles and missions, in the context of homeland security. [Read more: Smith/ConchoValley/27September2021]



---
A Country of Many Gods: Spies for the Spice. Information is the key for any interaction, whether commercial or political, between two regions. In the days where social media snooping and internet search was not a possibility, somebody had to do the spadework literally on ground and in person. Hostile conditions demanded that it should be done incognito. That is the significance of human espionage.

The spies act as the ears and eyes of the rulers, sensing the pulse of the people and the voice of the rulers. Sun Tzu (6th century BCE, China), Chanakya (4th century BCE, India) and Machiavelli (16th century CE, Italy) prescribe espionage as an important aspect for political sustainability. "To Kautilya, the king's subjects in his court should be made aware that the king is omniscient. To this effect, he adds that this would project that the king is being well informed. When in reality, it is the role of spies to bring forth information on the king's subjects and important facts from foreign lands," observe Vishnu Prabhu and Laxmi Dhar Dwivedi in an article comparing Sun Tzu and Chanakya. Chanakya advises that the guptacharas or spies should be like chameleons, fully merging with the population in the guise of a trader, religious preacher, etc. [Read more: Poduval/NewIndianExpress/22September2021]

The Military, Intel, and Law Enforcement Must Collaborate in this New Counterterrorism Era. Not only did the American withdrawal from Afghanistan end a long-term presence in a country rife with conflict, but it also rendered inaccessible an important location where the United States collected intelligence on - and acted against - terrorist threats to the homeland and American interests abroad. Central Intelligence Agency Director William J. Burns suggested as much several months before the US exit, when he told the Senate Intelligence Committee in April that withdrawing came with a "significant risk" that groups such as al-Qaeda or the Islamic State might try to re-establish a robust presence there.

Now, the United States and its partners face the operational challenge of collecting, targeting, neutralizing, and prosecuting terrorists across the patchwork of international laws and sovereign states. Without a US military presence in Central Asia, counterterrorism surveillance and direct strikes (manned or unmanned) could be launched from partner countries such as Djibouti, Qatar, and the United Arab Emirates, or from a submarine or an aircraft carrier.

Addressing emerging threats from mixed migration, transnational crime, foreign terrorist fighters (FTFs), and special interest aliens (people who could pose a threat based on their travel patterns) with maximum effectiveness means adopting an interagency and international approach that reaches beyond the military and other familiar defense authorities. Governments should also boost the integration of capabilities between intelligence and law enforcement authorities. [Read more: Cooper/AtlanticCouncil/27September2021]

What to Expect When You're Expecting a National Defense Strategy. In July, Rear Adm. Mike Studeman, director of intelligence for U.S. Indo-Pacific Command, warned that "it's only a matter of time" until China resorts to military force and suggested that U.S. forces are not ready for that "very bad day." Meanwhile, Russia continues to maneuver its forces aggressively on NATO's eastern flank, Iran inches toward a nuclear weapons capability, North Korea builds its missile arsenal, and the Taliban has taken control of Afghanistan.

The new National Defense Strategy that the Biden administration is writing should reckon with these challenges and the ramifications of rapidly expanding global threats. It should assess core U.S. strategic objectives and delineate the necessary Department of Defense capabilities, capacities, and forward posture required. This new strategy should be adequately resourced, or it will be destined for irrelevance.

Conservatives and progressives alike share the goal of better securing the United States and its interests. Here are some of our ideas for how the National Defense Strategy should do this. [Read more: WarOnTheRocks/27September2021]


---
Section IV - Research Requests, Jobs, Obituaries
Seeking Former CIA Officers who knew Abu Bakr al-Baghdadi, others in ISIS, or King Hussein of Jordan, to assist Israeli Journalist with Documentary
My name is Hadar Gat, I'm a journalist from Israel, currently working on the second season of a documentary series about the most influential Arab leaders in the middle east.
It's an international production, broadcasted on Kan Israeli channel (IPBC).
The documentary series provides a profound profile analysis of leaders in the Arab world, and is one of the leading document series of IPBC.
Each episode is covering the history and profile of a different leader, and reviewing his personality and actions from every aspect possible. Especially the way he was grasped through the eyes of different Intelligence agencies.
I'm contacting [AFIO] because in one of the episodes we are focusing on Abu Bakr al-Baghdadi, and ISIS itself.
We are also doing an episode about King Hussein of Jordan. So I'm looking for former CIA agents/officers who met him or people who are relevant to his time period, and can help us shed some light on his character and relations with the Western world. Can AFIO Members help me with that? We wish to interview former CIA or other IC officers relevant to either of these matters. I'm available for any questions and more details, so feel free to contact me at any time.
Looking forward to hearing from you.
Replies to Hadar Gat, 972-50-4800-306 or hadargat8@gmail.com
---
Jack McCavitt, Director of Training and CIA Operations Officer
John Joseph McCavitt, 80, CIA Operations Officer and Director of Training, died on 1 August 2021 at Fernandina Beach, FL of Parkinson's disease.
Jack was born in Brockton, MA. He attended Archbishop Williams High School and graduated with honors from Georgetown University.
His career began with service in the Air Force in Vietnam where he piloted single engine prop planes to locate Viet Cong and NVN targets, a very dangerous activity. After discharge, he joined the CIA's Clandestine Service and served in Morocco, Tunisia, Ethiopia, Saudi Arabia, Libya, Sudan, Guatemala, and El Salvador. He served in a number of senior positions on the Central American task force In the Headquarters area and ended his career as director of training at the operational facility. He preferred to work in overseas rather than headquarters assignments.
Jack was a proponent of language studies and was an excellent linguist in Arabic, French, and Spanish. He was engaged in operational activity in Africa and Latin America, some of which were politically controversial. He was once accused of outspending a limitless budget. In these endeavors, his focus was always on achieving the operational objective but doing so in accordance with the law. Among his many achievements was organizing an exodus of personnel from an American facility overseas when it came under the attack from a government controlled mob.
Those officers and staff who worked with Jack will always remember him for his operational judgment, commitment to the Clandestine Service and its personnel, his leadership, intelligence, and patriotism. He was not afraid to question authority and did so when it was required. He knew how to manage because he listened. His dry humor will be missed by all those who knew and worked with him.
After retiring he opened his own consulting business serving many clients and traveling worldwide.
He and his family moved to Fernandina Beach, FL in 1999 and he thought it was the best decision of his life.
He is survived by his wife of 56 years, Kathleen, three sons, and other family.
---
AFIO EDUCATIONAL EVENTS IN COMING TWO MONTHS....
Friday, 8 October 2021, 11 am - 2 pm - In-Person Tysons Corner, VA - AFIO National Luncheon featuring Seth Jones on his latest book "Three Dangerous Men" and Stephen Vogel on Traitor George Blake from his book, "Betrayal in Berlin."
REGISTRATION FOR AFIO NATIONAL'S FIRST POST-PANDEMIC IN-PERSON LUNCHEON HAS OPENED

Friday, 8 October 2021, 11 am - 2 pm - In-Person Tysons Corner, VA -
AFIO National Luncheon features Seth Jones on his latest book "Three Dangerous Men" and Stephen Vogel on Traitor George Blake from his book, "Betrayal in Berlin."
FOR YOUR CALENDAR. The first in-person AFIO National Luncheon for 2021 will take place on Friday, 8 October at DoubleTree Hotel, Tysons Corner. Event will feature Seth Jones on his latest book Three Dangerous Men and Stephen Vogel on Traitor George Blake from his book, Betrayal in Berlin. Special health precautions will be instituted. Event restricted to 90 attendees to allow spacing of only 4 seated at each table. Proof of vaccination required. Masks required except while eating.
TO REGISTER: Do so here.
VENUE: DoubleTree by Hilton, 1960 Chain Bridge Rd, Tysons Corner, VA 22182 Phone: (703) 893-2100. Directions at this link.
Saturday, 16 October 2021, 2 pm EST - Kennebunk, ME - The Maine Chapter hears from FSO Louis Sell on "Kosovo and Bosnia."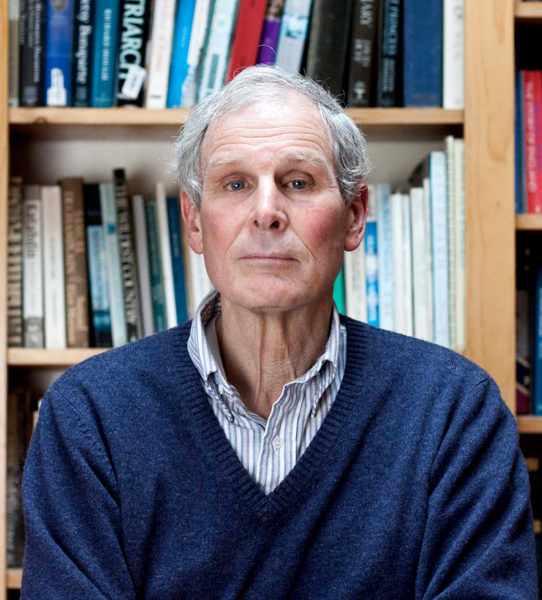 The Maine Chapter of AFIO hosts Louis Sell, a former foreign service officer and author, who will discuss Kosovo and Bosnia. Sell is the author of "From Washington to Moscow: US-Soviet Relations and the Collapse of the USSR" and "Slobodan Milosevic and the Destruction of Yugoslavia."
The meeting is open to the public and begins at 2 p.m. at the Program Center of the Brick Store Museum, 4 Dane St., Kennebunk. A question period will follow the presentation.
Questions? Email chapter president, Mike Severance, at maineboats@roadrunner.com or call 207 967-4298
Wednesday, 17 November, 2021, noon PST - Zoom-virtual - The AFIO San Francisco Chapter hosts Capt Aynesworth on "Intelligence Challenges of the Movement of International Containerized Cargo."
The "Andre Le Gallo" San Francisco Chapter hosts James L. Aynesworth, Captain, U.S. Navy Reserve (ret); President, Trident Information Services International on "Movement of International Containerized Cargo: Intelligence Challenges."

Registration required to receive a zoom link. Register here.
Qs?: contact Mariko Kawaguchi, Chapter Secretary at afiosf@aol.com.
---
Other Upcoming Events from Advertisers, Corporate Sponsors, and Others
Wednesday, 6 October 2021, noon - 1:15pm EDT - Zoom Webinar - Intelligence Project Series: Truth to Power - The Delicate Dance Between Intelligence Providers and Policy Consumers
Harvard's Belfer Center hosts this Intelligence Seminar featuring: Beth Sanner, Former Deputy DNI for Mission Integration, PDB Briefer for President Trump. Moderated by Paul Kolbe, Belfer Center Intelligence Project Director
The role of intelligence is to provide leaders and policymakers with facts and context which enable better decisions and the formulation of more effective policies. However, this is not a one-way flow of secrets and insight from intelligence producers to intelligence consumers where assessments are just delivered into an inbox for leisurely perusal. Critical intelligence needs often go hand in hand with crisis, pressure, and unrelenting decision deadlines. The Intelligence Community (IC) gets drawn into the thick of the fray, and often finds itself delivering unwelcome news of a policy failure, unintended consequence, or horrific event. The IC may also be placed in the awkward position of grading its own Covert Action homework. It is crucial for intelligence agencies to engender trust, confidence, and understanding in the customers it serves. The complex relationship between intelligence producers and policy consumers is perfectly embodied in the delivery of the President's Daily Brief (PDB), and the role of the PDB Briefer.
In this session, Ms. Sanner will explore core issues on the nexus between intelligence and policy. How do agencies deliver bad news? What is intelligence politicization and how do agencies prevent it? How can intelligence both be used and acted upon, while still protecting fragile sources and methods? Should intelligence engage more transparently with the public, or is too much already revealed by a relentless press?
More about seminar here.
To join via Zoom, please register here.
Sunday, 10 October 2021, 2 - 3:30 pm EDT - Virtual - "Secrets Revealed: Untranslated Russian Sources & the Powers U-2 Shootdown" by The Cold War Museum
Think You Understand the May 1, 1960 U-2 Shootdown Over the Soviet Union of Francis Gary Powers? The Soviet Sources Reveal A Different Picture.
We think we know how Francis Gary Powers was shot down in a U-2 on May 1st, 1960. Many books and articles have been written on this since the event. What we did not know until recently was the additional information contained in the Soviet records of the investigation of the shootdown which were immediately classified and sent to the Soviet Military Archives. In 2002, they were retrieved and declassified. Since 2012, several new articles based on the recovered records have been written and published in Russia. Some of these were by officers who were involved in the event but were sworn to secrecy during the investigation that followed.
John Schell has used translations based on those records in his research, which has resulted in a recent cover article in Air Power History (68:2, pp. 33-42, Summer 2021). Drawing from that article, "Secrets Revealed" provides a more complete account of the shoot-down as it appears to have occurred.
John begins his presentation with a Cold War overflight summary, including early U-2 overflights with sample images, a description of the SA-2 system operation, and the events leading to 1 May 1960. He follows with a timeline of the shootdown, which involved eight missiles from four sites bringing down a U-2 and a MiG-19 in about 30 minutes. His presentation concludes with a summary of the Soviet official investigation and provides a reason why the information was immediately classified and buried—hidden from public view for over 50 years.
Cost: $20, 100% of which is a contribution to the Cold War Museum.
REGISTER: Register here on Eventbrite. Ticket buyers will receive a link to the virtual room on the Zoom platform where this event will take place.
Questions? Call or email Jason Hall, 703-283-4124 (cell), jason@coldwar.org
Wednesday, 13 October 2021, 5:30pm – Washington, DC – The Confidence Men with Margalit Fox – Virtual International Spy Museum Program
As Halloween nears, we turn to spirits…both in the glass and in an audacious story from the past. Join us for the true story of the most singular prison break in history—a clandestine wartime operation that involved no tunneling, no weapons, and no violence of any kind. The tools involved? A homemade Ouija board and chutzpah. Margalit Fox, the author of The Confidence Men: How Two Prisoners of War Engineered the Most Remarkable Escape in History will take us along on this real-life high-stakes caper.
Event is free – registration required. Visit www.spymuseum.org.
14 October 2021 - 8:45 am - 11:30 am - Hybrid in-person at Annapolis Junction, and virtual - 2021 NCF General Membership Meeting & Annual Symposium features Donald Alexander on "The Character of a Leader."
The 2021 National Cryptologic Foundation (NCF) General Membership Meeting & Annual Symposium will be an abbreviated program. In addition to updates from NCF and Museum staff, a keynote presentation will be provided by Harry L. Wetherbee, a former CIA Senior Operation Officer who writes under the pseudonym "Donald Alexander." A book-signing for Alexander's "The Character of a Leader: A Handbook for the Young Leader" will take place at the conclusion of the program.
Masks will be required for entrance. Coffee and water will be permitted and provided but no food allowed.
A preliminary draft of the agenda is available here.
Location: CACI conference facility, 2720 National Business Parkway, Annapolis Junction, MD.
Seating will be limited, but options for viewing the program online will also be available. For in-person attendees, check-in will begin at 8:15am. The program will start at 8:45am.
More information about the program is here.
Thursday, 14 October 2021, 6:30pm – Washington, DC – 9/11 – Inside the Cold War: Why It Matters – Virtual International Spy Museum Program
It's been 30 years since the Cold War ended in December of 1991, but the geopolitical actions and reactions played out between the East and West are still resonating today. Join James Brundage, Museum Curator of the PMML, SPY Executive Director Chris Costa, and SPY Historian and Curator Andrew Hammond, for a 360-degree look at the Cold War. The speakers will discuss the importance of this tense time and why studying it remains of critical importance for anyone seeking to understand global issues. Support for this program has been provided by a generous grant from the Pritzker Military Foundation, on behalf of the Pritzker Military Museum & Library.
Event is free – registration required. Visit www.spymuseum.org.
Wednesday, 27 October 2021, 12:00pm – Washington, DC – Elizebeth Smith Friedman: The Woman All Spies Fear – Virtual International Spy Museum Program
During World War I, Elizebeth Smith Friedman cracked thousands of messages, but that was only the beginning of her brilliant career. In the 1920s and 1930s, she pitted her wits against the mob. When World War II broke out, she hunted Nazi spies. Despite her fame, she was a woman of many secrets, and later she was pushed into the shadows. To get the true measure of her hidden life, award-winning historian Amy Butler Greenfield sifted the truth from the misdirections and myths to write The Woman All Spies Fear: Code Breaker Elizebeth Smith Friedman and Her Hidden Life. From the "doll woman" spy to bootleggers, join us for a conversation with Greenfield about the new facts she discovered about the enigma of this astonishing woman's life.
Event is free – registration required. Visit www.spymuseum.org.
Thursday, 28 October 2021, 12:00pm – Washington, DC – Virtual Spy Chat with Chris Costa and Frank Figliuzzi – Virtual International Spy Museum Program
Join us for an online discussion of the latest intelligence, national security, and terrorism issues in the news. Spy Museum Executive Director Chris Costa, a former intelligence officer of 34 years, will lead the briefing. He will be joined by former Assistant Director for Counterintelligence at the Federal Bureau of Investigation (FBI) Frank Figliuzzi, who served for 25 years as a special agent and directed all espionage investigations across the government. Following their discussion of key issues, you'll be able to ask questions via our online platform. Sponsored by the Honorable Mary Beth Long, International Spy Museum, Board of Directors, and by MAG Aerospace.
Event is free – registration required. Visit www.spymuseum.org.
Wednesday, 1 December 2021, 5:30 PM VIP Reception / 6:30 PM Progressive Reception & Award Program - Washington, DC - 2021 Webster Distinguished Service Award Event - International Spy Museum
The Spy Museum offers an evening of intrigue for the 2021 Webster Distinguished Service Award event. The award is an opportunity to recognize the extraordinary contributions of individuals in the Intelligence Community. This year's awardee is The Honorable Susan M. Gordon, former principal deputy director of national intelligence. Previous recipients of the Webster Distinguished Service Award include President George H. W. Bush (2017), Admiral William H. McRaven, USN (Ret.) (2018), and Gen. Michael V. Hayden (Ret.) (2019). Webster attendee and sponsor support fuels the nonprofit mission of educating the public about the history and craft of espionage and intelligence through youth and adult programs, community service, and the care of the Museum's unique collection of artifacts for generations to come.
Event will be held at the International Spy Museum.
For tickets, sponsorship opportunities, or information about ways to support the International Spy Museum, please contact the development office at 202.654.2853. Event tickets, other details are available here.
---
In addition to the new Royal Blue long sleeve shirts, and the gray long sleeve hooded sweatshirts, the AFIO Store also has the following items ready for quick shipment:
LONG and Short-Sleeved Shirts with embroidered AFIO Logo and New Mugs with color-glazed permanent logo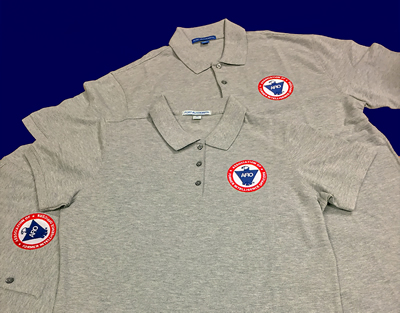 Show your support for AFIO with our new Polo Shirts. Be the first to buy these new, high quality, subtle heathered grey short sleeve shirts, and dark blue long sleeved shirts, of shrink and wrinkle resistant fine cotton with a soft yet substantial feel. They feature a detailed embroidered AFIO seal. Get a shirt for yourself and consider as gifts for colleagues, family, and friends. Only $45 each including shipping.
Sizes of (M) men or (W) women shirts; Small, Medium, Large, XL, XXL, and XXXL. At this time all orders will arrive as Short Sleeve shirts.
You may pay by check or credit card. Complete your order online here or mail an order along with payment to: AFIO, 7600 Leesburg Pike, Ste 470 East, Falls Church, VA 22043-2004. Phone orders at 703-790-0320. If interested in other shirt colors or sleeve lengths, contact Annette at: annettej@afio.com.
---
AFIO Mug with color glazed logo. Made in America. Sturdy enough to sit on desk to hold pens, cards, paperclips, and candy.
This handsome large, heavy USA-made ceramic mug is dishwasher-safe with a glazed seal. $35 per mug includes shipping. Order this and other store items online here.
---
Guide to the Study of Intelligence and When Intelligence Made a Difference
"AFIO's Guide to the Study of Intelligence" has sold out in hard-copy.
However, it is available in digital form in its entirety on the AFIO website here.

Also available on the website here are the individual articles of AFIO's history project "When Intelligence Made a Difference" that have been published to date in The Intelligencer journal. More articles will be forthcoming in future editions.
---
Disclaimers and Removal Instructions
Weekly Intelligence Notes (WINs) are commentaries on Intelligence and related national security matters, based on open media sources, selected, interpreted, edited and produced for non-profit educational uses by members and WIN subscribers.
REMOVAL INSTRUCTIONS: We do not wish to add clutter to inboxes. To discontinue receiving the WINs:
a) IF YOU ARE A MEMBER - click here: UNSUBSCRIBE and supply your full name and email address where you receive the WINs. Click SEND, you will be removed from list. If this link doesn't open a blank email, create one on your own and send to afio@afio.com with the words: REMOVE FROM WINs as the subject, and provide your full name and email address where you are currently receiving them.
b) IF YOU ARE NOT A MEMBER, and you received this message, someone forwarded this newsletter to you [contrary to AFIO policies]. Forward to afio@afio.com the entire WIN or message you received and we will remove the sender from our membership and distribution lists. The problem will be solved for both of us.
CONTENTS of this WIN [HTML version recipients - Click title to jump to story or section, Click Article Title to return to Contents. This feature does not work for Plaintext Edition or for some AOL recipients]. If you wish to change to HTML format, let us know at afio@afio.com. The HTML feature also does not work for those who access their e-mail using web mail...however NON-HTML recipients may view the latest edition each week in HTML at this link: https://www.afio.com/pages/currentwin.htm
---
WINs are protected by copyright laws and intellectual property laws, and may not be reproduced or re-sent without specific permission from the Producer. Opinions expressed in the WINs are solely those of the editor's or author's listed with each article. AFIO Members Support the AFIO Mission - sponsor new members! CHECK THE AFIO WEBSITE at www.afio.com for back issues of the WINs, information about AFIO, conference agenda and registrations materials, and membership applications and much more!
(c) 1998 thru 2021. AFIO, 7600 Leesburg Pike, Suite 470 East, Falls Church, VA 22043-2004. Voice: (703) 790-0320; Fax: (703) 991-1278; Email: afio@afio.com
---
About AFIO | Membership Renewal | Change of Address | Upcoming Events | Chapter Locations | Corporate/Institutional Memberships | Careers in Intelligence Booklet | Guide to the Study of Intelligence | Intelligencer Journal | Weekly Intelligence Notes | To Make A Donation | AFIO Store | Member-Only Section | Code of Ethics | Home Page
---