---
CONTENTS
Section I - INTELLIGENCE HIGHLIGHTS
Section II - CONTEXT & PRECEDENCE
Section IV - Research Requests, Jobs, Obituaries
Other Upcoming Events from Advertisers, Corporate Sponsors, and Others
For additional AFIO and other Events two+ months or more... Calendar of Events
WIN CREDITS FOR THIS ISSUE: The WIN editors thank the following special contributors: rsy, ec, po, pjk, mh, km, gh, mk, rd, fm, kc, jm, mr, jg, th, ed, and fwr. They have contributed one or more stories used in this issue.

The WIN editors attempt to include a wide range of articles and commentary in the Weekly Notes to inform and educate our readers. However, the views expressed in the articles are purely those of the authors, and in no way reflect support or endorsement from the WIN editors or the AFIO officers and staff. We welcome comments from the WIN readers on any and all articles and commentary.

CAVEATS: IMPORTANT: AFIO does not "vet" or endorse research inquiries, career announcements, or job offers. Reasonable-sounding inquiries and career offerings are published as a service to our members, and for researchers, educators, and subscribers. You are urged to exercise your usual caution and good judgment when responding, and should verify the source independently before supplying any resume, career data, or personal information.]
If you are having difficulties with the links or viewing this newsletter when it arrives by email, members may view the latest edition each week at this link.
---
Other items brought to our attention:
FBI agents swarm Washington home of Russian oligarch Oleg Deripaska
Deripaska was among two dozen Russian oligarchs and officials who were sanctioned by the Treasury Department in April 2018.
by Tom Winter, Michael Kosnar, Laura Strickler for NBC News, 19 Oct 2021
FBI agents on Tuesday swarmed the home of Russian oligarch Oleg Deripaska in Washington, D.C., an agency spokesperson confirmed to NBC News.
The reason for their presence wasn't immediately clear. The spokesperson said the agency is conducting "law enforcement activity at the home," but wouldn't elaborate.
Deripaska is a billionaire oil tycoon with close ties to Russian President Vladimir Putin. A press release announcing the sanctions said Deripaska has been investigated for money laundering and accused of "threatening the lives of business rivals, illegally wiretapping a government official, and taking part in extortion and racketeering."
He sued the U.S. over the sanctions, but a federal court judge dismissed the case in June.
Deripaska had been repeatedly denied a visa to enter the U.S. over his alleged ties to organized crime. But the Russian government had recently given Deripaska diplomatic status, allowing him to enter the country with immunity, several current and former U.S. officials said at the time. See WPost account article here
---
Intelligence Matters: A CBS News original national security podcast hosted by former CIA acting director and CBS News national security contributor Michael Morell. Morell is crisp, precise, cautious, fair, avoids political slant, and provides remarkable insights. Not to miss.


The most recent "Intelligence Matters" podcasts/interviews by or with Mike Morell:

Oct 13 | CIA Chief Historian David Robarge on Pivotal Global Events
In this episode host Morell speaks with David Robarge, Chief Historian at the CIA, about the agency's performance during some of the most important global issues of the last 50 years. Morell and Robarge discuss the insight and warnings CIA provided at pivotal moments during the Cuban Missile Crisis, the Vietnam War, the collapse of the Soviet Union, the first Gulf War, and the September 11, 2001 terror attacks. Robarge explains why the CIA has at times struggled to provide adequate tactical warnings of significant developments.

A few recent "Intelligence Matters" podcasts to stream or download:
Oct 6 | Hayden Center Panel on Intelligence and War in Afghanistan
Sep 29 | The Insurrectionist Movement in the United States: Professor Robert Pape
Sep 22 | Remembering 9/11 9/11, the CIA, and Afghanistan: Part 2
Sep 15 | Remembering 9/11 9/11, the CIA, and Afghanistan: Part 1
Sep 8 | Remembering 9/11 Part 5: Gina Bennett
Sep 1 | Remembering 9/11 Part 4: Sandy Winnefeld
Aug 25 | Remembering 9/11 Part 3: Winston Wiley
Aug 18 | Remembering 9/11 Part 2: Andy Card
Aug 11 | Remembering 9/11 Part 1: Stephen Hadley
More about Intelligence Matters by Michael Morell here. Podcasts also located here.
---
Cyberblog by Steptoe & Johnson LLP
THE LATEST —
By Stewart Baker on Oct 18, 2021
Episode 379: LinkedIn, Slinkedout: Microsoft and China
Fresh from his launch of the Alperovitch Institute for Cybersecurity Studies, Dmitri Alperovitch kicks off this episode with a hopeful take on the 31-nation videoconference devoted to combatting ransomware. He and Nate Jones both think a coordinated international effort could pay off. I challenge Dmitri to identify one new initiative that this group could enforce..... Continue Reading
A Few Prior Conversations:
Episode 378: The Federal Government is Getting Creative in Regulating Technology
Episode 377: Ransomware – Death and Diplomacy
Episode 376: AI Dystopia: Only the Elite Will Escape the Algorithm
Episode 375: China, U.S. Tech Policy: "Let Thousand Hands Throw Sand in the Gears."
Episode 374: What's the Opposite of Facial Recognition? Ask Your "Smart Toilet."
---
The Arkin Group's Oct 15 "In Other News" letter to private clients by former Deputy Director, Operations Officer Jack Devine features...
Cuban government opponents denied permission to march in Havana this November, protestors say they will continue without it.
United States holds two-day virtual summit on cybercrime, Russia not included.
Iraqi parliamentary election results signal disillusionment with Iran, broader Iraqi political apparatus.

Follow link here to read analyses and predictions given to their private clients on the topics above.

Jack Devine's Spymaster's Prism was released earlier this year. The book has just been released on audio from Tantor or Amazon. AFIO's interview with him about this book appears at this link. Or hear the podcast here.
---
Inside the SCIF: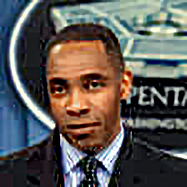 Inside the SCIF by JJ Green, WTOP - Issue #134, 14 Oct has details on... Analysis on China, Mike Hayden, and risks of global war; China is Geopolitical Threat #1...why? Answers by DIA Dir Lt Gen Scott Berrier; Updates on the Havana Syndrome; Bow and Arrow Rampage in Norway; Gunfire in Lebanon - Does it portend new civil war?; Annapolis Nuclear Engineer/Spouse Arrest for Espionage; Mysterious Airplane Hangar with One-way Glass, Odd Shower, and very secluded; Taliban's Takeover of Afghanistan Influencing Terrorist Wannabees in U.S.; Huh? Missouri Gov Seeks Prosecute Newspaper for Reporting on State Online Security Stumble; Ten Commandments of CI; Pentagon on Cost of Hypersonic Weapons; and more.

Target USA Podcast 301 is on: The Defense Intelligence Agency: ISIS-K could threaten the Homeland in 1-2 years.
Director, Lt. General Scott Berrier sits down for a wide-ranging interview about threats to the U.S. and how DIA is staying ahead of them. In this exclusive interview, he delivers several stark warnings about the nation's adversaries.

And "The Hunt" explores: Tracking down terrorists
Terror groups are once again high on the list of concerns for the U.S. military. On this week's episode J.J. Green talks with Lt. Gen. Scott Berrier, director of the Defense Intelligence Agency, says DIA is an indispensable part of the military's preparation for that work

Details on the Virtual Education Programs of the National Cryptologic Museum Foundation are available here Other NCF Events can be found here on NCF website here, and CCH website here.
---
---
Members... Cast Your Ballot for 2022-2025 AFIO National Board of Directors

Voting closes midnight EST 24 December 2021
---
Released exclusively to members last week, and now available to the public...
China, Russia, Iran and the Rise of Irregular Warfare

Released 12 October 2021
Seth Jones PhD
Director, Transnational Threats, CSIS
discusses his new book - Three Dangerous Men: Russia, China, Iran and the Rise of Irregular Warfare
Presentation of Friday, 10 September 2021 by of Seth Jones PhD, Director, Transnational Threats Project, CSIS, on his new book, "Three Dangerous Men: Russia, China, Iran and the Rise of Irregular Warfare." Interviewer/Host: James Hughes, AFIO President, a former CIA Operations Officer.
TOPIC: Seth Jones' latest book — Three Dangerous Men: Russia, China, Iran, and the Rise of Irregular Warfare — examines how three key figures in Moscow, Beijing, and Tehran, built irregular warfare campaigns that are eroding American power. Conventional warfare—clashes between large military forces—defined twentieth-century power. But today, facing dominant US conventional and nuclear capabilities, the U.S.'s principal adversaries, Russia, China, and Iran, have adopted a different style of competition. Cyber attacks, covert action, proxy conflicts, information and disinformation campaigns, espionage, and economic coercion—these are the tools of irregular warfare, which will increasingly reshape international politics. In short, the future of warfare is likely to be closer to the Chinese general Sun Tzu than to the Prussian military theorist Carl von Clausewitz.
The presentation runs 39 minutes.
"Three Dangerous Men" is available from Amazon here.
Access the Jones Interview here or click above image. Podcast version is here.
---
---
Click title above or here to view the public and member-only interviews in the AFIO Now series.
Or view the publicly-release-only interviews on our YouTube page. Or listen to the podcast version at the links below.
Newest podcast: Seth Jones PhD, discusses Threats by Russia, China, and Iran
PODCASTS: AFIO NOW content is also available on various podcasting platforms. Search for 'AFIO Podcast' for a selection of public released videos on Podbean; iTunes; Google; Spotify; Amazon Music; Amazon TuneIn + Alexa; iHeartRadio; and Pandora
Log into the Member-only area to view private and public interviews.
---
---
Newly Released, Overlooked, or Forthcoming Books
A Taste for Poison: Eleven Deadly Molecules and the Killers Who Used Them
by Neil Bradbury PhD
(St. Martin's Press, Oct 2021)
Reveals how eleven notorious poisons affect the body—through the murders in which they were used. The covert acts of political assassins, spurned lovers, shady scientists, and medical professionals show how the precise systems of the body can be impaired through the use of poison. Includes the deadly origins of the gin & tonic cocktail, the arsenic-laced wallpaper in Napoleon's bedroom, and other tours of the intricate, complex systems that keep us alive—or don't.
Poison is one of the most enduring—and popular—weapons of choice for a scheming murderer or political rival seeking to eliminate inconvenient people. It can be slipped into a drink, smeared onto the tip of an arrow, or the handle of a door, even filtered through the air we breathe. But how exactly do these poisons work to break our bodies down, and what can we learn from the damage they inflict?
In a blend of science, medical history, and true crime, Bradbury explores at the cellular level this method of murder from a cellular level. Alongside accounts of murderers and their crimes—some notorious, some forgotten, some still unsolved—are the compelling stories of the poisons involved: eleven molecules of death that work their way through the human body and, paradoxically, illuminate the ways our bodies function. Being offered a cup of tea or a bracing drink will never again be greeted as soothing or entirely innocent.
Book may be ordered here.
---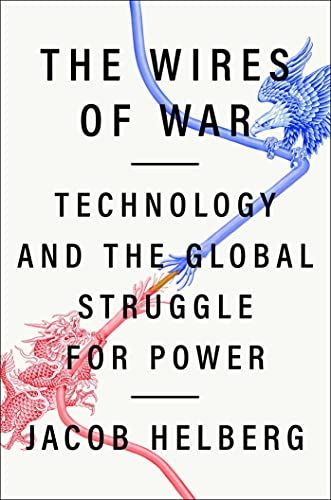 The Wires of War: Technology and the Global Struggle for Power
by Jacob Helberg
(Avid Reader Press / Simon & Schuster, Oct 2021)
Helberg, the former global lead for news policy at Google, debuts with a chilling study of how "techno-totalitarian" regimes are seeking to control the hardware and software of the internet. He documents the spread of fake news by Russia's Internet Research Agency during the 2016 presidential election, and explains how advances in artificial intelligence, data collection, and "synthetic media," or "deepfakes," could make similar propaganda campaigns more disruptive and harder to spot. Even more threatening, in Helberg's view, are China's efforts to gain "back-end" control of the internet by manufacturing cellphones, building 5G networks, and influencing international standards and regulations. —Pub Weekly
Helberg reminds readers that, 20 years ago, pundits proclaimed that the internet's unstoppable freedom of expression would destroy autocracies. Few say that now. The internet has instead accelerated "truth decay," where the click of a mouse supports any outlandish opinion. Though the U.S. has largely controlled the internet's expansion, builds most of the storage and transmission infrastructure, and makes the rules, its leadership days are numbered. China's Huawei, by far the world's largest telecom company, dominates 5G, the revolutionary successor to today's network that will vastly accelerate data and phone transmission.
Book may be ordered here.
---
Cold War Long Island
by Christopher Verga, Karl Grossman
(History PR, Oct 2021)
By the close of World War II, Long Island had transformed from a rural corridor to a suburban behemoth. The region became a nationally recognized manufacturing and innovation hub for the military and possessed one of the fastest-growing middle-class populations in the country. But behind the manicured lawns and cookie-cutter cape homes, locals were adapting to new Cold War conflicts and facing anxieties of a potential nuclear fallout. Secret nuclear missile sites and classified government laboratories were established on the outskirts of Suffolk County, often among unaware residents. Soviet spy rings traversed across the island, seeking to steal industry secrets and monitor military installations. Author Christopher Verga and veteran journalist Karl Grossman bring to life the often overlooked history of the Cold War era in Nassau and Suffolk Counties.
Book may be ordered here.
---
The Latest... from Jeff Stein's provocative "SpyTalk" series...
Oct 15: "Dems Launch Preemptive Strike on Gates '60 Minutes' Spot" by Jeff Stein
DNC knocks the former defense secretary on Afghanistan, defends Biden on pullout

Oct 14: "CIA Puts a Public Target on China's Back" by Jeff Stein; interview of Shane Harris
The story behind the spy agency's unusual p.r. move, plus Inside dope on a Secret Service burnout report

Oct 7: "For Your Eyes Only" by Jeff Stein - Podcast
A remarkable coincidence between the latest 007 flick and a hacked extremist server
Includes interviews or co-hosts Jeanne Meserve, Heidi Beirich, James Grady

Oct 3: "Flynn Secretly Paid $200,000 in Middle East Nuclear Scheme—Report" by Jeff Stein
Dutch newspaper NRC Handelsblad dug up internal audit documents revealing more unreported payments in wild scheme for Arab power plants

Oct 1: "New Spy Thriller Has a Novel Twist on Syria Ops" by Peter Eisner
Damascus Station, by ex-CIA man David McCloskey, is an impressive debut

Sep 28: "Taliban Include Heroin Kingpins in Leadership" by Gretchen Peters and John Seaman
Obama and Trump scuttled a DEA-DoJ prosecution plan to spur peace talks with Taliban. Will Biden resurrect it?

Readers, for a brief time, can subscribe for free for articles and weekend podcasts here.
---
---
One of the special benefits of membership in AFIO: access to CIA's inhouse gift shop — the EAA Store.

It requires a quick preapproval process described here to all newly joined and current AFIO members. And then allows you to purchase online their unusual logo'd gift items for self or colleagues. At left is the latest photo EAA released on Sep 17 featuring some of their newest items.



---
---
Visit, Follow, Subscribe to AFIO's LinkedIn, Twitter, and YouTube pages to receive updates.
Members who use social media or wish to explore, will find new announcements and other material on AFIO's Twitter and LinkedIn pages. New videos on our YouTube page appears below as well.
Access them here: LinkedIn, Twitter, and YouTube. By following or subscribing on those sites, one can be notified as new material appears.




PODCASTS: Are you too busy to sit and watch an entire "AFIO Now" episode above on YouTube? Would you rather listen in your car or while accomplishing other tasks? Now you can quickly download or stream episodes on your favorite podcasting platform. AFIO is now available on 8 podcasting platforms. Search for 'AFIO Podcast' for a selection of the interviews above (public released ones) on Podbean; iTunes; Google; Spotify; Amazon Music; Amazon TuneIn + Alexa; iHeartRadio; and Pandora.
---
---
Section I - INTELLIGENCE HIGHLIGHTS

NK May Test Long-Range Missile Next Year: US Intelligence Agency. North Korea may resume long-range ballistic missile tests next year, the US Defense Intelligence Agency said, warning that the regime is unlikely to renounce its weapons of mass destruction as it believes they are critical to the country's survival.

The DIA, which provides intelligence to the Defense Department, released a report Friday examining Pyongyang's military program, strategy and intentions, stressing that the North will continue to pose a "critical security challenge" for the US and its allies.

"North Korean leaders view nuclear arms as critical to regime survival," the report said, noting that the regime retains its WMD capabilities. It is unlikely to give up all of its WMD stockpiles, delivery systems and production capabilities, it continued. [Read more: Ahn/KoreaHerald/18October2021]

Biden Admin to Build Intelligence-Gathering Cell to Track Groups of Migrants Headed North. Planning is underway at the Department of Homeland Security to build an intelligence-gathering cell that would more closely monitor and better predict the movements of groups of migrants to the U.S., such as the nearly 30,000 Haitians who arrived in Texas last month, according to a copy of the plans obtained by NBC News.

The new cell, to be operational by the end of the month, would supply the agency with "indications and warnings" of possible migrant surges by collecting intelligence from DHS personnel in Central and South America, seek to establish aerial surveillance of trucks and migrant camps massing on borders and increase communication with the U.S. intelligence community and law enforcement agencies in other countries, according to the planning document. [Read more: Ainsley/NBCNews/18October2021]

Chinese Military Newspaper Rails Against CIA, Calls for 'People's War' to Fight U.S. Spying. The official newspaper of China's military has called for a "people's war" to fight against U.S. espionage efforts targeting the East Asian nation.

CIA Director William Burns told agency personnel earlier this month that the foreign intelligence service would launch a new China Mission Center with the goal of monitoring and countering Chinese activity. Burns said that the mission center would "further strengthen our collective work on the most important geopolitical threat we face in the 21st century, an increasingly adversarial Chinese government," The Washington Post reported.

Chinese state-controlled media began circulating a viral video clip over the past week that claimed the CIA was actively recruiting native speakers of Mandarin, Cantonese, Hakka and Shanghainese, according to Hong Kong-based South China Morning Post (SCMP).

The People's Liberation Army Daily, the Chinese armed forces' official publication, slammed the CIA's efforts. [Read more: Lemon/Newsweek/17October2021]

Federal Trial Begins in Cincinnati for First-Of-Its-Kind Chinese Spy Case; Judge Closes Courtroom. Attorneys selected a jury on Monday in the case of Yanjun Xu, who is accused of recruiting spies to steal aviation and aerospace technology from companies, including Cincinati-based GE Aviation. He is the first-ever intelligence agent extradited from China to the U.S. to stand trial.

U.S. District Court Judge Timothy Black's staff, unannounced, closed the courtroom to the public as counsel began selecting jurors, including journalists and media covering the case.

Xu, who is also known as Qu Hui and Zhang Hui, is a deputy division director at the Chinese Ministry of State Security.

But to federal prosecutors, he is a spymaster. [Read more: Christian/WCPO/18October2021]

U.S. Intelligence Chief to Meet with S. Korea, Japan Counterparts. The intelligence chiefs of the United States, South Korea and Japan are expected to meet in Seoul early next week for closed-door discussions about North Korea, among other issues, Yonhap news agency reported, citing a government source.

U.S. Director of National Intelligence Avril Haines will meet with Park Jie-won, head of South Korea's National Intelligence Service (NIS) and Hiroaki Takizawa, Japan's cabinet intelligence director, Yonhap said, marking the first meeting of the three since May.

They are expected to focus on issues surrounding North Korea, according to the report.

The Office of the Director of National Intelligence did not immediately respond to requests for comment. [Prentice/Reuters/16October2021]

Ex-CIA Officer: US Could Fall Behind China in Space Satellite Wars. If the US is not careful, China will overtake it in the race for dominating space-related issues, with a range of consequences for any future conflicts, former CIA space analyst Tim Chrisman said on Thursday.

Though Chrisman's focus is the US-China race, if Beijing overtook Washington, this could also have serious negative implications for American allies like Israel who benefit from satellite intelligence, and lead to the providing of intelligence to Chinese allies, like Iran.

Chrisman also served in army intelligence and is currently serving as co-founder of Foundation for the Future, a scientific education and public works advocacy group dedicated to creating an infrastructure to live and work in space.

In a July briefing and in America's annual National Intelligence Assessment report in April, top American national security officials said that China was making sizable, long-term investments in weapons designed to jam or destroy satellites as it seeks to rapidly narrow the US lead in space technology. [Read more: Bob/JerusalemPost/16October2021]


---
Section II - CONTEXT & PRECEDENCE

Intelligence Community's No. 2 Visits St. Louis, Focuses on Partnership, Opportunities. Principal Deputy Director of National Intelligence Dr. Stacey Dixon visited St. Louis this week and spoke with students and industry partners about opportunities within the Intelligence Community.

During her visit, Dixon toured the site of the National Geospatial Intelligence Agency's new headquarters, spoke to students from the Gateway Global American Youth Business Alliance at NGA's Moonshot Labs, delivered the keynote remarks at the 2021 Geospatial Intelligence Symposium, and fielded questions from students at Harris-Stowe State University after serving as the inaugural speaker for its "Women in STEM" series.

During her keynote remarks at the GEOINT Symposium on Oct. 6, Dixon emphasized the importance of embracing change and advancing partnerships between government and industry.

"We want to be a better customer," said Dixon. "We want - and we need - the American GEOINT industry to be the strongest and most capable on Earth." [Read more: Moody/ODNI/7October2021]

Stars and Spies: The Secret Service on the Silver Screen. When the famous playwright Christopher Marlowe was recruited as a spy in 1580 at Corpus Christi College, Cambridge University, his rise towards becoming a celebrated writer began, says professor Christopher Andrew, the doyen of espionage research. According to Andrew, Marlowe is a unique representative of the similarities between the worlds of entertainment and espionage.

"The ephemeral lifestyle of traveling entertainers is not at all dissimilar to that of spies, which is why they are very well suited for undercover work. Fictional identities, learning a script and improvisational skills are central to both professions, which involve portraying someone else. Undercover agents often find themselves in a kind of long-term role-playing," Andrew explains.

Thus it comes as no surprise that the first head of Britain's foreign intelligence service MI6, Mansfield Smith-Cumming, bought his disguises from the same theater supplier as London's West End theaters. This and other curious tales are told by Christopher Andrew, and theater producer and circus director Julius Green in their newly published book, Stars and Spies: Intelligence Operations and the Entertainment Business. [Read more: Nehring/DW/19October2021]

Ryan Young, Dr. Susan Durham Deliver Keynote Addresses at Potomac Officers Club's 7th Annual Intel Summit. On Thursday the Potomac Officers Club hosted its 7th Annual Intel Summit, a virtual seminar featuring notable government and private sector leaders and executives who gathered to explore the intelligence community's obstacles, opportunities and future initiatives including AI/ML, data utility and foreign adversary threats.

Following DIA Director Lt. Gen. Scott Berrier's opening keynote address, Ryan Young, acting executive assistant director of the FBI, and the National Reconnaissance Office's advanced systems and technology office director, Dr. Susan Durham took the virtual stage to deliver the afternoon's keynote addresses, in which each speaker leveraged their unique intelligence expertise to provide insight into the current state of the IC. [Read more: GovCon/18October2021]

Now and Into The Future: Goodfellow Graduates First Ever Enlisted Intel Guardians. Four U.S. Space Force Guardians assigned to the 315th Training Squadron graduated from the all-source intelligence analyst course and have become the first-ever enlisted intel professionals to be integrated from any course into their service Oct. 18.

The enlisted force is historically boasted as the backbone of the Air Force; this is also true for the smaller USSF. There will never be another point in U.S. history where the first enlisted intel Guardians graduate initial technical training. This occasion marks one of an uncountable number of milestones creating the structure known as the USSF.

USSF 1st Lt. Robert Freeman, 315th TRS targeting analyst course flight commander, expressed the significance the Guardians bring to the USSF as the service's first enlisted intel personnel.

"They will set the tone, pace, and professionalism of their career field," said Freeman. "Their individual, unique perspectives and experiences will be a benchmark from day one." As expressed by Freeman, "their impact will be felt for decades to come." [Read more: Hall/AETC/18October2021]


---
The Spies Who Hated Us: Reporting on Espionage and the Secret State. It is time for morning coffee and Richard Norton-Taylor and I are discussing secrecy, deception and brown envelopes, which comes naturally to the pair of us, as past and present defence and security correspondents of the Guardian.

Norton-Taylor joined the paper in January 1973 (when, incidentally, this writer was not yet two), starting in Brussels and switching to security a few years later. The first part of his career was dominated by a series of landmark official secrecy battles.

"Brussels was great for spy-watching: Nato was there, as well as the youngish EEC," he recalls, indicating there was no shortage of Russians in town. Returning to the UK in 1975, and armed with that experience, a job was defined for him by the Guardian's then editor, Peter Preston, initially covering "official secrecy and Whitehall".

At that time, the British state made what turned out to be the mistake of trying to stop leakers through the courts. [Read more: Sabbagh/TheGuardian/18October2021]

The Pathetic Details at the Heart of the Suburban Couple Spy Case. A pathetic spy trial is going on in West Virginia. Unlike our most cherished spy films and novels, as well as the most ballyhooed real-life cases of espionage, the grim tale of Jonathan and Diana Toebbe does not bank on high drama and ideological ideals. Jonathan, a 42-year-old Navy nuclear engineer, and Diana, a 45-year-old private school teacher, residents of a modest home in Annapolis, Maryland, plotted to sell secrets to a foreign intelligence agency but screwed up in the very first step of what they'd thought was a finely honed scheme.

Their motives are not yet clear; their first hearing before a judge takes place this week. But judging from the Justice Department's 23-page criminal complaint, filed earlier this month in a U.S. district court, the couple seemed to be driven by a desire for money (not a fortune, simply a comfortable nest egg) and a bit of adventure, the prospects for which they seem to have gleaned from romanticized books and movies.

In April 2020, Jonathan Toebbe sent a letter to a foreign government - which the complaint refers to as "Country1," but it seems to be France (for reasons I'll explain later) - containing some fairly routine manuals on the nuclear propulsion system of the U.S. Navy's Virginia-class submarine and promising much more if the recipient sent him a down payment.

That's already where he went wrong. [Read more: Kaplan/Slate/18October2021]

Beijing's Hypersonic Feat Stuns US Intel Chiefs. The game of military chess between the US and China just took a nasty turn.

You might even say the pieces have been knocked off the board.

We didn't learn about it until now, but make no mistake, US intelligence groups, Pentagon brass, and perhaps even the White House itself received a sobering shock.

One that will likely light a fire under an already frightening arms race. [Read more: Makichuk/AsiaTimes/18October2021]


---
Section IV - Research Requests, Jobs, Obituaries
Group Formed - "Rafiq: Friends of Afghans" - to Support the Departure/Rehabilitation/Resettlement of Abandoned Former Colleagues
My name is Max Fratoddi, a retired FBI FCI/CT Agent (and USMC RVN veteran) who worked with many USIC members over my 25 year career. I am a long term member of AFIO, originally sponsored by the beloved CIA OPs Officer Jack Platt (RIP). More recently, I spent some 6 1/2 years in Afghanistan as a (rotating) contractor mentor to Afghans serving in a unique joint training command under specialized government-to-government MOUs. Some 100 of them (not including families) were left behind with our hasty departure.
"Rafiq - Friends of Afghans" was formed in early August by a number of retired intell community, law enforcement, and military SpOps personnel with many years of experience in working directly with various Afghan National Security Forces personnel. Compared to the many other organizations with similar interests, we are a low-key, non-profit organization whose mission is to quietly support the departure, rehabilitation, and resettlement of our former colleagues to the U.S. I welcome a discussion to determine if there are legitimate collaboration, coordination, and cooperation opportunities with our membership. I can be reached at gmfratoddi@yahoo.com or at 843-540-2026. This request does not constitute an official endorsement by AFIO or any U.S. government agency. Thanks for your interest and support.
Seeking Former CIA Officers who knew Abu Bakr al-Baghdadi, others in ISIS, or King Hussein of Jordan, to assist Israeli Journalist with Documentary
My name is Hadar Gat, I'm a journalist from Israel, currently working on the second season of a documentary series about the most influential Arab leaders in the middle east.
It's an international production, broadcasted on Kan Israeli channel (IPBC).
The documentary series provides a profound profile analysis of leaders in the Arab world, and is one of the leading document series of IPBC.
Each episode is covering the history and profile of a different leader, and reviewing his personality and actions from every aspect possible. Especially the way he was grasped through the eyes of different Intelligence agencies.
I'm contacting [AFIO] because in one of the episodes we are focusing on Abu Bakr al-Baghdadi, and ISIS itself.
We are also doing an episode about King Hussein of Jordan. So I'm looking for former CIA agents/officers who met him or people who are relevant to his time period, and can help us shed some light on his character and relations with the Western world. Can AFIO Members help me with that? We wish to interview former CIA or other IC officers relevant to either of these matters. I'm available for any questions and more details, so feel free to contact me at any time.
Looking forward to hearing from you.
Replies to Hadar Gat, 972-50-4800-306 or hadargat8@gmail.com
Chenega Enterprises and Solutions (ChESS) LLC is identifying Subject Matter Experts(SME) for potential FBI SME Contract work soon to be awarded.
The FBI is looking for Counterintelligence SME to support the FBI Counterintelligence Foreign Investment Unit (FIU).
The FBI is looking for Counterintelligence Training SME to support the FBI Counterintelligence Training Center (CITC). CITC is tasked with training field agents, supervisors and non-agent personnel in CI investigation.
The FBI is seeking an Counterintelligence SME with extensive knowledge in the East Asia region.
TO APPLY OR EXPLORE: Please contact Jessica Lewis, Jessica.Lewis@chenega.com for additional information.
---
Deborah Peabody, CIA Staff Operations Officer
Deborah Anne Peabody, 65, CIA Staff Operations Officer, died 9 October 2021 in Falls Church, VA.
Deborah was born in a quonset hut in Saipan, Northern Marianas Islands. She graduated with a Bachelor's Degree Cum Laude from the University of Virginia and a Master's Degree with PhD courses from the University of Pennsylvania. Her deep interest in Anthropology, Archeology, and American Studies provided her with a broad array of interests and opportunities. Serving in government posts both in America and abroad, she was an Economic Assistant and Assistant Historian in the State Department, and an Assistant Museum Curator at the Cigna Corporation. She went on to serve for over 20 years in the CIA as an intelligence officer, project manager, and senior staff operations officer, winning awards and promotions in both operations and staff activities.
She is survived by her husband, Timothy D. Holden, a sister, a brother, and other family.
Deborah was tenacious in her faith, love of family and devotion to her friends and her work. She leveraged her lighthearted "Peabody" sense of humor and unselfish manner to lift hearts wherever she went.
Ted Price, former DDO/CIA
Hugh Edward Price, 84, former Deputy Director of Operation, CIA, and former Chairman of Lehman Brothers India, died of a long illness on 15 October 2021 in Brewster, WA.
Price graduated from Yale before serving four years in the US Marine Corps.
While with the CIA he held the positions of Director of Personnel, Director of Counterintelligence, as well as Deputy Director for Operations.
He left the agency in 1995 after a 35-year career, and joined the private security business Kroll Inc. [later Kroll-O'Gara] as Senior Managing Director, and as head of its Crisis Management Group.
He later joined Lehman Brothers in December 2001 as head of Global Security. He served initially as the bank's Director of Global Security and from 2005 as Chairman, Lehman India where he grew the India operation from a handful of technologists to 2,400 employees representing every discipline at the bank. After Lehman Bros., Ted became senior Advisor to T&M USA in New York City. Price lived 20 years in Asia and was fluent in Mandarin Chinese.
In 2005 Price married Lisa Spiro, former communications head at Salomon Brothers and UBS. He is survived by Lisa Spiro, and by three children, and other family.
Ted was a real stand up guy and friend who lived life fully on his own terms. He spoke with many friends and former colleagues in those final few days of life.

---
AFIO EDUCATIONAL EVENTS IN COMING TWO MONTHS....
Thursday, 4 November 2021, 6:30 pm CDT - Zoom Webinar - AFIO San Antonio Chapter hears from Seth Jones PhD on the Rise of Irregular Warfare and the Change in Global Warfare
Many historians talk about how the military trains for the last war they fought. Well our enemies are not planning for that old war, they are conducting a new type of warfare and the fighting is going on right now!
This program will be an AFIO NOW briefing by Seth Jones PhD. who is very knowledgeable on this type of warfare.
Jones holds the Harold Brown Chair, is director of the Transnational Threats Project, and is a senior adviser to the International Security Program at the Center for Strategic and International Studies (CSIS). He teaches at Johns Hopkins University's School of Advanced International Studies (SAIS) and the Center for Homeland Defense and Security (CHDS) at the U.S. Naval Postgraduate School.
TOPIC: Seth Jones' latest book -- Three Dangerous Men: Russia, China, Iran, and the Rise of Irregular Warfare -- examines how three key figures in Moscow, Beijing, and Tehran, have built irregular warfare campaigns that are eroding American power. Conventional warfare—clashes between large military forces—defined twentieth-century power. But today, facing dominant US conventional and nuclear capabilities, the U.S.'s principal adversaries, Russia, China, and Iran, have adopted a different style of competition. Cyber attacks, covert action, proxy conflicts, information and disinformation campaigns, espionage, and economic coercion—these are the tools of irregular warfare, which will increasingly reshape international politics. In short, the future of warfare is likely to be closer to the Chinese general Sun Tzu than to the Prussian military theorist Carl von Clausewitz. The presentation runs 39 minutes. This is a very timely presentation on attacks that are going on right now.
TIMING: Prior to the virtual presentation using ZOOM you will be sent a link for the program. "Three Dangerous Men" is available from Amazon here.
QUESTIONS or REGISTER: Contact John Franklin, President, AFIO San Antonio Chapter, 210 863-0430 or satxafio@gmail.com
Saturday, 6 November 2021, 11:30 a.m. EDT - Indialantic, FL - AFIO Florida Satellite Chapter Meeting Features Col John Hilliard on "Atlas Missiles, Spy Satellites, and Negotiations with Soviet Union on Arms Contol."
The AFIO Florida Satellite Chapter will be holding an in-person meeting at 11:30 AM, November 6, 2021 at the Hilton Doubletree Hotel in Indialantic, Florida. The speaker is Colonel John Hilliard who will discuss Atlas missiles, spy satellites and negotiations with the Soviet Union on arms control.
For more information contact Larry Sanford here.
Wednesday, 17 November, 2021, noon PST - Zoom-virtual - The AFIO San Francisco Chapter hosts Capt Aynesworth on "Intelligence Challenges of the Movement of International Containerized Cargo."
The "Andre Le Gallo" San Francisco Chapter hosts James L. Aynesworth, Captain, U.S. Navy Reserve (ret); President, Trident Information Services International on "Movement of International Containerized Cargo: Intelligence Challenges."

Registration required to receive a zoom link. Register here.
Qs?: contact Mariko Kawaguchi, Chapter Secretary at afiosf@aol.com.
---
Other Upcoming Events from Advertisers, Corporate Sponsors, and Others
Sunday, 24 October 2021, 2 - 3:30 pm EDT - Zoom Webinar - The Cold War Museum hosts Marvin Kalb on "Assignment Russia: Foreign Correspondent in the Crucible of the Cold War."
You're a young reporter who just got the best post of the Cold War. But they're very tough here and they hate reporters. Now what?
What was it like to be at the center of political tensions in Moscow and tasked with explaining the Soviet Union to the American public? Chosen by legendary broadcaster Edward R. Murrow to become one of what came to be known as the 'Murrow Boys,' veteran journalist Marvin Kalb shares his journey from radio newswriter to one of America's most widely known foreign correspondents. In his newest memoir, Assignment Russia: Becoming a Foreign Correspondent in the Crucible of the Cold War, Kalb takes readers on a personal journey through some of the darkest moments of the Cold War and the early days of television news.
Cost: $20, 100% of which is a contribution to the Cold War Museum.
Agenda: • 1:30-2. Participants arrive in the Zoom room online; • 2 - 2:05. Jason Hall, Executive Director of the Cold War Museum introduces the Museum and Marvin Kalb; • 2:05 - 3. Marvin presents on what was like to a young network TV reporter in Moscow; • 3 - 3:30. Q&A opportunity for the audience.
Register online here.
Eventbrite ticket buyers will receive a link to the virtual room on the Zoom platform where this event will take place. We are recording the whole event, including the Q&A, for the Museum's archives.
Questions? Call or email Jason Hall, 703-283-4124 (cell), jason@coldwar.org
Tuesday, 26 October 2021, 2-3pm EDT - Virtual - Livestream - CSIS hosts "A Conversation with Anne Neuberger and Chris Inglis" on Cybersecurity
Join CSIS [Center for Strategic & International Studies] for a virtual conversation with Anne Neuberger, Deputy Assistant to the President and Deputy National Security Advisor for Cyber and Emerging Technology and Chris Inglis, National Cyber Director. The discussion will focus on opportunities to advance U.S. cybersecurity.
Register HERE
The recording of this event will be available via the event page on csis.org
Wednesday, 27 October 2021, 12:00pm – Washington, DC – Elizebeth Smith Friedman: The Woman All Spies Fear – Virtual International Spy Museum Program
During World War I, Elizebeth Smith Friedman cracked thousands of messages, but that was only the beginning of her brilliant career. In the 1920s and 1930s, she pitted her wits against the mob. When World War II broke out, she hunted Nazi spies. Despite her fame, she was a woman of many secrets, and later she was pushed into the shadows. To get the true measure of her hidden life, award-winning historian Amy Butler Greenfield sifted the truth from the misdirections and myths to write The Woman All Spies Fear: Code Breaker Elizebeth Smith Friedman and Her Hidden Life. From the "doll woman" spy to bootleggers, join us for a conversation with Greenfield about the new facts she discovered about the enigma of this astonishing woman's life.
Event is free – registration required. Visit www.spymuseum.org.
Thursday, 28 October 2021, 12:00pm – Washington, DC – Virtual Spy Chat with Chris Costa and Frank Figliuzzi – Virtual International Spy Museum Program
Join us for an online discussion of the latest intelligence, national security, and terrorism issues in the news. Spy Museum Executive Director Chris Costa, a former intelligence officer of 34 years, will lead the briefing. He will be joined by former Assistant Director for Counterintelligence at the Federal Bureau of Investigation (FBI) Frank Figliuzzi, who served for 25 years as a special agent and directed all espionage investigations across the government. Following their discussion of key issues, you'll be able to ask questions via our online platform. Sponsored by the Honorable Mary Beth Long, International Spy Museum, Board of Directors, and by MAG Aerospace.
Event is free – registration required. Visit www.spymuseum.org.
Friday, 29 October 2021, 1015-1330 EDT - Arlington, VA - NIP Fall Luncheon and Membership Meeting
Naval Intelligence Professionals - Fall Luncheon and Annual General Membership Meeting features RADM Curt Copley, USN, Commander, Office of Naval Intelligence.
RADM Curt Copley assumed command of ONI and became Director, National Maritime Intelligence-Integration Office (NMIO) in June 2021. As a Flag Officer he has served as deputy director of operations, National Security Agency; director of intelligence, U.S. Forces – Afghanistan; director of intelligence, U.S. Strategic Command; and deputy chief of special collection operations, National Security Agency. His command tours include U.S. Central Command's Joint Intelligence Center (JICCENT) as well as the Kennedy Irregular Warfare Center (KIWC), Office of Naval Intelligence.
Location: Army Navy Country Club, 1700 Army Navy Drive, Arlington VA 22202
AGENDA: 1015-1100: Annual NIP General Membership and Board Meeting (NIP Members Only); 1100-1200: No-host Social Hour; 1200-1330: Luncheon (with Guest Speaker remarks).
REGISTRATION: $60 per person for current NIP members after login; $475 for table of 8; $35 per person for all O-3 and below, enlisted, GG-11 and below; $80 per person for non-members; Corporate/Industry Sponsor tables $1500. Online registration ends 22 October 2021.
Registration and menu selection online here or www.navintpro.org - or, pay by mail with check (must arrive by 15 Oct and please include entrée selection - Chicken, Salmon, or vegan) to: NIP, PO Box 11579, Burke, VA, 22009
Note: This is the first full luncheon we have been able to hold since the fall 2019 luncheon, prior to the pandemic. Currently, there are no restrictions preventing us from holding this luncheon but in consideration of current DoD policies, we ask attendees to be vaccinated.
Hope to see you there!
NO WALK UPS PLEASE, ONLINE REGISTRATION DEADLINE 22 October 2021.
16 November 2021, 6 pm EDT - Virtual - The OSS Society Conversation features Gen. David Petraeus USA(Ret) and David McCloskey, former CIA Analyst, on his novel Damascus Station
Join General David Petraeus, USA (Ret.) for a discussion with former CIA officer David McCloskey about his new novel, Damascus Station. Called "the best spy novel I have ever read" by Petraeus, the book is set against the backdrop of a Syria pulsing with fear and rebellion and is a gripping thriller that offers a textured portrayal of espionage, love, loyalty, and betrayal in one of the most difficult CIA assignments on the planet. More about this novel is here.
To register for this virtual event, do so here.
Wednesday, 1 December 2021, 5:30 PM VIP Reception / 6:30 PM Progressive Reception & Award Program - Washington, DC - 2021 Webster Distinguished Service Award Event - International Spy Museum
The Spy Museum offers an evening of intrigue for the 2021 Webster Distinguished Service Award event. The award is an opportunity to recognize the extraordinary contributions of individuals in the Intelligence Community. This year's awardee is The Honorable Susan M. Gordon, former principal deputy director of national intelligence. Previous recipients of the Webster Distinguished Service Award include President George H. W. Bush (2017), Admiral William H. McRaven, USN (Ret.) (2018), and Gen. Michael V. Hayden (Ret.) (2019). Webster attendee and sponsor support fuels the nonprofit mission of educating the public about the history and craft of espionage and intelligence through youth and adult programs, community service, and the care of the Museum's unique collection of artifacts for generations to come.
Event will be held at the International Spy Museum.
For tickets, sponsorship opportunities, or information about ways to support the International Spy Museum, please contact the development office at 202.654.2853. Event tickets, other details are available here.
---
In addition to the new Royal Blue long sleeve shirts, and the gray long sleeve hooded sweatshirts, the AFIO Store also has the following items ready for quick shipment:
LONG and Short-Sleeved Shirts with embroidered AFIO Logo and New Mugs with color-glazed permanent logo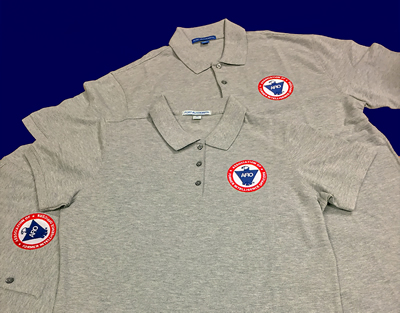 Show your support for AFIO with our new Polo Shirts. Be the first to buy these new, high quality, subtle heathered grey short sleeve shirts, and dark blue long sleeved shirts, of shrink and wrinkle resistant fine cotton with a soft yet substantial feel. They feature a detailed embroidered AFIO seal. Get a shirt for yourself and consider as gifts for colleagues, family, and friends. Only $45 each including shipping.
Sizes of (M) men or (W) women shirts; Small, Medium, Large, XL, XXL, and XXXL. At this time all orders will arrive as Short Sleeve shirts.
You may pay by check or credit card. Complete your order online here or mail an order along with payment to: AFIO, 7600 Leesburg Pike, Ste 470 East, Falls Church, VA 22043-2004. Phone orders at 703-790-0320. If interested in other shirt colors or sleeve lengths, contact Annette at: annettej@afio.com.
---
AFIO Mug with color glazed logo. Made in America. Sturdy enough to sit on desk to hold pens, cards, paperclips, and candy.
This handsome large, heavy USA-made ceramic mug is dishwasher-safe with a glazed seal. $35 per mug includes shipping. Order this and other store items online here.
---
Guide to the Study of Intelligence and When Intelligence Made a Difference
"AFIO's Guide to the Study of Intelligence" has sold out in hard-copy.
However, it is available in digital form in its entirety on the AFIO website here.

Also available on the website here are the individual articles of AFIO's history project "When Intelligence Made a Difference" that have been published to date in The Intelligencer journal. More articles will be forthcoming in future editions.
---
Disclaimers and Removal Instructions
Weekly Intelligence Notes (WINs) are commentaries on Intelligence and related national security matters, based on open media sources, selected, interpreted, edited and produced for non-profit educational uses by members and WIN subscribers.
REMOVAL INSTRUCTIONS: We do not wish to add clutter to inboxes. To discontinue receiving the WINs:
a) IF YOU ARE A MEMBER - click here: UNSUBSCRIBE and supply your full name and email address where you receive the WINs. Click SEND, you will be removed from list. If this link doesn't open a blank email, create one on your own and send to afio@afio.com with the words: REMOVE FROM WINs as the subject, and provide your full name and email address where you are currently receiving them.
b) IF YOU ARE NOT A MEMBER, and you received this message, someone forwarded this newsletter to you [contrary to AFIO policies]. Forward to afio@afio.com the entire WIN or message you received and we will remove the sender from our membership and distribution lists. The problem will be solved for both of us.
CONTENTS of this WIN [HTML version recipients - Click title to jump to story or section, Click Article Title to return to Contents. This feature does not work for Plaintext Edition or for some AOL recipients]. If you wish to change to HTML format, let us know at afio@afio.com. The HTML feature also does not work for those who access their e-mail using web mail...however NON-HTML recipients may view the latest edition each week in HTML at this link: https://www.afio.com/pages/currentwin.htm
---
WINs are protected by copyright laws and intellectual property laws, and may not be reproduced or re-sent without specific permission from the Producer. Opinions expressed in the WINs are solely those of the editor's or author's listed with each article. AFIO Members Support the AFIO Mission - sponsor new members! CHECK THE AFIO WEBSITE at www.afio.com for back issues of the WINs, information about AFIO, conference agenda and registrations materials, and membership applications and much more!
(c) 1998 thru 2021. AFIO, 7600 Leesburg Pike, Suite 470 East, Falls Church, VA 22043-2004. Voice: (703) 790-0320; Fax: (703) 991-1278; Email: afio@afio.com
---
About AFIO | Membership Renewal | Change of Address | Upcoming Events | Chapter Locations | Corporate/Institutional Memberships | Careers in Intelligence Booklet | Guide to the Study of Intelligence | Intelligencer Journal | Weekly Intelligence Notes | To Make A Donation | AFIO Store | Member-Only Section | Code of Ethics | Home Page
---