---
CONTENTS
Section I - INTELLIGENCE HIGHLIGHTS
Section II - CONTEXT & PRECEDENCE
Section IV - Research Requests, Jobs, Obituaries
Other Upcoming Events from Advertisers, Corporate Sponsors, and Others
For additional AFIO and other Events two+ months or more... Calendar of Events
WIN CREDITS FOR THIS ISSUE: The WIN editors thank the following special contributors: rsy, ec, po, pjk, mh, km, gh, mk, rd, fm, kc, jm, mr, jg, th, ed, and fwr. They have contributed one or more stories used in this issue.

The WIN editors attempt to include a wide range of articles and commentary in the Weekly Notes to inform and educate our readers. However, the views expressed in the articles are purely those of the authors, and in no way reflect support or endorsement from the WIN editors or the AFIO officers and staff. We welcome comments from the WIN readers on any and all articles and commentary.

CAVEATS: IMPORTANT: AFIO does not "vet" or endorse research inquiries, career announcements, or job offers. Reasonable-sounding inquiries and career offerings are published as a service to our members, and for researchers, educators, and subscribers. You are urged to exercise your usual caution and good judgment when responding, and should verify the source independently before supplying any resume, career data, or personal information.]
If you are having difficulties with the links or viewing this newsletter when it arrives by email, members may view the latest edition each week at this link.
---
Other items brought to our attention:
White House, intelligence agencies, Pentagon issue reports warning that climate change threatens global security
by Shane Harris and Michael Birnbaum, 21 Oct 2021, Washington Post
As the United States and nations around the world struggle to blunt the effects of rising temperatures and extreme weather, sweeping assessments released Thursday by the White House, the U.S. intelligence community and the Pentagon conclude that climate change will exacerbate long-standing threats to global security. Together, the reports show a deepening concern within the U.S. security establishment that the shifts unleashed by climate change can reshape U.S. strategic interests, offer new opportunities to rivals such as China, and increase instability in nuclear states such as North Korea and Pakistan. The reports emerge as world leaders prepare to gather in Glasgow, Scotland, next month for crucial U.N. climate talks. And the assessments suggest that the Biden administration is preparing to take on the national security consequences of global warming after four years of inaction under President Donald Trump. During his presidency, climate-related security assessments were routinely suppressed because they did not match his administration's skeptical stance toward climate science. Article continues here.
---
'The grim reaper for the enemy': CIA's 'legendary' Iran chief forced to retire by Zach Dorfman, National Security Correspondent, Yahoo News, 19 October 2021
The CIA's Iran chief, described by his colleagues as "legendary," is being forced to retire as the center he oversees is folded back into the agency's larger Middle East division, according to former CIA officials. The official, Mike D'Andrea — nicknamed the "Dark Lord" or "Prince of Darkness" and known by the undercover name "Roger"— had been granted waivers that allowed him to continue working at the CIA past the mandatory retirement age, according to former agency officials. But the agency declined his most recent retirement exception, according to these officials. D'Andrea's retirement was first reported by the New York Times. "They decided not to extend him again," said a former senior CIA official. "It was basically, 'Look, you're not going to go any higher, we need new thinking, we need new people,' and so they eased him out. He didn't volunteer." A small cadre of other senior CIA officials who had been receiving retirement waivers were also told their tenure would no longer be extended, said another former senior agency official. Article continues here.
---
Learning the Art of Counterintelligence from CIA's Best By Keefer Patterson, Air Force Global Strike Command Public Affairs / Published October 06, 2021
James M. Olson, former Chief of CIA Counterintelligence and Professor of Practice at The Bush School of Government and Public Service at Texas A&M University.
BARKSDALE AIR FORCE BASE, La. -- In a report to President Dwight D. Eisenhower, World War II bomber legend Gen. James Doolittle wrote:
"It is now clear that we are facing an implacable enemy whose avowed objective is world domination by whatever means and at whatever cost. There are no rules in such a game. Hitherto acceptable norms of human conduct do not apply. If the United States is to survive, long-standing American concepts of "fair play" must be reconsidered. We must develop effective espionage and counterespionage services and must learn to subvert, sabotage and destroy our enemies by more clever, more sophisticated and more effective methods than those used against us."
Air Force Global Strike Command's Intelligence, Surveillance and Reconnaissance Directorate recently visited with James M. Olson, former Chief of CIA Counterintelligence and Professor of Practice at The Bush School of Government and Public Service at Texas A&M University, to discuss the art of counterintelligence and the threats associated with spying.
For Olson, "To Catch a Spy" is not just the title of his latest book, it is the embodiment of more than 30 years spent in the CIA's Directorate of Operations. From breaking KGB surveillance and tapping underground communication cables in the black of night in Moscow to leading spy missions in Austria and Mexico, Olson's assignments have led him across the globe to some of the most critical positions and operations in intelligence—some of which have inspired literature and filmmaking alike. Article continues here.
---
Washington Hears Echoes of the '50s and Worries: Is This a Cold War With China? Incursions into Taiwan's air zone, a space launch and what looked like a prisoner swap raise a question that is about more than just semantics. It could signal a dangerous new mind-set. Oct. 17, 2021 - Updated Oct. 19, 2021, New York Times.
Unlike the Cold War with the Soviet Union, one with China would most likely encompass technological and economic competition as well as the classic military rivalry.
When Kevin Rudd, the former Australian prime minister and longtime China expert, told a German newsmagazine recently that a Cold War between Beijing and Washington was "probable and not just possible," his remarks rocketed around the White House, where officials have gone to some lengths to squelch such comparisons. It is true, they concede, that China is emerging as a far broader strategic adversary than the Soviet Union ever was — a technological threat, a military threat, an economic rival. And while President Biden insisted at the United Nations last month that "we are not seeking a new Cold War or a world divided into rigid blocs," his repeated references this year to a generational struggle between "autocracy and democracy" conjured for some the ideological edge of the 1950s and '60s. Yet the question of whether the United States is entering a new Cold War is about more than just finding the right metaphor for this odd turn in superpower politics. Governments that plunge into a Cold War mind-set can exaggerate every conflict, convinced that they are part of a larger struggle. They can miss opportunities for cooperation, as the United States and China did in battling Covid-19, and may yet on the climate. And the issue of whether this is a Cold War, or something quite different, lurks just beneath the escalating tensions over economic strategy, technological competition and military maneuvers — undersea, in space and in cyberspace. Article continues here.
---
---
Intelligence Matters: A CBS News original national security podcast hosted by former CIA acting director and CBS News national security contributor Michael Morell. Morell is crisp, precise, cautious, fair, avoids political slant, and provides remarkable insights. Not to miss.


The most recent "Intelligence Matters" podcasts/interviews by or with Mike Morell:

Oct 20 | The Syria Conflict: Former CIA Analyst David McCloskey
In this episode host Mike Morell speaks with David McCloskey, a former CIA analyst and author of Damascus Station, a spy novel centered on the civil war in Syria. Morell and McCloskey discuss the history of the Syrian conflict and the United States' engagement there, including key inflection points and how policy decisions made during the Obama administration paved the way for realities on the ground today. McCloskey details his time as an analyst at the agency and decision to become an author

Other recent "Intelligence Matters" podcasts to stream or download:
Oct 13 | CIA Chief Historian David Robarge on Pivotal Global Events
Oct 6 | Hayden Center Panel on Intelligence and War in Afghanistan
Sep 29 | The Insurrectionist Movement in the United States: Professor Robert Pape
Sep 22 | Remembering 9/11 9/11, the CIA, and Afghanistan: Part 2
Sep 15 | Remembering 9/11 9/11, the CIA, and Afghanistan: Part 1
More about Intelligence Matters by Michael Morell here. Podcasts also available here.
---
Cyberblog by Steptoe & Johnson LLP
THE LATEST — By Stewart Baker on Oct 25, 2021
Episode 380: The FBI Laughs Last
The episode begins with Michael Ellis taking a close look at the takedown of the ransomware gang. It's a good story for the good guys, as REvil seems to have been brought down by the same tactic it used against so many of its victims – malware that lingered in the backups it used to restore its network. I note that this seems to be a continuation of efforts that were interrupted in the early summer – and led to a lot of criticism that the FBI had prioritized its intrusion and takedown over giving victims the decryption key. Looks like the FBI is getting the last laugh.... Continue Reading
Some Prior Conversations:
Episode 379: LinkedIn, Slinkedout: Microsoft and China
Episode 378: The Federal Government is Getting Creative in Regulating Technology
Episode 377: Ransomware – Death and Diplomacy
Episode 376: AI Dystopia: Only the Elite Will Escape the Algorithm
Episode 375: China, U.S. Tech Policy: "Let Thousand Hands Throw Sand in the Gears."
---
The Arkin Group's Oct 22 "In Other News" letter to private clients by former Deputy Director, Operations Officer Jack Devine features...
Russia accused of weaponizing gas supplies amid Europe's ongoing energy crisis.
ISIS-K continues to challenge Taliban authority with steady stream of destructive attacks.
Venezuela-US tensions rise after extradition developments of two key Venezuelan figures.

Follow link here to read analyses and predictions given to their private clients on the topics above.

Jack Devine's Spymaster's Prism was released earlier this year. The book has just been released on audio from Tantor or Amazon. AFIO's interview with him about this book appears at this link. Or hear the podcast here.
---
Inside the SCIF: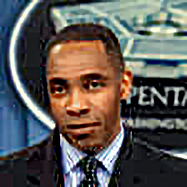 Inside the SCIF by JJ Green, WTOP - Issue #135, 21 Oct has details on... Theories Playing Down the Havana Syndrome Trigger Outrage from Victims; FBI Visit to Residence of Oleg Deripaska -- Driven by Sanctions or GRU activities in US?; Climate Change and Looming Security Problems as seen by Biden Admin; Is Russia Winning Disinfo War?; NK Reassures US Recent Missile Tests not Targeting It; Moscow in Partial Lockdown; Cyber-Espionage Against Telecom; FBI Smoked Aspiring "Submarine Secrets" Spy from his Lair; and more.

Target USA Podcast 302 is on: The CIA's new China Mission Center: How will it work?
Ambassador Joe Detrani, who was the Director of CIA East Asia Operations, joins us to talk about the threat from the PRC's aggressive actions, China's objectives, and how the center would benefit CIA activities.

And "The Hunt" explores: FBI Searches for American Hostages in Haiti
An FBI tactical team has been sent to Haiti to assist in the search for 16 Americans and one Canadian who were taken hostage by a criminal gang. In this week's episode of "The Hunt, with WTOP National Security Correspondent J.J. Green," retired FBI Special Agent Tom O'Connor, now head of Fed Squared Consulting, explains how the team does its work.
---

Details on the Virtual Education Programs of the National Cryptologic Museum Foundation are available here Other NCF Events can be found here on NCF website here, and CCH website here.
---
---
---
Members... Cast Your Ballot for 2022-2025 AFIO National Board of Directors

Voting closes midnight EST 24 December 2021
---
Released exclusively to members ...
Panel on Pending Intelligence Legislation to Curtail "Formers"
from "Sharing" [Selling] Secrets to Foreign Governments and Other Entities

Released 26 October 2021
Panel on Proposed Legislation Restricting "Formers" from Sharing Classified Methods with Foreign Employers.
Panel Session held Friday, 22 October 2021 with The Honorable Mike Rogers, former Chairman of HPSCI; Christopher Bing, Cybersecurity Reporter, Reuters who broke story of "Project Raven"; with hosts Stewart Baker, former General Counsel, NSA, AFIO Chairman; and James Hughes, former CIA DO, AFIO President.
The panel discussion runs 31 minutes.
Intelligence Legislation and Policy Panel discussed recent concerns regarding former military and intelligence officers working for foreign governments and sharing still-classified sources and methods.
Chris Bing of Reuters broke the story of "Project Raven" - about former U.S. Intelligence Officials, Ambassadors (mainly politically-appointed), and other officials with former – and in many cases still current – access to classified, highly sensitive tools and capabilities, training and methods, who were selling the information through corporate contracts with foreign governments and other entities. The activities were so alarming and seen as unethical (albeit a loophole which is not currently proscribed by law), it led to criminal investigations, indictments, and plea agreements. Congress is now seeking new legislation to curtail such activity.
Access the Panel Session here or click above image.
TO LEARN MORE: Section 308 of the draft Intelligence Authorization Act for Fiscal Year 2022 (aka "the House bill") can be found here. See pages 32-40. Christopher Bing, the cybersecurity reporter at Reuters, may be reached here or by voice at 240-688-7636.
---
---
Click title above or here to view the public and member-only interviews in the AFIO Now series.
Or view the publicly-release-only interviews on our YouTube page. Or listen to the podcast version at the links below.
Newest podcast: Marc Polymeropoulos discusses his new book, "Clarity in Crisis," his tours in high risk zones, and the mysterious 'Havana Syndrome' - of which he is one of its victims
PODCASTS: AFIO NOW content is also available on various podcasting platforms. Search for 'AFIO Podcast' for a selection of public released videos on Podbean; iTunes; Google; Spotify; Amazon Music; Amazon TuneIn + Alexa; iHeartRadio; and Pandora
Log into the Member-only area to view private and public interviews.
---
---
Newly Released, Overlooked, or Forthcoming Books
From Warsaw with Love: Polish Spies, the CIA, and the Forging of an Unlikely Alliance
by John Pomfret
(Henry Holt and Co, Oct 2021)
An eye-opening account of America's relations with Poland and its intelligence service. Examines the unlikely and underreported alliance forged by the U.S. and Poland dating back to the 1980s, even as Poland was under the thrall of the Soviet Union. Conveys the comity and respect each country's intelligence community had for the other even in the middle of the Cold War, which would enable the U.S. to rely on Poland's important intel on the Soviet Union, Iran, and North Korea, for instance, while enabling Poland to rely on the United States to clear the way, with surprising delicacy, for Poland's membership in NATO. Draws strong portraits of principal spies and diplomats on both sides, and recounts significant events, including Poland's daring rescue of six high-value American diplomats from Kuwait during the Gulf War. —Publisher Weekly excerpts
Book may be ordered here.
---
Zero-Sum Victory: What We're Getting Wrong About War
by Christopher D. Kolenda
(University Press of Kentucky, Oct 2021)
"Chris Kolenda is a rarity: a US Army commander who fought in Afghanistan and then spent years jump-starting peace talks with the Taliban. His rigorous and unsparing assessment of what went wrong during the longest war in American history deserves widespread attention."―Craig Whitlock, author of The Afghanistan Papers: A Secret History of the War
Why have the major post-9/11 US military interventions turned into quagmires? Despite huge power imbalances in the United States's favor, significant capacity-building efforts, and repeated tactical victories by what many observers call the world's best military, the wars in Afghanistan and Iraq turned intractable. The US government's fixation on zero-sum, decisive victory in these conflicts is a key reason why military operations to overthrow two developing-world regimes failed to successfully achieve favorable and durable outcomes.
Kolenda identifies three interrelated problems that have emerged from the government's insistence on zero-sum victory. First, the US government has no organized way to measure successful outcomes other than a decisive military victory, and thus, selects strategies that overestimate the possibility of such an outcome. Second, the US is slow to recognize and modify or abandon losing strategies; in both cases, US officials believe their strategies are working, or claim they are, even as the situation deteriorates. Third, once the US decides to withdraw, bargaining asymmetries and disconnects in strategy undermine the prospects for a successful transition or negotiated outcome.
Relying on historic examples and personal experience, Kolenda draws thought-provoking and actionable conclusions about the utility of American military power in the contemporary world -- insights that serve as a starting point for future scholarship as well as for important national security reforms.
"The most thoughtful analysis yet of America's recent conflicts – and future challenges. Chris Kolenda, a veteran of both battlefield and bureaucratic combat, provides an account of Iraq and Afghanistan that is simultaneously brilliant, depressing, and deeply instructive. The best teams learn from their defeats. Hopefully, we will also. Zero-Sum Victory is a great place to start."―General Stanley A. McChrystal (USA, Ret.), co-author Team of Teams
Book may be ordered here.
---
Fooled by the Winners: How Survivor Bias Deceives Us
by David Lockwood
(Greenleaf Book Group Press, Oct 2021)
"Lockwood's clear and brisk style breaks down complex ideas ...readers eager for a better grasp on complex mathematical principles or who enjoy big ideas will find this an accessible explanation of survivor bias and how it can cloud our thinking." -- BookLife by Publishers Weekly
"An eye-opening account of an irrational mistake with broad implications…Lockwood sets out to provide an accessible introduction to survivor bias, one shorn of academic jargon and instead reliant on "concrete real-world examples., and in this he roundly succeeds. Further, he makes a compelling case for the ubiquity of the error, one that has far-reaching consequences, causing both sloppy reasoning and the opportunistic exploitation of individuals and groups." -- Kirkus Reviews
A panoramic study focuses on survivor bias, a pervasive failure of reason that deeply distorts people's views of the world. survivor bias—a "cognitive failure" that involves a myopic overemphasis on success to the relative exclusion of failure—encourages all kinds of inferential missteps. "We are misled because we focus on the winners, the successes, and the living and lose sight of those who have lost, the failures, and the dead. By failing to adjust for survivor bias, we reach the wrong conclusions," the author asserts. Psychologically, the tendency toward survivor bias results from an excess of optimism, the inclination to "attribute success to skill rather than luck," to believe in the power of expert effort over the vagaries of chance. Lockwood supplies a sweeping account of the expressions and effects of the bias, ranging from the pharmaceutical and financial industries to war. Survivor bias "warps our view of the past"—this explains why the horrors committed by Hitler's Germany are so well documented in comparison to those by Mao's China.
Book may be ordered here.
---
The Latest... from Jeff Stein's provocative "SpyTalk" series...
Oct 25: "Frenemies: How the CIA and Polish Spies Went from Bitter Rivals to Post-Cold War Comrades" by Elaine Monaghan
From Warsaw With Love is a basket of entertaining spy stories with hard lessons for wannabe US allies.

Oct 20: "Mossad's New Boss is a Gadget-Loving Killing Machine" by Jonathan Broder
David Barnea warned Iran the "long arm of Mossad" isn't finished with it.

Oct 15: "Dems Launch Preemptive Strike on Gates '60 Minutes' Spot" by Jeff Stein
DNC knocks the former defense secretary on Afghanistan, defends Biden on pullout

Oct 14: "CIA Puts a Public Target on China's Back" by Jeff Stein; interview of Shane Harris
The story behind the spy agency's unusual p.r. move, plus Inside dope on a Secret Service burnout report

Oct 7: "For Your Eyes Only" by Jeff Stein - Podcast
A remarkable coincidence between the latest 007 flick and a hacked extremist server
Includes interviews or co-hosts Jeanne Meserve, Heidi Beirich, James Grady

Oct 3: "Flynn Secretly Paid $200,000 in Middle East Nuclear Scheme—Report" by Jeff Stein
Dutch newspaper NRC Handelsblad dug up internal audit documents revealing more unreported payments in wild scheme for Arab power plants

Readers, for a brief time, can subscribe for free for articles and weekend podcasts here.
---
NEW ITEMS FOR SALE AT AFIO FOR MEMBERS...
NEW: PopSocket for cellphones or tablets
Show your support to AFIO while enjoying the convenience offered by our AFIO Logo PopSocket. The PopSocket is most commonly used as a stand and as a grip for your mobile phone or tablet; handy for taking selfies, watching videos, and for texting. The PopSocket looks like a small button or sticker which, when closed, sticks flat to your mobile device. However, its accordion-like design enables it to pop open for use. The benefits of using a PopSocket make it a must-have accessory for your mobile phone or tablet. It also aids in keeping your phone from slipping off your hand during use, falling, or breaking.
Price: $15. Order this and other store items online here.
---
Caps - Dark Navy with Navy AFIO Logo

An authentic silhouette with the comfort of an unstructured, adjustable fit.
Fabric: 100% cotton. Unstructured.
Fabric strap closure with adjustable D-clip
Price: $30. Order this and other store items online here.
---
Duffel Bags - Royal Blue and Black with Full Color AFIO Logo This duffel has it all when it comes to value, style and organization.
600 denier polyester canvas with polyester double contrast; D-shaped zippered entry for easy access. Front pocket with hook and loop closure. End mesh pocket Easy-access end pockets. Four durable, protective feet and built-in bottom board for added strength. Web handles with padded grip. Detachable, adjustable shoulder strap.
Dimensions: 11"h x 19.75"w x 9.75"d; Approx. 2,118 cubic inches
Price: $50. Order this and other store items online here.
---
NOW ON CLOSE OUT SALE: Short-Sleeved Shirts with embroidered AFIO Logo are on final sale. [These must be ordered via email or phone...instructions below picture]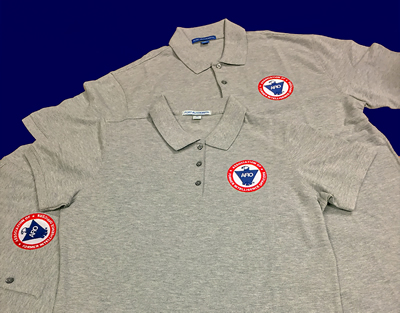 Reduced for sale items: all sizes of ladies' grey short sleeve polo shirts are being discontinued. Sale price $25 (regular price $45).

Limited number/limited sizes of grey short-sleeve men's polo shirts. The color is being discontinued. Sale price $25 (regular price $45).

For any of these discounted items, email annettej@afio.com to place order. These discounts are not available via our online store form.
You may pay by check or credit card. ONLY phone or email orders are accepted for these discontinued items. Call 703-790-0320 or contact Annette at annettej@afio.com.
---
One of the special benefits of membership in AFIO: access to CIA's inhouse gift shop — the EAA Store.

It requires a quick preapproval process described here to all newly joined and current AFIO members. And then allows you to purchase directly from the EAA online for their unusual logo'd gift items for self or colleagues. At left is the latest photo EAA released on Oct 22 featuring some of their newest items.



---
---
Visit, Follow, Subscribe to AFIO's LinkedIn, Twitter, and YouTube pages to receive updates.
Members who use social media or wish to explore, will find new announcements and other material on AFIO's Twitter and LinkedIn pages. New videos on our YouTube page appears below as well.
Access them here: LinkedIn, Twitter, and YouTube. By following or subscribing on those sites, one can be notified as new material appears.




PODCASTS: Are you too busy to sit and watch an entire "AFIO Now" episode above on YouTube? Would you rather listen in your car or while accomplishing other tasks? Now you can quickly download or stream episodes on your favorite podcasting platform. AFIO is now available on 8 podcasting platforms. Search for 'AFIO Podcast' for a selection of the interviews above (public released ones) on Podbean; iTunes; Google; Spotify; Amazon Music; Amazon TuneIn + Alexa; iHeartRadio; and Pandora.
---
---
Section I - INTELLIGENCE HIGHLIGHTS

FBI Testifies About Xu's Texts, Emails. The head of the FBI's counterintelligence unit in Southern Ohio testified on Monday that Chinese intelligence agents downloaded 200 family photos of a GE Aviation engineer before meeting him in 2017, to intimidate him to become a spy.

"I think it shows they took the time to learn about their target," FBI supervisory special agent Bradley Hull said. "The presence of over 200 images brought to a meeting in a foreign country could be used as a manner of coercion... he still has family in China."

Hull has spent three days on the witness stand laying out the espionage case against alleged spymaster Yanjun Xu, and enduring cross-examination about its possible weaknesses.

The historic case is being heard in U.S. District Court in Cincinnati because it centers on Evendale-based GE Aviation. [Read more: Christian/WCPO/25October2021]

Sri Lanka: State Intelligence Service Chief Lodges Complaint Against Fr. Cyril Gamini. Director of State Intelligence Service, Major General Suresh Sallay today (25) lodged a complaint with the Criminal Investigations Department (CID) against leading Catholic priest, Reverend Father Cyril Gamini over a number of malicious allegations purportedly made by the priest and others in connection with the Easter Sunday attack in 2019.

Father Cyril Gamini participating in a forum through Zoom on 23 October 2021 regarding the Easter Sunday attack has reportedly alleged that the Sri Lankan intelligence units had provided financial and other vital assistance to the leader of the National Thowheed Jamath, Saharan Hashim, who led the suicide attacks on Easter Sunday in 2019.

The Catholic Priest has said that Major General Sallay, who was a Brigadier at the time, played an active role in nurturing Saharan and his followers. [Read more: ColomboPage/25October2021]

Turkish Media Publishes Photos of 15 Men Arrested as Alleged Mossad Spies. Turkey's Sabah daily on Monday published photos of 15 men that the newspaper alleges spied for Israel's Mossad intelligence agency and were arrested by authorities earlier this month.

The photos appear to be mugshots of the men taken by Turkish authorities and are accompanied by initials claiming to represent their names. No further details were reported by the paper.

According to a Sabah report last week, the arrests took place on October 7, following a year-long National Intelligence Organization (MIT) operation involving some 200 Turkish intelligence officers who tracked down the alleged spies. [Read more: TimesOfIsrael/25October2021]

'Profound Changes': CIA Director William Burns Discusses the Future of U.S. Security and Intelligence. Central Intelligence Agency (CIA) Director William Burns warned that the United States is in a period of flux due to "profound changes" in relations between world powers at a Wednesday discussion in Encina Hall.

Burns joined his former colleague and Freeman Spogli Institute for International Studies Director Michael McFaul for a discussion on national security and Burn's vision for the CIA. Burns, a career diplomat and former U.S. ambassador to Russia and Jordan, became the eighth director of the CIA in March.

Burns said that the present-day "is one of those moments of transition for the United States that comes along two or three times a century."

He attributed this transitional period to "profound changes" in relationships between world powers, especially given the recent rise of China, though Burns said that it is critical for U.S. intelligence efforts not to neglect more familiar challenges such as those involving Russia, Iran, North Korea and terrorism. [Read more: Ngalande/TheStanfordDaily/20October2021]

Pakistan's PM Approves Appointment of New Spy Chief. Pakistan's prime minister on Tuesday approved the appointment of the country's new spy chief, a government statement said, ending speculation about his differences with the military.

The appointment of Lt. Gen. Nadeem Anjum as the head of the Inter-Services Intelligence agency is likely to defuse weekslong tension between Imran Khan and army chief Gen. Qamar Javed Bajwa.

On Oct. 6, Bajwa named Anjum to replace ISI chief Lt. Gen. Faiz Hameed. Anjum was serving as the army's corps commander in the southern port city of Karachi.

Hameed has been appointed corps commander in the city of Peshawar by Bajwa this month. [Read more: AP/26October2021]


---
Section II - CONTEXT & PRECEDENCE

Taiwan Emerges as a 'Pre-eminent Issue' For CIA's New China Directorate. A possible Chinese takeover of Taiwan is "one of the No. 1 issues" occupying the new China Mission Center, CIA deputy director David Cohen said on Sunday at an intelligence community conference in Georgia.

In March, then-INDOPACOM commander Adm. Philip Davidson told the Senate Armed Services Committee that the Chinese threat toward Taiwan could "manifest...in the next six years." Davidson has since left the command but other senior military officials have since reiterated that estimate Defense One on background.

Cohen, who appeared virtually at the Cipher Brief conference here, declined to comment specifically on Davidson's six-year figure but did say that Taiwan has emerged "as one of the pre-eminent issues in our kind of analysis, trying to understand precisely how [Chinese leader] Xi Jinping is thinking about Taiwan, how is he thinking about it in relation to the [20th Chinese Communist Party Congress] that's coming up [in 2022], extended in relation to that comparative strength of Chinese military and U.S. military." [Read more: Tucker/DefenseOne/25October2021]

FBI Washington Field Office and U.S. Department of State's Diplomatic Security Service's Office of Special Investigations Seek Information Regarding Serial Sexual Offender and Former CIA Employee Brian Jeffrey Raymond. The FBI Washington Field Office and the U.S. Department of State's Diplomatic Security Service (DSS) Office of Special Investigations are asking for the public's assistance in seeking information about serial sexual offender Brian Jeffrey Raymond.

Brian Jeffrey Raymond, 45, pleaded guilty in July 2021 to two counts of sexual abuse, in which the victims were incapable of consent, and one count of transporting obscene material.

The investigation into Raymond began on May 31, 2020, when a naked woman was seen screaming for help from the balcony of Raymond's residence in Mexico City. Raymond admitted to having sexual intercourse with her, but the woman reported that she had no memory of events after consuming drinks and food provided by Raymond. [Read more: FBI&DOS/25October2021]

The Legal War in "Prince V. Spy". An international case of "he said, he said" is playing out in court, and the stakes are high.

Saad Aljabri, a former top Saudi intelligence official, says in legal filings that he was marked for murder by Mohammed bin Salman, Saudi Arabia's crown prince. In response, the crown prince alleges that Aljabri misspent or stole billions of dollars of Saudi money. Meanwhile, the head of the U.S. intelligence community is concerned that the legal battles will reveal American state secrets as the court cases wear on.

There are three key lawsuits in this "prince v. spy" fight, one in Canada and two in the United States. Below is a short guide to these lawsuits and some of their key documents. [Read more: Schuster/CBSNews/24October2021]

Cash-Starved North Korea Eyed in Brazen Bank Hack. Think Ocean's 11 - only the robbers are cash-starved, nuke-thirsty North Koreans and their weapons are keyboards, not explosives and guns.

In the latest efforts to fund Kim Jong-Un's nuclear ambitions, hackers suspected of working for the North Korean government appear to have slithered their way into the computer networks of an Indonesian bank in an apparent attempt to pull off a megaheist to fund regime goals, The Daily Beast has learned.

It was around February of 2020 when the hackers, suspected of working for North Korea's military intelligence agency - the Reconnaissance General Bureau (RGB) - are believed to have targeted the networks of Bank Rakyat Indonesia, cybersecurity researchers that have studied the malware culprit told The Daily Beast. [Read more: Vavra/TheDailyBeast/26October2021]

Wreck of US Ship that Hunted Nazi Spies in the Arctic Finally Discovered. Ocean scientists have located the wreck of the U.S. Revenue Cutter Bear - a ship that served at sea for at least 88 years and played a part in the famous capture of a Nazi spy ship.

The Bear has a storied history: It started working as a commercial sealer in 1874. Then, because the ship could travel through ice-filled waters, the government purchased it in the 1880s to use for rescue work in the Arctic. It also served as a relief ship during the Spanish flu pandemic of 1918-1919, a floating museum, a film set for a Hollywood movie and an expedition ship on Adm. Richard Byrd's Antarctic explorations.

It also patrolled Arctic waters for the U.S. Navy in both world wars, and in 1941 it helped capture the Norwegian trawler Buskø, which was being used by the German military intelligence service Abwehr to report on weather conditions in the North Atlantic. [Read more: Metcalfe/LiveScience/25October2021]


---
The CIA's Next Mission: Strategic Competition with China and Russia. For the last 20 years the Central Intelligence Agency, like the entirety of America's national security infrastructure, focused on the global war on terrorism. As that period concludes or at least fades from the central feature, the CIA, like the Department of Defense, is now pivoting to strategic competition with Russia and China. This presents new organizational and operational challenges but is absolutely critical.

If America is to succeed in this multi-faceted, dynamic era of competition with Moscow and Beijing, the CIA must remain at the forefront, and adapt and be resourced accordingly.

As part of this pivot, in early October, William Burns, the director of the Central Intelligence Agency, announced the creation of new mission centers to address China and transnational threats such as pandemics and climate change. The changes announced by Burns follow just six years after his predecessor, John Brennan, announced a similar reorganization of the agency into 10 mission centers, and just four years after Director Mike Pompeo announced the creation of Iran and Korea mission centers, both of which will be absorbed by larger Near East and East Asia centers, according to reports. The goal of both organizational changes was to bring officers and analysts closer together and to streamline the agency's activities.

Modeled on and informed by the Mission Center for Counterterrorism, these centers were intended to streamline collection, targeting, analysis and dissemination under mission-focused groupings. [Read more: Huminski/TheHill/20October2021]

How Pakistan Won in Afghanistan. The collapse of the Afghan republic was no accident. It was the culmination of many collective failures, but at the heart of the tragedy was the role played by one country: Pakistan.

Pakistan has long followed a dual-track approach in Afghanistan, hosting the Taliban on its soil while ostensibly working as a U.S. counterterrorism partner. When the Doha peace talks began in 2019, Islamabad vowed to facilitate a political deal between the Taliban and non-Taliban Afghans, yet its actual role was ambiguous. In Afghanistan, Pakistan's spy agency, the Inter-Services Intelligence agency, or ISI, shrewdly expanded the scale and scope of its covert campaign in support of the Taliban.

Afghan President Ashraf Ghani was convinced that the road to peace ran through Pakistan - specifically through Islamabad (the political capital), Quetta (the Taliban haven) and Rawalpindi (the military and intelligence center). Afghan leaders proceeded from the assumption that Pakistan would choose an imperfect settlement with the Taliban over state collapse. This assumption was initially borne out, but when Washington announced a complete troop withdrawal in April, Islamabad changed its tune. [Read more: Ahmad/WallStreetJournal/26October2021]

When the U.S. Needed Secret Help in Iraq, Who did it Call? Poland, of Course. In the fall of 1990, after Saddam Hussein invaded Kuwait but before Operation Desert Storm was ready to take it back, the CIA needed to exfiltrate six American officers from the besieged embassy in Baghdad. Their intel about Desert Storm (among other things) made them targets for capture by Hussein's forces, with torture or worse to follow, and only a covert operation would have any hope of getting them safely out of the country. Desperate, the CIA turned to the Office of State Protection, or UOP, the Polish intelligence agency. Only months before, the newly ex-communist Poles held clandestine meetings with the CIA to explore ways to share intelligence and cooperate going forward, but this was something else - a full-blown field operation with high-risk stakes and potentially fatal consequences. The Poles jumped at it.

The exfiltration, complete with disguises (as Polish engineers), false passports and cartons of Marlboros to ease their way through roadblocks, is the dramatic centerpiece of "From Warsaw With Love: Polish Spies, the CIA, and the Forging of an Unlikely Alliance," and author John Pomfret makes the most of it. But it's also the curtain opening of the larger story he wants to tell, the remarkable partnering of two intelligence agencies that went from being adversaries to being allies, often with the same players in place.

And not just nominal allies. Other secret operations were to follow, as well as significant intelligence exchanges. [Read more: Kanon/WashingtonPost/20October2021]


---
Section IV - Research Requests, Jobs, Obituaries
Group Formed - "Rafiq: Friends of Afghans" - to Support the Departure/Rehabilitation/Resettlement of Abandoned Former Colleagues
My name is Max Fratoddi, a retired FBI FCI/CT Agent (and USMC RVN veteran) who worked with many USIC members over my 25 year career. I am a long term member of AFIO, originally sponsored by the beloved CIA OPs Officer Jack Platt (RIP). More recently, I spent some 6 1/2 years in Afghanistan as a (rotating) contractor mentor to Afghans serving in a unique joint training command under specialized government-to-government MOUs. Some 100 of them (not including families) were left behind with our hasty departure.
"Rafiq - Friends of Afghans" was formed in early August by a number of retired intell community, law enforcement, and military SpOps personnel with many years of experience in working directly with various Afghan National Security Forces personnel. Compared to the many other organizations with similar interests, we are a low-key, non-profit organization whose mission is to quietly support the departure, rehabilitation, and resettlement of our former colleagues to the U.S. I welcome a discussion to determine if there are legitimate collaboration, coordination, and cooperation opportunities with our membership. I can be reached at gmfratoddi@yahoo.com or at 843-540-2026. This request does not constitute an official endorsement by AFIO or any U.S. government agency. Thanks for your interest and support.
Seeking Former CIA Officers who knew Abu Bakr al-Baghdadi, others in ISIS, or King Hussein of Jordan, to assist Israeli Journalist with Documentary
My name is Hadar Gat, I'm a journalist from Israel, currently working on the second season of a documentary series about the most influential Arab leaders in the middle east.
It's an international production, broadcasted on Kan Israeli channel (IPBC).
The documentary series provides a profound profile analysis of leaders in the Arab world, and is one of the leading document series of IPBC.
Each episode is covering the history and profile of a different leader, and reviewing his personality and actions from every aspect possible. Especially the way he was grasped through the eyes of different Intelligence agencies.
I'm contacting [AFIO] because in one of the episodes we are focusing on Abu Bakr al-Baghdadi, and ISIS itself.
We are also doing an episode about King Hussein of Jordan. So I'm looking for former CIA agents/officers who met him or people who are relevant to his time period, and can help us shed some light on his character and relations with the Western world. Can AFIO Members help me with that? We wish to interview former CIA or other IC officers relevant to either of these matters. I'm available for any questions and more details, so feel free to contact me at any time.
Looking forward to hearing from you.
Replies to Hadar Gat, 972-50-4800-306 or hadargat8@gmail.com
Chenega Enterprises and Solutions (ChESS) LLC is identifying Subject Matter Experts(SME) for potential FBI SME Contract work soon to be awarded.
The FBI is looking for Counterintelligence SME to support the FBI Counterintelligence Foreign Investment Unit (FIU).
The FBI is looking for Counterintelligence Training SME to support the FBI Counterintelligence Training Center (CITC). CITC is tasked with training field agents, supervisors and non-agent personnel in CI investigation.
The FBI is seeking an Counterintelligence SME with extensive knowledge in the East Asia region.
TO APPLY OR EXPLORE: Please contact Jessica Lewis, Jessica.Lewis@chenega.com for additional information.
---
Jim McRae - DIA Intelligence Analyst
James Alan McRae, 90, DIA Intelligence Analyst, died 4 October 2021 in Arlington, VA.
Jim was born in Minneapolis, MN. Jim was relied upon at a young age to support his mother and serve as a father figure for his younger brother. As he did throughout all aspects of his life and with everyone he met, Jim embraced that role with his selflessness, generosity, and his inherently caring nature.
After high school, Jim attended the University of Minnesota, graduating in 1954 with a Bachelor of Mechanical Engineering degree. Jim worked for Honeywell Corporation in its Military and Aerospace divisions in both Minneapolis and Washington, DC. While at Honeywell, Jim also attended George Washington University where he earned his Master of Engineering Administration degree in 1966. Jim began work at the U.S. Department of Defense as an Intelligence Analyst within DIA. After a long and successful career, he retired from DIA in 1994.
Jim was an avid snow-skier and skied in the US, Canada, France, Switzerland, and Austria as member of the Arlington Hall Ski Club, and also enjoyed sailing on the Chesapeake Bay. He also read widely. He was an active member of Rock Spring Congregational UCC in Arlington. With his wife of 32 years, Peggy Collier, their travels took them to Europe, Russia, China, Israel, Egypt, Turkey, Canada, and Costa Rica. They enjoyed symphonies, operas, and other performing arts events in the D.C. area and were active members of the Royal Scottish Country Dance Society.
One of Jim's favorite pieces of advice was: "What do you do? You do the best you can with what you've got!" Jim most certainly did just that during his life, and he touched the lives of so many people along the way.
His wife predeceased him. He is survived by other family.
John O'Hara - NSA Senior Officer
John Henry O'Hara PhD, 87, NSA Senior Officer, died 11 October 2021 in Bowie, MD.
Known for seemingly unlimited energy, keen intellect, and immense generosity with his time, he successfully applied his drive to many areas that improved the lives of his family, friends and fellow citizens. Born and raised in the tiny western Pennsylvania town of Bunola, John joined the US Air Force at the age of 17. He graduated with a bachelor's degree in Electrical Engineering from the University of Arizona and began a career that led to 56 years at the National Security Agency. He was elevated to senior executive and served in several high-level leadership capacities. He earned master's degrees from the University of Pennsylvania and the National War College and a PhD from the Catholic University of America.
A well-known promoter of nonsmokers' rights, John founded the Bowie Group Against Smokers' Pollution (GASP), which later became Maryland GASP and served as its president for many years. He successfully facilitated nonsmokers' rights legislation in Maryland; other states soon followed. His thoroughly researched, technically sound and well-delivered testimony proved persuasive in numerous legislative hearings.
A fitness enthusiast, he participated in a variety of athletic events well into his later years. He was an avid long-distance runner and completed seven marathons, including Boston and New York. He treasured the outdoors and loved fishing, camping, hiking and biking. He was also an accomplished figure skater, appearing in local ice shows. He was a diehard Pittsburgh Pirates and Steelers fan while he also rooted for local teams of the Washington/Baltimore area.
John is survived by his wife of 60 years, Merrily O'Hara, a son and a daughter, and other family. A Visitation will be held at Beall Funeral Home (6512 NW Crain Hwy., Bowie, MD 20715) on 28 October 2021 from 2 to 4 and 6 to 8 p.m.
Joe Smith - NSA Deputy Director Telecom and Computer Processing
Joseph Clinton Smith Jr, 87, NSA Deputy Director Telecom and Computer Processing, died 15 October 2021 in Melbourne, FL.
Born in Atlanta, GA, he grew up and attended public schools in the Washington, DC suburb of Hillside, MD.
He joined the DC National Guard and went on active duty with the US Army during the war in Korea. In 1951, when he was stationed in the Washington area, he had a small part as a military truck driver in the movie, "The Day the Earth Stood Still."
In 1954 he joined the NSA as a technician's assistant. He worked his way up through various technical and management positions including Chief of an engineering organization, Senior NSA Representative in Thailand, Deputy Office Chief of Operations, and NSA Assistant Deputy Director of Telecommunications and Computer Processing. Although he never received a degree, he did course studies at UCLA, Georgetown University, the Department of Agriculture Graduate school, the University of Maryland, and the National Cryptologic School.
Joe received several awards during his career at NSA. He was awarded the Exceptional Civilian Service Award and medal in 1981 for his work to facilitate the release of the Iranian hostages. In 1985, he was conferred the rank of Meritorious Executive in the Senior Cryptologic Executive Service by President Reagan. He was awarded the rank of Meritorious Executive by President Clinton in 1993 and in March of 1994, he was awarded The National Intelligence Distinguished Service Medal. Joe retired in April 1994 after 41 years of service to his country. He was a proud Lifetime member of the Phoenix Society
In addition to his accomplished career, Joe enjoyed golf, underwater photography, fishing, and hunting. He was a SCUBA instructor, competitive trap shooter, and world traveler who visited all fifty of the states and over 100 countries.
Joe is survived by his wife, Dar, three sons, and other family.
---
AFIO EDUCATIONAL EVENTS IN COMING TWO MONTHS....
Thursday, 4 November 2021, 6:30 pm CDT - Zoom Webinar - AFIO San Antonio Chapter hears from Seth Jones PhD on the Rise of Irregular Warfare and the Change in Global Warfare
Many historians talk about how the military trains for the last war they fought. Well our enemies are not planning for that old war, they are conducting a new type of warfare and the fighting is going on right now!
This program will be an AFIO NOW briefing by Seth Jones PhD. who is very knowledgeable on this type of warfare.
Jones holds the Harold Brown Chair, is director of the Transnational Threats Project, and is a senior adviser to the International Security Program at the Center for Strategic and International Studies (CSIS). He teaches at Johns Hopkins University's School of Advanced International Studies (SAIS) and the Center for Homeland Defense and Security (CHDS) at the U.S. Naval Postgraduate School.
TOPIC: Seth Jones' latest book -- Three Dangerous Men: Russia, China, Iran, and the Rise of Irregular Warfare -- examines how three key figures in Moscow, Beijing, and Tehran, have built irregular warfare campaigns that are eroding American power. Conventional warfare—clashes between large military forces—defined twentieth-century power. But today, facing dominant US conventional and nuclear capabilities, the U.S.'s principal adversaries, Russia, China, and Iran, have adopted a different style of competition. Cyber attacks, covert action, proxy conflicts, information and disinformation campaigns, espionage, and economic coercion—these are the tools of irregular warfare, which will increasingly reshape international politics. In short, the future of warfare is likely to be closer to the Chinese general Sun Tzu than to the Prussian military theorist Carl von Clausewitz. The presentation runs 39 minutes. This is a very timely presentation on attacks that are going on right now.
TIMING: Prior to the virtual presentation using ZOOM you will be sent a link for the program. "Three Dangerous Men" is available from Amazon here.
QUESTIONS or REGISTER: Contact John Franklin, President, AFIO San Antonio Chapter, 210 863-0430 or satxafio@gmail.com
Saturday, 6 November 2021, 11:30 a.m. EDT - Indialantic, FL - AFIO Florida Satellite Chapter Meeting Features Col John Hilliard on "Atlas Missiles, Spy Satellites, and Negotiations with Soviet Union on Arms Contol."
The AFIO Florida Satellite Chapter will be holding an in-person meeting at 11:30 AM, November 6, 2021 at the Hilton Doubletree Hotel in Indialantic, Florida. The speaker is Colonel John Hilliard who will discuss Atlas missiles, spy satellites and negotiations with the Soviet Union on arms control.
For more information contact Larry Sanford here.
Wednesday, 17 November, 2021, noon PST - Zoom-virtual - The AFIO San Francisco Chapter hosts Capt Aynesworth on "Intelligence Challenges of the Movement of International Containerized Cargo."
The "Andre Le Gallo" San Francisco Chapter hosts James L. Aynesworth, Captain, U.S. Navy Reserve (ret); President, Trident Information Services International on "Movement of International Containerized Cargo: Intelligence Challenges."

Registration required to receive a zoom link. Register here.
Qs?: contact Mariko Kawaguchi, Chapter Secretary at afiosf@aol.com.
---
Other Upcoming Events from Advertisers, Corporate Sponsors, and Others
Wednesday, 27 October 2021, 12:00pm – Washington, DC – Elizebeth Smith Friedman: The Woman All Spies Fear – Virtual International Spy Museum Program
During World War I, Elizebeth Smith Friedman cracked thousands of messages, but that was only the beginning of her brilliant career. In the 1920s and 1930s, she pitted her wits against the mob. When World War II broke out, she hunted Nazi spies. Despite her fame, she was a woman of many secrets, and later she was pushed into the shadows. To get the true measure of her hidden life, award-winning historian Amy Butler Greenfield sifted the truth from the misdirections and myths to write The Woman All Spies Fear: Code Breaker Elizebeth Smith Friedman and Her Hidden Life. From the "doll woman" spy to bootleggers, join us for a conversation with Greenfield about the new facts she discovered about the enigma of this astonishing woman's life.
Event is free – registration required. Visit www.spymuseum.org.
Thursday, 28 October 2021, 12:00pm – Washington, DC – Virtual Spy Chat with Chris Costa and Frank Figliuzzi – Virtual International Spy Museum Program
Join us for an online discussion of the latest intelligence, national security, and terrorism issues in the news. Spy Museum Executive Director Chris Costa, a former intelligence officer of 34 years, will lead the briefing. He will be joined by former Assistant Director for Counterintelligence at the Federal Bureau of Investigation (FBI) Frank Figliuzzi, who served for 25 years as a special agent and directed all espionage investigations across the government. Following their discussion of key issues, you'll be able to ask questions via our online platform. Sponsored by the Honorable Mary Beth Long, International Spy Museum, Board of Directors, and by MAG Aerospace.
Event is free – registration required. Visit www.spymuseum.org.
Friday, 29 October 2021, 1015-1330 EDT - Arlington, VA - NIP Fall Luncheon and Membership Meeting
Naval Intelligence Professionals - Fall Luncheon and Annual General Membership Meeting features RADM Curt Copley, USN, Commander, Office of Naval Intelligence.
RADM Curt Copley assumed command of ONI and became Director, National Maritime Intelligence-Integration Office (NMIO) in June 2021. As a Flag Officer he has served as deputy director of operations, National Security Agency; director of intelligence, U.S. Forces – Afghanistan; director of intelligence, U.S. Strategic Command; and deputy chief of special collection operations, National Security Agency. His command tours include U.S. Central Command's Joint Intelligence Center (JICCENT) as well as the Kennedy Irregular Warfare Center (KIWC), Office of Naval Intelligence.
Location: Army Navy Country Club, 1700 Army Navy Drive, Arlington VA 22202
AGENDA: 1015-1100: Annual NIP General Membership and Board Meeting (NIP Members Only); 1100-1200: No-host Social Hour; 1200-1330: Luncheon (with Guest Speaker remarks).
REGISTRATION: $60 per person for current NIP members after login; $475 for table of 8; $35 per person for all O-3 and below, enlisted, GG-11 and below; $80 per person for non-members; Corporate/Industry Sponsor tables $1500. Online registration ends 22 October 2021.
Registration and menu selection online here or www.navintpro.org - or, pay by mail with check (must arrive by 15 Oct and please include entrée selection - Chicken, Salmon, or vegan) to: NIP, PO Box 11579, Burke, VA, 22009
Note: This is the first full luncheon we have been able to hold since the fall 2019 luncheon, prior to the pandemic. Currently, there are no restrictions preventing us from holding this luncheon but in consideration of current DoD policies, we ask attendees to be vaccinated.
Hope to see you there!
NO WALK UPS PLEASE, ONLINE REGISTRATION DEADLINE 26 October 2021.
Wednesday, 3 November 2021, 7 - 8 PM EDT - Zoom Webinar - "The Road from CIA to Congress" - The Hayden Center Presentation

For the first time in history, two former officers of the CIA are serving in Congress together. Join the Hayden Center for this conversation with Reps. Abigail Spanberger (D-VA-7) and Elissa Slotkin (D-MI-8) and learn what drove them to public service, from the cubicles of CIA to the halls of the U.S. Capitol.
Rep. Abigail Spanberger, who serves Virginia's 7th district, was a CIA operations officer from 2006 to 2014, gathering intelligence on nuclear proliferation and terrorism. Rep. Elissa Slotkin, who represents Michigan's 8th district, joined CIA shortly after 9/11, serving as an analyst whose work included three tours in Iraq. Slotkin went on to serve on the NSC staff and as acting assistant secretary of defense for international security affairs from 2015 to 2017. Hear what issues they believe are of paramount concern to Americans both internationally and domestically. And find out what they think of the IC and its performance against today's threats. Moderating the discussion will be Hayden Center senior fellow David Priess PhD, publisher and chief operating officer of Lawfare, the online and podcast source of national security information and insight.
To register, do so here.
Tuesday, 9 November 2021, 11:30 am - 2 pm - Vienna, VA - CIRA Meeting
CIRA holds another in-person luncheon featuring John Edwards, who recently retired as Deputy Chief Operating Officer and is the new President of the CIA Officers Memorial Foundation. He will do a fireside chat with CIRA's President, John Bennett. Questions will be accepted from attendees.
For location, registration, and other information, log into the CIRA website for full details. Or email admin@cira.org.
16 November 2021, 6 pm EDT - Virtual - The OSS Society Conversation features Gen. David Petraeus USA(Ret) and David McCloskey, former CIA Analyst, on his novel Damascus Station
Join General David Petraeus, USA (Ret.) for a discussion with former CIA officer David McCloskey about his new novel, Damascus Station. Called "the best spy novel I have ever read" by Petraeus, the book is set against the backdrop of a Syria pulsing with fear and rebellion and is a gripping thriller that offers a textured portrayal of espionage, love, loyalty, and betrayal in one of the most difficult CIA assignments on the planet. More about this novel is here.
To register for this virtual event, do so here.
Wednesday, 1 December 2021, 5:30 PM VIP Reception / 6:30 PM Progressive Reception & Award Program - Washington, DC - 2021 Webster Distinguished Service Award Event - International Spy Museum
The Spy Museum offers an evening of intrigue for the 2021 Webster Distinguished Service Award event. The award is an opportunity to recognize the extraordinary contributions of individuals in the Intelligence Community. This year's awardee is The Honorable Susan M. Gordon, former principal deputy director of national intelligence. Previous recipients of the Webster Distinguished Service Award include President George H. W. Bush (2017), Admiral William H. McRaven, USN (Ret.) (2018), and Gen. Michael V. Hayden (Ret.) (2019). Webster attendee and sponsor support fuels the nonprofit mission of educating the public about the history and craft of espionage and intelligence through youth and adult programs, community service, and the care of the Museum's unique collection of artifacts for generations to come.
Event will be held at the International Spy Museum.
For tickets, sponsorship opportunities, or information about ways to support the International Spy Museum, please contact the development office at 202.654.2853. Event tickets, other details are available here.
---
In addition to the Royal Blue long sleeve shirts and gray long sleeve hoodies, the AFIO Store has the following items ready for quick shipment:
LONG Sleeved Shirts with embroidered AFIO Logo and Mugs with color-glazed permanent logo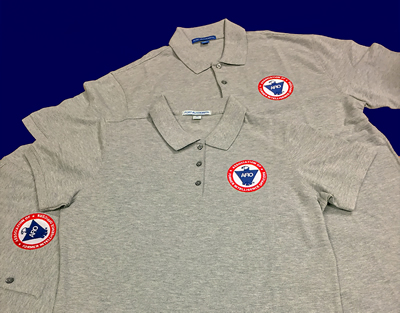 Show your support for AFIO with our long-sleeve Polo Shirts. Dark blue long sleeved shirts are shrink and wrinkle resistant fine cotton with a soft yet substantial feel. They feature a detailed embroidered AFIO seal. Get a shirt for yourself and consider as gifts for colleagues, family, and friends. Only $45 each including shipping.
Sizes of (M) men or (W) women shirts; Small, Medium, Large, XL, XXL, and XXXL. [For short sleeve shirts...they are available on discount of $25 only by email from annettej@afio.com See explanation at top right column of these Weekly Notes.]
You may pay by check or credit card. Complete your order online here or mail an order along with payment to: AFIO, 7600 Leesburg Pike, Ste 470 East, Falls Church, VA 22043-2004. Phone orders at 703-790-0320. Questions? Contact Annette at: annettej@afio.com.
---
AFIO Mug with color glazed logo. Made in America. Sturdy enough to sit on desk to hold pens, cards, paperclips, and candy.
This handsome large, heavy USA-made ceramic mug is dishwasher-safe with a glazed seal. $35 per mug includes shipping. Order this and other store items online here.
---
Guide to the Study of Intelligence and When Intelligence Made a Difference
"AFIO's Guide to the Study of Intelligence" has sold out in hard-copy.
However, it is available in digital form in its entirety on the AFIO website here.

Also available on the website here are the individual articles of AFIO's history project "When Intelligence Made a Difference" that have been published to date in The Intelligencer journal. More articles will be forthcoming in future editions.
---
Disclaimers and Removal Instructions
Weekly Intelligence Notes (WINs) are commentaries on Intelligence and related national security matters, based on open media sources, selected, interpreted, edited and produced for non-profit educational uses by members and WIN subscribers.
REMOVAL INSTRUCTIONS: We do not wish to add clutter to inboxes. To discontinue receiving the WINs:
a) IF YOU ARE A MEMBER - click here: UNSUBSCRIBE and supply your full name and email address where you receive the WINs. Click SEND, you will be removed from list. If this link doesn't open a blank email, create one on your own and send to afio@afio.com with the words: REMOVE FROM WINs as the subject, and provide your full name and email address where you are currently receiving them.
b) IF YOU ARE NOT A MEMBER, and you received this message, someone forwarded this newsletter to you [contrary to AFIO policies]. Forward to afio@afio.com the entire WIN or message you received and we will remove the sender from our membership and distribution lists. The problem will be solved for both of us.
CONTENTS of this WIN [HTML version recipients - Click title to jump to story or section, Click Article Title to return to Contents. This feature does not work for Plaintext Edition or for some AOL recipients]. If you wish to change to HTML format, let us know at afio@afio.com. The HTML feature also does not work for those who access their e-mail using web mail...however NON-HTML recipients may view the latest edition each week in HTML at this link: https://www.afio.com/pages/currentwin.htm
---
WINs are protected by copyright laws and intellectual property laws, and may not be reproduced or re-sent without specific permission from the Producer. Opinions expressed in the WINs are solely those of the editor's or author's listed with each article. AFIO Members Support the AFIO Mission - sponsor new members! CHECK THE AFIO WEBSITE at www.afio.com for back issues of the WINs, information about AFIO, conference agenda and registrations materials, and membership applications and much more!
(c) 1998 thru 2021. AFIO, 7600 Leesburg Pike, Suite 470 East, Falls Church, VA 22043-2004. Voice: (703) 790-0320; Fax: (703) 991-1278; Email: afio@afio.com
---
About AFIO | Membership Renewal | Change of Address | Upcoming Events | Chapter Locations | Corporate/Institutional Memberships | Careers in Intelligence Booklet | Guide to the Study of Intelligence | Intelligencer Journal | Weekly Intelligence Notes | To Make A Donation | AFIO Store | Member-Only Section | Code of Ethics | Home Page
---