---
Section I - INTELLIGENCE HIGHLIGHTS
FBI director asks US businesses to work more closely with the agency to defeat Chinese espionage efforts
The head of the FBI urged US companies on Thursday to develop closer ties with it to counter a "multi-avenue" effort by Beijing to amass enough intellectual property to "become the world's only superpower".

In a virtual address to the Economic Club of New York, Christopher Wray, the director of the US Federal Bureau of Investigation, encouraged its members to establish partnerships with the agency's local offices – before breaches occur like the Microsoft Exchange email server hack discovered earlier this year.

"Too often when we see a cyberthreat and start digging, we find that the same adversary is also working with an unwitting company insider to target … sensitive and proprietary information," Wray said.

He continued: "Or they may be going after it through a foreign-controlled company trying to use a corporate transaction like a joint venture or something as a way to get access to the information."

"Most of the time that threat is coming from the Chinese government or companies under the Chinese government's sway, and to say that they're well resourced would be an understatement," Wray added. "No company is armed to defend against that kind of multi-avenue threat alone and that's why we've got to be working together."

Wray's call to action was the latest in a series of dire warnings he has issued about Chinese espionage since he assumed his role at the FBI in 2017. They have risen in urgency since he told a Senate Homeland Security Committee in 2018 that China poses a greater security threat to the US than Russia did. ...Article continues at South China Morning Post / 29 Oct 2021
New National Cyber Czar — Chris Inglis — is pushing for collective defense inside government and out
The Office of the National Cyber Director wants to bring cohesion to efforts to strengthen computer defenses across a sprawling set of more than 100 civilian agencies even as it seeks to drive more robust cybersecurity in the private sector.
"This is the beginning, not the end" of the attempt to ensure that the United States enjoys a secure and open Internet, said National Cyber Director Chris Inglis in an interview Wednesday laying out a strategic vision for the federal government's newest agency.
Part of that effort may eventually include cybersecurity mandates for critical infrastructure.
"You can't rule that out," said Inglis, who was confirmed by the Senate as the first national cyber director in June and sworn in the following month. "I'm confident that at some point we'll get to that bridge and have to cross it."
He noted that such mandates would have to be set by Congress, and would be done "on an exceptional basis as opposed to a primary tool." Article continues at Washington Post / 28 Oct 2021
DNI Releases Appropriated Budget Figure for 2021 National Intelligence Program - Receives Less Than Requested
The Congress appropriated an aggregate amount of $60.8 billion to the National Intelligence Program (NIP) for Fiscal Year 2021.
The Director of National Intelligence (DNI) discloses this amount consistent with 50 U.S.C. 3306(b), not later than 30 days after the end of the fiscal year.
Beyond the disclosure of the NIP top-line figure, there will be no other disclosures of currently classified NIP budget information. The only exceptions to the foregoing are for unclassified appropriation.
Press release continues at ODNI / 27 Oct 2021. Also see "Intelligence Budget Data" for comparison of National Intel Budget and Mil Intel Budgets - at FAS updated annually.
Diversity Comes to FIVE EYES Pact— 'Nine Eyes' Bill Looks at Adding Four Countries - Japan, Korea, India, Germany - to Intel-Sharing Pact
Democrat Lawmaker says current 'Anglophile view' is insufficient against China.
The United States' "Five Eyes" intelligence-sharing pact is a World War II relic that needs updating to better keep tabs on China, the chairman of a key house subcommittee on intelligence told Defense One.
Arizona Democrat Rep. Ruben Gallego, (D-AZ-7th) chairman of the House Armed Services subcommittee on special operations and intelligence, has added language in this year's defense bill that opens the door for the decades-old pact's first expansion.
The provision would require the director of national intelligence and the Defense Department to report on the current status and shortcomings of intelligence sharing between the "Five Eyes" nations: the U.S., Australia, the U.K., New Zealand, and Canada, and what benefits and risks there would be to adding Japan, Korea, India, and Germany to the trusted group.
"We are very much stuck on this 'Five Eyes' model, which I think is outdated," Gallego said at Defense One and Nextgov's 2021 National Security Forum. "We need to expand the scope. It shouldn't just be such an Anglophile view of sharing."
Article continues at DefenseOne / 2 Nov 2021
---
Section II - IC PODCASTS, COMMENTARY, BLOG UPDATES
Putin's Russia - Former Amb Michael McFaul Speaks with Former Acting D/CIA Mike Morell
Intelligence Matters: A CBS News original national security podcast hosted by former CIA acting director and CBS News national security contributor Michael Morell. Morell is crisp, precise, cautious, fair, avoids political slant, and provides remarkable insights. Not to miss.


The most recent "Intelligence Matters" podcasts/interviews by or with Mike Morell:

Oct 27 | Putin's Russia: Former Ambassador Michael McFaul
In this episode host Mike Morell speaks with Michael McFaul, former U.S. ambassador to Russia and current director of the Freeman Spogli Institute for International Studies at Stanford University. Morell and McFaul discuss Russian President Vladimir Putin's main geopolitical objectives and personal anxieties about the West. McFaul shares behind-the-scenes details of meeting and negotiating with Putin, as well as thoughts on how the Biden administration should approach its relationship with the Kremlin

Other recent "Intelligence Matters" podcasts to stream or download:
Oct 20 | The Syria Conflict: Former CIA Analyst David McCloskey
Oct 13 | CIA Chief Historian David Robarge on Pivotal Global Events
Oct 6 | Hayden Center Panel on Intelligence and War in Afghanistan
Sep 29 | The Insurrectionist Movement in the United States: Professor Robert Pape
Sep 22 | Remembering 9/11 9/11, the CIA, and Afghanistan: Part 2
Sep 15 | Remembering 9/11 9/11, the CIA, and Afghanistan: Part 1
More about Intelligence Matters by Michael Morell here. Podcasts also available here.
---
Raven Mad - The new criminal law HPSCI has proposed for workers at intelligence agencies - Stewart Baker, Dave Aitel, Others at Steptoe Cyberblog
Cyberblog by Steptoe & Johnson LLP — By Stewart Baker on 1 Nov 2021
Episode 381: Raven Mad
In this episode, Dave Aitel and I dig into the new criminal law the House intelligence committee has proposed for workers at intelligence agencies. The proposal is driven by the bad decisions of three intel agency alumni who worked for the UAE, doing phone hacking and other intrusions under the sobriquet of "Project Raven." Dave criticizes the broad language, the assumption that hacking for the government teaches things you can't learn in the private sector, and the use of criminal penalties where reporting obligations would suffice. I plug a podcast on the topic released by AFIO.... Continue Reading
Some Prior Conversations:
Episode 380: The FBI Laughs Last
Episode 379: LinkedIn, Slinkedout: Microsoft and China
Episode 378: The Federal Government is Getting Creative in Regulating Technology
Episode 377: Ransomware – Death and Diplomacy
Episode 376: AI Dystopia: Only the Elite Will Escape the Algorithm
Episode 375: China, U.S. Tech Policy: "Let Thousand Hands Throw Sand in the Gears."
---
Senators urge Biden not to sanction India on Russian weapons purchase; green and sustainable bonds continue to gain traction; Impacts of elections in South Africa - Latest Insights from Jack Devine of Arkin Group
The Arkin Group's Oct 29 "In Other News" letter to private clients by former Deputy Director, Operations Officer Jack Devine features...
US Senators urge President Biden not to sanction India on Russian weapons purchase, implications for global Russian defense deals and China.
As COP26 approaches, green and sustainable bonds continue to gain traction.
Upcoming local elections in South Africa could challenge leading party.
Follow link here to read analyses and predictions given to their private clients on the topics above.
Jack Devine's Spymaster's Prism was released earlier this year. The book has just been released on audio from Tantor or Amazon. AFIO's interview with him about this book appears at this link. Or hear the podcast here.
---
The Latest... from Jeff Stein's provocative "SpyTalk" series...

Oct 31: "Appeal for CIA, DoD Clandestine Ops to Rescue Afghan Allies" by Jeff Stein
Retired Green Beret Scott Mann says situation increasingly 'dire' for Afghan special ops troops hunted by Taliban hit teams as winter comes
Oct 28: "Bizarre Plots and Nasty Coverups" by Jeff Stein
Inside the strange and unsettling events in Venezuela and Niger in this week's SpyTalk podcast
Oct 25: "Frenemies: How the CIA and Polish Spies Went from Bitter Rivals to Post-Cold War Comrades" by Elaine Monaghan
From Warsaw With Love is a basket of entertaining spy stories with hard lessons for wannabe US allies.
Oct 20: "Mossad's New Boss is a Gadget-Loving Killing Machine" by Jonathan Broder
David Barnea warned Iran the "long arm of Mossad" isn't finished with it.
Oct 15: "Dems Launch Preemptive Strike on Gates '60 Minutes' Spot" by Jeff Stein
DNC knocks the former defense secretary on Afghanistan, defends Biden on pullout
Oct 14: "CIA Puts a Public Target on China's Back" by Jeff Stein; interview of Shane Harris
The story behind the spy agency's unusual p.r. move, plus Inside dope on a Secret Service burnout report
Oct 7: "For Your Eyes Only" by Jeff Stein - Podcast
A remarkable coincidence between the latest 007 flick and a hacked extremist server
Includes interviews or co-hosts Jeanne Meserve, Heidi Beirich, James Grady
Readers, for a brief time, can subscribe for free for articles and weekend podcasts here.
---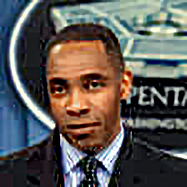 Inside the SCIF by JJ Green, WTOP - Issue #136, 28 Oct has details on... Russia's R&D with MW and IDs suspects in new Havana Syndrome attacks; Are the GRU Involved in Directed Energy Attacks on US Soil?; Blinken Plans to Release Updated Findings on Syndrome; Are we heading for accidential nuclear race or exchange? Amb. DeTrani thinks so; FBI CI Unit uses family photos as persuasion; DNI Budget; IARPA researching "smart radio" to detect data breaches; Drinking the same Kool-Aid - "All of Gov" Intel failed to predict rapid collapse of Kabul; Russia unveils Robot Dog prototype; and more.

Target USA Podcast 303 is on: What's behind the FBI's search of Russian Oligarch Oleg Deripaska's homes in the U.S.?
Craig Unger, author of American Kompromat thinks it has a lot to do with Deripaska's connections to the Kremlin and Russian intelligence. He indicates American politics and politicians may be caught up in this as well.

And "The Hunt" explores: Online videos linked to killing by Muslim Extremist of British MP
The latest claim: the "online videos" are to blame!
David Amess, a British politician who served as a Member of Parliament (MP), was killed by a 25-year-old self-radicalized Muslim man on Oct. 15. WTOP National Security Correspondent J.J. Green speaks with Dr. Hans Jakob Schindler, senior director of the Counter Extremism Project, said online videos were largely responsible for it.
---
Section III - BROUGHT TO OUR ATTENTION BY MEMBERS
The Role of Psychology in Cybersecurity
According to a joint study from Stanford University Professor Jeff Hancock and the security firm Tessian, 85 percent of data breaches stem from human error. This finding, accompanied by Proofpoint's report of more than 99 percent of cyberattacks relying on human interaction to work, highlights people as the most effective backdoor into a system, the leading cause of data exposures, and the biggest threat to security. Such statistics draw attention to the need to further incorporate psychology into the realm of cybersecurity. The American Psychological Association defines psychology as the study of the mind and behavior, embracing all aspects of the human experience, ranging from the brain functions to the actions of nations. In a testimony to a congressional subcommittee, human factors psychologist Anita D'Amico emphasized that psychologists must play a role in the evolution of cybersecurity... Article continues at Science of Security / 27 Oct 2021
UK Spy Agencies - MI5-MI6-GCHQ - Enter Contract with Amazon Web Services to Host Classified Data
The UK's three spy agencies have contracted AWS, Amazon's cloud computing arm, to host classified material in a deal aimed at boosting the use of data analytics and artificial intelligence for espionage.
The procurement of a high-security cloud system has been championed by GCHQ, the UK's signals intelligence body, and will be used by sister services MI5 and MI6, as well as other government departments such as the Ministry of Defence during joint operations.
The contract is likely to ignite concerns over sovereignty given that a vast amount of the UK's most secret data will be hosted by a single US tech company. The agreement, estimated by industry experts to be worth £500m to £1bn over the next decade, was signed this year, according to four people familiar with the discussions. However, the details are closely guarded and were not intended to be made public.
Although AWS is a US company, all the agencies' data will be held in Britain, according to those with knowledge of the deal. Amazon will not have any access to information held on the cloud platform, those people said. Article continues on Financial Times / 25 Oct 2021
What Will Drive China to War? - Can Washington Deter Beijing from Initiating a Hot One?
A cold war is already under way. The question is whether Washington can deter Beijing from initiating a hot one.
resident Xi Jinping declared in July that those who get in the way of China's ascent will have their "heads bashed bloody against a Great Wall of steel." The People's Liberation Army Navy is churning out ships at a rate not seen since World War II, as Beijing issues threats against Taiwan and other neighbors. Top Pentagon officials have warned that China could start a military conflict in the Taiwan Strait or other geopolitical hot spots sometime this decade.
Analysts and officials in Washington are fretting over worsening tensions between the United States and China and the risks to the world of two superpowers once again clashing rather than cooperating. President Joe Biden has said that America "is not seeking a new cold war." But that is the wrong way to look at U.S.-China relations. A cold war with Beijing is already under way. The right question, instead, is whether America can deter China from initiating a hot one. Article continues at The Atlantic / 1 Nov 2021
FBI Dir Christopher Wray on "Working with Our Private Sector Partners to Combat the Cyber Threat"
Over the past decade, the general public probably didn't spend much time thinking about cyber threats. Every year, maybe one or two major cyber incidents captured the nation's attention.
Sure, they noticed the Russian government's election interference in 2016 and the Chinese government's theft of nearly 150 million Americans' PII from Equifax in 2017. But it wasn't until this past year's onslaught of high-profile cyberattacks that a lot more Americans really took notice.
We saw SolarWinds supply chain attacks by the Russian foreign intelligence service, the SVR, at the end of 2020. The SVR is back in the news this week, as you know. Then, the Chinese government's Microsoft Exchange Server intrusions were revealed in March. And between May and July, we had ransomware attacks against Colonial Pipeline, JBS Foods, and customers of managed service provider Kaseya.
And while those five were some of the highest-profile attacks, they were actually just a few among thousands of incidents targeting businesses and other victims in the U.S. and around the globe. Today's cyber threats are more pervasive, hit a wider variety of victims, and carry the potential for greater damage than ever before. Presentation fo Economic Club of NY continues here / FBI on 28 Oct 2021

Goldfinger - by John Barry, Leslie Bricusse, and Anthony Newley. The Song's Origins, Missteps, and Unexpected Wild Success - Steyn's Serenade Radio Song of the Week
On The Mark Steyn Show, brimming with British wit and facts, a reprise celebrating the definitive Bond song -- Goldfinger -- by Bricusse, Anthony Newley, and John Barry.
Although the show's focus was primarily on the late John Barry, Leslie Bricusse himself was among my guests and made some characteristically incisive observations about the song, the 007 franchise, and about what he considered to be a far better Bond theme he and John wrote. Captures Sean Connery at the height of his powers. "Goldfinger" defined the Bond genre, both the music and the movie.
Steyn explores the origins of Goldfinger music featuring snippets of the tune and many others. The music is part of the pantheon of classic Bond...defining a generation and era for those "in the business" and millions of fans worldwide. For some AFIO members and IC retirees, John Barry's music was the soundtrack of their lives in those years.
Listen to this Bond music survey at this Steyn podcast / 23 Oct 2021. Runs 30 enjoyable minutes.
---
Section IV - Books, Research Requests, Jobs, Obituaries
Books — Newly Released, Overlooked, Forthcoming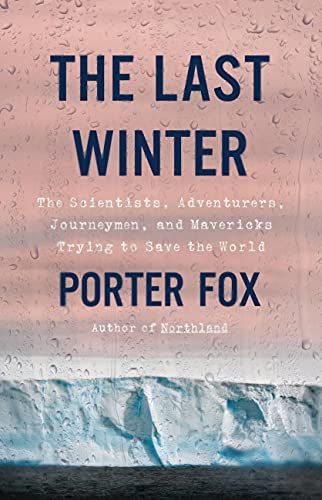 The Last Winter: The Scientists, Adventurers, Journeymen, and Mavericks Trying to Save the World
by Porter Fox
(Little, Brown and Company, Nov 2021)
One man's "curiously thrilling joyride" of travelogue, history, and climatology, across a planet on the brink of cataclysmic transformation. Omnicide.
As the planet warms, winter is shrinking. In the last fifty years, the Northern Hemisphere lost a million square miles of spring snowpack and in the US alone, snow cover has been reduced by 15-30%. On average, winter has shrunk by a month in most northern latitudes.
Fox travels along the edge of the Northern Hemisphere's snow line to track the scope of this drastic change, and how it will literally change everything—from rapid sea level rise, to fresh water scarcity for two billion people, to massive greenhouse gas emissions from thawing permafrost, and a half dozen climate tipping points that could very well spell the end of our world. Showcases a shocking and unexpected casualty of climate change—that may well set off its own unstoppable warming cycle.
Book may be ordered here.
---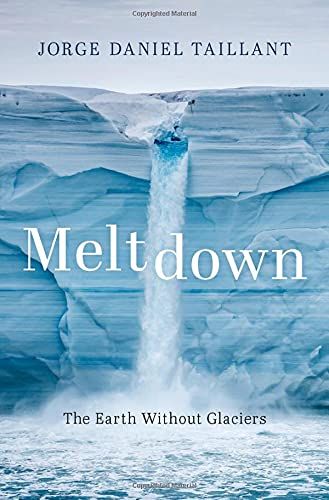 Meltdown: The Earth Without Glaciers
by Jorge Daniel Taillant
(Oxford University Press, Oct 2021)
Our climate is deteriorating at a drastic rate, and it's happening right in front of us. Meltdown is about glaciers and their unfolding demise during one of the most critical moments of our planet's geological history. If we can reconsider glaciers in a whole new light and understand the critical role they play in our own sustainability, we may be able to save the cryosphere.
Glaciers are built and destroyed during ice ages and interglacial periods. These massive ice bodies hold three quarters of our freshwater, yet we don't have laws to protect them from climate change. When they melt, they rapidly increase sea levels, alter the Earth's reflectivity, wreak havoc for ocean and air currents, destabilize global ecosystems, warm the climate, and bring floods that swamp millions of acres of coastal land including most of the major cities. The critical ecological role they play to keep our global climate stable, and the environmental functions they provide, wither. And, as climate change warms glacier cores, collapsing glacier ice triggers tsunamis that send deadly massive ice blocks, rocks, earth, and billions of liters of water rushing down mountain valleys. It has happened before in the Himalayas, the Central Andes, the Rockies and Western Cascades, and the European Alps, and it will happen again. It is not just about climate change or global warming, but will have major national security repercussions.
Book may be ordered here.
---
Terrorist Events Worldwide 2019-2020
by Edward Mickolus
(Wandering Woods Publishers, Oct 2021)
Edward Mickolus wrote the first doctoral dissertation on international terrorism while earning an M.A., M.Phil, and Ph.D. from Yale University. He then served in analytical, operational, management, and staff positions in the CIA for 33 years, where he was CIA's first full-time analyst on international terrorism; analyzed African political, economic, social, military, and leadership issues; wrote political-psychological assessments of world leaders; and managed collection, counterintelligence, and covert action programs against terrorists, drug traffickers, weapons proliferators, and hostile espionage services. This is his latest update on worldwide terrorism incidents.
Book may be ordered here.
Group Formed - "Rafiq: Friends of Afghans" - to Support the Departure/Rehabilitation/Resettlement of Abandoned Former Colleagues
My name is Max Fratoddi, a retired FBI FCI/CT Agent (and USMC RVN veteran) who worked with many USIC members over my 25 year career. I am a long term member of AFIO, originally sponsored by the beloved CIA OPs Officer Jack Platt (RIP). More recently, I spent some 6 1/2 years in Afghanistan as a (rotating) contractor mentor to Afghans serving in a unique joint training command under specialized government-to-government MOUs. Some 100 of them (not including families) were left behind with our hasty departure.
"Rafiq - Friends of Afghans" was formed in early August by a number of retired intell community, law enforcement, and military SpOps personnel with many years of experience in working directly with various Afghan National Security Forces personnel. Compared to the many other organizations with similar interests, we are a low-key, non-profit organization whose mission is to quietly support the departure, rehabilitation, and resettlement of our former colleagues to the U.S. I welcome a discussion to determine if there are legitimate collaboration, coordination, and cooperation opportunities with our membership. I can be reached at gmfratoddi@yahoo.com or at 843-540-2026. This request does not constitute an official endorsement by AFIO or any U.S. government agency. Thanks for your interest and support.
Seeking Former CIA Officers who knew Abu Bakr al-Baghdadi, others in ISIS, or King Hussein of Jordan, to assist Israeli Journalist with Documentary
My name is Hadar Gat, I'm a journalist from Israel, currently working on the second season of a documentary series about the most influential Arab leaders in the middle east.
It's an international production, broadcasted on Kan Israeli channel (IPBC).
The documentary series provides a profound profile analysis of leaders in the Arab world, and is one of the leading document series of IPBC.
Each episode is covering the history and profile of a different leader, and reviewing his personality and actions from every aspect possible. Especially the way he was grasped through the eyes of different Intelligence agencies.
I'm contacting [AFIO] because in one of the episodes we are focusing on Abu Bakr al-Baghdadi, and ISIS itself.
We are also doing an episode about King Hussein of Jordan. So I'm looking for former CIA agents/officers who met him or people who are relevant to his time period, and can help us shed some light on his character and relations with the Western world. Can AFIO Members help me with that? We wish to interview former CIA or other IC officers relevant to either of these matters. I'm available for any questions and more details, so feel free to contact me at any time.
Looking forward to hearing from you.
Replies to Hadar Gat, 972-50-4800-306 or hadargat8@gmail.com
Chenega Enterprises and Solutions (ChESS) LLC is identifying Subject Matter Experts(SME) for potential FBI SME Contract work soon to be awarded.
The FBI is looking for Counterintelligence SME to support the FBI Counterintelligence Foreign Investment Unit (FIU).
The FBI is looking for Counterintelligence Training SME to support the FBI Counterintelligence Training Center (CITC). CITC is tasked with training field agents, supervisors and non-agent personnel in CI investigation.
The FBI is seeking an Counterintelligence SME with extensive knowledge in the East Asia region.
TO APPLY OR EXPLORE: Please contact Jessica Lewis, Jessica.Lewis@chenega.com for additional information.
---
James Tynan Mattingly Jr, 84, Served in USG, died 28 October 2021 in Henrico, VA.
Jim lived a rich life as his career took him and his family to Taiwan, Africa, Germany, Indonesia, and Switzerland.
He enjoyed golf, bridge, wine, WWII movies, travel, and his nearby "happy place" in Ocean City, MD.
He is survived by his wife of 62 years, Edith, a son, two daughters, and other family.
---
AFIO EDUCATIONAL EVENTS IN COMING TWO MONTHS....
Thursday, 4 November 2021, 6:30 pm CDT - Zoom Webinar - AFIO San Antonio Chapter hears from Seth Jones PhD on the Rise of Irregular Warfare and the Change in Global Warfare
Many historians talk about how the military trains for the last war they fought. Well our enemies are not planning for that old war, they are conducting a new type of warfare and the fighting is going on right now!
This program will be an AFIO NOW briefing by Seth Jones PhD. who is very knowledgeable on this type of warfare.
Jones holds the Harold Brown Chair, is director of the Transnational Threats Project, and is a senior adviser to the International Security Program at the Center for Strategic and International Studies (CSIS). He teaches at Johns Hopkins University's School of Advanced International Studies (SAIS) and the Center for Homeland Defense and Security (CHDS) at the U.S. Naval Postgraduate School.
TOPIC: Seth Jones' latest book -- Three Dangerous Men: Russia, China, Iran, and the Rise of Irregular Warfare -- examines how three key figures in Moscow, Beijing, and Tehran, have built irregular warfare campaigns that are eroding American power. Conventional warfare—clashes between large military forces—defined twentieth-century power. But today, facing dominant US conventional and nuclear capabilities, the U.S.'s principal adversaries, Russia, China, and Iran, have adopted a different style of competition. Cyber attacks, covert action, proxy conflicts, information and disinformation campaigns, espionage, and economic coercion—these are the tools of irregular warfare, which will increasingly reshape international politics. In short, the future of warfare is likely to be closer to the Chinese general Sun Tzu than to the Prussian military theorist Carl von Clausewitz. The presentation runs 39 minutes. This is a very timely presentation on attacks that are going on right now.
TIMING: Prior to the virtual presentation using ZOOM you will be sent a link for the program. "Three Dangerous Men" is available from Amazon here.
QUESTIONS or REGISTER: Contact John Franklin, President, AFIO San Antonio Chapter, 210 863-0430 or satxafio@gmail.com
Saturday, 6 November 2021, 11:30 a.m. EDT - Indialantic, FL - AFIO Florida Satellite Chapter Meeting Features Col John Hilliard on "Atlas Missiles, Spy Satellites, and Negotiations with Soviet Union on Arms Contol."
The AFIO Florida Satellite Chapter will be holding an in-person meeting at 11:30 AM, November 6, 2021 at the Hilton Doubletree Hotel in Indialantic, Florida. The speaker is Colonel John Hilliard who will discuss Atlas missiles, spy satellites and negotiations with the Soviet Union on arms control.
For more information contact Larry Sanford here.
Wednesday, 17 November, 2021, noon PST - Zoom-virtual - The AFIO San Francisco Chapter hosts Capt Aynesworth on "Intelligence Challenges of the Movement of International Containerized Cargo."
The "Andre Le Gallo" San Francisco Chapter hosts James L. Aynesworth, Captain, U.S. Navy Reserve (ret); President, Trident Information Services International on "Movement of International Containerized Cargo: Intelligence Challenges."

Registration required to receive a zoom link. Register here.
Qs?: contact Mariko Kawaguchi, Chapter Secretary at afiosf@aol.com.
---
Other Upcoming Events from Advertisers, Corporate Sponsors, and Others
Wednesday, 3 November 2021, 7 - 8 PM EDT - Zoom Webinar - "The Road from CIA to Congress" - The Hayden Center Presentation

For the first time in history, two former officers of the CIA are serving in Congress together. Join the Hayden Center for this conversation with Reps. Abigail Spanberger (D-VA-7) and Elissa Slotkin (D-MI-8) and learn what drove them to public service, from the cubicles of CIA to the halls of the U.S. Capitol.
Rep. Abigail Spanberger, who serves Virginia's 7th district, was a CIA operations officer from 2006 to 2014, gathering intelligence on nuclear proliferation and terrorism. Rep. Elissa Slotkin, who represents Michigan's 8th district, joined CIA shortly after 9/11, serving as an analyst whose work included three tours in Iraq. Slotkin went on to serve on the NSC staff and as acting assistant secretary of defense for international security affairs from 2015 to 2017. Hear what issues they believe are of paramount concern to Americans both internationally and domestically. And find out what they think of the IC and its performance against today's threats. Moderating the discussion will be Hayden Center senior fellow David Priess PhD, publisher and chief operating officer of Lawfare, the online and podcast source of national security information and insight.
To register, do so here.
Sunday, 7 November 2021, 9 am - 6 pm EST - Washington DC - Girl Scout Day 2021 at the International Spy Museum

Do you have what it takes to be a spy? Find out at Girl Scout Day at the International Spy Museum. Test your troop's tradecraft abilities as you complete a TOP SECRET scavenger hunt mission throughout the Museum's galleries.
Tickets: $16.95 (Youth); $24.95 (Adult) *Ticket includes Museum Admission, exclusive Girl Scout scavenger hunt and a special Girl Scout Day SPY patch for each Girl Scout (use promo code GIRLSCOUT at check out).
Register to get tickets here.
Sunday, 7 November 2021, 2 - 3 pm EST - Zoom Webinar - The Vietnam War: How We Got In…And How We Got Out - by The Cold War Museum
A Naval Aviator in the Vietnam War Who's Researched, Taught, and Lived the War Talks About How We Got In, and How We Got Out
Korea and Vietnam Were the Two Big "Hot Wars" of the Cold War Era With Direct U.S. Involvement
The Vietnam War Was the More Controversial of the Two. How Did We Get Into That One? And How Did We Get Out? Ask Someone Who Was There—And Has Thought, Researched, and Taught a Lot About It.
The Vietnam War: How We Got In…And How We Got Out
The US provided significant aid to the French in Indochina after WWII as part of our global Cold War efforts to contain Communism. Why did the US escalate aid to the French in 1950 and why was Edward Lansdale so critical to early American efforts to support South Vietnam? How did US covert assistance in Laos evolve, and in what year did North Vietnam originally plan to militarily take over the South?
We will discuss the 1967 Military Selective Service Act, the Johnson and Nixon Administrations' peace talk efforts, Vietnamization, and the effects of the invasions of Cambodia and Laos. We will look back at the ending of the US war, including openings with Russia and China while the NVA Easter Offensive, South Vietnam defense, Operation Linebacker, and naval operations were ongoing; and events in the US and South Vietnam leading up to the collapse in April 1975.
Don Stanton was commissioned through Cornell University Navy ROTC and served off Vietnam 1972-75 aboard USS R.B. Anderson (DD-786) and as an Officer of the Deck on USS Coral Sea (CVA-43) during the fall of Saigon and the Mayaguez incident.
Cost: $20, 100% of which is a contribution to the Cold War Museum.
ONLINE ONLY. Eventbrite ticket buyers will receive a link to the virtual room on the Zoom platform where this event will take place.
Agenda: • 1:30-2:00. Participants arrive in the Zoom room online; • 2:00-2:05. Jason Hall, Executive Director of the Cold War Museum, introduces the Museum and Don Stanton; • 2:05-3:00. Don presents on how we got into the Vietnam War, and how we got out; • 3:00-3:30. Q&A opportunity for the audience.
Tickets are available here.
Questions? Call or email Jason Hall, 703-283-4124 (cell), jason@coldwar.org
Tuesday, 9 November 2021, 11:30 am - 2 pm - Vienna, VA - CIRA Meeting
CIRA holds another in-person luncheon featuring John Edwards, who recently retired as Deputy Chief Operating Officer and is the new President of the CIA Officers Memorial Foundation. He will do a fireside chat with CIRA's President, John Bennett. Questions will be accepted from attendees.
For location, registration, and other information, log into the CIRA website for full details. Or email admin@cira.org.
Wednesday, 10 November 2021, 6:30 - 9:30 pm EST - Washington, DC - Spy School Workshop: Surveillance 101 with Eric O'Neill

What if you were assigned to watch the most damaging spy in US history? As a young operative in the FBI, Eric O'Neill was put into position as Robert Hanssen's assistant with the secret task of spying on his boss, who was under suspicion of working for Russia.
O'Neill is prepared to share his hard-earned expertise with you. This intense small group introduction to surveillance will include learning the basics and conducting surveillance from the underbelly of L'Enfant Plaza to the surprising hidden spaces of the sleekly revitalized waterfront.
Will you be able to track the "Rabbit" without being "made?"
Tickets: $200; Members: $150. Space is limited to only 16 participants — advance registration required by noon ET on Tuesday, November 9 or until sold out.
GET TICKETS here.
Thursday, 11 November 2021, All Day - Virtual - Virtual Screening of "RED NOTICE"

An FBI profiler pursuing the world's most wanted art thief becomes his reluctant partner in crime to catch an elusive crook who's always one step ahead. Join us for a virtual screening of Netflix's upcoming movie, "Red Notice," starring Dwayne Johnson, Ryan Reynolds, and Gal Gadot.
FREE! Registration Required.
With a special add-on Q&A with the film's director Rawson Marshall Thurber and Spy Museum's historian/curator Andrew Hammond and Amanda Ohlke (Dir. of Adult Programs).
LEARN MORE here.
Saturday, 13 November 2021, 10 am - 4 pm EST - Washington DC - Vroom! Vroom! 15th Annual Parade of Trabants at the International Spy Museum

The ONLY Trabant Rally in the United States. Celebrate the anniversary of the fall of the Berlin Wall with everyone's favorite Cold War car—the Trabant! Trabants are a rarity here, but on November 13 some of the finest examples in the US will chug their way to the Spy Museum for our 15th Annual Parade of Trabants. Drop by L'Enfant Plaza to view these beloved vintage cars, experts will be on hand to answer questions about their sweet rides, the Cold War, and Communism, while the Alte Kameraden German Band provides festive music.
FREE! Registration Required.
Register here.
Tuesday, 16 November 2021, noon EST - Washington, DC - CURATOR'S CORNER: Dark Persuasion with Joel E. Dimsdale

Call it what you will—coercive persuasion, thought control, dark persuasion, or brainwashing—techniques to control thoughts and minds blossomed during the 20th century and with advances in neuroscience and social media new avenues for manipulation have emerged.
Join International Spy Museum Historian and Curator Andrew Hammond in conversation with Joel E. Dimsdale, author of Dark Persuasion: A History of Brainwashing from Pavlov to Social Media.
FREE! Registration Required. REGISTER here.
16 November 2021, 6 pm EDT - Virtual - The OSS Society Conversation features Gen. David Petraeus USA(Ret) and David McCloskey, former CIA Analyst, on his novel Damascus Station

Join General David Petraeus, USA (Ret.) for a discussion with former CIA officer David McCloskey about his new novel, Damascus Station. Called "the best spy novel I have ever read" by Petraeus, the book is set against the backdrop of a Syria pulsing with fear and rebellion and is a gripping thriller that offers a textured portrayal of espionage, love, loyalty, and betrayal in one of the most difficult CIA assignments on the planet. More about this novel is here.
To register for this virtual event, do so here.
Thursday, 18 November 2021, noon EST - Virtual - CURRENT EVENTS UPDATE: Special Guest: Javed Ali in Virtual Spy Chat with Chris Costa

Join us for an online discussion of the latest intelligence, national security, and terrorism issues in the news with Spy Museum Executive Director Chris Costa. He will be joined by Javed Ali, former Senior Director for Counterterrorism, National Security Council.
FREE! Registration Required. Register here.
Sunday, 21 November 2021, 8 - 10 am EST - Washington, DC - FAMILY EVENT: Access to Spy - Opening Our Doors the Autistic Community

The International Spy Museum is pleased to offer a sensory friendly community program designed for families who have an autistic child or an individual with sensory processing differences. On this special access day, the Museum has set private hours (8am—10am) so families can enjoy an exclusive visit with less noise, fewer people, and designated quiet rooms. This event is FREE but advance registration required!
FREE! Advanced Registration Required. REGISTER here.
Wednesday, 1 December 2021, 5:30 PM VIP Reception / 6:30 PM Progressive Reception & Award Program - Washington, DC - 2021 Webster Distinguished Service Award Event - International Spy Museum
The Spy Museum offers an evening of intrigue for the 2021 Webster Distinguished Service Award event. The award is an opportunity to recognize the extraordinary contributions of individuals in the Intelligence Community. This year's awardee is The Honorable Susan M. Gordon, former principal deputy director of national intelligence. Previous recipients of the Webster Distinguished Service Award include President George H. W. Bush (2017), Admiral William H. McRaven, USN (Ret.) (2018), and Gen. Michael V. Hayden (Ret.) (2019). Webster attendee and sponsor support fuels the nonprofit mission of educating the public about the history and craft of espionage and intelligence through youth and adult programs, community service, and the care of the Museum's unique collection of artifacts for generations to come.
Event will be held at the International Spy Museum.
For tickets, sponsorship opportunities, or information about ways to support the International Spy Museum, please contact the development office at 202.654.2853. Event tickets, other details are available here.
---
In addition to the Royal Blue long sleeve shirts and gray long sleeve hoodies, the AFIO Store has the following items ready for quick shipment:
LONG Sleeved Shirts with embroidered AFIO Logo and Mugs with color-glazed permanent logo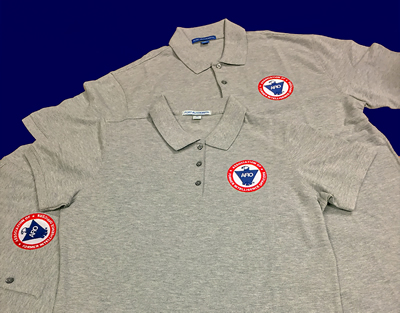 Show your support for AFIO with our long-sleeve Polo Shirts. Dark blue long sleeved shirts are shrink and wrinkle resistant fine cotton with a soft yet substantial feel. They feature a detailed embroidered AFIO seal. Get a shirt for yourself and consider as gifts for colleagues, family, and friends. Only $45 each including shipping.
Sizes of (M) men or (W) women shirts; Small, Medium, Large, XL, XXL, and XXXL. [For short sleeve shirts...they are available on discount of $25 only by email from annettej@afio.com See explanation at top right column of these Weekly Notes.]
You may pay by check or credit card. Complete your order online here or mail an order along with payment to: AFIO, 7600 Leesburg Pike, Ste 470 East, Falls Church, VA 22043-2004. Phone orders at 703-790-0320. Questions? Contact Annette at: annettej@afio.com.
---
AFIO Mug with color glazed logo. Made in America. Sturdy enough to sit on desk to hold pens, cards, paperclips, and candy.
This handsome large, heavy USA-made ceramic mug is dishwasher-safe with a glazed seal. $35 per mug includes shipping. Order this and other store items online here.
---
Guide to the Study of Intelligence and When Intelligence Made a Difference
"AFIO's Guide to the Study of Intelligence" has sold out in hard-copy.
However, it is available in digital form in its entirety on the AFIO website here.

Also available on the website here are the individual articles of AFIO's history project "When Intelligence Made a Difference" that have been published to date in The Intelligencer journal. More articles will be forthcoming in future editions.
---
Disclaimers and Removal Instructions
Weekly Intelligence Notes (WINs) are commentaries on Intelligence and related national security matters, based on open media sources, selected, interpreted, edited and produced for non-profit educational uses by members and WIN subscribers.
REMOVAL INSTRUCTIONS: We do not wish to add clutter to inboxes. To discontinue receiving the WINs:
a) IF YOU ARE A MEMBER - click here: UNSUBSCRIBE and supply your full name and email address where you receive the WINs. Click SEND, you will be removed from list. If this link doesn't open a blank email, create one on your own and send to afio@afio.com with the words: REMOVE FROM WINs as the subject, and provide your full name and email address where you are currently receiving them.
b) IF YOU ARE NOT A MEMBER, and you received this message, someone forwarded this newsletter to you [contrary to AFIO policies]. Forward to afio@afio.com the entire WIN or message you received and we will remove the sender from our membership and distribution lists. The problem will be solved for both of us.
CONTENTS of this WIN [HTML version recipients - Click title to jump to story or section, Click Article Title to return to Contents. This feature does not work for Plaintext Edition or for some AOL recipients]. If you wish to change to HTML format, let us know at afio@afio.com. The HTML feature also does not work for those who access their e-mail using web mail...however NON-HTML recipients may view the latest edition each week in HTML at this link: https://www.afio.com/pages/currentwin.htm
---
WINs are protected by copyright laws and intellectual property laws, and may not be reproduced or re-sent without specific permission from the Producer. Opinions expressed in the WINs are solely those of the editor's or author's listed with each article. AFIO Members Support the AFIO Mission - sponsor new members! CHECK THE AFIO WEBSITE at www.afio.com for back issues of the WINs, information about AFIO, conference agenda and registrations materials, and membership applications and much more!
(c) 1998 thru 2021. AFIO, 7600 Leesburg Pike, Suite 470 East, Falls Church, VA 22043-2004. Voice: (703) 790-0320; Fax: (703) 991-1278; Email: afio@afio.com
---
About AFIO | Membership Renewal | Change of Address | Upcoming Events | Chapter Locations | Corporate/Institutional Memberships | Careers in Intelligence Booklet | Guide to the Study of Intelligence | Intelligencer Journal | Weekly Intelligence Notes | To Make A Donation | AFIO Store | Member-Only Section | Code of Ethics | Home Page
---