---
Section I - INTELLIGENCE HIGHLIGHTS
Why the CIA is so worried about Russia and Ukraine - David Ignatius, WPost, 30 Nov 2021
Reports of the Russian buildup couldn't have come at a worse time. President Biden was seeking improved relations with Moscow after his June summit meeting with Russian President Vladimir Putin in Geneva. The Russians seemed to be reciprocating with dialogue on cybersecurity and strategic stability. And the administration had signaled support for an eventual diplomatic deal on Ukraine that would give Putin much of what he wanted. Story continues below advertisement The tension mounted through November. CIA Director William J. Burns rushed to Moscow at the beginning of the month to warn the Russians that an invasion of Ukraine would shatter the Russian economy and void any hope of rapprochement with the West. But Putin didn't seem to be listening. The Russian buildup continued, accompanied by defiant rhetoric. As the Ukrainian crisis enters December, the Biden administration is pursuing what policymakers like to call a "dual strategy." To deter a Russian invasion, Secretary of State Antony Blinken will meet Wednesday with NATO allies in Latvia to share U.S. intelligence and discuss joint military plans to raise the cost of any Russian invasion. At the same time, the White House has continued high-level conversations with Moscow that could lead to a meeting between Biden and Putin, virtual or in person, before year end. Russia isn't backing down. It has nearly 100,000 troops close to the border, and administration officials expect that number could increase soon. Article continues here
British MI6 spy chief warns: The race is on for mastery of AI - Reuters, 30 Nov 2021
Western intelligence agencies fear Beijing could within decades dominate all of the key emerging technologies, particularly artificial intelligence, synthetic biology and genetics. The chief of Britain's foreign spy service warned on Tuesday that the West's adversaries such as China and Russia were racing to master artificial intelligence in a way which could revolutionize geopolitics over the next decade. The world's spies, from Langley and London to Moscow and Beijing, are trying to grapple with seismic advances in technology that are challenging traditional human-led spying operations which dominated for thousands of years. Richard Moore, chief of the Secret Intelligence Service, known as MI6, said quantum engineering, engineered biology, vast troves of data and advances in computer power posed a threat that needed to be addressed by the West. Article continues here
Pentagon will track unexplained airborne objects through new intelligence group - WPost, 24 Nov 2021
The Pentagon has created a new intelligence division exclusively dedicated to investigating unidentified objects that breach sensitive U.S. airspace, to understand both their origin and whether they could threaten national security. Announced late Tuesday night, the new division — which the Defense Department will call its Airborne Object Identification and Management Synchronization Group — is a direct response to more than 140 reports of "unidentified aerial phenomena," or UAP, dating back nearly two decades and documented in a government study issued this past summer. That inquiry, intended to determine whether such sightings were signs of foreign threats, atmospheric anomalies, faulty sensors or even extraterrestrial life, yielded a report with few firm conclusions. The group's formation was directed by Kathleen Hicks, President Biden's deputy secretary of defense. In a statement accompanying Tuesday's announcement, defense officials said the government study made clear a need "to improve our ability to understand UAP." The Pentagon treats reports of such "incursions — by any airborne object, identified or unidentified — very seriously," particularly sightings occurring "on or near DOD training ranges and installations," it said. Before the UAP report, produced by the Office of the Director of National Intelligence, public scrutiny of such sightings was largely anecdotal, shrugged off in many circles as fantastical. But many of the observations it documented originated with U.S. military personnel, mainly Navy aviators. And there has been pressure on the Pentagon since, especially from Capitol Hill, to come up with more exacting and comprehensive answers about what these objects are and whether they pose a threat to U.S. interests. The report released in June presented multiple possible explanations for what the source of these unidentified objects could be. Three of the categories — space junk, climate or atmospheric idiosyncrasies, and classified aircraft tests by U.S. contractors — posed no critical threat to the United States, though the authors did not rule out that such objects could pose other potential dangers to flight safety.
Article continues here
Biometrics, Smartphones, Surveillance Cameras Pose New Obstacles for U.S. Spies - WSJ, Warren Strobel, 27 Nov 2021
U.S., rivals seek ways to adapt spycraft to a changing world; being on the grid can blow your cover, but so can staying off. Operatives widely suspected of working for Israel's Mossad spy service planned a stealthy operation to kill a Palestinian militant living in Dubai. The 2010 plan was a success except for the stealth part—closed-circuit cameras followed the team's every move, even capturing them before and after they put on disguises. In 2017, a suspected U.S. intelligence officer held a supposedly clandestine meeting with the half brother of North Korean leader Kim Jong Un, days before the latter was assassinated. That encounter also became public knowledge, thanks to a hotel's security camera footage. Last December , it was Russia's turn. Bellingcat, the investigative website, used phone and travel data to track three operatives from Moscow's FSB intelligence service it said shadowed and then attempted to kill Russian opposition politician Alexei Navalny. Bellingcat named the three. And published their photographs. Espionage and covert action aren't what they used to be. A trained CIA case officer could once cross borders with a wallet full of aliases or confidently travel through foreign cities undetected to meet agents. Now, he or she faces digital obstacles that are the hallmarks of modern life: omnipresent surveillance cameras and biometric border controls, not to mention smartphones, watches and automobiles that constantly ping out their location. Then there is "digital dust," the personal record almost everyone leaves across the internet. Combined with advances in artificial intelligence that allow rapid sifting of this data, the technologies are fast becoming powerful tools for foreign adversaries to root out spies, according to current and former U.S. and Western intelligence officials. "It's really bad," a former top U.S. counterintelligence official said of the impact on U.S. espionage operations. "It really challenges the fundamental assumptions and approach of how you do business." "Ubiquitous technical surveillance," as it is known, is now a pervasive concern at the CIA, forcing it to devise new, often more resource-intensive ways of recruiting agents and stealing secrets, the officials said. In the new environment, it is "much more complicated to conduct traditional tradecraft," CIA Director William Burns acknowledged during his February confirmation hearing. "The agency, like so many other parts of the U.S. government, is going to have to adapt." He added: "I'm entirely confident that the women and men of CIA are capable of that." Article continues here
Overconfident China could make miscalculations, British spy chief says - Reuters, 30 Nov 2021, Guy Faulconbridge
An overconfident and assertive China under President Xi Jinping and Communist Party rule risks making miscalculations on the international stage, including underestimating the resolve of the United States, Britain's spy chief said on Tuesday. In his first major public speech as chief of the Secret Intelligence Service (SIS) known as MI6, Richard Moore said China and Russia were racing to master technologies such as artificial intelligence and quantum computing. The world's spy masters, from Langley to Moscow, are grappling with the transformation of China into a superpower challenging the post-Cold War dominance of the United States militarily, economically and increasingly in espionage. "Adapting to a world affected by the rise of China is the single greatest priority for MI6," Moore, 58, said in a speech in London. Article continues here
Taliban Covert Operatives Seized Kabul, Other Afghan Cities From Within - WSJ
Undercover Taliban agents—often clean-shaven, dressed in jeans and sporting sunglasses—spent years infiltrating Afghan government ministries, universities, businesses and aid organizations. Then, as U.S. forces were completing their withdrawal in August, these operatives stepped out of the shadows in Kabul and other big cities across Afghanistan, surprising their neighbors and colleagues. Pulling their weapons from hiding, they helped the Taliban rapidly seize control from the inside. The pivotal role played by these clandestine cells is becoming apparent only now, three months after the U.S. pullout. At the time, Afghan cities fell one after another like dominoes with little resistance from the American-backed government's troops. Kabul collapsed in a matter of hours, with hardly a shot fired. "We had agents in every organization and department," boasted Mawlawi Mohammad Salim Saad, a senior Taliban leader who directed suicide-bombing operations and assassinations inside the Afghan capital before its fall. "The units we had already present in Kabul took control of the strategic locations." Mr. Saad's men belong to the so-called Badri force of the Haqqani network, a part of the Taliban that is designated as a terrorist organization by the U.S. because of its links to al Qaeda. Sitting before a bank of closed-circuit TV monitors in the Kabul airport security command center, which he now oversees, he said, "We had people even in the office that I am occupying today." The 20-year war in Afghanistan was often seen as a fight between bands of Taliban insurgents—bearded men operating from mountain hide-outs—and Afghan and U.S. forces struggling to control rural terrain. The endgame, however, was won by a large underground network of urban operatives. Article continues here
---
Section II - IC PODCASTS, COMMENTARY, BLOG UPDATES
National Cyber Director Chris Inglis on Stemming Cyber Threats in a discussion with Former Acting D/CIA Mike Morell
Intelligence Matters: A CBS News original national security podcast hosted by former CIA acting director and CBS News national security contributor Michael Morell. Morell is crisp, precise, cautious, fair, avoids political slant, and provides remarkable insights. Not to miss.


The most recent "Intelligence Matters" podcasts/interviews by or with Mike Morell:
Nov 24 | National Cyber Director Chris Inglis on Stemming Cyber Threats
In this episode of Intelligence Matters, host Michael Morell speaks with the country's first National Cyber Director, Chris Inglis, about his office's mandate, its mission, and the top cyber threats facing the U.S. today. Inglis and Morell discuss the prevalence of ransomware and why countries like Russia and China might tolerate the presence of criminal hackers on their soil. Inglis also details why deterrence in cyberspace is difficult, and how the U.S. government is engaging the private sector to bolster cyber defenses.

Other recent "Intelligence Matters" podcasts to stream or download:
Nov 17 | Defense Intelligence Agency Director LTG Scott Berrier on Global Threats
Nov 10 | Former Defense Secretary and CIA Director Leon Panetta on Top Security Threats
Nov 3 | Iran expert Norman Roule on escalating tensions with Tehran
Oct 27 | Putin's Russia: Former Ambassador Michael McFaul
Oct 20 | The Syria Conflict: Former CIA Analyst David McCloskey
Oct 13 | CIA Chief Historian David Robarge on Pivotal Global Events
Oct 6 | Hayden Center Panel on Intelligence and War in Afghanistan
More about Intelligence Matters by Michael Morell here. Podcasts also available here.
---
International Tech Policy Week - Stewart Baker, Others at Steptoe Cyberblog
Cyberblog by Steptoe & Johnson LLP — By Stewart Baker on 29 Nov 2021
Episode 385: International Tech Policy Week
This week we celebrated International Tech Policy Week, which happens every year around this time, when the American policymakers, the American execs who follow them, and the U.S. journalists who report on them all go home to eat turkey with their families and leave tech policy to the rest of the world. Leading off a review of China's contribution to the week, Paul Rosenzweig and Jordan Schneider cover Beijing's pressure on Didi to delist from a S. stock exchange. If you believe it is about data security, I have a Chinese unicorn tech stock, soon to be half a unicorn, to sell you. Jordan explains why China is also taking Tencent to the woodshed for not quite getting the message about who make the rules. In case you're not getting the message, he also covers China's decision to impose fines on tech firms for a decade's worth of M&A deals. David Kris turns what could have been a U.S. story – Insurers' running for cover ransomware losses – international by focusing on a proposal from Lloyds of London. Paul and I dig into a story that starts in the U.S. but soon moves abroad, Apple's slightly weird computer fraud and abuse lawsuit against the international exploit firm, NSO Group. I point to other stories that seem to me to signal that tech hubris on this issue is out of control. Facebook is trying to stop undercover cops from using fake accounts to collect quasipublic information. And Apple is telling its customers when it discovers that they are the targets of state-sponsored malware. and much more ..... Continue Reading
Some Prior Conversations:
Episode 384: What to Do About Deplatformed Data?
Episode 383: Cyber Incident Reporting Bill: Good News for K Street
Episode 382: NSO on the Hot Seat
Episode 381: Raven Mad
Episode 380: The FBI Laughs Last
Episode 379: LinkedIn, Slinkedout: Microsoft and China
Episode 378: The Federal Government is Getting Creative in Regulating Technology
Episode 377: Ransomware – Death and Diplomacy
Episode 376: AI Dystopia: Only the Elite Will Escape the Algorithm
Episode 375: China, U.S. Tech Policy: "Let Thousand Hands Throw Sand in the Gears."
---
Which Way Will FBI, CIA Swing if Trump Returns?; The Endless CIA-Oswald Coverup - The Latest... from Jeff Stein's provocative "SpyTalk" series...

Nov 28: "Spies in the Ointment: Which Way Will FBI, CIA Swing if Trump Returns?" by Jeff Stein
Intelligence veterans anxious about Trump reelection prospects—'by any means necessary'
Nov 17: "The Endless CIA-Oswald Coverup" by Jeff Stein
Another JFK Assassination Anniversary arrives with still buried secrets
Nov 17: "The CIA Swamp in a Novel Nutshell" by Peter Eisner
An ex-CIA man's debut thriller dives deep into politics amid foreign threats
Nov 13: "Updated: Steele Dossier in Tatters" by Jeff Stein
Kick 'em when they're up, kick 'em when they're down
Readers, for a brief time, can subscribe for free for articles and weekend podcasts here.
---
Section III - BROUGHT TO OUR ATTENTION BY MEMBERS
Underground network of spies helped Taliban score decisive victory in Afghanistan - Intelnews.org, Joe Fitsanakis, 30 Nov 2021
THE TALIBAN RELIED ON an extensive network of intelligence operatives and sleeper agents in major Afghan cities, in order to sweep to power with stunning ease last summer, according to a new report. These networks of spies had infiltrated state agencies and civil society organizations throughout Afghanistan over many years. They were quickly able to neutralize opponents of the Taliban from the inside when commanded to do so, according to the Wall Street Journal. In a lengthy exposé published on Sunday, the newspaper said that Taliban spies had managed to successfully penetrate most government ministries, military and security bodies, as well as business entities over several years. Article continues here
Chinese Firm Develops Swarming Drones to "Besiege and Expel" Vessels - Maritime Executive, 29 Nov 2021
Chinese firm Yunzhou Tech has deployed its unmanned surface vessels for many purposes over the past ten years - water sampling, public light shows, oceanographic research, security patrols - but it is preparing to take its technology to a new level for national security missions. Yunzhou is working on swarming technology that would allow multiple drones to engage in "cooperative confrontation" with undesired surface vessels in order to "besiege and expel" them, according to the Chinese Communist Party outlet Global Times. Yunzhou Tech is China's first and most successful autonomous-vessel company. From its original business in water-quality monitoring drones for rivers and lakes, it has expanded gradually into near-shore unmanned security boat and research boat products. The new swarming system would weaponize these capabilities and put them to use for China's "maritime development and rights protection" efforts, guarding "Chinese sea territory," according to Global Times. The drones are intended to share sensor data, track target vessels at high speed, conduct intercepts and "expel" intruding vessels. They are capable of autonomous decisionmaking as a group, according to Global Times. Yunzhou Tech has been designing software for coordinating drone swarms for civilian purposes for years, and it set a world record for the largest swarm (56 boats) in 2018. The new "confrontation" mode is still under development. Article continues here
The untold story of how Polish spies helped the CIA carry-out secret missions around the world - WBUR Here & Now Podcast
A new book tells the story of how Polish and U.S. spy agencies began working together after the fall of the Iron Curtain, and how Poland became one of the closest allies of America's intelligence agencies. Polish spies helped free U.S. intelligence operatives captured in Iraq, and continue to play an unsung role in America's spycraft around the world. Here & Now's Scott Tong speaks with John Pomfret, former Washington Post correspondent and author of "From Warsaw with Love: Polish Spies, the CIA, and the Forging of an Unlikely Alliance." Podcast and excerpt of book appears here Or Jump directly to the podcast here.
FBI acknowledges some agents may have Havana Syndrome symptoms - NBC News, 24 Nov 2021
After NBC News obtained internal emails, the FBI publicly acknowledged for the first time that some employees may have symptoms of Havana Syndrome. After NBC News obtained internal emails, the FBI publicly acknowledged for the first time that some employees may have symptoms of Havana Syndrome. The FBI is promising to make sure employees who have symptoms consistent with Havana Syndrome get access to medical care after a former agent suffering almost daily headaches was rebuffed when he sought testing and treatment, according to documents obtained by NBC News. In an email last month, an FBI official told a former agent who had reported possible brain injury symptoms that "unfortunately, the FBI is not authorized to give any medical advice and there are not any medical programs in place for current and/or retired employees." The agent began suffering migraines and dizziness about a decade ago after a stint overseas in a country near Russia. Asked about the assertion, the FBI responded in a statement that confirmed the email, saying it was "one part of a larger exchange taken out of context and does not reflect the FBI's commitment to supporting its personnel, both current and former." The statement amounted to the FBI's first formal acknowledgment that some of its current or former employees could have symptoms of Havana Syndrome, which got its name after a group of diplomats and CIA officers reported symptoms in 2016 at the U.S. Embassy in Cuba. Although the bureau did not confirm or deny the existence of FBI cases, NBC News has previously reported that several FBI personnel have reported possible symptoms, including some who had been posted to Vienna. Article continues here
---
Section IV - Books, Research Requests, Jobs, Obituaries
Books — Newly Released, Overlooked, Forthcoming
Getting To Know the President: Intelligence Briefings of Presidential Candidates and Presidents-Elect, 1952-2016 Fourth Edition
by John L. Helgerson
(Center for the Study of Intelligence, CIA, Oct 2021)
President Harry Truman, in whose administration the Central Intelligence Agency and the postwar Intelligence Community (IC) were created, instituted the custom of providing candidates for the presidency classified briefings on foreign developments. In 1952 he authorized CIA to brief Gen. Dwight Eisenhower and Gov. Adlai Stevenson so that the successful candidate would be as well informed as possible about the world situation when he took office. The briefings would also position CIA to develop a close working relationship with the new president and his advisers. These two objectives have guided the efforts of CIA and the IC during presidential transition periods ever since.
Helgerson provides unique insights into the mechanics and content of the briefings of presidential candidates and presidents-elect, the interaction of the participants, and the effects of briefings on the relationships presidents have had with their intelligence services. Helgerson's observations on how and what to brief during the campaign and transition periods are essential reading for members of the IC charged with that responsibility in the future and seeking to learn from the best practices of their predecessors.
In its ninth chapter of this fourth edition are updates which incorporate experiences from the election and transition of 2016, which brought President Trump to office. Briefing Trump presented the IC with the most difficult challenges it had ever faced. Trump had publicly criticized CIA and the outgoing DNI and disparaged the substantive work and integrity of the intelligence agencies. In addition, the controversy over Russian interference in the 2016 election and Trump associates' contacts with Russian officials heightened tension between the IC and the president-elect. After the inauguration, the briefings soon settled into a pattern: they were held only two or three times a week, Trump did not read the PDB closely if at all, and the briefers had to draw his attention to the most important issues.
The just-published Fourth Edition has a new chapter, 9, where Helgerson addresses the "Unique Challenge" of briefing Donald J. Trump as a presidential candidate and then during the transition period after his election. That Ninth Chapter on Trump is available for reading at this link.
No charge. The entire book is available free as a PDF here.
---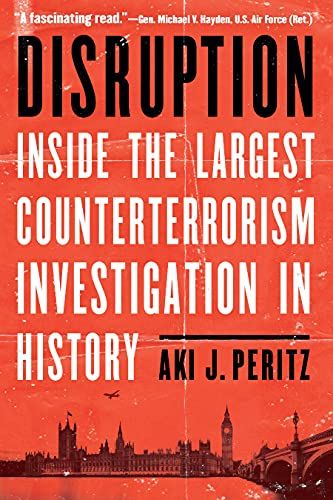 Disruption: Inside the Largest Counterterrorism Investigation in History
by Aki J. Peritz
(Potomac Books, Dec 2021)
National security analyst Peritz delivers a hair-raising look at a terrorist plot foiled by British and U.S. intelligence agencies in 2006. He tracks the plot's mastermind, Rashid Rauf, from Birmingham, England, where he grew up in "a strict religious home" in the 1990s, to Pakistan, where he fled after becoming a suspect in his uncle's murder, and joined a Kashmiri jihadist network with links to al-Qaeda. In July 2005, operatives trained by Rauf launched two "coordinated suicide attack[s]" on London's transportation system, one of which was unsuccessful. Seeking to "shake the infidels to their core," Rauf plotted to bring down seven passenger planes with small, liquid hydrogen peroxide–based bombs that could be disguised as bottles of soda. British intelligence services already had members of his terrorist cell under surveillance, however, and observed them buying large quantities of hydrogen peroxide and other bomb-making materials. Many of the conspirators were eventually convicted in British courts, but Rauf escaped from Pakistani custody and was likely killed in a CIA drone strike or Pakistani air strike, though his death has never been officially confirmed. Peritz gets deep into the weeds of the various terrorist cells involved, but paints a detailed portrait of a tragedy narrowly averted. Readers will gain new appreciation for what it takes to stop the next terrorist attack. — Publishers Weekly; A journalist specializing in national security issues details the investigation and frustration of a major al-Qaida terrorist attack... An outstanding contribution to the literature of terrorism and counterterrorism.. — Kirkus
Book may be ordered here.
---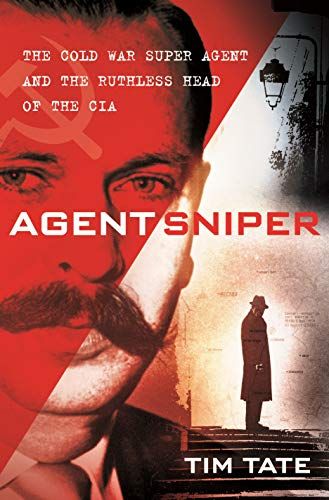 Agent Sniper: The Cold War Super Agent and the Ruthless Head of the CIA Who Despised Him
by Tim Tate
(St. Martin's Press, Dec 2021)
Michal Goleniewski, cover name Sniper, was one of the most important spies of the early Cold War. For two and a half years at the end of the 1950s, as a Lt. Colonel at the top of Poland's espionage service, he smuggled more than 5,000 top-secret Soviet bloc intelligence and military documents, as well as 160 rolls of microfilm, out from behind the Iron Curtain. In January 1961, he abandoned his wife and children and made a dramatic defection across divided Berlin with his East German mistress to the safety of American territory. There, he exposed more than 1600 Soviet bloc agents operating undercover in the West—more than any single spy in history. The CIA called Goleniewski "one of the West's most valuable counterintelligence sources," but in late 1963, he was abandoned by the US government because of a split in the agency over questions about his mental stability and his trustworthiness. Goleniewski bears some of the blame for his troubled legacy. He made baseless assertions about his record, notably that he was the first to expose Kim Philby. He also bizarrely claimed to be Tsarevich Aleksei Romanoff, heir to the Russian Throne who had miraculously survived the 1918 massacre of his family. For more than fifty years, American and British intelligence services have sought to erase Goleniewski from the history of Cold War espionage. The vast bulk of his once-substantial CIA and MI5 files remain closed. Only fragments of his material crop up in the de-classified dossiers on the KGB spies he exposed or the memoirs of CIA officers who dealt with him. A complex case the underscores the difficulty of surviving defection, and the problems for those charged with handling defectors beset with their unique pressures and sometimes destabilizing post-defection lives.
Book may be ordered here.
Author of Bio on Gen Walter Joseph Cawthorn, DG of ASIS (1960-68) - seeking any AFIO members who might have met him or when he visited with Allen Dulles.
I am an Australian writer working on a biography of an Australian spymaster, General Walter Joseph CAWTHORN, who was director General of the Australian Secret Intelligence Service, (ASIS) from 1960 to 1968. I know that Cawthorn met with Allen Dulles when he was DCI and was wondering if any of your members also met him. If you did, I would appreciate hearing from you in the strictest confidence. Alan Fewster can be reached at fewsteralan@gmail.com.
As background: Alan Fewster is a former journalist and diplomat. His previous books are: "The Charles Family's War: A gripping story of twin brothers during World War II"; "Capital Correspondent, the Canberra Letters of Edwin Charles"; "Trusty and Well Beloved, a life of Sir Keith Officer, Australia's first diplomat"; and the "Bracegirdle Incident, How an Australian communist ignited Ceylon's independence struggle." He has also written many articles and opinion pieces.
Seeking U.S. Women Intelligence Officers who served in Germany at some time between 1950 to 1990
I am a journalist for DER SPIEGEL, the biggest politicial news magazine in Germany.
Together with my colleague Maik Baumgärtner, I am currently researching a book project on women who worked for intelligence services and what their work meant for the services.
Therefore we are looking for women who worked for American intelligence agencies in Germany between 1950 and 1990.
We welcome on or off the record talks.
To respond, contact Ann-Katrin Müller at ann-katrin.mueller@spiegel.de
Redakteurin | Hauptstadtbüro
DER SPIEGEL GmbH & Co. KG, Alexanderufer 5, 10117 Berlin, M +49 170 560 8301, Threema-ID: 78XAU7T3
Group Formed - "Rafiq: Friends of Afghans" - to Support the Departure/Rehabilitation/Resettlement of Abandoned Former Colleagues
My name is Max Fratoddi, a retired FBI FCI/CT Agent (and USMC RVN veteran) who worked with many USIC members over my 25 year career. I am a long term member of AFIO, originally sponsored by the beloved CIA OPs Officer Jack Platt (RIP). More recently, I spent some 6 1/2 years in Afghanistan as a (rotating) contractor mentor to Afghans serving in a unique joint training command under specialized government-to-government MOUs. Some 100 of them (not including families) were left behind with our hasty departure.
"Rafiq - Friends of Afghans" was formed in early August by a number of retired intell community, law enforcement, and military SpOps personnel with many years of experience in working directly with various Afghan National Security Forces personnel. Compared to the many other organizations with similar interests, we are a low-key, non-profit organization whose mission is to quietly support the departure, rehabilitation, and resettlement of our former colleagues to the U.S. I welcome a discussion to determine if there are legitimate collaboration, coordination, and cooperation opportunities with our membership. I can be reached at gmfratoddi@yahoo.com or at 843-540-2026. This request does not constitute an official endorsement by AFIO or any U.S. government agency. Thanks for your interest and support.
Seeking Former CIA Officers who knew Abu Bakr al-Baghdadi, others in ISIS, or King Hussein of Jordan, to assist Israeli Journalist with Documentary
My name is Hadar Gat, I'm a journalist from Israel, currently working on the second season of a documentary series about the most influential Arab leaders in the middle east.
It's an international production, broadcasted on Kan Israeli channel (IPBC).
The documentary series provides a profound profile analysis of leaders in the Arab world, and is one of the leading document series of IPBC.
Each episode is covering the history and profile of a different leader, and reviewing his personality and actions from every aspect possible. Especially the way he was grasped through the eyes of different Intelligence agencies.
I'm contacting [AFIO] because in one of the episodes we are focusing on Abu Bakr al-Baghdadi, and ISIS itself.
We are also doing an episode about King Hussein of Jordan. So I'm looking for former CIA agents/officers who met him or people who are relevant to his time period, and can help us shed some light on his character and relations with the Western world. Can AFIO Members help me with that? We wish to interview former CIA or other IC officers relevant to either of these matters. I'm available for any questions and more details, so feel free to contact me at any time.
Looking forward to hearing from you.
Replies to Hadar Gat, 972-50-4800-306 or hadargat8@gmail.com
Chenega Enterprises and Solutions (ChESS) LLC is identifying Subject Matter Experts(SME) for potential FBI SME Contract work soon to be awarded.
Counter Intelligence SME Contract work at the Wright Patterson AFB, Dayton Ohio on the China Counterespionage & Technology Transfer section, China Technology Transfer Unit (CTT2/CTTU), Counterespionage SME (REDEYE task force).
Responsibilities Support a full spectrum of counterintelligence, counterproliferation, and technology transfer operations and investigations to include program management administration, training, case investigative coordination, and other related duties as assigned. Conduct reviews and assessments of CTTU focused technology transfer programs and operations. Complete written reports which summarize reviews and assessments in a format specified by the FBI technical supervisor. Address actions by FBIHQ and/or FBI field offices to assess counterintelligence program effectiveness regarding counterproliferation and illicit technology transfer matters. Provide CD management with assessments and guidance in formulating CD policy, resource utilization and outreach to the USIC. Assist CTTU or field personnel in assessing information used in intelligence reporting of counterproliferation or illicit technology transfer matters and make recommendations or corrections as necessary. Identify and report on opportunities and methods to improve case and program management of CTTU investigations, operations, and programs. Assess field personnel training proficiency regarding counterproliferation and illicit technology transfer matters and make recommendations to improve training standards and activities. Participate in counterproliferation and technology transfer conferences and seminars as required by the FBI technical lead. Travel domestically as required. Other duties as assigned. Qualifications Required to adhere to all government agency guidelines as it applies to COVID vaccine Attestation/Restrictions. Required to adhere to all government agency guidelines as it applies to COVID vaccine Attestation/Restrictions. US citizenship. Possess a minimum of 6 years federal law enforcement investigation experience, including extensive involvement in counterintelligence, counterproliferation/technology transfer, criminal, or cyber investigations. Possess contemporary knowledge of the primary threat focus of CTTU, to include foreign intelligence services structures, operations and tradecraft, methodologies, and motivators. Must possess have a current, within four years, CI Polygraph from the FBI, or an approved agency prior to report date. Ability to obtain and maintain a Top Secret (TS) / Sensitive Compartmented Information (SCI).
The FBI is looking for Counterintelligence SME to support the FBI Counterintelligence Foreign Investment Unit (FIU).
The FBI is looking for Counterintelligence Training SME to support the FBI Counterintelligence Training Center (CITC). CITC is tasked with training field agents, supervisors and non-agent personnel in CI investigation.
The FBI is seeking an Counterintelligence SME with extensive knowledge in the East Asia region.
TO APPLY OR EXPLORE any of the above: contact Jessica Lewis, Jessica.Lewis@chenega.com for additional information.
Scientific and Technical Intelligence Liaison Officer (STILO) with JHU/APL - Laurel, Maryland
Are you seeking an opportunity to learn about foreign weapons systems? Do you take pride in your expert knowledge of adversary capabilities? If so, we're looking for someone like you to join our team at APL. We are seeking an Assistant Scientific and Technical Intelligence Liaison Officer (Assistant STILO) to help us to inform APL's research and development of sensitive technologies for the U.S. Government. You will assist the Scientific and Technical Intelligence Liaison Officer (STILO) in the National Security Analysis Department (NSAD). This position is designed for a creative, dynamic individual who fosters excellence and innovation, who has a passion for research, and effectively partners to ensure systems developed by APL for the U.S. Government are capable of addressing the most stressing future threats. This position provides strategic, forward leaning intelligence to lead APL and our sponsors to understand the threat environment; and the integration of threat analysis into current and future technology development, studies, and operational analyses. More about this position is here.
Assistant/Associate Professor- Intelligence Analysis (IA) at James Madison University, Harrisonburg, VA
Position Type Instructional Faculty - Full Time
College/Division College of Integrated Science and Engineering
Department 100060 - Integrated Science and Technology
Pay Rate Commensurate with Experience
Full job announcement and to apply is here
---
John Crawford, USN Reserve Intelligence Officer
John Glover Crawford Jr, 75, Captain, USN (Ret), a USN Reserve Intelligence Officer, died 21 November 2021 at Walter Reed National Military Center, Bethesda, MD. He resided in Dumfries, VA.
He was born in Richmond, VA. John grew up in Richmond and graduated from Douglas S. Freeman High School in 1963. He graduated from Emory and Henry College in 1967, with a Bachelor of Arts degree in Economics and a minor in Accounting. John started his career as a bank examiner with the U.S. Comptroller of the Currency and then worked at the family business, Colony House Furniture, in Richmond, VA.
He then began a 31-year career as a naval officer. He was commissioned into the United States Navy through Aviation Officer Candidate School at Pensacola, FL in March 1968. His initial assignment was on the staff of Commander Seventh Fleet, aboard the USS Providence and the USS Oklahoma City, homeported in Yokosuka, Japan. During his career he served with honor at the Fleet Intelligence Center Europe and Atlantic; on the USS Ranger; at Carrier Air Wing 20 at NAS Cecil Field in Jacksonville, FL; as the Reserve Intelligence Program Officer for the Southern California, Arizona, and Nevada areas; and at the Navy and Marine Corps Intelligence Training Center in Dam Neck, VA.
In 1990, he was assigned to London, England as the Executive Officer for the Naval Criminal Investigative Service Europe with additional duty as the Foreign Counterintelligence Officer for the Commander in Chief U.S. Naval Forces Europe. In 1994, he was assigned to the Office of Naval Intelligence in Suitland, MD as the national program sponsor for the Naval Reserve Intelligence Program and he headed the Navy's personnel and training effort with the test and evaluation of the Predator UAV program. He was then assigned to the DIA in Washington, DC, directing a joint Reserve program. He honorably retired from the U.S. Navy in April 1998, at the rank of Captain and worked for several years as a civilian for the DIA. John received numerous awards and medals during his distinguished service in the military, including the Legion of Merit.
John loved his family and enjoyed spending time with his children and grandchildren. He enjoyed his lifelong friendships with his Phi Pi Alpha fraternity brothers and attending alumni events at Emory and Henry College. He also enjoyed traveling, cooking, golf, auto racing, and Washington football games. He loved spending time at his home in the Outer Banks of North Carolina, and the company of his dogs, Flynn and Bentley.
He is survived by three daughters, two brothers, and other family.
The family will receive friends from 2 to 4 and 6 to 8 p.m. Thursday, 2 December 2021, and a Rosary will be recited at 6 p.m. at Bliley Funeral Homes' Central Chapel, 3801 Augusta Ave., Richmond, VA 23230.
Harry Gelman, CIA Kremlinologist and Analyst
Harry Shirley Gelman, 91, a CIA Analyst, died 7 November 2021 at Caleo Bay in La Quinta, CA.
Harry was an international relations scholar and Kremlinologist. His career spanned Khrushchev's secret speech denouncing Stalin to the fall of the Soviet Union. In the 1960s, inside the CIA, he was one who successfully argued for new understanding of the emerging Sino-Soviet dispute against those ideologically opposed to this understanding. Entering Cornell University at the age of 16, he was a student of Vladimir Nabokov. After achieving his Masters from Brooklyn College, he served in the U.S. Army in Korea and Japan. There he wrote radio scripts for the Voice of the United Nations Command. Harry rose to prominence with further education, 24 years as an analyst for the CIA, several international fellowships, and 12 years of research for RAND. He is the author of "The Brezhnev Politburo and the Decline of Detente" (Cornell Univ. Press, 1984) and many other strategic publications.
He is survived by his wife, Shirley, and a son and daughter. In their 64 years of marriage, Harry and Shirley traveled the world together. His family misses his warmth, kindness, humor, and dedication to family.
Chris Monett, CIA Analyst for DO
Christine Catherine Rose Stefani Monett (Nina/Chris), 85, a CIA Analyst for the DO, died of lung cancer 18 November 2021 in McLean, VA.
Chris was born in Summit, NJ. She graduated from Chatham High School in NJ in 1954.
She went to Washington, DC in January 1958 to accept a job with the CIA. From April 1961 to November 1963 Chris was assigned to the U.S. Embassy, Madrid, Spain. Chris moved back to DC in 1963 and in August 1966 was assigned to the U.S. Embassy in Rome, Italy where she met her husband Jon N. Monett, also with the CIA. They moved to Frankfurt, Germany where Chris worked until the birth of a son in November 1970. They returned to the U.S. in 1972 to McLean, VA. The family transferred to Japan in 1975 for a three-year tour, returning to McLean in 1978. Chris made many friends in Japan, loved the culture and the people, and saw much of the country. After a 5-year stint back in McLean, VA, the Monetts moved back to Frankfurt, Germany in 1983 when her husband assumed a senior CIA post, necessitating the entertaining of dignitaries and work-related visitors. Chris resumed employment with the Agency part time. The family traveled extensively throughout Europe when work and time permitted. They returned to McLean in 1987, and in 1989 Chris returned to Langley full-time. She retired from the CIA in 1996 as an Analyst for the Operations Directorate.
Chris enjoyed spending time with family, gardening, reading, concerts, operas, plays, art exhibits, foreign films, entertaining, sightseeing, and aerobics.
She is survived by her husband, Jon Monett, a son and daughter, a brother, and other family.
Visitation will be at Money and King Funeral Home, 171 Maple Ave. W, Vienna, VA 22180 from 4 to 7 p.m. on Friday, 3 December 2021. A Funeral Mass will be held at Our Lady of Good Counsel, 8601 Wolftrap Road, Vienna, VA 22182 on Saturday, 4 December 2021 at 1 p.m. The funeral will be followed by a repast. Family and friends may view and sign the guestbook, and are encouraged to RSVP to the repast after the funeral, under "Events" on Christine Monett's obituary here.
Alan Paller, Cybersecurity Pioneer and Industry Expert
Alan Terry Paller, 76, Cybersecurity Pioneer and Industry Expert, died 9 November 2021 in Bethesda, MD.
Alan was born in Indianapolis, IN.
Alan was a pioneer in the cybersecurity industry, championing the need for greater education and knowledge for practitioners. His combination of passion, intellect, and ethical rigor was instrumental in bringing more skilled people into the profession. He founded SANS in 1989, a professional cybersecurity training organization that trains more than 40,000 cybersecurity technologists each year. He was also President Emeritus of SANS Technology Institute, the nation's first regionally accredited specialized cybersecurity college and graduate school. Most recently, Alan founded and chaired the board of the National Cyber Scholarship Foundation, a new organization created to identify cybersecurity talent in high school and college and encourage their develop ment through a fun game designed to expand diversity and opportunity in the tech industry. Through this initiative, many students from diverse backgrounds found a passion and talent they never knew existed. Alan's vision changed the lives of hundreds of thousands of security practitioners.
Alan testified before the US Senate and House of Representatives and was selected as an initial member of President Clinton's National Infrastructure Assurance Council. He was chosen by President Bush's Office of Management and Budget and the Federal CIO Council as the 2005 Azimuth Award winner, a lifetime achievement award recognizing outstanding service of a single, non-government person to improving federal information technology. He co-chaired the Department of Homeland Security Advisory Committee's 2012 Task Force on Cyber Skills and headed the Task Force on Best Practices in Cybersecurity for the FCC Communications Security, Reliability,and Interoperability Council, and he was a member of the NASA Advisory Council.
He is survived by his wife, Marsha Mann Paller; two daughters; a sister, and other family.
---
AFIO EDUCATIONAL EVENTS IN COMING TWO MONTHS....
2 December 2021, 6:30pm CT - Zoom Webinar - The San Antonio TX AFIO Chapter Hears James Gosler, former Dir, CIA's Clandestine Info Tech Office
The final 2021 program for the AFIO SATX Chapter will be a presentation by James R. Gosler, former Director, CIA's Clandestine Information Technology Office, on "Cyber Threats and Mitigation". James Hughes, AFIO President and a former CIA Operations Officer will host the presentation. Jim Gosler discusses the pervasive and existentially disruptive cyber threats the U.S. faces from adversaries. He describes many factors required to warn, educate, prepare for, and possibly mitigate these growing threats. This AFIO NOW presentation runs 44 minutes.
JAMES R. GOSLER is one of the nation's foremost experts on cybersecurity and information operations. He served more than three decades in various cyber- and nuclear weapon-related positions at Sandia National Laboratories. During his Sandia career, he was invited by the National Security Agency to serve as the lab's first visiting scientist, he created and led the Vulnerability Assessments Program, and, in 2003, he was appointed Sandia's sixth fellow.
Mr. Gosler previously served as the first director of the Clandestine Information Technology Office at the Central Intelligence Agency. He is a member of the Defense Science Board and a former member of the Naval Studies Board and the NSA Advisory Board. This will be an excellent presentation. Our sophisticated nation has many vulnerabilities related to cyber attacks.
A link to this ZOOM hosted presentation will be sent out prior to the meeting.
There will be no SATX AFIO Chapter meeting in January.
Questions or to register to received link to the program, contact John Franklin, President, AFIO San Antonio Chapter, at 210 863-0430 or at satxafio@gmail.com
Wednesday, 8 December 2021 - Las Vegas, NV - The AFIO Las Vegas Chapter's 2021 Christmas Dinner Party
Our last holiday event was December 2019, two long years ago. We are returning to the Los Prados Country Club for a full Christmas Buffet. And we have a special guest speaker, Rev Curt Williams, to present an uplifting message on Patriotism. As at past parties, we will have a raffle for a beautiful Christmas Basket.
The newly remodeled Los Prados Country Club is at 5150 Los Prados Cir, Las Vegas, NV 89130.
Program: 5 pm Social Hour (cash bar); 6 pm Holiday dinner buffet; 7 pm Guest Speaker - Rev. Curt Williams on "What Patriotism Means"
Fee: $45 per person at the door. Cash or check only
RSVP by 12/03/2021 to: Linda Cohn, 702-239-1370; Mary Bently, 702-544-3377; or email lasvegasafio@gmail.com
I hope to see everyone at this particularly special event for our chapter. Again, if you have any questions, don't hesitate to contact our party coordinators: Linda Cohn, 702-239-1370 or Mary Bently, 702-544-3377. See you there...Gregg Schiffbauer, President
Thursday, 9 December 2021, 6 - 8 PM EST - In-Person in Atlanta & Virtual on Zoom - AFIO Atlanta hosts SA Kevin Bryant on "Spies on the Sidelines" on NFL Espionage
AFIO Atlanta Chapter invites all AFIO members and friends to join us at our annual Christmas party and celebration of James Jesus Angleton's Birthday. Our special guest speaker is former Department of Defense Special Agent Kevin Bryant, who will speak on his forthcoming book Spies on the Sidelines: The High-Stakes World of NFL Espionage (Rowman & Littlefield July 2022). Not only does his non-fiction book contain the largest collection of football-related spy stories ever assembled, but also it's the first to explore the full arsenal of methods teams use to spy on their opponents and the countermeasures used to deter them. Spanning across all teams and eras, Bryant shines a light on the shady world of NFL espionage—from clandestine photography and hidden draft prospects to listening devices and stolen documents—along with the permissible, if sometimes questionable, spy techniques teams use day in and day out to gain an advantage over their opponents.
RSVP or questions to brian@afioatlanta.com or 404.403.8004.
All AFIO members and friends are invited!
Tuesday, 14 December 2021 - In-Person and also via Zoom Webinar - Florida Suncoast AFIO Chapter Luncheon features Drs. Alexopoulos and Grzegorzewski on "The Russian Role in Geopolitics."
The Florida Suncoast AFIO Chapter is meeting for a luncheon with speakers Drs. Golfo Alexopoulos, founding director of the USF Institute on Russia and Professor of Global Studies at the University of South Florida, and Mark Grzegorzewski, Resident Senior Fellow in the Department of Strategic Intelligence and Emerging Technology at Joint Special Operations University, MacDill AFB. They will be briefing on "Russia and the Russian role in current geopolitics."
At the meeting the chapter will be presenting awards to the six student scholarship recipients. Through their hard work, determination, and achievements, each has proven to be an individual that this Chapter wants to recognize and encourage to continue his or her educational and intelligence career efforts. Each has amply demonstrated and expressed interest and support for the US intelligence community's core values of patriotism, excellence, integrity, dedication and loyalty. Join us in person as we make these presentations.
In-Person Attendees: The response deadline for in-person attendees is Wednesday, December 8, with a food order form for a box lunch and a health acknowledgement form required.
Cost: luncheon cost is $15 cash or check, payable at the door.
Please contact the Chapter Secretary at michaels@suncoastafio.org to obtain more information and the necessary forms.
Virtual attendees: Zoom attendance is available with advance registration, subject to acceptance, with the same response deadline of Wednesday, December 8. Zoom registration is here.
---
Other Upcoming Events from Advertisers, Corporate Sponsors, and Others
Wednesday, 1 December 2021, 5:30 PM VIP Reception / 6:30 PM Progressive Reception & Award Program - Washington, DC - 2021 Webster Distinguished Service Award Event - International Spy Museum
The Spy Museum offers an evening of intrigue for the 2021 Webster Distinguished Service Award event. The award is an opportunity to recognize the extraordinary contributions of individuals in the Intelligence Community. This year's awardee is The Honorable Susan M. Gordon, former principal deputy director of national intelligence. Previous recipients of the Webster Distinguished Service Award include President George H. W. Bush (2017), Admiral William H. McRaven, USN (Ret.) (2018), and Gen. Michael V. Hayden (Ret.) (2019). Webster attendee and sponsor support fuels the nonprofit mission of educating the public about the history and craft of espionage and intelligence through youth and adult programs, community service, and the care of the Museum's unique collection of artifacts for generations to come.
Event will be held at the International Spy Museum.
For tickets, sponsorship opportunities, or information about ways to support the International Spy Museum, please contact the development office at 202.654.2853. Event tickets, other details are available here.
Wednesday, 1 December 2021, 7pm ET - Zoom Webinar - Covid & Intelligence: What More Can Be Done - a Hayden Center/GMU Event
The COVID-19 pandemic has wreaked havoc on everything from global supply chains to individual lives, with its long-term implications only beginning to take shape. Pandemics, a public health issue, are proving to be a national security one as well. Are America's national security institutions prepared to address this threat? What role should the intelligence community play? What reforms could improve global health surveillance?
Panelists include Rep. Eric Swalwell (D-CA-15), a four-term congressman at the forefront of legislative efforts to reform the intelligence community's approach to pandemic awareness; Dr. Julie Gerberding, who served as director of the Centers for Disease Control and Prevention from 2002 to 2009, where she led the agency through the SARS outbreak, and is currently a senior leader at the pharmaceutical company Merck; and Matt Berrett, a former CIA assistant director and head of its Global Issues Mission Center, and cofounder of the Center for Anticipatory Intelligence at Utah State University. David Priess PhD, our senior fellow and publisher and chief operating officer of Lawfare, will moderate the event.
To participate at the live webinar, register at this link.
If you are unable to connect to the event via Zoom, it will be live-streaming on the Hayden Center YouTube channel.
Thursday, 2 December 2021, 1830/6:30PM EST; 1730/5:30PM CST; 1530/3:30PM PST; 1330 /1:30PM HST - Naval Intelligence Professionals Virtual Speaker Event
TOPIC: Senior Enlisted Perspectives on the Intelligence Specialist Rating
GUEST PANELISTS and current responsibilities; ISCM Dave Stanton, IS Enlisted Community Manager, Navy Personnel Command; ISCM Jeremy Heyer, CMC, Commander, Naval Air Forces; ISCS Robert Morris II, N72 (IS) Rating Lead & Training Manager, Center for Information Warfare Training HQ; and ISCS Jillian Cardoza, Lead Rating Evaluator (CTI/CTM/CTN/CTR/CTT/IS Ratings), Navy Personnel Command.
FORMAT: Video Conference – GoToMeeting. Please join the meeting from your computer, tablet or smartphone, beginning at 1820/6:20PM EST:
https://global.gotomeeting.com/join/607906245
You can also dial in using your phone. United States: +1 (872) 240-3212 Access Code: 607-906-245
New to GoToMeeting? Get the app now and be ready when your first meeting starts: https://global.gotomeeting.com/install/607906245
As always, please mute your device/phone. Thanks.
AGENDA: (5 min) Ms. B. Lynn Wright, DDNI (Ret.), NIP Chairman, welcoming remarks; (~45-60 min) Guest Panel Remarks; (~30 min) Q & A moderated by CAPT (Ret.) Bob Allen. - Please enter your questions in the GoToMeeting chat window or email your questions in advance/during the video conference to: bob_allen36@hotmail.com.
Sunday, 5 December 2021, 8-10am - Washington, DC - Access to SPY: Opening Doors to the Autistic Community - On Site at the International Spy Museum
The International Spy Museum is pleased to offer a sensory friendly community program designed for families who have an autistic child or an individual with sensory processing differences. During these private hours, families can enjoy an exclusive visit with less noise, fewer people, and designated quiet rooms. Program is possible because of the donation and generous support from the Embassy of the State of Qatar.
Event is free – registration required. Visit www.spymuseum.org
Sunday, 5 December 2021, 5 - 9 pm EST - Ashburn, VA - CIRA 2021 National Dinner - Last Chance to Register is 6 pm Thursday Dec 2
Join your CIRA colleagues as they recognize two Salvetti Award winners and also hear from Director Burns. This is the last chance to register for CIRA's 2021 National Dinner! Deadline to register online is 6pm Thursday December 2nd. They have made arrangements for Director Burns to be our keynote speaker! The dinner is $85.00 per person. Meal choices are Salmon, Chicken, or Vegetarian. More information on the location of the event, about the dinner, and how to register and pay can be found exclusively at www.cira.org after logging in as a member. If you have trouble getting onto the website please send an email to cira@cira.org.
Again...details, location, dinner fee available only at www.cira.org after you have logged in as a member.
Thursday, 9 December 2021, noon - Zoom Webinar - Virtual Spy Chat with Chris Costa - Virtual International Spy Museum Program
Join this online discussion of the latest intelligence, national security, and terrorism issues in the news. Spy Museum Executive Director Chris Costa, a former intelligence officer of 34 years, will be joined by former Principal Deputy Director of National Intelligence, The Honorable Susan M. Gordon. During her more than thirty-year career in public service, Gordon was also deputy director of the National Geospatial-Intelligence Agency and served for 27 years at the Central Intelligence Agency. Sponsored by the Honorable Mary Beth Long, International Spy Museum, Board of Directors.
Visit www.spymuseum.org.
Sunday, 12 December 2021, 2-3:30 pm EST - Zoom Webinar - James Goodall, USAF(Ret) discusses "America's Gem: 75 Years of the Lockheed Martin Skunk Works" at this Cold War Museum Webinar
Why Was the U.S. So Dominant in the Air From the Later Stages of WWII Through the Cold War? A Big Part of the Answer Was Lockheed's Legendary Skunk Works. Why Was That? Ask Someone Who Knows—And Who Saw a Lot of Things He Wasn't Supposed to See.
America's Gem: 75 Years of the Lockheed Martin Skunk Works
Drawing from his book 75 Years of the Lockheed Martin Skunk Works, Jim Goodall takes us from the beginning of the Skunk Works's first project (XP-80 Shooting Star) and follows the program through prototype build-up, first flight and, if they reached the frontline, operational service. What sets this presentation and book apart are the photos of the developmental phases of unclassified projects by Skunk Works, featuring the work of lead engineer Kelly Johnson and his team and successors, with more attention to programs that went into production and merit more detailed coverage, such as the P-80/F-94/T-33 family, C-130 family and, of course, the A-12 and SR-71.
If you are interested in the work of greatest team of aeronautical engineers ever assembled, and especially in how things looked in the developmental phases as well as final production, this is a presentation you won't want to miss.
Questions: email Jason@coldwar.org
Cost: $20, 100% of which is a contribution to the Cold War Museum.
Location: ONLINE ONLY. Eventbrite ticket buyers will receive a link to the virtual room on the Zoom platform where this event will take place. We are recording the whole event, including the Q&A, for the Museum's archives.
For more information and ticketing, please visit the Museum's Eventbrite page here for this event.
Saturday, 22 January 2022, 4-7:30 pm ET - Arlington, VA - Operation Soirée: Social Like a Spy and Save the World
Mission: Mix and Mingle Like a Pro
Spyher welcomes Val LeTellier to OPERATION SOIRÉE. Val is a retired CIA operations officer with assignments as Chief of Station (twice), Chief of Base, and Chief of Operations. He had eight field tours in the Middle East, Africa and warzones leading traditional recruitment, covert action and counterterrorism operations. Before that, he was a Special Agent for the US State Department Diplomatic Security Service (DSS). He is a Washington DC native. With coaching from senior former intelligence officers, guests will prepare for a high-stakes mission to help thwart an imminent chemical attack against the McMillan Reservoir in Washington, D.C. Guests will craft a cover story and learn how to discreetly gather information with the elicitation techniques used daily in the world of espionage. With specific requirements in hand, guests ultimately deploy to a cocktail party celebrating the opening of a new art exhibit to find their targets. Armed with new skills, they must tease out details of the attack plan that the Spyher team needs to be successful in stopping the perpetrators.
Location: Ideal lnnovations, inc., 4401 Wilson Blvd Suite 210, Arlington, VA 22203
Dress Code: Cocktail
For More Info or Questions: Spyher - Spy Tours and Events; https://spyher.co/; 703-653-0115; rosanna@spyher.co
Price: $365/pp; Buy Now
---
In addition to the Royal Blue long sleeve shirts and gray long sleeve hoodies, the AFIO Store has the following items ready for quick shipment:
LONG Sleeved Shirts with embroidered AFIO Logo and Mugs with color-glazed permanent logo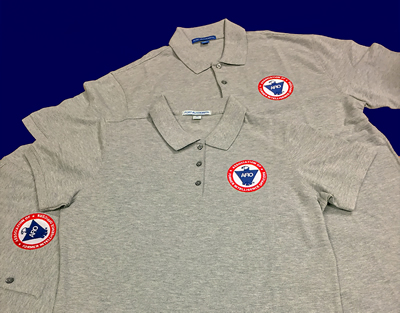 Show your support for AFIO with our long-sleeve Polo Shirts. Dark blue long sleeved shirts are shrink and wrinkle resistant fine cotton with a soft yet substantial feel. They feature a detailed embroidered AFIO seal. Get a shirt for yourself and consider as gifts for colleagues, family, and friends. Only $45 each including shipping.
Sizes of (M) men or (W) women shirts; Small, Medium, Large, XL, XXL, and XXXL. [For short sleeve shirts...they are available on discount of $25 only by email from annettej@afio.com See explanation at top right column of these Weekly Notes.]
You may pay by check or credit card. Complete your order online here or mail an order along with payment to: AFIO, 7600 Leesburg Pike, Ste 470 East, Falls Church, VA 22043-2004. Phone orders at 703-790-0320. Questions? Contact Annette at: annettej@afio.com.
---
AFIO Mug with color glazed logo. Made in America. Sturdy enough to sit on desk to hold pens, cards, paperclips, and candy.
This handsome large, heavy USA-made ceramic mug is dishwasher-safe with a glazed seal. $35 per mug includes shipping. Order this and other store items online here.
---
Guide to the Study of Intelligence and When Intelligence Made a Difference
"AFIO's Guide to the Study of Intelligence" has sold out in hard-copy.
However, it is available in digital form in its entirety on the AFIO website here.

Also available on the website here are the individual articles of AFIO's history project "When Intelligence Made a Difference" that have been published to date in The Intelligencer journal. More articles will be forthcoming in future editions.
---
Disclaimers and Removal Instructions
Weekly Intelligence Notes (WINs) are commentaries on Intelligence and related national security matters, based on open media sources, selected, interpreted, edited and produced for non-profit educational uses by members and WIN subscribers.
REMOVAL INSTRUCTIONS: We do not wish to add clutter to inboxes. To discontinue receiving the WINs:
a) IF YOU ARE A MEMBER - click here: UNSUBSCRIBE and supply your full name and email address where you receive the WINs. Click SEND, you will be removed from list. If this link doesn't open a blank email, create one on your own and send to afio@afio.com with the words: REMOVE FROM WINs as the subject, and provide your full name and email address where you are currently receiving them.
b) IF YOU ARE NOT A MEMBER, and you received this message, someone forwarded this newsletter to you [contrary to AFIO policies]. Forward to afio@afio.com the entire WIN or message you received and we will remove the sender from our membership and distribution lists. The problem will be solved for both of us.
CONTENTS of this WIN [HTML version recipients - Click title to jump to story or section, Click Article Title to return to Contents. This feature does not work for Plaintext Edition or for some AOL recipients]. If you wish to change to HTML format, let us know at afio@afio.com. The HTML feature also does not work for those who access their e-mail using web mail...however NON-HTML recipients may view the latest edition each week in HTML at this link: https://www.afio.com/pages/currentwin.htm
---
WINs are protected by copyright laws and intellectual property laws, and may not be reproduced or re-sent without specific permission from the Producer. Opinions expressed in the WINs are solely those of the editor's or author's listed with each article. AFIO Members Support the AFIO Mission - sponsor new members! CHECK THE AFIO WEBSITE at www.afio.com for back issues of the WINs, information about AFIO, conference agenda and registrations materials, and membership applications and much more!
(c) 1998 thru 2021. AFIO, 7600 Leesburg Pike, Suite 470 East, Falls Church, VA 22043-2004. Voice: (703) 790-0320; Fax: (703) 991-1278; Email: afio@afio.com
---
About AFIO | Membership Renewal | Change of Address | Upcoming Events | Chapter Locations | Corporate/Institutional Memberships | Careers in Intelligence Booklet | Guide to the Study of Intelligence | Intelligencer Journal | Weekly Intelligence Notes | To Make A Donation | AFIO Store | Member-Only Section | Code of Ethics | Home Page
Click here to return to top.
---