---
Details About Top Secret X-37B's Payload Adapter Revealed After Record-Setting Mission - The War Zone, 14 Nov 22
For the first time, we've got to see the U.S. Space Force's top-secret X-37B reusable spaceplane together with its service module, a bolt-on payload package that boosts the number of missions that this shadowy uncrewed orbital platform can undertake. The photo disclosure came soon after X-37B Orbital Test Vehicle-6, or OTV-6 — signaling its sixth mission — returned to Earth after a record 908 days (or roughly two and a half years) spent in orbit. X-37B OTV-6 touched down at NASA's Kennedy Space Center Shuttle Landing Facility on Saturday, at 5:22 AM local time, accompanied by sonic booms heard around Florida. (Full article here.)
China's new satellite-hunting radar aims to blind US - Asia Times, 14 Nov 22
China's new electronically scanned array radar aims to blunt the military advantages long provided by satellite intelligence, raising proliferation concerns in Washington and other Western capitals. The 10-meter-tall SLC-1 radar unveiled at this year's Zhuhai Airshow can detect and track low-orbiting satellites and predict their paths, its manufacturer China Electronics Technology Group Corporation (CETC) claimed at the show, the South China Morning Post reported last week. The state-owned Chinese company also claimed that the SLC-18 high-power, low-frequency P-band radar can function around the clock in all weather conditions and has an exceptionally large search range. (Full article here.)
How US intelligence agencies can diversify secretive workforces - Federal Times, 14 Nov 22
The Office of the Director of National Intelligence has been clear: The intelligence community workforce must represent the diverse expertise and experiences of the American people. "To provide strategic advantage to policymakers and warfighters, we need to understand the world, which is constantly evolving and more connected than ever," said Avril Haines, the Director of National Intelligence. "Building an IC workforce made up of people who think differently, see problems differently and overcome challenges differently is a prerequisite for success." (Full article here.)
Espionage is Deadly. It Will Metastasize if Left Unchecked - Clearance Jobs, 13 Nov 22
If we are honest, espionage is like cancer. It infects a place where secrets are held, gradually leeching away the lifeblood until the what should have been protected is no longer viable. Today, espionage is appearing in different ways and targeting places seldom approached in the past. Take for instance recent Russian expulsions for espionage from Colombia. Yes, the South American country. Two agents of Russia's intelligence agencies, one from their civilian FSB and the other from their military GRU, were expelled. They were speculated to have stolen information regarding Colombia's mineral and energy initiatives. Another spy, this time alleged to be working for Egypt, was arrested by our own FBI in New York. This man spied on Americans on behalf of agencies of Egypt. His mission was to determine their dissident activities against the autocratic President of Egypt. (Full article here.)
How Foreign Intelligence Services Compromise, Exploit U.S. Technology - Homeland Security Newswire, 14 Nov 22
The Defense and Counterintelligence Security Agency (DCSA) has released this year's edition of its annual report, titled Targeting U.S. Technologies: A Report of Threats to Cleared Industry. The focus of the annual report is on foreign efforts to compromise or exploit cleared personnel, or to obtain unauthorized access to classified information or technologies resident in the U.S. cleared industrial base. DCSA provides a snapshot of its findings on foreign collection attempts and provides analysis that covers the most pervasive foreign collectors targeting the cleared contractor (CC) community during fiscal year 2021 (FY21). The agency says that the report serves to articulate the threat to industry and U.S. Government leaders. (Full article here.)
US intelligence document describes UAE efforts to influence American politics - The Guardian, 12 Nov 22
A classified US intelligence report details efforts undertaken by the United Arab Emirates to influence American politics, offering a scrutinizing look at a close US ally, according to the Washington Post. Written by the National Intelligence Council, the report says that the UAE has for years – across multiple presidential administrations – illegally and legally attempted to shape US policy. The Post cited three anonymous sources who have read the report, which the council has been showing to policymakers in recent weeks. Those familiar with the report said that it included influencing measures known to national security officials, but also operations that "more closely resemble espionage", the Post said. According to the report, the UAE has spent over $154m on lobbyists since 2016 and millions more on donations to US universities. (Full article here.)
Shin Bet admits spying on journalists through mobile phones - Middle East Monitor, 12 Nov 22
The Israeli General Security Service Shin Bet admitted that it spied on journalists through a database collected from mobile phone companies. It also used this database in investigations into criminal incidents, not only in security investigations. This came in the Public Prosecution's response to a petition submitted by the Association for Civil Rights in Israel (ACRI) to the High Court. Data on mobile phones is stored in a database. The information in it includes the places where a journalist has been, the conversations they had, their duration and other information. Through the petition, ACRI demanded the removal of a clause from the law regulating Shin Bet's operations that forces mobile phone companies in Israel to provide the agency with information regarding every call or message that took place on the phone. (Full article here.)
Iran-born brothers charged in Sweden with spying for Russia - Associated Press, 11 Nov 22
Two Iranian-born brothers were charged in Sweden with aggravated espionage for allegedly spying for Russia and its military intelligence service GRU for around a decade, prosecutors said Friday. One of the men worked for Sweden's domestic intelligence agency. Authorities identified them as Peyman Kia, 42, and Payam Kia, 35. One of the brothers was also indicted for the alleged gross unauthorized handling of secret information. It wasn't immediately clear which of them it was. "It has been a complex investigation concerning a crime that is very difficult to investigate and the suspicion concerns very serious criminality directed against Sweden's intelligence and security system," National Security Unit chief prosecutor Per Lindqvist said. (Full article here.)
Hamas Emerges as Newest Cyber Espionage Powerhouse - Washington Free Beacon, 11 Nov 22
The Iran-backed Hamas terror group is investing great resources in its cyber espionage capabilities, opening an increasingly dangerous front in its war against Israel, according to a new report. "Hamas has demonstrated steady improvement in its cyber capabilities and operations over time, especially in its espionage operations against internal and external targets," the Atlantic Council think tank said in a report this week. "The group's burgeoning cyber capabilities, alongside its propaganda tactics, pose a threat to Israel, the Palestinian Authority, and U.S. interests in the region—especially in tandem with the group's capacities to fund, organize, inspire, and execute kinetic attacks." (Full article here.)
Berlin embassy spy case reminiscent of John Le Carre thriller - The Independent, 11 Nov 22
The Berlin embassy spy case could have been a plot from an early John Le Carre Cold War thriller – although the potential harm to British national security could not be more real. The late, great novelist – apparently a favourite of British security guard David Smith – drew on his experiences of living in Germany to pen his most famous work, The Spy That Came In From The Cold. After the Cold War officially ended in 1991, hopes of a warmer co-existence with Russia were gradually snuffed out, culminating in the invasion of Ukraine this year – the first war in Europe since the Second World War. Nearly 20 years ago, President Vladimir Putin was welcomed by the late Queen on a state visit to the UK – the first since 1874 – but raised eyebrows when he kept her waiting for 15 minutes. Since then, Russia has gone on to cement its rogue state status under President Putin, himself a former intelligence officer who first came to power in 2000. (Full article here.)
Mysterious company with government ties plays key internet role - Washington Post, 08 Nov 22
An offshore company that is trusted by the major web browsers and other tech companies to vouch for the legitimacy of websites has connections to contractors for U.S. intelligence agencies and law enforcement, according to security researchers, documents and interviews. Google's Chrome, Apple's Safari, nonprofit Firefox and others allow the company, TrustCor Systems, to act as what's known as a root certificate authority, a powerful spot in the internet's infrastructure that guarantees websites are not fake, guiding users to them seamlessly. The company's Panamanian registration records show that it has the identical slate of officers, agents and partners as a spyware maker identified this year as an affiliate of Arizona-based Packet Forensics, which public contracting records and company documents show has sold communication interception services to U.S. government agencies for more than a decade. (Full article here.)
Intel service: Swiss ready to block Russian spies if need be - Associated Press, 09 Nov 22
Switzerland's intelligence agency says a widening rift between Western democracies and autocracies like Russia and China has underpinned a rise in spying activities, warning that Switzerland will move to keep Russian agents off its soil if necessary. The Swiss Federal Intelligence Service, in an annual threat assessment presented on Wednesday, said the Alpine country is facing a "deteriorated" politico-security environment, in part due to fallout from Russia's invasion of Ukraine. It added that security and defense cooperation in Europe is likely to become increasingly important for Switzerland — which has long touted its neutrality. Foreign intelligence services in Switzerland, the report said, are already targeting and spying on critics of their leadership back home or on members of ethnic and religious minorities on Swiss soil. "Geneva remains a hotspot for spying activities," it added. The Swiss city is home to many international and United Nations institutions and advocacy groups. (Full article here.)
How to Reinvigorate the National Security Community One Young Worker at a Time - Government Executive, 10 Nov 22
At a conference several months ago, I was sitting in a conversation about talent management when the speaker, in all seriousness, asked the group, "So what if my best employee doesn't make enough money to afford his own place? Why can't we have more patriotic Americans like him who are willing to work for the government and live in their parents' basement?" I was appalled, but unfortunately this is a sentiment I've heard far too often even from senior leaders in the Department of Defense. Increasingly, this sentiment reflects the dearth of young, civilian, Millennial and Gen Z workers entering national security jobs both in federal service and private industry supporting government. In fact, there are more unfilled jobs now than there have ever been since the statistic was first tracked. The lack of workers isn't because young workers are uninterested in getting a job. For instance, it's estimated 48% of workers age 24 or younger are considering quitting their jobs this year to switch jobs, not to leave the workforce. This may appear to be a daunting statistic, but it presents a significant opportunity for the national security establishment to acquire top tech talent. (Full article here.)
A CIA veteran who survived a hand-to-hand battle with Al Qaeda is now helping Afghans escape the Taliban - NBC News, 11 Nov 22
The desperate pleas come flooding into David Tyson's cellphone, from a country that has fallen off the American radar. The texts are from Afghans who fought alongside him and his colleagues, and they are asking for help to flee Taliban-ruled Afghanistan. The messages often include graphic videos: whippings, torture, the stoning of women, even executions, Tyson said. Tyson was among the first Americans to fly into Afghanistan after Sept. 11, 2001, as part of a CIA unit dropped into Taliban-controlled territory five weeks after the attacks. Team Alpha fought the first major battle of the U.S. war in Afghanistan at a fort in northern Afghanistan, and Tyson's teammate, Johnny "Mike" Spann, was the first American killed in combat in the conflict. (Full article here.)
Amid spying fears from hostile nations, Japan to track land sales - WIONews, 08 Nov 22
Amid spying fears from hostile nations, the Japanese government is mulling over creating a land registration system to track sales near military bases and civilian structures owned by foreign powers. For years, there has been a growing concern that countries such as China, Russia and North Korea have been purchasing property close to important military facilities operated by the Japanese or the US militaries. Additionally, the authorities suspect that the foreign powers are also buying properties near airports, seaports, nuclear plants, dams and key bridges. (Full article here.)
---
The Latest National Security Topic Interview by Former Acting D/CIA Mike Morell


Intelligence Matters: A CBS News national security podcast hosted by former CIA Acting Director and CBS News national security contributor Michael Morell.
08 Nov | The Threat of North Korea's Nuclear Weapons: Markus Garlauskas
This week on Intelligence Matters, Michael Morell speaks with the National Intelligence Officer on North Korea from 2014-2020 Markus Garlauskas about his assessment of North Korea's missile tests and the threat of nuclear weapons. Garlauskas lays out how the U.S. can deter North Korea even as China works as an enabler for the regime.
Past episodes:

01 Nov | The Aims and Impact of Chinese Foreign Development: Brad Parks
25 Oct | Implications of Xi Jinping's Hold on Power: Former Senior CIA China Analyst Chris Johnson
18 Oct | U.S. Political Violence on the Rise: Professor Bob Pape
More about Intelligence Matters by Michael Morell here.
---
"Nazis on the Potomac" with National Park Service Chief Historian Bob Sutton
Spycast is the official podcast of the International Spy Museum and hosts interviews with intelligence experts on matters of HUMINT, SIGINT, IMINT, OSINT, and GEOINT. Spycast is hosted by historian Andrew Hammond, PhD.
08 Nov | "Nazis on the Potomac" with National Park Service Chief Historian Bob Sutton Bob Sutton joins Andrew to discuss the mysterious intelligence site P.O. Box 1142. High-value Nazis were interrogated here during WWII.
Past episodes:

01 Nov | "Baseball and Espionage" with World Series Champion Ryan Zimmerman, Part II
25 Oct | "Baseball and Espionage" with World Series Champion Ryan Zimmerman
18 Oct | "On the Streets, Location Unknown" - CIA Operator Karen Schaefer (Part I)


---
A View from Abroad – the Nuclear Issue
In Other News The proprietary analytic newsletter crafted for The Arkin Group's private clients by former CIA Acting Deputy Director for Operations Jack Devine.
10 Nov | A View from Abroad – the Nuclear Issue The nuclear dimension in European foreign policy is back. Over the past 30 years, after intense debates on nuclear proliferation in the eighties, the nuclear threat in Europe gratefully retreated into the background. Out of the spotlight, the polarization of the previous decades disappeared, and nuclear arms control and disarmament treaties were updated and often concluded. European cooperation with Russia and China on non-proliferation, like with DPRK and Iran, even seemed possible. The existence of nuclear weapons was glazed over with opaque phrases such as 'NATO as a nuclear alliance', without an active understanding of what the stakes for using those weapons might be. Instead, leaders paid frequent lip-service to the greater aim of the Non-Proliferation Treaty: full nuclear disarmament. (Full version available to AFIO members here.)
04 Nov | As the United Nations COP27 approaches, global leaders confront a new energy reality that's been heavily influenced by the Russia-Ukraine war.

27 Oct | Despite Russian setbacks on the ground, all evidence suggests that Vladimir Putin remains undeterred in Ukraine.

21 Oct | Iranian weapons in Russia reveal Putin's needs and limitations, geopolitical realignments abound
---
Daily Analysis of Security Issues and Geopolitical Trends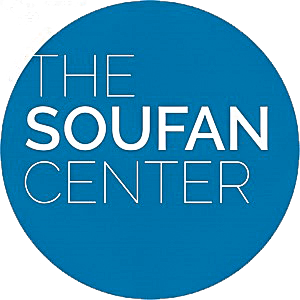 Intel Brief The Soufan Center's flagship, daily analytical product focused on complex security issues and geopolitical trends that may shape regional or international affairs. The Soufan Center was founded by former FBI Special Agent and Soufan Group CEO Ali Soufan.
15 Nov | French Withdrawal from Mali Leaves UN Peace Operation Vulnerable

Last Wednesday, November 9, French President Emmanuel Macron announced the end of Operation Barkhane, the counterterrorism operation established to address the jihadist threat in Mali. The withdrawal comes after a period of deteriorating relations with the Malian junta, as well as a population that has perceived them as a colonial force that failed to protect civilians and communities from civilian violence and far more egregiously, enabled some of the excesses of the state security services according to reports. The withdrawal of Barkhane follows the termination of the Takuba Task Force, a European military force placed under French command and designed to advise and assist the Malian armed forces in coordination with G-5 Sahel partners and international actors. This does not, however, spell the end of a French presence in the region; nearly 3,000 French soldiers will remain in nearby Burkina Faso, facing its own jihadist challenges and recent coups, as well as in Chad and Niger. Moreover, French authorities have insisted that this does not signal the end of France's counterterrorism efforts, and President Macron has indicated a new strategy will be worked out in the coming six months. "Our military support for African countries will continue, but according to new principles that we have defined with them," he said. (Full brief here.)
14 Nov | United Arab Emirates Uses Vast Financial Resources to Influence U.S. Foreign Policy
11 Nov | Political Crisis Adds to Lebanon's Difficulties
10 Nov | Netanyahu Comeback Upends Regional Politics
09 Nov | "On, then, Christian Soldiers, on to Victory": Christian Nationalism Goes Global
---
Analysis of Global Security Events with WTOP National Security Correspondent JJ Green

Inside the SCIF - 11 Nov - Paul Whelan, Kherson withdrawal, Russian nuclear torpedo, $400 million Ukraine security package, and more.
Target USA Podcast - 10 Nov - The Russian Military Pullout from Kherson Looks Like a Trap - Yevheniia Kravchuk, a Member of Ukraine's Parliament says "that's why we listen to our Minister of Defense and not Russia's". And Tuuli Duneton, Undersecretary of Defense Policy at Estonia's Ministry of Defense explains what Russian President Vladimir Putin's long-term goal is.

The Hunt Broadcast - 09 Nov - France ends 8-year counterterrorism operation in Africa's Sahel region




---
False Flag Nation and MAGA Election Violence Absent - For Now - Jeff Stein and Colleagues in SpyTalk (Substack)

11 Nov | False Flag Nation - Jeffrey Morely
Two internal Department of Homeland Security reports, made public last week by Sen. Ron Wyden (D-Ore.), describe how senior DHS officials sought to assign blame for the May 2020 rioting in Portland, Oregon over the police murder of George Floyd on a vast leftwing conspiracy. The technique: labeling every person arrested as "Violent Antifa Anarchist Inspired." As Wyden put it, DHS had "no evidence" to back up the charge. (Full article here.)

09 Nov | MAGA Election Violence Absent—For Now - Elain Shannon
Twenty-five minutes past midnight on Wednesday, Walker, the football superstar turned Republican candidate for Georgia's crucial U.S. Senate seat, mildly counseled his supporters to "hang in there a little bit longer" in anticipation of a Dec. 6 runoff against Democratic Sen. Raphael Warnock. There was no talk from him or other MAGA Republicans along the lines of Donald Trump's bellicose invitation to the Proud Boys to "stand back and stand by," widely seen as an incitement to the January 6, 2021, insurrection. Instead, Walker cheerfully recounted Ronald Reagan's beloved bromide about the kid who thought he'd find a pony if he shoveled enough horse manure. (He didn't credit Reagan.) He compared himself to Will Ferrell's goofball NASCAR driver Ricky Bobby, who flips his race car and maniacally staggers over the Talladega finish line on foot, despite knowing he'll be disqualified for lack of vehicle. (Full article here.)

03 Nov | Accused CIA Mole to Make Public Rebuttal - Jeff Stein


31 Oct | Admit We Have Nukes, Top Israeli Military Figure Says - Jonathan Broder


20 Oct | Clean Out the FBI and Secret Service - Jeff Stein



To support SpyTalk, subscribe here.


---
*** NOTE: Products regularly featured in this section will only appear when they post fresh content. ***
---
Marines Flummoxed on Their Birthday - National Review, 10 November 22
November 10 is the birthday of the Marine Corps, celebrated in every American embassy and every major city in America. Why? Because for 247 years, the very word Marine has symbolized discipline and toughness in battle. The statue of six Marine grunts raising the flag on Iwo Jima in 1945 is emblematic of American grit. Marines are seen as being ready to fight anywhere at any time, bringing to bear its aircraft, artillery, and tanks to support the riflemen who close with and destroy the enemy. The grunt is the organizational heart and the guiding soul of the Marine Corps. Until now. On this birthday, for the first time in its history, the grunt is not the Marine centerpiece. Advised by only a few officers, the current Commandant, General David H. Berger, has decided that shooting missiles, not rifles, will be the centerpiece of the Marines going forward. (Full article here.)
Taken Hostage: An American Experience Special on November 14 and 15 - PBS, 08 Nov 22
Revisit the Iran hostage crisis, when 52 Americans were held hostage at the U.S. Embassy in Tehran. Unfolding like a political thriller, the story is told through the eyewitness accounts of those who took part in the events. (More details and links to video here.)
Between a Rock and a Hard Place: The Precarious State of a Double Agent during the Cold War - International Journal of Intelligence and Counterintelligence, 25 Jul 22
While scholarly literature has paid attention to human intelligence professionalism from the perspective of the agent handler, we know relatively little about the precarious positions in which (double) agents often find themselves and what their ensuing needs from their handlers consist of. This article suggests that (double) agents desire a reciprocal, affect-based relationship with their handlers, involving trust and gratitude, more than just a negotiated relationship based on (financial) agreements. This article explains the importance of such a relationship. The main source of this research consists of original, in-depth oral history interviews with former double agent "M." He operated from the 1960s through the 1990s for the Dutch Security Service and the Central Intelligence Agency against the East German Ministerium für Staatssicherheit. The article analyzes the varying degrees of appreciation that these services showed for his work, and it investigates their consequences on the psychological well-being of the double agent. (Full article here.)
---
Video: Spycameras - The Soviet Neozit Clandestine Camera. (08 mins) - Spycamerasaurus, 06 Nov 22
This is the modern, 1970s updated version of the Soviet Ajax F-21, now with a plastic body, relatively quiet electric motor film advance, and an electric remote release. This camera was known as the 'Neozit'. It was used in the Soviet Union by the KGB. Like its predecessor, the Neozit was intended to be used covertly taking photographs from within concealments. The camera has a button disguise to enable it to be worn on the operator's body. It is also known to have been hidden within various bags, briefcases, or even hard backed books. The remote cable release contains two 3v rechargeable button cells. The camera end of the electric release cable has two small holes that allow a special battery tester to verify the charge condition of the batteries. The electronic shutter speeds are 1/60 to 1/500 s. film sensitivity is set on a sliding control within the camera. The 'Nailon' (Ajax F21 with electronic shutter) is similar. The Neozit has a 24x24 mm frame and uses 27 mm wide film cut from un-perforated 35mm film. (Watch here.)
Video Interview: Former CIA Deputy Director of the Counterterrorism Center Darrell Blocker (108 mins) - The Team House, 11 Nov 22
Darrell M. Blocker is a former American intelligence officer who served for 28 years with the Central Intelligence Agency. He held prominent positions including deputy director of the Counterterrorism Center (CTC), Chief of Africa Division, and Chief of Training at Camp Peary, Virginia, better known as "The Farm". Within the intelligence community, Blocker was known for participating in a number of semi-professional musical ensembles during his postings abroad. He retired in 2018 as the most senior black officer in the CIA's Directorate of Operations. Since 2019 Blocker has been chief operating officer of intelligence and advisory firm MOSAIC, and a contributor for ABC News. In November 2020, Fox News reported that president-elect Joe Biden had included Blocker among his shortlist of candidates to nominate for Director of the Central Intelligence Agency; in the end, the position went to William Burns. (Watch here.)
Analysis: Rethinking the National Defense Strategy - Admiral Gary Roughead - Real Clear Defense, 12 Nov 22
Crafting and articulating national security and defense strategies are hard, more so during a time of unusual economic, geopolitical, and technical change. They must be ambitious yet credible, but, ultimately, our national defense will hinge largely on what we buy in things, people, and readiness. It's unfortunate the National Defense Strategy (NDS), and accompanying Nuclear Posture Review, and Missile Defense Review were not issued earlier in the Biden Administration's four-year term. Clearly, the war in Ukraine gave pause, but the fundamentals of our time of multi-faceted change and challenge are well known - China as the pacing threat, Russia as a disruptor, and Iran and North Korea as unpredictable states. Those fundamentals are consistent with the previous administration's assessment, and for national strategies, consistency of assumptions is good. (Read full report here.)
Analysis: US National Security Strategy And 20th CCP Congress - What They Mean For ASEAN Regional Security - Eurasia Review, 13 Nov 22
On 12 October, the United States published its National Security Strategy (NSS), outlining how it would use all instruments of national power to advance its vital interests and prioritizing China as its "most consequential geopolitical challenge". Ten days later, the Chinese Communist Party (CCP) concluded its 20th national congress, cementing President Xi Jinping's power, unveiling a new leadership filled with people known to be close to Xi, and envisioning how China would advance its vital interests. The juxtaposition of these two developments augurs the widening gap between both powers' competing visions for the world, as the United States seeks to secure its role as a leading Pacific power and China promotes itself as the dominant alternative. In the context of the upcoming ASEAN Summit and related meetings hosted by Cambodia, it is crucial that ASEAN is fully cognizant of the implications of great power rivalry and boost its efforts to maintain its relevance in the Asia-Pacific. (Full report here.)
Analysis: U.S. Midterm Results Are a Net Plus for National Security - Foreign Policy, 11 Nov 22
Just before the 2022 midterm elections, I argued in Foreign Policy that a Republican victory in the House of Representatives would not be all bad for U.S. strategic competition with China because of the Republicans' attention to defense spending and trade policy and the broad bipartisanship around the Biden administration's alliance-centric strategy for the Indo-Pacific. The actual result looks to be even better than that, even if we won't know the final outcome for a few days or weeks. Yes, a Republican House may well go after Hunter Biden and outgoing Rep. Liz Cheney—and generally provide bread and circuses for their base that makes U.S. President Joe Biden look weak and Congress look dysfunctional to U.S. allies. But the public spectacle won't change the fact that Republican control of key House committees will also give the Biden administration's hawks and realists a helpful boost. While watching Jacobin show trials on cable TV, foreign-policy experts should remind themselves of what the author Mark Twain said about the music of German composer Richard Wagner: "It's not as bad as it sounds." (Full report here.)
Video: The CIG/CIA "Spyman" Statuette (04 mins) - Spy Collection, 08 Nov 22
In this episode we cover a rare artifact from the United States, a figurine made out of wood and known as the "Spyman." Its history goes as far back as the WWII Office of Strategic Services (OSS), its successor, the Central Intelligence Group (CIG), as well as CIG's successor, the Central Intelligence Agency (CIA) with its Office of Technical Service (OTS). (Watch here.)
Infographic and Report: Charted - The Dark Web Price Index 2022 - Visual Capitalist, 10 Nov 22
The Dark Web Price Index 2022: Did you know that the internet you're familiar with is only 10% of the total data that makes up the World Wide Web? The rest of the web is hidden from plain sight, and requires special access to view. It's known as the Deep Web, and nestled far down in the depths of it is a dark, sometimes dangerous place, known as the darknet, or Dark Web. This graphic by Enrique Mendoza provides us a glimpse at this shrouded part of the internet, showing us some of the common items that are sold on there, and how much they typically cost. (Access visual tool and full report here.)
Intelligence in History - A Collection of Recent Articles
True Intelligence Operations on TV - Litvinenko - Mini-series Starring David Tennant (Dec 2022)
AMC+ and Sundance Now revealed the official trailer and December 16 premiere date for four-part drama Litvinenko, starring Emmy winner and series co-executive producer David Tennant (Des, Broadchurch) as Alexander Litvinenko. The series is based on the true story of the police investigation into the poisoning of former Russian spy Litvinenko in 2006.

More about this true-to-life production here.


Intelligence in Pop Culture - Cold War Espionage Board Game - Detective Vienna Connection - Portal Games, May 2021
Vienna Connection is a cooperative deduction game set in the midst of the Cold War. Players take on the roles of CIA agents, carrying out covert operations throughout Central Europe, collecting information, gathering clues, and analyzing data to complete a series of missions. This stand-alone game uses the Detective Investigation System, first used in the award-winning game Detective: A Modern Crime Board Game. Both games are designed by Ignacy Trzewiczek, known for other popular board games, such as Robinson Crusoe: Adventures on the Cursed Island, Empires of the North, Imperial Settlers and 51st State. More information here.)
Walking Tours - Washington, DC - Sundays (Dates/Times Vary)
Former intelligence officers guide visitors on two morning and afternoon espionage-themed walking tours: "Spies of Embassy Row" and "Spies of Georgetown." For more information and booking, click here or contact rosanna@spyher.co
---
Stealing Fire: Memoir of a Boyhood in the Shadow of Atomic Espionage
by Boria Sax
(Decalogue Books, 01 Jan 2014)
When Saville Sax and Theodore Hall first met as undergraduates at Harvard, little did either realize that a day would come when they would be passing atomic secrets to the Soviets. Their acts of espionage could have led, as in the case of Julius and Ethel Rosenberg, to death in the electric chair. But unlike others (Klaus Fuchs, David Greenglass, Morton Sobell) they were never even tried for what they did, let alone convicted. Professor Boria Sax, an eminent scholar in the field of human/animal studies, and the elder son of Saville Sax, here relates his stressful experiences growing up in a troubled home, one in which his father lived in constant fear of the FBI. It was only as an adult that Professor Sax came to fully comprehend the magnitude of his father's deed, one he does not condone. As a result, he can now relate how Saville Sax's puzzling behavior affected every member of his family, and the price each one had to pay. This very personal memoir is also an account of a Russian Jewish community that settled in the United States, torn between the desire for continued intimacy and the need to assimilate. The examination of social and political events over several generations invites readers to reflect back on their own experience and its implications.
Order book here.
Supporting Article: Author of "Stealing Fire" Discusses Father's Atomic Espionage - The Impact, 04 Nov 22.
---
The Venlo Sting: MI6's Deadly Fiasco
by Norman Ridley
(Casemate, 01 Dec 22)
On 9 November 1939, two unsuspecting British agents of the Special Intelligence Services walked into a trap set by German Spymaster Reinhard Heydrich. Believing that they were meeting a dissident German general for talks about helping German military opposition to bring down Hitler and end the war, they were instead taken captive in the Dutch village of Venlo and whisked away to Germany for interrogation by the Gestapo. The incident was a huge embarrassment for the Dutch government and provided the Germans with significant intelligence about SIS operations throughout Europe.
Order book here.
---
The Cuban Missile Crisis: When Intelligence Made a Difference
by Regis D. Heitchue
(Dorance Publishing, 26 Aug 22)
The Cuban Missile Crisis-the most dangerous event of the Cold War- has been chronicled in countless books and several movies that speak primarily to the political and diplomatic aspects, with only marginal reference to activities of U.S. intelligence before and during the crisis. Nothing in the historical record portrays the scope of those efforts which were critical to President Kennedy as he sought to resolve the crisis in a peaceful manner and on terms favorable to the U.S.. Recognizing the absence of the intelligence chapter in the historical record of the crisis, the author undertook to document that story in The Cuban Missile Crisis: When Intelligence Made a Difference. The author's account is a unique story of what American intelligence knew, when it knew it, and how it knew what the Soviets were doing in Cuba prior to and during the crisis-and what we now know, 60 years later, quite accurately, what the Soviets were actually doing in Cuba. In that way this book is a valuable addition to the history of the crisis. There are intriguing aspects of the Cuban Missile Crisis that scholars still debate: Why did Khrushchev take the enormous gamble that he did? Did the mysterious backchannel between the Washington KGB chief and an ABC newsman help to resolve the standoff between Moscow and Washington? The author sheds light on these and other mysteries of the Cuban Missile Crisis. There are striking parallels between the Russian war in Ukraine and the Soviet misadventure in Cuba: In both, the Soviets and the Russians lied and deceived to conceal their true intentions, and in both, Soviet and Russian leaders badly miscalculated.
Order book here.
---
Call For Information: Harvard student seeks primary source documents, historical records, or points of contact regarding Freedom Company, aka Eastern Construction Company, of the Philippines
Ryan Santos, a senior at Harvard, is writing his history thesis titled "The outsourcing of freedom": Filipino operatives in the origins of the American war in Indochina, 1954-1967. The focus of the research project is on the Freedom Company of the Philippines (later became the Eastern Construction Company in 1958), a dynamic private enterprise funded by the US to send Filipino paramilitary specialists - who were successful in suppressing their own local communist insurgency in the Huks - to assist in counterinsurgency and nation-building operations in Vietnam, Laos, and Indonesia. Ryan hopes to use his research on the Freedom Company of the Philippines and the Eastern Construction Company to underscore the diversity of geopolitical agents involved in American foreign policy during the Cold War, the development of US-Philippine relations, and the origins of American involvement in Indochina. If this project is of any interest or if there are any primary source documents, historical records, or points of contact that would be helpful, please contact him at ryansantos@college.harvard.edu.
Call For Articles: Threats and Opportunities in 2050, Divergent Options
Divergent Options is a non-politically aligned non-revenue generating national security website that, in 1,000 words or less, provides unbiased, dispassionate, candid articles that assess a national security situation, present multiple options to address the situation, and articulate the risk and gain of each option. Please note that while we assess a national security situation and may provide options, we never recommend a specific option. Divergent Options is calling for national security papers assessing situations or discussing options related to Threats and Opportunities in 2050. Submission deadline is 18 December 2022. For more information, including submission instructions and suggested topics, click here.
Call For Articles: AFIO Journal, The Intelligencer
For the past four years, AFIO has included in The Intelligencer a series of articles on "when intelligence made a difference." Written by scholars, intelligence practitioners, students, and others, they cover events from ancient times to the modern world and in many countries. AFIO is soliciting articles for future issues. Most articles run between 2,000 and 3,000 words, although some are longer or shorter. If you have an idea for an article that fits the theme, email senior editor Peter Oleson at peter.oleson@afio.com.
Call For Assistance: Researcher Seeks Copy of 1941 FBI Booklet
An AFIO member who is conducting research on the beginnings of industrial security programs before WWII is in search of a copy of a 55-page FBI booklet, dated December 1941, titled "Suggestions for Protection of Industrial Facilities." Digital copies or photocopies are acceptable. Please contact winseditor@afio.com with any information.
Call For Papers: Urban Security 2023 in Journal of Strategic Security Special Issue
The special issue will look at a range of urban security issues including urban warfare, urban insurgency, urban crime and insecurity, operating in dense urban terrain (DUT), mega cities, and subterranean spaces (SubT), and in the Urban-Littoral interface, as well as the protection of the populace. Papers addressing the full range of violent actions from high intensity crime to civil strife and other situations of violence, non-international armed conflict (NIAC), and large scale combat operations (LSCO) during international armed conflict (IAC) are encouraged. All papers submitted to the special issues issue will be subject to double-blind peer review. Below is a list of urban security issues the special issue editors would like to see submissions on:

· Conflict in Megacities (10 million or more)
· Police-Military Intelligence interface in urban conflict
· Insurrection
· Urban-littoral nexus
· Information warfare in support of urban conflict
· Urban insurgency
· Urban Terrorism
· Criminal governance in cities (Slums/Favelas)
· Criminal Armed Groups (CAGs) in cities
· Social Media and Urban Conflict
· Climate Conflict in Cities (Urban-Climate Conflict Nexus)
· Urban counterterrorism
· Urban counterinsurgency (COIN)
· Urban Riots and Public Order
· Intelligence for Urban Operations (e.g., GeoINT)
· Urban policing
· Urban critical infrastructure protection including urban cyber security
· Humanitarian operations and protection of civilians in urban conflict
· Medical and humanitarian response to urban crises and disasters

Abstracts due 1 February 2023; draft submissions due 1 June 2023. (See full submission details here.)
---
Faculty Opening - Teaching Intelligence Analysis - James Madison University - Harrisonburg, Virginia
The Faculty of the Intelligence Analysis (IA) Program at James Madison University (JMU) are searching for a dynamic new colleague to join us in the ongoing co-creation of an exceptional educational experience to prepare the next generation of analysts. Our program is in its 16th year, and our graduates regularly secure positions as analysts in the public and private sectors, including the Intelligence Community, military and law enforcement organizations, defense contractors, and major consulting firms. Our vision is a versatile, multidisciplinary undergraduate education that simultaneously emphasizes methodology, technology, and communication, with a specialization in intelligence analysis. We especially seek a new colleague who can strengthen our longstanding distinctive focus on developing good reasoning and/or our more recent focus on research design and analytic production.

We would welcome a potential new colleague from any academic discipline (to include the humanities, social sciences, and natural sciences) and/or any professional background (to include former intelligence, military, homeland security, law enforcement, and other security and analytic professionals) that enables them to speak with credibility about the process of doing analysis. The desire to engage both traditional academics and professional analysts is extremely important to us. We also value both teaching excellence as well as one-on-one professional mentoring. We especially seek candidates who are able to "bridge the gap" and to engage students whose struggles are different from their own, and who can help them flourish in their future personal and professional lives. The position requires either a Ph.D. in a relevant academic field by hiring date (for a tenure-track appointment) or a minimum of a Bachelor's Degree (Master's Preferred) with substantial, demonstrated experience as an analyst (for appointment on a Renewable Term Contract). Our normal teaching load is three courses per semester.

Application materials should include 1) a detailed cover letter that tells the story of how the candidate's expertise and experience fit our aspirations, values, and teaching needs, 2) curriculum vitae/resume, 3) a "statement of inclusive excellence" that highlights (amongst other things) how the applicant has successfully helped colleagues from different backgrounds and perspectives to flourish in their work, and 4) contact information for at least three references.

The search will remain open until the position is filled. Salary commensurate with experience. Questions can be directed to the Chair of the search committee, Dr. Noel Hendrickson, at hendrinx@jmu.edu. Employment is contingent upon the successful completion of a criminal background check.
Additional details and further online application instructions can be found here.

Intelligence Practice Lead - SOS International, Washington, D.C.
The Intelligence Practice Lead, Americas, alongside the Consulting and Solutions Practice Director, Americas, is responsible for developing the Intelligence business within the regional security consulting team. The Intelligence Practice Lead will oversee the development, positioning, sales and the effective coordination and delivery of all intelligence consulting and solutions, including Intelligence Managed Services, in the US and Canada region. In this role the individual will oversee the provision of support to International SOS's US and Canada regional distribution channels to drive customer satisfaction and profitable growth across relevant business lines, in the technical domain of Intelligence. The individual will help to translate International SOS's Security value proposition into clear priorities and actions, in support of the business lines' commercial road maps. In addition, the role will be responsible for: driving day-to-day delivery of Intelligence consulting deliverables (including capability assessment, planning, training etc); establishing a cadre of analyst external consultants; educating key internal stakeholders and clients; leading/contributing to the expansion of intelligence methodologies and deliverables; along with their cadre of external consultants.
Additional information and application here.

Supervisory Criminal Investigator (Special Agent-In-Charge) - U.S. Army CID, Nationwide
Serves as the Criminal Investigation Division (CID) Field Office Special Agent-In-Charge (SAC) and is the principle law enforcement expert and advisor responsible for all investigations and operations conducted by CID offices within their area of responsibility (AOR). Directly supervises multiple Supervisory Criminal Investigators, full-performance level GS-13 and GS-14 criminal investigators, and support personnel in co-located and satellite offices.
Additional information and application here.

Retired Federal Government Employees Wanted - National Security Agency - Fort Meade, Maryland
The National Security Agency (NSA) may occasionally need skilled civilian retirees to augment the existing work force on high priority projects or programs. In order to fill these temporary positions quickly, we need to know who may be interested and available to return to work with us on a short notice basis as well as their skills. Retirees provide expertise and corporate knowledge to temporarily support mission requirements, manpower shortfalls, and/or mentor the next generation of Agency employees. Salary Range: $86,335 - $170,800.
Additional information and application here.

Assistant/Associate Professor of Intelligence Studies (Global Security and Intelligence Studies) - Embry-Riddel Aeronautical University - Prescott, Arizona
Embry-Riddle Aeronautical University's Prescott, Arizona campus is accepting applications for a tenure-track assistant or associate-level professor of intelligence studies to teach intelligence courses to students in the Global Security and Intelligence program. The successful candidate will teach students about the intelligence community, strategic intelligence, the intelligence cycle and intelligence analysis, writing, and briefing. Prior experience working in the intelligence community is strongly preferred. We are interested in candidates with teaching acumen in intelligence analysis and writing using structured analytical techniques.
Additional information and application here.

Teaching Associate - Intelligence and National Security Studies - Coastal Carolina University, South Carolina
The Department of Intelligence and Security Studies ( ISS ) at Coastal Carolina University is accepting applications for a pool of Teaching Associates (part-time adjunct faculty) to teach introductory and undergraduate elective course offerings for the program beginning in August 2022. While the ad is open to any specialization within the field of study, courses in the areas of homeland security, law enforcement intelligence, counter-narcotics, and cybersecurity are of particular interest. Course offerings can be in a face-to-face or synchronous online modality. To be considered, candidates must have a masters or doctoral degree in a relevant subject area. Prior professional experience in the profession, as well as prior teaching experience are preferred.
Additional information and application here.

Assistant Professor of Intelligence and National Security Studies - University of Texas, El Paso
The Department of Criminal Justice is seeking to fill one full-time tenure-track position beginning Fall 2023 at the Assistant Professor level. Responsibilities include conducting and publishing scholarly research, seeking extramural funding, teaching face-to-face and online courses, and service to the department, university, and profession. Applicants must have a Ph.D. in a closely related field in Intelligence and/or Security Studies from an accredited university (e.g., criminal justice, political science, public policy, security studies). ABD applicants will be considered if doctorate will be in hand by Fall 2023. Active research agenda and published scholarly journal articles are required to apply. Applicants with only a J.D., Psy.D., or Ed.D. will not be considered. All research/teaching areas of intelligence/national security studies will be considered, but preference will be given to candidates who have demonstrated teaching and/or research areas in at least one of these areas: Homeland Security, Intelligence Analysis, or Terrorism/Counter-Terrorism.

Additional information and application here.
Adjunct Professor - The Institute of World Politics, Washington, D.C.
The Institute of World Politics (IWP) in Washington, D.C. seeks an adjunct professor to teach its graduate course on the Russian intelligence and security services. The course is an elective in the Strategic Intelligence Studies (SIS) Master's degree and Counterintelligence Certificate programs. The four-credit course consists of 14 weekly, three-hour instructional meetings, plus a final examination, and a research paper. A course syllabus and lecture materials are available for use. Candidates should possess professional experience (at least 15 years) as a professional intelligence officer involved in operations, or analysis with knowledge of the Soviet and Russian intelligence and security services, and preferably teaching experience at the university level, either undergraduate or graduate.
Resumes may be sent to Prof. David Thomas at DThomas@iwp.edu, cc to John Sano at JSano@iwp.edu.
---
Thomas Yosick — NSA Communications Security Retiree

Thomas Michael Yosick, 81, of Hanover, PA passed on 04 November 2022. After graduating from Shelby High School in Ohio, Mr. Yosick served in the United States Marine Corps where he was assigned to the Naval Security Group at the National Security Agency. He transitioned to his civilian career at the NSA and spent three decades in Communications Security before retiring in 1992. He was a member of the Phoenix Society. During his career, he served two tours of duty at GCHQ in England, during which time he and his family traveled extensively through Europe. He received two Meritorious Civilian Service Awards and proudly served in Desert Storm in Saudi Arabia.
Frank Arias — Career CIA Operations Officer

Frank Arias of McLean, VA, a career CIA Operations Officer, passed in early-to-mid October 2022 due to complications from cancer. Originally from Oakland, CA, Frank served most of his Agency career in the East Asia arena; he was a Mandarin speaker. After retirement, Frank returned to the Agency on contract to continue contributing to the mission.
Kathy Kane — CIA SIS Officer and Career Achievement Medal Recipient

Kathleen "Kathy" Mary Ann Kane, age 75, passed away on November 6, 2022 at Lower Cape Fear Hospice in Bolivia, North Carolina. She worked for the Central Intelligence Agency (CIA) where she became a member of the Senior Intelligence Service and received the Career Achievement Medal before she retired in January 2007. A service and celebration of life will be held on 13 January 2023 in St. James, North Carolina.
Clarice Campbell — Career NSA Officer

Clarice June Campbell, age 100, of McLean Virginia, died the morning of 3 October 2022, less than 4 months after her 100th birthday. Clarice worked for the National Security Agency for 30 years before retiring.
Betty Hart — Career CIA Officer and Tandem Spouse

Betty Deffer Hart, 92, of Mechanicsville, Virginia passed away peacefully on October 30, 2022. A graduate of Western High School in Washington, D.C., from where she was recruited by the CIA in 1948, she had a long and successful career and she was married to CIA physician Rex Marvin Hart, who has preceded her in death. The couple spent time in France, Japan, and Northern Virginia.
Tony Oettinger — National Security Icon

Anthony "Tony" Gervin Oettinger, Harvard Professor of Applied Mathematics and Holocaust survivor, died July 26, 2022, in Newton, Massachusetts at age 93. He was a graduate of the Bronx High School of Science and Harvard University, and a pioneer in computer science and artificial intelligence. In recognition of his work in the national security community, the United States government created, in 2010, the Anthony G. Oettinger School of Science and Technology Intelligence of the National Intelligence University. He was known for coining the phrase "Time flies like an arrow, fruit flies like a banana" to explain the difficulty in automatic language translation. In 1973 he co-founded, with colleague John Legates, the Program on Information Resources Policy at Harvard. In the White House, he was a consultant to the President's Foreign Intelligence Advisory Board (1981-90), the National Security Council (1975-81) – for which he received a commendation letter in 1977 from President Gerald Ford – and the Office of Science and Technology (1961-73). Tony was a member of the National Defense Intelligence College Board of Visitors starting in 1987 and served as Chairman of the Board from 1994 to 2010. He was a recipient of the Defense Intelligence Director's Award, as well as an honorary Doctorate of Strategic Intelligence. From 1963 to 1967, he was an adviser to NASA's Apollo moon-landing program. He founded the Computer Science and Engineering Board of the National Academy of Sciences and chaired it from 1967 to 1973. From 1966 to 1968 he was president of the Association for Computing Machinery (ACM).
---
16 Nov 22 (Wednesday), 1800 (ET) - Virtual - "Current Arms Control and Security Environment" featuring Neil Couch, U.S. Department of State - Atlanta Chapter
Members and allied IC associations are invited to attend (via Zoom) AFIO Atlanta's webinar "Current Arms Control and Security Environment" featuring Mr. Neil Couch, the Director of the Office of Verification, Planning, and Outreach for the Bureau of Arms Control, Verification, and Compliance, U.S. Department of State. Neil will speak about contemporary diplomatic and military issues concerning global nuclear nonproliferation efforts. He is an accomplished diplomat and military officer, and above all Neil is a Citadel graduate ('82).

For Zoom security, to receive the Zoom links to attend this meeting, contact team@afioatlanta.com.

You must read the following before entering the event/Zoom call:

DISCLAIMER: Out of respect for the privacy of our speakers and attendees, we are not allowing press personnel to attend this event, whether or not they attend in a personal or professional capacity. This is to ensure the confidentiality of our members, speakers, and attendees, and we thank you for your cooperation. This event is strictly confidential, and all in attendance are under strict instruction to not record, make publicly available, or submit with attribution any content or the identities of speaker(s). By registering for, or attending this event, you agree to not make any recording or capturing of unauthorized audio or video of the virtual event including, but not limited to, confidential presentations, portions, visuals, imagery, conversations, and messaging. The event host (AFIO Atlanta, and its officers), and keynote presenter(s), may designate areas or portions of the event where photo, video, or audio recording may be allowed. Release of Liability For AFIO events, whether virtual or otherwise, we cannot guarantee that the event will not be recorded or captured by any party attending the event. By registering, you agree to release AFIO Atlanta from any liability, costs, fees, damages, or any financial obligation for any loss, damages or injuries that may be caused by the recording or capturing of any parts of the virtual event. Requests for image credits, attribution, take down, more information, questions, or assistance: contact AFIO Atlanta at team@afioatlanta.com or you can contact Grant at grant@afioatlanta.com or Brian Hooper at brian@afioatlanta.com.
17 Nov 22 (Thursday), 1200 (ET) - Luncheon and Virtual - AFIO Florida Suncoast Chapter features LCDR Tyson B. Meadors (USN) on U.S. Navy Cyber Operations
SLCDR Tyson B. Meadors (USN) will participate remotely from his current assignment in DC and will address the Navy's cyber dilemma and why the Navy needs its own specialized cyber force to fulfill its traditional mission of protecting the nation's maritime-based economy. The cost to attend this luncheon in person is $15, including a box lunch. Please contact the Chapter Secretary, michaels@suncoastafio.org, for more information or to attend either in-person or via Zoom. Advance registration is required, with a registration deadline of noon on Thursday, 10 November.
17 Nov 22 (Thursday), 1130 (RMT) - Colorado Springs, CO - AFIO Rocky Mountain Chapter features Schuyler Foerster on "The War in Ukraine: Update, Prospects, and Issues Ahead."
Schuyler Foerster will summarize where we are in the war as of mid-November, examine the prospects for either side's victory, defeat, stalemate, escalation, or negotiation, and highlight the issues ahead for all of us in the West. Mr. Foerster is emeritus professor of political science at the U.S. Air Force Academy, where he served as the Brent Scowcroft Professor for National Security Studies from 2010-2016. He also teaches as a visiting professor at Colorado College and at Masaryk University, Czech Republic. During his 26-year military career, he served in several assignments as a senior advisor in security and arms control policy. A graduate of the U.S. Air Force Academy, he holds a doctorate from Oxford University in politics and strategic studies and was a national security fellow at Harvard University's Kennedy School of Government. For more information, please contact steve13507@gmail.com
19 Nov 22 (Saturday), 1400 (ET) - Kennebunk, ME - AFIO Maine hosts Amb. Robert Cekuta discussing The Caucasus and Central Asia: Russia's Southern Front
Russia's invasion of Ukraine unmasked the Kremlin's ambitions towards all the states that were once part of the Soviet Union or Russian Empire. The countries of the Caucasus and Central Asia, many of which are rich in oil, gas, uranium, and other resources, are working to maintain the independence they won just over 30 years ago. But Russia's ambitions are not the only threat; there are also Chinese and Iranian ambitions, Turkey's evolving role, and the threats of terrorism, religious extremism, and drug trafficking. While almost half a world away, the U.S. has its own geostrategic interests in the region as well and many of these countries look for a more active U.S. engagement. Ambassador (ret.) Robert Cekuta will look at this evolving situation in a strategic part of the world and what the United States is, and should be doing to advance our interests there.
The meeting is open to the public and will begin at 2:00 p.m. at the Program Center of the Brick Store Museum, 4 Dane Street, Kennebunk, Maine 04043. A Question and Answer period will follow the presentation. No reservations are required
01 Dec 22 - Virtual - The San Antonio AFIO Chapter program features Video on China's Oil and Gas Silk Road Initiative
The program will be a very current educational video on China's Oil and Gas "problem." The program covers China's motives for the Silk Road initiative, expansion into the South China Sea and development of overseas installations.

Questions or more information from John Franklin, Chapter President, 210-863-0430; satxafio@gmail.com.
08 Dec 22, 1200 (PST) - San Francisco, CA - The Andre LeGallo San Francisco Chapter hosts Gurvais C. Grigg, former FBI Agent and current Chief Technology Officer, Chainanalysis on "The use of crypto currencies by state and non-state actors.""
Speaker Bio: Mr. Gurvais C. Grigg is a bilingual technology executive and recognized thought leader with over 28 year of public and private sector experience leading complex organizations, investigations and technical programs. Mr. Grigg retired from the FBI after 23 years of service and joined Chainanalysis as the Global Public Sector CTO. He is responsible for connecting global governments with the cryptocurrency industry and providing them with the best data and tools to manage risk, address threats, and conduct effective investigations.

Registration: This meeting will be held via zoom. Registrants will receive a zoom link. Reservation and pre-payment is required before November 30, 2022. Please contact Mariko Kawaguchi, Board Secretary at afiosf@aol.com or Mariko Kawaguchi, c/o AFIO, P.O. Box 117578, Burlingame, CA 94011 for questions. Students: please e-mail your school ID to get sponsored. Register here.

08 Dec 22, 1200 (ET) - Luncheon and Virtual - Tampa, FL - Florida Suncoast Chapter hosts Michael Pullara on his investigation into the 1983 murder of CIA officer Freddie Woodruff
The Florida Suncoast AFIO Chapter's last meeting of the year will be held at noon Thursday, 08 December, at the Jimmie B. Keel Regional Library, 2902 W. Bearss Avenue, Tampa, FL 33618-1828. Check-in starts at 1145. Veteran Houston trial lawyer Michael Pullara will present in-person to recount his years-long investigation into the 1993 murder of CIA agent Freddie Woodruff. Pullara put his multi-year fight for truth into a book, The Spy Who Was Left Behind, that he will have available for purchase and inscription at the meeting. The cost to attend this luncheon in person is $15, including a box lunch. Please contact the Chapter Secretary, michaels@suncoastafio.org for more information or to attend either in-person or via Zoom. Advance registration is required, with a registration deadline of noon on Thursday, 1 December.
See the AFIO Calendar of Events for scheduling further in the future.
---
15-17 Nov 22, 1730-2130 (ET) - Washington, D.C. - Conference: ISS World North America
ISS World North America is the world's largest gathering of North American Law Enforcement, Homeland Security, Defense, Public Safety and other members of the Government Intelligence Community as well as Telecom Operators responsible for cyber threat intelligence gathering, DarkNet monitoring, lawful interception, and cybercrime investigations. ISS World Programs present the methodologies and tools for Law Enforcement, Public Safety and Government Intelligence Communities in the fight against drug trafficking, cyber money laundering, human trafficking, terrorism, and other criminal activities conducted over today's Telecommunications networks, the Internet, and Social Networks. (More information and registration here.)
19 Nov 22, 1730-2130 (ET) - Dinner - Reston, VA - INSA Leadership Dinner with NRO Director Christopher Scolese
Government, industry, and academic leaders will gather to hear The Hon. Christopher Scolese, Director, National Reconnaissance Office (NRO) at INSA's first Leadership Dinner of the 2023 fiscal year. Dr. Scolese will discuss NRO's acquisition needs, current challenges and opportunities, and strategic outlook for the year ahead. Following his prepared remarks, Dr. Scolese will join INSA Chair Tish Long for a moderated Question and Answer (Registration and more details here.)
16 Nov 22, 1700-1800 (ET) - Online Event - Johns Hopkins University - Nuclear Politics on the Korean Peninsula
Join host Michael Ard for a curated discussion with Youngho Kim of Sungshin University and Yong-Sup Han of Korea National Defense University as they discuss Nuclear Politics on the Korean Peninsula. Dr. Youngho Kim is a Professor of Political Science and Foreign Affairs at Sungshin University. He served as Human Rights Ambassador of the Republic of Korea (2012-2013). He also served as the Secretary to the President for Unification during the Lee Myoung-bak administration (2011-2012). He was a Visiting Professor at Keio University (2015-2016). He received his BA from Seoul National University and a PhD from the University of Virginia. Dr. Yong-Sup Han is a Professor Emeritus of Korea National Defense University. He is a member of APLN (Asia-Pacific Leadership Network) for Nuclear Nonproliferation and Disarmament. Dr. Han launched the Korea Nuclear Policy Society and served as its first President (2012-15) and he had been Vice President of KNDU (2010-12), and President of Korea Peace Research Association (2007-10). He also directed the Research Institute for National Security Affairs of Korea National Defense University (2005-08).Before joining in the faculty of Korea National Defense University, Dr. Han served as a special assistant to the Korean Minister of National Defense, participating in the inter-Korean denuclearization negotiations while doing policy recommendations to the Korean government on policies of arms control and denuclearization and the Korea-US alliance. Dr. Han received his BA and MA in Political Science from Seoul National University, a Masters in Public Policy from the Kennedy School of Government, Harvard University, and a PhD in Security Policy from the RAND Graduate School, RAND Corporation of the United States. (More information and registration here.)
17 Nov 22, 1200 (ET) - Virtual Event: Superspy Science with Kathryn Harkup - International Spy Museum
The world of 007 is known for its guns, gadgets, and grandiose schemes to take over the world, but would any of these weapons, tech, or plots make it in the real world? With her new book, Superspy Science: Science, Death and Tech in the World of James Bond, international bestselling author, Dr. Kathryn Harkup has set out to explore how science and technology intersect with the world of Bond. From Dr. No to Skyfall, Harkup takes on the really difficult questions such as: Will being covered in gold paint really kill you? Can you run across crocodiles? Can you sled in a cello case? And how do suicide pills work and can you survive taking one? Join us for a conversation with Harkup about some of our favorite Bond weapons, technologies, and tactics and just how rooted in reality they are. (More information and registration here.)
17 Nov 22, 0900-0945 (ET) - Online Event - INSA - Coffee and Conversation with Rear Adm. Michael Studeman, USN
In this 45-minute moderated conversation, Rear Adm. Studeman will discuss ONI's assessments of foreign naval capabilities and its application of naval intelligence to global geopolitical challenges, including Russian shipping in the Black Sea, power projection in the Arctic, and China's projection of sea power in the South China Sea and beyond. He will also discuss the Navy's use of technical tools to better understand the maritime domain, such as AI to model and analyze critical data, the application of machine learning to enhance maritime surveillance, the use of geospatial intelligence to track shipping of concern, and the use of technical intelligence to assess foreign navies' sensors, weapons, platforms, and combat systems. (More information and registration here.)
22 Nov 22, 1400-1500 (ET) - Virtual Event: SPY with Me | Memory Loss Program - International Spy Museum Program
SPY with Me is an interactive virtual program for individuals living with dementia and their care partners. Join SPY as we use music and artifacts to explore some of our favorite spy stories. Programs last one hour and are held virtually through Zoom once a month. Free, but space is limited. To register, email Shana Oltmans at soltmans@spymuseum.org. More information at www.spymuseum.org.
29 Nov 22, 0900-0945 (ET) - Online event - Coffee and Conversation with DIA Chief of Staff John Kirchhofer - INSA
The DIA's third ranking officer, John Kirchhofer will discuss key elements of the organization's strategies, policy, and enterprise management. Topics for discussion will include the Agency's integration of AI, machine learning, and open source information into intelligence analysis; its use of secure cloud-based computing to facilitate information sharing and dissemination; JWICS and IT modernization; and the Agency's collaboration with both key international partners and the defense industrial base. (Registration and more details here.)
29 Nov 22, 0830-1740 (CST) - In-Person event - Huntsville, AL - Geospatial Advantage Conference - NGA
The National Geospatial-Intelligence Agency (NGA) and GEOHuntsville are co-sponsoring the first-ever Geospatial Advantage Conference. With the theme "Why Where Matters," this conference is an opportunity for government agencies non-profit organizations, academia and industry to engage in discussions on partnerships, innovative technologies, and the growing geospatial ecosystem in Huntsville. NGA's Deputy Director Tonya Wilkerson will provide the opening keynote at the conference. Huntsville Mayor Tommy Battle will deliver closing remarks. The event will be hosted by Intelligence National Security Alliance (INSA) President, Suzanne Heckenberg. Discussions will revolve around: Leveraging commercial data and imagery; The future of artificial intelligence; Geospatial learning inside and outside the classroom; Fostering a geospatial ecosystem. Students, academics, government and industry are all invited to join the conversation during this one-day, in-person event at the Jackson Center with a networking social and student career fair immediately to follow. (Registration and more details here.)
12-15 Dec 22 - Conference - San Antonio, TX. - 2022 Department of Defense Intelligence Information System (DoDIIS) Worldwide Conference

The Defense Intelligence Agency (DIA) is excited to welcome participants to the 2022 Department of Defense Intelligence Information System (DoDIIS) Worldwide Conference in San Antonio, Texas! From 12 – 15 Dec 22, senior decision makers, technical experts, and innovators from across the Department of Defense, Intelligence Community, industry, academia, and FVEY partners will come together to collaborate and share unique insights. The theme of this year's conference – Transcending Strategic Competitors through Innovation, Adaptation, and Collaboration – underscores the urgent race to collectively develop and unleash emerging technologies to maintain strategic and tactical advantage. Mission success in an era of strategic competition demands a willingness to embrace disruption and elevating partnerships to serve as overwhelming force multipliers. (Information and registration here.)
19 - 28 Mar 23 - Washington DC to Europe and back - Gary Powers' 10-Day Cold War Espionage Tour
Join author and historian Gary Powers Jr. on this unforgettable 10-day tour of Cold War and Espionage related sites throughout Germany and the Czech Republic

Day 1: Departure from the USA; Day 2: Arrival Berlin; Day 3: Berlin - Potsdam - Berlin; Day 4: Berlin; Day 5: Berlin – Leipzig – Dresden; Day 6: Dresden – Prague – Pilsen; Day 7: Pilsen – Míšov – Pilsen; Day 8: Pilsen – Rozvadov – Nuremberg – Stuttgart; Day 9: Stuttgart – Sinsheim – Speyer – Frankfurt; Day 10: Departure for the USA.

Included Visits: Berlin Wall Memorial • Checkpoint Charlie Museum • German Spy Museum • Military History Museum Gatow • Glienicke Bridge • Hohenschönhausen Memorial • Berlin Stasi Museum • Allied Museum on Clay Allee • Museum in Der Runde Ecke • Leipzig Forum of Contemporary History Museum • Dresden's Military History Museum • Bautzner Strasse Dresden Memorial • KGB Museum • Prague Museum of Communism • Vitkov Hill Nuclear Bunker • Pilsner Urquell Brewery • Atom Museum • Iron Curtain Museum • Nuremberg Trials Memorial • Stuttgart Cold War Bunker • Sinsheim Technik Museum • Speyer Museum of Technology.

Tour Name: Gary Powers' Cold War Espionage Tour - view tour; Group Name: Garypowers.Com Tours; Departure City: Washington, DC; Tour Departure Date: March 19, 2023; Tour Return Date: 28 Mar 23.

Tour Price: $3,950.00 (deduct $950 for land only tour) per person, assumes 2-person registration.

For full description of the activities and accommodations on each of those dates and locations, explore full information about the tour here or Call 1.800.323.4466.

To enroll now for this 2023 once in a lifetime tour, do so here.

ALSO See: "Enemy Territory: The Story of American CIA U-2 Pilot Francis Gary Powers" - A Graphic Novel by Francis Gary Powers Jr. and Walter Pfenninger.
---
---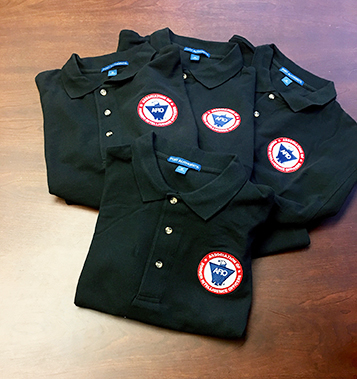 Now available: Black short-sleeved polo shirts with Embroidered AFIO logo
Show your support for AFIO with our new Black Short-sleeve Polo Shirts. Shirts are shrink and wrinkle resistant of fine cotton with a soft, "well-worn, comfy" yet substantial feel. They feature a detailed embroidered AFIO seal. Get a shirt for yourself and consider as gifts for colleagues, family, and friends. Only $50 each including shipping.
Sizes for (M) men, only; Small, Medium, Large, XL, XXL, and XXXL. $50 per shirt.
You may pay by check or credit card. Complete your order online here or mail an order along with payment to: AFIO, 7600 Leesburg Pike, Ste 470 East, Falls Church, VA 22043-2004. Phone orders at 703-790-0320. Questions? Contact Annette at: annettej@afio.com.
---

PopSocket for cellphones or tablets
Show your support to AFIO while enjoying the convenience offered by our AFIO Logo PopSocket. The PopSocket is most commonly used as a stand and as a grip for your mobile phone or tablet; handy for taking selfies, watching videos, and for texting. The PopSocket looks like a small button or sticker which, when closed, sticks flat to your mobile device. However, its accordion-like design enables it to pop open for use. The benefits of using a PopSocket make it a must-have accessory for your mobile phone or tablet. It also aids in keeping your phone from slipping off your hand during use, falling, or breaking.
Price: $15. Order this and other store items online here.
---


Caps - Dark Navy with Navy AFIO Logo
An authentic silhouette with the comfort of an unstructured, adjustable fit. Fabric: 100% cotton. Unstructured. Fabric strap closure with adjustable D-clip. Price: $30. Order this and other store items online here.
---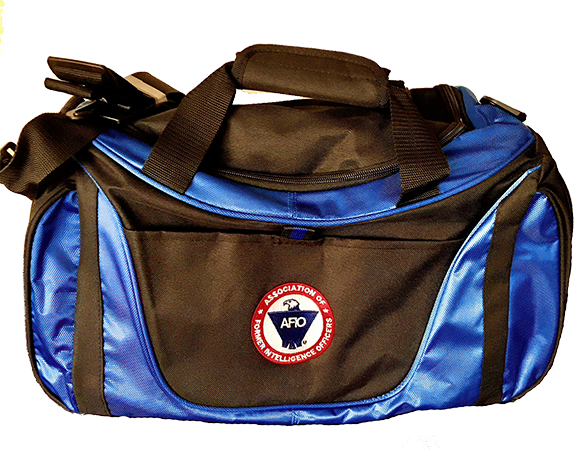 Duffel Bags - Royal Blue and Black with Full Color AFIO Logo This duffel has it all when it comes to value, style and organization.
600 denier polyester canvas with polyester double contrast; D-shaped zippered entry for easy access. Front pocket with hook and loop closure. End mesh pocket Easy-access end pockets. Four durable, protective feet and built-in bottom board for added strength. Web handles with padded grip. Detachable, adjustable shoulder strap.
Dimensions: 11"h x 19.75"w x 9.75"d; Approx. 2,118 cubic inches
Price: $50. Order this and other store items online here.
---
AFIO Mug with color glazed seal.

Made in the U.S.A., dishwasher-safe.
$35 includes shipping.

Sip your morning joe in style or use it to stash pens, cards, paperclips, or candy.
Order this and other store items online here.
---
Guide to the Study of Intelligence...and...When Intelligence Made a Difference
"AFIO's Guide to the Study of Intelligence" has sold out in hard-copy.
It is available in digital form in its entirety on the AFIO website here.

Also available on the website here are the individual articles of AFIO's
history project "When Intelligence Made a Difference" that have been
published to date in The Intelligencer journal. More articles will be appear in future editions.
---
Address Technical Issues Or Unsubscribe
Some features of the email version of the WIN do not work for readers who have chosen the Plaintext Edition, some users of AOL, and readers who access their email using web mail. You may request to change from Plaintext to HTML format here afio@afio.com. For the best reading experience, the latest web edition can be found here: https://www.afio.com/pages/currentwin.htm
To unsubscribe from the WIN email list, please click the "UNSUBSCRIBE" link at the bottom of the email. If you did not subscribe to the WIN and are not a member, you received this product from a third party in violation of AFIO policy. Please forward to afio@afio.com the entire message that you received and we will remove the sender from our membership and distribution lists.
---
Disclaimer and Legal Protection
Weekly Intelligence Notes (WINs) are a carefully selected collection of timely open source reports and announcements on intelligence and related national security matters that is produced for non-profit educational use by AFIO members and WIN subscribers. WINs are protected by copyright and intellectual property laws. They may not be reproduced or re-sent without specific permission from the Producer. Opinions expressed in the WINs are solely those of the author listed with each article. Notices in the WINs about non-AFIO events do not constitute endorsement or recommendation by AFIO.

(c) 1998 thru 2022


---

AFIO Members Support the AFIO Mission - sponsor new members! CHECK THE AFIO WEBSITE at www.afio.com for back issues of the WINs, information about AFIO, conference agenda and registrations materials, and membership applications and much more! .

AFIO | 7600 Leesburg Pike, Suite 470 East, Falls Church, VA 22043-2004 | (703) 790-0320 (phone) | (703) 991-1278 (fax) | afio@afio.com
---
About AFIO | Membership Renewal | Change of Address | Upcoming Events | Chapter Locations | Corporate/Institutional Memberships | Careers in Intelligence Booklet | Guide to the Study of Intelligence | Intelligencer Journal | Weekly Intelligence Notes | Make A Donation | AFIO Store | Member-Only Section | Code of Ethics | Home Page
RETURN TO TOP
---