---
Royal Navy foils Russian plot as ship spotted spying on UK's new hi-tech missile launcher - Express, 19 Nov 22
A Russian surveillance ship has attempted to spy on some of the Royal Navy's latest autonomous vessels, sources said on Saturday night. It comes with Moscow still reeling over a successful Ukrainian attack using autonomous vessels on Sevastopol last month, where Russia bases its Black Fleet. The Admiral Vladimirskiy is ostensibly a scientific research vessel. In reality, however, the 6,600-tonne ship - which includes 20 linguists among its 176-strong crew - has the capacity to conduct covert underwater reconnaissance as part of the Russian Navy's project 852, and reports directly to both the Main Directorate for Deep Sea Research (GUGI) and the GRU foreign intelligence agency. Its six-day surveillance mission began on November 10 off the coast of Eastern Scotland, an area where critical underwater energy infrastructure is located and serviced by a fleet of offshore supply vessels. UK intelligence services warned last month of a potential increase in activity by the Kremlin to identify cables as part of a wider 'targeting' exercise - in preparation to strike at Europe's high-tech infrastructure. (Full article here.)
Iran intelligence tried to kidnap or assassinate critics in UK at least 10 times, MI5 says - Middle East Monitor, 17 Nov 22
Iran's intelligence services have made at least ten attempts to kidnap or assassinate figures they deem a threat within the United Kingdom, Britain's domestic intelligence chief has revealed. According to the Reuters news agency, in a speech at the London headquarters of Britain's domestic intelligence agency, MI5, yesterday, its Director General, Ken McCallum, said that its "aggressive" Iranian counterparts have been attempting plans not only to silence critics at home but also abroad, including in the UK. "At its sharpest, this includes ambitions to kidnap or even kill British or UK-based individuals perceived as enemies of the regime," McCallum revealed, adding that "We have seen at least 10 such potential threats since January alone." (Full article here.)
Canada Reacts to Alleged Chinese Political Interference - Global Security, 17 Nov 22
The arrest of an employee of Quebec's public electricity provider on suspicion of sending trade secrets to China is prompting the latest in a series of allegations that Beijing is actively spying and conducting clandestine operations within Canada. Beijing has denied wrongdoing. Days earlier, the Canadian Global Television Network issued a report, based mostly on unnamed sources, that alleged China actively interfered in the last two Canadian parliamentary elections. Canadian intelligence officials reportedly believe the Chinese foreign ministry provided cash donations to at least 11 favored candidates. They say China tried to place operatives in the offices of elected politicians and "co-opt and corrupt" former officials in order to gain favor with the government in Ottawa. (Full article here.)
Former German Reserve Officer Convicted of Spying for Russia - Military.com, 17 Nov 22
A former German military reserve officer was convicted Friday of spying for Russian intelligence for several years and given a suspended sentence of a year and nine months. The Dusseldorf state court found that the defendant was in contact from October 2014 at the latest with several high-ranking employees of the military attache's office at the Russian Embassy in Berlin who also worked for Russia's GRU military intelligence service. The 66-year-old was identified only as Ralph G. in line with German privacy rules. The court said he gave his Russian contacts information on the German military's reserves as well as publications on the security and the defense policy of the U.S. and its Western allies, documents on the effect of sanctions imposed against Russia in 2014 on Germany, and a link to a working paper on the now-suspended Nord Stream 2 gas pipeline project. (Full article here.)
The World Cup could become a hot bed for espionage - Axios, 18 Nov 22
This year's FIFA World Cup in Qatar is gearing up to be a hot spot for governments spying on their adversaries, researchers and officials cautioned this week. Driving the news: Cybersecurity firm Recorded Future released a report Thursday warning that state-sponsored hacking groups are likely to see the World Cup as "target-rich environment" for spying on foreign dignitaries and businesspeople; European data protection regulators have been advising their constituents against downloading Qatar's World Cup apps due to surveillance and national security concerns; and German authorities said one of the apps "collects data on whether and with which number a telephone call is made," Politico reports. The big picture: International sports event have become a hotbed for cyber espionage campaigns, putting governments on high alert for unwelcome surveillance. (Full article here.)
FBI investigating 'outrageous' Chinese police stations in US - Global Security, 18 Nov 22
U.S. authorities are investigating claims that Chinese police are operating clandestine foreign stations in the United States, FBI director Christopher Wray told a Senate hearing on Thursday. Safeguard Defenders, a watchdog that tracks disappearances of critics of the Chinese Communist Party, issued a report in September detailing claims that Chinese police are operating a program of foreign stations to harass regime critics abroad. Beijing claims the so-called overseas service stations were set up to provide essential services to citizens. But Safeguard Defenders said they in fact are used to coerce emigrants to return home to face criminal charges in China, in an effort to silence dissent of the regime abroad. (Full article here.)
National Security Agency Opens New Center for Critical Missions - Homeland Security Today, 19 Nov 22
The Morrison Center at the National Security Agency (NSA) Fort Meade East Campus is beginning to welcome its first occupants. Serving as the hub for NSA's most critical missions well into the future, this innovative, state-of-the-art facility will soon become home to the National Security Operations Center (NSOC) and many more vital elements. "When you come into the Morrison Center, it just takes your breath away," said GEN Paul M. Nakasone, Commander, U.S. Cyber Command, Director, NSA/Chief, Central Security Service. Designed to enable the NSA workforce to solve some of the nation's most complex challenges, the seven-story Morrison Center is equipped with many next-generation amenities — including a multipurpose conference center, modern fitness center, and much more. During the design and construction phases, project management maintained a strong emphasis on accessibility beyond the requirements of the Architectural Barriers Act, integrating touchless door activators for the first time ever at an NSA facility. (Full article here.)
India and the Chinese Spy Ship Saga Redux - The Diplomat, 15 Nov 22
Following wide speculation, India postponed its missile test launch, originally planned between November 10-11 in the Indian Ocean Region (IOR). The new launch window is now November 23-24. Various defense journalists and analysts held the presence of China's "research vessel" Yuan Wang 6 responsible for the postponement. The Yuan Wang class of ships are known to have powerful satellite and missile tracking and surveillance capabilities. The People's Liberation Army Strategic Support Force (PLASSF), the branch of the Chinese military responsible for space, cyber, and electronic warfare, operates these vessels. Though classified as non-military research vessels, China uses the Yuan Wang ships for spying purposes. (Full article here.)
Greece to Tighten Intelligence Service Control After Wiretapping Scandal - Greek Reporter, 16 Nov 22
The conservative government in Greece is proposing a new law to tighten checks on the country's intelligence service following the wiretapping scandal that has rocked the nation. The draft law which was posted online for public consultation on Tuesday aims to update the process of lifting the confidentiality of communications and to optimize operations of the Greek National Intelligence Service (EYP), according to the Ministry of Justice. The conservative government of Kyriakos Mitsotakis is under extreme pressure from the opposition to explain why EYP wiretapped the mobile phone of socialist leader Nikos Androulakis with the illegal software called Predator. (Full article here.)
2 little-known intel agencies are helping US partners keep an eye on Russia's and China's frontline forces - Business Insider, 17 Nov 22
When people talk about intelligence in the US, they usually think about the CIA or the National Security Agency, two agencies well known for their history and operational capabilities. As important as the CIA and NSA are, they are only part of a network of 18 agencies and departments focused on gathering, analyzing, and distributing intelligence. The US intelligence community, as the network is known, is a big and complicated organization that has taken shape over the past 40 years, reflecting changes in technology and global threats. Recent events have shown that those lesser-known agencies can have a direct, even outsize, effect on how the US government assesses and reacts to crises around the world. (Full article here.)
White House Begins to Push Federal Post-Quantum Cryptography Migration - Nextgov, 18 Nov 22
The White House's Office of Management and Budget released a new memorandum outlining the need for federal agencies' to begin the migration to post-quantum cryptography ahead of the onset of operational quantum computers. Preparatory measures the OMB recommends federal entities follow the lead of President Joe Biden's earlier executive order enhancing the U.S.'s cyber defense posture. The new memo establishes requirements for federal agencies to inventory their current cryptographic hardware and software systems, emphasizing high value assets and high impact systems that demand extra cybersecurity protocols. Agency leadership will then be tasked with compiling this information in a report containing their individual summaries on higher risk information assets and systems for the Office of the National Cyber Director and Cybersecurity and Infrastructure Security Agency to help budget, plan, and execute the transition from standard to effective post-quantum cryptography. (Full article here.)
Taiwan law to combat espionage takes effect - Taipei Times, 18 Nov 22
Amendments passed by the Legislative Yuan in May to impose harsher punishment for economic espionage took effect yesterday. The changes to the National Security Act (國家安全法) and the Act Governing Relations Between the People of the Taiwan Area and the Mainland Area (臺灣地區與大陸地區人民關係條例) were made to protect Taiwan's core technologies. The amendment to the latter act prohibits Chinese companies or Chinese-funded entities based outside China from engaging in business activities in Taiwan without government approval. (Full article here.)
The Case Of A Honey Trapped Foreign Ministry Driver Arrested Today Joins A Growing List Of Espionage Crimes In 2022 Alone - Outlook India, 18 Nov 22
A driver employed at the Ministry of External Affairs was arrested today from Jawahar Lal Nehru Bhawan in New Delhi on espionage charges. He was allegedly transferring information and documents in exchange for money to a Pakistani person under the fake name of Poonam Sharma/Pooja. Sources in the crime branch of Delhi Police, who made the arrest, said the driver was honey-trapped. Listing other instances in 2022 where officials were both knowingly and unknowingly involved in espionage. The Delhi High Court on Monday denied bail to a Nepalese national accused of being co-director of a Chinese firm through whom sensitive information was being passed on to Chinese intelligence officers, saying the gravity of the offence was affecting the national security of the country. The high court denied the relief to the accused Sher Singh saying that no ground for the grant of bail was made out. "… in view of the gravity of the offense affecting the national security of the country, there is no ground for grant of bail and the bail application is declined," Justice Anu Malhotra said. (Full article here.)
Nigeria: Why Allocation to Intelligence Agencies Was Cut - Premium Times, 18 Nov 22
The Chairman of the House of Representatives Committee on National Security and Intelligence, Sha'ban Sharada, said the allocation to the intelligence agencies was reduced from N221.7 billion in 2022 to N195.18 billion in 2023 because of the current economic realities. Mr Sharada stated this when the National Security Adviser (NSA), Babagana Monguno, appeared before the committee on Thursday to defend allocations to the office of the NSA and other intelligence agencies. The agencies are the State Security Service (SSS), National Intelligence Agency (NIA) and Defence Intelligence Agency (DIA). The chairman explained that the cut was due to the economic situation of the country. "This is as a result of economic challenges caused by global economic instability caused by the COVID-19," he explained. (Full article here.)
Chinese Government Intelligence Officer Sentenced to 20 Years in Prison for Espionage Crimes, Attempting to Steal Trade Secrets From Cincinnati Company - Department of Justice, 16 Nov 22
The first Chinese government intelligence officer ever to be extradited to the United States to stand trial was sentenced today in federal court in Cincinnati. Yanjun Xu, 42, was sentenced to 20 years in prison. According to court documents, Xu targeted American aviation companies, recruited employees to travel to China, and solicited their proprietary information, all on behalf of the government of the People's Republic of China (PRC). "As proven at trial, the defendant, a Chinese government intelligence officer, used a range of techniques to attempt to steal technology and proprietary information from companies based in both the U.S. and abroad," said Attorney General Merrick B. Garland. "Today's sentence demonstrates the seriousness of those crimes and the Justice Department's determination to investigate and prosecute efforts by the Chinese government, or any foreign power, to threaten our economic and national security." (Full article here.)
---
The Latest National Security Topic Interview by Former Acting D/CIA Mike Morell


Intelligence Matters: A CBS News national security podcast hosted by former CIA Acting Director and CBS News national security contributor Michael Morell.
15 Nov | The Evolution of U.S.-China Relations: National Security Analyst Graham Allison
This week on Intelligence Matters, Michael Morell speaks with the National Intelligence Officer on North Korea from 2014-2020 Markus Garlauskas about his assessment of North Korea's missile tests and the threat of nuclear weapons. Garlauskas lays out how the U.S. can deter North Korea even as China works as an enabler for the regime.
Past episodes:

08 Nov | The Threat of North Korea's Nuclear Weapons: Markus Garlauskas
01 Nov | The Aims and Impact of Chinese Foreign Development: Brad Parks
25 Oct | Implications of Xi Jinping's Hold on Power: Former Senior CIA China Analyst Chris Johnson
More about Intelligence Matters by Michael Morell here.
---
"Trafficking Data: The Digital Struggle - with China" with Aynne Kokas
Spycast is the official podcast of the International Spy Museum and hosts interviews with intelligence experts on matters of HUMINT, SIGINT, IMINT, OSINT, and GEOINT. Spycast is hosted by historian Andrew Hammond, PhD.
15 Nov | "Trafficking Data: The Digital Struggle - with China" with Aynne Kokas Aynne Kokas joins Andrew to discuss her book "Trafficking Data: How China is Winning the Battle for Digital Sovereignty."
Past episodes:

08 Oct | "Nazis on the Potomac" with National Park Service Chief Historian Bob Sutton
01 Nov | "Baseball and Espionage" with World Series Champion Ryan Zimmerman, Part II
25 Oct | "Baseball and Espionage" with World Series Champion Ryan Zimmerman


---
Global leaders increasingly raise the need for Ukraine-Russia peace talks, but the reality on the battlefield indicates that we're months away from meaningful concessions that would form the basis of a realistic peace agreement.
In Other News The proprietary analytic newsletter crafted for The Arkin Group's private clients by former CIA Acting Deputy Director for Operations Jack Devine.
17 Nov | Global leaders increasingly raise the need for Ukraine-Russia peace talks, but the reality on the battlefield indicates that we're months away from meaningful concessions that would form the basis of a realistic peace agreement. On Tuesday, Ukrainian President Zelenskyy outlined his nation's ten-fold formula for peace to the participants of the G20 summit in Bali. The plan centers on the premise that Ukraine should not have to comprise on issues of sovereignty, territory, independence, and conscience. Zelenskyy also called for discussions on peace to be public and not in closed rooms. Understandably, Ukrainian distrust of Russia reigns large, and Zelenskyy also emphasized that there "will be no Minsk-3" because Moscow would immediately violate such an agreement. (Full version available to AFIO members in the coming days here.)
10 Nov | A View from Abroad – the Nuclear Issue
04 Nov | As the United Nations COP27 approaches, global leaders confront a new energy reality that's been heavily influenced by the Russia-Ukraine war.

27 Oct | Despite Russian setbacks on the ground, all evidence suggests that Vladimir Putin remains undeterred in Ukraine.

---
Daily Analysis of Security Issues and Geopolitical Trends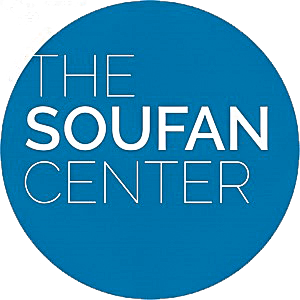 Intel Brief The Soufan Center's flagship, daily analytical product focused on complex security issues and geopolitical trends that may shape regional or international affairs. The Soufan Center was founded by former FBI Special Agent and Soufan Group CEO Ali Soufan.
22 Nov | Libya Continuing to Unravel as Concerns Mount Over a Return to Civil War

Hopes appear to be fading that U.N. officials, backed by major powers, will be able to unify Libya's fractured political structure or move the country toward national elections, which were supposed to be held in late 2021 but were canceled due to factional disputes. Briefing the U.N. Security Council on November 15, U.N. Special Representative for Libya Abdoulaye Bathily was pessimistic, stating that: "The popular aspiration for peace, stability and legitimate institutions is clear from my interaction with Libyans. However, there is an increasing recognition that some institutional players are actively hindering progress towards elections." Unable to bridge the divide between political leaders and strongmen in western and eastern Libya, the envoy raised the dire prospect that, absent progress toward unifying elections, Libya could become "even more vulnerable to political, economic and security instability," and at risk of partition. Placing blame on the several leaders who are willing to resort to armed force, the envoy asserted that little progress had been made in implementing a plan for the withdrawal of mercenaries, foreign fighters, and foreign forces from the country. He added: "I urge this Council to send an unequivocal message to obstructionists that their actions will not remain without consequences." (Full brief here.)
21 Nov | China's Leader Steps Up Engagement with Saudi Arabia
18 Nov | Fear and Loathing: Crime and Crime Coverage in the United States
17 Nov | Through the Looking Glass: Taking Stock of Domestic Violent Extremism in the United States
16 Nov | Afghanistan in a State of 'Durable Disorder' Under the Taliban Government
---
Analysis of Global Security Events with WTOP National Security Correspondent JJ Green

Inside the SCIF - 18 Nov - Trump Probe, Ukraine, NATO, and more.
Target USA Podcast - 17 Nov - World War 3 Almost Started in Poland This Week - Linas Linkevicious, Ambassador-at-Large from Lithuania suggests it was a matter of time before a stray missile in Russia war in Ukraine landed in another country. He indicates as well, it's also a matter of time before it happens again, with global implications.

The Hunt Broadcast - 09 Nov - France ends 8-year counterterrorism operation in Africa's Sahel region




---
CIA, Spec Ops roles in Kabul's collapse belie official versions - Jeff Stein and Colleagues in SpyTalk (Substack)

21 Nov | CIA, Spec Ops roles in Kabul's collapse belie official versions - C. Tatum
America's longest war, Afghanistan, has been called "the forgotten war," which, for those who fought in it and are still suffering from it, is an insult added to its horrible end only a little over a year ago. Many questions, meanwhile, remain about its open-ended mission, such as why we stayed on a decade after killing the man responsible for the 9/11 attacks and dismantling his lethal networks. But it's the chaotic ending of the conflict last year that's about to get renewed attention at the hands of House Republicans, who, having won a narrow majority in the midterms, have declared their intent to launch a new investigation of President Biden's botched evacuation and raise it to a boil by the 2024 election season. They will have plenty to work with. (Full article here.)

11 Oct | False Flag Nation - Jeffrey Morely


09 Nov | MAGA Election Violence Absent—For Now - Elain Shannon


03 Nov | Accused CIA Mole to Make Public Rebuttal - Jeff Stein



To support SpyTalk, subscribe here.


---
*** NOTE: Products regularly featured in this section will only appear when they post fresh content. ***
---
Sweden's Espionage Scandal Raises Hard Questions on Spy Recruitment - Foreign Policy, 16 Nov 22
Last month, Norwegian authorities arrested a suspected Russian military-intelligence officer working undercover in their country, posing as a Brazilian academic. Now an even more dramatic espionage case is engulfing Sweden: Two Iranian-born brothers, one of whom has served as a Swedish intelligence officer, have been charged with spying for Russia for several years. Their espionage is likely to cause serious damage—and it highlights a long-standing issue in intelligence: how people born in hostile countries can be particularly vulnerable to recruitment by those countries and their allies. Peyman Kia, who is 42 years old, was a Swedish success story. Kia arrived in Sweden with his family in the 1980s after they fled Iran, and he gained Swedish citizenship in 1994 (as did his younger brother, Payam Kia). He completed a bachelor's degree and a master's degree at Uppsala University and got a job as an investigations officer at Swedish Customs. (Full article here.)
The Sources of Russian Misconduct - A Diplomat Defects From the Kremlin - Foreign Affairs, 17 Oct 22
For three years, my workdays began the same way. At 7:30 am, I woke up, checked the news, and drove to work at the Russian mission to the United Nations Office in Geneva. The routine was easy and predictable, two of the hallmarks of life as a Russian diplomat. February 24 was different. When I checked my phone, I saw startling and mortifying news: the Russian air force was bombing Ukraine. Kharkiv, Kyiv, and Odessa were under attack. Russian troops were surging out of Crimea and toward the southern city of Kherson. Russian missiles had reduced buildings to rubble and sent residents fleeing. I watched videos of the blasts, complete with air-raid sirens, and saw people run around in panic. (Full article here.)
China Launches Digital Yuan App – All You Need to Know - China Briefing, 22 Sep 22
China has released the new digital yuan app for iOS and Android on domestic app stores. Now available to users in 23 cities across China, the app will enable millions of users to use the e-CNY by signing up through a range of commercial banks. In addition, Tencent-owned WeChat announced it would begin rolling out the e-CNY as a payment option on its platform, further introducing the digital currency to over 1.2 billion users. We explain what the e-CNY is, how to use the digital yuan app, and the possibility of widespread uptake of the digital currency. (Full article here.)
The CIA at 75 - Looking Back, Looking Ahead - Free Online Event - 07 Dec 22, 1900-2130 (ET) - Council on Intelligence Issues
Join us to mark the CIA's 75th anniversary with an evening focusing on the Agency's history, discussion of operational, analytic, technological, and other challenges that illustrate CIA's mission and unique role as a national intelligence agency, and a look ahead to the challenges for the future. (For list of speakers and free registration, click here.)
Exclusive - Ex-Russian spy flees to the NATO country that captured him, delivering another embarrassing blow to Moscow - Yahoo! News, 17 Nov 22
"The Russians have no idea," Alexander Toots, the head of Estonian counterintelligence, tells me, laughing. "They have absolutely no idea he is here. You can be the one to tell them." Toots was referring to the defection of a Russian spy to Estonia. But Artem Zinchenko isn't just any spy. He was the first agent of Russia's military intelligence arrested by Estonia, in 2017, then traded back to Moscow a year later for an Estonian citizen in Russian custody. Zinchenko has now sought asylum from the very NATO country that unmasked and imprisoned him for spying against it. Zinchenko's defection has not been publicly disclosed by either side until now, in what must count as a humiliating blow not only to the Kremlin but also to his onetime masters in the GRU, as the former Soviet military intelligence service is still known. (Full article here.)
---
Analysis: After 20 years, examining the mixed legacy of the Department of Homeland Security - National Public Radio, 21 Nov 22
Two decades after Congress authorized the creation of the Department of Homeland Security, there's growing concern about whether DHS is doing enough to combat domestic violent extremism. This week marks two decades since Congress established the Department of Homeland Security. The agency was created after the 9/11 attacks to protect the country against further acts of foreign terrorism. But now there are growing questions about whether DHS is keeping up with evolving threats to the homeland. Host Rachel Martin and NPR's domestic extremism correspondent Odette Yousef discuss. (Full report here.)
Video: Ballerina Spy Vera Eriksen - The True Story (08 mins) - Clandestine, 01 Nov 22
In this documentary, Ballerina Spy Vera Eriksen: The True Story, we explore the incredible story of Vera Eriksen, a female spy who waged World War II from within Nazi Germany. From her perilous role as a secret agent to her survival after imprisonment and escape, Vera Eriksen's story is an incredible example of the power of endurance and faith. This documentary gives a unique and fascinating perspective on World War II, from the perspective of a female spy. Watch now and learn about one of the most fascinating female spies of all time! (Watch here.)
Video: The Deadly Weapons Of WW2's Shadow War (51 mins) - History Hits' War Stories, 30 Oct 22
A WW2 spy had access to an arsenal of gadgets and weapons that would strike fear into the enemy. Under the cover of darkness, SEO and OSS agents used these special tools to deliver war to the heart of the enemy on the shadowy, invisible battleground. War Stories is your one stop shop for all things military history. From Waterloo to Verdun, we'll be bringing you only the best documentaries and stories from history's most engaging and dramatic conflicts. (Watch here.)
Audio: Demoralize and Deceive - OSS Psychological Warfare with Ann Todd (57 mins) - Spycraft 101 Podcast, 13 Nov 22
This week, Justin sits down with historian and author Ann Todd. From working at the National Museum of the Marine Corps in Quantico, Virginia, to writing and consulting for the National Geographic Society and giving presentations for the National Park Service on the history of the OSS, Ann is an expert. Ann joins us today to discuss OSS action in the "forgotten theater" of WWII, China-Burma-India, as well as the people who made it possible. Principally, Elizabeth "Betty" P. McIntosh and her black propaganda operations to blackmail and demoralize the enemy in an incredible display of psychological warfare. (Listen here.)
Report: Building Multi-Cloud in the Intelligence Community - Booze Allen Hamilton, November 2022
How Multi-Cloud Can Be A Force Multiplier or the Intelligence Community. The Intelligence Community (IC) has emphasized that the second epoch of its information technology enterprise will be defined, in part, by the creation of an integrated, vendor-flexible, interoperable, and secure cloud ecosystem. This environment will need to provide data collectors and analysts across the IC with access to the latest tools and technologies such as artificial intelligence (AI) and machine learning (ML), and must support workflows within and across multiple security domains. In such an environment, applications, services, data, and capabilities are best supported by multiple cloud environments—including private clouds and public ones from commercial Cloud Service Providers (CSPs)—as well as Software as a Service (SaaS) solutions. It's clear that the IC's future-state IT landscape will be a multi-network, multi-domain, and multi-cloud environment. However, the vision of exactly what that end state will look like, the best approaches to achieve it, and the means of measuring success are still maturing. (Full report here.)
Analysis: There is a lot to like in the 2022 National Defense Strategy - Brookings Institution, 18 Nov 22
The two-page fact-sheet released by the Department of Defense (DoD) in March 2022 served as an appetizer for the fully-cooked 2022 National Defense Strategy (NDS) that arrived seven months later. Whether the initial fact-sheet prepared its readers for disappointment or for satisfaction, the full document delivered. Those hungering for prioritization and a detailed alignment of ends, ways, and means will find it unfulfilling. Those with an appetite for more than just a reaffirmation that the United States must prepare to fight and win a war against China will find it hearty. (Full report here.)
Analysis: Psychological Warfare (PSYOPS)- The Pandora's Box of Security Issues - Modern Diplomacy, 13 Nov 22
After the Nord Stream pipelines were sabotaged in a series of explosions, it triggered worldwide concerns about the security of critical infrastructure in Europe. People are concerned that pipeline sabotage could open a Pandora's box, putting key global infrastructure such as oil and gas pipelines, and underwater communications cables in great danger. Such concerns have been confirmed by what happened recently. In less than a month, a barrage of mysterious attacks have taken place across Europe. The underwater internet cables in Norway, France and UK were cut off, and the railway cables in Germany were broken. All these incidents occurred after the explosions of the Nord Stream pipelines. It has not yet been confirmed whether these incidents are related, but the frequency with which they occurred is notable, indicating an increase in the number of hybrid attacks across Europe. (Read full report here.)
Report: Perspectives for Influence Operations Investigators - Carnegie Endowment, 25 Oct 22
As public urgency swells around online influence operations, professionals from sectors including academia, private industry, and the nonprofit space have rushed to fill gaps in capacity. They bring with them assumptions and approaches from diverse fields like cybersecurity, counterextremism, and off line investigations. As a result, the space is bustling, but it lacks consistent, widely articulated standards and best practices to guide and evaluate its work. In a 2020 community survey by the Partnership for Countering Influence Operations (PCIO), a third of respondents noted the lack of shared standards as an important concern. PCIO's Influence Operations Researchers' Guild exists in part to address this issue. Investigative standards serve a dual purpose. First, they provide commonality: standards are widely followed practices for minimizing mistakes and improving results. Second, they represent expectations that, if not met, open the investigative process up to critique. For these reasons, a field with shared standards should be able to produce more reliable investigations and more readily identify flawed ones. Because of the high level of public and policymaker interest in this topic, wrong or overblown conclusions carry significant risk of false alarms, botched policy, and wasted resources. (Read full report here.)
Report: Strategic Intelligence Assessment and Data on Domestic Terrorism - 2022 - FBI, October 2022
Preventing terrorist attacks remains a top priority for both the FBI and the DHS, and the FBI serves as the lead investigative agency on terrorism matters. The threat posed by international and domestic threat actors has evolved significantly since 9/11. One of the most significant terrorism threats to the Homeland we face today is posed by lone offenders3 and small groups of individuals who commit acts of violence motivated by a range of ideological beliefs and/or personal grievances. Of these actors, domestic violent extremists represent one of the most persistent threats to the United States today. These individuals are often radicalized online and look to conduct attacks with easily accessible weapons. Many of these violent extremists are motivated and inspired by a mix of ideological, socio-political and personal grievances against their targets. With this report, we are providing our strategic intelligence assessments on DT, a detailed discussion of our procedures and methods to address DT threats, as well as data on DT incidents and FBI investigations. (Read full report here.)
Report: National security intelligence activity - a philosophical analysis - Intelligence and National Security Journal, 24 May 2022
This article provides philosophical analyses of some of the key notions involved in national security intelligence collection, analysis and dissemination. In Section 1, and relying on the intelligence studies literature, the notion of intelligence is characterized by means of an outline its main features or, at least, those features typically ascribed to it. In Section 2, an analysis of the notion, or rather inter-related set of notions, of knowledge (broadly understood) that lies at the heart of intelligence activity is provided. In Section 3, the focus shifts to the activity, or rather inter-related activities, of intelligence collection, analysis and dissemination and, in particular, the notion of joint epistemic action. (Read full report here.)
Infographic and Report: Ranked - Top 10 Foreign Policy Concerns of Americans - Visual Capitalist, 07 Nov 22
In the United States, there is a distinct difference on top foreign policy concerns between Democrats and Republicans. This chart uses data from Morning Consult to assess the top policy concerns of Americans. Overall, the average American is most concerned about terrorism, immigration, and drug trafficking. Interestingly, this list corresponds with the concerns of the average Republican, though falling in a different order. Meanwhile, Democrats are chiefly worried about climate change, another global pandemic, and terrorism. (Access visual tool and full report here.)
Intelligence in History - A Collection of Recent Articles
True Intelligence Operations in Television and Film - The Sword of Gideon - CTV Television Network Mini-series and HBO movie (1986)
Avner, an adept Israeli military officer, is interrupted from his service in the IDF by a special request from Israeli Prime Minister Golda Meir to join Mossad, Israel's intelligence agency. Despite warnings from his father, he agrees to join, and becomes the leader of an elite five-man group assigned to assassinate all of the Black September terrorists involved in the Munich massacre. The undercover unit is dispatched to Europe, where most of the terrorists are located, and begin assassinating them via firearms and IEDs. Initially, they are very successful, but after Avner witnesses one of their targets' wife and daughter crying in the hospital upon learning of the target's death, he soon begins to question the morality of his mission. Eventually, the unit becomes wanted internationally for the assassinations, and spies dispatched by Black September are successful in killing most of Avner's team over the course of several months. After a botched assassination attempt of two targets results in the team almost being wiped out, Avner asks the case officer in charge of the mission to abort, and his request is granted, ending the mission with only two survivors. Upon returning to Israel, Avner's case officer reveals that his Mossad contract length is three years, prompting him to angrily attempt to quit his job and move to New York with his wife and infant son. There, he is the target of harassment by his case officer, who attempts to convince him to return to Israel and go on another mission for Mossad. Avner refuses, stating that he only wants to join the IDF and become an officer again. His boss flatly rejects the offer, and withdraws all of Avner's money from his bank account as punishment for violating his contract with Mossad, leaving the family completely broke. However, he purchases and repairs an old apartment, and is able to make a modest living as a taxi cab driver. As the movie ends, Avner can be seen commanding an IDF armored column through the desert, and a paragraph of text explains that he returned to Israel to command his tank unit during the Yom Kippur War. Based on the book Vengeance by George Jonas. The story was retold in 2005 in Steven Spielberg's Munich.

More about this based-on-true-events production here.
Intelligence in Pop Culture - Award Winning Strategy and Spy Board Game - Spy Alley - Spy Alley Partners, LLP, 31 Mar 08
Assume your secret identity and use your wit to unmask and eliminate the enemy spies. 2-6 Players | 30 to 45 Minute Play Time | Ages 8 to Adult | National Award Winner | Captures the imagination of kids teens and adults. Appropriate for all ages. Family and Friends will become immersed in an evening of espionage and intrigue playing spy and counter spy in a dark alley. | No two games are ever the same. Great spies learn from every mission. Your friends and family will be just like spies in training learning new strategies and changing their play. | In your quest to be the worlds top spy, players will be developing skills like social deduction, reasoning, logic and skills so top secret we can't tell you what they are. You will have to play to find out. | If you don't absolutely love this spy adventure, return it for a full refund. More information here.)
Walking Tours - Washington, DC - Sundays (Dates/Times Vary)
Former intelligence officers guide visitors on two morning and afternoon espionage-themed walking tours: "Spies of Embassy Row" and "Spies of Georgetown." For more information and booking, click here or contact rosanna@spyher.co
---
Current Intelligence: How the CIA's Top-Secret Presidential Briefing Shaped History
by David Charlwood
(The History Press, 10 Nov 22)
Every day, the President of the United States receives a bespoke, top-secret briefing document from the Central Intelligence Agency. Truman started them, Kennedy came to rely on them and Trump hardly read them. Current Intelligence charts almost a century of history and politics, revealing for the first time the day-to-day intelligence that lands on the Oval Office desk in the form of the President's Daily Brief. Using recently declassified documents, it uncovers what successive American presidents knew and when, and what they did in response. The nuclear arms race, the Vietnam War and 9/11 might never have happened if presidents had read their Daily Briefs differently. By focusing on key moments, from the Cuban Missile Crisis and covert operations around the world, right up to the US withdrawal from Afghanistan in 2021, Current Intelligence reveals how intelligence has profoundly shaped our past and present.
Order book here.
---
Ace of Spies: The True Story of Sidney Reilly
by Andrew Cook
(The History Press, 01 Feb 04)
Sidney Reilly influenced world history through acts of extraordinary courage and sheer audacity. He was a master spy, a brilliant con man, a charmer, and a cad who lived on his wits and thrived on danger, using women shamelessly and killing where necessary—and unnecessary. Sidney Reilly is one of the most fascinating spies of the 20th century, yet he remains one of the most enigmatic. Introducing new evidence gathered from an extraordinary range of sources, Andrew Cook tells the full story of Sidney Reilly's life. He proves conclusively who Reilly was, where he came from, and the truth behind his most daring exploits.
Order book here.
---
The American Surveillance State: How the U.S. Spies on Dissent
by David H. Price
(Pluto Publishing, 20 Nov 22)
When the possibility of wiretapping first became known to Americans they were outraged. Now, in our post-9/11 world, it's accepted that corporations are vested with human rights, and government agencies and corporations use computers to monitor our private lives. David H. Price pulls back the curtain to reveal how the FBI and other government agencies have always functioned as the secret police of American capitalism up to today, including a near-limitless NSA surveillance of all. Price looks through a roster of campaigns by law enforcement, intelligence agencies, and corporations to understand how we got here. Starting with J. Edgar Hoover and the early FBI's alignment with business, his access to 15,000 pages of never-before-seen FBI files shines a light on the surveillance of Edward Said, Andre Gunder Frank and Alexander Cockburn, Native American communists, and progressive factory owners. Price uncovers patterns of FBI monitoring of activists and public figures, providing the vital means for us to understand how these new surveillance operations are weaponized by powerful governmental agencies that remain largely shrouded in secrecy.
Order book here.
---
Search for Colleagues: Dennis Pluchinsky seeks contact with Tom Lane and Nancy Kenealy, "who worked with Cindy, Gina, and Jeff" in the mid-1990s on al-Qaeda. Pluchinsky is in contact with all three of these other colleagues and would like to establish contact with Lane and Kenealy regarding his work on a four-volume book series on anti-American terrorism overseas ("see Amazon for more details"). Please contact Pluchinsky at dpluchinsky@rocketmail.com.
Call For Information: Harvard student seeks primary source documents, historical records, or points of contact regarding Freedom Company, aka Eastern Construction Company, of the Philippines
Ryan Santos, a senior at Harvard, is writing his history thesis titled "The outsourcing of freedom": Filipino operatives in the origins of the American war in Indochina, 1954-1967. The focus of the research project is on the Freedom Company of the Philippines (later became the Eastern Construction Company in 1958), a dynamic private enterprise funded by the US to send Filipino paramilitary specialists - who were successful in suppressing their own local communist insurgency in the Huks - to assist in counterinsurgency and nation-building operations in Vietnam, Laos, and Indonesia. Ryan hopes to use his research on the Freedom Company of the Philippines and the Eastern Construction Company to underscore the diversity of geopolitical agents involved in American foreign policy during the Cold War, the development of US-Philippine relations, and the origins of American involvement in Indochina. If this project is of any interest or if there are any primary source documents, historical records, or points of contact that would be helpful, please contact him at ryansantos@college.harvard.edu.
Call For Articles: Threats and Opportunities in 2050, Divergent Options
Divergent Options is a non-politically aligned non-revenue generating national security website that, in 1,000 words or less, provides unbiased, dispassionate, candid articles that assess a national security situation, present multiple options to address the situation, and articulate the risk and gain of each option. Please note that while we assess a national security situation and may provide options, we never recommend a specific option. Divergent Options is calling for national security papers assessing situations or discussing options related to Threats and Opportunities in 2050. Submission deadline is 18 December 2022. For more information, including submission instructions and suggested topics, click here.
Call For Articles: AFIO Journal, The Intelligencer
For the past four years, AFIO has included in The Intelligencer a series of articles on "when intelligence made a difference." Written by scholars, intelligence practitioners, students, and others, they cover events from ancient times to the modern world and in many countries. AFIO is soliciting articles for future issues. Most articles run between 2,000 and 3,000 words, although some are longer or shorter. If you have an idea for an article that fits the theme, email senior editor Peter Oleson at peter.oleson@afio.com.
Call For Assistance: Researcher Seeks Copy of 1941 FBI Booklet
An AFIO member who is conducting research on the beginnings of industrial security programs before WWII is in search of a copy of a 55-page FBI booklet, dated December 1941, titled "Suggestions for Protection of Industrial Facilities." Digital copies or photocopies are acceptable. Please contact winseditor@afio.com with any information.
Call For Papers: Urban Security 2023 in Journal of Strategic Security Special Issue
The special issue will look at a range of urban security issues including urban warfare, urban insurgency, urban crime and insecurity, operating in dense urban terrain (DUT), mega cities, and subterranean spaces (SubT), and in the Urban-Littoral interface, as well as the protection of the populace. Papers addressing the full range of violent actions from high intensity crime to civil strife and other situations of violence, non-international armed conflict (NIAC), and large scale combat operations (LSCO) during international armed conflict (IAC) are encouraged. All papers submitted to the special issues issue will be subject to double-blind peer review. Below is a list of urban security issues the special issue editors would like to see submissions on:

· Conflict in Megacities (10 million or more)
· Police-Military Intelligence interface in urban conflict
· Insurrection
· Urban-littoral nexus
· Information warfare in support of urban conflict
· Urban insurgency
· Urban Terrorism
· Criminal governance in cities (Slums/Favelas)
· Criminal Armed Groups (CAGs) in cities
· Social Media and Urban Conflict
· Climate Conflict in Cities (Urban-Climate Conflict Nexus)
· Urban counterterrorism
· Urban counterinsurgency (COIN)
· Urban Riots and Public Order
· Intelligence for Urban Operations (e.g., GeoINT)
· Urban policing
· Urban critical infrastructure protection including urban cyber security
· Humanitarian operations and protection of civilians in urban conflict
· Medical and humanitarian response to urban crises and disasters

Abstracts due 1 February 2023; draft submissions due 1 June 2023. (See full submission details here.)
---
Faculty Opening - Teaching Intelligence Analysis - James Madison University - Harrisonburg, Virginia
The Faculty of the Intelligence Analysis (IA) Program at James Madison University (JMU) are searching for a dynamic new colleague to join us in the ongoing co-creation of an exceptional educational experience to prepare the next generation of analysts. Our program is in its 16th year, and our graduates regularly secure positions as analysts in the public and private sectors, including the Intelligence Community, military and law enforcement organizations, defense contractors, and major consulting firms. Our vision is a versatile, multidisciplinary undergraduate education that simultaneously emphasizes methodology, technology, and communication, with a specialization in intelligence analysis. We especially seek a new colleague who can strengthen our longstanding distinctive focus on developing good reasoning and/or our more recent focus on research design and analytic production.

We would welcome a potential new colleague from any academic discipline (to include the humanities, social sciences, and natural sciences) and/or any professional background (to include former intelligence, military, homeland security, law enforcement, and other security and analytic professionals) that enables them to speak with credibility about the process of doing analysis. The desire to engage both traditional academics and professional analysts is extremely important to us. We also value both teaching excellence as well as one-on-one professional mentoring. We especially seek candidates who are able to "bridge the gap" and to engage students whose struggles are different from their own, and who can help them flourish in their future personal and professional lives. The position requires either a Ph.D. in a relevant academic field by hiring date (for a tenure-track appointment) or a minimum of a Bachelor's Degree (Master's Preferred) with substantial, demonstrated experience as an analyst (for appointment on a Renewable Term Contract). Our normal teaching load is three courses per semester.

Application materials should include 1) a detailed cover letter that tells the story of how the candidate's expertise and experience fit our aspirations, values, and teaching needs, 2) curriculum vitae/resume, 3) a "statement of inclusive excellence" that highlights (amongst other things) how the applicant has successfully helped colleagues from different backgrounds and perspectives to flourish in their work, and 4) contact information for at least three references.

The search will remain open until the position is filled. Salary commensurate with experience. Questions can be directed to the Chair of the search committee, Dr. Noel Hendrickson, at hendrinx@jmu.edu. Employment is contingent upon the successful completion of a criminal background check.
Additional details and further online application instructions can be found here.

Intelligence Practice Lead - SOS International, Washington, D.C.
The Intelligence Practice Lead, Americas, alongside the Consulting and Solutions Practice Director, Americas, is responsible for developing the Intelligence business within the regional security consulting team. The Intelligence Practice Lead will oversee the development, positioning, sales and the effective coordination and delivery of all intelligence consulting and solutions, including Intelligence Managed Services, in the US and Canada region. In this role the individual will oversee the provision of support to International SOS's US and Canada regional distribution channels to drive customer satisfaction and profitable growth across relevant business lines, in the technical domain of Intelligence. The individual will help to translate International SOS's Security value proposition into clear priorities and actions, in support of the business lines' commercial road maps. In addition, the role will be responsible for: driving day-to-day delivery of Intelligence consulting deliverables (including capability assessment, planning, training etc); establishing a cadre of analyst external consultants; educating key internal stakeholders and clients; leading/contributing to the expansion of intelligence methodologies and deliverables; along with their cadre of external consultants.
Additional information and application here.

Supervisory Criminal Investigator (Special Agent-In-Charge) - U.S. Army CID, Nationwide
Serves as the Criminal Investigation Division (CID) Field Office Special Agent-In-Charge (SAC) and is the principle law enforcement expert and advisor responsible for all investigations and operations conducted by CID offices within their area of responsibility (AOR). Directly supervises multiple Supervisory Criminal Investigators, full-performance level GS-13 and GS-14 criminal investigators, and support personnel in co-located and satellite offices.
Additional information and application here.

Retired Federal Government Employees Wanted - National Security Agency - Fort Meade, Maryland
The National Security Agency (NSA) may occasionally need skilled civilian retirees to augment the existing work force on high priority projects or programs. In order to fill these temporary positions quickly, we need to know who may be interested and available to return to work with us on a short notice basis as well as their skills. Retirees provide expertise and corporate knowledge to temporarily support mission requirements, manpower shortfalls, and/or mentor the next generation of Agency employees. Salary Range: $86,335 - $170,800.
Additional information and application here.

Assistant/Associate Professor of Intelligence Studies (Global Security and Intelligence Studies) - Embry-Riddel Aeronautical University - Prescott, Arizona
Embry-Riddle Aeronautical University's Prescott, Arizona campus is accepting applications for a tenure-track assistant or associate-level professor of intelligence studies to teach intelligence courses to students in the Global Security and Intelligence program. The successful candidate will teach students about the intelligence community, strategic intelligence, the intelligence cycle and intelligence analysis, writing, and briefing. Prior experience working in the intelligence community is strongly preferred. We are interested in candidates with teaching acumen in intelligence analysis and writing using structured analytical techniques.
Additional information and application here.

Teaching Associate - Intelligence and National Security Studies - Coastal Carolina University, South Carolina
The Department of Intelligence and Security Studies ( ISS ) at Coastal Carolina University is accepting applications for a pool of Teaching Associates (part-time adjunct faculty) to teach introductory and undergraduate elective course offerings for the program beginning in August 2022. While the ad is open to any specialization within the field of study, courses in the areas of homeland security, law enforcement intelligence, counter-narcotics, and cybersecurity are of particular interest. Course offerings can be in a face-to-face or synchronous online modality. To be considered, candidates must have a masters or doctoral degree in a relevant subject area. Prior professional experience in the profession, as well as prior teaching experience are preferred.
Additional information and application here.

Assistant Professor of Intelligence and National Security Studies - University of Texas, El Paso
The Department of Criminal Justice is seeking to fill one full-time tenure-track position beginning Fall 2023 at the Assistant Professor level. Responsibilities include conducting and publishing scholarly research, seeking extramural funding, teaching face-to-face and online courses, and service to the department, university, and profession. Applicants must have a Ph.D. in a closely related field in Intelligence and/or Security Studies from an accredited university (e.g., criminal justice, political science, public policy, security studies). ABD applicants will be considered if doctorate will be in hand by Fall 2023. Active research agenda and published scholarly journal articles are required to apply. Applicants with only a J.D., Psy.D., or Ed.D. will not be considered. All research/teaching areas of intelligence/national security studies will be considered, but preference will be given to candidates who have demonstrated teaching and/or research areas in at least one of these areas: Homeland Security, Intelligence Analysis, or Terrorism/Counter-Terrorism.

Additional information and application here.
---
Michael Merrill — DoD Computer Scientist and Distinguished Civilian Service Medal Recipient

Michael Huckvale Merrill, 58, of Ellicott City, MD passed on 08 November 2022. Mike was a dedicated civil servant. He was a Computer Scientist at the Department of Defense for 34 years and was recognized in 2022 with a Distinguished Civilian Service Medal. He loved computers and technology, especially high performance computing. Mike was a problem solver and innovative thinker; he was recognized for inspiring and leading numerous large projects over the course of his career. He loved to share his knowledge and mentored many colleagues over the years—sometimes calling them his kids, sometimes his minions, but always calling them his friend. Michael was a member of the Phoenix Society.
Tom Beall — Former CIA Dep. Dir. of Finance and Distinguished Career Intelligence Medal Recipient

Thomas (Tom) Michael Beall (age 78) of Oakton, Virginia passed away on 11 November 2022 after a brave fight with cancer. Tom grew up in Alexandria, Virginia. He attended St. John's College High School ('62) in Washington, D.C. He received his undergraduate degree from The University of Notre Dame ('66) in South Bend, Indiana, and earned a graduate degree from George Washington University ('71) in Washington, D.C. He retired from the Army as a Captain and served in the Vietnam War. Tom had a long and successful career with the Central Intelligence Agency (CIA). Tom proudly served as a Senior Intelligence Officer specializing in global financial management. His service included a tour at the US Embassy in Bonn, Germany; Inspector General Staff, and his career culminated as the Deputy Director of Finance. He was awarded the Distinguished Career Intelligence Medal for exceptional leadership and outstanding service. After retiring from the Agency, he served as the Treasurer for the Central Intelligence Retirees Association.
James Roddy — NSA Cryptographer

James Bernard Roddy, Jr., 83, of Glen Burnie, passed away on November 15, 2022, at Anne Arundel Medical Center in Annapolis. He was born in Baltimore, Maryland and served his country proudly in the United States Navy. He then went on to work at NSA as a cryptographer for 25 years.
Bob Jones — Career NSA Officer

Robert 'Bob' Earl Jones, 86, of Sykesville, MD died Thursday, November 10, 2022, at his home. Born in Collins, Mississippi, he graduated from Vigor High School located in Mobile, Alabama in 1954. He then joined the U.S. Air Force in 1955 and served for nine years. He was stationed in places such as Germany, Tripoli, Crete, and Japan. After his honorable discharge he began a new career at the National Security Agency in 1965 and retired in 1993.
Bernie Graber — NSA Senior Executive and Intelligence Award Recipient

Bernard "Bernie" Graber Elliker, 89, passed on 10 November 2022 in Ellicott City, Maryland. Born in Galion, Ohio, he attended Galion schools, graduating from high school in 1951. He graduated from The Ohio State University, cum laude, BA Political Science, in 1955. He began employment with the National Security Agency in a distinguished career that covered some five decades retiring from government service in 1997. During his remarkable career Mr. Elliker rose to senior executive rank, serving in a number of managerial capacities including Chief of Staff for a major agency component, Deputy Chief of an operational component, Executive Assistant to the NSA deputy director, and Chief of the NSA intelligence staff. He attended Harvard University in 1968-69 on a fellowship where he earned a Master's Degree from the Kennedy School of Government. He attended the National War College in 1980-81. He spent three years in Hawaii as Deputy Chief of Operations at the agency's headquarters there. He was a key player in the on-site intelligence support in New York to the US ambassador to the UN during the critical period following the seizure of the USS Pueblo. Upon his retirement he was presented with the Intelligence Community's highest civilian award by then Director of Central Intelligence, George Tenet, in 1997. His dedication to his country and the agency's mission was exemplary throughout his career. He remained passionate about his country's stance as a bastion of democracy and freedom against all threats.
---
01 Dec 22 - Virtual - The San Antonio AFIO Chapter program features Video on China's Oil and Gas Silk Road Initiative
The program will be a very current educational video on China's Oil and Gas "problem." The program covers China's motives for the Silk Road initiative, expansion into the South China Sea and development of overseas installations.

Questions or more information from John Franklin, Chapter President, 210-863-0430; satxafio@gmail.com.
08 Dec 22, 1200 (PST) - San Francisco, CA - The Andre LeGallo San Francisco Chapter hosts Gurvais C. Grigg, former FBI Agent and current Chief Technology Officer, Chainanalysis on "The use of crypto currencies by state and non-state actors.""
Speaker Bio: Mr. Gurvais C. Grigg is a bilingual technology executive and recognized thought leader with over 28 year of public and private sector experience leading complex organizations, investigations and technical programs. Mr. Grigg retired from the FBI after 23 years of service and joined Chainanalysis as the Global Public Sector CTO. He is responsible for connecting global governments with the cryptocurrency industry and providing them with the best data and tools to manage risk, address threats, and conduct effective investigations.

Registration: This meeting will be held via zoom. Registrants will receive a zoom link. Reservation and pre-payment is required before November 30, 2022. Please contact Mariko Kawaguchi, Board Secretary at afiosf@aol.com or Mariko Kawaguchi, c/o AFIO, P.O. Box 117578, Burlingame, CA 94011 for questions. Students: please e-mail your school ID to get sponsored. Register here.

08 Dec 22, 1200 (ET) - Luncheon and Virtual - Tampa, FL - Florida Suncoast Chapter hosts Michael Pullara on his investigation into the 1983 murder of CIA officer Freddie Woodruff
The Florida Suncoast AFIO Chapter's last meeting of the year will be held at noon Thursday, 08 December, at the Jimmie B. Keel Regional Library, 2902 W. Bearss Avenue, Tampa, FL 33618-1828. Check-in starts at 1145. Veteran Houston trial lawyer Michael Pullara will present in-person to recount his years-long investigation into the 1993 murder of CIA agent Freddie Woodruff. Pullara put his multi-year fight for truth into a book, The Spy Who Was Left Behind, that he will have available for purchase and inscription at the meeting. The cost to attend this luncheon in person is $15, including a box lunch. Please contact the Chapter Secretary, michaels@suncoastafio.org for more information or to attend either in-person or via Zoom. Advance registration is required, with a registration deadline of noon on Thursday, 1 December.
See the AFIO Calendar of Events for scheduling further in the future.
---
22 Nov 22, 1400-1500 (ET) - Virtual Event: SPY with Me | Memory Loss Program - International Spy Museum Program
SPY with Me is an interactive virtual program for individuals living with dementia and their care partners. Join SPY as we use music and artifacts to explore some of our favorite spy stories. Programs last one hour and are held virtually through Zoom once a month. Free, but space is limited. To register, email Shana Oltmans at soltmans@spymuseum.org. More information at www.spymuseum.org.
29 Nov 22, 0900-0945 (ET) - Online event - Coffee and Conversation with DIA Chief of Staff John Kirchhofer - INSA
The DIA's third ranking officer, John Kirchhofer will discuss key elements of the organization's strategies, policy, and enterprise management. Topics for discussion will include the Agency's integration of AI, machine learning, and open source information into intelligence analysis; its use of secure cloud-based computing to facilitate information sharing and dissemination; JWICS and IT modernization; and the Agency's collaboration with both key international partners and the defense industrial base. (Registration and more details here.)
29 Nov 22, 0830-1740 (CST) - In-Person event - Huntsville, AL - Geospatial Advantage Conference - NGA
The National Geospatial-Intelligence Agency (NGA) and GEOHuntsville are co-sponsoring the first-ever Geospatial Advantage Conference. With the theme "Why Where Matters," this conference is an opportunity for government agencies non-profit organizations, academia and industry to engage in discussions on partnerships, innovative technologies, and the growing geospatial ecosystem in Huntsville. NGA's Deputy Director Tonya Wilkerson will provide the opening keynote at the conference. Huntsville Mayor Tommy Battle will deliver closing remarks. The event will be hosted by Intelligence National Security Alliance (INSA) President, Suzanne Heckenberg. Discussions will revolve around: Leveraging commercial data and imagery; The future of artificial intelligence; Geospatial learning inside and outside the classroom; Fostering a geospatial ecosystem. Students, academics, government and industry are all invited to join the conversation during this one-day, in-person event at the Jackson Center with a networking social and student career fair immediately to follow. (Registration and more details here.)
12-15 Dec 22 - Conference - San Antonio, TX. - 2022 Department of Defense Intelligence Information System (DoDIIS) Worldwide Conference

The Defense Intelligence Agency (DIA) is excited to welcome participants to the 2022 Department of Defense Intelligence Information System (DoDIIS) Worldwide Conference in San Antonio, Texas! From 12 – 15 Dec 22, senior decision makers, technical experts, and innovators from across the Department of Defense, Intelligence Community, industry, academia, and FVEY partners will come together to collaborate and share unique insights. The theme of this year's conference – Transcending Strategic Competitors through Innovation, Adaptation, and Collaboration – underscores the urgent race to collectively develop and unleash emerging technologies to maintain strategic and tactical advantage. Mission success in an era of strategic competition demands a willingness to embrace disruption and elevating partnerships to serve as overwhelming force multipliers. (Information and registration here.)
19 - 28 Mar 23 - Washington DC to Europe and back - Gary Powers' 10-Day Cold War Espionage Tour
Join author and historian Gary Powers Jr. on this unforgettable 10-day tour of Cold War and Espionage related sites throughout Germany and the Czech Republic

Day 1: Departure from the USA; Day 2: Arrival Berlin; Day 3: Berlin - Potsdam - Berlin; Day 4: Berlin; Day 5: Berlin – Leipzig – Dresden; Day 6: Dresden – Prague – Pilsen; Day 7: Pilsen – Míšov – Pilsen; Day 8: Pilsen – Rozvadov – Nuremberg – Stuttgart; Day 9: Stuttgart – Sinsheim – Speyer – Frankfurt; Day 10: Departure for the USA.

Included Visits: Berlin Wall Memorial • Checkpoint Charlie Museum • German Spy Museum • Military History Museum Gatow • Glienicke Bridge • Hohenschönhausen Memorial • Berlin Stasi Museum • Allied Museum on Clay Allee • Museum in Der Runde Ecke • Leipzig Forum of Contemporary History Museum • Dresden's Military History Museum • Bautzner Strasse Dresden Memorial • KGB Museum • Prague Museum of Communism • Vitkov Hill Nuclear Bunker • Pilsner Urquell Brewery • Atom Museum • Iron Curtain Museum • Nuremberg Trials Memorial • Stuttgart Cold War Bunker • Sinsheim Technik Museum • Speyer Museum of Technology.

Tour Name: Gary Powers' Cold War Espionage Tour - view tour; Group Name: Garypowers.Com Tours; Departure City: Washington, DC; Tour Departure Date: March 19, 2023; Tour Return Date: 28 Mar 23.

Tour Price: $3,950.00 (deduct $950 for land only tour) per person, assumes 2-person registration.

For full description of the activities and accommodations on each of those dates and locations, explore full information about the tour here or Call 1.800.323.4466.

To enroll now for this 2023 once in a lifetime tour, do so here.

ALSO See: "Enemy Territory: The Story of American CIA U-2 Pilot Francis Gary Powers" - A Graphic Novel by Francis Gary Powers Jr. and Walter Pfenninger.
---
---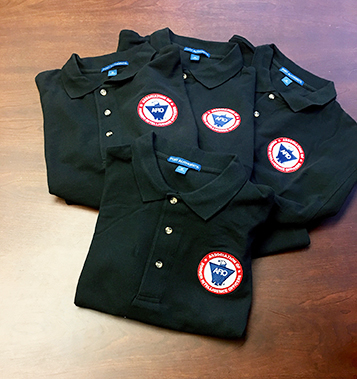 Now available: Black short-sleeved polo shirts with Embroidered AFIO logo
Show your support for AFIO with our new Black Short-sleeve Polo Shirts. Shirts are shrink and wrinkle resistant of fine cotton with a soft, "well-worn, comfy" yet substantial feel. They feature a detailed embroidered AFIO seal. Get a shirt for yourself and consider as gifts for colleagues, family, and friends. Only $50 each including shipping.
Sizes for (M) men, only; Small, Medium, Large, XL, XXL, and XXXL. $50 per shirt.
You may pay by check or credit card. Complete your order online here or mail an order along with payment to: AFIO, 7600 Leesburg Pike, Ste 470 East, Falls Church, VA 22043-2004. Phone orders at 703-790-0320. Questions? Contact Annette at: annettej@afio.com.
---

PopSocket for cellphones or tablets
Show your support to AFIO while enjoying the convenience offered by our AFIO Logo PopSocket. The PopSocket is most commonly used as a stand and as a grip for your mobile phone or tablet; handy for taking selfies, watching videos, and for texting. The PopSocket looks like a small button or sticker which, when closed, sticks flat to your mobile device. However, its accordion-like design enables it to pop open for use. The benefits of using a PopSocket make it a must-have accessory for your mobile phone or tablet. It also aids in keeping your phone from slipping off your hand during use, falling, or breaking.
Price: $15. Order this and other store items online here.
---


Caps - Dark Navy with Navy AFIO Logo
An authentic silhouette with the comfort of an unstructured, adjustable fit. Fabric: 100% cotton. Unstructured. Fabric strap closure with adjustable D-clip. Price: $30. Order this and other store items online here.
---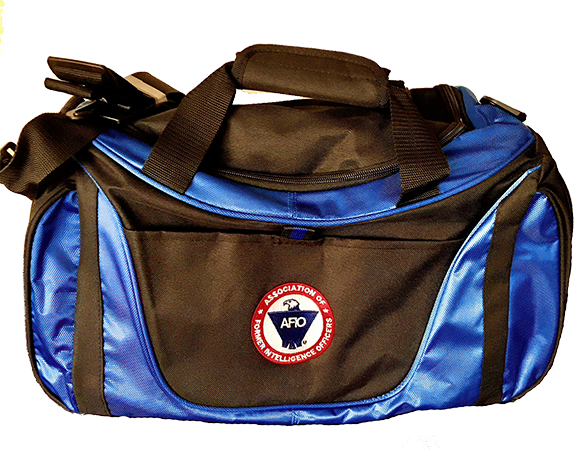 Duffel Bags - Royal Blue and Black with Full Color AFIO Logo This duffel has it all when it comes to value, style and organization.
600 denier polyester canvas with polyester double contrast; D-shaped zippered entry for easy access. Front pocket with hook and loop closure. End mesh pocket Easy-access end pockets. Four durable, protective feet and built-in bottom board for added strength. Web handles with padded grip. Detachable, adjustable shoulder strap.
Dimensions: 11"h x 19.75"w x 9.75"d; Approx. 2,118 cubic inches
Price: $50. Order this and other store items online here.
---
AFIO Mug with color glazed seal.

Made in the U.S.A., dishwasher-safe.
$35 includes shipping.

Sip your morning joe in style or use it to stash pens, cards, paperclips, or candy.
Order this and other store items online here.
---
Guide to the Study of Intelligence...and...When Intelligence Made a Difference
"AFIO's Guide to the Study of Intelligence" has sold out in hard-copy.
It is available in digital form in its entirety on the AFIO website here.

Also available on the website here are the individual articles of AFIO's
history project "When Intelligence Made a Difference" that have been
published to date in The Intelligencer journal. More articles will be appear in future editions.
---
Address Technical Issues Or Unsubscribe
Some features of the email version of the WIN do not work for readers who have chosen the Plaintext Edition, some users of AOL, and readers who access their email using web mail. You may request to change from Plaintext to HTML format here afio@afio.com. For the best reading experience, the latest web edition can be found here: https://www.afio.com/pages/currentwin.htm
To unsubscribe from the WIN email list, please click the "UNSUBSCRIBE" link at the bottom of the email. If you did not subscribe to the WIN and are not a member, you received this product from a third party in violation of AFIO policy. Please forward to afio@afio.com the entire message that you received and we will remove the sender from our membership and distribution lists.
---
Disclaimer and Legal Protection
Weekly Intelligence Notes (WINs) are a carefully selected collection of timely open source reports and announcements on intelligence and related national security matters that is produced for non-profit educational use by AFIO members and WIN subscribers. WINs are protected by copyright and intellectual property laws. They may not be reproduced or re-sent without specific permission from the Producer. Opinions expressed in the WINs are solely those of the author listed with each article. Notices in the WINs about non-AFIO events do not constitute endorsement or recommendation by AFIO.

(c) 1998 thru 2022


---

AFIO Members Support the AFIO Mission - sponsor new members! CHECK THE AFIO WEBSITE at www.afio.com for back issues of the WINs, information about AFIO, conference agenda and registrations materials, and membership applications and much more! .

AFIO | 7600 Leesburg Pike, Suite 470 East, Falls Church, VA 22043-2004 | (703) 790-0320 (phone) | (703) 991-1278 (fax) | afio@afio.com
---
About AFIO | Membership Renewal | Change of Address | Upcoming Events | Chapter Locations | Corporate/Institutional Memberships | Careers in Intelligence Booklet | Guide to the Study of Intelligence | Intelligencer Journal | Weekly Intelligence Notes | Make A Donation | AFIO Store | Member-Only Section | Code of Ethics | Home Page
RETURN TO TOP
---