---
2022 UFO Report Released by U.S. Intelligence Community - Homeland Security Newswire, 16 Jan 23
Last year the Pentagon opened an office, the All-domain Anomaly Resolution Office (AARO), tasked with focusing on receiving and analyzing all the reports of unidentified phenomena. Many of these reports came from military pilots. The AARO works with the U.S. intelligence community to further assess those incidents. The events "continue to occur in restricted or sensitive airspace, highlighting possible concerns for safety of flight or adversary collection activity," the Office of the Director of National Intelligence (ODNI) said in its 2022 report. The classified version of the report addresses how many of those objects were found near locations where nuclear power plants operate or nuclear weapons are stored. The 510 objects include 144 objects previously reported and 366 new reports. Most of both the old and new cases were determined, after analysis, to exhibit "unremarkable characteristics," and could be characterized as unmanned aircraft systems, or balloon-like objects, the report said. (Full article here.)
Industrial espionage: How China sneaks out America's technology secrets - BBC, 16 Jan 23
It was an innocuous-looking photograph that turned out to be the downfall of Zheng Xiaoqing, a former employee with energy conglomerate General Electric Power. According to a Department of Justice (DOJ) indictment, the US citizen hid confidential files stolen from his employers in the binary code of a digital photograph of a sunset, which Mr Zheng then mailed to himself. It was a technique called steganography, a means of hiding a data file within the code of another data file. Mr Zheng utilised it on multiple occasions to take sensitive files from GE. GE is a multinational conglomerate known for its work in the healthcare, energy and aerospace sectors, making everything from refrigerators to aircraft engines. The information Zheng stole was related to the design and manufacture of gas and steam turbines, including turbine blades and turbine seals. Considered to be worth millions, it was sent to his accomplice in China. It would ultimately benefit the Chinese government, as well as China-based companies and universities. (Full article here.)
FBI Counterintelligence Raided Chinese Police Station in New York: Report - New York Times via National Review, 12 Jan 23
The FBI raided a Chinese police station in Manhattan last year, seizing documents from the facility in a criminal investigation into China's overseas presence in the U.S., the New York Times reported today. The paper revealed that the search took place last year, at a Chinatown facility scrutinized for its alleged role as a branch of the security bureau of the city of Fuzhou, citing people knowledgeable of the probe. The FBI and the U.S. Attorney's Office in Brooklyn — which the Times reported was involved in the raid — declined to comment for the Times story. The existence of the Manhattan outpost first came to light via a report by the NGO Safeguard Defenders, which has documented over 100 police stations run by various Chinese provinces and cities in several foreign countries. More than a dozen other governments have also launched investigations into stations operating in their own territory, though the FBI search reported on today is the first known instance of such a raid. Safeguard Defenders said that it found evidence that four such police stations exist in the U.S.: two in New York, one in Los Angeles, and another at an undetermined location. (Full article here.)
North Korean spy ring uncovered: Korea Herald - Straits Times, 11 Jan 23
The counter-espionage authorities are said to be investigating an officer of a progressive party and two others on Jeju Island in relation to suspicions they have been spying for North Korea. It is the Yoon Suk Yeol administration's first known investigation of a spy ring acting for Pyongyang. The authorities are also said to have captured indications of similar underground organisations in three other cities - Changwon and Jinju in South Gyeongsang Province and Jeonju in North Jeolla Province. They assume there are more underground groups. The National Intelligence Service and the police have tracked the Jeju spy ring for more than five years. The authorities raided the party and a farmers group in Jeju on two occasions late last year. (Full article here.)
People's Republic of China Citizen Indicted for Allegedly Stalking, Threatening Individual Promoting Democracy in China - Department of Justice, 12 Jan 23
A Berklee College of Music student, who is citizen of the People's Republic of China (PRC), has been indicted by a federal grand jury in Boston in connection with allegedly stalking and threatening an individual who posted fliers in support of democracy in China around the Berklee campus area. Xiaolei Wu, 25, was indicted today on one count of cyberstalking and one count of interstate transmissions of threatening communication. Wu was previously arrested and charged by criminal complaint with one count of stalking on Dec. 13, 2022. At the time of the events alleged in the Indictment, Wu was living in Boston while attending the Berklee College of Music. (Full article here.)
Pakistani militants claim killing of two intelligence officials - Reuters, 04 Jan 23
Islamist militant group Tehreek-e-Taliban on Wednesday claimed the killing of a senior official of Pakistan's premier intelligence agency and another officer, the latest in a resurgence of jihadist violence shaking the country. The Inter-Services Intelligence (ISI) officers were shot dead outside a hotel in Punjab province on Tuesday, police said. The TTP, an umbrella group of militants that associates itself with Afghanistan's ruling Taliban, ended a months-old ceasefire with the Pakistani government last year and launched a spate of attacks across the country. (Full article here.)
Wireless Hacking Device Causes Bomb Scare in Paris, Leaves More Questions Than Answers - Atlas News, 02 Jan 23
On December 30, 2022, French authorities were conducting a security checkpoint outside of the Strasbourg Saint-Denis metro station in Paris when they stopped a vehicle for a routine check. Upon inspecting the vehicle, officers discovered a suitcase in the trunk that contained wires and antennas, according to the French media outlet Le Parisien. Bomb squad units, unaware of what the device was at the time, decided to do a controlled detonation to destroy it, believing it was an explosive device. The driver, an unidentified woman, was arrested for being under the influence of narcotics. The vehicle, which was not registered under her name, was confiscated by authorities. The next day, French journalist Amaury Bucco reported on Twitter that police launched an investigation into the incident because "the box contained professional spy equipment." (Full article here.)
NSA director urges Congress to renew controversial intelligence authority - Cyber Scoop, 12 Jan 23
NSA Director and head of U.S. Cyber Command Gen. Paul Nakasone said in remarks on Thursday that intelligence authorities up for renewal later this year have played a key role in protecting the United States against cyberattacks. Nakasone's remarks at a virtual meeting of the Privacy and Civil Liberties Oversight Board offered a preview of what is expected to be an intense political fight later this year to renew Section 702 of the Foreign Intelligence Surveillance Act — a law that provides U.S. intelligence agencies wide-ranging authorities to conduct surveillance of foreign persons located abroad and which civil liberties advocates argue is in desperate need of greater transparency. Section 702 will expire at the end of the year unless Congress acts, and on Thursday Nakasone made the case that "the authority plays an outsized role in protecting our nation." (Full article here.)
NGA, Collaborators Release New Maps of Arctic - Homeland Security Today, 10 Jan 23
The National Geospatial-Intelligence Agency, in collaboration with academia and industry, released four more years of high-resolution imagery of the Arctic, to expand upon NGA's comprehensive collection of polar region maps. The ArcticDEM and is a collection of digital elevation models at 2-meter resolution that covers the entire Arctic. The addition of four more years of data is an increase of more than 50% compared to previous models. This data fills in all of the previous gaps to provide full coverage of the entire polar regions north of 60⁰N, including northern Canada, Scandinavia, Greenland, Alaska, Siberia and the Pan-Arctic. A digital elevation model is a 3-D representation of a terrain's surface, created from terrain elevation data. Analysis can be done on DEMs to determine or detect changes in topography over time, including the effects of climate change, which are amplified at the poles. (Full article here.)
Silicon Valley firm sues spy agency over software contract - Federal News Network, 13 Jan 23
Nearly seven years after Palantir forced the Army to consider buying its software instead of developing a bespoke system, a Silicon Valley firm is again taking the Defense Department to court over allegedly ignoring commercial products. Santa Clara, California-based Percipient.AI filed suit in the Court of Federal Claims on Monday, claiming the National Geospatial-Intelligence Agency is violating a law requiring agencies to buy commercially available products when possible. The suit centers on the $377 million "SAFFIRE" contract NGA awarded to CACI, Inc., in January 2021. The contract provides for "development, integration, deployment and sustainment of enhanced [Structured Observation Management] and computer vision capabilities," NGA said at the time. (Full article here.)
US spies lag rivals in seizing on data hiding in plain sight - Associated Press, 12 Jan 23
As alarms began to go off globally about a novel coronavirus spreading in China, officials in Washington turned to the intelligence agencies for insights about the threat the virus posed to America. But the most useful early warnings came not from spies or intercepts, according to a recent congressional review of classified reports from December 2019 and January 2020. Officials were instead relying on public reporting, diplomatic cables and analysis from medical experts — some examples of so-called open source intelligence, or OSINT. Predicting the next pandemic or the next government to fall will require better use of open source material, the review found. "There is little indication that the Intelligence Community's exquisite collection capabilities were generating information that was valuable to policymakers," wrote the authors of the review, conducted by Democrats on the House Intelligence Committee. (Full article here.)
Embattled Libyan government announces surprise visit by CIA director - Intel News, 12 Jan 23
The government of war-torn Libya announced on Thursday that William Burns, director of the United States Central Intelligence Agency (CIA) was in capital Tripoli for discussions with senior Libyan officials. By visiting Tripoli, Burns became the highest-ranking American government official to travel to the North African country under the presidency of Joe Biden. According to reports in the Libyan media, Burns spent most of Thursday in Tripoli, where he met with Abdul Hamid Dbeibah, a controversial businessman who is serving as prime minister in the Government of National Unity (GNU). Burns also met with GNU Minister of Foreign Affairs Najla al-Mangoush, as well as with Hussein al-Ayeb, who leads the GNU's intelligence agency. The CIA director also met with Field Marshal Khalifa Haftar (pictured), head of the Libyan National Army (LNA), which nominally supports the GNU's rival government in eastern Libya, (GNS), which —unlike the GNU— is not recognized by the United Nations. Notably, Burns did not meet with Fathi Bashagha, the self-styled 'prime minister' of the GNS. (Full article here.)
NATO deploys AWACS surveillance jets to Romania - Global Security, 12 Jan 23
NATO prepares a deployment Airborne Warning and Control System (AWACS) surveillance planes to Bucharest, Romania. The aircraft are scheduled to arrive on January 17, 2023 and are going to support the Alliance's reinforced presence in the region and monitor Russian military activity. "As Russia's illegal war in Ukraine continues to threaten peace and security in Europe, there must be no doubt about NATO's resolve to protect and defend every inch of Allied territory," said NATO spokesperson Oana Lungescu. "Our AWACS can detect aircraft hundreds of kilometres away, making them a key capability for NATO's deterrence and defence posture. I thank Romania for hosting the aircraft, which makes an important contribution to our early warning," she added. In response to Russia's war in Ukraine, NATO has increased its air presence in eastern Europe with additional fighters, surveillance aircraft, and tankers. Since February 2022, NATO AWACS have conducted regular patrols over eastern Europe and the Baltic Sea region to track Russian warplanes near NATO borders. (Full article here.)
Iran executes British-Iranian dual national for spying - BBC, 14 Jan 23
British-Iranian dual national Alireza Akbari, who was sentenced to death in Iran, has been executed. Mr Akbari's family had been asked to go to his prison for a "final visit" on Wednesday and his wife said he had been moved to solitary confinement. The ex-deputy Iranian defence minister was arrested in 2019 and convicted of spying for the UK, which he denied. UK Prime Minister Rishi Sunak said the execution was a "callous and cowardly act, carried out by a barbaric regime". Iran's rulers had "no respect for the human rights of their own people" Mr Sunak said, adding that his thoughts were "with Alireza's friends and family". (Full article here.)
---
The Latest National Security Topic Interview by Former Acting D/CIA Mike Morell


Intelligence Matters: A CBS News national security podcast hosted by former CIA Acting Director and CBS News national security contributor Michael Morell.

10 Jan | Michael Morell on the Year Ahead: Strategic Challenges in 2023

This week on Intelligence Matters, Michael Morell offers an in-depth analysis of the top national security challenges facing the world in 2023. Morell describes how the outcome of the Russia-Ukraine war is in the hands of West and that without Western assistance, Russia could win the war. Morell defines the U.S. China relationship as a "cold war," but despite that tension Morell does not predict that China will invade Taiwan in 2023. Where Morell foresees the greatest probability of war in 2023 is between Iran and Israel as a hardline Israeli government takes the helm.

Past episodes:

03 Jan | Inside China's Surveillance State: Liza Lin and Josh Chin
27 Dec | BEST OF: Hal Brands on Potential of Future Conflict with China
20 Dec Nov | BEST OF: Former Deputy Assistant Secretary of Defense for Strategy and Force Development Elbridge Colby


More about Intelligence Matters by Michael Morell here.

Working at CIA: In Conversation with CIA Director of Operations and Director of Analysis

---
The Latest from International Spy Museum Historian Andrew Hammond, PhD.
Spycast is the official podcast of the International Spy Museum and hosts interviews with intelligence experts on matters of HUMINT, SIGINT, IMINT, OSINT, and GEOINT. Spycast is hosted by historian Andrew Hammond, PhD.
10 Jan | From the Vault - "The IRA, The Troubles, and Intelligence" Thomas Leahy and Eleanor Williams join Andrew to discuss the intelligence war during "the Troubles." Thomas lives in Cardiff and Eleanor lives in Belfast.
Past episodes:

03 Jan | From the Vault - "Black Ops: The Life of a Legendary CIA Shadow Warrior"
27 Dec | "The Third Option" - US Covert Action with Loch Johnson (Part 2 of 2)
20 Dec | "The Third Option" - US Covert Action with Loch Johnson (Part 1 of 2)


---
The Latest Insights from Former CIA Acting Deputy Director for Operations Jack Devine.
In Other News The proprietary analytic newsletter crafted for The Arkin Group's private clients by former CIA Acting Deputy Director for Operations Jack Devine.
12 Jan | Economic security and strategic autonomy should unite the EU and Washington, not divide us. There's an active European conversation happening right now regarding economics, trade, and investment, and it's closely linked to broader debates about the future of European security. The pandemic, Russian attack on Ukraine, and increase of China's international assertiveness, have all collided to compel the EU member states to enhance their economic security and re-envision strategic autonomy. But while the concepts of economic security and strategic autonomy partially overlap and are often used interchangeably in the current European political discourse, EU policy decisions and relations with the United States will be strengthened if they're treated as distinct goals. (Full version available to AFIO members in the coming days here.)
03 Jan | The Geopolitical Landscape heading into 2023
22 Dec | China COVID and Ukraine
08 Dec | Turkey: Ally or Spoiler
---
Daily Analysis of Security Issues and Geopolitical Trends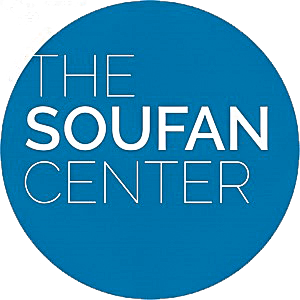 Intel Brief The Soufan Center's flagship, daily analytical product focused on complex security issues and geopolitical trends that may shape regional or international affairs. The Soufan Center was founded by former FBI Special Agent and Soufan Group CEO Ali Soufan.
17 Jan | Biden's Visit to U.S. Southern Border Highlights Historic Migrant Surge

On January 8, U.S. President Joseph Biden visited the border at El Paso, Texas, his first trip to the U.S. southern border since taking office two years ago. President Biden's visit comes amid a historic surge in migrant crossings, a humanitarian and security crisis that has been unfolding for years and has accelerated the past several months. According to U.S. Customs and Border Protection, there were over 2.3 million encounters with individuals attempting to cross the southern border in the 2022 fiscal year – the highest number on record. In the 2023 fiscal year alone, there have been more southwest encounters than in the entirety of 2020, signaling the trend will likely continue. In his brief visit, President Biden met with Border Patrol officers, members of Congress, and local officials at the Bridge of the Americas Port of Entry – El Paso's busiest crossing – and toured the El Paso County Migrant Services Center. In 2021, President Biden appointed Vice President Kamala Harris to lead the White House effort to address migration at the U.S. southern border and work with Central American countries to deal with the root causes of migration to the U.S. from the region. Yet the strategy of focusing on conditions in Central America – historically a large portion of migrants coming to the U.S. – has complicated the administration's response as migration flows have drastically changed, with increasing numbers coming from Venezuela, Nicaragua, Cuba, and Haiti. (Full brief here.)
13 Jan | Japan Makes Strides Toward Normalizing its Status as a Military Power
12 Jan | Russia Using the United Arab Emirates as a Sanctions Evasion Hub
11 Jan | China Strives to Undermine the Predominance of the U.S. Dollar
---
Analysis of Global Security Events with WTOP National Security Correspondent JJ Green

Inside the SCIF - 12 Jan - Russian Spy in German BND, Biden Scrutinized Over Classified Docs
Target USA Podcast - 12 Jan - New Year's Eve Times Square Terror Attack - What have authorities learned about the event? On this episode, Dr. Hans-Jakob Schindler, Senior Director of the Counter Extremism Project, says it could've been much worse.

The Hunt Broadcast - 11 Jan - Is the West forgetting about the threat of terrorism?




---
The Latest Insights from Jeff Stein and Colleagues in SpyTalk (Substack)

15 Jan | Rocky Road Ahead for House Intelligence Panel - Jeff Stein
Former CIA Director Michael Hayden once cracked to me that the House Intelligence Committee was known around Langley as "the land of broken toys"—a well deserved sobriquet for its long record of partisan bickering. With the exception perhaps of Mike Rogers, the Michigan Republican who provided bipartisan leadership of the panel from 2011 to 2015, the committee has been periodically rent by partisan warfare over the past three decades, hamstringing its ability to provide sober, discreet oversight of U.S. intelligence agencies. In contrast, its Senate counterpart is widely considered a more contemplative overseer of the spy agencies under the leadership of Mark Warner (D-Va.) and Marco Rubio (R-Fla.). (Full article here.)

12 Jan | The Perfect Spy Was a Cuban Agent - John Dinges
Ana Belen Montes, the most effective and damaging Cuban spy known to have penetrated U.S. intelligence, was a major warrior in the long nasty war between the United States and its communist neighbor. On Jan. 6, after serving just over 21 years of a 25 year sentence for espionage, she was released from a maximum security prison, perhaps drawing the curtain on the deadly clandestine conflict involving efforts by Cuban exiles and their U.S. allies to reverse the revolution led by Fidel Castro. (Full article here.)

27 Dec | Some of Our Favorite Things for 2022 - Jeff Stein

22 Dec | SpyTalk Stocking Stuffer - Jeff Stein

22 Dec | Christmas Bombings - Jeff Stein


To support SpyTalk, subscribe here.


---
---
Research Tool - Browzine.com, 17 Jan 22
Browzine is a powerful online research tool for use on computers and mobile devices. Whether you are seeking information on historical espionage stories or current events in the intelligence world, this tool can be useful in your efforts to surface sought-after information. (Access tool here.)
Satellite Images Show Crowds at China's Crematoriums as COVID Surges - Washington Post, 09 Jan 22
An overwhelmed funeral home in Chengdu, China, stopped offering memorial services, budgeting just two minutes for each family to say goodbye to loved ones before cremation. A funeral parlor on the outskirts of Beijing quickly cleared space for a new parking lot. Scalpers in Shanghai sold places in line at funeral homes for $300 a pop to grieving relatives trying to get cremation slots. Still, the Chinese government continues to insist that fewer than 40 people have died in China of covid since Dec. 7, when "zero covid" restrictions aimed at entirely eliminating the virus were suddenly dropped — and infection numbers exploded. A Washington Post examination of satellite imagery, firsthand videos posted to social media and witness accounts suggests that China's covid death toll is far higher than the government's tally, undermining Beijing's claim that the outbreak remains under control. (Full article here.)
Identifying People Using Cell Phone Location Data - Schneier on Security, 09 Jan 23
The two people who shut down four Washington power stations in December were arrested. This is the interesting part: Investigators identified Greenwood and Crahan almost immediately after the attacks took place by using cell phone data that allegedly showed both men in the vicinity of all four substations, according to court documents. Nowadays, it seems like an obvious thing to do—although the search is probably unconstitutional. But way back in 2012, the Canadian CSEC—that's their NSA—did some top-secret work on this kind of thing. The document is part of the Snowden archive, and I wrote about it: The second application suggested is to identify a particular person whom you know visited a particular geographical area on a series of dates/times. The example in the presentation is a kidnapper. He is based in a rural area, so he can't risk making his ransom calls from that area. Instead, he drives to an urban area to make those calls. He either uses a burner phone or a pay phone, so he can't be identified that way. But if you assume that he has some sort of smart phone in his pocket that identifies itself over the Internet, you might be able to find him in that dataset. That is, he might be the only ID that appears in that geographical location around the same time as the ransom calls and at no other times. (Full article here.)
Ukraine Intercepting Russian Soldiers' Cell Phone Calls - Schneier on Security, 21 Dec 22
They're using commercial phones, which go through the Ukrainian telecom network: "You still have a lot of soldiers bringing cellphones to the frontline who want to talk to their families and they are either being intercepted as they go through a Ukrainian telecommunications provider or intercepted over the air," said Alperovitch. "That doesn't pose too much difficulty for the Ukrainian security services." "Security has always been a mess, both in the army and among defence officials," the source said. "For example, in 2013 they tried to get all the staff at the ministry of defence to replace our iPhones with Russian-made Yoto smartphones. "But everyone just kept using the iPhone as a second mobile because it was much better. We would just keep the iPhone in the car's glove compartment for when we got back from work. In the end, the ministry gave up and stopped caring. If the top doesn't take security very seriously, how can you expect any discipline in the regular army?" (Full article here.)
---
Video: Global Spyware Scandal - Exposing Pegasus, Parts I and II (54 mins each) - PBS, 10 Jan 22
FRONTLINE and Forbidden Films, the documentary arm of Forbidden Stories, investigate the powerful spyware Pegasus, sold to governments around the world by the Israeli company NSO Group. This two-part series, part of the Pegasus Project, examines how the hacking tool was used on journalists, activists, the wife and fiancée of Saudi journalist Jamal Khashoggi and others. (Watch here.)
Audio: Mis/Disinformation in Open Source Intelligence (35 mins) - Jane's The World of Intelligence, 10 Jan 23
In this episode we explore the impact of mis or disinformation in open source intelligence with Di Cooke CSIS International Security Program Visiting Fellow and KCL War Studies Doctoral Candidate. (Listen here.)
Report: Russian Front Organizations and Western Academia - International Journal of Intelligence and Counterintelligence, 13 Jan 23
This article examines the activities of two Russian front organizations targeting Western academia and broader international audiences. These activities are part of contemporary Russian information warfare and are fundamentally entrenched in Soviet intelligence traditions, aiming to reinforce Russian official historical narratives and propaganda. The objectives of these organizations include undermining Western scholars' critical perspectives and shaping public opinion favorable to the Russian Federation's foreign policy and its methods of governing. Backed by the Russian secret services and the presidential administration, these organizations engage in using and coopting academics who help them disseminate Russian historical myths and propaganda that demonize the West in general and Ukraine in particular. An analysis of selected cases of Russian influence on Western academia and public opinion present a sample of the wide range of Russian intelligence practices symptomatic of the Russian anti-Western information campaign. (Full report here.)
OpEd: No, RSA Encryption Isn't Obsolete - American Enterprise Institute, 06 Jan 23
RSA is dead, long live RSA! At the end of December 2022, Chinese researchers published a paper claiming that they can crack RSA encryption using current-generation quantum computing. For decades, the RSA algorithm has been one of the most widely used methods for governments and industry to create secure communications channels by encrypting and decrypting messages. While quantum computing can revolutionize cryptography—both as a threat and an enhancing tool—experts have maintained that this prospect is still years away. Therefore, the research released by Chinese scholars has major security implications: Governments could crack other governments' most sensitive codes and secrets with quantum computing sooner rather than later. (Full report here.)
Academic Opportunity: The International Security and Intelligence Programme - 9 July to 5 August 2023 - Magdalene College, Cambridge
Chaired by Sir Richard Dearlove the former Chief of the British Secret Intelligence Service, the Cambridge Security Initiative (CSi) launched the ISI Programme in 2016. The purpose of this unique programme is to provide an opportunity for participants to meet and work with leading academics and practitioners from the intelligence and security communities in the historic setting of one of the world's foremost universities. The Programme is run in partnership with the Department of War Studies at Kings College, London. (More information and registration here.)
Infographic and Report: Top Heavy - Countries by Share of the Global Economy - Visual Capitalist, 29 Dec 22
The global economy can be thought of as a pie, with the size of each slice representing the share of global GDP contributed by each country. Currently, the largest slices of the pie are held by the United States, China, Japan, Germany, and India, which together account for more than half of global GDP. Here's a look at every country's share of the world's $101.6 trillion economy... (Access visual tool and full report here.)
Intelligence in History - A Collection of Recent Content
True Intelligence Matters in Film - Kompromat - Director Jerome Salle (2023)
Check out the trailer for Kompromat, an upcoming espionage thriller movie based on true events. Kompromat stars Gilles Lellouche and Joanna Kulig. It is written by Caryl Ferey and Jérôme Salle. Gilles Lellouche stars as Mathieu, a gregarious and dedicated diplomat who accepts a posting to Irkutsk as the head of Siberia's Alliance Francaise. He hopes the change will be good for his family and struggling marriage, but before long Mathieu's staging of cultural events and support of artistic expression sees him fall afoul of local authorities. Accused of a terrible crime, he soon realizes someone has fabricated a case with Russia's Federal Security Service - he has been framed. Arrested, imprisoned and isolated, Mathieu has nowhere to turn. Defending himself is impossible, the French authorities are helpless - it seems he has no choice: to try and escape. Kompromat, directed by Jérôme Salle, will be available in theaters and on demand on January 27, 2023.

More about this based-on-true-events production here.
Intelligence in Pop Culture - Art - The Art of Spying: Snooping on Espionage-Inspired Art - Spyscape
The art of espionage can be traced back to China's Sun Tzu and India's Chanakya in the 4th century BC, inspiring centuries of writers and painters. Technology has also had a profound effect on espionage and art, however, charging contemporary art with secrets, spies, and surveillance. Here are some of the most creative and curious of the zeitgeist. (Full article here.)
Walking Tours - Washington, DC - Sundays (Dates/Times Vary)
Former intelligence officers guide visitors on two morning and afternoon espionage-themed walking tours: "Spies of Embassy Row" and "Spies of Georgetown." For more information and booking, click here or contact rosanna@spyher.co
---
The Liar: How a Double Agent in the CIA Became the Cold War's Last Honest Man
by Benjamin Cunningham
(Public Affairs, 23 Aug 22)
In the mid-1970s, the CIA and KGB watched Karel Koecher closely—they were both convinced he was working for the enemy. And they were both right. Traveling with his wife, Hana, Koecher posed as a Czechoslovak asylum seeker and arrived in the US as a Communist sleeper agent. After parlaying a doctorate from Columbia into a job at the CIA, Koecher proceeded to operate as a double agent at the height of the Cold War. Shunning a low profile, the Koechers embraced Manhattan's high life—with cocaine, swinging, and parties emblematic of the times and their penchant for risk. Hana, who was no more than a shy teenager when she arrived, grew into a sophisticated international diamond dealer who relayed messages to Karel's handlers. Riding a wave of euphoria, the Koechers felt unstoppable. But it was too good to last. Using newly declassified documents, interrogation tapes, and extraordinary firsthand accounts from the Koechers themselves, Cunningham reconstructs their double lives and the fading Cold War, where a strange moral fog made it hard to know what truth was being fought for, and to what end.
Order book here.
---
Hacker, Influencer, Faker, Spy: Intelligence Agencies in the Digital Age
by Robert Dover
(Hurst, 15 Jan 23)
Intelligence agencies are reflections of the societies they serve. No surprise, then, that modern spies and the agencies they work for are fixated on the internet and electronic communications. These same officials also struggle with notions of privacy, appropriateness, national boundaries and the problem of disinformation. They are citizens of both somewhere and nowhere, serving a national public yet confronting spies who operate across borders. These adversaries are utilizing new technologies that offer a transnational anonymity. Meanwhile, ordinary people are keen to be protected from threats, but equally keen - basing their understanding of intelligence on news and popular culture - to avoid over-reach by authorities believed to have near-God-like powers. This is the new operating environment for spies: a heady mix of rapid technological development, identity politics, plausible deniability, uncertainty and distrust of authority. Hacker, Influencer, Faker, Spy explores both the challenges spies face from these digital horizons, and the challenges citizens face in understanding what spies do and how it impacts on them. Rob Dover makes a radical case for overhauling intelligence to capitalize on open-source information: shrinking the secret state, whilst still supporting the functioning of modern governments in the post-COVID age.
Order book here.
---
Reading Hitler's Mind: The Intelligence Failure that led to WW2
by Norman Ridley
(Frontline Books, 29 July 22)
Most strongly associated with Prime Minister Neville Chamberlain, it is often stated that Britain's policy of appeasement was instituted in the 1930s in the hope of avoiding war with Hitler's Nazi Germany. At the time, appeasement was viewed by many as a popular and seemingly pragmatic policy. In this book the author sets out to show how appeasement was not a naïve attempt to secure a lasting peace by resolving German grievances, but a means of buying time for rearmament. By the middle of the 1930s, British policy was based on the presumption that the balance of power had already dramatically shifted in Germany's favor. It was felt that Britain, chiefly for economic reasons, was unable to restore the balance, and that extensive concessions to Germany would not satisfy Hitler, whose aggressive policies intensified the already high risk of war. The only realistic option, and one that was clearly adopted by Neville Chamberlain, was to try to influence the timing of the inevitable military confrontation and, in the meantime, pursue a steady and economically sustainable program of rearmament. Appeasement would 'buy' that time for the British government. Crucially this strategy required continuously updated and accurate information about the strength, current and future, of the German armed forces, especially the Luftwaffe, and an understanding of their military strategy. Piercing the Nazis' veil of secrecy was vital if the intelligence services were to build up a true picture of the extent of German rearmament and the purposes to which it might be put. The many agents, codebreakers, and counter-espionage personnel played a vital role in maximizing the benefits that appeasement provided – even as war clouds continued to gather. These individuals were increasingly handed greater responsibility in a bid to inform British statesmen now scrambling to prepare for a catastrophic confrontation with Germany. In Reading Hitler's Mind, Norman Ridley reveals the remarkable efforts made by the tiny, underfunded and often side-lined British intelligence services as they sought to inform those whose role it was to make decisions upon which the wheels of history turned.
Order book here.
---
Search for information: AFIO member seeks information on opportunities in the Arctic and Antarctic regions for work in Search and Rescue (SAR), exploration, or expeditions. Contact Joshua Richards at: joshua_richard7@yahoo.com.
Search for information: Searching for information on a CIA "intelligence operation" carried out during the Clinton administration in 1997 or 1999 aimed at Iran and/or its MOIS in response to Iran's involvement in the 1996 Khobar Towers bombings. Clinton's counterterrorism chief Richard Clarke made a brief reference to this operation on p. 129 of his book Against All Enemies; George Tenet made a possible reference to this operation on p. 124 of his book At the Center of the Storm; and Bruce Riedel posted a reference to it here in his article "The Iran Primer: The Clinton Administration." He called it "Operation Sapphire" - not to be confused with Operation Sapphire aimed at Kazakhstan. Also, searching for information on a bomb found on a bridge in Manila, Philippines around November 23, 1996 when President Clinton was in the city. Contact: dpluchinsky@rocketmail.com.
Search for information: Dr John Gentry of Georgetown University seeks information on what ways, to what extent, at what agencies, and with what implications/consequences are DEI (diversity, equity, inclusion) policies damaging the IC and DOD. Request examples and assessments that link senior-level policies, and middle managers' interpretations of them, to specific organizational and personal actions and then to actual consequences in sufficient volume and detail to be able to make a coherent argument. Anonymity assured. Contact: jag411@georgetown.edu.
Search for information An AFIO member who is researching "a State Department officer who seems to have functioned as a pre-CIA intelligence officer without having joined the OSS" would welcome leads on persons or books specializing "in 'pre-CIA' 'CIA history'." Anyone with pertinent information can contact info@whittakerchambers.org.
Call For Papers: The Struggle in the Israeli Security Zone in South Lebanon, 1985-2000, Israel Affairs
In June 1985, the Israel Defense Forces (IDF) de jure completed its withdrawal from Lebanon to the Israeli borders. De facto, Israel left in its hands a strip of land, about 15 kilometers from its border, in which its ally, the South Lebanon Army (SLA), operated. This strip of land came to be known as the Israeli Security Zone. The idea was that the SLA would be almost independent, while the IDF would intervene only when necessary in the battle against Palestinian and Shiite groups and supervise the SLA. Soon, however, the IDF became more involved, building military posts within the Security Zone, reinforcing itself, and encountering new challenges. In May 2000, Israel pulled its forces back to its borders and the SLA collapsed, along with the Security Zone. The 15 years of fighting in the Security Zone were rarely mentioned within Israeli society, let alone in the academic sphere. Only in recent years has the Israeli public become aware of this period after many soldiers who served in the Security Zone began sharing their memories through books and social media. The campaign to raise awareness of the period successfully ended when in March 2021, Israel officially recognized this period as one of warfare. This special issue aims to interdisciplinarily bridge the gap in the academic discourse regarding the war in the Security Zone. The editors are interested in articles dealing with various topics concerning the 1985-2000 war in the Security Zone. 30 March 2023 deadline. For more information, including submission instructions and suggested topics, click here.
Search for French Intelligence Officer: Gary Schaut of Sudbury, Canada is in search of a French intelligence agent who was still active around 1997 in France, and who had provided information in that year to a French journalist named "William Reymond." Anyone with pertinent information can contact Schaut at gbschaut@sympatico.ca.
Search for Colleagues: Dennis Pluchinsky seeks contact with Tom Lane and Nancy Kenealy, "who worked with Cindy, Gina, and Jeff" in the mid-1990s on al-Qaeda. Pluchinsky is in contact with all three of these other colleagues and would like to establish contact with Lane and Kenealy regarding his work on a four-volume book series on anti-American terrorism overseas ("see Amazon for more details" about the books). Please contact Pluchinsky at dpluchinsky@rocketmail.com.
Call For Information: Harvard student seeks primary source documents, historical records, or points of contact regarding Freedom Company, aka Eastern Construction Company, of the Philippines
Ryan Santos, a senior at Harvard, is writing his history thesis titled "The outsourcing of freedom": Filipino operatives in the origins of the American war in Indochina, 1954-1967. The focus of the research project is on the Freedom Company of the Philippines (later became the Eastern Construction Company in 1958), a dynamic private enterprise funded by the US to send Filipino paramilitary specialists - who were successful in suppressing their own local communist insurgency in the Huks - to assist in counterinsurgency and nation-building operations in Vietnam, Laos, and Indonesia. Ryan hopes to use his research on the Freedom Company of the Philippines and the Eastern Construction Company to underscore the diversity of geopolitical agents involved in American foreign policy during the Cold War, the development of US-Philippine relations, and the origins of American involvement in Indochina. If this project is of any interest or if there are any primary source documents, historical records, or points of contact that would be helpful, please contact him at ryansantos@college.harvard.edu.
Call For Articles: AFIO Journal, The Intelligencer
For the past four years, AFIO has included in The Intelligencer a series of articles on "when intelligence made a difference." Written by scholars, intelligence practitioners, students, and others, they cover events from ancient times to the modern world and in many countries. AFIO is soliciting articles for future issues. Most articles run between 2,000 and 3,000 words, although some are longer or shorter. If you have an idea for an article that fits the theme, email senior editor Peter Oleson at peter.oleson@afio.com.
Call For Assistance: Researcher Seeks Copy of 1941 FBI Booklet
An AFIO member who is conducting research on the beginnings of industrial security programs before WWII is in search of a copy of a 55-page FBI booklet, dated December 1941, titled "Suggestions for Protection of Industrial Facilities." Digital copies or photocopies are acceptable. Please contact winseditor@afio.com with any information.
Call For Papers: Urban Security 2023 in Journal of Strategic Security Special Issue
The special issue will look at a range of urban security issues including urban warfare, urban insurgency, urban crime and insecurity, operating in dense urban terrain (DUT), mega cities, and subterranean spaces (SubT), and in the Urban-Littoral interface, as well as the protection of the populace. Papers addressing the full range of violent actions from high intensity crime to civil strife and other situations of violence, non-international armed conflict (NIAC), and large scale combat operations (LSCO) during international armed conflict (IAC) are encouraged. All papers submitted to the special issues issue will be subject to double-blind peer review. Below is a list of urban security issues the special issue editors would like to see submissions on:

· Conflict in Megacities (10 million or more)
· Police-Military Intelligence interface in urban conflict
· Insurrection
· Urban-littoral nexus
· Information warfare in support of urban conflict
· Urban insurgency
· Urban Terrorism
· Criminal governance in cities (Slums/Favelas)
· Criminal Armed Groups (CAGs) in cities
· Social Media and Urban Conflict
· Climate Conflict in Cities (Urban-Climate Conflict Nexus)
· Urban counterterrorism
· Urban counterinsurgency (COIN)
· Urban Riots and Public Order
· Intelligence for Urban Operations (e.g., GeoINT)
· Urban policing
· Urban critical infrastructure protection including urban cyber security
· Humanitarian operations and protection of civilians in urban conflict
· Medical and humanitarian response to urban crises and disasters

Abstracts due 1 February 2023; draft submissions due 1 June 2023. (See full submission details here.)
---
Faculty Opening - Teaching Intelligence Analysis - James Madison University - Harrisonburg, Virginia
The Faculty of the Intelligence Analysis (IA) Program at James Madison University (JMU) are searching for a dynamic new colleague to join us in the ongoing co-creation of an exceptional educational experience to prepare the next generation of analysts. Our program is in its 16th year, and our graduates regularly secure positions as analysts in the public and private sectors, including the Intelligence Community, military and law enforcement organizations, defense contractors, and major consulting firms. Our vision is a versatile, multidisciplinary undergraduate education that simultaneously emphasizes methodology, technology, and communication, with a specialization in intelligence analysis. We especially seek a new colleague who can strengthen our longstanding distinctive focus on developing good reasoning and/or our more recent focus on research design and analytic production.

We would welcome a potential new colleague from any academic discipline (to include the humanities, social sciences, and natural sciences) and/or any professional background (to include former intelligence, military, homeland security, law enforcement, and other security and analytic professionals) that enables them to speak with credibility about the process of doing analysis. The desire to engage both traditional academics and professional analysts is extremely important to us. We also value both teaching excellence as well as one-on-one professional mentoring. We especially seek candidates who are able to "bridge the gap" and to engage students whose struggles are different from their own, and who can help them flourish in their future personal and professional lives. The position requires either a Ph.D. in a relevant academic field by hiring date (for a tenure-track appointment) or a minimum of a Bachelor's Degree (Master's Preferred) with substantial, demonstrated experience as an analyst (for appointment on a Renewable Term Contract). Our normal teaching load is three courses per semester.

Application materials should include 1) a detailed cover letter that tells the story of how the candidate's expertise and experience fit our aspirations, values, and teaching needs, 2) curriculum vitae/resume, 3) a "statement of inclusive excellence" that highlights (amongst other things) how the applicant has successfully helped colleagues from different backgrounds and perspectives to flourish in their work, and 4) contact information for at least three references.

The search will remain open until the position is filled. Salary commensurate with experience. Questions can be directed to the Chair of the search committee, Dr. Noel Hendrickson, at hendrinx@jmu.edu. Employment is contingent upon the successful completion of a criminal background check.
Additional details and further online application instructions can be found here.

Intelligence Practice Lead - SOS International, Washington, D.C.
The Intelligence Practice Lead, Americas, alongside the Consulting and Solutions Practice Director, Americas, is responsible for developing the Intelligence business within the regional security consulting team. The Intelligence Practice Lead will oversee the development, positioning, sales and the effective coordination and delivery of all intelligence consulting and solutions, including Intelligence Managed Services, in the US and Canada region. In this role the individual will oversee the provision of support to International SOS's US and Canada regional distribution channels to drive customer satisfaction and profitable growth across relevant business lines, in the technical domain of Intelligence. The individual will help to translate International SOS's Security value proposition into clear priorities and actions, in support of the business lines' commercial road maps. In addition, the role will be responsible for: driving day-to-day delivery of Intelligence consulting deliverables (including capability assessment, planning, training etc); establishing a cadre of analyst external consultants; educating key internal stakeholders and clients; leading/contributing to the expansion of intelligence methodologies and deliverables; along with their cadre of external consultants.
Additional information and application here.

Supervisory Criminal Investigator (Special Agent-In-Charge) - U.S. Army CID, Nationwide
Serves as the Criminal Investigation Division (CID) Field Office Special Agent-In-Charge (SAC) and is the principle law enforcement expert and advisor responsible for all investigations and operations conducted by CID offices within their area of responsibility (AOR). Directly supervises multiple Supervisory Criminal Investigators, full-performance level GS-13 and GS-14 criminal investigators, and support personnel in co-located and satellite offices.
Additional information and application here.

Retired Federal Government Employees Wanted - National Security Agency - Fort Meade, Maryland
The National Security Agency (NSA) may occasionally need skilled civilian retirees to augment the existing work force on high priority projects or programs. In order to fill these temporary positions quickly, we need to know who may be interested and available to return to work with us on a short notice basis as well as their skills. Retirees provide expertise and corporate knowledge to temporarily support mission requirements, manpower shortfalls, and/or mentor the next generation of Agency employees. Salary Range: $86,335 - $170,800.
Additional information and application here.

Assistant/Associate Professor of Intelligence Studies (Global Security and Intelligence Studies) - Embry-Riddle Aeronautical University - Prescott, Arizona
Embry-Riddle Aeronautical University's Prescott, Arizona campus is accepting applications for a tenure-track assistant or associate-level professor of intelligence studies to teach intelligence courses to students in the Global Security and Intelligence program. The successful candidate will teach students about the intelligence community, strategic intelligence, the intelligence cycle and intelligence analysis, writing, and briefing. Prior experience working in the intelligence community is strongly preferred. We are interested in candidates with teaching acumen in intelligence analysis and writing using structured analytical techniques.
Additional information and application here.

Teaching Associate - Intelligence and National Security Studies - Coastal Carolina University, South Carolina
The Department of Intelligence and Security Studies ( ISS ) at Coastal Carolina University is accepting applications for a pool of Teaching Associates (part-time adjunct faculty) to teach introductory and undergraduate elective course offerings for the program beginning in August 2022. While the ad is open to any specialization within the field of study, courses in the areas of homeland security, law enforcement intelligence, counter-narcotics, and cybersecurity are of particular interest. Course offerings can be in a face-to-face or synchronous online modality. To be considered, candidates must have a masters or doctoral degree in a relevant subject area. Prior professional experience in the profession, as well as prior teaching experience are preferred.
Additional information and application here.

Assistant Professor of Intelligence and National Security Studies - University of Texas, El Paso
The Department of Criminal Justice is seeking to fill one full-time tenure-track position beginning Fall 2023 at the Assistant Professor level. Responsibilities include conducting and publishing scholarly research, seeking extramural funding, teaching face-to-face and online courses, and service to the department, university, and profession. Applicants must have a Ph.D. in a closely related field in Intelligence and/or Security Studies from an accredited university (e.g., criminal justice, political science, public policy, security studies). ABD applicants will be considered if doctorate will be in hand by Fall 2023. Active research agenda and published scholarly journal articles are required to apply. Applicants with only a J.D., Psy.D., or Ed.D. will not be considered. All research/teaching areas of intelligence/national security studies will be considered, but preference will be given to candidates who have demonstrated teaching and/or research areas in at least one of these areas: Homeland Security, Intelligence Analysis, or Terrorism/Counter-Terrorism.

Additional information and application here.
---
Dutch Wierenga — CIA Paramilitary Officer and Decorated Special Forces Soldier

Master Sergeant (retired) Jan Willem "Dutch" Wierenga of Williamsburg, VA passed away peacefully on Monday, 9 January 2023, after having suffered a stroke on Christmas Day. He was 86 years of age. Born in the Dutch East Indies (Indonesia), after a particularly harrowing childhood there during and immediately after World War II, he emigrated to Holland in 1955 and served an enlistment in the Dutch Army. He emigrated to America in 1960, becoming a naturalized U.S. citizen. He then embraced an extraordinary life of patriotic service to this country. He enlisted in the U.S. Army in 1962, and became a paratrooper. In due time, he joined the Special Forces (Green Berets), eventually rising to the rank of Master Sergeant. He served three tours in combat in Vietnam, earning a Silver Star, four Bronze Stars and the Purple Heart. Among his many military assignments, Dutch served as a Reconnaissance Team Leader in the legendary MACV/SOG, a Special Forces Team Sergeant, a HALO parachuting instructor, First Sergeant of the Special Forces Training School, and he was the Senior NCO at the founding of the Survival, Evasion, Resistance and Escape (SERE) program. Dutch retired from the Army in 1986, and began a 36-year career with the Central Intelligence Agency, serving both as a Paramilitary Operations Officer and later as a contract training instructor. He finally fully retired from this service in Spring 2022, sixty years after he first enlisted in the defense of America.
Paul Lechner — Career CIA Officer

Paul Carey Lechner, age 84, passed away peacefully at home on Thursday, Dec. 1 in El Cajon, California. He graduated from Danville High School and The Pennsylvania State University, where he earned a degree in Business Administration. He was commissioned a 2nd Lt. in the U.S. Army after graduation and was honorably discharged after two years of service. He continued serving his country as a civilian with the Central Intelligence Agency, mainly overseas.
Paul Lince — Career NSA Officer

Paul M. Lince, 85, passed away on Thursday, January 5, 2023. He was born in Gloversville, New York. Paul served in the US Army and retired from the National Security Agency after more than 35 years.
David Brown — Career NGA Officer

David Eugene Brown passed away on Monday January 2, 2023 at the age of 62. David worked for the National Geospatial-Intelligence Agency, just under 40 years. He had a passion for his work, country, history, geography, and travel.
---
18 Jan 23, 1800-2015 (ET) - Atlanta, GA - AFIO Atlanta Chapter Holiday Party/Banquet. Speaker FBI Agent Dell Spry on Mole Hunting. This event will be strictly in-person, no virtual / VTC component will be offered. Our very own Atlanta member, famed FBI Special Agent Marvin O. "Dell" Spry will be our keynote speaker. Over his career as a supervisory special agent, Dell was decorated by many foreign governments, by the Directors of the CIA and FBI, and is best known as the lead investigator who personally caught and cuffed Aldrich Ames. 1800-1815 we will have a check-in and social period, and around 1820 we'll start taking seats and begin the program. Location: Grand China Atlanta, 2905 Peachtree St NE, Atlanta, GA 30305. RSVP by 16 January to Grant at grant@afioatlanta.com. Please let Brian Hooper, Chapter President, know if you have questions. Please see the invitation here for RSVP instructions and further details. (For chapter members, we will reinstate collecting dues in 2023 to launch the website and continue hosting zoom meetings, etc. We can collect dues in person via cash or check (G. N. Miller), or via Venmo to @AFIOATLANTA, or via Zelle at 770-876-4884.)
21 Jan 23 - In-person - Kennebunkport, ME - Daveed Gartenstein-Ross discusses "Enemies, Near and Far, Foreign and Domestic: How the U.S. is Confronting the Challenges of International and Domestic Terrorism" Over the past decade, the terrorist threat has definitively evolved. National security professionals voice increasing concerns about polarization and domestic violent extremist movements, while evidence ranging from Afghanistan to Africa suggests that the threat of jihadism that occupied the U.S. for more than two decades is anything but dead. Daveed Gartenstein-Ross, an internationally recognized expert on jihadist terrorism, was also the author of the U.S. Department of Homeland Security's 2019 Strategic Framework for Countering Terrorism and Targeted Violence, an acclaimed document that reoriented the Department's focus to recognition of the rising domestic terrorist threat. He will provide a comprehensive account of current terrorist threats and what we should do to address them. The meeting is open to the public and will begin at 2:00 p.m. at the Program Center of the Brick Store Museum, 4 Dane Street, Kennebunk, Maine 04043. A Question and Answer period will follow the presentation. No reservations are required.
26 Jan 23, 1900 (PST) - Virtual - AFIO Columbia River Chapter hosts Samuel Kaplan, who has decades of experience on, and will discuss, China — Trade and Supply Chain Management. If you would like to attend, please contact Carl Wege via email at twege@ccga.edu.
02 Feb 23, 1900 (CST) - Virtual - AFIO San Antonio Chapter hosts Ben Robinson, author of "MagiCIAn," a book available on Amazon about John Mulholland, a magician and illusionist who was employed by the CIA decades ago for training and covert work during the Cold War. Robinson discovered Mulholland (1898-1970) in 1968. In 1977, news broke that Mulholland had assisted the CIA between 1953 and 1958. Robinson spent the next 31-years trying to distinguish truth from illusion as to Mulholland's activities. The story involves the famous MKULTRA project, LSD use, surreptitious drugging, ESP research, and fraternization with "the loose affiliation of millionaires and billionaires." Chapter Secretary David Endris will moderate the presentation. To access this Zoom event, contact John Franklin ASAP at satxafio@gmail.com to receive the link and password to access the meeting.
03 Feb 23 (Friday) - In-person - Tysons Corner, VA - AFIO Winter Luncheon 2023! Guest speakers Talent Acquisition Officer with CIA, Mike Bruni, discussing CIA Careers and Recruitment. The afternoon speaker is the renowned intelligence historian, author, former MP, and AFIO Honorary Board member Nigel West, discussing his newest book "Hitler's Trojan Horse." Mandatory advanced registration closes at 1700 hours (ET) on 27 January 2023.

Click here for registration and more information on lunch and speaker times, cost, cancellation policy, location address, and more.
08 Feb 23 (Wednesday), 1800 (PT) - Simi Valley, CA - AFIO Los Angeles Chapter hosts event in conjunction with Reagan Library presentation by former CIA Director Mike Pompeo. In conjunction with the Reagan Presidential Library and Center for Public Affairs, the LA Chapter will be conducting their annual chapter general business meeting. Former CIA Director Mike Pompeo will be the guest speaker with a presentation set to start at 6 PM. Following the presentation we will meet for dinner at the Wood Ranch restaurant and conduct our annual general business meeting along with the election for our chapter officers. This is a two step reservation process. Please follow the directions below. We look forward to your attendance and participation. Happy New Year!
Mike Pompeo is an American politician, diplomat, and businessman who served under President Donald Trump as director of the Central Intelligence Agency from 2017 to 2018 and as the 70th United States Secretary of State from 2018 to 2021. He is the first person to have held both of those positions.
TO ATTEND Sec. Mike Pompeo 6 PM PST Presentation - Step 1: Reserve for Sec. Pompeo's presentation: Onstage at the Reagan Library with Secretary of State Mike Pompeo - An in-person event
TO ATTEND POST-EVENT DINNER: Step 2: Dinner Reservation Wood Ranch restaurant 7:30 PM: email AFIO_LA@Yahoo.com.
If you would like to only attend the dinner portion you may do so. Cost is $30 per person meal & beverage included. Questions to Vince Autiero, Chapter President, at AFIO_LA@yahoo.com.
11 Feb 23 (Saturday), 1130 (ET) - Indialantic FL - The AFIO Florida Satellite Chapter hosts Mr. Jamie Draper, Museum Director, Air Force Space and Missile Museum, Cape Canaveral Space Force Station, discussing the Museum's History and Future. The event will be held at the Doubletree Hotel, Rt A1A, Indialantic, Florida. Mr. Draper's presentation will follow a sit-down lunch. The cost is $35.00 per person. Questions or Reservations to Larry Sanford, Chapter President, at afiofloridasatellitechapter@gmail.com.
18 Feb 23 (Saturday), 1400 (ET) - Kennebunk, ME - AFIO Maine hosts former CIA Analyst John Gentry on discussing The New Politicization of the US Intelligence Community. Political activism, radically new for the American Intelligence Community (IC), has surprised observers of U.S. intelligence.
But, the still incomplete story has significant political and bureaucratic ramifications for the roles and usefulness of US intelligence. This activism amounts to a new form of the "politicization" of intelligence by some officers to influence policy decisions and this article offers a theory of the origins of the cultural changes within parts of the IC that have created this politicization.
The meeting is open to the public and will begin at 2:00 p.m. at the Program Center of the Brick Store Museum, 4 Dane Street, Kennebunk, Maine 04043. A Question and Answer period will follow the presentation. No reservations are required.

See the AFIO Calendar of Events for scheduling further in the future.
---
19 Jan 23, 1200 (ET) - Virtual - Spy Chat with Chris Costa, featuring LTG (R) John F. Mulholland, Jr.- International Spy Museum
Join us for an online discussion of the latest intelligence, national security, and terrorism issues in the news. Spy Museum Executive Director Chris Costa, a former intelligence officer of 34 years, will be joined by LTG (R) John F. Mulholland, Jr., former Associate Director of Military Affairs for the Central Intelligence Agency (CIA). As CIA's Associate Director of Military Affairs, Mulholland served as the senior military advisor to the Director of Central Intelligence. The career Special Forces officer joined the First Special Forces Regiment in 1983 and led Army and joint special operations units from the time he was a captain until attaining the rank of lieutenant general. He served as Deputy Commanding General, Joint Special Operations Command; as the Commanding General, Army Special Operations Command; and as the fifteenth Deputy Commander, US Special Operations Command. Mulholland led two notable joint special operations "Task Force Dagger" campaigns. He was commander of Joint Special Operations Task Force-North during the opening days of Operation Enduring Freedom immediately following 9/11 and commander of Combined Joint Special Operations Task Force-West during Operation Iraqi Freedom in 2003. Mulholland's overseas assignments included two tours in the former Panama Canal Zone, command of the 1st Battalion, 1st Special Forces Group (ABN), Okinawa, Japan, and as the Chief, Office of Military Cooperation, Kuwait. Among many honors, he has been awarded the Army Distinguished Service Medal, Defense Superior Service Medal, and the Bronze Star Medal. This program is generously supported by Spy Museum Board Member Katherine Wood. Program is free of charge but requires advanced registration. (Information and registration here.)
24 Jan 23, 0900-0945 (ET) - Virtual - Coffee and Conversation with CIA Dep. Dir. for Analysis Linda Weissgold - INSA
In this 45-minute moderated discussion, Linda Weissgold will discuss one of CIA's core missions – delivering timely, objective, all-source intelligence analysis to the President and policymakers across government. She will focus on the changing role of analysts in the Intelligence Community, the interaction of intelligence analysis and policymaking, the importance of analytic objectivity, the rigorous application of analytic tradecraft with emerging technologies, and how CIA is working to better inform the public of its core missions and capabilities. (Information and registration here.)
24 Jan 23, 1400-1500 (ET) - Virtual - SPY with Me: Memory Loss Program - International Spy Museum
SPY with Me is an interactive virtual program for individuals living with dementia and their care partners. Join SPY as we use music and artifacts to explore some of our favorite spy stories. Programs last one hour and are held virtually through Zoom. Every month the same program is offered on two different dates. Free, but space is limited. (Information and registration here.)
25 Jan 23, 1830 (ET) - Virtual - Operation Underworld with Matthew Black - International Spy Museum Program
After Pearl Harbor, Americans were traumatized by the event's sudden widescale death and destruction on US soil. When the second largest ship in the world, the SS Normandie, caught fire on the Hudson River and sank, many suspected sabotage. In the face of saboteurs, spies, and enemies of the state on the New York shoreline, the US Navy did the unthinkable and empowered the New York Mafia to help them patrol the New York City docks and act as informants. Journalist and crime historian Matthew Black has uncovered this clandestine coalition that brought homefront enemies together and ultimately succeeded in helping the Allies win World War II. Black will discuss his new book Operation Underworld: How the Mafia and US Government Teamed Up to Win World War II and how he came to uncover this hidden history. From Montauk to Sicily, from German garrisons to the halls of power in Washington, DC, with a side trip to Sing Sing, join us for an eye-opening evening and learn why "Lucky" Luciano was rumored to be up for a Congressional Medal of Honor! Support for this program has been provided by a generous grant from the Pritzker Military Foundation, on behalf of the Pritzker Military Museum and Library. Program is free of charge but requires advanced registration. (Information and registration here.)
26 Jan 23, 1400-1500 (ET) - Virtual - SPY with Me: Memory Loss Program - International Spy Museum
SPY with Me is an interactive virtual program for individuals living with dementia and their care partners. Join SPY as we use music and artifacts to explore some of our favorite spy stories. Programs last one hour and are held virtually through Zoom. Every month the same program is offered on two different dates. Free, but space is limited. (Information and registration here.)
27 Jan 23, 1830-2100 (ET) - Washington, DC - Spy Fest: Tradecraft Try-Its - International Spy Museum
Could you be a spy? Now's your chance to find out! Do you have the savvy to beat a lie-detector? The smarts to break a top-secret coded message? The wits to create secret writing? Families are invited to find out how they measure up at the Museum's annual Spy Fest! Learn tradecraft from experts in the field and participate in spy skill challenges that will give KidSpy recruits and their handlers an insider's peek into the shadow world of spying—and who knows, there just may be a spy or two in your midst. Tickets for the general public - Youth (4-17): $25; Adults (18+): $30; Tickets for Members - Youth (4-17): $20; Adults (18+): $25. Museum admission is included in your ticket. All attendees must have a ticket. (Information and tickets here.)
19 - 28 Mar 23 - Washington DC to Europe and back - Gary Powers' 10-Day Cold War Espionage Tour
Join author and historian Gary Powers Jr. on this unforgettable 10-day tour of Cold War and Espionage related sites throughout Germany and the Czech Republic

Day 1: Departure from the USA; Day 2: Arrival Berlin; Day 3: Berlin - Potsdam - Berlin; Day 4: Berlin; Day 5: Berlin – Leipzig – Dresden; Day 6: Dresden – Prague – Pilsen; Day 7: Pilsen – Míšov – Pilsen; Day 8: Pilsen – Rozvadov – Nuremberg – Stuttgart; Day 9: Stuttgart – Sinsheim – Speyer – Frankfurt; Day 10: Departure for the USA.

Included Visits: Berlin Wall Memorial • Checkpoint Charlie Museum • German Spy Museum • Military History Museum Gatow • Glienicke Bridge • Hohenschönhausen Memorial • Berlin Stasi Museum • Allied Museum on Clay Allee • Museum in Der Runde Ecke • Leipzig Forum of Contemporary History Museum • Dresden's Military History Museum • Bautzner Strasse Dresden Memorial • KGB Museum • Prague Museum of Communism • Vitkov Hill Nuclear Bunker • Pilsner Urquell Brewery • Atom Museum • Iron Curtain Museum • Nuremberg Trials Memorial • Stuttgart Cold War Bunker • Sinsheim Technik Museum • Speyer Museum of Technology.

Tour Name: Gary Powers' Cold War Espionage Tour - view tour; Group Name: Garypowers.Com Tours; Departure City: Washington, DC; Tour Departure Date: March 19, 2023; Tour Return Date: 28 Mar 23.

Tour Price: $3,950.00 (deduct $950 for land only tour) per person, assumes 2-person registration.

For full description of the activities and accommodations on each of those dates and locations, explore full information about the tour here or Call 1.800.323.4466.

To enroll now for this 2023 once in a lifetime tour, do so here.

ALSO See: "Enemy Territory: The Story of American CIA U-2 Pilot Francis Gary Powers" - A Graphic Novel by Francis Gary Powers Jr. and Walter Pfenninger.
---
---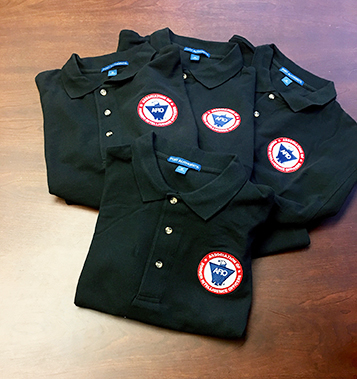 Now available: Black short-sleeved polo shirts with Embroidered AFIO logo
Show your support for AFIO with our new Black Short-sleeve Polo Shirts. Shirts are shrink and wrinkle resistant of fine cotton with a soft, "well-worn, comfy" yet substantial feel. They feature a detailed embroidered AFIO seal. Get a shirt for yourself and consider as gifts for colleagues, family, and friends. Only $50 each including shipping.
Sizes for (M) men, only; Small, Medium, Large, XL, XXL, and XXXL. $50 per shirt.
You may pay by check or credit card. Complete your order online here or mail an order along with payment to: AFIO, 7600 Leesburg Pike, Ste 470 East, Falls Church, VA 22043-2004. Phone orders at 703-790-0320. Questions? Contact Annette at: annettej@afio.com.
---

PopSocket for cellphones or tablets
Show your support to AFIO while enjoying the convenience offered by our AFIO Logo PopSocket. The PopSocket is most commonly used as a stand and as a grip for your mobile phone or tablet; handy for taking selfies, watching videos, and for texting. The PopSocket looks like a small button or sticker which, when closed, sticks flat to your mobile device. However, its accordion-like design enables it to pop open for use. The benefits of using a PopSocket make it a must-have accessory for your mobile phone or tablet. It also aids in keeping your phone from slipping off your hand during use, falling, or breaking.
Price: $15. Order this and other store items online here.
---


Caps - Dark Navy with Navy AFIO Logo
An authentic silhouette with the comfort of an unstructured, adjustable fit. Fabric: 100% cotton. Unstructured. Fabric strap closure with adjustable D-clip. Price: $30. Order this and other store items online here.
---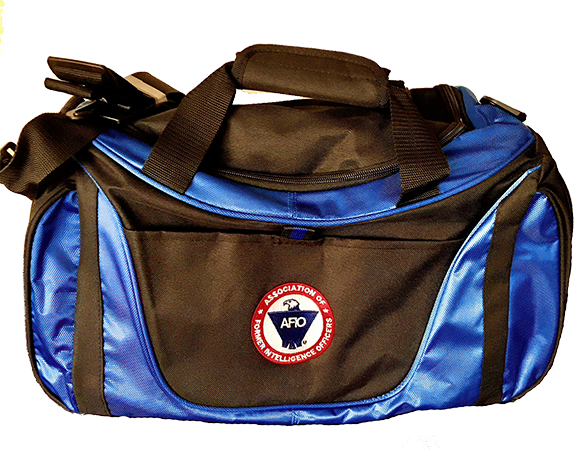 Duffel Bags - Royal Blue and Black with Full Color AFIO Logo This duffel has it all when it comes to value, style and organization.
600 denier polyester canvas with polyester double contrast; D-shaped zippered entry for easy access. Front pocket with hook and loop closure. End mesh pocket Easy-access end pockets. Four durable, protective feet and built-in bottom board for added strength. Web handles with padded grip. Detachable, adjustable shoulder strap.
Dimensions: 11"h x 19.75"w x 9.75"d; Approx. 2,118 cubic inches
Price: $50. Order this and other store items online here.
---
AFIO Mug with color glazed seal.

Made in the U.S.A., dishwasher-safe.
$35 includes shipping.

Sip your morning joe in style or use it to stash pens, cards, paperclips, or candy.
Order this and other store items online here.

---
---
Guide to the Study of Intelligence...and...When Intelligence Made a Difference
"AFIO's Guide to the Study of Intelligence" has sold out in hard-copy.
It is available in digital form in its entirety on the AFIO website here.

Also available on the website here are the individual articles of AFIO's
history project "When Intelligence Made a Difference" that have been
published to date in The Intelligencer journal. More articles will be appear in future editions.
---
Address Technical Issues Or Unsubscribe
Some features of the email version of the WIN do not work for readers who have chosen the Plaintext Edition, some users of AOL, and readers who access their email using web mail. You may request to change from Plaintext to HTML format here afio@afio.com. For the best reading experience, the latest web edition can be found here: https://www.afio.com/pages/currentwin.htm
To unsubscribe from the WIN email list, please click the "UNSUBSCRIBE" link at the bottom of the email. If you did not subscribe to the WIN and are not a member, you received this product from a third party in violation of AFIO policy. Please forward to afio@afio.com the entire message that you received and we will remove the sender from our membership and distribution lists.
---
Disclaimer and Legal Protection
Weekly Intelligence Notes (WINs) are a carefully selected collection of timely open source reports and announcements and other media focused on intelligence and related national security matters that is produced for non-profit educational use by AFIO members and WIN subscribers. WINs are protected by copyright and intellectual property laws. They may not be reproduced or re-sent without specific permission from the Producer. Opinions expressed in the materials contained in the WINs are solely those of the content creators listed with each item. Notices in the WINs about non-AFIO events do not constitute endorsement or recommendation by AFIO.

(c) 1998 thru 2022


---

AFIO Members Support the AFIO Mission - sponsor new members! CHECK THE AFIO WEBSITE at www.afio.com for back issues of the WINs, information about AFIO, conference agenda and registrations materials, and membership applications and much more! .

AFIO | 7600 Leesburg Pike, Suite 470 East, Falls Church, VA 22043-2004 | (703) 790-0320 (phone) | (703) 991-1278 (fax) | afio@afio.com
---
About AFIO | Membership Renewal | Change of Address | Upcoming Events | Chapter Locations | Corporate/Institutional Memberships | Careers in Intelligence Booklet | Guide to the Study of Intelligence | Intelligencer Journal | Weekly Intelligence Notes | Make A Donation | AFIO Store | Member-Only Section | Code of Ethics | Home Page
RETURN TO TOP
---