---
DoD wants to declassify more intelligence to enhance private-sector cybersecurity - Federal News Network, 25 Jan 23
The Defense Department wants to declassify more intelligence to enhance cybersecurity in the private sector. It said defense contractors need increased access to intelligence information to defend themselves against outside threats. Undersecretary of Defense Ronald Moultrie told a group at the Defense and Intelligence Space Conference that DoD plans to declassify some information, particularly from satellite images. He said the Pentagon may be overclassifying information needed by vendors and that DoD wants to have... (Full article here.)
Director of National Intelligence, Texas Senator discuss classified documents and security threats surrounding TikTok - The Daily Texan, 29 Jan 23
In the midst of national security concerns surrounding the conflict in Ukraine and sustained risks posed by governments including Iran and China, a two-day conference sponsored by UT Austin tackled issues surrounding transparency and declassification. Director of National Intelligence Avril Haines and U.S. Sen. John Cornyn spoke as part of the conference, titled America's Secrets: Classified Information and Our Democracy, on Thursday and Friday, calling for increased declassification and discussing the national security threat posed by foreign data collection through apps like TikTok. "Overclassification undermines critical democratic objectives, such as increasing transparency to promote an informed citizenry and greater accountability," Haines said. "Overclassification undermines the basic trust that the public has in its government." The conference included talks by the Public Interest Declassification Board, scholars and historians on transparency and classified documents at the Lyndon B. Johnson Presidential Library. (Full article here.)
Wi-fi deal 'let Beijing see Britain's nuclear secrets' - Daily Mail, 28 Jan 23
A firm part-owned by the Chinese state had access to secret information about Britain's nuclear weapons by providing wi-fi to the UK's military headquarters and 45 other defence bases for three years. Experts fear the security bungle, exposed by The Mail on Sunday, has allowed China to build a 'comprehensive understanding of British military operations' and access personal information that could be used to blackmail troops to reveal state secrets. Telecoms company Media Force has supplied internet to the Armed Forces for nearly two decades and currently provides wi-fi to 46 British military bases across the army, navy and air force. This includes the UK's main military HQ at Northwood, which manages Britain's nuclear deterrence programme and is also used by Nato. (Full article here.)
Taiwan appoints new, British-educated intelligence chief - Reuters, 26 Jan 23
Taiwan President Tsai Ing-wen appointed a new intelligence chief on Thursday, a British-educated senior diplomat, as part of a broader government reshuffle currently underway and as the island faces growing military threats from China. Tsai's office said that deputy foreign minister Tsai Ming-yen, who has previously served as Taiwan's de facto ambassador to the European Union, had been appointed as the new head of the National Security Bureau, replacing Chen Ming-tong who has resigned expressing a desire to "rest". Tsai, who has a doctorate from King's College London's department of war studies, has also previously worked as an advisor to Taiwan's defence ministry and China-policy making Mainland Affairs Council. The president hopes to rely on Tsai's expertise in regional security, foreign affairs and international strategy to assist the national security team in the "interpretation and precise decision-making" for the situation with China and in the region, her office said. (Full article here.)
Chinese National Sentenced to Eight Years for Acting within the United States as an Unregistered Agent of the People's Republic of China - Department of Justice, 25 Jan 23
A Chinese national was sentenced today to eight years in prison for acting illegally within the United States as an agent of the People's Republic of China. A jury in the Northern District of Illinois last year convicted Ji Chaoqun, 31, on one count of conspiracy to act as an agent of a foreign government, specifically the People's Republic of China, without first notifying the Attorney General; one count of acting as an agent of the People's Republic of China without first notifying the Attorney General; and one count of making a material false statement to the U.S. Army. U.S. District Judge Ronald A. Guzman imposed the sentence. Evidence presented at trial revealed that Ji worked at the direction of high-level intelligence officers in the Jiangsu Province Ministry of State Security, a provincial department of the Ministry of State Security for the People's Republic of China. Ji, a Chinese citizen residing in Chicago, was tasked by Xu Yanjun, a Deputy Division Director within the Ministry of State Security, with providing an intelligence officer with biographical information on certain individuals for possible recruitment by the JSSD. The individuals included Chinese nationals who were working as engineers and scientists in the United States, some of whom worked for U.S. defense contractors. This tasking was part of an effort by the Jiangsu provincial department to obtain access to advanced aerospace and satellite technologies being developed by companies within the U.S. Xu was sentenced last year to 20 years in federal prison after being convicted in the Southern District of Ohio of conspiracy and attempting to commit economic espionage and theft of trade secrets. (Full article here.)
GCHQ cyber experts warn of targeted phishing attacks from actors based in Russia and Iran - UK National Cyber Security Center, 26 Jan 23
The UK has today (Thursday) warned of the threat from targeted spear-phishing campaigns against organisations and individuals carried out by cyber actors based in Russia and Iran. In an advisory published today, the National Cyber Security Centre (NCSC) – a part of GCHQ – shared details about the techniques and tactics used by the attackers as well as mitigation advice to combat the continuing threat. Spear-phishing involves an attacker sending malicious links, for example via email, to specific targets in order to try to induce them to share sensitive information. The advisory highlights that throughout 2022 separate malicious campaigns were conducted by Russia-based group SEABORGIUM and Iran-based group TA453, also known as APT42, to target a range of organisations and individuals in the UK and elsewhere for information-gathering purposes. (Full article here.)
Second arrest in Russian spy scandal at German intelligence agency - Politico, 26 Jan 23
A second arrest has been made in an espionage scandal at the German foreign intelligence agency, authorities said Thursday. According to the Public Prosecutor General in Karlsruhe, a German citizen who is "strongly suspected" of acting as a courier for a double agent has been arrested on suspicion of treason. In December, an employee of the German Federal Intelligence Service (BND) was arrested on suspicion of passing highly sensitive information to Russian intelligence services. According to prosecutors, this information included state secrets. Spiegel magazine reported that the man worked in a BND department handling critical intelligence on the Ukraine war. (Full article here.)
Russian Intelligence Agents Suspected of Directing Far-Right Group to Mail Bombs in Spain - New York Times, 23 Jan 23
American and European officials believe that Russian military intelligence officers directed associates of a white supremacist militant group based in Russia to carry out a recent letter bomb campaign in Spain whose most prominent targets were the prime minister, the defense minister and foreign diplomats, according to U.S. officials. Spanish and foreign investigators have been looking into who sent six letter bombs in late November and early December to sites mostly in Madrid, including the official residence of Prime Minister Pedro Sánchez, which also serves as his office; the American and Ukrainian Embassies; and the Defense Ministry. No one was killed in the attacks, which U.S. officials consider terrorism. An employee of the Ukrainian Embassy was injured when one of the packages exploded. (Full article here.)
Secrecy hinders info-sharing with allies, says Space Command deputy - C4ISRnet, 25 Jan 23
The Pentagon's tendency to overclassify space programs and intelligence is making it harder for agencies to collaborate with international partners, the deputy chief of U.S. Space Command said this week. Lt. Gen. John Shaw said that, as recently as last week, a classification issue prevented the command from sharing information with U.S. partners. He declined to provide further details on the incident due to security concerns, but noted it highlights the need for policy change. "Shame on us if we end up failing in a future conflict because we can't communicate with our allies and partners as we should," Shaw said Jan. 24 at the National Security Space Association's Defense and Intelligence Space Conference in Chantilly, Virginia. "It doesn't mean we open the doors wide. We've got to go through this in a systematic and smart way, but I'm telling you where we are is not at the optimal point." Secrecy in the space domain is not a new obstacle for the Defense Department, which has slowly worked to reconsider policies around how it classifies space programs and shares information gathered by on-orbit assets. That could mean talking publicly about threats or new capabilities, or changing a program's classification level — without removing it altogether — so defense agencies can share information with allies. (Full article here.)
DIA to break ground in Huntsville for new MSIC facility Feb. 24th, 2023 - DIA Public Affairs, 26 Jan 23
The Defense Intelligence Agency will host a groundbreaking ceremony here on Feb. 24 for the Missile and Space Intelligence Center's Advanced Analysis Complex at the Richard C. Shelby Center for Missile Intelligence on Redstone Arsenal. The existing MSIC campus broke ground on January 26, 1998, 25 years ago today. This new expansion will enhance mission capabilities and collaboration between DIA and foreign partners through increased laboratory and dedicated analysis space. Providing advanced resources for engineering analysts and support professionals, this new complex will take MSIC's real-time weapon expertise to new heights. MSIC provides warfighters, weapons developers, policymakers and homeland security officials with intelligence assessments on foreign weapons systems. (Full article here.)
Russia blocks CIA, FBI websites for 'spreading false information' - TASS - Reuters, 27 Jan 23
Russia's communications regulator Roskomnadzor said on Friday it had blocked the websites of the CIA and FBI, accusing the two U.S. government agencies of spreading false information, the TASS news agency reported. "Roskomnadzor has restricted access to a number of resources belonging to state structures of hostile countries for disseminating material aimed at destabilising the social and political situation in Russia," Roskomnadzor said in a statement carried by Russian news agencies. TASS quoted Roskomnadzor as saying that the two American websites had published inaccurate material and information that had discredited the Russian armed forces. There was no immediate comment from Washington or from the U.S. Embassy in Moscow. (Full article here.)
National Security Agency partners with Ferris State to bolster academic cybersecurity training - Rush Hour Times, 29 Jan 23
To meet the growing national demand for skilled cybersecurity workers, Ferris State University is partnering with the National Security Agency (NSA) to help prepare its students for careers in space cybersecurity, analytics data, database management and artificial intelligence. The university has signed a five-year educational partnership agreement with the NSA to help boost the university's science, technology, engineering, and math (STEM) programming to develop the talents and tools needed to protection of national security, Ferris State announced in a press release. The partnership will allow students to use the federal agency's expertise, technology and resources, said Greg Gogolin, director of the Ferris State Center for Cybersecurity and Data Science. For example, students will be able to work in space cybersecurity using satellites and communication systems, he explained. Ferris State is one of only two schools in the United States to partner with the NSA for this type of space satellite cybersecurity training, he said. (Full article here.)
Key takeaways in a first-of-its-kind Secret Service report on mass attacks from 2016-2020 - NPR, 26 Jan 23
The U.S. Secret Service has released a first-of-its-kind report that analyzes 173 mass attacks that took place in the country from 2016-2020. It's the first time the agency has put together trends collected from five years of data; the report examines everything from when in the year the attacks took place, to behavioral changes exhibited in the attackers. The report, which comes from the agency's National Threat Assessment Center, looked at attacks that harmed at least three individuals, not including the attacker. The report comes just days after two shootings in California in Monterey Park and Half Moon Bay killed a total of 18 people. So far in 2023, there have been 39 mass shootings. Lina Alathari, chief of the National Threat Assessment Center, said she hopes the research and guidance provided in the report can help prevent future mass attacks. (Full article here.)
OSINT: CIA's Open Source Enterprise - Rebellion Research, 29 Jan 23
Open source intelligence, or OSINT as we like to call it, has rightly taken on a more prominent role across the national security landscape, as digital technologies have democratized access to data and information. Notice how I think of these as two separate things? Data is not information, and information is not insight. That transformation is a process rooted in specific methodology (or tradecraft), increasingly integrated with data science. With the technological transformation mentioned above, the OSINT community has grown dramatically in recent years. No longer is open source intelligence the exclusive domain of government departments and agencies. Instead, today there are countless companies and not-for-profit organizations which are daily demonstrating the power of OSINT. The CIA's Open Source Enterprise (or OSE) has a long and proud history of excellence providing OSINT insights to inform analytic judgments shared with US policy-makers. (Full article here.)
---
The Latest National Security Topic Interview by Former Acting D/CIA Mike Morell


Intelligence Matters: A CBS News national security podcast hosted by former CIA Acting Director and CBS News national security contributor Michael Morell.
24 Jan | Understanding Electronic Surveillance with NSA's Former Top Lawyer
In this episode of Intelligence Matters, host Michael Morell speaks with Glenn Gerstell, former general counsel at the National Security Agency, about how and when the NSA is authorized to use electronic surveillance to collect intelligence on foreign targets. Gerstell offers a detailed explanation of the origins and evolution of the Foreign Intelligence Surveillance Act (FISA) and the statute, most commonly referred to as Section 702, that allows electronic surveillance using U.S. electronic communications service providers. He and Morell walk through the legal limitations put forth in the statute and the debate currently surrounding its reauthorization by Congress.
Past episodes:

17 Jan | Former CIA Officer Rolf Mowatt-Larssen's Strategic Analysis of the Russia-Ukraine War
10 Jan | Michael Morell on the Year Ahead: Strategic Challenges in 2023
03 Jan | Inside China's Surveillance State: Liza Lin and Josh Chin

More about Intelligence Matters by Michael Morell here.
---
The Latest from International Spy Museum Historian Andrew Hammond, PhD.
Spycast is the official podcast of the International Spy Museum and hosts interviews with intelligence experts on matters of HUMINT, SIGINT, IMINT, OSINT, and GEOINT. Spycast is hosted by historian Andrew Hammond, PhD.
24 Jan | Code Name Blue Wren: Cuban Spy Ana Montes Jim Popkin joins Andrew to discuss America's most damaging female spy, Ana Montes. Jim is a four-time recipient of the national Emmy Award for outstanding journalism.
Past episodes:

17 Jan | "From the Vault - "The Birth of American Propaganda": A Conversation on Manipulating the Masses with John Hamilton.
10 Jan | From the Vault - "The IRA, The Troubles, and Intelligence"
03 Jan | From the Vault - "Black Ops: The Life of a Legendary CIA Shadow Warrior"


---
The Latest Insights from Former CIA Acting Deputy Director for Operations Jack Devine.
In Other News The proprietary analytic newsletter crafted for The Arkin Group's private clients by former CIA Acting Deputy Director for Operations Jack Devine.
27 Jan | Sanctions, tanks, and other measures to limit Russia's influence. The Kremlin-aligned Wagner Group mercenary outfit has been nothing but a menace for the past decade, but its shameless recruitment of thousands of prisoners to fight against Ukraine has put a spotlight on the scale and methods of the group. It's just business as usual, however, for Russian businessman Yevgeny Prigozhin, who finally decided to come clean on his association as the Wagner boss back in September. Notably, Prigozhin had previously sued a UK journalist for making the association. (Full version available to AFIO members in the coming days here.)
19 Jan | The risk assessment on providing Ukraine with heavy weapons has rightfully shifted
12 Jan | Economic security and strategic autonomy should unite the EU and Washington, not divide us.
03 Jan | The Geopolitical Landscape heading into 2023
---
Daily Analysis of Security Issues and Geopolitical Trends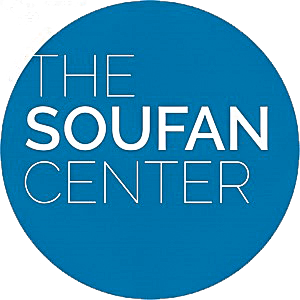 Intel Brief The Soufan Center's flagship, daily analytical product focused on complex security issues and geopolitical trends that may shape regional or international affairs. The Soufan Center was founded by former FBI Special Agent and Soufan Group CEO Ali Soufan.
31 Jan | Central Asian Leaders Face Key Energy Sector Choices

Russia's invasion of Ukraine has forced the United States, its allies, and many countries around the globe to rethink their security requirements, not just purely in terms of defense capabilities and needs, but in socioeconomic terms as well, particularly as violence has erupted in Kyrgyzstan, Tajikistan, and Uzbekistan over the past few months. Central Asian countries that, like Ukraine, were once part of the Soviet Union, are readjusting their relationships with Moscow. Several countries—particularly Kazakhstan, Turkmenistan, and Uzbekistan—are significant producers of oil, natural gas, and minerals. All three seek to diversify their energy export routes that were initially made dependent by design on Russian cooperation. Over the past two decades, there have been increasing efforts to strengthen regional cooperation among the states and with international partners. The most recent sign of these cooperative efforts came yesterday, when the president of the UN Security Council thanked the head of the UN Regional Center for Preventative Diplomacy for Central Asia, Natalia Gherman, for a briefing she delivered to the Council earlier in the day, congratulating her recent appointment to lead the Council's counterterrorism organ, Counterterrorism Committee Executive Directorate. (Full brief here.)
30 Jan | How Far Will Brazil Go to Prosecute Capitol Attacks?
27 Jan | Germany Releases the Leopards
26 Jan | Sorry, That's Classified
25 Jan | South Korea and the United Arab Emirates Promote Nuclear Power
---
Analysis of Global Security Events with WTOP National Security Correspondent JJ Green

Inside the SCIF - 27 Jan - DIA Director LT. General Scott Berrier on a spring offensive in Ukraine, and more...
Target USA Podcast - 26 Jan - Brazil's Capitol Stormed: How and Why - Rodrigo Chia, a transparency activist from Brasilia explains how the riot was organized and what took place.

The Hunt Broadcast - 25 Jan - Mass shootings in California compared to terrorist incidents




---
The Latest Insights from Jeff Stein and Colleagues in SpyTalk (Substack)

30 Jan | How Sick is the Spying Game? - Jeff Stein
Legendary former CIA officer Jim Lawler, celebrated for taking down the infamous A.Q. Khan nuclear smuggling network, is fond of telling audiences he had to be a sociopath to succeed in his line of work. He's not entirely kidding. (Full article here.)

25 Jan | Secret Agent Man: The Mysterious Charlie McGonigal - Olga Lautman and Jeff Stein
A onetime colleague of accused FBI turncoat Charles McGonigal says the former top counterintelligence official was an "egotistical narcissist" who frequently "screamed at subordinates," resented the successes of underlings and may well have been part of an anti-Hillary Clinton clique in the New York office who helped pressure FBI Director James Comey to reopen the bureau's investigation of her wayward emails only days before the 2016 election. (Full article here.)

22 Jan | Putin's Ukraine Folly Enables Kremlin Rivals - Jeff Stein

15 Jan | Rocky Road Ahead for House Intelligence Panel - Jeff Stein

12 Jan | The Perfect Spy Was a Cuban Agent - John Dinges


To support SpyTalk, subscribe here.


---
---
U.S. Policy Refuses to Win in Ukraine - National Review, 13 Jan 22
Putin's objective is to occupy a significant portion of Ukraine and retain undisputed control of the Black Sea. He believes U.S. and NATO aid to Ukraine will dwindle in a protracted war. Ukraine's end state is to push Russia out of all its territory. Ukraine has proven it has determination and ferocity. The U.S. and NATO, however, refuse to transfer sufficient arms for Ukraine to accomplish that objective. Unlike Putin and Ukraine, the Biden administration evades stating its desired end. It does not endorse driving Russia out of Ukraine entirely. What it does seek is unknown. The chairman of the Joint Chiefs of Staff, General Mark Milley, has suggested that Ukraine cut a deal now. Ukraine understandably rebuffed that notion. So, the second year of the war begins with the administration hoping for some undefined middle ground short of a Ukrainian victory. (Full article here.)
Separate investigations focus on ex-FBI special agent's Russian and Albanian ties - Intel News, 25 Jan 22
Authorities in the United States have launched at least two separate investigations into the business dealings of Charles McGonigal, the highest-ranking former employee of the Federal Bureau of Investigation (FBI) to face criminal charges in recent times. Much has been written about McGonigal's alleged connection with Kremlin-linked Russian billionaire Oleg Deripaska. On the contrary, relatively little is known about his purported dealings with Albanian and other Balkan officials and middlemen, some of whom appear to have intelligence links. There is also the question of whether the criminal charges against McGonigal and his alleged co-conspirator, former Soviet and Russian diplomat Sergey Shestakov, are strictly financial in nature, or may eventually expand to include an espionage angle. (Full article here.)
John le Carré's Search for a Vocation - New Yorker, 16 Jan 22
The summer I finished writing my dissertation, the C.I.A. tried to recruit me—as a spy. The call came in the middle of the afternoon, as I was working on a chapter about Tolstoy and midwifery. An older woman with an eerily friendly voice started going over what the training for a job in clandestine affairs would entail. I stifled a laugh. I didn't know what was harder to believe: that anyone thought I could keep a secret or that a degree in Russian literature would qualify me to parachute out of a plane. Was I interested in learning more? O.K., I said, mostly out of nosiness, or at least that's what I told myself. They would be in touch, she said. (Full article here.)
WWI - The Undeclared War - The Dark Invader - Intel.gov, 27 Jan 23
By early 1915, the war in Europe had reached a stalemate on the Western Front. The flow of munitions and supplies from the United States to the Allied Powers, however, was still unhindered, despite the efforts of the German saboteurs. To boost the effectiveness of its operations in America, the German High Command and Germany's military intelligence service, the Abteilung IIIb, posted Navy Captain Franz von Rintelen to the United States with orders to develop his own operations. (Full article here.)
Take a Look: 3 Cyber Intelligence Books Hot off The Press - Clearance Jobs, 25 Jan 23
I always say I am going to read more books of professional interest as I head into the New Year, but often fall short, as I get caught up in writing, lecture planning, and grading papers – not to mention other school related events. This year, however, I have managed to knock out three very good new books that I would urge the reader to check out (this is not a paid endorsement and none of the authors know me). Cyber intelligence blends espionage and information technology together, and the field continues to grow as digital security threats increase. Whether you're just starting out or have been in the field for years, check out these three books, in no specific order. (Full article here.)
Financial Intelligence, Fact and Fiction with Yaya Fanusie - Chatter Podcast, 25 Jan 23
Yaya Fanusie has explored his analytic side and his creative side throughout his life and multifaceted career. Comic book writer and illustrator in junior high. International economics in graduate school. Author of nonfiction and fiction. Work at the Central Intelligence Agency and the National Counterterrorism Center fighting corruption and terrorism. Sound designer. Nonprofit expert on financial intelligence and cryptocurrencies. And now producer, writer, and voice talent of the audio spy thriller called The Jabbari Lincoln Files. David Priess spoke with Fanusie about his path to the CIA and NCTC, what analytic work on international economics and financial intelligence is like, the unique environment at NCTC, his departure from the intelligence community, the fundamentals of cryptocurrency and bitcoin, the national security risks around cryptocurrencies, the U.S. government's coverage of those risks, the experience of fictionalizing financial intelligence, and more. (Listen to the 78-minute episode here.)
Mapping the Americas: Inter American Geodetic Survey (IAGS) - NGA, 27 Jan 23
Little known to most Americans today, the Inter American Geodetic Survey (IAGS) successfully assisted Latin American countries in professionally mapping their own extensive territories. After World War II revealed a lack of accurate maps of the Western Hemisphere, IAGS staff proposed in 1946 that they assist Central and South American countries by providing technical support in all phases of their mapping programs. Initially managed by the Army Map Service (AMS) and later by an NGA predecessor agency, the Defense Mapping Agency (DMA), IAGS operated under diplomatic agreements. Each agreement was negotiated by the State Department with the various Latin American countries. These alliances laid the groundwork for an American staff to work alongside Hispanic technicians and students to map their own countries (Full article here.)
Here Is How The Pentagon Comes Up With Code Words And Secret Project Nicknames - The Drive's The Warzone, 01 Dec 19
If there's one place one can find plenty of nicknames, it's within the sprawling landscape of the armed forces. When it comes to the greater civilian world, there's no historical precedent or agreed upon social norm for how someone or something gains a substitute informal title. However, given the Department of Defense's fondness of rigid structure, it should be no surprise that when it comes to nicknames, there's a policy for them, too. (Full article here.)
---
Video: The Evolution of Geospatial Intelligence (GEOINT) with Robert Clark (66 mins) - The NDS Show, 05 Jan 23
Dr. Robert Clark is an author on several books for intelligence analysis, collection, and distribution. His most recent book is "Geospatial Intelligence: Origins and Evolution." In this episode Nick and Robert discuss the evolution of geospatial intelligence from the early days of remote sensing for surveillance on Russian Military equipment, all the way to the current war in Ukraine, the rise of Open Source Intelligence, and the future of Artificial Intelligence in the Intelligence Community. Robert provides knowledge and vast insights into the Intelligence Community working at CIA, DNI and Military Locations throughout his career. The two intelligence professionals discuss intelligence production, working in the intelligence community, and provide tips for advancing in intelligence careers. Robert M. Clark previously was a faculty member of the Director of National Intelligence (DNI) Intelligence Community Officers' Course and course director of the DNI's Introduction to the Intelligence Community course. Clark served as a USAF electronics warfare officer and intelligence officer, retiring with the rank of Lieutenant Colonel. At CIA, he was a senior analyst and group chief. He subsequently was the founder, President and CEO of the Scientific and Technical Analysis Corporation. He is the author of Intelligence Analysis: A Target-centric Approach (6th edition, 2019), The Technical Collection of Intelligence (2010), and Intelligence Collection (2014). He is a co-author, with Dr. William Mitchell, of Target-Centric Network Modeling (2015) and Deception: Counterintelligence and Counterdeception (2018); and, co-editor, with Dr. Mark Lowenthal, of Intelligence Collection: The Five Disciplines (2015). His newest book, The Road to Geospatial Intelligence: The Story of GEOINT, was published in 2020. Clark holds a BS from MIT, a Ph.D. in electrical engineering from the University of Illinois, and a J.D. from George Washington University. He is a member of the Virginia State Bar and the U.S. Patent and Trademark Bar. (Watch here.)
Audio: Empathy in Decision-Making, Analysis and OSINT (41 mins) - Jane's World of Intelligence, 19 Jan 23
Harry Kemsley and Sean Corbett are joined by Dr Claire Yorke, Marie Skłodowska-Curie Fellow, to discuss the fascinating subject of empathy and why it is so important in decision making, our analysis and open-source intelligence. (Listen here.)
OpEd: Classified Documents Scandals Point to Larger Culture of Impunity - The Intercept, 27 Jan 23
We do not yet know if any of the cases involving former presidents and vice presidents improperly retaining classified documents are as incendiary as some partisan commentators would have us believe. The dominant view projected by the liberal media is that Joe Biden and Mike Pence are benign, accidental document hoarders and that Donald Trump is a criminal who absconded with vital national secrets that could destroy the republic as we know it. Pro-Trump outlets have generally run with the narrative that the former president had every right to take the documents because he had magically declassified them in his mind, but Biden took the documents to engage in acts of corruption, including sharing them with his wayward son Hunter. The broader right-wing position is effectively to downplay or ignore Trump's document situation unless it is convenient for hammering on Biden, and to portray the Biden document case as a breathtaking scandal that portends dark secrets that must be exposed. (Full report here.)
Interview: The intelligence community is coming to grips with the power of commercial data - Federal News Network, 27 Jan 23
Intelligence analysis has long relied on data generated by people on the ground and signals in the air. Now the discussion within defense and intelligence circles centers on the potential of data available for sale, so-called commercial intelligence. For more, Federal Drive with Tom Temin turned to the CEO of Govini, Tara Murphy Dougherty. (Full report here.)
OpEd: Rep. Jordan's Dangerous New Panel is Nothing Like the Church Committee - Former Senior CIA Clandestine Service Officer Douglas London in Just Security, 27 Jan 23
Washington is bracing for the impact of the new House Select Subcommittee on the Weaponization of the Federal Government which is to be led by Rep. Jim Jordan, the incoming chairman of the Judiciary Committee and a politician deeply aligned with former President Donald Trump and his MAGA movement. Republicans and conservative media are comparing the new group to the 1970's era Democratic-led Church Committee that investigated Executive Branch intelligence abuse and spurred the congressional oversight process for the U.S. intelligence community that exists today. (Full report here.)
Report: Proceed with caution - on the use of computational linguistics in threat assessment - - Journal of Policing, Intelligence, and Counterterrorism, 18 Jan 23
Large-scale linguistic analyses are increasingly applied to the study of extremism, terrorism, and other threats of violence. At the same time, practitioners working in the field of counterterrorism and security are confronted with large-scale linguistic data, and may benefit from computational methods. This article highlights the challenges and opportunities associated with applying computational linguistics in the domain of threat assessment. Four current issues are identified, namely (1) the data problem, (2) the utopia of predicting violence, (3) the base rate fallacy, and (4) the danger of closed-sourced tools. These challenges are translated into a checklist of questions that should be asked by policymakers and practitioners who (intend to) make use of tools that leverage computational linguistics for threat assessment. The 'VISOR-P' checklist can be used to evaluate such tools through their Validity, Indicators, Scientific Quality, Openness, Relevance and Performance. Finally, some suggestions are outlined for the furtherance of the computational linguistic threat assessment field. (Full report here.)
Analysis: Watch for These Key Espionage Trends in 2023 - Clearance Jobs, 29 Jan 23
A lot of espionage activities took place within the United States and abroad in 2022. Indeed, a quick review of the top five of 2022 showed a healthy presence of Russia and China. Not surprisingly, we predict 2023 will be more of the same. China and Russia will continue to invest in their espionage operations targeting the United States and its allies. In addition, criminal entities will continue to target both government and private sector actors for their information (PII and intellectual property). We can also expect to see the odd country decide it is in their national interest to obtain specific information or attempt to influence economic or political policy in the United States. In sum, 2023 is going to be a busy year for the counterintelligence and counterespionage teams in government and the private sector, both those who operate within the NISPOM/DCID, and those who have no government engagement. Information/data has always been the goal of the nation's adversaries in their espionage operations, nothing changes for 2023, and our information/data remains a target. Let's dig in and expand. (Full report here.)
Academic Opportunity: The International Security and Intelligence Programme - 9 July to 5 August 2023 - Magdalene College, Cambridge
Chaired by Sir Richard Dearlove the former Chief of the British Secret Intelligence Service, the Cambridge Security Initiative (CSi) launched the ISI Programme in 2016. The purpose of this unique programme is to provide an opportunity for participants to meet and work with leading academics and practitioners from the intelligence and security communities in the historic setting of one of the world's foremost universities. The Programme is run in partnership with the Department of War Studies at Kings College, London. (More information and registration here.)
Infographic and Report: Visualizing the Changing World Population, by Country - Visual Capitalist, 10 Jan 23
On average, there are 250 babies born every minute around the world. This adds up to over 130 million new human beings entering the world every year. Then it's no surprise that the world's population, which now stands at a whopping 8 billion, has more than tripled since the mid-20th century. This graphic by Truman Du uses December 2022 population data from the UN and summaries from the French Institute for Demographic Studies (INED) to show the unequal rise and fall of the world's population by 2050. Let's take a closer look at some of these population trends. (Access visual tool and full report here.)
Intelligence in History - A Collection of Recent Content
True Intelligence Matters in Film - British Secret Service? The Spy John Le Carre - Criminals and Crime Fighters (2023)
John le Carré, who originally was working for the British Secret Service, started his career as an author of spy novels in 1960. John le Carré is talking about his impressions that led him to create his famous spy novels. All the people and places he visits in his life play a role in his spy novels and inspire him. He wrote down many different spy novels. In our documentary you will learn everything about the life of a spy!

Watch this based-on-true-events production here.
Intelligence in Pop Culture - Fashion - 38 Espionage Fashion Finds - Trend Hunter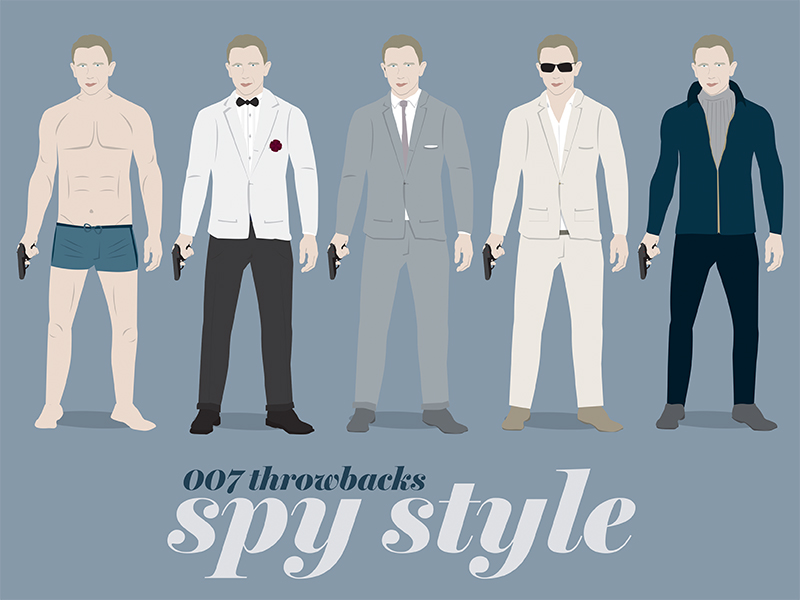 While the concept of espionage fashion might seem reserved for James Bond or Sherlock Holmes, this collection of clothing, accessories and gadgets that focus on the reconnaissance of secrets puts the awesome aspects of spy life back on our radar. Actual gadgets aside, espionage fashion or spy-inspired fashion collections have sprouted up sporadically to keep the idea fresh and inject some futuristic concepts of what it might look like to be on a mission in the future. Whether you're looking specifically for a device to effectively capture data like photos or video, or you've got a penchant for chic trench coats, this collection of espionage fashion finds can help point you in the right direction without blowing your cover. (See the fashion finds here.)
Walking Tours - Washington, DC - Sundays (Dates/Times Vary)
Former intelligence officers guide visitors on two morning and afternoon espionage-themed walking tours: "Spies of Embassy Row" and "Spies of Georgetown." For more information and booking, click here or contact rosanna@spyher.co
---
This Is How They Tell Me the World Ends: The Cyberweapons Arms Race
by Nicole Perlroth
(Bloomsbury Publishing, 21 Feb 23)
Zero-day: a software bug that allows a hacker to break into your devices and move around undetected. One of the most coveted tools in a spy's arsenal, a zero-day has the power to silently spy on your iPhone, dismantle the safety controls at a chemical plant, alter an election, and shut down the electric grid (just ask Ukraine). For decades, under cover of classification levels and nondisclosure agreements, the United States government became the world's dominant hoarder of zero-days. U.S. government agents paid top dollar-first thousands, and later millions of dollars-to hackers willing to sell their lock-picking code and their silence. Then the United States lost control of its hoard and the market. Now those zero-days are in the hands of hostile nations and mercenaries who do not care if your vote goes missing, your clean water is contaminated, or our nuclear plants melt down. Filled with spies, hackers, arms dealers, and a few unsung heroes, written like a thriller and a reference, This Is How They Tell Me the World Ends is an astonishing feat of journalism. Based on years of reporting and hundreds of interviews, New York Times reporter Nicole Perlroth lifts the curtain on a market in shadow, revealing the urgent threat faced by us all if we cannot bring the global cyberarms race to heel.
Order book here.
---
Operation Kronstadt: The True Story of Honor, Espionage, and the Rescue of Britain's Greatest Spy, the Man with a Hundred Faces
by Harry Ferguson
(Overlook Press, 09 Jul 09)
Paul Dukes - a 30-year-old concert pianist, master of disguise dubbed 'The Man with a Hundred Faces,' and the only English spy in Russia - was cut off in Petrograd after infiltrating the Bolshevik Government and stealing top-secret information. With the government in London desperately in need of the documents in Dukes¹ possession and the Bolshevik secret police closing in, a seemingly suicidal plan was hatched to rescue Dukes. 29-year-old naval lieutenant Gus Agar and his handpicked team of seven men boarded plywood boats?the fastest naval vessels in existence, most armed with only two machine guns and a single torpedo. They set out for the island fortress of Kronstadt, the most well-defended naval target in Russian, and into the jaws of the Soviet police. Written by a former MI6 officer in the tradition of Agent Zigzag, Operation Kronstadt is an extraordinarily gripping non- fiction thriller.
Order book here.
---
Christopher Marlowe: Poet and Spy
by Park Honan
(Oxford University Press, 05 Jan 06)
Christopher Marlowe's life was the most spectacular of any English dramatist. One of the great playwrights of his age, second only to Shakespeare, he was also a secret agent as well as the central figure in a murder mystery. Now, Park Honan offers the most thoroughly researched and detailed biography of Marlowe to appear in over fifty years. Honan, the acclaimed biographer of Shakespeare, takes us from Marlowe's childhood in Canterbury to his mysterious death in Deptford, shedding much light on this shadowy individual. The book features new information on Marlowe's six-and-a-half years at Corpus Christi College, Cambridge, his shocking blasphemy and his street fights, his methods of preparing himself for writing, and his alleged atheism. The book includes new facts about Marlowe's adventures on the continent, where he was caught with a counterfeit coin, a hanging offense, but talked his way out of the noose and was returned to England in irons. Honan describes his attraction to scientists such as Thomas Harriot and other hard-headed realists bent on innovation and free thought. In addition, there are new details on spies and business agents that Marlowe knew, a more exact account of the circumstances that led to his murder, and a fresh description of his evolving relationship with Shakespeare. The author of Tamberlaine the Great and Doctor Faustus, Christopher Marlowe changed the nature of the English stage. Researched in archives in England, Europe, and the United States, this superb biography paints an unforgettable portrait of one of the most remarkable figures in English literature.
Order book here.
---
Search for stories: Matt Brazil, an AFIO member in the San Francisco Chapter and co-author of Chinese Communist Espionage, An Intelligence Primer (Naval Inst. Press, 2019) is writing a second work on Beijing's worldwide espionage and influence offensive. As part of that effort, he seeks interesting stories of encounters with China's civilian and military intelligence apparatus. If you are interested in telling your story or you know someone who would be, Matt can be reached via matthew.brazil@gmail.com or his website www.mattbrazil.net.
Search for information: Author and AFIO member Toby Harnden is researching recipients of CIA gallantry awards (DCI's OPA is assisting). Harnden is eager to speak to anyone with memories of, information about, or pointers toward Bob A. Plan and Arthur J. Porn. Plan was born in Croatia in 1920 and served with the OSS in Yugoslavia 1944-45. He became a CIA contractor, working as a career agent and translator, and was based in Greece in the 1950s and Mexico in the 1960s. He was parented by EUR Division when he came out of retirement to enter Tehran in 1980. Porn, born in 1930, was a WH case officer from 1958 who was based in Argentina, Honduras and Bolivia in the 1960s and 1970s. He was honored for an act of bravery in Bolivia in 1970. Please contact tobyharnden@gmail.com or 202-213-3775.
Search for information: Searching for information on a CIA "intelligence operation" carried out during the Clinton administration in 1997 or 1999 aimed at Iran and/or its MOIS in response to Iran's involvement in the 1996 Khobar Towers bombings. Clinton's counterterrorism chief Richard Clarke made a brief reference to this operation on p. 129 of his book Against All Enemies; George Tenet made a possible reference to this operation on p. 124 of his book At the Center of the Storm; and Bruce Riedel posted a reference to it here in his article "The Iran Primer: The Clinton Administration." He called it "Operation Sapphire" - not to be confused with Operation Sapphire aimed at Kazakhstan. Also, searching for information on a bomb found on a bridge in Manila, Philippines around November 23, 1996 when President Clinton was in the city. Contact: dpluchinsky@rocketmail.com.
Search for information: Dr John Gentry of Georgetown University seeks information on what ways, to what extent, at what agencies, and with what implications/consequences are DEI (diversity, equity, inclusion) policies damaging the IC and DOD. Request examples and assessments that link senior-level policies, and middle managers' interpretations of them, to specific organizational and personal actions and then to actual consequences in sufficient volume and detail to be able to make a coherent argument. Anonymity assured. Contact: jag411@georgetown.edu.
Search for information An AFIO member who is researching "a State Department officer who seems to have functioned as a pre-CIA intelligence officer without having joined the OSS" would welcome leads on persons or books specializing "in 'pre-CIA' 'CIA history'." Anyone with pertinent information can contact info@whittakerchambers.org.
Call For Papers: The Struggle in the Israeli Security Zone in South Lebanon, 1985-2000, Israel Affairs
In June 1985, the Israel Defense Forces (IDF) de jure completed its withdrawal from Lebanon to the Israeli borders. De facto, Israel left in its hands a strip of land, about 15 kilometers from its border, in which its ally, the South Lebanon Army (SLA), operated. This strip of land came to be known as the Israeli Security Zone. The idea was that the SLA would be almost independent, while the IDF would intervene only when necessary in the battle against Palestinian and Shiite groups and supervise the SLA. Soon, however, the IDF became more involved, building military posts within the Security Zone, reinforcing itself, and encountering new challenges. In May 2000, Israel pulled its forces back to its borders and the SLA collapsed, along with the Security Zone. The 15 years of fighting in the Security Zone were rarely mentioned within Israeli society, let alone in the academic sphere. Only in recent years has the Israeli public become aware of this period after many soldiers who served in the Security Zone began sharing their memories through books and social media. The campaign to raise awareness of the period successfully ended when in March 2021, Israel officially recognized this period as one of warfare. This special issue aims to interdisciplinarily bridge the gap in the academic discourse regarding the war in the Security Zone. The editors are interested in articles dealing with various topics concerning the 1985-2000 war in the Security Zone. 30 March 2023 deadline. For more information, including submission instructions and suggested topics, click here.
Search for French Intelligence Officer: Gary Schaut of Sudbury, Canada is in search of a French intelligence agent who was still active around 1997 in France, and who had provided information in that year to a French journalist named "William Reymond." Anyone with pertinent information can contact Schaut at gbschaut@sympatico.ca.
Search for Colleagues: Dennis Pluchinsky seeks contact with Tom Lane and Nancy Kenealy, "who worked with Cindy, Gina, and Jeff" in the mid-1990s on al-Qaeda. Pluchinsky is in contact with all three of these other colleagues and would like to establish contact with Lane and Kenealy regarding his work on a four-volume book series on anti-American terrorism overseas ("see Amazon for more details" about the books). Please contact Pluchinsky at dpluchinsky@rocketmail.com.
Call For Information: Harvard student seeks primary source documents, historical records, or points of contact regarding Freedom Company, aka Eastern Construction Company, of the Philippines
Ryan Santos, a senior at Harvard, is writing his history thesis titled "The outsourcing of freedom": Filipino operatives in the origins of the American war in Indochina, 1954-1967. The focus of the research project is on the Freedom Company of the Philippines (later became the Eastern Construction Company in 1958), a dynamic private enterprise funded by the US to send Filipino paramilitary specialists - who were successful in suppressing their own local communist insurgency in the Huks - to assist in counterinsurgency and nation-building operations in Vietnam, Laos, and Indonesia. Ryan hopes to use his research on the Freedom Company of the Philippines and the Eastern Construction Company to underscore the diversity of geopolitical agents involved in American foreign policy during the Cold War, the development of US-Philippine relations, and the origins of American involvement in Indochina. If this project is of any interest or if there are any primary source documents, historical records, or points of contact that would be helpful, please contact him at ryansantos@college.harvard.edu.
Call For Articles: AFIO Journal, The Intelligencer
For the past four years, AFIO has included in The Intelligencer a series of articles on "when intelligence made a difference." Written by scholars, intelligence practitioners, students, and others, they cover events from ancient times to the modern world and in many countries. AFIO is soliciting articles for future issues. Most articles run between 2,000 and 3,000 words, although some are longer or shorter. If you have an idea for an article that fits the theme, email senior editor Peter Oleson at peter.oleson@afio.com.
Call For Assistance: Researcher Seeks Copy of 1941 FBI Booklet
An AFIO member who is conducting research on the beginnings of industrial security programs before WWII is in search of a copy of a 55-page FBI booklet, dated December 1941, titled "Suggestions for Protection of Industrial Facilities." Digital copies or photocopies are acceptable. Please contact winseditor@afio.com with any information.
Call For Papers: Urban Security 2023 in Journal of Strategic Security Special Issue
The special issue will look at a range of urban security issues including urban warfare, urban insurgency, urban crime and insecurity, operating in dense urban terrain (DUT), mega cities, and subterranean spaces (SubT), and in the Urban-Littoral interface, as well as the protection of the populace. Papers addressing the full range of violent actions from high intensity crime to civil strife and other situations of violence, non-international armed conflict (NIAC), and large scale combat operations (LSCO) during international armed conflict (IAC) are encouraged. All papers submitted to the special issues issue will be subject to double-blind peer review. Below is a list of urban security issues the special issue editors would like to see submissions on:

· Conflict in Megacities (10 million or more)
· Police-Military Intelligence interface in urban conflict
· Insurrection
· Urban-littoral nexus
· Information warfare in support of urban conflict
· Urban insurgency
· Urban Terrorism
· Criminal governance in cities (Slums/Favelas)
· Criminal Armed Groups (CAGs) in cities
· Social Media and Urban Conflict
· Climate Conflict in Cities (Urban-Climate Conflict Nexus)
· Urban counterterrorism
· Urban counterinsurgency (COIN)
· Urban Riots and Public Order
· Intelligence for Urban Operations (e.g., GeoINT)
· Urban policing
· Urban critical infrastructure protection including urban cyber security
· Humanitarian operations and protection of civilians in urban conflict
· Medical and humanitarian response to urban crises and disasters

Abstracts due 1 February 2023; draft submissions due 1 June 2023. (See full submission details here.)
---
Faculty Opening - Teaching Intelligence Analysis - James Madison University - Harrisonburg, Virginia
The Faculty of the Intelligence Analysis (IA) Program at James Madison University (JMU) are searching for a dynamic new colleague to join us in the ongoing co-creation of an exceptional educational experience to prepare the next generation of analysts. Our program is in its 16th year, and our graduates regularly secure positions as analysts in the public and private sectors, including the Intelligence Community, military and law enforcement organizations, defense contractors, and major consulting firms. Our vision is a versatile, multidisciplinary undergraduate education that simultaneously emphasizes methodology, technology, and communication, with a specialization in intelligence analysis. We especially seek a new colleague who can strengthen our longstanding distinctive focus on developing good reasoning and/or our more recent focus on research design and analytic production.

We would welcome a potential new colleague from any academic discipline (to include the humanities, social sciences, and natural sciences) and/or any professional background (to include former intelligence, military, homeland security, law enforcement, and other security and analytic professionals) that enables them to speak with credibility about the process of doing analysis. The desire to engage both traditional academics and professional analysts is extremely important to us. We also value both teaching excellence as well as one-on-one professional mentoring. We especially seek candidates who are able to "bridge the gap" and to engage students whose struggles are different from their own, and who can help them flourish in their future personal and professional lives. The position requires either a Ph.D. in a relevant academic field by hiring date (for a tenure-track appointment) or a minimum of a Bachelor's Degree (Master's Preferred) with substantial, demonstrated experience as an analyst (for appointment on a Renewable Term Contract). Our normal teaching load is three courses per semester.

Application materials should include 1) a detailed cover letter that tells the story of how the candidate's expertise and experience fit our aspirations, values, and teaching needs, 2) curriculum vitae/resume, 3) a "statement of inclusive excellence" that highlights (amongst other things) how the applicant has successfully helped colleagues from different backgrounds and perspectives to flourish in their work, and 4) contact information for at least three references.

The search will remain open until the position is filled. Salary commensurate with experience. Questions can be directed to the Chair of the search committee, Dr. Noel Hendrickson, at hendrinx@jmu.edu. Employment is contingent upon the successful completion of a criminal background check.
Additional details and further online application instructions can be found here.

Intelligence Practice Lead - SOS International, Washington, D.C.
The Intelligence Practice Lead, Americas, alongside the Consulting and Solutions Practice Director, Americas, is responsible for developing the Intelligence business within the regional security consulting team. The Intelligence Practice Lead will oversee the development, positioning, sales and the effective coordination and delivery of all intelligence consulting and solutions, including Intelligence Managed Services, in the US and Canada region. In this role the individual will oversee the provision of support to International SOS's US and Canada regional distribution channels to drive customer satisfaction and profitable growth across relevant business lines, in the technical domain of Intelligence. The individual will help to translate International SOS's Security value proposition into clear priorities and actions, in support of the business lines' commercial road maps. In addition, the role will be responsible for: driving day-to-day delivery of Intelligence consulting deliverables (including capability assessment, planning, training etc); establishing a cadre of analyst external consultants; educating key internal stakeholders and clients; leading/contributing to the expansion of intelligence methodologies and deliverables; along with their cadre of external consultants.
Additional information and application here.

Supervisory Criminal Investigator (Special Agent-In-Charge) - U.S. Army CID, Nationwide
Serves as the Criminal Investigation Division (CID) Field Office Special Agent-In-Charge (SAC) and is the principle law enforcement expert and advisor responsible for all investigations and operations conducted by CID offices within their area of responsibility (AOR). Directly supervises multiple Supervisory Criminal Investigators, full-performance level GS-13 and GS-14 criminal investigators, and support personnel in co-located and satellite offices.
Additional information and application here.

Retired Federal Government Employees Wanted - National Security Agency - Fort Meade, Maryland
The National Security Agency (NSA) may occasionally need skilled civilian retirees to augment the existing work force on high priority projects or programs. In order to fill these temporary positions quickly, we need to know who may be interested and available to return to work with us on a short notice basis as well as their skills. Retirees provide expertise and corporate knowledge to temporarily support mission requirements, manpower shortfalls, and/or mentor the next generation of Agency employees. Salary Range: $86,335 - $170,800.
Additional information and application here.

Assistant/Associate Professor of Intelligence Studies (Global Security and Intelligence Studies) - Embry-Riddle Aeronautical University - Prescott, Arizona
Embry-Riddle Aeronautical University's Prescott, Arizona campus is accepting applications for a tenure-track assistant or associate-level professor of intelligence studies to teach intelligence courses to students in the Global Security and Intelligence program. The successful candidate will teach students about the intelligence community, strategic intelligence, the intelligence cycle and intelligence analysis, writing, and briefing. Prior experience working in the intelligence community is strongly preferred. We are interested in candidates with teaching acumen in intelligence analysis and writing using structured analytical techniques.
Additional information and application here.

Teaching Associate - Intelligence and National Security Studies - Coastal Carolina University, South Carolina
The Department of Intelligence and Security Studies ( ISS ) at Coastal Carolina University is accepting applications for a pool of Teaching Associates (part-time adjunct faculty) to teach introductory and undergraduate elective course offerings for the program beginning in August 2022. While the ad is open to any specialization within the field of study, courses in the areas of homeland security, law enforcement intelligence, counter-narcotics, and cybersecurity are of particular interest. Course offerings can be in a face-to-face or synchronous online modality. To be considered, candidates must have a masters or doctoral degree in a relevant subject area. Prior professional experience in the profession, as well as prior teaching experience are preferred.
Additional information and application here.

Assistant Professor of Intelligence and National Security Studies - University of Texas, El Paso
The Department of Criminal Justice is seeking to fill one full-time tenure-track position beginning Fall 2023 at the Assistant Professor level. Responsibilities include conducting and publishing scholarly research, seeking extramural funding, teaching face-to-face and online courses, and service to the department, university, and profession. Applicants must have a Ph.D. in a closely related field in Intelligence and/or Security Studies from an accredited university (e.g., criminal justice, political science, public policy, security studies). ABD applicants will be considered if doctorate will be in hand by Fall 2023. Active research agenda and published scholarly journal articles are required to apply. Applicants with only a J.D., Psy.D., or Ed.D. will not be considered. All research/teaching areas of intelligence/national security studies will be considered, but preference will be given to candidates who have demonstrated teaching and/or research areas in at least one of these areas: Homeland Security, Intelligence Analysis, or Terrorism/Counter-Terrorism.

Additional information and application here.
---
Mary Johnson — Career CIA Analyst

Mary Lou Johnson, 85, of Falls Church, VA, passed away on January 5, 2023. Born in Philadelphia, PA in 1937, she settled with her family in Arlington, VA after WWII. Mary Lou attended schools in Arlington, graduating from (now) Washington-Liberty High School in 1955, and from Asbury University (formerly Asbury College) in Wilmore, KY in 1959. She gained employment as a researcher with the Central Intelligence Agency in 1983. She ended her career in 2003 as an Analyst, having completed full tours in Austria and Egypt. A memorial service with a reception celebrating Mary Lou's life will be held at 11 a.m. on Friday, February 3, 2023, at Falls Church Presbyterian Church, 225 East Broad Street, Falls Church, VA 22046.
---
02 Feb 23, 1900 (CST) - Virtual - AFIO San Antonio Chapter hosts Ben Robinson, author of "MagiCIAn," a book available on Amazon about John Mulholland, a magician and illusionist who was employed by the CIA decades ago for training and covert work during the Cold War. Robinson discovered Mulholland (1898-1970) in 1968. In 1977, news broke that Mulholland had assisted the CIA between 1953 and 1958. Robinson spent the next 31-years trying to distinguish truth from illusion as to Mulholland's activities. The story involves the famous MKULTRA project, LSD use, surreptitious drugging, ESP research, and fraternization with "the loose affiliation of millionaires and billionaires." Chapter Secretary David Endris will moderate the presentation. To access this Zoom event, contact John Franklin ASAP at satxafio@gmail.com to receive the link and password to access the meeting.
03 Feb 23 (Friday) - In-person - Tysons Corner, VA - AFIO Winter Luncheon 2023! Guest speakers Talent Acquisition Officer with CIA, Mike Bruni, discussing CIA Careers and Recruitment. The afternoon speaker is the renowned intelligence historian, author, former MP, and AFIO Honorary Board member Nigel West, discussing his newest book "Hitler's Trojan Horse." Sorry...but registration closed Sunday, 29 January 2023.
For more information on lunch and speaker times, cancellation policy, location address, or questions about your registration, contact us at events@afio.com.
08 Feb 23 (Wednesday), 1800 (PT) - Simi Valley, CA - AFIO Los Angeles Chapter hosts event in conjunction with Reagan Library presentation by former CIA Director Mike Pompeo. In conjunction with the Reagan Presidential Library and Center for Public Affairs, the LA Chapter will be conducting their annual chapter general business meeting. Former CIA Director Mike Pompeo will be the guest speaker with a presentation set to start at 6 PM. Following the presentation we will meet for dinner at the Wood Ranch restaurant and conduct our annual general business meeting along with the election for our chapter officers. This is a two step reservation process. Please follow the directions below. We look forward to your attendance and participation. Happy New Year!
Mike Pompeo is an American politician, diplomat, and businessman who served under President Donald Trump as director of the Central Intelligence Agency from 2017 to 2018 and as the 70th United States Secretary of State from 2018 to 2021. He is the first person to have held both of those positions.
TO ATTEND Sec. Mike Pompeo 6 PM PST Presentation - Step 1: Reserve for Sec. Pompeo's presentation: Onstage at the Reagan Library with Secretary of State Mike Pompeo - An in-person event
TO ATTEND POST-EVENT DINNER: Step 2: Dinner Reservation Wood Ranch restaurant 7:30 PM: email AFIO_LA@Yahoo.com.
If you would like to only attend the dinner portion you may do so. Cost is $30 per person meal & beverage included. Questions to Vince Autiero, Chapter President, at AFIO_LA@yahoo.com.
11 Feb 23 (Saturday), 1130 (ET) - Indialantic FL - The AFIO Florida Satellite Chapter hosts Mr. Jamie Draper, Museum Director, Air Force Space and Missile Museum, Cape Canaveral Space Force Station, discussing the Museum's History and Future. The event will be held at the Doubletree Hotel, Rt A1A, Indialantic, Florida. Mr. Draper's presentation will follow a sit-down lunch. The cost is $35.00 per person. Questions or Reservations to Larry Sanford, Chapter President, at afiofloridasatellitechapter@gmail.com.
18 Feb 23 (Saturday), 1400 (ET) - Kennebunk, ME - AFIO Maine hosts former CIA Analyst John Gentry on discussing The New Politicization of the US Intelligence Community. Political activism, radically new for the American Intelligence Community (IC), has surprised observers of U.S. intelligence.
But, the still incomplete story has significant political and bureaucratic ramifications for the roles and usefulness of US intelligence. This activism amounts to a new form of the "politicization" of intelligence by some officers to influence policy decisions and this article offers a theory of the origins of the cultural changes within parts of the IC that have created this politicization.
The meeting is open to the public and will begin at 2:00 p.m. at the Program Center of the Brick Store Museum, 4 Dane Street, Kennebunk, Maine 04043. A Question and Answer period will follow the presentation. No reservations are required.

See the AFIO Calendar of Events for scheduling further in the future.
---
08 Feb, 1200-1300 (ET) - Online - Qatar and the Changing Position of Persian Gulf States in the Global Order - Johns Hopkins
Join host Michael Ard for a curated conversation with Kristian Coates Ulrichsen as they discuss "Qatar and the Changing Position of Persian Gulf States in the Global Order." Kristian Coates Ulrichsen, Ph.D., is a fellow for the Middle East at the Baker Institute. His research examines the changing position of Persian Gulf states in the global order, as well as the emergence of longer-term, nonmilitary challenges to regional security. Previously, he worked as senior Gulf analyst at the Gulf Center for Strategic Studies and as co-director of the Kuwait Program on Development, Governance and Globalization in the Gulf States at the London School of Economics. Coates Ulrichsen has published extensively on the Gulf. His books include "The Gulf States in International Political Economy" (Palgrave Macmillan, 2015), "The United Arab Emirates: Power, Politics, and Policymaking" (Routledge, 2016), and "Qatar and the Gulf Crisis" (Oxford University Press, 2020). Coates Ulrichsen's articles have appeared in numerous academic journals, including Global Policy and the Journal of Arabian Studies, and he consults regularly on Gulf issues for government and private sector agencies around the world. Coates Ulrichsen holds a doctorate in history from the University of Cambridge. (Full details here.)
10 Feb, 1100-1230 (ET) - In-person - OSINT Past and Future Seminar - National Intelligence University
Featuring Deputy Chief of Staff for Intelligence Lt. General Laura Potter, G-2, Army. IC leaders and OSINT experts will discuss organizational transformation. Panelists include NIU Associate Vice President for Research Andrew Borene and OSINT Foundation Founder and Former Assistant Deputy DNI for Open Source Eliot Jardines. ICC-B Auditorium. First come, first seated. Must be an IC-badge holder.
19 - 28 Mar 23 - Washington DC to Europe and back - Gary Powers' 10-Day Cold War Espionage Tour
Join author and historian Gary Powers Jr. on this unforgettable 10-day tour of Cold War and Espionage related sites throughout Germany and the Czech Republic

Day 1: Departure from the USA; Day 2: Arrival Berlin; Day 3: Berlin - Potsdam - Berlin; Day 4: Berlin; Day 5: Berlin – Leipzig – Dresden; Day 6: Dresden – Prague – Pilsen; Day 7: Pilsen – Míšov – Pilsen; Day 8: Pilsen – Rozvadov – Nuremberg – Stuttgart; Day 9: Stuttgart – Sinsheim – Speyer – Frankfurt; Day 10: Departure for the USA.

Included Visits: Berlin Wall Memorial • Checkpoint Charlie Museum • German Spy Museum • Military History Museum Gatow • Glienicke Bridge • Hohenschönhausen Memorial • Berlin Stasi Museum • Allied Museum on Clay Allee • Museum in Der Runde Ecke • Leipzig Forum of Contemporary History Museum • Dresden's Military History Museum • Bautzner Strasse Dresden Memorial • KGB Museum • Prague Museum of Communism • Vitkov Hill Nuclear Bunker • Pilsner Urquell Brewery • Atom Museum • Iron Curtain Museum • Nuremberg Trials Memorial • Stuttgart Cold War Bunker • Sinsheim Technik Museum • Speyer Museum of Technology.

Tour Name: Gary Powers' Cold War Espionage Tour - view tour; Group Name: Garypowers.Com Tours; Departure City: Washington, DC; Tour Departure Date: March 19, 2023; Tour Return Date: 28 Mar 23.

Tour Price: $3,950.00 (deduct $950 for land only tour) per person, assumes 2-person registration.

For full description of the activities and accommodations on each of those dates and locations, explore full information about the tour here or Call 1.800.323.4466.

To enroll now for this 2023 once in a lifetime tour, do so here.

ALSO See: "Enemy Territory: The Story of American CIA U-2 Pilot Francis Gary Powers" - A Graphic Novel by Francis Gary Powers Jr. and Walter Pfenninger.
---
---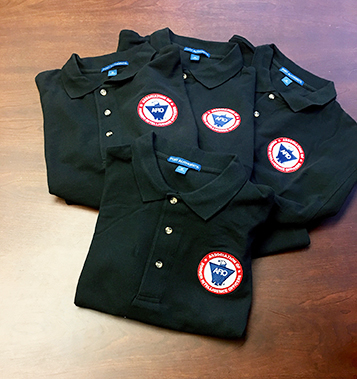 Now available: Black short-sleeved polo shirts with Embroidered AFIO logo
Show your support for AFIO with our new Black Short-sleeve Polo Shirts. Shirts are shrink and wrinkle resistant of fine cotton with a soft, "well-worn, comfy" yet substantial feel. They feature a detailed embroidered AFIO seal. Get a shirt for yourself and consider as gifts for colleagues, family, and friends. Only $50 each including shipping.
Sizes for (M) men, only; Small, Medium, Large, XL, XXL, and XXXL. $50 per shirt.
You may pay by check or credit card. Complete your order online here or mail an order along with payment to: AFIO, 7600 Leesburg Pike, Ste 470 East, Falls Church, VA 22043-2004. Phone orders at 703-790-0320. Questions? Contact Annette at: annettej@afio.com.
---

PopSocket for cellphones or tablets
Show your support to AFIO while enjoying the convenience offered by our AFIO Logo PopSocket. The PopSocket is most commonly used as a stand and as a grip for your mobile phone or tablet; handy for taking selfies, watching videos, and for texting. The PopSocket looks like a small button or sticker which, when closed, sticks flat to your mobile device. However, its accordion-like design enables it to pop open for use. The benefits of using a PopSocket make it a must-have accessory for your mobile phone or tablet. It also aids in keeping your phone from slipping off your hand during use, falling, or breaking.
Price: $15. Order this and other store items online here.
---


Caps - Dark Navy with Navy AFIO Logo
An authentic silhouette with the comfort of an unstructured, adjustable fit. Fabric: 100% cotton. Unstructured. Fabric strap closure with adjustable D-clip. Price: $30. Order this and other store items online here.
---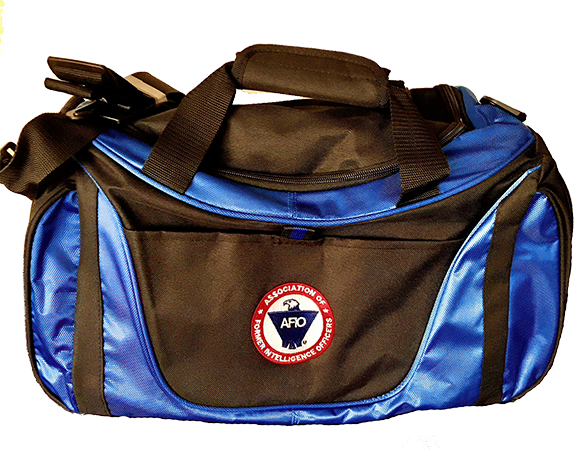 Duffel Bags - Royal Blue and Black with Full Color AFIO Logo This duffel has it all when it comes to value, style and organization.
600 denier polyester canvas with polyester double contrast; D-shaped zippered entry for easy access. Front pocket with hook and loop closure. End mesh pocket Easy-access end pockets. Four durable, protective feet and built-in bottom board for added strength. Web handles with padded grip. Detachable, adjustable shoulder strap.
Dimensions: 11"h x 19.75"w x 9.75"d; Approx. 2,118 cubic inches
Price: $50. Order this and other store items online here.
---
AFIO Mug with color glazed seal.

Made in the U.S.A., dishwasher-safe.
$35 includes shipping.

Sip your morning joe in style or use it to stash pens, cards, paperclips, or candy.
Order this and other store items online here.

---
---
Guide to the Study of Intelligence...and...When Intelligence Made a Difference
"AFIO's Guide to the Study of Intelligence" has sold out in hard-copy.
It is available in digital form in its entirety on the AFIO website here.

Also available on the website here are the individual articles of AFIO's
history project "When Intelligence Made a Difference" that have been
published to date in The Intelligencer journal. More articles will be appear in future editions.
---
Address Technical Issues Or Unsubscribe
Some features of the email version of the WIN do not work for readers who have chosen the Plaintext Edition, some users of AOL, and readers who access their email using web mail. You may request to change from Plaintext to HTML format here afio@afio.com. For the best reading experience, the latest web edition can be found here: https://www.afio.com/pages/currentwin.htm
To unsubscribe from the WIN email list, please click the "UNSUBSCRIBE" link at the bottom of the email. If you did not subscribe to the WIN and are not a member, you received this product from a third party in violation of AFIO policy. Please forward to afio@afio.com the entire message that you received and we will remove the sender from our membership and distribution lists.
---
Disclaimer and Legal Protection
Weekly Intelligence Notes (WINs) are a carefully selected collection of timely open source reports and announcements and other media focused on intelligence and related national security matters that is produced for non-profit educational use by AFIO members and WIN subscribers. WINs are protected by copyright and intellectual property laws. They may not be reproduced or re-sent without specific permission from the Producer. Opinions expressed in the materials contained in the WINs are solely those of the content creators listed with each item. Notices in the WINs about non-AFIO events do not constitute endorsement or recommendation by AFIO.

(c) 1998 thru 2022


---

AFIO Members Support the AFIO Mission - sponsor new members! CHECK THE AFIO WEBSITE at www.afio.com for back issues of the WINs, information about AFIO, conference agenda and registrations materials, and membership applications and much more! .

AFIO | 7600 Leesburg Pike, Suite 470 East, Falls Church, VA 22043-2004 | (703) 790-0320 (phone) | (703) 991-1278 (fax) | afio@afio.com
---
About AFIO | Membership Renewal | Change of Address | Upcoming Events | Chapter Locations | Corporate/Institutional Memberships | Careers in Intelligence Booklet | Guide to the Study of Intelligence | Intelligencer Journal | Weekly Intelligence Notes | Make A Donation | AFIO Store | Member-Only Section | Code of Ethics | Home Page
RETURN TO TOP
---