---
Exclusive: Ex-Russian military bomber engineer seeks asylum at U.S. border, offers military secrets - Yahoo News, 13 Feb 23
A Russian military bomber engineer drove up to the U.S. Southwest border in late December, asking for asylum and offering to reveal some of Russia's most closely guarded military secrets, according to an unclassified Customs and Border Protection report obtained by Yahoo News. The man and his family arrived in an armored SUV and asked to be admitted into the U.S. because he feared persecution for participating in anti-Putin protests in support of Alexei Navalny, an imprisoned Russian dissident. He then told CBP officials that he had information wanted by the U.S. government. He said he was a civil engineer and that "his past employment had included working ... from 2018 to 2021 in the making of a particular type of military airplane at the Tupolev aircraft production facility in the city of Kazan in west-central Russia," according to a Jan. 11 unclassified CBP report obtained by Yahoo News. "He described the aircraft type as 'an attack jet' and said it 'was called White Swan-TU160, the largest military aircraft.'" (Full article here.)
Exclusive: British intel caught FBI spy chief secretly meeting a Russian in London - Business Insider, 16 Feb 23
In 2018, Charles McGonigal, the FBI's former New York spy chief, traveled to London where he met with a Russian contact who was under surveillance by British authorities, two US intelligence sources told Insider. The British were alarmed enough by the meeting to alert the FBI's legal attaché, who was stationed at the US Embassy. The FBI then used the surreptitious meeting as part of their basis to open an investigation into McGonigal, one of the two sources said. The two sources, both former officials in the US intelligence community, did not specify the identity of the Russian who McGonigal met with. McGonigal, the former head of the FBI's counterintelligence division in New York, stands accused of taking money from Oleg Deripaska, a Russian oligarch, in violation of US sanctions, in exchange for investigating one of Deripaska's Russian rivals. McGonigal "traveled to meet Deripaska and others at Deripaska's residence in London, and in Vienna," according to one of the federal indictments lodged last month. The indictments do not say precisely when those alleged meetings took place, or how prosecutors came to believe they occurred. (Full article here.)
Bellingcat head says Russian intelligence obtained his personal data via Austrian security officer - Novoya Gazeta , 16 Feb 23
Investigative journalist and head of Bellingcat, a Netherlands-based investigative journalism group, Christo Grozev who earlier had to leave Austria due to safety concerns told the Financial Times that the Russian intelligence had obtained his personal information. "My personal data has been accessed by a now ex-officer of [the] Austrian security service at the behest of Russian intelligence," he said. Vienna authorities concluded that it was not safe for Grozev to remain in the country. He has now relocated to North America. Christo Grozev joined forces with Russian politician Alexey Navalny's team to investigate his poisoning. Bellingcat, The Insider, CNN, and Der Spiegel discovered that an FSB group was spying on Navalny and could be involved in the attempt on his life. (Full article here.)
After Serving in CIA, Lawmaker Now Has Role Overseeing It - Military News, 17 Feb 23
As former CIA Director David Petraeus recently told the House Intelligence Committee about the needs of the agency's workforce, one of the committee's youngest members flashed a knowing smile and began to nod. Abigail Spanberger spent almost a decade as a CIA operations officer. Now, she's a third-term Democratic congresswoman from Virginia who was just named to one of two committees that oversees the work of America's spy agencies. The relationship between Congress and the U.S. intelligence services can be uneasy and is often adversarial. That's especially true now as lawmakers demand answers about classified documents found in the private possession of two presidents and the Biden administration's response to a suspected Chinese spy balloon. Years of high-profile fights over intelligence matters have taken a toll, with some Republicans accusing the agencies of being part of a "deep state" controlling U.S. politics. (Full article here.)
Director Wray's Remarks at the 2023 Homeland Security Symposium and Expo - FBI, 16 Feb 23
And, of course, I should add, those are just some of the threats we're focused on at the FBI, where we're also tackling the trafficking and exploitation of children, alarming levels of violent crime and hate crimes, the epidemic of deadly narcotics, and malign foreign influence aimed at undermining our government, just to name a few others. As I like to say: A lot of people seem to have ideas about things they think the FBI should be doing more of, but I haven't heard any responsible suggestions for things we could be doing less of. So, in order for the FBI to be at the forefront and stay ahead of all these threats, we rely on the partnerships we've developed with folks in the private sector—including many of you represented here today—and across all levels of government, both here at home and abroad. And the importance of those partnerships is really the core of the message I hope you'll take away from my time with you here today. (Full article here.)
China's balloons give Japan and Taiwan a reason to share intelligence, says lawmaker - Reuters, 16 Feb 23
The flight of suspected Chinese surveillance balloons has shown that Japan and Taiwan need to share "critical" intelligence about possible aerial threats, a senior defence policymaker for Japan's ruling Liberal Democratic Party said. Although Japan does not have official diplomatic relations with Taiwan, it worries that China could imperil Japanese security if it gained control over the self-governing island. "We don't have those bilateral relations with Taiwan, so we don't cooperate on that, but Japan's government will have to consider what it does next," Itsunori Onodera, a former defence minister and an influential lawmaker in the ruling party, said in an interview. One way that Japan could share information with Taiwan could be through its close ally the United States, Onodera said, adding that he had visited Taiwan in January and was briefed about threats posed to the island by China. (Full article here.)
DCSA Director Recognizes the Polygraph Problem for Recruiters - Clearance Jobs, 16 Feb 23
This week, Defense Counterintelligence and Security Agency (DCSA) Director, Bill Lietzau, addressed students, security clearance holders, and other government leaders through a webinar with the Intelligence and National Security alliance (INSA). Along with an overview of Trusted Workforce 2.0 past, present, and future, Lietzau spoke to other security clearance hot topics like the new Personnel Vetting Questionnaire (PVQ), eAPP, facility clearances, and the other elephant in the room where security clearance policy, recruiting, and retention meet: the polygraph. The Defense Intelligence Agency (DIA) officially transferred operational control of the National Center for Credibility Assessment (NCCA) to DCSA toward the end of 2021. According to a DCSA press release, NCCA previously was "the government's premiere educational center for polygraph and other credibility assessment technologies and techniques, and assist(ed) federal agencies in the protection of U.S. citizens, interests, infrastructure, and security by providing the best education and tools for credibility assessment." (Full article here.)
How the West May Have Helped Build China's Spy Balloons - Defense One, 16 Feb 23
China's high-altitude spy balloons took Western politicians and publics by surprise, but they really shouldn't have. Chinese strategists and industry have worked for more than a decade on 21st-century applications of the 18th-century invention—with some assistance from the West. Aerostats—the word encompasses powered airships ("blimps") as well as unpowered balloons—have long been associated with military applications, particularly information-gathering activities. They hold numerous advantages in persistence and cost, and thus many of the Chinese organizations that produce them are directly funded by China's military industry. China's interest in aerostats dates at least to the Mao era. Their modern applications have been noted as far back as 2010, when the National Air and Space Intelligence Center reported that China considered aerostats desirable for their large surveillance area between 1,000 and 2,000 km, low radar profile, ability to persistently loiter above desirable locations, and for their relatively inexpensive operating costs. (Full article here.)
United Arab Emirates Continues Its Policy Of Modernizing Intelligence Services - Eurasia Review, 13 Feb Jan 23
The geopolitical evolutions in the Middle East marked by the so-called "Arab Spring", the conflict in Yemen, the threat represented by the Iranian nuclear program and other global geopolitical developments determined United Arab Emirates (UAE) to take some important steps for modernizing and improving its intelligence services starting with the middle of the last decade. As demonstrated by the evolutions of modern intelligence services, the countries enjoying considerable financial resources as it is the case of UAE are developing predominantly their technical segments such as Signal Intelligence and more recently Artificial Intelligence (AI). This is due to the fact that getting certain important results by using technical means for acquiring information is relatively faster and safer as compared to using information gathered by human sources (HUMINT), which requires longer time for readying and exploiting such capabilities. (Full article here.)
Russia tried to shuffle spies around Europe after they got kicked out, but everyone already knows who they are - Business Insider, 17 Feb 23
Russia isn't letting up on its efforts to spy on its European neighbors, a Western security official told the Washington Post. But since everyone knows who their spies are, Russia is struggling to move them around to new assignments after the operatives get kicked out of countries in Europe, the Post reported. Russia is infamous for its extensive web of international spies, but European leaders have been rooting out the networks; British intelligence said last year that more than 400 spies were kicked out in 2022 alone. The senior Western security official, who spoke to the Washington Post anonymously, said that his country has been sharing the identities of these spies with officials from other EU countries. Russia keeps trying to reinsert those same spies into new stations, likely out of desperation and in a possible attempt to identify weak points in EU coordination, the Post reported. (Full article here.)
Canada's spy agency failed to fully consider human toll when disrupting threats - Global News, 18 Feb 23
A new report from the federal spy watchdog says the Canadian Security Intelligence Service failed to adequately consider the potentially serious adverse effects on people and their families when using its powers to disrupt potential threats. The National Security and Intelligence Review Agency report also finds the spy service takes an "overly narrow" approach when determining whether a judicial warrant is required for a particular threat disruption measure. Eight years ago, Parliament passed legislation allowing CSIS to go beyond its traditional role of gathering information about espionage and terrorism to actively derailing suspected schemes. For instance, the disruption powers could permit CSIS to thwart travel plans, cancel bank transactions or covertly interfere with radical websites. The Ottawa-based International Civil Liberties Monitoring Group said the review agency's findings show CSIS cannot be trusted to follow the law or the Charter of Rights and Freedoms when it is granted secret powers to disrupt the lives of Canadians. (Full article here.)
Taiwan Is Becoming an Intelligence-Sharing Power - National Interest, 19 Feb 23
A new report from the federal spy watchdog says the Canadian Security Intelligence Service failed to adequately consider the potentially serious adverse effects on people and their families when using its powers to disrupt potential threats. The National Security and Intelligence Review Agency report also finds the spy service takes an "overly narrow" approach when determining whether a judicial warrant is required for a particular threat disruption measure. Eight years ago, Parliament passed legislation allowing CSIS to go beyond its traditional role of gathering information about espionage and terrorism to actively derailing suspected schemes. For instance, the disruption powers could permit CSIS to thwart travel plans, cancel bank transactions or covertly interfere with radical websites. The Ottawa-based International Civil Liberties Monitoring Group said the review agency's findings show CSIS cannot be trusted to follow the law or the Charter of Rights and Freedoms when it is granted secret powers to disrupt the lives of Canadians. (Full article here.)
NGA Joins University of Missouri-St. Louis, Harris Stowe State University to 'de-mystify' STEM for Students - NGA, 19 Feb 23
NGA is offering a series of monthly workshops for university education faculty, K-12 teachers and K-12 teachers-in-training at the University of Missouri-St. Louis and Harris-Stowe State University in St. Louis, with the aim to help educators and teachers better understand and teach STEM — science, technology, engineer and math — disciplines, especially those of high interest at NGA, to prepare the geospatial workforce of the future. The workshops, hosted at NGA's Moonshot Labs unclassified collaboration space in downtown St. Louis, connect faculty, teachers and teachers-in-training with NGA experts to help teachers build curriculum around the STEM disciplines necessary to help students become effective earth scientists, and to train students in the STEM careers that are in high-demand at NGA. (Full article here.)
CIA to investigate how generative AI (like ChatGPT) can assist intelligence agencies - Defense Scoop, 16 Feb 23
The Central Intelligence Agency is getting set to explore using chatbots and generative artificial intelligence capabilities to assist its officers in completing day-to-day job functions and their overarching spy missions. Lakshmi Raman, the CIA's AI director, confirmed these plans at the Potomac Officers Club's annual AI summit in Virginia on Thursday. In doing so Raman, who has served as a CIA official since 2002 when she entered as a software engineer, emphasized that her team is being deliberate about understanding the "guardrails needed" when applying such emerging technologies to the intelligence community's operations. "Honestly, we've seen the excitement in the public space around ChatGPT. It's certainly an inflection point in this technology, and we definitely need to [be exploring] ways in which we can leverage new and upcoming technologies. And I think the way we're approaching it is we need to approach it in a disciplined way," she said. (Full article here.)
---
The Latest National Security Topic Interview by Former Acting D/CIA Mike Morell


Intelligence Matters: A CBS News national security podcast hosted by former CIA Acting Director and CBS News national security contributor Michael Morell.
14 Feb | Chinese Spy Balloon Fallout: Military Expert John Culver
In this episode of Intelligence Matters, host Michael Morell speaks with former senior CIA analyst and National Intelligence Officer for East Asia John Culver about the rippling implications of the Chinese surveillance balloon shot down over U.S. territory. Culver and Morell discuss Beijing's possible intentions behind deploying the balloon as well as the potential information it - and other Chinese surveillance efforts - may have targeted. They also discuss the ways in which heightened tensions between Washington and Beijing could raise the risks of conflict over Taiwan.
Past episodes:

07 Feb| Inside Global Diplomacy: RT. Honourable Baroness Catherine Ashton
31 Jan | China Expert Dennis Wilder on U.S. Policy Towards Beijing
24 Jan | Understanding Electronic Surveillance with NSA's Former Top Lawyer

More about Intelligence Matters by Michael Morell here.
---
The Latest from International Spy Museum Historian Andrew Hammond, PhD.
Spycast is the official podcast of the International Spy Museum and hosts interviews with intelligence experts on matters of HUMINT, SIGINT, IMINT, OSINT, and GEOINT. Spycast is hosted by historian Andrew Hammond, PhD.
14 Feb | From the Vault: "The Birth of American Propaganda" - A Conversation with John Hamilton John Hamilton joins Andrew to discuss Woodrow Wilson and the birth of American propaganda during WWI. He is a Professor of Journalism at Louisiana State University. 
Past episodes:

07 Feb | How Artificial Intelligence is Changing the Spy Game
31 Jan | The Lion and the Fox - Civil War Spy vs. Spy
24 Jan | Code Name Blue Wren: Cuban Spy Ana Montes


---
The Latest Insights from Former CIA Acting Deputy Director for Operations Jack Devine.
In Other News The proprietary analytic newsletter crafted for The Arkin Group's private clients by former CIA Acting Deputy Director for Operations Jack Devine.
17 Feb | One year after the Russian invasion of Ukraine, the regional fight for justice has global implications. At this time last year, Western politicians, journalists, analysts, and intelligence officials were heatedly debating whether Putin would have the audacity and political support to invade Ukraine (again). Today, at the Munich Security Conference, Ukraine's Western allies are instead trying to figure out how to support Kyiv for the long haul, as fears of a prolonged conflict loom large. It's also become increasingly clear that the outcome of this regional battle will establish a precedent for global geopolitical conditions to come. (Full version available to AFIO members in the coming days here.)
10 Feb | Keeping Russia at bay one year into the war will require unrelenting political and physical will.
03 Feb | Geopolitical changes are leading Japan to shift its foreign and defense policies, presenting opportunities for the European Union and the United States.
27 Jan | Sanctions, tanks, and other measures to limit Russia's influence.
---
Daily Analysis of Security Issues and Geopolitical Trends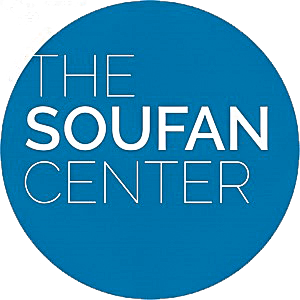 Intel Brief The Soufan Center's flagship, daily analytical product focused on complex security issues and geopolitical trends that may shape regional or international affairs. The Soufan Center was founded by former FBI Special Agent and Soufan Group CEO Ali Soufan.
21 Feb | Russia Tries to Parry Western Sanctions

A core component of the U.S. and European response to Russia's unprovoked invasion of Ukraine has been the imposition of sweeping sanctions on the pillars of the Russian economy, particularly its exportation of oil and gas, its banking system, and its importation of high technology and industrial equipment. The objective of the sanctions - planned to work incrementally over time - has been to deprive Moscow of the economic wherewithal to continue its aggression in Ukraine and to promote public and inner circle pressure on Russian President Vladimir Putin to negotiate an end to the conflict. To foster splits within Putin's regime, some of the sanctions specifically target Russian oligarchs as well as the Wagner Group private military organization – which is increasingly active on the battlefield in Ukraine as well as areas of the Global South where Moscow seeks to exert influence. Affiliates and facilitators of Wagner, including air transportation and other entities incorporated in several different countries, have been sanctioned as well. (Full brief here.)
20 Feb | Wagner's New Competition?
17 Feb | Peru's Political Crisis Deepens as Congress Fails to Set New Elections
16 Feb | Russia Broadens Its Reach into Sahel
15 Feb | China's South Asia Troubles
---
Analysis of Global Security Events with WTOP National Security Correspondent JJ Green

Inside the SCIF - 17 Feb - Chinese Spy Balloon, Russian and Iranian Hackers
Target USA Podcast - 15 Feb - How to Fight Disinformation and the MSU Mass Shooting.

The Hunt Broadcast - 09 Feb - ISIS fighters use US money to escape prison during Syria, Turkey quake




---
The Latest Insights from Jeff Stein and Colleagues in SpyTalk (Substack)

18 Feb | Return to the Wilderness of Mirrors - Jeff Stein
There's lots of fascinating nuggets in this weekend's story in The Washington Post about the discovery of a Russian mole near the top of a key German intelligence agency. Carsten Linke, 52 who was arrested on December 21, oversaw an internal security unit of the BND, Germany's premier foreign intelligence gathering agency, "with access to the personnel files of agency employees," officials told the Post. According to the charges, Linke was aided in his treachery by a 31-year-old gem and metals trader in Bavaria who frequently ferried Linke's classified booty to Moscow. An unidentified allied intelligence service helped the Germans unearth the spy op, the paper said. The revelation comes on the heels of the Jan. 23 arrest of Charles McGonigal, a high ranking veteran FBI counterintelligence official in New York, and amid a mounting furor over questionably sourced accusations that a senior former CIA spy catcher was a Russian mole. (Full article here.)

08 Feb | Mole Reversal - Jeff Stein

04 Feb | Frenemies: US-Israel Spy Strains Emerge Over Iran - Jonathan Broder

03 Feb | Pssst: Chinese Balloon Not a Threat - Jeff Stein


To support SpyTalk, subscribe here.


---
---
OpEd: The Balloon Fiasco - National Review, 14 Feb Jan 23
For seven days, the United States military and political high command failed to shoot down a Chinese spy balloon as it flew serenely across the continent. Because this embarrassment redounds to the discredit of senior civilians and generals alike, it is doubtful if the public will ever be told why the baffling delay. The timeline is clear enough. The North American Air Defense Command (NORAD) is responsible for detecting incursions into our sovereign air space. On or before January 28, NORAD detected a 200-feet tall Chinese balloon with a metallic payload of 2,000 pounds. Upon discovering the balloon, NORAD's commander, Air Force General Glen VanHerck, would have notified the Pentagon. No action was taken. On January 30, NORAD's tracking placed the balloon over remote northern Canada. No action. On January 31, the balloon was over Idaho. According to the press, President Biden on that day asked for options to shoot it down. Nothing happened. On February 1, the balloon, over the U.S. missile base in Montana, was seen by U.S. civilians and the press reported it for the first time. On February 2, it was "the strong recommendation by the Chairman of Joint Chiefs General Mark Milley and General Van Herck not to take shoot it down due to the risk to the safety of people on the ground from the possible debris field." Two days later, when the balloon was over the Atlantic off South Carolina, it was shot down. (Full article here.)
Article: 'Out of control': DoD reviews use of super-secret SAP classification, for space programs and beyond - Breaking Defense, 14 Feb 22
Deputy Secretary of Defense Kathleen Hicks is leading a review of how the Defense Department uses tightly restricted Special Access Program (SAP) classification not just for space programs, but across the department, according to DoD space policy guru John Plumb. "Inside the department, the deputy secretary has directed kind of a SAP reform effort, and that is hopefully coming to some conclusion soon. I can't say too much about any of that, obviously, but that's across all domains," he told the Mitchell Institute today. "I think anyone in those systems has understood that the number of SAPs has kind of spiraled out of control," added Plumb, confirmed last March as DoD's first-ever assistant secretary for space policy. Concerns about US government over-classification of all things related to space — and especially the overuse of SAPs that compartmentalize access to information about individual programs to only a few officials — have reached a crescendo over the past year. A who's-who list of top brass, members of Congress, industry leaders and Pentagon watchdogs for many years have been arguing that over-classification is harming the ability to convey the growing space threats from adversaries to lawmakers, the public and allied/partner nations, and hampered cooperation with industry and foreign partners to mitigate those threats. (Full article here.)
Analysis: Blowing Holes in Seymour Hersh's Pipe Dream - OSINT and Analysis, 10 Feb 23
Seymour Hersh's recent Substack post claims to provide a highly detailed account of a covert US operation to destroy the Nord Stream pipelines in order to ensure that Russia would be unable to supply Germany with natural gas through them. All the information in Hersh's post reportedly comes from a single unnamed source, who appears to have had direct access to every step of the planning and execution of this highly secretive operation. When first reading through Hersh's account of the events, the level of detail he provides could add credence to his story. Unfortunately for Hersh's story, the high level of detail is also where the entire story begins to unravel and fall apart. It is often stated that people who lie have a tendency to add too much superfluous detail to their accounts. This attempt to "cover all bases" is in many cases what trips these people up. Extra details add extra points of reference that can be crosschecked and examined. In Hersh's case, this is exactly what appears to have happened. On the surface level, the level of detail checks out to laymen or people without more niche knowledge of the subject matter mentioned. When you look closer though, the entire story begins to show massive glaring holes and specific details can be debunked. (Full article here.)
Article: Researchers shrink camera to the size of a salt grain - Princeton, 29 Nov 21
Micro-sized cameras have great potential to spot problems in the human body and enable sensing for super-small robots, but past approaches captured fuzzy, distorted images with limited fields of view. Now, researchers at Princeton University and the University of Washington have overcome these obstacles with an ultracompact camera the size of a coarse grain of salt. The new system can produce crisp, full-color images on par with a conventional compound camera lens 500,000 times larger in volume, the researchers reported in a paper published Nov. 29 in Nature Communications. Enabled by a joint design of the camera's hardware and computational processing, the system could enable minimally invasive endoscopy with medical robots to diagnose and treat diseases, and improve imaging for other robots with size and weight constraints. Arrays of thousands of such cameras could be used for full-scene sensing, turning surfaces into cameras. While a traditional camera uses a series of curved glass or plastic lenses to bend light rays into focus, the new optical system relies on a technology called a metasurface, which can be produced much like a computer chip. Just half a millimeter wide, the metasurface is studded with 1.6 million cylindrical posts, each roughly the size of the human immunodeficiency virus (HIV). Each post has a unique geometry, and functions like an optical antenna. Varying the design of each post is necessary to correctly shape the entire optical wavefront. With the help of machine learning-based algorithms, the posts' interactions with light combine to produce the highest-quality images and widest field of view for a full-color metasurface camera developed to date. (Full article here.)
OpEd: James Clapper's Disinformation - Wall Street Journal, 16 Feb 23
Whether or not GOP House oversight yields answers about 2020 election meddling, it is at least producing some fantastical squirming and finger pointing. See this week's incredulous Clapper defense. That would be James Clapper, the Obama director of national intelligence, one of 51 former intelligence officials who in October 2020 issued a highly consequential letter. The New York Post had revealed contents of a laptop that belonged to Hunter Biden. The information raised ugly questions about his use of the Biden family name in his foreign business dealings and the extent to which his father knew about them. With weeks to go in a close presidential campaign, the laptop bomb might have derailed Joe Biden's White House bid. Instead, the intel cabal neutralized the threat almost overnight. "Hunter Biden story is Russian disinfo, dozens of former intel officials say," blared a Politico headline on Oct. 19, 2020. The Clapper and Co. letter explained that the supposed Hunter emails had "all the classic earmarks of a Russian information operation," making the signers "deeply suspicious that the Russian government played a significant role in this case." They had no evidence, but the letter served its purpose by providing the news media, Democrats and social-media censors the excuse to suppress the story. But the laptop was real, and Republicans suddenly have subpoena power. Hence the remarkable sight this week of Mr. Clapper and fellow signatories resurfacing to blame their 2020 tradecraft on the press. The catalyst for this convenient claim is a batch of letters sent last week by House Judiciary Committee Chairman Jim Jordan to 12 of the letter's signers, demanding documents and interviews about their decision to issue a public statement that "falsely implied" the Hunter story was bogus. (Full article here.) (Note: May require a one time free registration or sit behind a pay wall.)
Article: In wake of Ukraine war, U.S. and allies are hunting down Russian spies - Washington Post, 17 Feb 23
Among the slumbering passengers on an overnight flight from Miami to Munich last month were two travelers on opposing sides of an espionage takedown. In one seat was a German citizen who would be arrested upon arrival and charged with treason for helping Russia recruit and run a Kremlin mole in the upper ranks of Germany's intelligence service. Seated nearby was an FBI agent who had boarded the flight to surreptitiously monitor the suspected operative, according to Western security officials, and make sure that he was taken into custody by German authorities. The Jan. 21 arrest of Arthur Eller — based largely on evidence that the FBI had assembled during the suspect's stay in Florida — was the latest salvo in a shadow war against Russia's intelligence services. Over the past year, as Western governments have ramped up weapons deliveries to Ukraine and economic sanctions against Moscow, U.S. and European security services have been waging a parallel if less visible campaign to cripple Russian spy networks. The German case, which also involved the arrest of a senior official in the BND, Germany's foreign intelligence service, followed roll-ups of suspected Russian operatives in the Netherlands, Norway, Sweden, Austria, Poland and Slovenia. (Full article here.) (Note: May require a one time free registration or sit behind a pay wall.)
Article: A Russian Mole in Germany Sows Suspicions at Home, and Beyond - New York Times, 18 Feb 23
A few days before Christmas, a convoy of security vehicles invaded a quiet corner of Weilheim, a quaint Bavarian town of pastel squares and fastidiously kept cobblestone streets. Their target seemed as unassuming as the setting: a local children's soccer coach. Nothing ever stood out about the man, fellow coaches recalled. He was not short, but not tall — friendly, yet never wanting to discuss anything but soccer. Grasping for words, most landed on the same choice: "unremarkable." That changed when they learned he had been arrested on charges of treason and spying for Russia in one of the gravest espionage scandals in recent German history. The coach, a 52-year-old former German soldier, worked for Germany's Federal Intelligence Service, or B.N.D., as a director of technical reconnaissance — the unit responsible for cybersecurity and surveilling electronic communications. It contributes about half of the spy agency's daily intelligence volume. (Full article here.) (Note: May require a one time free registration or sit behind a pay wall.)
OpEd: Sometimes the story is about the spies who aren't there - Washington Post, 16 Feb 23
Every good spy thriller needs a "mole hunt" — a search for the foreign agent who has burrowed his way to the heart of the CIA or MI6 and is stealing secrets faster than you can say John le Carré. The "mole hunt" trope is so familiar in fiction that it's easy to forget that, in real life, counterintelligence investigations are incredibly destructive. They ruin the lives of innocent people and leave behind stacks of questions that might be disputed for decades. The latest example of mole-mania is the flap surrounding a book published last year by Robert Baer, a former CIA officer, titled "The Fourth Man." Baer recounts unsubstantiated allegations by former CIA and FBI sources that Paul Redmond, who helped run CIA counterintelligence in the 1990s, was a "fourth" Russian spy who gave the Russians secrets beyond what they learned from traitors Edward Lee Howard, Aldrich Ames and Robert Hanssen. Redmond and former CIA colleagues have convincingly rebutted the allegations. The details are contained in a Feb. 5 article in the Cipher Brief by three former top agency officers, Michael Sulick, Lucinda Webb and Mark Kelton, and in a Feb. 6 "review" of Baer's book by Redmond himself in the International Journal of Intelligence and CounterIntelligence. (Full article here.) (Note: May require a one time free registration or sit behind a pay wall.)
Article: Inside the stunning growth of Russia's Wagner Group - Politico, 18 Feb 23
American and European allies are mobilizing to thwart the rapid expansion of the Russian paramilitary group known as Wagner, run by a Putin-affiliated oligarch, as it captures key cities for Moscow in Ukraine and spreads its influence to Africa and other corners of the world. With tens of thousands of fighters, many of them now battlefield-trained, the Wagner Group's emergence as a rogue military threat could become a serious global challenge in years to come, U.S. and European officials said. Wagner's stepped-up activities in Africa, where its trained fighters perform key security functions for regimes in Sudan, the Central African Republic and other countries, are detailed in a series of U.S. government cables and documents from the internal network of the group's leader, Yevgeny Prigozhin, which were obtained by POLITICO and verified by outside experts. The increasing power of Prigozhin in the shrinking inner circle of Russian President Vladimir Putin, which is also detailed in the cables and documents, is prompting Western governments to take steps to stave off a threat they calculate could potentially inflict wide-ranging national security and foreign policy consequences in the years to come. (Full article here.)
Article: In wake of Ukraine war, U.S. and allies are hunting down Russian spies - Washington Post, 17 Feb 23
Among the slumbering passengers on an overnight flight from Miami to Munich last month were two travelers on opposing sides of an espionage takedown. In one seat was a German citizen who would be arrested upon arrival and charged with treason for allegedly helping Russia recruit and run a Kremlin mole in the upper ranks of Germany's intelligence service. Seated nearby was an FBI agent who had boarded the flight to surreptitiously monitor the suspected operative, according to Western security officials, and make sure that he was taken into custody by German authorities. Are you on Telegram? Subscribe to our channel for the latest updates on Russia's war in Ukraine. The Jan. 21 arrest of Arthur Eller — based largely on evidence that the FBI had assembled during the suspect's stay in Florida — was the latest salvo in a shadow war against Russia's intelligence services. Over the past year, as Western governments have ramped up weapons deliveries to Ukraine and economic sanctions against Moscow, U.S. and European security services have been waging a parallel if less visible campaign to cripple Russian spy networks. The German case, which also involved the arrest of a senior official in the BND, Germany's foreign intelligence service, followed roll-ups of suspected Russian operatives in the Netherlands, Norway, Sweden, Austria, Poland and Slovenia. (Full article here.) (Note: May require a one time free registration or sit behind a pay wall.)
Article: Russia's spy networks in Europe see greatest post-Cold War setback, experts claim - Intel News, 20 Feb 23
Russia's ability to conduct human intelligence operations in Europe has suffered greater damage in recent years than at any time since 1991, according to some experts. These setbacks have partly been caused by what The Washington Post refers to in a recent article as "a campaign to cripple Russian spy networks", which is taking place across the continent. This Europe-wide campaign has grown in momentum since the Russian invasion of Ukraine and supplements boarder efforts to arm Ukraine in its war against the Kremlin. The initial blow against the Kremlin's spy network was delivered last year, when a wave of mass expulsions of Russian diplomats resulted in more than 400 suspected Russian intelligence officers being ordered to leave various European capitals. According to observes, the expelled Russian diplomats were in reality intelligence officers, who were active across Europe under diplomatic cover. Since that time, European counterintelligence agencies have launched a series of "precision strikes" against what remains of Russia's human intelligence network across the continent. (Full article here.)
Article: Meet the climate scientist helping guide Biden on spy agencies - Washington Post, 18 Feb 23
The U.S. intelligence community has grappled with global warming for vears, but its climate work has expanded and taken on extra urgency as heat waves, drought and disasters exacerbate political tensions around the world. In 2021, spy agencies published their first National Intelligence Estimate focused on climate change - a declassified rundown of many of the issues they're worried about. (Full article here.) (Note: May require a one time free registration or sit behind a pay wall.)
---
Video: NIO for North Korea at the NIC Discusses "North Korea in 2023" (49 mins) - Center for Strategic and International Studies, 26 Jan 23
Please join us for a special discussion on North Korea in 2023 with Mr. Sydney Seiler, the National Intelligence Officer for North Korea at the National Intelligence Council. Previously, he was the U.S. Forces Korea (USFK) Senior Analyst and Senior Defense Intelligence Expert for North Korea, serving as the principal advisor and senior expert on Korean Peninsula security issues to the USFK Commander and the U.S. Defense Intelligence Enterprise. Mr. Seiler also served as the U.S. Special Envoy for Six Party Talks (2014-2015), where he coordinated U.S. diplomacy and policy on the DPRK, and led negotiations with North Korea. Prior to that, Mr. Seiler served as the director for Korea on the National Security Council (2011-2014). A member of the Senior National Intelligence Service, Mr. Seiler has over 40 years of experience focusing on Korean Peninsula affairs in a range of executive management, intelligence, and policy positions within the Office of the Director of National Intelligence, the Central Intelligence Agency Directorate of Analysis, CIA's Directorate of Operations, CIA's Open Source Center, and the National Security Agency. (Watch here.)
Video: System Integration of two SIGINT Systems - Artemis and BlackFish (05 mins) - Airborne Technologies, 17 Feb 23
In this short video, learn about two different SIGINT phone locating systems in action: Artemis by Smith Myers (for locating mobile phones) and BlackFisch by Horizon Technologies (for locating satellite phones). (Watch here.)
Audio: OSINT and Journalism (73 mins) - Jane's World of Intelligence, 01 Feb 23
Warren Strobel, National Security Reporter joins Harry Kemsley and Sean Corbett in this podcast to understand the role open-source intelligence has to be play in Journalism. (Listen here.)
Report: Explainer - How Iran's Intelligence Agencies Work - U.S. Institute of Peace, 17 Feb 23
The primary mission of Iran's intelligence agencies is to keep the Islamic regime in power. The Ministry of Intelligence and Security (MOIS) and the Islamic Revolutionary Guard Corps (IRGC) Intelligence Organization are the main intelligence agencies. Their missions overlap extensively because their agendas are broad. Ascertaining their day-to-day operations is difficult from thousands of miles away and without a U.S. embassy in Tehran. But much of their work involves repressing dissidents at home and abroad. They are especially concerned with stifling organized opposition. Much like U.S. intelligence, Iranian intelligence gathers information on other governments, especially in the Middle East. Tehran wants to find out what rivals are planning and discern the effectiveness of its policies. Additionally, the agencies look for materials and components for producing arms, especially missiles and drones. The MOIS has agents based in Iranian embassies across Europe. As civilians, MOIS personnel can blend in better than IRGC personnel, who are military people. MOIS agents look for technology from foreign companies—including German, French, Italian and Swiss firms—and for holes in international sanctions to procure technology. IRGC intelligence also engages in procurement, but mostly in coordination with the MOIS. (Full report here.)
Report: Re:vision Munich Security Conference Report 2023 - Munich Security Conference, February 2023
Debates about different visions for the future international order are often abstract and theoretical. By invading Ukraine, Russian President Vladimir Putin has made the clash of competing visions a brutal and deathly reality. The world's liberal democracies are awakening to the challenges posed by autocratic revisionists, and have taken the first important steps to pushing back. But for liberal-democratic principles to prevail over the autocratic variants, democracies must revamp their vision of a desirable international order. A re-envisioned liberal, rules-based international order is needed to strengthen democratic resilience in an era of fierce systemic competition with autocratic regimes. But to make this vision more attractive among the wider international community and help it win the contest for the future international order, democracies must also take into account legitimate criticism and concerns among the wider international community. (Full report here.)
Analysis: The Cult of Secrecy - Foreign Affairs, 13 Feb 23
In August 2016, the United States suffered one of the most cataclysmic leaks of classified information in history. An anonymous entity calling itself "the Shadow Brokers" exposed an arsenal of cyberweapons that had been developed—in great secrecy—by the National Security Agency. The intelligence community sprang into damage-control mode. Because the NSA's hackers rely on a degree of plausible deniability, the disclosure of such clandestine tools and their connection to the U.S. government meant that the agency would be forced to devise new ones. But there was also a more pressing danger: with the source code for these powerful weapons now published on the Internet, any unscrupulous actor could deploy them. It was the digital equivalent of "loose nukes." Practically overnight, cybercriminals repurposed the NSA's proprietary exploits to launch audacious ransomware attacks, ultimately shutting down millions of computers around the world and paralyzing thousands of private businesses, from an auto plant in France to a chocolate factory in Australia. Foreign governments took advantage of the tools, as well. North Korea used the NSA's malicious code to attack the British health-care system, forcing hospitals to turn away patients. Iran used it to target airlines in the Middle East. Russia used it against Ukraine. (Full report here.)
Analysis: Beyond the balloon - the US-China spy game - Financial Times, 17 Feb 23
The Chinese balloon that flew over North America and loitered over nuclear missile silos in Montana before it was shot down over the Atlantic inspired a range of emotions among Americans: fear, anger, but also humour. Comedians on Twitter made light of the craft for what to the untrained eye seemed like a lack of sophistication. It inspired a Saturday Night Live parody. In Montana, where it was first spotted by the public, ranchers quipped about who had the best gun to shoot down the object, which was flying at about 20km. "There were lots of jokes, especially around Billings, where the balloon was sighted," says Max Baucus, a former Montana senator who served as US ambassador to China between 2014 and 2017. "It's fascinating how a wandering balloon causes such a commotion." In Washington, there was less laughter. The appearance of what the US calls a spy balloon with intelligence-collecting gear over North American soil exacerbated concerns that China is stepping up surveillance activity in near space. Charlie "Tuna" Moore, a retired F-16 pilot who was deputy head of US Cyber Command, says the high altitude balloon potentially had capabilities ranging from the ability to take high-resolution images, to sensors that do everything from enabling eavesdropping on conversations to seeing how US weapons systems communicate with each other. (Full report here.)
Backgrounder: Spy balloons - modern technology has given these old-fashioned eyes in the sky a new lease of life - The Conversation, 14 Feb 23
The US military has now shot down four high-altitude objects that had entered American and Canadian airspace, raising questions about their purpose and origin. The first of these objects, a Chinese balloon, was downed by a fighter jet on 4 February. While China says it was for weather monitoring, US officials say it was being used for surveillance. A knowledge of technology in this area throws up some clues about what may have been going on. The balloon is believed to have supported a signals intelligence collection payload, although this has yet to be confirmed. Debris has now been retrieved from US territorial waters off the coast of South Carolina and will be transported ashore for analysis. A further three objects were downed between February 10 and 12 over Deadhorse in Alaska, near Yukon in Canada and over Lake Huron close to the US-Canada border. (Full report here.)
Interview: Adam Hickey's Path to Justice - An Interview with a U.S. Deputy Assistant Attorney General for National Security - Davidsonion, 17 Feb 23
Adam Hickey is a U.S. Deputy Assistant Attorney General for the National Security Division at the Department of Justice. He attended Davidson College ('95-'96) before transferring to Harvard and then received his J.D. from Yale Law School. Hickey is a career federal prosecutor and presently oversees the National Security Division's Counterintelligence and Export Control Section and the Foreign Investment Review Section. Most recently, the National Security Division has made headlines in cases involving Chinese intelligence operations, cracking down on lobbyists representing foreign countries, and the Mar-a-lago classified document retention investigation. (Full report here.)
Analysis: Reducing Government Overclassification of National Security Information - Lawfare, 17 Feb 23
Recent disclosures that President Joe Biden, former President Donald Trump, and former Vice President Mike Pence stored classified documents at home have shined a spotlight on what many people believe to be excessive government classification of information. (While many observers are arguing for a reevaluation of the classification process, at least one former government official has argued that current and former government officials have a responsibility to protect information designated as classified, whether that information is properly classified or not.) The U.S. government system for classifying information is designed to protect sensitive information from falling into the wrong hands. Classified information is defined in Executive Order 13526—Classified National Security Information as government information that "could reasonably be expected to cause identifiable or describable damage to the national security" if improperly disclosed. Examples of such information could include secretly gathered information on a foreign nation's nuclear weapons posture, the identities of U.S. intelligence agents, or clandestinely assembled profiles of foreign leaders. (Some such information has reportedly been contained in classified documents found at Trump's Mar-a-Lago residence.) Classification of such information is often necessary to protect tradecraft and genuine state secrets. (Full report here.)
Academic Opportunity: The International Security and Intelligence Programme - 9 July to 5 August 2023 - Magdalene College, Cambridge
Chaired by Sir Richard Dearlove the former Chief of the British Secret Intelligence Service, the Cambridge Security Initiative (CSi) launched the ISI Programme in 2016. The purpose of this unique programme is to provide an opportunity for participants to meet and work with leading academics and practitioners from the intelligence and security communities in the historic setting of one of the world's foremost universities. The Programme is run in partnership with the Department of War Studies at Kings College, London. (More information and registration here.)
Infographic and Report: Ranked - The World's Most and Least Powerful Passports in 2023 - Visual Capitalist, 13 Feb 23
Depending on your passport, travel can be as simple as just booking flights, finding a hotel, and, then simply going. But for many across the world, it's not that easy—a number of passport holders need to obtain a travel/tourist visa prior to arrival. These visas typically require approval from the destination country's government that can take weeks or months. Japanese passport holders, for example, are able to visit 193 countries without pre-approval (nearly every country on Earth). Afghans, on the other hand, can only visit 27 countries with the same level of ease. This ranking uses data from Henley and Partners, which determines the number of countries to which a passport holder has visa-free access. (Access visual tool and full report here.)
Intelligence in History - A Collection of Recent Content
True Intelligence Matters in Film - I Was an American Spy - Director Lesley Selander (1951)
Claire, an American-born Filipina living in Manila, is working as a cafe entertainer on the eve of the attack on Pearl Harbor. She marries an American soldier, Sgt. John Phillips (Douglas Kennedy), and with her husband, witnesses the Japanese invasion of the Philippines during the siege of Bataan. Her husband is captured, and she watches as he is killed by machine gun fire in the Bataan Death March after he defies the order of a cruel Japanese soldier not to drink from typhoid contaminated water. In retaliation, Phillips uses a handgun to shoot and kill a Japanese soldier. She then joins the anti-Japanese resistance, and in order to obtain intelligence to send back to the United States, she opens a nightclub catering to Japanese officers. Phillips is code named "High Pockets" for her habit of stashing items in her brassiere. She successfully passes useful intelligence on to the American forces and the Filipino underground, but is then discovered, imprisoned, and water tortured by the Japanese. Sentenced to death, she is rescued in the nick of time by American soldiers (one of whom is Cpl. John Boone (Gene Evans)) who storm Bilibid Prison, killing the Japanese guards.

More on this based-on-true-events production here.
Intelligence in Pop Culture - Role Playing Game - Top Secret: New World Order - Merle Rasmussen (2018)
Top Secret: New World Order is an espionage-themed role playing game (RPG) masterminded by Merle Rasmussen, the designer of the original Top Secret RPG in the 80s. The system departs from the classic percentile system of older editions for a mix of dice that increase and decrease in size based on the difficulty of the task at hand. Stepping dice up and down make on-the-fly difficulty adjustments easy and allocating dice for attributes and skills gets player out into the field faster. The boxed set contains everything needed to play, though there are a few third party adventures on the way. (More about the game here.)
Walking Tours - Washington, DC - Sundays (Dates/Times Vary)
Former intelligence officers guide visitors on two morning and afternoon espionage-themed walking tours: "Spies of Embassy Row" and "Spies of Georgetown." For more information and booking, click here or contact rosanna@spyher.co
---
Danger Zone: Volume 1: US Clandestine Reconnaissance Operations along the West Berlin Air Corridors, 1945-1990
by Kevin Wright
(Helion and Company, 28 Feb 23)
Split into two for decades between the late 1940s and early 1990s, Germany was the hottest 'battlefield' of the Cold War. Its western part was dotted by dozens of major military facilities of the reconstituted national armed forces, and those of the NATO allies, foremost the USA, Great Britain and France. Even more so, whole third of East Germany was under the control of the Armed Forces of the Union of Soviet Socialist Republics (USSR) and housed several dozens of major air and ground units. On the ground, the city of West Berlin – situated in the center of the German Democratic Republic (GDR), and the three occupation zones there controlled by the USA, Great Britain, and France, was connected to the outside world only via tightly controlled railways, waterways or autobahns. However, in the air, three 'aerial corridors' connected it with West Germany. Far away from high-profile intelligence-gathering operations – like those by Lockheed U-2s – several intelligence agencies of the USA, Great Britain and France exploited this fact to run clandestine operations along these corridors. Principally conducted by adapted transport or liaison aircraft – which received a host of clandestine modifications – such operations often took their crews into the very center of what was perceived as the 'danger zone' by NATO: the airspace over some of the most sensitive Soviet military installations. Danger Zone Volume 1, is the first comprehensive and in-depth study of intelligence-gathering efforts by aircraft operated by, or on behalf of, the US intelligence agencies. It provides a carefully researched review of the involved equipment, modifications, maintenance, flight operations, post-flight activities and the resulting intelligence analysis, set within the context of the unique situation surrounding West Berlin during the Cold War, and its air corridors.
Order book here.
---
A Spy Among Friends: Kim Philby and the Great Betrayal
by Ben Macintyre
(Crown, 29 Jul 14)
Kim Philby was the greatest spy in history, a brilliant and charming man who rose to head Britain's counterintelligence against the Soviet Union during the height of the Cold War—while he was secretly working for the enemy. And nobody thought he knew Philby like Nicholas Elliott, Philby's best friend and fellow officer in MI6. The two men had gone to the same schools, belonged to the same exclusive clubs, grown close through the crucible of wartime intelligence work and long nights of drink and revelry. It was madness for one to think the other might be a communist spy, bent on subverting Western values and the power of the free world. But Philby was secretly betraying his friend. Every word Elliott breathed to Philby was transmitted back to Moscow—and not just Elliott's words, for in America, Philby had made another powerful friend: James Jesus Angleton, the crafty, paranoid head of CIA counterintelligence. Angleton's and Elliott's unwitting disclosures helped Philby sink almost every important Anglo-American spy operation for twenty years, leading countless operatives to their doom. Even as the web of suspicion closed around him, and Philby was driven to greater lies to protect his cover, his two friends never abandoned him—until it was too late. The stunning truth of his betrayal would have devastating consequences on the two men who thought they knew him best, and on the intelligence services he left crippled in his wake. Told with heart-pounding suspense and keen psychological insight, and based on personal papers and never-before-seen British intelligence files, A Spy Among Friends is Ben Macintyre's best book yet, a high-water mark in Cold War history telling.
Order book here.
---
The Grey Men: Pursuing the Stasi into the Present
by Ralph Hope
(One World Publication, 08 Jun 21)
What do you do with a hundred thousand idle spies? By 1990 the Berlin Wall had fallen and the East German state security service folded. For forty years, they had amassed more than a billion pages in manila files detailing the lives of their citizens. Almost a hundred thousand Stasi employees, many of them experienced officers with access to highly personal information, found themselves unemployed overnight. This is the story of what they did next. Former FBI agent Ralph Hope uses present-day sources and access to Stasi records to track and expose ex-officers working everywhere from the Russian energy sector to the police and even the government department tasked with prosecuting Stasi crimes. He examines why the key players have never been called to account and, in doing so, asks if we have really learned from the past at all. He highlights a man who continued to fight the Stasi for thirty years after the Wall fell, and reveals a truth that many today don't want spoken. The Grey Men comes as an urgent warning from the past at a time when governments the world over are building an unprecedented network of surveillance over their citizens. Ultimately, this is a book about the present.
Order book here.
---
Call for papers: Intelligence and Post-War Reconstruction - International Journal of Intelligence and Counterintelligence
History shows that without planning for post-war reconstruction, apparent victory in war can lead to long-term defeat. On the other hand, wise post-war planning can lead to friendly, peaceful, and profitable relations between victor and vanquished. For political, socio-economic and security-related planning, intelligence plays a crucial role in estimating capabilities, securing infrastructure, locating persons of interest, and rebuilding. In honor of the 75th anniversary of the European Recovery Program (Marshall Plan) after the Second World War, the editors are particularly interested in papers dealing with intelligence concerning post-war reconstruction initiatives and planning connected to historical and recent conflicts. Both case studies and theoretical and methodological approaches are welcome. The studies may include, but do not have to be focused on, the following questions and issues:
The role of diplomatic and military intelligence during the conflict as preparation for post-war reconstruction, from the conceptual to the practical.
What intelligence needs to be collected to secure and boost reconstruction?
What contacts, networks, and infrastructure are necessary for intelligence to be effective?
Who has been or should be approached and/or recruited for reconstruction efforts based on intelligence?
When has intelligent post-war planning (or its opposite) been historically evident?
How should intelligence interact with formerly warring parties and international organizations to empower practical reconstruction efforts?
What intelligence collection challenges have services encountered in working for post-war peace?
How did intelligence factor in the European Recovery Program?
What was George C. Marshall's position on the role of intelligence in general or concrete examples related to "his" plan?
01 Nov 23 deadline. More information and submission instructions here.
Search for stories: Matt Brazil, an AFIO member in the San Francisco Chapter and co-author of Chinese Communist Espionage, An Intelligence Primer (Naval Inst. Press, 2019) is writing a second work on Beijing's worldwide espionage and influence offensive. As part of that effort, he seeks interesting stories of encounters with China's civilian and military intelligence apparatus. If you are interested in telling your story or you know someone who would be, Matt can be reached via matthew.brazil@gmail.com or his website www.mattbrazil.net.
Search for information: Author and AFIO member Toby Harnden is researching recipients of CIA gallantry awards (DCI's OPA is assisting). Harnden is eager to speak to anyone with memories of, information about, or pointers toward Bob A. Plan and Arthur J. Porn. Plan was born in Croatia in 1920 and served with the OSS in Yugoslavia 1944-45. He became a CIA contractor, working as a career agent and translator, and was based in Greece in the 1950s and Mexico in the 1960s. He was parented by EUR Division when he came out of retirement to enter Tehran in 1980. Porn, born in 1930, was a WH case officer from 1958 who was based in Argentina, Honduras and Bolivia in the 1960s and 1970s. He was honored for an act of bravery in Bolivia in 1970. Please contact tobyharnden@gmail.com or 202-213-3775.
Search for information: Searching for information on a CIA "intelligence operation" carried out during the Clinton administration in 1997 or 1999 aimed at Iran and/or its MOIS in response to Iran's involvement in the 1996 Khobar Towers bombings. Clinton's counterterrorism chief Richard Clarke made a brief reference to this operation on p. 129 of his book Against All Enemies; George Tenet made a possible reference to this operation on p. 124 of his book At the Center of the Storm; and Bruce Riedel posted a reference to it here in his article "The Iran Primer: The Clinton Administration." He called it "Operation Sapphire" - not to be confused with Operation Sapphire aimed at Kazakhstan. Also, searching for information on a bomb found on a bridge in Manila, Philippines around November 23, 1996 when President Clinton was in the city. Contact: dpluchinsky@rocketmail.com.
Search for information: Dr John Gentry of Georgetown University seeks information on what ways, to what extent, at what agencies, and with what implications/consequences are DEI (diversity, equity, inclusion) policies damaging the IC and DOD. Request examples and assessments that link senior-level policies, and middle managers' interpretations of them, to specific organizational and personal actions and then to actual consequences in sufficient volume and detail to be able to make a coherent argument. Anonymity assured. Contact: jag411@georgetown.edu.
Search for information An AFIO member who is researching "a State Department officer who seems to have functioned as a pre-CIA intelligence officer without having joined the OSS" would welcome leads on persons or books specializing "in 'pre-CIA' 'CIA history'." Anyone with pertinent information can contact info@whittakerchambers.org.
Call For Papers: The Struggle in the Israeli Security Zone in South Lebanon, 1985-2000, Israel Affairs
In June 1985, the Israel Defense Forces (IDF) de jure completed its withdrawal from Lebanon to the Israeli borders. De facto, Israel left in its hands a strip of land, about 15 kilometers from its border, in which its ally, the South Lebanon Army (SLA), operated. This strip of land came to be known as the Israeli Security Zone. The idea was that the SLA would be almost independent, while the IDF would intervene only when necessary in the battle against Palestinian and Shiite groups and supervise the SLA. Soon, however, the IDF became more involved, building military posts within the Security Zone, reinforcing itself, and encountering new challenges. In May 2000, Israel pulled its forces back to its borders and the SLA collapsed, along with the Security Zone. The 15 years of fighting in the Security Zone were rarely mentioned within Israeli society, let alone in the academic sphere. Only in recent years has the Israeli public become aware of this period after many soldiers who served in the Security Zone began sharing their memories through books and social media. The campaign to raise awareness of the period successfully ended when in March 2021, Israel officially recognized this period as one of warfare. This special issue aims to interdisciplinarily bridge the gap in the academic discourse regarding the war in the Security Zone. The editors are interested in articles dealing with various topics concerning the 1985-2000 war in the Security Zone. 30 March 2023 deadline. For more information, including submission instructions and suggested topics, click here.
Search for French Intelligence Officer: Gary Schaut of Sudbury, Canada is in search of a French intelligence agent who was still active around 1997 in France, and who had provided information in that year to a French journalist named "William Reymond." Anyone with pertinent information can contact Schaut at gbschaut@sympatico.ca.
Search for Colleagues: Dennis Pluchinsky seeks contact with Tom Lane and Nancy Kenealy, "who worked with Cindy, Gina, and Jeff" in the mid-1990s on al-Qaeda. Pluchinsky is in contact with all three of these other colleagues and would like to establish contact with Lane and Kenealy regarding his work on a four-volume book series on anti-American terrorism overseas ("see Amazon for more details" about the books). Please contact Pluchinsky at dpluchinsky@rocketmail.com.
Call For Information: Harvard student seeks primary source documents, historical records, or points of contact regarding Freedom Company, aka Eastern Construction Company, of the Philippines
Ryan Santos, a senior at Harvard, is writing his history thesis titled "The outsourcing of freedom": Filipino operatives in the origins of the American war in Indochina, 1954-1967. The focus of the research project is on the Freedom Company of the Philippines (later became the Eastern Construction Company in 1958), a dynamic private enterprise funded by the US to send Filipino paramilitary specialists - who were successful in suppressing their own local communist insurgency in the Huks - to assist in counterinsurgency and nation-building operations in Vietnam, Laos, and Indonesia. Ryan hopes to use his research on the Freedom Company of the Philippines and the Eastern Construction Company to underscore the diversity of geopolitical agents involved in American foreign policy during the Cold War, the development of US-Philippine relations, and the origins of American involvement in Indochina. If this project is of any interest or if there are any primary source documents, historical records, or points of contact that would be helpful, please contact him at ryansantos@college.harvard.edu.
Call For Articles: AFIO Journal, The Intelligencer
For the past four years, AFIO has included in The Intelligencer a series of articles on "when intelligence made a difference." Written by scholars, intelligence practitioners, students, and others, they cover events from ancient times to the modern world and in many countries. AFIO is soliciting articles for future issues. Most articles run between 2,000 and 3,000 words, although some are longer or shorter. If you have an idea for an article that fits the theme, email senior editor Peter Oleson at peter.oleson@afio.com.
Call For Assistance: Researcher Seeks Copy of 1941 FBI Booklet
An AFIO member who is conducting research on the beginnings of industrial security programs before WWII is in search of a copy of a 55-page FBI booklet, dated December 1941, titled "Suggestions for Protection of Industrial Facilities." Digital copies or photocopies are acceptable. Please contact winseditor@afio.com with any information.
---
Faculty Opening - Adjunct Faculty, Intelligence Analysis - Krieger School of Arts and Sciences, Advanced Academic Programs, Johns Hopkins University, Online
The Advanced Academic Programs (AAP) division seeks non-tenure track adjunct faculty to teach several courses within the MS in Intelligence Analysis program. The course(s) will be taught fully online beginning in Summer 2023 and beyond. Candidates with online course development and teaching experience and those with experience teaching and engaging students from diverse backgrounds are of particular interest. Full details and online application instructions can be found here.
Faculty Opening - Teaching Intelligence Analysis - James Madison University - Harrisonburg, Virginia
The Faculty of the Intelligence Analysis (IA) Program at James Madison University (JMU) are searching for a dynamic new colleague to join us in the ongoing co-creation of an exceptional educational experience to prepare the next generation of analysts. Our program is in its 16th year, and our graduates regularly secure positions as analysts in the public and private sectors, including the Intelligence Community, military and law enforcement organizations, defense contractors, and major consulting firms. Our vision is a versatile, multidisciplinary undergraduate education that simultaneously emphasizes methodology, technology, and communication, with a specialization in intelligence analysis. We especially seek a new colleague who can strengthen our longstanding distinctive focus on developing good reasoning and/or our more recent focus on research design and analytic production.

We would welcome a potential new colleague from any academic discipline (to include the humanities, social sciences, and natural sciences) and/or any professional background (to include former intelligence, military, homeland security, law enforcement, and other security and analytic professionals) that enables them to speak with credibility about the process of doing analysis. The desire to engage both traditional academics and professional analysts is extremely important to us. We also value both teaching excellence as well as one-on-one professional mentoring. We especially seek candidates who are able to "bridge the gap" and to engage students whose struggles are different from their own, and who can help them flourish in their future personal and professional lives. The position requires either a Ph.D. in a relevant academic field by hiring date (for a tenure-track appointment) or a minimum of a Bachelor's Degree (Master's Preferred) with substantial, demonstrated experience as an analyst (for appointment on a Renewable Term Contract). Our normal teaching load is three courses per semester.

Application materials should include 1) a detailed cover letter that tells the story of how the candidate's expertise and experience fit our aspirations, values, and teaching needs, 2) curriculum vitae/resume, 3) a "statement of inclusive excellence" that highlights (amongst other things) how the applicant has successfully helped colleagues from different backgrounds and perspectives to flourish in their work, and 4) contact information for at least three references.

The search will remain open until the position is filled. Salary commensurate with experience. Questions can be directed to the Chair of the search committee, Dr. Noel Hendrickson, at hendrinx@jmu.edu. Employment is contingent upon the successful completion of a criminal background check.
Additional details and further online application instructions can be found here.

Intelligence Practice Lead - SOS International, Washington, D.C.
The Intelligence Practice Lead, Americas, alongside the Consulting and Solutions Practice Director, Americas, is responsible for developing the Intelligence business within the regional security consulting team. The Intelligence Practice Lead will oversee the development, positioning, sales and the effective coordination and delivery of all intelligence consulting and solutions, including Intelligence Managed Services, in the US and Canada region. In this role the individual will oversee the provision of support to International SOS's US and Canada regional distribution channels to drive customer satisfaction and profitable growth across relevant business lines, in the technical domain of Intelligence. The individual will help to translate International SOS's Security value proposition into clear priorities and actions, in support of the business lines' commercial road maps. In addition, the role will be responsible for: driving day-to-day delivery of Intelligence consulting deliverables (including capability assessment, planning, training etc); establishing a cadre of analyst external consultants; educating key internal stakeholders and clients; leading/contributing to the expansion of intelligence methodologies and deliverables; along with their cadre of external consultants.
Additional information and application here.

Supervisory Criminal Investigator (Special Agent-In-Charge) - U.S. Army CID, Nationwide
Serves as the Criminal Investigation Division (CID) Field Office Special Agent-In-Charge (SAC) and is the principle law enforcement expert and advisor responsible for all investigations and operations conducted by CID offices within their area of responsibility (AOR). Directly supervises multiple Supervisory Criminal Investigators, full-performance level GS-13 and GS-14 criminal investigators, and support personnel in co-located and satellite offices.
Additional information and application here.

Retired Federal Government Employees Wanted - National Security Agency - Fort Meade, Maryland
The National Security Agency (NSA) may occasionally need skilled civilian retirees to augment the existing work force on high priority projects or programs. In order to fill these temporary positions quickly, we need to know who may be interested and available to return to work with us on a short notice basis as well as their skills. Retirees provide expertise and corporate knowledge to temporarily support mission requirements, manpower shortfalls, and/or mentor the next generation of Agency employees. Salary Range: $86,335 - $170,800.
Additional information and application here.

Assistant/Associate Professor of Intelligence Studies (Global Security and Intelligence Studies) - Embry-Riddle Aeronautical University - Prescott, Arizona
Embry-Riddle Aeronautical University's Prescott, Arizona campus is accepting applications for a tenure-track assistant or associate-level professor of intelligence studies to teach intelligence courses to students in the Global Security and Intelligence program. The successful candidate will teach students about the intelligence community, strategic intelligence, the intelligence cycle and intelligence analysis, writing, and briefing. Prior experience working in the intelligence community is strongly preferred. We are interested in candidates with teaching acumen in intelligence analysis and writing using structured analytical techniques.
Additional information and application here.

Teaching Associate - Intelligence and National Security Studies - Coastal Carolina University, South Carolina
The Department of Intelligence and Security Studies ( ISS ) at Coastal Carolina University is accepting applications for a pool of Teaching Associates (part-time adjunct faculty) to teach introductory and undergraduate elective course offerings for the program beginning in August 2022. While the ad is open to any specialization within the field of study, courses in the areas of homeland security, law enforcement intelligence, counter-narcotics, and cybersecurity are of particular interest. Course offerings can be in a face-to-face or synchronous online modality. To be considered, candidates must have a masters or doctoral degree in a relevant subject area. Prior professional experience in the profession, as well as prior teaching experience are preferred.
Additional information and application here.

Assistant Professor of Intelligence and National Security Studies - University of Texas, El Paso
The Department of Criminal Justice is seeking to fill one full-time tenure-track position beginning Fall 2023 at the Assistant Professor level. Responsibilities include conducting and publishing scholarly research, seeking extramural funding, teaching face-to-face and online courses, and service to the department, university, and profession. Applicants must have a Ph.D. in a closely related field in Intelligence and/or Security Studies from an accredited university (e.g., criminal justice, political science, public policy, security studies). ABD applicants will be considered if doctorate will be in hand by Fall 2023. Active research agenda and published scholarly journal articles are required to apply. Applicants with only a J.D., Psy.D., or Ed.D. will not be considered. All research/teaching areas of intelligence/national security studies will be considered, but preference will be given to candidates who have demonstrated teaching and/or research areas in at least one of these areas: Homeland Security, Intelligence Analysis, or Terrorism/Counter-Terrorism.

Additional information and application here.
---
Cleto DiGiovanni — CIA Station Chief, IC and Military Medical Doctor and Psych Consultant

Cleto DiGiovanni, Jr., MD, 88, was born and raised in Detroit, Michigan. After completing high school at Cass Technical High School, he went on to attend Dartmouth College in Hanover, New Hampshire, graduating in 1956 with an A.B. degree. During his time as a Senior Fellow at Dartmouth (1955-56), he conducted virology research in the laboratory of Dr. John Enders at Harvard and established a virus culture laboratory at the Mary Hitchcock Memorial Hospital in Hanover. Cleto then went on to receive his M.D. degree from the University of Michigan Medical School in Ann Arbor, Michigan in 1961. He completed his internship from 1961 to 1962 at Ohio State University Hospital in Columbus, Ohio. From 1962 to 1963, he held a U.S. Public Health Service Research Fellowship and conducted research in psychophysiology for the Project Mercury and Gemini space programs at the U.S. Naval Acceleration Laboratory in Johnsville, PA and the Lankenau Hospital in Philadelphia, PA. Cleto joined the U.S. Navy as a medical officer and was initially assigned to the 2nd Recon Battalion, U.S. Marine Corps at Camp Lejeune. He later volunteered for a one-year tour of duty with the Special Operations Group, Military Assistance Command, Vietnam (MACV-SOG) as the SOG Medical Officer and concurrently, the SEAL Team Diving Medical Officer. He extended his tour of duty with SOG by one year, serving with SOG SEAL and Marine Force Recon teams on China Beach near Danang during the first year and with SOG's Army Special Forces teams at Khe Sanh, Dak To, Dak Pek, and Kham Duc during the second year. After completing his tour of duty with SOG, Cleto was reassigned to the John F. Kennedy Center for Special Warfare at Fort Bragg, where he wrote a manual about the medical support of guerrilla teams located in denied areas. In mid-1966, he was discharged from the Navy as a lieutenant commander and immediately joined the Central Intelligence Agency as an intelligence officer in the Directorate of Operations. He held a variety of operational assignments, including serving as chief of station (overseas) and chief of operations for one of the geographic area divisions in the Operations Directorate. He worked with the CIA in Europe, the Far East, the Middle East, and Latin America. Cleto resigned from the CIA at the end of December 1978 and went on to write about security issues in Central America, serve as a consultant to private business interests, and assist in the first Reagan campaign as a foreign policy advisor. In 1983, he returned to medicine by entering a psychiatric residency program at The Johns Hopkins Hospital and a behavioral sciences fellowship program at The Johns Hopkins University School of Medicine in Baltimore, Maryland. While there, he initiated the psychiatric care of patients with HIV/AIDS in collaboration with the late Dr. Frank Polk. After completing residency, Cleto returned to Federal Service as a staff psychiatrist at the National Naval Medical Center in Bethesda, Maryland. He also held adjunct faculty appointments at The Johns Hopkins Hospital and School of Medicine in the Department of Psychiatry and the Department of Medicine (Division of Infectious Diseases), and an appointment at The Clinical Center of the National Institutes of Health as a Clinical Care Consultant. At the National Naval Medical Center, he continued his work with clinical care and research projects associated with HIV/AIDS. In the early 1990s, he gradually returned to operational issues and assignments, and from the mid-1990s to his first retirement from Federal Service in 2002, he worked full-time on counterterrorism and weapons of mass destruction. He played a key role in bringing attention to the significance of psychological factors in the nation's preparations for terrorist attacks involving weapons of mass destruction. During the 1990s, he also served as a collateral duty psychiatrist for the Federal Bureau of Investigation's Hostage Rescue Team, based in Quantico, Virginia. He worked closely with the U.S. Marine Corps' officer programs and held a collateral duty assignment as the psychiatrist for the U.S. Marine Corps Officer Candidate School (OCS) and The Basic School (TBS) at Quantico, Virginia. He taught a course called "Human Factors in Combat" for ten years at the Marine Corps' Infantry Officer Course, Quantico. He held appointments as an Adjunct Professor of Warfighting at the Marine Corps University, Quantico, an Assistant Clinical Professor of Psychiatry at the Uniformed Services University of the Health Sciences in Bethesda, Maryland, and was a member of the Consulting and Attending Staffs of the Washington Hospital Center in Washington, D.C. He retired from the federal government in 2002, but later accepted an invitation to work as the Public Health and Medical Advisor for the Defense Threat Reduction Agency's Advanced Systems and Concepts Office. During this time, he focused on studying the critical factors in public acceptance of disease containment strategies and was involved in several research activities related to infectious disease outbreaks. He served on several panels and committees related to quarantine, bioterrorism preparedness, and disaster preparation. He retired for a final time in 2007 and lived in Southern California until his death on Sunday, February 12, 2023. DiGiovanni authored or co-authored over 180 papers, chapters, and two monographs on medical and national security topics.
Paul Broadbent — Career CIA Operations Officer

Paul William Broadbent of Arlington, VA passed away peacefully on Tuesday, February 7, 2023, at the age of 81 of congestive heart failure. He was born in Cleveland, Ohio and attended St. Joseph's High School. Upon completing his enlistment in the U.S. Marine Corps (59-63), he enrolled and graduated from John Carroll University with a BA degree in history/philosophy (67). During his 35+ years as an operations officer in the Central Intelligence Agency (CIA), he took his family on wonderful adventures around the world. Through these experiences he instilled in his children an appreciation of different cultures; the value of life-long learning; and the importance of making the most of life and creating everlasting memories.
Jerrold Schecter — Longtime AFIO Member, Career Journalist, Procurer of Khrushchev's Secret Memoirs

Jerrold Leonard Schecter, 90, died on Feb. 6 at his home in Washington. Schecter was a longtime AFIO member and is best known as the journalist who in the late 1960s helped smuggle to the West the revelatory memoirs of the former Soviet premier Nikita Khrushchev, the first published account by a Soviet leader of goings-on inside the Kremlin. Among Mr. Schecters many accomplishments was a stint as foreign policy adviser in the Carter administration and collaborating with an adviser to South Vietnam President Nguyen Van Thieu to write "The Palace File: The Remarkable Story of the Secret Letters From Nixon and Ford to the President of South Vietnam and the American Promises That Were Never Kept" (1986). Schecter was born in New York City and grew up in the Bronx. After graduating from James Monroe High School in the Bronx, he earned a bachelor's degree from the University of Wisconsin in 1953. He served in the Navy in Japan during the Korean War and was discharged as a lieutenant. Mr. Schecter began his journalism career in 1957 as a correspondent for The Wall Street Journal. He joined Time in 1958 and was the Time-Life bureau chief in Tokyo from 1964 to 1968 and in Moscow from 1968 to 1970. He was a White House correspondent for Time from 1970 to 1973 and diplomatic editor from 1973 to 1977. From 1977 to 1980, he was an associate White House press secretary and spokesman for the National Security Council. After a stint as vice president for public affairs of Armand Hammer's Occidental Petroleum Company from 1980 to 1982, he returned to journalism as Washington editor of Esquire magazine from 1982 to 1984 and edited newspapers in Moscow from 1990 to 1994. He was also chairman of the Schecter Communications Corporation from 1983 to 2003.
David Barton — Intelligence Community Consultant

David Knox Barton, 95, formerly of Lexington and Harvard, MA, passed away peacefully at home in Hanover, NH, on February 11, 2023. David was born in in Greenwich, CT, graduated from the Edgewood School in 1944, and entered Harvard College immediately after graduation, where he pursued an accelerated program of study in the new field of Electronic Physics. He enlisted in the U.S. Army in 1946, where he worked on radars tracking the German V-2 rockets used in atmospheric research, and in tests of early U.S. guided missiles in New Mexico. Following his army service, he returned to Harvard, graduating in 1949 with an AB (cum laude) in Physics. After graduation, he returned to work as a radar engineer at White Sands from 1949 to 1953 before moving on to the Signal Corps Engineering Laboratories at Ft. Monmouth, NJ, where he initiated the development of a new radar for instrumentation of missile test ranges. In 1955, he joined RCA in Moorestown, NJ, where his work on instrumentation radar for joint-use of the three military services resulted in his being awarded RCA's first David W. Sarnoff Award for Outstanding Achievement in Engineering in 1958. Barton then moved on to work as a Consulting Scientist at the Raytheon Company in Massachusetts from 1963 to 1983, where he continued in radar system design and analysis. During this period, he originated the design of the ground-approach radars for the U.S. Air Force, as well as serving as system engineer for the Missile Site Radar designed for use in the Nike-X, the Bell Telephone Laboratory's ballistic missile defense system. He was elected a Fellow to the Institute of Electrical and Electronics Engineers (IEEE) in 1971 for contributions to tracking radar. David also received the 2002 Dennis J. Picard Medal for Radar Technology and Applications. In recognition of his international standing and contributions to the field of radar, in 1997, he was elected to the National Academy of Engineering. Barton was also a prolific author and editor of books and articles. His first book, Radar System Analysis (1964), was an internationally accepted text in the field for over two decades. Throughout his later career, Barton served on many government advisory panels, including the Defense Intelligence Agency Advisory Committee (1980-1992), the Air Force Scientific Advisory Board (1989-1993), and the NSA Scientific Advisory Panel (2005-2009). In addition, he was the principal consultant on radar systems to the CIA from 2000-2012. He continued to serve as a consultant until he officially retired at age 90 in 2017.
Leslie McMellon — Career CIA Officer

Leslie Colley McMellon, Jr., 86, of Hertford, passed away peacefully on Tuesday, February 14, 2023. Mr. McMellon was born in Fall River, MA. A veteran, he proudly served in the U.S. Air Force from 1956 to 1961, and had a 30 year career with the Central Intelligence Agency having worked in both the United States and overseas.
Charlie Trimble — Career NGA Officer

Charles "Charlie" David Trimble, age 75, entered into rest Friday, February 10, 2023 in House Springs, Missouri. Born in St. Louis, Missouri, Charlie worked 43 years with National Geospatial-Intelligence Agency (NGA), a combat support agency within the United States Department of Defense, in defense mapping. He dedicated 4 of those years with the Airforce.
Edie Wray — Career DIA Officer

Edith "Edie" M. Wray, 81, passed away at Geisinger Lewistown Hospital on Monday, February 13, 2023. She was born in Decatur Township (Old Stage Road), Mifflin County, Pennsylvania and graduated from West Snyder High School. Edie's professional life started in the fall of 1959-1960 when she worked for Doctors Whitehall and Rodriguez in Lewistown, and worked for the Navy Department (Bureau of Ships), and the Labor Dept (Office of Solicitors). She worked for the Defense Intelligence Agency (DIA) from Jan. 1964 through Feb. 1995. At DIA, Edie worked in the Scientific and Technical Intelligence Arena (Assistant Director's Office, Chemical Division, Administration Office, and the Missile and Space Division). In May 1971, she then moved to the office of the Assistant Director for Communications in the Pentagon. Due to reorganization, she was moved to the Systems Architect Office (computers) in May 1985.
---
02 Mar 23 (Thursday), 1900 (CT) - Virtual via Zoom - AFIO San Antonio hosts Zbigniew Wojcik, author of "Slaying the Soviet Beast" on Communist Chinese Party infiltration of western technical, educational, and research organizations. Dr. Wojcik is a Polish scholar who was able to get to the U.S. as a visiting professor. He was not able to bring his family to the United States while the communist were in power, but now has his family with him. Wojcik gave the CIA important information about the communist government's weakness. That story is outlined in his book "Slaying the Soviet Beast." He has first hand experience with Chinese Communists infiltration of US educational organizations. We will forward meeting links several days prior to the actual meeting. Questions to John Franklin, Chapter President, at satxafio@gmail.com.
16 Mar 23 (Thursday), 1130 (MST) - In Person - Colorado Springs - The AFIO Rocky Mountain Chapter hosts Dave Humpert, discussing "1983 The Year of Maximum Danger." ABSTRACT: "During my first years in Washington, I think many of us in the administration took it for granted that the Russians, like ourselves, considered it unthinkable that the United States would launch a first strike against them. But the more experience I had with the Soviet leaders and other heads of state who knew them, the more I began to realize that many Soviet officials feared us not only as adversaries but as potential aggressors who might hurl nuclear weapons at them in a first strike." President Ronald Reagan - "The American intelligence misconception was not to fully realize the nature of Soviet fears and the implication of those fears….Understanding other people's misconceptions is a long-standing problem in intelligence analysis."

BIO: During his varied career as a USAF Soviet/Russian military and political specialist, Dave relied on his knowledge of Russian political and military history and its culture with two degrees in Russian Area Studies. His Russian language ability was invaluable as an interpreter, translator, and source-language analyst in a variety of challenging assignments for the USAF and the operational intelligence community. In 2002, Dave retired from the USAF and began a career in DIA as the Senior Analyst for Political-Military Strategic (Russia) issues with the J2 Directorate, NORAD/USNORTHCOM. He performed additional intelligence duties for CIA, NSA and Department of State until his final retirement in 2016. This is an in-person event. For event location and other information, contact Steve Pease at steve13507@gmail.com.
See the AFIO Calendar of Events for scheduling further in the future.
---
22 Feb, 1300-1500 (ET) - Virtual - Winter Cryptologic Program featuring Patrick Weadon discussing his book Night Raid on Truk: Bill Martin, Joe Doyle, VT-10, and the First US Navy Carrier Raid (published Oct 2022) - National Cryptological Foundation
In addition to updates about the Foundation and the National Cryptologic Museum (NCM), the program will feature a special presentation by author and former NCM curator Patrick Weadon, curator for the National Security Agency's (NSA) National Cryptologic Museum from January 2005 to September 2020. Prior to his appointment as chief of the Museum, Mr. Weadon spent 20 years at the NSA where he served in such diverse positions as Special Agent, Intelligence Research Analyst, and Public Affairs Officer. He also served on active duty with the U.S. Navy in the days and months following September 11th, 2001. Before coming to the Agency, he interned during the Carter Administration at the President's Council on Environmental Quality and worked on Capital Hill for Legislate Inc., a division of the Washington Post Company. Mr. Weadon holds a B.A. in Politics from the Catholic University of America, an M.A. in Legal and Ethical studies from the University of Baltimore, and an MA in history from American University. Mr. Weadon also served as an adjunct professor in the Department of History for Anne Arundel Community College from 2009 until 2013, and in 2003, he was inducted into the nationally recognized history honor society, Phi Alpha Theta. During his tenure as curator, Mr. Weadon was prominently featured in the New York Times, Baltimore Sun, and a wide range of other diverse print and broadcast media outlets to include National Public Radio, the History and Discovery Channels and the Tokyo Broadcast System. In addition, he is the two-time winner of the George Jelen Literature Achievement Award for excellence in matters dealing with OPSEC (Operations Security), and has written for The New York Times, The Washington Post, The Baltimore Sun, and The Annapolis Capitol. Mr. Weadon is a native of Washington D.C and currently resides with his wife Catherine and four children in Severna Park, Maryland. He is an avid sports fan having played both ice hockey and lacrosse during his college years and served for many years as as coach for both sports on the youth level for the Severna Park Green Hornets and Navy Youth Hockey program. Program is free, but registration is required. (Full details here.)
Wednesday, 22 February 2023, 1830 (ET) - Washington, DC - THE SOUND: Mystery of Havana Syndrome - In-Person event at International Spy Museum
In December 2016, a US official in Havana went to the embassy medical centre to report a debilitating and confounding illness. The symptoms included headaches; nausea; hearing loss; problems with memory and vision. And its onset was characterized by hearing… something. A buzzing, hissing, grinding…sound. Soon, a second official came down with the same symptoms. Then a third. Then a fourth. By the time the story went public in summer 2017, dozens of US diplomats, as well as some Canadians, had come down with what was becoming known as "Havana Syndrome." In recent years, The US agencies have failed to agree even on the basic premises. State department said it's a "sonic device," then rolled that back. The CIA have hinted microwave radiation might be involved. The FBI said there was no "there" there. Now they seem to be rolling that back as well. A new investigative podcast series — THE SOUND: Mystery of Havana Syndrome—from Project Brazen and PRX, peels back the layers of one of the most bizarre mysteries of the modern age. Join International Spy Museum Historian and Curator Dr. Andrew Hammond for a live panel with Nicky Woolf, investigative journalist and host of THE SOUND; Marc Polymeropoulos, the CIA officer who suffered debilitating symptoms in Moscow; and Mark Zaid, the American attorney who says new victims are coming forward all the time. They'll explore the wild and wide variety of theories that have been put forward. Could it be caused by noisy crickets? Or mosquito spray? A mass delusion? Or a foreign attack? After their conversation, you can ask Nicky, Marc and Mark for their insight into other aspects of the mystery they have come to know and understand so well. Reception to follow. 
More about the podcast and event here.
Thursday, 23 February 2023, 1200 (ET) – Washington, DC – Virtual Spy Chat with Chris Costa ft. Special Guest: Dexter Ingram – Virtual International Spy Museum Program
Join us for an online discussion of the latest intelligence, national security, and terrorism issues in the news. Spy Museum Executive Director Chris Costa, a former intelligence officer of 34 years, will be joined by Dexter Ingram, Senior Advisor, US Department of State. Ingram is a counterterrorism and counter weapons of mass destruction strategist with over 25 years of experience. He has served as an Advisor to the Special Presidential Envoy for the Global Coalition to Defeat ISIS; Senior Counterterrorism Advisor to INTERPOL in Lyon, France; Senior Political Advisor in Helmand, Afghanistan; Deputy Director of the State Department's Preventing WMD Terrorism team; and as a senior liaison to the FBI and DHS. Ingram led many US interagency delegations to Asia and Africa focusing on nuclear proliferation deterrence. In 2010, Ingram became the first US recipient of the International Counterterrorism Fellowship at National Defense University. He has focused extensively on how information-sharing through law enforcement channels ensure Americans' safety. Ingram began his career as a Naval Flight Officer, fueling his dedication to public service. Ingram serves on the Spy Museum's Advisory Board, and he is actively involved in educational initiatives that empower underserved public schools. This program is generously supported by Spy Museum Board Member Katherine Wood. Program is free of charge but requires advanced registration. More about event here.
Thursday, 23 February 2023, 1400-1500 (ET) – Washington, DC – SPY with Me: Memory Loss Program – Virtual International Spy Museum Program
SPY with Me is an interactive virtual program for individuals living with dementia and their care partners. Join SPY as we use music and artifacts to explore some of our favorite spy stories. Programs last one hour and are held virtually through Zoom. Every month the same program is offered on two different dates. To register, please email Shana Oltmans at soltmans@spymuseum.org. Free but space is limited. Register below.  More about event here.
Monday, 27 February 2023, 1830-2100 (ET) – Washington, DC – Lock Picking 101 – In Person International Spy Museum Program Located at Tolson at The Mayflower Hotel (1127 Connecticut Avenue, NW, Washington DC 20036)
We may be using fingerprints to open our phones these days, but before biometrics, spies had only one way into a secure treasure house of information: lock picking. Surreptitious entry gets an operative in and out, no questions asked. In this workshop, led by District Locksport, you'll find out how locks work and how to pick them, you'll try your hand at getting out of zip-ties and handcuffs, and you'll also discover the truth about field expedient lock picking tools – in other words, just how handy a bobby pin can be. Participants will work in small groups getting hands-on practice with lock picking experts, and once you've gained some skill, you'll compete against other pickers on timed challenges to open locked cases. The workshop will be held at Tolson at The Mayflower Hotel, a hotel that was the scene of many famous spy stories.  The restaurant is named for the FBI's longtime head J. Edgar Hoover who dined at The Mayflower daily and Tolson is a nod to his protégé and lifelong confidant. A "Pick Your Poison" drink menu is featured for us this evening. A few drinks really help your lockpicking skills activate. Food and drink will be available for purchase throughout the event. Tickets: $40; Members: $30. Museum admission is included in your ticket. All attendees must have a ticket. More about event here.
Tuesday, 28 February 2023, 1400-1500 (ET) – Washington, DC – SPY with Me: Memory Loss Program – Virtual International Spy Museum Program
SPY with Me is an interactive virtual program for individuals living with dementia and their care partners. Join SPY as we use music and artifacts to explore some of our favorite spy stories. Programs last one hour and are held virtually through Zoom. Every month the same program is offered on two different dates. To register, please email Shana Oltmans at soltmans@spymuseum.org. Free but space is limited. More about event here.
Wednesday, 01 Mar 2023, 1200 - 1300 (ET) – The Ukraine Conflict One Year Later: An Intelligence Perspective - Johns Hopkins University - Virtual
Join host Michael Ard for a discussion with former CIA Operations Officer James Acuna as they discuss, "The Ukraine Conflict One Year Later: An Intelligence Perspective." James Acuna has nearly three decades of experience in intelligence operations in both the public and private sector, including nearly 20 years as an Operations Officer with the Central Intelligence Agency. Based in Tallinn, Acuna is founder of Frontier Vectors, a US and European based security and business consultancy service for Eastern European start-ups and American VCs. Reserve a spot here.
13 Mar 23, 1700 - 1800 (ET) – Publishing with Intelligence - Institute of World Politics – Virtual
This information-filled seminar will discuss getting your article or manuscript to be published by an academic journal or obtaining a contract for a book. The forum will provide a book proposal template used by some major book publishers and how proposed articles make it through a double-blind review process for an academic publication. A question and answer period will dominate the forum, and attendees are encouraged to bring any proposed manuscripts they seek to publish. About the Speaker: Dr. Jan Goldman is Professor of Intelligence and Security Studies at The Citadel. His research areas focus on ethics and intelligence operations, secrecy, intelligence analysis, psychological operations, intelligence in civil society, and intelligence education. He has over 25 years experience working in the U.S. intelligence community. He taught for many years at the National Intelligence University (formally known as the National Defense Intelligence College) and the FBI Academy at Quantico, Virginia. He is the organizer for several international academic and professional intelligence conferences held at Johns Hopkins University, Georgetown University, and Oxford University. He is currently the editor-in-chief of the highly respected International Journal of Intelligence and Counterintelligence; the founding editor for professional textbooks – Security Professionals Intelligence Education Series (S.P.I.E.S. at Rowman and Littlefield Publishers); a member of several academic, research and publishing advisory boards; co-founder of the non-profit International Intelligence Ethics Association; and the founding editor of the International Journal of Intelligence Ethics. He is the author or editor of numerous publications to include, as a co-author, Intelligence and Information Policy for National Security: Key Terms and Concepts (Rowman and Littlefield, 2017). His two-volume The Central Intelligence Agency: An Encyclopedia of Covert Operations, Intelligence Gathering, and Spies (ABC-CLIO, 2016) honored as Editors' Top Community College Resources award and the Best Reference Title award of 2016; and War on Terror Encyclopedia: From the Rise of Al Qaeda to 9/11 and Beyond (ABC-CLIO, 2015). Dr. Goldman is an internationally recognized expert on ethics and intelligence, and the only intelligence analyst to be awarded "current and warning intelligence expert" at the Defense Intelligence Agency. Free registration here.
14 Mar 23, 0900 - 0945 (ET) – Coffee and Conversation with DIA China Mission Group Chief Doug Wade - INSA – Virtual
Join intelligence community colleagues online for a Coffee and Conversation with Doug Wade, Chief, China Mission Group, Defense Intelligence Agency (DIA). In this 45-minute discussion with Larry Hanauer, INSA Vice President for Policy, Mr. Wade will discuss China's military capabilities, technology innovation, space and cyber strategies, and political/economic influence on countries around the world. He will also discuss the value of open source intelligence in understanding China, prospects for conflict in the Taiwan Straits and elsewhere in the Pacific, and lessons from the Russia-Ukraine war that could be applied to a conflict with China. Free registration here.
19 - 28 Mar 23 - Washington DC to Europe and back - Gary Powers' 10-Day Cold War Espionage Tour
Join author and historian Gary Powers Jr. on this unforgettable 10-day tour of Cold War and Espionage related sites throughout Germany and the Czech Republic

Day 1: Departure from the USA; Day 2: Arrival Berlin; Day 3: Berlin - Potsdam - Berlin; Day 4: Berlin; Day 5: Berlin – Leipzig – Dresden; Day 6: Dresden – Prague – Pilsen; Day 7: Pilsen – Míšov – Pilsen; Day 8: Pilsen – Rozvadov – Nuremberg – Stuttgart; Day 9: Stuttgart – Sinsheim – Speyer – Frankfurt; Day 10: Departure for the USA.

Included Visits: Berlin Wall Memorial • Checkpoint Charlie Museum • German Spy Museum • Military History Museum Gatow • Glienicke Bridge • Hohenschönhausen Memorial • Berlin Stasi Museum • Allied Museum on Clay Allee • Museum in Der Runde Ecke • Leipzig Forum of Contemporary History Museum • Dresden's Military History Museum • Bautzner Strasse Dresden Memorial • KGB Museum • Prague Museum of Communism • Vitkov Hill Nuclear Bunker • Pilsner Urquell Brewery • Atom Museum • Iron Curtain Museum • Nuremberg Trials Memorial • Stuttgart Cold War Bunker • Sinsheim Technik Museum • Speyer Museum of Technology.

Tour Name: Gary Powers' Cold War Espionage Tour - view tour; Group Name: Garypowers.Com Tours; Departure City: Washington, DC; Tour Departure Date: March 19, 2023; Tour Return Date: 28 Mar 23.

Tour Price: $3,950.00 (deduct $950 for land only tour) per person, assumes 2-person registration.

For full description of the activities and accommodations on each of those dates and locations, explore full information about the tour here or Call 1.800.323.4466.

To enroll now for this 2023 once in a lifetime tour, do so here.

ALSO See: "Enemy Territory: The Story of American CIA U-2 Pilot Francis Gary Powers" - A Graphic Novel by Francis Gary Powers Jr. and Walter Pfenninger.
13-14 Jul 23 – 2023 Intelligence and National Security Summit - AFCEA/INSA - In Person - National Harbor, MD
"The Nation's Premier Intel and National Security Event" - Save the date for the 10th Annual AFCEA/INSA Intelligence and National Security Summit! The powerful, two-day program, at the Gaylord National Resort, will feature five blockbuster plenaries, six engaging breakout sessions, and a jam-packed exhibit hall full of the latest IC technology innovations. Top leaders will discuss State of the Community, Military Intelligence Priorities, Strategic Intelligence, and Cybersecurity Challenges. Breakout sessions with senior leaders, technology experts, and thought leaders will examine some of the most pressing issues facing the community. Plus, powerful networking opportunities designed to foster partnerships and relationship building. Stay tuned! Registration to open in early March. Check for updates here.
---
---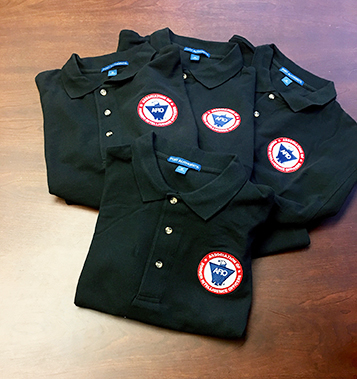 Now available: Black short-sleeved polo shirts with Embroidered AFIO logo
Show your support for AFIO with our new Black Short-sleeve Polo Shirts. Shirts are shrink and wrinkle resistant of fine cotton with a soft, "well-worn, comfy" yet substantial feel. They feature a detailed embroidered AFIO seal. Get a shirt for yourself and consider as gifts for colleagues, family, and friends. Only $50 each including shipping.
Sizes for (M) men, only; Small, Medium, Large, XL, XXL, and XXXL. $50 per shirt.
You may pay by check or credit card. Complete your order online here or mail an order along with payment to: AFIO, 7600 Leesburg Pike, Ste 470 East, Falls Church, VA 22043-2004. Phone orders at 703-790-0320. Questions? Contact Annette at: annettej@afio.com.
---

PopSocket for cellphones or tablets
Show your support to AFIO while enjoying the convenience offered by our AFIO Logo PopSocket. The PopSocket is most commonly used as a stand and as a grip for your mobile phone or tablet; handy for taking selfies, watching videos, and for texting. The PopSocket looks like a small button or sticker which, when closed, sticks flat to your mobile device. However, its accordion-like design enables it to pop open for use. The benefits of using a PopSocket make it a must-have accessory for your mobile phone or tablet. It also aids in keeping your phone from slipping off your hand during use, falling, or breaking.
Price: $15. Order this and other store items online here.
---


Caps - Dark Navy with Navy AFIO Logo
An authentic silhouette with the comfort of an unstructured, adjustable fit. Fabric: 100% cotton. Unstructured. Fabric strap closure with adjustable D-clip. Price: $30. Order this and other store items online here.
---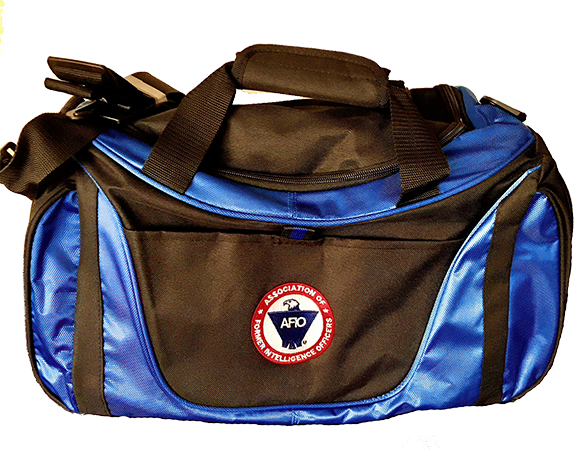 Duffel Bags - Royal Blue and Black with Full Color AFIO Logo This duffel has it all when it comes to value, style and organization.
600 denier polyester canvas with polyester double contrast; D-shaped zippered entry for easy access. Front pocket with hook and loop closure. End mesh pocket Easy-access end pockets. Four durable, protective feet and built-in bottom board for added strength. Web handles with padded grip. Detachable, adjustable shoulder strap.
Dimensions: 11"h x 19.75"w x 9.75"d; Approx. 2,118 cubic inches
Price: $50. Order this and other store items online here.
---
AFIO Mug with color glazed seal.

Made in the U.S.A., dishwasher-safe.
$35 includes shipping.

Sip your morning joe in style or use it to stash pens, cards, paperclips, or candy.
Order this and other store items online here.

---
JUST PUBLISHED
FOR 2023
Be informed on career opportunities in the U.S. Intelligence Community
Intelligence as a Career - with updated listings of colleges teaching intelligence courses, and Q&As on needed foreign languages, as well as the courses, grades, extracurricular activities, and behavioral characteristics and life experiences sought by modern U.S. intelligence agencies.

AFIO's popular 47-page booklet reaches thousands of high school, college students, university guidance offices, and distributed in classes teaching intelligence, to help those considering careers in the U.S. Intelligence Community.

This is the all new fifth edition.
The publication is also popular with University Career Guidance Centers, professors and academic departments specializing in national security, and parents assisting children or grandchildren in choosing meaningful, public service careers.
This booklet is provided online as a public service from the generosity of AFIO board, volunteer editors/writers, donors, and members.
We thank all for their support which makes this educational effort possible.
Careers Booklet (new 2023 Fifth Edition) can be read online here

or downloaded as a PDF here
Careers webpage
---
Guide to the Study of Intelligence...and...When Intelligence Made a Difference
"AFIO's Guide to the Study of Intelligence" has sold out in hard-copy.
It is available in digital form in its entirety on the AFIO website here.

Also available on the website here are the individual articles of AFIO's
history project "When Intelligence Made a Difference" that have been
published to date in The Intelligencer journal. More articles will be appear in future editions.
---
Address Technical Issues Or Unsubscribe
Some features of the email version of the WIN do not work for readers who have chosen the Plaintext Edition, some users of AOL, and readers who access their email using web mail. You may request to change from Plaintext to HTML format here afio@afio.com. For the best reading experience, the latest web edition can be found here: https://www.afio.com/pages/currentwin.htm
To unsubscribe from the WIN email list, please click the "UNSUBSCRIBE" link at the bottom of the email. If you did not subscribe to the WIN and are not a member, you received this product from a third party in violation of AFIO policy. Please forward to afio@afio.com the entire message that you received and we will remove the sender from our membership and distribution lists.
---
Disclaimer and Legal Protection
Weekly Intelligence Notes (WINs) are a carefully selected collection of timely open source reports and announcements and other media focused on intelligence and related national security matters that is produced for non-profit educational use by AFIO members and WIN subscribers. WINs are protected by copyright and intellectual property laws. They may not be reproduced or re-sent without specific permission from the Producer. Opinions expressed in the materials contained in the WINs are solely those of the content creators listed with each item. Notices in the WINs about non-AFIO events do not constitute endorsement or recommendation by AFIO.

(c) 1998 thru 2022


---

AFIO Members Support the AFIO Mission - sponsor new members! CHECK THE AFIO WEBSITE at www.afio.com for back issues of the WINs, information about AFIO, conference agenda and registrations materials, and membership applications and much more! .

AFIO | 7600 Leesburg Pike, Suite 470 East, Falls Church, VA 22043-2004 | (703) 790-0320 (phone) | (703) 991-1278 (fax) | afio@afio.com
---
About AFIO | Membership Renewal | Change of Address | Upcoming Events | Chapter Locations | Corporate/Institutional Memberships | Careers in Intelligence Booklet | Guide to the Study of Intelligence | Intelligencer Journal | Weekly Intelligence Notes | Make A Donation | AFIO Store | Member-Only Section | Code of Ethics | Home Page
RETURN TO TOP
---