AFIO Weekly Intelligence Notes #44-06 dated 6 November 2006
Weekly Intelligence Notes (WINs) are commentaries on Intelligence and related national security matters, based on open media sources, selected, interpreted, edited and produced by for non-profit educational uses by members and WIN subscribers. WINs are edited by Ernest Hampson, Ph.D., with input from AFIO members and staff.
It is sent to all AFIO members on an Opt-In basis. IF YOU DO NOT WISH TO RECEIVE THESE NOTICES....SEE THE EASY ONE-CLICK REMOVAL INSTRUCTIONS AT Bottom
CONTENTS of this WIN [HTML version recipients - Click title to jump to story or section, Click Article Title to return to Contents. This feature does not work for Plaintext Edition or for some AOL recipients]. If you wish to change to HTML format, let us know at afio@afio.com. The HTML feature also does not work for those who access their e-mail using web mail...however NON-HTML recipients may view the latest edition each week in HTML at this link: https://www.afio.com/pages/currentwin.htm
---
EDITOR'S NOTES: Questions or suggested items can be directed to WINsEditor@afio.com -Ernie Hampson.
---
For Additional Events two+ months or more....view our online Calendar of Events
---
SECTION I - CURRENT INTELLIGENCE
HAYDEN CARRIES MESSAGE FROM PRESIDENT TO SAUDI KING AFTER COALITION REACTS TO TERROR ALERT CIA Director General Michael Hayden recently arrived in the Red Sea port city of Jeddah carrying a message from President Bush to Saudi King Abdullah. Hayden did not elaborate on the contents of the message, but his trip comes on the heels of the U.S. and coalition partners shuffling naval forces in the Gulf in reaction to recent threats of a sea-borne terror operation against oil production facilities in the kingdom. In addition to the king, Hayden met with the chief of Saudi intelligence, Prince Miqren bin Abdulaziz, and other royal advisers. Interior ministry spokesman General Mansur al-Turki said that oil facilities in Saudi Arabia are high profile targets, but that sufficient security measures are in place to protect them. A coalition spokesman based in Bahrain announced, "Coalition forces are taking prudent, precautionary measures and focusing maritime security operations in the Gulf on these possible threats." Lieutenant Commander Charlie Brown said the measures were "in response to recent threats to oil infrastructure in the Gulf, including public statements by Al Qaeda leadership". An unnamed State Department official in Washington confirmed the threats, but gave no further details. The Saudis have arrested two brothers in connection with the threats who are suspected members of "the deviant minority"- the Saudi term for al-Qaeda. One of the brothers recently completed studies at King Fahd University of Petroleum and Minerals at Dhahran. [PJK/GulfTimes 29Oct06]
OFFICIALS CONFIRM A MAJOR SECURITY BREACH AT U.S. NUCLEAR WEAPONS LABORATORY Security problems at Los Alamos National Laboratory, one of the nation's primary centers for nuclear weapons research, continue as three portable "thumb drives" belonging to the lab were found during a drug bust. The drives were discovered by police under a mattress in the trailer of Jessica Quintana, a former contract employee at the lab who held security clearances to special access programs. Quintana's employment contract at the lab had expired just weeks before this incident. Los Alamos has confirmed the security breach, but would not discuss what was contained on the drives. On October 17, Los Alamos police responded to reports of a fight at Quintana's home. At the trailer they found Justin Stone, 20, who was wanted on an outstanding probation violation warrant. A search of the trailer uncovered a cache of drug paraphernalia connected with methamphetamine use. Quintana admitted that at least one glass pile with methamphetamine residue was hers. Police did not charge Quintana, but referred her case to the district attorney's office for review. Quintana had been working at a local YMCA as a director of an after school program since her employment at the lab lapsed, but the YMCA says that she was fired after news of the drug bust was publicized. Stone was taken into custody on the probation violation. The police report also included the three thumb drives that had markings indicating they belonged to the Los Alamos lab. Los Alamos has had a history of security breaches dating back to 1999 when a lab scientist, Wen Ho Lee was charged with passing classified information to the Chinese. Lee finally pled guilty to the lesser charge of mishandling nuclear information and prosecutors dropped the other charges. Most recently, in July 2004, the lab was closed down after two computer hard drives containing classified data went missing and an undergraduate intern was injured in a laser experiment. The subsequent investigation concluded that the drives reported missing never actually existed. The closure of the lab cost an estimated $360 million. Due to the series of security lapses, the laboratory management contract held by the University of California was severed and re-competed. A team led by Bechtel corporation, with UC as a member with other industrial partners, won the new contract and was under pressure to get the lab's security under control. Many in Washington believe the Los Alamos lab has a "cowboy culture" that disdains government oversight and strict security practices. This latest scandal comes as the Los Alamos lab is in competition with Lawrence Livermore Laboratory to head the research on the government's newest nuclear device, the reliable replacement warhead. [LawrenceS/LATimes 26Oct06/Vartabedian]
SET BACKS IN THE GOVERNMENT'S INVESTIGATION OF THE 2001 ANTHRAX ATTACKS The U.S. investigation into an al-Qaeda link to the 2001 anthrax attacks have been further stymied with the Pakistani announcement that it has no evidence upon which to base an arrest of Pakistani microbiologist Abdur Rauf. Rauf is suspected of being al-Qaeda's chief bio-warfare scientist after documents were discovered in Afghanistan linking him to anthrax research for the terrorist group. Allegedly Rauf used his status in the scientific community to travel throughout Europe gathering material for his research to weaponize anthrax for al-Qaeda. He supposedly reported directly to al-Qaeda number two man Ayman al-Zawahiri. In a 1999 note to Zawahiri, Rauf ominously reported, "I successfully achieved the targets." The U.S. has tried for five years to bring charges against the man, but has met with resistance from the government in Pakistan. Rauf, 47, was detained by Pakistani authorities in 2001 for questioning, but was officially free. In response to the lack of progress , the FBI inactivated the case against Rauf last year. "We will never close the door, but the chances of getting him into the United States are slim to none," said one U.S. intelligence official. Although Rauf is certainly a person of interest, many in the FBI doubt his or al-Qaeda's involvement in the U.S. anthrax attacks. Although a U.S. commission investigating lapses of intelligence leading up to the 9/11 attacks concluded that al-Qaeda, "had acquired several biological agents possibly as early as 1999, and the necessary equipment to enable limited, basic production of Agent X [generally believed to be anthrax]" the FBI does not believe the modus operandi of the 2001 anthrax attacks fits al-Qaeda. First they point to the notes that accompanied the anthrax spores that warned victims to take penicillin, thereby decreasing the death toll. The attacks claimed five lives. Further, al-Qaeda has never claimed responsibility for the attacks, which also does not fit their standard operating procedures. The finely ground spores, however, were simply made and could have been produced anywhere in the world, so al-Qaeda cannot be ruled out. [WashPost 31Oct06/Warrick]
---
SECTION II - CONTEXT AND PRECEDENCE
ISRAEL MAY ACT AS TEMPLATE FOR U.S. INTERROGATION PROGRAM In 1999, the Israeli Supreme Court handed down a decision that made harsh physical interrogation illegal. The court stipulated, however, that an interrogator could offer a retroactive defense for the use of physical torture in "ticking time bomb" situations, when an imminent threat existed and the subject of the interrogation was believed to have information that could belay the threat. President Bush is required by a recent Congressional bill that he signed into law to issue an Executive Order outlining which interrogation techniques the U.S. Intelligence Community is allowed to use. The law's supporters say that it curbs the use of controversial techniques such as water-boarding. The President may use the Israeli experience as a guide as he makes his decision.
The Israeli Supreme Court decision followed fifteen years of debate on interrogation after, in 1984, two Palestinians were beat to death while in Israeli custody. The two were suspected in the hijacking of a Gaza bus. In the fallout from the killings, the head of the Shin Bet intelligence service and 10 of his agents linked to the incident received a presidential pardon and a government review concluded that agents had the right to use "moderate psychological and physical force."
Human rights studies have shown the use of harsh physical interrogation methods has declined in Israel since the Supreme Court's decree, and that Israel now relies on psychological tricks, informants and electronic surveillance to solicit information. Some believe that the psychological methods are more harmful than the physical methods, though. Mahmoud Sehwail, the director of the Palestinian torture-treatment center, said, "They concentrate on psychological torture because it doesn't leave physical marks, and the harm is more severe and more long-lasting than the physical. What is the aim of torture? It's not to kill his body, it's to kill his spirit and kill his soul."
For 48 days this past summer, Mohammed Barghouthi – the labor minister for the Palestinian Authority was held and questioned by Israeli intelligence. He described being chained in uncomfortable positions while his family was threatened, interrogators screamed at him, and he was forced to watch the humiliation of other Palestinians. "I am able to forget the physical torture, but not the psychological torture," he said. "I could take the treatment if I had done something wrong, but when the arrest is political, it is hard to take."
Last month the Israeli daily newspaper Yediot Ahronot published an interview with an anonymous interrogator identified only as M. M said that teh allowable techniques included using tricks and fake documents, and even lies such as telling the subject that you just killed someone in the next room. He said that the results of physical painful interrogation are unreliable as the subject would say anything to stop the pain. "In the end, your goal is not to get an admission out of them but to get a reliable admission out of them," he said.. [PJK/DallasMornNews 29Oct06/McClatchy Newspapers]
INSIDE THE NATIONAL COUNTERTERRORISM CENTER In a non-descript office building in Northern Virginia, sits the nation's hub of counter-terrorism intelligence coordination and analysis efforts. U.S. News and World Report journalists were recently given unprecedented access to the the National Counter-Terrorism Center (NCTC) and its leadership and published a five-page article detailing the experience.
Created in the aftermath of the 9/11 attacks by Congressional decree, the NCTC is mandated to coordinate and synthesize the information flowing from 30 highly classified reporting networks from the 16 agencies of the U.S. Intelligence Community (IC) and federal and local law enforcement channels. Headed by Vice Admiral (Ret.) Scott Redd, NCTC holds daily briefings with all the major IC members and government representatives, including those from the White House. These briefings are designed to de-conflict the activities of the various organizations involved in counter-terrorism investigations and operations. Kevin Brock, principal deputy director of NCTC, tells of a recent briefing in which one agency described an opportunity to nab a terrorist suspect. Another agency immediately chimed in that if that particular subject were apprehended a major source of intelligence would be lost. Brock directed the two agencies to work out the conflict between themselves, which they did (details not provided). One congressional staffer called the NCTC "a miracle" and was only half joking. NCTC Director Redd says, "We're the only place in the U.S. government where all that information comes together. There are no boundaries in this business." Director of National Intelligence (DNI) John Negroponte calls the NCTC the biggest change that has occurred during his 18 months in office. However, he recognizes that the NCTC is already butting heads with other agencies who have historically run counter-terrorism missions, especially the CIA's Counter-Terrorism Center which has been around since 1986.
NCTC was enacted by a 2004 law which gave it a "strategic operational planning" role, which has not wholly been defined. Redd says that sometimes it is easier to say what NCTC isn't. He is quick to point out that it is not like the counter-terrorism organization portrayed in the hit Fox TV series 24. NCTC does not have agents in the field going after terrorists. "Jack Bauer doesn't live here," Redd likes to say. Brock describes the NCTC as the "air traffic controllers" for counter-terrorism intelligence and operations, making sure the various agencies don't trip over each other in the field.
The center piece of the NCTC is its 24-hour operations center that was designed with input from Walt Disney's Imagineers, and looks like Hollywood's version of a government intelligence center. Giant screens dominate the front of the room, displaying anything from broadcast of an Arab satellite news channel or the radar map over New York City to a highly classified live feed from an armed Predator drone over Afghanistan. The operations center is manned 24 hours a day, seven days a week by at least a dozen intelligence experts. Both the CIA and FBI maintain their own independent watch centers in the same space. Don Loren, a retired naval officer who runs the operations center, says, "We are getting paid to say who knows about this information we've just come across, who needs to know about it, and what are they doing about it." [PJK/USN&WR 29Oct06/Whitelaw]
CANADA'S SIX DECADES IN THE SIGNALS INTELLIGENCE GAME In a secret 1948 (maybe 1947, the exact year is disputed) agreement deemed UKUSA, the contents of which have never been revealed, Canada's role in the development and perpetuation of global signals intelligence (SIGINT) efforts was cemented. The original five nations running the SIGINT efforts, the United States, United Kingdom, Canada, Australia, and New Zealand, have been joined by dozens of other nations wishing to secure their countries by eavesdropping on the communications of every nation except their own. Technically, this invasion on private communications is against international agreements, but no one protests too loudly.
Each nation under the agreement operates its own listening stations, as well as emplacing listening devices in other countries and along the lines of communication between countries. Canada's most important station is located at Leitrim, a small community near Ottawa. The station that was originally built in the countryside in 1941 now sits near the end of Bank Street, just off highway 31 that transports Canadians to the capital's airport and subdivisions. Canada's version of the National Security Agency, the Communications Security Establishment (CSE) never talks about the Canadian Forces base at Leitrim, codenamed CAF97, but it has long been rumored to have acted as a listening post that intercepted Soviet submarine and naval communications in the Artic during the Cold War.
The end of the Cold War left Canadian SIGINT with diminished importance, relegated to tracking industrial and corporate espionage. However, the Sepetember 11, 2001 attacks on their neighbors to the south ended Canada's near dormancy in the SIGINT game. The SIGINT budget was increased from $140 million in 2000 to more than $220 million in same-year dollars by 2007. SIGINT has come front and center again in the Global War on Terrorism. However, of all the SIGINT supporting countries, Canada allegedly has the most stringent rules protecting the privacy of their citizens' privacy according to SIGINT blogger and expert Bill Robinson. Robinson, of London, Ontario, runs the Lux Ex Umbra intelligence blog. "The privacy concerns are legitimate and have to be balanced against the requirements of intelligence gathering," says Robinson. "Certainly we have been leaning heavily the other way, towards privacy protection. We're not being listened to all of the time, if only because the SIGINT community does not have the people or technology to waste listening in on everyone, everywhere. We get the odd whistleblower from Canada with concerns but we tend to have fairly marginal complaints leveled.'' [EdmontonSun 29Oct06/Loome]
---
SECTION III - CYBER INTELLIGENCE
CIA DEPLOYS A "WIKIPEDIA"-LIKE RESOURCE FOR INTELLIGENCE ANALYSTS The Wikimedia Foundation "operates some of the largest collaboratively edited reference projects in the world, including Wikipedia, one of the 20 most visited websites." Wikipedia is an on-line encyclopedia that relies on volunteer contributors to author informational articles. The CIA and other intelligence agencies are ceasing on the popularity and success of this collaborative way of disseminating information by using the open source software that powers Wikipedia to develop a classified version called Intellipedia. Michele Weslander, a senior official overseeing the initiative for National Intelligence Director John D. Negroponte, says "we're trying to transform the way we do business," and avoid criticism of the type that said dissenting views on Iraq's WMD programs were downplayed. The system is not fully in place yet, but it is already being used to put together the preliminary information for a National Intelligence Estimate on Nigeria. The system is not meant to replace the formal reporting systems used to update President Bush and other national-level consumers. Michael Wertheimer, assistant deputy director of national intelligence for analysis, believes, "...in the future you'll press a button and this will be the NIE." The system, already accessed by more than 3,600 analysts, will not be made available to Congress or other policymakers as the body of material is considered "work in progress" and not vetted intelligence. Unlike the public Wikipedia, whose contributors are mostly anonymous, the Intellipedia will require contributors to provide their name and contact information. [PJK/LATimes 1Nov06/Miller]
GRADUATE STUDENT'S HOME RAIDED BY FBI FOR CREATING AN ON-LINE GENERATOR THAT COUNTERFEITS AIRLINE BOARDING PASSES Christopher Soghoian, a graduate student at Indiana University, created an on-line generator of fraudulent boarding passes for Northwest Airlines flights, allegedly, "to underscore the security problems with such passes." The FBI, however, took the website seriously and shut it down and then busted into Soghoian's home when he wasn't there and seized computers and peripherals. "I came back today, to find the glass on the front door smashed," Shoghoian said on his blog. "Inside, is a rather ransacked home, a search warrant taped to my kitchen table, a total absence of computers and various other important things." The boarding pass generator created a realistic facsimile of a Northwest Airlines boarding pass that Shoghoian said could get one past the initial security check, but probably couldn't get you onto the plane. Shoghoian admitted that he had not actually tested the passes saying, ""Testing this in reality could land you in Gitmo [Guantanamo Bay, Cuba]." TSA says that what Shoghoian did was illegal. Ann Davis, a TSA spokeswoman, however, said there was little risk to passenger safety, "SA assures that every individual introduced to the sterile environment beyond the checkpoint and their accessible property have been thoroughly checked and screened." [SecurityFocus 30Oct06, Lemos/ABCNews 27Oct06, Silverstein]
---
SECTION IV - BOOKS, SOURCES AND ISSUES
Books
WILL NEW PORTER GOSS BOOK BE A CIA TELL-ALL? Although Porter Goss, CIA Director and the last Director of Central Intelligence before the role was assumed by John Negroponte as Director of National Intelligence, has denied that a possible forthcoming book would be a "kiss-and-tell" reveal-all scandal sheet, some are not so sure. Goss was known to openly criticize those who opposed him. His sterling reputation in Congress was tarnished under significant criticism during his time leading the CIA. Although during his tenure many new overseas bases and stations were opened and personnel processing procedures were improved to handle the influx of new recruits, he was criticized as a laissez faire manager who gave too much powers to his aides. Time reports that the possibility of a Goss book could have some in Washington "salivating -- or trembling." [TimB/Time 1Nov06/Berger]
Training and Courses
New Counterintelligence, Counterterrorism and Security Course Catalog
The CI Centre has a new course catalog updated with our many new CI, CT and security courses. For course descriptions or to view the catalog, go to:
http://cicentre.com/counterintelligenceacademy/index.html.
A few of the many worthwhile courses are:
***Great security awareness courses that meet the NISPOM requirement for yearly security awareness for all government employees and contractors who hold clearances.
One-Day Courses:
101 Defensive Information to Counter Espionage (D*I*C*E) Briefing by Ray Semko [2 hours] ***
111 Clandestine Communication Techniques by Spies and/or Terrorists: Cybertradecraft [½ day]
161 Counterintelligence Tools and the War on Terrorism
162 Terrorist Attacks and Survival
163 Dying to Kill Us: Understanding the Terrorist Mindset

Two-Day Courses:
200 Counterintelligence Realities for Analysts
202 Vulnerabilities of an Intelligence Officer

Three-Day Courses:
205 National Security Policy and Counterintelligence Implications of Denial
and Deception Practices
350 Operational Games: The Espionage Wars
361 The War on Terror: Roots of the Conflict and Counterintelligence
Response

Five-Day Courses:
500 The Security Profession: Dilemmas, Decisions and Advocacy
501 An Overview of Critical Counterintelligence Issues (Our Flagship
Course)
502 Key Counterintelligence Events: Offensive Double Agent Operations
503 Counterespionage Today: Complexities and Decisions
515 Interviewing & Interrogation Techniques for the New Millennium

Contact Kristina Scholze at 703-642-7453 or kristina.scholze@cicentre.com
for more information or to schedule a course for your organization.
Why Outsouce CI Training: http://cicentre.com/counterintelligenceacademy/outsource.htm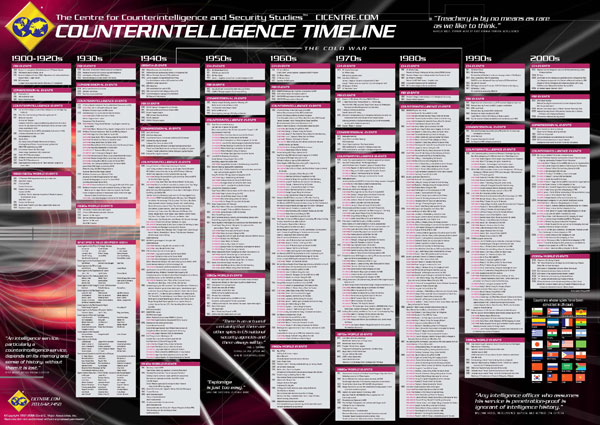 New Counterintelligence Timeline Poster - It's a useful and information rich, comprehensive counterintelligence timeline from the CI Centre. And it's a useful counterintelligence tool for your own office wall, to give your higher-ups, to give to students, teachers, colleagues, and universities. No one can deny the reality of espionage against the United States and the need to invest in CI/Security when they see this 24"x36" chart of every known spy from 1900 to August 2006--when they began spying, where they worked, who they spied for and when they were caught. A timeline no CI or security professional should be without. If you need to convince people that espionage really happens and is a threat to our national security, just show or give them this poster and they are sure to be convinced. Does your executive not have enough time to listen to your full awareness briefings? Drop this modern, attractive, professional poster on his/her desk and they will begin focusing more attention and money on counterintelligence and security. This is their fifth update of a classic they have been producing since 1996. This time they completely retooled the design and presentation of information to make it more comprehensive and easier to understand as well as see the big picture. To see the timeline poster and to order, go to: http://cicentre.com/CI_Timeline.html A serious gift for the holidays and special occasions. Educate your colleagues and the public, donate these to schools and universities.
---
SECTION V - CAREERS, NOTES, LETTERS, QUERIES AND AUTHORS SEEKING ASSISTANCE, CORRECTIONS, OBITUARIES, COMING EVENTS
[IMPORTANT: AFIO does not "vet" nor endorse career offers, research inquiries or announcements. Reasonable-sounding inquiries are published as a service to members. Exercise your usual caution and good judgment when responding or supplying any information or making referrals to colleagues. Members should obtain prior approval from their agencies before answering questions that would impact ongoing military or intelligence operations - even if unclassified. Never assume public inquiries about classified projects means they've been declassified. Be attuned to false-flagging.
Careers
General Dynamics Network Systems is looking for a Senior Director - Business Management who will be accountable for winning procurements made by the US Intelligence Community. Requirements of the position are a prior leadership role in a proposal effort for procurements greater than $100M, 5 or more years experience in Business Development, 5 or more years experience as a Program Manager and prior experience and contacts within the Intelligence Community. Top-Secret SCI Full Scope Clearance is preferred. Please forward a resume to Liz Boccanfuso at LizB@willmott.com or call 518-371-8907, Willmott & Associates, a search firm located in McLean, VA.
Coming Events
Wednesday, 8 November 06 - Las Vegas, NV - AFIO Las Vegas Chapter meeting features James E. Parker, Jr., a bestselling author of LAST MAN OUT (recently re-released in paperback), chronicles his experience as the last American to leave Vietnam. He will make comparisons between Vietnam and Iraq. Parker's CIA career included anti-terrorism, anti-narcotics and chief-of-station assignments. A recipient of the Purple Heart and the Bronze Star for Valor, he continues his work for the CIA as a clandestine tradecraft specialist, instructor and recruiter. A more complete biographical sketch will be included with the evening's program. Event starts at 6 p.m. at Nellis Air Force Base Officers' Club. Reservations to Christine J. Eppley, Chapter Corresponding Secretary at Eppley@nv.doe.gov or call 702-295-0073
9 November 06 - San Francisco, CA - AFIO's Jim Quesada SF Chapter Luncheon with Mr. James D. Bartha, Chief of Contracting Office, United States Department of Transportation Maritime Administration (MARAD), on "Operation SafePort." 11:30 AM No Host Cocktails, 12:00 Noon Luncheon. United Irish Cultural Center (UICC) - St. Patrick's Room (2nd Floor), 2700 – 45th Avenue, San Francisco, CA 94116 (45th between Sloat and Wawona). Have you been wondering how our ports (and adjoining major cities) are being defended with the millions of containers that are being delivered and off-loaded everyday? We have been warned that this is a major threat to our local and national security. If a dedicated terrorist were successful in getting close enough to detonate even small to modest size weapon of mass destruction, the consequences could be significant. If such a weapon were set off in New York City or Washington DC, the consequences could be catastrophic. Is anyone doing anything about this dangerous situation? If there is, what are we doing about it? The effort to defend our ports and major cities is being conducted by multiple agencies. This presentation describes what is being done by the Department of Transportation, Maritime Administration (MARAD) SafePort Program. MARAD has ships at the ready should a suspect container be detected on a ship in or near US waters. MARAD Ready Reserve Force (RRF) ships can access and remove a "suspect container" from any size vessel at a safe anchorage location, a unique homeland security capability. $25 pp, Member Rate - with advance reservations. Reservations to Mary Lou Anderson no later than 5 PM 11/3/06. Reservations not cancelled by end of day 11/3/06 must be honored. Reserve at Mary Lou Anderson, 46 Anchorage Road, Sausalito, CA 94109; Telephone 415-332-6440
Thursday, 9 November 06 - Washington, DC - Inside Stories - Capturing Jonathan Pollard: The Real Story at 6:30 pm at the Spy Museum. "Pollard…once collected so much [classified] data that he needed a handcart to move the papers to his car." — Seymour Hersh, The Traitor: The Case Against Jonathan Pollard. Ever since Jonathan Jay Pollard, an intelligence analyst working in the U.S. Naval Investigative Service's Anti-Terrorist Alert Center, was accused of stealing security secrets for Israel in the mid 1980s, the case has been awash in lobbying by Israel and friends of Israel to free him. Pollard stole more than one million pages of classified material which he sold to Israel to bankroll a flashy lifestyle. As the assistant special agent in charge of counterintelligence in the Washington office of the Naval Investigative Service when Pollard was arrested, author Ron J. Olive sets the record straight. Drawing on his involvement in the investigation and interrogation of the spy, Olive, the author of Capturing Jonathan Pollard: How One of the Most Notorious Spies in American History Was Brought to Justice, shares details from this case on how he elicited the spy's confession, and why Pollard should never be freed.
Tickets: $20 To register: www.spymuseum.org
10 November 06 - Ft. Myer and Arlington National Cemetery - Army Counterintelligence Corps Veterans (ACICV) Annual "Day of Remembrance" The ACICV Day of Remembrance, which includes a special Wreath Laying Ceremony at the Tomb of the Unknowns in the Cemetery and a Memorial Luncheon at Fort Myer, honors the memory of Army Counterintelligence veterans and associates who have passed away since the last Remembrance Day. Friends and supporters of ACICV and Army Counterintelligence are invited to attend. For additional information contact Ed Meiser at 1-518-371-8356 (e-mail: Leigh54@aol.com) or Elly Burton at 1-703-591-3848 (e-mail ellyb@starpower.net).
13 November 06 - Coral Gables, FL - The Miami-Dade Ted Shackley AFIO Chapter hosts Dinner briefing on "THE MIND OF THE TERRORIST" featuring Jerrold M. Post, M.D., professor of Psychiatry, Political Psychology and International Affairs at George Washington University. Post, has been featured on CNN, Fox News Channel, The Los Angeles Times, Miami Herald, Washington Post, is the founder and former director of the Center for the Analysis of Personality and Political Behavior of the Central Intelligence Agency. The dinner is being held at the Hyatt Coral Gables, 50 Alhambra Plaza, in the Granada Room. Event starts at 7:00 pm. Donations of $125 per person payable by check to: AFIO are solicited to support: The UM Intelligence Education Program. RSVP (305) 648-0940 to Jenny by Monday, November 6, 2006 (space is very limited) Mail checks to: Attn. Thomas R. Spencer, 2100 Ponce de Leon Blvd., Suite 1170 , Coral Gables, FL 33134. Reservations are not cancelable and must be prepaid due to limited space.
14 November 06 - Arlington, VA - Defense Intelligence Alumni Association (DIAA) The eighth annual Defense Intelligence Alumni Association (DIAA) luncheon will be held at the Columbus Club of Arlington, 5115 Little Falls Road, Arlington, Va. LTG Patrick Hughes, USA (Ret), will speak on The Challenge of Homeland Security. Social hour begins at 1100. Lunch will be served at 1215. The cost is $20 per person for members and guests. Mail checks (payable to DIAA, Inc) to DIAA, ATTN: Luncheon, PO Box 489, Hamilton, VA 20159.
16 November 06 - Colorado Springs, CO - AFIO Rocky Mountain Chapter holds meeting at Air Force Academy Officers Club in the Falcon Room, starting at 11:30, lunch served at 12:00 and meeting ends at 1:30 pm. LTC. Ed Rothstein, G2 of Division West will discuss recent combat experiences in OIF. The local chapter of MOAA has arranged the speaker. Questions or Reservations to Dick Durham, 719-488-2884. or Riverwear53@aol.com.
Thursday, 16 November 06 - Washington, DC - 6:30 pm - Domestic Spying: Anti-Terrorism or Anti-American? "There is no time to waste on hairsplitting over infringement of liberty." — The Washington Post approving the Palmer raids of January 1920. The Spy Museum asks if President George W. Bush's domestic surveillance program is a critical terrorism prevention tool or illegal intrusion on fundamental U.S. rights? Navigate this politically charged issue with the help of moderator, Gene Policinski, executive director of the First Amendment Center, and a panel made up of: Eric Lichtblau, The New York Times Pulitzer-Prize winning journalist who revealed the formerly secret anti-terrorism domestic spying techniques being used to halt terrorists; Spike Bowman, formerly Senior Executive Service, FBI, currently a member of AFIO's Board of Directors and a distinguished fellow, Center for Technology and National Security Policy, National Defense University; Kate Martin, director of the Center for National Security Studies; and Bob O'Harrow, The Washington Post reporter and author of No Place to Hide. Tickets: $20. Space is limited - advance registration required at the www.spymuseum.org
18 November 06 - Kennebunk, ME. The AFIO/ME Chapter will hear Todd DiFede, Supervisory Senior FBI Resident Agent for Maine who will speak on the work of the Maine Joint Terrorism Task Force (JTTF). This will include the structure of the JTTF, The FBI's Counterterrorism and Counterintelligence roles, and how the FBI has changed since 9/11. Agent DiFede has been with the FBI for 16 years; serving 10 in New York, 5 years in Washington, D.C. and the past year and a half in Maine. He has a background in Organized Crime, Violent Crime, Foreign Counterintelligence, and Counterterrorism. The meeting, which is open to the public, will be held at the Kennebunk Free Library, Main Street, Kennebunk at 2:00 p.m. Contact 207-985-2392 for information.
29 Nov - 1 Dec 06 - Washington, DC - The Institute for Defense and Government Advancement host "Intelligence Analysis & Processing: The latest on Intelligence Analysis policy, programs, and technology" - Pre-Conference Seminar and Main Chaired by: Ed Waltz, Chief Scientist, Intelligence Innovation Division, BAE SYSTEMS. IDGA�s Intelligence Analysis & Processing conference is a forum for industry professionals worldwide to network and exchange information about the latest advances in Intelligence Analysis & Processing challenges, methodology, and technology. The Intelligence Analysis & Processing Seminar preceding the conference will allow participants to increase their knowledge of some of the most important advancements in Intelligence Analysis & Processing through in-depth master classes. For more information: www.ipqc.com.
6 December 06 - Orange Park, FL - AFIO North Florida Chapter Meeting. Contact Quiel Begonia at begonia@coj.net for details. Meeting held at Orange Park Country Club, 2625 Country Club Blvd, Orange Park , FL.
8 December 06 - New York, NY - AFIO NY Metro Chapter Evening Meeting. AFIO NY Metro holds evening meeting at Society of Illustrators Building, 128 East 63rd St, (between Park and Lexington). Check-in: 5:30 PM - 6:00 PM. Dr. David M. Barrett, Villanova University (Ph.D in political science), will be the honored guest. His remarkable new book, "The CIA and Congress: The Untold Story from Truman to Kennedy" has just been awarded the D.B. Hardeman prize for the Best Book of the Year on Congress. Professor Barrett will focus especially on the agency's early years, when the Cold War was at its peak. Professor Barrett's book, published by the University Press of Kansas, will be available for purchase and signing at the dinner. The book provides the remarkable inside story of the highly secret, often contentious relationship between the CIA and Congress. Buffet dinner, tables of eight. $45pp, includes drinks, coffee, dessert. Cash bar. Registration and more information available from Jerry Goodwin, Chapter President, at 212-308-1450, or email him at afiometro@yahoo.com.
12 December 06 - Tampa, FL- AFIO Suncoast Chapter meets at 11:30 a.m. at the Officers' Club, at MacDill Air Force Base. The luncheon speaker is James Pavitt. A 31-year veteran of CIA, who in 1999 was appointed Deputy Director for Operations to head what is now known as the National Clandestine Service, the CIA directorate responsible for the clandestine collection of foreign intelligence. He had served as Associate Deputy Director for Operations from July 1997 through July 1999. He served longer in that position than any DDO in the last 30 years until retiring from CIA and the DO in August 2004. After joining the Agency in 1973 as a Career Trainee, he served in a variety of intelligence assignments in Europe, Asia and at CIA Headquarters. In 1990, he was assigned to the National Security Council as the Director for Intelligence Programs. In June 1992, President Bush appointed him Special Assistant to the President for National Security Affairs and NSC Senior Director for Intelligence Programs. Mr. Pavitt began his intelligence career in the United States Army from 1969-1971 as an intelligence officer. Jim Pavitt is currently a principle at the Scowcroft Group and also serves as a member of the AFIO National Board of Directors. For more information contact Don White, DonWhite@tampabay.rr.com
12-14 December 06 - Chantilly, VA - MASINT V - The MASINT Association's Annual Conference will be held with the National Reconnaissance Office. This year's conference, open to appropriately cleared personnel from the US, UK, Canada and Australia, is focused on "Collaborating for Success" with co-chairs from the ODNI and the MASINT Association. The Director of National Intelligence, Ambassador John Negroponte has been invited to be Keynote Speaker. Information on the conference and registration are at http://www.masint.org/index_masint_activities.htm or at https://www.myaoc.org/EWEB/dynamicpage.aspx?webcode=121206_MASINTV.
For Additional Events two+ months or greater....view our online Calendar of Events
-----------------------------------------------------------------------
REMOVAL INSTRUCTIONS: We do not wish to add clutter to inboxes. To discontinue receiving the WINs:
a) IF YOU ARE A MEMBER -- click here: UNSUBSCRIBE and supply your full name and email address where you receive the WINs. Click SEND, you will be removed from list. If this link doesn't open a blank email, create one on your own and send to afio@afio.com with the words: REMOVE FROM WINs as the subject, and provide your full name and email address where you are currently receiving them.
b) IF YOU ARE NOT A MEMBER, and you received this message, someone forwarded this newsletter to you [contrary to AFIO policies]. Forward to afio@afio.com the entire WIN or message you received and we will remove the sender from our membership and distribution lists. The problem will be solved for both of us..
-----------------------------------------------------------------------
WINs are protected by copyright laws and intellectual property laws, and may not be reproduced or re-sent without specific permission from the Producer. Opinions expressed in the WINs are solely those of the editor(s) or author(s) listed with each article. AFIO Members Support the AFIO Mission - sponsor new members! CHECK THE AFIO WEBSITE at www.afio.com for back issues of the WINs, information about AFIO, conference agenda and registrations materials, and membership applications and much more!
(c) 2006, AFIO, 6723 Whittier Ave, Suite 303A, McLean, VA 22101. Voice: (703) 790-0320; Fax: (703) 991-1278; Email: afio@afio.com