---
COMING EVENTS FROM THE LATEST WEEKLY INTELLIGENCE NOTES - Use month index in right column to jump to current month:
---
THIS IS A LIST OF UPCOMING EVENTS in 2019
PRIOR events in 2019 are here.
Upcoming events in 2020 are here.
Documentaries, Videos of Interviews, and Commercial Movies of Interest to AFIO members can be found here.
---
November 2019
1 November 2019, 10:30 am - 2 pm - Tysons, VA - This final AFIO luncheon of 2019. Event features Jonna Mendez, former CIA Chief of Disguise, co-author of (with Tony Mendez, and Matt Baglio) The Moscow Rules: The Secret CIA Tactics That Helped America Win the Cold War, and Vince Houghton PhD, Spy Museum Historian, discussing his just released The Nuclear Spies: America's Atomic Intelligence Operation against Hitler and Stalin.

Jonna Mendez's presentation starts at 11 a.m. Mendez (Spy Dust: Two Masters of Disguise Reveal the Tools and Operations That Helped Win the Cold War), share (with late husband Tony Mendez) their experiences as spies in Moscow during the height of the Cold War in the mid-1980s. The authors begin with the initial list of "the Moscow Rules" and continue to discuss briefly the current state of affairs in Russia under Vladimir Putin, and how they interfered with the 2016 U.S. election.
Vince Houghton PhD, historian and curator of the International Spy Museum, makes his presentation at 1 p.m. on The Nuclear Spies: America's Atomic Intelligence Operation against Hitler and Stalin. He asks why did the US intelligence services fail so spectacularly to know about the Soviet Union's nuclear capabilities following WWII? The Manhattan Project's intelligence team had penetrated the Third Reich and knew every detail of the Nazi 's plan for an atomic bomb. What changed and what went wrong?
Venue: DoubleTree by Hilton, 1960 Chain Bridge Rd, Tysons Corner, VA 22182 Phone: (703) 893-2100. Directions at this link.
MENU: BEEF — Beef Burgundy - Tender Flank Steak Slow Cooked with Mushrooms, Carrots and Onions Served Over Buttered Egg Noodles—
CHICKEN — Roulade of Chicken - Seared Chicken Stuffed with Cornbread, Cranberries and Apples with a Port Wine Demi Accompanied with Seasonal Vegetables and Wild Rice Pilaf
VEGETARIAN — Wild Mushroom & Fennel Ravioli - With Seasonal Vegetable Medley in a Fennel Broth
Dessert - Pumpkin Pie with Whipped Cream & Cinnamon
REGISTER HERE.
Wednesday, 6 November 2019, 6 - 10:30 pm - Washington, DC - Michael Morell and Jill Singer, Co-Chairs, invite you to The Honorable William H. Webster Distinguished Service Award Dinner at the International Spy Museum
The International Spy Museum is proud to announce the keynote speaker for the Museum's annual dinner will be The Honorable George J. Tenet, former Director of Central Intelligence.
As one of longest serving and most influential CIA directors in history, DCI Tenet shares the unique perspective of intelligence in action at the highest level. He will share his experiences and long-standing relationship with this year's Webster Service Awardee, General Michael V. Hayden (Ret.), former Director of the National Security Agency, Principal Deputy Director of National Intelligence, and Director of the Central Intelligence Agency.
The William H. Webster Distinguished Service Award Dinner will take place at the new home of the International Spy Museum in L'Enfant Plaza. On this special evening, more than 500 attendees will gather to recognize the men and women who have served in the field of National Security with integrity and distinction.
Each year, The Honorable William H. Webster Distinguished Service Award is given to an individual who has embodied the values of our esteemed friend, mentor, and leader — Judge William H. Webster. This year's honoree is someone known for his invaluable service and contributions to the Intelligence Community, someone that has worked from the ground up and has been both a provider and consumer of intelligence with more than 20 years of experience. It is with great pride that we announce the 2019 honoree is General Michael V. Hayden, former Director of the National Security Agency, Principal Deputy Director of National Intelligence, and Director of the Central Intelligence Agency.
AWARD DINNER CO-CHAIRS: Mr. Michael Morell, Senior Counselor, Beacon Global Strategies and Former Deputy Director and former Acting Director, Central Intelligence Agency; Ms. Jill Singer, Vice President, National Security, AT&T Public Sector & Wholesale; Former Chief Information Officer, National Reconnaissance Office.
Tickets range from $495 to $15,000. Explore your registration options here.
This event is closed to media.
Event location: The New International Spy Museum, 700 L'Enfant Plaza SW, Washington, DC 20024. Directions here.
Saturday, 9 November 2019, 11:30am - 2pm - Indialantic, FL - Rudy Enders on 1961 Bay of Pigs Operations - at this Florida Satellite Chapter meeting

Guest Speaker is AFIO Florida Satellite Chapter Member Rudy Enders.
American efforts to disable or overthrow the Castro regime in Cuba did not end with the failed Bay of Pigs operation in 1961. CIA was tasked by the National Security Council Special Group to continue infiltrating Cuban exile teams into Cuba to recruit, organize and train indigenous forces to wage a guerilla warfare campaign designed to overthrow the communist government. This led to a number of covert CIA maritime operations to insert teams and resupply them, with the hand of the US government hidden or plausibly denied. Our speaker will relate his experience in the conduct of at least one of these operations.
TIMING: 11:30 AM - 12:15 PM: Social Hour, greet old, new members and guests. Cash bar. 12:15 PM: Sit-Down lunch
LOCATION: Doubletree Melbourne Beach Oceanfront, 1665 N. Highway A1A, Indialantic, FL 32903
FOOD CHOICES: Chicken Francese, chicken breast sautéed in a buttery lemon and wine sauce (C); Chef's Choice of either Pasta Marinara or Pasta Primavera. (P); Vegetables, dessert, coffee and iced tea included. Costs are $32 members, $36 non-members.
TO ATTEND: Prepaid reservations are required which must be received by 5 November 2019. To reserve, send food choices and names of self+guests with send check, payable to AFIO FSC, to: Chapter Treasurer Rhonda Rhoads, P.O Box 410158, Melbourne, FL 32941.
Rhonda can also be reached at afiofsctreas@gmail.com and at 321 626 -4465.
Paid, advance registration is required and none will be accepted after November 5.
Wednesday, 13 November 2019, 1130 - Albuquerque, NM - AFIO New Mexico Chapter hears Tom Dyble on "Part II -- Chaos in Cairo - Arab Spring in Egypt"

Speaker Tom Dyble will provide Part 2 of his presentation on "Chaos in Cairo: Arab Spring in Egypt" based on David D. Kirkpatrick's book "Into the Hands of the Soldiers: Freedom and Chaos in Egypt and the Middle East".
Location of event: "Sunnyside Up Cafe" formerly the "The Egg & I" restaurant on Menaul just east of Louisiana, next door to Chili's.
6909 Menaul Boulevard Northeast, Albuquerque, NM 87110, (505) 888-3447
Fee to attend: Meeting is Free.
11:00 AM (Arrive, Order Lunch - available at separate cost), 11:30 AM (Call To Order), 1:00 PM (Adjourn)
Our meetings are normally open to present and former members of Federal, Military (uniformed and civilian), State and Local Agencies and selective others who support the Intelligence Community.
If you desire further information, please contact one of the following:
Sam Shaw - Phone: 505-379-3963 e-mail: President@afionm.org
Tom Dyble - Phone: 505-299-3242 e-mail: Vice-President@afionm.org
Wednesday, 13 November 2019, 11:30 a.m. no-host cocktails; 12 noon - San Francisco, CA - The "Andre Le Gallo" San Francisco Chapter hosts Dr. Matthew Brazil on Beijing's Spy Apparatus

Dr. Matthew Brazil, a non-resident Fellow at The Jamestown Foundation, worked in Asia for over 20 years as a U.S. Army officer, American diplomat, and corporate security manager. He is the co-author of Chinese Communist Espionage: An Intelligence Primer (Annapolis: Naval Institute Press, Nov 2019)
Hitherto, almost all writings about Beijing's espionage and influence operations have focused on individual cases that shed little light on the actual nature of their organs of state security. Dr. Brazil will speak about how he and his co-author researched original sources in Chinese and unearthed new insights into Beijing's most secret operations at home and abroad.

RSVP: Your registration via Eventbrite may be quickly completed here.
Wednesday, 13 November 2019, 6:30 pm - Washington, DC - "Agents of Influence" by Henry Hemming at the International Spy Museum
When we talk about outside influence and "fake news" tactics in today's politics, it's surprising to be reminded that foreign intervention in American policy is hardly new. As World War II raged into its second year, Britain sought a powerful ally to join its cause—but the American public was sharply divided on the subject. Canadian-born MI6 officer William Stephenson, with his knowledge and influence in North America, was charged with changing US opinion by any means necessary. Join Henry Hemming, author of Agents of Influence: A British Campaign, a Canadian Spy, and the Secret Plot to Bring America into World War II, as he shares Stephenson's ingenious propaganda efforts from forging documents to thwarting the anti-war "America First" movement.
Agents of Influence will be available for sale and signing at the event.
Tickets: $10 | Members: FREE! Buy tickets here.

Tuesday, 19 November 2019, 1 - 5:30 p.m. with reception to follow - Boston, MA - USING RAPID DNA TO ADVANCE JUSTICE
This Boston University Event is sponsored by The Frederick S. Pardee School of Global Studies, the BU Police Department & the Metropolitan College of Applied Social Sciences
DNA has been used for criminal justice purposes since the 1980s but current DNA methods are slow and some labs are backlogged by years. The recent development of Rapid DNA has reduced processing time from months to minutes, increasing expediency and accuracy. Leam more about this cutting edge technology with transformational global implications.
Speakers include:
• Ed Davis, Former Boston Police Commissioner,
• John Boyd, Office of Biometric Identity Management, Department of Homeland Security,
• Richard Seiden, M.D., Ph.D., Founder & Chief Scientific Officer, ANDE Corp.
A panel of subject matter experts including:
• Prof. Robin Cotton, Ph.D., Director, Biomedical Forensic Science, BU School of Medicine.
The conference chair is Prof. John Woodward, J.D., Pardee School.

Event Location: Barrister's Hall, BU School of Law, 765 Commonwealth Ave., Boston, MA
There is no conference fee but you must RSVP to: Ms. Madison Sargeant msrgnt@bu.edu
Thursday, 21 November 2019, 11:30 a.m. - Colorado Springs, CO - The AFIO Rocky Mountain Chapter hosts Edin Mujkic, discussing "The Balkans: A Joker in Putin's Sleeve"

Synopsis: This presentation by Edin Mujkic discusses Russian interference in Balkan politics, the American and European role in the Balkans, as well as the potential for escalation of the situation toward violence. From interference in the United States domestic politics to support of some of the most brutal regimes in the world, Russia is again the focus of attention. Whether it is media attention, or attention of intelligence and national security professionals, there is a consensus that Vladimir Putin is engaged in a campaign of undermining the post-World War II international theater and generally the Western democracies. While attention where Putin's next move will be, is usually focused on the Baltics or the Middle East, the situation in the Balkans is not generating much attention. The Balkans, always on the periphery of European politics, until it explodes, is fertile ground for Vladimir Putin to exploit its weaknesses and complicate European and world affairs. The political quagmire in Bosnia and Herzegovina that does not have a government since elections in the Fall of 2018, relations between Serbia and Kosovo, the role of Croatia, a NATO member, in internal affairs of Bosnia and Herzegovina, are not only exploited, but directly influenced by Moscow.
Biography: Edin Mujkic is an Assistant Professor in the School of Public Affairs for University of Colorado Colorado Springs. He is also a UCCS Daniels Fund Ethics Initiative Faculty Fellow for 2017-2018. Edin received his BA from Auburn University Montgomery, majored in Political Science, with a minor in Criminal Justice. Edin followed up his Bachelor's Degree with a Master's in International Relations (2008) and was a Prince Khalid bin Sultan fellow. Upon completing his Master's degree, Edin entered the Public Administration and Policy Ph.D. program at Auburn University graduating December 2012. While earning his PhD, Edin furthered his education studying Strategic Leadership and National Security at Air War College, Maxwell Air Force Base, AL. Edin is continuing his research focusing on national security, defense, homeland security and U.S. foreign policy.
For more information, please contact: steve13507@gmail.com
21-22 November 2019 - Phoenix, AZ - CAE in Cyber Security Annual Symposium
The CAE in Cyber Security Symposium is right around the corner! CAE is Centers of Academic Excellence. If your institution belongs to the CAE-CD, CAE-2Y, CAE-R, or CAE-CO Program, you are eligible to participate. Details to follow several months from now.
Direct your questions to info@caecommunity.org. What are CAEs? More information here.
Upcoming CAE events and the Cyber Security Symposium.
Tuesday, 26 November 2019, 7 - 8:45 pm - McLean, VA - How Terrorist Groups End - Dr Christopher Harmon at the Westminster Institute
Dr. Christopher C. Harmon is the Donald Bren Chair of Great Power Competition at Marine Corps University, where he teaches at schools such as Command and Staff College and the School of Advanced Warfighting.
Some terrorist campaigns are short; some last for decades. Most terrorist campaigns do end....but how? The answers not only reveal much about a given terrorist group, they also aid us in identifying good strategies for countering such political violence. Dr. Harmon's work -- from a 2004 think tank report to lectures at the National Counter-Terrorism Center and Interpol headquarters -- has focused on five results: defeat of the terrorists by force; arrest or killing of the leader(s); terrorism's turn up a pacific political path; defeat via good grand strategy including law enforcement; and terrorist success. His lecture will address a dozen important modern groups of varied ideologies and will include Al Qaeda and ISIS.
Long ago stirred by the question of this evening's topic, Dr. Harmon created a rubric and concept of analysis, articulated in many publications from 2004 through 2010, including a book chapter for Cambridge University Press in early 2006. He is lead author or editor of six books, including A Citizen's Guide to Terrorism & Counterterrorism, Toward A Grand Strategy Against Terrorism, and The Terrorist Argument. The latter book's thesis was presented at a Westminster Institute lecture in December, 2017 (https://www.youtube.com/watch?v=0q8U7T1vJcw).
Harmon's most recent essays are in Combating Terrorism Exchange, the geopolitical journal Orbis, and Oxford Bibliographies.
Dr. Harmon wrote his political science dissertation on terrorism in the early 1980s at the Claremont Graduate School in California, where he had also earned his M.A. He continued that work as Legislative Aide for Foreign Policy to a member of Congress and, much later, director of counterterrorism studies programs in Asia and Europe for the U.S. government. A professor at civilian and military graduate schools, including the Naval War College, Dr. Harmon has also taught courses at The Institute of World Politics on terrorism and on counterterrorism.

No fee. Register Now
Reception at 7:00 pm; Dr Harmon at 7:30.
Where: The American Legion, 1355 Balls Hill Rd, McLean, VA
Questions: Contact Robert R. Reilly, Director, The Westminster Institute, 703-288-2885 or at br@westminster-institute.org
December 2019
Wednesday 4 December 2019, 5:30 p.m. - New York, NY - AFIO NY Metro Chapter hosts CIA Officer (Ret) Dr. John A. Gentry discussing "IC Political Activism since 2016 -- Origins and Implications."

Partisan political activism by current and former intelligence officers since mid-2016 is the largest and most significant politicization of intelligence by intelligence officers in U.S. history. This presentation will explore the causes and the wholly negative consequences of this new form of politicization for the IC and the country.

Dr. John A. Gentry was for 12 years an intelligence analyst at the CIA, where he worked mainly economic issues associated with the Soviet Union and Warsaw Pact countries; for two of those years he was senior analyst on the staff of the National Intelligence Officer for Warning. He is a retired U.S. Army Reserve officer, with most assignments in special operations and intelligence arenas. On active duty, he was executive officer of a special forces operational detachment. As a reservist, he was mobilized and spent much of 1996 as a civil affairs officer in Bosnia. Dr. Gentry also is an adjunct associate professor with the School of International and Public Affairs, Columbia University. He formerly taught at the College of International Security Affairs, National Defense University, at the National Intelligence University, and at George Mason University. His research interests primarily are in intelligence and security studies. He publishes frequently in Intelligence and National Security and International Journal of Intelligence and CounterIntelligence. Georgetown University Press published his co-authored book, Strategic Warning Intelligence: History, Challenges and Prospects, in early 2019. He is a member of the Editorial Committee of the International Journal of Intelligence and CounterIntelligence. He is adjunct professor at Georgetown University.
Location: Society of Illustrators, 128 E 63rd St (between Park and Lexington), New York, NY 10065.
Timing: Registration starts at 5:30 pm, Speaker presentation starts at 6 pm. Fee: $50/person. Payment at the door only. Cash or check. Full dinner, cash bar.
RSVP: Strongly recommended that you RSVP to ensure space at event. Call or Email Chapter President Jerry Goodwin at afiometro@gmail.com or 646-717-3776.
Thursday, 5 December 2019, 12:30 - 2 pm - Los Angeles, CA - AFIO Los Angeles Chapter meeting features Dr John Gans discussing "White House Warriors: How the NSC Transformed the American Way of War."

Dr. John Gans will be the guest speaker for the Los Angeles Chapter of AFIO and discuss key topics of his newly published book White House Warriors: How the National Security Council Transformed the American Way of War, which covers the people and power of the National Security Council staff.
Gans is Perry World House's Director of Communications and Research. In addition to leading Perry World House's Graduate Associates program, he teaches Penn undergraduate and graduate students. Prior to joining Perry World House, he was the chief speechwriter to Secretary of Defense Ash Carter at the Pentagon. In addition to leading the writing team at the Defense Department, Gans served as senior speechwriter for Defense Secretary Chuck Hagel and Secretary of the Treasury Jack Lew.
In 2019, Gans published White House Warriors: How the National Security Council Transformed the American Way of War, which the Wall Street Journal said was a "bottom-up history," The New Republic called "enlightening," and Lawfare concluded it was "rollicking and compellingly told." Gans earned his Ph.D. from Johns Hopkins University's School of Advanced International Studies.
We look forward to your attendance. Please mark your calendar and your spouse or other guests are welcomed.
Event Location: 5651 W Manchester Ave, Los Angeles, CA 90045. Map or Directions here.
Full refreshments served
RSVP: afio_LA@yahoo.com
Questions to Vincent Autiero, President, AFIO-Los Angeles Chapter, at afio_LA@yahoo.com.
---
UPCOMING EVENTS IN 2020 may be viewed here.
Documentaries, Videos of Interviews, and Commercial Movies of interest
View video from your desk using this link
"Looking Over The Horizon"
CIA's Third Conference on The Ethos & Profession of Intelligence
was held Tuesday, 20 September 2016
at George Washington University, Lisner Auditorium, Washington
The conference included the following panelists: Speakers: David S. Cohen, (Moderator) Deputy Director, CIA; Carrie Cordero, Founder, The Law Office of Carrie Cordero; Counsel to the Assistant Attorney General for National Security (former) Ben Huebner Privacy and Civil Liberties Officer, CIA; Dan Klaidman, Deputy Editor, Yahoo News; Jason Leopold, Investigative Reporter, VICE News. Speakers: Christopher Kojm, (Moderator), Visiting Professor, Practice of International Affairs, GW; Chairmain, National Intelligence Council (former); Susan Gordon, Deputy Director, National Geospatial-Intelligence Agency; Nancy Jackson, Deputy Assistant Secretary, Bureau of Population, Refugees, and Migration, US Department of State; Carla Koppell, Vice President Applied Conflict Transformation, US Institute of Peace. Speakers: Frank Cilluffo, (Moderator), Associate Vice President, GW; Director, Center for Cyber and Homeland Security, GW; Chris Darby, President and CEO, In-Q-Tel; Andrew P. Hallman, Deputy Director, Digital Innovation, CIA; Chris Inglis, Distinguished Visiting Professor in Cyber Security Studies, US Naval Academy; Deputy Director, NSA (former); Dr. Jason Matheny, Director, Intelligence Advanced Research Projects Activity; Matt Olsen, President of Consulting, IronNet; Director, National Counterterrorism Center (former). Speakers: John Brennan, (Moderator) Director, Central Intelligence Agency (CIA); Mohammad Masoom Stanekzai, Defense Minister of Afghanistan (acting); Nick Warner, Director-General, Australian Secret Intelligence Service; Alex Younger, Chief, British Secret Intelligence Service. Speakers: Frank Sesno, (Moderator) Director of the School of Media and Public Affairs, GW; Peter Clement, Deputy Assistant Director, Europe and Eurasia Mission Center, CIA; John McLaughlin, Distinguished Practitioner in Residence, Johns Hopkins University; Acting Director, CIA (former); Dennis Wilder, Senior Fellow and Assistant Professor, Georgetown University.
Video of panels may be viewed at this link.
All GW Center for Cyber and Homeland Security videos are here.
---
The President's Daily Brief: Delivering Intelligence to Nixon and Ford was a document release event by the Central Intelligence Agency, the Richard Nixon Presidential Library and Foundation, and the National Archives. The event was held Wednesday, 24 August 2016, in Yorba Linda, California.

Video of the event can be viewed here.
Director of Central Intelligence Agency John Brennan and Director of National Intelligence James Clapper were one of several speakers. A special invitation-only reception followed at close of program, hosted by AFIO President James R. Hughes.



[Above: President Richard Nixon's 1969 visit to CIA Headquarters]
Previously classified President's Daily Briefs (PDB) from the Richard Nixon and Gerald Ford Administrations produced by the CIA were released on Wednesday, 24 August, at the Richard Nixon Presidential Library and Museum in Yorba Linda, California, at a symposium from 1:00 - 4:30 pm.
The event featured panel discussions and remarks by CIA Director John O. Brennan, Director of National Intelligence James R. Clapper, senior Intelligence Community historians, and leaders from the academic and archivist communities. AFIO's president, James R. Hughes, hosted a post-conference reception and met with many members and other attendees.
The President's Daily Briefs (PDBs) contain intelligence analysis on key national security issues for the president and other senior policymakers. Only the president, vice president, and a select group of officials with high-level security clearance receive the daily briefing, which represents the Intelligence Community's best insights when confronted with threats, as well as opportunities related to our national security.
This public release highlights the role of the PDBs in foreign and national security policymaking. This collection includes the PDBs published during President Nixon's term from January 1969 through the end of President Ford's term in January 1977. These documents offer insight into intelligence that informed presidential decision-making during critical historical events including: the Vietnam War, President Nixon's Trip to China, the OPEC embargo, and the Arab-Israeli War.
The declassified documents in this release event were posted on the CIA website here. This collection was assembled as part of the CIA's Historical Review Program, which identifies, reviews, and declassifies documents on historically significant events or topics.
You can view video of presentations at event here.
---
CNN's TV Series "Declassified" starts Episode 1 with "Trigon: The KGB Chess Game"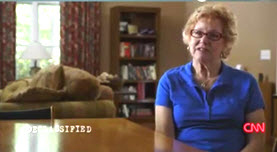 Declassified: Untold Stories of American Spies
The CNN TV Series appears each Sunday.

In Season 1, Episode 01 - "Trigon: The KGB Chess Game" - 45 minutes, we hear from CIA Operations Officer Marti Peterson, CIA Chief of CI James Olson, and KGB Maj. Gen. Oleg Kalugin discuss covert operations conducted by Marti in Moscow. Watch as Marti "goes black" - gets out of the embassy without KGB surveillance to obtain stolen, crucial information on nuclear arms and US-USSR confrontations.
Episode covers the SR100, dead drops, going black, Trigon, L-pills, concealment devices, camera pens, women case officers, and the useful outcome -- the 'take' -- from this operation.
Season, Episode, Title, Release Date
1, 1, Trigon: The KGB Chess Game, 2016-06-19
1, 2, The Hunt for Saddam, 2016-06-26
1, 3, Zarqawi: The Father of ISIS, 2016-07-03
1, 4, Cuba: Traitor on the Inside, 2016-07-10
1, 5, Cross International: The Billion Dollar Black Market, 2016-08-14
1, 6, The Taliban's Double Agent, 2016-08-21
1, 7, Red Storm Rising, 2016-08-28
1, 8, Hexagon: The Secret Satellite, 2016-09-04
The series provides factual accounts of America's covert operations told firsthand by the officers who lived it, and includes access to the often complicated, hidden world of covert operations and espionage.
Series is hosted by former US Congressman/former House Intelligence Committee chair and current CNN national security contributor and AFIO member Mike Rogers.
---
The Assets Returns
Previously cancelled by ABC TV, the counterespionage series based on the successful hunt for CIA traitor Aldrich Ames continues to be released...slowly on ABC.The Assets, an eight-part miniseries, is based on the real life events of CIA counter-intelligence officer Sandy Grimes (Jodie Whittaker). 1985 is the backdrop to the final showdown of the Cold War when Sandy and her partner Jeanne Vertefeuille (Harriet Walter) vow to find the mole that turns out to be the most notorious traitor in US History [before Edward Snowden]: Aldrich Ames (Paul Rhys). Sandy is in a race against time to save the Soviet intelligence officers from being caught and killed. Living her own double life at home, this beautiful wife and mother vows to stop at nothing until she uncovers the truth. The Assets looks inside the personal stories as told by the keepers of the nation's secrets: the CIA.
The Assets stars Paul Rhys as Aldrich Ames, Jodie Whittaker as Sandy Grimes, Harriet Walter (Babel) as Jeanne Vertefeuille, Stuart Milligan (Jonathan Creek) as Art O'Neill, Julian Ovenden as Gary Grimes, Christina Cole as Louisa, and Ralph Brown as Lawrence Winston.
The Assets is based on the book Circle of Treason: A CIA Account of Traitor Aldrich Ames and the Men He Betrayed by Sandy Grimes and Jeanne Vertefeuille. Morgan Hertzan, Rudy Bednar and Andrew Chapman executive produce the series. The Assets is produced by Lincoln Square Productions.
ABC started running The Assets on January 2nd but suddenly pulled the series after two episodes -- "My Name is Aldrich Ames" and "Jewel in the Crown" -- without explanation. The network then announced the show would return, ran two episodes in June, pulled the show again.
Episodes one thru eight are available on various online streaming services:
My Name is Aldrich Ames - Episode 1
Jewel in the Crown - Episode 2
Trip to Vienna - Episode 3
What's Done is Done - Episode 4
Check Mate - Episode 5
Small Useless Truth - Episode 6
The Straw Poll - Episode 7
Avenger - Episode 8
---
TOURS OF THE CIA AND NSA MUSEUMS
A Tour of the CIA Museum - Two Parts - 1 June and 8 June 2014
A Tour of the National Cryptologic Museum - 25 March 2014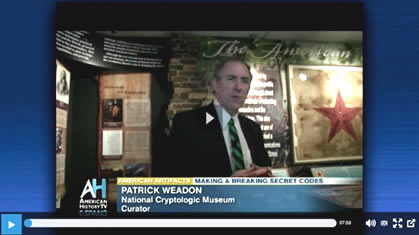 Videos are from C-SPAN's American History TV
---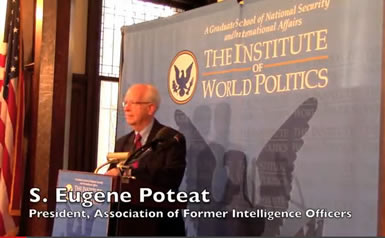 "The Changing Face of American Intelligence" - a presentation at The Institute of World Politics
by S. Eugene Poteat, President of AFIO
on 29 March 2014
The video runs approximately 1 hour.
Theme covered: The CIA has responded to changing national security needs. The early CIA, staffed by former OSS men with Special Ops expertise, succeed in countering the Communist subversion of Italy, Greece and Turkey. Political interference however, led to the disastrous Bay of Pigs fiasco. Special Ops were replaced by analysts who sought to inform policymakers on all they needed to know. But without HUMINT, analysts failed to answer the most critical intelligence question of the time, the "bomber and missile gap." Eisenhower answered the question with high tech reconnaissance, beginning with the U-2 and Corona satellites, which also helped in the Berlin and Cuban Missile crises. With the collapse of the Soviet Union, followed by challenges of global Islamic terrorism, American intelligence has returned to an updated version of Special Ops, i.e., integration of HUMINT, analysis, high-tech weapons, such as the Predator, all working hand-in-glove with Special Forces based in Florida.
---
TURN: The Untold Story of America's First Spy Ring....on AMC TV
Series started Sundays, 6 April 2014
View episodes or learn more about the series

---
For years, women have been making important contributions to the Central Intelligence Agency. Today, nearly half of the CIA is female, and women have been promoted to five of the CIA's top eight positions. NBC's Ann Curry reports.
Originally Aired November 14, 2013
---
Nature of Domestic Terrorist Threats
Nov 25, 2013
Potomac Institute for Policy Studies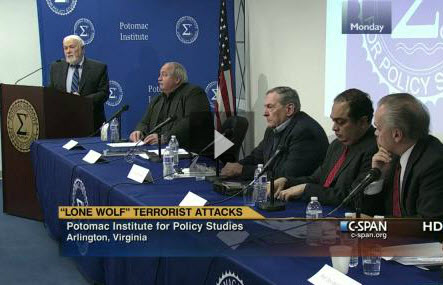 AFIO's chairman, Spike Bowman, was one of the panelists talking about the growing threat of "lone wolf" domestic terrorist attacks. "Lone wolf" is a term associated with notable attacks such as the shooting at the Fort Hood, Texas, Army base, the bombing at the Oklahoma City federal building, and the 2013 shootings at the Washington, D.C., Navy Yard and at LAX airport.
1 hour, 45 minutes.

------------

International Organized Crime and National Security
Nov 1, 2013
American Bar Association
AFIO's chairman, Spike Bowman, was one of the panelists talking about organized crime as a national security threat, including the effects of organized crime on the security of New York City, and what should be done about it. This event took place at the America Bar Association's annual national security conference.
1 hours, 51 minutes.
------------
AFIO's Vice President, John Sano, interviewed on C-SPAN Washington Journal Tuesday, 10 September 2013
on CIA Uses of Intelligence.

John Sano, who oversaw the day-to-day management of the CIA's covert operations as the former deputy director of its National Clandestine Service, talks about how the CIA gathers and uses intelligence.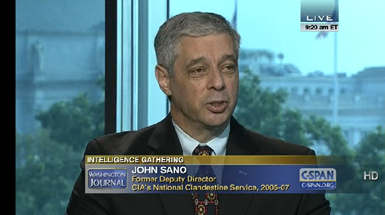 http://www.c-spanvideo.org/program/314938-5
Two additional videos we recommend: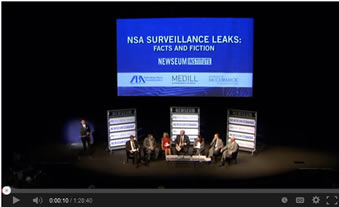 A Newseum/American Bar Association Panel on Tuesday, 25 June 2013 on
NSA Surveillance Leaks: Facts and Fiction
Features AFIO's Chairman, Spike Bowman, and board member Stewart Baker.
---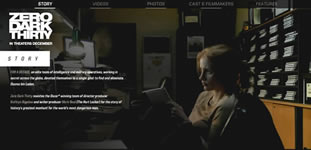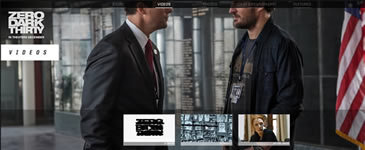 ZERO DARK THIRTY: For a decade, an elite team of CIA intelligence and military operatives, working in secret across the globe, devoted themselves to a single goal: to find and eliminate Osama bin Laden. This is the story of history's greatest manhunt for the world's most dangerous man.
Directed and co-produced by Kathryn Bigelow with screenplay by Mark Boal
Cast: Jessica Chastain, Jason Clarke, Joel Edgerton, Jennifer Ehle, Mark Strong
Book is tied to the October release of the political thriller film Argo (starring Ben Affleck as Mendez).
This is a fast-paced account of a 1979 rescue operation during the Iran hostage crisis of 1979–1981. Iranian militants entered the American Embassy in Tehran and held dozens of Americans hostage for 444 days. Six diplomats managed to escape and fled to the Canadian ambassador's home, avoiding discovery and possible execution by militants for two months. After a recap of the hostage situation at the American embassy, the narrative follows the six step-by-step as they moved through several hideout locations. CIA operative Mendez (Spy Dust), in charge of creating and maintaining myriad false identities and disguises for the CIA, relates, with the aid of journalist Baglio (The Rite: The Making of a Modern Exorcism), how he concocted a clever but risky plan to get the six Americans safely out of the country. Posing as a film producer, he set out to disguise the six as a Hollywood production crew scouting locations for a fake science fiction movie titled Argo: "It's like Buck Rogers in the desert."
Details of the dangerous operation inject strong suspense and excitement into the closing chapters.
Film trailer viewable here or click image above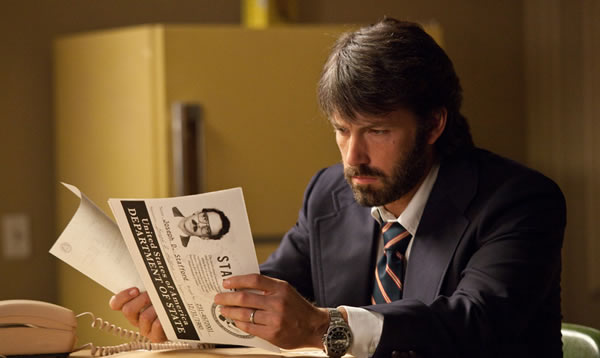 ARGO: How the CIA and Hollywood Pulled Off the Most Audacious Rescue in History
by Antonio Mendez and Matt Baglio [Viking Press, 320p, October 2012]
Book is tied to the October release of the political thriller film Argo (starring Ben Affleck as Mendez).
This is a fast-paced account of a 1979 rescue operation during the Iran hostage crisis of 1979–1981. Iranian militants entered the American Embassy in Tehran and held dozens of Americans hostage for 444 days. Six diplomats managed to escape and fled to the Canadian ambassador's home, avoiding discovery and possible execution by militants for two months. After a recap of the hostage situation at the American embassy, the narrative follows the six step-by-step as they moved through several hideout locations. CIA operative Mendez (Spy Dust), in charge of creating and maintaining myriad false identities and disguises for the CIA, relates, with the aid of journalist Baglio (The Rite: The Making of a Modern Exorcism), how he concocted a clever but risky plan to get the six Americans safely out of the country. Posing as a film producer, he set out to disguise the six as a Hollywood production crew scouting locations for a fake science fiction movie titled Argo: "It's like Buck Rogers in the desert."
Details of the dangerous operation inject strong suspense and excitement into the closing chapters.
Film trailer viewable here or click image above
---
CIA declassifies Extraordinary Fidelity - Available for viewing at link at right

CIA has declassified Extraordinary Fidelity - a moving one-hour documentary about two CIA Officers (and two pilots) on a dangerous 1952 mission in the Manchuria region of northeast Communist China.

They are shot down, lost to all back home, tortured, and were in-and-out of solitary confinement for decades. How the operation went awry, the betrayals, the methods each used for keeping sane and motivated under unending imprisonment, was compounded by the fact that, back home, they were MIA and later presumed dead since China never acknowledged -- for years -- their survival and capture.
The documentary, produced by CIA and never aired outside headquarters, is now available for viewing on YouTube.

The two pilots died but CIA officers - Richard G. Fecteau and John T. "Jack" Downey - were freed in 1971 and 1973, respectively, and have gone on with their lives devoid of bitterness and have continued to excel in the new paths they have taken.



The documentary can be viewed at this link: http://www.youtube.com/user/ciagov
or click on image above. We recommend you take the hour to view it.
ACT OF VALOR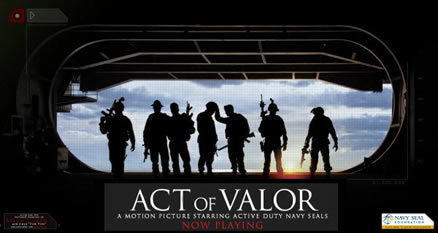 When the rescue of a kidnapped CIA operative leads to the discovery of a deadly terrorist plot against the U.S., a team of SEALs is dispatched on a worldwide manhunt. As the valiant men of Bandito Platoon race to stop a coordinated attack that could kill and wound thousands of American civilians, they must balance their commitment to country, team and their families back home. Act of Valor uses active duty U.S. Navy Seals as actors. The characters they play are fictional, but the weapons and tactics used are real.
Act of Valor opened in many theaters as of February 17, 2012
Click on image above to view film trailer or use this link: trailer
---

TWO Semi-Documentaries to see:

Fair Game - A Film about CIA Officer Valerie Plame, diplomat Joe Wilson, CIA, and the Bush Administration - in Theaters November 5, 2010
Click image below to view trailer

A suspense-filled glimpse into the corridors of political gamesmanship where leaked intelligence community doubts about the lack of any serious threat of WMDs in Iraq, comes up against an administration hellbent to justify an invasion of Iraq to bring about regime-change. The film is based on the autobiography of the same name of CIA National Clandestine Services [NCS] officer Valerie Plame [Naomi Watts], whose career was destroyed, and marriage strained, when her covert identity was exposed by White House minions, in a campaign to neutralize her and to discredit her husband who released the findings not meant for public release, when it was clear his assessment would not support administration goals.

But the situation was not as simple as the book and film would have us believe. As a NCS officer operating as a "NOC" [non-official cover officer], working in CIA's Counter-Proliferation Division, Plame leads an investigation into the existence of WMDs in Iraq. Plame's husband, diplomat Joe Wilson [Sean Penn] -- a well-known critic of the Bush administration -- is drawn into the investigation when he is assigned [by whom?] to substantiate an alleged sale of enriched uranium from Niger. His classified findings are that there was no sale and likely no WMDs. But when the administration ignores his findings and uses the issue to continue its call to war, Wilson violates the secret nature of his assignment and writes a New York Times editorial outlining his conclusions, igniting a firestorm of controversy. The WH sees the editorial, by the husband of a CIA officer who likely played a role in cherrypicking Wilson for the assignment, as nothing less than a deliberate endplay, and a blatant, politically motivated betrayal of decisions that should have remained in the hands of the President and his advisors who, alone, were the ones to decide which facts to accept or ignore from a vast number of inputs arriving from intelligence collectors and analysts.

Misbehavior on both sides. There still is little agreement on where the betrayals were greatest, but the deliberate exposure of Valerie Plame's undercover status was unconscionable for it put the lives of scores of sensitive operations, proprietaries, other officers, and intelligence agents at risk in countries that quickly arrest and often kill entire families found to be aiding CIA or other western services.

---

Farewell - A Documentary based on spy Vladimir Vetrov

A real espionage case. Do not miss the following...

Farewell - A movie based on spy Vladimir Vetrov

In Select Theaters July 2010 - New York and Los Angeles - July 23, 2010
Cast & Crew: Director: Christian Carion Producers: Christophe Rossignon, Bertrand Faivre, PHILIP BOEFFARD
Cast: WILLEM DAFOE, Guillaume Canet, EMIR KUSTURICA, ALEXANDRA MARIA LARA, Dapkunaite, Dina Korzun, David Soul, Fred Ward
Written by: Eric Raynaud
France 2009 | Run time: 112 min.
Director: Christian Carion | Language: French - English - Russian

In 1981, Colonel Grigoriev of the KGB (real name - Vladimir Vetrov), disenchanted with what the Communist ideal has become under Brezhnev, decides he is going to change the world…
Discreetly, he makes contact with a French engineer working for Thomson in Moscow and little by little passes on documents to him - mainly concerning the United States - containing information which would constitute the most important Cold War espionage operation known to date.
During a period of two years, French President, François Mitterrand, was to personally vet the documents supplied by this source in Moscow, to whom the French Secret Service gave the codename « Farewell ».
Then master of the White House, Ronald Reagan, set aside his reluctance to work with a French Socialist to put this unhoped-for information from the very heart of the KGB to use. Farewell would in fact decapitate the network which enabled the KGB to gain in-depth knowledge of scientific, industrial and military research in the West.
Once the USSR had been deprived of these precious sources of information, Ronald Reagan's announcement of the new « Star Wars » military programme sounded the death bell of the Soviet Union. The Berlin Wall would fall before the end of the 80s…
In his own way, Farewell managed to change the world, by avoiding traditional espionage methods too well known to the KGB and by not asking for any financial compensation whatsoever - much too capitalist for his taste. He simply followed his destiny, so that a new world might dawn for all his fellow Russians, but especially for his son.
A trailer of the film can be viewed at this link:
http://trailers.apple.com/trailers/independent/farewell/

More information about the case and film is available at: http://www.FarewellTheMovie.com

---
2019 Monthly Events
To join AFIO,
or subscribe to our publications,
start HERE.
Current Members:
*Online Renewal*
or
"Change of Address
or New Email Info