---
COMING EVENTS FROM THE LATEST WEEKLY INTELLIGENCE NOTES - Use month index in right column to jump to current month:
---
THIS IS A LIST OF UPCOMING EVENTS in 2021
PRIOR events in 2021 are at this link.
Upcoming events in 2022 are at this link when available.
Programs Offered by External Organizations are HERE
---
August 2021
8 August 2021, 2-3:30 pm - Zoom Webinar - Saving the Kids: The Operation Babylift Plane Crash in the Vietnam War - Presenation by Bud Traynor for The Cold War Museum
Disaster at 23,000 ft. Certain death for crew and the hundreds of Vietnamese orphans aboard. But most saved due to amazing skill & bravery.
You've Got a Cargo Plane Full of Vietnamese Orphans Escaping from Saigon
At 23,000 Feet You Lose Half the Hydraulic Systems and Most of the Flight Controls
Game Over? Not with Pilot Bud Traynor and His Crew in Charge. He tells the full story in this presentation to The Cold War Museum.
Agenda:
• 1:30-2:00. Participants arrive in the Zoom room online.
• 2:00-2:05. Jason Hall, Executive Director of the Cold War Museum, introduces the Museum and Bud Traynor.
• 2:05-3:00. Bud presents on Operation Babylift and the Babylift Crash.
• 3:00-3:30. Q&A opportunity for the audience.
Cost: $20, 100% of which is a contribution to the Cold War Museum.
ONLINE ONLY. Eventbrite tickets should be purchased here. Buyers will receive link to virtual room on the Zoom platform.
Questions? Call or email Jason Hall, 703-283-4124 (cell), jason@coldwar.org
25 August 2021, 11 am - 5 pm EDT - Virtual - Revolution in Intelligence Affairs - COLLOQUIUM #3: Future Strategic Environment - Event sponsored by ODNI and NASEM
Revolution in Intelligence Affairs: Colloquium Series by National Academies of Sciences Engineering Medicine (NASEM) Intelligence Community Studies Board
Join us for a colloquium series on how emerging technologies will impact intelligence operations and the future strategic environment.
About this Event
Emerging and disruptive technologies are in the process of facilitating a revolution in intelligence affairs (RIA). These technological drivers will impact intelligence strategy, operational and organizational concepts, and contribute to shaping the future strategic environment. This revolution will create new threats, opportunities, and challenges for the U.S. Intelligence Community.
At the request of the Office of the Director of National Intelligence (ODNI), the National Academies will host a three-part subseries of virtual colloquia seeking to address these issues. The subseries will be split into three days, each with a different focus, throughout 2021.
COLLOQUIUM #3: Future Strategic Environment
Join us for the first colloquium on 30 June 2021 from 11am-5pm ET.
Featured Talks: TBA.
REGISTER here when registration opens. No cost to attend.
LOGIN INSTRUCTIONS will be supplied online and sent by email as the event approaches.
You will receive login instructions via email before the event.
The entire 3-part series is: Colloquium 1 on April 28, 2021 from 11am-5pm ET: Technological Drivers; Colloquium 2 on June 30, 2021 from 11am-5pm ET: Strategic, Operational, and Organizational Impact; and Colloquium 3 on August 25, 2021 from 11am-5pm ET: Future Strategic Environment
These events are part of an ongoing series of colloquia organized by the National Academies' Intelligence Community Studies Board and sponsored by the ODNI.
September 2021
October 2021
Friday, 8 October 2021, 11 am - 2 pm - In-Person Tysons Corner, VA - AFIO Luncheon featuring David Ignatius on "The Paladin" and Stephen Vogel on Traitor George Blake.

FOR YOUR CALENDAR. The first in-person AFIO National Luncheon for 2021 will take place on Friday, 8 October at DoubleTree Hotel, Tysons Corner. Event will feature David Ignatius discussing "The Paladin" or possibly another topic TBA. And the morning speaker, Stephen Vogel, discussing "Betrayal in Berlin" and traitor George Blake.
TO REGISTER: Registration link forthcoming.
VENUE: DoubleTree by Hilton, 1960 Chain Bridge Rd, Tysons Corner, VA 22182 Phone: (703) 893-2100. Directions at this link.
Wednesday, 27 October 2021, 6 - 10 pm - Washington, DC - 30th (+1) Anniversary Gala and Chancellor's Dinner - Institute of World Politics
Save the date. Current timing of this in-person celebration is:
6:00 PM Cocktail Reception
7:00 PM Dinner
9:00 PM Dessert and Dancing
Location: The Mayflower Hotel, 1127 Connecticut Ave NW, Washington, DC
Additional details to follow
*Because this is an unusual year, if you are considering attending the 30th (+1!) Anniversary Gala, please fill out this form: iwp.edu/gala-survey
Friday, 29 October 2021 - Arlington, VA - Naval Intelligence Professionals holds Fall Meeting
Hold the date. Naval Intelligence Professionals will be hosting their annual meeting at the Army Navy Country Club in Arlington, VA. More information forthcoming.
November 2021
December 2021
Wednesday, 1 December 2021, 5:30 PM VIP Reception / 6:30 PM Progressive Reception & Award Program - Washington, DC - 2021 Webster Distinguished Service Award Event - International Spy Museum

The Spy Museum offers an evening of intrigue for the 2021 Webster Distinguished Service Award event. The award is an opportunity to recognize the extraordinary contributions of individuals in the Intelligence Community. This year's awardee is The Honorable Susan M. Gordon, former principal deputy director of national intelligence. Previous recipients of the Webster Distinguished Service Award include President George H. W. Bush (2017), Admiral William H. McRaven, USN (Ret.) (2018), and Gen. Michael V. Hayden (Ret.) (2019). Webster attendee and sponsor support fuels the nonprofit mission of educating the public about the history and craft of espionage and intelligence through youth and adult programs, community service, and the care of the Museum's unique collection of artifacts for generations to come.
Event will be held at the International Spy Museum.
For tickets, sponsorship opportunities, or information about ways to support the International Spy Museum, please contact the development office at 202.654.2853. Event tickets, other details are available here.
Sunday, 5 December 2021 - Vienna, VA - The 2021 CIRA National Dinner
Details on cira.org
UPCOMING EVENTS IN 2022 WILL BE LINKED HERE WHEN THAT PAGE IS AVAILABLE
---
The National Cryptologic Foundation VIRTUAL PROGRAMS
NCF Virtual Education Programs
---
14 September 2021, 10am EDT - Zoom Webinar - Virtual Panel Discussion with Former Deputy Directors of National Intelligence as part of NCF's 25th Anniversary
The National Cryptologic Foundation is excited to announce the next NCF 25th Anniversary virtual program which features a panel of former deputy directors of national intelligence. Greg Myre, NPR National Security Correspondent, will serve as moderator for the program.
The program is free, but as with our other 25th Anniversary events and activities - we appreciate any and all donations as they will help to support our mission - especially our growing list of exciting education initiatives. Stay tuned as registration will open soon.
Who: National Cryptologic Foundation
What: 25th Anniversary September 14th Panel Discussion with Former Deputy Directors of National Intelligence: Confirmed panelists include: Gen Michael V. Hayden, USAF (Ret), Mr. Donald Kerr, and Ms. Stephanie O'Sullivan. This panel discussion will be moderated by: Greg Myre, National Security Correspondent, NPR.
When: 14 September 2021, 10-11:30 am EDT
Where: Virtual Program - offered via Zoom webinar (Once registration opens, your Zoom details will be in your confirmation email.)
*If you are unable to attend, please stay tuned to the NCF e-newsletter and social media for an announcement about the recording, once available.
Cost: Free. Donations Appreciated.
Contact: If you have questions about this program, please email ncfinfo@cryptologicfoundation.org.
Registration to Open Soon and will be at this link.
---
14 October 2021, 8:15a to 2p - virtual and in-person - NCF General Membership Meeting (GMM) & Annual Symposium
SAVE THE DATE for the first hybrid (virtual and in-person) National Cryptologic Foundation General Membership Meeting. We are excited to be planning to gather in person again. The 2021 GMM & Annual Symposium will be held on 14 October and will be a hybrid event - offering options to attend virtually or in person. The program will be held at the CACI in the National Business Park. Seating will be limited and the program will be shorter in duration this year. Schedule: Check-in and breakfast from 8:15-8:45am; Program 9am-12pm; Lunch and Booksigning 12-1pm. Stay tuned for program details and registration will be available at this link.
---
NCF #CYBERCHATS - FOR THE K-12 COMMUNITY
Our #CyberChats are designed to promote cybersecurity education and inspire students to pursue a cyber-related career. NCF #CyberChats are hosted in our Nepris online classroom and also via Zoom. The Chats feature a wide variety of cyber experts and professionals, some who are NCF members. These dedicated professionals share their experiences, insights, advice, and resources with students, parents, and teachers. Chats on a specific topic are often specifically requested by classrooms across the U.S.
Visit the #CyberChat Library
---
NCF CRYPTOLOGIC PROGRAMS (VIRTUAL)
The NCF hosts quarterly cryptologic programs, as well as an annual Membership Meeting & Symposium featuring guest speakers. We also partner with the NSA's Center for Cryptologic History in promoting various programs & lectures. During our Anniversary year (April 2021-April 2022), we are hosting a variety of additional special programs and talks, such as our kickoff event in April 2021 that featured a panel of former NSA directors.
In 2021, we began hosting virtual programs via Zoom. However, prior to that our programs were in person. If you are interested in seeing recaps and photos from those prior events, please visit the Quarterly Programs page or Membership Meeting & Symposium page.
View Past NCF Virtual Cryptologic Programs
---
NCF PARTNER PROGRAMS
The NCF's Education Program hosts Cybersecurity Events with the University of Maryland Global Campus (UMGC), as well as other community partners.The programs highlight relevant cybersecurity topics and feature experts in the field. These events take multiple forms, to include webinars and special events at locations around the National Capitol Region.
View the Selection of Partner Programs
---
NCF PARTICIPATION
Just as the NCF enjoys interviewing professionals and experts for our #CyberChats and Cryptologic Programs, our staff likewise enjoys the opportunity to be interviewed for other organizations' programs or podcasts regarding their experience and knowledge. 
NCF Interviews & Participation
---
---
---
---
Documentaries, Videos of Interviews, and Commercial Movies of interest
Video Tours of the Intelligence Community...continued
Virtual Museum Tours - No Masks, No Traffic or Long Drives, No Standing in Line

Take a Virtual Tour of the CIA Museum Online Collection The CIA Museum helps visitors better understand CIA and its contributions to national security.
The museum's collection includes clothing, equipment, weapons, insignia and other memorabilia that serve as tangible testimony to the Agency's history.
Many of the objects were designed, manufactured, and used specifically for intelligence operations.
A few artifacts are associated with the CIA's predecessor, the Office of Strategic Services, and foreign intelligence organizations.
The CIA Museum is located within the CIA compound and is not open to public tours.


Take a Guided Virtual Tour of NSA's Cryptologic Museum
---
THE NRO: America's Eyes and Ears in Space
Though released four years ago, the above National Reconnaissance Office video provides a quick review of the important space surveillance activities NRO conducts to keep America and our allies safe.
NRO captures signals and images critical to America's safety, reveals threats to the homeland, provides battlefield awareness, supports counternarcotics, surveys the damage from natural disasters, and more. The work is done by the unusual satellites of the National Reconnaissance Office. Learn more in this 13 minute video. [Thank you Marty Faga!]
Operation Overlord: OSS and the Battle for France
Saturday, 6 June 2020, marked the 76th anniversary of D-Day when more than 150,000 American and Allied soldiers stormed the beaches of Normandy to save the world from tyranny. The OSS Society produced an award-winning short documentary about D-Day: "Operation Overlord: OSS and the Battle for France" which tells the story of Allied special forces whose daring exploits changed the course of World War II. The film includes an introduction by The Honorable Leon Panetta. It was written and directed by Carl Colby, an award-winning documentary filmmaker whose father, William Colby, jumped into Nazi-occupied France as an OSS Jedburgh. The film's executive producer is Charles Pinck, The OSS Society's president.
Watch full documentary by clicking video above or the link here. Runs ~15 minutes.
---
View video from your desk using this link
"Looking Over The Horizon"
CIA's Third Conference on The Ethos & Profession of Intelligence
was held Tuesday, 20 September 2016
at George Washington University, Lisner Auditorium, Washington
The conference included the following panelists: Speakers: David S. Cohen, (Moderator) Deputy Director, CIA; Carrie Cordero, Founder, The Law Office of Carrie Cordero; Counsel to the Assistant Attorney General for National Security (former) Ben Huebner Privacy and Civil Liberties Officer, CIA; Dan Klaidman, Deputy Editor, Yahoo News; Jason Leopold, Investigative Reporter, VICE News. Speakers: Christopher Kojm, (Moderator), Visiting Professor, Practice of International Affairs, GW; Chairmain, National Intelligence Council (former); Susan Gordon, Deputy Director, National Geospatial-Intelligence Agency; Nancy Jackson, Deputy Assistant Secretary, Bureau of Population, Refugees, and Migration, US Department of State; Carla Koppell, Vice President Applied Conflict Transformation, US Institute of Peace. Speakers: Frank Cilluffo, (Moderator), Associate Vice President, GW; Director, Center for Cyber and Homeland Security, GW; Chris Darby, President and CEO, In-Q-Tel; Andrew P. Hallman, Deputy Director, Digital Innovation, CIA; Chris Inglis, Distinguished Visiting Professor in Cyber Security Studies, US Naval Academy; Deputy Director, NSA (former); Dr. Jason Matheny, Director, Intelligence Advanced Research Projects Activity; Matt Olsen, President of Consulting, IronNet; Director, National Counterterrorism Center (former). Speakers: John Brennan, (Moderator) Director, Central Intelligence Agency (CIA); Mohammad Masoom Stanekzai, Defense Minister of Afghanistan (acting); Nick Warner, Director-General, Australian Secret Intelligence Service; Alex Younger, Chief, British Secret Intelligence Service. Speakers: Frank Sesno, (Moderator) Director of the School of Media and Public Affairs, GW; Peter Clement, Deputy Assistant Director, Europe and Eurasia Mission Center, CIA; John McLaughlin, Distinguished Practitioner in Residence, Johns Hopkins University; Acting Director, CIA (former); Dennis Wilder, Senior Fellow and Assistant Professor, Georgetown University.
Video of panels may be viewed at this link.
All GW Center for Cyber and Homeland Security videos are here.
---
The President's Daily Brief: Delivering Intelligence to Nixon and Ford was a document release event by the Central Intelligence Agency, the Richard Nixon Presidential Library and Foundation, and the National Archives. The event was held Wednesday, 24 August 2016, in Yorba Linda, California.

Video of the event can be viewed here.
Director of Central Intelligence Agency John Brennan and Director of National Intelligence James Clapper were one of several speakers. A special invitation-only reception followed at close of program, hosted by AFIO President James R. Hughes.



[Above: President Richard Nixon's 1969 visit to CIA Headquarters]
Previously classified President's Daily Briefs (PDB) from the Richard Nixon and Gerald Ford Administrations produced by the CIA were released on Wednesday, 24 August, at the Richard Nixon Presidential Library and Museum in Yorba Linda, California, at a symposium from 1:00 - 4:30 pm.
The event featured panel discussions and remarks by CIA Director John O. Brennan, Director of National Intelligence James R. Clapper, senior Intelligence Community historians, and leaders from the academic and archivist communities. AFIO's president, James R. Hughes, hosted a post-conference reception and met with many members and other attendees.
The President's Daily Briefs (PDBs) contain intelligence analysis on key national security issues for the president and other senior policymakers. Only the president, vice president, and a select group of officials with high-level security clearance receive the daily briefing, which represents the Intelligence Community's best insights when confronted with threats, as well as opportunities related to our national security.
This public release highlights the role of the PDBs in foreign and national security policymaking. This collection includes the PDBs published during President Nixon's term from January 1969 through the end of President Ford's term in January 1977. These documents offer insight into intelligence that informed presidential decision-making during critical historical events including: the Vietnam War, President Nixon's Trip to China, the OPEC embargo, and the Arab-Israeli War.
The declassified documents in this release event were posted on the CIA website here. This collection was assembled as part of the CIA's Historical Review Program, which identifies, reviews, and declassifies documents on historically significant events or topics.
You can view video of presentations at event here.
---
CNN's TV Series "Declassified" starts Episode 1 with "Trigon: The KGB Chess Game"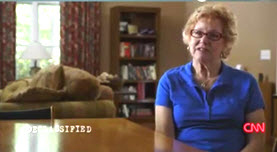 Declassified: Untold Stories of American Spies
The CNN TV Series appears each Sunday.

In Season 1, Episode 01 - "Trigon: The KGB Chess Game" - 45 minutes, we hear from CIA Operations Officer Marti Peterson, CIA Chief of CI James Olson, and KGB Maj. Gen. Oleg Kalugin discuss covert operations conducted by Marti in Moscow. Watch as Marti "goes black" - gets out of the embassy without KGB surveillance to obtain stolen, crucial information on nuclear arms and US-USSR confrontations.
Episode covers the SR100, dead drops, going black, Trigon, L-pills, concealment devices, camera pens, women case officers, and the useful outcome -- the 'take' -- from this operation.
Season, Episode, Title, Release Date
1, 1, Trigon: The KGB Chess Game, 2016-06-19
1, 2, The Hunt for Saddam, 2016-06-26
1, 3, Zarqawi: The Father of ISIS, 2016-07-03
1, 4, Cuba: Traitor on the Inside, 2016-07-10
1, 5, Cross International: The Billion Dollar Black Market, 2016-08-14
1, 6, The Taliban's Double Agent, 2016-08-21
1, 7, Red Storm Rising, 2016-08-28
1, 8, Hexagon: The Secret Satellite, 2016-09-04
The series provides factual accounts of America's covert operations told firsthand by the officers who lived it, and includes access to the often complicated, hidden world of covert operations and espionage.
Series is hosted by former US Congressman/former House Intelligence Committee chair and current CNN national security contributor and AFIO member Mike Rogers.
---
The Assets Returns
Previously cancelled by ABC TV, the counterespionage series based on the successful hunt for CIA traitor Aldrich Ames continues to be released...slowly on ABC.The Assets, an eight-part miniseries, is based on the real life events of CIA counter-intelligence officer Sandy Grimes (Jodie Whittaker). 1985 is the backdrop to the final showdown of the Cold War when Sandy and her partner Jeanne Vertefeuille (Harriet Walter) vow to find the mole that turns out to be the most notorious traitor in US History [before Edward Snowden]: Aldrich Ames (Paul Rhys). Sandy is in a race against time to save the Soviet intelligence officers from being caught and killed. Living her own double life at home, this beautiful wife and mother vows to stop at nothing until she uncovers the truth. The Assets looks inside the personal stories as told by the keepers of the nation's secrets: the CIA.
The Assets stars Paul Rhys as Aldrich Ames, Jodie Whittaker as Sandy Grimes, Harriet Walter (Babel) as Jeanne Vertefeuille, Stuart Milligan (Jonathan Creek) as Art O'Neill, Julian Ovenden as Gary Grimes, Christina Cole as Louisa, and Ralph Brown as Lawrence Winston.
The Assets is based on the book Circle of Treason: A CIA Account of Traitor Aldrich Ames and the Men He Betrayed by Sandy Grimes and Jeanne Vertefeuille. Morgan Hertzan, Rudy Bednar and Andrew Chapman executive produce the series. The Assets is produced by Lincoln Square Productions.
ABC started running The Assets on January 2nd but suddenly pulled the series after two episodes -- "My Name is Aldrich Ames" and "Jewel in the Crown" -- without explanation. The network then announced the show would return, ran two episodes in June, pulled the show again.
Episodes one thru eight are available on various online streaming services:
My Name is Aldrich Ames - Episode 1
Jewel in the Crown - Episode 2
Trip to Vienna - Episode 3
What's Done is Done - Episode 4
Check Mate - Episode 5
Small Useless Truth - Episode 6
The Straw Poll - Episode 7
Avenger - Episode 8
---
TOURS OF THE CIA AND NSA MUSEUMS
A Tour of the CIA Museum - Two Parts - 1 June and 8 June 2014
A Tour of the National Cryptologic Museum - 25 March 2014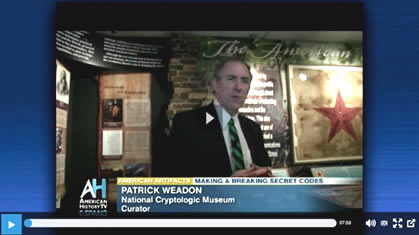 Videos are from C-SPAN's American History TV
---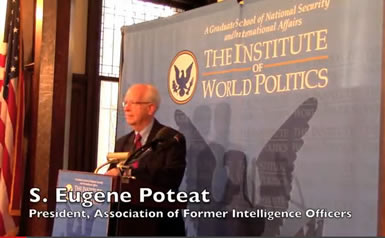 "The Changing Face of American Intelligence" - a presentation at The Institute of World Politics
by S. Eugene Poteat, President of AFIO
on 29 March 2014
The video runs approximately 1 hour.
Theme covered: The CIA has responded to changing national security needs. The early CIA, staffed by former OSS men with Special Ops expertise, succeed in countering the Communist subversion of Italy, Greece and Turkey. Political interference however, led to the disastrous Bay of Pigs fiasco. Special Ops were replaced by analysts who sought to inform policymakers on all they needed to know. But without HUMINT, analysts failed to answer the most critical intelligence question of the time, the "bomber and missile gap." Eisenhower answered the question with high tech reconnaissance, beginning with the U-2 and Corona satellites, which also helped in the Berlin and Cuban Missile crises. With the collapse of the Soviet Union, followed by challenges of global Islamic terrorism, American intelligence has returned to an updated version of Special Ops, i.e., integration of HUMINT, analysis, high-tech weapons, such as the Predator, all working hand-in-glove with Special Forces based in Florida.
---
Nature of Domestic Terrorist Threats
Nov 25, 2013
Potomac Institute for Policy Studies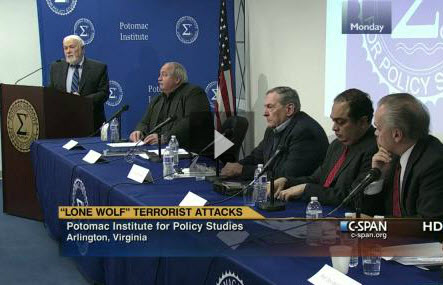 AFIO's chairman, Spike Bowman, was one of the panelists talking about the growing threat of "lone wolf" domestic terrorist attacks. "Lone wolf" is a term associated with notable attacks such as the shooting at the Fort Hood, Texas, Army base, the bombing at the Oklahoma City federal building, and the 2013 shootings at the Washington, D.C., Navy Yard and at LAX airport.
1 hour, 45 minutes.

------------

International Organized Crime and National Security
Nov 1, 2013
American Bar Association
AFIO's chairman, Spike Bowman, was one of the panelists talking about organized crime as a national security threat, including the effects of organized crime on the security of New York City, and what should be done about it. This event took place at the America Bar Association's annual national security conference.
1 hours, 51 minutes.
------------
AFIO's Vice President, John Sano, interviewed on C-SPAN Washington Journal Tuesday, 10 September 2013
on CIA Uses of Intelligence.

John Sano, who oversaw the day-to-day management of the CIA's covert operations as the former deputy director of its National Clandestine Service, talks about how the CIA gathers and uses intelligence.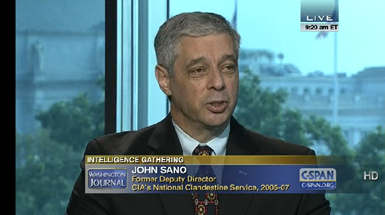 https://www.c-span.org/video/?314938-5/cia-intelligence-gathering
Two additional videos we recommend: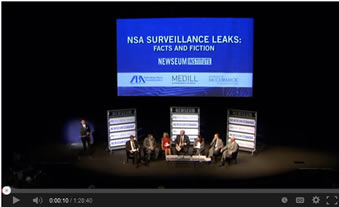 A Newseum/American Bar Association Panel on Tuesday, 25 June 2013 on
NSA Surveillance Leaks: Facts and Fiction
Features AFIO's Chairman, Spike Bowman, and board member Stewart Baker.
---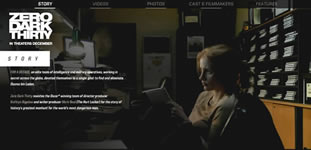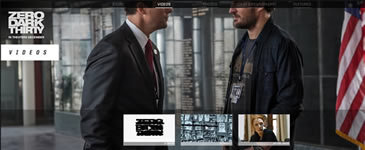 ZERO DARK THIRTY: For a decade, an elite team of CIA intelligence and military operatives, working in secret across the globe, devoted themselves to a single goal: to find and eliminate Osama bin Laden. This is the story of history's greatest manhunt for the world's most dangerous man.
Directed and co-produced by Kathryn Bigelow with screenplay by Mark Boal
Cast: Jessica Chastain, Jason Clarke, Joel Edgerton, Jennifer Ehle, Mark Strong
Book is tied to the October release of the political thriller film Argo (starring Ben Affleck as Mendez).
This is a fast-paced account of a 1979 rescue operation during the Iran hostage crisis of 1979–1981. Iranian militants entered the American Embassy in Tehran and held dozens of Americans hostage for 444 days. Six diplomats managed to escape and fled to the Canadian ambassador's home, avoiding discovery and possible execution by militants for two months. After a recap of the hostage situation at the American embassy, the narrative follows the six step-by-step as they moved through several hideout locations. CIA operative Mendez (Spy Dust), in charge of creating and maintaining myriad false identities and disguises for the CIA, relates, with the aid of journalist Baglio (The Rite: The Making of a Modern Exorcism), how he concocted a clever but risky plan to get the six Americans safely out of the country. Posing as a film producer, he set out to disguise the six as a Hollywood production crew scouting locations for a fake science fiction movie titled Argo: "It's like Buck Rogers in the desert."
Details of the dangerous operation inject strong suspense and excitement into the closing chapters.
Film trailer viewable here or click image above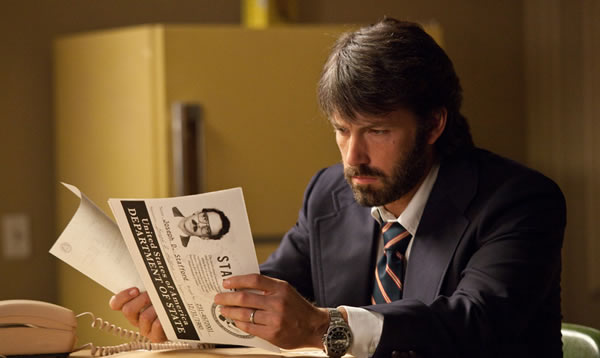 ARGO: How the CIA and Hollywood Pulled Off the Most Audacious Rescue in History
by Antonio Mendez and Matt Baglio [Viking Press, 320p, October 2012]
Book is tied to the October release of the political thriller film Argo (starring Ben Affleck as Mendez).
This is a fast-paced account of a 1979 rescue operation during the Iran hostage crisis of 1979–1981. Iranian militants entered the American Embassy in Tehran and held dozens of Americans hostage for 444 days. Six diplomats managed to escape and fled to the Canadian ambassador's home, avoiding discovery and possible execution by militants for two months. After a recap of the hostage situation at the American embassy, the narrative follows the six step-by-step as they moved through several hideout locations. CIA operative Mendez (Spy Dust), in charge of creating and maintaining myriad false identities and disguises for the CIA, relates, with the aid of journalist Baglio (The Rite: The Making of a Modern Exorcism), how he concocted a clever but risky plan to get the six Americans safely out of the country. Posing as a film producer, he set out to disguise the six as a Hollywood production crew scouting locations for a fake science fiction movie titled Argo: "It's like Buck Rogers in the desert."
Details of the dangerous operation inject strong suspense and excitement into the closing chapters.
Film trailer viewable here or click image above
---
CIA declassifies Extraordinary Fidelity - Available for viewing at link at right

CIA has declassified Extraordinary Fidelity - a moving one-hour documentary about two CIA Officers (and two pilots) on a dangerous 1952 mission in the Manchuria region of northeast Communist China.

They are shot down, lost to all back home, tortured, and were in-and-out of solitary confinement for decades. How the operation went awry, the betrayals, the methods each used for keeping sane and motivated under unending imprisonment, was compounded by the fact that, back home, they were MIA and later presumed dead since China never acknowledged -- for years -- their survival and capture.
The documentary, produced by CIA and never aired outside headquarters, is now available for viewing on YouTube.

The two pilots died but CIA officers - Richard G. Fecteau and John T. "Jack" Downey - were freed in 1971 and 1973, respectively, and have gone on with their lives devoid of bitterness and have continued to excel in the new paths they have taken.



The documentary can be viewed at this link: http://www.youtube.com/user/ciagov
or click on image above. We recommend you take the hour to view it.
ACT OF VALOR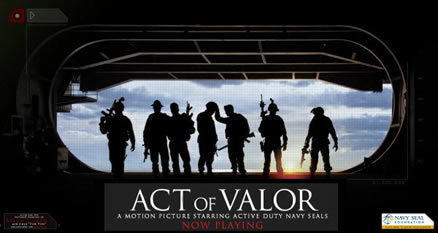 When the rescue of a kidnapped CIA operative leads to the discovery of a deadly terrorist plot against the U.S., a team of SEALs is dispatched on a worldwide manhunt. As the valiant men of Bandito Platoon race to stop a coordinated attack that could kill and wound thousands of American civilians, they must balance their commitment to country, team and their families back home. Act of Valor uses active duty U.S. Navy Seals as actors. The characters they play are fictional, but the weapons and tactics used are real.
Act of Valor opened in many theaters as of February 17, 2012
Click on image above to view film trailer or use this link: trailer
---
I R A N I U M
An important film about a possible threat
that shows a country bent on annihiliation of the free world:
Iran's Acquisition of Nuclear Weapons

For a limited time, entire film can be viewed online at no cost.
We urge you to take the time to do so now.

---

TWO Semi-Documentaries to see:

Fair Game - A Film about CIA Officer Valerie Plame, diplomat Joe Wilson, CIA, and the Bush Administration - in Theaters November 5, 2010
Click image below to view trailer

A suspense-filled glimpse into the corridors of political gamesmanship where leaked intelligence community doubts about the lack of any serious threat of WMDs in Iraq, comes up against an administration hellbent to justify an invasion of Iraq to bring about regime-change. The film is based on the autobiography of the same name of CIA National Clandestine Services [NCS] officer Valerie Plame [Naomi Watts], whose career was destroyed, and marriage strained, when her covert identity was exposed by White House minions, in a campaign to neutralize her and to discredit her husband who released the findings not meant for public release, when it was clear his assessment would not support administration goals.

But the situation was not as simple as the book and film would have us believe. As a NCS officer operating as a "NOC" [non-official cover officer], working in CIA's Counter-Proliferation Division, Plame leads an investigation into the existence of WMDs in Iraq. Plame's husband, diplomat Joe Wilson [Sean Penn] -- a well-known critic of the Bush administration -- is drawn into the investigation when he is assigned [by whom?] to substantiate an alleged sale of enriched uranium from Niger. His classified findings are that there was no sale and likely no WMDs. But when the administration ignores his findings and uses the issue to continue its call to war, Wilson violates the secret nature of his assignment and writes a New York Times editorial outlining his conclusions, igniting a firestorm of controversy. The WH sees the editorial, by the husband of a CIA officer who likely played a role in cherrypicking Wilson for the assignment, as nothing less than a deliberate endplay, and a blatant, politically motivated betrayal of decisions that should have remained in the hands of the President and his advisors who, alone, were the ones to decide which facts to accept or ignore from a vast number of inputs arriving from intelligence collectors and analysts.

Misbehavior on both sides. There still is little agreement on where the betrayals were greatest, but the deliberate exposure of Valerie Plame's undercover status was unconscionable for it put the lives of scores of sensitive operations, proprietaries, other officers, and intelligence agents at risk in countries that quickly arrest and often kill entire families found to be aiding CIA or other western services.

---

Farewell - A Documentary based on spy Vladimir Vetrov

A real espionage case. Do not miss the following...

Farewell - A movie based on spy Vladimir Vetrov

In Select Theaters July 2010 - New York and Los Angeles - July 23, 2010
Cast & Crew: Director: Christian Carion Producers: Christophe Rossignon, Bertrand Faivre, PHILIP BOEFFARD
Cast: WILLEM DAFOE, Guillaume Canet, EMIR KUSTURICA, ALEXANDRA MARIA LARA, Dapkunaite, Dina Korzun, David Soul, Fred Ward
Written by: Eric Raynaud
France 2009 | Run time: 112 min.
Director: Christian Carion | Language: French - English - Russian

In 1981, Colonel Grigoriev of the KGB (real name - Vladimir Vetrov), disenchanted with what the Communist ideal has become under Brezhnev, decides he is going to change the world…
Discreetly, he makes contact with a French engineer working for Thomson in Moscow and little by little passes on documents to him - mainly concerning the United States - containing information which would constitute the most important Cold War espionage operation known to date.
During a period of two years, French President, François Mitterrand, was to personally vet the documents supplied by this source in Moscow, to whom the French Secret Service gave the codename « Farewell ».
Then master of the White House, Ronald Reagan, set aside his reluctance to work with a French Socialist to put this unhoped-for information from the very heart of the KGB to use. Farewell would in fact decapitate the network which enabled the KGB to gain in-depth knowledge of scientific, industrial and military research in the West.
Once the USSR had been deprived of these precious sources of information, Ronald Reagan's announcement of the new « Star Wars » military programme sounded the death bell of the Soviet Union. The Berlin Wall would fall before the end of the 80s…
In his own way, Farewell managed to change the world, by avoiding traditional espionage methods too well known to the KGB and by not asking for any financial compensation whatsoever - much too capitalist for his taste. He simply followed his destiny, so that a new world might dawn for all his fellow Russians, but especially for his son.
A trailer of the film can be viewed at this link:
http://trailers.apple.com/trailers/independent/farewell/

More information about the case and film is available at: http://www.FarewellTheMovie.com

---
2021 Monthly Events
To join AFIO,
or subscribe to our publications,
start HERE.
Current Members:
*Online Renewal*
or
"Change of Address
or New Email Info
---
Connect With Us
---
NEW — PODCASTS: Our new social media expert has been busy! Are you too busy to sit and watch an entire "AFIO Now" episode above on YouTube? Would you rather listen in your car or while accomplishing other tasks? Now you can quickly download or stream episodes on your favorite podcasting platform. AFIO is now available on 8 podcasting platforms. Search for 'AFIO Podcast' for a selection of the interviews above (public released ones) on Podbean; iTunes; Google; Spotify; Amazon Music; Amazon TuneIn + Alexa; iHeartRadio; and Pandora.