ALSO AVAILABLE

Intelligence as a Career - with updated listings of colleges teaching intelligence courses, and Q&As on needed foreign languages, as well as the courses, grades, extracurricular activities, and behavioral characteristics and life experiences sought by modern U.S. intelligence agencies.

AFIO's popular 56-page booklet reaches high school and college students considering careers in the U.S. Intelligence Community.
This is the fourth edition.
The publication is also popular with University Career Guidance Centers, professors and academic departments specializing in national security, and parents assisting children or grandchildren in choosing meaningful, public service careers.
This booklet is provided at no cost as a public service - online and in print - from the generosity of AFIO board, donors, and members. 20,000 printed copies of each edition are distributed. Many more PDF copies are accessed online.
We thank all members for their support which makes this educational effort possible.

Intelligence as a Career Booklet (fourth edition) in PDF Format available here.

Released 20 March 2017

---

Getting a Security Clearance: Questions and Answers about what they are, how they are conducted,
how you can qualify, how long they take, and what can put them in jeopardy.


Two valuable booklets are now available

The Security Clearance Process: Answers to Frequently Asked Questions - by the Congressional Research Service, UPDATED Sept 2016- [PDF]

Security Clearances - FAQs - ClearanceJobs.com / DICE - [PDF]

Other articles of interest:

6 Degrees Everyone Thought Were Useless (But Are Actually Pretty Handy) by David Brown
Just because you lack a degree in electrical engineering doesn't mean you can't get a great job in the intelligence community. - Clearance Jobs

Why a 1099 Form May Be Your Security Clearance Savior by Sean Bigley
With debt and a security clearance, there is one crucial step you shouldn't overlook: a review of your tax records. - Clearance Jobs

Security Policy, Progress and Reform Q and A by Chandler Harris
One of the industry's leading security experts shares his thoughts on continuous monitoring, the National Background Investigations Bureau, and more. - Clearance Jobs

Visit Clearance Jobs here.

Cannot open some or all of these PDFs? It can mean your PDF viewer is out-of-date.
Use this link to update your viewer to the latest version.

---


Silent Professionals— Security positions ideal for those making the transition to civilian life using the skills gained in military service, law enforcement, or the Intelligence Community.

---

Assistant Professor of Intelligence and National Security Studies - Tenure Track - at Coastal Carolina University

The College of Humanities and Fine Arts at Coastal Carolina University invites applications for a tenure-track position as Assistant Professor of Intelligence and National Security Studies beginning August 2019. Preference will be given to applicants with specializations related to intelligence communication and research, with particular interests in intelligence writing and briefing skills, open source intelligence collection and intelligence-policymaker relations. The ability to offer courses in other areas such as research methods, international negotiations, security studies, homeland security, emergency management, or counter-narcotics would also be of interest. Prior professional work experience in the field of intelligence is welcome, but not required.

Candidates are required to have a Ph.D. in Political Science or other relevant field by the time of appointment. The successful candidate will teach undergraduate courses in the field, as well as support the continued growth and development of the Intelligence and National Security Studies program. Prior experience with distance learning would be beneficial.

Direct Link: http://jobs.coastal.edu/hr/postings/6675

POC: Jonathan Smith, Search Committee Chair (jonsmith@coastal.edu)

---

Raytheon has immediate needs for CIA retirees interested in very flexible, part-time, declassification review work that includes reviews of historical intelligence information and special interest collections, prepublications review of books, manuscripts and resumes. Tasks also include review and release of FOIA, Privacy Act, and litigation reviews, and case management work. The program has mission critical needs and immediate independent contractor openings for seasoned intelligence analysts, those with technical and human operations experience, as well as experience in all of the support functions. This 1099 work is at the customer site located in the Herndon area. You'll have the opportunity to set your own schedules in a stress free environment with maximum flexibility and weekly pay. TS/SCI w/poly and crossover eligible. For details, please contact Raytheon at: MS_Recruiting@raytheon.com or contact Mr. Manemann here.

---

---

CAREERS: CIA recruitment videos for 2017.

Click here, or image above, for Video #1

CAREER OPPORTUNITIES:


[IMPORTANT: AFIO does not "vet" or endorse research inquiries, career announcements, or job offers. Reasonable-sounding inquiries and career offerings are published as a service to our members, and for researchers, educators, and subscribers. You are urged to exercise your usual caution and good judgment when responding, and should verify the source independently before supplying any resume, career data, or personal information.]

---
Training Ideas:
Intelligence Community Jobs and Language Learning Opportunities: In classes here in the U.S. or abroad, or on your own. Some sources -

Middlebury-Monterey Language Academy- offers top-quality summer language immersion - for middle and high school students - Arabic, Chinese, Portuguese, Spanish, French, Russian, Italian, Japanese and German.

Monterey Institute of International Studies - special total immersion summer and winter classes in Arabic, Mandarin Chinese, French, Russian, and Spanish.

Lingua Service Worldwide, 800-394-5327, is based in Connecticut and represents more than 60 language schools around the globe. The company regularly visits schools to monitor performance, and provides applicants with contact info for former students.


LanguageCourse.net 800-613-6345, based in Barcelona, lists more than 400 schools worldwide. Schools are given star ratings by former students, and there's an online forum with uncensored reviews. The schools must be accredited and must have been in business for at least three year.

Atlanta International Language Institute - based in Atlanta, GA, teaches in group or private classes over 60 languages, including Afrikaans, Amharic, Arabic, Armenian, Bambara, Bamanankan, Belarussian, Bengali, Berber, Bosnian, Breton, Bulgarian, Cantonese, Chinese (Mandarin), Czech, Danish, Dutch, Estonian, Farsi, Finnish, French, Fujian, Georgian, German, Greek (Modern), Hebrew, Hindi, Hungarian, Italian, Japanese, Kazakh, Korean, Kyrgyz, Lao, Latvian, Lingala, Lithuanian, Malaysian, Malay, Mandi, Mongolian, Norwegian, Polish, Portuguese, Punjabi, Romanian, Russian, Serbo-Croatian, Slovak, Spanish, Swahili, Swedish, Taiwanese, Thai, Turkish, Ukrainian, Urdu, Uzbek, Vietnamese, Wolof and Yoruba.

Intelligence Community Jobs for Students -

Central Intelligence Agency - https://www.cia.gov/careers/student-opportunities/index.html

Defense Intelligence Agency –http://www.dia.mil/Careers-and-Internships/Students/

Federal Bureau of Investigation - https://www.fbijobs.gov/

National Geospatial-Intelligence Agency - https://www.nga.mil/Careers/Pages/Default.aspx

National Security Agency - https://www.nsa.gov/careers/index.shtml

Office of Naval Intelligence - http://www.navy.com/careers.html

NOTE: Deadlines for summer internships in the Intelligence Community are in the fall (October and November) for the following summer.


OPPORTUNITIES FOR CURRENT STUDENTS
The members of the Intelligence Community (IC) offer high school and college students a variety of temporary employment opportunities, including paid internships and co-operative education programs. Such programs allow interested students to experience first-hand what it is like to work in the IC and if it is a "fit" for them. At the same time, the IC agency is able to evaluate the students' work performance and consider them for permanent employment upon graduation.
In addition, many IC agencies offer scholarships or fellowships, some of which provide a salary and full government benefits as well as tuition and other educational expenses. Interested students should consult the Student/Special Programs web page at the various agencies to learn exactly what programs each offers.


TEMPORARY EMPLOYMENT OPPORTUNITIES
You can contribute to the work of the nation before you graduate as most of the IC components offer summer internship programs and some offer internships during the academic year. Some of the IC components also offer co-operative education programs which are formal programs linking a student's major with relevant work experience. Most of the co-op programs are for college level students, however the National Security Agency does have a high school co-op program. Interns and co-op students engage in substantive and meaningful work assignments, while earning a competitive hourly wage and gaining valuable practical experience. Competitive is particularly keen for these programs with application deadlines six to nine months in advance of the period in which you wish to work. Applicants are expected to meet the same employment standards as permanent employees. Applicants must be U.S. citizens and should have a strong academic record (GPA of 3.0 or better). Foreign language skills, previous study or residency abroad and military service are pluses. Outstanding interpersonal and communication skills are essential. Some agencies require medical examinations and/or polygraph examinations as well as a background investigation. Some agencies also offer unpaid internships.
In addition to the above, the institutions listed in AFIO's latest version of our Careers in Intelligence booklet are those places which have offered or currently offer courses in intelligence and security subjects. (Because curricula vary and change from year to year, the list is not definitive.)

---

Intelligence Community - Nine Years in a Row - #5 in 2017
One of the Best Places to Work in the Federal Government

For the ninth consecutive year, the Intelligence Community (IC) was honored to be in the top-ten Best Places to Work in the Federal Government, according to an independent analysis of federal workers' job satisfaction and commitment. See more about the ranking here.

The rankings were compiled by the Partnership for Public Service (PPS) and American University's Institute for the Study of Public Policy Implementation (ISPPI) and announced recently in Washington, D.C. PPS is a nonprofit, nonpartisan organization that aims to attract people to federal careers and improve how the government runs. The institute conducts research and helps federal leaders solve difficult public-policy issues.

The IC ranked fourth overall among large agencies, which includes over 30 organizations, each of which employs more than two thousand people. Rankings are based on data from the 2017 Federal Employee Viewpoint Survey, which the U.S. Office of Personnel Management administers. The first Federal Government survey was in 2003, but the IC has only participated since 2009. Max Stier, president and CEO of the Partnership for Public Service, noted that the IC does not have to participate but does so voluntarily, "which is a credit to them."

To maintain the security of information about its work force, the IC relies on its own survey instrument to assess each year how its workers feel about issues such as job satisfaction, professional development, and the effectiveness of senior leaders. The IC includes several questions from the federal survey in the IC's annual Employee Climate Survey. That way, the Community's information can be compared with that from other organizations.

Other top-five large organization Best Places to Work are: The National Aeronautics and Space Administration and the U.S. Departments of Commerce, State and Justice.

Visit bestplacestowork.org to see which agencies top the rankings and to access trend analysis, demographic data and various workplace categories, as well as generate custom reports and conduct side-by-side comparisons for up to three agencies.

---

Intelligence Training Opportunities for High School Students

The National Security & Intelligence conference, hosted by LeadAmerica, provides high achieving students with the opportunity to build real world career skills and analyze leadership attributes within the environment of our nation's capital. For ten days, students examine historic and current challenges to National Security, while understanding the roles and methods of diplomacy and intelligence through focused workshops on Iran, the Kashmir Crisis, and the Cuban Missile Crisis. In addition, students analyze issues such as information sharing, the origins of terrorism, intelligence ethics and the proliferation of WMD's, while also attending briefings at the U.S. State Department and the Saudi Arabian Embassy. Students visit the Pentagon and the International Spy Museum and participate in an engaging Career Planning Seminar, which exposes them to career tracks and the requisite training for the fields of Intelligence and National Security. Students also complete LeadAmerica's skill building curriculum, which fosters necessary skills such as teambuilding, time management, and communication, culminating in the formulation of a personal mission and vision statement.

To learn more about LeadAmerica and the National Security & Intelligence conference please visit them here or contact an Admissions Counselor at 866.FYI.LEAD.

---

---

FBI HONORS INTERN PROGRAM
We're Looking for a Few Good Students

American Military University - An Intelligence Education Wherever You Are!
________________________________________

New Jersey City University - Professional Security Studies Department
________________________________________

________________________________________
Visit their website to locating those important Hiring Events for those who hold active security classifications.
Upcoming TechExpo Top Secret Hiring Events - Active Security Clearance Required
Full information available at www.TechExpoUSA.com
________________________________________
www.DefenseTalent.com Operates an online job board for the defense, aerospace and homeland security industries
---
Careers in Intelligence
The following listings are jobs with federal agencies and corporations in or supporting the U.S. intelligence community.
---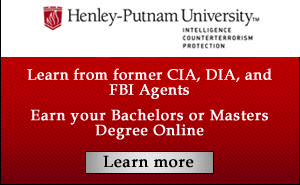 Online University Available for Intelligence Career-Oriented Students


100% Online Bachelor and Master of Science (BS/MS) Degrees in Intelligence, Counterterrorism,
and Protection from Henley-Putnam University

Henley-Putnam University is a leading educational institution in the field of Strategic Security. Henley-Putnam's degrees in Intelligence, Protection, and Terrorism and Counterterrorism Studies prepare law enforcement, military, intelligence community, and private industry professionals with the network, skills, and insights to advance in their careers and protect the future. Henley-Putnam, an accredited member of DETC, offers Online BS/MS Degree Programs. For more information on Henley-Putnam University, call 888-852-8746 or visit us online at http://www.henley-putnam.edu/.
---
AFIO members and others are invited to consider new opportunities with MITRE, to see why they are one of Fortune Magazine's 100 Best Companies to Work For. If you possess a current Secret (or higher) clearance and a track record of success in any of the following areas:
Systems Engineering (Sensors, Complex Systems, Biometrics, Networks, Geospatial)
SIGINT Engineering
Software & Data Engineering
Enterprise Architecture
Information Security & Information Assurance
Cost and Acquisition Analysis
Contracts Administration
Communications Engineers (Missile Defense, SATCOM)
Electronic and Financial Crime Intelligence Analysis
Healthcare Informatics
Homeland Security/Critical Infrastructure Analysis
Modeling and Simulation Engineering
Operations Research Analysis
Organizational Change Management - Communications
Program Management/Earned Value Management
Software Packaging/Radia Engineering
Oracle Financials Development
Contact MITRE to explore new career options. http://www.mitre.org
---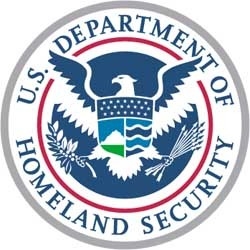 CAREERS IN INTELLIGENCE WITH DHS
Start you intel career, now. NINE positions at the Department of Homeland Security Headquarters are listed below. They look forward to receiving resumes from qualified candidates.
Make a smart career move to DHS. Many announcements for positions at the Department of Homeland Security-headquarters arrive each week. These positions are posted on https://www.usajobs.gov/. DHS looks forward to receiving resumes from qualified AFIO candidates. For vacancies with DHS components including FEMA, Coast Guard, etc., please check their postings on https://www.usajobs.gov/.
For vacancies with DHS components including FEMA, Coast Guard, etc., please check their postings on https://www.usajobs.gov/.
---
OTHER AGENCIES AND GROUPS PROVIDING CAREER OPPORTUNITIES
IntelligenceCareers.com
http://www.intelligencecareers.com
Find more than 650+ jobs online at anytime on this splendid intelligence career & intel career transition site, filled with plum positions for or about: analysts, cybercrime, COMINT, COMSEC, direct support to intelligence efforts around the world, ELINT, engineering, IMINT & Imagery, INFOSEC, linguistics, mathematicians, policy development, technology, and just about any career requiring a security clearance and a whole lot that don't.
A sample of the kinds of organizations that you'll find offering opportunities: ACS Defense, Boeing & Boeing Satellite Systems, CACI, IntelData, Lockheed Martin, the NSA, SAIC, Sytex Inc., the U.S. State Department, and U.S. Investigations Services (USIS).
---
To join AFIO,
or subscribe to our publications,
start HERE.
Current Members:
*Online Renewal*
or
"Change of Address
or New Email Info
---
Federal Agencies


Office of the Director of National Intelligence

Central Intelligence Agency

National Security Agency

Federal Bureau of Investigation

Defense Intelligence Agency

National Reconnaissance Office (Career openings via DOD)

Department of Energy

Department of State

Treasury Department, Office of Intelligence Support and U.S. Secret Service

Army Intelligence

Naval Intelligence

Air Force Intelligence, Surveillance, and Reconnaissance

Marine Corps Intelligence

National Geospatial-Intelligence Agency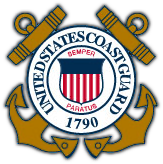 Coast Guard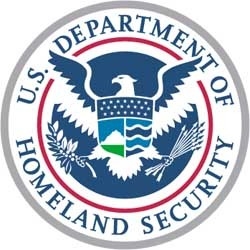 Department of Homeland Security