AFIO Central Office
7700 Leesburg Pike
Suite 324
Falls Church, VA
22043
Voice: 703 790 0320
Fax: 703 991 1278
Email: afio@afio.com

© 2020 AFIO

Copyright and Privacy Notice
---
---


The Association of Former Intelligence Officers (AFIO) presents this website to serve our members and visitors as a portal to our activities and to provide word of upcoming educational events by other select intelligence groups.
AFIO NOW!!
AFIO has launched a new program of recorded interviews and other activities. These programs are available in our Members-Only section which requires your USERID and PASSWORD — information on current member cards supplied with each renewal. As new videos are released, they will be announced in the Weekly Intelligence Notes. The current Notes can be found here. Chairman Stewart Baker and President Jim Hughes recorded a brief introductory video here, updating members on AFIO's latest activities since early March, and announcing the launch of AFIO Now.
Watch the right hand column of the WINs for announcements of just-released and upcoming virtual events and interviews on AFIO Now.
---
Latest AFIO NOW Video for Members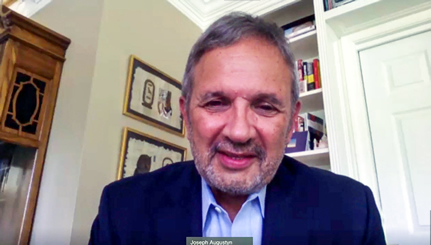 Released 22 September 2020
Description:

Interview of Friday, 4 September 2020, between former CIA Clandestine Services Officer Joseph Augustyn and AFIO President James Hughes (also a former Operations Officer).
TOPIC: Joe Augustyn discusses his role immediately post-9/11 as CIA joined other agencies — particularly state and local law enforcement agencies — and congress in determining how the country would counter newly emerging, asymmetric terrorist threats. Includes CIA's role in the establishment of the Department of Homeland Security [DHS]. Also discusses CIA's National Resources Division.
A few Q&As follow the 32-minute presentation.
NOTE: Closed Captioning is available with each video. To turn on while viewing on YouTube, click the CC
button at bottom right of viewing window.
---
Upcoming AFIO and Intelligence Community Events
Many informative, fascinating programs are occuring in the Washington Metro Area and across the country. Find out which ones to add to your calendar to stay connected and to stay current.

Corporate
Learn how your company can make a difference with AFIO corporate memberships and marketing opportunities. Reach more than 4,800 intelligence professionals.

National Members
Join or renew your existing membership and enjoy member benefits, such as special publications, invitations to events, unique banking & investment services, scholarships, and career assistance.

Publications
As a member or subscriber you receive the popular Weekly Intelligence Notes [WINs] and the print-only academic journal: Intelligencer - Journal of U.S. Intelligence Studies for the intelligence community by intelligence professionals. AFIO also produces Intelligence As A Career - a printed and online guide to organizing your life and education to qualify for work in the intelligence community, and a Guide to the Study of Intelligence to assist college instructors, secondary school teachers of history, civics, and current events, and students, on the best readings on a wide variety of current intelligence topics.

About Us
Learn about us - our many events, publications, programs, and legislative alerts. Support AFIO with purchases and donations or meet our members at events throughout the US. Make your views known.

Chapters
Local chapters have appeal to many members, so after you have joined AFIO National, consider adding a local chapter membership to your mix.

Upcoming AFIO and related Organization Educational Events ... Full listings found here

1 Oct 2020, 11:30 a.m. CST - Virtual - "Inside the Concrete Jungle: Interrogating Terrorists with the Prison System" - theme of this virtual event by the AFIO San Antonio, TX Chapter

This presentation will focus on the nuances of interrogating terrorists within prisons, both domestically and overseas. Delineating between interrogations in an open setting and that of confinement, the presenter will discuss the challenges and benefits of that within a prison system. Further, the presenter will discuss the latest developments of using 'clean' interrogation teams in the war on terrorism. Presentation by Brig Barker.

Meeting begins at 11:30 a.m. Central Standard Time. If already a SA Chapter Member, mark your calendar. You will be sent a link for the online presentation prior to the meeting. If not a member, contact President John Franklin johntf3@gmail.com.
There is no charge to attend these meetings.

---

15 October 2020, 12:30 - 1:30 p.m. PST - Virtual Go-To-Meeting - "Challenges Facing Cyber Intelligence" - Topic of AFIO Los Angeles Chapter Meeting

The AFIO L.A. Chapter will hold its next virtual meeting on featuring guest speaker Prof. Al Lewis discussing "Challenges Facing Cyber Intelligence."
Al Lewis is currently a doctoral candidate in Strategic Intelligence in the School of Security and Global Studies at the American Military University. His primary areas of research includes the role of the Advanced Persistent Threat (APT) within state-sponsored cyber conflict and advocacy for ethics in cyberspace. Al is an Adjunct Professor at the George Washington University where he teaches Cyber Threat, Policy, & Strategy to graduate students in the Elliott School of International Affairs. Additionally, Al currently oversees the Cybersecurity Operations Center of Boeing, the world's largest aerospace and defense company. Before that he served as a Special Agent in the Secret Service where he conducted International cybercrime investigations, computer forensics, and executive protection operations. Lastly, Al served in the United States Marine Corps, as a Force Reconnaissance Platoon Commander, conducting deep reconnaissance and direct actions missions around the world
We look forward to your attendance, and if any of your members would like to attend, please feel free to let them know we welcome their participation.
Virtual Platform: Go To Meeting
RSVP For Meeting Link: AFIO_LA@yahoo.com.

---

Professor/Researcher Seeks Identification of Events Significantly Affected by Intelligence for "When Intelligence Made a Difference" AFIO Publication

AFIO is beginning a new educational project entitled "When Intelligence Made a Difference." We invite you to identify events involving any nation or organization when the outcome was affected significantly by intelligence.
We plan to publish edited submissions serially in our print-only member magazine Intelligencer: Journal of US Intelligence Studies.

If you are interested in contributing an article, please email peter.oleson@afio.com. Briefly state what event you have in mind, and include your bio. [AFIO will identify authors by name and current or former title only ― no multi-line biographies.] If your suggestion is a good fit for this project, we will respond asking for your comments on that event, not to exceed 1,500 words (excluding footnotes).
When you send your article and bio, please let us know if you have ever had prior employment or contract work within the US Intelligence Community -- and, to meet pre-publication review requirements, supply a copy of the official approval letter or email you received back, naming and clearing for publication the article you are sending us. Without this, we are unable to consider or include your article in the publication.

As with most nonprofit academic publications, contributors will not be paid, however AFIO will publish under broad, pro-educational Creative Commons copyright. Therefore, authors retain the right to use their articles anywhere else they wish, after its publication in Intelligencer.
Eight weeks after publication of your contribution in the print-only version of Intelligencer, the article will then appear on AFIO's website for general public/educational access. Since the time of 1) an article's acceptance, and 2) appearance in print, and then 3) inclusion online can run eighteen months to three years from start-to-finish, a title-author listing of all accepted forthcoming articles (but no summaries) will be included in a print edition of Intelligencer and online. So it is imperative authors be patient as these articles are released on this serialized basis, in our two or three journal issues per year. By submitting an article to us authors acknowledge and accept these provisions.

This project would make a good class assignment. Accepted articles would give students a publication credit in a recognized journal.

Again, if you wish to participate or explore more aspects of this project, email Peter Oleson at peter.oleson@afio.com.

---

Gifts appropriate for intelligence officers, colleagues, recruitments, agents, advisors, and family. The AFIO Store has following new items ready for quick shipment:

Long-Sleeved Shirts and Hooded Sweatshirts with embroidered AFIO Logo

Show your support for AFIO with our new long-sleeved Polo Shirts and Hooded Sweatshirts.

Both items are high quality and shrink resistant and feature a detailed embroidered AFIO seal. The color of the long-sleeved Polo Shirts is royal blue; the price is $55 and includes shipping.

The Hooded Sweatshirts are dark grey; price is $70 and includes shipping.

Purchase a shirt and sweatshirt for yourself and consider as gifts for colleagues, family, and friends.

Both items are available in men's sizes: Small, Medium, Large, XL, XXL, and XXXL. The long-sleeved Polo Shirts and Hooded Sweatshirts are not available in ladies' sizes.

Long and Short-Sleeved Shirts with embroidered AFIO Logo

Show your support for AFIO with our new Polo Shirts. Be the first to buy these new, high quality, subtle heathered grey short sleeve shirts of shrink and wrinkle resistant fine cotton with a soft yet substantial feel. They feature a detailed embroidered AFIO seal. Get a shirt for yourself and consider as gifts for colleagues, family, and friends. Only $45 each including shipping.
Sizes of (M) men or (W) women shirts; Small, Medium, Large, XL, XXL, and XXXL. At this time all orders will arrive as Short Sleeve shirts.
You may pay by check or credit card. Complete your order online here or mail an order along with payment to: AFIO, 7700 Leesburg Pike, Ste 324, Falls Church, VA 22043-2618. Phone orders at 703-790-0320.
If interested in other shirt colors or sleeve lengths, contact Annette at: annettej@afio.com.

Wednesday, 7 October 2020, 12 noon - Virtual Zoom - The "Andre Le Gallo" San Francisco Chapter hosts Rear Admiral John Bitoff, U.S. Navy (ret) on Restoring Civility to Our Public Discourse

Rear Admiral John Bitoff will address what many perceive as the rise of incivility in America. Through the lens of history, he looks at the root causes of the corrosion of manners, and of downright meanness, and he considers why the virtues of humility and kindness seem to be on the wane.

The admiral extols civility by recounting military stories and personal anecdotes, and exploring the writings of philosophers, writers, scientists and leaders. His experience in leading men and women in difficult circumstances, of service in the highest level of the military, and his efforts in the field of international relations - particularly arms control - make him especially well-suited to address the topical subject of civility.

Rear Admiral John Bitoff, U.S. Navy (ret), has commanded destroyers, the master training base of the Atlantic Fleet, the Combat Logistics Ships in the Pacific Fleet, served as Executive Assistant to the Chairman of The Joint Chiefs of Staff, integrated women aboard U.S. Third Fleet ships, and implemented a Nuclear Forces Treaty with the Soviet Union. He also carried the last Olympic Torch out of San Francisco onto the Golden Gate Bridge for the 1996 Summer Games.

His talk on Civility arises from these life experiences, and is most timely in today's world.

To participate: This meeting will be conducted via Zoom. Registration link is here.

---

5 Nov 2020, 11:30 a.m. CST - Virtual - "Current U.S. Immigration Issues" - theme of this virtual event by the AFIO San Antonio, TX Chapter

U.S. immigration policy was one of the first discussed by the U.S. Congress in 1790 and began our long history of immigration laws for the United States of America. Our current immigration policy stems from landmark legislation of 1952 with the Immigration and Nationality Act (INA), and has been amended significantly seventeen times since and shaped by Presidential executive orders.
Family reunification, labor supply, and humanitarian issues are the main basis of our current immigration policy while immigration enforcement seeks the restriction to those who merit entry and residence here in this great country.
This will be a short overview of selected current immigration issues. Presented by Fred Schellenberg.

Meeting begins at 11:30 a.m. Central Standard Time. If already a SA Chapter Member, mark your calendar. You will be sent a link for the online presentation prior to the meeting. If not a member, contact President John Franklin johntf3@gmail.com.
There is no charge to attend these meetings.

---

AFIO's Guide to the Study of Intelligence
Are You Using It?


Full no-cost, online version of Guide is here.

Perfect for professors, students, those considering careers in intelligence, and current/former officers seeking to see what changes are taking place across a wide spectrum of intelligence disciplines.

AFIO's Guide to the Study of Intelligence helps instructors teach about the large variety of subjects that make up the field of intelligence. This includes secondary school teachers of American History, Civics, or current events and undergraduate and graduate professors of History, Political Science, International Relations, Security Studies, and related topics, especially those with no or limited professional experience in the field. Even those who are former practitioners are likely to have only a limited knowledge of the very broad field of intelligence, as most spend their careers in one or two agencies at most and may have focused only on collection or analysis of intelligence or support to those activities.

We regret that the printed, bound edition has sold out. No copies remain for sale.

AVAILABLE ONLINE-ONLY: As an educational service to professors and students, AFIO provides the full 788-page Guide online here for free. This was made possible through the generosity of our foundation, corporate, and institutional members, coupled with the donations we received from our many individual members. We thank all of them.
Online version of the Guide.


---

Available as a thank you for donations are the new AFIO Breathe-easy logo face masks:

These soft, form-fitting, washable, non-medical grade fabric face masks have a double-layer tight weave with wide behind-the-ear elastics to make long periods of wear comfortable. Also easier to quickly put on or take off. Blue on outside, white inside so you never mistake the exposed side. The masks do not have a nose wire but are sculpted, shaped, and sewn to fit most users. The all-cloth composition allows the masks to be washed or steam-disinfected without concern over metal wires. The color logo is washable and a permanent part of the mask.

The masks, however, are not for sale. They are being offered strictly as a thank you gift to our donors.
For tax-deductible donations of $50 you will receive a receipt and our thank you gift of two of these newly-arrived face masks.
Donations of $100 receive four masks to be sent to the same address. Other amounts and split-shipments are available.
To donate now to support AFIO's programs and publications, please do so here.

We wish all members and donors continued good health, safe social distancing, and warmly appreciate any support you are able to provide the association.

---

Mug with color glazed logo. Made in America. (We left out all that lead-based glaze and hidden toxins in those mugs made in China being sold by other organizations). Sturdy enough to sit on desk to hold pens, cards, paperclips, and candy.

This handsome large, heavy USA-made ceramic mug is dishwasher-safe with a glazed seal.
$35 per mug includes shipping. Order this and other store items online here.

Also available are our popular Intelligence Community Mousepad

Full color seals of all 18 members of the U.S. Intelligence Community on this 8" round, slick surface, nonskid, rubber-backed mouse pad. Price still only $20.00 for 2 pads [includes shipping to U.S. based address, only. For foreign shipments, we will contact you with a quote.] Great gift for colleagues and self. Click image above for larger image. Now with dark navy background, brighter, updated seals of member agencies. And now MADE IN USA. Order MOUSEPADS here.

---

Other Upcoming Educational Events....includes selection of events from advertisers, corporate sponsors, and others—

International Spy Museum has reopened to visitors. Click image below to explore exhibits and ticketing.


For some of the many upcoming events at the International Spy Museum, see the listing here.

Access all upcoming Spy Museum events directly from their website:
https://www.spymuseum.org/calendar/upcoming/1/

---

1 to 29 October 2020, 6:30 - 7:30 pm EDT - Virtual Event - The OSS Society hosts An "Oh So Social" Conversation Series Celebrating the OSS' 75-Year Legacy

Hear leading figures from the Intelligence and Special Operations Communities discuss critical national security issues.
The OSS Society is hosting a month-long series of conversations throughout October with some of the leading figures from the Intelligence and Special Operations Communities to celebrate the Office of Strategic Services' 75-year legacy. They will be moderated by Dr. Michael Vickers who served as the Undersecretary of Defense for Intelligence. Each event will include a unique OSS-themed libation presented by cocktail historian and noted author Philip Greene who has served as The OSS Society's bartender at The William J. Donovan Award® Dinner for many years. We are calling it an "Oh So Social" Conversation Series. (During World War II, so many OSS personnel were listed in the Social Register it was said the initials "O.S.S." really stood for "Oh So Social.")

Upon buying a series pass, you will receive access to five consecutive events throughout the month of October. Twenty-four hours prior to each event, you will receive an email from ohsosocial@osssociety.org that will contain a unique private link for the event. Speakers' biographies, articles related to the topic of discussion and the recipe for the evening's highlighted drink will also be emailed to you and are available on the event page after you register. Your registration is valid for the entire five-part series. Tickets purchased after the first event are not discounted and no refunds are available after purchase.

Program:
Moderated by the Hon. Michael G. Vickers
1 October 2020: A Third Special Operations Forces Revolution -- Colonels David Maxwell USA Ret., Mark Mitchell USA, Ret. & Keith Nightingale USA, Ret.
8 October 2020: Current & Future State of SOF -- Adm. Eric Olson, USN (Ret.)
15 October 2020: INR75: The Bureau of Intelligence & Research -- The Hon. Ellen McCarthy, Asst. Secretary of State for INR
22 October 2020: The Future of Intelligence -- Michael Morell, former Acting Director of CIA
29 October 2020: OSS75: Its Legacy & Lessons -- Sec. Robert Gates, Sec. Leon Panetta, Adm. William McRaven, USN (Ret.) & Gen. David Petraeus, USA (Ret.)
Special Cocktail Presentations by noted author & cocktail historian Philip Greene

All Online Event. Fee - $250 – $1,000. No Refunds
To Attend or explore more about this event, do so here.

---

---

Wednesday, 7 October 2020, 4 - 5:30 PM EDT - Webinar and Livestreamed Facebook - "Chinese Communist Espionage" with Dr. Matthew Brazil at this Institute of World Politics free Event

You are cordially invited by the Institute of World Politics, Washington, DC, to an Asia Initiative Lecture Series (AILS) webinar presentation on the topic: Chinese Communist Espionage with Dr. Matthew Brazil.
Hitherto, almost all writings about Beijing's espionage and influence operations have focused on individual cases that shed little light on the actual nature of China's organs of state security. Dr. Matthew Brazil will speak about how he and his co-author researched original sources in Chinese and unearthed new insights into Beijing's most secret operations at home and abroad.

Speaker: Matt Brazil is a non-resident Fellow at The Jamestown Foundation. He worked in Asia for over 20 years as a U.S. Army officer, American diplomat, and corporate security manager. He is the co-author of Chinese Communist Espionage: An Intelligence Primer (Annapolis: Naval Institute Press, Nov 2019), which can be found in hardcover and Kindle versions here.

More information on the book and this topic may be viewed here. The author's compendium of espionage terms in Chinese and photos from the world of Chinese Communist espionage may be seen here.

More information on this free virtual event or to Register, do so here.

---

22 October 2020, 1 pm EST - Virtual - NCMF General Membership Meeting & Annual Symposium

Join our colleagues at the National Cryptologic Museum Foundation for their first virtual General Membership Meeting & Annual Symposium. The theme of the program is "A Virtual Afternoon at the Museum." For those who do not live in the DC-MD-VA area, this is the perfect opportunity for you to attend the October Meeting/Program AND explore the Museum!
This year's program features a virtual Museum tour, Foundation and Museum updates, and a keynote presentation by Dr. Michael Warner, U.S. Cyber Command Historian and Lt. Col. John Childress, USA. Warner and Childress will speak on themes from their recent book The Use of Force for State Power: History and Future. The book was published in 2020 by Palgrave Macmillan and is also available via Kindle.

*** The program will be free, but registration is required. Stay tuned for the opening of registration and for details on how to view the virtual program. A recording of the program will be made available on our website at a later date.

Full agenda, registration and other details here.

---

NEW DATE: Saturday, 24 October 2020, 5:30 p.m. - Washington, DC - Save the Date! PenFed Foundation's 2020 Night of Heroes Gala

PUT ON CALENDAR AND HOLD THE DATE: The Pentagon Federal (PenFed Credit Union) Foundation will be hosting their spectacular Night of Heroes Gala on Saturday, 24 October 2020 at the Mandarin Oriental in Washington, D.C. Last year's annual gala raised over $1.5 million and honored children of military families.
VIP Reception at 5:30 PM
General Reception and Silent Auction at 6:00 PM
Location: The Mandarin Oriental, 1330 Maryland Ave SW, Washington, D.C.
Attire: Black Tie or Military Dress
RSVP: October 2, 2020
Click here to learn more or sponsor a table.

---

Wednesday, 27 October 2021 - Washington, DC - HOLD THE DATE - 30th Anniversary Gala and Chancellor's Dinner - Institute of World Politics

Refreshingly non-virtual...but an actual event. Shifted one year because of Covid-19 inconveniences.
Join IWP in October 2021 to celebrate IWP's 30th anniversary -- 1990 - 2020.
Schedule: 6:00 PM Cocktail Reception; 7:00 PM Dinner
Location: The Mayflower Hotel, 1127 Connecticut Ave NW, Washington, DC.
Additional details to follow.
NOW AVAILABLE
Getting a Security Clearance: Questions and Answers about what they are, how they are conducted,
how you can qualify, how long they take, and what can put them in jeopardy.

Two valuable booklets are now available
The Security Clearance Process: Answers to Frequently Asked Questions - by the Congressional Research Service, Sept 2013
[PDF]
Security Clearances - FAQs - ClearanceJobs.com / DICE
[PDF]
---
Be informed on career opportunities in the U.S. Intelligence Community
Intelligence as a Career - with updated listings of colleges teaching intelligence courses, and Q&As on needed foreign languages, as well as the courses, grades, extracurricular activities, and behavioral characteristics and life experiences sought by modern U.S. intelligence agencies.

AFIO's popular 56-page booklet reaches high school and college students considering careers in the U.S. Intelligence Community.
This is the fourth edition.
The publication is also popular with University Career Guidance Centers, professors and academic departments specializing in national security, and parents assisting children or grandchildren in choosing meaningful, public service careers.
This booklet is provided at no cost as a public service - online and in print - from the generosity of AFIO board, donors, and members. 20,000 printed copies of each edition are distributed. Many more PDF copies are accessed online.
We thank all members for their support which makes this educational effort possible.
Careers Booklet (fourth edition) in PDF Format available here.
---
Intelligence Community - Eleven Years in a Row and now higher ranked at #3 in 2019
One of the Best Places to Work in the Federal Government
For the eleventh consecutive year, the Intelligence Community (IC) was honored to be in the top-ten Best Places to Work in the Federal Government, according to an independent analysis of federal workers' job satisfaction and commitment. See more about the ranking here.
The rankings were compiled by the Partnership for Public Service (PPS) and American University's Institute for the Study of Public Policy Implementation (ISPPI) and announced recently in Washington, D.C. PPS is a nonprofit, nonpartisan organization that aims to attract people to federal careers and improve how the government runs. The institute conducts research and helps federal leaders solve difficult public-policy issues.
In 2019, the IC jumped two spots upwards to now be ranked THIRD overall among large agencies, which includes over 17 organizations, each of which employs more than two thousand people. Rankings are based on data from the 2019 Federal Employee Viewpoint Survey, which the U.S. Office of Personnel Management administers. The first Federal Government survey was in 2003, but the IC has only participated since 2009. Max Stier, president and CEO of the Partnership for Public Service, noted that the IC does not have to participate but does so voluntarily, "which is a credit to them."
To maintain the security of information about its work force, the IC relies on its own survey instrument to assess each year how its workers feel about issues such as job satisfaction, professional development, and the effectiveness of senior leaders. The IC includes several questions from the federal survey in the IC's annual Employee Climate Survey. That way, the Community's information can be compared with that from other organizations.
Other top-five large organization Best Places to Work are: The National Aeronautics and Space Administration, HHS, Commerce and Transportation.
Visit bestplacestowork.org to see which agencies top the rankings and to access trend analysis, demographic data and various workplace categories, as well as generate custom reports and conduct side-by-side comparisons for up to three agencies.
---
---

Become an Individual Member
or Subscriber
use this Online Form

Join or subscribe to our publications and enjoy all our unusual member benefits
---
Student Rates: U.S.-based Students, 28 years old or younger, attending a U.S. nonprofit accredited college, may join 1x at special rate. Email us at afio@afio.com with your info for application and rates. Rate not available to current or former members. Use this form to apply for student membership.
---
CURRENT or LAPSED MEMBERS - RENEW HERE:
Renew or Reinstate Your Membership or Subscription here
UPDATE MEMBER INFO:
New Email or Mailing Address? Provide here.
Review our Member
CODE of ETHICS
---
---
Join as a corporate, academic,
or foundation member
Agency, University, Foundation, or Corporate Members - use this Online Form or this pdf document.
---
Donations
Gifts in support of our programs may be made here.
We also accept donations
"In Honor of..."
or "In Memory of..."
Make donations here.
General donations help us conduct Special Events, release publications, and host our Speaker Programs.
Explore Bequests
and Deferred Gifts to AFIO here.
---
BOARD OF DIRECTORS' Photos and Public Biographies
---
---
---
---
---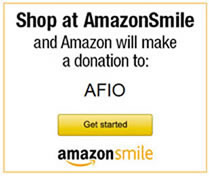 ---
Call for Papers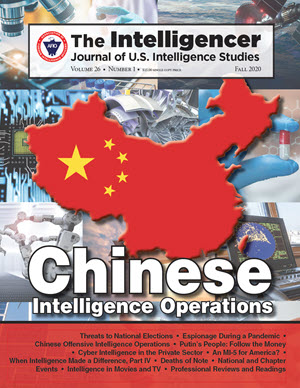 Send your articles and reviews to afio@afio.com for the journal INTELLIGENCER

---
Cyber Security Education
and Careers
Start your exploration with the Cyberscurity Guide Organization
Cybersecurityguide.org is a community resource for those exploring educational and professional opportunities in the field of Cybersecurity. In addition, the site offers a wide variety of cybersecurity resources curated by educational experts. They are physically located at 1428 Tintern Ln, Saint Augustine, FL 32092 if you wish to write to them.
---

---