AFIO Central Office
7700 Leesburg Pike
Suite 324
Falls Church, VA
22043
Voice: 703 790 0320
Fax: 703 991 1278
Email: afio@afio.com

© 2019 AFIO

Copyright and Privacy Notice
---
---


The Association of Former Intelligence Officers (AFIO) presents this website to serve our members and visitors as a portal to our activities and to provide word of upcoming educational events by other select intelligence groups.
REGISTRATION HAS CLOSED.
Thank you for your strong interest in this program.
See you tomorrow.
To Catch a Spy: The Art of Counterintelligence
and
A Covert Action: Reagan, the CIA,
and the Cold War Struggle in Poland
at AFIO's 28 February 2020 Luncheon
featuring James Olson and Seth G. Jones

Badge Pickup at 10:30 am; Jones at 11 a.m.;
Lunch at noon; Olson at 1 pm
at DoubleTree Hilton, Tysons, VA

Registration has closed. No day-of-event registration is permitted for security reasons.

James Olson served for over thirty years in CIA's Directorate of Operations, mostly overseas running clandestine operations. In addition to several foreign assignments, he was chief of counterintelligence at agency headquarters. Currently, he is a Professor of the Practice at the Bush School of Government and Public Service of Texas A& M University.
At this event Professor Olson will be discussing his March 2019 book, To Catch a Spy: The Art of Counterintelligence which suggests that the US is losing the counterintelligence war. Foreign intelligence services, particularly those of China, Russia, and Cuba, are recruiting spies in our midst and stealing our secrets and cutting-edge technologies. He provides a guide for how our country can do a better job of protecting its national security and trade secrets. He will review the principles and methods of counterintelligence, including the running of double-agent operations and surveillance. He also addresses why people spy against their country, the tradecraft of counterintelligence, and where counterintelligence breaks down or succeeds.
The morning speaker, Dr. Seth G. Jones, is director of the Transnational Threats Project, and senior adviser to the International Security Program at the Center for Strategic and International Studies (CSIS) at Johns Hopkins University's School of Advanced International Studies (SAIS) and the Center for Homeland Defense and Security (CHDS) at the U.S. Naval Postgraduate School. Earlier, Jones was Adjunct Professor, Security Studies Program at the School of Foreign Service, Georgetown University, where he taught classes on "Counterinsurgency" and "Stability Operations." He has served as representative for the commander, U.S. Special Operations Command, to the assistant secretary of defense for special operations.
He will discuss counterinsurgency and counterterrorism, with a particular focus on Afghanistan, Pakistan, and al Qa'ida.
MENU: Beef entrée: Flank Steak with Chimichurri, medium rare, served with parsley olive oil sauce; accompanied by potatoes and asparagus
Chicken Entrée: Chicken Piccata, chicken breast pan fried with lemon butter sauce; accompanied by wild rice pilaf and seasonal vegetables
Vegetarian Entrée: Eggplant Parmigiana, served on a bed of fettucine with house made tomato basil sauce with mozzarella cheese
All meals come with: Mixed Green Salad with cherry tomatoes, carrots, red onions, and croutons served with balsamic vinaigrette
Strawberry Shortcake


Registration has closed. No day-of-event registration is permitted for security reasons.

Venue: DoubleTree by Hilton, 1960 Chain Bridge Rd, Tysons Corner, VA 22182 Phone: (703) 893-2100. Directions at this link. Metro stations nearby.

Mingle with other colleagues as you peruse scores of the latest intelligence books before and after lunch and during badge pick-up.
---
Upcoming AFIO and Intelligence Community Events
Many informative, fascinating programs are occuring in the Washington Metro Area and across the country. Find out which ones to add to your calendar to stay connected and to stay current.

Corporate
Learn how your company can make a difference with AFIO corporate memberships and marketing opportunities. Reach more than 4,800 intelligence professionals.

National Members
Join or renew your existing membership and enjoy member benefits, such as special publications, invitations to events, unique banking & investment services, scholarships, and career assistance.

Publications
As a member or subscriber you receive the popular Weekly Intelligence Notes [WINs] and the print-only academic journal: Intelligencer - Journal of U.S. Intelligence Studies for the intelligence community by intelligence professionals. AFIO also produces Intelligence As A Career - a printed and online guide to organizing your life and education to qualify for work in the intelligence community, and a Guide to the Study of Intelligence to assist college instructors, secondary school teachers of history, civics, and current events, and students, on the best readings on a wide variety of current intelligence topics.

About Us
Learn about us - our many events, publications, programs, and legislative alerts. Support AFIO with purchases and donations or meet our members at events throughout the US. Make your views known.

Chapters
Local chapters have appeal to many members, so after you have joined AFIO National, consider adding a local chapter membership to your mix.

Upcoming AFIO and related Organization Educational Events ... Full listings found here

Friday, 6 March 2020, 1 pm - Westchester, CA - AFIO L.A. 2020 Annual Business Meeting

The AFIO Los Angeles Chapter holds its annual business meeting. Agenda Items are • Election of Chapter Officers; • Membership Growth; • 2020 Speakers. Members are asked to add any topics to the agenda when they RSVP.
We strongly encourage participation from all members.
RSVP to afio_la@yahoo.com
Location: Alejos Restaurant 8343 Lincoln Blvd, Westchester, CA 90045
Questions to Vincent Autiero, President, AFIO-Los Angeles Chapter, afio_la@yahoo.com, 5651 W Manchester Ave, Los Angeles, CA 90045.

---

Thursday, 19 March 2020, 11:30 a.m. - Colorado Springs - The AFIO Rocky Mountain Chapter hosts Amb. Mary Ann Casey discussing "Lessons in Cooperation: A Diplomat's View"

Synopsis: Amb. Mary Ann Casey will share some of the challenges she encountered during her tenure in oil-and-gas-rich Algeria, where she served as ambassador at a time of major conflict between the Algerian security services and that country's home-grown Islamic fundamentalist movement. Close collaboration with the US national security community was central to the success of the Embassy's efforts to ensure the safety of American personnel, while pursuing the US foreign policy agenda in Algeria. Ambassador Casey's talk will provide an insider's account of how events unfolded.
Biography: Ambassador Mary Ann Casey is Middle East specialist, who developed deep area expertise in Arab North Africa while working in that region for twelve years as an American diplomat.
Among other assignments, she was selected by President Bush Sr. to be his Ambassador to Algeria and later by President Clinton to serve as his Ambassador to Tunisia.
Mary Ann also spent more than a decade in Washington D.C. at the State Department, where she had a variety of responsibilities, including Director for North Africa. Later, in the Bureau of Intelligence and Research, she managed a team of 100 professionals engaged in global research and analysis for the Secretary of State.
As a Diplomat in Residence at the University of Colorado, Mary Ann worked with several of the University's international studies programs and taught a course on the Art and Practice of Diplomacy. After her retirement from the State Department, she lectured periodically at the Joint Forces Staff College in Norfolk Virginia as part of the Senior Fellows Program. She now serves on the Advisory Board for CU-Boulder's Program in International Affairs.

For more information please contact our Secretary Steve Pease at steve13507@gmail.com

---

8 May 2020, 10:30 a.m. - 2 p.m. - Tysons, VA - AFIO National Spring Luncheon features Washington Post columnist David Ignatius, and author, former Post reporter Stephen Vogel

HOLD THE DATE: The morning speaker will be David Ignatius, author of the upcoming intelligence novel, The Paladin: A Spy Novel [WW Norton, May 2020]. Ignatius is a Washington Post columnist and has been covering the Middle East and CIA for nearly three decades.

Of Ignatius' forthcoming novel, reviewers wrote: "For me nothing is more intriguing than life inside our intelligence agencies. David Ignatius uses his decades' worth of reporting experience to take us there in this fast-moving, jaw-dropping drama that reads like it was ripped from the headlines. I recommend you grab a copy and hold on tight for the entire thrilling ride." — Brian Kilmeade, Fox News.
"David Ignatius once again takes readers behind the scenes of America's most secretive bureaucracy, revealing in fiction what could never be declassified in fact. The Paladin is yet another stirring read from one of America's most revered reporters and gifted storytellers." — Joe Scarborough, MSNBC

The afternoon program features Stephen Vogel, author of Betrayal in Berlin: The True Story of the Cold War's Most Audacious Espionage Operation [Custom House, Sept 2019]. Vogel is a former Washington Post reporter who covered the federal government. He was based overseas from 1989 through 1994 where he covered the fall of the Berlin Wall and the first Gulf War, and subsequently reported on military operations in Somalia, Rwanda, the Balkans, Afghanistan and Iraq.

Of Betrayal in Berlin, Former CIA Officer Sandy Grimes wrote: "The best spy book I have ever read...Steve Vogel is a talented and gifted writer who brings the personalities and idiosyncrasies of every participant in this operation to life. His research is vast, varied, and full of detail. It is truly one of those rare books you can't put down."

Registration will open in April and link will be here.

Venue: DoubleTree by Hilton, 1960 Chain Bridge Rd, Tysons Corner, VA 22182 Phone: (703) 893-2100. Directions at this link.

---

Gifts appropriate for intelligence officers, colleagues, recruitments, agents, advisors, and family. The AFIO Store has following new items ready for quick shipment:

Long-Sleeved Shirts and Hooded Sweatshirts with embroidered AFIO Logo

Show your support for AFIO with our new long-sleeved Polo Shirts and Hooded Sweatshirts.

Both items are high quality and shrink resistant and feature a detailed embroidered AFIO seal. The color of the long-sleeved Polo Shirts is royal blue; the price is $55 and includes shipping.

The Hooded Sweatshirts are dark grey; price is $70 and includes shipping.

Purchase a shirt and sweatshirt for yourself and consider as gifts for colleagues, family, and friends.

Both items are available in men's sizes: Small, Medium, Large, XL, XXL, and XXXL. The long-sleeved Polo Shirts and Hooded Sweatshirts are not available in ladies' sizes.

Long and Short-Sleeved Shirts with embroidered AFIO Logo

Show your support for AFIO with our new Polo Shirts. Be the first to buy these new, high quality, subtle heathered grey short sleeve shirts of shrink and wrinkle resistant fine cotton with a soft yet substantial feel. They feature a detailed embroidered AFIO seal. Get a shirt for yourself and consider as gifts for colleagues, family, and friends. Only $45 each including shipping.
Sizes of (M) men or (W) women shirts; Small, Medium, Large, XL, XXL, and XXXL. At this time all orders will arrive as Short Sleeve shirts.
You may pay by check or credit card. Complete your order online here or mail an order along with payment to: AFIO, 7700 Leesburg Pike, Ste 324, Falls Church, VA 22043-2618. Phone orders at 703-790-0320.
If interested in other shirt colors or sleeve lengths, contact Annette at: annettej@afio.com.


---

Mug with color glazed logo. Made in America. (We left out all that lead-based glaze and hidden toxins in those mugs made in China being sold by other organizations). Sturdy enough to sit on desk to hold pens, cards, paperclips, and candy.

This handsome large, heavy USA-made ceramic mug is dishwasher-safe with a glazed seal.
$35 per mug includes shipping. Order this and other store items online here.

Also available are our popular Intelligence Community Mousepad

Full color seals of all 18 members of the U.S. Intelligence Community on this 8" round, slick surface, nonskid, rubber-backed mouse pad. Price still only $20.00 for 2 pads [includes shipping to U.S. based address, only. For foreign shipments, we will contact you with a quote.] Great gift for colleagues and self. Click image above for larger image. Now with dark navy background, brighter, updated seals of member agencies. And now MADE IN USA. Order MOUSEPADS here.

Wednesday, 11 March 2020, 11:30am - San Francisco, CA - The "Andre Le Gallo" San Francisco Chapter hosts FBI Special Agent Michael Gimbel

2019 ended with a shooting at a kosher grocery store in New Jersey, a stabbing at a rabbi's home during a Hanukkah celebration in New York, and another shooting at a church in Texas. What can we do to prevent, mitigate, and respond to violent incidents?
FBI Special Agent Michael Gimbel will speak about FBI's Counterterrorism Division, the law enforcement response to the recent Gilroy Garlic Festival shooting, and the vital inter-agency relationship and coordination which facilitates and expedites the handling and processing of the crime scene.

Timing: No-host cocktails at 11:30, luncheon meeting and presentation begins at noon.
Location: Basque Cultural Center - San Francisco, CA


RSVP now at Eventbrite.

---

Saturday, 21 March 2020, 5:30 p.m. - Oak Lawn, IL - Terry Donat, MD discusses "Pandemics and National Security" at Indiana/Illinois AFIO Chapter


AFIO's Indiana/Illinois Chapter hosts Terry Donat, M.D. speaking on "Pandemics and National Security."
Dr. Terry Donat is the first physician certified as an Illinois Professional Emergency Manager. He is trained in acute Radiation Emergency Medicine, the Medical Management of Chemical and
Biological Casualties and as a past National Disaster Life Support Instructor. He also serves as an external resource and speaker for both the FBI Chicago Field Office WMD Coordinator and
the FBI WMD Directorate Biological Countermeasure Unit. He is a lifetime member of the Special Operations Medical ssociation (SOMA); serves as the Health and Public Health Sector
Chief for lnfraGard Chicago; serves aside James Terbush, MD MPH, as co-chair of the Healthcare Industry Advisory Group of the Jr'ifraGard National Disaster Resilience Council and is a member
of the Healthcare and Public Health Sector Cloordin􀀻ting Council - DHS/DHHS. He is keenly interested in the promising capabilities of DNA data storage, as well as assessing those threats, risks, and vulnerabilities of infrastructure and evolving dual-use technologies relevant to homeland and national security.

Event includes cocktails and dinner.
Fee: $40 per person.
Location: Stony Creek Golf Course, 5850 W 103rd St, Oak Lawn, IL 60453
REGISTER or MORE INFO: Contact John Fanning (Treasurer) at 708-433-9522 or johnf@fanninginc.com

---

Professor/Researcher Seeks Identification of Events Significantly Affected by Intelligence for "When Intelligence Made a Difference" AFIO Publication

AFIO is beginning a new educational project entitled "When Intelligence Made a Difference." We invite you to identify events involving any nation or organization when the outcome was affected significantly by intelligence.
We plan to publish edited submissions serially in our print-only member magazine Intelligencer: Journal of US Intelligence Studies.

If you are interested in contributing an article, please email peter.oleson@afio.com. Briefly state what event you have in mind, and include your bio. [AFIO will identify authors by name and current or former title only ― no multi-line biographies.] If your suggestion is a good fit for this project, we will respond asking for your comments on that event, not to exceed 1,500 words (excluding footnotes).
When you send your article and bio, please let us know if you have ever had prior employment or contract work within the US Intelligence Community -- and, to meet pre-publication review requirements, supply a copy of the official approval letter or email you received back, naming and clearing for publication the article you are sending us. Without this, we are unable to consider or include your article in the publication.

As with most nonprofit academic publications, contributors will not be paid, however AFIO will publish under broad, pro-educational Creative Commons copyright. Therefore, authors retain the right to use their articles anywhere else they wish, after its publication in Intelligencer.
Eight weeks after publication of your contribution in the print-only version of Intelligencer, the article will then appear on AFIO's website for general public/educational access. Since the time of 1) an article's acceptance, and 2) appearance in print, and then 3) inclusion online can run eighteen months to three years from start-to-finish, a title-author listing of all accepted forthcoming articles (but no summaries) will be included in a print edition of Intelligencer and online. So it is imperative authors be patient as these articles are released on this serialized basis, in our two or three journal issues per year. By submitting an article to us authors acknowledge and accept these provisions.

This project would make a good class assignment. Accepted articles would give students a publication credit in a recognized journal.

Again, if you wish to participate or explore more aspects of this project, email Peter Oleson at peter.oleson@afio.com.

---

AFIO's Guide to the Study of Intelligence
Are You Using It?


Full no-cost, online version of Guide is here.

Perfect for professors, students, those considering careers in intelligence, and current/former officers seeking to see what changes are taking place across a wide spectrum of intelligence disciplines.

AFIO's Guide to the Study of Intelligence helps instructors teach about the large variety of subjects that make up the field of intelligence. This includes secondary school teachers of American History, Civics, or current events and undergraduate and graduate professors of History, Political Science, International Relations, Security Studies, and related topics, especially those with no or limited professional experience in the field. Even those who are former practitioners are likely to have only a limited knowledge of the very broad field of intelligence, as most spend their careers in one or two agencies at most and may have focused only on collection or analysis of intelligence or support to those activities.

We regret that the printed, bound edition has sold out. No copies remain for sale.

AVAILABLE ONLINE-ONLY: As an educational service to professors and students, AFIO provides the full 788-page Guide online here for free. This was made possible through the generosity of our foundation, corporate, and institutional members, coupled with the donations we received from our many individual members. We thank all of them.
Online version of the Guide.

---

Other Upcoming Educational Events....includes selection of events from advertisers, corporate sponsors, and others—

---

For some of the many upcoming events at the International Spy Museum, see the listing here.

---

Thursday, 5 March 2020, 6 - 8 p.m. - New York, NY - Spy Sites of New York City Book Launch at the KGB Espionage Museum

There are more spies working in New York City today than ever before, according to H. Keith Melton, the espionage advisor on The Americans, and Robert Wallace, the former chief of the CIA's Office of Technical Service. But, as the authors show in their fascinating new book SPY SITES OF NEW YORK CITY: A GUIDE TO THE REGION'S SECRET HISTORY (Georgetown University Press; February 2020), the city has always been a hotbed of international intrigue. 
The authors kick-off the release of this new book at this KGB Museum event.
AGENDA: 6 pm: Reception; 6:15 -7 pm: KGB Espionage Museum tour; 7 pm: Talk with the authors of SPY SITES OF NEW YORK CITY.
Authors: Keith Melton, the espionage advisor on The Americans, and Robert Wallace, the former chief of the CIA's Office of Technical Service, and Henry B. Schlesinger.
Moderator: Gerald Goodwin, the head of the New York Chapter of the Association of Foreign Intelligence Officers
Ticket price: $30
Ticket will include a signed copy of SPY SITES, an exclusive tour of the museum, book talk, and refreshments.
For more information about the book, see here.
Location: KGB Espionage Museum, 245 W 14th St, New York, NY 10011
REGISTER HERE.

---

25-28 March 2020 - Honolulu, HI - International Studies Association (ISA) conference Intelligence Studies Section (ISA/ISS) Panels at ISA2020

ISA2020 Conference. Various links below provide a view of the extensive program of the Intelligence Studies Section being held as part of ISA2020...the International Studies Association (ISA) conference in Honolulu, Hawaii on 25-28 March. The Intelligence Studies Section is one of thirty thematic sections that make up the ISA, has approximately 400 members, and has been sponsoring research about intelligence as a function of government since the mid-1980s. This Intelligence Studies Section content (4 straight days, 30 panels and roundtables) is one (highly impressive) small part of ISA's much larger conference.
Information about the conference is here.
And the full conference program of almost 300 pages is here.
The ISA/Intelligence Studies Section Program (kindly supplied by Steve Marrin) may be viewed here.

---

14 May 2020, 5:30 p.m. - Washington, DC - Save the Date! PenFed Foundation's 2020 Night of Heroes Gala

PUT ON CALENDAR AND HOLD THE DATE: The Pentagon Federal (PenFed Credit Union) Foundation will be hosting their spectacular Night of Heroes Gala on Thursday, 14 May 2020 at the Mandarin Oriental in Washington, D.C. Last year's annual gala raised over $1.5 million and honored children of military families.
VIP Reception at 5:30 PM
General Reception and Silent Auction at 6:00 PM
Location: The Mandarin Oriental, 1330 Maryland Ave SW, Washington, D.C.
Attire: Black Tie or Military Dress
RSVP: April 25, 2020
Click here to learn more or sponsor a table.

CAREERS FOR WOMEN IN INTELLIGENCE

3 March 2020, 6:30 - 8 p.m. - Washington, DC - Women in Intelligence Panel Discussion and Networking Event

On March 3, the Catholic University Intelligence Club is co-sponsoring a Women in Intelligence panel discussion and networking event that seeks to honor the experiences of women in the field of intelligence and to encourage young women to pursue careers in the field. There will be a pre-panel discussion networking reception with light refreshments, then a formal discussion followed by an open Q&A.

The panelists are Rollie Flynn, president of the Foreign Policy Research Institute and a former CIA field operations officer; Kathleen Kaderabek, senior compliance consultant at DuPont and a former FBI Agent; and Commander Jacquelyn McClelland, Rear Admiral in the U.S. Navy and a former agent in the IRS Criminal Investigation Division.

The event will take place in the Catholic University of America's Heritage Hall in Washington, D.C. from 6:30 pm - 8:00 pm.
For questions or accommodations, please contact Cara DiMarcantonio at dimarcantonio@cua.edu. Poster about the event is here.

---

26-29 April 2020 - Tampa, FL - USGIF GEOINT 2020 Symposium

US Geospatial-Intelligence Foundation's GEOINT 2020 Symposium has the theme, "New Decade, New Challenges, New Strategies."
Learn more. Network with more than 4,000 GEOINT Community professionals from 40+ countries spanning defense, intelligence, homeland security, industry, and academia. See the latest in technology, services, and solutions from 200+ exhibitors in more than 100,000 sq ft of exhibit space. Learn from 50+ hours of professional development, training, and education sessions with PDUs and CEUs.
All official GEOINT 2020 hotels are conveniently located within walking distance of the Tampa Convention Center, and are only available through the GEOINT Symposium website and our registration partner SPARGO.
Do not delay reserving your hotel room, booking your flight, or registering for the nation's premier geospatial intelligence event of the year, which returns to Tampa from Sunday, April 26, to Wednesday, April 29.
View program, speakers, and registration requirements here.

---

25 - 27 June 2020 - Pordenone, Italy - IAFIE 2020 Annual Conference - Intelligence Education, Research and Practice in the 2020s

The 2020 Annual Conference of the International Association for Intelligence Education (IAFIE) will be held in Pordenone, Italy from June 25 to 27. This year IAFIE and IAFIE EC are joining hands in organising a joint annual conference examining the intelligence requirements for the next decade 2020- 2030, with its changing threat environment and fast developing technological advancements. The conference papers will reach out to other cognate disciplines for a multidisciplinary approach and brings scholars and practitioners together for a blend of research and applied discussions on intelligence. This will be the 5th Annual Conference of IAFIE EC. The topics/themes for the conference are Intelligence Analysis, Intelligence Domains, Management of Intelligence Community, and Intelligence Education and Research. Authors of recent books, monographs and reports in line with these topics/themes are also invited to submit proposals to participate in Author Roundtables. Please email your general enquiries to iafie2020@ecoleuniversitaireinternationale.net. More information here.
NOW AVAILABLE
Getting a Security Clearance: Questions and Answers about what they are, how they are conducted,
how you can qualify, how long they take, and what can put them in jeopardy.

Two valuable booklets are now available
The Security Clearance Process: Answers to Frequently Asked Questions - by the Congressional Research Service, Sept 2013
[PDF]
Security Clearances - FAQs - ClearanceJobs.com / DICE
[PDF]
---
Be informed on career opportunities in the U.S. Intelligence Community
Intelligence as a Career - with updated listings of colleges teaching intelligence courses, and Q&As on needed foreign languages, as well as the courses, grades, extracurricular activities, and behavioral characteristics and life experiences sought by modern U.S. intelligence agencies.

AFIO's popular 56-page booklet reaches high school and college students considering careers in the U.S. Intelligence Community.
This is the fourth edition.
The publication is also popular with University Career Guidance Centers, professors and academic departments specializing in national security, and parents assisting children or grandchildren in choosing meaningful, public service careers.
This booklet is provided at no cost as a public service - online and in print - from the generosity of AFIO board, donors, and members. 20,000 printed copies of each edition are distributed. Many more PDF copies are accessed online.
We thank all members for their support which makes this educational effort possible.
Careers Booklet (fourth edition) in PDF Format available here.
---
Intelligence Community - Eleven Years in a Row and now higher ranked at #3 in 2019
One of the Best Places to Work in the Federal Government
For the eleventh consecutive year, the Intelligence Community (IC) was honored to be in the top-ten Best Places to Work in the Federal Government, according to an independent analysis of federal workers' job satisfaction and commitment. See more about the ranking here.
The rankings were compiled by the Partnership for Public Service (PPS) and American University's Institute for the Study of Public Policy Implementation (ISPPI) and announced recently in Washington, D.C. PPS is a nonprofit, nonpartisan organization that aims to attract people to federal careers and improve how the government runs. The institute conducts research and helps federal leaders solve difficult public-policy issues.
In 2019, the IC jumped two spots upwards to now be ranked THIRD overall among large agencies, which includes over 17 organizations, each of which employs more than two thousand people. Rankings are based on data from the 2019 Federal Employee Viewpoint Survey, which the U.S. Office of Personnel Management administers. The first Federal Government survey was in 2003, but the IC has only participated since 2009. Max Stier, president and CEO of the Partnership for Public Service, noted that the IC does not have to participate but does so voluntarily, "which is a credit to them."
To maintain the security of information about its work force, the IC relies on its own survey instrument to assess each year how its workers feel about issues such as job satisfaction, professional development, and the effectiveness of senior leaders. The IC includes several questions from the federal survey in the IC's annual Employee Climate Survey. That way, the Community's information can be compared with that from other organizations.
Other top-five large organization Best Places to Work are: The National Aeronautics and Space Administration, HHS, Commerce and Transportation.
Visit bestplacestowork.org to see which agencies top the rankings and to access trend analysis, demographic data and various workplace categories, as well as generate custom reports and conduct side-by-side comparisons for up to three agencies.
---
---
Join as a corporate, academic,
or foundation member
---

Become an Individual Member
or Subscriber
use this Online Form

Join or subscribe to our publications and enjoy all our unusual member benefits
---
---
Student Rates: U.S.-based Students, 28 years old or younger, attending a U.S. nonprofit accredited college, may join 1x at special rate. Email us at afio@afio.com with your info for application and rates. Rate not available to current or former members. Use this form to apply for student membership.
---
CURRENT or LAPSED MEMBERS - RENEW HERE:
Renew or Reinstate Your Membership or Subscription here
UPDATE MEMBER INFO:
New Email or Mailing Address? Provide here.
Review our Member
CODE of ETHICS
---
BOARD OF DIRECTORS' Photos and Public Biographies
---
---
---
---
---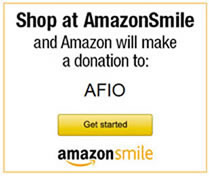 ---
Movies of Interest to members can be found here.
---

Send your articles and reviews to afio@afio.com for the journal INTELLIGENCER

---

Intelligence
as a Career

Is It Right For You
AND
Are You Right For It?
Click HERE, or the cover photo above, for the updated version Booklet.
---
Donations Needed -
Help AFIO continue our Special Events, Publications, and Speakers Program.
---

---