Saturday, 8 February 2020, 11:30am - 2pm - Indialantic, FL - The Florida Satellite Chapter hosts FBI Agent Mike Popolano on "Profiles and Motives of Active Shooters."

FBI Agent and FSC Member Mike Popolano's talk will cover some infamous active shooter cases and how law enforcement strives to profile potential active shooters and determine their motives. He will examine police response to active shooter incidents and the options available for self-protection and defense. In all cases, Mike will make use of his extensive background as an FBI Special Agent and investigator to present historical cases both to underscore and further elucidate his presentation.

TIMING: 11:30 AM - 12:15 PM: Social Hour, greet old, new members and guests. Cash bar. 12:15 PM: Sit-Down lunch

LOCATION: Doubletree Melbourne Beach Oceanfront, 1665 N Highway A1A, Indialantic, FL 32903. Location and Directions via Google Maps.

TO ATTEND: Prepaid reservations are required and must be received by Sunday, 2 February. To reserve, indicate food choice [Pasta Marinara, Pasta Primavera, or Chicken Francese) for self and any guests. The meal fees are $32 for members, $36 for guests. Send check, payable to AFIO FSC, to FSC Treasurer Rhonda Rhoads, PO Box 410158, Melbourne, FL 32941.
Questions? Rhonda can also be reached at afiofsctreas@gmail.com and at 321 626 -4465.
Paid, advance registration is required, and none will be accepted after February 2.
---
Wednesday, 11 March 2020, 11:30am - San Francisco, CA - The "Andre Le Gallo" San Francisco Chapter hosts FBI Special Agent Michael Gimbel

2019 ended with a shooting at a kosher grocery store in New Jersey, a stabbing at a rabbi's home during a Hanukkah celebration in New York, and another shooting at a church in Texas. What can we do to prevent, mitigate, and respond to violent incidents?
FBI Special Agent Michael Gimbel will speak about FBI's Counterterrorism Division, the law enforcement response to the recent Gilroy Garlic Festival shooting, and the vital inter-agency relationship and coordination which facilitates and expedites the handling and processing of the crime scene.
Timing: No-host cocktails at 11:30, luncheon meeting and presentation begins at noon.
Location: Basque Cultural Center - San Francisco, CA

RSVP now at Eventbrite.
---
Gifts appropriate for intelligence officers, colleagues, recruitments, agents, advisors, and family. The AFIO Store has following new items ready for quick shipment:
Long-Sleeved Shirts and Hooded Sweatshirts with embroidered AFIO Logo
Show your support for AFIO with our new long-sleeved Polo Shirts and Hooded Sweatshirts.
Both items are high quality and shrink resistant and feature a detailed embroidered AFIO seal. The color of the long-sleeved Polo Shirts is royal blue; the price is $55 and includes shipping.
The Hooded Sweatshirts are dark grey; price is $70 and includes shipping.
Purchase a shirt and sweatshirt for yourself and consider as gifts for colleagues, family, and friends.

Both items are available in men's sizes: Small, Medium, Large, XL, XXL, and XXXL. The long-sleeved Polo Shirts and Hooded Sweatshirts are not available in ladies' sizes.
Long and Short-Sleeved Shirts with embroidered AFIO Logo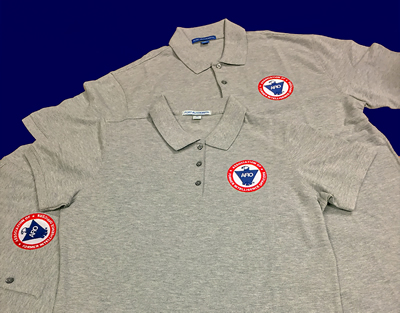 Show your support for AFIO with our new Polo Shirts. Be the first to buy these new, high quality, subtle heathered grey short sleeve shirts of shrink and wrinkle resistant fine cotton with a soft yet substantial feel. They feature a detailed embroidered AFIO seal. Get a shirt for yourself and consider as gifts for colleagues, family, and friends. Only $45 each including shipping.
Sizes of (M) men or (W) women shirts; Small, Medium, Large, XL, XXL, and XXXL. At this time all orders will arrive as Short Sleeve shirts.
You may pay by check or credit card. Complete your order online here or mail an order along with payment to: AFIO, 7700 Leesburg Pike, Ste 324, Falls Church, VA 22043-2618. Phone orders at 703-790-0320.
If interested in other shirt colors or sleeve lengths, contact Annette at: annettej@afio.com.

---
Mug with color glazed logo. Made in America. (We left out all that lead-based glaze and hidden toxins in those mugs made in China being sold by other organizations). Sturdy enough to sit on desk to hold pens, cards, paperclips, and candy.
This handsome large, heavy USA-made ceramic mug is dishwasher-safe with a glazed seal.
$35 per mug includes shipping. Order this and other store items online here.
Also available are our popular Intelligence Community Mousepad
Full color seals of all 18 members of the U.S. Intelligence Community on this 8" round, slick surface, nonskid, rubber-backed mouse pad. Price still only $20.00 for 2 pads [includes shipping to U.S. based address, only. For foreign shipments, we will contact you with a quote.] Great gift for colleagues and self. Click image above for larger image. Now with dark navy background, brighter, updated seals of member agencies. And now MADE IN USA. Order MOUSEPADS here.
Monday, 10 February 2020, 5:30pm - New York, NY - AFIO NY Metro Chapter hosts CIA Officer (Ret) and Author/Disguise Expert Jonna Mendez

Jonna Mendez (Spy Dust: Two Masters of Disguise Reveal the Tools and Operations That Helped Win the Cold War), share (with late husband Tony Mendez) their experiences as spies in Moscow during the height of the Cold War in the mid-1980s. The authors begin with the initial list of "the Moscow Rules" and continue to discuss briefly the current state of affairs in Russia under Vladimir Putin, and how they interfered with the 2016 U.S. election. Additional details to follow in coming months.
Location: Society of Illustrators, 128 E 63rd St (between Park and Lexington), New York, NY 10065.
Timing: Registration starts at 5:30 pm, Speaker presentation starts at 6 pm. Fee: $50/person. Payment at the door only. Cash or check. Full dinner, cash bar.
RSVP: Strongly recommended that you RSVP to ensure space at event. Call or Email Chapter President Jerry Goodwin at afiometro@gmail.com or 646-717-3776.
---
Friday, 28 February 2020, 10:30am - 2pm - Tysons, VA - First AFIO luncheon of 2020 features James Olson, author of To Catch a Spy: The Art of Counterintelligence; and political scientist Seth G. Jones, author of A Covert Action: Reagan, the CIA, and the Cold War Struggle in Poland.

James Olson's presentation starts at 1 p.m.: Olson served for over thirty years in the Directorate of Operations of the CIA, mostly overseas in clandestine operations. In addition to several foreign assignments, he was chief of counterintelligence at CIA headquarters in Langley, VA. Currently, he is a Professor of the Practice at the Bush School of Government and Public Service of Texas A& M University.
At this event Professor Olson will be discussing his March 2019 book, To Catch a Spy: The Art of Counterintelligence which suggests that the US is losing the counterintelligence war. Foreign intelligence services, particularly those of China, Russia, and Cuba, are recruiting spies in our midst and stealing our secrets and cutting-edge technologies. He provides a guide for how our country can do a better job of protecting its national security and trade secrets. He will review the principles and methods of counterintelligence, including the running of double-agent operations and surveillance. He also addresses why people spy against their country, the tradecraft of counterintelligence, and where counterintelligence breaks down or succeeds.
The morning speaker, Dr. Seth G. Jones, will begin 11 a.m. Dr. Jones director of the Transnational Threats Project, and is a senior adviser to the International Security Program at the Center for Strategic and International Studies (CSIS). He teaches at Johns Hopkins University's School of Advanced International Studies (SAIS) and the Center for Homeland Defense and Security (CHDS) at the U.S. Naval Postgraduate School. Prior to joining CSIS, Dr. Jones was the director of the International Security and Defense Policy Center at the RAND Corporation and was Adjunct Professor, Security Studies Program, Edmund A. Walsh School of Foreign Service, Georgetown University, where he taught classes on "Counterinsurgency" and "Stability Operations." He also served as representative for the commander, U.S. Special Operations Command, to the assistant secretary of defense for special operations.
He will discuss counterinsurgency and counterterrorism, with a particular focus on Afghanistan, Pakistan, and al Qa'ida.
Registration has opened and may be done quickly here.
Venue: DoubleTree by Hilton, 1960 Chain Bridge Rd, Tysons Corner, VA 22182 Phone: (703) 893-2100. Directions at this link.
---
Professor/Researcher Seeks Identification of Events Significantly Affected by Intelligence for "When Intelligence Made a Difference" AFIO Publication
AFIO is beginning a new educational project entitled "When Intelligence Made a Difference." We invite you to identify events involving any nation or organization when the outcome was affected significantly by intelligence.
We plan to publish edited submissions serially in our print-only member magazine Intelligencer: Journal of US Intelligence Studies.
If you are interested in contributing an article, please email peter.oleson@afio.com. Briefly state what event you have in mind, and include your bio. [AFIO will identify authors by name and current or former title only ― no multi-line biographies.] If your suggestion is a good fit for this project, we will respond asking for your comments on that event, not to exceed 1,500 words (excluding footnotes).
When you send your article and bio, please let us know if you have ever had prior employment or contract work within the US Intelligence Community -- and, to meet pre-publication review requirements, supply a copy of the official approval letter or email you received back, naming and clearing for publication the article you are sending us. Without this, we are unable to consider or include your article in the publication.
As with most nonprofit academic publications, contributors will not be paid, however AFIO will publish under broad, pro-educational Creative Commons copyright. Therefore, authors retain the right to use their articles anywhere else they wish, after its publication in Intelligencer.
Eight weeks after publication of your contribution in the print-only version of Intelligencer, the article will then appear on AFIO's website for general public/educational access. Since the time of 1) an article's acceptance, and 2) appearance in print, and then 3) inclusion online can run eighteen months to three years from start-to-finish, a title-author listing of all accepted forthcoming articles (but no summaries) will be included in a print edition of Intelligencer and online. So it is imperative authors be patient as these articles are released on this serialized basis, in our two or three journal issues per year. By submitting an article to us authors acknowledge and accept these provisions.
This project would make a good class assignment. Accepted articles would give students a publication credit in a recognized journal.
Again, if you wish to participate or explore more aspects of this project, email Peter Oleson at peter.oleson@afio.com.
---
AFIO's Guide to the Study of Intelligence
Are You Using It?

Full no-cost, online version of Guide is here.

Perfect for professors, students, those considering careers in intelligence, and current/former officers seeking to see what changes are taking place across a wide spectrum of intelligence disciplines.
AFIO's Guide to the Study of Intelligence helps instructors teach about the large variety of subjects that make up the field of intelligence. This includes secondary school teachers of American History, Civics, or current events and undergraduate and graduate professors of History, Political Science, International Relations, Security Studies, and related topics, especially those with no or limited professional experience in the field. Even those who are former practitioners are likely to have only a limited knowledge of the very broad field of intelligence, as most spend their careers in one or two agencies at most and may have focused only on collection or analysis of intelligence or support to those activities.
The printed, bound edition has gone out-of-print. No copies remain for sale.
AVAILABLE ONLINE-ONLY: As an educational service to professors and students, AFIO provides the full 788-page Guide online here for free. This was made possible through the generosity of our foundation, corporate, and institutional members, coupled with the donations we received from our many individual members. We thank all of them.
Online version of the Guide.
---
Other Upcoming Educational Events....includes selection of events from advertisers, corporate sponsors, and others—
---
For some of the many upcoming events at the International Spy Museum, see the listing here.
---
11-12 February 2020 - Charleston, SC - Conference on "Legally Immoral Activity? Testing the Limits of Intelligence Collection" at The Citadel
Are there limits to intelligence collection in support of national security? Where, if at all, does a free and open society provide the limits of surveillance? Civil liberties are a founding tenet of democracy, but at what cost? How does a country balance collective security with individual rights? Recently, a Federal Court ordered Apple to help the FBI unlock the cellphone of a terrorist, but company officials would oppose that order, citing concerns over the privacy rights of all Americans.
This 2-day inter-disciplinary conference will examine the legal, ethical, social, economic, historical and political aspects of the United States government's ability to protect its citizens in an era that warfare has no societal or personal boundaries.
The conference will be held February 11-12, 2020 on the campus of The Citadel in Charleston, South Carolina.
Deadline for proposals and abstracts must be received by October 15, 2019.
Inquires and Submissions should be sent to Dr. Jan Goldman, Department of Intelligence and Security Studies at Email: jgoldma1@citadel.edu.
---
Wednesday, 19 February 2020, 10am - 1pm - Annapolis Junction, MD - NCMF 2020 Winter Cryptologic Program Featuring Ms. Jonna Mendez, CIA Disguise Expert
SAVE THE DATE! The NCMF's 2020 Winter Cryptologic Program will feature CIA Officer (Ret) Author/Chief of Disguise, Ms. Jonna Mendez.
Can you change your appearance completely while walking down a crowded street in Moscow? Can you elude the KGB by pressing a button while rounding a corner? Can you fool the president while briefing him in the Oval Office? The CIA's former Chief of Disguise Jonna Mendez tells it all in her presentation at this NCMF event. More info about event is here.
Location: CACI Inc., Maryland Conference Center, 2720 Technology Dr, Annapolis Junction, MD 20755
REGISTRATION INFO: registration fee is $25pp for members and guests and includes lunch. Online registration may be handled here. Or mail-in your registration fee with payment by check to NCMF, PO Box 1682, Fort George G. Meade, MD 20755-9998. Include names of self and guests.
Questions? Call the NCMF office at 301-688-5436.
REGISTER online here.