Thursday, 18 July 2019, 11:30 AM - Colorado Springs - The AFIO Rocky Mountain Chapter hosts Bill Gallegos, discussing "Hostage in Tehran for 444 Days."

The speaker, Bill Gallegos, and 51 others were taken hostage in Tehran on November 4, 1979 by a group of Iranian college students belonging to the Muslim Student Followers of the Imam's Line, who supported the Iranian Revolution as they took over the U.S. Embassy in Tehran. He spent 444 days until January 1981 as a "guest" of the Ayatollah Khomeini, who had replaced the Iranian monarchy with an Islamic Republic in March 1979. It was the longest hostage crisis in recorded history. Bill will speak to his experiences as a hostage.
Biography: William (Billy) Gallegos was born in Pueblo, Colorado. His Marine Corps career started in 1977. He attended Marine Corps Depot in San Diego, CA. He was then assigned to Marine Security Guard Battalion in Quantico, VA. Upon graduation from Marine Security Guard school he was assigned to the American Embassy Tehran, Iran. Upon his release from captivity, Sgt. William Gallegos completed his military enlistment and was honorably discharged from the United States Marine Corps. During his military service he earned numerous military awards including the Defense Meritorious Service Medal, Prisoner of War Medal, Good Conduct Medal and the Department of State Award for Valor. Upon his discharge, he returned to Colorado where he earned a Bachelor of Science degree in Criminal Justice and Criminology from Metropolitan State University in Denver, Colorado.
Bill Gallegos then began a career in law enforcement as a Denver Sheriff and joined the Denver Police Department in 1994. His assignments with the Denver Police Department include street patrol officer, Vice and Narcotics and Denver police Intelligence unit where he was on loan to the Federal Bureau of Investigation/Joint Terrorism Task Force from 2004 to 2018. His police awards include numerous commendations as well as three Denver Police Distinguished Service Crosses and a Purple Heart. He retired from law enforcement in November 2018.
Please contact steve13507@gmail.com for more information.
---
On Wednesday, 11 September 2019, 11:30 a.m. no-host cocktails; 12 noon - San Francisco, CA - The "Andre Le Gallo" San Francisco Chapter hosts Abraham D. Sofaer on "Taking on Iran."

Abraham D, Sofaer, George P. Shultz Fellow in Foreign Policy and National Security Affairs, Emeritus, speaks on "Taking on Iran: Strength, Diplomacy and the Iranian Threat."
Abraham D. Sofaer, who served as legal adviser to the US Department of State from 1985 to 1990, was appointed the first George P. Shultz Distinguished Scholar and Senior Fellow at the Hoover Institution in 1994. During his service as legal adviser, he was responsible for US/Iran negotiations at the Iran/US Tribunal in The Hague.

Meeting location: Basque Cultural Center, 599 Railroad Avenue, South San Francisco, CA.

Eventbrite Registration: Link forthcoming.
---
1 November 2019, 10:30 am - 2 pm - Tysons, VA - SAVE THE DATE for this final AFIO luncheon of 2019. Event features Jonna Mendez, former CIA Chief of Disguise, co-author of The Moscow Rules: The Secret CIA Tactics That Helped America Win the Cold War, and Vince Houghton PhD, Spy Museum Historian, discussing his just released The Nuclear Spies: America's Atomic Intelligence Operation against Hitler and Stalin.

Jonna Mendez's presentation starts at 11 a.m. Mendez (Spy Dust: Two Masters of Disguise Reveal the Tools and Operations That Helped Win the Cold War), share (with late husband Tony Mendez) their experiences as spies in Moscow during the height of the Cold War in the mid-1980s. The authors begin with the initial list of "the Moscow Rules" and continue to discuss briefly the current state of affairs in Russia under Vladimir Putin, and how they interfered with the 2016 U.S. election.
Vince Houghton PhD, historian and curator of the International Spy Museum, makes his presentation at 1 p.m. on The Nuclear Spies: America's Atomic Intelligence Operation against Hitler and Stalin. He asks why did the US intelligence services fail so spectacularly to know about the Soviet Union's nuclear capabilities following WWII? The Manhattan Project's intelligence team had penetrated the Third Reich and knew every detail of the Nazi 's plan for an atomic bomb. What changed and what went wrong?
Venue: DoubleTree by Hilton, 1960 Chain Bridge Rd, Tysons Corner, VA 22182 Phone: (703) 893-2100. Directions at this link.
Hold the date. Links to online registration will be provided next month.
---
Gifts appropriate for intelligence officers, colleagues, recruitments, agents, advisors, and family.
The AFIO Store has following new items ready for quick shipment:
NEW: Long and Short-Sleeved Shirts with embroidered AFIO Logo and New Mugs with color-glazed permanent logo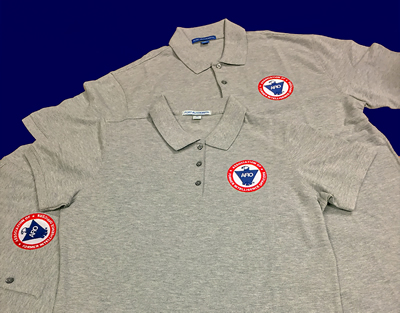 Show your support for AFIO with our new Polo Shirts. Be the first to buy these new, high quality, subtle heathered grey shirts of shrink and wrinkle resistant fine cotton with a soft yet substantial feel. They feature a detailed embroidered AFIO seal. Get a shirt for yourself and consider as gifts for colleagues, family, and friends. Only $45 each including shipping.
Sizes of (M) men or (W) women shirts; Small, Medium, Large, XL, XXL, and XXXL. At this time all orders will arrive as Short Sleeve shirts.
You may pay by check or credit card. Complete your order online here or mail an order along with payment to: AFIO, 7700 Leesburg Pike, Ste 324, Falls Church, VA 22043-2618. Phone orders at 703-790-0320.
If interested in other shirt colors or sleeve lengths, contact Annette at: annettej@afio.com.

---
NEW: Mug with color glazed logo. Made in America. (We left out all that lead-based glaze and hidden toxins in those mugs made in China being sold by other organizations). Also sturdy enough to sit on desk to hold pens, cards, paperclips, and candy.
This handsome large, heavy USA-made ceramic mug is dishwasher-safe with a glazed seal. $35 per mug includes shipping. Order this and other store items online here.
AFIO's Intelligence Community Mousepad
Full color seals of all 18 members of the U.S. Intelligence Community on this 8" round, slick surface, nonskid, rubber-backed mouse pad. Price still only $20.00 for 2 pads [includes shipping to U.S. based address, only. For foreign shipments, we will contact you with a quote.] Great gift for colleagues and self. Click image above for larger image. Now with dark navy background, brighter, updated seals of member agencies. And now MADE IN USA. Order MOUSEPADS here.
---
AFIO's 788-page comprehensive Guide to the Study of Intelligence. Peter C. Oleson, Editor. Foreword by Dr. Robert M. Gates, former Director, Central Intelligence.
View authors and table of contents here.
A thoughtful gift for professors, students, those considering careers in intelligence, and current/former officers seeking to see what changes are taking place across a wide spectrum of intelligence disciplines.
AFIO's Guide to the Study of Intelligence helps instructors teach about the large variety of subjects that make up the field of intelligence. This includes secondary school teachers of American History, Civics, or current events and undergraduate and graduate professors of History, Political Science, International Relations, Security Studies, and related topics, especially those with no or limited professional experience in the field. Even those who are former practitioners are likely to have only a limited knowledge of the very broad field of intelligence, as most spend their careers in one or two agencies at most and may have focused only on collection or analysis of intelligence or support to those activities.
$95, includes Fedex shipping to a CONUS (U.S.-based) address. AK, HI, and other US or foreign addresses should contact afio@afio.com to inquire about shipping options.
To order use this online form. The Guide is available for purchase directly from Amazon at this link. All orders outside the U.S. should order from Amazon.
NOW ONLINE: As an educational service to professors and students, AFIO provides the full 788-page Guide online here at no charge. This was made possible through the generosity of our foundation, corporate, and institutional members, coupled with the donations we received from our many individual members.

Even with the book online, at 788-pages a printed copy allows a reader to get away from the glare of electronic devices to read sections and articles without a nearby plug. It also allows annotations, underlines, and highlighting to enhance learning and retention of material. Order here. The Guide is available for purchase directly from Amazon at this link.
Saturday, 20 July 2019, 10am - 3pm - Dedham, MA - AFIO New England Chapter hears from Peggy Adler and Damien Cregeau, and conducts chapter business

Our schedule is as follows: Registration & gathering, 1000 – 1015; Membership meeting 1015 – 1030; Morning Speaker 1030 to 1200; Luncheon at 1200-1300. Our afternoon speaker will be from 1300 – 1430 with adjournment by 1500. Our morning presenter is Peggy Adler. Peggy has served as AFIO/NE chapter president for 3 years and as program coordinator for 8 years She is also a recipient of AFIO National's coveted General Stilwell Award presented in 2001. Peggy's topic covers the Richard Brenneke October Surprise where in 1991, she was retained by self-proclaimed ex-CIA agent, arms dealer and money launderer, Richard Brenneke, to co-author his autobiography. Discovering evidence in his files contradicting claims regarding his presence at October Surprise conspiracy meetings, she contacted former CIA analyst-turned-journalist, Frank Snepp. This evidence was the basis of Snepp's February 1992 article for the Village Voice which outed Brenneke as a con artist. Adler worked with Snepp on additional articles for the "Voice" which went on to prove that the so-called "October Surprise" was a hoax. Adler's work was also the subject of a chapter in Robert Parry's book, Trick or Treason: The October Surprise Mystery and she was interviewed by PBS' Frontline in this regard for an episode which aired in April 1992. In mid-1992, learning that the House October Surprise Task Force was investigating whether or not there actually had been an October Surprise, she contacted investigative journalist and author Steven Emerson, who put her in touch with the Task Force so that she could turn over to them the seventy cartons of documents she had hauled east from Brenneke's home in Portland, Oregon, in order to write his memoirs. Subsequently, she worked as a consultant to the Task Force, and assisted in drafting and editing the Brenneke section of their final report.
Our afternoon presenter is Damien Cregeau. Mr. Cregeau's one-hour PowerPoint presentation, "Spies, Lies, and Alibis: Spying and Tradecraft During the American Revolution," will focus on the espionage efforts in and around New York City, including the Major Benjamin Tallmadge's Culper Ring and the Dayton Ring run by Colonel Elias Dayton. It will also include an analysis of the failed Captain Nathan Hale operation as well as the successful counterintelligence efforts regarding the failed Tory plot to capture or kill Generals George Washington and Israel Putnam. The talk will also look briefly at the special invisible ink developed by Sir James Jay, brother of John Jay, as well as two common misunderstandings regarding the treachery of Major General Benedict Arnold. Finally, there will be a brief look at the unheralded efforts of Sgt. Daniel Bissell, a Continental Army soldier who posed as a deserter to operate behind British lines. Damien earned his bachelor's in history from Hillsdale College and his master's in history from Colorado State. After teaching history at preparatory schools for several years he became an independent historian. He is a scholar of the American Revolution specializing in espionage of the era. He has spoken on spies in the Revolution since 2007 at the FBI's New York Office, the Fraunces Tavern Museum in New York City, as well as to historical societies and organizations throughout the northeast, including Boston, Vermont and New Hampshire. He serves as president of the Connecticut Society of the Sons of the American Revolution. He has been published in seven historical journals, including Leatherneck Magazine, Financial History, the Journal of the American Revolution and the DAR's American Spirit. He and his wife own two homes from 1765 in Connecticut: a private's house in Wethersfield and the General Jedediah Huntington House in Norwich. In September, as part of the town of Litchfield's 300th anniversary, Damien will host a Revolutionary War spy symposium on Sunday, September 8th.
Event being held at the MIT Endicott House, 80 Haven Street, Dedham, MA 02026. Should you elect to stay at the Endicott House, Mike Assad has arranged a room rate of $140/night. Please mention AFIO/NE and Mike Assad when you make your reservation. For additional information contact us at afionechapter@gmail.com.

REGISTER: Advance reservations are $30 per person. We can no longer accept walk-ins. Emails regarding your plans to attend will be accepted if you are late meeting the deadline. These must be sent to Ms Sarah Moore at afionechapter@gmail.com no later than 3 days prior to the event
Reservation deadline: luncheon reservations must be made by 17 July 2019.
Mail your check and the reservation form to: AFIO/NE, Sarah Moore, PO Box 1203, Orange, CT 06477.
---
Saturday, 24 August 2019, 5:30 p.m. - Oak Lawn, IL - AFIO Illinois-Indiana Chapter hosts Cybersecurity expert Professor Maurice Dawson

Speaker and Dinner are part of this chapter meeting where we will hear Maurice Dawson, Ph.D., D.C.Sc., SMIEEE, Director of the Center for Cyber Security and Forensics Education, Fulbright Scholar, & Senior Fellow at ALPF, discuss Cybersecurity issues. Professor Dawson is a nationally recognized expert on CyberSecurity and a published author.
Event is being held at the Stoney Creek Golf Club, 5850 W 103rd St., Oak Lawn, ill. 60453. Chapter VP John Fanning has arranged dinner for us in a private room for the cost of only $40pp.

RSVP: Please advise me as soon as you can of your commitment to attend, and please bring guests with you.
Please understand that we must provide a guaranteed number, and I will be personally responsible for no-shows.
Email your RSVP to chapter President Vernon Petri at Vjpetri@petrilaw.com or call him at 317-696-3580. Also, if your dues are up for renewal, bundle the $40 fee with your registration.
---
Wednesday 18 September 2019, 5:30 p.m. - New York, NY - AFIO NY Metro Chapter hosts Larry Loftis, on SOE Hero, Odette Sansom, in his book Code Name: Lise.

Larry Loftis is the author of Code Name: Lise—The True Story of the Woman Who Became WWII's Most Highly Decorated Spy, the story of Odette Sansom (1912-1995), a Frenchwoman living in England, wife of an Englishman and mother of 3 daughters, who was recruited into Britain's Special Operations Executive (SOE) to conduct espionage in France during WW II with her commander, and yet-to-be second husband, Peter Churchill. Leaving her daughters in a convent school and with relatives, she joined the rigorous training program, becoming proficient with a wide range of weapons, learning the fine points of spycraft, and perfecting her new identity with the code name Lise. In France she proved herself fearless. Hunted by the Germans, in 1943, Odette and Peter were captured, imprisoned, and tortured. Loftis describes Odette's ordeal in grisly detail. Two lies saved her: She pretended that she and Peter were married (they would be after the war) and that Peter was related to Winston Churchill. In defeat, the Gestapo hoped to use her as a bargaining chip.
Location: Society of Illustrators, 128 E 63rd St (between Park and Lexington), New York, NY 10065.
Timing: Registration starts at 5:30 pm, Speaker presentation starts at 6 pm. Fee: $50/person. Payment at the door only. Cash or check. Full dinner, cash bar.
RSVP: Strongly recommended that you RSVP to ensure space at event. Call or Email Chapter President Jerry Goodwin at afiometro@gmail.com or 646-717-3776.
---
Wednesday 4 December 2019, 5:30 p.m. - New York, NY - AFIO NY Metro Chapter hosts CIA Officer (Ret) Dr. John A. Gentry discussing "IC Political Activism since 2016 -- Origins and Implications."

Partisan political activism by current and former intelligence officers since mid-2016 is the largest and most significant politicization of intelligence by intelligence officers in U.S. history. This presentation will explore the causes and the wholly negative consequences of this new form of politicization for the IC and the country.

Dr. John A. Gentry was for 12 years an intelligence analyst at the CIA, where he worked mainly economic issues associated with the Soviet Union and Warsaw Pact countries; for two of those years he was senior analyst on the staff of the National Intelligence Officer for Warning. He is a retired U.S. Army Reserve officer, with most assignments in special operations and intelligence arenas. On active duty, he was executive officer of a special forces operational detachment. As a reservist, he was mobilized and spent much of 1996 as a civil affairs officer in Bosnia. Dr. Gentry also is an adjunct associate professor with the School of International and Public Affairs, Columbia University. He formerly taught at the College of International Security Affairs, National Defense University, at the National Intelligence University, and at George Mason University. His research interests primarily are in intelligence and security studies. He publishes frequently in Intelligence and National Security and International Journal of Intelligence and CounterIntelligence. Georgetown University Press published his co-authored book, Strategic Warning Intelligence: History, Challenges and Prospects, in early 2019. He is a member of the Editorial Committee of the International Journal of Intelligence and CounterIntelligence. He is adjunct professor at Georgetown University.
Location: Society of Illustrators, 128 E 63rd St (between Park and Lexington), New York, NY 10065.
Timing: Registration starts at 5:30 pm, Speaker presentation starts at 6 pm. Fee: $50/person. Payment at the door only. Cash or check. Full dinner, cash bar.
RSVP: Strongly recommended that you RSVP to ensure space at event. Call or Email Chapter President Jerry Goodwin at afiometro@gmail.com or 646-717-3776.
---
Professor/Researcher Seeks Identification of Events Significantly Affected by Intelligence for "When Intelligence Made a Difference" AFIO Publication
AFIO is beginning a new educational project entitled "When Intelligence Made a Difference." We invite you to identify events involving any nation or organization when the outcome was affected significantly by intelligence.
We plan to publish edited submissions serially in our print-only member magazine Intelligencer: Journal of US Intelligence Studies.
If you are interested in contributing an article, please email peter.oleson@afio.com. Briefly state what event you have in mind, and include your bio. [AFIO will identify authors by name and current or former title only ― no multi-line biographies.] If your suggestion is a good fit for this project, we will respond asking for your comments on that event, not to exceed 1,500 words (excluding footnotes).
When you send your article and bio, please let us know if you have ever had prior employment or contract work within the US Intelligence Community -- and, to meet pre-publication review requirements, supply a copy of the official approval letter or email you received back, naming and clearing for publication the article you are sending us. Without this, we are unable to consider or include your article in the publication.
As with most nonprofit academic publications, contributors will not be paid, however AFIO will publish under broad, pro-educational Creative Commons copyright. Therefore, authors retain the right to use their articles anywhere else they wish, after its publication in Intelligencer.
Eight weeks after publication of your contribution in the print-only version of Intelligencer, the article will then appear on AFIO's website for general public/educational access. Since the time of 1) an article's acceptance, and 2) appearance in print, and then 3) inclusion online can run eighteen months to three years from start-to-finish, a title-author listing of all accepted forthcoming articles (but no summaries) will be included in a print edition of Intelligencer and online. So it is imperative authors be patient as these articles are released on this serialized basis, in our two or three journal issues per year. By submitting an article to us authors acknowledge and accept these provisions.
This project would make a good class assignment. Accepted articles would give students a publication credit in a recognized journal.
Again, if you wish to participate or explore more aspects of this project, email Peter Oleson at peter.oleson@afio.com.
---
AFIO's Guide to the Study of Intelligence
Are You Using It?
The Guide consists of more than 66 articles on all aspects of intelligence. It is intended to help instructors become familiar with intelligence-related subjects. Guide articles, written by both academic experts and seasoned practitioners, are introductions to the subject with recommended readings for further study.
Guide articles appear in AFIO's journal Intelligencer and as PDFs on our website here.
They are free for academic reuse.
For a complete list of what articles are available at this time, view this pdf.
We thank Peter Oleson, Senior Editor of Intelligencer, and Editor of AFIO's Guide to the Study of Intelligence, for online release of the following articles which appeared in the print-only Intelligencer journal:
Cyber Intelligence by Robert M. Clark and Peter C. Oleson
Wet Affairs, Part I: Stalin's Disciple: Vladimir Putin and Russia's Newest "Wet Affairs" by Peter Oleson
Wet Affairs, Part II: Significant Murders or Attacks Related to Putin's Regime by Peter Oleson
---
Other Upcoming Educational Events....includes selection of events from advertisers, corporate sponsors, and others—
Thursday, 18 July 2019, 9:30 - 11 am - Washington, DC - "Political Transition in Central Asia" Panel at the Daniel Morgan Graduate School

Central Asia is undergoing a period of profound transformations. Islam Karimov, who ruled Uzbekistan from 1989, died in office in 2016. His successor former Prime Minister Shavkat Mirziyoyev has embarked on a series of reforms to create a more efficient bureaucracy, attract investment, soften repression and rebuild ties with neighboring states.
Kazakhstan's first President Nursultan Nazarbayev resigned in March 2019. Zhomart Toqaev, his anointed successor, called a snap election on June 8th, winning with over 70% of the vote. But citizens have reacted angrily to perceived political stagnation with over 1000 arrested in protests around the country.
Tajikistan, the region's poorest state is also looking toward transition. President Emomali Rahmon, in power since 1992, appears to be grooming his son Rustam for power; presidential elections are scheduled for 2020. This comes at a time of instability in the country, with over thirty killed in a prison riot in May.
These ongoing developments are interlinked and pose questions around the sustainability of post-Soviet models of authoritarian governance in the region. To discuss these developments, Daniel Morgan Graduate School and Radio Free Europe/Radio Liberty (RFE/RL) will assemble a roundtable of experts who follow the region closely.
Speakers:Torokul Doorov, Director of RFE/RL's Kazakh Service; Salimjon Aioubov, Acting Director of RFE/RL's Tajik Service; Alisher Syddiq, Director of RFE/RL's Uzbek Service; Erica Marat, Associate Professor, College of International Security Affairs, National Defense University. Moderator: Edward Lemon, DMGS - Kennan Institute Fellow, Daniel Morgan Graduate School of National Security
Where: The Daniel Morgan Graduate School of National Security, 1620 L St NW, Suite 700, Washington, D.C. 20036
RSVP Required. Do so HERE. Qs? contact Frank Fletcher, Director of Lectures & Seminars by email to: events@dmgs.org
Attire: business / business casual
Registration Opens at 9:00 am
Please note that you must RSVP to attend this event.
Daniel Morgan Graduate School of National Security Reserves the Right to Refuse Entry.
---
Wednesday, 16 October 2019, 9 a.m. - 3:30 p.m. - Annapolis Junction, MD - NCMF 2019 Membership Meeting

Details to follow in several weeks about this 2019 National Cryptologic Museum Foundation General Membership Meeting. Not co-event occurring following two days, below.
Additional information or questions can be handled at NCMF Office at cryptmf@aol.com or call 301-688-5436.
---
Wednesday, 6 November 2019, 6 - 10:30 pm - Washington, DC - Michael Morell and Jill Singer, Co-Chairs, invite you to The Honorable William H. Webster Distinguished Service Award Dinner at the International Spy Museum
The William H. Webster Distinguished Service Award Dinner will take place at the new home of the International Spy Museum in L'Enfant Plaza. On this special evening, more than 500 attendees will gather to recognize the men and women who have served in the field of National Security with integrity and distinction.
Each year, The Honorable William H. Webster Distinguished Service Award is given to an individual who has embodied the values of our esteemed friend, mentor, and leader — Judge William H. Webster. This year's honoree is someone known for his invaluable service and contributions to the Intelligence Community, someone that has worked from the ground up and has been both a provider and consumer of intelligence with more than 20 years of experience. It is with great pride that we announce the 2019 honoree is General Michael V. Hayden, former Director of the National Security Agency, Principal Deputy Director of National Intelligence, and Director of the Central Intelligence Agency.
AWARD DINNER CO-CHAIRS: Mr. Michael Morell, Senior Counselor, Beacon Global Strategies and Former Deputy Director and former Acting Director, Central Intelligence Agency; Ms. Jill Singer, Vice President, National Security, AT&T Public Sector & Wholesale; Former Chief Information Officer, National Reconnaissance Office.
Tickets range from $495 to $15,000. Explore your registration options here.
This event is closed to media.
Event location: The New International Spy Museum, 700 L'Enfant Plaza SW, Washington, DC 20024. Directions here.
---
Saturday, 28 September 2019 - Tysons Corner, VA - HOLD THE DATE: CIRA Annual Dinner
HOLD THE DATE. CIRA is currently reviewing hotel venues for this dinner. There will be periodic updates on menu, reduced room rates, and updates on the evening program including the presentation of the Lloyd Salvetti Award. Meanwhile, put this date in your calendar and stay tuned for follow-ups.
---
17 - 18 October 2019 - Laurel, MD - 2019 Symposium on Cryptologic History - The National Security Agency/Central Security Service (NSA/CSS) and the National Cryptologic Museum Foundation
The National Security Agency/Central Security Service (NSA/CSS) and the National Cryptologic Museum Foundation invite proposals for the 2019 Symposium on Cryptologic History. The Symposium will be held on October 17-18, 2019 at the Johns Hopkins Applied Physics Laboratory's Kossiakoff Center in Laurel, MD. The theme of the 2019 Symposium is "From Discovery to Discourse." Proposals are due February 4, 2019. To submit your proposals or for additional details please visit this link.

The National Security Agency/Central Security Service (NSA/CSS) Center for Cryptologic History (CCH) and the National Cryptologic Museum Foundation (NCMF) invite proposals for papers to be presented at the 17th biennial Symposium on Cryptologic History which will take place October 17 - 18, 2019. The Symposium will be held at the Johns Hopkins University Applied Physics Laboratory's Kossiakoff Center in Laurel, Maryland. Following the Symposium on Saturday October 19th, attendees will be given an opportunity to tour the National Cryptologic Museum and participate in a workshop on researching cryptologic history sources.
The theme for the 2019 Symposium on Cryptologic History is "From Discovery to Discourse." Since 1990, the Symposium on Cryptologic History has served as an opportunity to present historical discoveries found in unclassified and declassified Intelligence Community records and engage in scholarly discussion about their significance to cryptologic history. All topics relevant to the history of cryptology, signals intelligence, technology, and national security are welcome. An interdisciplinary approach is encouraged. Topics anchored by anniversary events are traditionally well-received by attendees. Just two examples of significant anniversaries in 2019 include the 100th anniversary of the establishment of the British Government Code and Cypher School (now known as the Government Communications Headquarters or GCHQ) and the 70th anniversary of the establishment of NSA/CSS' predecessor, the Armed Forces Security Agency. Submissions from those who are new to the field, particularly graduate students, are particularly welcome. This will ensure the variety and diversity of exchange that has been the hallmark of this event.