AFIO SCHOLARSHIPS FOR THE 2022-2023 SCHOOL YEAR
---
Read instructions below entirely to apply
Applicants do not need to be current members of AFIO. All winners will be granted a 1-year honorary membership to AFIO
OTHER Non-AFIO Scholarships are listed near the bottom this page
---
Students / Parents
Do not let budget limitations stop you from reaching your potential. Let AFIO offset some of your education costs. Applications for 2022-2023 can be sent starting 1 February 2022 until 1 June 2022. No applications will be accepted after midnight 1 June 2022. AFIO offers undergraduate and graduate scholarships.  To be considered, you must indicate whether you are applying for an undergraduate or graduate scholarship.  

DEADLINE FOR APPLICATIONS: 1 June 2022. All materials by applicants for 2022-2023 should be sent via our online form by midnight 1 June 2022.

SCHOLARSHIP GUIDELINES AND ELIGIBILITY: For Undergraduate scholarships, applicants must be entering their senior year of college in the fall of 2022. For Graduate scholarships, applications must be submitted no earlier than your senior undergraduate year of college and no later than your second year of graduate school studies.

All applicants must be U.S. citizens. Also, even if you are a U.S. citizen, no scholarship will be awarded to students attending foreign universities (study abroad is eligible, if administered by a U.S. school), or schools not U.S.-accredited, nor to law, medical, or business schools (foreign or domestic).

Students intending to study in schools of engineering, science, technology and/or show extensive foreign language mastery and/or area knowledge in Arabic, Dari, Farsi, Pashto, Russian, Chinese, Korean, Persian, Hausa and other sub-Saharan African languages, Hebrew, Punjabi, Somali, Swahili, Turkish, and Urdu are strongly encouraged to apply.

EVALUATION CRITERIA: Applicants are evaluated on merit, character, academic commitment, relevance of studies to national security interests, and career ambitions.

Applications are evaluated by a special AFIO committee. Decisions are final.

Tuition grants will be paid directly to the Bursar/Registrar of the University concerned - under NO circumstances are payments sent directly to awardees or non-bursar third parties.

APPLICATION PACKAGE: Applicants must provide via this online form the following SEVEN items. Any of these formats for your attachments are acceptable: PDF, DOC, DOCX, TXT, JPG, TIF, RTF, ODT, including common archive files - e.g., ZIP, ZIPX. Do not send .dat or .htm files. Verify your attachments open to be certain they are valid files and not empty shortcut files. Keep attachments per email under 15 MB.
1. Cover Letter: explaining your need for scholarship, your career goals, your views of U.S. world standing and role U.S. intelligence community should play.
2. Resume:


current mailing address (we will verify with post office)
place and date of birth
colleges you have attended
college you expect to attend in fall of 2022
experience
extra-curricular activities

3. A copy of your academic transcript - need not be original or "official"
4. One recommendation (have person send to us by email to scholarships@afio.com)
5. Recent photograph. Image should show full face - sitting, standing, or portrait only. JPG, TIF, GIF, PDF, other major graphic image formats acceptable.
6. Indicate whether you are applying for an UNDERGRADUATE or GRADUATE scholarship.
7. Name of college or university you will be attending in 2022-2023 and your intended course of study (your declared 'major' or 'area of concentration').
TO APPLY: Please assemble all parts of your application package and send them to us using this online form. If you are missing any part of the package your application will not be considered.

Recommendations and/or transcripts coming from institutions or advisors that cannot be sent electronically can be mailed to us by U.S. Mail to our address: AFIO Scholarships, 7600 Leesburg Pike Ste 470 East, Falls Church, VA 22043 or emailed to scholarships@afio.com.

Questions? Contact us at scholarships@afio.com

AFIO SCHOLARSHIPS AVAILABLE FOR THE 2022-2023 SCHOOL YEAR:
JASIN UNDERGRADUATE SCHOLARSHIP - Three at $5,000 each
To be awarded to rising seniors who are pursuing an undergraduate degree with demonstrated interest in becoming employed within the U.S. Intelligence Community, such as relevant internships, study abroad experience, advanced language study, or research work.


JASIN GRADUATE SCHOLARSHIP - Three at $5,000 each
To be awarded to graduate students focused on national security issues who are pursuing degrees in areas such as international relations, security policy, or intelligence studies and who are currently serving in the U.S. Government or have intention to do so.
---
---
The following scholarships have been made known to us but are not handled by AFIO. Follow directions below.
________________________________

CIA Undergraduate and Graduate Scholarships for 2022. Deadline is August 31, 2022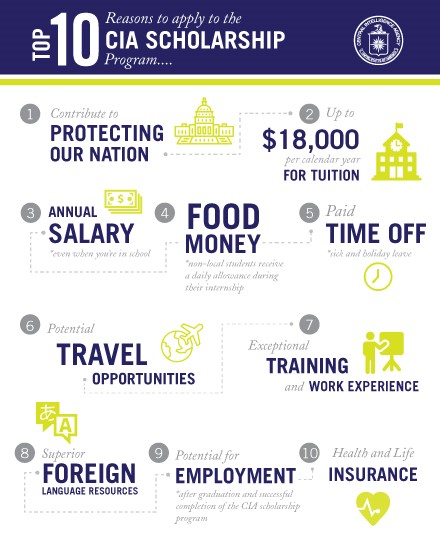 Work Salt=""/chedule: Full Time
Location: Washington, DC metropolitan area

Applications for the Undergraduate Scholarship Program are accepted from 1 April - 31 August.
Did you know the CIA has scholarships for undergraduate and graduate students? Did you know you could get paid to go to school? Here are our top 10 reasons to apply to the CIA Scholarship Program:
Contribute to protecting our nation as a part of the prestigious CIA workforce
Tuition assistance - up to $18,000 per calendar year for tuition, mandatory fees and books
Annual salary - even when you're at school
Food money. Non-local students receive a daily allowance for meals and incidentals during your summer internship
Paid time off, as well as sick and holiday leave
Potential travel opportunities
Exceptional training and work experience
Superior foreign language resources to expand upon your language skills or obtain new ones
Potential for employment at CIA after graduation and successful completion of the CIA Scholarship Program
Additional benefits: health and life insurance, as well as a Federal retirement plan
For more information on the benefits and requirements for the CIA Undergraduate and Graduate Scholarship Program, please click on the following links:
Want to hear more about what it is like to work as a CIA scholarship student? Click here to read about a Day in the Life of a Scholarship Recipient.
LINT CENTER FOR NATIONAL SECURITY SCHOLARSHIPS
DEADLINE: January 31, 2022
The mission of the Lint Center for National Security Studies is to foster and further the educational development and opportunities for the next generation of America's Counterintelligence and National Security workers. The Center focuses on empowering individuals, enhancing the study of national security issues, and enabling emerging leaders to be mentored by established current-and-former industry experts.
The Lint Center offers scholarships every January and July ranging from $500 to $1500. CEO James R. Lint, also an AFIO member, created these scholarships in order to:

Help smart innovative scholars attend college and contribute to National Security
Build better alliances
Create a forum for idea generation to aid national security
Assist scholars in getting published
Mentor and help those that may help the Nation and freedom in the future
To be eligible for this award, applicants must submit an essay fully explaining one of the goals or concepts of The Lint Center for National Security Studies. Specific topics for each scholarship, the application, and complete information on these scholarships may be found at: http://www.lintcenter.info/

GE-REAGAN FOUNDATION SCHOLARSHIPS - 2022 - DEADLINE: Midnight CST, January 9, 2022:

Exceptional student leaders are invited to apply for the 2022 GE-Reagan Foundation Scholarship Program. In honor of the legacy and character of President Ronald Reagan, this program annually rewards up to 20 college-bound students who demonstrate exemplary leadership, drive, integrity, and citizenship with $10,000 renewable scholarships (up to $40,000 per recipient).


Honoring the legacy and character of our nation's 40th President, the GE-Reagan Foundation Scholarship Program rewards college-bound students who demonstrate exemplary leadership, drive, integrity, and citizenship with financial assistance to pursue higher education.

Each year, the Program selects numerous recipients to receive a $10,000 scholarship renewable for up to an additional three years - up to $40,000 total per recipient. Awards are for undergraduate study only, and may be used for education-related expenses, including tuition, fees, books, supplies, room, and board. In addition, Scholars are invited to participate in a special awards program.

To be eligible for this award, applicants must:

• demonstrate at school, at the workplace, and within the community the attributes of leadership, drive, integrity, and citizenship;• demonstrate strong academic performance (minimum 3.0 grade point average/4.0 scale or equivalent);• demonstrate financial need;• be citizens of the United States of America;• be high school seniors attending high school in the United States, or any of the U.S. territories and commonwealths and graduating in winter 2020 or spring 2020. Applicants living on a U.S. Armed Forces base and attending high school outside the U.S. are eligible. Home-schooled students who are graduating in winter 2022 or spring 2022 are also eligible.• plan to enroll in a full-time undergraduate course of study toward a bachelor's degree at an accredited four-year college or university in the United States for the entire 2022-2023 academic year.


In addition, semifinalists must be nominated by an eligible community leader, such as a high school principal, elected official or executive director of a nonprofit organization, and must provide documentation to certify academic performance and financial need. Finalists will be interviewed via Skype or telephone by a member of the selection committee. Learn more about the qualifications of a GE-Reagan Foundation Scholar or download a GE-Reagan Foundation Scholarship Program flyer here.


Qualified candidates may apply online starting October 15, 2020 through January 9, 2022 or until 25,000 applications are submitted, whichever comes first. To be considered for this award, candidates must complete the secure online application and all of its components prior to the deadline. Deadline extensions will not be granted, and incomplete applications will be disqualified. Materials submitted in hard copy prior to the semifinalist stage will not be considered and will be discarded. Only the first 25,000 completed applications will be considered.


Applicants who have questions about the application process may contact the program's administrator, Scholarship Management Services, at 1-507-931-1682 and ask for the GE-Reagan Foundation Scholarship Program or email
ge-reagan@scholarshipamerica.org. Applicants should anticipate a response to inquiries within one business day. Personnel at GE and The Ronald Reagan Presidential Foundation cannot address applicant questions.

Applications for the GE-Reagan Foundation Scholarship Program will be accepted online until January 9, 2022. Additional information, eligibility requirements, and a link to the application are available online. We look forward to honoring your young leaders next spring.
Erin Korsvall
Program Officer, GE-Reagan Foundation Scholarship Program
Applicants who have questions about the application process may contact the program's administrator, Scholarship Management Services, at ge-reagan@scholarshipamerica.org.
---
SCHOLARSHIPS AND OTHER FINANCIAL AID PROGRAMS:
Most members of the IC are participating in the Pat Roberts Intelligence Scholars Program (PRISP) to recruit and train analysts and linguists. The program is decentralized and demand-driven and allows each IC component to tailor its PRISP program to meet its critical needs. Many agencies are focusing on critical language or scientific skills. PRISP funding can be used to pay for hiring incentives, including reimbursement for previous educational expenses, or to provide additional education or training for those selected for the program.There is a service obligation of 18 months in an analytic or linguistic position in the IC.
Prospective PRISP applicants should consult the website of the various IC components for specifics on that component's program. Each participating IC component will advertise their program and is responsible for identifying their critical skills and recruiting, selecting, processing and placing chosen candidates in suitable positions or in additional education or training programs.
Currently, CIA, DIA, and NSA participate in the Undergraduate Training Program, also known as the Stokes Program. This program targets high potential high school seniors and high performing college sophomores majoring in areas critical to the needs of the participating agencies. If selected for the program, students receive a government salary and full benefits as well as tuition and other educational expenses.The service obligation for this program is one and one-half times the length of the funded educational program.
The National Security Agency also has several other scholarship and fellowship programs.Additional information can be found at https://www.intelligencecareers.gov/NSA/nsastudents.html.
The intelligence agencies who are part of the Department of Defense also participate in some specialized scholarship programs such as the Information Assurance Scholarship Program for students at NSA-designated Centers of Academic Excellence and the NDEA/SMART Scholarship Program for math, science, engineering, and other critically needed technical skills (http://www.asee.org/fellowship-programs/).
The military services offer a number of scholarships and fellowships, including ROTC programs, some of which may apply to the service's intelligence component. Consult the web site of each service for additional information.
College/Graduate Students: Earn Up to $20,000 for Overseas Study with the David L. Boren Undergraduate Scholarships
The Boren Undergraduate Scholarships offer generous funding to college students wishing to spend a summer, semester, or academic year overseas in areas of the world deemed critical to US national security. US Citizens Only.
Overview: The Boren Scholarship was established in 1991 and is regulated by the National Security Education Program. The scholarship provides funding for graduate and undergraduate study in a number of targeted countries and fields. Students awarded Boren Scholarships must fulfill a service agreement upon graduation which requires a period of brief employment at a governmental agency or an office involved in national security affairs.
Eligibility: Boren scholarships may be awarded to students currently enrolled in undergraduate study or graduates planning to attend graduate school. Students applying for this scholarship must desire to study a foreign language in addition to any major-related study. Preference is given to students interested in studying critical languages or fields related to security interest as well as to those interested in study in selected areas. A list of preferential countries, languages, and topics of study are provided on the Boren Web Site. Financial assistance may also be provided to graduating seniors through Boren Graduate Fellowships.
Value: Students awarded Boren Scholarships will receive a maximum of $10,000 per semester or $20,000 per academic year, depending on program costs and student need. Boren Scholars may chose to study abroad for a 6-week summer session, a semester, or a full year.
Application: Applicants for Boren Scholarships may choose to complete an official hardcopy application form, which can be obtained from the Loyola College faculty representative, or may submit their application forms online. In addition, 3 letters of recommendation and 4 semesters' worth of transcripts are required. For those who have attended college for less than 4 semesters, high school records indicating achievements during the last 2 years must be included.
Deadline: Applications must be received for review and endorsement prior to the national deadline of February 10.
Additional Information:
NSEP Undergraduate Web Site,
NSEP Graduate Web Site,
Boren / NSEP Description
Contact Information

________________________________

National Flagship Language Program

NFLP Fellowships
NSEP offers a limited number of fellowships to qualified American students interested in receiving full financial support to participate in one of the NFLP programs.
Eligibility Requirements see: National Flagship Language Program
The National Flagship Language Program (NFLP) was developed to address the urgent and growing need for Americans with professional levels of competency in languages critical to national security. NFLP offers advanced language training in Arabic, Korean, Mandarin, Persian, and Russian. NFLP is designed to train participants to reach professional working proficiency in a target language, as measured by the federal Interagency Language Roundtable (ILR) level 3 and/or the American Council on the Teaching of Foreign Languages (ACTFL) superior level.
Some of the programs you might want to explore are:
Most IC agencies participate in the Pat Roberts Intelligence Scholars Program (PRISP), which is designed to recruit and train analysts and linguists. PRISP funding can be used to pay hiring incentives, such as a recruitment bonus or reimburse previous educational expenses, for individuals who already possess the necessary skills (language, specialized scientific expertise, etc.) or to provide additional education or training for those selected for the program. There is a service obligation of 18 months. Consult agency websites for specifics on that agency's PRISP program.
The Stokes Educational Scholarship Program (CIA, DIA, and NSA), where high potential, high school seniors and high performing college sophomores receive a government salary and full benefits, as well as tuition and other educational expenses, in exchange for a future employment obligation.
The Information Assurance Scholarship provides specialized scholarships for intelligence agencies that are part of the Department of Defense. There is also this link for undergraduates.
The military services offer a number of scholarships and fellowships, which may apply to the service's intelligence component, including ROTC programs. Consult the websites of each service branch for specific details.
Applying for Student Opportunities
Competition is particularly fierce for our student programs. Applications for summer internships are in October and November for the following summer. Deadlines for other programs such as co-op programs deadlines are six to nine months prior to the period you wish to work. Applicants are expected to meet the same employment standards as permanent IC employees. You must be a U.S. citizen and should have a strong academic record (GPA of 3.0 or better). Foreign language skills, previous study or residency abroad and military service are pluses. Outstanding interpersonal and communication skills are essential. Some agencies require medical and/or polygraph examinations as well as a background investigation.
Most positions, including temporary employment as an intern or cooperative education student, in the IC require that employees possess a security clearance. Hiring for these positions is contingent upon the individual being granted such a clearance. The criteria for granting personnel security clearances vary depending upon the level of clearance and the particular IC member doing the hiring.
Employees in the IC must be highly reliable and trustworthy because they have access to the nation's most sensitive information. The granting of a security clearance testifies that an individual meets these standards of reliability, trustworthiness, and integrity.
Current students considering a future career in the intelligence community are recommended to live a lifestyle that:
Focuses on continuing formal education and positive character development
Avoids the use of drugs and alcohol
Preserves your good credit by avoiding excessive credit card spending, especially when the spending exceeds the ability to pay off the balance monthly, and ensuring that all financial obligations are taken care of (payment of state and federal income tax, any government debts and student loans).
Obeys all laws regarding the downloading and use of software and all copyrighted material.
Obeys traffic laws including those regarding driving while under the influence of alcohol.