AFIO Weekly Intelligence Notes #24-08 dated 23 June 2008

_____________________________________________________
Last call for AFIO Auction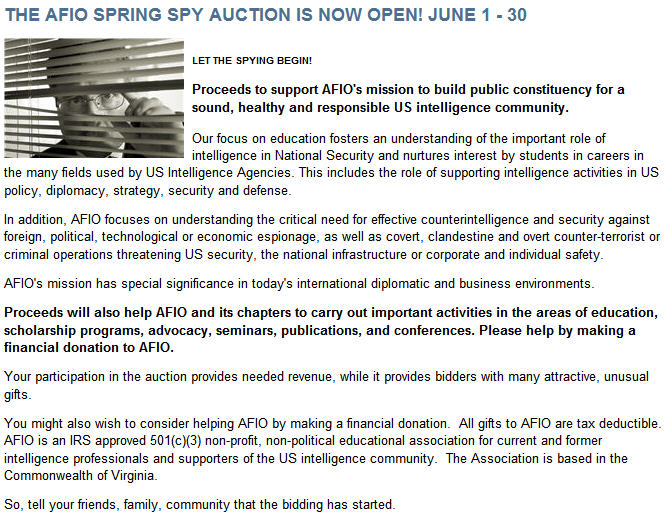 Click above announcement for last opportunity to visit http://afio.cmarket.com
to view unusual items available to bid.
Purchases help support AFIO's important mission
_____________________________________________________
25 July 2008 - AFIO National SUMMER Luncheon -
10:30 a.m. to 2 p.m.
Tysons Corner, Virginia

11 a.m. Speaker - Robert Wallace, Former Director of CIA's Office of Technical Service, author of
SPYCRAFT: The Secret History of the CIA's Spytechs,
from Communism to al-Qaeda

Befitting the topic, his talk will feature an image-rich multi-media presentation

and

Robert Wallace

Frances Townsend

1 p.m. Speaker - Frances Fragos Townsend, Esq., former White House Assistant, Homeland Security/Counterterrorism,
current member of the President's Intelligence Advisory Board [PIAB],
speaking on Current and Emerging Threats

Ms. Townsend's remarks are
OFF THE RECORD
to encourage frank & spirited Q&A.

EVENT LOCATION: The Crowne Plaza
1960 Chain Bridge Road • McLean, Virginia 22102
Space limited. Make reservations.
---
THE SIXTH ANNUAL AFIO SOCIAL EVENT
The Boston Pops at the Wolf Trap Park in Vienna, Virginia!
Tuesday, 19 August 2008 – Vienna, VA
This year we have moved the annual social from Boston's Symphony Hall to the Wolf Trap Foundation for the Performing Arts.
The concert choice will once again be the Boston Pops Esplanade Orchestra.
Contact Mr. Wass at wassinrichland@aol.com and use "AFIO Social" in subject line if you would like to attend the pre-concert AFIO social at Wolf Trap. Reservations are now being taken however since we have limited seats available, we recommend contacting us before purchasing your concert tickets.
For those who plan on attending the concert and social at Wolf Trap [located at 1645 Trap Rd, Vienna, Virginia 22182], you must purchase concert tickets directly through Wolf Trap for seating choices. We are not doing group reserved seating this year except the sets of tickets that are offered on the AFIO Auction website www.afio.cmarket.com
RSVP requested before July 19. Wolf Trap Box Office - (703) 255-1868 to purchase tickets. http://www.wolftrap.org No portion of your purchase constitutes a donation to AFIO; therefore this is strictly a social event.
---
Click here to view disclaimers, removal, methods of use of the links in this document.
The WIN in its entirety appears below; however, the document may also be viewed online by current members with usernames and passwords
at: https://www.afio.com/pages/currentwin.htm
Usernames and Passwords appear on AFIO Membership Cards.
They work only if the membership is current.
---
WIN CREDITS FOR THIS ISSUE: The WIN editors thank the following special contributors to this issue: dh and pjk.
All have contributed one or more stories used in this issue.
---
CONTENTS
Section I - INTELLIGENCE HIGHLIGHTS
Section II - CONTEXT & PRECEDENCE
Section IV - RESEARCH REQUESTS AND COMING EVENTS
Current Calendar Next Two Months ONLY:
For Additional Events two+ months or more....view our online Calendar of Events
---
Section I - INTELLIGENCE HIGHLIGHTS
Hayden Applauded For Military Service. Defense Secretary Robert M. Gates said Friday that ties between military and intelligence operations today are the closest in the history of modern warfare, and he praised CIA Director Michael V. Hayden during his military retirement ceremony for boosting joint efforts.

Mr. Gates, a former CIA director, said close cooperation between the military and the CIA's clandestine intelligence agents is essential to countering the twin threats of global terrorism and the proliferation of weapons of mass destruction.

Mr. Hayden, a four-star Air Force general, will retire from the service on June 30 after 39 years but will continue as the civilian director of the CIA, a post he has held since 2006.

Mr. Hayden said in his remarks that he was fortunate to serve in the Air Force and in U.S. intelligence at a time when air power is being transformed from industrial-age mass-force tactics to extremely accurate information-age precision strikes - a transformation that he noted is ongoing.

He said that while deployed on Guam he took part in planning "massive" aerial bombing raids against Vietnam in 1972, and then while at the European Command helped with precision "pinpoint" aerial bombing strikes on key facilities during military operations in the Balkans in the 1990s.

Mr. Hayden said the need for precision intelligence has risen in direct proportion to the need for such precision operations against terrorists. [Gertz/WashingtonTimes/21June2008]
UK Spy Leaves Al Qaeda File on Train. One of Britain's top intelligence officials left a file with secret documents about Iraq and al Qaeda on a train, in an embarrassing government security breach.

A passenger found the orange folder on a train and handed it in to the BBC, which said it contained top secret documents on Iraq and al Qaeda.

The Cabinet Office, the central government department that supports the work of Prime Minister Gordon Brown, acknowledged the incident and said it had called in a police investigation.

A police spokeswoman confirmed that the counter-terrorism command of London's police force was carrying out the probe.

The Cabinet Office declined to comment on the contents of the missing file. But the BBC said they contained two reports, one on Iraq's security forces and one on al Qaeda.

BBC Security Correspondent Frank Gardner at one point waved what he said were the documents on air. In a subsequent report he said that he had turned them over to police officers. He said the passenger who found the documents had given them to a local BBC office, which phoned him to have a look.

Government sources suggested that the leak was embarrassing but would not actually hurt Britain's security.

But the news will hurt Brown, who has already been stung by accusations of lax security after a civil servant lost computer disks containing the names, addresses and bank details of 25 million people in the mail last year.

In January the Ministry of Defence reported it had lost a laptop containing personal data on 600,000 recruits. [Holden&Graff/Reuters/11June2008]
US Lawmaker Says His Office Hit by Chinese Hackers. In a new spat over cyber espionage, a US congressman said his computer network was compromised in 2006 by Chinese hackers and called for stepped-up efforts to boost security.

Representative Frank Wolf of Virginia said he was introducing a resolution calling for more protection of sensitive computer networks in view of the incident, which he said is probably not isolated.

Wolf said that in August 2006, four computers in his personal office "were compromised by an outside source," allowing the hackers to gain information his staff had collected about political dissidents and human rights activists around the world.

He said his computers were "cleaned" but that he remained "deeply concerned that this institution is not adequately aware of or protected from these types of threats."

In Beijing, a Chinese foreign ministry spokesman dismissed the allegations.

The allegations marked the latest in a series on Chinese efforts to hack into western computer networks. The Beijing government has denied any knowledge or role in the alleged attacks.

Wolf said he believed that a threat exists to computers in Congress and to members when they travel overseas. [AFP/11June2008]
Controversial Swedish National Intelligence Bill Sent Back For Revision. Swedish lawmakers demanded that the parliament's defense committee revise a bill that will allow telephone calls and e-mails to be monitored.

Critics who see the law as "an attack on civil liberties" include "human rights activists, journalists, lawyers and the former head of the Swedish intelligence agency Saepo." Supporters see it as "necessary to protect the country from foreign threats".

If the law is put into place, the National Defense Radio Establishment (FRA), "a civilian agency", would be allowed to tap all cross-border Internet and telephone communication without warrants. [AFP/18June2008]

Poland Loses Foreign Agents Following Publication of WSI Report. After the report on the scrapping of the Military Intelligence Services (WSI), Polish intelligence lost contact with several agents in Russia, Ukraine, Belarus as well as Central Asia and the Middle East. According to Civic Platform representatives, the report contained 374 pages and included names of present agents.

The case is currently being investigated by the District Prosecutor in Warsaw. According to the former head of the State Protection Office (UOP) Andrzej Kapkowski, the lives of these agents might be endangered.

Antoni Macierewicz, the was minister in charge of abolishing the WSI, denied the allegations and said, "This is complete rubbish. Nobody is lost." [Rzeczpospolita/19June2008]

Taiwan Claims to Have Arrested Chinese Spy. Taiwan has arrested a retired Taiwan military officer who has been selling military secrets to China according to local press reports.

Colonel Wang Hui-hsien, 42, a former member of the Military Intelligence Bureau (MIB), was detained after being questioned by prosecutors of the Taiwan High Court.

Wang was a section chief in MIB in charge of analyzing intelligence on China. He retired six years ago and went to China to do business and was allegedly recruited by national security agents in Shanghai to spy for China.

Wang leaked information to China about deployment of MIB spies in China. When he returned to Taiwan in 2005, he tried to recruit fellow retired MIB members to spy for China, inviting them to meals and discussing working for China.

Following a tip, police arrested Wang Thursday at his Taipei home.

Prosecutor Wang Jen-kui questioned Wang Hui-hsien Thursday evening and remanded him into custody early Friday on charges of stealing national defence secrets.

Wang has confessed to passing information to China in exchange for convenience in doing business in China, the United Daily News said.

He has named to prosecutors two former MIB colleagues who helped him gather intelligence to give to China.

If convicted, Wang could face a maximum seven-year sentence for stealing state secrets. [MonstersandCritics/20June2008]
Woman Seeks NYC Trial in Iraqi Spy Case. A woman accused of helping an Iraqi spy agency under Saddam Hussein said Tuesday she wants to prove she was supervised by U.S. authorities, but first she'll have to overcome findings that she is mentally unfit for trial.

Susan Lindauer, a former congressional aide and journalist whose father once was Alaska's Republican nominee for governor, said she wants a trial to clear her name.

Lindauer is charged with conspiring to act as a spy for the Iraqi Intelligence Service and engaging in banned financial transactions. She spoke after the start of a hearing on whether she can stand trial despite mental health professionals' findings that she suffers from delusions of grandiosity and paranoia.

Lindauer could face up to 25 years in prison if convicted. She asked U.S. District Judge Loretta A. Preska in August 2007 to let her challenge the psychologists' findings so she could go to trial.

She said Tuesday that anything she did regarding Iraq was supervised by U.S. intelligence authorities.

She said she and others warned of a Sept. 11-type attack after hearing information during litigation over the 1988 bombing of Pan Am Flight 103 that led them to think terrorists still targeted Manhattan after the 1993 World Trade Center bombing left the twin towers standing. [AP/Neumeister/18June2008]

Pentagon Eyes Hole-Squeezing Spy Robots. U.S. robot producer iRobot has announced it is developing a soft flexible robot for the Department of Defense. The so-called Chemical Robots will be able to maneuver through openings smaller then their actual dimensions.

ChemBots will be used for reconnaissance and search and rescue operations in urban areas.

The multi-million dollar multi-year project funded by the Defense Advanced Research Projects Agency will involve scientists from Harvard University and the Massachusetts Institute of Technology. [RussiaToday/20June2008]

Former Indian Spies Come In From the Cold to Seek Compensation. Balbir Singh says he thought he was serving India and would be hailed as a hero when he became a spy.

But now he's fighting in the Indian courts to make legal history and win compensation for 10 years spent in a Pakistani jail after being caught and convicted.

Singh is among several dozen former "secret agents" or informers who have launched similar court cases against the Indian government demanding payouts ranging from 500,000 to 800,000 rupees (12,500 to 20,000 dollars).

It is impossible to know how many spies are recruited every year as India officially denies spying on its nuclear-armed neighbor with which it has fought three wars. But their hopes for recognition and compensation have been spurred in recent months after two cases involving Indian prisoners in Pakistani jails put the spotlight on former secret agents.

In March, Indian prisoner Kashmir Singh, who spent 35 years on death row in Pakistan after being convicted of espionage, was pardoned and returned home to northern Punjab state to a hero's welcome -and confirmed he had been a spy. Last month, the hanging of another prisoner, Sarabjit Singh, over a 1990 bombing in Lahore that killed four people was postponed indefinitely. Singh's family denies his role in the bombing and says he was not a spy. The men in Punjab's border areas are hired through word of mouth. Some, such as Balbir Singh, seek out intelligence officials to get hired, lawyers say.

Other former spies are in the process of launching cases. One is Mohinder Singh, 61, returned to India in 1986 after spending years in jail in Pakistan.

Balbir Singh says he has documents from Pakistani jail authorities proving he was incarcerated, and shows a letter from an official of India's intelligence agency saying he was hired to spy.

The two men were hired for the same mission and arrested together as they traveled by bus in Pakistan, where they had been sent to bribe a military clerk and obtain a classified document, according to Balbir Singh.

While Kashmir got a death sentence, Balbir was sentenced to 10 years in prison and was freed in 1986.

Despite India's refusal to admit that it spies on Pakistan, lawyers for the alleged ex-spies say they're hopeful of getting compensation thanks to the media attention they have received since Kashmir Singh's release. [AFP/21June2008]

Israel Extends Mossad Spymaster Dagan's Tenure. Israeli Prime Minister Ehud Olmert on Sunday extended the tenure of the Mossad intelligence chief for a second time, testament to the hawkish spymaster's role in crafting policy on Iran and other regional foes.

Meir Dagan, an army ex-general, took over Mossad in 2002 with what security sources described as a mandate to step up Israel's monitoring of Iran's nuclear programme, Syria's military moves and the countries' ties to Islamist factions.

Many in the Arab world believe Mossad has been behind several high-profile assassinations in Lebanon and Syria, most recently of Hezbollah military chief Imad Moughniyah, who died in a Feb. 12 car-bombing in Damascus. Israel denied involvement.

Israeli pundits have also credited Mossad with locating a suspected Syrian nuclear reactor which Olmert ordered bombed last September.

Prior to the sortie, Dagan came out against holding peace talks with Damascus, but indirect negotiations have since begun. Syria denied ever having a secret nuclear facility. Israel, which is assumed to have the region's only atomic arsenal, says Iran could enrich enough uranium for a bomb by 2010, though Tehran describes it nuclear plans as peaceful.

Dagan has been conferring regularly with Western counterparts while Mossad prepares for possible preemptive military action by Israeli against Iran, security sources said.

Israel's military top brass and civilian defence chiefs generally serve for four years, with a traditional one-year extension. Dagan's tenure was last extended by a year in 2007. He is now due to step down in 2009. [Nasr/Reuters/13June2008]

---
Section II - CONTEXT & PRECEDENCE
IAEA Will Investigate Syrian Nuclear Mysteries. A delegation from the International Atomic Energy Agency (IAEA) will visit Syria next week to assess recent American claims that the installation attacked by Israeli warplanes last year was indeed a nuclear reactor in the final stages of construction.

Two months ago, Michael Hayden, the director of the U.S. Central Intelligence Agency, and other senior American intelligence analysts broke months of official silence about the September 2007 Israeli air strikes against a target located near the Syrian town of Al Kibar. Their intensive briefings for members of Congress, congressional staff, and, on background, the media, confirmed earlier suspicions that the target of the attack had been a Syrian nuclear reactor under construction with North Korean assistance.

Until the April 24 briefings, the U.S. government had declined to comment formally on the Sept. 6, 2007, events. The intelligence community had limited its briefings to some two dozen senior members of Congress, such as the heads of the Senate and House intelligence committees. Subsequently, these individuals were not permitted to share this information with the public.

The April 24 briefings exposed that U.S. intelligence first started collecting information about possible nuclear cooperation between Syria and North Korea during the late 1990s. It was not until last spring, however, that U.S. analysts acquired sufficient data - including interior photographs apparently provided by Israel - to confidently determine that the Syrians and North Koreans were building a gas-cooled, graphite-moderated nuclear reactor at the site.

According to the briefings, the Syrian reactor was similar in size and in the technologies it employed to that of North Korea's reactor at Yongbyon. North Korean engineers had extracted sufficient plutonium from that reactor to build as many as a dozen atomic bombs. The Al Kibar site was apparently within months of completion at the time of the Israeli bombing. Once in operation, it could have produced sufficient plutonium to manufacture one or two nuclear bombs each year.

U.S. analysts argued that the alleged Syrian reactor was not designed simply to produce electricity because it lacked the transmission lines and switches normally used for generating nuclear power. In addition, they claimed that the secrecy involved in its construction suggested that the facility was not designed for research.

Rather, U.S. intelligence analysts cited the changing Syrian explanations for their activities at Al Kibar as confirmation that the complex was part of a secret Syrian nuclear weapons program. International suspicions were raised when Syrian officials first claimed the site was an agricultural building, then an empty warehouse, then a conventional military facility. These concerns intensified when Damascus refused to allow international inspectors to visit the location until Syrian technicians had destroyed the remainder of the building and begun new construction there.

The IAEA will attempt to answer questions left open by the intelligence briefings. For example, if the destroyed building housed a nuclear reactor rather than some other type of complex, then how were the Syrians planning to fuel it? The imagery and other intelligence released show no evidence of a facility for manufacturing fuel rods. In addition, the briefings do not provide evidence of a Syrian reprocessing complex, which is necessary for separating plutonium from the spent fuel rods removed from the reactor.

These facts make it difficult definitively to conclude that the Syrians aimed to employ the reactor in the same manner as the North Koreans had utilized Yongbyon - to create the plutonium needed to manufacture nuclear weapons.

Israel's role in the recent American intelligence revelations also remains unclear. The briefings make evident that Israeli and U.S. intelligence analysts had collaborated for years - exchanging physical and other intelligence - in attempting to assess the site's purpose. The American government could not have released the latest intelligence about the facility without Israeli approval since Israeli intelligence was the source of some of the information.

Why the Israelis approved the release is unclear. Perhaps they and Washington were hoping to send a message to Tehran that they were prepared to collaborate to conduct similar strikes against Iran's nuclear facilities. Another possible motive may have been an effort by the embattled administration of Prime Minister Ehud Olmert to show that it could defend Israeli interests even as it was engaging in controversial peace talks with Syria over the possible return of the Israeli-occupied Golan Heights.

One reason the Bush administration declined to reveal the extent of its knowledge about the Sept. 6 attacks was a concern not to disrupt the Six Party Talks on Korean denuclearization. The air strikes came at a delicate time in the negotiations. It was only one month later, on Oct. 5, 2007, that the parties reached a settlement in which the North Koreans committed to dismantle the nuclear facilities at Yongbyon, provide data about their past nuclear programs, and not share nuclear-related information or technologies with third parties (like Syria).

Since these talks remain at an uncertain stage, it is unclear why the administration decided to release the intelligence. State Department officials now claim that North Korea and Syria no longer appear to be engaged in nuclear cooperation. However, the extent of past collaboration, which violated numerous U.N. resolutions, as well as persistent concerns about Pyongyang-Damascus cooperation in the field of ballistic missiles, could make it harder to secure congressional approval for a denuclearization deal.

Although U.S. intelligence officials believe that financial considerations - a desire to earn money - best explain North Korean motives for engaging with Syria, certain opponents of the Six Party process have accused Pyongyang of seeking to circumvent any agreement by relocating nuclear weapons and technologies to friendly countries like Syria and Iran.

Given the time that has elapsed since the Israeli attack, as well as the Syrians' post-attack cleanup operation at the site, it is unclear what the IAEA team will be able to learn. [Weitz/WorldpoliticsReview/18June2008]
Spy vs. Spy: is East-West Espionage on the Rise? There are new fears that espionage between East and West is on the increase, despite the end of the Cold War. Former foes continue to accuse one another of spying, with Britain's intelligence service, MI5, recently announcing it needs extra resources to keep an eye on the operations of Russia and China.

The James Bond film "From Russia with Love" hit the screens in the 1960s, and it seems that the idea that the Soviet Union - and subsequently Russia - was a heady mix of beautiful women and espionage has never faded.

Almost half a century later, the country that produced the world's most famous fictional spy, agent 007 - seems to be all too keen on looking for signs of espionage everywhere - and Russia remains a favorite target.

MI5 recently announced it needed extra resources to keep an eye on Moscow's operations. Jonathan Evans, the intelligence service's Director-General, said: "Despite the Cold War ending nearly two decades ago, my service is still expending resources to defend the UK against unreconstructed attempts by Russia, China and others, to spy on us."

However some experts say the murky world of espionage is hard to assess.

Professor Anthony Glees, Director of the Brunel Centre for Intelligence and Security Studies at Brunel University, said: "The question of Russian hostile intelligence work against the UK comes into the category of things we know we don't know. So we know there is a problem, we don't know exactly how big it is."

With Russia restored to the world stage, Britain seems intent on bringing back old stereotypes, and suggests the world follows suit.

A recent article in the Economist calls on the European Union to introduce a healthy dose of paranoia when it comes to protecting its classified information.

"Who else other than Russia?" it asks, while discussing its "increasingly energetic espionage efforts".

But as British Labour MP Derek Wyatt said: "It's a comment, there are no actual facts attached to that. I can't really believe it, to be honest. Everyone now takes protection. Everyone is more sensitive now about back up and protection. They may not scream or shout about it but they probably wouldn't want you to know, would they?"

So how real is the threat from Russia and its computer geniuses, believed to be hacking into the world's most protected secrets? The answer is at best unclear.

"When we start asking ourselves what countries are involved - there are a great deal of references in the press of who is responsible. Only when you start to investigate and drill down and instead of the picture becoming clearer, it becomes murkier," said Professor Peter Sommer, computer crime and industrial espionage expert at the London School of Economics.

The professor is convinced that in the world of modern communications, especially in cyber space, it's almost impossible to track anyone down.

It seems many experts agree: there's nothing new in countries spying on each other. It's just a question of who points the finger first.

A former officer with the Russian intelligence service, Mikhail Lyubimov, says that there're likely to be more stories on Russian espionage in the future.

"There are two ways of making a spy scandal. One is a classic, an honest way, when you arrest a spy, some foreign agent, make a trial. It is completely legal, the press is informed. And the spy gets, say, 30 or 40 years. And there is another, not a classic, but I would say very modern way, you just expel people Soviet or Russian, and this is all. You say that he is connected with foreign intelligence. Another way which is used by intelligent services many times a year is of course articles like the one we were discussing now. It sounds very scandalous, but simply it is completely with no proof," he said. [RussiaToday/20June2008]
---
Mukasey: No 'Attaboys' for Diming Out Torturers. In a meeting last month with the Daily News' editorial board, U.S. Attorney General (and New York son) Michael Mukasey was asked about a recently-released Justice Department inspector general report years in the making. IG Glenn Fine had detailed how FBI agents at Guantanamo Bay's terror prison some years ago had tried to report abusive interrogations to their superiors.

"It said, I thought, some favorable things about the bureau and their responsible behavior," Mukasey said. "The interrogations in question were principally - and obviously all this went on before I got there - they were principally the responsibility of the Department of Defense."

One man who could arguably be called heroic in this matter was top FBI national security lawyer and retired naval intelligence officer Spike Bowman, who used agents' memos on the tough tactics to try - unsuccessfully - in 2003 to convince Pentagon general counsel Jim Haynes to stop the roughing up of detainees at Gitmo.

Asked if anybody at the FBI or Justice was ever promoted or otherwise commended for reporting the interrogation abuses at Gitmo or trying to stop them, Mukasey, who was sworn in only last December, drew a blank.

"I'm not aware of what promotions or 'attaboys' were given or fingers were wagged at the time," he said.

"Generally, if you do your job - people report things or are helpful in all kinds of ways without necessarily being promoted for it," Mukasey added. "I have people on my staff who do superb things all the time. I don't look for ways to give them bonuses. I do praise them." [Meek/NYDailyNews/13June2008]

---
Section V - RESEARCH REQUESTS AND COMING EVENTS
Intelligence Humor. Edward Mickolus writes: I'm a 33-year CIA veteran who is compiling a collection of intelligence-related humor for publication. It will be similar to Tim Sileo's "CIA Humor" or the earlier "You're Stepping on My Cloak and Dagger." I'd like to include pranks, practical jokes, urban legends, jokes, and humorous true stories. I'll respect requests for anonymity, but also give credit when requested. Please send any submissions to me at 2305 Sandburg Street, Dunn Loring, VA 22027 or to edmickolus@hotmail.com. Thanks in advance.
Help with Documentary: Crispin Green writes: I work as an assistant Producer for a television production company called Blink Films based in London, England. I am developing a documentary looking at the writings of Robert Ludlum and the similarities between his books and the reality of how the CIA operated during the 1960s and 70s for Channel 5 in the UK and the Smithsonian Channel in the US. I was hoping that you could send me a telephone number and a suitable time to call so that we may speak about the above. Thank you very much for your time and I look forward to hearing from you.
Crispin Green, Assistant Producer
Blink Films, 10 Redchurch Street, London, E2 7DD
T: 0044 (0) 207 749 3994
F: 0044 (0) 207 749 3199
crispin.green@blinkfilmsuk.com

---
EVENTS IN COMING TWO MONTHS....
23 - 25 June 2008 - Monterey, CA - The International Association for Intelligence Education (IAFIE) hosts 4th Annual Conference. The conference takes place at the Naval Postgraduate School. The event is sponsored by Lockheed Martin. The theme: Creating Intelligence Studies Education Programs and Academic Standards." Speakers will include: Richards Heuer, Maureen Baginski, Joe Finder, Amy Zegart, Guillermo Holtzmann, and Ernest May. Fee: $400. Checks to IAFIE Conference, POB 10508, Erie, PA 16514. Or email register@iafie.org.
26 June 2008 – San Francisco, CA – The AFIO Jim Quesada Chapter hosts Robert J. Heibel, former FBI Deputy Chief of Counterterrorism and current Executive Director of the Mercyhurst College Institute for Intelligence Studies. Mr. Heibel's presentation will cover second careers after retirement from the intelligence community, particularly in education, and the impact a person can have. He will use the unique Intelligence Studies program at Mercyhurst College in Erie, PA as an example. The meeting will be held at United Irish Cultural Center, 2700 45th Avenue, San Francisco, CA 94116 (between Sloat and Wawona). 11:30 AM no host cocktails; noon - luncheon. $25 member rate with advance reservation; $35 non-member rate or at door. RSVP to Mariko Kawaguchi (please indicate meat or fish) no later than 5PM 6/15/08: mariko@ (650) 743-2873.
26 June 2008, 11:30 am - 2:30 pm - Boston, MA - CIRA New England Chapter Summer Luncheon Meeting at the Hampshire House on Beacon St. See www.hampshirehouse.com Guest speaker, Albert Lefebvre, Esq. former US agent inserted behind both French and Viet Minh lines in French-Indochina War. Open to CIA retirees and spouses. For more info contact Dick Gay, VP CIRA/NE at raguay@roadrunner.com Tel 207-374-2169
28 June 08 - Kennebunk, ME. The Maine Chapter of AFIO will host Tyler Drumheller speaking on "Intelligence Reform and the Future of Intelligence" at the June meeting. Drumheller retired from CIA in 2005 after a long career as an intelligence officer. During his career he served in Western Europe and Africa. Among positions held was senior operations officer for Western Europe and four years in Vienna as Chief of Clandestine Operations for Europe. Drumheller is also author of a forthcoming book on the outlook for intelligence. The meeting, which is open to the public, will be held at 2:00 p.m. at the Kennebunk Free Library, 112 Main Street, Kennebunk. For information contact David Austin at 207 -364-8964 or email Lcda@midmaine.com.

Monday, 21 July 2008, 6:30 pm - Washington, DC - "Hot Topics, The FBI at 100: Beyond the Turf Wars" at the Spy Museum.
In 1970, J. Edgar Hoover cabled FBI field offices "to discontinue all contact with the local CIA office." But twenty years later a new era of collegiality began with the Ames case. Former DCI George Tenet considered this to be "the jumping-off point in taking cooperation between the FBI and CIA seriously." Join two intelligence insiders as they discuss the murky truth and myth of Agency-Bureau relations—past, present, and future. In 1974, Ray Batvinis was assigned to the new untested role of Washington Field Office liaison with the local CIA base. As liaison, and throughout his 25 year FBI career, Batvinis worked closely with the CIA in joint counterintelligence training at FBI headquarters and in the field, and on a wide variety of specialized case management issues. He is joined by Burton Gerber, a 39-year veteran of the CIA, where he served as chief of station in three Communist nations and led the Agency's Soviet and European operations for eight years. He is currently a Professor in the Practice of Intelligence at the Georgetown University Center for Peace and Security Studies. The perspective of these experts will reveal the truth behind the turf wars. Tickets: $15; Advance Registration required. Tickets are non-refundable and do not include admission to the International Spy Museum. To register, call 202-393-7798; order online at www.spymuseum.org or in person at the International Spy Museum.
25 July 2008, 10:30 am to 2 pm - Tysons Corner, VA - AFIO National SUMMER Luncheon
Frances Fragos Townsend, former White House Assistant, Homeland Security/Counterterrorism, current member of the President's Intelligence Advisory Board [PIAB], speaking on Current and Emerging Threats. Morning speaker is Robert W. Wallace, former Director of CIA's Office of Technical Service author of SPYCRAFT: The Secret History of the CIA's Spytechs, from Communism to al-Qaeda.
Ms. Townsend served as Assistant to President George W. Bush for Homeland Security and Counterterrorism and chaired the Homeland Security Council from May 2004 until January 2008. She previously served as Deputy Assistant to the President and Deputy National Security Advisor for Combating Terrorism from May 2003 to May 2004. Ms. Townsend is currently providing consulting services and advice to corporate entities on Global Strategic Engagement and Risk as well as Crisis and Contingency planning. Ms. Townsend is a Contributor for CNN and has regularly appeared on network and cable television as a counterterrorism, national and homeland security expert. She has received numerous awards for her public service accomplishments. Ms. Townsend is a member of the Council on Foreign Relations and serves on the President's Intelligence Advisory Board. Mr. Wallace, a 32-year CIA veteran, served as Deputy Director and Director of the CIA's Office of Technical Service and directed the office's global response to the 9/11 terrorist attack on the United States.
Thursday, 31 July 2008, 6:30 pm - Washington, DC - "Elite Surveillance Team" at the Spy Museum.
Can you spot an enemy spy or elude hostile surveillance? At the International Spy Museum Elite Surveillance Team (SPY/EST) under the leadership of former CIA officer Tony Mendez, you'll learn how to establish your own surveillance zone, design surveillance detection runs (SDRs), and then work with and against your teammates to test your skills. SPY/EST will meet at least quarterly and then work together as a team to further develop and perfect a surveillance zone and their own SDRs using the guidelines prepared by Mendez for training actual intelligence agents. Tickets: $180; Advance Registration required. Tickets are non-refundable and do not include admission to the International Spy Museum. *Includes four meetings with Mendez within membership year and guidelines on developing Surveillance Detection Runs. To register, call 202-654-0932 or email kray@spymuseum.org.
Thursday, 14 August 2008, 6:30 pm - Washington, DC - "Spies on Screen: Rendezvous" - David Kahn at the Spy Museum.
The 1935 film, Rendezvous, stars William Powell, a Washington, DC newspaperman turned code breaker during World War I. In his attempts to find a stolen code book, he must handle a ring of German spies, an assassination, and an attractive military mistress with sinister intentions. After the film, David Kahn, a leading expert in the history of cryptology and author of The Codebreakers, will discuss the historical basis for this romanticized account of high states WW I code-breaking. Tickets: $15; Advance Registration required. Tickets are non-refundable and do not include admission to the International Spy Museum. To register, call 202.393.7798; order online at http://www.spymuseum.org.

Sunday, 17 August 2008, 8:30 am - 5:00 pm - Summit Point, WV - "Drive To Survive: Anti Terrorist Driver Training" at BSR, 2026 Summit Point Rd., Summit Point, WV 25446.
For over thirty years BSR has trained the people whose lives depend on top-notch evasive driving - from hostage rescue personnel to counterterrorist units. As the recognized leader in vehicle anti-terrorist training for military and governmental application worldwide, BSR has developed a state-of-the-art program. Now they have custom-designed an exclusive one-day opportunity for SPY highlighting the best of their longer courses. The BSR Shenandoah Valley training center has acres of paved and dirt road circuits, skid pads, an off-road training arena, and instructors who have firsthand experience driving for their lives. Tickets: $1,200 (includes 6% WV sales tax); Advance Registration required. Phone registration only for this program, call 202.654.0932.
---
For Additional Events two+ months or greater....view our online Calendar of Events
-----------------------------------------------------------------------
Disclaimers and Removal Instructions
Weekly Intelligence Notes (WINs) are commentaries on Intelligence and related national security matters, based on open media sources, selected, interpreted, edited and produced for non-profit educational uses by members and WIN subscribers.
REMOVAL INSTRUCTIONS: We do not wish to add clutter to inboxes. To discontinue receiving the WINs:
a) IF YOU ARE A MEMBER -- click here: UNSUBSCRIBE and supply your full name and email address where you receive the WINs. Click SEND, you will be removed from list. If this link doesn't open a blank email, create one on your own and send to afio@afio.com with the words: REMOVE FROM WINs as the subject, and provide your full name and email address where you are currently receiving them.
b) IF YOU ARE NOT A MEMBER, and you received this message, someone forwarded this newsletter to you [contrary to AFIO policies]. Forward to afio@afio.com the entire WIN or message you received and we will remove the sender from our membership and distribution lists. The problem will be solved for both of us.
CONTENTS of this WIN [HTML version recipients - Click title to jump to story or section, Click Article Title to return to Contents. This feature does not work for Plaintext Edition or for some AOL recipients]. If you wish to change to HTML format, let us know at afio@afio.com. The HTML feature also does not work for those who access their e-mail using web mail...however NON-HTML recipients may view the latest edition each week in HTML at this link: https://www.afio.com/pages/currentwin.htm
-----------------------------------------------------------------------

WINs are protected by copyright laws and intellectual property laws, and may not be reproduced or re-sent without specific permission from the Producer. Opinions expressed in the WINs are solely those of the editor(s) or author(s) listed with each article. AFIO Members Support the AFIO Mission - sponsor new members! CHECK THE AFIO WEBSITE at www.afio.com for back issues of the WINs, information about AFIO, conference agenda and registrations materials, and membership applications and much more!

(c) 2008, AFIO, 6723 Whittier Ave Suite 200, McLean, VA 22101. Voice: (703) 790-0320; Fax: (703) 991-1278; Email: afio@afio.com
Click here to return to top.