AFIO Weekly Intelligence Notes #25-08 dated 30 June 2008
25 July 2008 - AFIO National SUMMER Luncheon -
10:30 a.m. to 2 p.m.
Tysons Corner, Virginia

11 a.m. Speaker - Robert Wallace, Former Director of CIA's Office of Technical Service. Wallace is one of the three authors of
SPYCRAFT: The Secret History of the CIA's Spytechs,
from Communism to al-Qaeda

Befitting the topic, his talk will feature an image-rich multi-media presentation

and

Robert Wallace

Frances Townsend

1 p.m. Speaker - Frances Fragos Townsend, Esq., former White House Assistant, Homeland Security/Counterterrorism,
current member of President's Intelligence Advisory Board [PIAB],
speaking on Current and Emerging Threats

Ms. Townsend's remarks are
OFF THE RECORD
to encourage frank & spirited Q&A.

EVENT LOCATION: The Crowne Plaza
1960 Chain Bridge Road • McLean, Virginia 22102
Space limited. Make reservations now on this secure page.
---
THE SIXTH ANNUAL AFIO SOCIAL EVENT
The Boston Pops at the Wolf Trap Park in Vienna, Virginia!
Tuesday, 19 August 2008 – Vienna, VA
This year we have moved the annual social from Boston's Symphony Hall to the Wolf Trap Foundation for the Performing Arts.
The concert choice will once again be the Boston Pops Esplanade Orchestra.
Contact Mr. Wass at wassinrichland@aol.com and use "AFIO Social" in subject line if you would like to attend the pre-concert AFIO social at Wolf Trap. Reservations are now being taken however since we have limited seats available, we recommend contacting us before purchasing your concert tickets.
For those who plan on attending the concert and social at Wolf Trap [located at 1645 Trap Rd, Vienna, Virginia 22182], you must purchase concert tickets directly through Wolf Trap for seating choices. We are not doing group reserved seating this year except the sets of tickets that are offered on the AFIO Auction website www.afio.cmarket.com
RSVP requested before July 19. Wolf Trap Box Office - (703) 255-1868 to purchase tickets. http://www.wolftrap.org No portion of your purchase constitutes a donation to AFIO; therefore this is strictly a social event.
---
Click here to view credits and sources, disclaimers, removal, methods of use of the links in this document.
The WIN in its entirety appears below; however, the document may also be viewed online by current members with usernames and passwords
at: https://www.afio.com/pages/currentwin.htm
Usernames and Passwords appear on AFIO Membership Cards.
They work only if the membership is current.
---
WIN CREDITS FOR THIS ISSUE: The WIN editors thank the following special contributors to this issue: rk and pjk.
All have contributed one or more stories used in this issue.
---
CONTENTS
Section I - INTELLIGENCE HIGHLIGHTS
Section II - CONTEXT & PRECEDENCE
Section IV - ANNOUNCEMENTS AND COMING EVENTS
Current Calendar Next Two Months ONLY:
For Additional Events two+ months or more....view our online Calendar of Events
---
Section I - INTELLIGENCE HIGHLIGHTS
Former Minister Says Prison Break Highlights Canadian Intelligence Shortfall. The man whose recommendations led Canada to extend its mission in Afghanistan blamed woeful military intelligence-gathering for the devastating prison break that freed hundreds of Taliban insurgents.

Former Foreign Affairs Minister Manley's remarks reflect those of acting foreign affairs minister David Emerson, who said recently that Canadian intelligence in the province needs to improve. The government is investigating the incident.

Mr. Manley said the incident also demonstrates that the Taliban are capable of significant military actions. Some experts have described the prison break as a strategic and psychological blow. [Laghi/Globe&Mail/22June2008]
Ombudsman in MI5 Deal to Access Secret Intelligence. Police Ombudsman Al Hutchinson has signed an agreement with MI5 to access secret intelligence for his investigations into policing, and he is prepared to go to Parliament if the deal is breached.

The agreement with the Security Service came after months of negotiations about the procedures for getting secret material his office used to get automatically.

The memorandum of understanding signed by the policing watchdog, MI5 and the PSNI became necessary when the Security Service took over anti-terrorist intelligence last October.

The shift led to MI5 building a £20m base in Palace Barracks, Holywood, and recruiting agents locally. The building is also a back-up headquarters after London.

Handing MI5 responsibility for national security matters also moved many intelligence documents out of the Ombudsman's reach. The PSNI had been legally obliged to show the Ombudsman's investigators any intelligence material relevant to their inquiries into alleged police wrongdoing until the Government refused to extend that obligation to MI5.

The Ombudsman said that the vast majority of cases do not require access to MI5 documents. [BelfastTelegraph/21June2008]

Iraqi Intelligence Corps Get Specialized Training at Military Academy. The Iraqi military has formed an intelligence corps from graduates of an academy established in 2005. So far, hundreds of Iraqi cadets have completed advanced courses in intelligence training designed with assistance from the U.S.-led coalition.

The Iraq Army has been operating a military intelligence academy in Taji. On June 18, nearly 200 cadets were graduated from the academy, with some of them completing a new geospatial and mapping course.

Each cadet at the Iraqi Military Intelligence Academy was required to complete a four-week basic military intelligence course and a five-week specialty course. Eight of the students were the first to graduate from the new geospatial and mapping course.

The academy has offered such specialty courses as analysis, counter-intelligence, human intelligence, low-level voice intercept, and reconnaissance and surveillance. In 2008, the academy added signal intercept along with four graduate level courses. The graduate courses were geospatial and mapping, senior intelligence management, advanced human intelligence and advanced interrogation.

Officials said the Iraqi Military Intelligence Academy has trained almost 3,000 personnel since its establishment in 2005. They said that by 2010, the academy would graduate 3,000 cadets per year while faculty would expand from 24 to 135. [WorldTribune/19June2008]

High Court Ruling Nudges Spy Service Out of the Shadows. Canada's spy agency - and its clandestine anti-terrorist efforts - will be drawn further out of the shadows as a result of a Supreme Court ruling on destruction of evidence, say lawyers involved in national security cases.

The Canadian Security Intelligence Service was ordered by the high court to disclose all information in its possession concerning people arrested under national security certificates.

At issue were interviews CSIS conducted with Montreal teacher and alleged al-Qaida agent Adil Charkaoui, including one in which he purportedly discussed strategies for recruiting others to the terrorist cause.

General written summaries were retained, in keeping with standard CSIS policy, but the original tapes and notes were destroyed - a longstanding practice the Supreme Court said stemmed from misinterpretation of the law governing the spy service.

The high court also underlined the government's duty to disclose information to the person facing deportation. Given the sensitivity of security-related evidence, judges will have to filter the material and determine how much those accused of extremist connections are allowed to see.

The revamped law allowed for special advocates to defend the interests of suspected terrorists and spies singled out for deportation under the controversial security certificate process. The legislative change was intended to bring the process for dealing with non-citizens judged to be threats to Canadian security in line with the Charter of Rights. [CanadianPress/25June2008]
Afghan Intelligence Accuses Pakistan Spy Agency of Karzai Attack. Afghanistan's intelligence agency accused its Pakistani counterpart, ISI, of masterminding an assassination bid on President Hamid Karzai in April.

The US-backed Karzai survived the April 27 attack at the annual military parade, but three Afghans were killed, one of them a parliamentarian.

Sayed Ansari, spokesman for the national intelligence agency, said his organization believed Pakistan's Inter-Services Intelligence was involved.

An intelligence spokesman said eight of the 16 people arrested over suspected links to the attackers were government employees. He did not give details, but authorities had earlier said a defense ministry weapons expert and a police nurse were arrested for allegedly facilitating the attack.

Islamabad denies that its intelligence agencies have links to the insurgents. [AFP/25June2008]

Prosecutors Agree to Release of Testimony in Rosenberg Espionage Case. In a surprise decision, federal prosecutors say they would not object to the release of secret grand jury testimony from 35 of the 45 witnesses in the atomic spy trial of Julius and Ethel Rosenberg.

In papers filed in Manhattan federal court on Monday, the prosecutors said they would consent to publish the testimony of deceased witnesses or those who have agreed to have their testimony published. Ten witnesses are either still alive or have not given their consent.

A court hearing is scheduled for July 22. The government's decision must be approved by a judge.

The sealed testimony was taken in 1950-51. The Rosenbergs were convicted of passing nuclear weapons secrets to the Soviet Union and were executed in 1953.

Scholars hope that the testimony will shed new evidence on the case. [Newsday/25June2008]
Congressional Quarterly Launches SpyTalk Blog. Congressional Quarterly Inc., announced the launch of SpyTalk (http://blogs.cqpolitics.com/spytalk/), a new blog written by CQ's National Security Editor Jeff Stein. SpyTalk focuses on U.S. intelligence, defense and foreign policy issues.

SpyTalk launched as a weekly column in 2005 and quickly built a loyal following, spurred by regular exclusives that drew national attention. SpyTalk now expands from a weekly column to a daily blog, with an emphasis on reporting new information and advancing important new stories, rather than providing opinion alone without noteworthy new facts. The blog will be updated throughout the week and is located in the CQ Politics Blog Network.

The content of the reporting originates from inside the U.S. intelligence community, its overseers on Capitol Hill, the experts in Washington's think tanks, and from Stein's fellow columnists and bloggers who specialize in national security issues.

Stein is an investigative reporter of long standing in Washington, DC, specializing in U.S. intelligence, defense and foreign policy issues. A decorated military intelligence case officer in Vietnam, Stein has written for most major American newspapers and magazines through the years, from The Washington Post, New York Times and Christian Science Monitor to Vanity Fair, Esquire, GQ, Rolling Stone, The Nation, The New Republic and Playboy. He is also the author of three well-received books. [Earthtimes/26June2008]

Australia Spy Targets Revealed. China, North and South Korea and Australia's close ally, Japan, are priority targets for Australian intelligence, according to leaked classified briefing papers prepared for Defense Minister Joel Fitzgibbon.

The papers, written shortly after the election of the Labor Government, offer a rare insight into sensitive details of intelligence priorities, the structure and resourcing of the top secret Defense Intelligence Organization.

The issue of Japan's growing plutonium stockpile has recently attracted significant international attention, with Australian National University emeritus professor Gavan McCormack labeling Japan "a plutonium superpower".

Although the leaked papers confirm that much of the organization's analytical effort has been devoted to support defense force operations in Afghanistan, Iraq, East Timor and the Solomon Islands, the agency's long-term focus is on Australia's strategic interests in North Asia, South-East Asia (especially Indonesia), Papua New Guinea and the South Pacific, and on transnational issues, in particular weapons proliferation.

The briefing papers highlight a range of examples of DIO's intelligence product, including analysis of Iran's ballistic missile and uranium enrichment programs, North Korea's ballistic missile program and analysis of the September 2007 Israeli attack on an alleged nuclear facility in Syria.

DIO's intelligence products make extensive use of signals intelligence information and spy satellite imagery sourced from the United States National Reconnaissance Office.

However, while DIO is eager to meet the immediate needs of its minister and the Government, the briefing papers indicate that the agency's overall structure and priorities reflect the recommendation of the 2004 inquiry into Australian intelligence agencies conducted by Philip Flood that the organization focus on "supporting defense strategic policy and meeting the strategic assessment needs of the Australian Defense Force". [Dorling/CanberraTimes/13June2008]

Man Accused of Espionage Goes on Trial. A man accused of spying for Israel went on trial at Tehran's Revolutionary Court. The charges against the young man - whose identity has not been revealed to the public yet - include spying for the Israeli intelligence agency Mossad in return for money.

The judge said the verdict would be announced in a week. [Farsnews/28June2008]

Al-Qaeda's Growing Online Offensive. The war against terrorism has evolved into a war of ideas and propaganda, a struggle for hearts and minds fought on television and the Internet. On those fronts, al-Qaeda's voice has grown much more powerful in recent years. Taking advantage of new technology and mistakes by its adversaries, al-Qaeda's core leadership has built an increasingly prolific propaganda operation, enabling it to communicate constantly, securely and in numerous languages with loyalists and potential recruits worldwide.

Some U.S. officials acknowledge that they missed early opportunities to disrupt al-Qaeda's communications operations, whose internal security has since been upgraded to the point where analysts say it is nearly bulletproof. [Whitlock/TheWashingtonPost/24June2008]

Targets of Spying Get Smart. Tiny electronic-surveillance gadgets that James Bond could only dream of are increasingly turning up in boardrooms, bedrooms and bathrooms.

Crooks are parking vans outside people's homes to steal bank-account passwords and credit-card numbers, using programs that tap into Wi-Fi connections. Paparazzi hide cameras and microphones in private jets, hoping to record embarrassing celebrity video. Corporate spies plant keystroke-recording software in executives' laptops and listen in on phone conversations as they travel.

Now, people are deploying counter-spy technology to fight back. Some celebrities and corporate executives get regular sweeps of their offices, limos and private jets in search of hidden devices. Others hire security experts to safeguard their phones and home computers. And corporate security experts are advising businesspeople on how to keep company secrets safe while traveling abroad.

Demand for counterspy services has been heightened by a series of recent snooping incidents. [McQueen/WallStreetJournal/11June2008]

---
Section II - CONTEXT & PRECEDENCE
Efforts to Slow Defense Industry's Brain Drain. When Paul G. Kaminski completed his graduate work in 1971 with degrees from Massachusetts Institute of Technology and Stanford, he started building advanced airplanes for the Air Force. By the time he stopped several decades later, he had played a pivotal role in producing a flock of new weapons, including radar-evading stealth aircraft.

If Mr. Kaminski were coming out of school today, chances are he would be going to work for the likes of Microsoft or Google.

Over the last decade, even as spending on new defense projects has reached its highest level since the Reagan years, the Pentagon has increasingly been losing the people most skilled at managing them. That brain drain, defense experts like Mr. Kaminski say, is a big factor in a breakdown in engineering management that has made huge cost overruns and long delays the maddening norm.

Mr. Kaminski's generation of engineers, which was responsible for many of the most successful defense projects of the 1970's and 80's, is aging. But declining numbers of the nation's top young engineers, software developers and mathematicians are replacing them. Instead, they are joining high-tech companies and other civilian firms that provide not just better pay than the military or its contractors, but also greater cachet - what one former defense-industry engineer called "geek credit."

Mr. Kaminski is devoting much of his time as a private citizen to bringing engineering experts back to the government. He is leading a high-level task force and visiting university campuses and defense companies to proselytize for better engineering management.

As he and other experts explain it, the central problem is a breakdown in the most basic element of any big defense project - accurately assessing at the outset if the technological goals are attainable and affordable, then managing the engineering to ensure that hardware and software are properly designed, tested and integrated.

The technical term for the discipline is systems engineering. Without it, projects can turn into chaotic, costly failures.

Increasingly, that has become the case. What's more, the loss of government expertise has magnified the difficulties associated with another trend: In recent years, the Pentagon has transferred more and more oversight responsibility to its contractors, who themselves often lack sufficient systems-engineering skill and the incentives needed to hold down costs.

Mr. Kaminski's task force, organized by the National Research Council, an arm of the National Academy of Sciences and National Academy of Engineering, was composed of 18 defense experts, working together with the Air Force Studies Board, another high-level group.

The task force identified a number of programs that, hobbled by poor engineering management, have run up billions of dollars in cost overruns while falling far behind schedule. Among them:

- A military satellite system designed to detect foreign missile launchings that Mr. Kaminski said was inexplicably designed with two sensors that cannot operate simultaneously on the same spacecraft without extensive, costly shielding to prevent electromagnetic interference generated by one from disabling the other.
- An ambitious Army modernization project, Future Combat Systems, that moved into development before performance requirements were resolved.
- A complex network of communications satellites that the Pentagon started building without a coherent plan for integration with an existing system or a consistent set of requirements to accommodate the needs of the four military services.

Mr. Kaminski and other experts see no easy fix, noting that high-level reports and recommendations have piled up over the years with little remedial action by the Pentagon.

At M.I.T., a 2007 survey showed 28.7 percent of undergraduates were headed for work in finance, 13.7 in management consulting but just 7.5 percent in aerospace and defense. The top 10 employers included McKinsey, Google, Morgan Stanley, Lehman Brothers, Bain, JP Morgan and Oracle - but not a single defense contractor or government office.

The same survey showed the average annual starting salary in finance and high-tech was more than $70,000, compared with $37,000 at the Defense Department. The average in the defense industry was $61,000.

MIT does not have comparable survey data for 10 or 15 years ago, but officials there say the trend is unmistakable. [Taubman/NewYorkTimes/25June2008]
---
N.Y. Times Names Names, Jeopardizes Safety - Again, by Ron Kessler. With its recent story naming a CIA analyst who interrogated Khalid Sheikh Mohammed, The New York Times has once again undermined our safety.

Fearing retribution, the agency asked the paper not to name the CIA analyst. The paper ran his name anyway, saying it generally withholds names only in the case of "victims of sexual assault or intelligence officers operating undercover."

While the operative was not serving undercover, the fact that he interrogated the architect of the 9/11 plot was classified. Naming him added nothing to the Times story. But it will make him a possible target of al-Qaida and will make other CIA officers wonder if they want to risk being involved in any sensitive intelligence operations if their identity may be publicly disclosed, jeopardizing their safety and the safety of their families.

The case for withholding his name was thus even more compelling than not running the name of Valerie Plame, who was technically undercover but not in any danger. Yet the Times has run 521 stories suggesting it was wrong for the White House, and specifically Karl Rove, to divulge her name. Only 27 of the articles mentioned the person who actually leaked her name to columnist Robert Novak, former State Department official Richard Armitage, who ironically has been critical of the Bush administration.

The New York Times previously disclosed the existence of the Bush administration's secret National Security Agency program for intercepting calls of suspected terrorists when one leg of the call is in the U.S. It also disclosed the administration's SWIFT program for tracking the worldwide financial transactions of terrorists.

In both cases, the disclosures warned terrorists that their communication channels were being intercepted, so they began using other methods, thus undercutting our safety and making another successful 9/11 attack more likely.

In neither case was any abuse - meaning an illegal act for political or otherwise improper purposes - involved. In the case of the phone and e-mail intercepts, Bush disclosed the program at its inception to key members of Congress, the Foreign Intelligence Surveillance Act (FISA) court, and the NSA inspector general. Congress has since endorsed the program with legislation.

Calling the leaks "devastating," Fran Townsend told me, when she was the chief of counterterrorism in the White House, "It's not just a question of you're putting individuals at risk. The real risk is to the lives of Americans who may suffer an attack because we couldn't stop it, because the source was taken out."

Besides its rule on naming subjects of stories, The New York Times withholds people's names for one other reason: In its June 22 article, the paper said most of the sources for the article could not be named because they were speaking about a highly classified program.

When it helps The New York Times get a story, names are withheld. When it helps our national security, they are not. And when the next attack comes - as it surely will - The New York Times will be the first to blame President Bush. [Kessler/Newsmax/26June2008]
---
Section V - ANNOUNCEMENTS AND COMING EVENTS
Institute for the Study of Totalitarian Regimes Conference. The Institute for the Study of Totalitarian Regimes would like to invite you to the international conference "NKVD/KGB Activities and its Cooperation with other Secret Services in Central and Eastern Europe 1945-1989, II". The conference will take place in Prague, 19-21 November 2008.

The conference focuses on the activities of Intelligence Services of Soviet satellite states and their managing, coordinating and controlling by the Soviet KGB. The objective of the conference is to present and analyze, with sources now available, the activities of NKVD/KGB and other Secret Services in Central and Eastern Europe, including attempts to infiltrate governments, international institutions, and organisations of the free and democratic world. The conference will be structured in thematic panels. For detailed description, registration form and topics see below: http://www.ustrcr.cz/en/international-conference-soviet-intelligence-services-activities
Authors of papers can be reimbursed for their travel costs and accommodation. The Institute for the Study of Totalitarian Regimes has obtained a financial support for this.

Please send short abstracts (300 words) with filled-out registration form to Katka Volná at katka.volna@ustrcr.cz by July 25, 2008.

---
EVENTS IN COMING TWO MONTHS....
Tuesday, 8 July 2008, 6:30 pm – Washington, DC – "An Evening with the Former M15 Director General – Stella Rimington, at the Spy Museum. When Stella Rimington became director general of MI5, the UK's domestic security service, her appointment drew a lot of attention. Not only was she the first woman to lead MI5, but she was an advocate for more openness in the intelligence field. To the public, Dame Stella seemed to burst onto the scene, but she had been a hardworking intelligence officer with MI5 since 1969 with experience in both counterintelligence and counterterrorism. As leader of MI5, Rimington encouraged public transparency and upon her retirement in 1996 she continued this policy with the publication of her autobiography Open Secret. She has moved on to publish a series of espionage thrillers featuring intelligence officer Liz Carlyle. The latest installment in the saga of the ambitious MI5 officer is Illegal Action. Join Dame Stella for an exciting evening of frank discussion as she highlights her new book, her experience as the director general of MI5, and her thoughts on the state of the intelligence field today. Tickets: $20. Phone registration available 202.654.093
Saturday, 12 July 2008 - Albuquerque, NM - AFIO New Mexico hosts social event at member home. Event location is home of member, Ruby Ellen Smith, 12711 Hugh Graham Rd. NE, Albuquerque, NM 87111. "Happy hour" starts at 5 pm, Dinner at 6 pm. The brisket will be prepared by the hostess. For those attending: those whose last names begin A through M, please bring a salad; potato, green, or other. Those whose last names begin N through Z, please bring a dessert. Please RSVP to Ruby Ellen by Mon. July 9th at 505 293-3676.
19 July 2008 - Kennebunk, ME - AFIO Maine hosts former CIA operations officer, Bill Murray. Murray will be talking about the present tension between Pakistan and India. While not currently making headlines, the tensions between these two nuclear powers remains a prime concern. The threat posed by Taliban terrorists in Pakistan adds to an already unstable situation. The meeting, open to the public, will be held at the Kennebunk Free Library, 112 Main Street, Kennebunk at 2:00 p.m. For information call 207-364-8964.
Monday, 21 July 2008, 6:30 pm - Washington, DC - "Hot Topics, The FBI at 100: Beyond the Turf Wars" at the Spy Museum. In 1970, J. Edgar Hoover cabled FBI field offices "to discontinue all contact with the local CIA office." But twenty years later a new era of collegiality began with the Ames case. Former DCI George Tenet considered this to be "the jumping-off point in taking cooperation between the FBI and CIA seriously." Join two intelligence insiders as they discuss the murky truth and myth of Agency-Bureau relations—past, present, and future. In 1974, Ray Batvinis was assigned to the new untested role of Washington Field Office liaison with the local CIA base. As liaison, and throughout his 25 year FBI career, Batvinis worked closely with the CIA in joint counterintelligence training at FBI headquarters and in the field, and on a wide variety of specialized case management issues. He is joined by Burton Gerber, a 39-year veteran of the CIA, where he served as chief of station in three Communist nations and led the Agency's Soviet and European operations for eight years. He is currently a Professor in the Practice of Intelligence at the Georgetown University Center for Peace and Security Studies. The perspective of these experts will reveal the truth behind the turf wars. Tickets: $15; Advance Registration required. Tickets are non-refundable and do not include admission to the International Spy Museum. To register, call 202-393-7798; order online at www.spymuseum.org or in person at the International Spy Museum.
25 July 2008, 10:30 am to 2 pm - Tysons Corner, VA - AFIO National SUMMER Luncheon Frances Fragos Townsend, former White House Assistant, Homeland Security/Counterterrorism, current member of the President's Intelligence Advisory Board [PIAB], speaking on Current and Emerging Threats. Morning speaker is Robert W. Wallace, former Director of CIA's Office of Technical Service. Author of SPYCRAFT: The Secret History of the CIA's Spytechs, from Communism to al-Qaeda. Ms. Townsend served as Assistant to President George W. Bush for Homeland Security and Counterterrorism and chaired the Homeland Security Council from May 2004 until January 2008. She previously served as Deputy Assistant to the President and Deputy National Security Advisor for Combating Terrorism from May 2003 to May 2004. Ms. Townsend is currently providing consulting services and advice to corporate entities on Global Strategic Engagement and Risk as well as Crisis and Contingency planning. Ms. Townsend is a Contributor for CNN and has regularly appeared on network and cable television as a counterterrorism, national and homeland security expert. She has received numerous awards for her public service accomplishments. Ms. Townsend is a member of the Council on Foreign Relations and serves on the President's Intelligence Advisory Board. Mr. Wallace, a 32-year CIA veteran, served as Deputy Director and Director of the CIA's Office of Technical Service and directed the office's global response to the 9/11 terrorist attack on the United States.
Thursday, 31 July 2008, 12 noon – 1 pm – Washington, DC – "Marching Toward Hell: America and Islam After Iraq, at the Spy Museum. Free lunchtime author debriefing and book signing. Long before Osama bin Laden's name was known to all, Michael Scheuer was chief of the unit in charge of tracking him at the CIA. His expertise became understanding the motives and missions of Islamic extremists. That experience, and his role as the first chief of the U.S. government's rendition program, uniquely positions Scheuer to comment on national security issues. In Marching Toward Hell, Scheuer argues that because politicians in both parties have not made protecting Americans their first priority, U.S. citizens are in a worse position today than before 9/11. Based on his knowledge of foreign policy and his own background, Scheuer contends that every leading presidential candidate is getting it wrong. Join Scheuer to learn how he believes we have failed and his thoughtful suggestions for righting the course. Free, no registration required.
Thursday, 31 July 2008, 6:30 pm - Washington, DC - "Elite Surveillance Team" at the Spy Museum.
Can you spot an enemy spy or elude hostile surveillance? At the International Spy Museum Elite Surveillance Team (SPY/EST) under the leadership of former CIA officer Tony Mendez, you'll learn how to establish your own surveillance zone, design surveillance detection runs (SDRs), and then work with and against your teammates to test your skills. SPY/EST will meet at least quarterly and then work together as a team to further develop and perfect a surveillance zone and their own SDRs using the guidelines prepared by Mendez for training actual intelligence agents. Tickets: $180; Advance Registration required. Tickets are non-refundable and do not include admission to the International Spy Museum. *Includes four meetings with Mendez within membership year and guidelines on developing Surveillance Detection Runs. To register, call 202-654-0932 or email kray@spymuseum.org.
Thursday, 14 August 2008, 6:30 pm - Washington, DC - "Spies on Screen: Rendezvous" - David Kahn at the Spy Museum. The 1935 film, Rendezvous, stars William Powell, a Washington, DC newspaperman turned code breaker during World War I. In his attempts to find a stolen code book, he must handle a ring of German spies, an assassination, and an attractive military mistress with sinister intentions. After the film, David Kahn, a leading expert in the history of cryptology and author of The Codebreakers, will discuss the historical basis for this romanticized account of high states WW I code-breaking. Tickets: $15; Advance Registration required. Tickets are non-refundable and do not include admission to the International Spy Museum. To register, call 202.393.7798; order online at http://www.spymuseum.org.
14 August 2008 - 23 August 2008 - UK to Russia - A Cold War Summit: From Cambridge To Moscow - Special Excursion explores history of Cold War, follows Cambridge Spy Ring in UK/Moscow, and an up-close look at Putin's latest movements of his intelligence services. Once-in-a-lifetime Trip with unusual, first-hand onsite presentations. This important one-time trip is organized and hosted by AFIO Members Dan Mulvenna and Nigel West. Purpose: To explore the history of the Cold War and its manifestations; to examine British and American-Russian relationships from 1945 to 1991; to delve into recent events that suggest the Cold War has new dimensions in Vladimir Putin's Russia, and to follow the path of the infamous Cambridge Five in England and Russia.
The price of oil had dropped, starving the Kremlin of the funds it desperately needed to keep pace in the arms race against the United States. Then all it took was the nudge of Gorbachev's perestroika and the dominoes began to fall: Afghanistan, Poland, Czechoslovakia and, finally, the Berlin Wall itself. Twenty years later and the price of oil is at an all-time high, and Russia has reemerged as a global superpower, albeit with a new ideology — capitalism. Flush with the confidence of petrodollars, the Kremlin is rattling its saber in Europe once again. And a former Russian spy, Alexander Litvinenko, dies in a London hospital, mysteriously poisoned by a fatal dose of radiation.
- Study Leaders, Nigel West — author of VENONA and other respected books on security, intelligence and espionage — and counterintelligence expert Dan Mulvenna, take you behind the curtain of Cold War intelligence and espionage.
- Discover hidden spy sites in Moscow with a former KGB colonel and Dan Mulvenna, security expert and professor at the Centre for Counterintelligence and Security Studies in Washington.
- Hear about the death of Alexander Litvinenko from a Russian consultant to the BBC's Panorama program.
- With staff at the Churchill Archives Centre, explore Cold War materials from its collection.
- Enjoy a reception with retired KGB officers in Moscow.
- Go behind the scenes at Bletchley Park, where codebreakers decrypted and interpreted Axis messages and broke the German Enigma Code during World War II.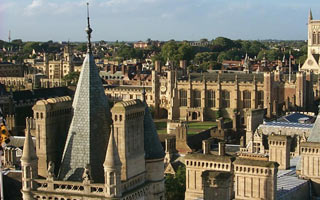 8 nights; 17 meals; 8 Breakfasts, 3 Lunches, 6 Dinners
$4,950.00 pp Group size limited to 48 or fewer participants

Itinerary: From Cambridge, England, to Moscow, Russia, from the "Cambridge Five" to Gary Powers to the recently murdered Russian spy Alexander Litvinenko, trace the trail of diplomacy and intrigue from the height of the Cold War to the global chess match with Russia today. With privileged access to unrivaled authorities in the fields of espionage and in 1950s Cold War politics, gain an understanding of the foreign policy conducted in public and the intelligence machinations that continue in the shadows. In this one-time program, join important writers and thinkers, including Andrew Lownie, Piers Brendon, Mike Sewell and Richard Aldrich to discuss the ramifications and intricacies of the "war," as well as commentators Glenmore Trenear-Harvey and Boris Volodarsz, to consider whether the Cold War has recently reemerged in Putin's Russia. Leading the way is Nigel West. Former member of the House of Commons and author of more than a dozen books on espionage, Nigel is considered the "expert's expert" on intelligence.
Based at the elegant Møller Center at Churchill College, Cambridge University, track the "Cambridge Five" — the ring of Soviet spies who passed information to the KGB and who infiltrated the British establishment. Follow in the footsteps of the notorious spies on a walking exploration through Trinity, St John's and King's Colleges. Explore Cold War materials in the Churchill Archives Centre, which houses Sir Winston Churchill's papers, as well as those of Margaret Thatcher and other prominent figures of the 20th century. At Bletchley Park — also known as "Station X" — see one of the Enigma Machines, including the rare "Abwehr G312," and check out the tales of World War II code-breaking, spies and strategic deception.
Continue the exploration of the Cold War from the other side, in Moscow. A retired senior KGB officer and Dan Mulvenna — professor at Washington's Centre for Counterintelligence and Security Studies — lead you on an exploration of spy sites throughout the Russian capital. See the graves of Kim Philby, the great British spy, and those of the famous "illegals" Rudolph Abel (Willie Fisher), Konon Molody, known to the West as Gordon Lonsdale, and Ramon Mercader — Trotsky's assassin. Go behind the scenes to areas not open to the public and learn about the Russian intelligence services and counter-terrorism at the FSB (formerly KGB) Intelligence Museum, located just off Lubyanka Square. Receive "briefings" on the KGB's view of the Cold War and on several famous Cold War spy cases by former KGB officers who have intimate knowledge of the affairs. Hear from Colonel Oleg Nechiporenko — Lee Harvey Oswald's first case officer at the Mexico City KGB station. Then meet and mingle with distinguished senior retired KGB officers at an elegant farewell reception.
Please Note: This program will operate only once and has a maximum capacity of 48. Each of two groups of 24 will have its own Group Leader and motorcoach but all participants will attend program events together. To explore or register for this once-in-a-lifetime excursion, visit:
http://www.roadscholar.org/prog/adv-main.asp?C=Y&src=%2Fprog%2Fadv%2Dmain%2Easp&Id=1%2D433E2Q

Sunday, 17 August 2008, 8:30 am - 5:00 pm - Summit Point, WV - "Drive To Survive: Anti Terrorist Driver Training" at BSR, 2026 Summit Point Rd., Summit Point, WV 25446.
For over thirty years BSR has trained the people whose lives depend on top-notch evasive driving - from hostage rescue personnel to counterterrorist units. As the recognized leader in vehicle anti-terrorist training for military and governmental application worldwide, BSR has developed a state-of-the-art program. Now they have custom-designed an exclusive one-day opportunity for SPY highlighting the best of their longer courses. The BSR Shenandoah Valley training center has acres of paved and dirt road circuits, skid pads, an off-road training arena, and instructors who have firsthand experience driving for their lives. Tickets: $1,200 (includes 6% WV sales tax); Advance Registration required. Phone registration only for this program, call 202.654.0932.
Tuesday, 19 August 2008 – Vienna, VA - THE SIXTH ANNUAL AFIO SOCIAL EVENT - The Boston Pops at the Wolf Trap Park in Vienna, Virginia.This year we have moved the annual social from Boston's Symphony Hall to the Wolf Trap Foundation for the Performing Arts on Tuesday, August 19 at 8:00 PM. The concert choice will once again be the Boston Pops Esplanade Orchestra.
Contact Mr. Wass and use AFIO Social in the subject line at wassinrichland@aol.com if you would like to attend the pre-concert AFIO social at Wolf Trap. Reservations are now being taken however since we have limited amount of seats available for the social, we recommend contacting us before purchasing your concert tickets.
For those who plan on attending the concert and social at Wolf Trap [located at 1645 Trap Road, Vienna, Virginia 22182], you must purchase concert tickets directly through Wolf Trap for seating choices. RSVP requested before July 19. Wolf Trap Box Office - (703) 255-1868 to purchase tickets. http://www.wolftrap.org No portion of your purchase constitutes a donation to AFIO; therefore this is strictly a social event.
Monday, 15 September 2008 - New York, NY - AFIO New York Metro Chapter evening meeting on "How Baghdad Thieves Stole Iraq's Antiquities and CTTF Recovered the Stolen Loot." Colonel Matthew Bogdanos, U.S. Marine Corps Reserve -- the Author of "Thieves of Baghdad" explains how the Baghdad thieves stole Iraq's antiquities and how our counter-terrorism Task Force caught them and recovered their loot. Bogdanos led the investigation. He was awarded the Bronze Star for counter-terrorism operations in Afghanistan. He is currently an Assistant District Attorney in Manhattan. Buffet dinner and open bar - $40. per person. 5:30 PM - 6:00 PM Registration. Meeting starts 6:00 PM. New Location: 4 Columbus Circle (58th Street and 8th Avenue) The showroom space of STEELCASE, the global leader in the office furniture industry. Further information available from afiometro@yahoo.com
Tuesday, 2 December 2008 - New York, NY - AFIO NY Metro Chapter meeting features speaker Gordon Chang, author of NUCLEAR SHOWDOWN and THE COMING COLLAPSE OF CHINA.
Meeting location - 4 Columbus Circle in the NYC showroom of the office furniture manufacturer - Steelcase. Attractive, spacious, modern space overlooking Central Park.
58th Street and 8th Avenue. Buffet dinner and open bar: $40.00 per person 5:30 PM - 6:00 PM Registration. Meeting starts 6:00 PM. For inquiries or to register email afiometro@yahoo.com
---
For Additional Events two+ months or greater....view our online Calendar of Events
-----------------------------------------------------------------------
Disclaimers and Removal Instructions
Weekly Intelligence Notes (WINs) are commentaries on Intelligence and related national security matters, based on open media sources, selected, interpreted, edited and produced for non-profit educational uses by members and WIN subscribers.
REMOVAL INSTRUCTIONS: We do not wish to add clutter to inboxes. To discontinue receiving the WINs:
a) IF YOU ARE A MEMBER -- click here: UNSUBSCRIBE and supply your full name and email address where you receive the WINs. Click SEND, you will be removed from list. If this link doesn't open a blank email, create one on your own and send to afio@afio.com with the words: REMOVE FROM WINs as the subject, and provide your full name and email address where you are currently receiving them.
b) IF YOU ARE NOT A MEMBER, and you received this message, someone forwarded this newsletter to you [contrary to AFIO policies]. Forward to afio@afio.com the entire WIN or message you received and we will remove the sender from our membership and distribution lists. The problem will be solved for both of us.
CONTENTS of this WIN [HTML version recipients - Click title to jump to story or section, Click Article Title to return to Contents. This feature does not work for Plaintext Edition or for some AOL recipients]. If you wish to change to HTML format, let us know at afio@afio.com. The HTML feature also does not work for those who access their e-mail using web mail...however NON-HTML recipients may view the latest edition each week in HTML at this link: https://www.afio.com/pages/currentwin.htm
-----------------------------------------------------------------------

WINs are protected by copyright laws and intellectual property laws, and may not be reproduced or re-sent without specific permission from the Producer. Opinions expressed in the WINs are solely those of the editor(s) or author(s) listed with each article. AFIO Members Support the AFIO Mission - sponsor new members! CHECK THE AFIO WEBSITE at www.afio.com for back issues of the WINs, information about AFIO, conference agenda and registrations materials, and membership applications and much more!

(c) 2008, AFIO, 6723 Whittier Ave Suite 200, McLean, VA 22101. Voice: (703) 790-0320; Fax: (703) 991-1278; Email: afio@afio.com
Click here to return to top.