AFIO Weekly Intelligence Notes #26-08 dated 7 July 2008
25 July 2008 - AFIO National SUMMER Luncheon -
10:30 a.m. to 2 p.m.
Tysons Corner, Virginia

11 a.m. Speaker - Robert Wallace, Former Director of CIA's Office of Technical Service. Wallace is one of the three authors of
SPYCRAFT: The Secret History of the CIA's Spytechs,
from Communism to al-Qaeda

Befitting the topic, his talk will feature an image-rich multi-media presentation

and

Robert Wallace

Frances Townsend

1 p.m. Speaker - Frances Fragos Townsend, Esq., former White House Assistant, Homeland Security/Counterterrorism,
current member of President's Intelligence Advisory Board [PIAB],
speaking on Current and Emerging Threats

Ms. Townsend's remarks are
OFF THE RECORD
to encourage frank & spirited Q&A.

EVENT LOCATION: The Crowne Plaza
1960 Chain Bridge Road • McLean, Virginia 22102
Space limited. Make reservations now on this secure page.
---
Click here to view credits and sources, disclaimers, removal, methods of use of the links in this document.
The WIN in its entirety appears below; however, the document may also be viewed online by current members with usernames and passwords
at: https://www.afio.com/pages/currentwin.htm
Usernames and Passwords appear on AFIO Membership Cards.
They work only if the membership is current.
---
WIN CREDITS FOR THIS ISSUE: The WIN editors thank the following special contributors to this issue: th, dh and pjk.
All have contributed one or more stories used in this issue.
---
CONTENTS
Section I - INTELLIGENCE HIGHLIGHTS
Section III - BOOK REVIEWS, OBITUARIES AND COMING EVENTS
Current Calendar Next Two Months ONLY:
For Additional Events two+ months or more....view our online Calendar of Events
---
Section I - INTELLIGENCE HIGHLIGHTS
Costly, Confidential and Climbing. After peaking at half a million documents a year at the end of the Cold War, U.S. government bureaucrats classifying material (confidential, secret, or top secret) declined to 105,263 by 1996. Then it began climbing again, and peaked once more in 2004 at 351,150 documents. Since then it has been declining, to 233,639 documents last year. There is also increase in "derivative classification," reconfigured classified data, as in bits of older classified documents combined into new docs. This has been rising even faster. There were 5.6 million such actions in 1996, and 22 million last year.

Classified documents are expensive. Officials expend money to complete paperwork to determine what should be a secret, and then expend additional funds to guard the secrets. Last year, the secrecy bill in the U.S. government was nearly $10 billion. This is an increase of 4.6 percent from the previous year. Attempts to reduce this cost rely on classifying less, and coming up with ways to declassify documents inexpensively. More data is now being classified as "material that will automatically declassify in ten years." Since 1980, 1.37 billion pages of classified documents have been declassified. That number has been increasing lately. From a low of 28 million documents in 2005, it increased to 37.2 million documents last year. [StrategyPage/28June2008]

U.S. Escalating Covert Operations Against Iran. U.S. congressional leaders agreed late last year to President George W. Bush's funding request for a major escalation of covert operations against Iran aimed at destabilizing its leadership, according to a report in The New Yorker magazine.

The article by reporter Seymour Hersh, from the magazine's July 7 and 14 issue, centers around a highly classified Presidential Finding signed by Bush, which by U.S. law must be made known to Democratic and Republican House and Senate leaders and ranking members of the intelligence committees.

Hersh has written previously about possible administration plans to go to war to stop Tehran from obtaining nuclear weapons, including an April 2006 article in the New Yorker that suggested regime change in Iran, whether by diplomatic or military means, was Bush's ultimate goal.

Funding for the covert escalation, for which Bush requested up to $400 million, was approved by congressional leaders, according to the article, citing current and former military, intelligence and congressional sources.

Clandestine operations against Iran are not new. U.S. Special Operations Forces have been conducting cross border operations from southern Iraq since last year, the article said.

These have included seizing members of Al Quds, the commando arm of the Iranian Revolutionary Guard, and taking them to Iraq for interrogation, and the pursuit of "high-value targets" in Bush's war on terrorism, who may be captured or killed, according to the article.

But the scale and the scope of the operations in Iran, which include the Central Intelligence Agency, have now been significantly expanded, the article said, citing current and former officials.

Many of these activities are not specified in the new finding, and some congressional leaders have had serious questions about their nature, it said. [EcoDiaries/28June2008]

Abu Sayyaf Spent Force, According to Philippine Chief of Staff. Muslim rebels in the Philippines have scattered and become leaderless after strikes using US intelligence tips, according to the Philippines' military chief.

About a dozen leaders of the Abu Sayyaf, a group blamed for the country's worst terrorist attacks, were killed or arrested in the past seven years after Manila allowed US Special Forces troops to be deployed in southern Mindanao.

Though barred from combat, American advisers have provided intelligence as well as training that helped local troops make headway in counter-terrorist operations, said Gen. Alexander Yano, the chief of staff.

The Abu Sayyaf, listed by the US State Department as a foreign terrorist organization, has been blamed for kidnappings of Western tourists and Christian missionaries as well as deadly bombings of ferries, shopping malls and buses.

Yano said the terrorist group had become a "loose organization," and its remaining members, who he estimated to number 360, scattered across the southern islands that are heartland of a longstanding Muslim separatist insurgency.

The help of the US, which has paid bounties for the arrest or killing of Abu Sayyaf leaders, had been significant, the military's chief of staff said. [Cruz&Jacinto/ManillaTimes/27June2008]

Iran Sentences 'Israel Spy' to Death. Iran has sentenced to death an Iranian telecom salesman found guilty of spying for Israel. Ali Ashtari was accused of involvement in a plot run by the Israeli secret services to intercept the communications of Iranian officials working in the military and its contested nuclear program.

According to Ashtari's "confession", published in full by Fars, he sold telecom equipment which sought to help the Israeli intelligence service Mossad access secret information from Iranian officials.

Mossad gave him 50,000 dollars to buy Internet cables and satellite phones and then sell them on to "special customers" in the hope of enabling Israel to spy on their communications, Ashtari said.

The intelligence official quoted by the Mehr news agency said Ashtari had contacts with the Iranian Atomic Energy Organization and military bodies.

He still has time to appeal the verdict with a higher court.

The verdict comes amid an intensifying war of words between Iran and its regional arch enemy Israel, which has never ruled out military action to halt Iran's nuclear drive which the West fears could be used to make the bomb.

State television broadcast pictures of Ashtari at his trial, showing a balding, rotund and surprisingly relaxed looking man. The pictures also showed the satellite phone, laptop and other equipment allegedly used in his work. [AFP/27June2008]

Russia Expels South Korean Spies. Russia has expelled four South Korean spies who it says had been collecting information on North Korea. The four, who held diplomatic passports, were kicked out between late last year and June this year. Two of the agents had two years of their term left when they were told to leave. None of them were officially designated "persona non grata" and Seoul took no retaliatory measures against Russian agents in South Korea. [AFP/30June2008]

Commander of Pinochet Intelligence Service Gets Life Sentences for Killings. A judge says he has imposed two sentences of life in prison on the security chief for former dictator Augusto Pinochet. Judge Alejandro Solis said Monday he sentenced retired Gen. Manuel Contreras to two consecutive life prison terms for the killing of retired army chief Carlos Prats and his wife. The couple died when a bomb blew their car in Argentina in 1974. Prats had opposed Pinochet's 1973 coup against an elected government. Contreras is already in prison serving sentences of more than 70 years for other crimes committed under Pinochet's rule. Seven other former members of the security service received lesser sentences. [StarTribune/30June2008]

Center for Medical Intelligence Expanding. A military intelligence unit that had tracked medical threats to troops worldwide is expanding its mission to include civilians at home.

The National Center for Medical Intelligence at Fort Detrick had previously been known as the Armed Forces Medical Intelligence Center and focused on protecting military personnel. The center will now be the "premier producer and coordinator of all-source medical intelligence," the Defense Intelligence Agency announced.

Lt. Gen. Michael D. Maples, the director of the agency that provides intelligence to senior policy-makers and military commanders, called the center the "critical link" between force protection efforts of the Department of Defense and homeland health protection.

The National Center for Medical Intelligence was originally established in 1982 to provide medical intelligence on possible threats to military personnel deployed overseas.

The center will now also look at "what particular diseases and other health threats and issues might be imported or might cause illness or injury to U.S. citizens and forces here in the homeland."

The center's role has expanded since it was established and it now works with the intelligence community, the Department of Homeland Security, the White House, the State Department, coalition and foreign partners and other domestic non-defense agencies. The DIA said such partnerships allow the center to focus on a broader range of foreign medical threats including diseases such as pandemic flu and avian flu.

An anthrax outbreak, for example, would be something that would attract the attention of analysts at the center. [AP/1July2008]

US Army Set to Hire Internet Spies. The US Army is seeking a contractor to scan the internet for threats to American national security. The Army wants a contractor to monitor web pages, chat rooms and blogs 24 hours a day to establish emerging threats before they materialize. The contractor will be expected to analyse the potential threats and deliver a weekly report with both facts and analysis to a nominated Army representative. There will be a special focus on foreign domains that cause particular concern to national security.

Those applying for the contract must include in their staff a principal cyber investigator, a specialised threat analyst, a 'foreign-speaking' analyst with cyber investigative skills and a 24/7 watch team. Investigators must be available for consultation on threats at 8 hours' notice.

Fifteen companies have already expressed an interest in providing the service - among them Verizon Business, Fortinet, Safenet and Akamai. Other interested parties have until Monday to apply.

The UK's armed forces are also upping their surveillance of the internet. Air Commodore Graham Wright, a senior information professional within the MoD, told a security conference in London last month: "As adversaries are holding information on networks, we need to be able to exploit that data. To understand the military network requires a huge intelligence piece now."

The Royal Air Force is at present facing a critical shortfall of intelligence officers and intelligence analysts: both positions are currently advertised as "urgently needed". An intelligence analyst earns an annual salary of just £16,200 and needs just a handful of GCSEs. [Thurston/SCMagazine/2July2008]

British Top Spy Seriously Ill. Britain's top spy, Alex Allan, the chairman of the Joint Intelligence Committee, is unconscious and seriously ill in hospital. The 57-year-old collapsed at his home earlier this week. Government sources say that there is no sign of foul play.

A Cabinet Office spokeswoman said: "We can confirm that Alex Allan was taken ill on Monday and transferred to a London hospital. "We cannot discuss his condition as it is a private matter."

The Joint Intelligence Committee (JIC) is responsible for briefing ministers and officials with intelligence assessments on issues such as security, defense and foreign affairs. It is part of the Cabinet Office, and briefs the prime minister weekly. The JIC chairman collects information from members of the Security Service, MI5, the Secret Intelligence Service, MI6, and Government Communications Headquarters who sit on the committee.

The deputy chairman takes over in the absence of the chairman, but Cabinet Office policy is not to publicly name the person.

Mr. Allan was a civil servant who worked mainly in the Treasury, before becoming principal private secretary to both John Major and Tony Blair when they were prime minister. He took the post of high commissioner to Australia in 1997. In 1999 he became "e-envoy" for the government, co-ordinating policy on e-commerce among different ministries and departments. He left that post and moved back to Australia a year later before returning to the UK in 2004. Downing Street announced his appointment as the chairman of the Joint Intelligence Committee and Head of Intelligence Assessment late last year. [BBC/4July2008]

Sweden Pays $502,000 in Compensation to Exonerated Terror Suspect Handed to CIA. Sweden will pay 3 million kronor ($502,000) in compensation to an exonerated Egyptian terrorism suspect who was handed over to CIA agents and deported in 2001.

Chancellor of Justice Goran Lambertz said the Swedish state reached a settlement with Muhammed Alzery's lawyers on compensating him for circumstances of his deportation. He also said Sweden believes Alzery's claim that he was tortured in Egypt.

Alzery and fellow Egyptian Ahmed Agiza were handed over to U.S. agents at Bromma Airport in Stockholm six years ago, taken to Egypt and imprisoned on terrorism charges. Alzery was released in 2003 without standing trial after Egyptian authorities dismissed allegations against him.

The Swedish Helsinki Committee for Human Rights, which represented Alzery in the case, said they had initially demanded 30 million kronor ($5 million) from the Swedish state, based on damages paid in similar European cases.

Egypt's Supreme Military Court convicted Agiza in April 2004 of leading an outlawed group allegedly aiming to overthrow the Egyptian government. [IHT/3July2008]

Russian Spies Leaving the Door Open for Terrorists in Britain. The activities of Russian spies in Britain are seriously undermining the fight against terrorism, security sources have disclosed.

The distraction of combating espionage by President Dmitry Medvedev's agents makes it significantly more likely that one of the many Islamist terror plots will succeed, Whitehall officials believe.

The warning comes after it was revealed last week that Russia is now considered the third most serious threat facing the country. The "league table" of threats to the nation's security is headed by al'Qa'eda terrorism, with Iranian nuclear proliferation second.

Britain has raised the problem posed by Russian agents at diplomatic levels, but the concerns were dismissed. "The Government has spoken to Moscow and asked them to stop but their response is 'everyone spies on everyone [else]'," one senior security source said.

"MI5's resources have been stretched to the limit for the past few years. There have been times when there was nothing left in the locker, when all of our assets were being used on one operation.

"At the same time, we have to contend with the very real threat being posed by the Russians. Russia is a country which is under suspicion of committing murder on British streets and it must be assumed that having done it once they will do it again."

The source said MI5 was so stretched that some recent counter-terrorist operations against Muslim extremists had used up its entire surveillance resources, meaning other areas of security and intelligence work had inevitably suffered.

Gordon Brown will meet Mr. Medvedev for the first time tomorrow. It is not known if the Prime Minister will raise his irritation about the levels of industrial and military espionage by the Russians.

Such a move would worsen the already cool relations between the two countries which resulted in a row between Tony Blair and the former Russian president Vladimir Putin at the G8 summit last year.

However, in an interview in Hokkaido, Japan - the venue for this year's G8 summit - Mr. Medvedev showed signs of wanting to end the rift, saying international relations required people to come together.

The Russian intelligence services, the prime suspects behind the murder in London of Alexander Litvinenko, the former KGB agent, are believed to have a network of some 30 spies operating in Britain.

The agents, equivalent to one in five of the Moscow government officials based in Britain, are known to be monitoring the movements and activities of Russian émigrés and opponents of the regime. But they are also targeting businessmen, MPs and scientists looking to steal commercial and state secrets. Only in America, it is understood, are there more Russian agents.

One security source said: "Russia has a spy culture that predates the communist regime. The FSB [Federal Security Bureau] is just as active as the KGB was during the Cold War. They have a policy of state-sponsored assassination and they pose a very credible threat. They want to steal our secrets. They have an insatiable appetite for anything to do with arms manufacture and energy."

In July last year, Britain expelled four Russian diplomats after a request to extradite the prime suspect in the Litvinenko murder case was refused by the Russians. Since the suicide bombing attacks on London in July 2005, the security budget covering MI5 (the security service), MI6 (the intelligence service) and GCHQ, the eavesdropping centre, has risen by 65 per cent to more than £2billion this year.

Security officials say the threat of a terrorist outrage remains as high as it was in 2005 when London's transport system was attacked. [Rayment/Aldersone/Telegraph/6July2008]
---
U.S. Spies on Iraqi Army. Caught off guard by recent Iraqi military operations, the United States is using spy satellites that ordinarily are trained on adversaries to monitor the movements of the American-backed Iraqi army, current and former U.S. officials say.

The stepped-up surveillance reflects breakdowns in trust and coordination between the two forces. Officials said it was part of an expanded intelligence effort launched after American commanders were surprised by the timing of the Iraqi army's violent push into Basra three months ago.

The use of the satellites puts the United States in the unusual position of employing some of its most sophisticated espionage technology to track an allied army that American forces helped create, continue to advise, and often fight alongside.

Military officials and experts said the move showed concern by U.S. commanders about whether their Iraqi counterparts would follow U.S. guidance or keep their coalition partners fully informed.

But the development was also seen as a sign the Iraqi army has reached a level of independence and competence that U.S. military planners had hoped it would achieve.

The expanded satellite surveillance comes as the Iraqi military has embarked on a series of large-scale operations to reassert government control in areas, including Baghdad's Sadr City and the northern city of Mosul, that have been havens for hostile militias and insurgents.

Iraq's parched terrain has been a focal point of U.S. spy satellites for nearly two decades. Satellites were used to capture images of suspected chemical and biological weapons sites before the war, although the suspicions were proved unfounded, and continue to be used to track insurgent movements and the suspected influx of arms from Iran.

The satellites are part of a vast intelligence arsenal the U.S. has deployed in Iraq, including the CIA's largest overseas station, eavesdropping equipment that monitors much of the communications traffic, as well as Predator drones and other aircraft.

But in recent months, U.S. intelligence agencies have aimed the spacecraft's high-resolution lenses at Iraqi military positions and instructed imagery analysts to monitor those units for signs that they are preparing to deploy, officials said.

U.S. intelligence officials stressed that the satellites are not being diverted from other high-priority assignments - including tracking terrorist and insurgent activity - but are capturing additional images as part of routine sweeps.

Officials also emphasized that the surveillance did not reflect an adversarial relationship. The two militaries continue to coordinate closely and conduct joint operations, officials said, with U.S. military training teams traveling with Iraqi army units. The satellites provide U.S. officials with an independent means of tracking those movements.

But their use also reflects a gradual shift as the Iraqi government becomes more independent of its U.S. sponsor, and the two countries' interests diverge. Iraq has recently taken steps, including providing a red-carpet reception in March for Iranian President Mahmoud Ahmadinejad, that demonstrate it doesn't intend to remain a U.S. client.

Even though the United States in effect installed the government of Iraq and helped build its institutions, U.S. spy agencies have been active in the country from the beginning, keeping close tabs on Iraqi politicians and influential groups.

Officials said the satellite surveillance was aimed to a large degree at making sure U.S. commanders know where the Iraqi army is operating so the two forces don't collide.

Experts said the Iraq surveillance probably involved what are known as Keyhole satellites, spacecraft the size of a school bus that orbit about 170 miles above the Earth's surface and are equipped with optical and infrared lenses that can capture high-resolution images day or night.

The NRO is believed to operate at least six of these satellites, which travel over Iraq frequently enough to provide updated photos at least four times a day, said Jeffrey T. Richelson, an expert on satellites and senior fellow at the National Security Archive, a research institute at George Washington University. [Miller/LATimes/2July2008]
The Secret American Army. The United States now has thousands of spies inside Iraq. For the last five years, the U.S. has been building an informant network there. The U.S. Army Special Forces, the CIA, reservist cops, and Israel were key components in setting up the network. The results, mostly classified, have been impressive. For example, last year, tips from Iraqis led to the discovery of 6,963 weapons caches, plus similar information on safe houses and terrorists themselves. During the first half of 2009, tips led to finding nearly 5,000 weapons caches.

In Iraq, reservists who were detectives and police commanders quickly saw the need for databases and developing informant networks. That led to the Israeli connection. Israel had been at war with Palestinian terrorists since 2000, and had cranked up their already extensive informant network in the Palestinian territories, and throughout the Arab world. Israeli advice turned out to be critical.

The "surge offensive" of last year was largely possible because the informant network had grown to the point where commanders were confident that many Sunni Arab tribes were ready to switch sides. They knew this because the Special Forces had taught so many officers how to negotiate within the traditional Iraqi framework. Israeli intel experts advised on how to work an Iraqi neighborhood to find people willing to talk, and how to persuade them to do it even in the face of terrorist threats. [StrategyPages/29June2008]

---
Section V - BOOK REVIEWS, OBITUARIES AND COMING EVENTS
Outskirts Press Announces Memoirs of a Cold War Colonel. Outskirts Press, Inc. has published Memoirs of a Cold War Colonel: A Look Into An Intelligence Officer's Thirty Year Career by William MacArthur, which is the author's most recent book to date. The 5.5 x 8.5 paperback in the Military - Intelligence/Espionage category is available worldwide on book retailer websites such as Amazon and Barnes & Noble for a suggested retail price of $9.95. The webpage at www.outskirtspress.com/MemoirsOfAColdWarColonel was launched simultaneously with the book's publication.

Memoirs of a Cold War Colonel reflects a myriad of assignments and responsibilities undertaken by Col. MacArthur through his thirty year career (1959-1989). He plotted and planned against our adversaries while stationed in Germany (three times), Thailand, Turkey, Alaska, and the Pentagon. These Memoirs also unveil how military family life is affected by the constant travel and pressure while military personnel are serving our nation.

William MacArthur is a retired United States Air Force Colonel whose thirty year career reflected many suspenseful Intelligence assignments during America's Cold War against the Soviet Union. "Memoirs of a Cold War Colonel" recounts his adventures in the intelligence field, ranging from supporting combat pilots about to break through the Iron Curtain to briefing the Chairman of the Joint Chiefs of Staff on very sensitive operations in Europe and Southeast Asia. The Colonel's career coincided with the rise and fall of the Berlin Wall and is an example of the dedication and sacrifices our military forces and their families displayed during that very dangerous period. [Emediawire/1July2008]

---
Former South African Intelligence Minister Joe Nhlanhla Dies. Former Intelligence Minister Joe Nhlanhla died on Wednesday, the African National Congress (ANC) said. Spokesperson Jessie Duarte said Nhlanhla (71) had been in a coma for the past month, and died at about 4pm at the Milpark Hospital in Johannesburg.

Joseph Mbuku Nhlanhla was born on December 4, 1936 in Sophiatown near Johannesburg. He attended Ikage Primary School in Alexandra and later matriculated from Kilnerton Training Institute. He joined the ANC and its youth wing, the ANC Youth League, in 1957 and was elected onto the ANCYL's Transvaal executive a year later. In early 1964, he left the country for the Soviet Union, where he completed a Masters degree in economics in Moscow in 1969. However, he never worked as an economist. That same year he was appointed head of the ANC's youth and student headquarters in Tanzania, a post he served in for five years before being chosen as the organisation's chief representative in Egypt and the Middle East in 1973.

In 1978, the ANC posted him to its Lusaka headquarters as national administrative secretary. Three years later he was elected a member of the ANC national executive committee.

In 1986, he joined the organization's intelligence directorate after serving a three-year stint as secretary to the political military council. He was appointed ANC intelligence chief in July 1987. He still held that post in 1989 when he was a member of the four-man ANC group headed by Thabo Mbeki that made contact with the apartheid government.

From 1990, he served on the ANC team tasked with removing obstacles to negotiations and sat on the interim government sub-committee at the Codesa talks.

In 1994, he was elected a member of the National Assembly and on February 22 the following year he was appointed deputy minister of intelligence.

Nhlanhla was appointed by President Thabo Mbeki as minister of intelligence in 1999. [Sapa/MG/2July2008]

---
EVENTS IN COMING TWO MONTHS....
Tuesday, 8 July 2008, 6:30 pm – Washington, DC – "An Evening with the Former M15 Director General – Stella Rimington, at the Spy Museum. When Stella Rimington became director general of MI5, the UK's domestic security service, her appointment drew a lot of attention. Not only was she the first woman to lead MI5, but she was an advocate for more openness in the intelligence field. To the public, Dame Stella seemed to burst onto the scene, but she had been a hardworking intelligence officer with MI5 since 1969 with experience in both counterintelligence and counterterrorism. As leader of MI5, Rimington encouraged public transparency and upon her retirement in 1996 she continued this policy with the publication of her autobiography Open Secret. She has moved on to publish a series of espionage thrillers featuring intelligence officer Liz Carlyle. The latest installment in the saga of the ambitious MI5 officer is Illegal Action. Join Dame Stella for an exciting evening of frank discussion as she highlights her new book, her experience as the director general of MI5, and her thoughts on the state of the intelligence field today. Tickets: $20. Phone registration available 202.654.093
Saturday, 12 July 2008 - Albuquerque, NM - AFIO New Mexico hosts social event at member home. Event location is home of member, Ruby Ellen Smith, 12711 Hugh Graham Rd. NE, Albuquerque, NM 87111. "Happy hour" starts at 5 pm, Dinner at 6 pm. The brisket will be prepared by the hostess. For those attending: those whose last names begin A through M, please bring a salad; potato, green, or other. Those whose last names begin N through Z, please bring a dessert. Please RSVP to Ruby Ellen by Mon. July 9th at 505 293-3676.
Monday, July 14, at 6:00 pm - AFIO Las Vegas hosts LTC Troy L. Sullivan III, USAF Commander, Air Force Office of Special Investigations [AFOSI], Detachment 206. Place: The Officers' Club at Nellis Air Force Base. All guests must use the MAIN GATE located at the intersection on Craig Road and Las Vegas Blvd. Address: 5871 Fitzgerald Blvd., Nellis AFB, NV 89191 Phone: 702-644-2582. For further information contact Christine J. Eppley, Chapter Corresponding Secretary at 702-295-0073 or at eppley@nv.doe.gov
Tuesday, 15 July 2008, 1130 to 2 - Arlington, VA - the National Intelligence Forum hosts a luncheon at Dan & Brads, Arlington Hilton, 950 N Stafford St. Arlington, VA 22203. PRINCIPAL SPEAKER: Mr. Stan Koryta, Technology Protection and Intelligence Coordination for Concurrent Technologies Corporation Huntsville Operations. For further information or to register email events@niefoundation.org
19 July 2008 - Kennebunk, ME - AFIO Maine hosts former CIA operations officer, Bill Murray. Murray will be talking about the present tension between Pakistan and India. While not currently making headlines, the tensions between these two nuclear powers remains a prime concern. The threat posed by Taliban terrorists in Pakistan adds to an already unstable situation. The meeting, open to the public, will be held at the Kennebunk Free Library, 112 Main Street, Kennebunk at 2:00 p.m. For information call 207-364-8964.
Monday, 21 July 2008, 6:30 pm - Washington, DC - "Hot Topics, The FBI at 100: Beyond the Turf Wars" at the Spy Museum. In 1970, J. Edgar Hoover cabled FBI field offices "to discontinue all contact with the local CIA office." But twenty years later a new era of collegiality began with the Ames case. Former DCI George Tenet considered this to be "the jumping-off point in taking cooperation between the FBI and CIA seriously." Join two intelligence insiders as they discuss the murky truth and myth of Agency-Bureau relations—past, present, and future. In 1974, Ray Batvinis was assigned to the new untested role of Washington Field Office liaison with the local CIA base. As liaison, and throughout his 25 year FBI career, Batvinis worked closely with the CIA in joint counterintelligence training at FBI headquarters and in the field, and on a wide variety of specialized case management issues. He is joined by Burton Gerber, a 39-year veteran of the CIA, where he served as chief of station in three Communist nations and led the Agency's Soviet and European operations for eight years. He is currently a Professor in the Practice of Intelligence at the Georgetown University Center for Peace and Security Studies. The perspective of these experts will reveal the truth behind the turf wars. Tickets: $15; Advance Registration required. Tickets are non-refundable and do not include admission to the International Spy Museum. To register, call 202-393-7798; order online at www.spymuseum.org or in person at the International Spy Museum.
25 July 2008, 10:30 am to 2 pm - Tysons Corner, VA - AFIO National SUMMER Luncheon Frances Fragos Townsend, former White House Assistant, Homeland Security/Counterterrorism, current member of the President's Intelligence Advisory Board [PIAB], speaking on Current and Emerging Threats. Morning speaker is Robert W. Wallace, former Director of CIA's Office of Technical Service. Author of SPYCRAFT: The Secret History of the CIA's Spytechs, from Communism to al-Qaeda. Ms. Townsend served as Assistant to President George W. Bush for Homeland Security and Counterterrorism and chaired the Homeland Security Council from May 2004 until January 2008. She previously served as Deputy Assistant to the President and Deputy National Security Advisor for Combating Terrorism from May 2003 to May 2004. Ms. Townsend is currently providing consulting services and advice to corporate entities on Global Strategic Engagement and Risk as well as Crisis and Contingency planning. Ms. Townsend is a Contributor for CNN and has regularly appeared on network and cable television as a counterterrorism, national and homeland security expert. She has received numerous awards for her public service accomplishments. Ms. Townsend is a member of the Council on Foreign Relations and serves on the President's Intelligence Advisory Board. Mr. Wallace, a 32-year CIA veteran, served as Deputy Director and Director of the CIA's Office of Technical Service and directed the office's global response to the 9/11 terrorist attack on the United States.
Thursday, 31 July 2008, 12 noon – 1 pm – Washington, DC – "Marching Toward Hell: America and Islam After Iraq, at the Spy Museum. Free lunchtime author debriefing and book signing. Long before Osama bin Laden's name was known to all, Michael Scheuer was chief of the unit in charge of tracking him at the CIA. His expertise became understanding the motives and missions of Islamic extremists. That experience, and his role as the first chief of the U.S. government's rendition program, uniquely positions Scheuer to comment on national security issues. In Marching Toward Hell, Scheuer argues that because politicians in both parties have not made protecting Americans their first priority, U.S. citizens are in a worse position today than before 9/11. Based on his knowledge of foreign policy and his own background, Scheuer contends that every leading presidential candidate is getting it wrong. Join Scheuer to learn how he believes we have failed and his thoughtful suggestions for righting the course. Free, no registration required.
Thursday, 31 July 2008, 6:30 pm - Washington, DC - "Elite Surveillance Team" at the Spy Museum.
Can you spot an enemy spy or elude hostile surveillance? At the International Spy Museum Elite Surveillance Team (SPY/EST) under the leadership of former CIA officer Tony Mendez, you'll learn how to establish your own surveillance zone, design surveillance detection runs (SDRs), and then work with and against your teammates to test your skills. SPY/EST will meet at least quarterly and then work together as a team to further develop and perfect a surveillance zone and their own SDRs using the guidelines prepared by Mendez for training actual intelligence agents. Tickets: $180; Advance Registration required. Tickets are non-refundable and do not include admission to the International Spy Museum. *Includes four meetings with Mendez within membership year and guidelines on developing Surveillance Detection Runs. To register, call 202-654-0932 or email kray@spymuseum.org.
Wednesday, 6 August 2008, 7:30 p.m. - Orange Village, OH - "America's Oil Dependence and What It Means for Our Future" featuring Dr. Gal Luft, Executive Director of the Institute for the Analysis of Global Security. Refreshments. No charge to attend. For location or further information contact mommybag@aol.com
Thursday, 14 August 2008, 6:30 pm - Washington, DC - "Spies on Screen: Rendezvous" - David Kahn at the Spy Museum. The 1935 film, Rendezvous, stars William Powell, a Washington, DC newspaperman turned code breaker during World War I. In his attempts to find a stolen code book, he must handle a ring of German spies, an assassination, and an attractive military mistress with sinister intentions. After the film, David Kahn, a leading expert in the history of cryptology and author of The Codebreakers, will discuss the historical basis for this romanticized account of high states WW I code-breaking. Tickets: $15; Advance Registration required. Tickets are non-refundable and do not include admission to the International Spy Museum. To register, call 202.393.7798; order online at http://www.spymuseum.org.
14 August 2008 - 23 August 2008 - UK to Russia - A Cold War Summit: From Cambridge To Moscow - Special Excursion explores history of Cold War, follows Cambridge Spy Ring in UK/Moscow, and an up-close look at Putin's latest movements of his intelligence services. Once-in-a-lifetime Trip with unusual, first-hand onsite presentations. This important one-time trip is organized and hosted by AFIO Members Dan Mulvenna and Nigel West. Purpose: To explore the history of the Cold War and its manifestations; to examine British and American-Russian relationships from 1945 to 1991; to delve into recent events that suggest the Cold War has new dimensions in Vladimir Putin's Russia, and to follow the path of the infamous Cambridge Five in England and Russia.
The price of oil had dropped, starving the Kremlin of the funds it desperately needed to keep pace in the arms race against the United States. Then all it took was the nudge of Gorbachev's perestroika and the dominoes began to fall: Afghanistan, Poland, Czechoslovakia and, finally, the Berlin Wall itself. Twenty years later and the price of oil is at an all-time high, and Russia has reemerged as a global superpower, albeit with a new ideology — capitalism. Flush with the confidence of petrodollars, the Kremlin is rattling its saber in Europe once again. And a former Russian spy, Alexander Litvinenko, dies in a London hospital, mysteriously poisoned by a fatal dose of radiation.
- Study Leaders, Nigel West — author of VENONA and other respected books on security, intelligence and espionage — and counterintelligence expert Dan Mulvenna, take you behind the curtain of Cold War intelligence and espionage.
- Discover hidden spy sites in Moscow with a former KGB colonel and Dan Mulvenna, security expert and professor at the Centre for Counterintelligence and Security Studies in Washington.
- Hear about the death of Alexander Litvinenko from a Russian consultant to the BBC's Panorama program.
- With staff at the Churchill Archives Centre, explore Cold War materials from its collection.
- Enjoy a reception with retired KGB officers in Moscow.
- Go behind the scenes at Bletchley Park, where codebreakers decrypted and interpreted Axis messages and broke the German Enigma Code during World War II.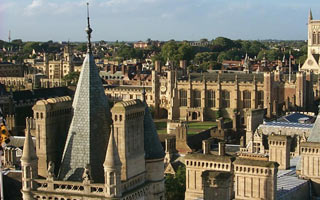 8 nights; 17 meals; 8 Breakfasts, 3 Lunches, 6 Dinners
$4,950.00 pp Group size limited to 48 or fewer participants

Itinerary: From Cambridge, England, to Moscow, Russia, from the "Cambridge Five" to Gary Powers to the recently murdered Russian spy Alexander Litvinenko, trace the trail of diplomacy and intrigue from the height of the Cold War to the global chess match with Russia today. With privileged access to unrivaled authorities in the fields of espionage and in 1950s Cold War politics, gain an understanding of the foreign policy conducted in public and the intelligence machinations that continue in the shadows. In this one-time program, join important writers and thinkers, including Andrew Lownie, Piers Brendon, Mike Sewell and Richard Aldrich to discuss the ramifications and intricacies of the "war," as well as commentators Glenmore Trenear-Harvey and Boris Volodarsz, to consider whether the Cold War has recently reemerged in Putin's Russia. Leading the way is Nigel West. Former member of the House of Commons and author of more than a dozen books on espionage, Nigel is considered the "expert's expert" on intelligence.
Based at the elegant Møller Center at Churchill College, Cambridge University, track the "Cambridge Five" — the ring of Soviet spies who passed information to the KGB and who infiltrated the British establishment. Follow in the footsteps of the notorious spies on a walking exploration through Trinity, St John's and King's Colleges. Explore Cold War materials in the Churchill Archives Centre, which houses Sir Winston Churchill's papers, as well as those of Margaret Thatcher and other prominent figures of the 20th century. At Bletchley Park — also known as "Station X" — see one of the Enigma Machines, including the rare "Abwehr G312," and check out the tales of World War II code-breaking, spies and strategic deception.
Continue the exploration of the Cold War from the other side, in Moscow. A retired senior KGB officer and Dan Mulvenna — professor at Washington's Centre for Counterintelligence and Security Studies — lead you on an exploration of spy sites throughout the Russian capital. See the graves of Kim Philby, the great British spy, and those of the famous "illegals" Rudolph Abel (Willie Fisher), Konon Molody, known to the West as Gordon Lonsdale, and Ramon Mercader — Trotsky's assassin. Go behind the scenes to areas not open to the public and learn about the Russian intelligence services and counter-terrorism at the FSB (formerly KGB) Intelligence Museum, located just off Lubyanka Square. Receive "briefings" on the KGB's view of the Cold War and on several famous Cold War spy cases by former KGB officers who have intimate knowledge of the affairs. Hear from Colonel Oleg Nechiporenko — Lee Harvey Oswald's first case officer at the Mexico City KGB station. Then meet and mingle with distinguished senior retired KGB officers at an elegant farewell reception.
Please Note: This program will operate only once and has a maximum capacity of 48. Each of two groups of 24 will have its own Group Leader and motorcoach but all participants will attend program events together. To explore or register for this once-in-a-lifetime excursion, visit:
http://www.roadscholar.org/prog/adv-main.asp?C=Y&src=%2Fprog%2Fadv%2Dmain%2Easp&Id=1%2D433E2Q

Sunday, 17 August 2008, 8:30 am - 5:00 pm - Summit Point, WV - "Drive To Survive: Anti Terrorist Driver Training" at BSR, 2026 Summit Point Rd., Summit Point, WV 25446.
For over thirty years BSR has trained the people whose lives depend on top-notch evasive driving - from hostage rescue personnel to counterterrorist units. As the recognized leader in vehicle anti-terrorist training for military and governmental application worldwide, BSR has developed a state-of-the-art program. Now they have custom-designed an exclusive one-day opportunity for SPY highlighting the best of their longer courses. The BSR Shenandoah Valley training center has acres of paved and dirt road circuits, skid pads, an off-road training arena, and instructors who have firsthand experience driving for their lives. Tickets: $1,200 (includes 6% WV sales tax); Advance Registration required. Phone registration only for this program, call 202.654.0932.
Tuesday, 19 August 2008 – Vienna, VA - THE SIXTH ANNUAL AFIO SOCIAL EVENT - The Boston Pops at the Wolf Trap Park in Vienna, Virginia. This year we have moved the annual social from Boston's Symphony Hall to the Wolf Trap Foundation for the Performing Arts on Tuesday, August 19 at 8:00 PM. The concert choice will once again be the Boston Pops Esplanade Orchestra.
Contact Mr. Wass and use AFIO Social in the subject line at wassinmaryland@aol.com if you would like to attend the pre-concert AFIO social at Wolf Trap. Reservations are now being taken however since we have limited amount of seats available for the social, we recommend contacting us before purchasing your concert tickets.
For those who plan on attending the concert and social at Wolf Trap [located at 1645 Trap Road, Vienna, Virginia 22182], you must purchase concert tickets directly through Wolf Trap for seating choices. RSVP requested before July 19. Wolf Trap Box Office - (703) 255-1868 to purchase tickets. http://www.wolftrap.org No portion of your purchase constitutes a donation to AFIO; therefore this is strictly a social event.
Monday, 15 September 2008 - New York, NY - AFIO New York Metro Chapter evening meeting on "How Baghdad Thieves Stole Iraq's Antiquities and CTTF Recovered the Stolen Loot." Colonel Matthew Bogdanos, U.S. Marine Corps Reserve -- the Author of "Thieves of Baghdad" explains how the Baghdad thieves stole Iraq's antiquities and how our counter-terrorism Task Force caught them and recovered their loot. Bogdanos led the investigation. He was awarded the Bronze Star for counter-terrorism operations in Afghanistan. He is currently an Assistant District Attorney in Manhattan. Buffet dinner and open bar - $40. per person. 5:30 PM - 6:00 PM Registration. Meeting starts 6:00 PM. New Location: 4 Columbus Circle (58th Street and 8th Avenue) The showroom space of STEELCASE, the global leader in the office furniture industry. Further information available from afiometro@yahoo.com
Tuesday, 2 December 2008 - New York, NY - AFIO NY Metro Chapter meeting features speaker Gordon Chang, author of NUCLEAR SHOWDOWN and THE COMING COLLAPSE OF CHINA.
Meeting location - 4 Columbus Circle in the NYC showroom of the office furniture manufacturer - Steelcase. Attractive, spacious, modern space overlooking Central Park.
58th Street and 8th Avenue. Buffet dinner and open bar: $40.00 per person 5:30 PM - 6:00 PM Registration. Meeting starts 6:00 PM. For inquiries or to register email afiometro@yahoo.com
---
For Additional Events two+ months or greater....view our online Calendar of Events
-----------------------------------------------------------------------
Disclaimers and Removal Instructions
Weekly Intelligence Notes (WINs) are commentaries on Intelligence and related national security matters, based on open media sources, selected, interpreted, edited and produced for non-profit educational uses by members and WIN subscribers.
REMOVAL INSTRUCTIONS: We do not wish to add clutter to inboxes. To discontinue receiving the WINs:
a) IF YOU ARE A MEMBER -- click here: UNSUBSCRIBE and supply your full name and email address where you receive the WINs. Click SEND, you will be removed from list. If this link doesn't open a blank email, create one on your own and send to afio@afio.com with the words: REMOVE FROM WINs as the subject, and provide your full name and email address where you are currently receiving them.
b) IF YOU ARE NOT A MEMBER, and you received this message, someone forwarded this newsletter to you [contrary to AFIO policies]. Forward to afio@afio.com the entire WIN or message you received and we will remove the sender from our membership and distribution lists. The problem will be solved for both of us.
CONTENTS of this WIN [HTML version recipients - Click title to jump to story or section, Click Article Title to return to Contents. This feature does not work for Plaintext Edition or for some AOL recipients]. If you wish to change to HTML format, let us know at afio@afio.com. The HTML feature also does not work for those who access their e-mail using web mail...however NON-HTML recipients may view the latest edition each week in HTML at this link: https://www.afio.com/pages/currentwin.htm
-----------------------------------------------------------------------

WINs are protected by copyright laws and intellectual property laws, and may not be reproduced or re-sent without specific permission from the Producer. Opinions expressed in the WINs are solely those of the editor(s) or author(s) listed with each article. AFIO Members Support the AFIO Mission - sponsor new members! CHECK THE AFIO WEBSITE at www.afio.com for back issues of the WINs, information about AFIO, conference agenda and registrations materials, and membership applications and much more!

(c) 2008, AFIO, 6723 Whittier Ave Suite 200, McLean, VA 22101. Voice: (703) 790-0320; Fax: (703) 991-1278; Email: afio@afio.com
Click here to return to top.